This post contains affiliate links for which I may make a small commission to help keep the site running. You will not be charged extra for these items had you not clicked the links. Thank you for your help to keep the site running!
Looking for the newest New York Times bestseller?
Wanting to cozy up with a good book and enjoy the silence?
If you're here wanting to know if there's a Books-a-Million in the UK or a Books-a-Million in London, then I'm here to tell you I've got the answers you're looking for!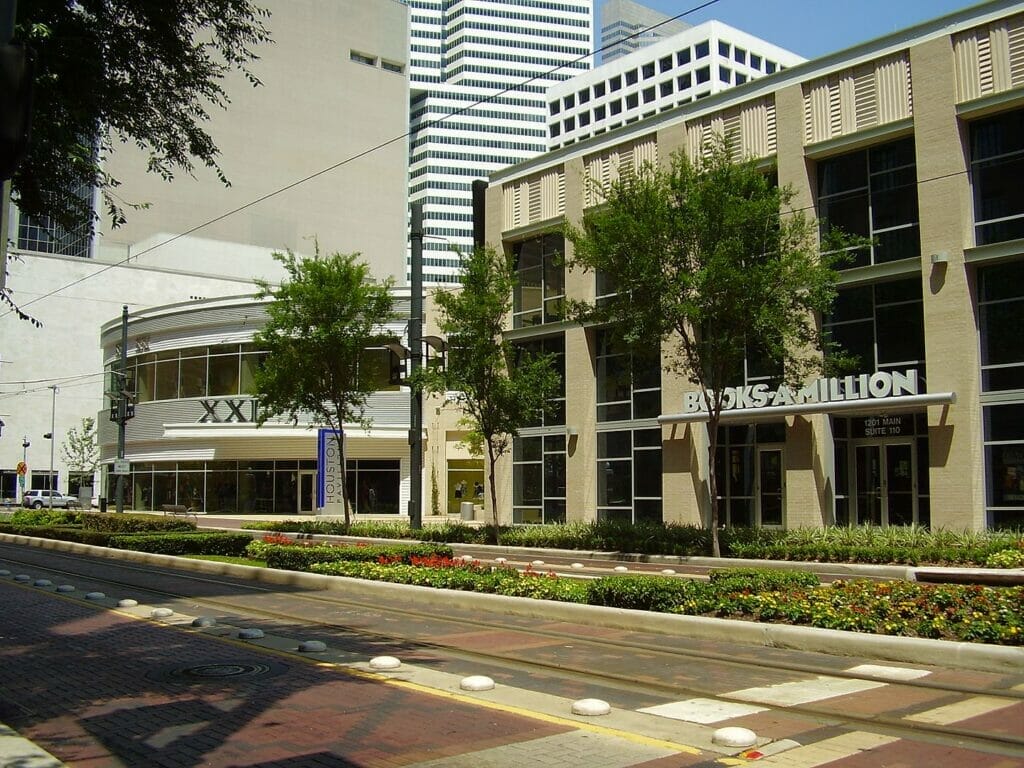 GET A

FREE

LONDON INTRO GUIDE and ACCESS TO MY FB GROUP
Start your planning with this "Intro to London" guide and access to my London planning Facebook group!
I have very fond memory of wandering through the rows and rows of freshly published books at our local Books-a-Million, and I absolutely adored the prospect of choosing a new chapter book to read from the children's section.
So, Books-A-Million fans, the answer to the question…
"Is there a Books-A-Million in the UK or England or London?"
is sadly, no.
There is no Books-a-Million in the UK and no Books-A-Million in London, and while that is a very sad thing, we're not going to get too deep into bookstores right now because I want to share with you some other resources first.
Scroll down to the bottom of the post to check out the alternatives to Books-A-Million.
Or, if you want some additional resources, read on.
So whether you're traveling to the UK for a short period of time on your vacation of a lifetime or you're wanting to move to the UK as an expat, I wanted to share some of the articles I've created over the years to help you make the most of your time (whether that's 4 days or 10 years!)
To begin, no matter if you're in England for just a short stopover or are planning a move here, I want you to be aware of the best book I've ever read on understanding English people, which is called "Watching the English" and you should click here and check it out.
This book is written by an English person who has spent years observing the English people from a research standpoint, and it's full of humorous observations about why they do the things they do – from saying "sorry" when they have nothing to apologize for, to finding it impossible to say "goodbye."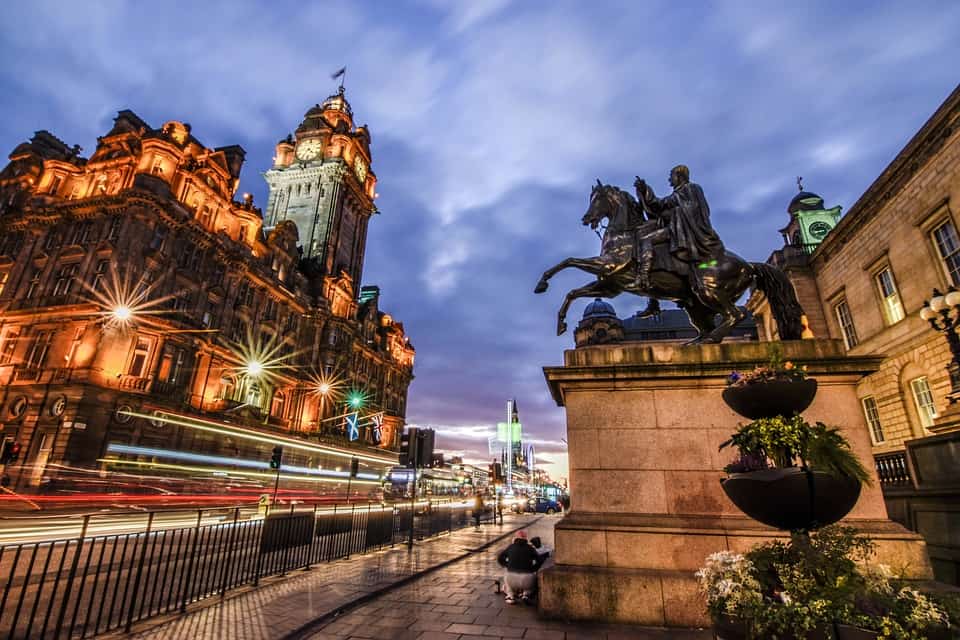 I found this extremely illuminating, both in learning to make friends in the UK and being able to communicate with the people around me and figuring out what they really meant when they said certain things.
I also want to talk about some other resources that I've craftily put together for you to help you have the best time in the UK ever.
If you're just here as a short term visitor, then you'll want to check out the article I wrote about the best tours in London.
I don't want you to waste time when you're here – I certainly don't have time to spare, and neither do you – not when you're trying to cram everything in to a short time.
In the post, I give the best bus tours, the best walking tours, and the best boat tours for all kinds of people, whether you're interested in history, the iconic London sites, or family-friendly excursions.
I also get asked a lot of questions like, "what in the world is an Oyster card?" and "is it faster to take a taxi or the tube?" so I've put together another guide you'll find linked below all about navigating your way around London.
If the UK is becoming your long term home, whether through study abroad or expat life, then I've also got you covered with some resources on my experience making friends as an expat (it's going to be okay, I promise, if not a little awkward), and I've got a whole guide for you on exactly how I moved to the US from the UK without completely losing my mind.
Okay, so now that I know you're set up with everything you need to enjoy the UK, let's continue onto the topic of Books-A-Million in the UK!
History of Books-A-Million in the UK
Books-A-Million was opened in 1917, over 100 years ago, by a man (okay, teenager) named Clyde Anderson who had a newspaper stand in Alabama.
He had dropped out of school to support his family, and saw a business opportunity in providing hometown newspapers to workers on the Wilson Dam.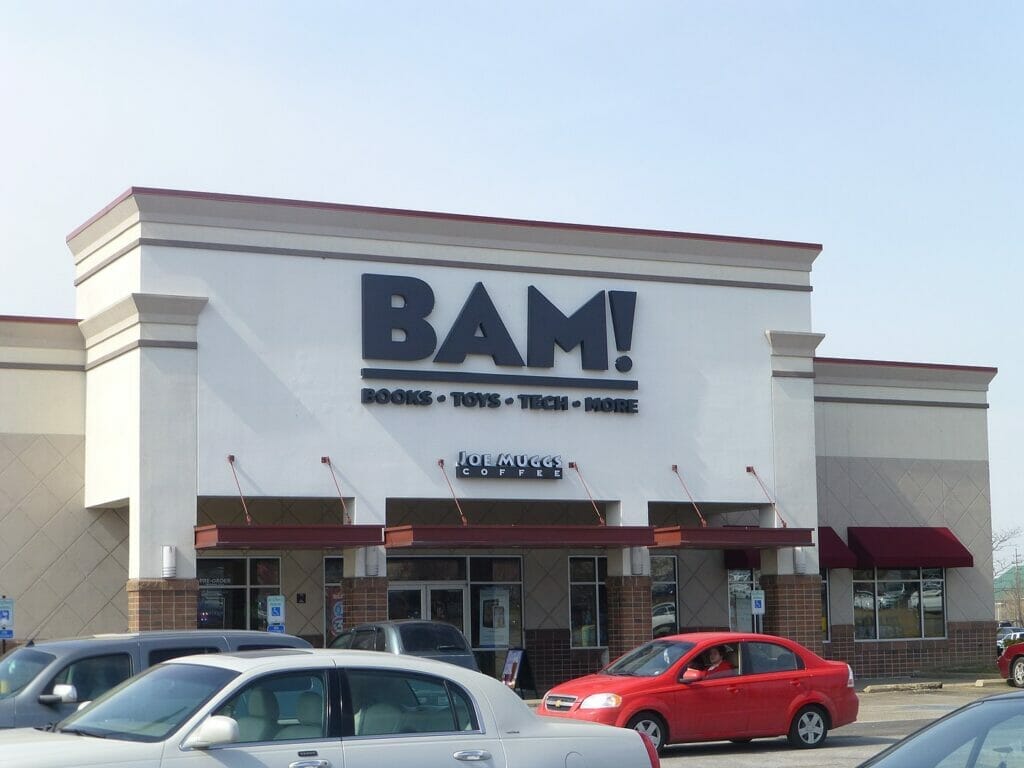 Over the years, the store expanded and in 1950 it was turned into a chain.
By 1980, Books-A-Million had over 50 stores across America.
It was once known as Bookland, but it became Books-A-Million in 1992.
Actually, the official name is Books-A-Million, but it's also known as BAM!, so if you're here because you're looking for "Is there a BAM! in the UK" or "Is there a BAM! in London," then, welcome.
Over the years, Books-A-Million has had its ups and downs, and some strange ventures like aquiring a stake in a frozen yogurt retailer, but it still exists today across America and has over 200 stores.
Unfortunately for Books-A-Million lovers, it has never come to the UK or any country outside of America.
Equivalent to Books-A-Million in the UK
While you can't find Books-A-Million in the UK or London, that doesn't mean that you can't find books!
Bookstores are certainly alive in well in the UK, despite Amazon and online retailers coming in with their e-versions.
Here are some of my favorite alternatives to Books-A-Million (oh, and also, you can't find Barnes and Noble in the UK, so this is really your best bet).
Waterstones
The major UK chain bookstore if you're searching for an atmospheric experience where you can get nestled into a cozy chair and get some reading done is called Waterstone's.
These are all across the UK, including in London and most major towns and cities all around.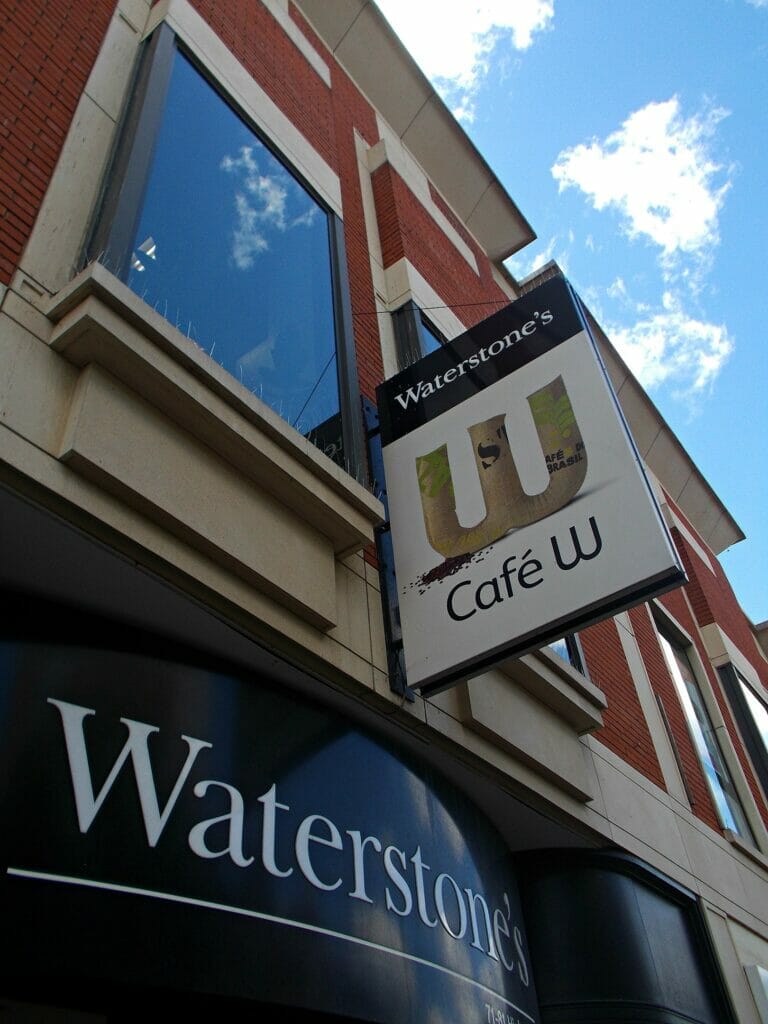 I love them for their large selection, book deals (often a 2 for 1 deal at the front), and helpful staff who will also give you reading recommendations!
The Works
If you just want a store to buy books, rather than an atmospheric bookstore, you can find a store called The Works across the UK, which sells books, cards, calendars, games, and more.
This is perhaps most similar to a Books-A-Million in the "feel" inside, and you wouldn't necessarily go here to have a nice relaxed afternoon browsing a bookstore.
But if you just want to purchase a book and get out, the prices are good and you're all set.
Read more in my full guide comparing UK and US stores and restaurants.
Want to know more about US stores in the UK? Check this list out!