This post contains affiliate links for which I may make a small commission to help keep the site running. You will not be charged extra for these items had you not clicked the links. Thank you for your help to keep the site running!
Hey, thrifter!
Have you come looking to see whether there's a Goodwill in the UK or London?
This iconic American thrift store has been known for its bargain finds, as well as being a good place to donate old clothes, books, and housewares to.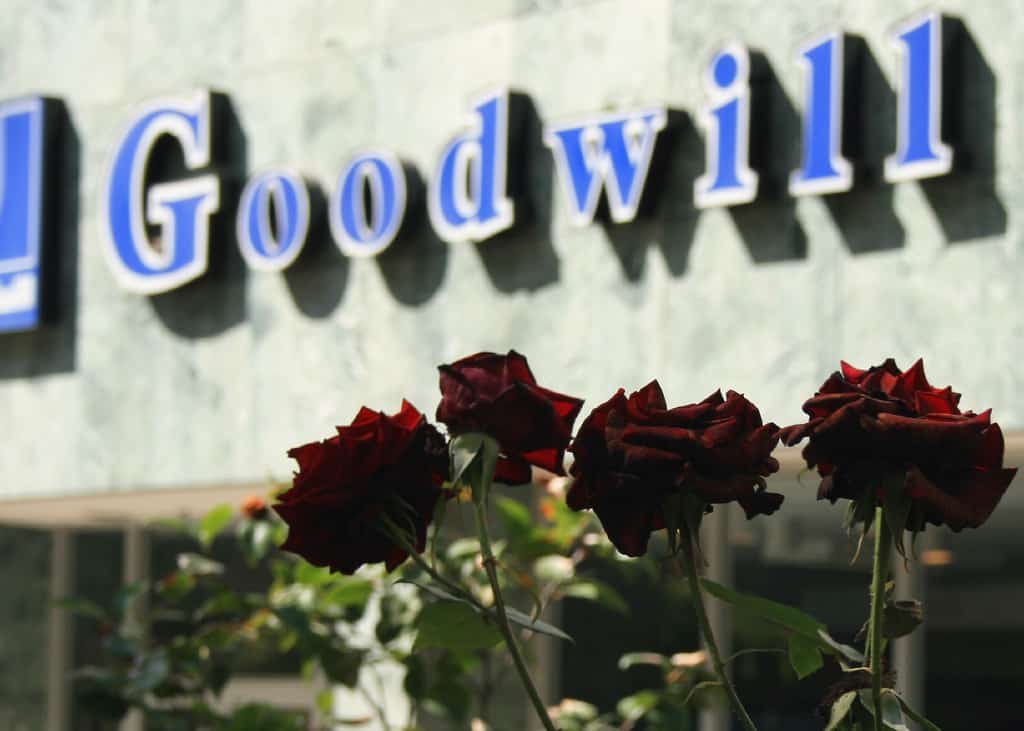 In fact, when I was in American for just about a week, I ended up at Goodwill three times for various reasons – it's what we do!
Whether you're a bargain hunter looking to find a pair of Sperrys for $5.00 (DONE THAT!) or someone who has way too much clutter that you're about to end up on an episode of Hoarders, I can see why you're searching for a Goodwill across the pond.
GET A

FREE

LONDON INTRO GUIDE and ACCESS TO MY FB GROUP
Start your planning with this "Intro to London" guide and access to my London planning Facebook group!
Hey! Want more honest UK tips and planning advice? Click here to join my London and UK Travel Tips Facebook group, where I can answer more of your questions!
So…
"Is there a Goodwill in the UK or England or London?"
The answer is no.
There is no Goodwill in London or the UK, and there isn't really the same thrifting culture here as there is in America.
But we'll get to that in a minute.
Before we dig in too deep to Goodwill and end up face first in the bargain basement, I want to talk about some resources I've created that will help you navigate life in London and the UK – even if you're just visiting for a couple of days.
Firstly, no matter your reason for being here, you need the best book on living in the UK for Americans ever written – the book is called "Girl Gone London: An American's Guide to Surviving Life in the UK" and you should click here and check it out.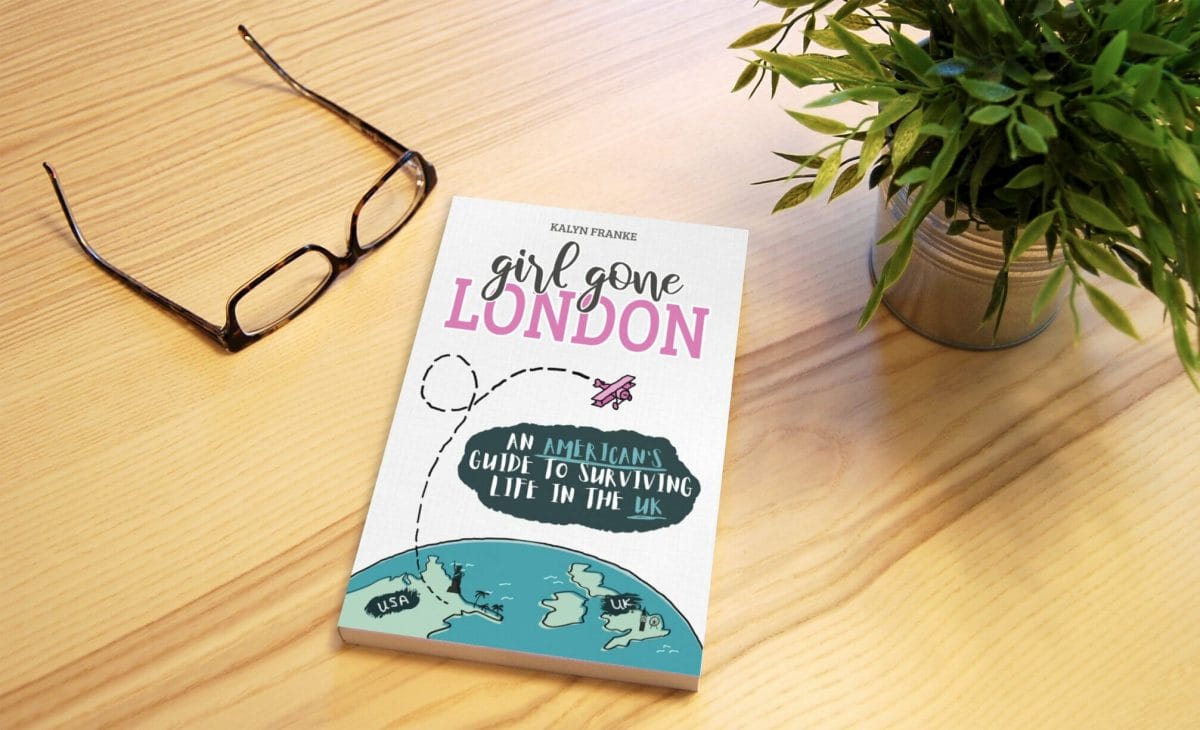 I also may have written it, so I'm biased.
But truly, if you're coming to the UK as an expat, a study abroad student, or even a visitor, my guide to life in the UK contains both personal anecdotes and maybe too-honest experiences, as well as resources and advice on topics ranging from homesickness in the UK (or how not to rage book a flight to America like I did), driving in the UK, being a student in the UK, and more practical advice about bank accounts, buying houses, and more.
It's truly a one stop shop for all of the weirdness and wonderfulness (is that a word?) that comes along with life in the UK, and also there is plenty of opportunity to laugh at me as I share all of my expat fails so there's that.
I've also got some great resources that mention things like culture shock, learning how to use money in the UK, and figuring out whether or not it's worth your time and life to learn how to drive in the UK (spoiler alert: if you're here for just a short time – don't!)
Anyway, moving along to Goodwill in the UK.
History of Goodwill
Goodwill is an American nonprofit that focuses on helping people get jobs and training them for the working world.
While most of us know about Goodwill as in, the store, they are also an organization that provides lots of other benefits to communities in other ways.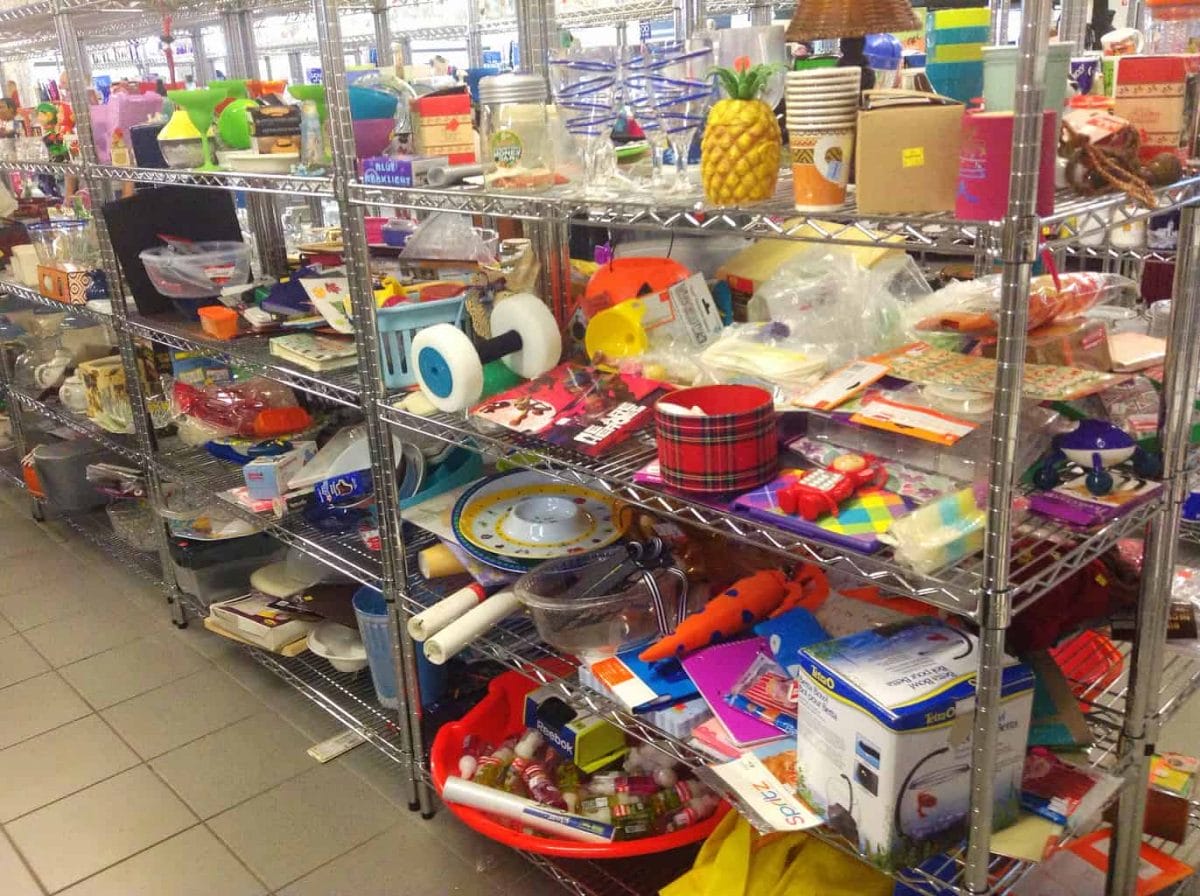 Goodwill was founded in 1902, though not actually called Goodwill until 1915.
There are over 3,000 local Goodwills across the US, and the organization also operates in other countries like South Korea and Canada.
The logo for Goodwill, a smiling white face on a blue background, is well-recognized throughout America and is what will likely greet you should you stop by a Goodwill to drop off donations.
Goodwill accepts donations both at its regular stores and at donation-only centers, which then push out product to stores across the area.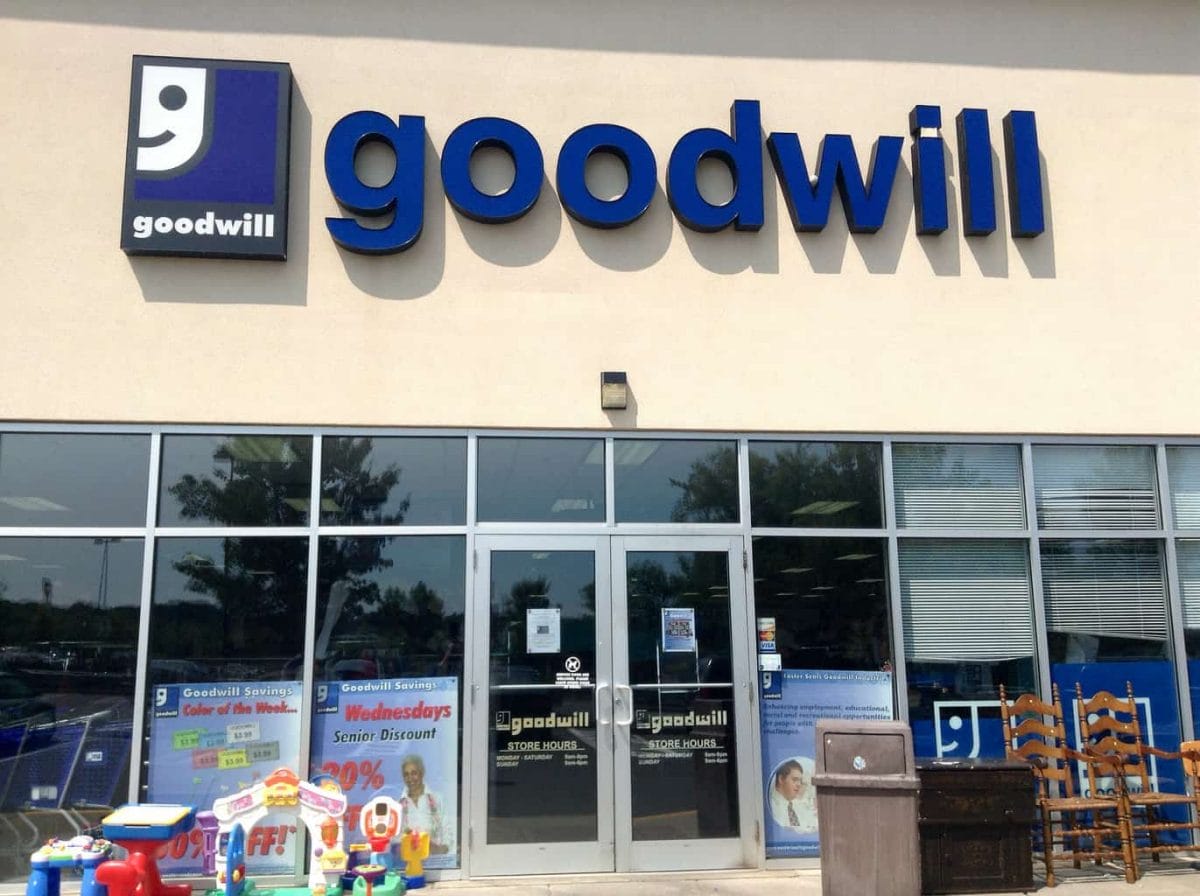 The rules of Goodwill donation are many, and this is for sanitary reasons and safety reasons.
For instance, some Goodwills won't accept certain toys due to lead paint.
Others won't accept mattresses, and of course no one should ever donate their used underwear to Goodwill, THANK YOU.
That being said, they do accept a wide variety of items including clothes, small electronics, books, toys, homewares, storage things, pet supplies – the list goes on and on.
If it can't be sold in an actual Goodwill store, it can be sold on for parts and materials in bulk.
Equivalent to Goodwill in the UK
When researching for Goodwill in the UK or Goodwill in England or Goodwill in London, I was struck by some very important aspects of British life that make Goodwill much less of a viable organization here.
Firstly, I don't think the British have as much of a materialistic society as we Americans.
That's not to say that Americans are bad, but Britain just doesn't have the same amount of space as us and people generally don't have loads of spare rooms to store various crap they don't want like a lot of Americans do.
Secondly, because the country is smaller, it seems that people have their own individual causes they'd prefer to donate to that are close to them rather than a large, overarching one for the whole country.
With that in mind, there are a couple alternatives to Goodwill that I can think of, though neither of these are on the same scale as Goodwill.
This cancer research charity has small shops on high streets in many UK towns and cities, with the profits made (after rent and other running costs are paid) going to the charity to help further cancer research.
Cancer Research UK would sell similar things to Goodwill in the sense that they'll take clothes and books, but the stores are often much smaller than your average Goodwill and so you can't necessarily donate an entire living room full of furniture.
Oxfam is another alternative to Goodwill in the UK, though their main focus is on ending poverty.
They will also have their stores set up on high streets selling goods donated by members of the public.
The stores are often run by volunteers to decrease expenses for the charity as much as possible.
Read more in my full guide comparing UK and US stores and restaurants.
Coming to London Soon?
Hey! Since you're here I'm assuming you're intent on visiting this amazing city soon!
A great way to really immerse yourself in UK culture is see the sights with the help of a guided tour. I've picked out a few highly recommended ones below!
Tower of London Tour with Crown Jewels: One of the best things about having a Royal family is imagining you'll be a part of it one day… and what better way than to imagine yourself in their jewels!
Or at least stare dumbfoundedly. Either way, this tour is a sure fire way to get dazzled by London.
Westminster to Greenwich River Thames Cruise: London is built around the River Thames, and one could even say it's the most important part of the whole city!
As such there's no better, or relaxing for that matter, way to see the sights than from the view of the river itself! This tour takes you around the city and shows why all Londoners are really still rugged sea voyagers at heart, if maybe just a little more posh now.
Oxford, Stratford, and Cotswolds: Londoners would have you fooled, but there's more to this beautiful nation than just what remains within the confines of London… shocker I know!
And if picturesque beauty is what you're looking for I really recommend checking out the quaint and historical towns that scatter the outskirts.
If nothing else, this tour will give you a break from commuting by the tube, and we all need that eventually
Want to know more about US stores in the UK? Check this list out!