This post contains affiliate links for which I may make a small commission to help keep the site running. You will not be charged extra for these items had you not clicked the links. Thank you for your help to keep the site running!
Right, coffee drinkers (and those who just like to use the free WiFi to get stuff done) who are coming to England, here's the question on everyone's minds: "Is there a Starbucks in London?" or even "Is there a Starbucks in England or all of the UK?"
You just can't live with the idea that you might have to travel through another country without your beloved favorite blends and all-American coffee shop.
And I get it!
What makes you feel at home more than the drink you enjoy every morning or the familiar way that the barista spells your name wrong?
GET A

FREE

LONDON INTRO GUIDE and ACCESS TO MY FB GROUP
Start your planning with this "Intro to London" guide and access to my London planning Facebook group!
So…
"Is there a Starbucks in the UK?"
And the answer is, yes!
Before we get on to some talk about Starbucks' history in England and where you can find them, I've put together a list of articles that I've written specifically for those of you living or coming to the UK (especially from another country), so don't forget to click on them for more information.
Firstly, no matter your reason for being here, you need the best book on living in the UK for Americans ever written – the book is called "Girl Gone London: An American's Guide to Surviving Life in the UK" and you should click here and check it out.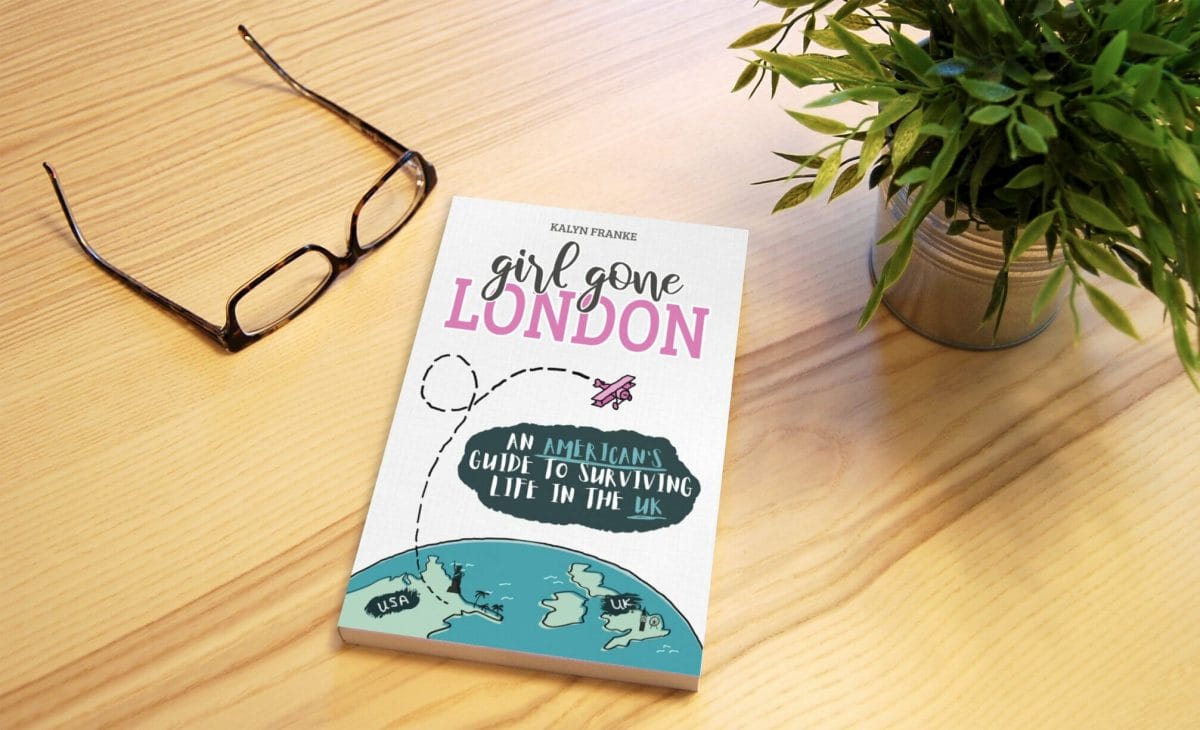 I also may have written it, so I'm biased.
But truly, if you're coming to the UK as an expat, a study abroad student, or even a visitor, my guide to life in the UK contains both personal anecdotes and maybe too-honest experiences, as well as resources and advice on topics ranging from homesickness in the UK (or how not to rage book a flight to America like I did), driving in the UK, being a student in the UK, and more practical advice about bank accounts, buying houses, and more.
It's truly a one stop shop for all of the weirdness and wonderfulness (is that a word?) that comes along with life in the UK, and also there is plenty of opportunity to laugh at me as I share all of my expat fails so there's that.
Anyway, so the trusty hipster interior design and too-hard-to-pronounce drinks of Starbucks are definitely a thing in London, England, and the entire UK.
They might look slightly different than you're used to in America, being next to thousand year old buildings and all, but they are there!
As you can tell, the logo, font and colors are the same.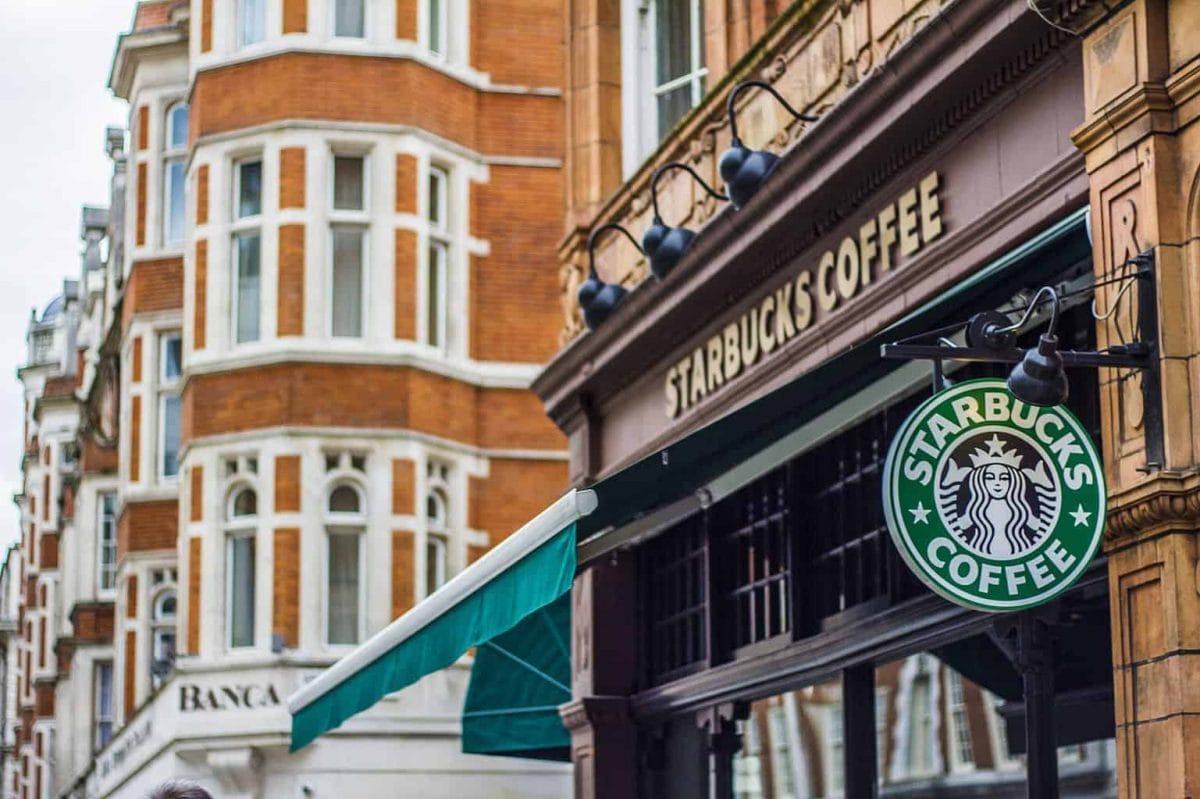 History of Starbucks in the UK
Starbucks opened its first store in London in 1998, which was located on King's Road in Chelsea.
At the time, this was meant to be the first of 500 Starbucks across Europe.
Funnily enough, Starbucks in the UK actually started by aquiring an existing coffee chain here, called the Seattle Coffee Company, which was run by two Americans who started the company after moving from Seattle to London.
Starbucks tried to capitalize on the tea drinking culture in England, and started to promote its stores as meeting places rather than just a place to grab a drink.
And so far?
Success!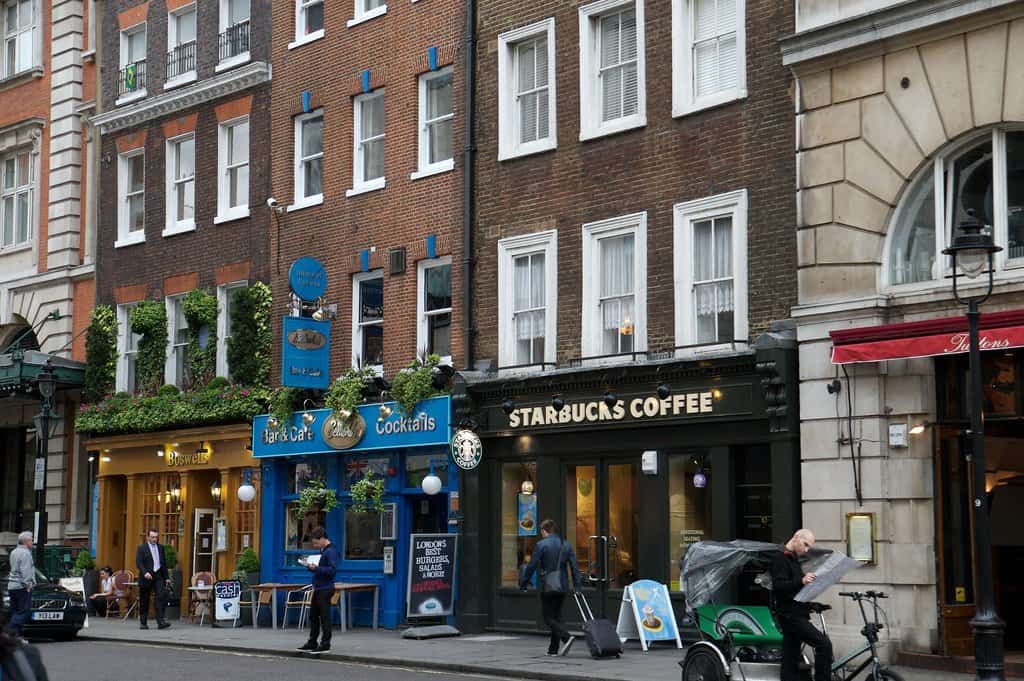 To give you an idea of where the stores are located, take a look at this map showing how clustered they are in London.
Truly, they are everywhere you turn and if you have a craving for a specific Starbucks drink, you won't have to go far to find one.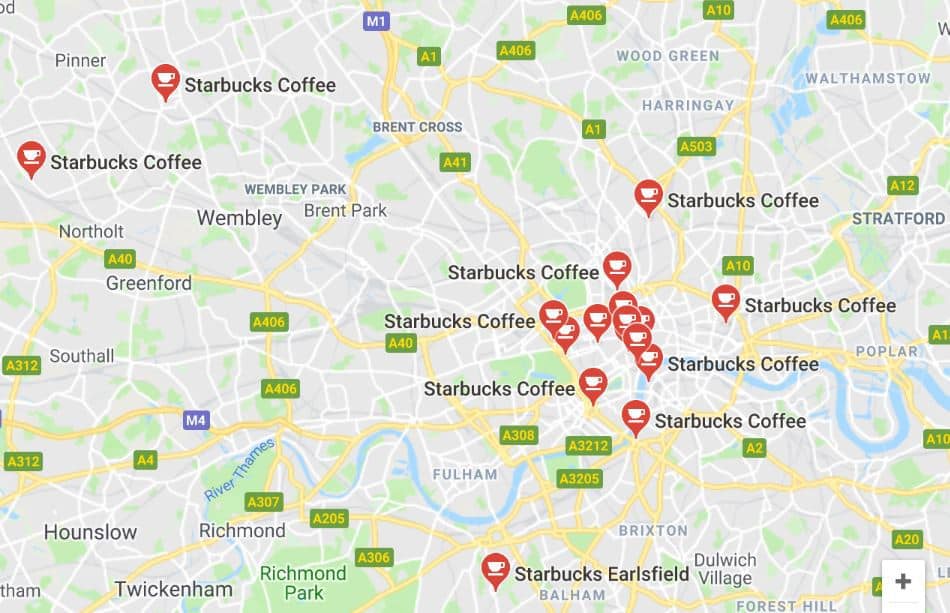 If we zoom out a bit, you can see that they are across the rest of the UK as well, stretching through England, Wales, and Northern Ireland (on the left hand side of the map).
They certainly aren't AS prevalent in the rest of the country as Starbucks is in America, but they do have a presence.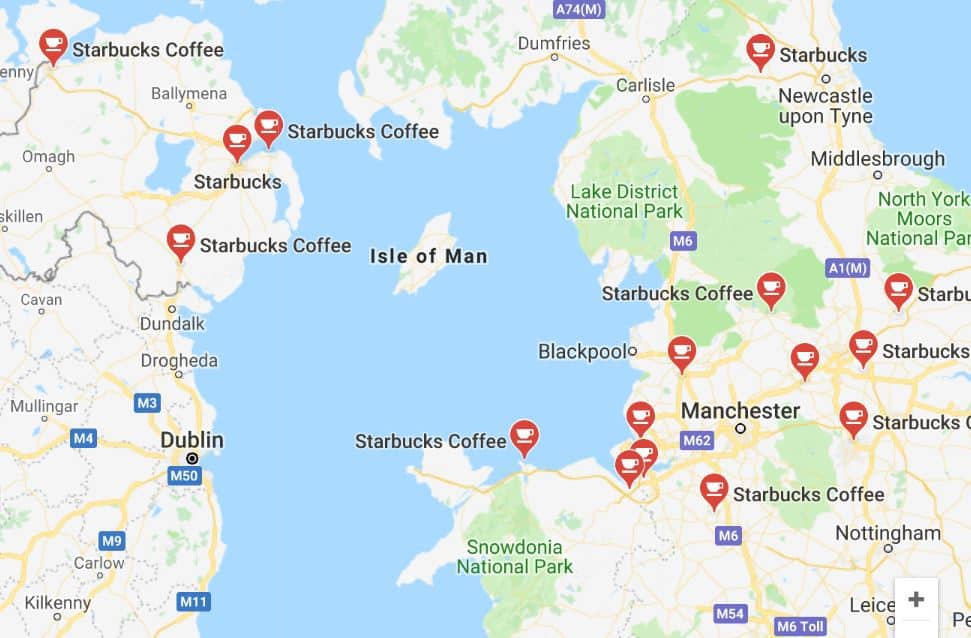 And if you find yourself in Scotland, you've got some options there as well!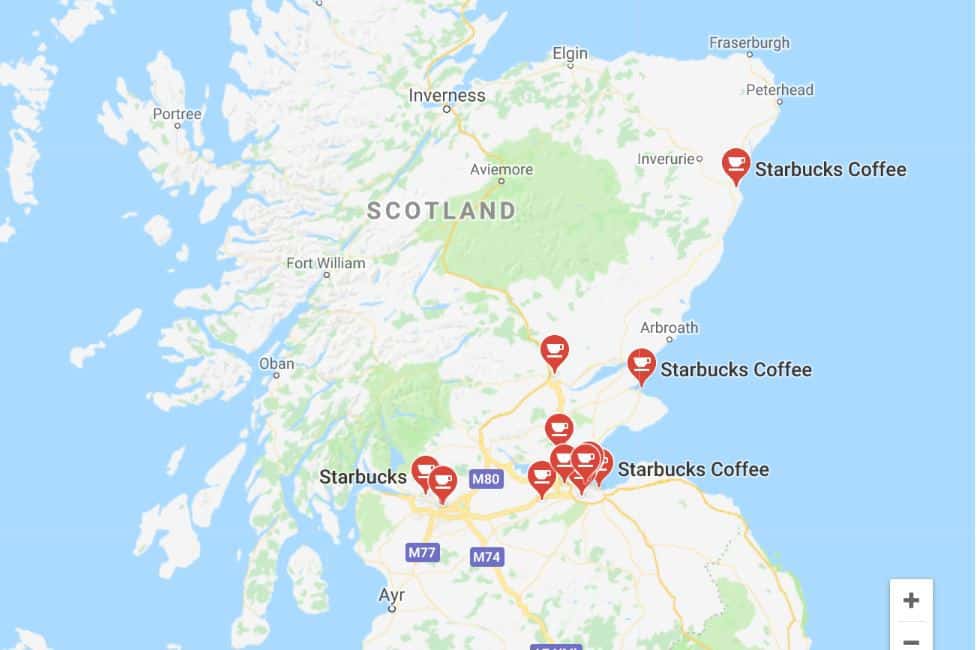 Just like in America, Starbucks here also serves food from the bakery and things like sandwiches in addition to drinks.
You can take a look at the UK Starbucks menu here.
There are usually bathrooms, but you need to make a purchase to be given the code.
Starbucks' main competitor, especially in London, is Costa Coffee.
If you want a more authentic European experience, try Costa and compare it to Starbucks instead of just being drawn to what you know and love.
To help you navigate other stores that you might (or might not) find in London and the UK versus America, here's a handy list I put together.
Fast Food
The UK has…
-Burger King
-KFC
-McDonald's
The UK doesn't have…
-Arbys
-Chick-Fil-A
-Wendys, but you can find more about Wendy's in the UK here
Sit-down restaurants
The UK has…
-Five Guys
-TGI Fridays
-Chipotle (but it's more expensive!)
The UK doesn't have…
-Carrabbas
-Outback Steakhouse
-Tijuana Flats
Big Stores
The UK has…
-its own version of Costco
-QVC shopping channel
The UK doesn't have…
-Home Depot or Lowes
-Bed, Bath, and Beyond
You're also looking at different grocery store brands, as well as different drugstore brands.
It can be a little overwhelming to make sense of it all at first, but soon you'll have your favorite UK clothing shop (Primark, anyone?), favorite UK grocery store (Sainsbury's wins for me) and favorite UK drugstore (Boots all the way!)
Read more in my full guide comparing UK and US stores and restaurants.
Want to know more about US stores in the UK? Check this list out!