This post contains affiliate links for which I may make a small commission to help keep the site running. You will not be charged extra for these items had you not clicked the links. Thank you for your help to keep the site running!
If you're one of Wegman's most loyal fans, you might be wondering if there's a Wegman's in the UK or London.
After all, where are you going to get your organic food or cheerfully pleasant cashiers?
In Florida, our local store is Publix, so I was always wondering if there was a Publix in the UK, but Wegman's is popular in the northeast and mid-Atlantic, so it's likely that you call somewhere in that area home (or are just a mega Wegman's fan!)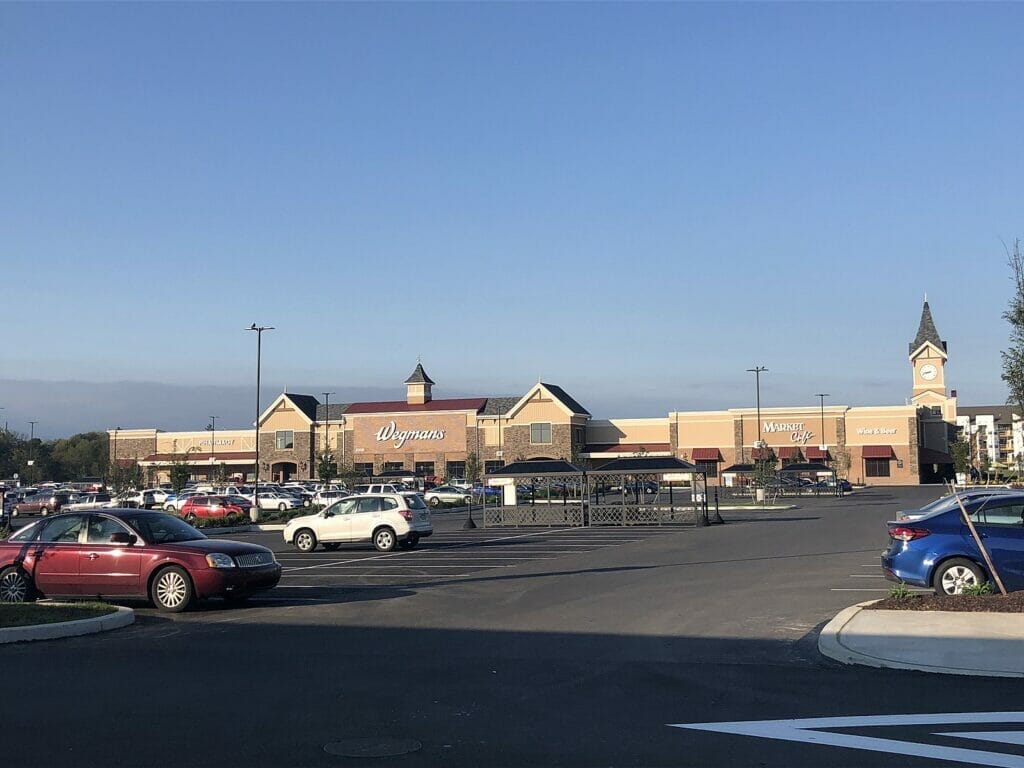 American grocery stores versus British grocery stores can be quite different in terms of how things are laid out, and sometimes we just long for our favorite American grocery store in the UK.
GET A

FREE

LONDON INTRO GUIDE and ACCESS TO MY FB GROUP
Start your planning with this "Intro to London" guide and access to my London planning Facebook group!
So, here we go, the answer to the question is…
"Is there a Wegman's in the UK or England or London?"
is no.
There is no Wegman's in the UK and no Wegman's in London.
But don't worry – food is universal, so if you're shopping for things to eat, the UK has plenty of their own supermarket branches to keep you full, which we'll talk about it a bit.
Before we delve too deep into the equivalent to Wegman's in the UK, I wanted to bring your attention to some resources I've put together for the new visitor to the UK, expat to the UK, or study abroad student in the UK.
Firstly, no matter your reason for being here, you need the best book on living in the UK for Americans ever written – the book is called "Girl Gone London: An American's Guide to Surviving Life in the UK" and you should click here and check it out.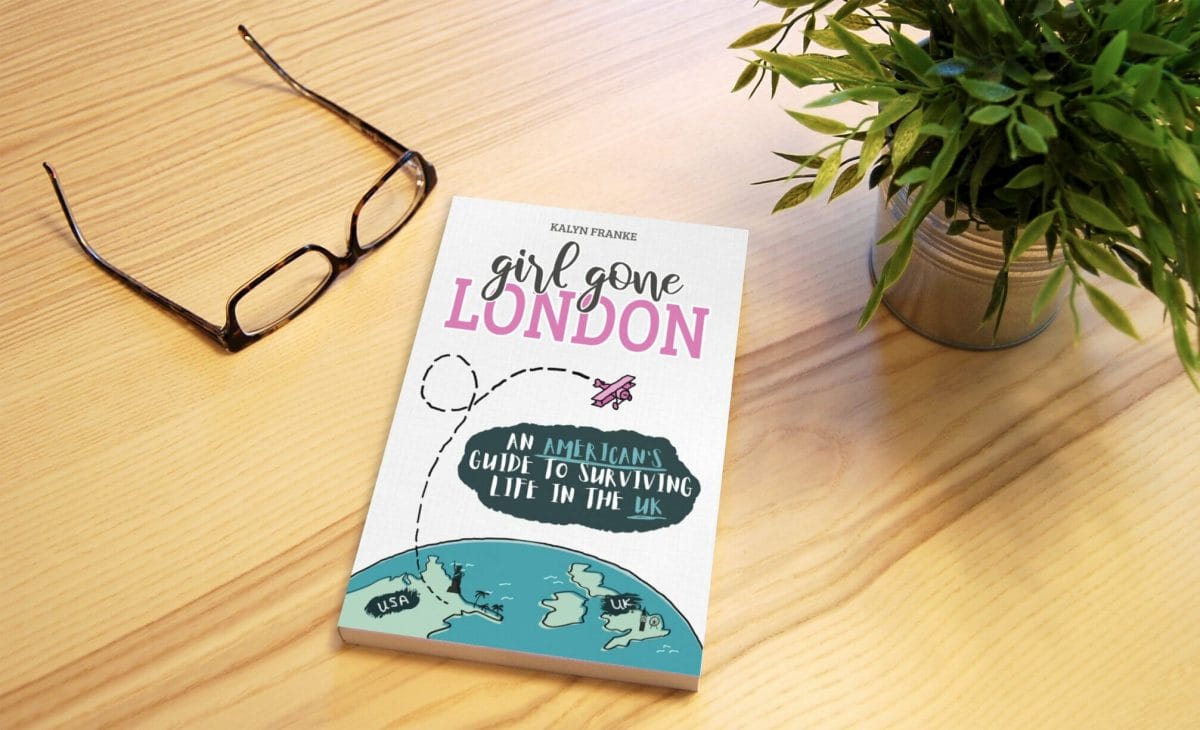 I also may have written it, so I'm biased.
But truly, if you're coming to the UK as an expat, a study abroad student, or even a visitor, my guide to life in the UK contains both personal anecdotes and maybe too-honest experiences, as well as resources and advice on topics ranging from homesickness in the UK (or how not to rage book a flight to America like I did), driving in the UK, being a student in the UK, and more practical advice about bank accounts, buying houses, and more.
It's truly a one stop shop for all of the weirdness and wonderfulness (is that a word?) that comes along with life in the UK, and also there is plenty of opportunity to laugh at me as I share all of my expat fails so there's that.
I've also put together some articles to help you out whether you're just coming for a day, a year, or a lifetime.
You'll find information about culture shock and what to expect, as well as how to get over it, and you can read all about my experiences dealing with the London Underground.
I've also got some information on figuring out the differences in UK money so you don't look like a complete newbie at the checkout, and if you're up for a laugh, you can read about me learning to drive in the UK which was both hilarious, terrifying, and traumatizing.
Right, now that you know everything else there is to know about visiting the UK, let's move on to Wegman's.
History of Wegmans
Founded in 1916 by John and Walter Wegman, Wegman's got it start as the Rochester Fruit and Vegetable Company.
The headquarters are in Rochester, New York, and the leadership are still very much Wegmans.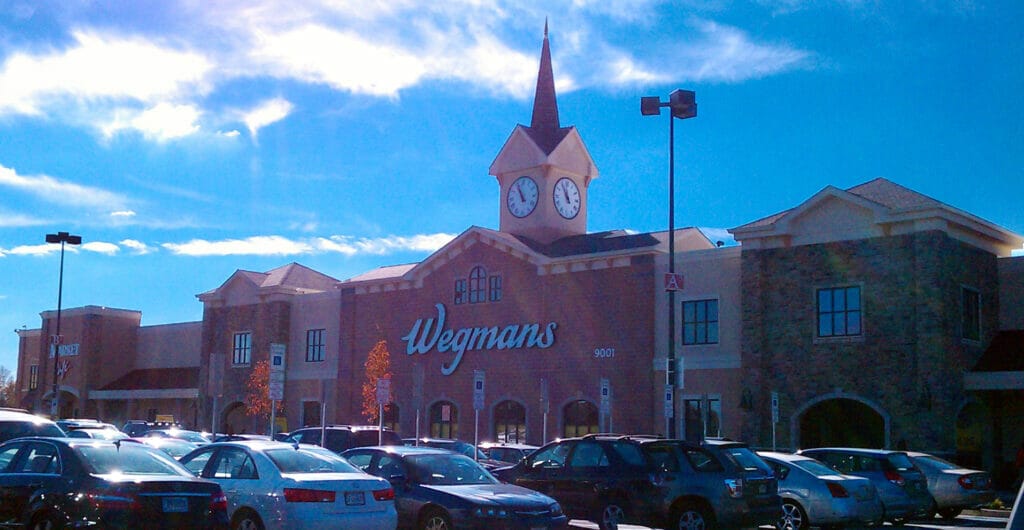 Danny Wegman is the chairmain, while the President and CEO is his daughter and the senior-vice president is his other daughter.
In 1968, the chain expanded into other areas of New York, but it wasn't until 1993 that it began to expand to other states.
Since then, it has grown into a chain that has stores in Pennsylvania, Delaware, New Jersey, Maryland and others.
There are over 90 stores across the States, and its emphasis is on high quality food.
Over the years, Wegmans has become famous for its employee happiness, quality of product and its cult-ish following of people who just can't get enough of Wegmans.
They have their own Twitter hashtag, and people regularly write to Wegmans to beg them to open up stores in their area.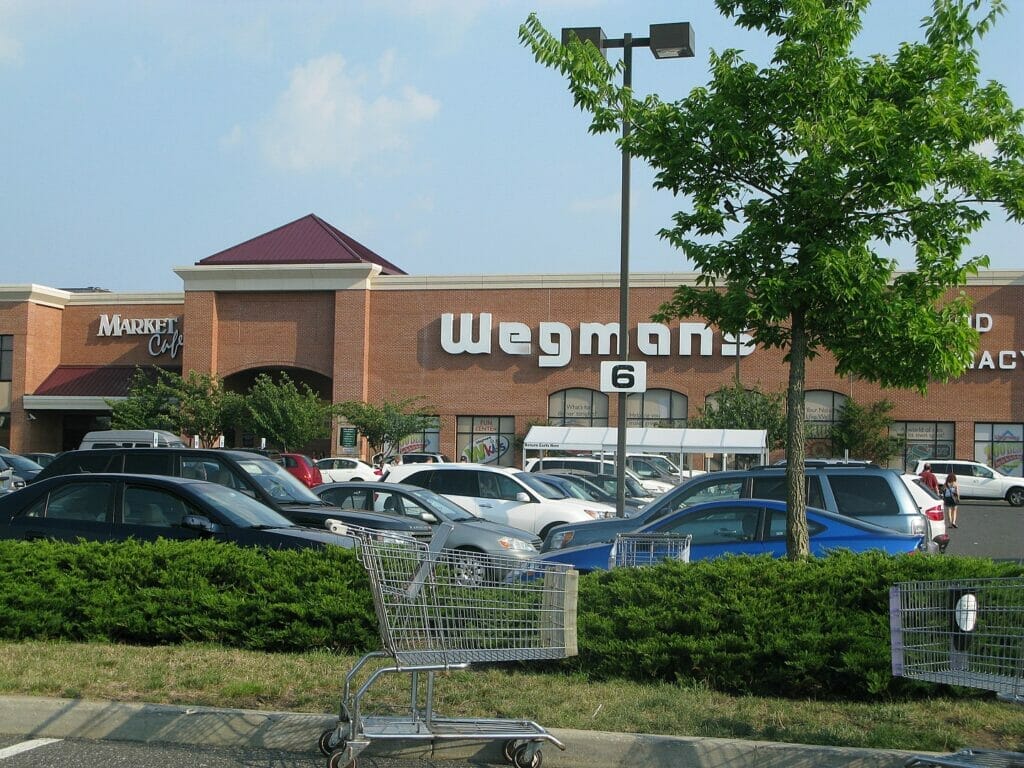 It was rated best American grocery store in 2007, and – if you're a fan of the American sitcom The Office – you should know that it was featured extensively in the series.
Unfortunately, even with all the love, there is no Wegmans in the UK!
Equivalent to Wegmans in the UK
Just because there is no Wegmans in the UK doesn't mean you can't find a high quality place to buy your groceries as an alternative to Wegmans in England.
Below, you'll find UK alternatives to Wegmans that focus on high quality food.
Sainbury's
Sainburys is most closely related to a Wegmans because of its focus on quality, middle class clientele and its loyal fans.
They have a strong branding, and can I just say that their chocolate chip cookies are some of the best I've ever tasted.
Sainbury's are located across the UK and London, and while they are not all as big as a Wegmans would be, they do have some impressively large ones featuring almost everything under the sun.
The smaller ones, mostly found in cities and on high streets, are called Sainbury's Local.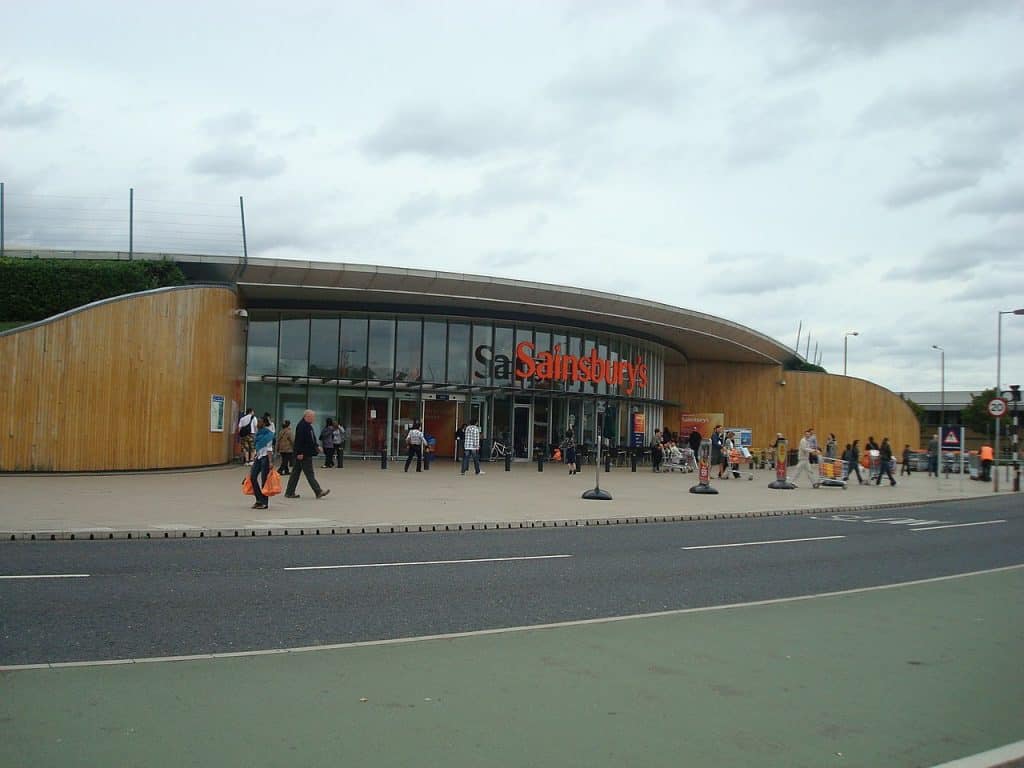 Waitrose
If you want to talk about somewhere that focuses on quality and organic items, Waitrose would be it.
This is known as one of the fanciest grocery stores in the UK, and I think it's a good alternative to Wegmans in the UK if you're looking for somewhere with mega fans.
Shopping at Waitrose is an "experience."
They've got cafes inside, coffee and tea machines where you can get a drink and walk around, and amazing ready-to-eat sandwiches.
While many people could go in between some of the major UK stores like Sainbury's, Morrison's, and ASDA, people who shop at Waitrose almost exclusively shop at Waitrose because they love it so much.
Read more in my full guide comparing UK and US stores and restaurants.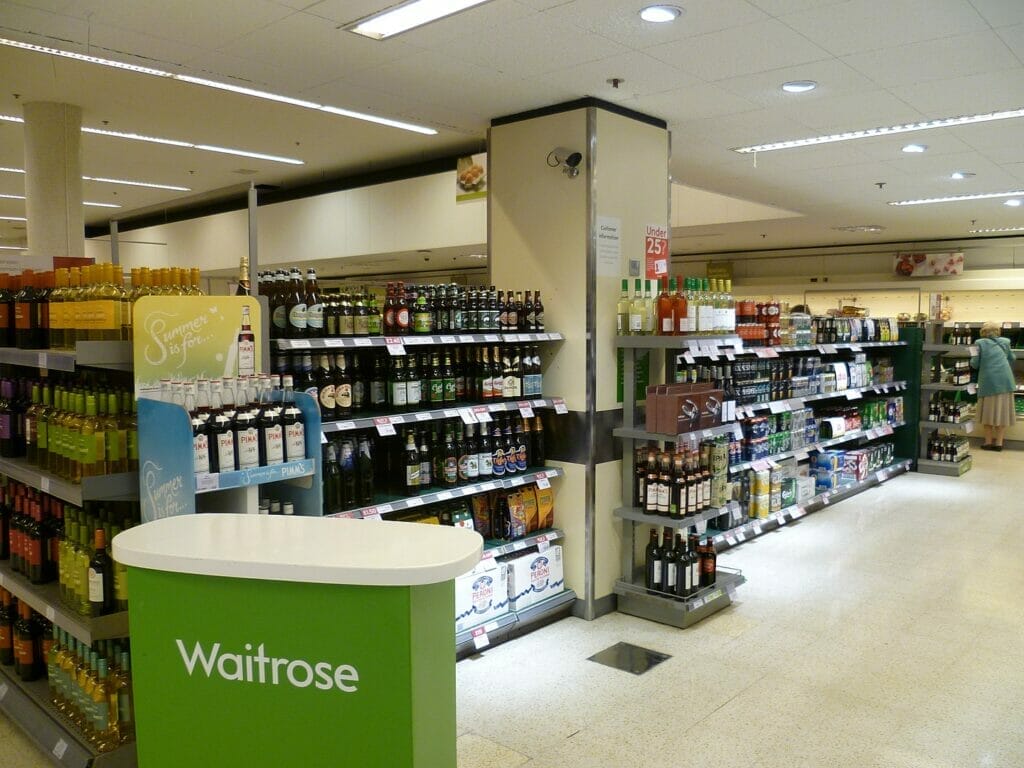 Coming to London Soon?
Hey!
Since you're here I'm assuming you're intent on visiting this amazing city soon!
A great way to really immerse yourself in UK culture is see the sights with the help of a guided tour. I've picked out a few highly recommended ones below!
Tower of London Tour with Crown Jewels: One of the best things about having a Royal family is imagining you'll be a part of it one day… and what better way than to imagine yourself in their jewels!
Or at least stare dumbfoundedly. Either way, this tour is a sure fire way to get dazzled by London.
Westminster to Greenwich River Thames Cruise: London is built around the River Thames, and one could even say it's the most important part of the whole city!
As such there's no better, or relaxing for that matter, way to see the sights than from the view of the river itself! This tour takes you around the city and shows why all Londoners are really still rugged sea voyagers at heart, if maybe just a little more posh now.
Oxford, Stratford, and Cotswolds: Londoners would have you fooled, but there's more to this beautiful nation than just what remains within the confines of London… shocker I know!
And if picturesque beauty is what you're looking for I really recommend checking out the quaint and historical towns that scatter the outskirts. If nothing else, this tour will give you a break from commuting by the tube, and we all need that eventually.
Want to know more about US stores in the UK? Check this list out!