Oh hello there, roast beef fans. You may have found this article by searching, "Is there an Arby's in the UK?" or "Is there an Arby's in London?" or even "Is there an Arby's in England?"
I mean, you need to cover your bases, you know?
When I first got to London, wondering if there was an Arby's in the UK wasn't one of the first things on my list because to be honest, I had never really had Arby's when I lived in America.
Hey, sidenote! If you're traveling to the UK, whether for a short period of time or as an expat, why don't you join my Facebook group where you can ask questions, get advice or just look at pretty pictures of this part of the world! Just click here to request to join and I'll add you!
But when you're an expat in the UK, suddenly everything changes.
Things that you hadn't craved before are suddenly the BEST FOOD in the entire world, and even though you have never been to Arby's, you're like, "WHY DOES THE UK FORSAKE ME WITH THEIR LACK OF ARBY'S IN THIS FOREIGN LAND?!"
Right, anyway, just to make it 100% clear, the answer to…
"Is there Arby's in the UK or London?"
Is no.
But I don't want to get too far into Arby's history in the UK yet (that's coming in a minute) without giving you some helpful resources that I think you need to take advantage of before you come to the UK.
Whether you're just visiting for a few days, studying abroad in London, or coming for a longer period of time as an expat, I've put together 4 of my favorite articles that will help you navigate life here.
Firstly, you need the best book on England ever written – the book is called "Watching the English" and you should click here and check it out.
It takes everything you think you know about the UK and either explains it or shows you what you're really getting yourself into (major small talk and frequent tea breaks, woo!)
England is a beautiful place, and I would highly recommend you visit, but you'll want to conquer the money system first so that you're not standing at the cash register like an idiot.
You'll also want to learn how to navigate the London Underground, because let me tell you, it has a mind of its own and there's nothing worse than being accosted by a random businessman.
And of course, we need to talk about driving in England as an American, because my overall advice is: JUST SAY NO.
Okay, moving on the point of this article which was to help you figure out if there is an Arby's in London or the UK.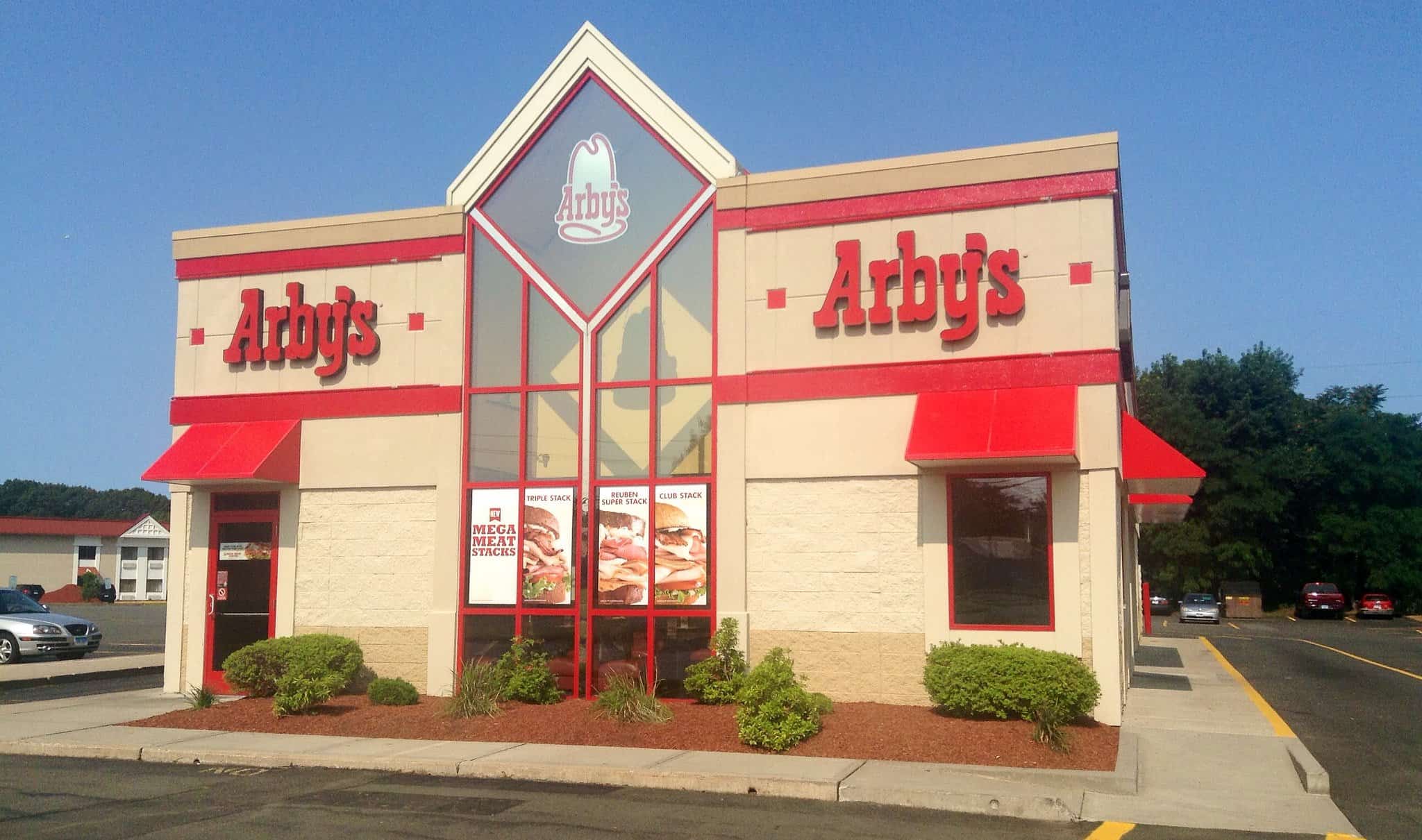 Arby's has over 3,000 stores in the US and is known as a fast-food sandwich restaurant chain.
In fact, in 2017, it was said that they were America's largest sandwich chain after Subway, which is a pretty big accolade!
Arby's does offer international locations in Canada, Turkey, Kuwait, the United Arab Emirates and Qatar. But the UK is not on that list.
Anymore.
See, Arby's did used to operate in the UK.
In 1992, they had plans to open 100 restaurants across England, including a flagship store in London and Glasgow.
Unfortunately in 1994, the London flagship store closed. It was blamed on the location, which was in a spot where many fast food restaurants had open and closed.
The idea was that it wasn't the Arbys brand that was failing, but instead the real estate choice.
They pressed ahead with their plans to open the 100 stores within 10 years, and a spokesperson for the chain went as far as to say that they "fill a niche that has not been tapped before."
It's unclear how much their roast beef sandwiches really filled a need in the UK, but they persisted for the next 10 years.
Finally, in 2001, Arbys in the UK went into liquidation and the final two restaurants located in Hampshire and Surrey were closed. The staff were all let go, and thus ended Arbys in the UK expansion and takeover plans.
It's pretty safe to say that Arby's isn't planning any new UK restaurants, considering that the most recent news on Arby's in the UK is still that article from 2001.
A shame for American expats in London searching for Arby's in London or Arby's in England, but they can't all survive!
If you're looking for fast food in the UK similar to Arby's, you're going to have a bit of a difficult time as roast beef sandwiches are not nearly as much of a "thing" here, but I would highly recommend a chicken restaurant called Nando's, and you can also find the normal McDonald's and Burger King should you want a taste of home.
You won't find a Chick-fil-A in the UK, which I'm extremely bitter about, and there's no Olive Garden in the UK , Steak n' Shake in the UK or Outback Steakhouse in London or the UK either. Which is tragic, but somehow we carry on.
Here's to Arby's coming to the UK sometime in the next 10 years and giving it another go. We believe in you!
Coming to London Soon?
Hey! Since you're here I'm assuming you're intent on visiting this amazing city soon! Getting the lowdown on the hottest spots in town can be time consuming so I took the liberty of picking out some great ones below. Hope you enjoy!
Open Top Bus London Tour: Double Decker buses are not only a way of transportation in London, but a definitive pastime of the city dwellers. This tour lets you see London by night and experience a true right of passage that every Londoner must complete. A two for one YAY!
Kew Gardens: If you want to explore some of the calmer areas of the city, I highly recommend exploring the botanicals at Kew Gardens. London's largest World Heritage site boasts acres of gardens in a royal glass palace because, yes, everything here gets the royal treatment.
Afternoon Tea Cruise on River Thames: Oh so you've come to London looking for tea? Lucky for you theres literally MILLIONS of options to choose from… it can actually get overwhelming. So I made it easy for you and found one of the best teas in town, complete with the best setting as well!