This post contains affiliate links for which I may make a small commission to help keep the site running. You will not be charged extra for these items had you not clicked the links. Thank you for your help to keep the site running!
Justice, a girl's clothing store that sells all kinds of colorful outfits, is a fan favorite among tweenagers and a staple in malls across America.
When I was growing up, we had its predecessor, Limited Too, which I'll explain more about in the post below.
Now, you're on this post because you're wondering if there's a Justice store in the UK or a Justice store in London, and I've also got plenty of information about that, as well as where to find them.
GET A

FREE

LONDON INTRO GUIDE and ACCESS TO MY FB GROUP
Start your planning with this "Intro to London" guide and access to my London planning Facebook group!
So here, we go, the answer to the question…
"Is there a Justice store in the UK or England or London?"
is sadly, no.
There is no Justice in the UK or London (the clothing store, that is).
There are still options for shopping for teenagers in the UK, as we'll go into, but you won't be able to find a Justice in a UK shopping center.
Before we get too deep into the origins of the Justice clothing line and where in the world you can find it (because you can find it outside of the UK, I promise!), I wanted to bring your attention to some awesome resources I've put together on being in the UK.
Whether you've come as a study abroad student, an expat, or just a short-term visitor, these books and articles are going to help you have the best time and really make the most of this beautiful country.
Firstly, regardless of why you're here, you should pick up a copy of my favorite book on England for foreigners – the book is called "Watching the English" and you should click here and check it out.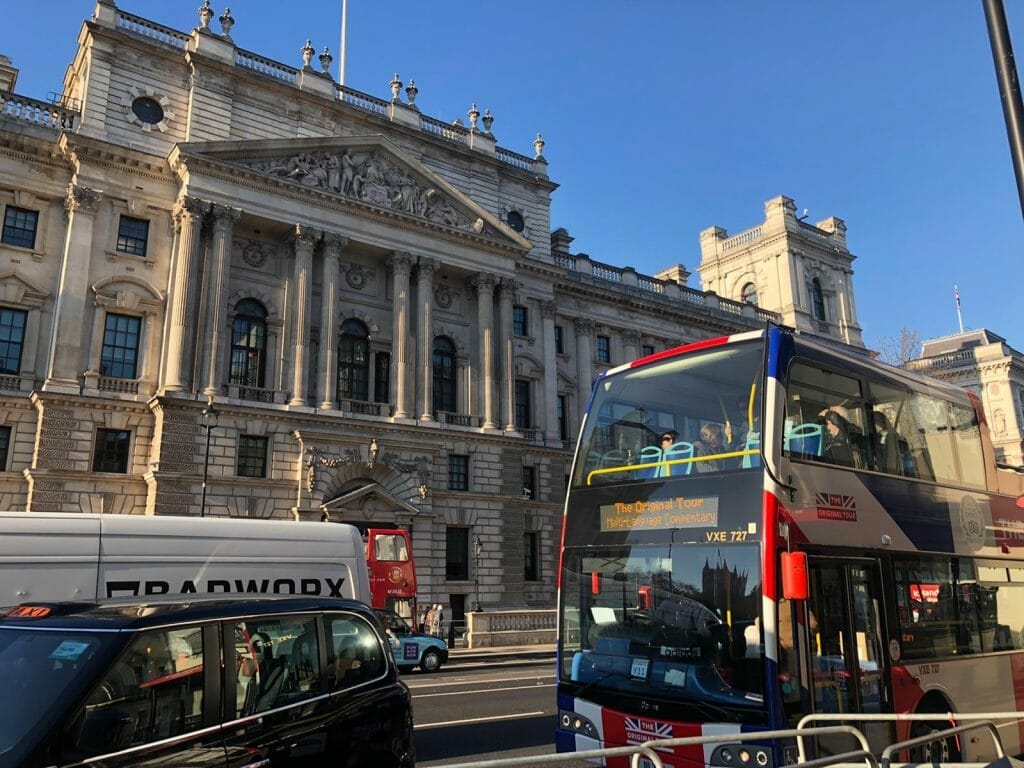 From frequent tea breaks to understanding why British people complain a lot, this book really illuminates English culture and will help you relate to people you meet on your travels and your surroundings.
It goes into communication, "saying goodbye in the UK," and more.
Honestly, this book completely changed everything about how I understood the UK and made me more tuned in to what was going on around me.
Hooray for being not-so-confused at why everyone is saying sorry even when they haven't done anything wrong!
I also have quite a few other articles in addition to those about Justice in the UK that will help you have the best trip possible.
If you're here as a visitor, you can check out my post about London's best tours and which ones you should take.
I don't have time to waste when it comes to exploring London because there's just so much to see, even though I live here, and you certainly don't!
In this article, I'll tell you where to spend your hard earned money and my favorite bus, boat, and walking tours.
I've also answered some of the most important questions I often get about getting around London, including how to navigate the river boats, what the heck an Oyster card is, and whether or not the London Pass is worth it.
For those of you who want to pursue a move to the UK full time, I haven't left you out!
Check out my articles on how to move to the UK without completely losing your mind, and my thoughts on making friends as an expat – which isn't as easy or hard as you may think!
Just different.
Okay, now that you're fully on board with how to have the best time in London, let's talk about Justice stores in the UK.
History of Justice in the UK
If you think the Justice logo looks a lot like the ones for Limited Too, you wouldn't necessarily be wrong.
Justice, as a brand, is what Limited Too stores were transformed into in 2009.
But to understand Justice, we'll have to go back even further in Limited Too's history.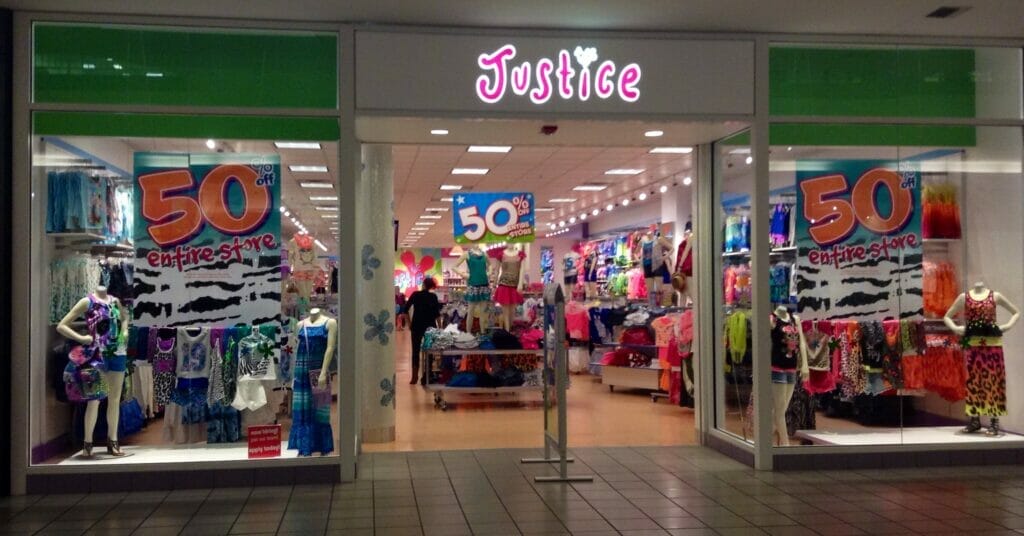 Limited Too was started in 1987 and was a child of the adult clothing company, The Limited.
They sold sparkly and colorful clothes that were all the rage with tweenage and teenage girls in the early 2000s.
Limited Too's offerings were at a relatively high price point for teenage stores.
It was the kind of place you begged your grandma to take you when she was treating you to a day out, not somewhere that you could save up your allowance and shop.
The first Justice store was opened in 2004, but when the recession hit in 2008, the Limited Too stores were changed to the lower-priced Justice stores in order to entice a tweenage audience whose parents were feeling the effects of the recession.
Today, Justice has over 900 stores across America and continues to be the go-to shopping option for a subset of tweenage girls who like their shirts with cutesy slogans and all-things glitter.
Equivalent to Justice in the UK
While you can't go to Justice in the UK, I've hunted down some equivalents to Justice in the UK and Justice in London that I think you should check out.
Primark
If you've got an older child or tweenager on your hand, I would highly recommend Primark as an excellent shop to take them in to see what they can find.
They have a fantastic (and large) kid's section, as well as plenty of color and pattern options, and all at really low prices so if they grow out of it in the next two months, it doesn't matter.
Check out my guide to shopping at Primark to make sure you don't make mistakes that leave parents wishing they never stepped foot inside.
New Look
If you're got tweenagers or teenagers, New Look is the place to go that's an alternative to Justice in the UK.
They've got more sophisticated looks, but still age appropriate.
It's a bit of a teenage clothing mecca, and you can find a giant one on Oxford Street, as well as chains across shopping centers across the UK.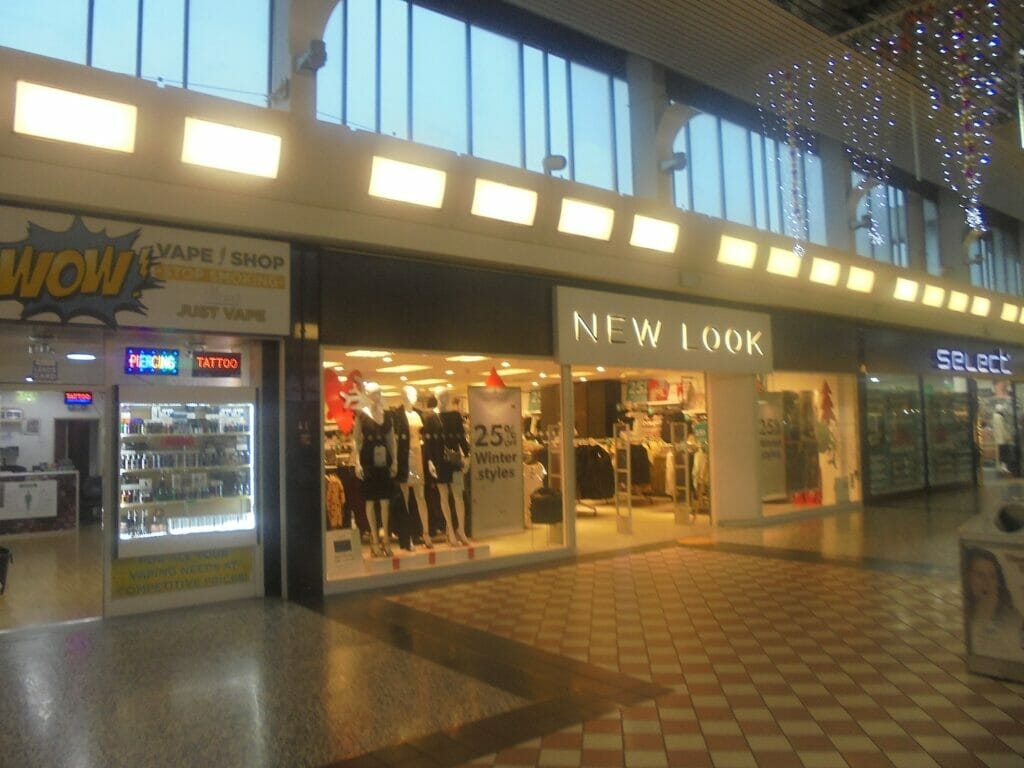 You won't find the same looks that you might find in Justice because UK teenagers dress a bit differently, but you won't have to worry that the clothes are too revealing or inappropriate either.
Read more in my full guide comparing UK and US stores and restaurants.
Want to know more about US stores in the UK? Check this list out!