This post contains affiliate links for which I may make a small commission to help keep the site running. You will not be charged extra for these items had you not clicked the links. Thank you for your help to keep the site running!
Whenever I'm in America, gorging myself on a Bloomin Onion at Outback Steakhouse is always at the top of my list.
So when I moved to London, instantly my first thought went to a place many expat American minds wander to…"is there an Outback Steakhouse in England or the UK?"
I mean, I didn't even need one in London, just one in any part of the country would do!
GET A

FREE

LONDON INTRO GUIDE and ACCESS TO MY FB GROUP
Start your planning with this "Intro to London" guide and access to my London planning Facebook group!
Hey! Want more honest UK tips and planning advice? Click here to join my London and UK Travel Tips Facebook group, where I can answer more of your questions!
And so, dear readers, I want to clear this up for you once in for all, because there are conflicting opinions (more on that later) and you deserve to know…
Is there an Outback Steakhouse in England or the UK?
And the answer is – no! But there used to be.
I'm not really sure what British people have against endless piles of amazing cheesy potatoes, sirloin steaks, the best mac and cheese on the planet, and awkward impressions of Australian accents, but apparently they do.
But before I get into what I've been able to find on Outback Steakhouse in the UK, let's digress a little bit.
Whether you're coming to the UK to work, to study, or just to travel around for awhile, there are some unique perspectives that you might want as an American so that you better understand the food, what they mean when they say certain words that you thought meant something else, and how to deal with the dreary English weather.
Firstly, no matter your reason for being here, you need the best book on living in the UK for Americans ever written – the book is called "Girl Gone London: An American's Guide to Surviving Life in the UK" and you should click here and check it out.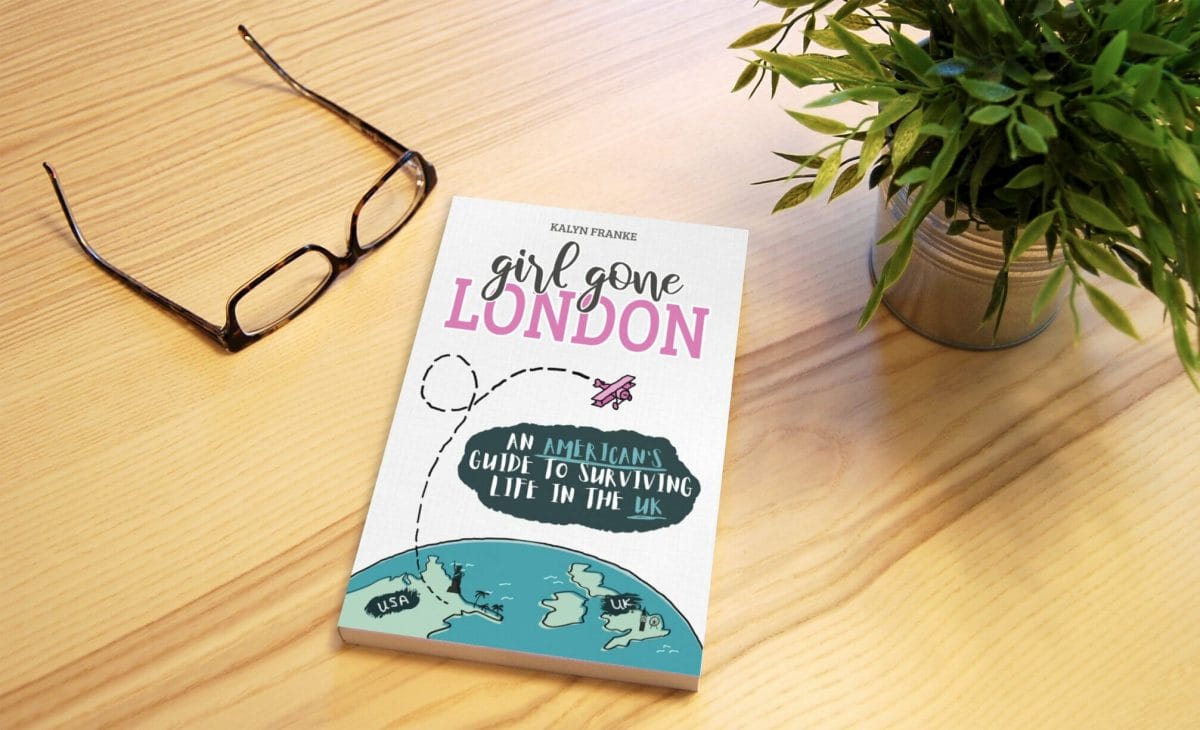 I also may have written it, so I'm biased.
But truly, if you're coming to the UK as an expat, a study abroad student, or even a visitor, my guide to life in the UK contains both personal anecdotes and maybe too-honest experiences, as well as resources and advice on topics ranging from homesickness in the UK (or how not to rage book a flight to America like I did), driving in the UK, being a student in the UK, and more practical advice about bank accounts, buying houses, and more.
It's truly a one stop shop for all of the weirdness and wonderfulness (is that a word?) that comes along with life in the UK, and also there is plenty of opportunity to laugh at me as I share all of my expat fails so there's that.
Check out these articles I've written on topics like culture shock (seriously important if you haven't read into it yet), how not to make enemies on the London Underground, and where to go for the best food in London (because you can't go to Outback, see, this did relate somehow).
Now that we've covered the basics, let's get into it.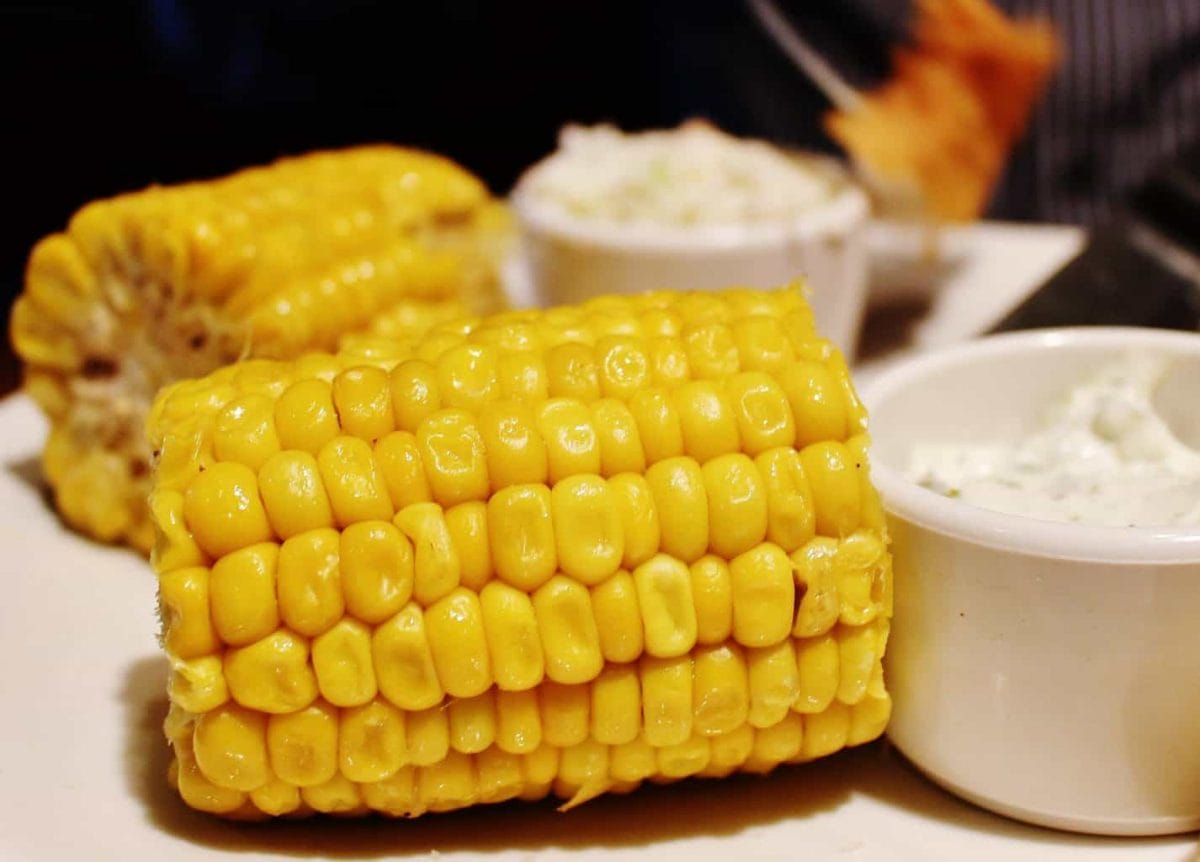 History of Outback Steakhouse in the UK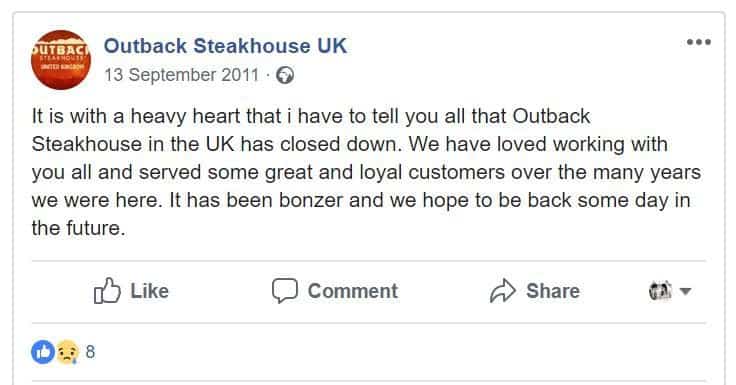 While doing a bit of digging for this article, I found a very sad post from Outback Steakhouse UK in 2011 letting its loyal readers know that it had closed down.
I had no idea there even had been an Outback in the UK previously, which shows you how it's been seemingly wiped from the memory of English people!
A bit more research brought me to this article, written by a dumbfounded journalist who isn't quite on board with what Outback even is or how it came to London.
But it appears to have opened its first restaurant in London in 2001, which means that it enjoyed a 10 year run in the UK.
Finally, this article from 2002 indicated that Brits seemed to be loving it, but I can't get over how "it includes lots of parking" is one of the major selling points.
The lack of parking in England rears its ugly head again!
Why Didn't Outback Steakhouse Work in the UK?
I can only speculate on why Outback Steakhouse closed in the UK, but my initial gut assumptions are somewhat backed up by what I've found online.
Firstly, I don't think the Brits would have understood the "American franchise themed like fake Australia" as much as Americans do.
I would argue that there your average Brit is much more likely to actually know someone from Australia, so a restaurant based entirely on Australian stereotypes of eating everyone "on the barbie" and boomerangs everywhere wouldn't be quite so thrilling.
This is definitely suggested by the article above where the reviewer, and the waitress, are pretty confused at what the whole point of the place is.
There are also suggestions on Glassdoor that part of the problem was with the upper level management.
For whatever reason, Brits just didn't fall in love with the Bloomin Onion like Outback had hoped, and now we're left Outback-less, hoping that our friends and family will sneak us some of that amazing bread on the airplane (hint hint).
Other Differences between US and UK Stores
I've put together a whole collection of articles answering your questions about what stores and restaurants you can expect to find in the UK, some linked below in no particular order.
Read more in my full guide comparing UK and US stores and restaurants.
Coming to London Soon?
Hey!
Since you're here I'm assuming you're intent on visiting this amazing city soon!
Getting the lowdown on the hottest spots in town can be time consuming so I took the liberty of picking out some great ones below.
Hope you enjoy!
Open Top Bus London Tour: Double Decker buses are not only a way of transportation in London, but a definitive pastime of the city dwellers.
This tour lets you see London by night and experience a true right of passage that every Londoner must complete.
A two for one YAY!
Kew Gardens: If you want to explore some of the calmer areas of the city, I highly recommend exploring the botanicals at Kew Gardens.
London's largest World Heritage site boasts acres of gardens in a royal glass palace because, yes, everything here gets the royal treatment.
Afternoon Tea Cruise on River Thames: Oh so you've come to London looking for tea?
Lucky for you theres literally MILLIONS of options to choose from… it can actually get overwhelming.
So I made it easy for you and found one of the best teas in town, complete with the best setting as well!
Want to know more about US stores in the UK? Check this list out!