Hi, clothes shoppers! You've probably found this article by looking up something like, "Is there an American Eagle in the UK? or "Is there an American Eagle in London?."
I've written loads of resources on things like if there is a Walmart in the UK, if there's a Home Depot in the UK, and if little Rover can expect a Petsmart in the UK.
And while I, like many Americans, love the American Eagle brand and always find that their clothes fit me pretty well, I have some news for you…
Hey, sidenote! If you're traveling to the UK, whether for a short period of time or as an expat, why don't you join my Facebook group where you can ask questions, get advice or just look at pretty pictures of this part of the world! Just click here to request to join and I'll add you!
The answer to the question,
"Is there an American Eagle in London or the UK?"
is no! But I'll explain more below.
Before we delve into American Eagle's history in the UK (it DOES have a history), I want to share some tips I've written all about visiting London and the UK.
Firstly, you need the best book on England ever written – the book is called "Watching the English" and you should click here and check it out.
It takes everything you think you know about the UK and either explains it or shows you what you're really getting yourself into (major small talk and frequent tea breaks, woo!)
Whether you're a short term visitor, a study abroad student, or an American expat coming to stay indefinitely, you'll want to check these out so you start your time in the UK off on the right foot (and if nothing else, looking the correct way before you cross the road…)
Okay, so, if you're hoping to find your favorite American Eagle clothing items in the UK or an American Eagle store in London, you're a bit out of luck. Well, you're a lot out of luck, because there aren't any.
That being said, American Eagle did try to make it in the UK.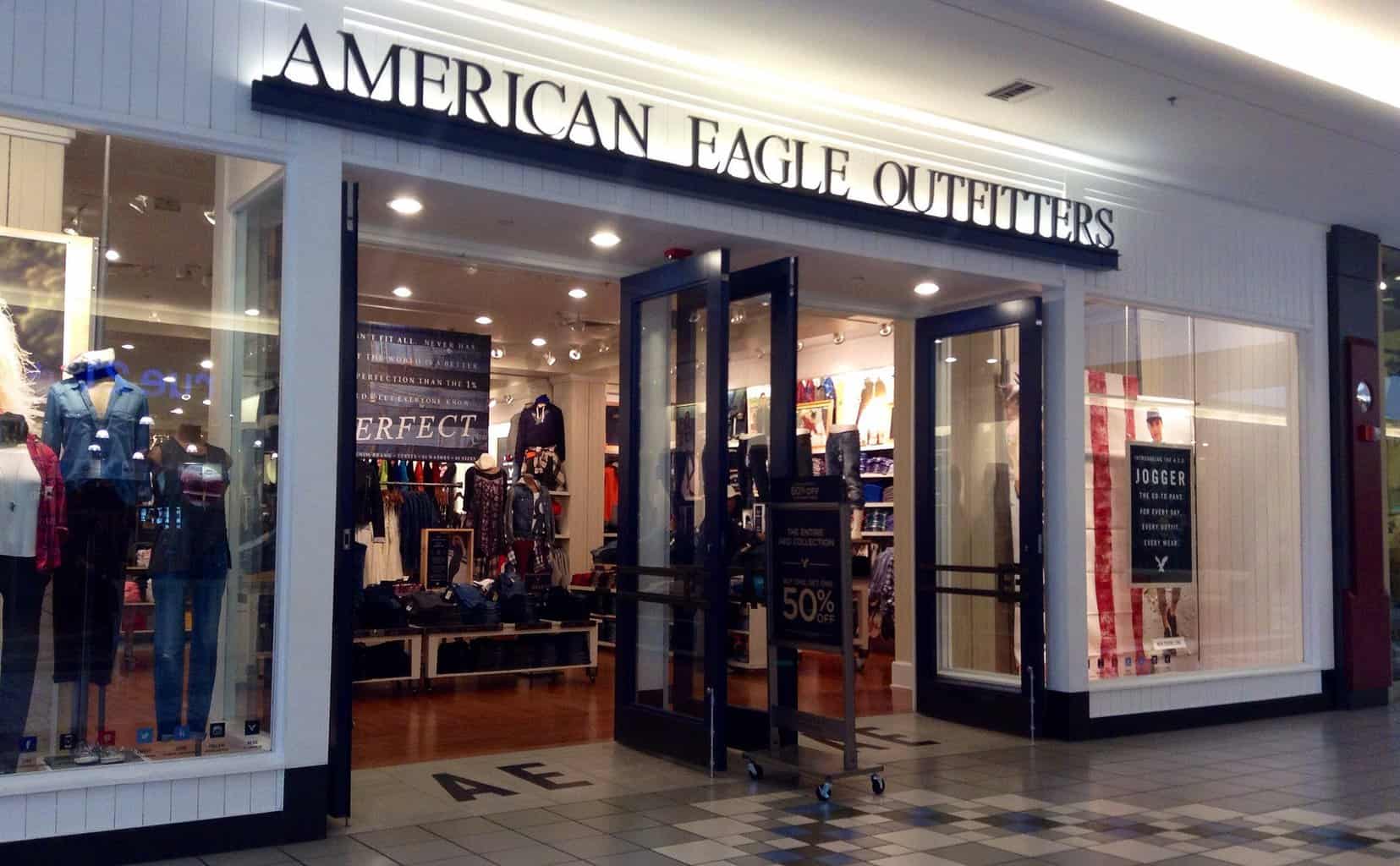 In 2014, American Eagle make its debut in the UK with three stores: Bluewater shopping centre in Kent, and one at Westfield Stratford and Westfield Shepherds Bush (both in London).
At the time, the idea was a good one and there were plans to expand to 20-30 stores across the UK.
American Eagle is one of the largest shopping retailers in the US, and they have around 950 stores across the states. Other US brands had crossed the pond before them, including Hollister and Forever 21.
However, American Eagle didn't quite take off like other US brands had, and in 2017, all three stores were closed down.
This leaves the UK currently American Eagle-less, with no sign of them coming back to the UK anytime soon. However, you can order from American Eagle online and pay fees to have items shipped to the UK.
Why you would want to do that is beyond me as you can find plenty of clothing shops in the UK, but if you are a true American Eagle addict, that option is available too.
If you're looking for discount clothing stores in the UK, you should know that there's no Ross Dress for Less in London or the UK, but there IS a TJMaxx equivalent called TKMaxx!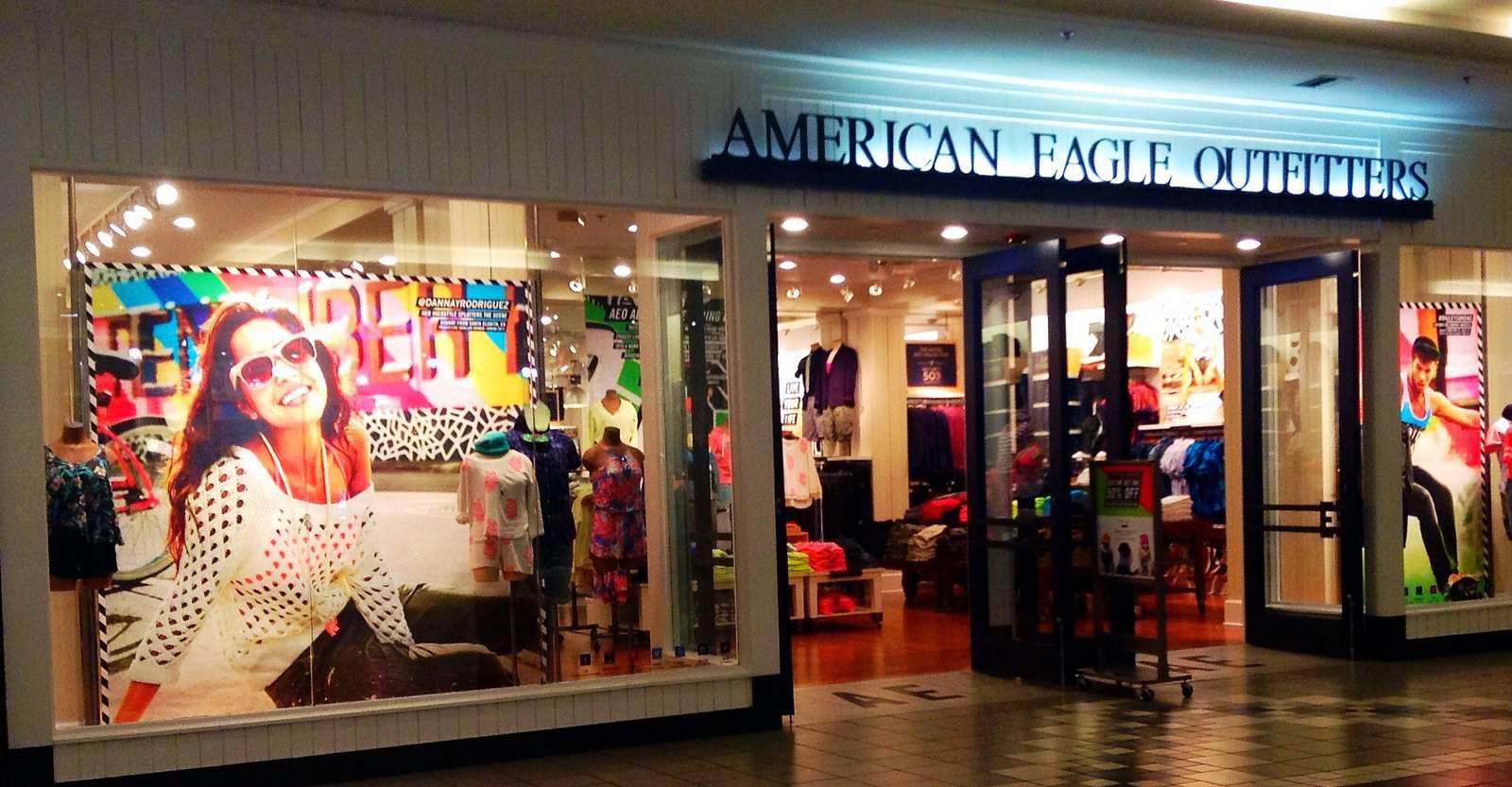 Speaking of other stores available to you, I've put together a list of other US stores that you may or may not find in the UK, along with some substitutions if you can't find them there.
Especially if you rely on a particular store for a product, it's important to do your research and realize that you might not be able to buy your exact brand of underwear/hair gel/avocados over here if that's important to you!
Fast Food
The UK has…
-Dominoes
-McDonald's
-Burger King
-Pizza HUt
The UK doesn't have…
-Arbys
-Chick-Fil-A
-White Castle
Sit-down restaurants
The UK has…
-TGI Friday's
-Chipotle
The UK doesn't have…
-Tijuana Flats
-Carrabas
-Outback Steakhouse
Big Stores
The UK has…
-Costco, though people say it isn't as good of a value and not quite the same
-Walmart-owned ASDA, which isn't exactly the same as a Walmart but pretty close
The UK doesn't have…
-Macy's
-Nordstrom
The grocery store names are also different, with no overlap between the US and the UK. You won't find Publix (for Floridians), Giant (for you mid-Atlanticers!), Kroger (looking at you, southern states!) or any other popular grocery store in your area.
You also won't find Walgreens or CVS, but instead a different brand name for drugstores including Superdrug and Boots.
And when you need a store with lots of "stuff," you can go to "Argos," where you essentially order things from a catalog and then they are brought to you.
Feel free to get in touch with me at girlgonelondon@gmail.com if you're wondering about the differences between the UK and US store offerigs, and have a lovely time