This post contains affiliate links for which I may make a small commission to help keep the site running. You will not be charged extra for these items had you not clicked the links. Thank you for your help to keep the site running!
With its homequarters in my hometown of Orlando, Red Lobster has become a popular household name when friends and family want a quite bite to eat.
I'm not a huge seafood fan myself, but if you're wondering if there's a Red Lobster in the UK or a Red Lobster in London, chances are that you are!
I can practically hear the sounds of Red Lobster commercials in the background now (everyone always looks SO excited to be chowing down on shrimp!), and as your friendly neighborhood guide to all of the American chains in (or not in) the UK, I think it's my job to help you answer the question…
So…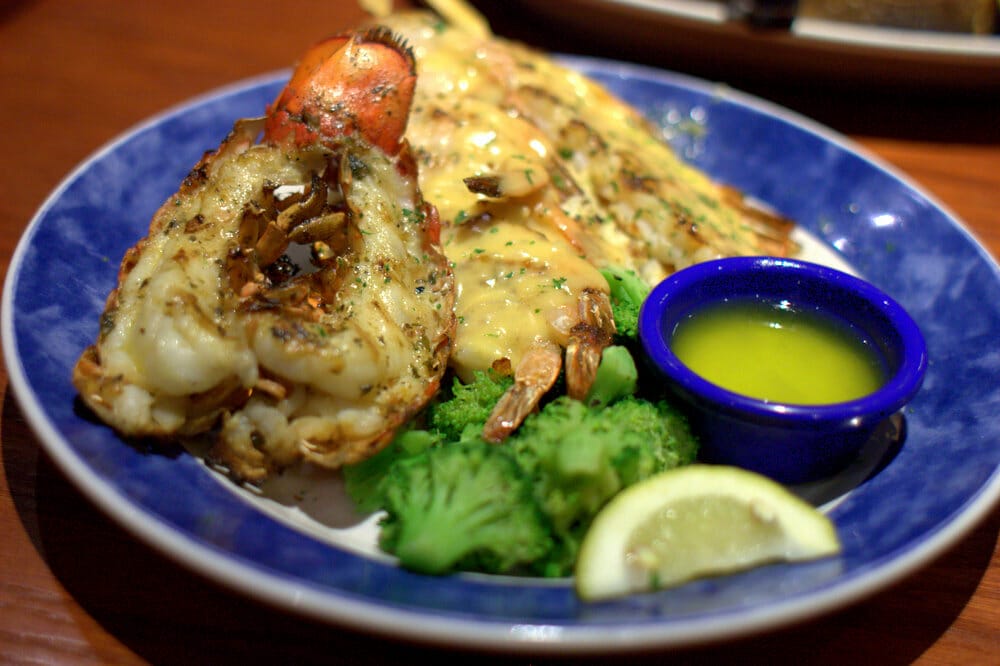 GET A

FREE

LONDON INTRO GUIDE and ACCESS TO MY FB GROUP
Start your planning with this "Intro to London" guide and access to my London planning Facebook group!
Hey! Want more honest UK tips and planning advice? Click here to join my London and UK Travel Tips Facebook group, where I can answer more of your questions!
"Is there a Red Lobster in the UK or England or London?"
Sadly, that would be a negative.
There is no Red Lobster in London, England, or the entire UK.
The UK does have some seafood places (fish and chips, anyone?), and we'll discuss alternatives to Red Lobster below as well.
Before we launch into the history of Red Lobster in the UK and figuring out why there's not a Red Lobster in the UK, I wanted to let you know that I've put together some amazing resources for anyone either visiting the UK or moving there long term.
Firstly, no matter your reason for being here, you need the best book on living in the UK for Americans ever written – the book is called "Girl Gone London: An American's Guide to Surviving Life in the UK" and you should click here and check it out.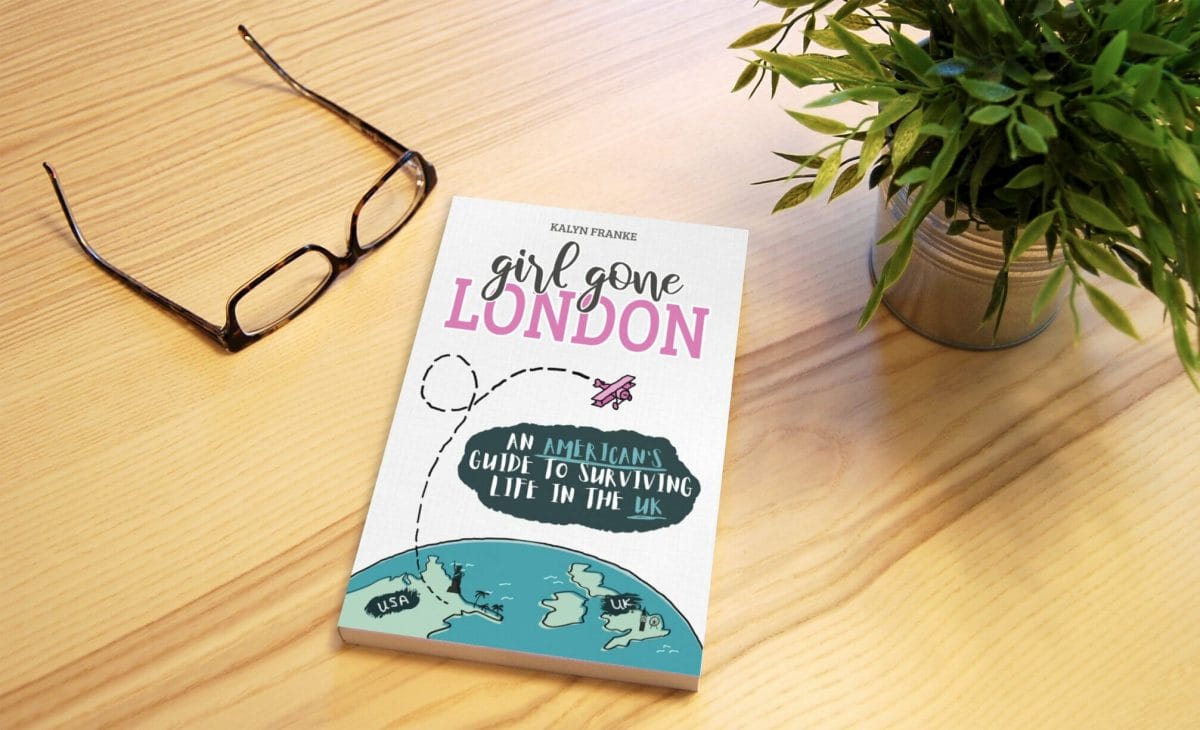 I also may have written it, so I'm biased.
But truly, if you're coming to the UK as an expat, a study abroad student, or even a visitor, my guide to life in the UK contains both personal anecdotes and maybe too-honest experiences, as well as resources and advice on topics ranging from homesickness in the UK (or how not to rage book a flight to America like I did), driving in the UK, being a student in the UK, and more practical advice about bank accounts, buying houses, and more.
It's truly a one stop shop for all of the weirdness and wonderfulness (is that a word?) that comes along with life in the UK, and also there is plenty of opportunity to laugh at me as I share all of my expat fails so there's that.
If you're coming here just for a visit, you'll want to check out the article below on how to use the London Underground without looking like an idiot, as well as understanding the UK money system and the difference between coins.
For those of you who are expats in the UK, you'll enjoy the article on culture shock or the one about my experiences learning how to drive in the UK as an American (spoiler alert: lots of yelling involved).
Anyway, here we go with more information on Red Lobster in the UK.
History of Red Lobster
Red Lobster first opened its doors in Lakeland, Florida in 1968.
The expansion took place within the southeastern United States first, and today Red Lobster has over 700 locations.
These locations aren't just confined to the US, as they've also expanded into Canada and other international locations like the United Arab Emirates.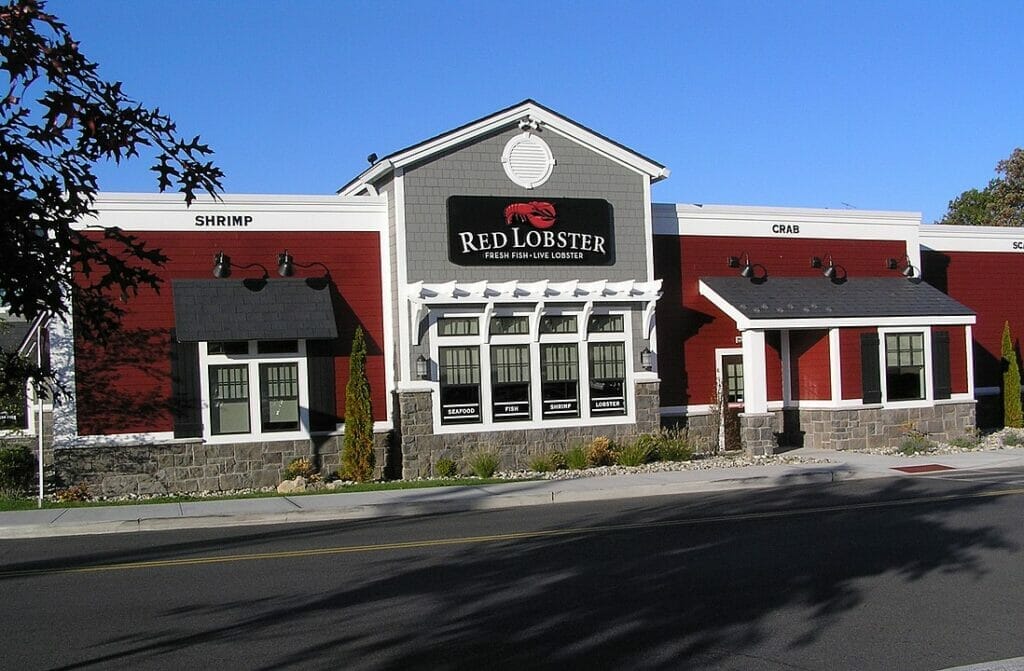 In order to appeal to more customers and revamp their image, Red Lobster underwent a major design change around 2013 that made its restaurants reflect a more New England style of architecture.
Today, Red Lobster definitely isn't known for being a high class or fancy restaurant – it's a casual American dining chain that serves up seafood.
It's not going to be freshly caught or the best of the best, but you know what you're getting when you go into it.
Despite American's love for Red Lobster and other chains like Olive Garden, Red Lobster has never come to the UK.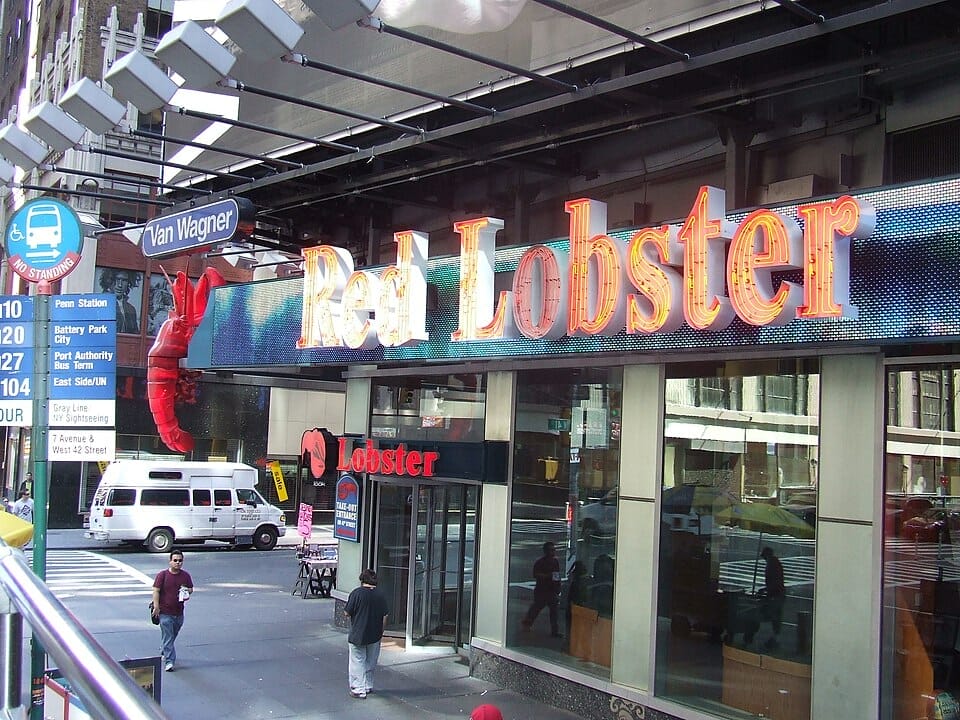 There are a few Trip Advisor reviews made by Brits who have enjoyed Red Lobster while in America begging the franchise to make the trip across the pond, but so far no luck.
We'll discuss more in the next section the alternatives to Red Lobster in the UK, but one of the main reasons I can see for the failure of the brand to move over to the UK is simply because the UK is an island where getting seafood is going to be much easier and fresher.
The UK isn't huge on chain restaurants in the same way America is, either, so the seafood restaurants you are going to find are going to be individual restaurants with their own specialties.
Alternatives to Red Lobster in the UK
There are a lot of restaurants that I understand Americans craving when they're in the UK.
I get wanting Outback Steakhouse to come to the UK because you want a Bloomin Onion, I understand Chick Fil A lovers wanting Chick fil A in the UK for the amazing waffle fries, and I am totally on board with trying to convince Olive Garden to come to the UK for the breadsticks.
But in a country that's famous for its fish and chips, there's no real reason in my mind for Red Lobster to come over just yet!
Fish and Chips shops
If you're craving seafood in the UK, you're totally in luck.
There's going to be a fish and chips shop SOMEWHERE nearby, whether you're in London or in Brighton or in the Midlands.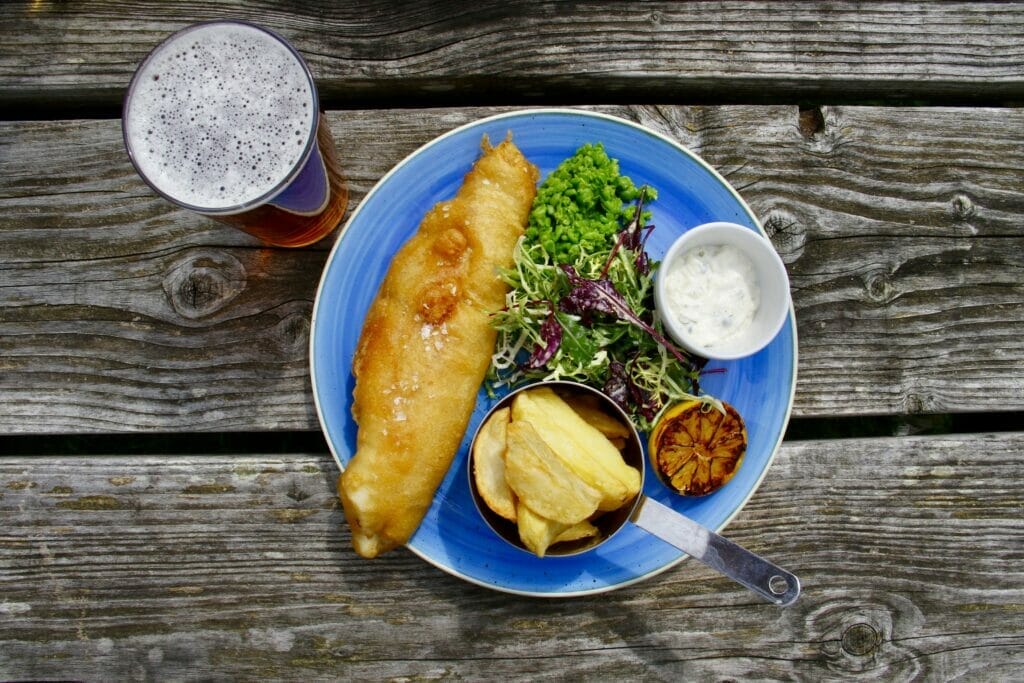 Fish and chips aren't even just a national dish, they're part of UK culture like drinking tea and complaining about things.
The fish in "fish and chips" is typically cod or haddock, though there are sometimes other choices.
Trust me, you'll forget all about Red Lobster as soon as you dig into a giant plant of amazing chunky french fries (chips) and some battered cod.
Loch Fyne Seafood & Grill
If you're like, "yes, I hear you, but I still really want seafood in a chain restaurant in the UK," then check out Loch Fyne Seafood & Grill.
They've got about 24 restaurants across the UK and specialize in fresh seafood served up in a more classy atmosphere than a Red Lobster.
If you're looking to save money, they've got lots of set deals and various saver menus that can help you get your seafood fix for less.
Read more in my full guide comparing UK and US stores and restaurants.
Coming to London Soon?
Hey!
Since you're here I'm assuming you're intent on visiting this amazing city soon! A great way to really immerse yourself in UK culture is see the sights with the help of a guided tour. I've picked out a few highly recommended ones below!
Tower of London Tour with Crown Jewels: One of the best things about having a Royal family is imagining you'll be a part of it one day… and what better way than to imagine yourself in their jewels!
Or at least stare dumbfoundedly. Either way, this tour is a sure fire way to get dazzled by London.
Westminster to Greenwich River Thames Cruise: London is built around the River Thames, and one could even say it's the most important part of the whole city! As such there's no better, or relaxing for that matter, way to see the sights than from the view of the river itself!
This tour takes you around the city and shows why all Londoners are really still rugged sea voyagers at heart, if maybe just a little more posh now.
Oxford, Stratford, and Cotswolds: Londoners would have you fooled, but there's more to this beautiful nation than just what remains within the confines of London… shocker I know!!
And if picturesque beauty is what you're looking for I really recommend checking out the quaint and historical towns that scatter the outskirts. If nothing else, this tour will give you a break from commuting by the tube, and we all need that eventually.
Want to know more about US stores in the UK? Check this list out!