Okay, so before we get into an argument over whether Taco Bell is real Mexican food, I just want to say that I am firmly in the "passable Mexican food" camp ESPECIALLY when it comes to finding Mexican food in England.
Whichever camp you fall in, you probably found this article by looking up, "Is there a Taco Bell in London?" or "Is there a Taco Bell in England?" or "Is there a Taco Bell in the UK?" so you have no real room to talk, anyway.
Hey, sidenote! If you're traveling to the UK, whether for a short period of time or as an expat, why don't you join my Facebook group where you can ask questions, get advice or just look at pretty pictures of this part of the world! Just click here to request to join and I'll add you!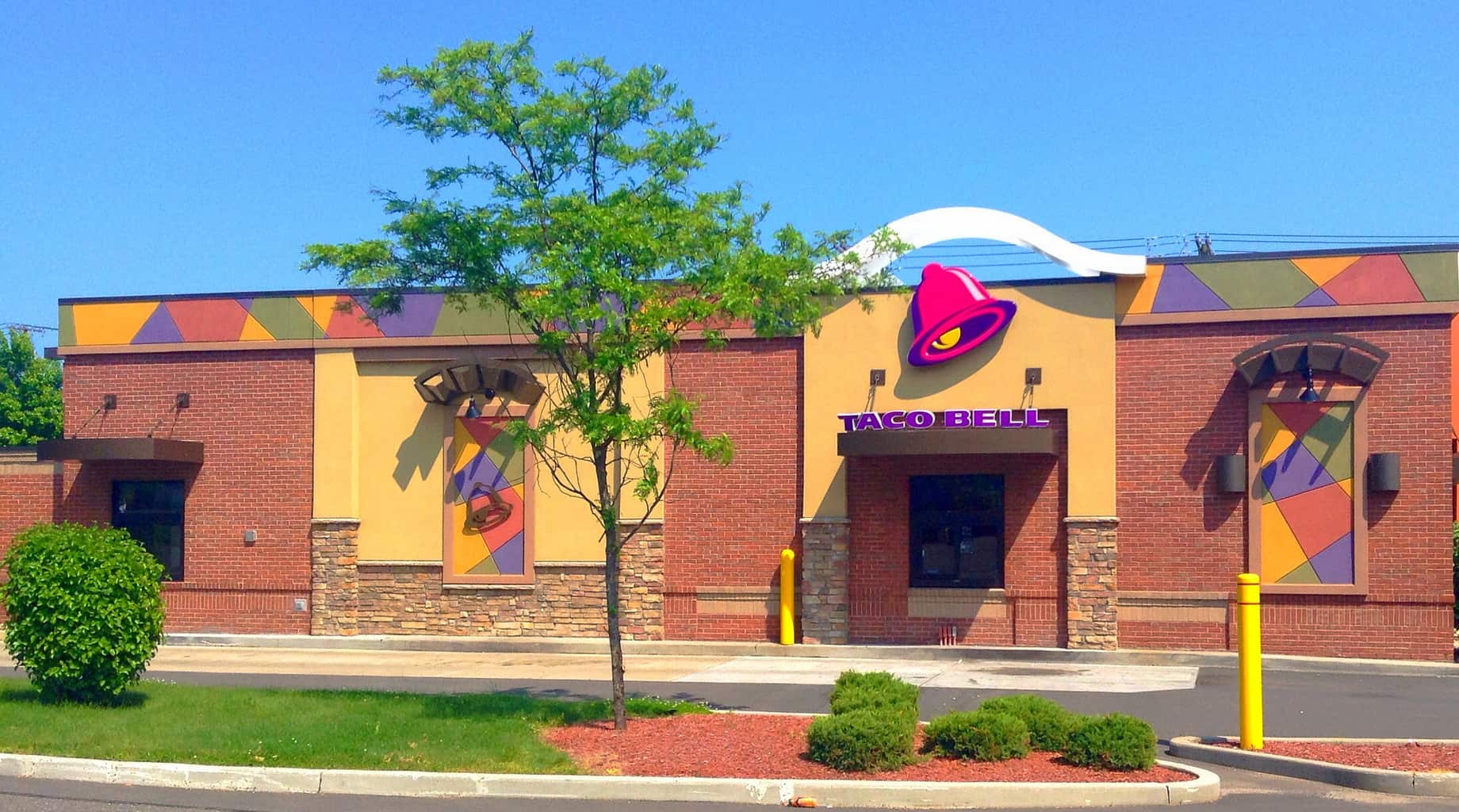 Whether you grew up on Taco Bell's dollar menu or are just desparate for a burrito as an American expat in the UK, I want to help answer the burning questions on everyone's mind…
"Is there a Taco Bell in the UK or London or England?"
And, lucky for you, there IS a Taco Bell in the UK. In fact, there are 22 Taco Bells in England, though none are in London.
Before we get too far into explaining all of the ways to get Taco Bell in the UK, I want to let you know that I've also put together some additional guides for anyone coming from America (or another country, really) to the UK.
Firstly, you need the best book on England ever written – the book is called "Watching the English" and you should click here and check it out.
It takes everything you think you know about the UK and either explains it or shows you what you're really getting yourself into (major small talk and frequent tea breaks, woo!)
They cover things like discovering the symptoms and overcoming culture, how to navigate the roads in a UK car as an American, and more.
There's a resource about things to remember when you're riding the London Underground and a helpful guide to figuring out the differences between pounds and pence.
These are totally applicable to you whether you're just coming to London or the UK for one day, one year, or the rest of your life. I've made all of the mistakes so you don't have to. Might as well take advantage of it!
Okay, so powering through to Taco Bell in the UK.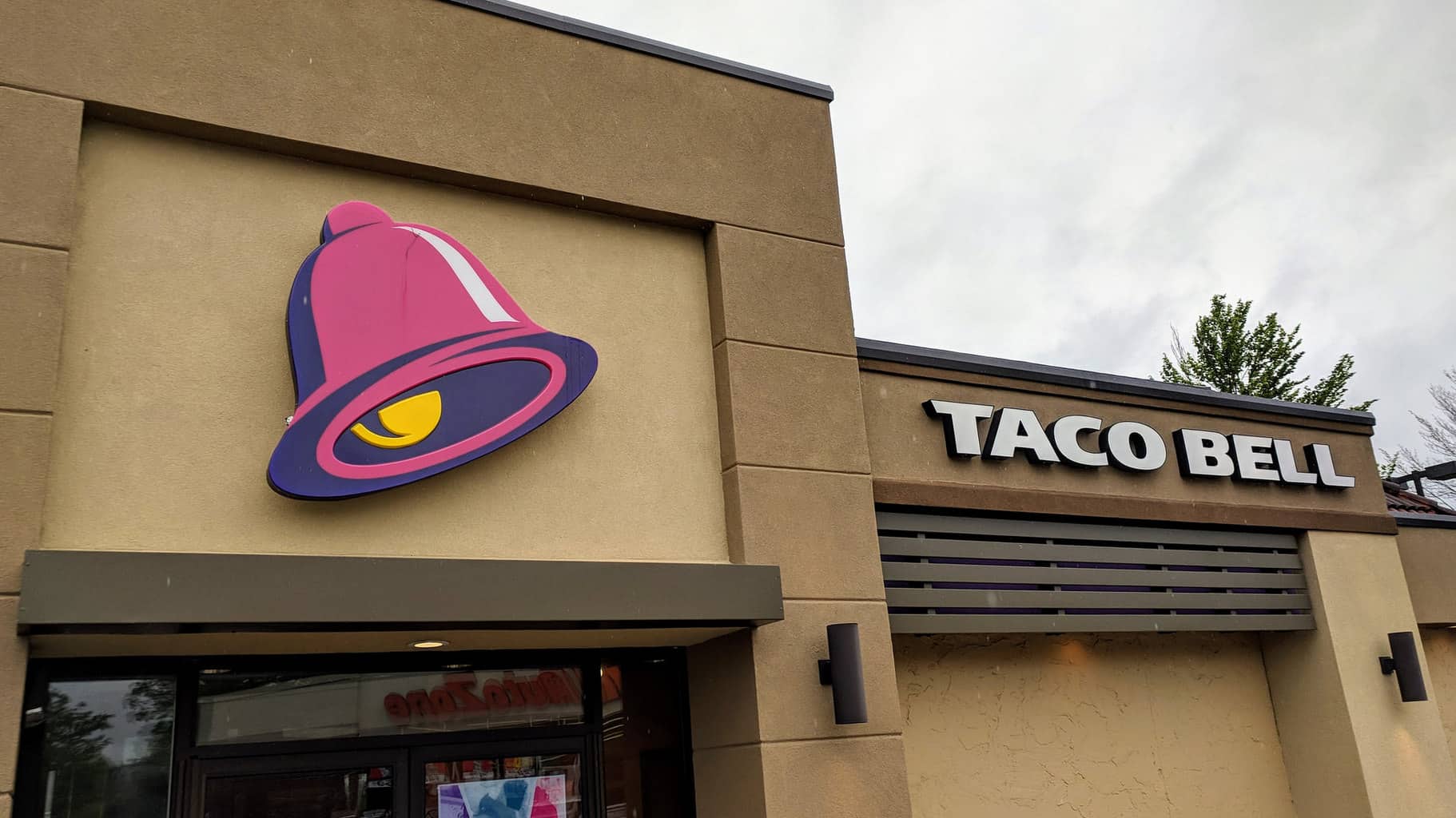 Taco Bell has over 7,000 stores in the US and is a well-known Mexican fast food restaurant.
Over the years, they've become famous for their mascots (chihuahua anyone?) and commercials, and it's often considered to be great food to get at midnight when you've had a little too much to drink or are just craving some tacos and can't be bothered to make them yourself.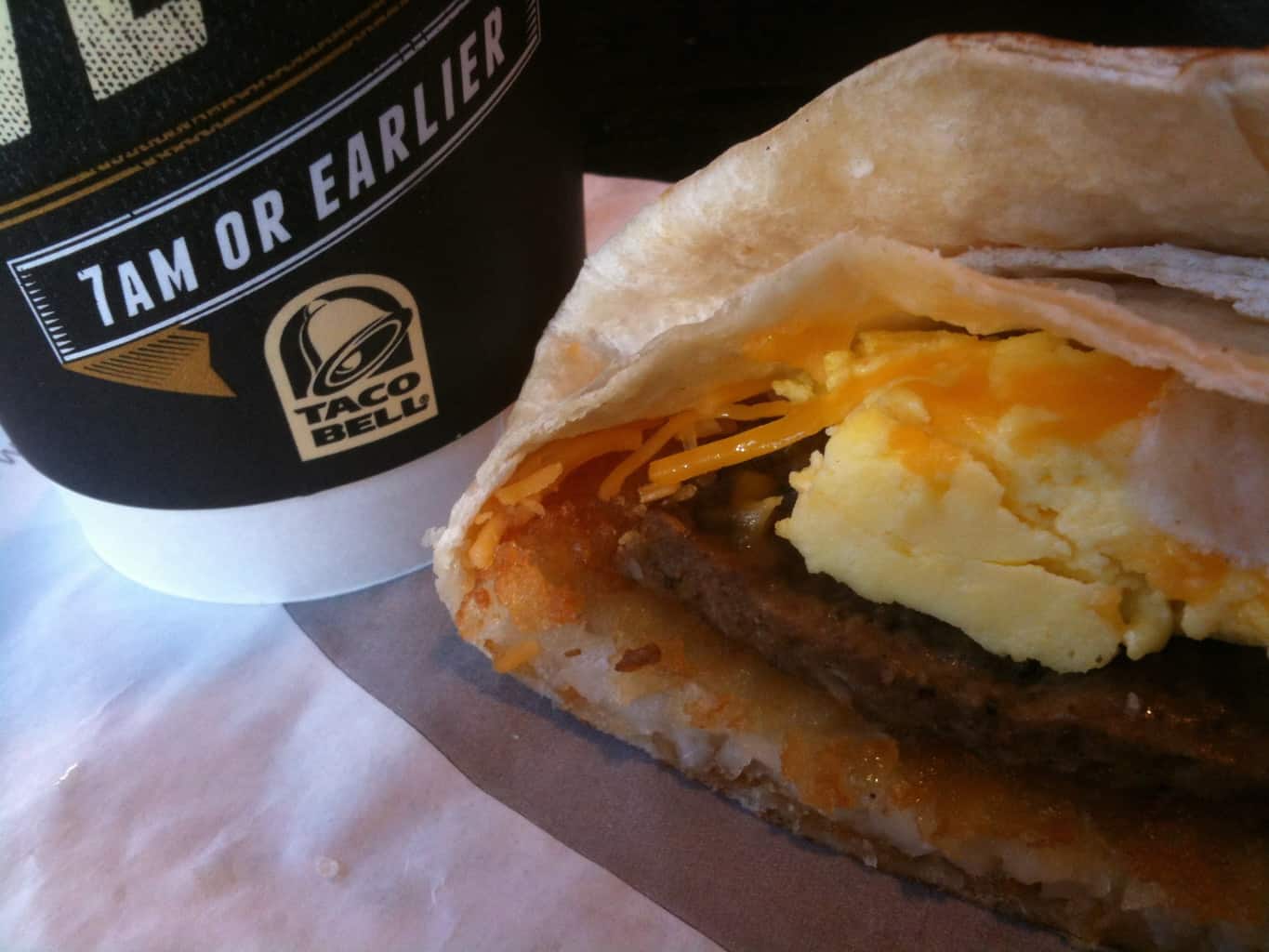 It's kind of surprising, actually, that Taco Bell is in the UK, but then again Brits don't have a great understanding of what good Mexican food is due to a shortage of it here, so maybe it does make sense after all.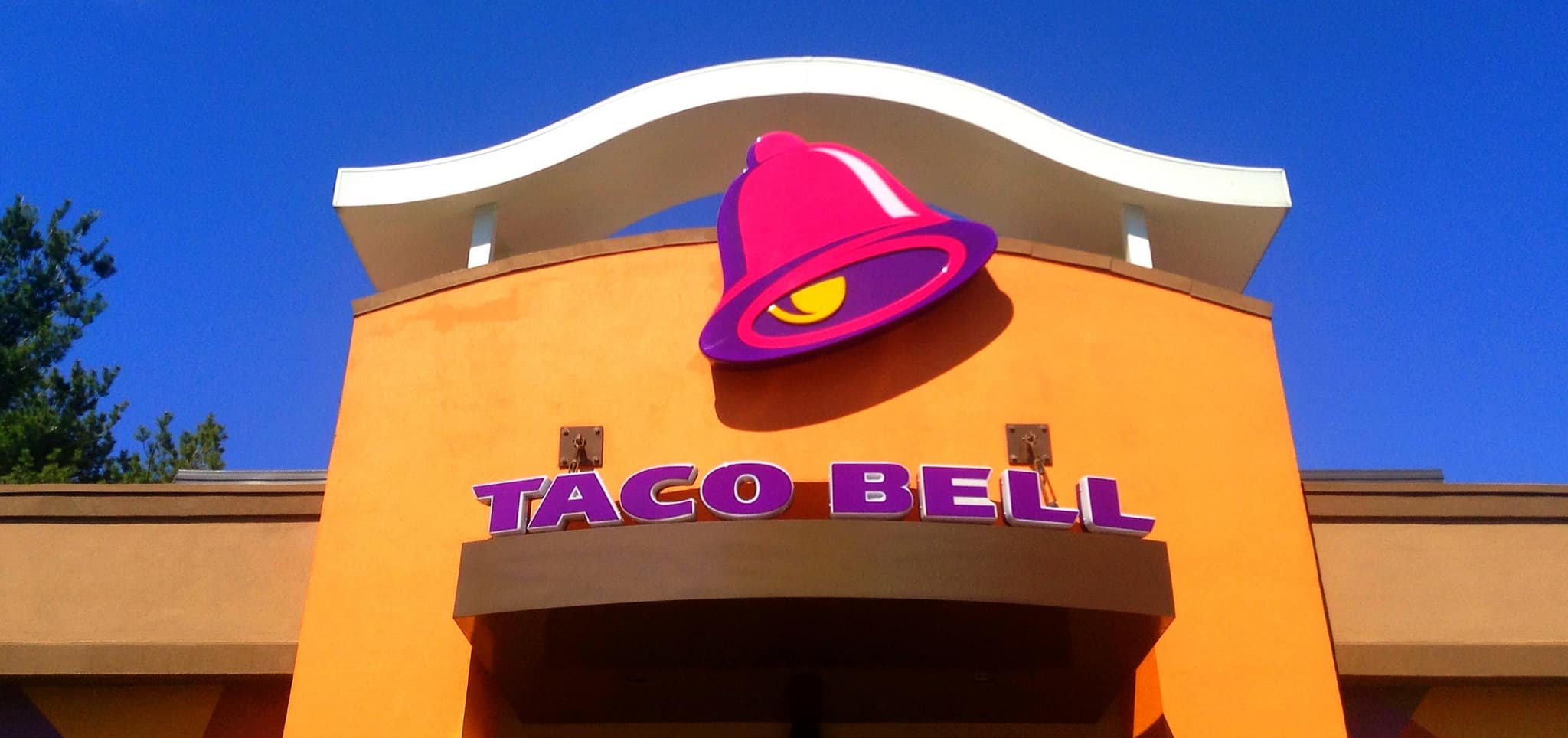 There are currently 20+ Taco Bell stores in the UK, though none in London. The closest to London are over 17 miles away, though the chain does have plans as of 2018 to try and expand to London.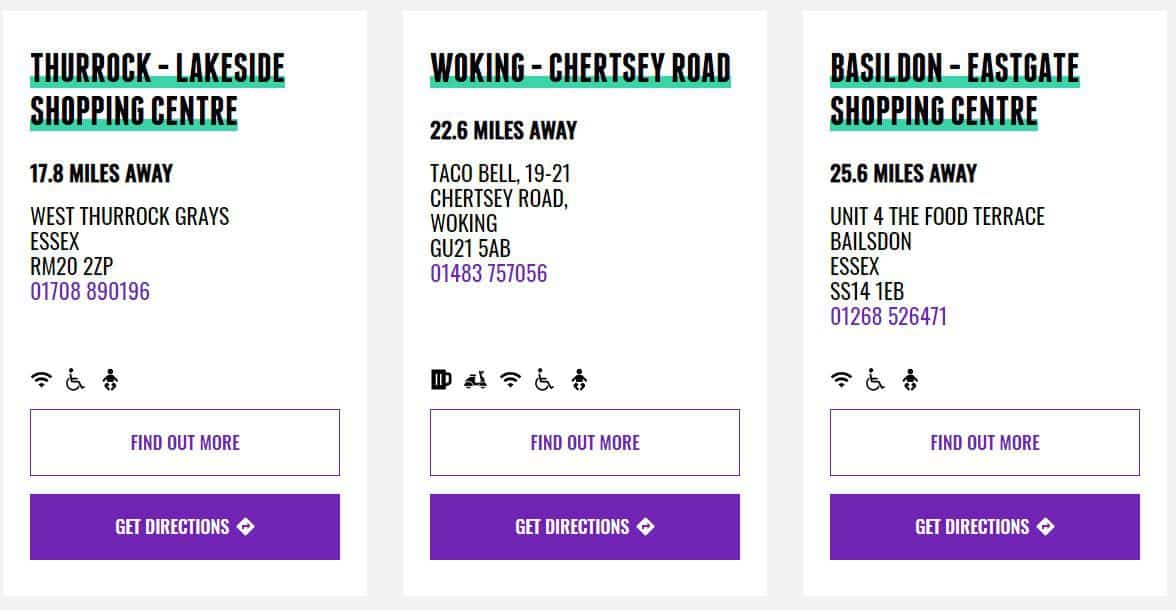 History of Taco Bell in the UK
Taco Bell first came to the UK in the 1980s with sites in London and Birmingham.
Unfortunately for Taco Bell Lovers, all sites were closed down by the 1990s and Taco Bell then went another twenty years without a store in the UK market.
It was 2010 when the company decided to put roots in the UK once again, but this time all outside of London. Since then, they have continued opening up stores to hit the current 22.
It's unclear how many Taco Bell fans are American expats and how many are just British people who love good Tex-Mex, but Taco Bell UK has over 11,000 followers on Twitter so it's not insignificant.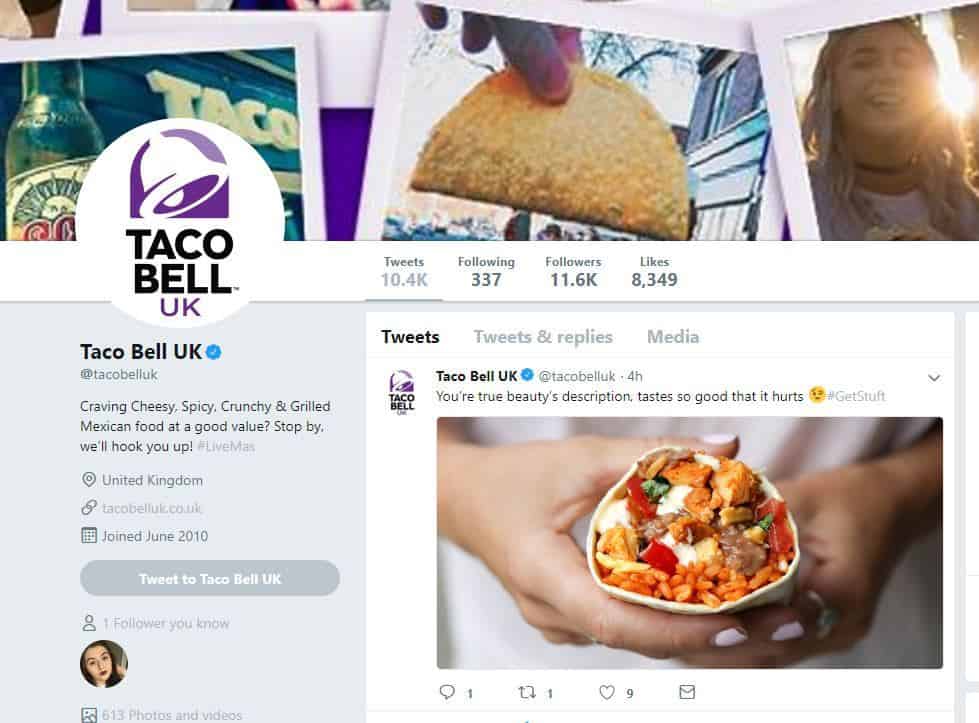 The announcement in 2018 that Taco Bell wants to keep expanding in the UK doesn't come as a surprise to investors, as this has been on the radar for a couple of years, but if it does come to London, it will join the likes of Chipotle in the UK.
Click here to see all of the locations of Taco Bell in the UK.
For any other questions about what stores you can find in the US versus the UK, just e-mail me at girlgonelondon@gmail.com or check out my articles on Target in London, Walmart in the UK.
Coming to London Soon?
Hey! Since you're here I'm assuming you're intent on visiting this amazing city soon! Getting the lowdown on the hottest spots in town can be time consuming so I took the liberty of picking out some great ones below. Hope you enjoy!
Open Top Bus London Tour: Double Decker buses are not only a way of transportation in London, but a definitive pastime of the city dwellers. This tour lets you see London by night and experience a true right of passage that every Londoner must complete. A two for one YAY!
Kew Gardens: If you want to explore some of the calmer areas of the city, I highly recommend exploring the botanicals at Kew Gardens. London's largest World Heritage site boasts acres of gardens in a royal glass palace because, yes, everything here gets the royal treatment.
Afternoon Tea Cruise on River Thames: Oh so you've come to London looking for tea? Lucky for you theres literally MILLIONS of options to choose from… it can actually get overwhelming. So I made it easy for you and found one of the best teas in town, complete with the best setting as well!