This post contains affiliate links for which I may make a small commission to help keep the site running. You will not be charged extra for these items had you not clicked the links. Thank you for your help to keep the site running!
As someone who has lived in London for 8 years and spent thousands of days roaming the city, I can tell you that narrowing down the best things to do in London is one of the hardest tasks.
This is a city filled with iconic museums, stunning art galleries, cheap theatre tickets, street food markets brimming with life, family-friendly theatre.
Figuring out what to do in London, and not just that but the absolute top things to do in London, is very much a personal preference because one person's random alleyway will be the next person's favorite Instagram spot and one family's quick trip to Borough Market will be another family's entire day spent wafting in the smells and finding Bridget Jones' filming locations.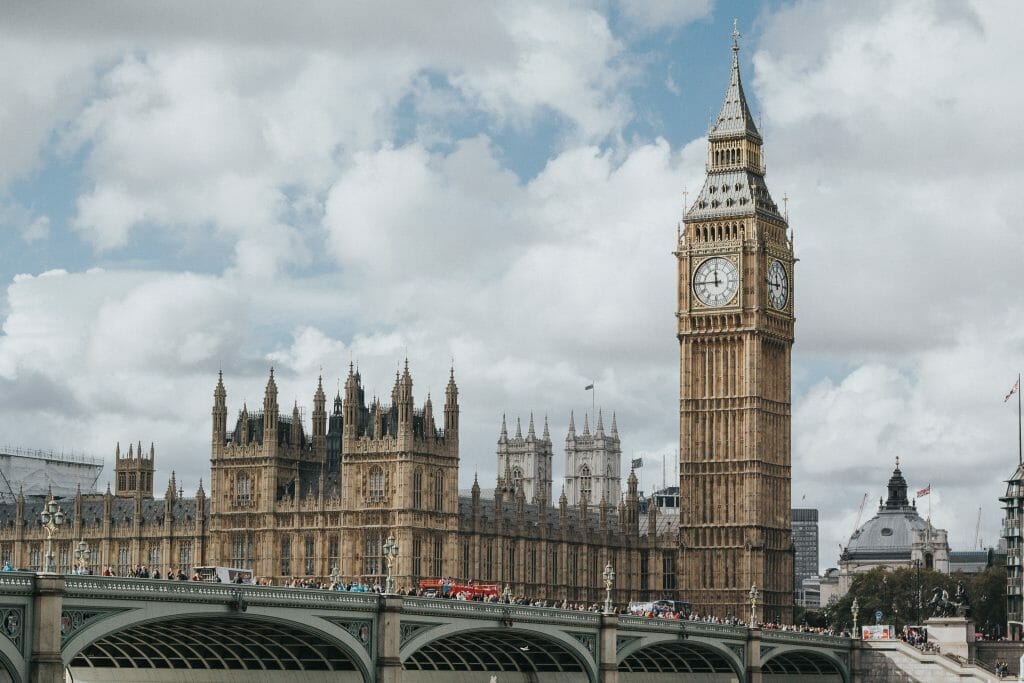 But whatever you get up to, these are the absolute best London attractions and my top picks for the places to visit in London.
The Absolute Must-Knows (from a Londoner)
Most Iconic Things to Do in London
These are the London must-dos, the most iconic things to do in London that every visitor should put on their bucketlist.
GET A

FREE

LONDON INTRO GUIDE and ACCESS TO MY FB GROUP
Start your planning with this "Intro to London" guide and access to my London planning Facebook group!
You saw Will and Kate get married here (or, at least, many of you did – waking up at bizarre hours of the morning to watch these two tie the knot).
But did you know that Westminster Abbey is much more than just a royal wedding or two?
This UNESCO World Heritage Site is a true jewel in London, and one that deserves to be seen.
It's famous, yeah, but it's famous for a reason – not only is it gorgeous, but it also holds hundreds and thousands of years worth of history that are worth exploring.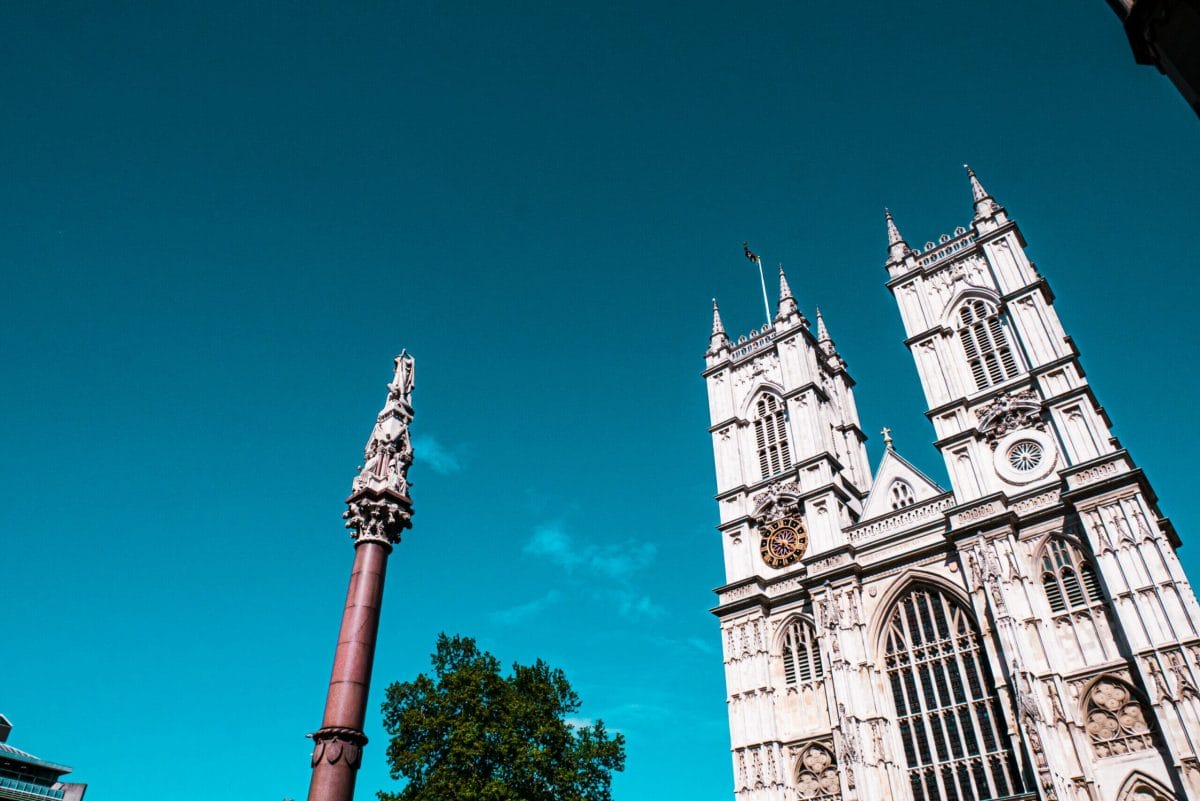 Westminster Abbey has its origins around 1042, and through the years it has been transformed and reworked into the magnificent masterpiece you see today.
2. St. Paul's Cathedral
It's been rebuilt five times throughout its history, but that doesn't stop the awe-inspiring St. Paul's Cathedral from standing as one of London's most iconic churches and structures.
There's something about it that's so peaceful and calming, both inside with its gorgeous artwork and quiet corners and outside, where the steps and gardens are an awesome place to sit and people watch or reflect on your time in London.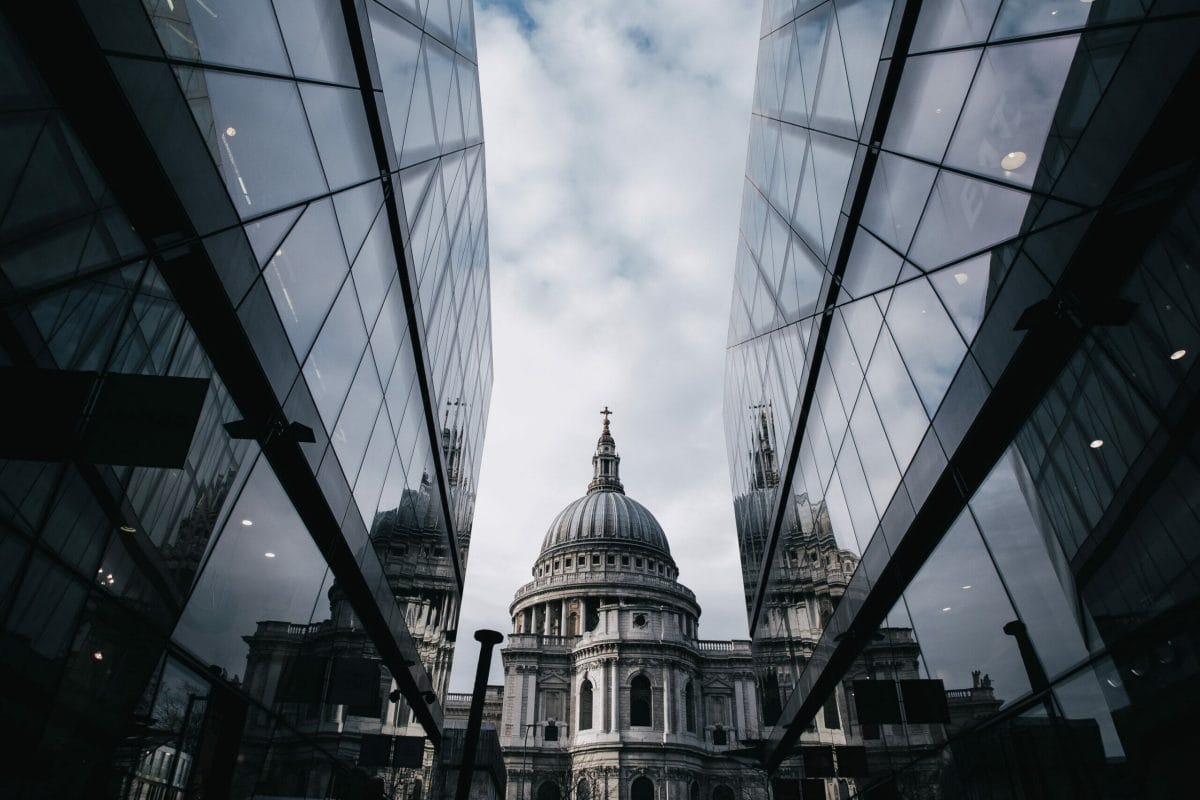 As St. Paul's is a working cathedral in addition to being a tourist attraction, you will want to plan your visit based around visitor opening times (more information below) or you should plan to attend a service which will give you more limited access but a more engaging experience.
History buffs will love exploring the entire structure, from the underground crypts to the Golden Gallery which towers high over London.
You'll get a multimedia guide to carry around with you, pointing out all of the most important features and telling you the many stories related to St. Paul's.
3. London Eye
Those of you who have read my "Is the London Eye Worth it?" article may be wondering why I've included in this list, but I did say that this is the list of iconic London attractions, not necessarily my favorite ones.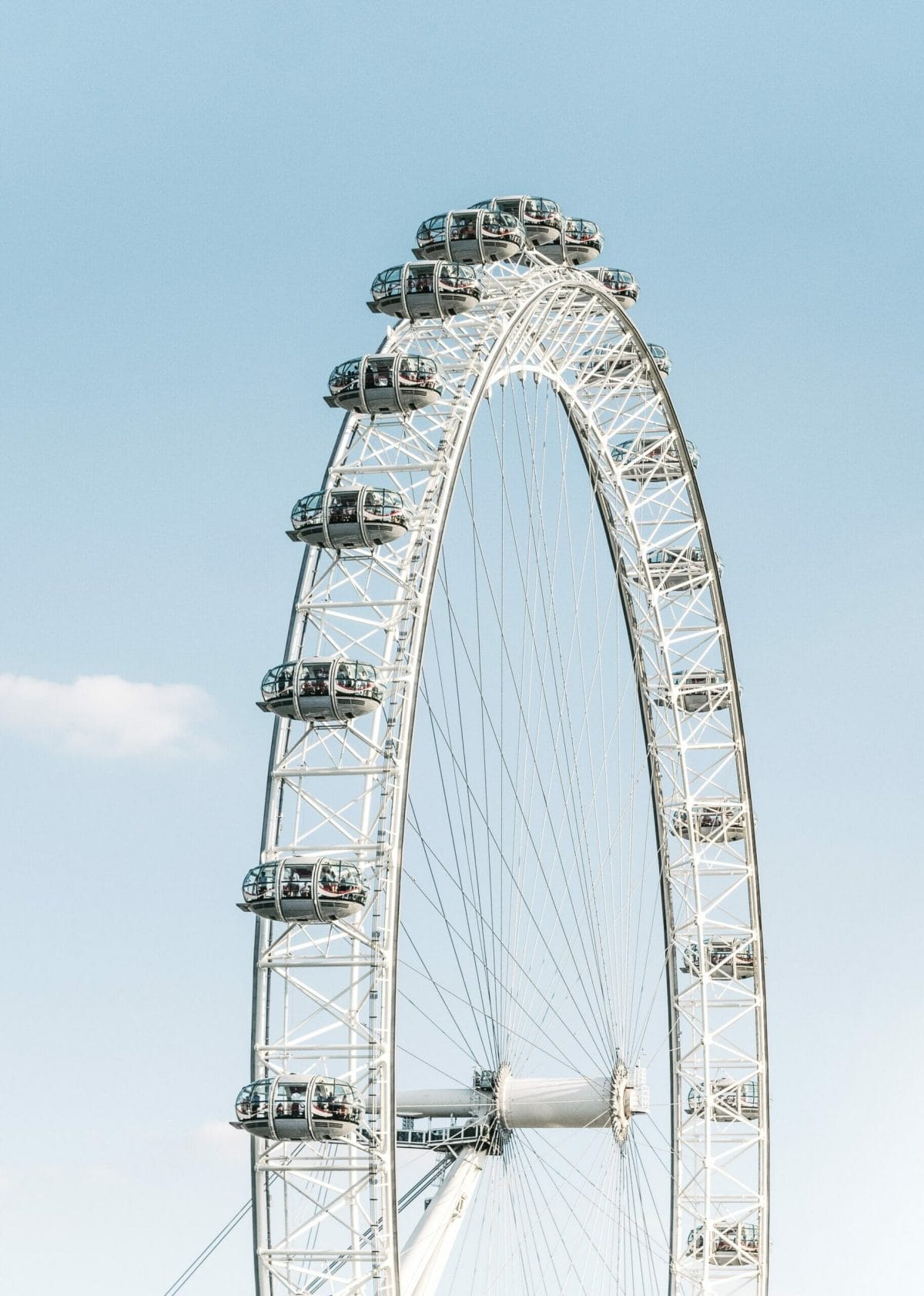 That being said, I do love the London Eye on a sunny day or a clear night and you can't deny that it has made its way into the collective conscious when it comes to London.
It's on postcards, in the back of tons of pictures, and generally assumes a pretty dominating spot along the River Thames.
The London Eye was built as the Millennium Wheel, a structure meant to celebrate the year 2000.
4. Tower of London
From the Crown Jewels and incredible displays of the Royal's coronation collection to the infamous Tower of London ravens that live within the grounds, there is a lot of history and British culture waiting to be explored here.
You can easily make this a full morning or afternoon adventure, as the number of hidden nooks and crannies to see and the presentations on display will keep the whole family occupied.
Use this Tower of London travel guide to help you plan.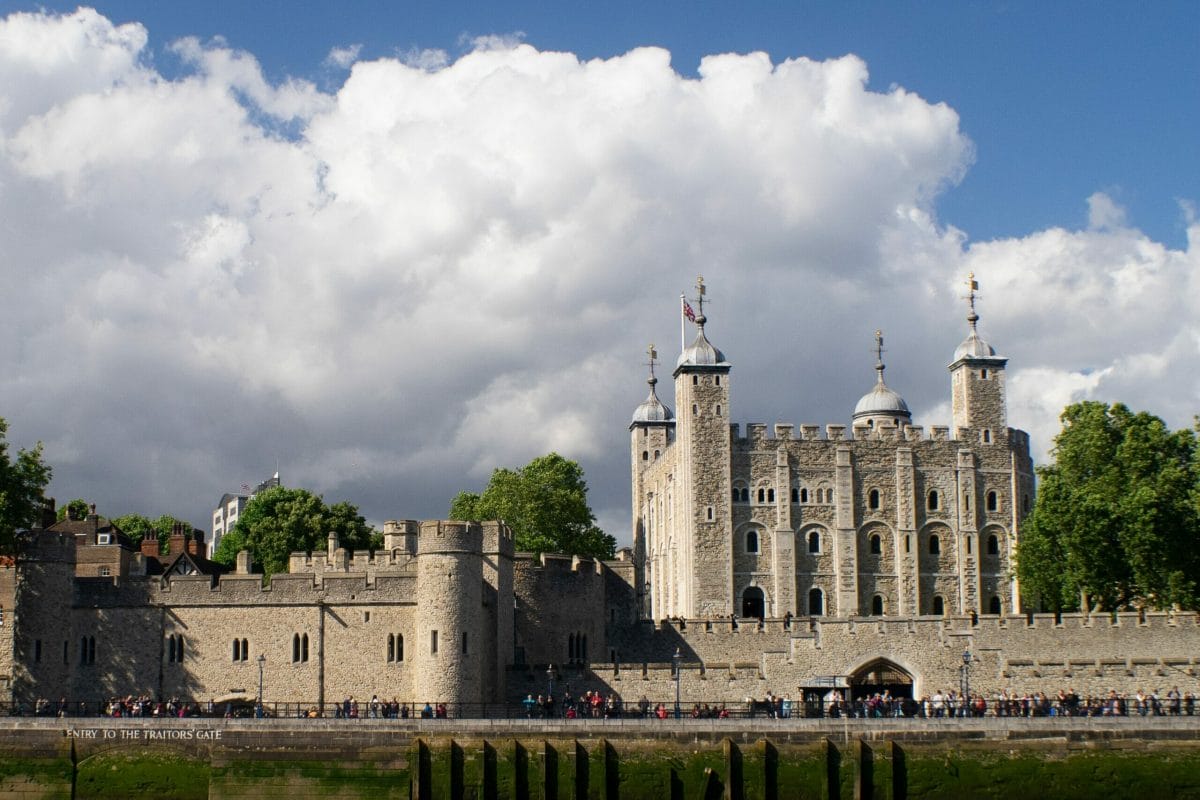 This is truly London's castle – a fortress in the heart of the city that has housed prisoners, royalty and even animals.
As you go through the different rooms and areas, you'll learn about fascinating medieval torture (seriously!) and some of the ways that residents of the Tower lived and worked.
Today, the Yeoman Warders or "Beefeaters" still live at the Tower and perform royal duties.
Instagrammable Things to Do in London
Whether you're hoping for the perfect snap to send to family and friends back home or your audience of 10,000, these are the best Instagrammable places in London.
IMPORTANT: are you coming to the UK from abroad?
In case you're reading this from outside the UK and will be a foreign visitor here, you need to know these 2 things to stay safe and save money.
Travel insurance – you need it when going overseas! I use

this site

to get the best quotes and purchase my packages from. Do not skip this – having medical coverage abroad as well as other coverage in case of missed flights, lost luggage, etc is essential. As I said, I have never gone wrong using

this site

.
5. Notting Hill
Notting Hill might be a cliche place to snap some pictures, but that's only because it's one of London's prettiest areas.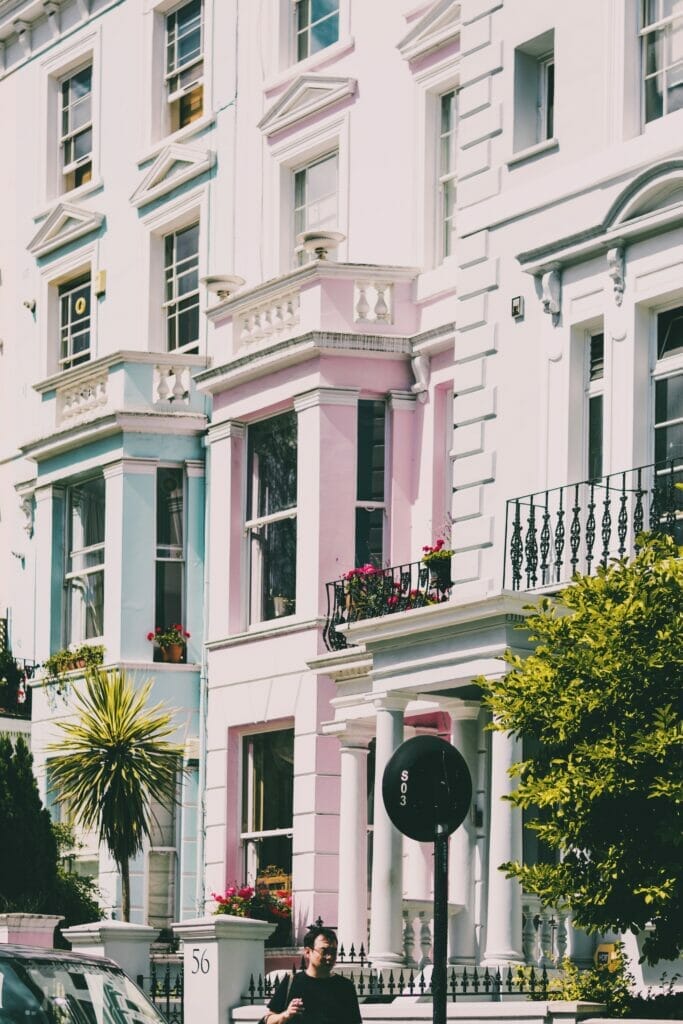 Head to Portobello Road in Notting Hill, one of the best markets in London, to capture the colorful buildings and chic vibe.
And, of course, you can see London filming locations from the film of the same name.
6. Millennium Bridge
It's famous for being the bridge that was blown up in the sixth Harry Potter film, but rest assured the Millennium Bridge is still there and fully in tact, ready for you to get creative using it in your photos.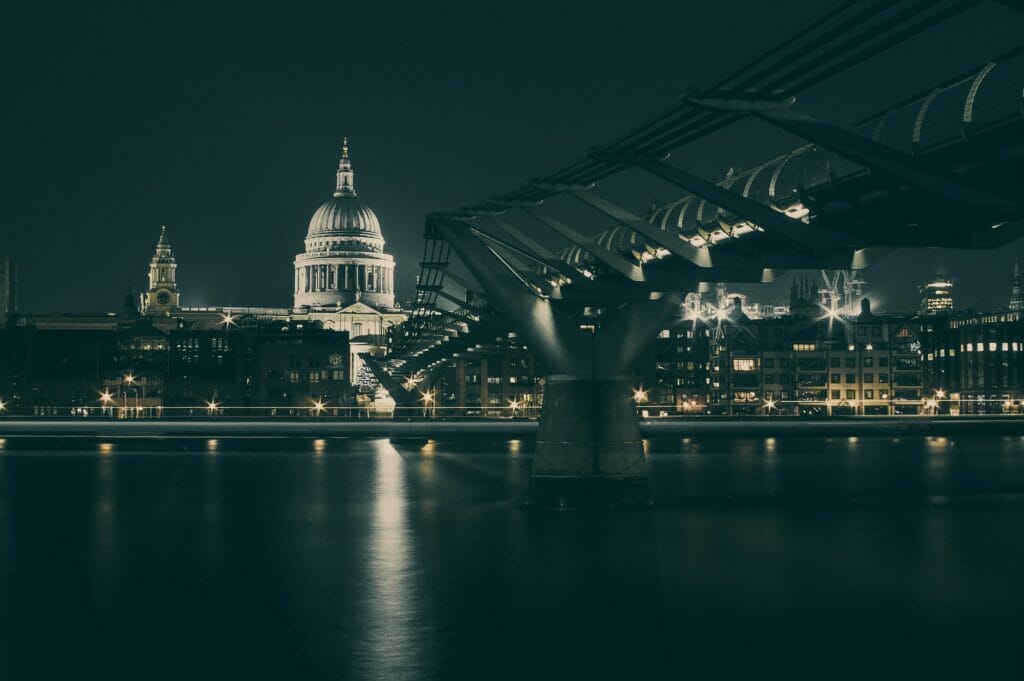 At the end of the Millennium Bridge is St. Paul's Cathedral, and this line of sight is often used by photographers to get some really cool shots.
7. Primrose Hill
There are two types of pictures you can get in the Primrose Hill area, and both are fantastic.
One is of the actual view from the hill itself – my favorite view in London and a nice way to capture one of the best parks in London and the cityscape at the same time.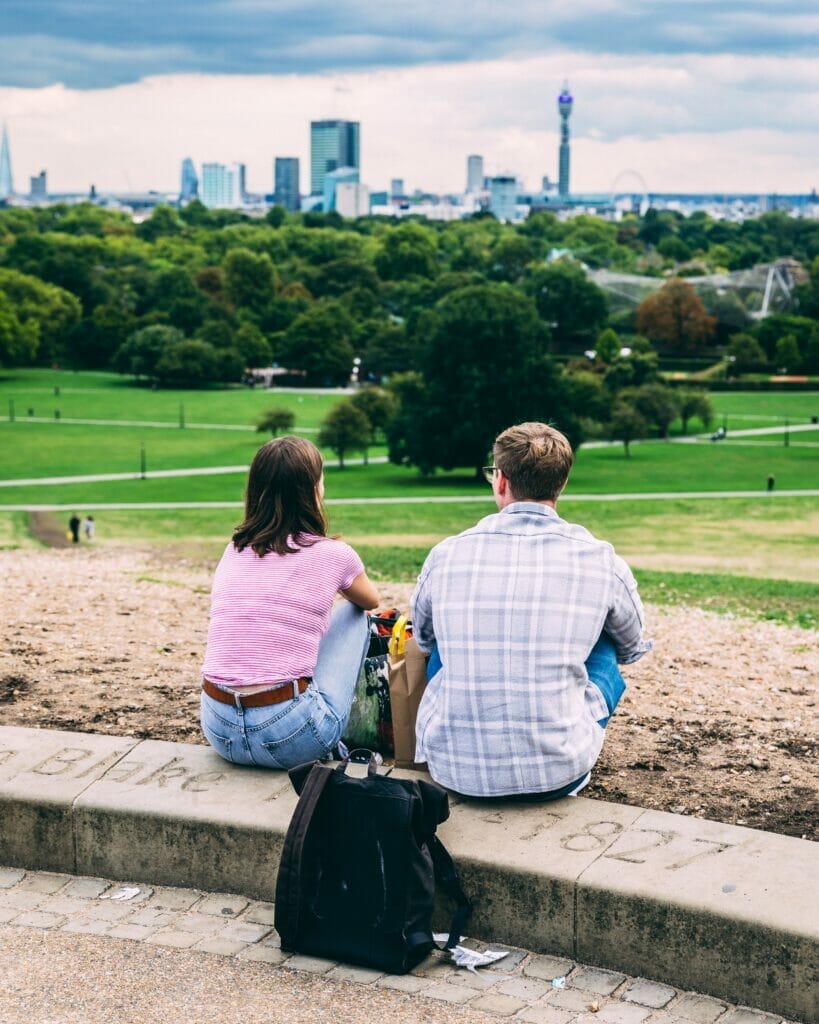 The other is the area of Primrose Hill, which is filled with quaint streets and colorful houses.
Best Parks to Visit in London
Chill out, go for a run, or listen to a concert in one of the best London parks.
8. Hyde Park
Perhaps the most well known London park and one of the best parks to visit in London, Hyde Park is absolutely massive and features everything from Speakers Corner to Kensington Palace to the giant Serpentine Lake used for paddle boats.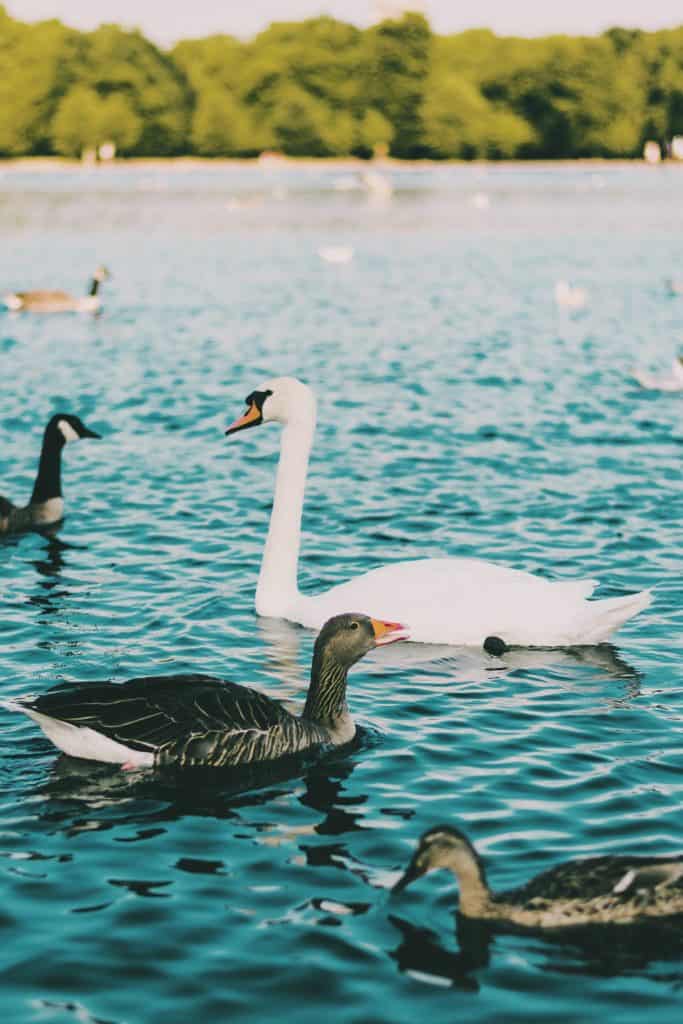 It hosts concerts, the yearly Winter Wonderland market, and is so sprawling that you won't feel like you're in a city as you walk through it.
It's also got a fantastic playground for toddlers in London, the Diana Memorial, the Serpentine Gallery, one of London's best art museums, and some gorgeous landscaping and ponds.
I highly recommend spending time here, but make sure you have a game plan because it's so big that you could walk forever and still not come across the landmark you want to see if you don't know where you're going.
Otherwise, just enjoy a leisurely stroll or bike ride and see where it takes you.
9. St. James Park
Right in front of Buckingham Palace is one of the most picturesque London parks, St. James Park, and you can't miss it if you just keep walking towards the London Eye from Buckingham Palace.
There are a ton of geese floating down the lake, an awesome photo op, and space for sitting on benches and sprawling out on the grass.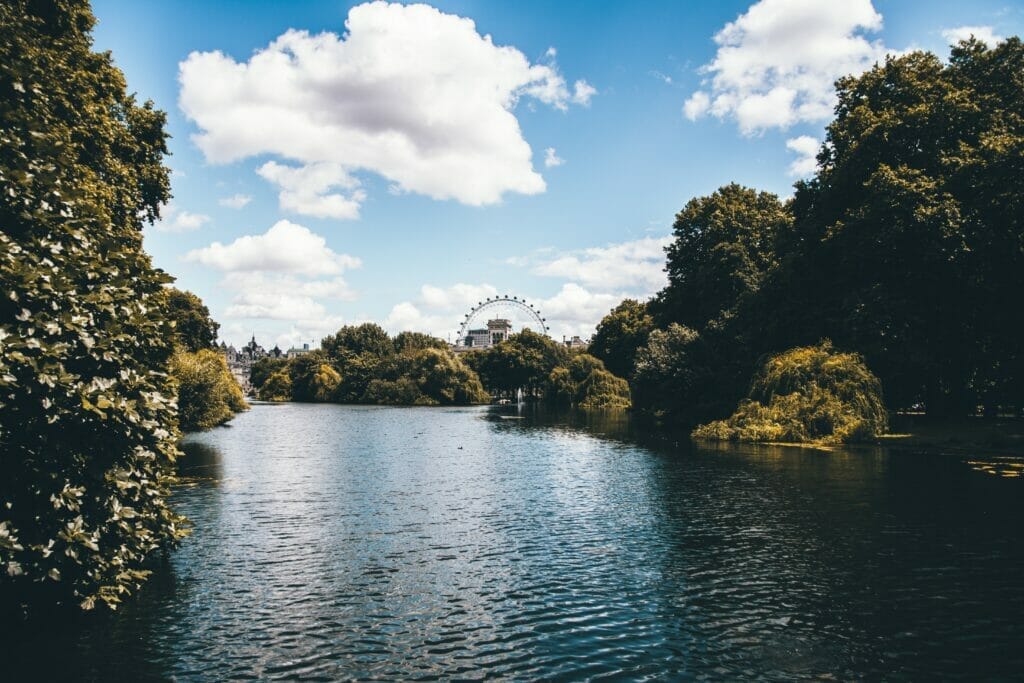 I would make it a point to take a walk through this park.
It's small enough that it's completely manageable in a shot amount of time and you can truly feel the London buzz.
10. Richmond Park
If you love nature and are interested in seeing some of London's deer population, make the journey to Richmond Park, a great park near London, where many of them live.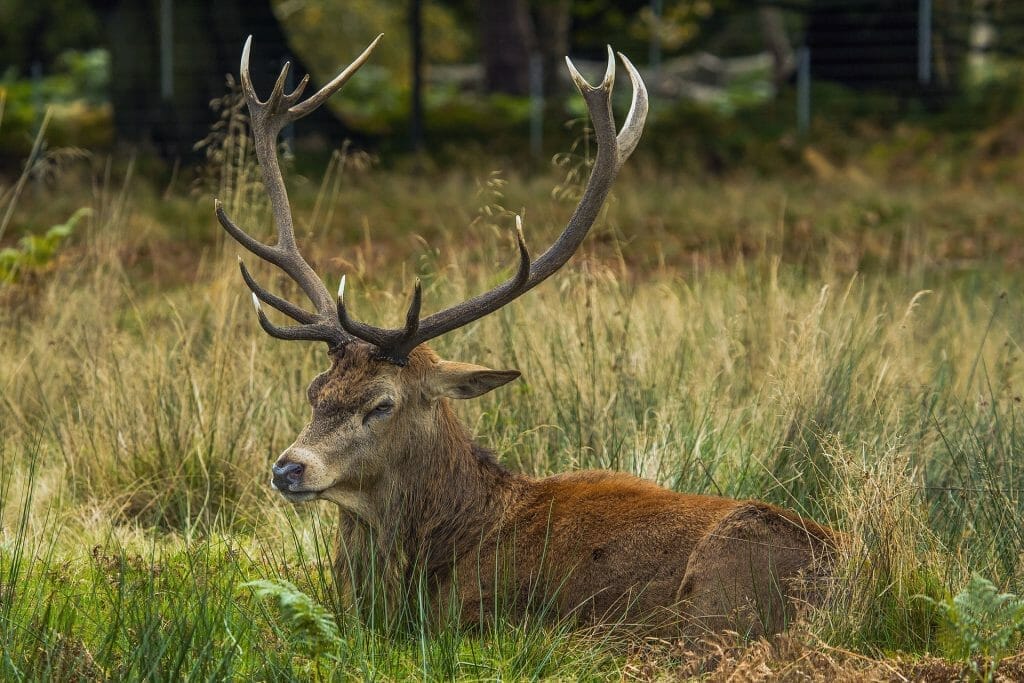 You won't automatically come across this park as you're exploring London, but if you do make the journey out, you'll be rewarded with an awesome escape to a quieter feeling and peaceful images of roaming wildlife.
This is particularly a great park to visit in London if you're an expat in London wanting to see more of the city having covered most of central London.
Things to Do in London for Shopping Lovers
If you want to walk down iconic shopping streets with bags around your arms and a lift in your retail-loving step, these are the best shopping options in London.
11. Oxford Street
London's premier shopping street is none other than Oxford Street, possibly one of the most famous shopping streets in all of Europe.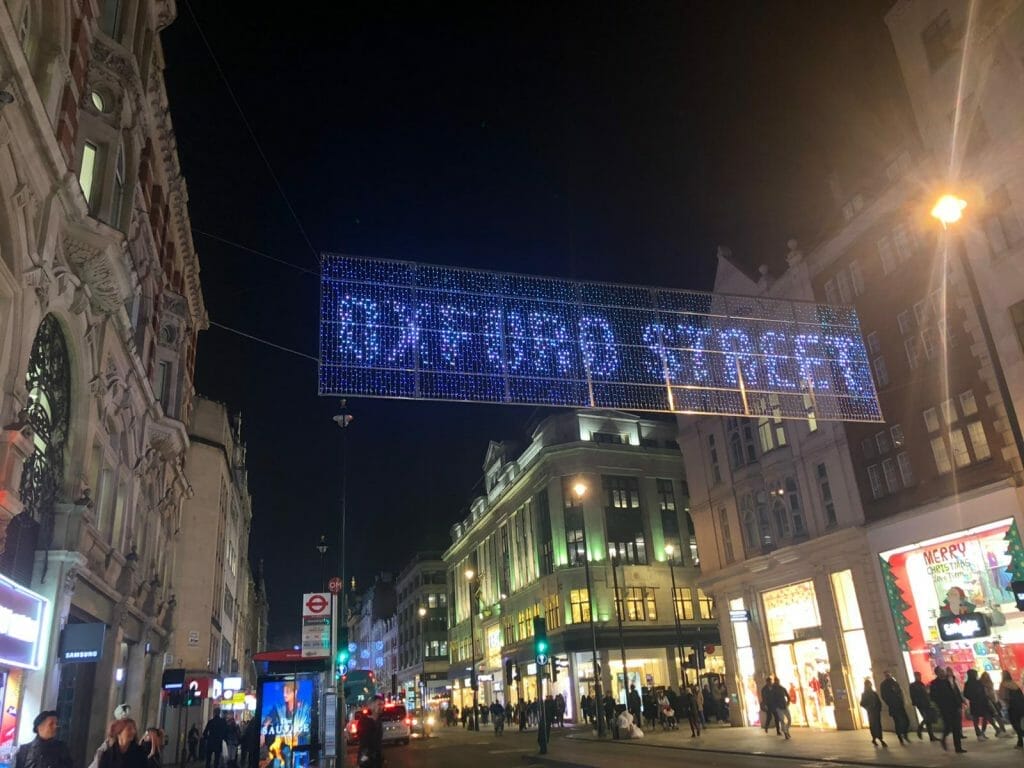 And trust me, when you're walking past the Oxford Street shops, you can feel how busy it is in the peak months with throngs of people trying to spend as much money as possible!
On Oxford Street you've got a variety of shops ranging from ones for the "regular person" like H&M and Primark, to more expensive shops and department stores like John Lewis and Selfridge's.
If I have to chose a London shopping district, Oxford Street would be it.
Intersecting Oxford Street is a street called Regent's Street which has a load more shops like Gap, Michael Kors, and a giant Apple store.
12. Harrods and Knightsbridge
If you really want to live your life in luxury, head to the Knightsbridge area where you'll find famous London department store, Harrods.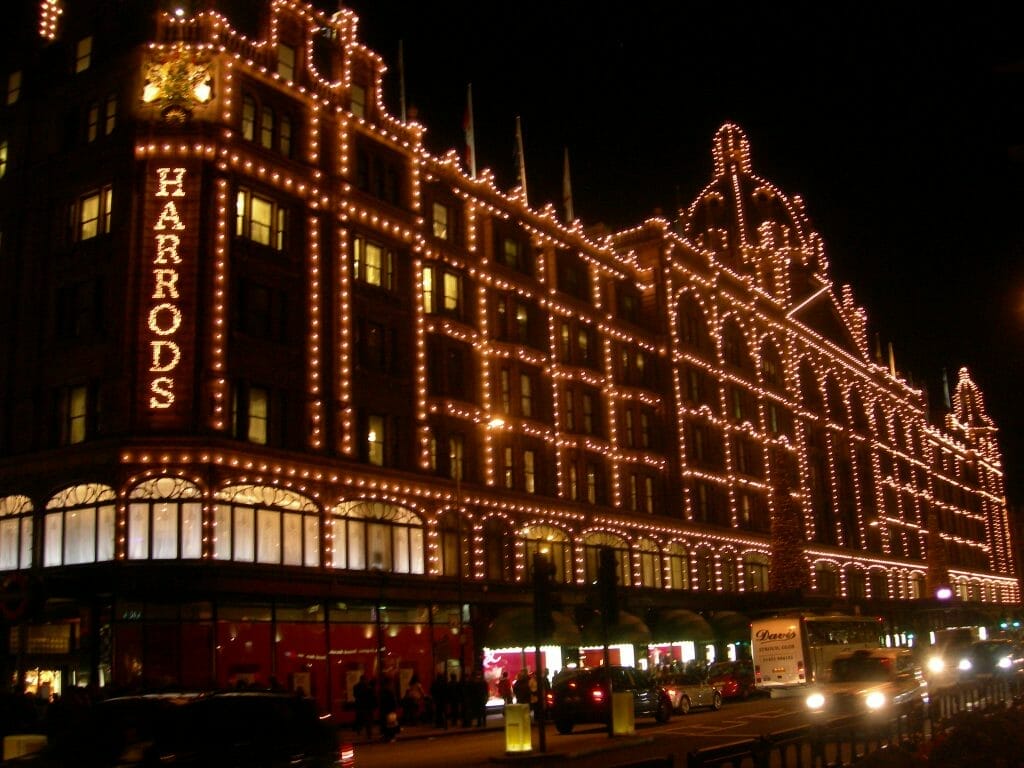 Very much still a symbol of wealth, Harrods has also now become a bit of a tourist experience where you can wander through the halls of very expensive items and dream about what you would buy if you won the lottery.
From Alexander Wang to Alexander McQueen, you'll stumble across designer label clothes, bags, accessories, makeup and more.
13. Covent Garden
This shopping and restaurant area is one of my favorites in London and has a nice market feel while also being home to some upscale shops and boutique stores and some of the best shops in London.
Wander around here and find your way into the Covent Garden Disney store, an Apple store, Levi's, Gap and upscale brands like Bailey Nelson for eye wear and Tiffany & Co for jewelry.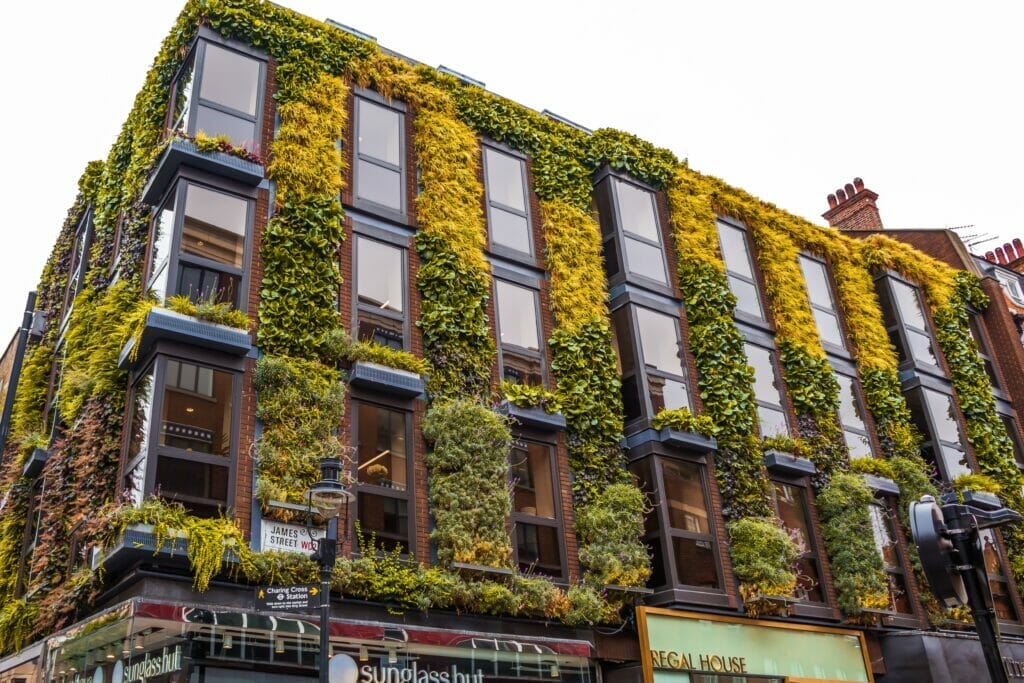 There are also plenty of places to eat here with outdoor seating, as well as regular street performances in the pedestrianized area of Covent Garden.
I've also rated Covent Garden as one of the best areas to stay in London for all visitors.
What to Do in London for Film Lovers
From James Bond to Bridget Jones, here are the best filming locations in London if you're hoping to follow in your favorite movie star's footsteps all around the city.
14. Southbank
London's Southbank is iconic London, and it's no wonder it's constantly used in films.
Guardians of the Galaxy, Fast and Furious 6 and Thor: The Dark World all feature scenes here, as well as James Bond films which use am amalgamation of Southbank buildings to make up his residence.
If you see the London Eye pop up in a movie, you'll know it's on the Southbank.
15. Canary Wharf Tube Station
If you look carefully, you'll see Canary Wharf Tube Station feature in Rogue One, the Star Wars movie from 2016.
It's a quick glimpse, but Canary Wharf is a very modern tube station and thus works well for movies that need a fresh, out of this world feel!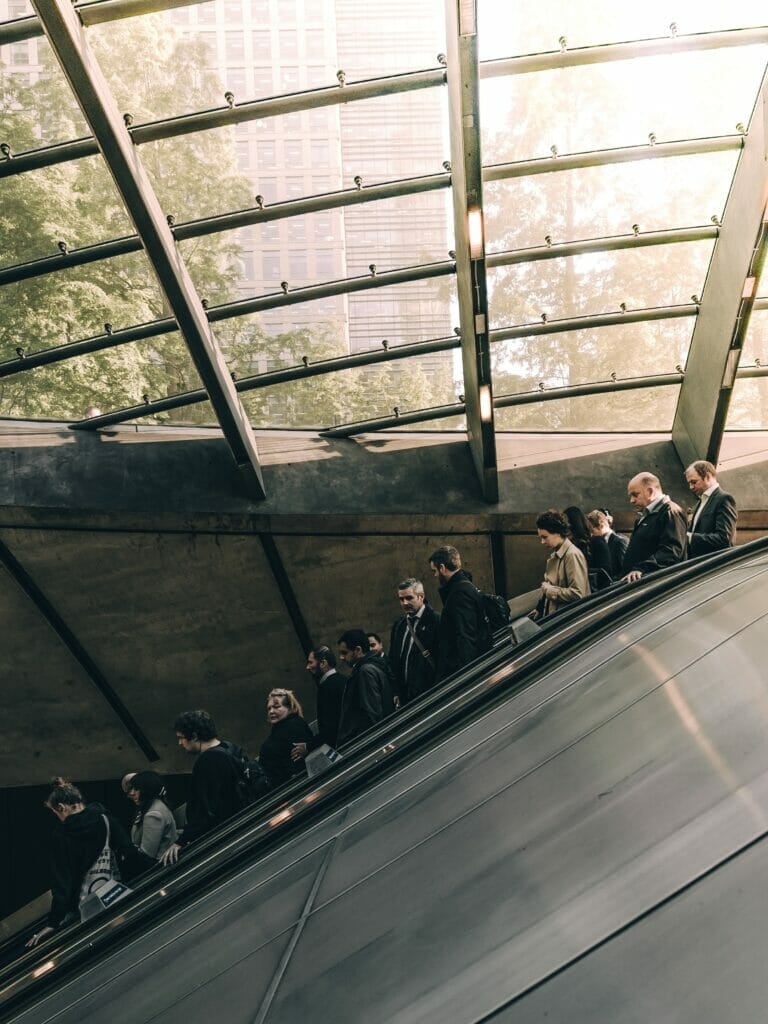 In fact, the London Underground itself has been used in films such as 28 Days Later, Harry Potter, Mission: Impossible, Atonement, and Agent Cody Banks.
16. University College London
This prestigious university is great to walk around with such a picturesque quad, and you also may notice some similarities to films like The Dark Knight and Batman Begins, who used this backdrop to great effect.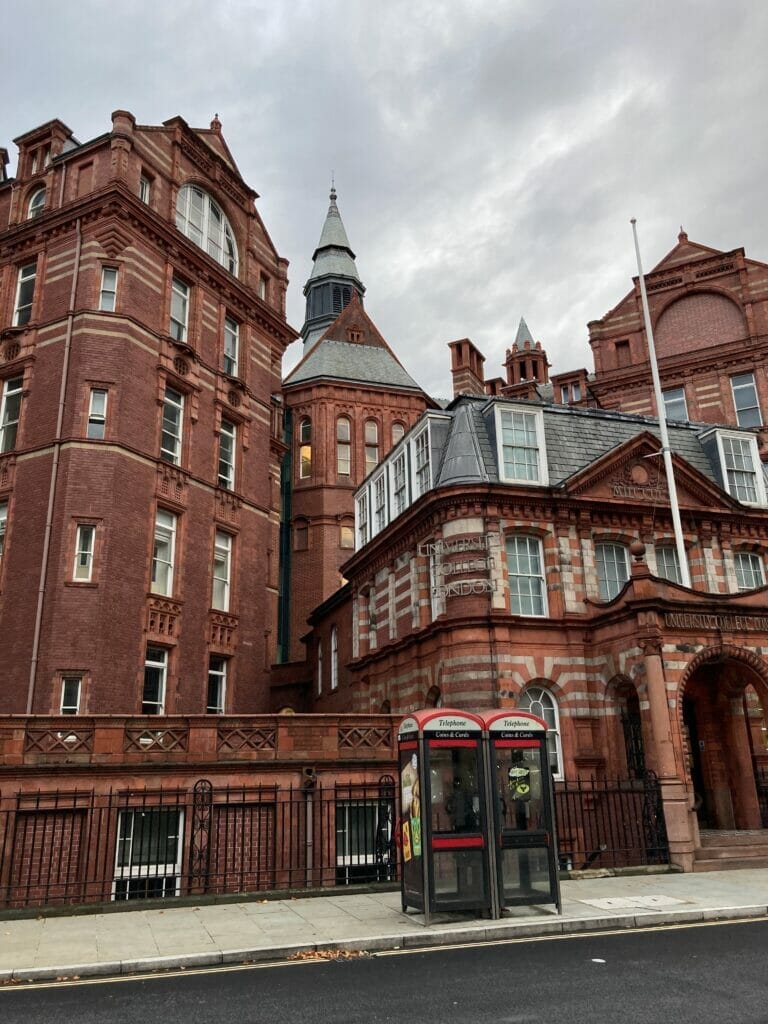 Things to Do in London for Art Lovers
Enjoy world famous galleries or find Banksy tucked away in East London with these top art museums in London.
17. Tate Modern
As one of the largest museums filled with contemporary art in the world, the Tate Modern is a huge blessing for Londoners and visitors who enjoy modern art and getting lost in interesting shapes and thought-provoking art.
You'll find it in the refurbished Bankside Power Station, and the entire space still has an industrial feel.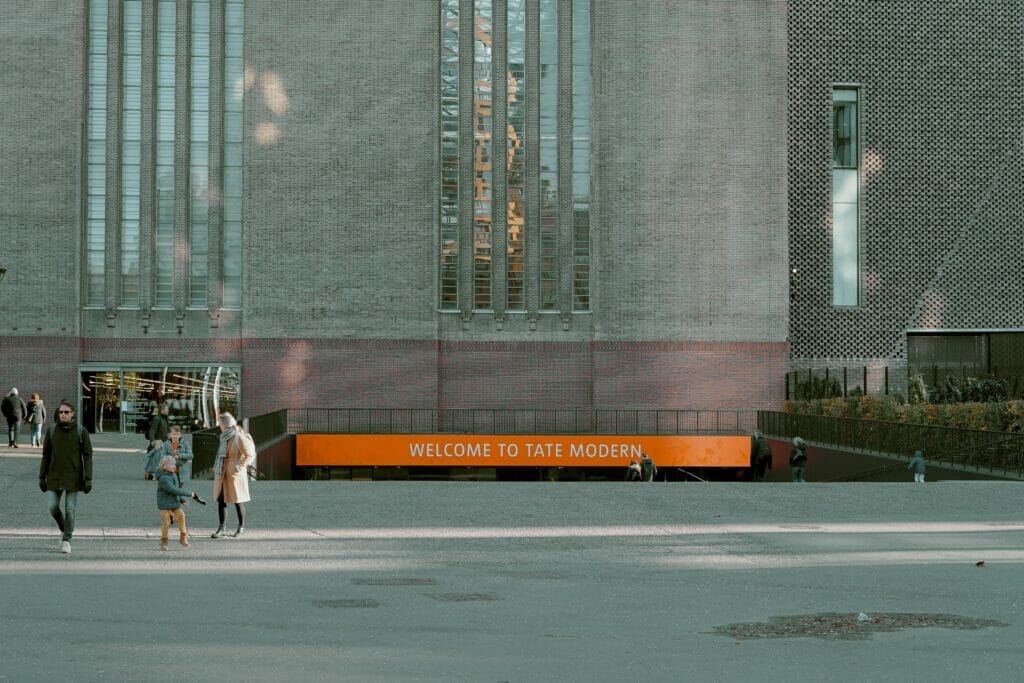 Here, you'll find sculptures, paintings, drawings, digital art and architecture that really embraces what it means to practice and celebrate contemporary art in the 21st century.
Best of all, the museum is completely free and one of the best free things to do in London.
18. National Gallery
If you take a trip to Trafalgar Square, you can't miss the National Gallery, as it towers over the square in all of its glory.
This is one of the most visited art museums in the world, celebrating not just British art but European art as a whole.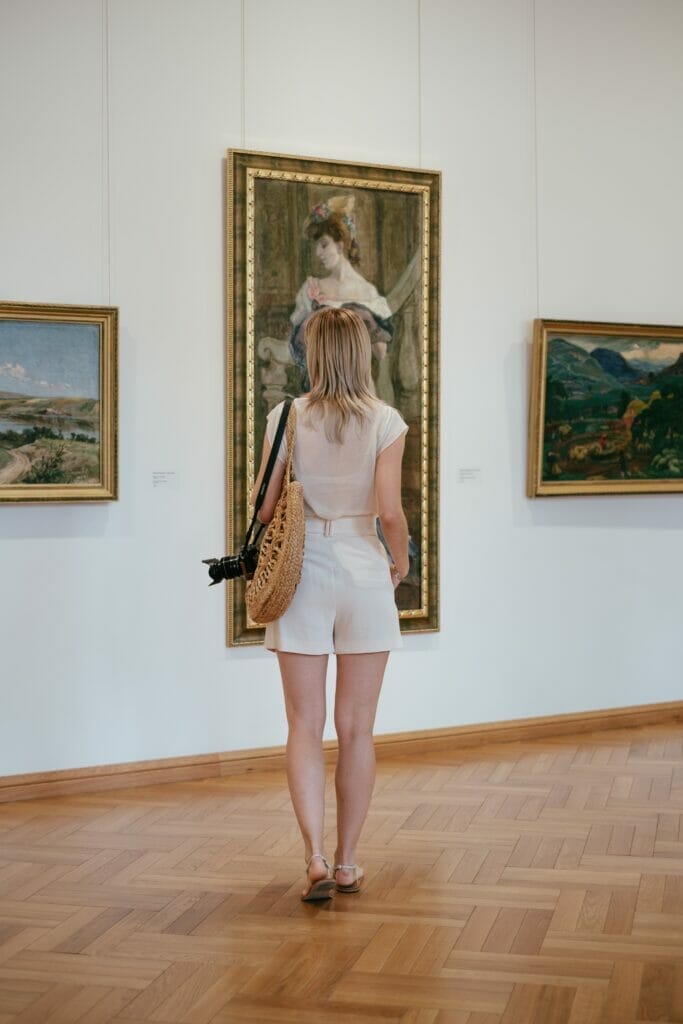 Inside, you'll find works from artists such as Leonardo da Vinci, Van Gogh and Claude Monet.
This is truly an inspiring art museum with gorgeous views across London and also a really vibrant café that does lunches and afternoon teas if you want to incorporate the museum into more of your day.
The National Gallery is also completely free.
19. Whitechapel Gallery
Priding themselves on being an "art gallery for everyone," Whitechapel Gallery is a fantastic glimpse into contemporary art with rotating exhibitions and gorgeous spaces, including a bookshop and café.
Entrance is free, and perhaps even more intriguing than current artists is the gallery's history in art in London, as it played an important role in post-War British art, as well as bringing pop art to the general population in the sixties.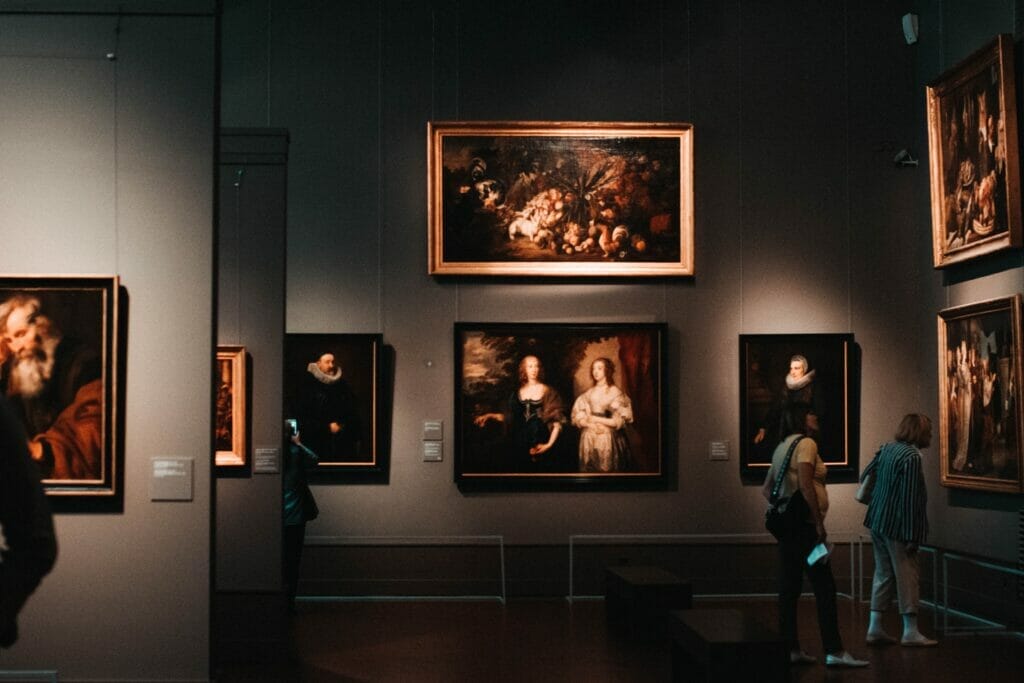 Today, you can take art classes, attend lectures, or just spend time soaking up the innovative and creative environment fostered here.
Rainy Day Things to Do in London
Have I mentioned that it rains a lot in London?
Don't let the weather stop you with these things to do in London on a rainy day.
20. SkyGarden
If you want a postcard view of rainy London, then you don't need to worry about the weather during your booking at the SkyGarden.
You've got loads of indoor space to get a great view and the drizzles coming down the window will just add to the atmosphere.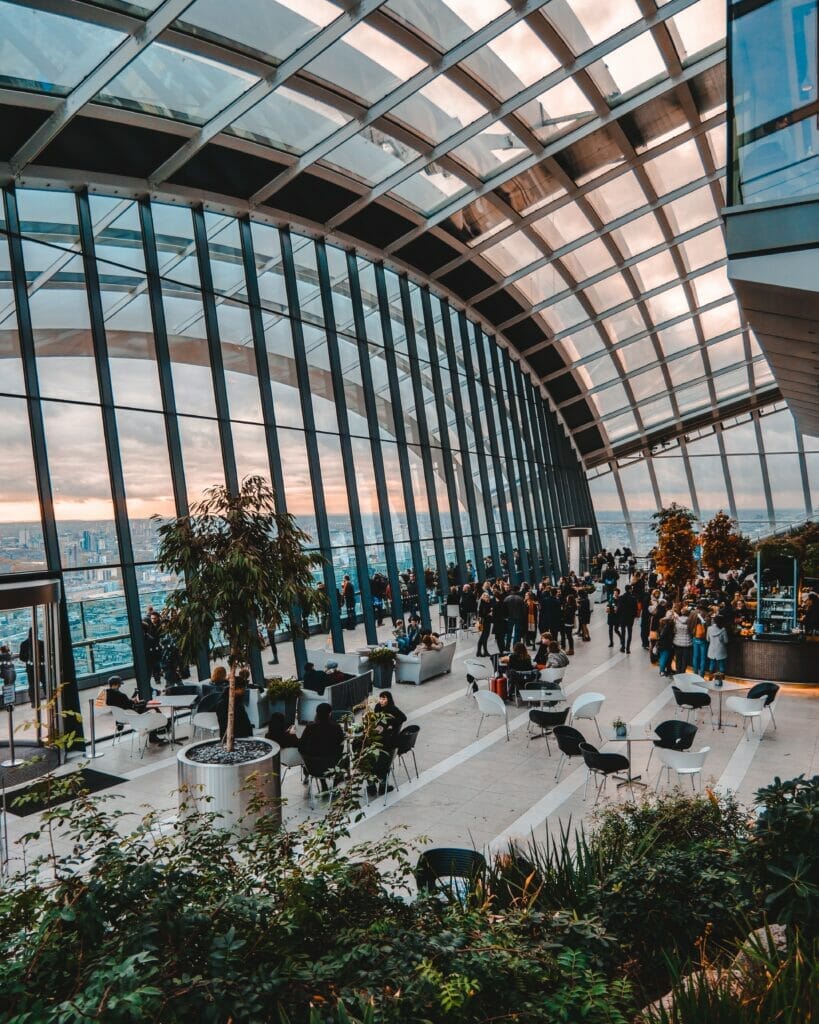 There are also food options so you can plan to have something to eat to get reenergized.
And this is yet another reason why visiting the SkyGarden is much better than the touristy view from the Shard, one of my suggested things to NOT do in London.
With the view from the Shard, there's no hang-out area and it's a case of going up to then come back down immediately afterwards.
The SkyGarden is more of an experience, hence, a great thing to do in inside in London when the skies open!
21. Churchill War Rooms
The Churchill War Rooms are completely indoors and mostly underground, so not only does it not matter if it's raining, but you won't know anyways!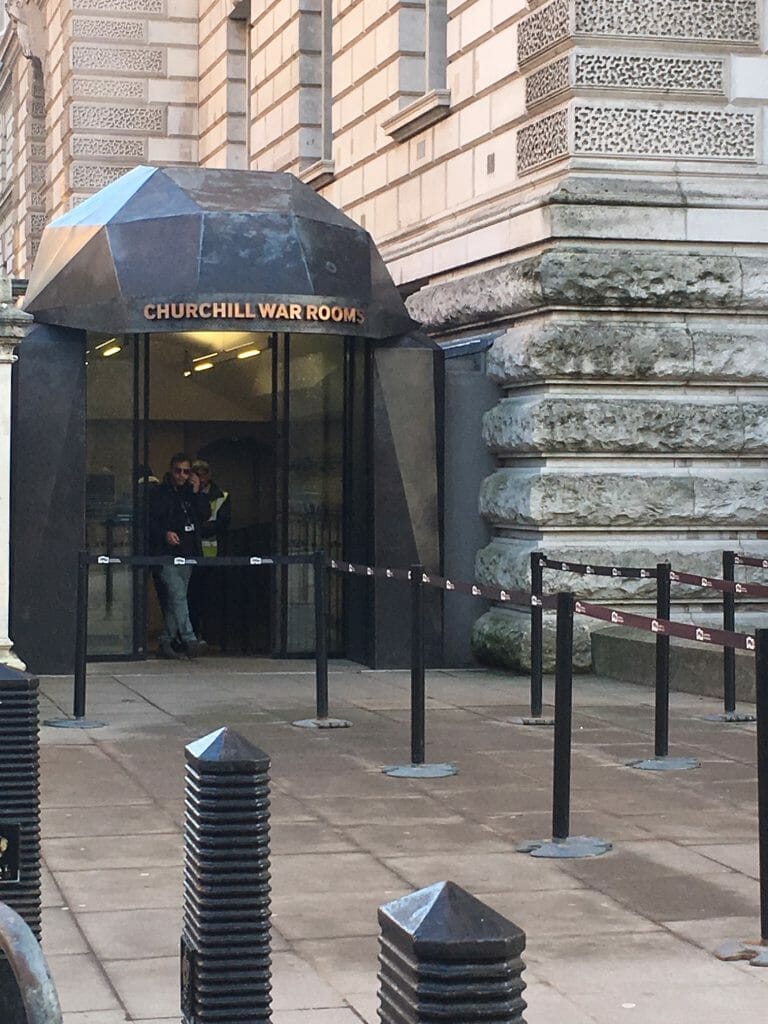 This is a fantastic way to spend a few hours on a rainy afternoon or morning, as you can really dive into the museum and all of the artifacts and rest assured that you won't get wet as you go from room to room.
22. British Library
One of my favorite sites in all of London is the British Library, and it's just a bonus that it's indoors so you don't have to get wet in the rain.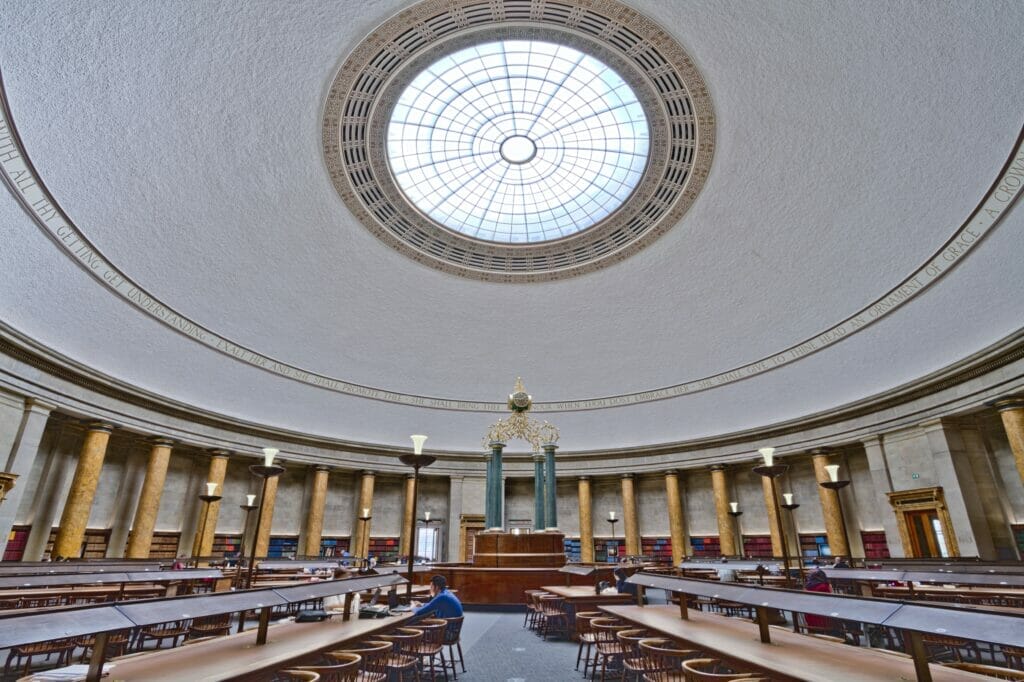 Head to the permanent collections and visitor galleries to see the Magna Carta, handwritten original lyrics from popular British bands, and a treasure trove of scientific and literary original works by names you'll be familiar with (Leonardo da Vinci, anyone?)
23. See a West End Show
With both matinee and evening performance options, escaping the weather in a West End theater is definitely not a hardship!
The weather outside won't matter one bit once you're singing along to The Lion King classics or traveling to Canada in Come from Away or feeling sorry for Matilda.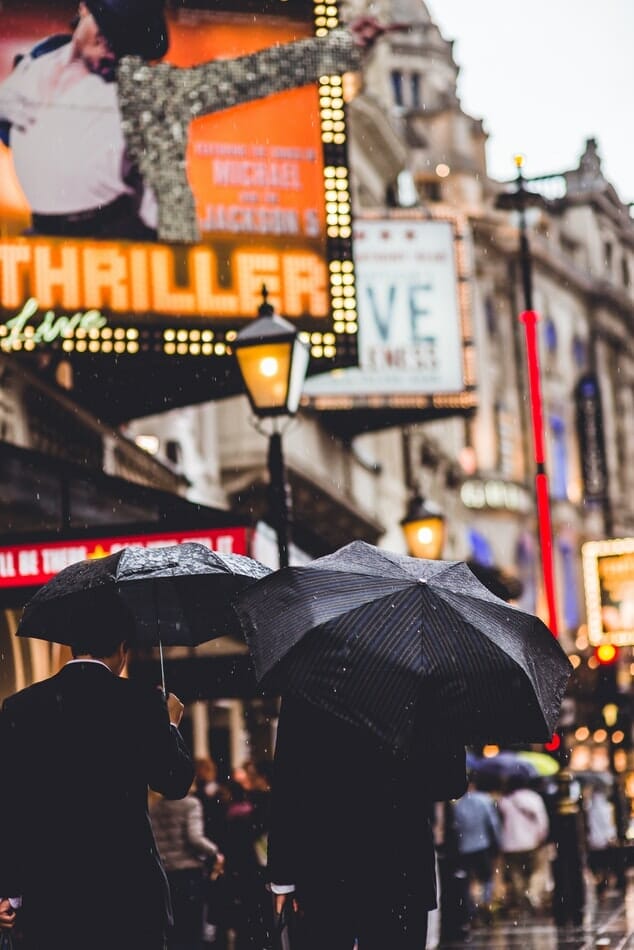 If you want last minute tickets, check out the Leicester Square Last Minute tickets booth, or just search online!
Harry Potter Things to Do in London
Welcome to Hogwarts, London visitors!
Here are the best things to do in London for Harry Potter lovers.
24. King's Cross Station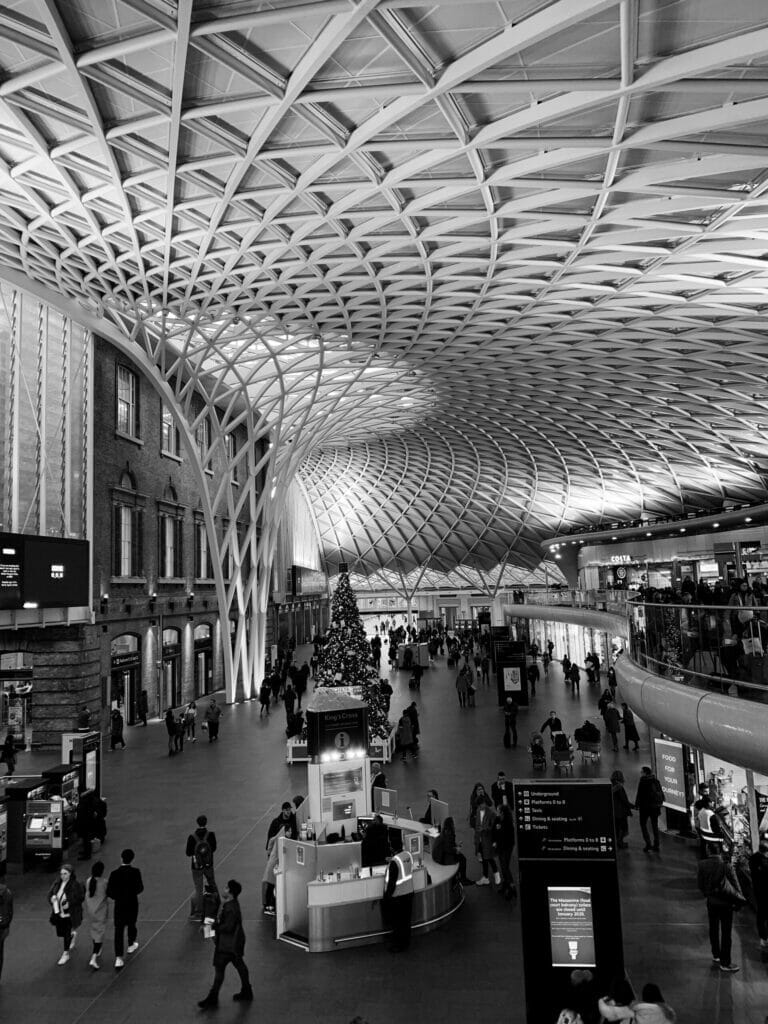 How could you forget a stop at King's Cross Station while on a self-guided Harry Potter tour?
It's here that the Hogwarts students would push their way through Platform 9 3/4.
Nowadays, Platform 9 and 3/4 isn't found right in between Platform 9 and 10 as King's Cross is a working station and the Londoners don't need Harry Potter fans getting in the way of them making their train!
Instead, you can find a photo op in the main concourse, complete with the option to pay for a professional photographer to get a snap of you pushing your way through the wall.
Is it a tourist trap?
Yes.
Is it a must-see for Harry Potter fans?
As long as you are going in knowing that it's a tourist trap and you're happy about that and ready to see the train station that is mentioned in the books and movies, then enjoy!
25. Australia House
You may be able to guess, by the name of this building, that it houses the Australian Embassy, but did you know that it was also used for some interior shots of Gringotts bank?
You can't go inside, sadly, due to embassy security measures, but you can marvel at it from the outside and know that your favorite Harry Potter stars probably walked over the same patch of sidewalk you have to get in the building!
26. Reptile House at London Zoo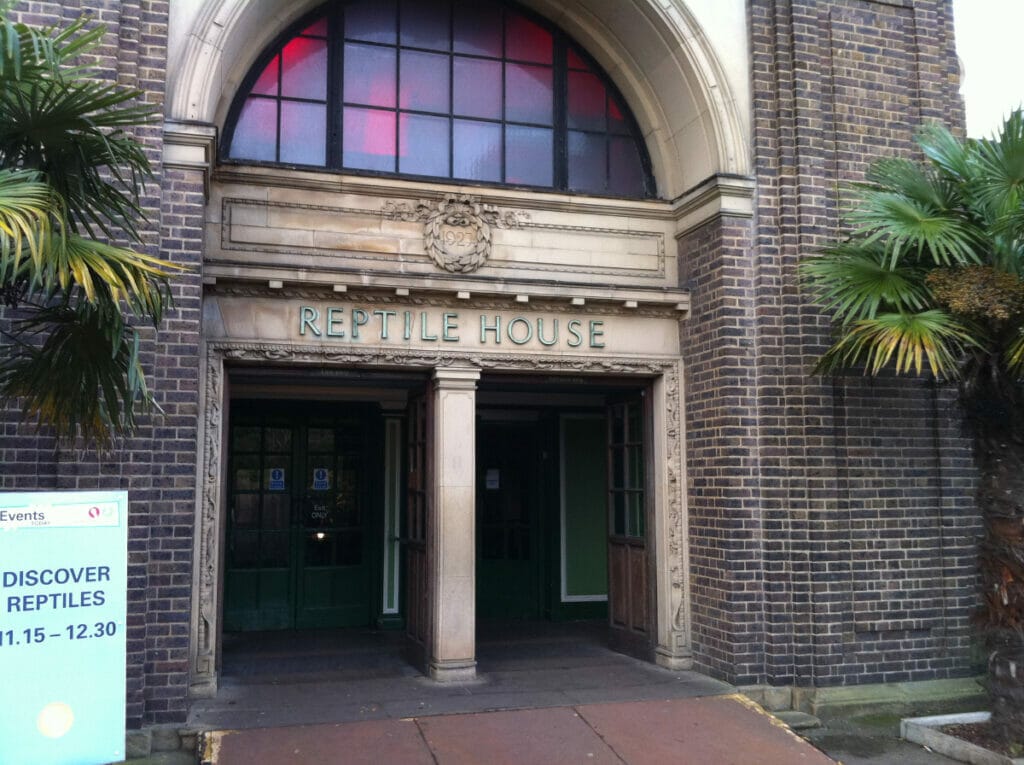 London Zoo, near Regent's Park, is a London gem and the Zoological Society of London takes their job in animal conservation very seriously.
But Harry has also been here, speaking to the snakes in the Reptile House in the first movie when he set it free.
Fans will instantly recognize the interior and the large window that today houses some of the zoo's biggest reptiles, like the Black Mamba.
Foodie Things to Do in London
Dine in the Shard or enjoy a mom and pop restaurant in Bloomsbury with my picks for the best London restaurants.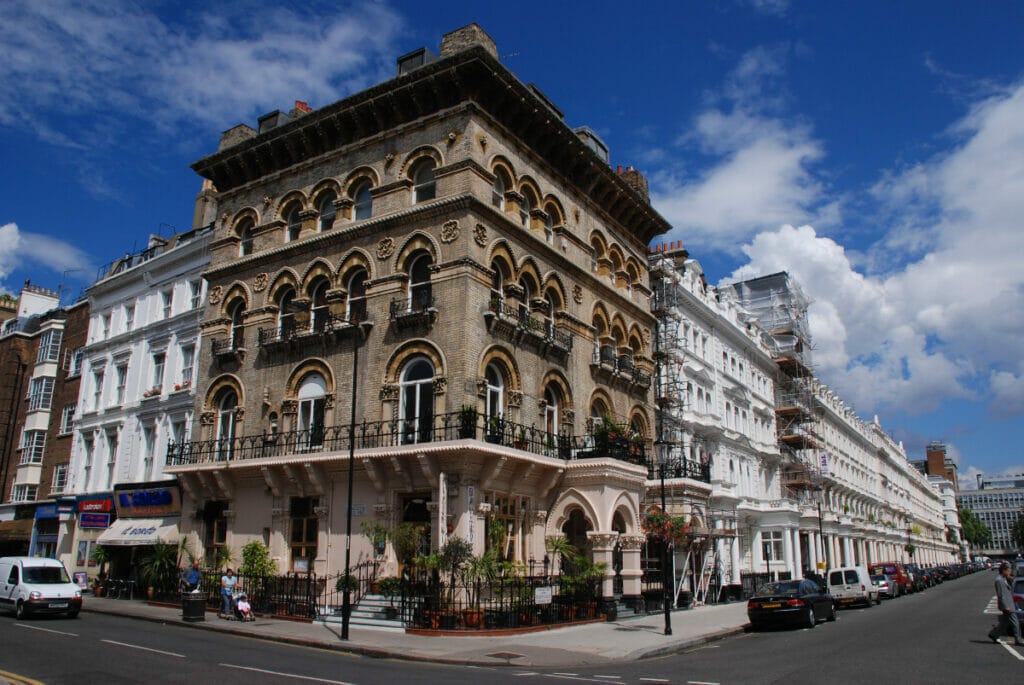 This Italian restaurant in Kensington is a fan favorite because of the amazing food and its history.
It's said to be Princess Diana's favorite choice for Italian, and photos commemorating her visits there adorn the wall.
28. Brasserie Zedel
Themed like Paris, this French eatery in Piccadilly is a fantastic choice if you want a nice dinner without the expensive price tag.
You'll find French inspired dishes and a quirky atmosphere that's very London meets France.
29. Dishoom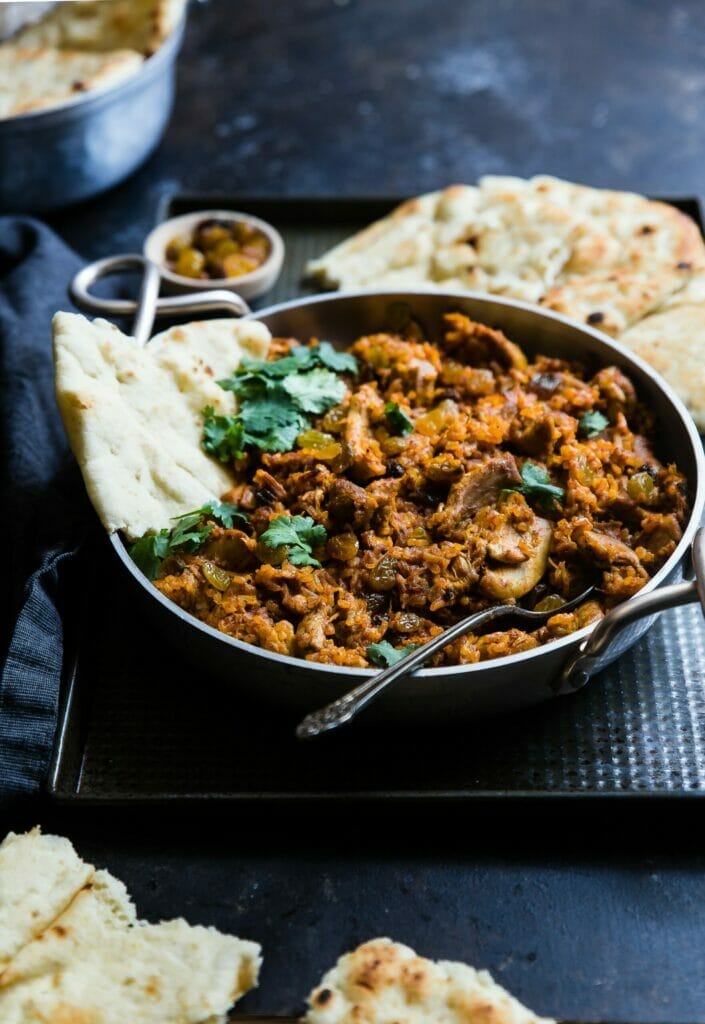 London does amazing Indian food, including breakfast, at the well loved Dishoom restaurants.
When my mom comes to London, that's all she wants and she could eat here for breakfast, lunch and dinner.
It's both casual and a bit luxury feeling, with different benefits depending on the location you choose, for instance the heated veranda in Shoreditch!
Things to Do in London for Pub Gurus
You can't come to London without stopping by a pub, but don't go just anywhere, make sure to visit one of London's best pubs that range from literary havens to modern pubs with the best roast dinner.
30. The Churchill Arms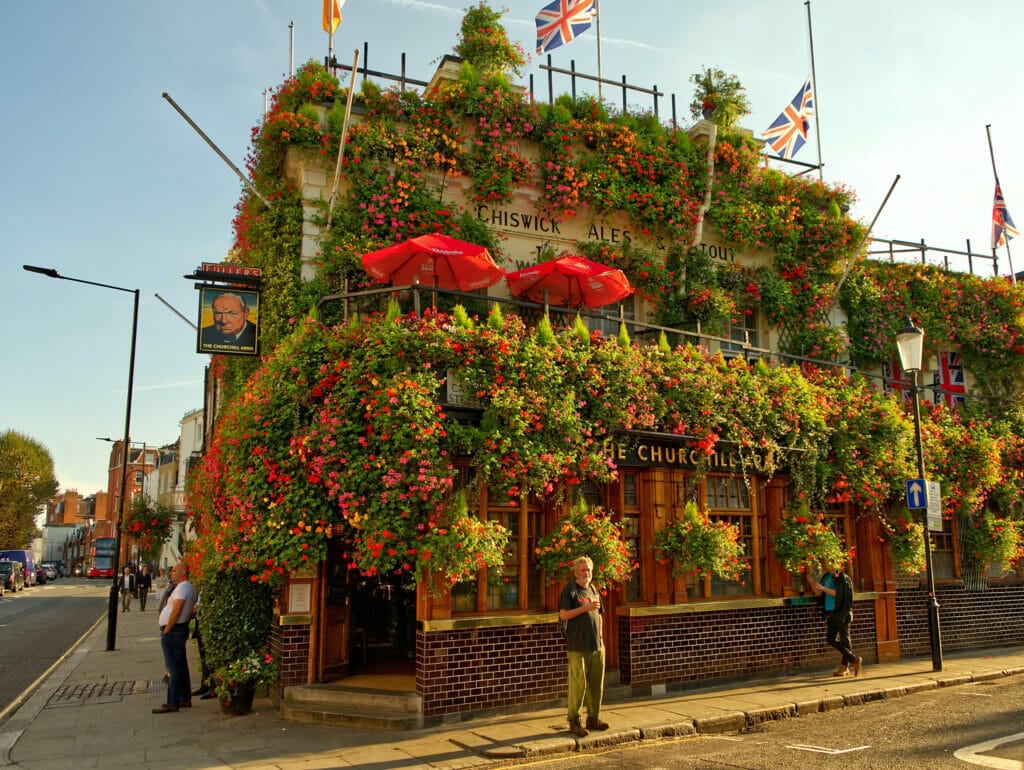 This pub named after Winston Churchill is best known for its floral arrangements that adorn the outside and the fantastically quirky interior.
I recommend it to all visitors to London as a must see London pub, and they're always glad they went.
You can get drinks here like any normal pub, but the food they serve in the restaurant section is actually Thai food (not uncommon in some pubs), and good Thai food at that!
Address: 119 Kensington Church St, Kensington, London W8 7LN ; Nearest Tube Station: Notting Hill Gate.
31. The BlackFriar
This pub on Queen Victoria Street has its history as a friary (hence the name) and is lauded by locals as one of the most beautiful pubs inside, as well as having tons of history and a monk statue that sits outside.
Try the cask ales, as well as the afternoon tea in this sophisticated dining location.
Address: 174 Queen Victoria St, London EC4V 4EG
32. The Mayflower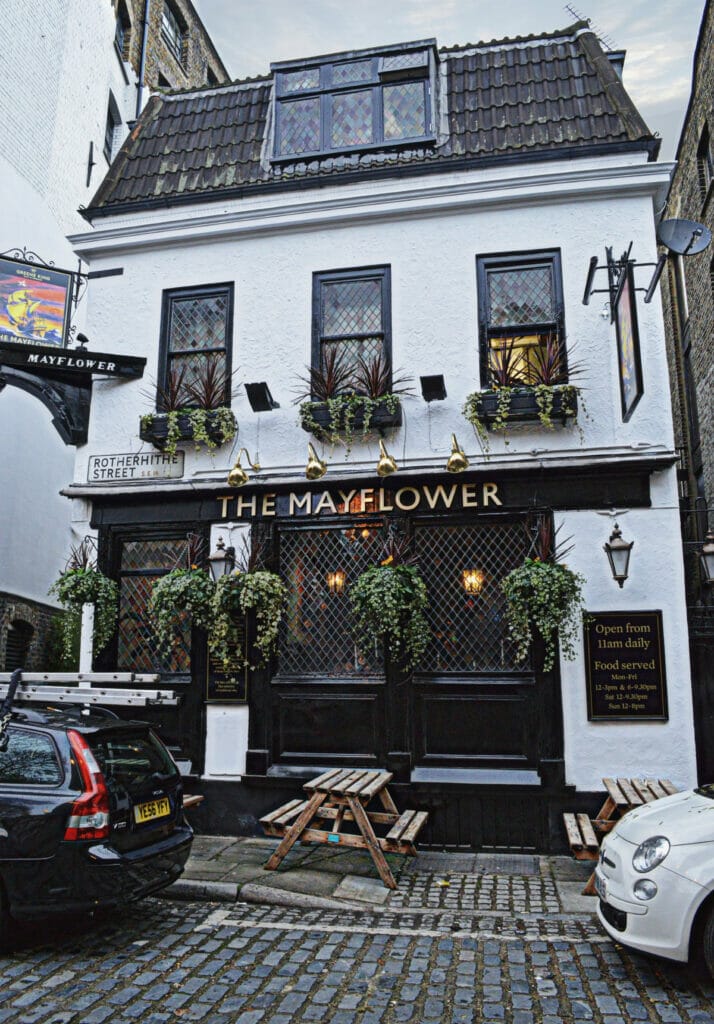 It's a bit out of the way of Central London, but this pub is a wonderful place to make an evening trip and enjoy riverside views and great food.
Named for the Mayflower ship, there is a pub downstairs and a restaurant upstairs so you can either get just drinks or food and drinks.
The views from the terrace are excellent, and it's easily accessible from central London without too much headache.
It's also not right in the middle of tourist central, which means you'll get a great pub and a more local vibe.
Address: 117 Rotherhithe St, Rotherhithe, London SE16 4NF, Nearest Tube Station: Canada Water.
Best Markets in London
From clothing to antiques to flowers, here are the best markets in London if you want a more varied shopping experience and to feel the buzz of city life.
33. Borough Market
You can't go to London and not go to Borough Market – it's just not possible!
Borough Market is London's top food market, and they have everything from pasta to potatoes, clams to pineapples, Indian to Italian.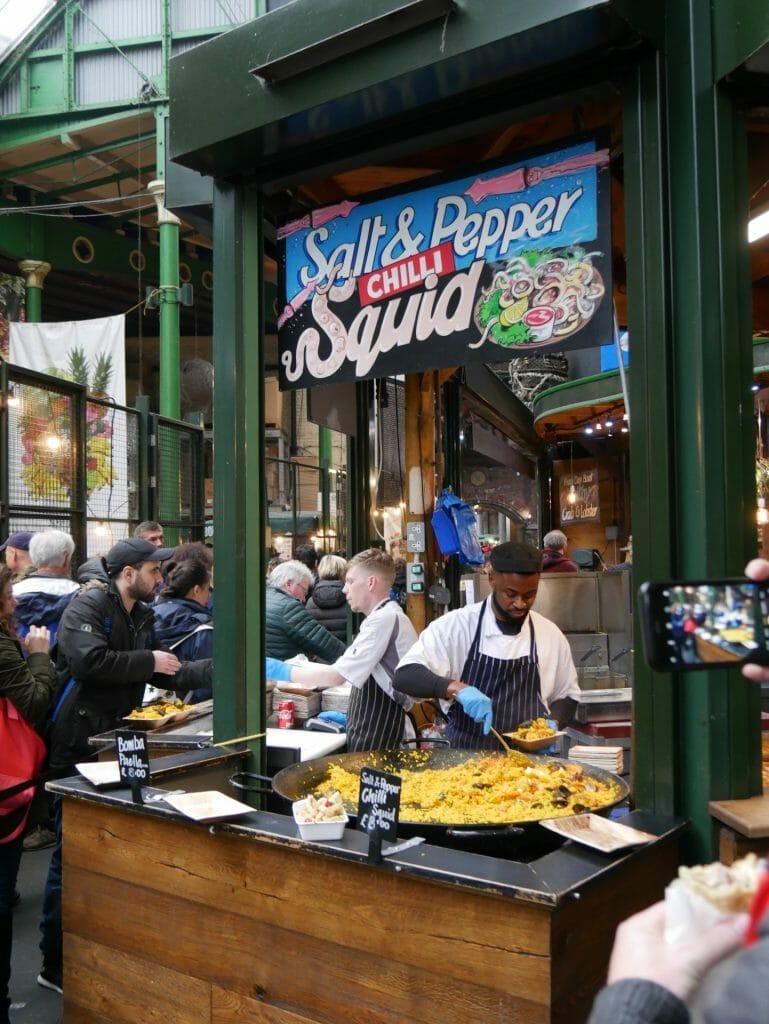 Whether you want to have lunch here or you want to buy some ingredients to make a dinner back at your AirBnB, you won't regret wandering around here and smelling all of the delicious food aromas!
There are also frequent food demonstrations and special events on at Borough Market which provide even more of a lively atmosphere.
Address: Borough Market, 8 Southwark Street, London, SE1 1TL
Open for a full market Wednesday through Saturday and a limited market on Monday and Tuesday.
34. Leadenhall Market
You may recognize this famous London market from the Harry Potter films, where it was used as part of Diagon Alley!
This covered market is one of the oldest in all of London, and the architecture inside is stunning.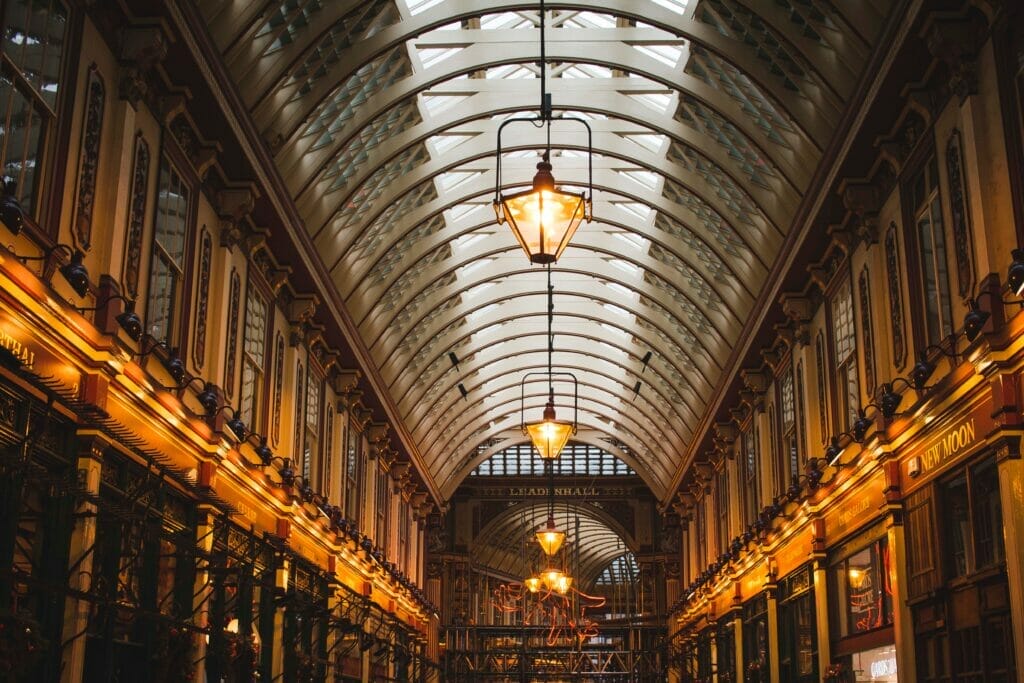 You'll find plenty of fresh food here, from cheese to meat to ready-to-eat meals.
It used to be a meat and poultry market, in fact!
The great thing about Leadenhall Market is that you can visit in poor weather and not have an impaired experienced like an outdoor market.
Address: Leather Ln, Holborn, London EC1N 7TJ
Open Monday through Friday from about 10am to 3pm
35. Camden Market
Looking for gifts?
Clothing?
Shoes? Homegoods? Souvenirs?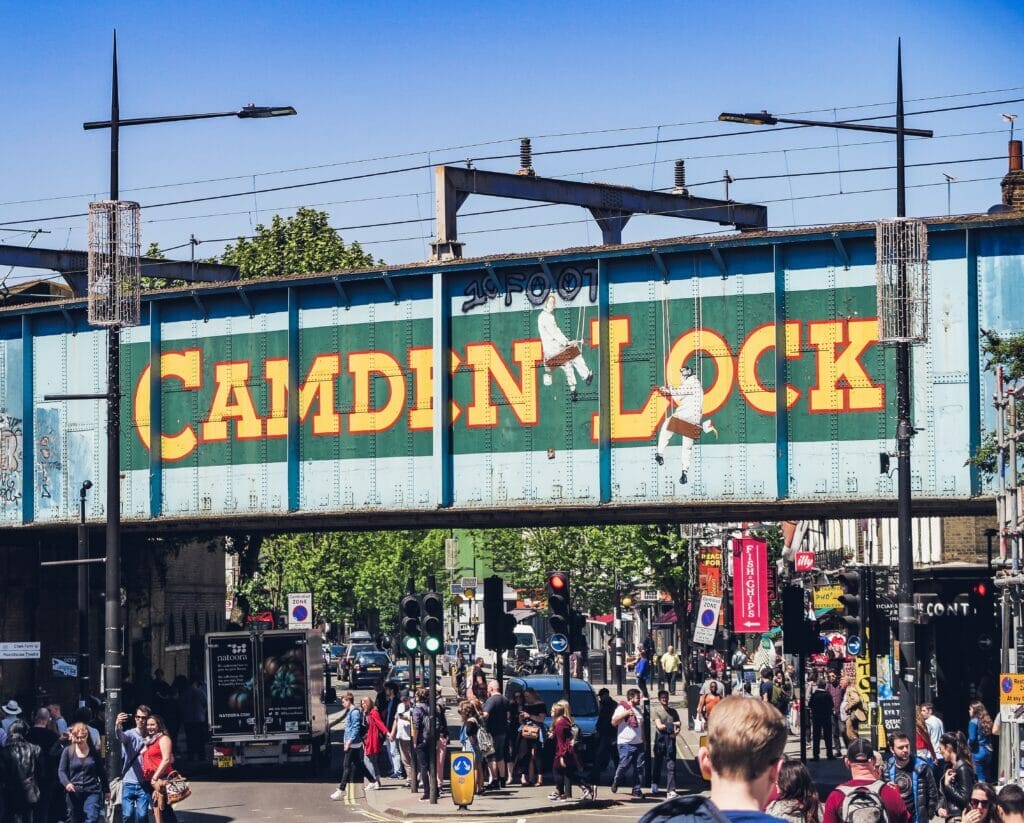 Something just a little bit different?
Camden Market is the place to be, considered to be an "alternative" area, it's still popular for all types of visitors.
Don't be surprised if you come across some funky looking stalls or some fashion styles you've never seen before – it's all part of the fun of Camden.
Address: Camden Market, Camden Lock Place, London, NW1 8AF
Open every day.
Things to Do in London for Sports Lovers
From cricket to football (American soccer, don't get them confused!), London is a haven for sports fan who want to watch their favorite players live, and these are the top places to watch sports in London.
36. Wimbledon
If you're hoping for some professional tennis in London, plan to visit in the summer during the two weeks of Wimbledon, one of the best times to come to London.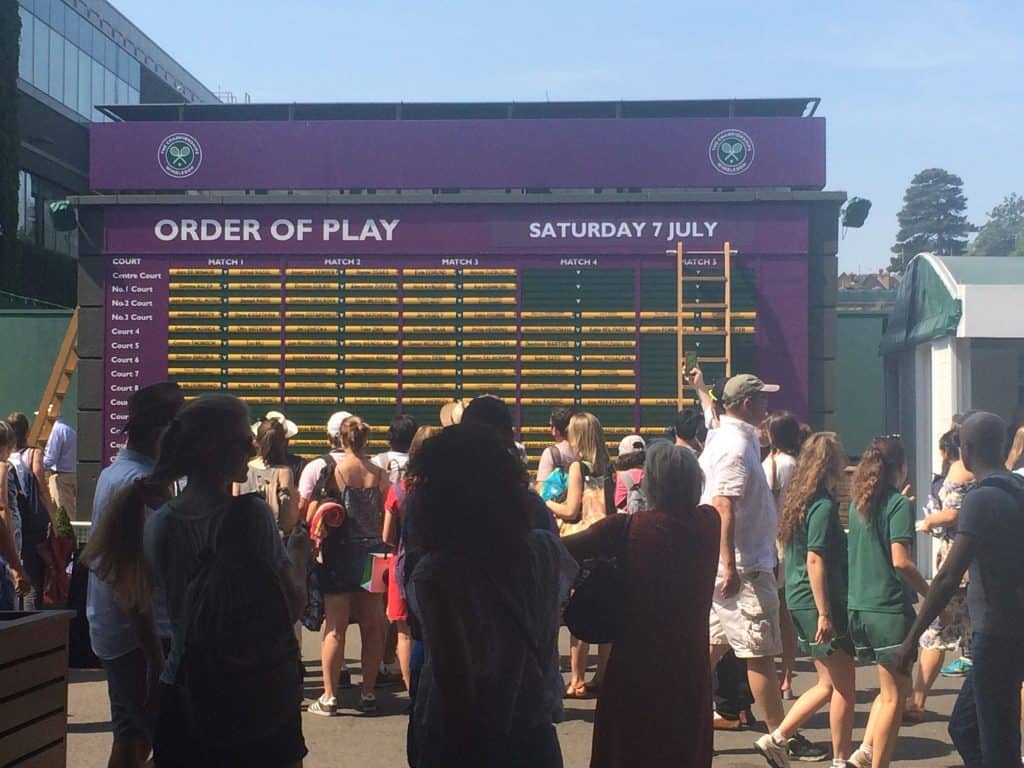 This prestigious tournament is well attended by locals and visitors alike, and Wimbledon prides itself on still having a cheap ticket option, which can be accessed by getting there early and waiting in "the queue" on the day of play.
Click here for information about the Wimbledon queue.
Otherwise, you'll want to enter the ticket ballot the year before you're set to go for the chance to get seated tickets.
If you're in London the rest of the year, you can still experience the magic of this famous tournament by visiting the Wimbledon museum or taking a guided tour.
I would highly recommend this for any tennis fan, as you really get a fantastic overview of the courts and the chance to experience them in a whole new way.
The museum is fantastic and you can view trophies, attire, and equipment from years past.
Click here to book tickets to the Wimbledon tour.
37. Watch Cricket at Lord's Cricket Ground
If you want to try and figure out the rules behind this game that involves a bat, a ball, and lots of running in a straight line, you'll learn everything you need to know at Lord's Cricket Ground.
This is the most highly esteemed cricket ground in the UK and you can either see if there are any tickets available to matches by clicking here, or you can book a tour of Lord's here where you get to go behind the scenes and learn more about England cricket history and how the grounds are maintained.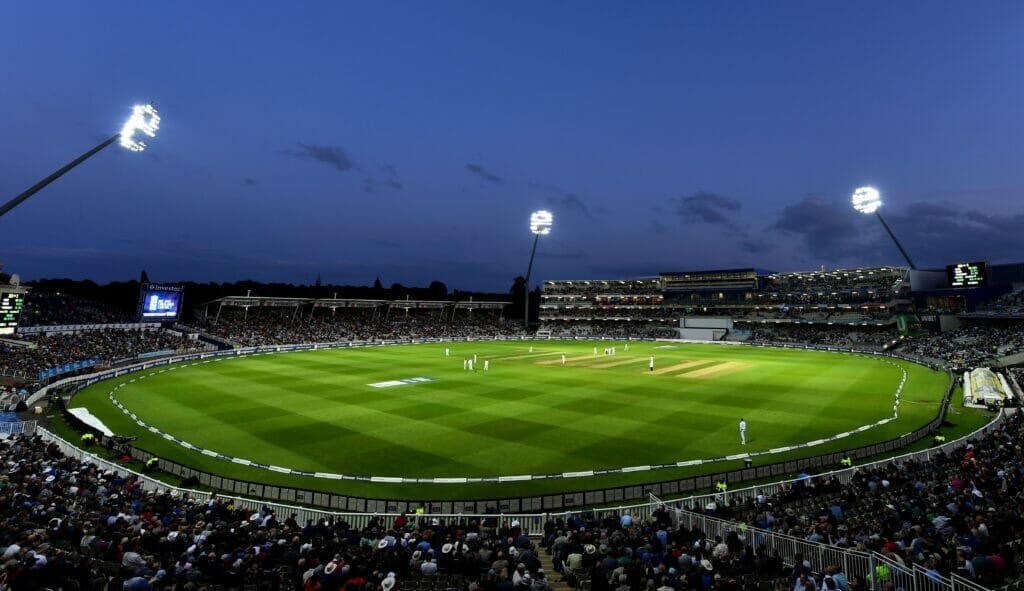 38. Attend a Football Match
Football is perhaps the most widely followed sport across the UK and the multiple football stadiums in London can attest to that.
If you want to see a premier match, check if there are tickets at Wembley Stadium here or Chelsea Stadium here.
The best way to find tickets is simply through the websites in advance.
If you want to get to walk out onto the field yourself (called the "pitch"), book yourself into a guided tour of Emirates Stadium here or a guided tour of Chelsea Stadium here.
You can also watch more local matches in lower ranked leagues in places like Harrow, Wealdstone, Northwood and more.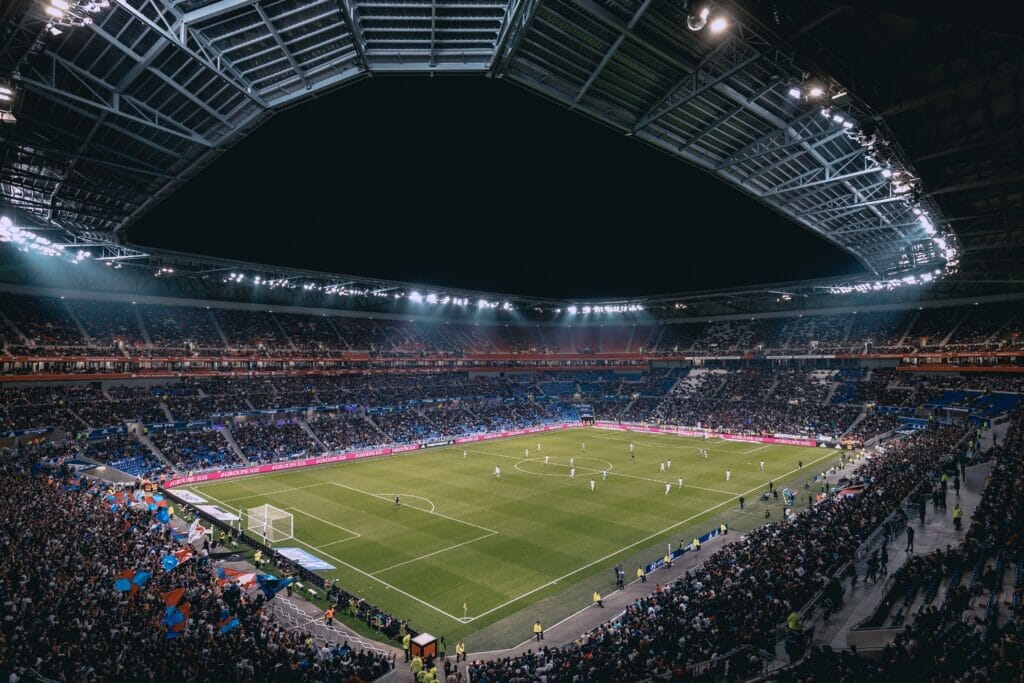 Free Things to Do in London
You can visit London on a budget and still have an amazing time.
Here's what to do in London for free, ranging from some of the most popular attractions to lesser known free events.
39. Watch the Changing of the Guards
You don't need a ticket or any sort of entry fee to line up to see the Changing of the Guards that takes place in front of Buckingham Palace almost every day.
To see when and where it will take place during your stay, make sure to check the official schedule and get there about an hour in advance if you want prime viewing.
This is one of the most iconic things to do in London!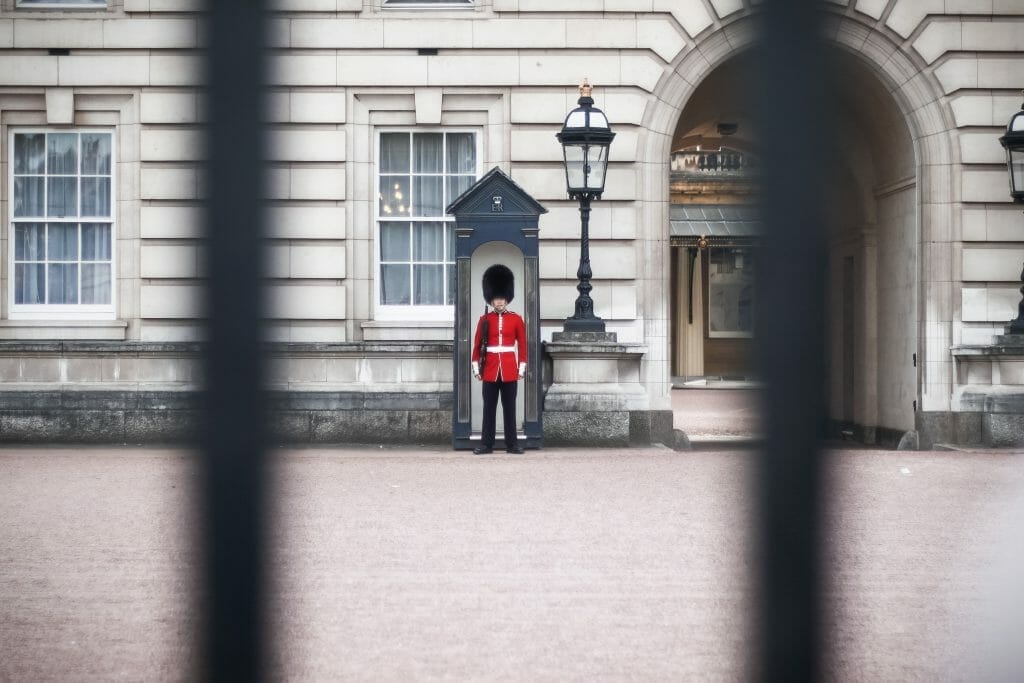 40. Listen to Big Ben Chime
Big Ben is one of London's most iconic sites, and it's of course free to look at and appreciate.
I would recommend actually going later at night or first thing in the morning when the hoards of tourists aren't out, standing underneath it and hearing it chime.
It's a really special experience to know that you are one of just a few people in the world at that moment that are standing near Big Ben!
Do note that Big Ben is in scaffolding until the end of 2021. Sadly, restoration works have to take place!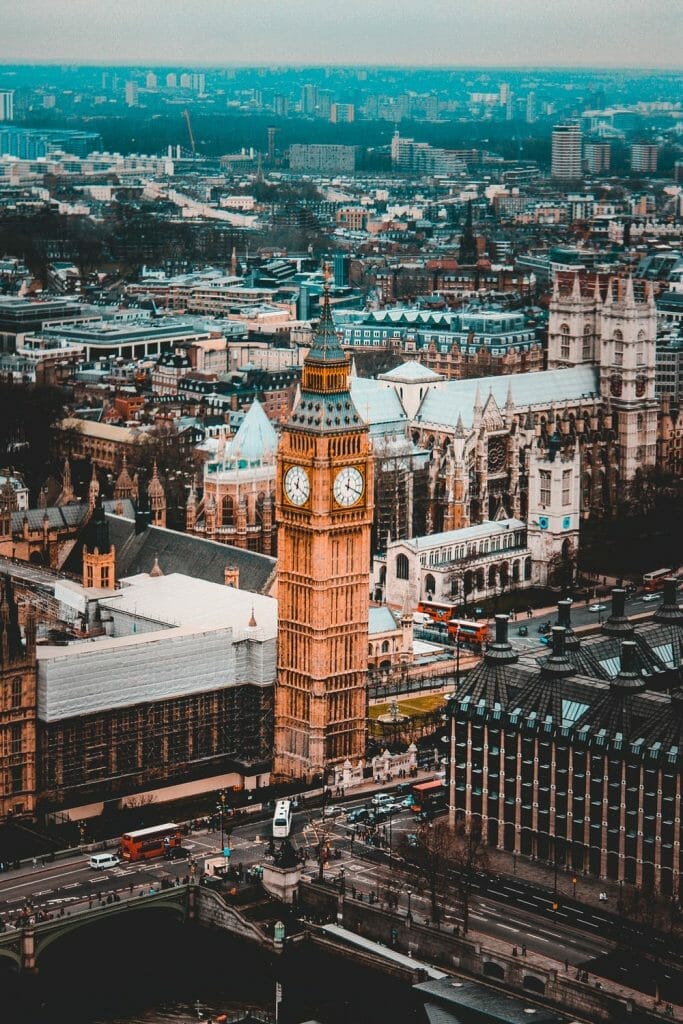 41. British Museum
Home to Cleopatra and the Rosetta Stone, the British Museum is a massive collection of artifacts and clothing and exhibits that tell the story of the British Empire and Britain itself.
The building is absolutely gorgeous with an awesome lobby that is known for its glass ceiling that lets the sun stream in (or blanketed by grey clouds depending on the day).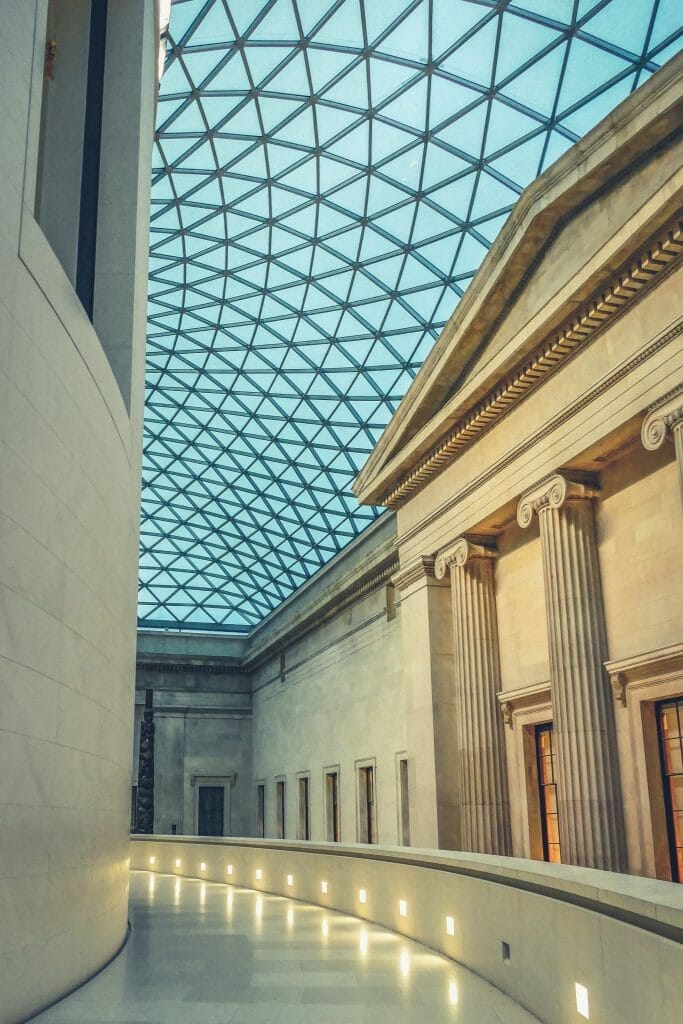 Best Museums in London
Spend hours wandering the halls and exhibits of the top museums in London, featuring everything from Cleopatra to Picasso.
42. The V & A
The V & A can best be described as "a giant collection of stuff given to the royals that they didn't have room for."
Okay, that sounds less awesome than it is, but whether you're interested in Chinese art or European textiles or Greek ruins, you can find it here.
This is a wonderfully sophisticated thing for couples to do in London.
Address: Cromwell Rd, Knightsbridge, London SW7 2RL
Open daily.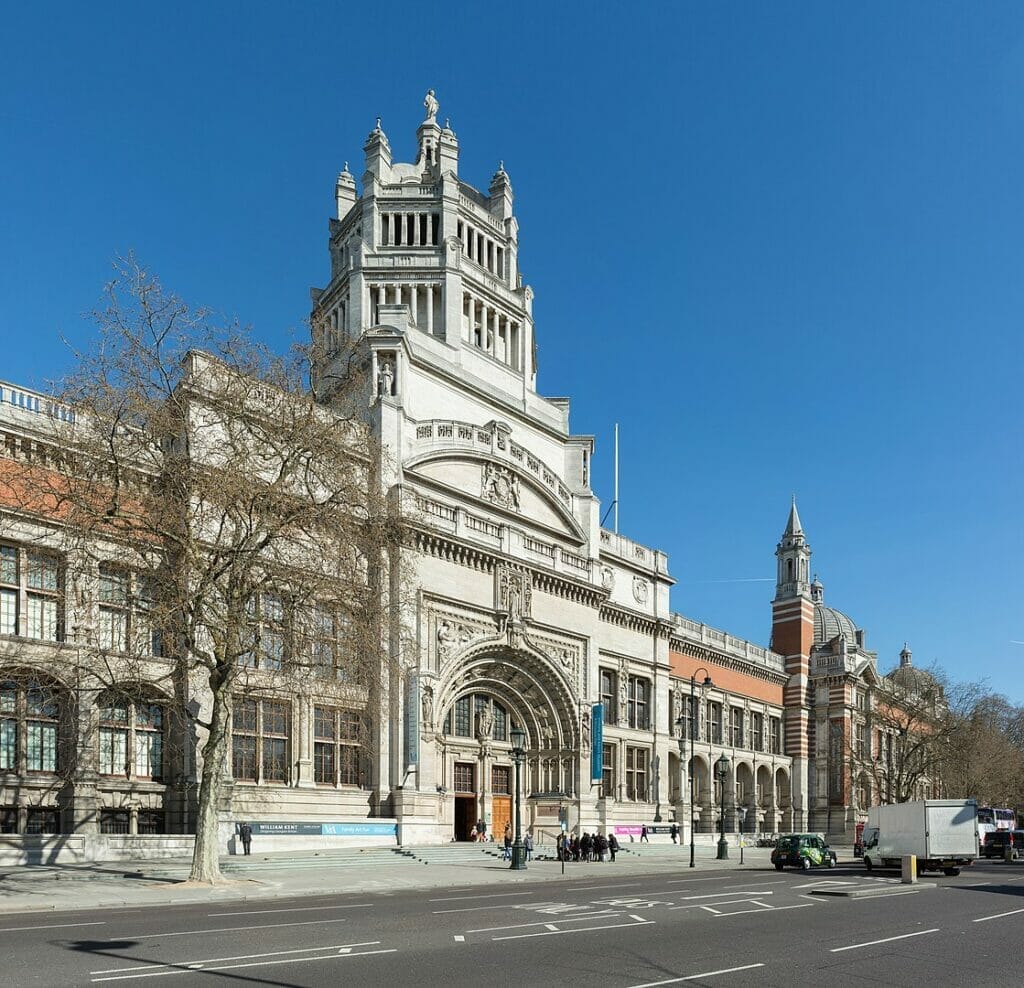 43. British Library
Inside the British Library is an exhibit that many people skip due to the larger surrounding museums, but it is not to be missed if you're into literature, religion, or science.
You can see original Shakespeare, old religious texts, and writings from some of the world's most brilliant minds including Galileo.
If you look carefully, you can also find original Beatles lyrics scribbled onto a scrap sheet of paper.
Address: 96 Euston Rd, London NW1 2DB
Open Daily, with shorter hours on Sunday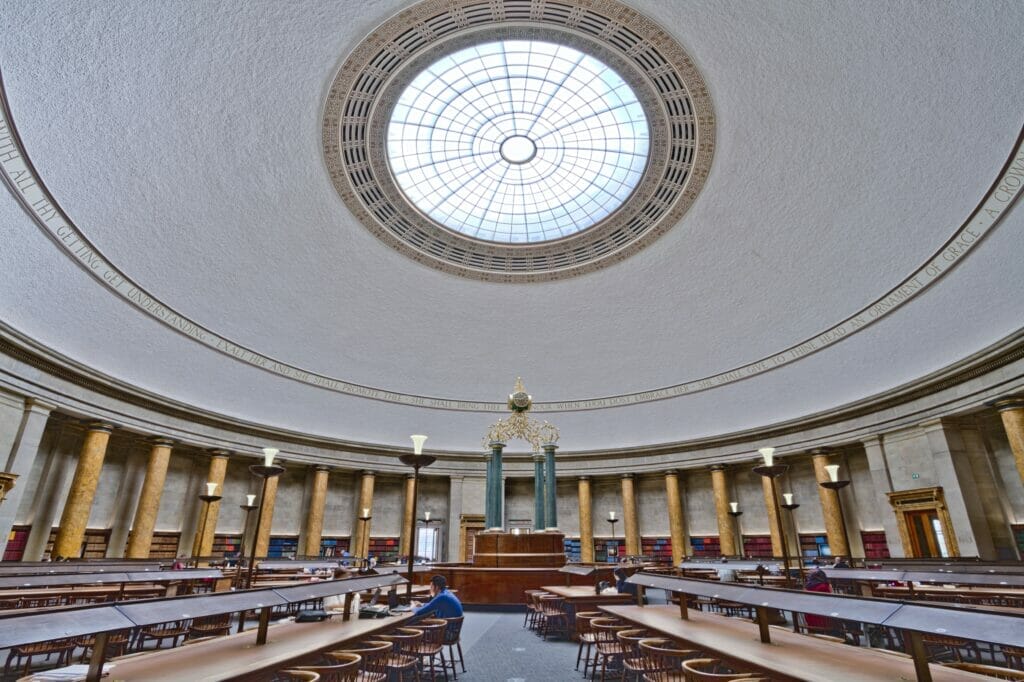 44. Museum of London
If you couldn't guess from the name, the Museum of London is dedicated to all things London.
Every part of the city's past is documented and explained in interactive exhibits.
While they do have paid-for exhibitions on, the main part of the museum is free and worth stopping by at the beginning of your trip to get a feel for the city you're about to explore.
Address: 150 London Wall, Barbican, London EC2Y 5HN
Open Daily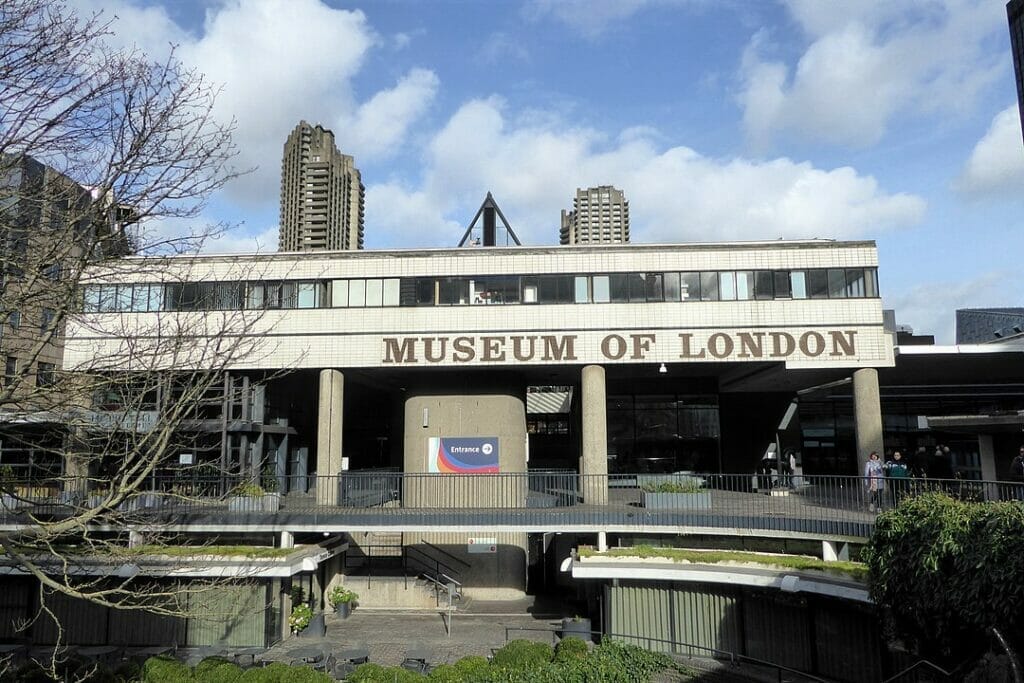 Things to Do in London for the Afternoon Tea Experience
Don't leave London without checking out the best places for afternoon tea.
The Queen might not be there, but you should still raise your pinkey (okay, that's not actually a thing).
45. Beas of Bloomsbury
If you're looking for a casual afternoon tea in London, Bea's of Bloomsbury is for you.
They have multiple locations across London, including St. Paul's and Bloomsbury (near the British Museum), and their light and airy spaces provide a modern afternoon tea vibe with all of the normal suspects – scones, cakes, and sandwiches!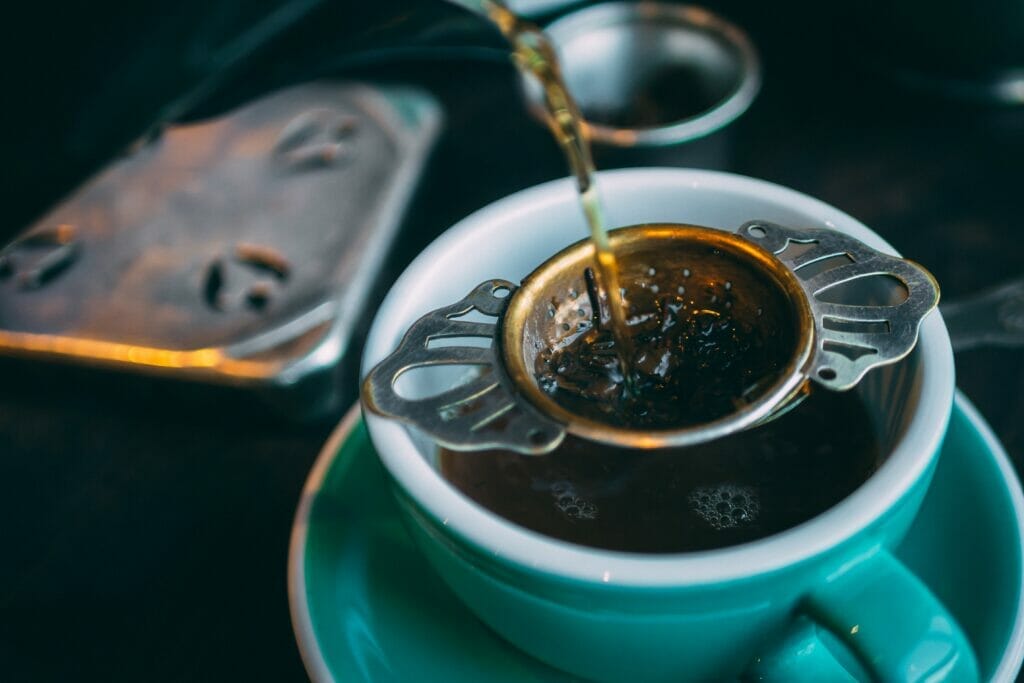 They cater to those with dietary needs with vegetarian and gluten-free options, as well as the ability to change their menu for other needs if you let them know in advance.
I like this option for families and those who need more options in the location of where to have their tea depending on their schedule.
Click here to book afternoon tea at Bea's.
46. Oblix at the Shard
Want a tea with the view?
I love the afternoon tea at the Oblix, in the Shard.
It's the best afternoon tea with a view in all of London.
Not only do you get gorgeous views spread across London as well as get to enter this famous London landmark for no extra cost, but the tea and the food is unlimited and delicious.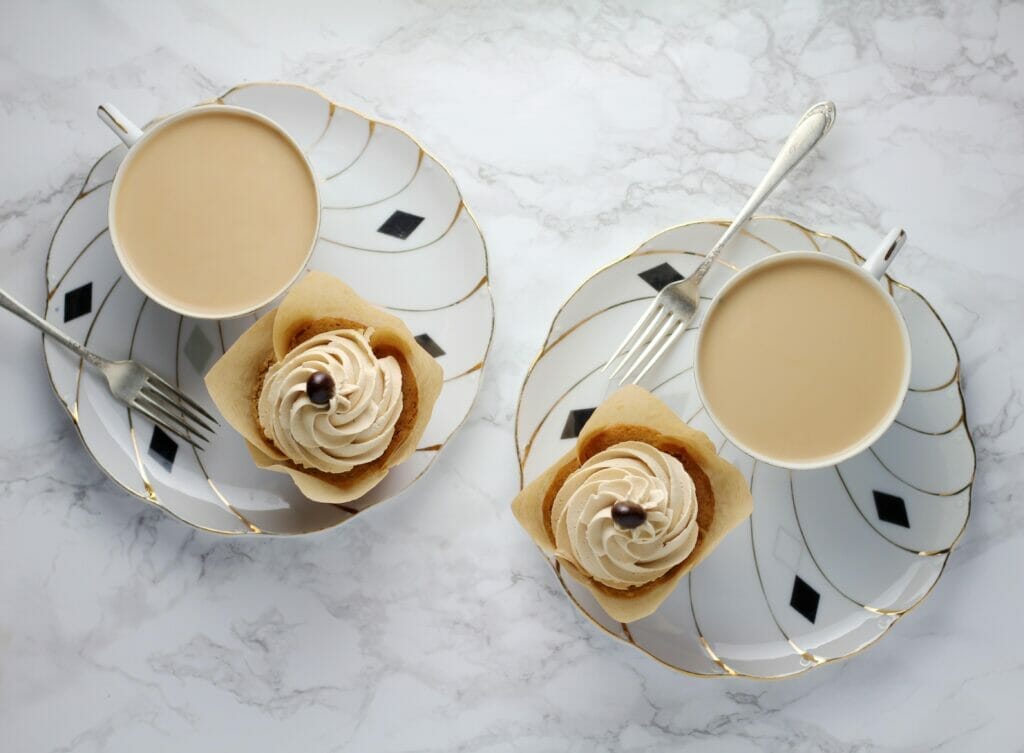 47. Fan Museum in Greenwich
If you're looking for a cheap afternoon tea in London, the Fan Museum in Greenwich is for you.
For under £30, you can get some great tea and cakes that will keep you full and give you a lovely tea experience in their Orangery.
They don't serve sandwiches at this afternoon tea, so it's not a "full" one, but it certainly still feels like afternoon tea with the scones and cakes and I've found theirs to be some of the best tasting ones in London – more time to focus on a specific part of the tea means they nail it!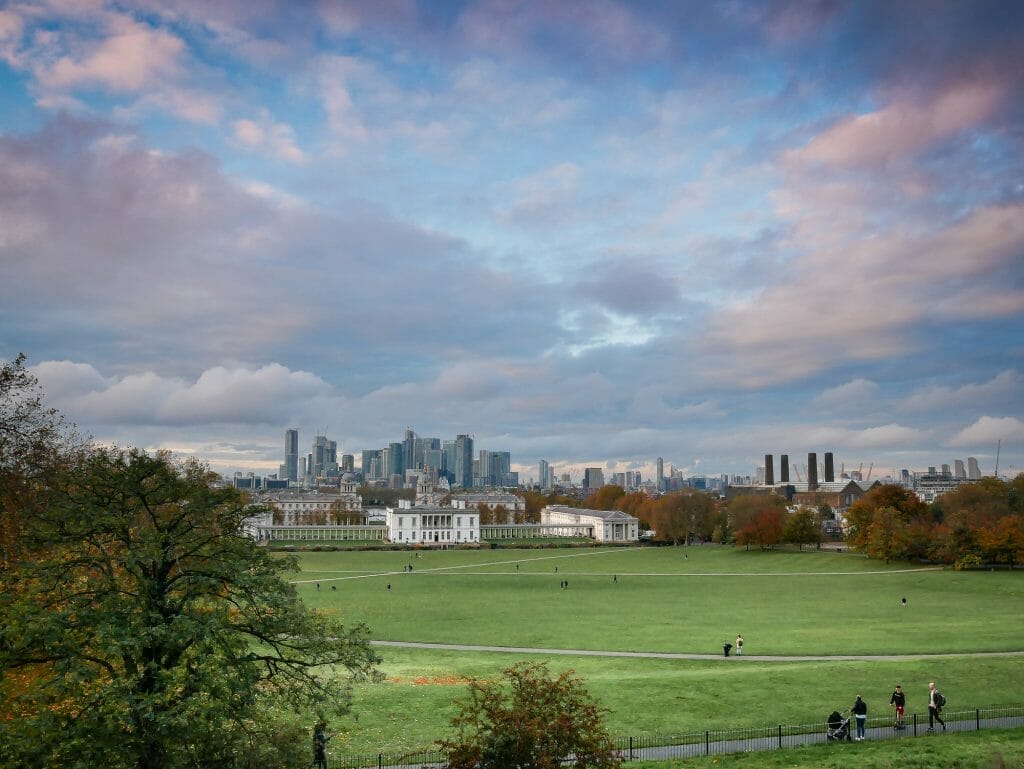 This makes it one of the most affordable afternoon teas in London.
Click here to book afternoon tea at the Fan Museum.
Best Street Food in London
Hungry for some street eats?
Enjoy the best London street food markets, ranging from the big and bustling to the local hangouts.
48. Leather Lane Market
This street of food stalls is a popular London local hangout, as it's open for lunch on the weekdays.
You'll find it near Farringdon Station, in between Holborn and Farringdon, and there are some amazing taco places, Indian food, grilled cheese stands and more.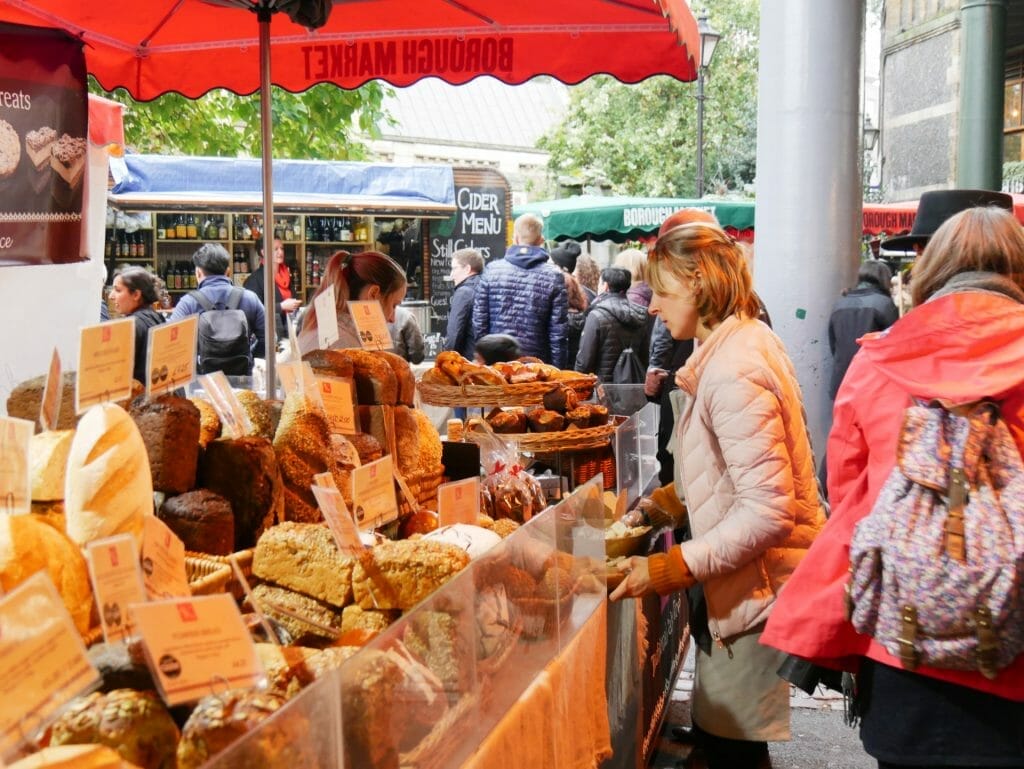 As it's a more unknown and local market, this is a great quirky thing to do in London.
Address: Leather Ln, Holborn, London EC1N 7TJ
Open from 10am to 2pm every weekday.
49. Boxpark Shoreditch
If you want to go where the cool kids go, Boxpark Shoreditch is it.
This is a "pop-up mall" which puts local and global retailers next to each other in a dining experience that London visitors will love.
Tons of different street food stalls come together in a sort of warehouse experience, including London staples like the Breakfast Club.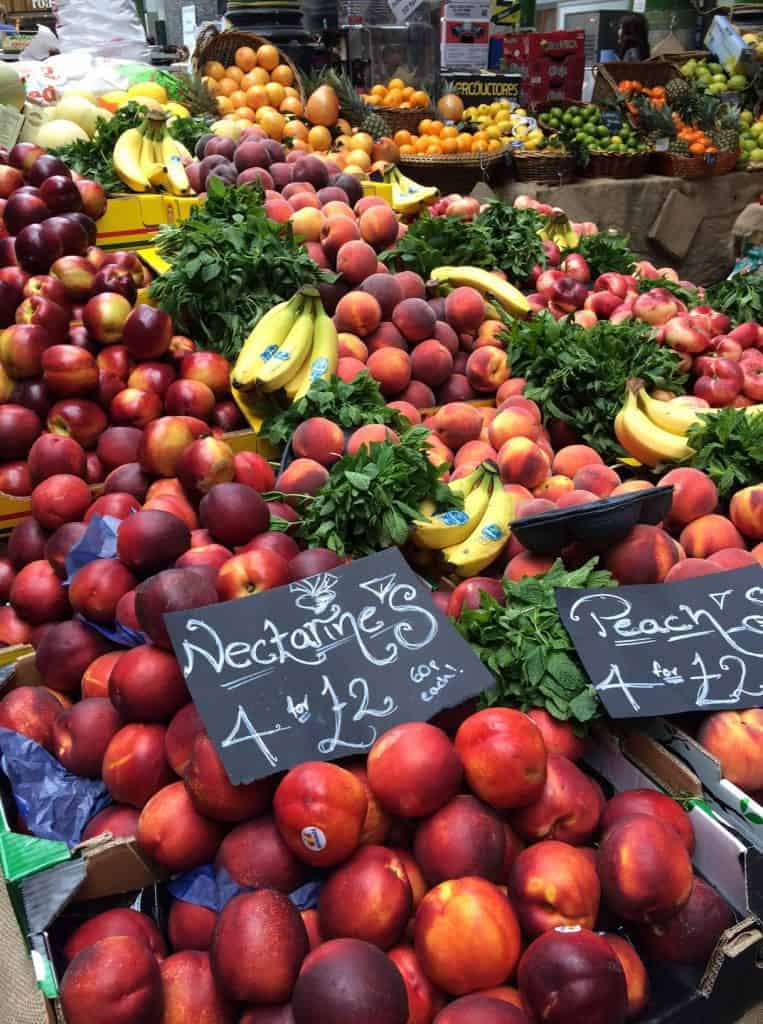 I would recommend this food market to the younger crowd, study abroad students in London, and those who are staying in and around London's East End.
Address: 2-10 Bethnal Green Rd, Hackney, London E1 6GY
Open every day.
50. Brick Lane
I've included Brick Lane for a very specific reason, and that is that while you can find street food here, Brick Lane is a vibrant and diverse part of London that's famous for its bagels!
Go to Brick Lane's Beigel Bake and get yourself some fresh bagels filled with smoked salmon or other ingredients.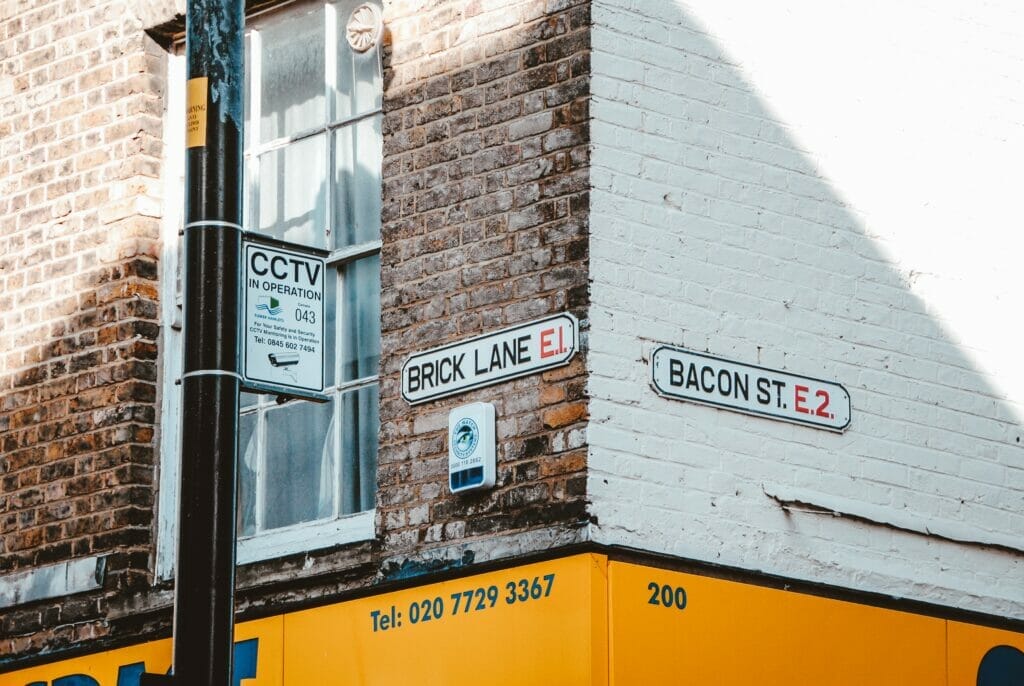 It's popular to grab some and eat them as you walk around, and I can attest that they are some of the best savory bagels in all of London.
Address: Brick Ln, Spitalfields, London E1 6QR
Street market for goods open every Saturday and Sunday, but Beigel Bake and Brick Lane operational every day.
Things to Do in London in Winter
London doesn't shut down when the weather turns bad.
Instead, it lights up!
Here's what to do in London in the winter so you can make sure you're ready for a London Christmas or New Year.
51. Hyde Park's Winter Wonderland
Ready to walk in a winter wonderland, but for real?
This Christmas market and festive area and all-around cheerful event is one of London's most popular Christmas destinations.
It's located in Hyde Park, which is a good thing as the market is massive and Hyde Park has the space for it.
Opening in late November until early January, you'll find ice skating rinks, places to eat, Christmas markets, a Christmas circus, and shows like Paddington on Ice and a Winter Wonderland Comedy Club.
It doesn't cost anything to enter Winter Wonderland, though you will want to prebook if you are interested in any of the shows or events.
Click here to learn more about Hyde Park's Winter Wonderland.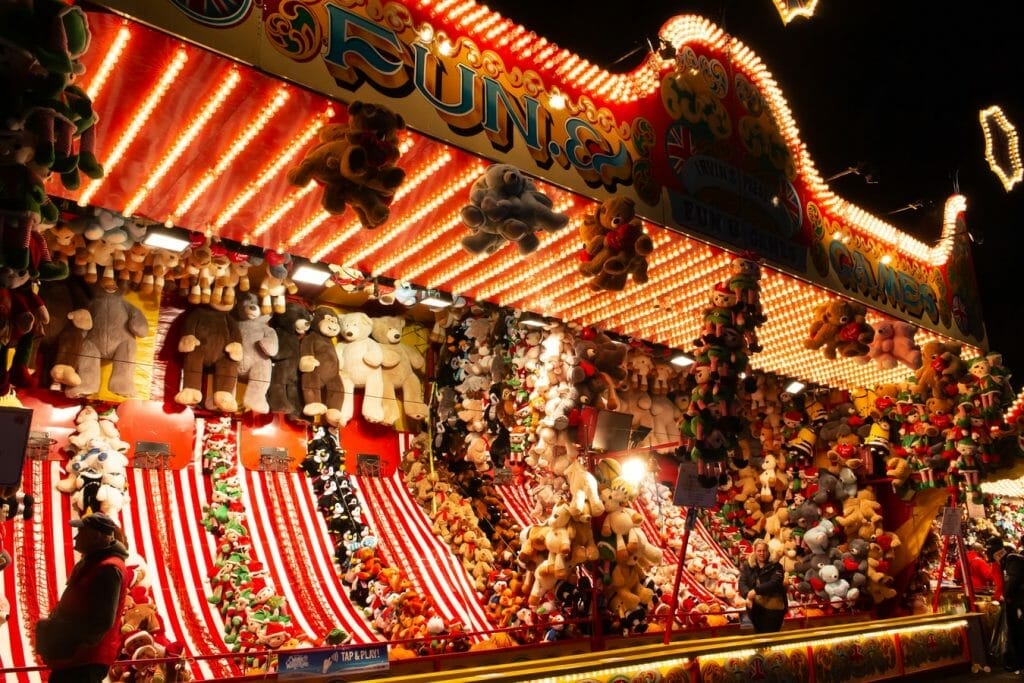 52. Ice Skating in London
You can't come to London during the holiday season without ice skating!
Okay, so it's not Rockefeller Center – it's better.
Choose to skate in the moat of the Tower of London or head out somewhere like Hampton Court Palace for a unique ice skating rink with colorful projections onto the palace behind you.
You can rent skates from whichever option you choose, and this is another one that I highly recommend booking in advance as places do fill up.
Also, keep in mind these are outdoor rinks, so don't forget the cozy winter wear mentioned above.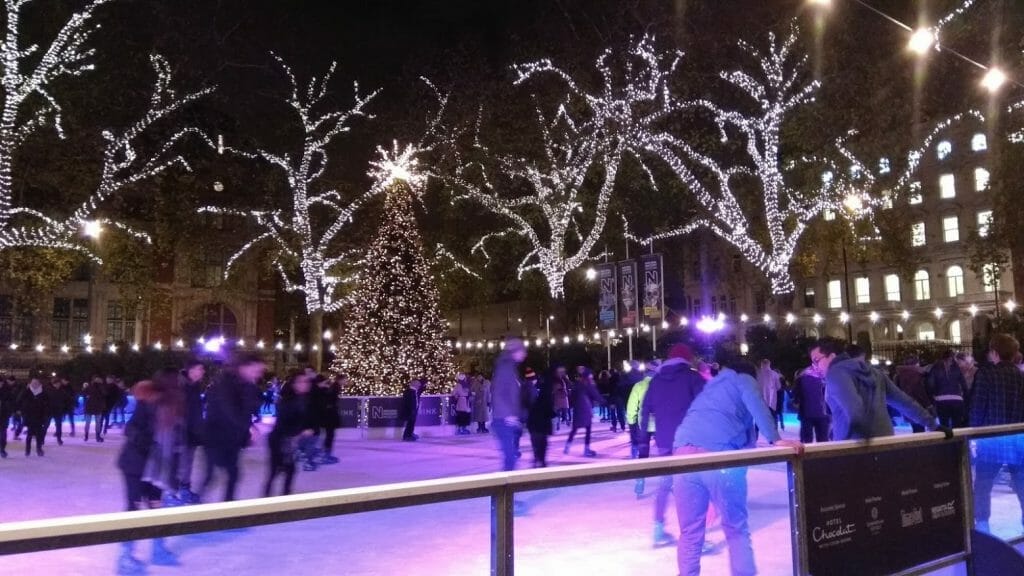 53. New Year's Eve Fireworks
In all of the Christmas festivities, the New Year's Eve fireworks shouldn't be forgotten.
If you're in London on New Year's Eve, you should know that the city does official fireworks over the river.
You do need to purchase tickets in advance in order to get into the actual official event, but there are also viewing parties held throughout the city and in other areas, including the Southbank.
New Year's Eve in London is absolutely packed, but if you go in knowing that, you'll have a great time.
The tube also runs for free on New Year's Eve night late into the next morning to help people get home safely.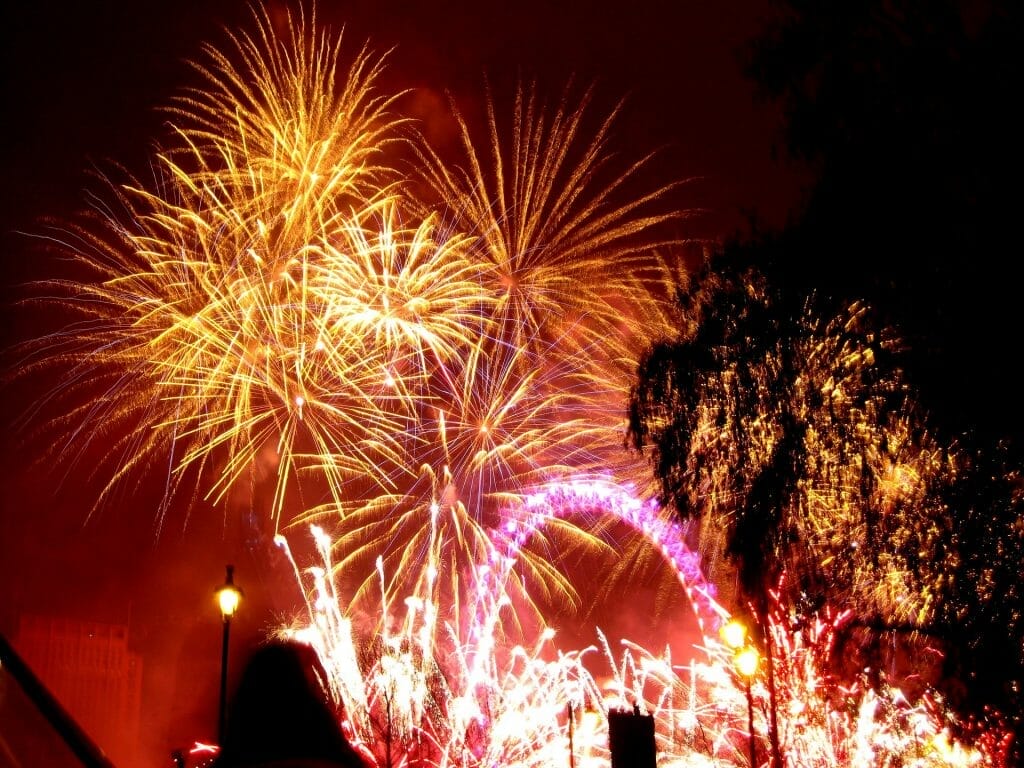 Things to Do near London Bridge
One of the most talked about areas of London, these are the best things to do near London Bridge including museums that you've never heard of and historic cathedrals.
54. Torture Yourself at the Clink Prison Museum
Many people suggest the London Dungeon experience when traveling around London Bridge, but I say skip the London Dungeon and head to the Clink Prison Museum if you want to actually learn more about medieval torture (and who doesn't?).
This museum is not too expensive and leads you through a series of rooms in the original Clink prison, which is where the slang term for "jail" came about.
You'll follow the stories of multiple people who lived and died at the prison and get the chance to test your stomach strength when you get a lot of very specific information about just how people loved to torture criminals back in the day (and they weren't all criminals like we would think now – even debt could put you in here).
For one of the most educational and iconic things to do in London Bridge, you can't go wrong.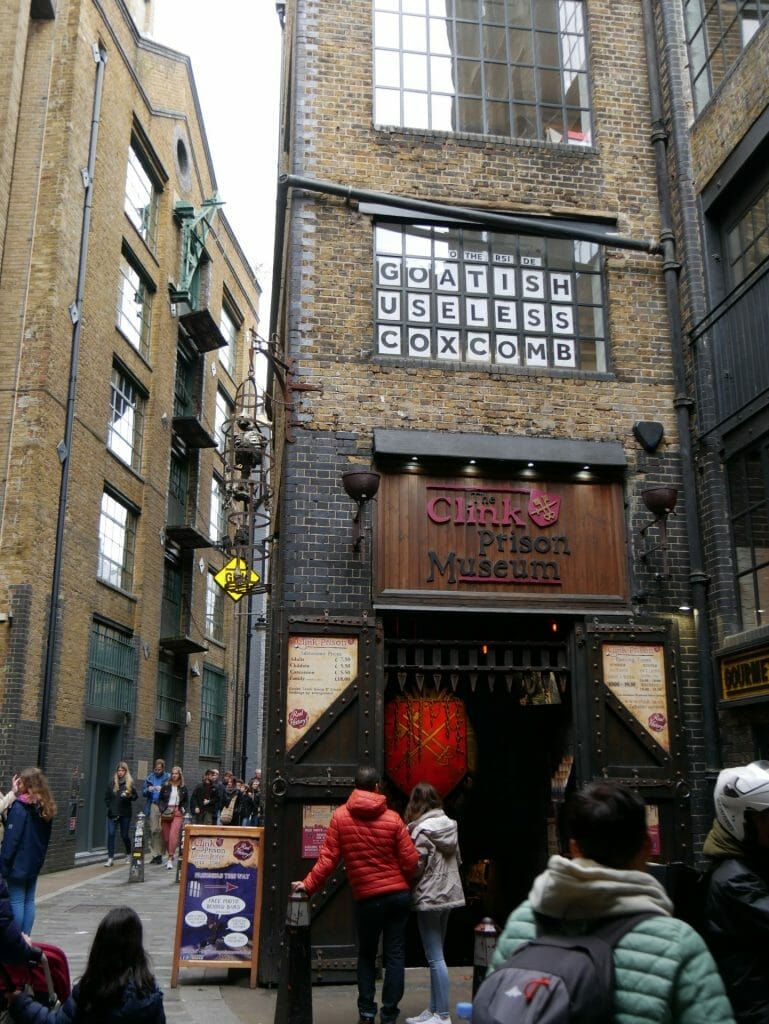 55. Old Operating Theatre Museum
Have you ever taken a moment to think about what medical life was like in the Victorian era?
You probably haven't, and the Old Operating Theatre Museum is here to change that.
This wonderfully quirky museum in London in an attic in the London Bridge area has artifacts, including bodily ones, that help explore the medical methods and fears of the 1800s.
From leech trays to amputation knives (used without anesthetic, no less!), you can explore medical and herbal history.
You can also step into an old operating theatre, which has been reconstructed on the same site it used to stand where medical students would observe surgical skills at St. Thomas' Hospital.
The museum does regular talks and activities, as well, and there were a large group of kids taking part in an interactive activity while we were there.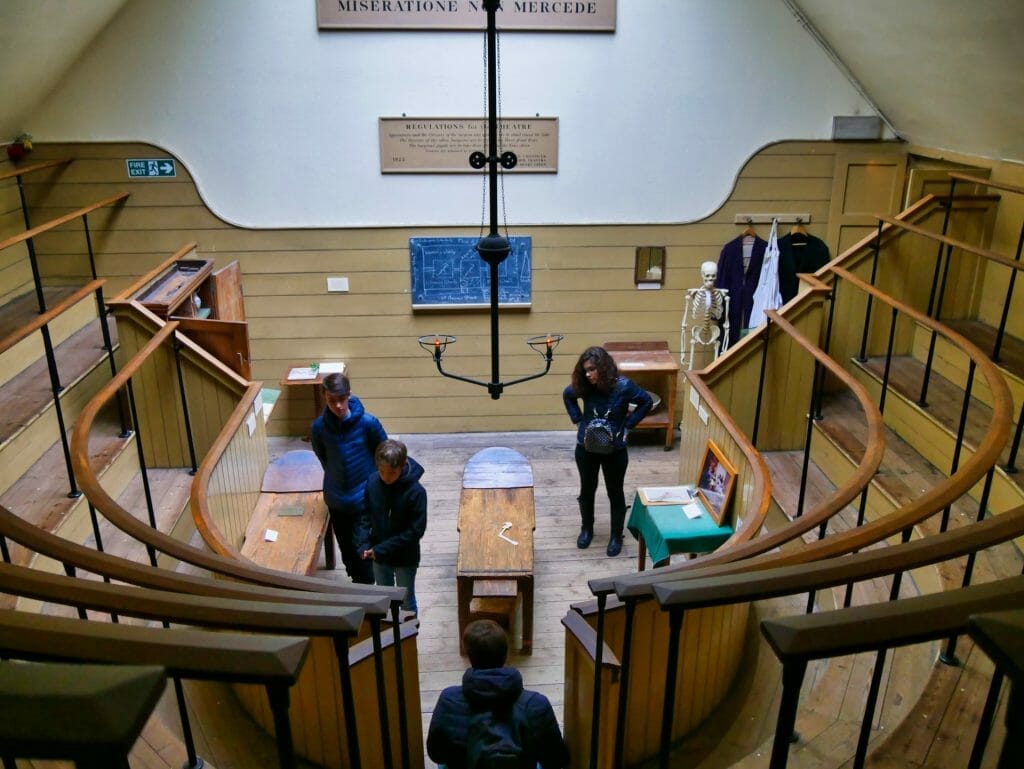 56. Enjoy Evensong in Southwark Cathedral
Southwark Cathedral is a gorgeous cathedral near London Bridge and one of the best things to do in London Bridge for couples who want to take a moment out of a busy day and sit and reflect.
The cathedral holds regular services, as well as Evensong on most nights, which is free and gives you the chance to sit and admire the gorgeous interior architecture while listening to a traditional Evensong service.
There is also a peaceful garden and places to sit in the courtyard that are removed from the hustle and bustle of the surrounding London Bridge area and give you a nice spot to sit and talk.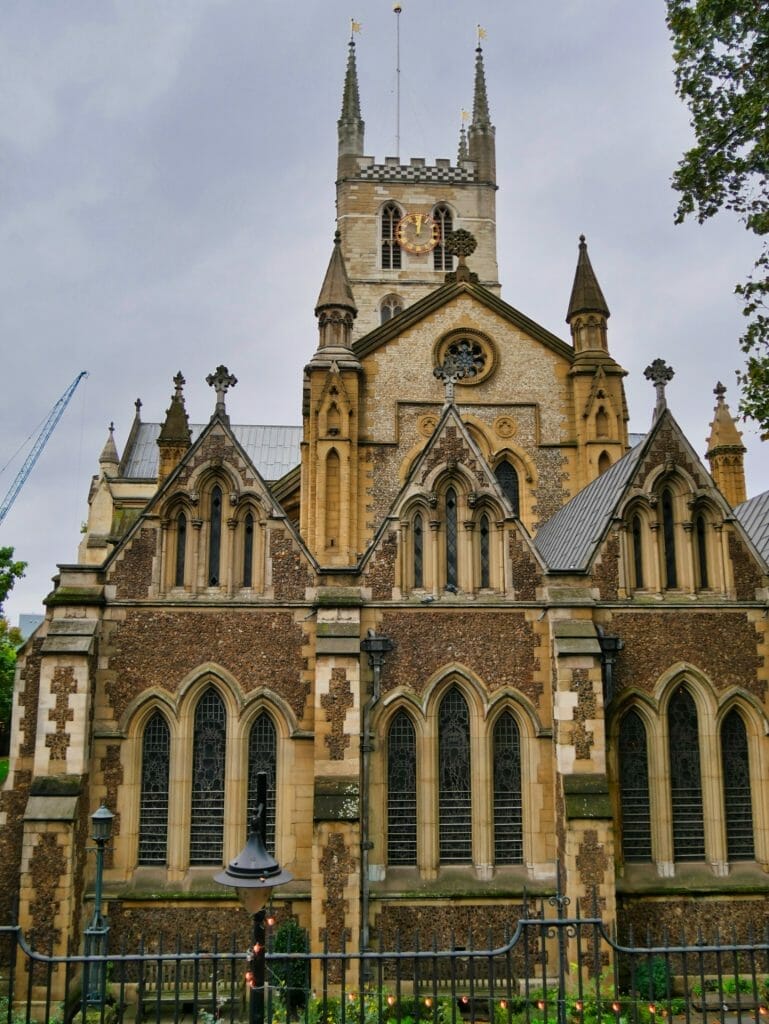 Things to Do in London for History Buffs
There's no city more chock full of history than London, especially with its links to the top castles to visit from London.
57. Windsor Castle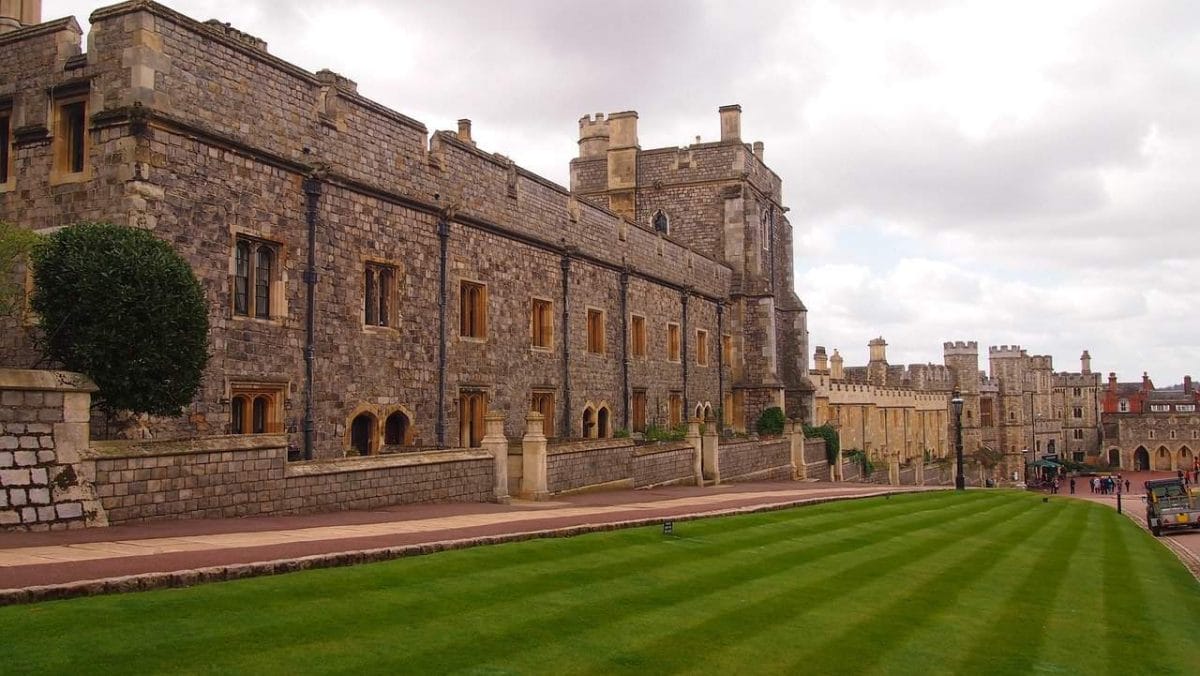 A lot of people are aware that Windsor Castle is a functioning residence where Queen Elizabeth II still spends a great deal of time.
That is to say, it's not some ancient dwelling crumbling away in ruins on a green countryside – a description that perhaps encapsulates many people's imagination of British castles.
But many probably don't realize just how impressive this place truly is.
Having been a home to British royals for over 900 years, it's still awfully sturdy and beautiful, and is actually the largest occupied castle in the world.
Windsor suits a certain fairy tale vision – not quite Arthurian in appearance or nature, but like the sort of castle we imagine constituting an entire city unto itself.
Plus, of the choices we'll list here, Windsor is particularly close to London, which makes it perhaps the easiest one to check out during your stay.
58. Hever Castle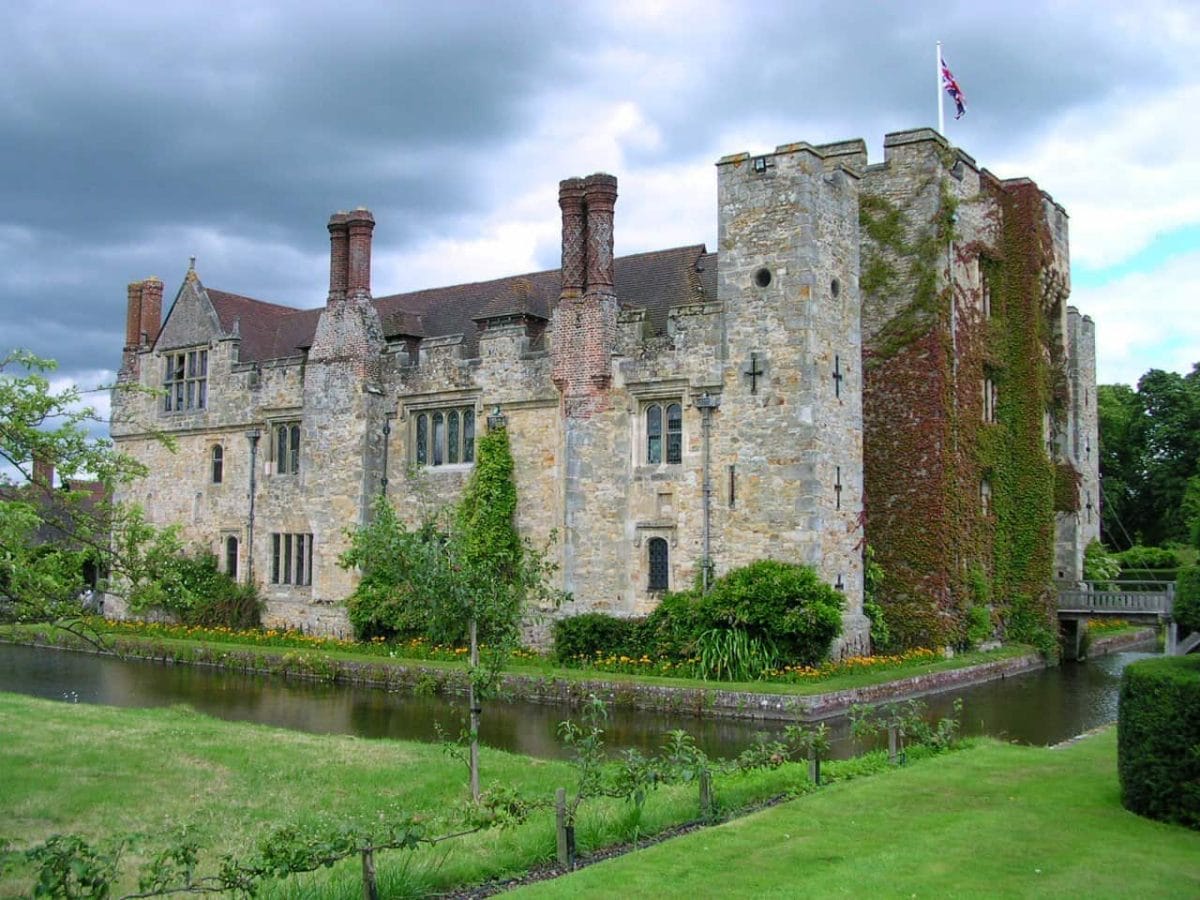 This is actually a castle I've covered before, so I'll keep it brief here.
This one is a day trip from London, but doable on public transportation.
This 13th century castle was the childhood home of Anne Boleyn, and it's really picturesque.
It actually looks almost as if it could be a country home to some reclusive writer, gone into a bit of disrepair in the offseason.
Things to Do in London with Kids
Got the little ones in tow?
Here's what to do in London with kids, complete with ideas for the more rambunctious and the calmer child who just wants to people watch.
59. Pirate Ship Playground
Diana's Memorial Playground in Hyde Park is the absolute best park in London for kids of all ages, complete with a pirate ship, wooden climbing structures, and other interesting things for kids to play with.
The playground is fenced in and numbers are monitored, so you may need to wait a few minutes to get in, but once you do, your child will have the best time roaming around this gorgeous playground.
60. KidZania
KidZania is one of the coolest things to do in London with kids, so much so that I am super jealous of people who have kids who can go in and experience this indoor kids-run city.
KidZania is part educational, mostly fun, and entirely "indoor amusement park for kids," but you won't find endless rollercoasters and cotton candy, but instead lots of opportunities for dress-up, playing pretend, and engaging with the world in a kid-friendly way that includes pretending to go shopping in a grocery store, being an airline pilot, and more.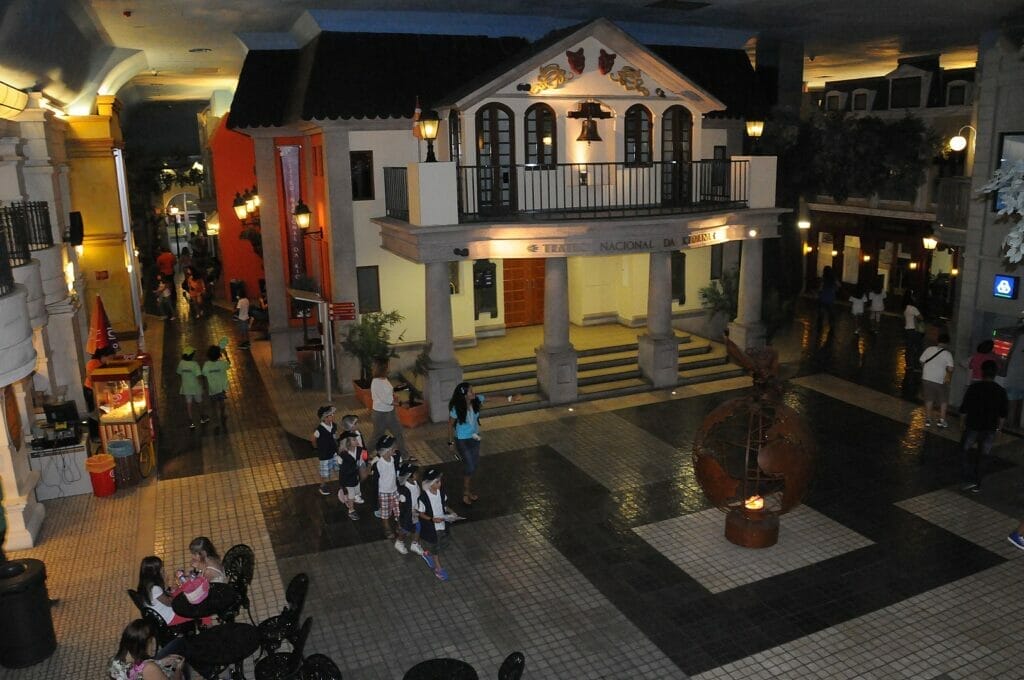 61. London Transport Museum
While there is a fee for the London Transport Museum, this is an excellent museum for kids due to how interactive and colorful it is.
The transport museum takes you through the history of London's transportation system, and you get to see how tube tunnels are built, the history of trains and tubes (and get to sit on them!) and watch videos and see posters from London's transport past.
This isn't a boring museum with only plaques to read and some rocks, it's a really fun place for kids of all ages and families who want to learn a little something while being entertained.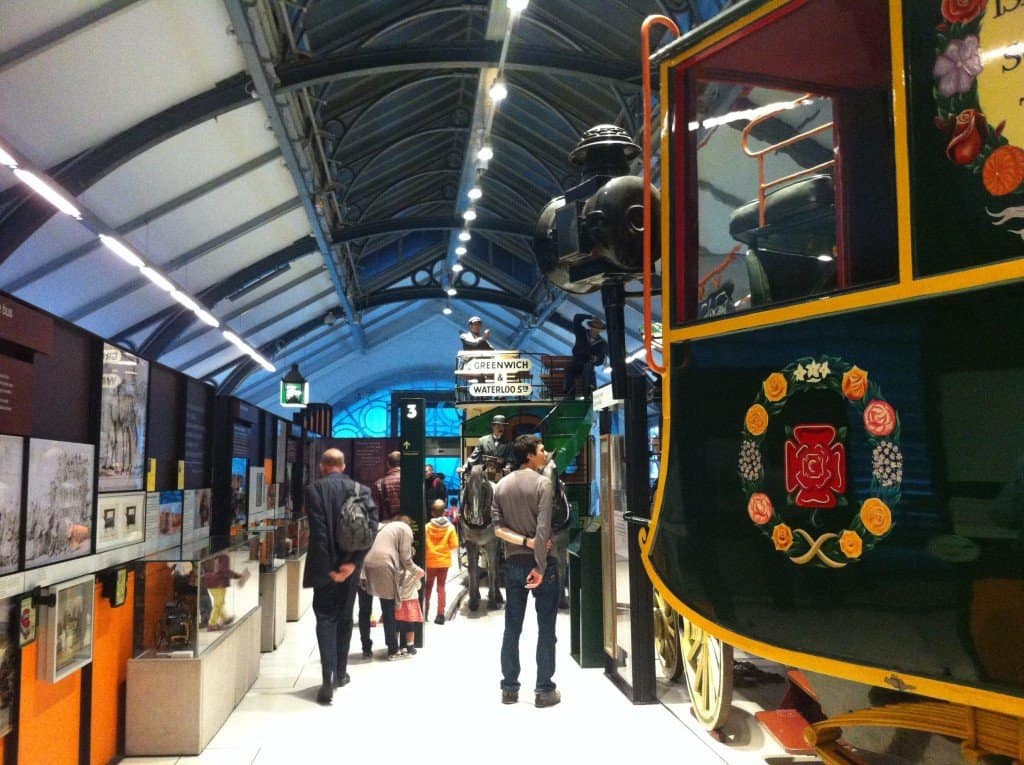 62. Science Museum
The science museum is my biggest recommendation for a wonderful museum for kids in London.
It's so kid-friendly and interactive, which means that whether you have toddlers or teenagers, they'll find something to be interested in here.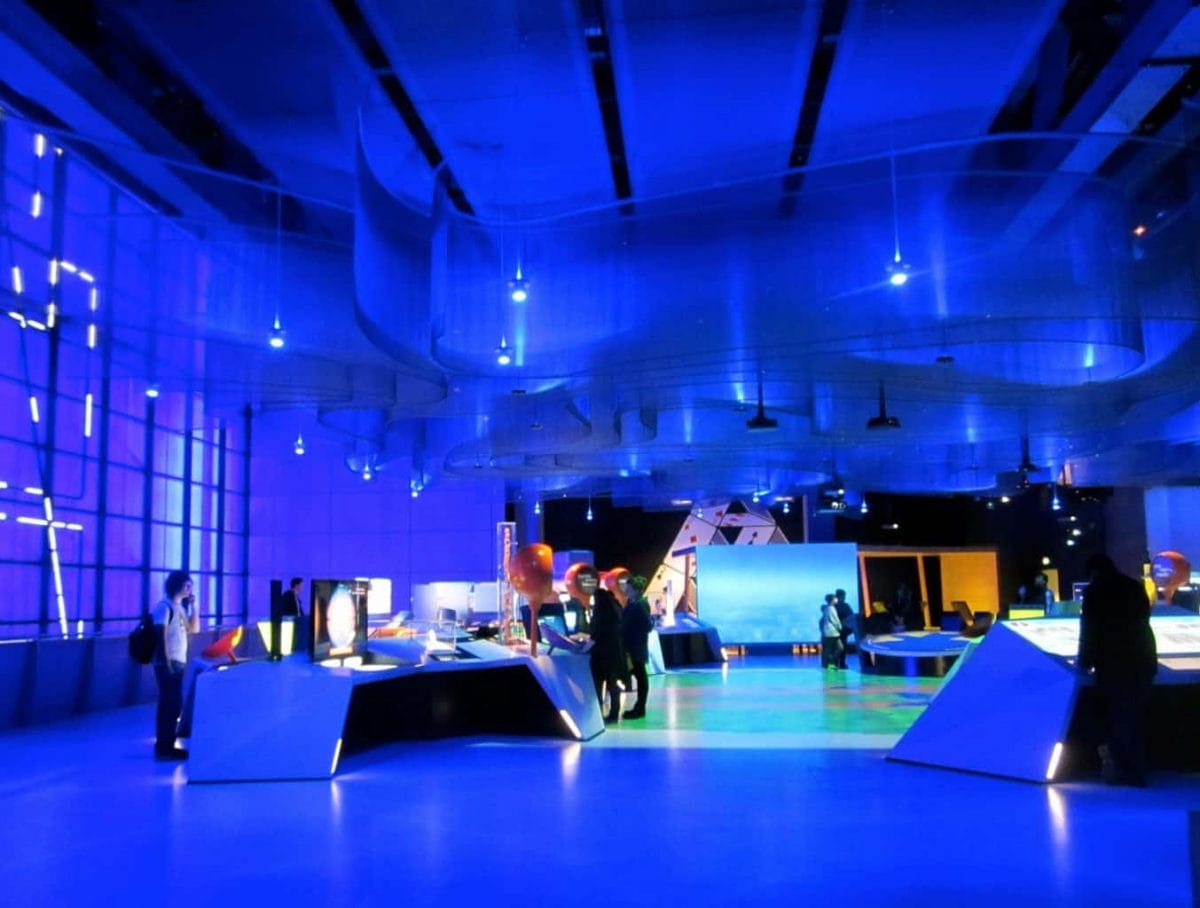 There are dedicated kid's rooms, too, for the little ones to explore at their own pace.
Also, an IMAX theater means you can catch the latest science film while escaping the weather if it's gone south, and there is a room where you can quite literally journey into the center of the Earth that kids will love.
63. Natural History Museum
From the dinosaur exhibits to the giant whale skeleton in the lobby to the kid-friendly sleepovers they hold every few months, the Natural History Museum in South Kensington is another London museum that you can head to without fearing the kids will get bored.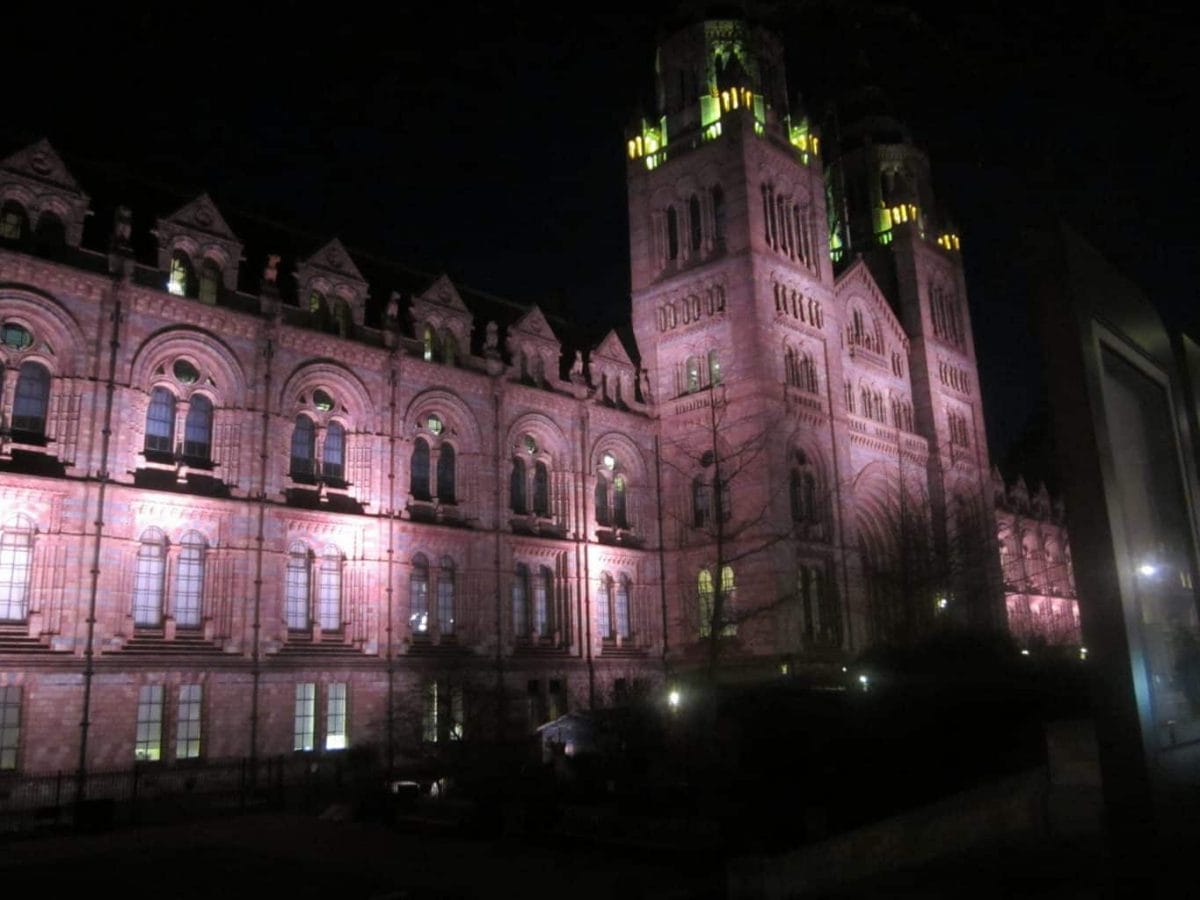 Sure, there are some "regular" galleries that involve rocks and fossils and maybe slightly old plaques, but overall the grand design and historic feel of this museum will really help the whole family find their love for London.
Things to Do in London by Guided Tour
Expert guides will take you on some of London's best tours to show you around the city from their perspective and make sure you don't miss a beat.
64. Magical Harry Potter Walking Tour
I had to start with this Harry Potter walking tour because it's the best of the best, the crème of the crop, the perfect choice for any individual, couple, or family who want to see all of the places in London that inspired JK Rowling AND many of the filming locations for the movies.
The tour takes about 2 and a half hours and your guide will take you to places like Platform 9 and ¾, the entrance to the Leaky Cauldron, the bridge that the dementors ruined in the sixth movie, and even Daniel Radcliffe's school.
As you walk, you'll also come across some famous London attractions in their own right, which makes this tour the perfect blend of London and Harry Potter history.
Click here to book the best Harry Potter walking tour, and do not delay because people LOVE themselves some Harry Potter so you don't want it to sell out!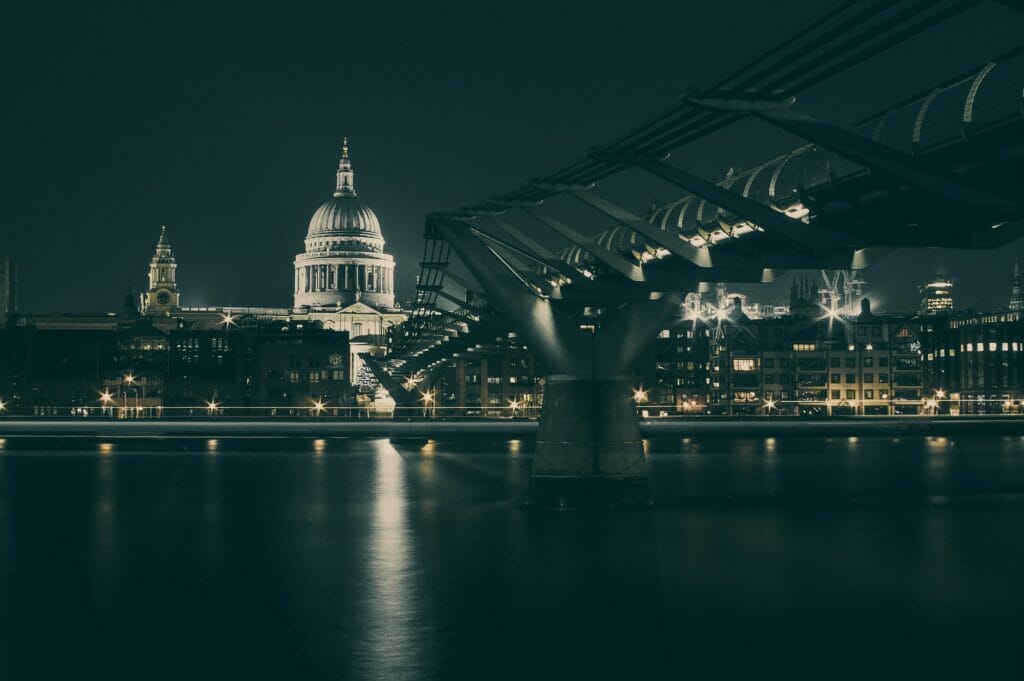 65. Jack the Ripper Walking Tour
The classic horror story of Jack the Ripper and his London murders still permeates the culture of today's East End – at least if you believe the guides on this Jack the Ripper Walking Tour!
There are a ton of Jack the Ripper Walking tours in London, but this is my favorite as I think you get really good value for the price and it's one of the best tours in London.
You'll learn the story of this infamous criminal, hear the stories of how his victims fell into his traps, and see the spots where he murdered some of his most infamous victims.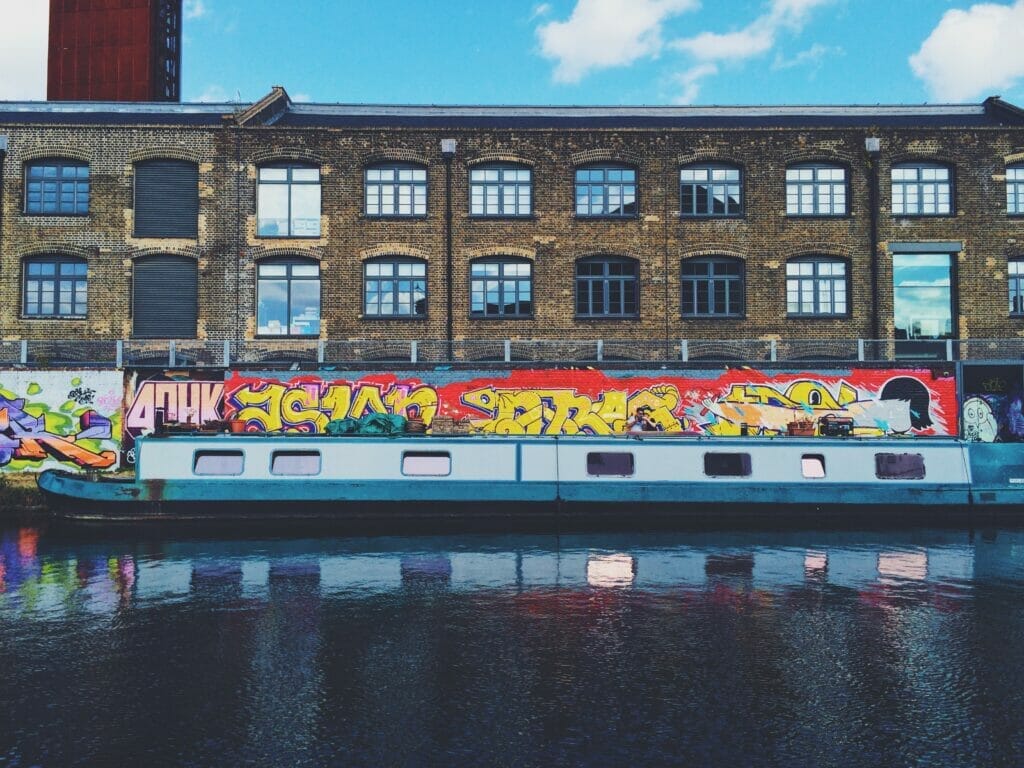 This tour is not for small children who would be easily scared, but if you like a little bit of gore with your London visit, this is it.
66. Guided Tour of Shakespeare's Globe
While you can see Shakespeare's Globe from the inside while booking tickets to see a show, the only way to really get an understanding for this famous structure is to take this guided tour.
Shakespeare's Globe is such an iconic part of London and noticeable as soon as you head to the river, and it really boggles the mind that this is the place (well, the faithfully recreated place) that he wrote his plays to be performed in.
Any theatre lovers should make sure to add this to their London list.
At about 90 minutes and with a very central location, you can fit this into your visit and you'll leave having a new awe and appreciation for the world of Shakespeare.
Click here to check out the guided tour of Shakespeare's Globe.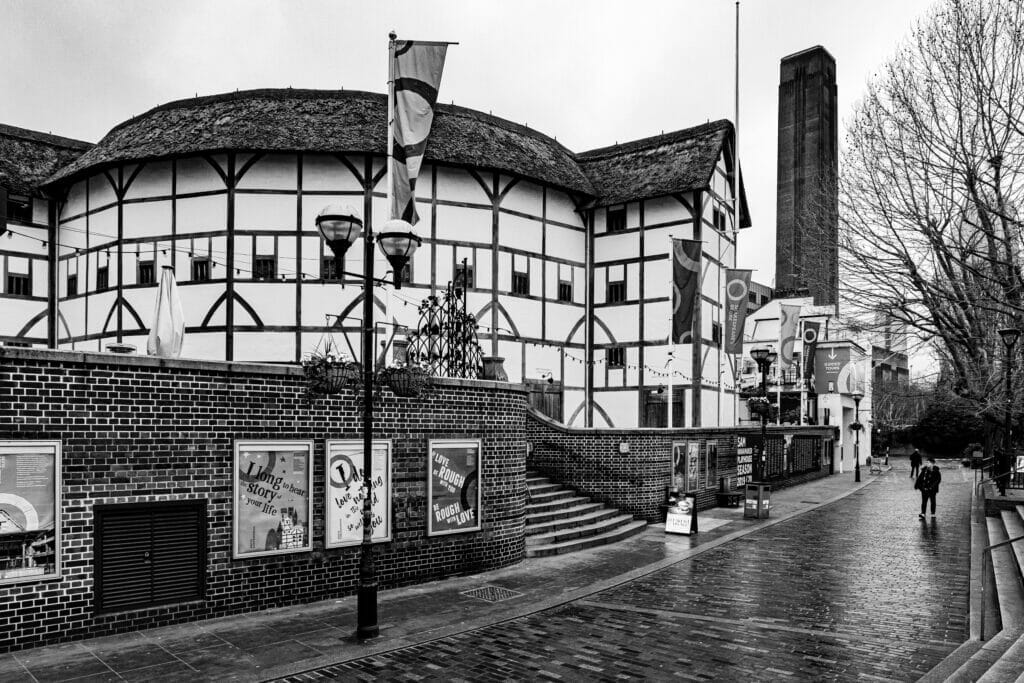 Things to Do in London with Toddlers
From playgrounds to museums with entire sections just for toddlers, here's what to do in London with toddlers if you're hoping to keep them entertained.
67. Holland Park
Holland Park has two great places for toddlers in London depending on what kind of activity you want to do with them.
If you want to chill out and just have them watch the fish in a pond, check out the Japanese gardens in Holland Park for a really serene landscape with lots of fish and a peacock wandering around.
If you want them to get active so they'll sleep at night, try the adventure playground which has an enclosed play area for toddlers so you don't have to worry about them running off or getting lost.
Holland Park is free to enter and in a beautiful part of London, right near High Street Kensington Station.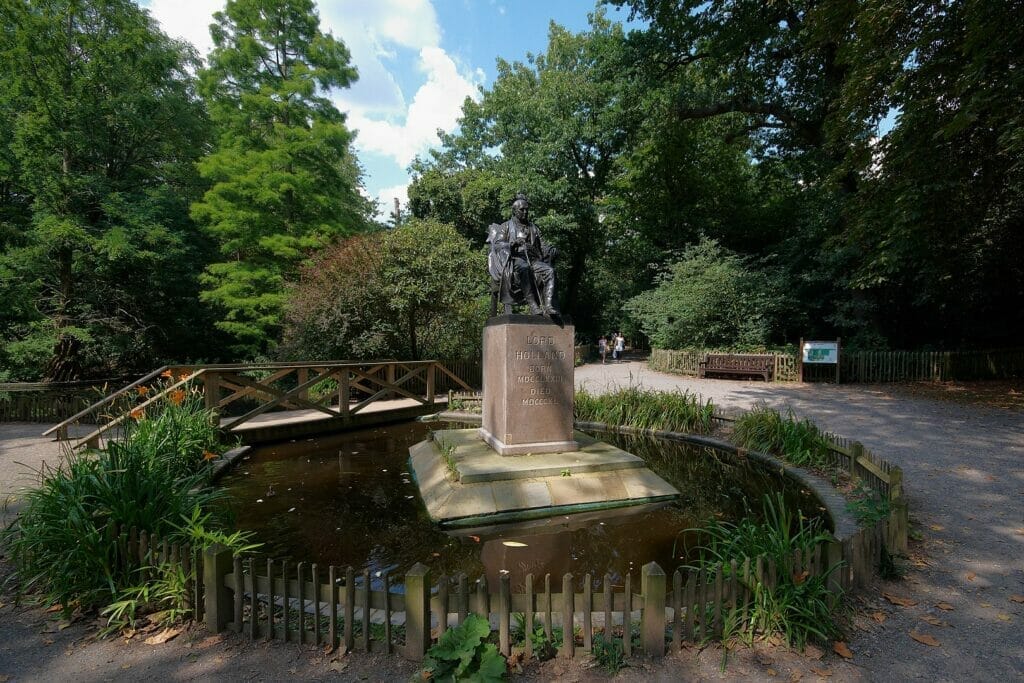 68. Horniman Museum
The Horniman Museum really excels in its child-friendly nature with 16 acres of child-friendly places to play.
Toddlers will fall in love with its outdoor areas that includes a nature trail and hands-on object touching exhibits.
There's also an aquarium which will keep them mesmerized as well as a nature base with interactive ways to explore the natural world.
The Horniman Museum is located in Forest Hill, so you'll need to travel a bit out of Central London to get there, but it's well worth the trip.
Quirky Things to Do in London
Wondering about the most unusual things to do in London? Head off the beaten path and check these off your list!
69. Wellcome Collection
Right near Euston Square is a quirky museum in London with plenty of things to be fascinated with (or grossed out by, depending on your tolerance).
We all talk about London's famous museums like the Science Museum and V & A, but the Wellcome Collection deserves a special place in the list of unusual things to do in London for its quirky collections that have been educating Londoners since 2007.
The museum was originally the collection of Sir Henry Soloman Wellcome, a traveller who had a curious collection of artifacts from all over the world.
The museum has expanded to include even more nowadays, including exhibits on the human genome project and cloning technology.
Some of the weirdest items displayed are Napolean's toothbrush, a used guillotine and carvings of pregnant women.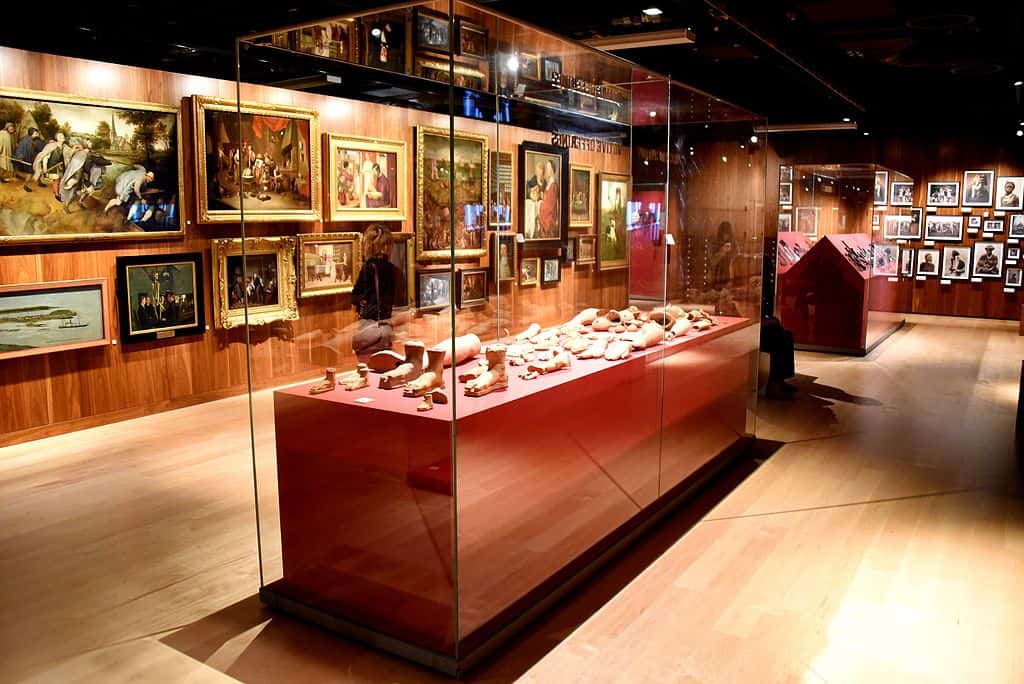 70. Postal Museum
Interested in the history of mail?
Who wouldn't be?
The Postal Museum is London's premier museum focusing on the history of Royal Mail and mail-delivering techniques, and it only opened in 2017 to the public so is still very new and well-loved by Londoners with an interest in this part of the city's history.
From letters discovered from a shipwreck to an exhibition featuring old London mail delivery vehicles, this is truly a fascinating way to see the way the mail services changed over time with the introduction of technology and new ways of connecting.
You can also take a ride on London's mail rail, an underground system full of secret tunnels that was used to deliver the mail for decades.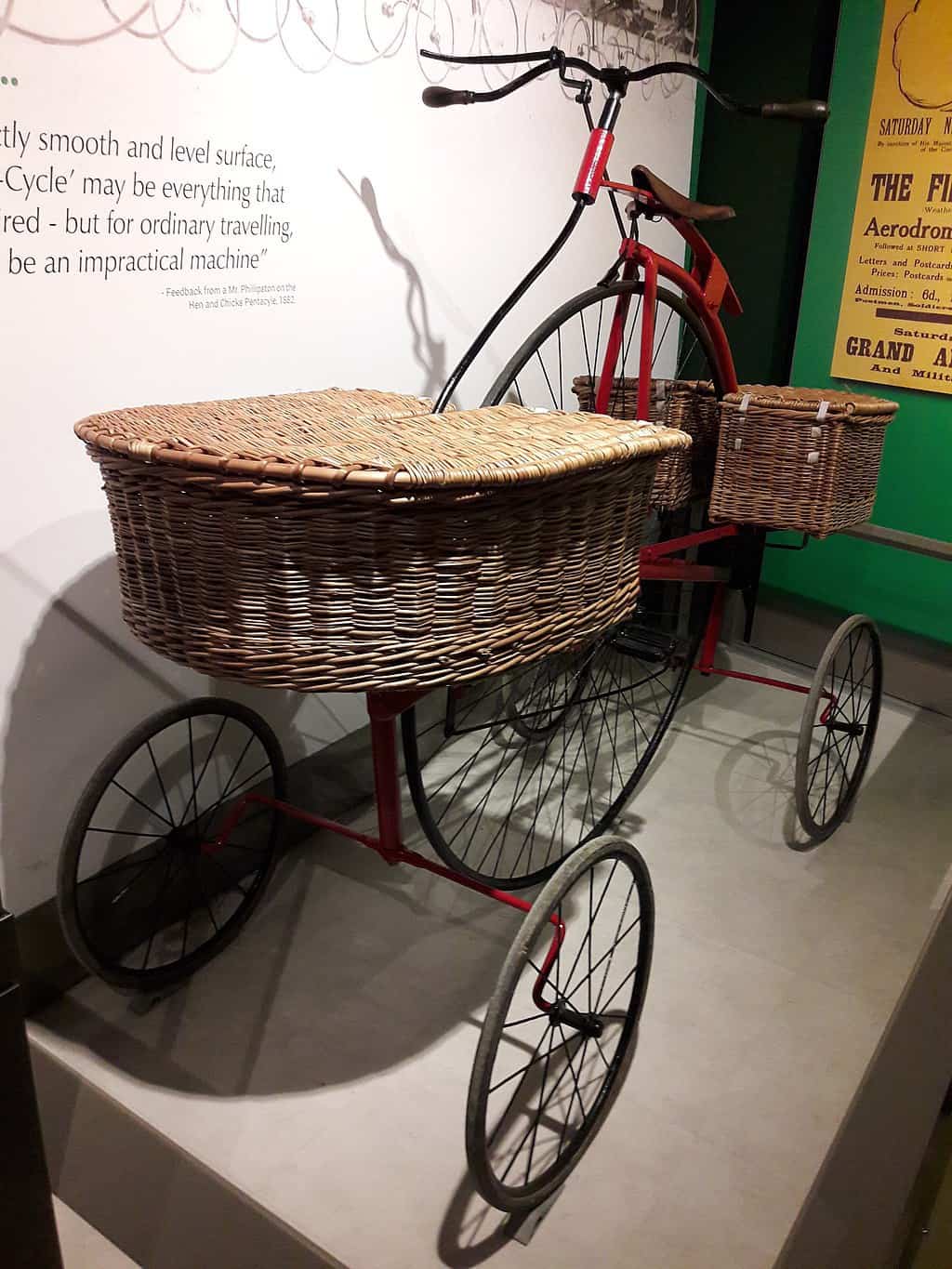 71. Visit Highgate Cemetery
Travel out to Highgate Cemetery where you can see some of London's most unusual history and tombstones that stretch back generations.
There are over 100,000 people buried here, including some notable names like Karl Marx and the family of Charles Dickens.
The cemeteries are divided into the East Cemetery and West Cemetery, and are also a defacto nature reserve.
Highgate Cemetery is a place of peace and reflection, and with the help of the Friends of Highgate Cemetery organization, it is open to visitors for tours or simply for a calm walk through this lovely area of London.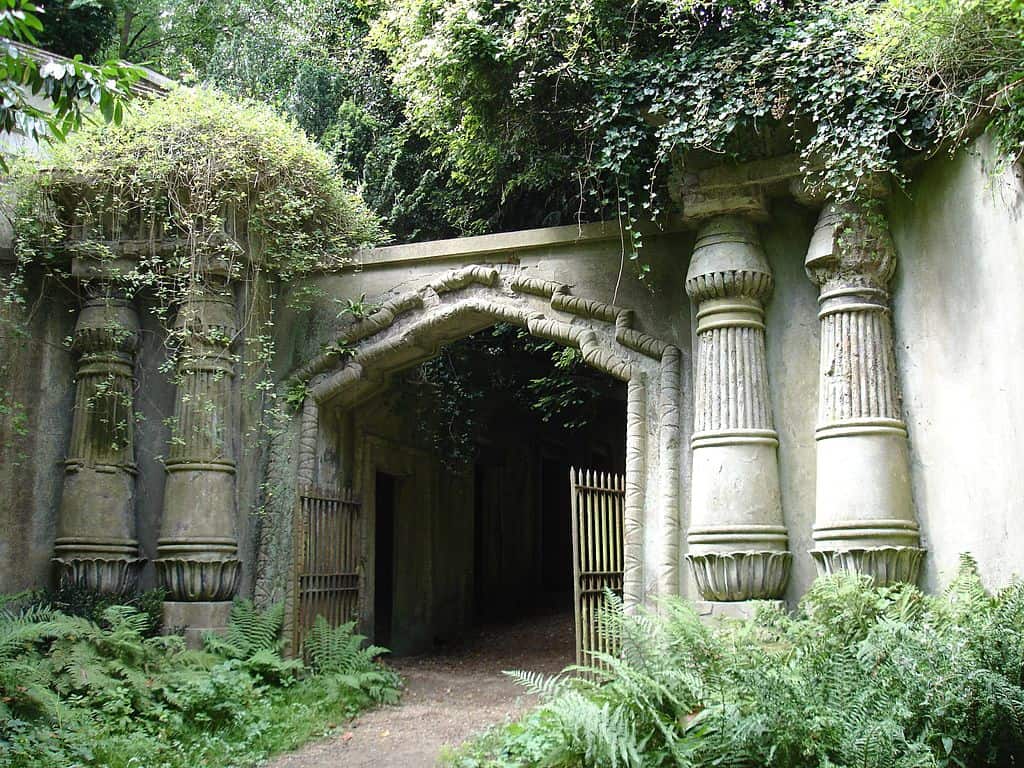 What else should I not miss in London?
If you're visiting London soon, here's a very brief rundown of a few of my other favorites to make sure you don't miss anything!
Want more helpful London guides? Check these out!
UK Travel Planning Guide: the FAQs
🏥 Should I buy UK travel insurance?
Absolutely yes. Basic coverage is not expensive, and as a visitor you are NOT covered under the NHS. Compare policies and prices with Travel Insurance Master here, a big name in the travel insurance business, and cross that off your list.
🔌 Do I need travel adapters for the UK?
Yes, you do, otherwise you won't be able to plug in your electronics/phone/lifelines. I recommend this one, which is all-in-one so you can use it in other countries.
🚗 What do I need to drive in the UK?
The first thing you need to check out if you're planning on renting a car in the UK is this guide to driving in the UK for visitors – the roads, signs, and driving experience will likely not be what you're used to and it's essential to prepare yourself to stay safe and aware.
🛌 What's the best way to book hotels in the UK?
For UK hotels, Booking is the best site as it offers free cancellation on many properties. If you want an apartment, I always recommend VRBO over AirBnb.
📳 Will my phone work in the UK?
Yes – if you set it up right. Check out my guide on making your foreign phone work in the UK to ensure that you get the type of service you need.
🚿 Can I drink the water in the UK?
Yes, UK water is great and perfectly safe. But drink out of taps in any kitchen or use water fountains. Double check before drinking out of the taps in hotel bathrooms, though, as they may be on a different system.