Just south of the River Thames, the London Bridge area is one of the most quintessential London neighborhoods.
Whether you stay at a hotel in London bridge or are just visiting from elsewhere in the city, you'll find so many iconic London attractions to do in London Bridge that can fill a whole day with activity.
We set out on a challenge to see what we could get done and what hidden nooks and crannies we could explore, and we ended up finding these iconic things to see in London near London Bridge to inspire you to plan your own trip.
Oh, and spoiler alert: this is one of the most picturesque areas of London to stay in, so don't forget your travel camera!
Hey! Sidenote! Planning on visiting the UK or moving to the UK?

For more advice, photos and friendly help, click here to join my UK Travel Facebook group to carry on the conversation with fellow travelers and UK experts.
It can be stressful spending so much money on a London trip and not knowing if you're fitting everything in or making the most of your time.
To help you out, I've taken my 10 years of London experience (starting as a visitor and then as a resident) to make sure that you have the ultimate step-by-step itinerary that will make sure you see the real London.
And, hey, if you're not coming for exactly 7 days or already have some plans, don't worry, as it's editable so you can mix around the days, incorporate your own ideas, or pick and choose which days to follow.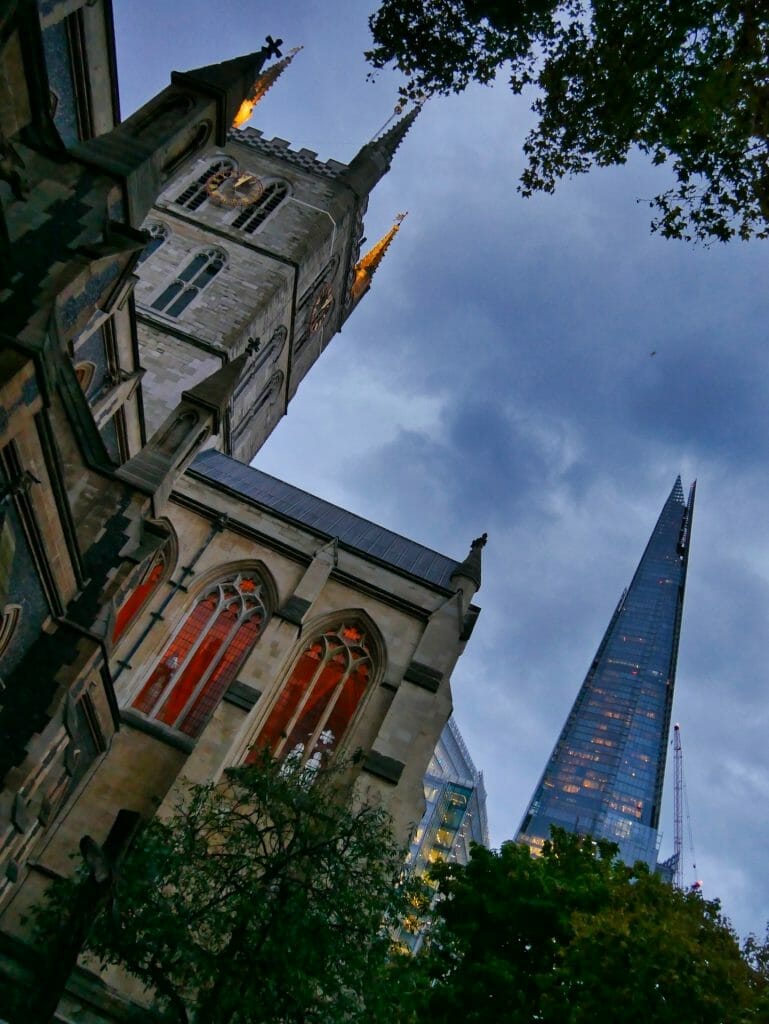 1. Get a Bite to Eat at the Breakfast Club
When you come to London, you've got to eat, and where better than one of London's Bridge's best restaurants?
The Breakfast Club is a London favorite, and you can find one of their most popular branches near London Bridge station.
We visited for dinner and enjoyed an amazing meal of "disco fries" and sweetcorn fritters with a side of mac and cheese, but they also do a fantastic breakfast menu (though we'd advise against the dessert portions of the pancakes as they weren't up to par to this American!)
It's always busy here, so make reservations when you can ahead of time or prepare to wait for a table.
But, as the demand suggests, it's so worth it!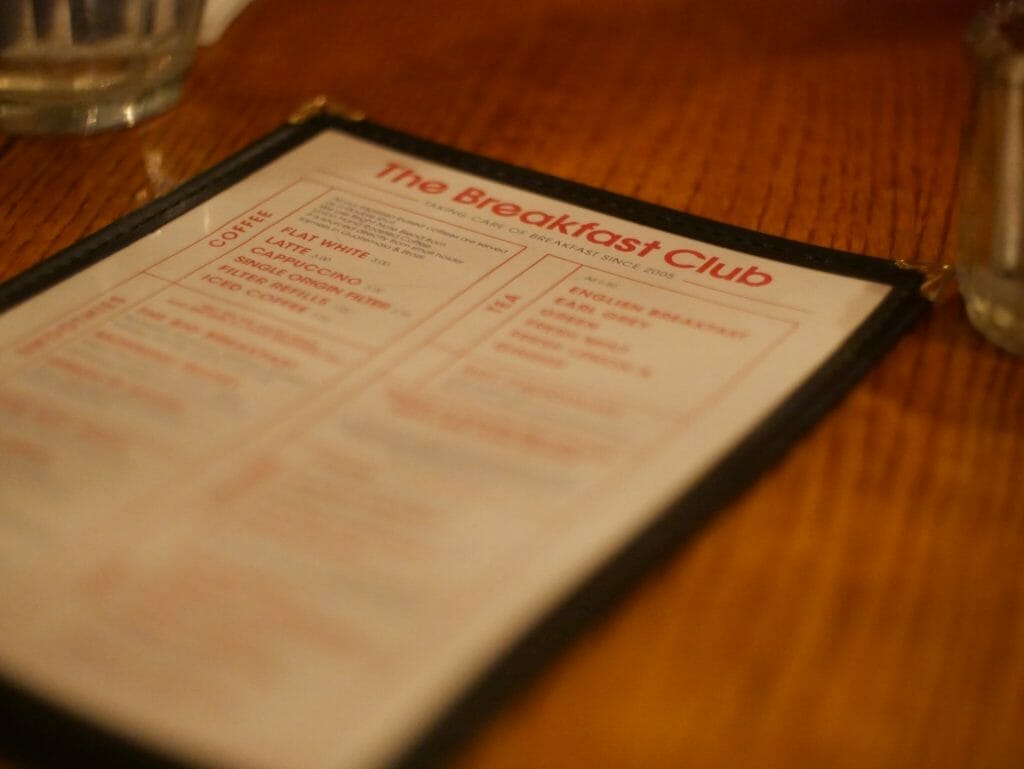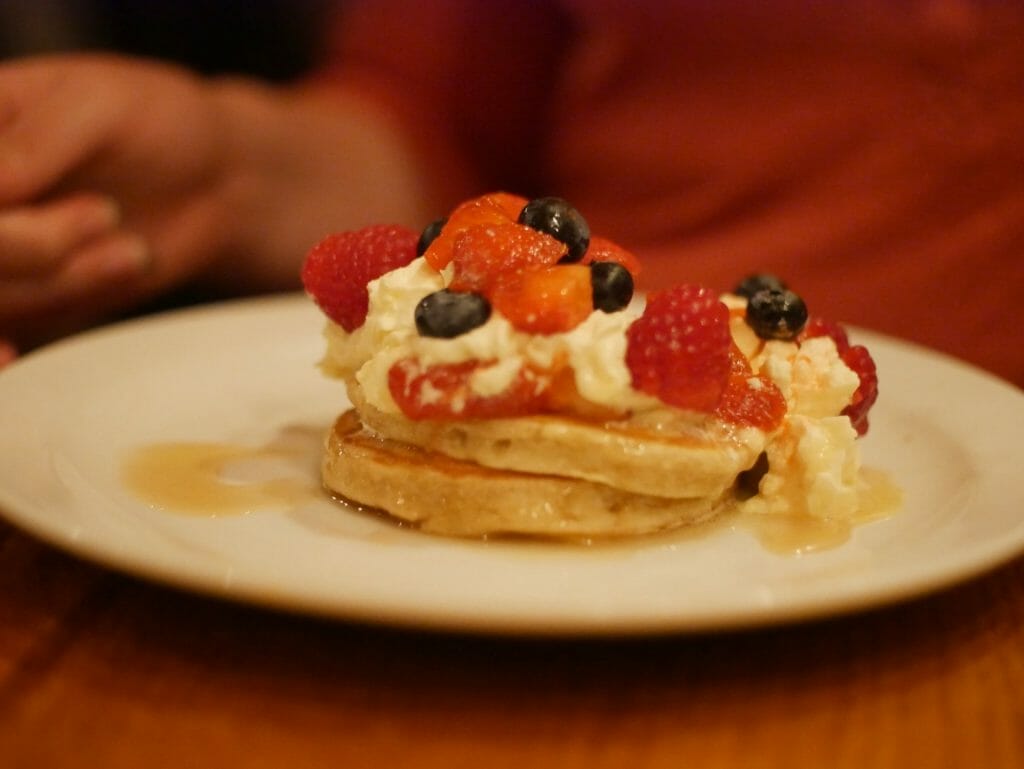 2. Torture Yourself at the Clink Prison Museum
Many people suggest the London Dungeon experience when traveling around London Bridge, but I say skip the London Dungeon and head to the Clink Prison Museum if you want to actually learn more about medieval torture (and who doesn't?).
This museum is not too expensive and leads you through a series of rooms in the original Clink prison, which is where the slang term for "jail" came about.
You'll follow the stories of multiple people who lived and died at the prison and get the chance to test your stomach strength when you get a lot of very specific information about just how people loved to torture criminals back in the day (and they weren't all criminals like we would think now – even debt could put you in here).
For one of the most educational and iconic things to do in London Bridge, you can't go wrong.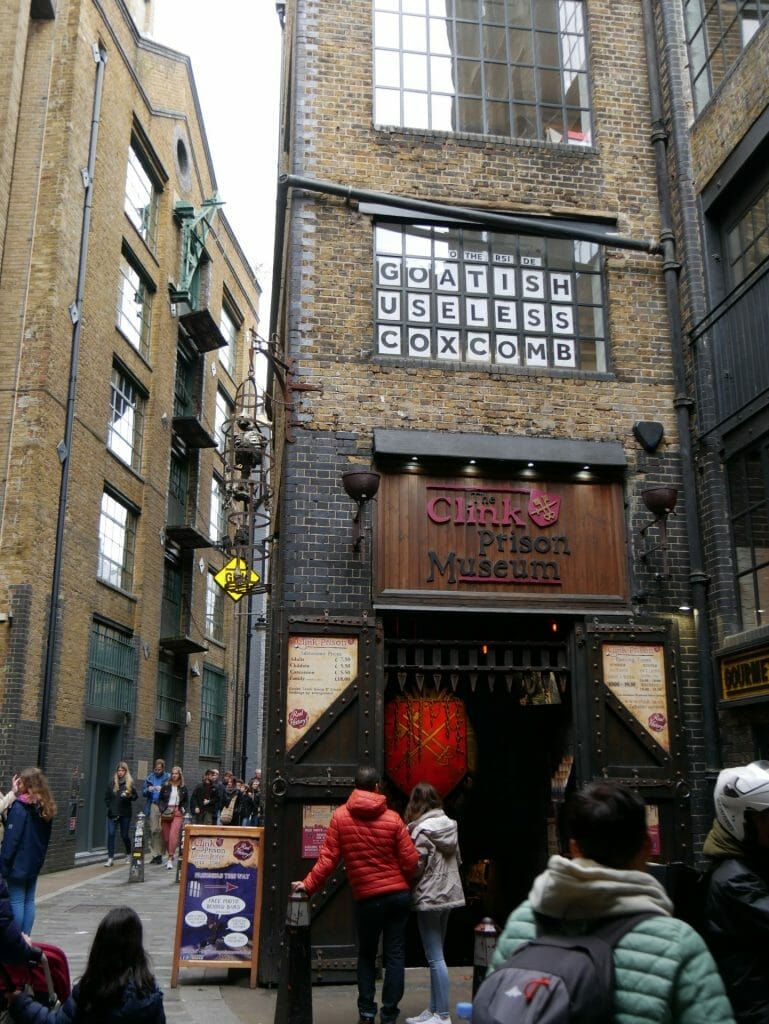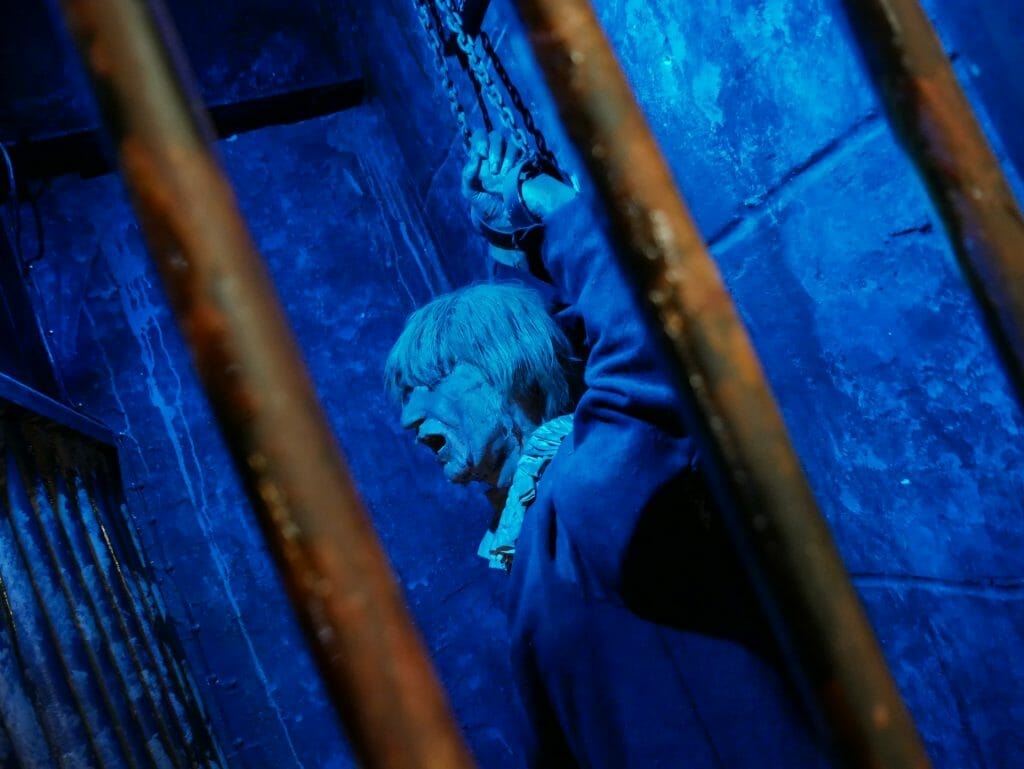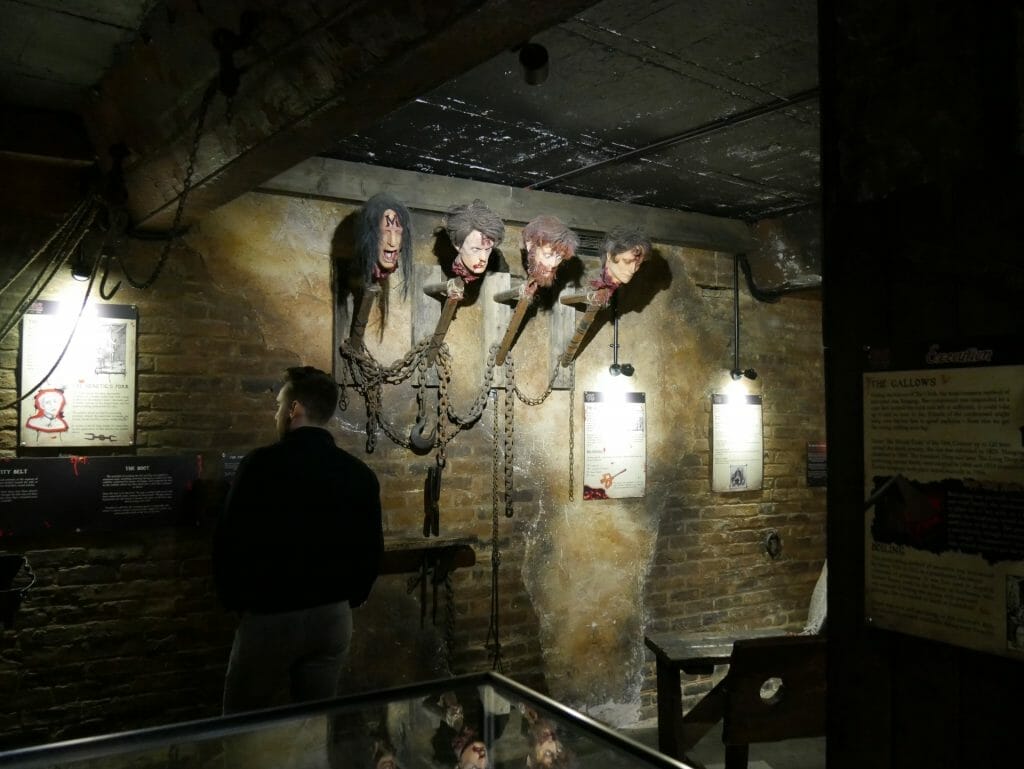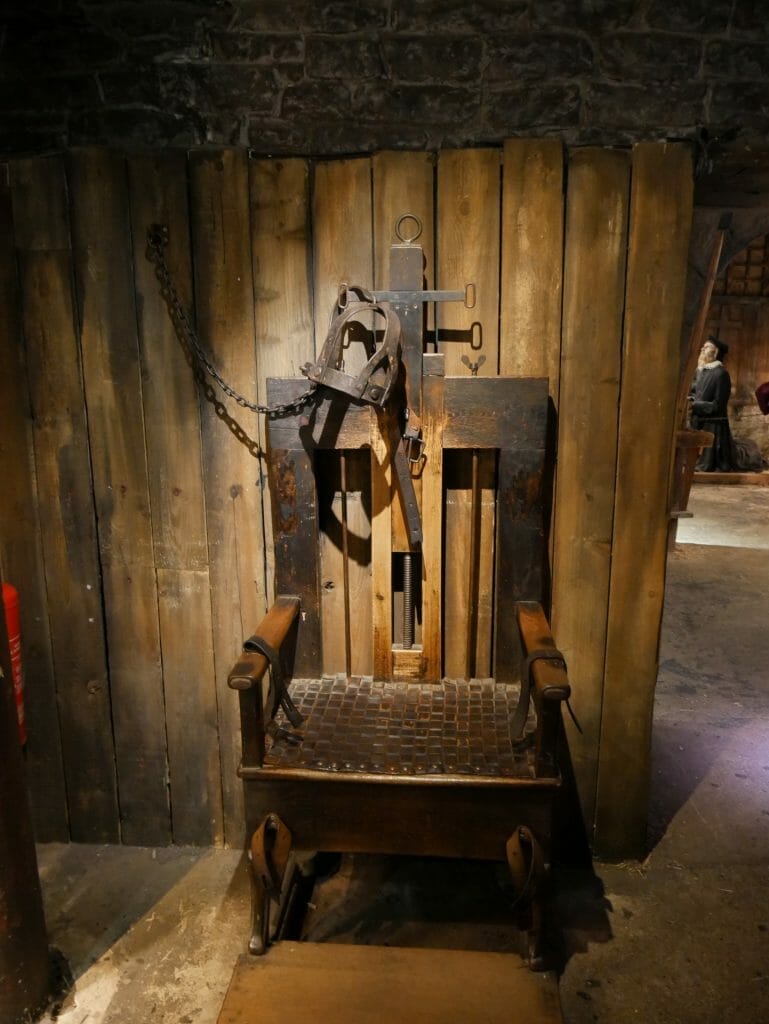 This recreation of a ship sailed by Francis Drake around the globe sits nestled near the river in the London Bridge area on a dry dock, and it's a fantastic place for kids and adults alike to step on board and see what life would have been like sailing on it.
It's not a huge ship, so won't take you too long to explore, meaning you can fit it into a jam-packed itinerary of things to do near London Bridge.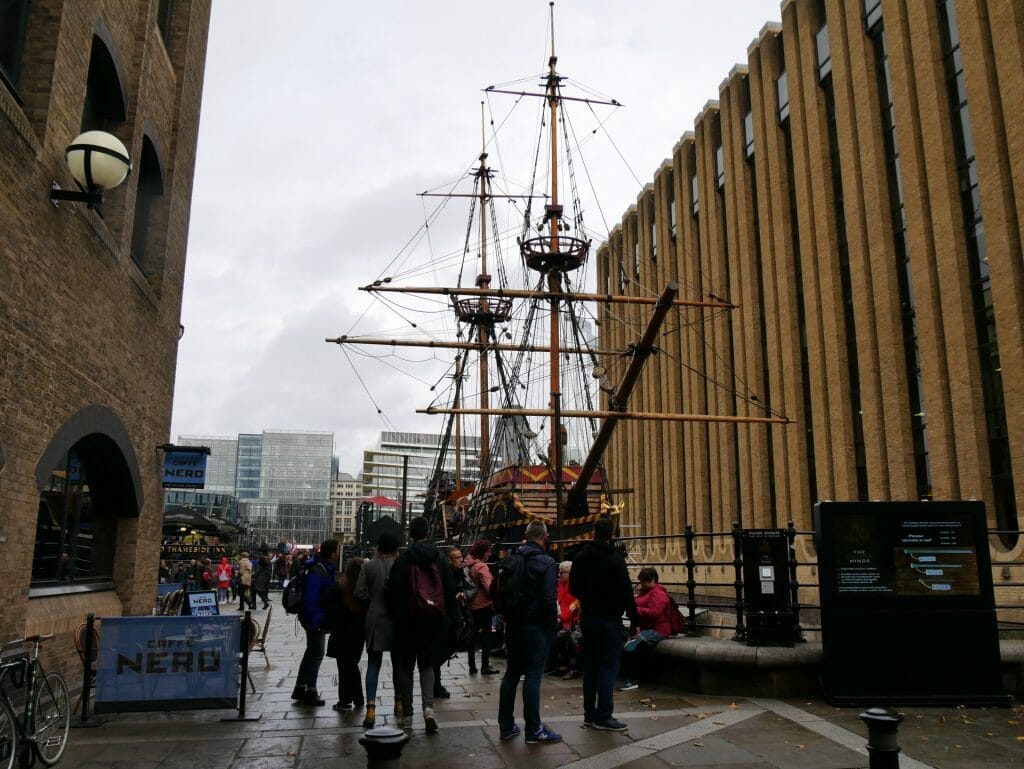 4. Old Operating Theatre Museum
Have you ever taken a moment to think about what medical life was like in the Victorian era?
You probably haven't, and the Old Operating Theatre Museum is here to change that.
This wonderfully quirky museum in London in an attic in the London Bridge area has artifacts, including bodily ones, that help explore the medical methods and fears of the 1800s.
From leech trays to amputation knives (used without anesthetic, no less!), you can explore medical and herbal history.
You can also step into an old operating theatre, which has been reconstructed on the same site it used to stand where medical students would observe surgical skills at St. Thomas' Hospital.
The museum does regular talks and activities, as well, and there were a large group of kids taking part in an interactive activity while we were there.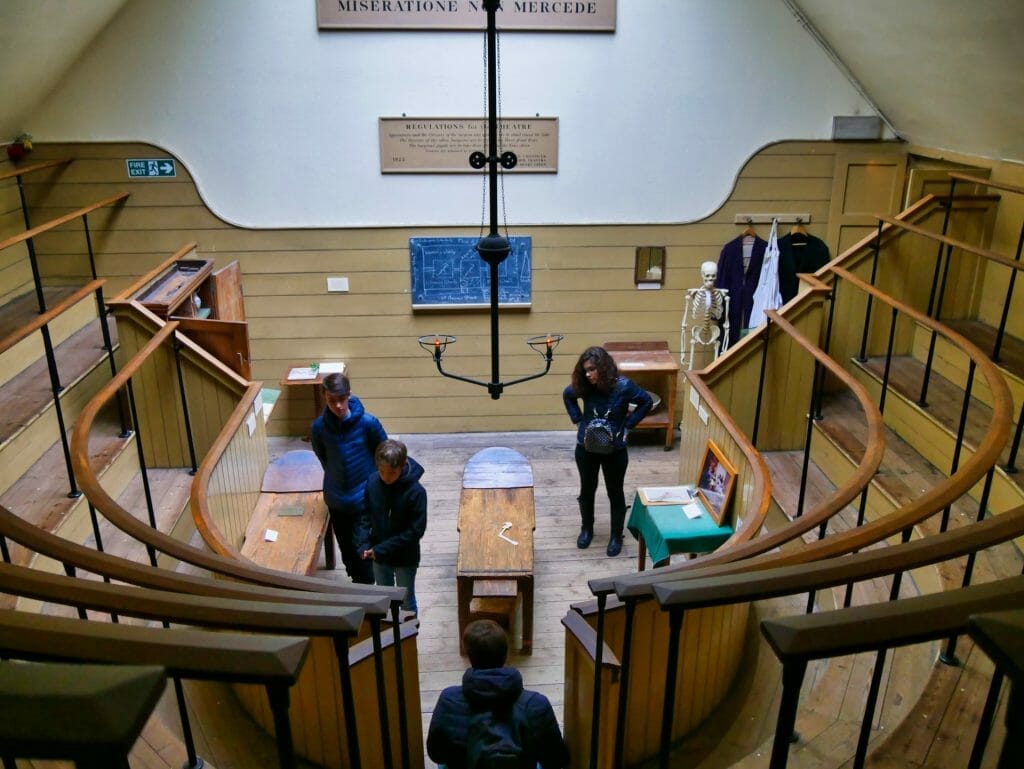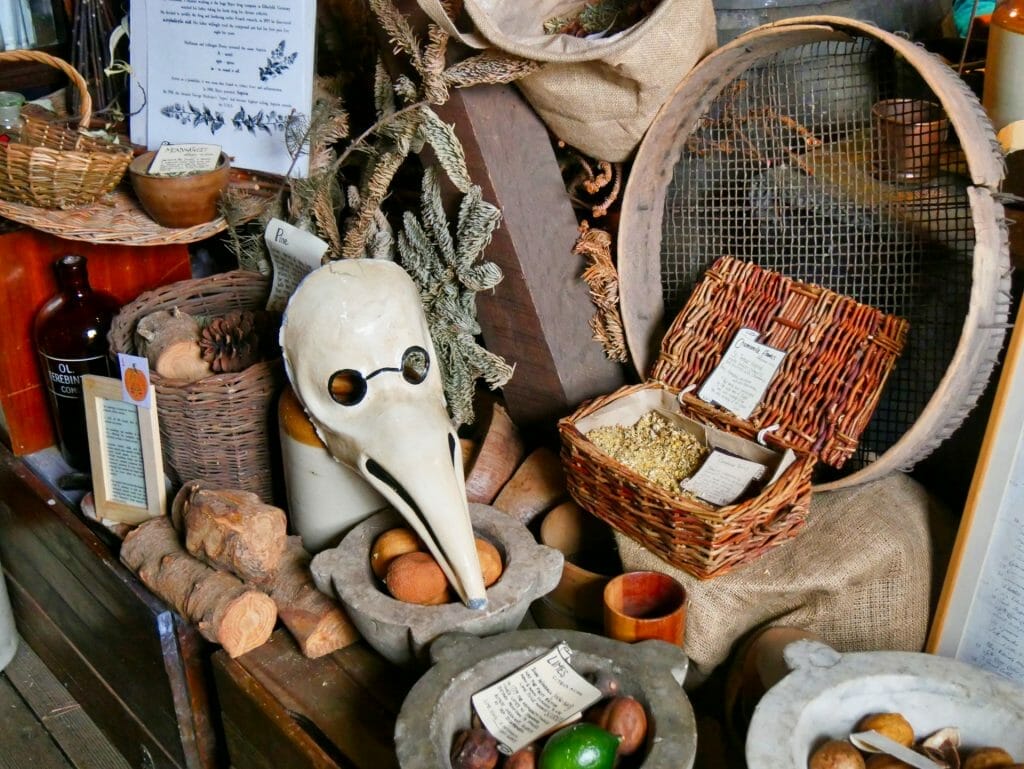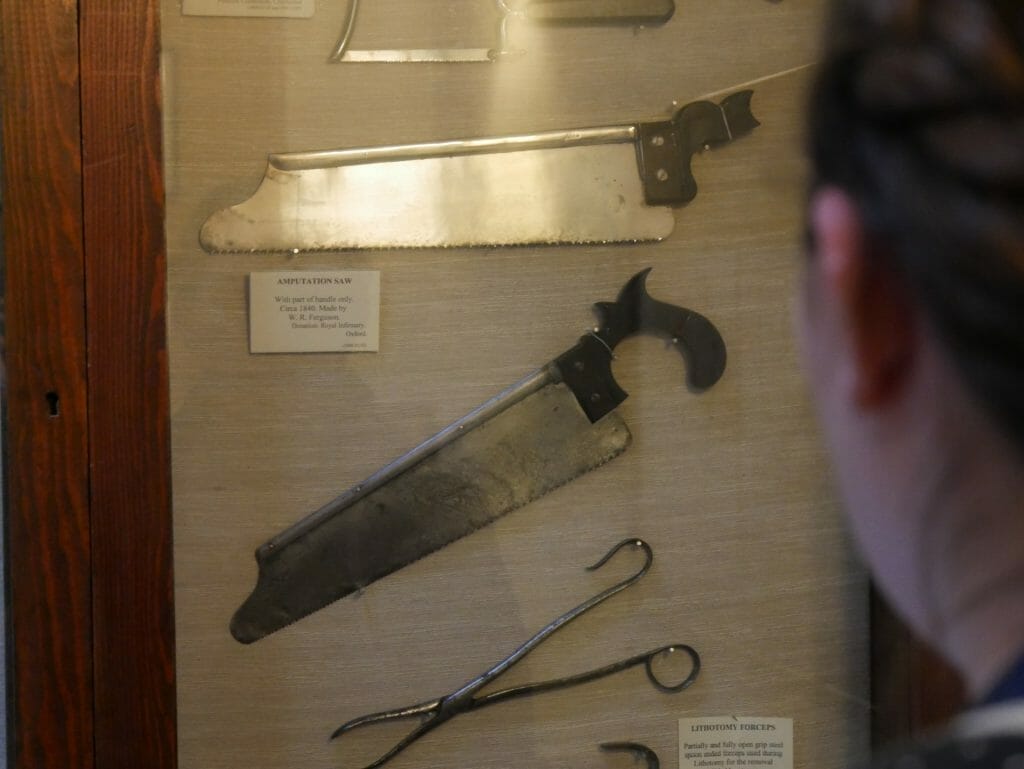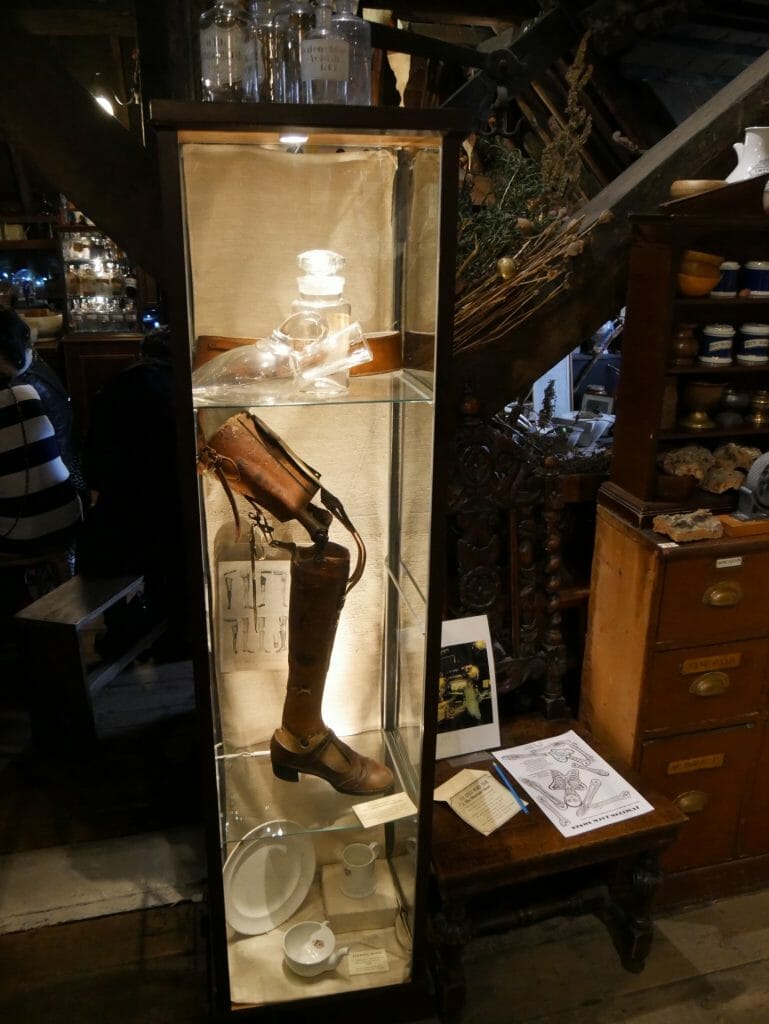 If you're coming to London, you'll also appreciate some of our other London guides, including…

x The Ultimate London Packing List for All Seasons
x London's Most Iconic Attractions to Add to Your Bucketlist
x A Dummy's Guide to Getting Around London
5. Chow Down in Borough Market
One of the most iconic markets in all of London is Borough Market, conveniently located in the London Bridge area just steps away from the tube station.
This is the foodie lover's dream market, where the smells of fish and chips waft through the air and mix with sights and sounds of lamb burgers, veggie kababs, fruit smoothies, fresh bread and more.
Anything you dream of eating, you can pretty much find at Borough Market.
There are also plenty of veggie and allergy-friendly options, in addition to cuisines from all over the world.
This is truly one of my favorite street food markets in London to just wander around, though if you are hoping to really explore, visit outside of "rush hour" for lunch and head there in the mid-afternoon when it's a bit easier to walk around.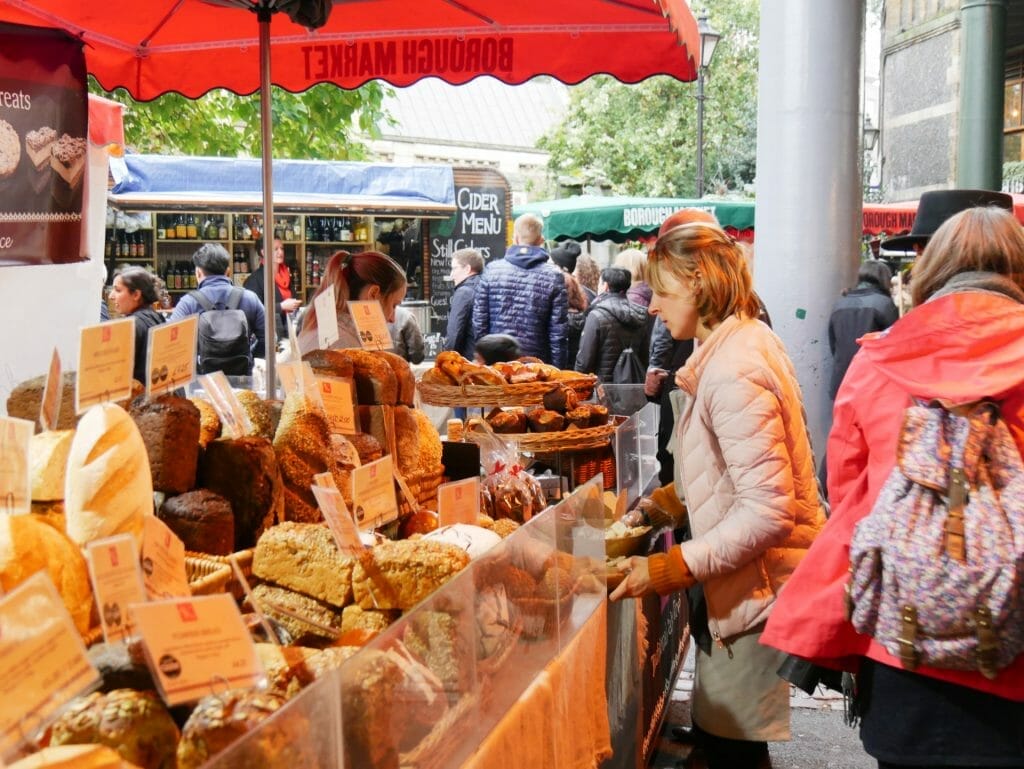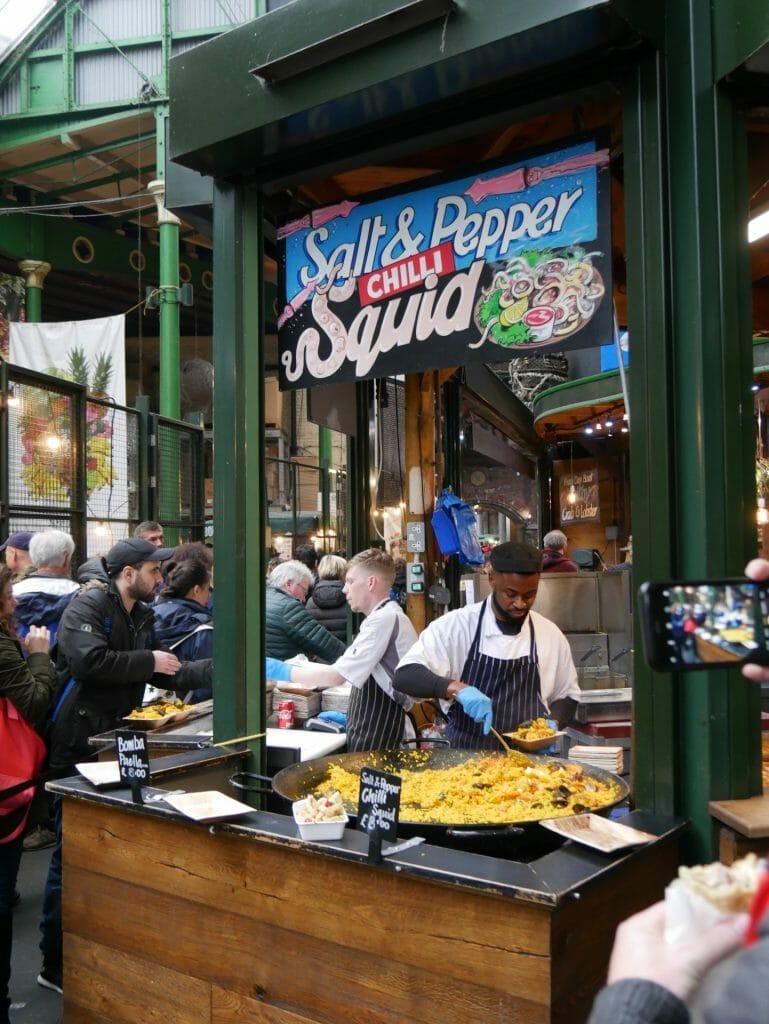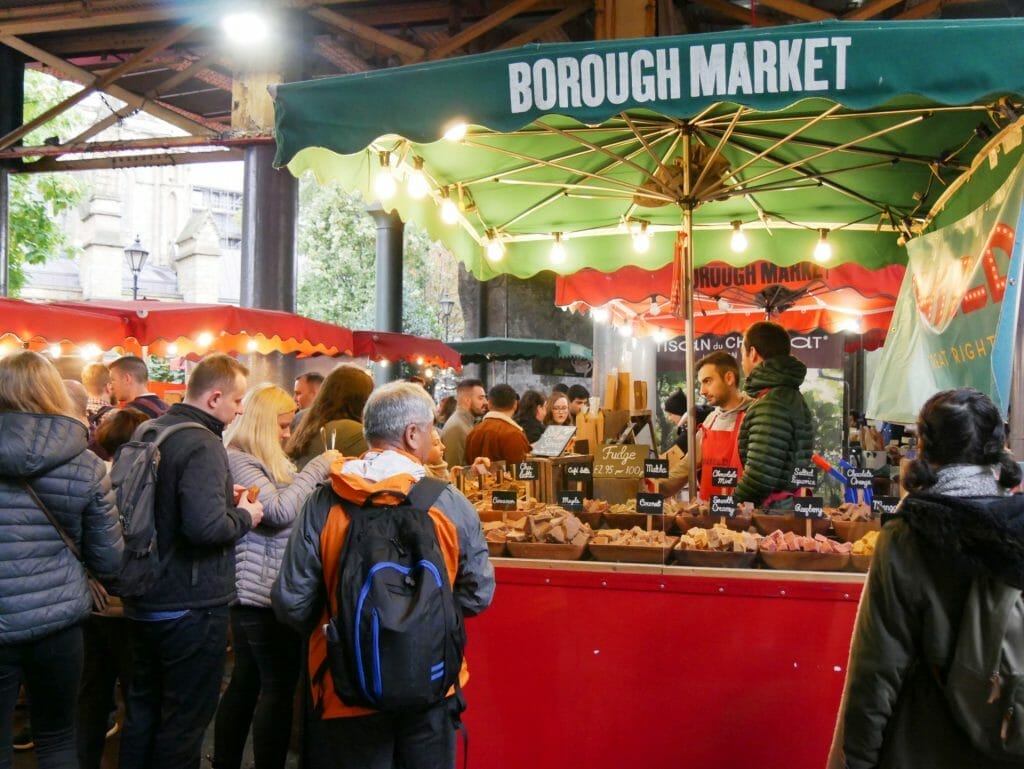 6. Hop on a River Boat
You can hop on a Thames Clipper boat from London Bridge Pier to take a journey around the River Thames during your visit to London Bridge.
Just head down to the pier, purchase your tickets from the kiosk, and hop on board the next boat.
You can either stay on and come back to London Bridge to keep exploring, or consider using the boat to get to London Bridge in the morning to start your day!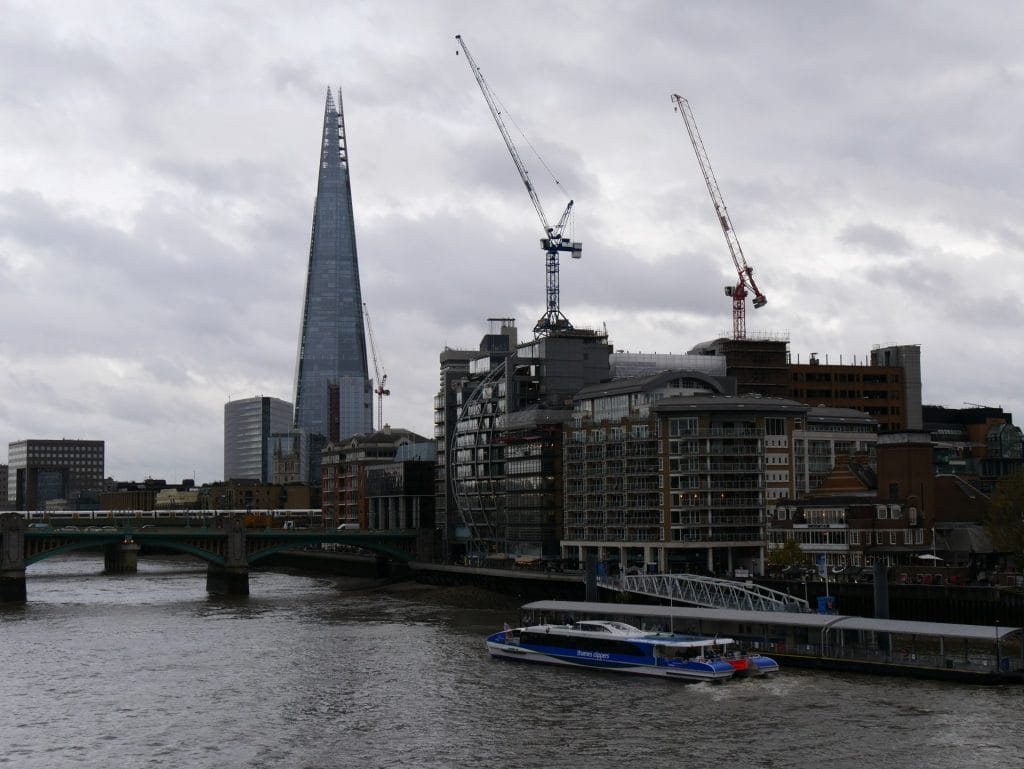 7. Take a Stroll along the River Thames in the Evening
The River Thames stretches across London, but one of my favorite places to take a stroll along the river is London Bridge, without a doubt.
There are bars, restaurants, and fantastic iconic things to see including the HMS Belfast battleship.
I find that this part of London really comes into its own in the evening, when the string of lights above the walkways are lit up and you can see the London Bridge area in a whole new way
It's one of the bests views in London at night.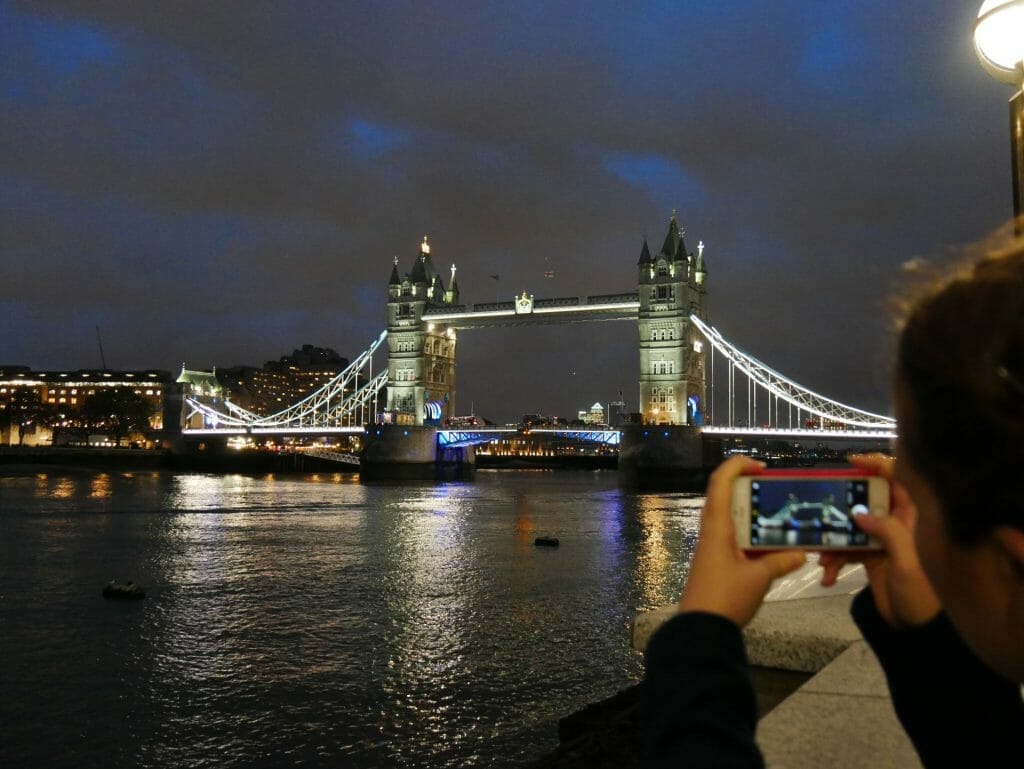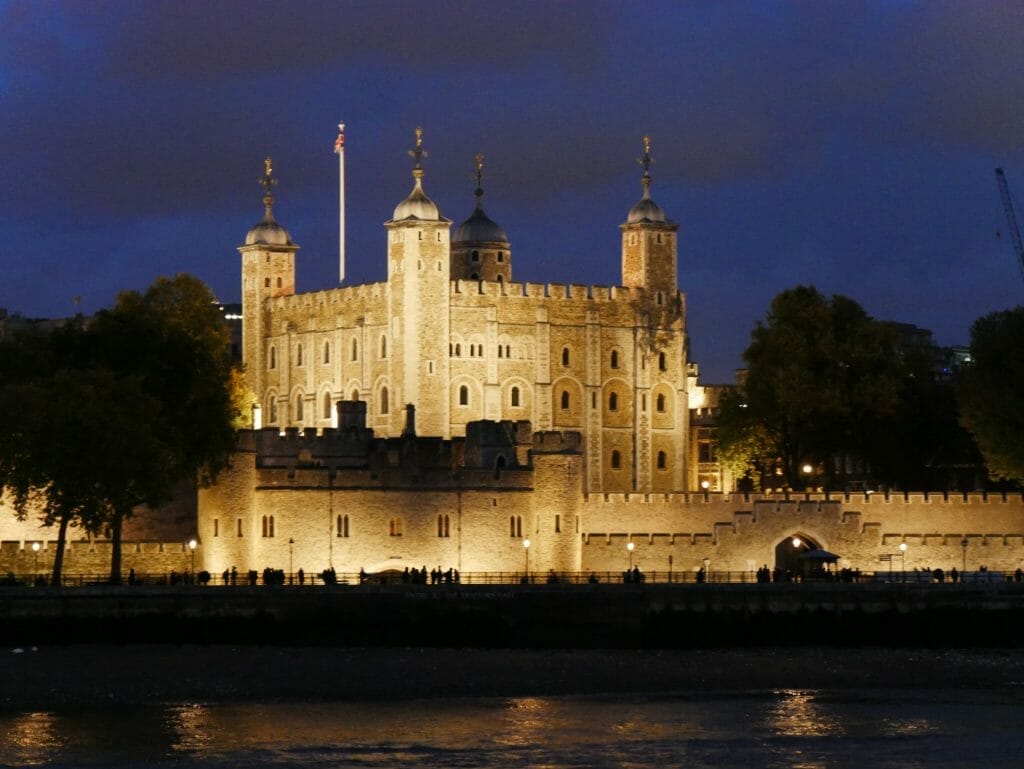 8. Enjoy Evensong in Southwark Cathedral
Southwark Cathedral is a gorgeous cathedral near London Bridge and one of the best things to do in London Bridge for couples who want to take a moment out of a busy day and sit and reflect.
The cathedral holds regular services, as well as Evensong on most nights, which is free and gives you the chance to sit and admire the gorgeous interior architecture while listening to a traditional Evensong service.
There is also a peaceful garden and places to sit in the courtyard that are removed from the hustle and bustle of the surrounding London Bridge area and give you a nice spot to sit and talk.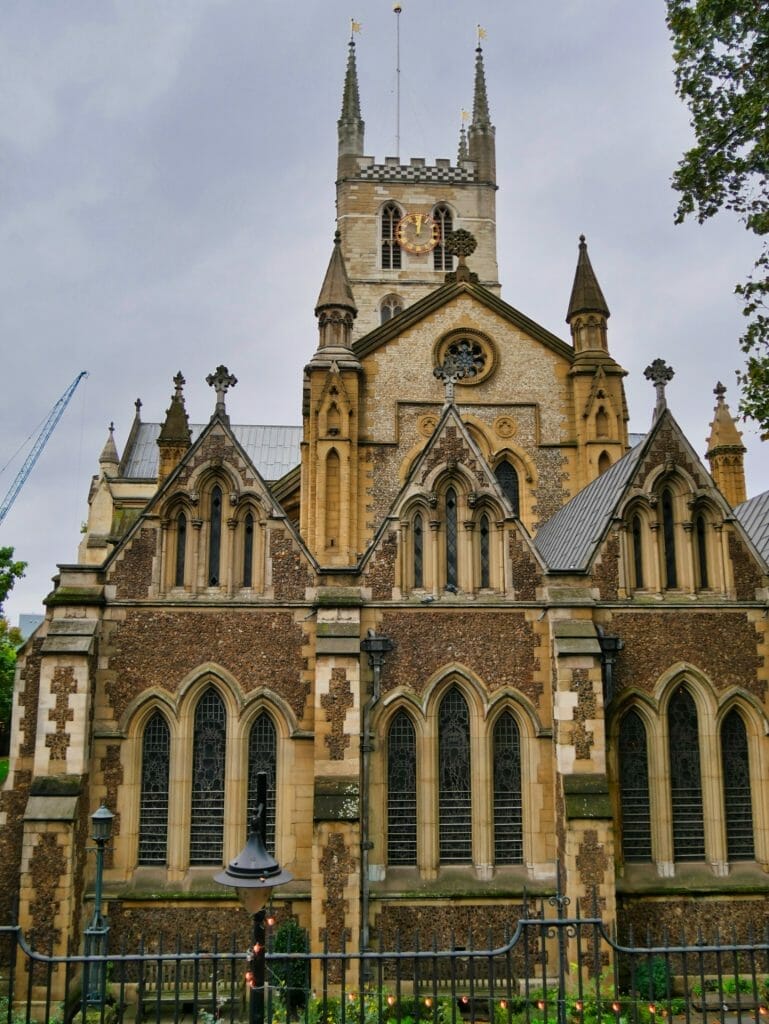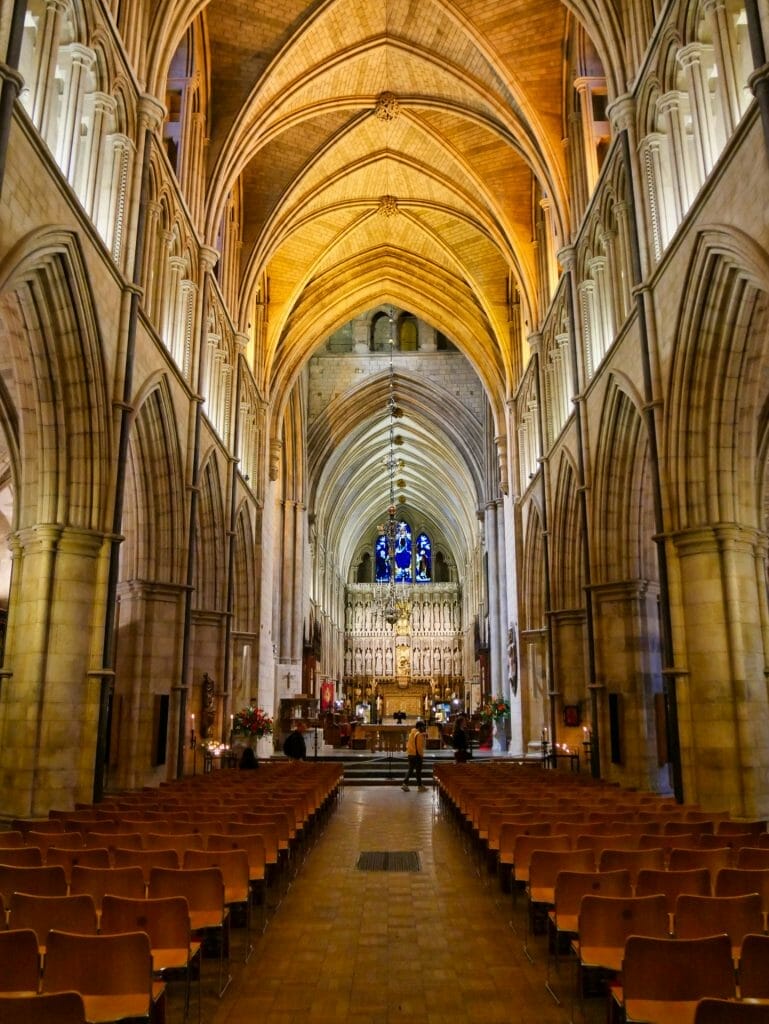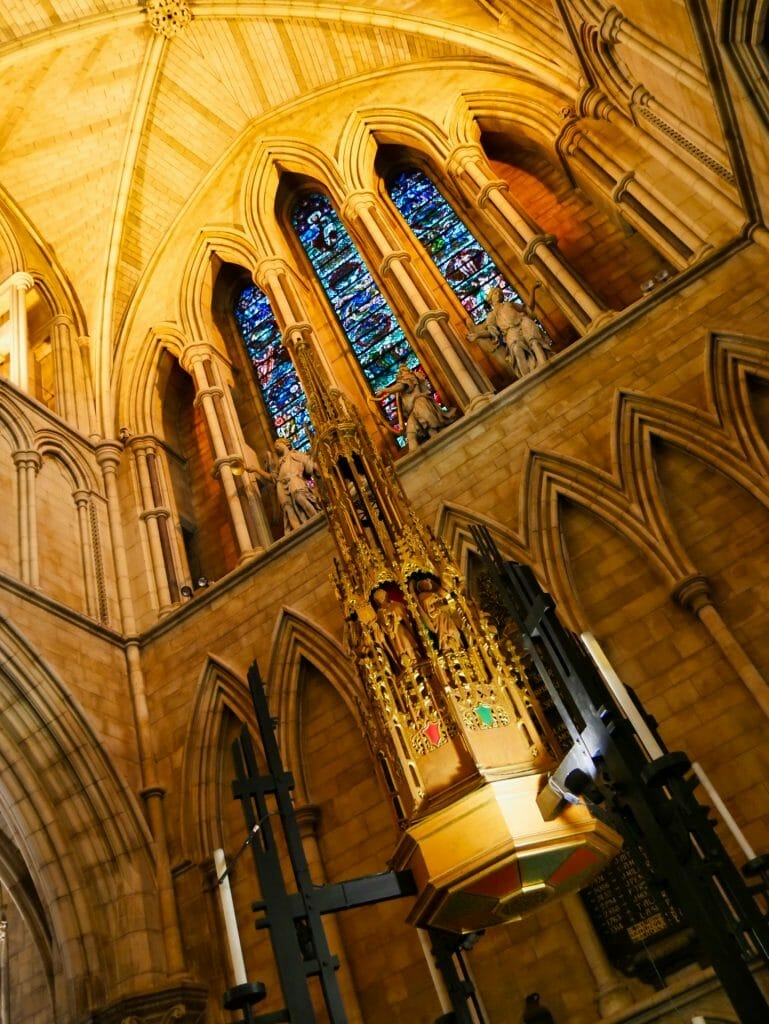 9. Appreciate the Shard
We didn't head into the Shard on our day of London Bridge exploration, though you can if you want to see the view from the top of the Shard or enjoy one of the many restaurants inside.
I find it an iconic landmark near London Bridge to use to help orient you to your surroundings and appreciate one of London's most controversial skyscrapers built just before the London 2012 Olympics.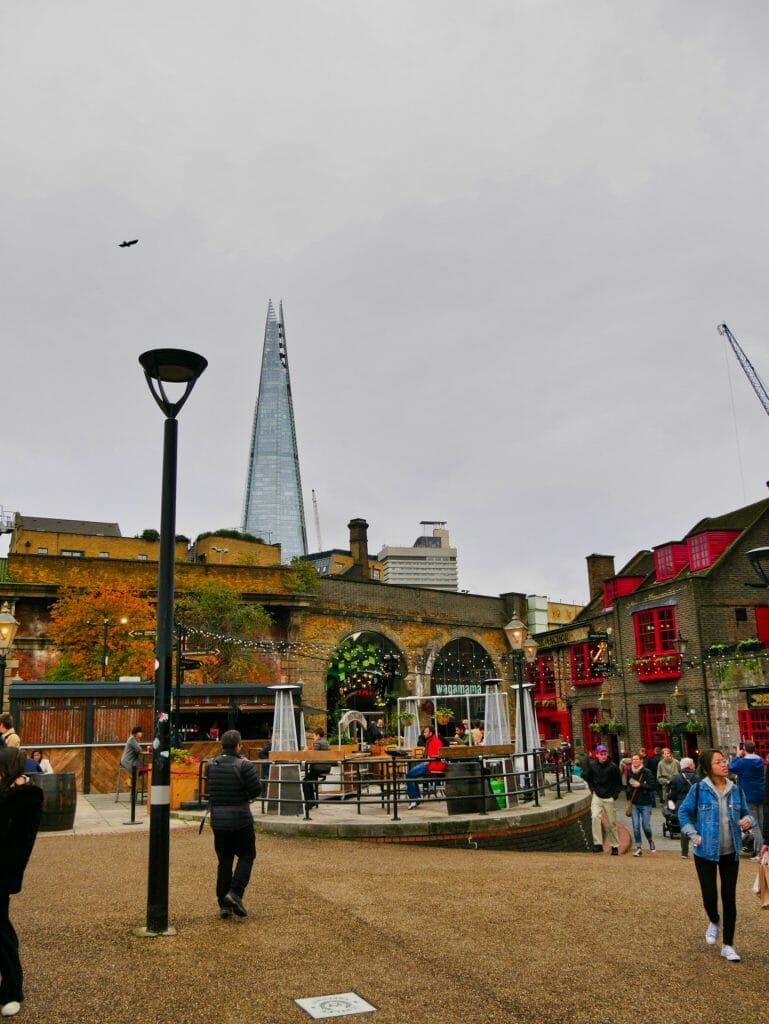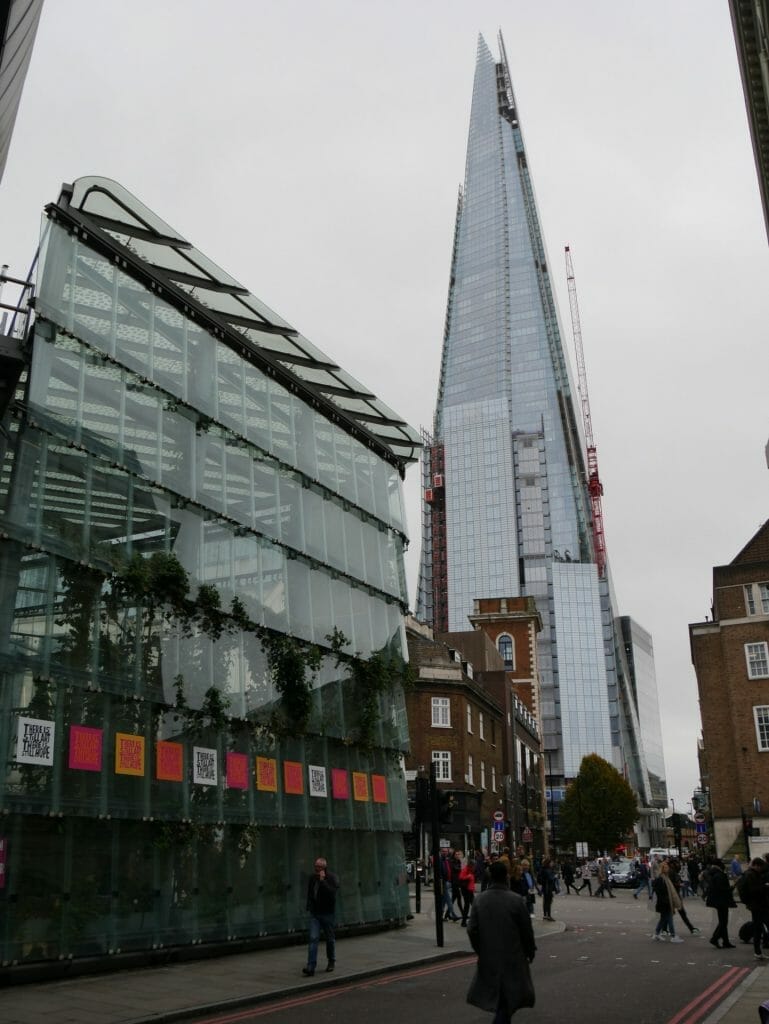 10. HMS Belfast
11. George Pub
12. Get Dinner at Mallow
13. Red Cross Garden
14. Lantana
15. Crossbones Graveyard & Garden of Remembrance
16. Gordon Museum of Pathology
17. Tapas Brindisa London Bridge
18. Bunch of Grapes
19. Little Garden near London Bridge Station
20. Vinegar yard
21. Texas Joe's Slow Smoked Meats
22. Plonk Crazy Golf
23. Rotating Plant Coffee
24. Old London Bridge Mosaic
25. The Horniman at hays
26. Vivat Bacchus
27. Redwood Sports Pub & Kitchen
28. The London Bridge Experience
29. London Bridge Escape Rooms