This post contains affiliate links for which I may make a small commission to help keep the site running. You will not be charged extra for these items had you not clicked the links. Thank you for your help to keep the site running!
In addition to the London locations used for the Harry Potter movies, some of the best places to visit in London are the background for movies ranging from Paddington Bear to Skyfall to the Bourne Ultimatum.
If you want to revisit some of the scenes and locations used in London for filming, I've put together this list for movie gurus to help show you where to discover where the magic was made and the best London filming locations (including London movie locations and London TV locations!)
Wait, stop!
Before you keep reading, I just wanted to make sure you know about my expert 7-day London itinerary that includes all of the iconic attractions plus off-the-beaten path activities and restaurants, as well as step-by-step walking and public transportation directions!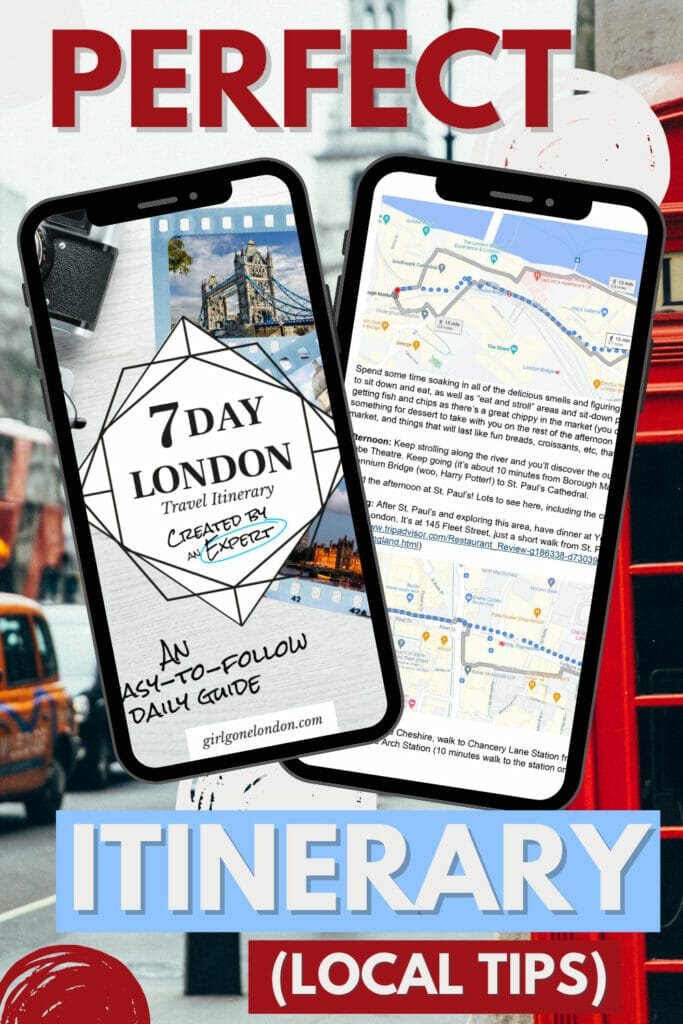 It can be stressful spending so much money on a London trip and not knowing if you're fitting everything in or making the most of your time.
To help you out, I've taken my 10 years of London experience (starting as a visitor and then as a resident) to make sure that you have the ultimate step-by-step itinerary that will make sure you see the real London.
And, hey, if you're not coming for exactly 7 days or already have some plans, don't worry, as it's editable so you can mix around the days, incorporate your own ideas, or pick and choose which days to follow.
(or click here for my popular personalized itinerary option to exactly suit your needs!)
The Absolute Must-Knows (from a Londoner)
Best tours in London for movie buffs:
1. Notting Hill: one of London's most popular filming locations
Of course, where does the movie Notting Hill take place but Notting Hill?
In this colorful neighborhood, you can roam around and see where many of the backdrops in this movie were filmed, including Portobello Road Market and the site of the Travel Bookshop.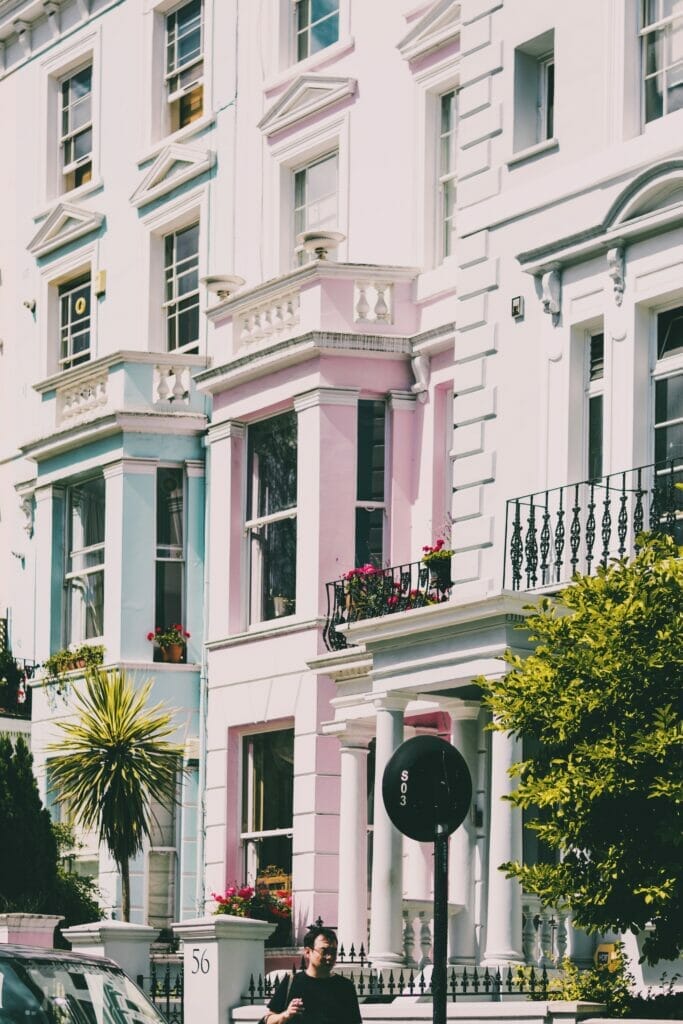 The area also features in a British Christmas classic, Love Actually.
GET A

FREE

LONDON INTRO GUIDE and ACCESS TO MY FB GROUP
Start your planning with this "Intro to London" guide and access to my London planning Facebook group!
2. Southbank
London's Southbank is iconic London, and it's no wonder it's constantly used in films, movies, and TV shows.
Guardians of the Galaxy, Fast and Furious 6 and Thor: The Dark World all feature scenes here, as well as James Bond films which use am amalgamation of Southbank buildings to make up his residence.
If you see the London Eye pop up in a movie, you'll know it's on the Southbank.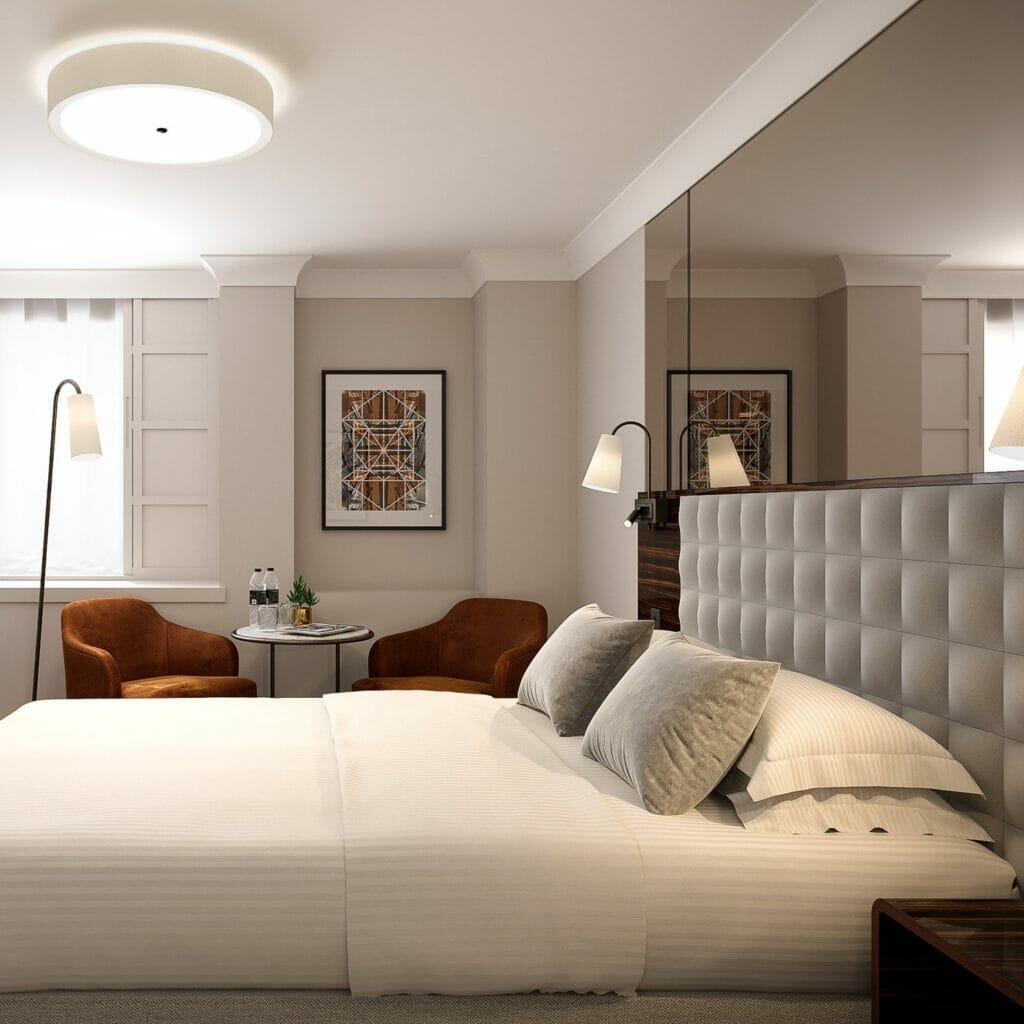 3. Tower Bridge
Tower Bridge has a sort of drama to it that makes it great for backdrops for important film moments.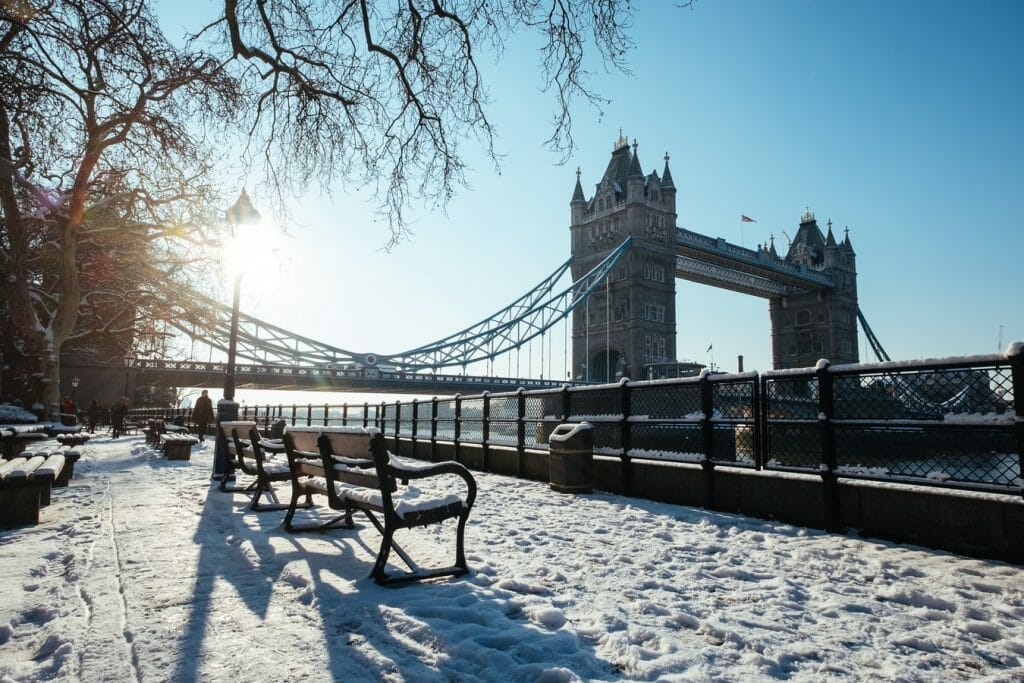 You can spot it in movies like Mission Impossible, Tomb Raider, and the Mummy Returns.
You can also see Bridget Jones walking across it in Bridget Jones: The Edge of Reason.
IMPORTANT: are you coming to the UK from abroad?
In case you're reading this from outside the UK and will be a foreign visitor here, you need to know these 2 things to stay safe and save money.
Travel insurance – you need it when going overseas! I use

this site

to get the best quotes and purchase my packages from. Do not skip this – having medical coverage abroad as well as other coverage in case of missed flights, lost luggage, etc is essential. As I said, I have never gone wrong using

this site

.
4. Canary Wharf Tube Station
If you look carefully, you'll see Canary Wharf Tube Station feature in Rogue One, the Star Wars movie from 2016.
It's a quick glimpse, but Canary Wharf is a very modern tube station and thus works well for movies that need a fresh, out of this world feel!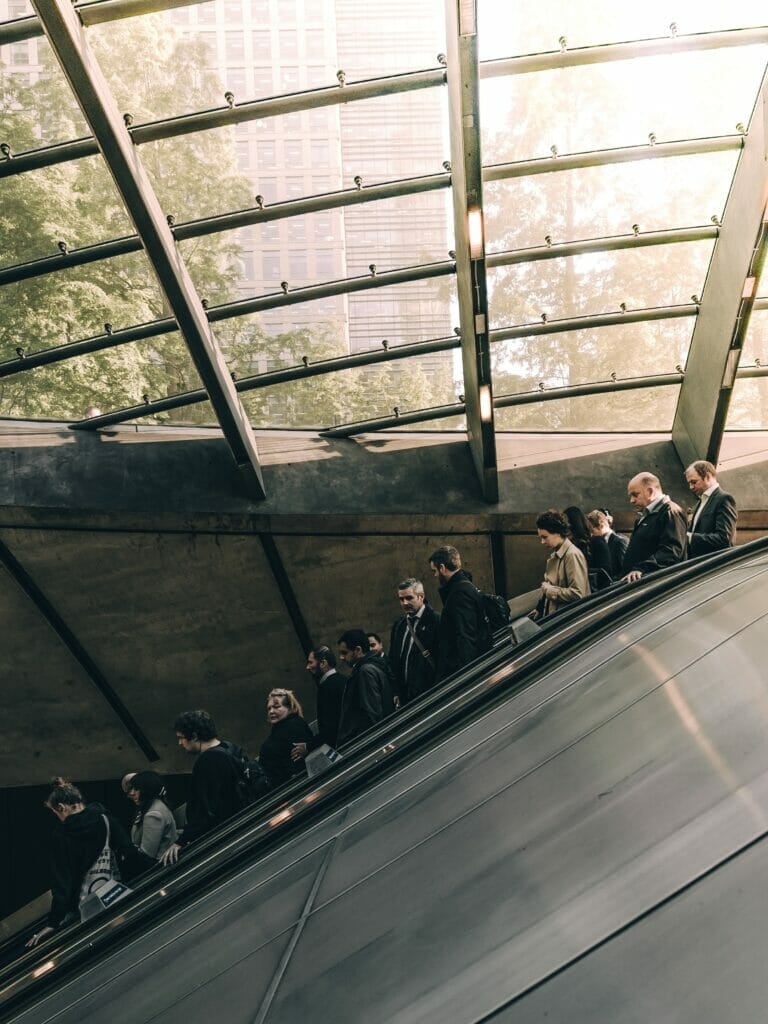 In fact, the London Underground itself has been used in films such as 28 Days Later, Harry Potter, Mission: Impossible, Atonement, and Agent Cody Banks.
5. Borough Market
Much of Bridget Jones Diary was filmed in and around Borough Market, where they set Bridget's flat.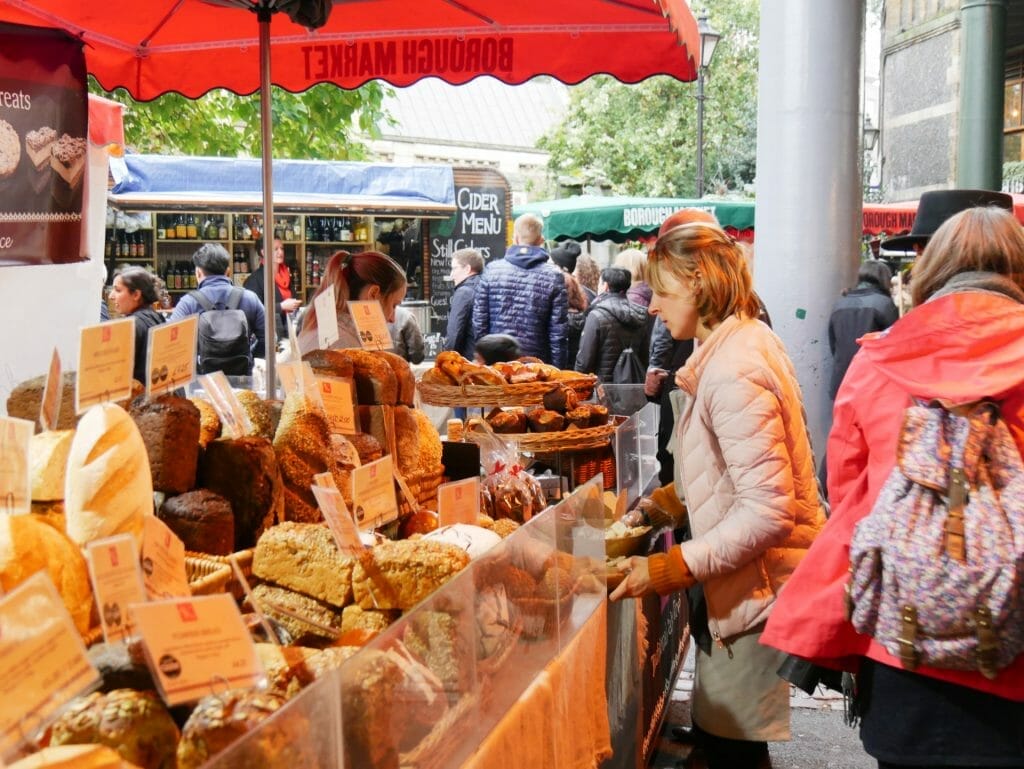 If you look above the Globe Tavern, that's where her flat was set and the door to the flat has become a tourist attraction in and of itself!
6. Waterloo Station
In The Bourne Ultimatum, Jason Bourne has an intense scene in the station where he tries to help someone escape, and when you watch it, you'll instantly be able to recognize this train station if you've gone through it even once – the massive 4 sided clock hanging above your head is hard to forget!

7. Gabriel's Wharf
Sit on a bench at Gabriel's Wharf overlooking the Thames and you'll be recreating one of the most famous scenes in Love, Actually, where Daniel and Sam talk about being in love.
8. Churchill War Rooms
Where did the Winston Churchill movie, Darkest Hour, film?
Where else besides the Churchill War Rooms, the real rooms where he ran much of the World War II operation from in London!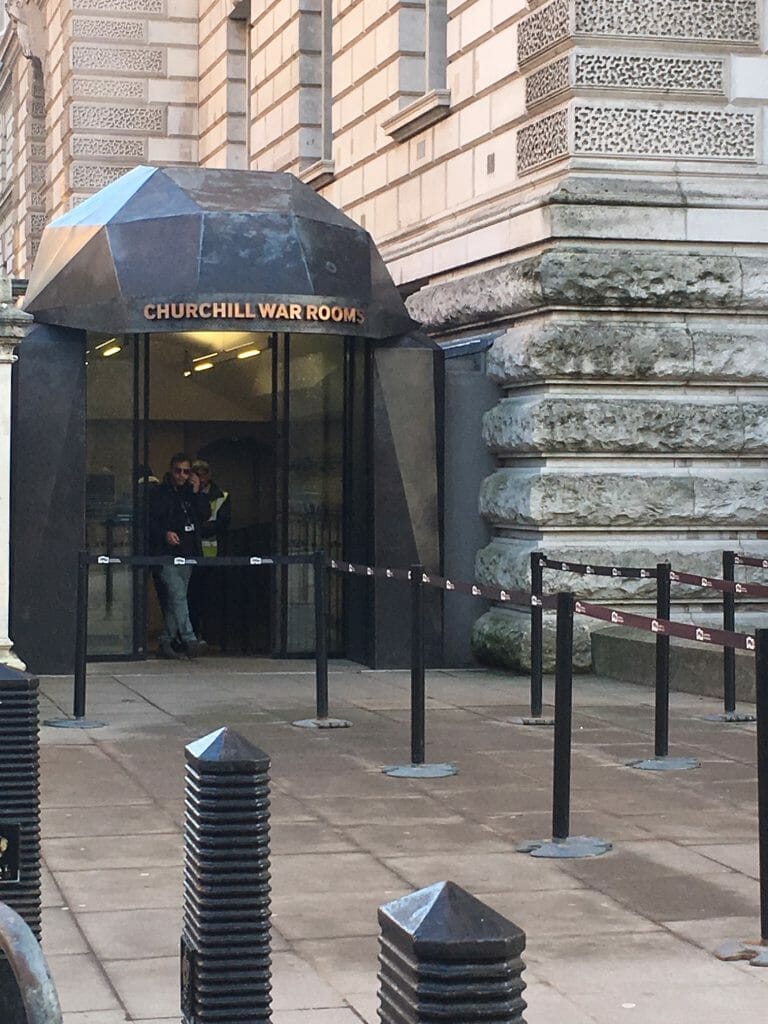 Wander through the same rooms that they filmed in and he worked from, which is also a great thing to do in London in the rain as it's completely out of the elements!
9. Battersea Park
Head to Battersea Park, one of London's best green spaces, to see where they filmed much of 101 Dalmatians.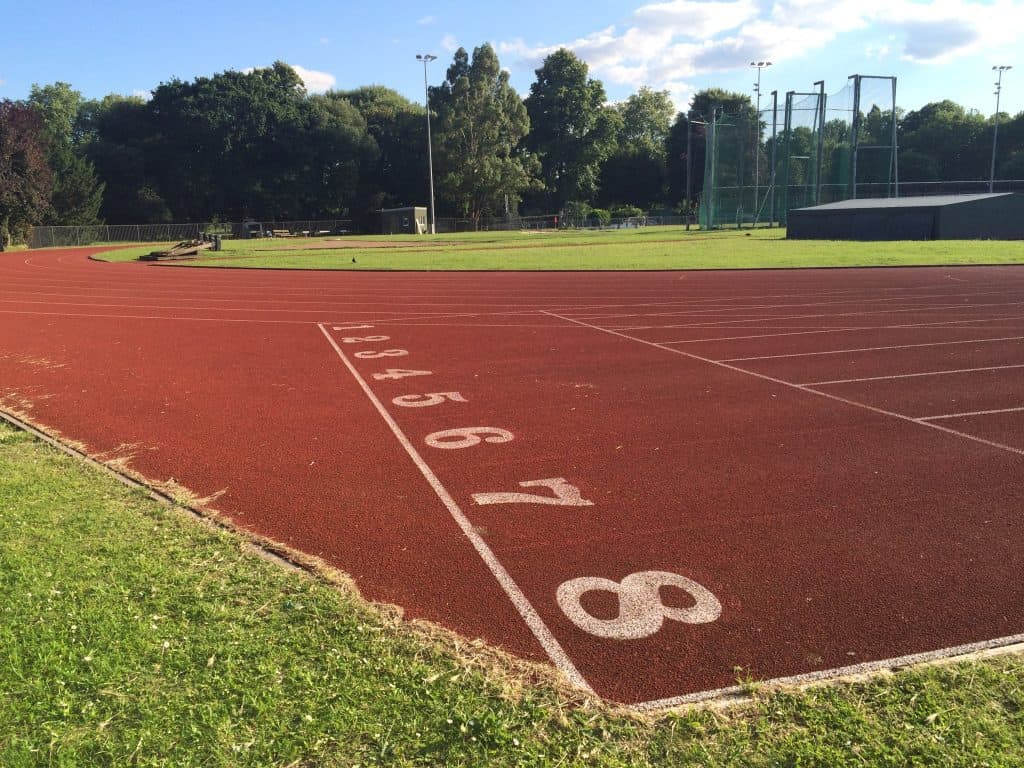 There's also a small children's zoo, one of the best things to do with toddlers in London if you're in the area.
10. Amersham
Take the Metropolitan Line to the end and you'll be able to see the location from Four Weddings and a Funeral, where Charles and Carrie spend their first night together.
"The Lucky Boatman" from the film isn't real, but the locations used – the Crown Hotel and the Kings Arms are!
Amersham is a fun outing for people who want to experience non-touristy London as well, as this is a commuter town with a quaint high street and lovely pubs that 100% cater to Brits and not tourists.
11. Piccadilly Circus
Piccadilly Circus is such an iconic London location that it's no surprise it's also a famous London filming location.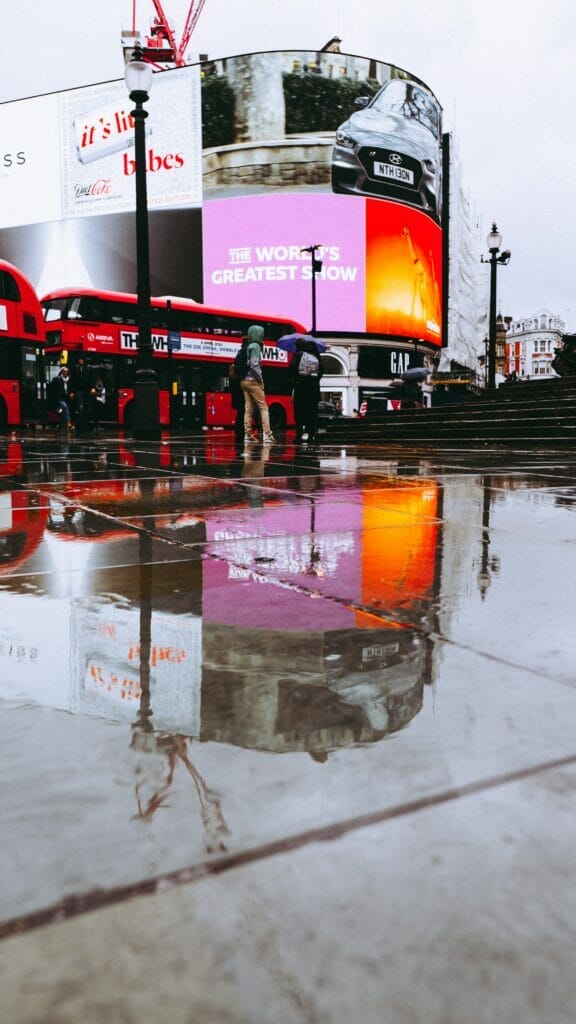 One of the most popular scenes from films involves the Harry Potter cast from the Deathly Hallows (Part 1), all dressed up and standing in Piccadilly Circus.
12. University College London
This prestigious university is great to walk around with such a picturesque quad, and you also may notice some similarities to films like The Dark Knight and Batman Begins, who used this backdrop to great effect.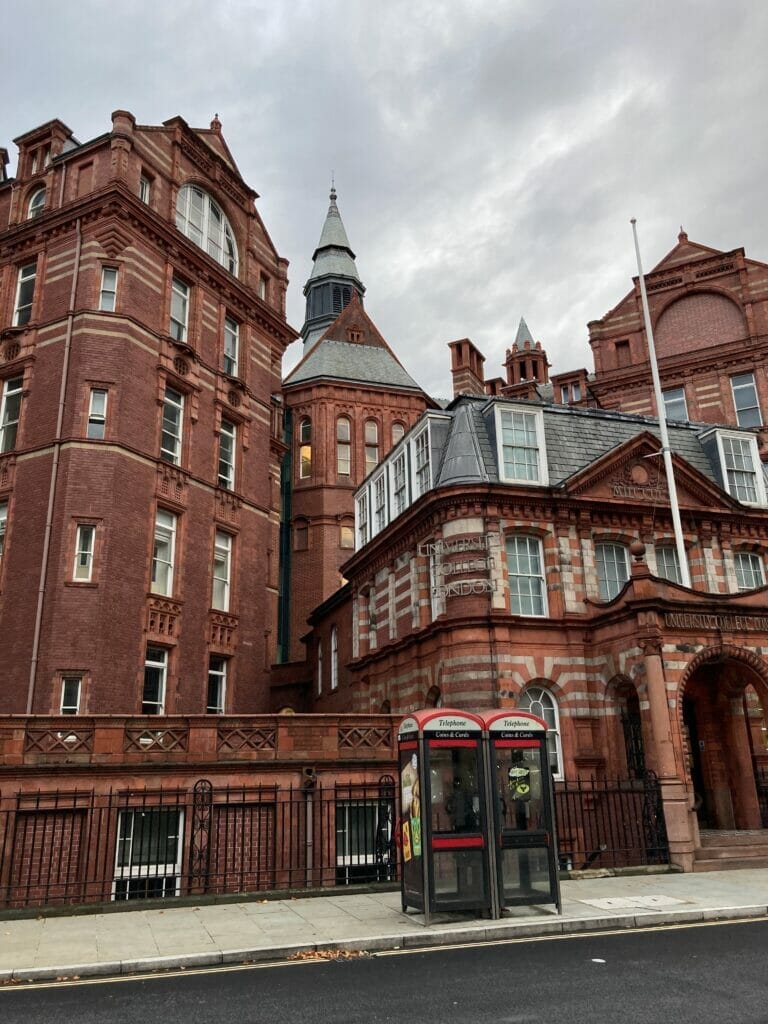 13. Thamesmead
Okay, it would be a really weird London filming trip because Thamesmead is an area of south-east London that isn't particularly known for its tourists or its beautiful architecture (quite the opposite), but it was a major backdrop in the film A Clockwork Orange so diehard fans may want to check it out.
14. Old Royal Navy College
This site in Greenwich is easy to get to and features in multiple movies, including the beginning of Pirates of the Caribbean: On Stranger Tides.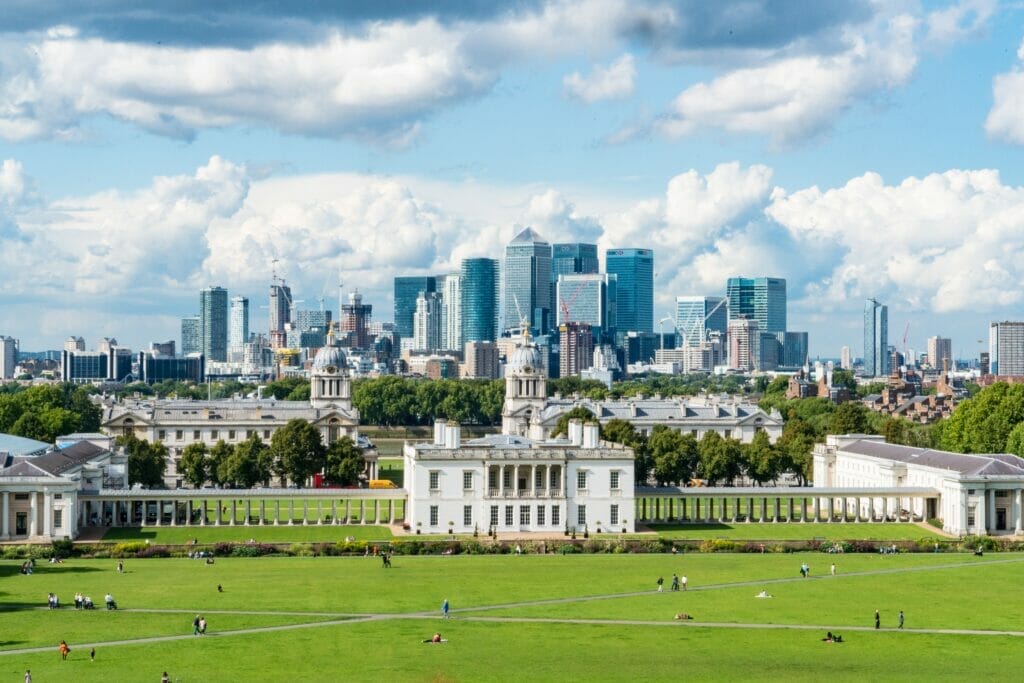 You can also see it in Les Miserables, when the funeral procession takes place (yes, most of Les Mis was shot in the UK despite supposed to be taking place in Paris! Movie magic!)
15. Wembley Stadium
You may be headed to Wembley to watch sports in London, but you should also appreciate it's film history as the arena has been featured in Fast and Furious films, as well as Get Him to the Greek with Jonah Hill.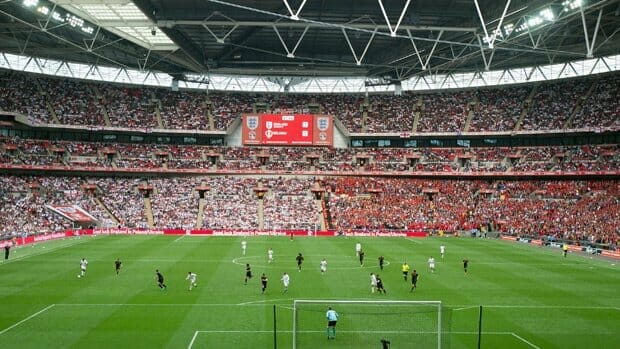 16. Trafalgar Square
This iconic London location has, unsurprisingly, featured in plenty of films.
You'll see it in in Skyfall, as well as Edge of Tomorrow and Captain America: The First Avenger.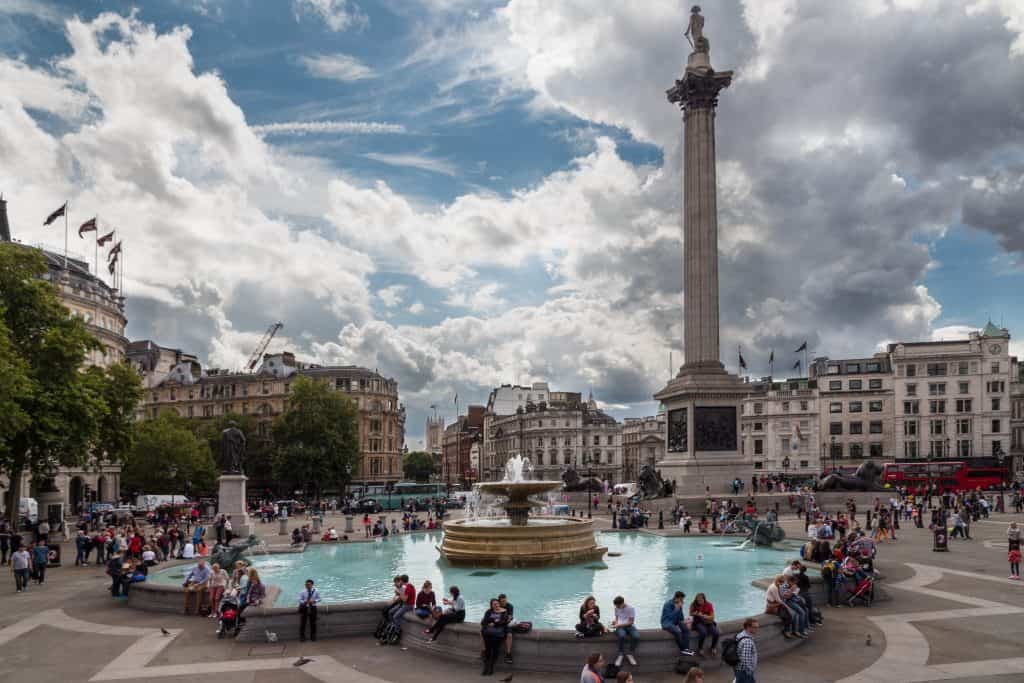 It's often used as a general "set in London" overhead shot so the audience knows where they are, as the red buses driving around the square and the National Gallery and Nelson's Column are so iconically London.
17. Hampton Court Palace
Just a short train ride away from Central London is Hampton Court Palace, a fantastic filming location that has featured in Pirates of the Caribbean quite heavily, and is constantly used as a fantastic Victorian era backdrop.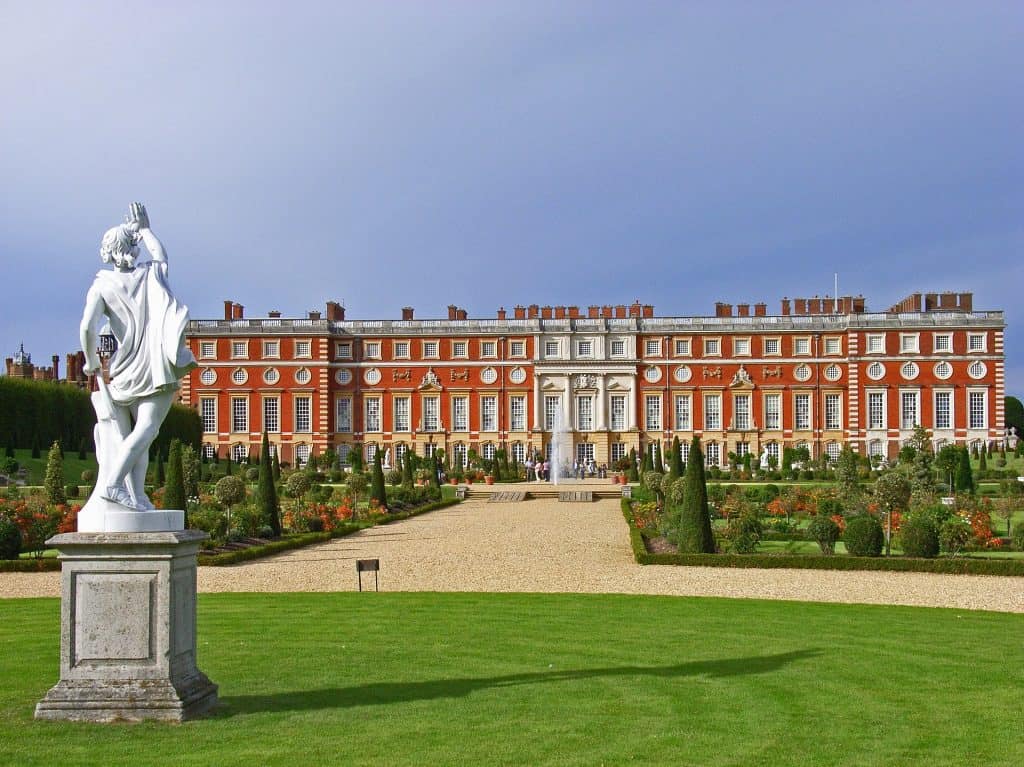 What else should I not miss in London?
If you're visiting London soon, here's a very brief rundown of a few of my other favorites to make sure you don't miss anything!
Want more helpful London guides? Check these out!
UK Travel Planning Guide: the FAQs
🏥 Should I buy UK travel insurance?
Absolutely yes. Basic coverage is not expensive, and as a visitor you are NOT covered under the NHS. Compare policies and prices with Travel Insurance Master here, a big name in the travel insurance business, and cross that off your list.
🔌 Do I need travel adapters for the UK?
Yes, you do, otherwise you won't be able to plug in your electronics/phone/lifelines. I recommend this one, which is all-in-one so you can use it in other countries.
🚗 What do I need to drive in the UK?
The first thing you need to check out if you're planning on renting a car in the UK is this guide to driving in the UK for visitors – the roads, signs, and driving experience will likely not be what you're used to and it's essential to prepare yourself to stay safe and aware.
🛌 What's the best way to book hotels in the UK?
For UK hotels, Booking is the best site as it offers free cancellation on many properties. If you want an apartment, I always recommend VRBO over AirBnb.
📳 Will my phone work in the UK?
Yes – if you set it up right. Check out my guide on making your foreign phone work in the UK to ensure that you get the type of service you need.
🚿 Can I drink the water in the UK?
Yes, UK water is great and perfectly safe. But drink out of taps in any kitchen or use water fountains. Double check before drinking out of the taps in hotel bathrooms, though, as they may be on a different system.