Headed to the West End, but don't want to break the bank?
In this guide, I'm breaking down how to get cheap London theatre tickets so you can see one of the world famous shows without spending a bucketload of money.
I've been living in London for the past 10 years, and in that time I've seen countless performances both on and off the West End – it's one of the best things to do in London at night!
The London theatre scene is incredible, but especially if you're trying to see a more popular show like Hamilton or The Book of Mormon, you may get some sticker shock when looking at the prices.
And while sometimes that's unavoidable – the best comes at a premium – there are some ways to get cheap theatre tickets in London that you might not have heard of, so here are some of the best suggestions I've compiled over the years!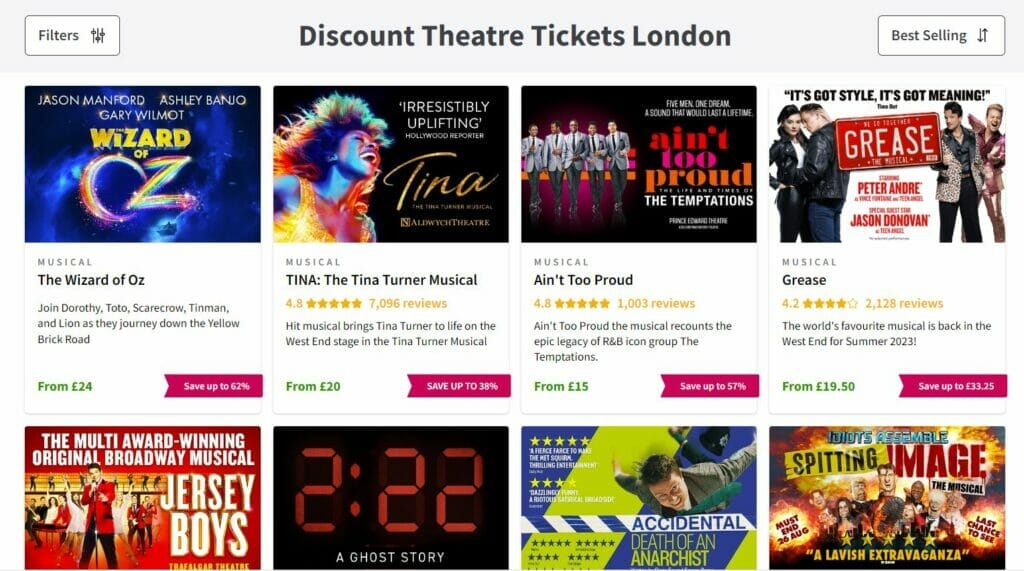 My favorite site for booking theatre tickets in London is London Theatre Direct.
They've got both last minute ticket options if you want to save money in London as well as tickets available earlier on, and they have a fantastic guide to the different shows on at the moment all in one place.
They're a fully accredited London theatre booking site, one of the first to sell tickets online, actually, and I've never had a bad experience with them.
I often start directly in the Discounts section to see what's available, but you can also get cheap tickets to the show that you're interested in through their site even if it's not listed as a special discount.
>> Click here to check out the current deals on London Theatre Direct
2. TKTS Booth in Leicester Square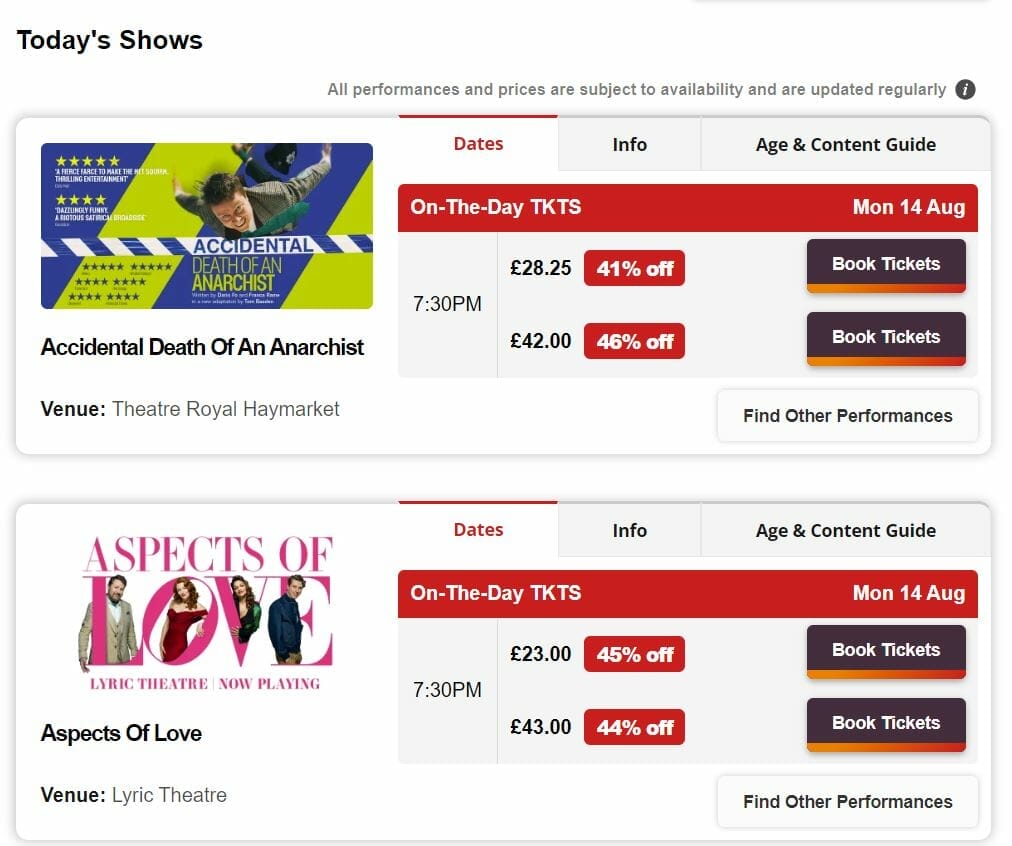 Wondering where to buy cheap theatre tickets in London?
Just like in New York with the TKTS Booth in Times Square for Broadway, London has its own TKTS Booth, situated in the iconic Leicester Square.
If you want the "standing in line" and actually physically buying the tickets kind of experience, this is for you.
The beauty of TKTS is that it's a not-for-profit ticket booth with the money going back into the industry.
If you do want to go in person, you can visit the booth on the south side of Leicester Square from Monday to Saturday, 10:30am until 6pm, or from 12pm to 4:30pm on Sundays.
However, you can also buy last minute tickets through them online, with tickets becoming available at 12:01am each day for that same day.
The one downside of TKTS is that I don't find that the tickets are as cheap as you can get if you're looking for the cheapest, not-an-amazing-view-but-still-get-the-experience kind of seats.
You do get great deals on some great view and the more expensive seats, but can often get cheaper ones through other methods if you want cheaper.
Remember, they have the tickets that haven't sold yet on sale, and many times those are the more expensive tickets.
3. Go Directly to the Box Office the Day Of
If you're looking for budget tickets to shows in London, it never hurts to visit the Box Office the day of the show, or a little before the show, to see what they have available and if they have any cheaper tickets or "Returns."
This one is going to be a riskier option and you may not get in or get any sort of price that you want, so it's only something to try if you aren't too bothered either way about seeing the show and have the time to pop by the day of and just want to try your luck.
4. Buy Early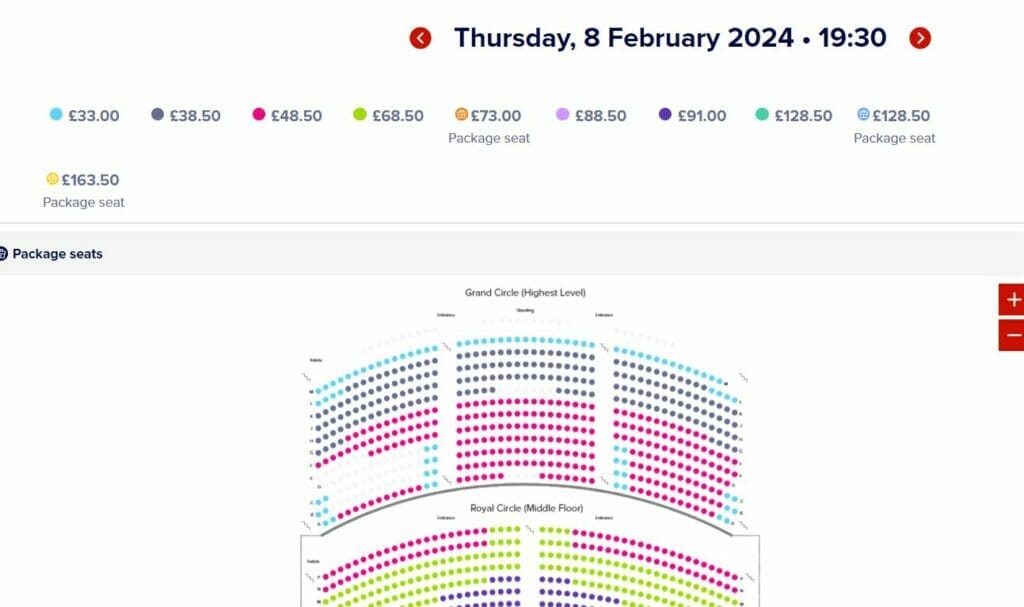 When you're buying directly through the show's website, you'll almost always find that the earlier you book, the more choice you have and the cheaper options that remain available.
People do tend to book up the cheaper tickets the closer to the performance date you get, as many people are on a budget but still want to experience the West End for themselves.
There are typically decently priced seats available for most performances that can be anywhere from the £15 to £25 range, but to give yourself the best chance of securing one of these, buy your tickets as early as possible and as soon as you know you're coming to London.
If you haven't done that, then move on to the other suggestions, or if you find that actually, the tickets in advance aren't as cheap as you would like and you want to take a chance to see if you can get cheaper ones later.
5. Get Rush or Last Minute Tickets Online

There are some shows that participate in last minute tickets available through apps like TodayTix on the day of the show.
For instance, The Book of Mormon has a limited number of £25 rush tickets available each day through the app, beginning at 10am (more information here).
To see if the show you're interested in has this option, simply check out their ticketing page and make sure you read all the options and details, or simply download the TodayTix app and do a search for London shows.