This post contains affiliate links for which I may make a small commission to help keep the site running. You will not be charged extra for these items had you not clicked the links. Thank you for your help to keep the site running!
Ah, London in the winter.
The time of year where we all complain that it gets dark at 3:30pm and it rains too much.
Also, the most festive time of the year.
Traveling to London in the winter can be a fantastic option for people who want to save money, have lower crowds, and get in on the Christmas lights action.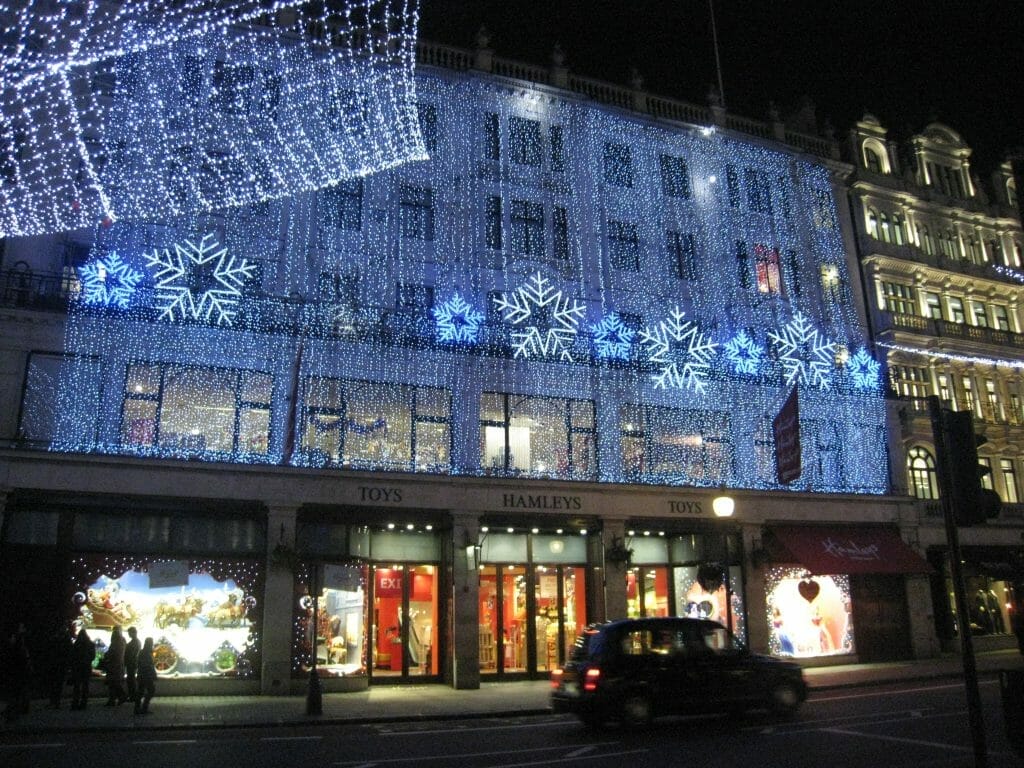 But preparing for winter in London is the first step to enjoying your trip.
As someone who has spent 5+ years figuring out things to do in London in the winter and the best London winter activities, I feel suitably qualified to bring you this ultimate guide to visiting this UK city in the winter months.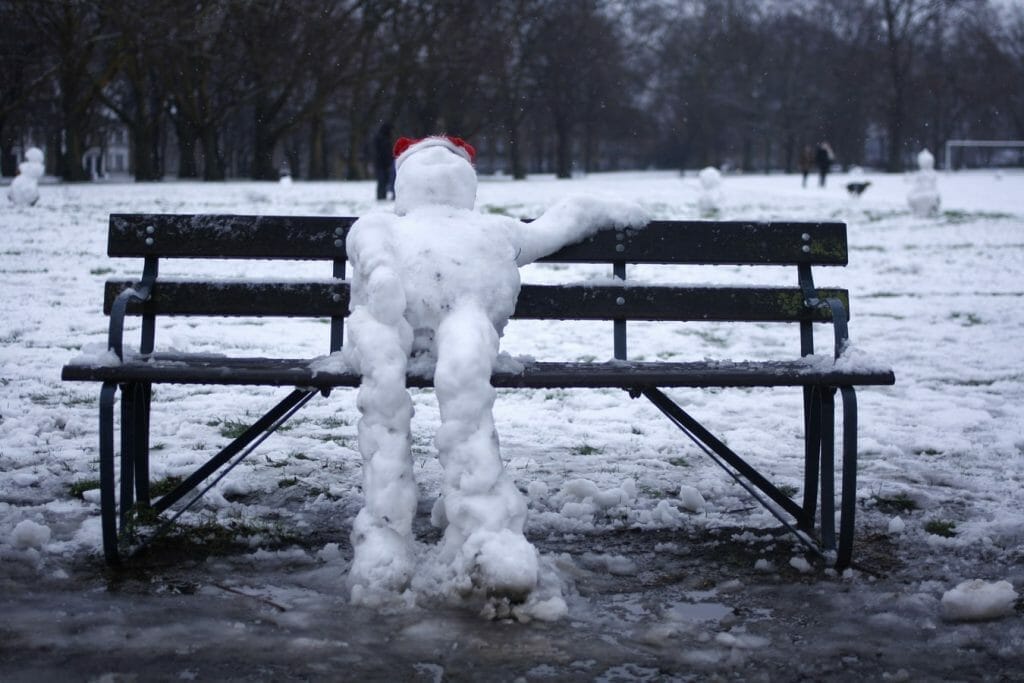 The Absolute Must-Knows (from a Londoner)
Hey! Want more honest UK tips and planning advice? Click here to join my London and UK Travel Tips Facebook group, where I can answer more of your questions!
What No One Tells You About London in the Winter
First of all, let's start with some basic top tips that I feel we need to tell our visitors more often, in addition to these London mistakes tourists make year-round.
We'll get to these things in more detail below, but here's the cheat sheet for what's in store for you (spoiler alert: you can leave your shorts at home).
GET A

FREE

LONDON INTRO GUIDE and ACCESS TO MY FB GROUP
Start your planning with this "Intro to London" guide and access to my London planning Facebook group!
Sunset is at Like, Noon
Okay, I exaggerate.
Sunset in London in the winter isn't noon, but on the darkest day of the year (December 21st), the sun will have set by about 3:50pm.
Hear that?
3:50pm.
Goodbye, sun. See you later.
This does mean you get to see lots of London lit up at night, which is gorgeous, but don't come expecting to get your Vitamin D in because it won't happen.
In fact, I recommend taking Vitamin D pills like the ones in this London packing list while in London in the winter because they're very helpful for keeping your mood up and getting you the nutrients you need.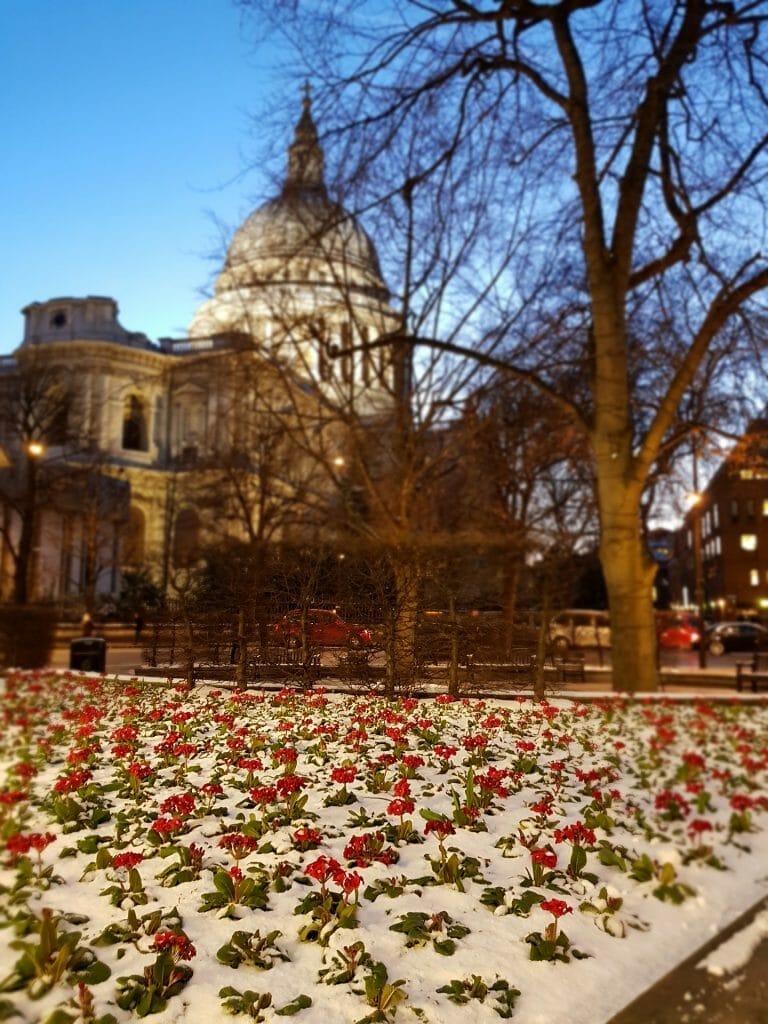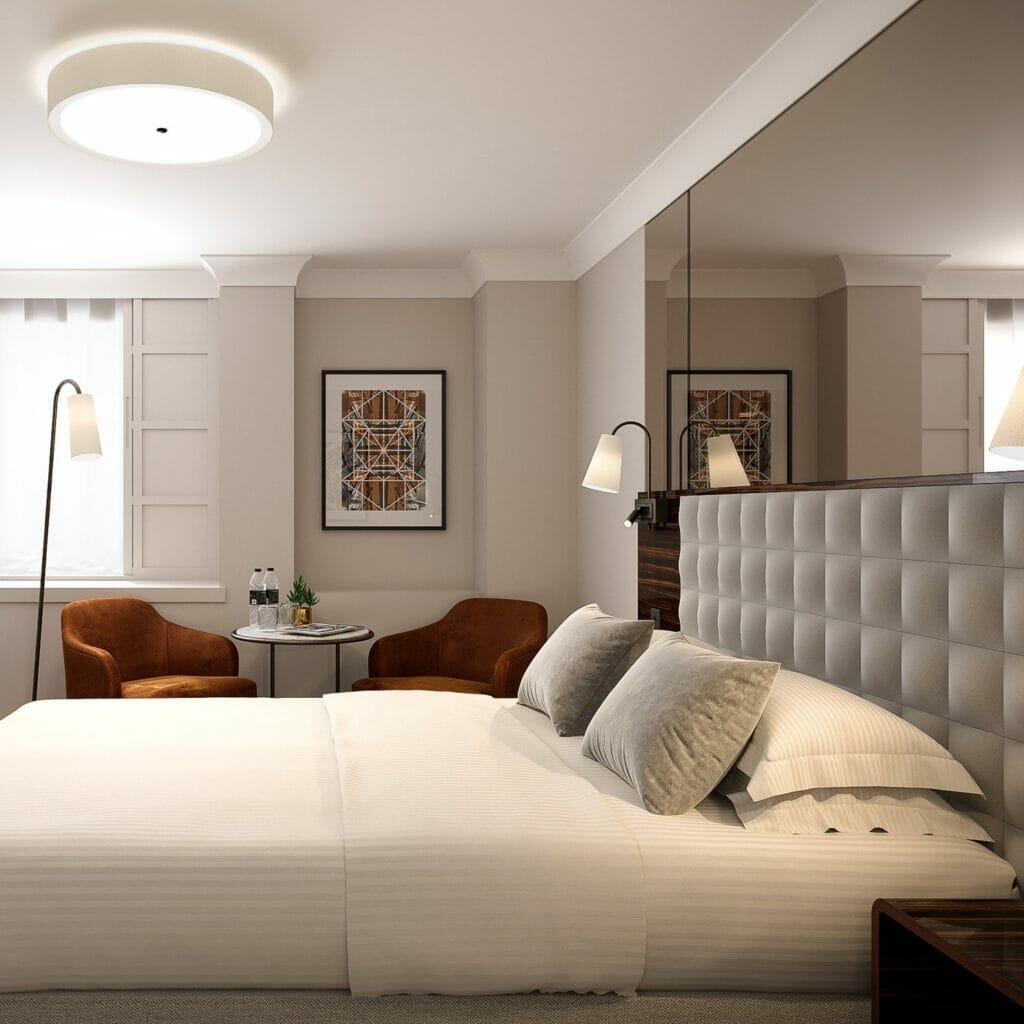 Christmas Starts in November
If you're coming with the hopes that you get to see a festive London in the winter, plan your trip from mid-November to the end of December.
Christmas lights go up in London the last couple of weeks of November, as there's no Thanksgiving to put a stop to the Christmas train!
You'll also find London Christmas markets starting at about that time, and the official opening of Hyde Park's Winter Wonderland, a London Christmas staple, is open from about the third week of November.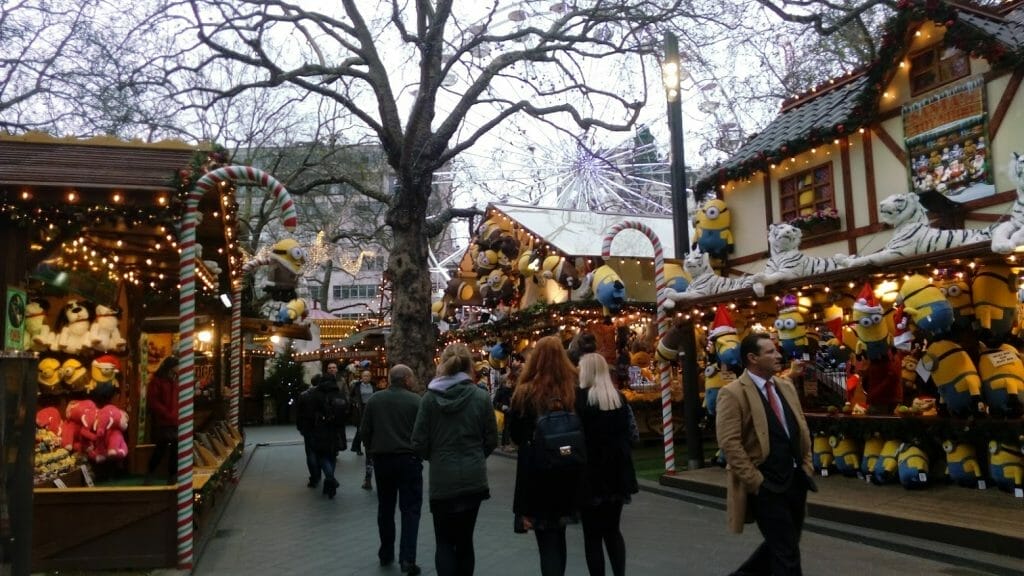 IMPORTANT: are you coming to the UK from abroad?
In case you're reading this from outside the UK and will be a foreign visitor here, you need to know these 2 things to stay safe and save money.
Travel insurance – you need it when going overseas! I use

this site

to get the best quotes and purchase my packages from. Do not skip this – having medical coverage abroad as well as other coverage in case of missed flights, lost luggage, etc is essential. As I said, I have never gone wrong using

this site

.
It's Cold and Rains a Lot
If you're from say, Minnesota, you'll probably find that London winters are mild compared to what you're used to.
But this isn't a tropical paradise.
London is cold in the winter for most people, and it's a damp cold brought on by lots and lots of drizzly, dark days where nothing quite dries out.
This doesn't stop London from functioning, of course, because nothing says British people like "Keep calm and ignore the weather," but just to give you a head's up.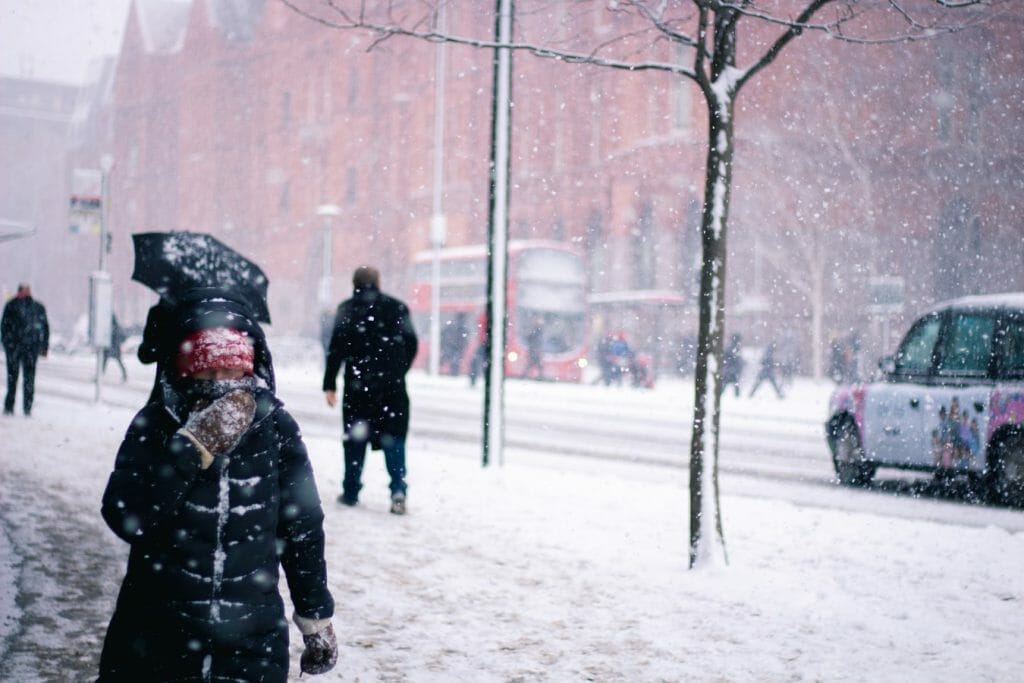 How to Pack for London in the Winter
For a full London winter packing guide, check out this post for the all-season's packing list I've put together (including the exact adaptors and converters I recommend).
For those of you coming in the winter, though, I do want to take a moment to recommend some of my favorite London winter gear and talk about what you might need.
All of these are going to be clothing and accessories, because the other London packing list doesn't change in the winter (you still need your passport no matter the season, my friends!)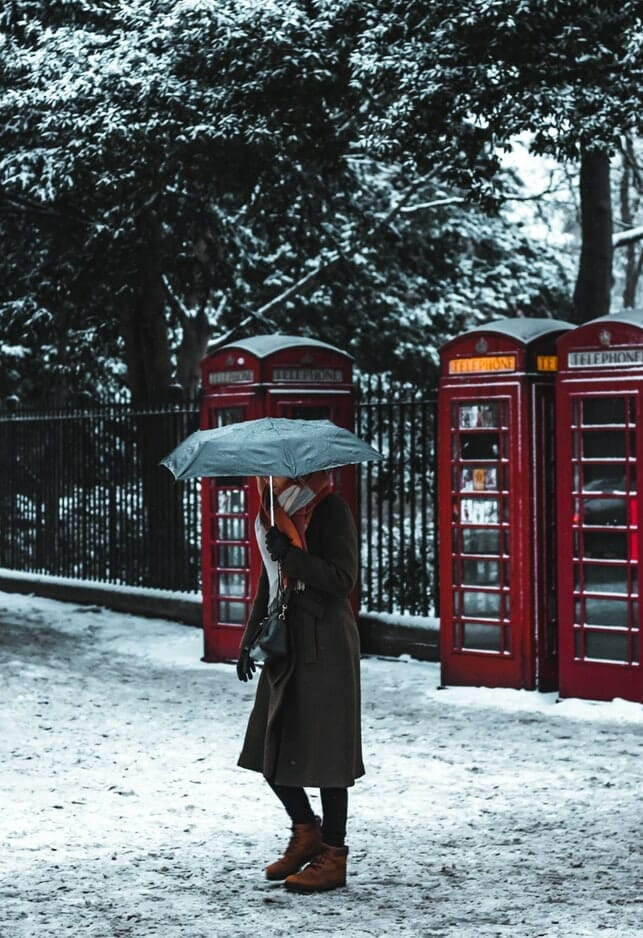 Waterproof Shoes or Boots
I don't care what you're wearing on your legs – the most important part is what you've got covering your feet that are able to potentially get really damp, whether that's walking through slush or just soggy streets!
I do NOT recommend rainboots in London – they're not great to walk in long distances, and most people don't wear them.
Instead, I would recommend a pair of waterproof sneakers like these or a pair of waterproof boots like these.
You don't necessarily need waterproof to the max like you're about to go on a ten day hike in the elements, but a pair of warm and waterproof shoes will really help make a difference in your travels.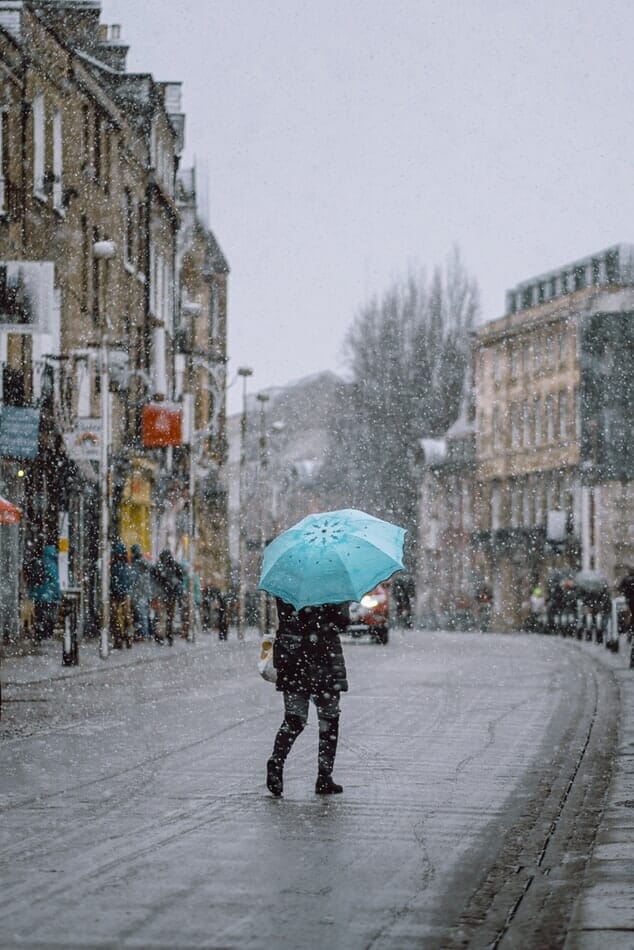 A Winter Coat
Particularly for people coming from warmer climates, do not forget that winter coat!
Even if you step on the plane in Florida where it's 80 degrees, you're going to wish you had something to wrap up warm with when you get to London.
I prefer peacoats like this or you could go for a sportier look with a jacket like this, but make sure you have an actual winter coat instead of just a summer rainjacket or a hoodie by itself.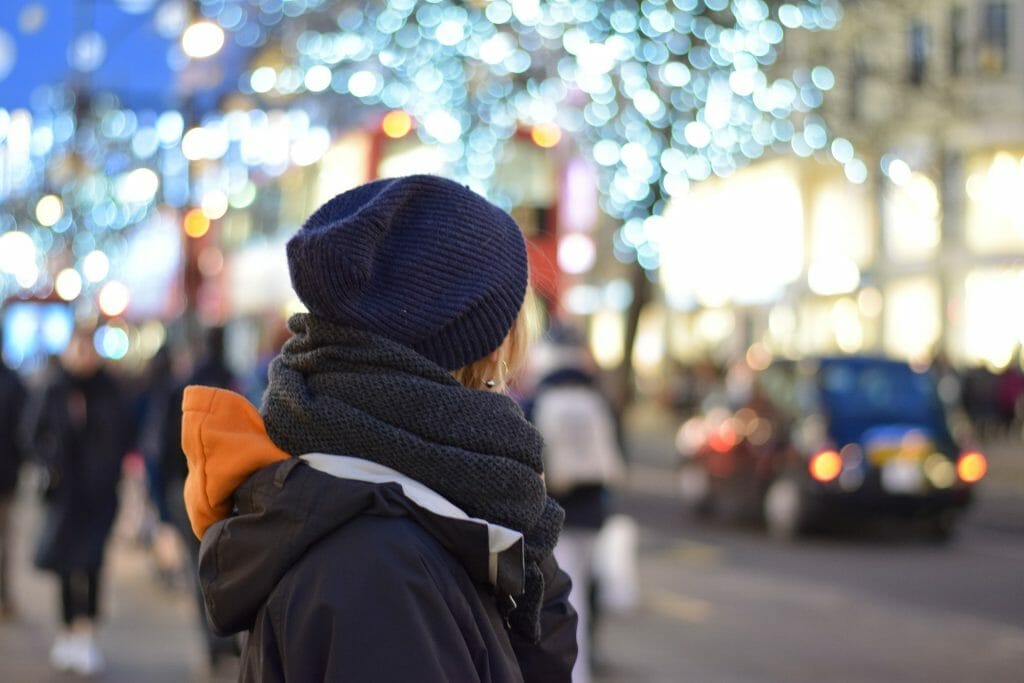 Clothes You Can Layer
Even when it's cold outside, you'd be surprised how much your temperature can change when you're walking a lot and then taking the tube.
The mornings and evenings, too, will be colder than the day, so you don't want to be just choosing one layer to wear in the mornings.
Instead, I recommend bringing clothes like light sweaters (love these ones) that you can layer and cardigans like these that you can pull out when necessary depending on your outfit.
Just make sure you are able to take off some kind of layers if you heat up, as it's very uncomfortable to be sweating your face off on the Central Line while it's like 20 degrees outside.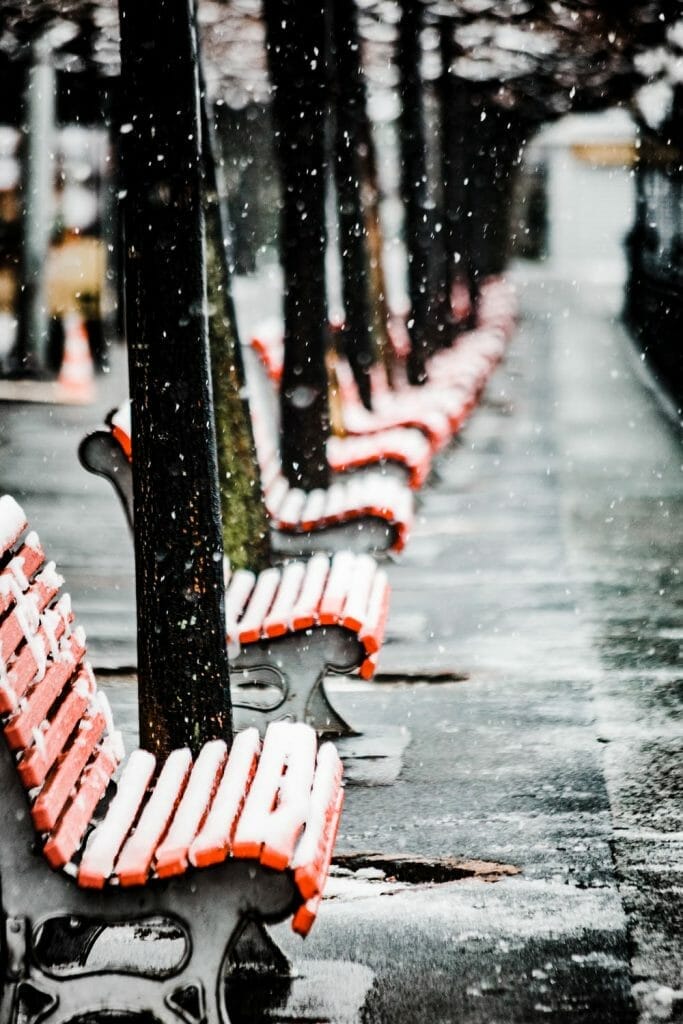 An Adorable Winter Hat
London in the winter was made for adorable winter hats.
Londoners love a hat, you love a hat, we all love a hat (or maybe you don't, but you should consider trying it if you haven't yet).
I like comfy beanies like this one, or you could go for a tighter fit like these ones if that's more your style.
You lose a lot of heat through your head, and particularly in the damp and cold, a hat does an excellent job of keeping you warm in London in the winter.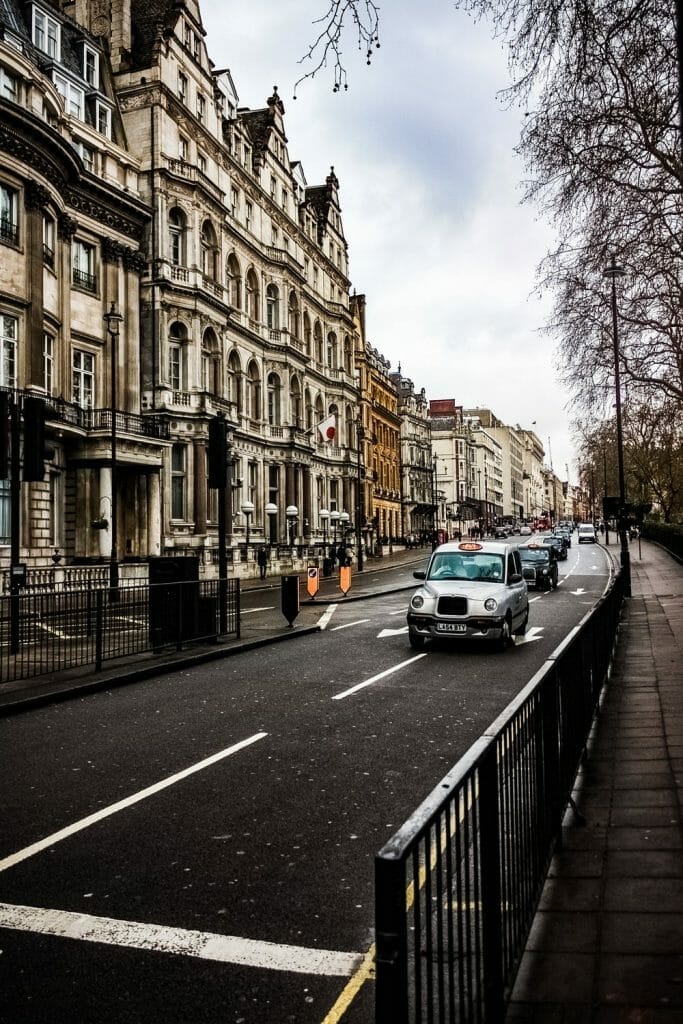 Gloves with TouchScreen Capability
Now, I know that gloves with smartphone touch capability are not the most fashionable gloves out there sometimes, but just hear me out.
You're in London, it's cold, you want something on your hands to keep them warm because they're freezing and wet, but suddenly, you need to look up directions on your phone.
Or take a picture.
Or call to make a reservation.
Or post on Facebook to show all of your Facebook friends that you're living your best live while they're at home in rural Idaho (no offense to rural Idaho, that's just where I imagine they're stuck).
You don't want to have to deal with taking your gloves on and off and dropping them in a ditch somewhere.
Instead, get a pair of ones that work with touchscreens like these so you can transition easily between using your phone and enjoying London.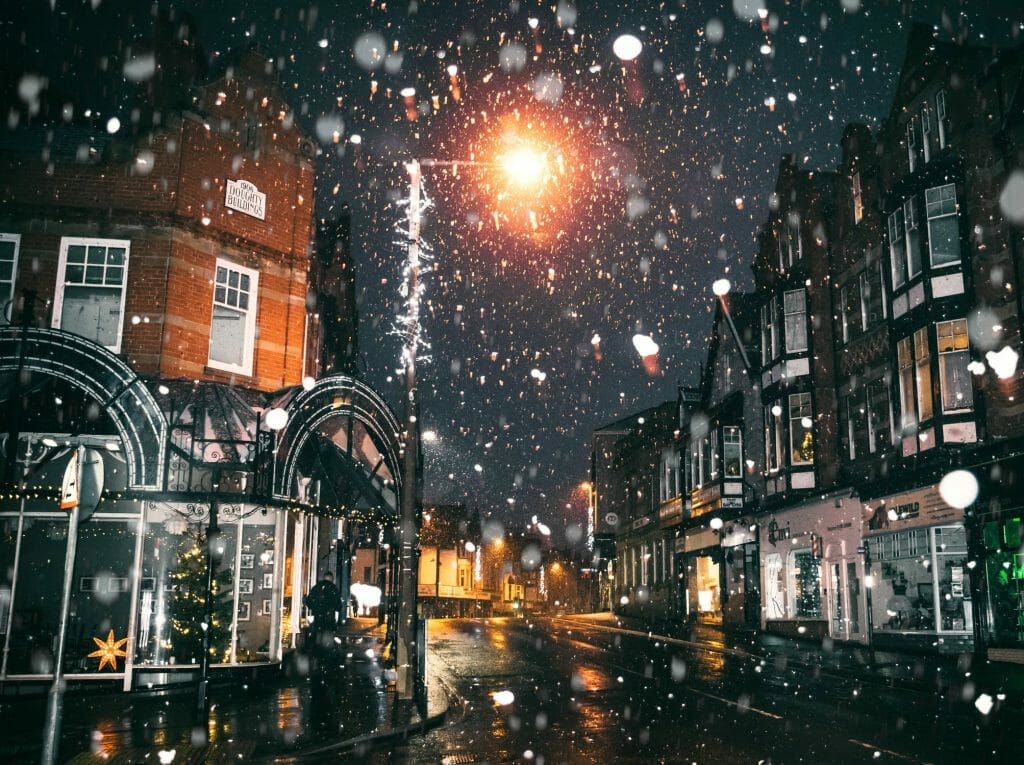 Warm Scarves
I love a scarf for completing my outfit and really keeping my neck warm in the winter.
They're very popular in London as a way to add a something extra to your look and also being practical.
Try these ones if you want the subdued London look, or this one if you don't mind more of a drop of color.
Vitamin D supplements
Okay, I sort of fibbed – there is one non-clothing item I would recommend, and that is Vitamin D supplements.
We use these ones, and they're just so helpful for making sure you have enough Vitamin D in your system that you're definitely not getting from the sunshine!
If you're coming to London, you'll also appreciate some of our other London guides, including…

x The Ultimate London Packing List for All Seasons
x London's Most Iconic Attractions to Add to Your Bucketlist
x A Dummy's Guide to Getting Around London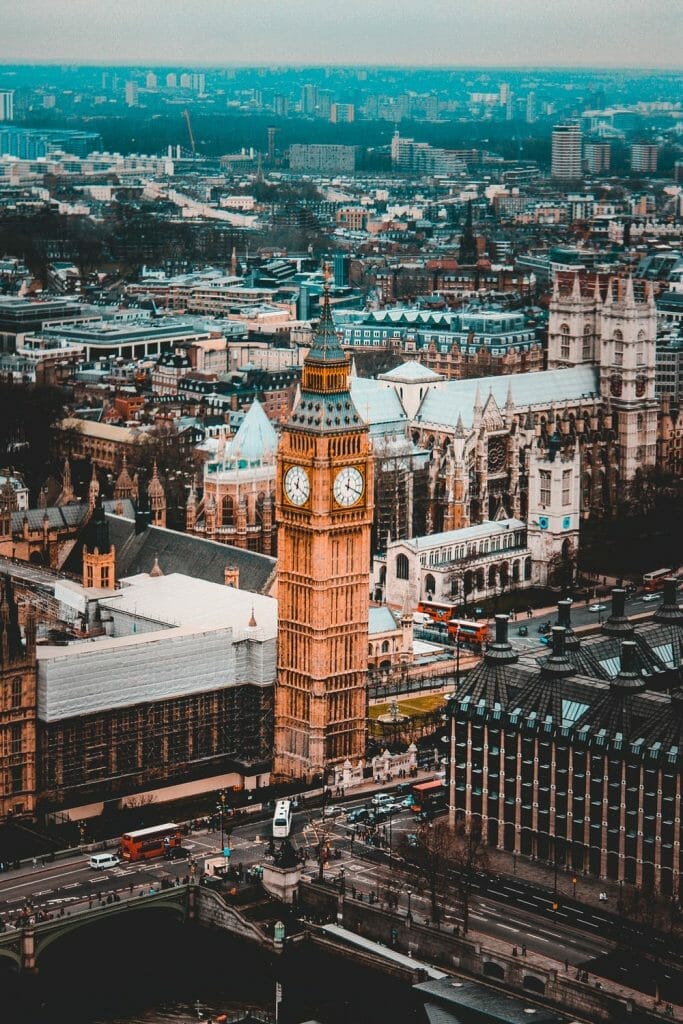 How to Get to London in the Winter
Getting to London in the winter isn't much different than the rest of the year, as luckily it doesn't snow that much to cut off your exits and entrances.
You can fly into any of London's airports: London Gatwick, London Heathrow, London Luton, London Stanstead, or London City.
If you want to learn more about my recommended way to get from the airport to your hotel, check out my full online guide to planning a trip to London.
If you're traveling from Europe by train, you can catch the Eurostar to London from Paris that runs every day into London's St. Pancras Station.
One thing I would say to keep in mind about getting to London in the winter is to keep in mind that even if London doesn't have snow, you may want to build in extra time for your travels in case your flight is delayed due to deicing or dealing with weather impacts in other parts of the UK or Europe.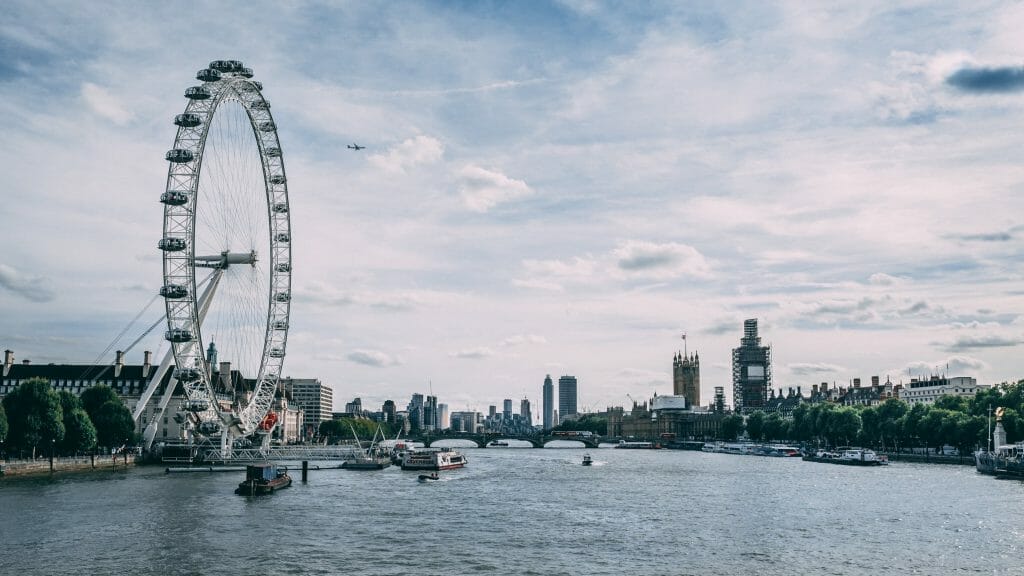 Getting Around London in the Winter
You can leave your snowshoes at home and opt for the tube instead.
Getting around London in the winter is, again, similar to how you would get around London all year, though I would say that particularly when the weather is particularly dreary, you may find more people taking the tube and buses rather than walking.
I still do think you should walk as often as possible in London, but there's no denying that when it's pouring down rain, you're going to want to have a back-up option.
London's underground system, known as the "Tube," is going to be your saving grace for traveling around London in the winter, and you can read all about how to navigate the tube, as well as my guide to London tube etiquette.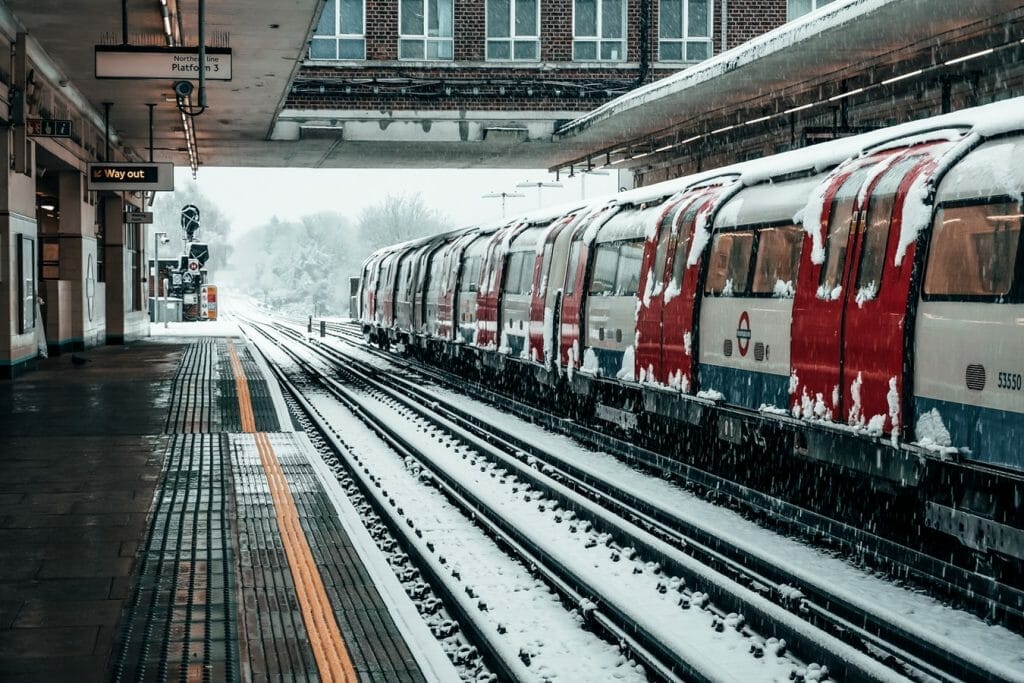 Another fantastic option are London buses, which allow you to see more of the city and let you ride a double-decker bus for little money, which, for many people, is a dream come true!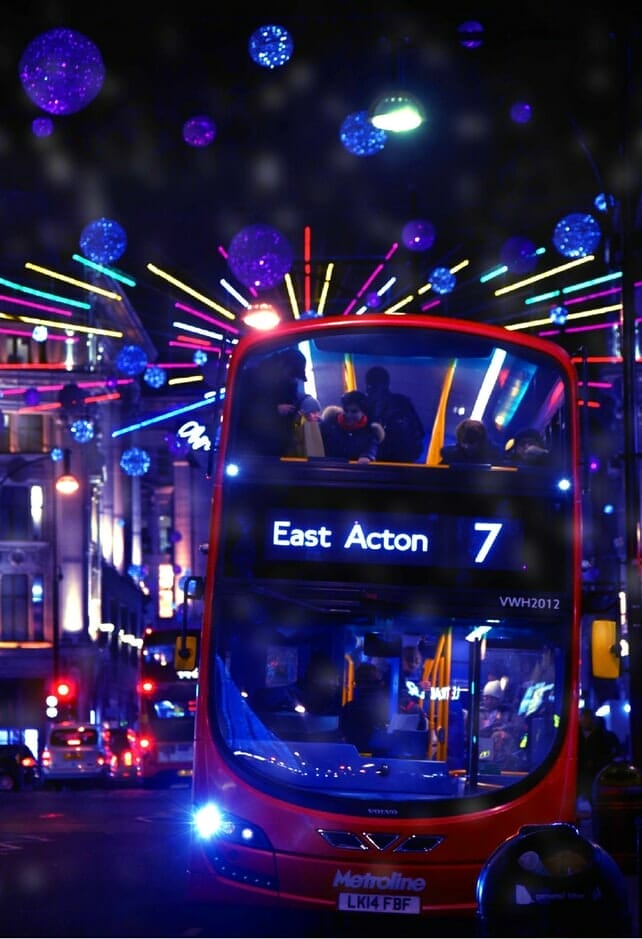 London top tip: you can't use cash on London buses, so make sure you've read my guide on Oyster cards and contactless payment cards!
I wouldn't recommend using a bicycle, even the cool rental ones, to get around London in the winter.
The darkness, the dampness, and the rest of the cyclists on the road also dealing with the darkness and dampness does not make it a nice place for tourists to be.
Oh, and one final, important note for those of you spending Christmas or Boxing Day (the 26th of December) in London – most public transportation is completely shut on Christmas Day, including buses and the tube, and there is a reduced service that runs on Boxing Day.
I'll talk more about what to do on Christmas in London below, but factor this into your plans by planning to walk or take a London taxi.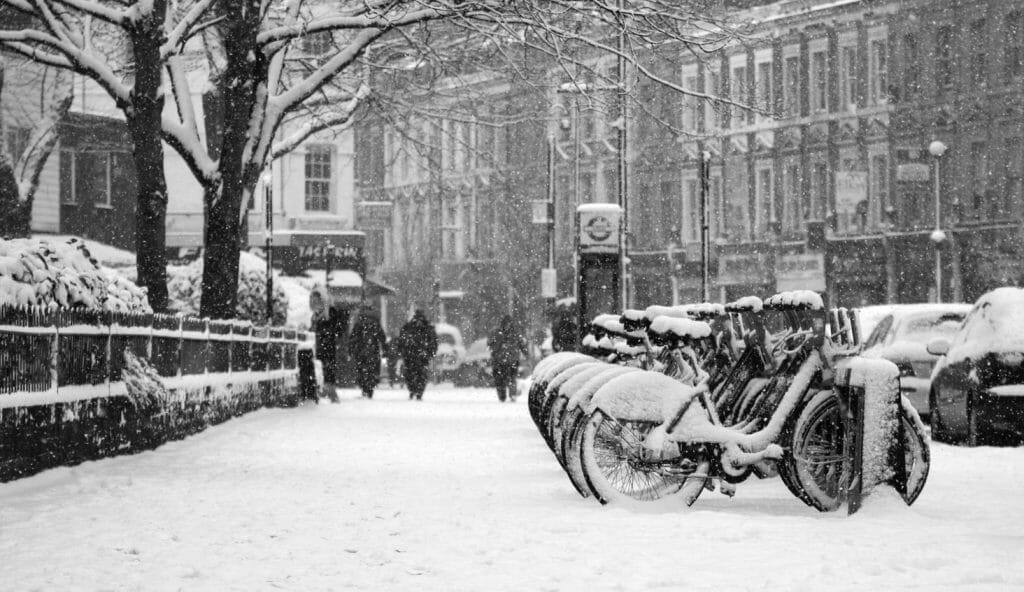 Best Things to Do in London in the Winter
Whether you're coming to London in December, London in January, or spending February in London, these London winter activities should be moved to the top of your list, in addition to the iconic London attractions that you also don't want to miss.
1. Hyde Park's Winter Wonderland
Ready to walk in a winter wonderland, but for real?
This Christmas market and festive area and all-around cheerful event is one of London's most popular Christmas destinations.
It's located in Hyde Park, which is a good thing as the market is massive and Hyde Park has the space for it.
Opening in late November until early January, you'll find ice skating rinks, places to eat, Christmas markets, a Christmas circus, and shows like Paddington on Ice and a Winter Wonderland Comedy Club.
It doesn't cost anything to enter Winter Wonderland, though you will want to prebook if you are interested in any of the shows or events.
Click here to learn more about Hyde Park's Winter Wonderland.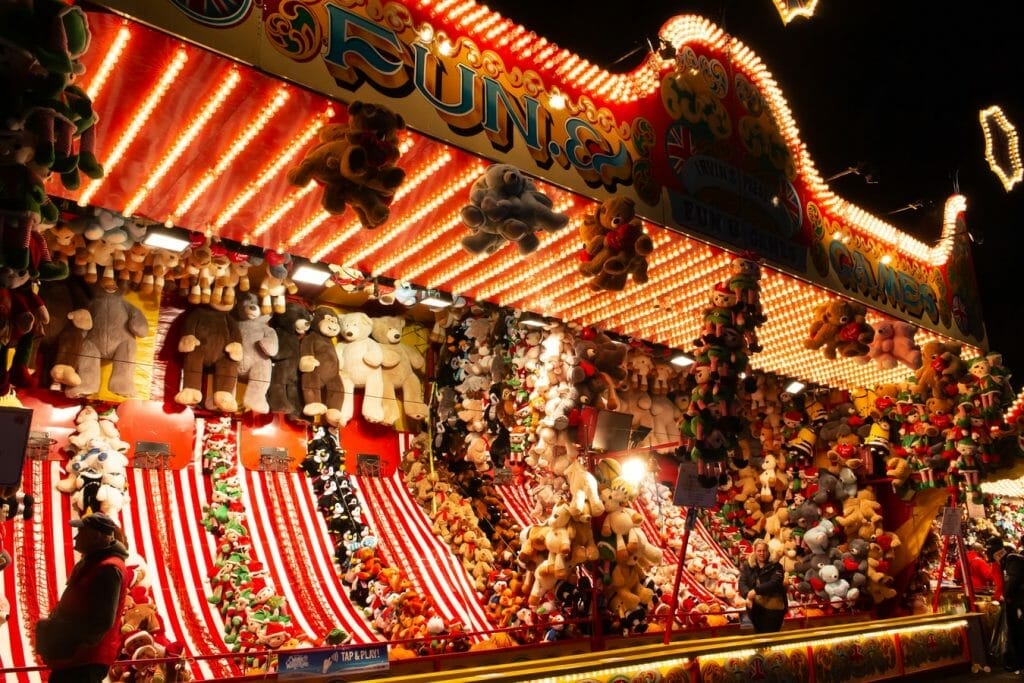 2. Ice Skating through History
You can't come to London during the holiday season without ice skating!
Okay, so it's not Rockefeller Center – it's better.
Choose to skate in the moat of the Tower of London, glide your way across the ice under the towering presence of the Natural History Museum, or head out somewhere like Hampton Court Palace for a unique ice skating rink with colorful projections onto the palace behind you.
You can rent skates from whichever option you choose, and this is another one that I highly recommend booking in advance as places do fill up.
Also, keep in mind these are outdoor rinks, so don't forget the cozy winter wear mentioned above.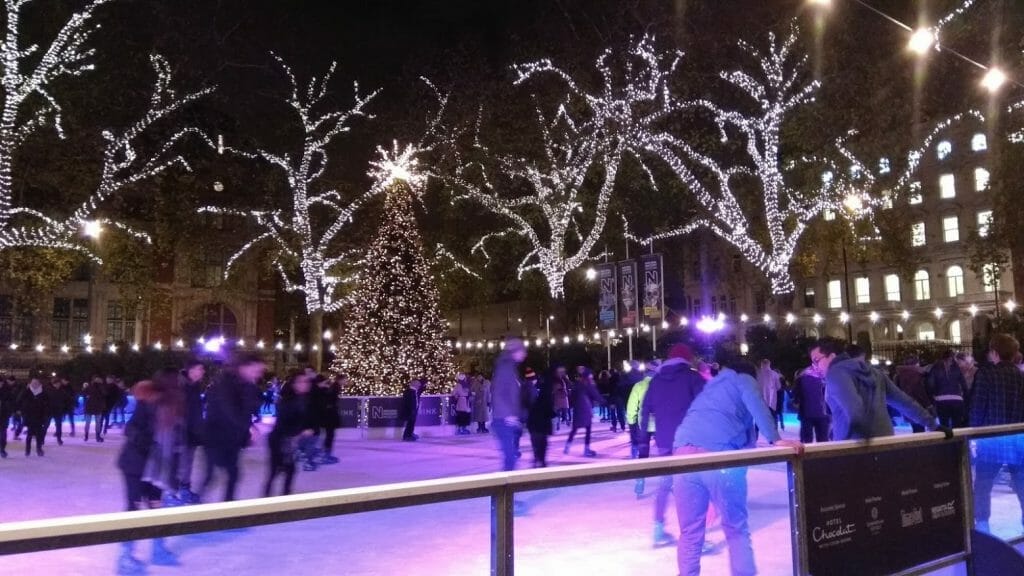 3. Southbank Christmas Market
Head to Southbank, the stretch of the Thames River near the London Eye, and appreciate a wonderfully festive world of Christmas markets.
These are fantastic Christmas markets to explore at any point in your winter stay, as they're super central and make for an easy detour.
Enjoy warm cups of hot chocolate as you peruse the stalls, take a moment to see the twinkling lights above the river, and soak in the festive atmosphere that London in the winter is so known for.
Christmas at Southbank runs from early November until early January.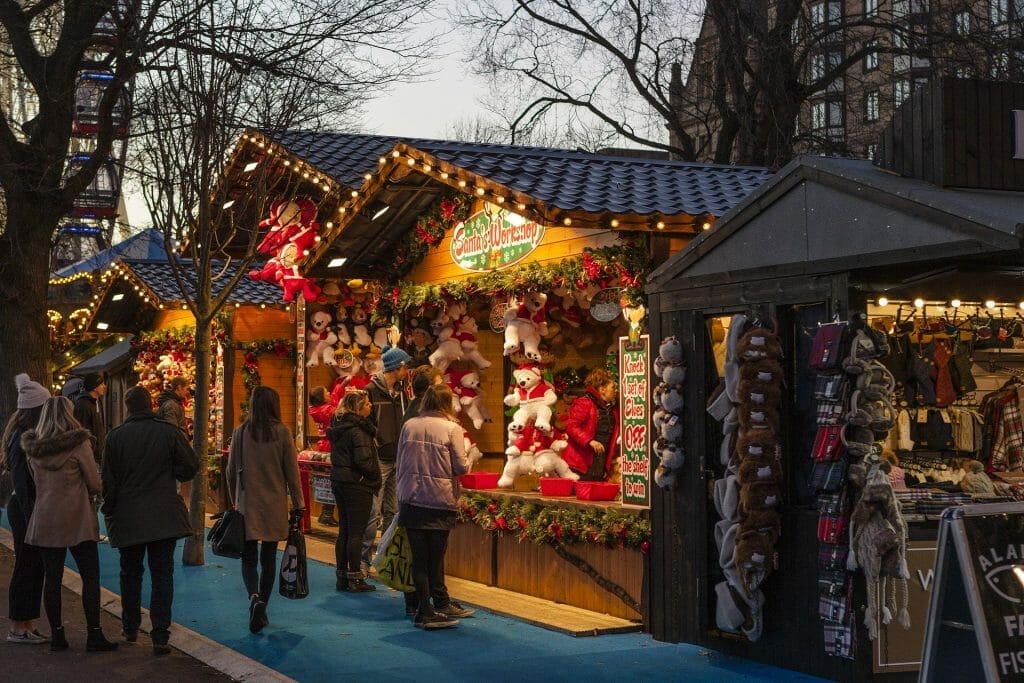 4. Kew Gardens Christmas
Head down to Kew Gardens for a Christmas light display, Christmas market, and unique Christmas inspired botanics in a way you've never seen them before.
Kew Gardens is London's premier botanic gardens, and at Christmas, they open up to visitors with prebooked tickets in the evening hours, once dusk settles, to enjoy the atmosphere and wander through their Christmas trails.
This is an incredibly popular London event and sells out quickly.
Very quickly.
You'll want to check here for tickets to see if there are any during your stay as soon as you can if this sounds like something you'd be interested in.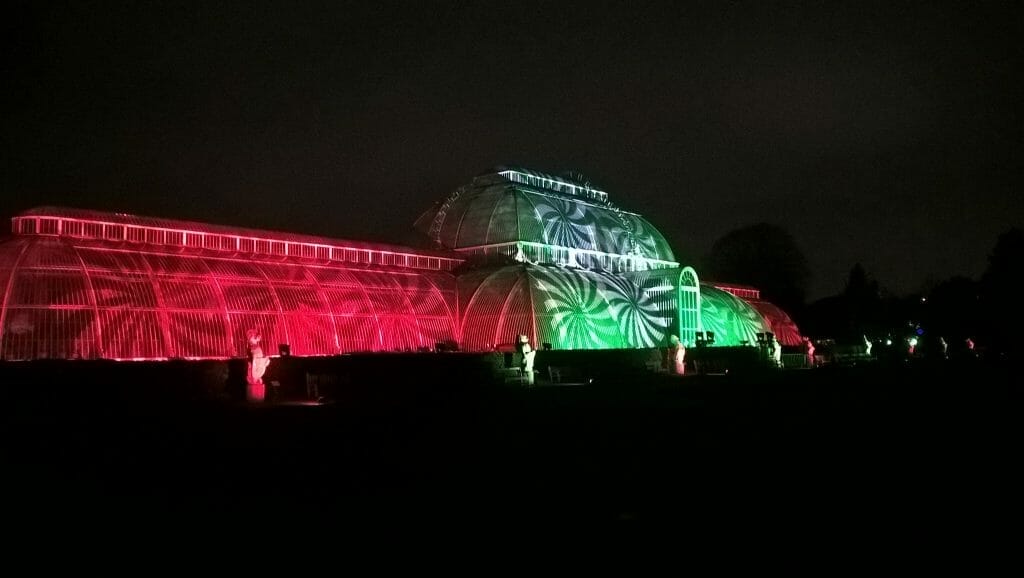 5. See a Panto
Short for "pantomime," a panto is a classic British Christmas tradition.
Think of it like a school play, but put on by experienced actors, who are trying to be cheesy.
Pantos aren't supposed to be the best play you've ever seen, but they are supposed to make you laugh and there are various interactive antics that involve the crowd shouting things back at the actors.
It doesn't get more authentically British than this, so if you're in the mood for something a bit different when you're in London in the winter, just search for "London panto" and you'll come up with the offerings at various theatres during your trip.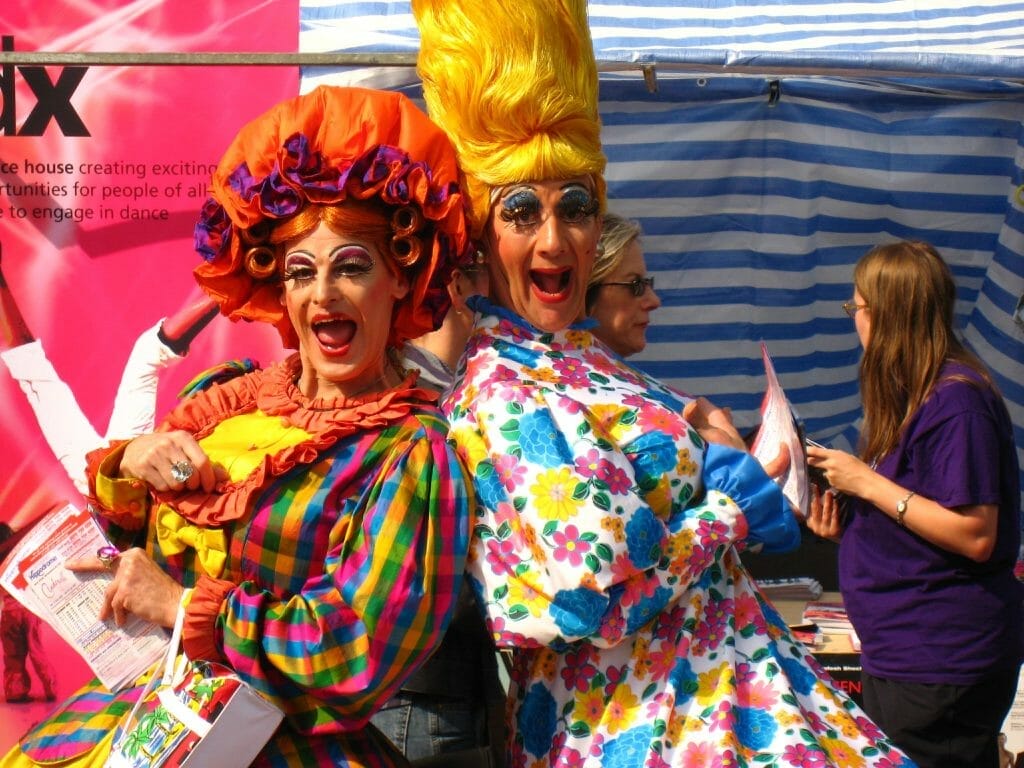 6. New Year's Eve Fireworks
In all of the Christmas festivities, the New Year's Eve fireworks shouldn't be forgotten.
If you're in London on New Year's Eve, you should know that the city does official fireworks over the river.
You do need to purchase tickets in advance in order to get into the actual official event, but there are also viewing parties held throughout the city and in other areas, including the Southbank.
New Year's Eve in London is absolutely packed, but if you go in knowing that, you'll have a great time.
The tube also runs for free on New Year's Eve night late into the next morning to help people get home safely.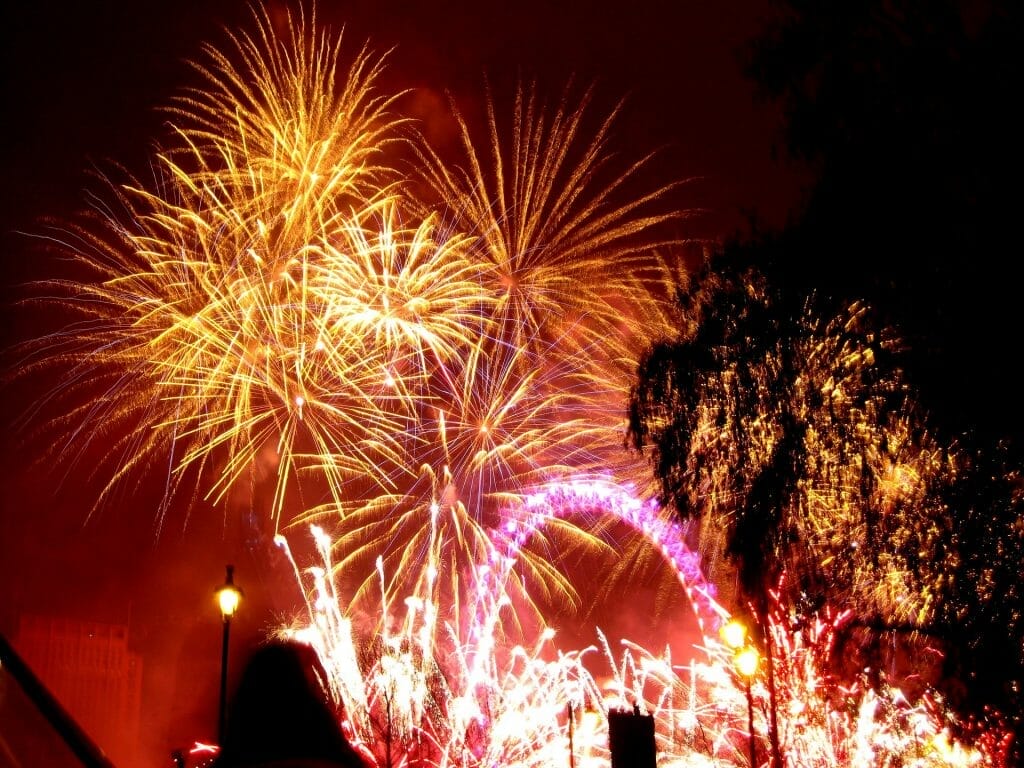 7. Watch Festive-Themed Theatre
Sure, you should see the classic London West End shows like Matilda, The Lion King, Wicked, and more, but if you're traveling to London in November and December, you should also see if you can get yourself tickets to a festive show!
Popular ones include A Christmas Carol, which is playing at the Old Vic in 2022.
There are also frequent visits by ballet companies putting on the Nutcracker if this is part of your winter tradition.
Another popular British Christmas musical is called "Nativity!" and is a charming show within a show about a group of kids and their schoolteacher who put on a Christmas production – of course with a romcom part for the adults as well.
Finally, do a search for showings of "The Snowman" – this very classic British tale has music that is so beautiful it's almost melancholy (I know, I'm not really selling it), and this is a great choice for families to see together.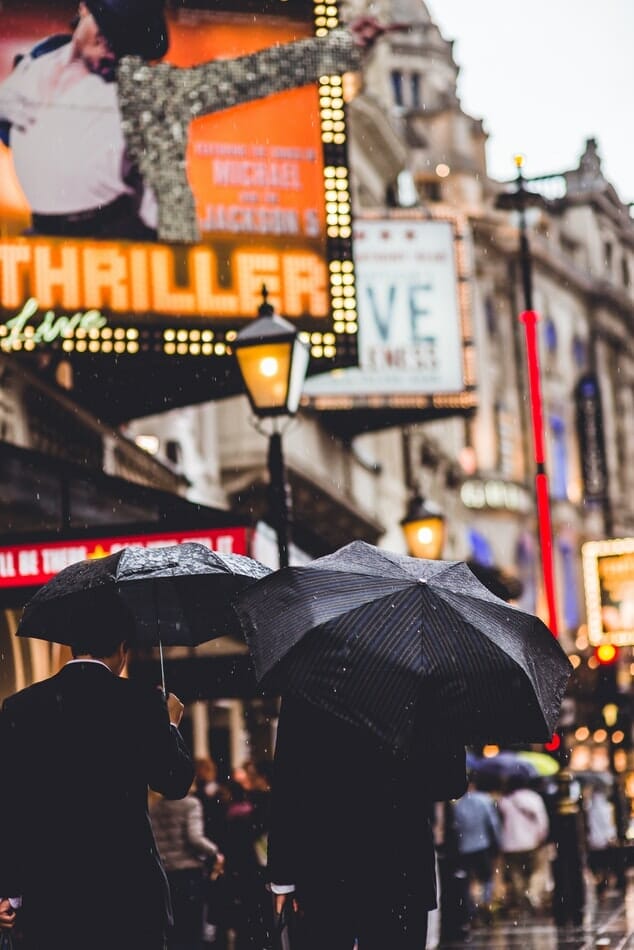 8. Have Christmas Themed Afternoon Tea
Oh yes, you heard that right.
Festive afternoon tea.
Not just your grandma's tea and scones!
There are quite a few options for Christmas themed afternoon tea in London, but I love the one aboard the Brigid's Bakery Bus.
You can enjoy the Christmas afternoon tea while looking at Christmas lights, and that just seems like the best thing since London winter sliced bread.
Check out more about the Christmas afternoon tea bus tour here.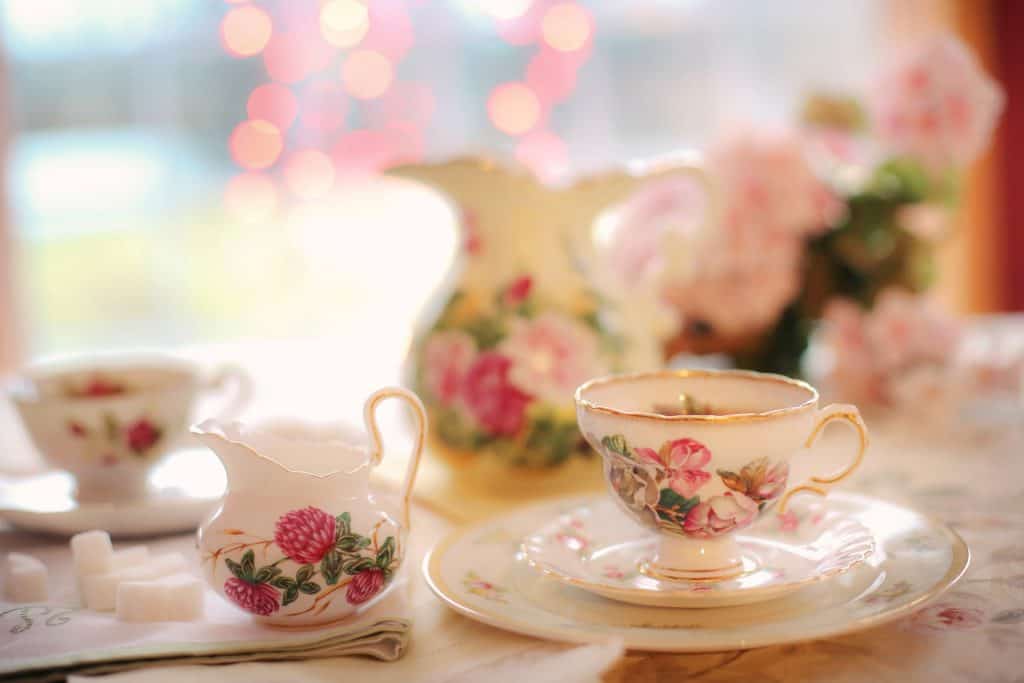 9. Listen to Christmas Music at the Skygarden
You've heard me talk about London's Skygarden in various posts (like this one where I encourage you to see the London view from here instead of the Shard!), but it also comes alive in December with Christmas music nights in the evening.
You can purchase tickets ahead of time and get a glass of mulled wine and a mince pie to go with it, or you can take your chances as a walk-up after 6pm.
Live music, beautiful views of London, drinks, and the company of your travel companions?
Yes, please.
10. Christmas Carols at the Royal Albert Hall
London's Royal Albert Hall in South Kensington is one of the most beautiful venues in the entire city, often playing host to classical music concerts such as during the summer with the BBC Proms.
For those of you who want some festive events in November and January at this stunning venue, your wish has come true!
They have a number of Christmas concerts and carol events, ranging from singalongs to modern Christmas carols to more traditional evenings.
Click here to see what's playing at the Royal Albert Hall for the holiday season.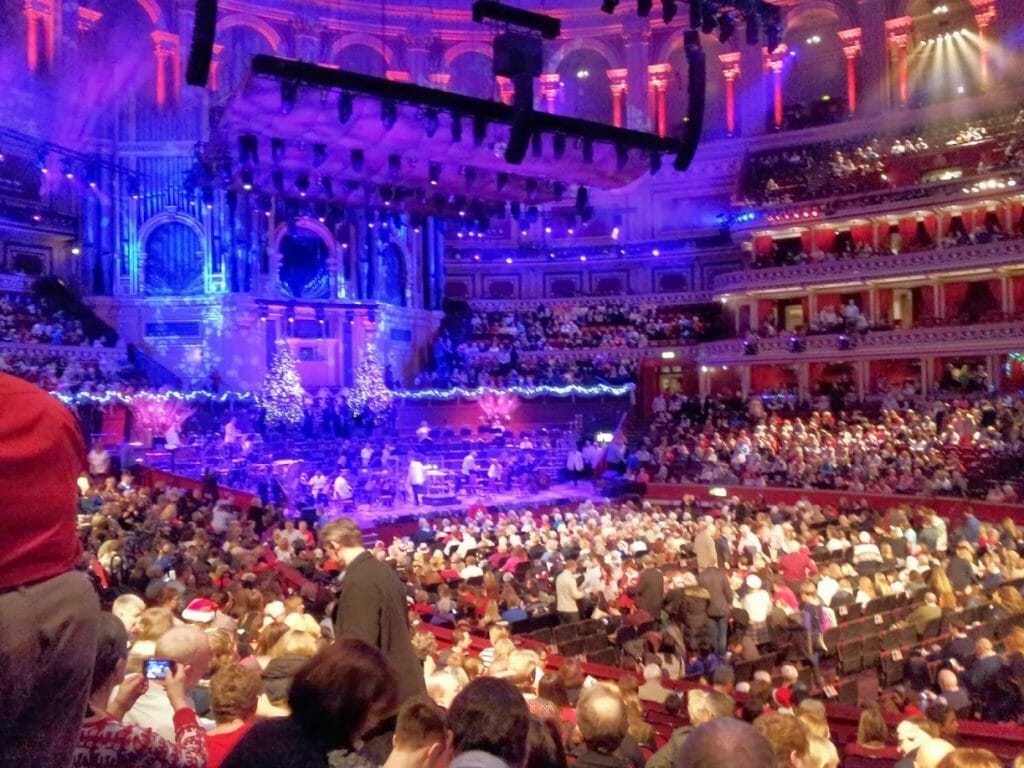 11. Coppa Club Tower Bridge
Ever dreamed of spending your winter in an igloo?
At London's Coppa Club, you can book out one of these awesome igloo-inspired riverside dining experiences that come complete with warm blankets.
Smell the evergreen smells as you lounge on the cozy couches and look at the gorgeous views of Tower Bridge in the background.
They have a set menu for Christmas events, as well as regular menus that includes brunch.
Because I love brunch, and London does too.
12. Experience Christmas at Harrod's
London's most famous department store, Harrod's, is located in Knightsbridge and really does it up with the Christmas decorations and section.
Visit at any time of day to wander through the rows and rows of Christmas themed shopping and take the chance to purchase a gift for someone from home (despite Harrod's expensive reputation, not everything there is going to cost you your first born child).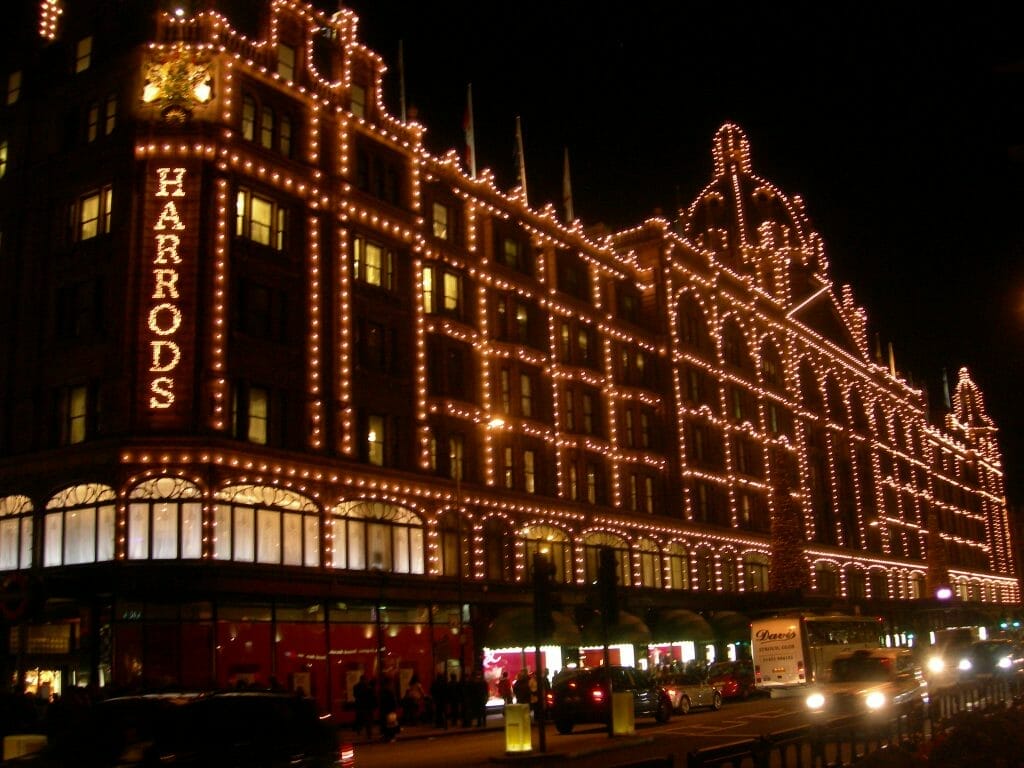 13. Take the Kids to Hamley's
You know in Home Alone 2, when Kevin lives all of his toy store dreams while he's trying to come up with ways to booby trap the place for the bad guys?
Hamley's is London's best toy store for kids, and there aren't even any bad guys that you have to worry about.
Kids and adults alike will love a Christmas visit to Hamley's, which is decorated for the holidays.
But there's no promise that they're not going to come out asking for everything in there, so proceed with caution.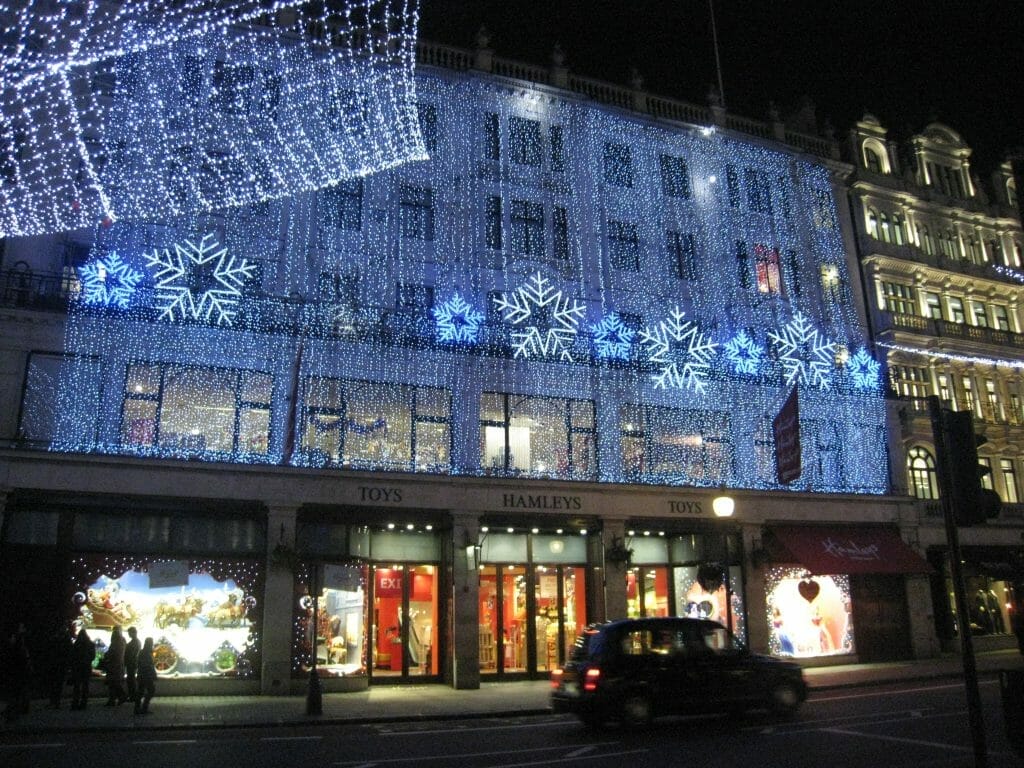 14. Enjoy the Lights on Oxford Street, Regent's Street, and Carnaby Street
The major Christmas lights go up in London on Oxford Street, Regent's Street which intersects Oxford Street, and Carnaby Street in Soho which is also walking distance from the main hub of lights.
While you should keep in mind that this area can be extremely busy, it can be a fun festive night out to walk along these streets and do some shopping or dining along the way as you soak in the true fast-paced London life.
Also, there's a Disney store on Oxford Street, in case any fellow Disney fans need some British-themed Mickey Mouse gear to make an appearance in their lives over the holiday season.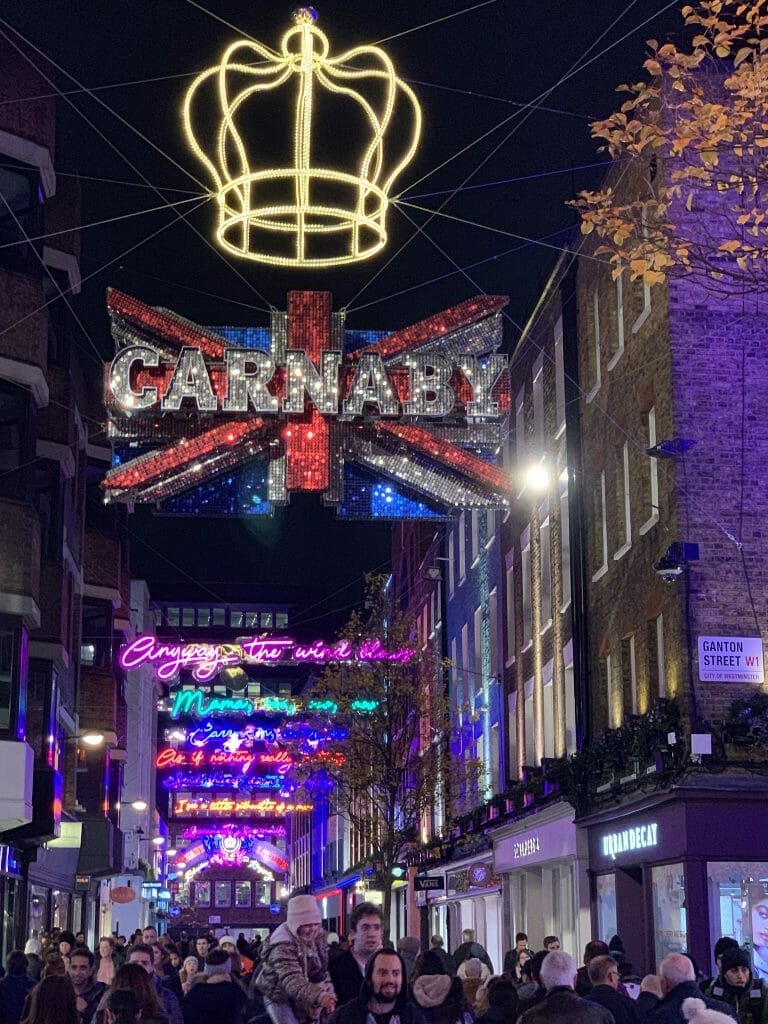 Things to Do in London on Christmas Day
Christmas Day in London is a wonderful time to spend with your family, snuggled up in your hotel room or walking the empty streets of London.
The streets are quiet, giving you space and time to really soak up the architecture and wander across and around streets that normally would be filled with cars and bars.
You should know that London is a city that likes to shut down on Christmas Day, so you need to plan your day carefully.
Most attractions, and many restaurants, are closed, as well as many pubs (particularly in the evening) and theatres.
Even Hyde Park's Winter Wonderland, the main Christmas market in London, is shut on the day.
London top tip: Christmas Day is the main day of Christmas celebration in the UK (unlike in some European countries where Christmas Eve is more important), but you should still check schedules on Christmas Eve as well, as attractions may be closed or close early.
If you're around London on Christmas Day, here are my favorite things to do in London on Christmas Day to still feel all holly and jolly.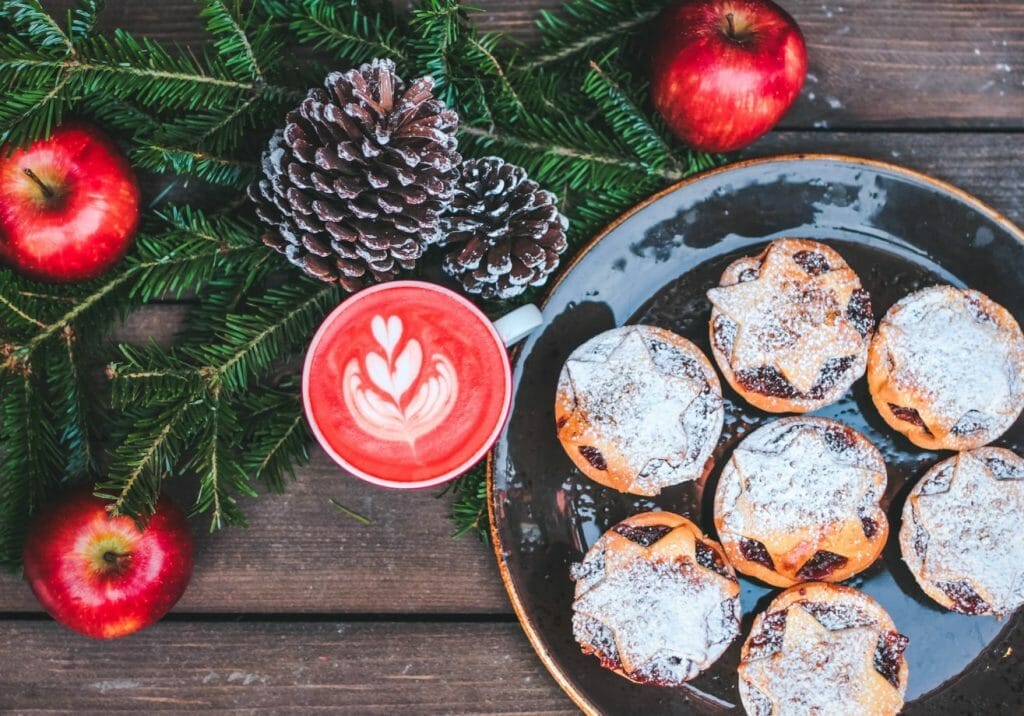 15. Take a Christmas Bus Tour
Imagine a bus tour which has to deal with little traffic, giving you the best views of London, complete with a mission to show you the best Christmas lights in London?
On Christmas Day, you can take this Christmas lights bus tour to enjoy the sights of London decked out for the holidays.
It's a bit more expensive than a normal bus tour in London, but given how much doesn't run on Christmas, I'd be happy it's running at all and take them up on it!
Click here to check out tickets for the Christmas lights bus tour.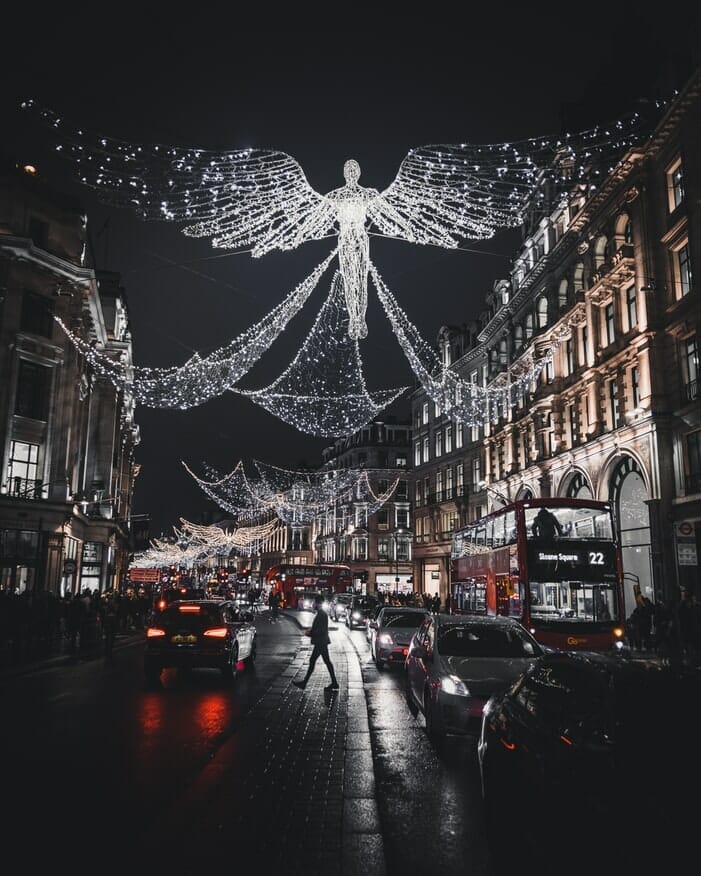 16. Book Yourself a Pub Lunch
If you want to book Christmas lunch for you and your family, make sure to book ahead of time because you can't normally walk into most restaurants in London on Christmas Day and be seated.
Most will be serving a Christmas special that can range anywhere from £40 per person to £150 per person and upwards.
You can also find places that will let you order off the la carte menu, but make sure to check with the restaurant ahead of time what the options are.
I like to use OpenTable to find out what restaurants are open near me on Christmas day.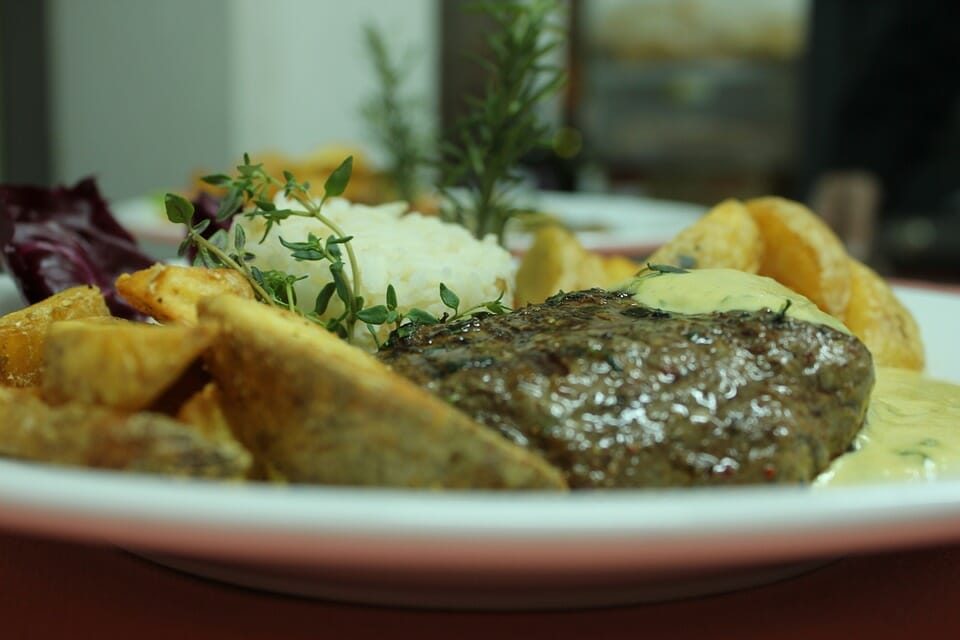 17. Go for a Walk through the Royal Parks
London's parks are open on Christmas Day, which makes for a nice stroll before you enjoy your meal.
As the light fades early on Christmas Day, I recommend doing this as a first port of call in the morning after presents.
Then, enjoy your lunch or late lunch, and then finish with the Christmas lights tour and some evening Christmas light looking either by foot or by London taxi!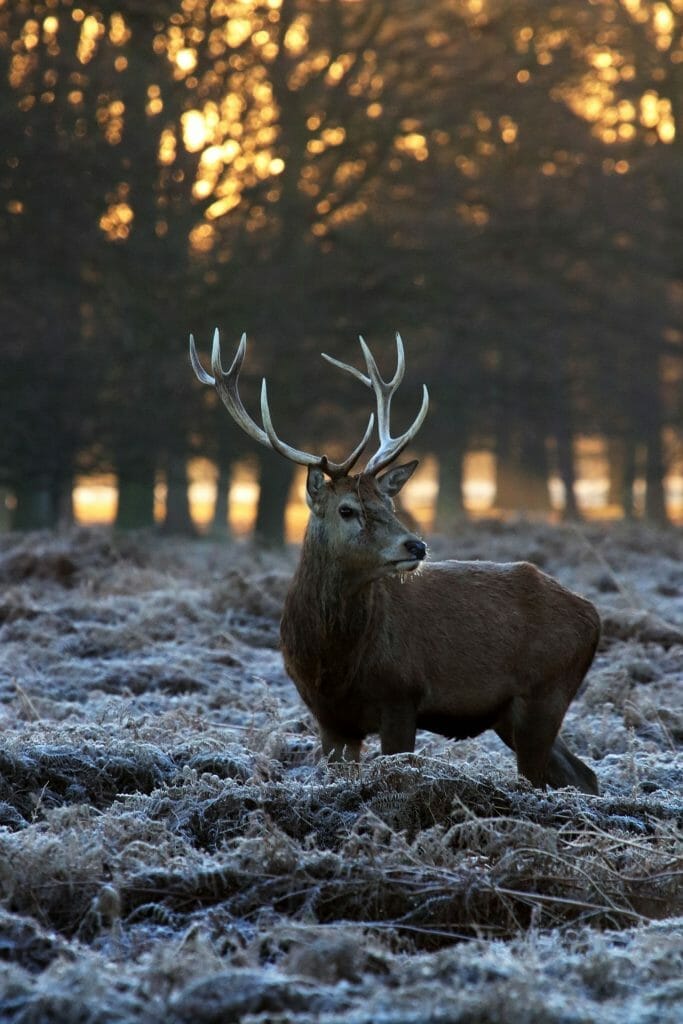 Weather in London in Winter
As mentioned, the winter weather in London is more mild than you would expect further north in places like Norway, but you're not going to get the beautiful 75 degree winters like southern Spain.
It ranges from about 30-50 degrees depending on the month, and the winter is one of London's rainiest seasons.
I've compiled information on the weather in London in each winter month so you can see what you might be in for.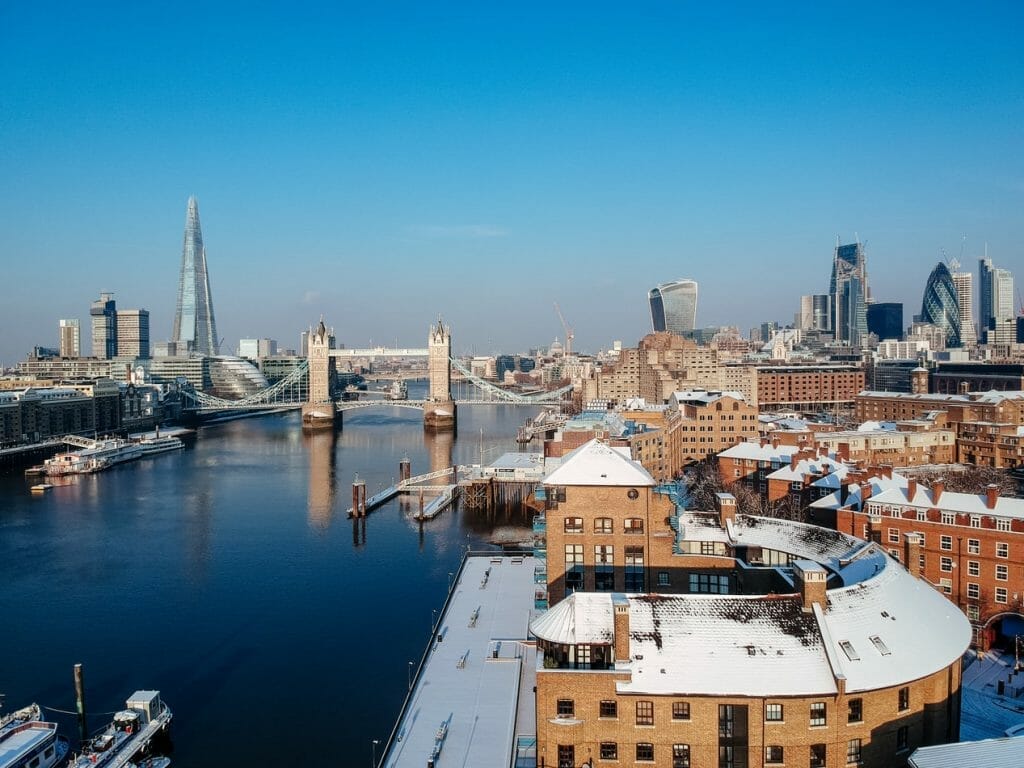 London's Weather in December
The last month of the year brings an average high of 45 and an average low of 37 – not as cold as January, but starting to frost up cars and the grass at times, particularly outside of London in the countryside.
The average number of days with rain stays steady at 17 and overall December (and winter) is rainy.
The daylight hours drop further to just about 8 per day, with the darkest day of the year at the end of the month with the winter solstice.
You can expect sunset before 4:00pm in December – a very unusual thing for people who are used to more steady daylight hours.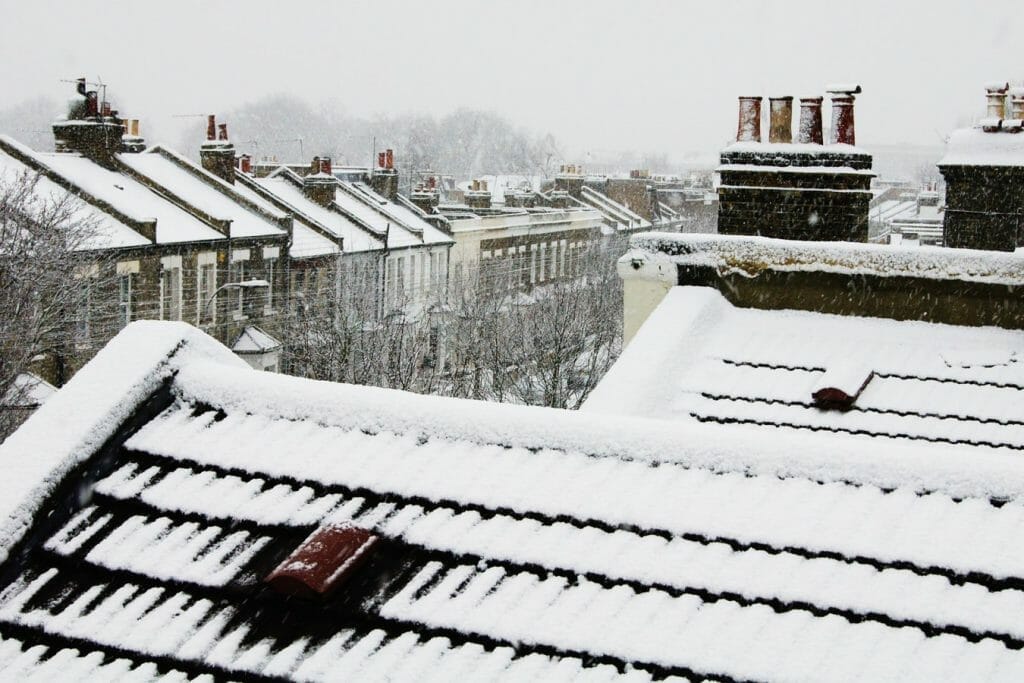 Weather in London in January
The average high in January is 43 F and the average low is 37 F.
January can be a bitterly cold month, and while it doesn't snow in London frequently, January is one of the strong contenders if it does happen.
It's, on average, the coldest month in London.
As far as rain, it wins the title for rainiest month when it comes to the days it rains, and it's also up there in terms of how much actual rain it gets (regardless of what days this rain falls).
January also ties December for the lowest amount of daylight hours at around 8 per day – it can start getting dark in the late afternoon and by "evening" it's pitch black.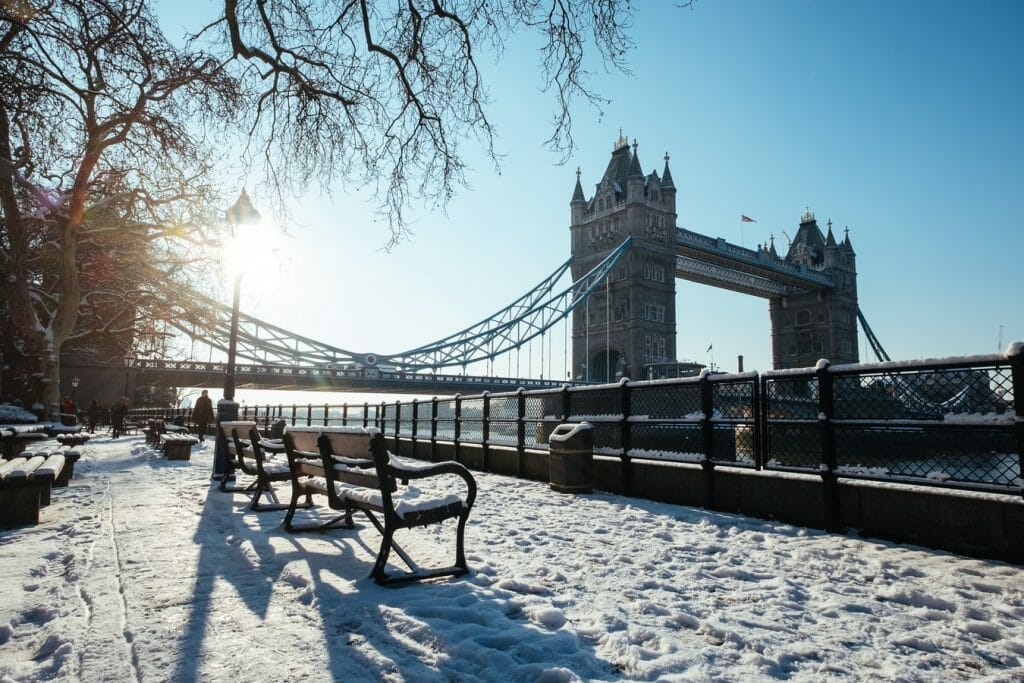 London Weather in February
The average high in February is 45 and the average low is 37.
It's just marginally warmer than January, but not by much.
This is another contender for snow and snow in February wouldn't be unusual (though a massive snowstorm is rare).
For rain, it has fewer rainy days on average than January (about 16) and the actual rain levels are also lower, but it's still rainier than March and April.
The average daylight hours in February go up to 9 per day – better than December and January, but it's still very much winter, after all.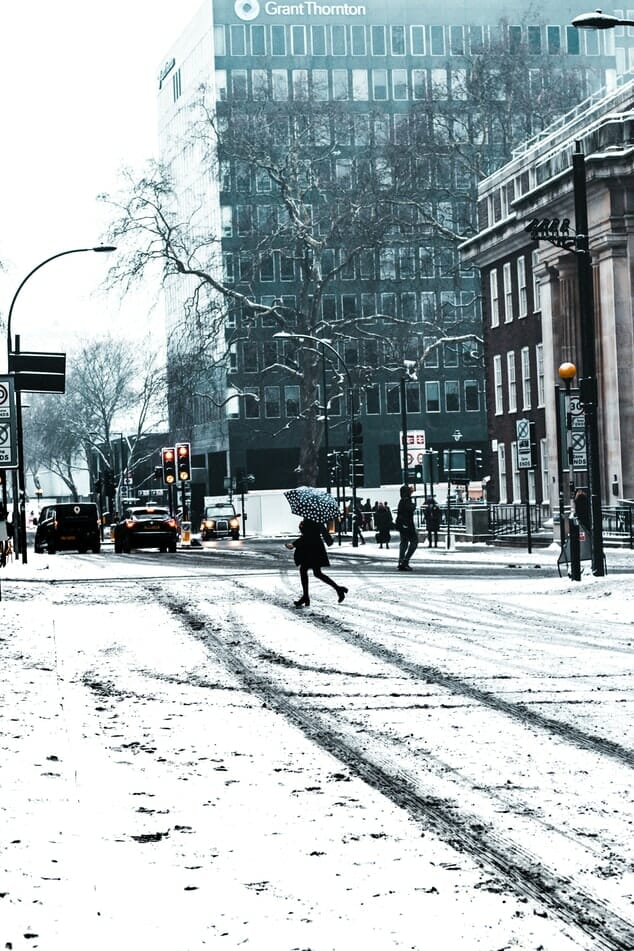 March London Weather
The average high in March is 50 and the low is 49 – a pretty big jump from the month before.
March is one of those months in the UK that can be very iffy – it wouldn't be unusual for snow, but you also could have some freak hot days.
In terms of rain, you're looking at about an average of 16 rainy days per March, but overall the precipitation levels are some of the lowest of the whole year (on average – again, this is just based on past weather, not a guaranteed forecast).
The average daylight hours in March jump to 11 hours per day and will start to increase more rapidly from this point until the summer solstice.
London usually feels still like winter in March, but with a hint of excitement in the air for Spring starting at the end of the month.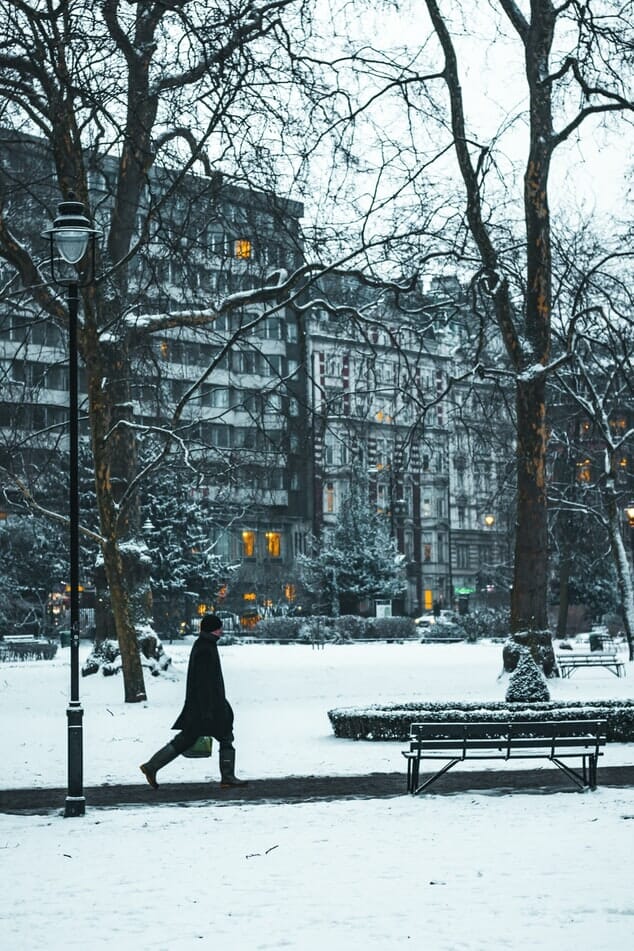 Best Day Trips from London in Winter
You shouldn't shy away from taking day trips from London in the winter, but equally you should be aware of some of the best London winter day trips to make sure you go somewhere that will be suitable for winter entertainment.
There's no point in going to some of the UK's most hopping summer seaside towns when all you'll find in the winter is maybe a sad playground and some aggressive waves.
Here are my picks for the best London day trips in the winter months, in no particular order!
Oxford
Oxford is small enough to be mostly walkable for a day trip, but with plenty of places to dip inside, including museums, cafes, and shopping.
They've also got their fair share of Christmas festivities, and you'll encounter lower crowds in certain parts of the winter as students will have gone home for their own holidays.
Go for a walk under the covered market, explore the hallowed halls of the Bodleian Library, and visit the many Harry Potter filming locations around the city.
I recommend heading to Oxford from London by using the Oxford Tube, a bus that runs from Victoria Coach Station directly into Oxford.
You can find out more about Oxford Tube tickets here.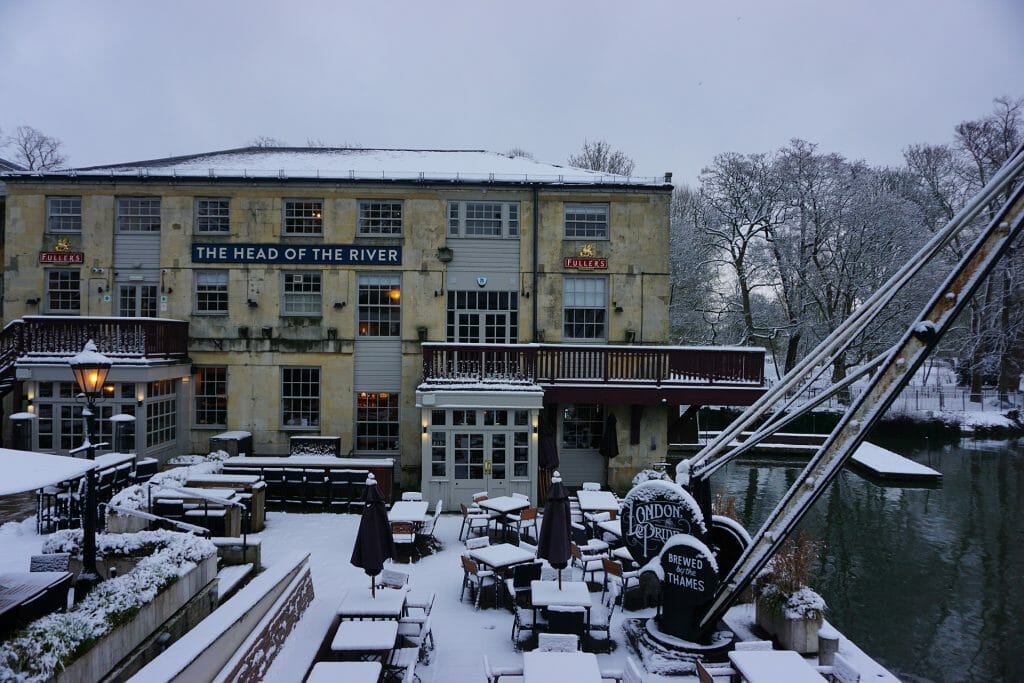 Windsor Castle
Windsor Castle, one of the Royal Family's favorite residences, is open during the winter months and has plenty of rooms to explore inside, out of the elements.
There is also an outdoor component, but if the weather truly turns, you can explore the other shops in Windsor which are filled with knick knacks and souvenirs.
You can also stop for a pub dinner to warm up before heading back to London.
I recommend getting to Windsor from London by direct train.
You can look up train routes at Omio.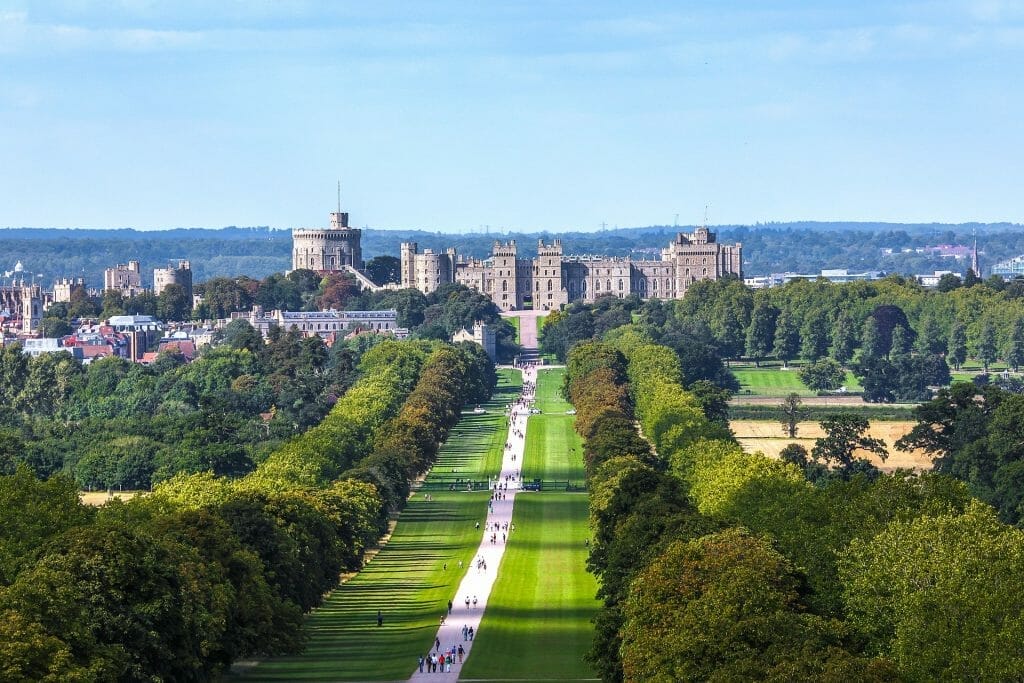 The Cotswolds
If you're looking for foggy and atmospheric countryside rather than towns, you'll enjoy the Cotswolds as a day trip from London in the winter.
These charming villages are filled with thatched roofs, lots of walking trails, and roaring fires which all adds to the winter atmosphere.
To get to the Cotswolds, I recommend taking a guided tour like this one, as you'll want to have car/bus access to explore as easily as possible.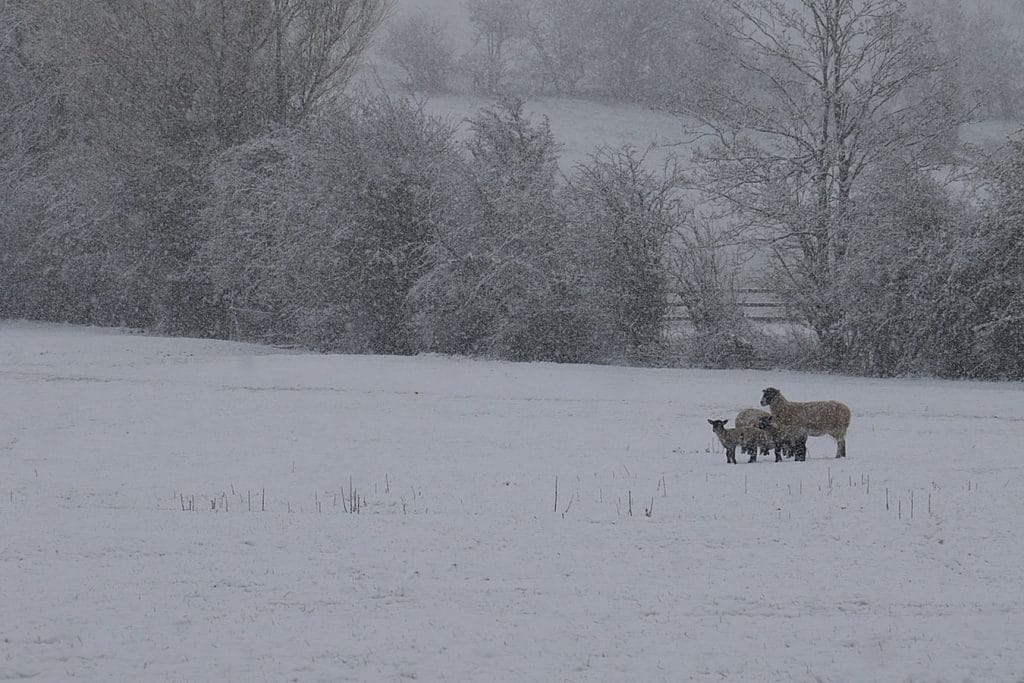 Best Tours in London in Winter
In addition to the Christmas lights tour that you can find here and I talk about more in the Christmas section, there are certain tours that I particularly recommend in the winter.
London top tip: in the winter months, don't get your heart set on an open top bus tour. Sometimes, the best place you can be is behind glass, enjoying the sights and sounds with a little bit of a wind and cold barrier!
The Ultimate Harry Potter Walk
I absolutely love this Harry Potter tour – it's the best one in London, and you can go on it year round.
It takes you through some of London's most important Harry Potter filming locations, and many people dress up in their robes and wands (though it's not all all mandatory or the majority, so don't feel awkward if you're in your muggle clothes!).
It is a mostly outdoor tour, so dress for the elements.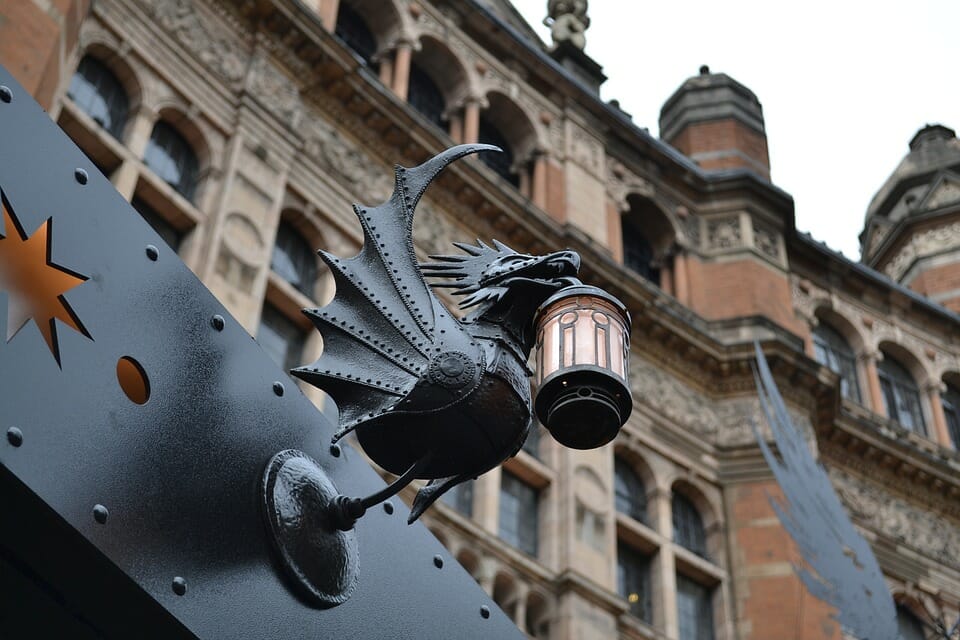 Harry Potter Studio Tour
While the previous tour is one around London, the Harry Potter Studio Tour is a self-guided tour that takes place in a town called Watford, at the studios where all of the Harry Potter series were filmed.
In Christmas, the sets get dressed up for the holidays and you can see the Hogwarts display in the snow, which is a truly magical experience for any Harry Potter fan.
Click here to see how to get there, including transfers to Central London, to the Harry Potter Studio tour.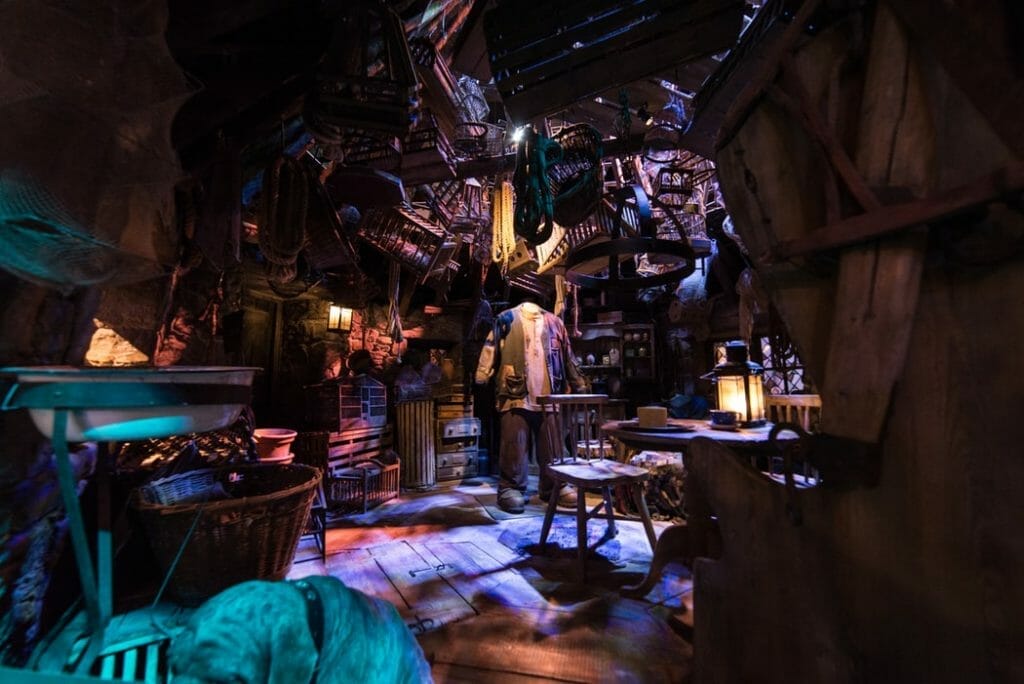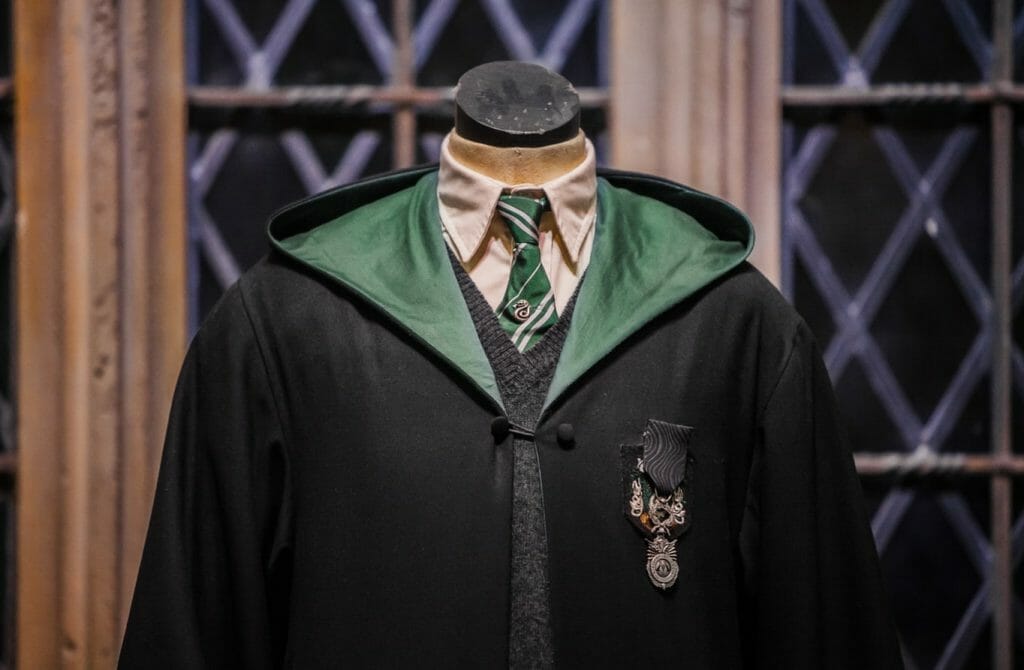 Jack the Ripper Walking Tour
What's better for a murder mystery tour than it getting dark super early and everyone being dressed up in black coats and hats?
This Jack the Ripper walking tour in London's East End is both cheap and a London must-do.
Where to Stay in London in the Winter
In my opinion, figuring out where to stay in London in the winter revolves around making sure you feel cozy and are in the heart of the action so you don't need to walk miles in the cold to get back to your hotel.
Enjoy this list of the best places to stay in London in the winter, broken down by budget and feel (because some of us are splurging on a once in a lifetime trip, and others of us are just trying to not have to sleep in a tent – something for everyone!)
London's Best Luxury Hotels in the Winter
Whether you want fine dining or a bit of luxury in your cushions or just the all-around best experience, these London luxury hotels are great for those of you who are wanting the best of the best in London accommodation.
And even if you're not sure if that's you, don't be afraid to check the prices and see what can work for your budget!
London Marriott Hotel County Hall
If you want to be in the thick of the action, this is the London winter hotel for you.
Not only is it a five star hotel with five star service, but the Southbank Christmas markets are right on your doorstep, as well as Big Ben, the London Eye, the Houses of Parliament, and more.
The rooms are immaculate with cozy, but sophisticated designs and flat screen televisions for catching up on the festive British shows.
Truly, this is a hotel like no other and if you can afford it, your decision has been made.
Click here to learn more about the Marriott County Hall hotel.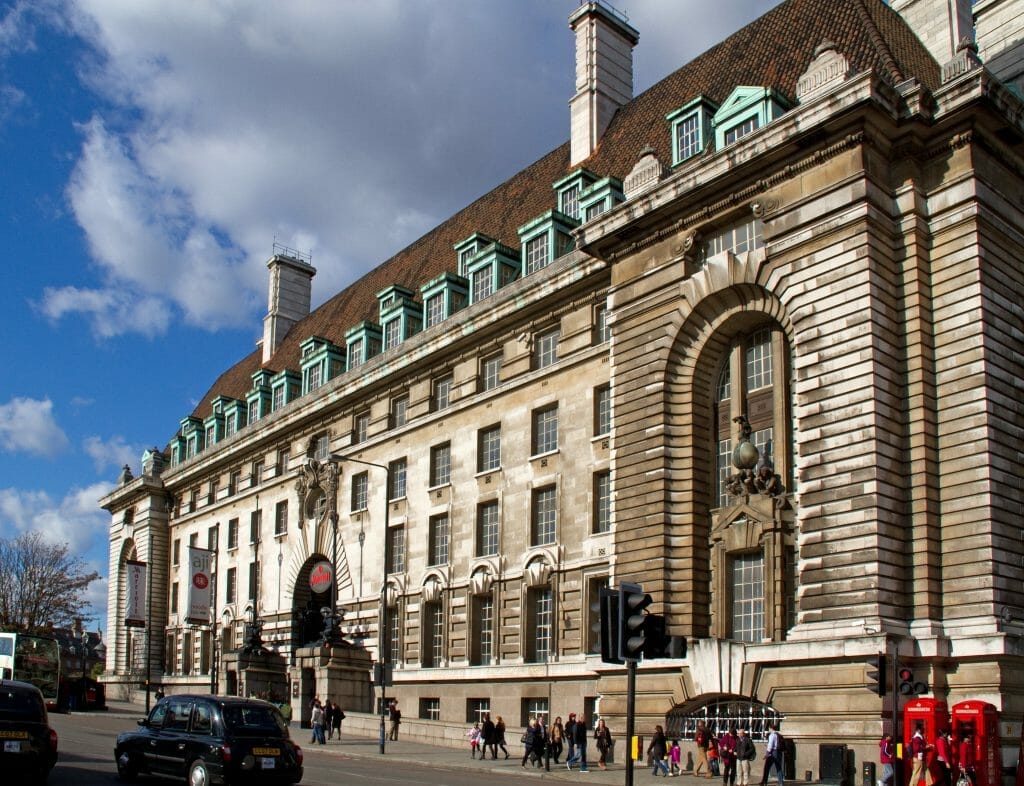 The Westbury Mayfair
If the name alone sounds fancy, that's because it is.
Mayfair is one of the most beautiful and luxurious areas of London, and – good news for you winter travelers – it's just a short walk from Oxford Street for you to get your Christmas light – viewing on.
The marble bathrooms make you feel like you're living like royalty, while the chic hotel bar is a great place to get some drinks pre-exploring.
Earth tones in the room go a long way towards making these beautifully decorated suites feel warm, and the breakfast is one of the best around.
Click here to learn more about and check prices for the Westbury Mayfair.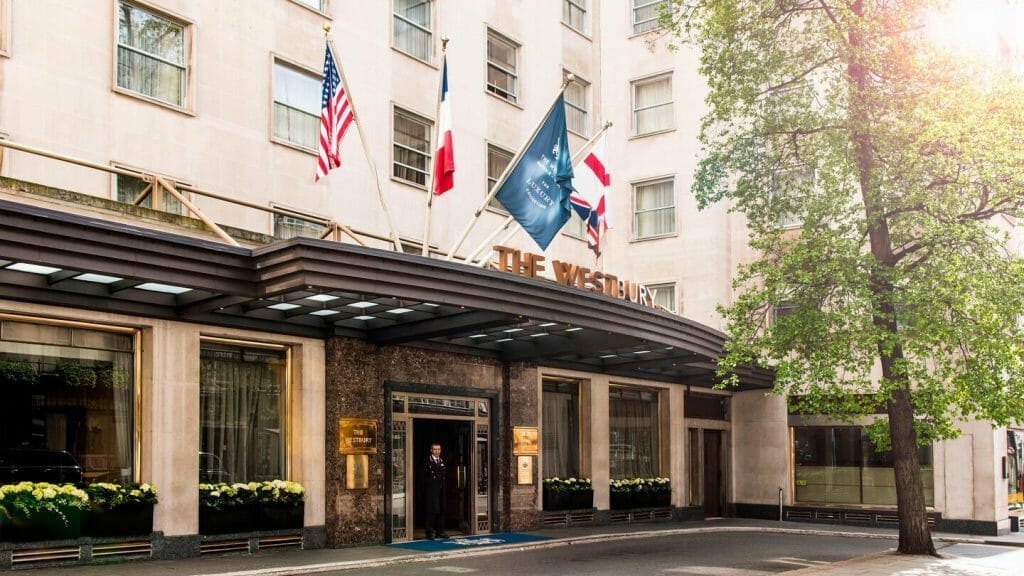 London's Best Mid-Range Hotels in Winter
If you want to explore London at Christmas, but don't want to splash all the cash, here are my picks for more affordable hotels in London.
These aren't the most budget options, but they are somewhere in between budget and luxury (and all perfect for London winter).
DoubleTree by Hilton Hotel London – Marble Arch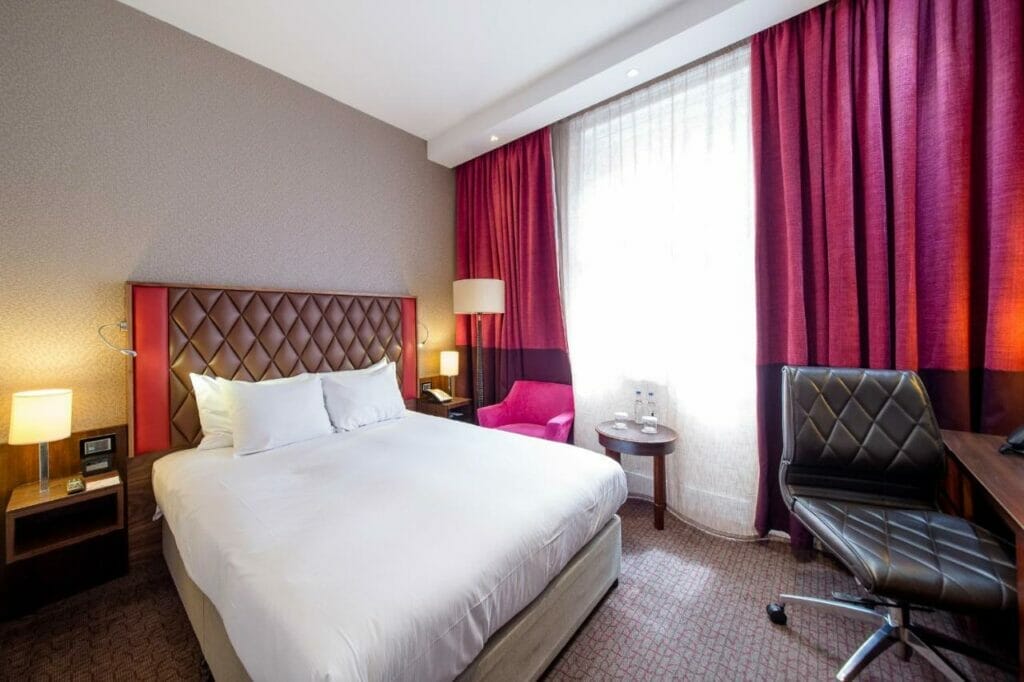 Situated right at one end of Oxford Street so it's still amazing for exploring the Christmas lights, the DoubleTree Marble Arch is mid-range in price, but goes above and beyond in service and amenities.
The rooms are clean and comfortable with pictures of London, and there is an Indian restaurant downstairs that comes highly recommended.
They've also got a wide range of room types, including for single travelers, those wanting twin beds, and those wanting one large bed.
Click here to check out prices for the DoubleTree Marble Arch.
Thistle Bloomsbury Park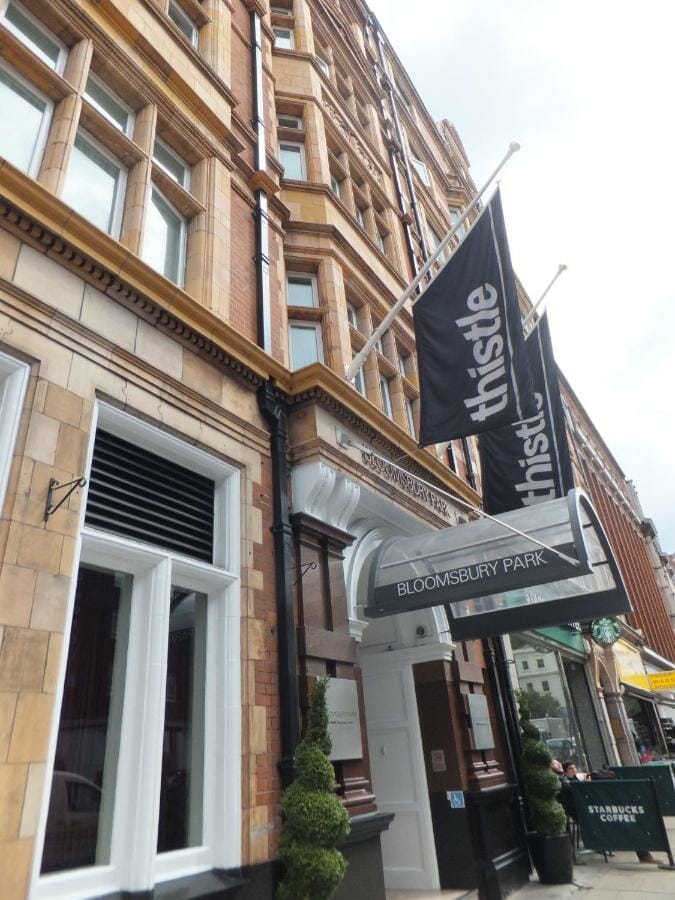 I love the Thistle hotels in London.
The rooms are spacious enough that you don't feel like you're in a cramped London hotel room, the staff is friendly, the amenities are modern, and they're in great locations.
I specifically recommend the Thistle Bloomsbury Park for the winter for people who want to have all of the festivities within easy reach, but want it to be a bit quieter around their immediate hotel.
I know for me, I prefer to have a few minute walk back to my hotel in a more local-friendly area than have the hustle and bustle of the city right out my window, and if that's you, you'll enjoy the Thistle Bloomsbury Park.
The rooms are plenty nice, the price is good for London, and you've got Covent Garden, the West End, and the British Museum all in easy walking distance, as well as the Russell Square tube station just a five minute walk away which will get you to the rest of the city.
Click here to check out prices for Thistle Bloomsbury Park.
Best Budget Places to Stay in London in Winter
If you're on a tight budget and looking for where to stay in London, I really recommend sticking to either well-known budget hotel chains (click here for my favorite location of the Premier Inn, a trusted budget brand) or if you're up for one of the best hostels in London, staying at the London Generator Hostel who also do private rooms.
You can also check out Airbnbs, of course (check out my tips for Airbnbs here).
I would not recommend staying in the cheapest hotels you can find, otherwise, as there can be some dirty and sketchy places that are cheap, but come with bad reviews and not great stories from past travelers.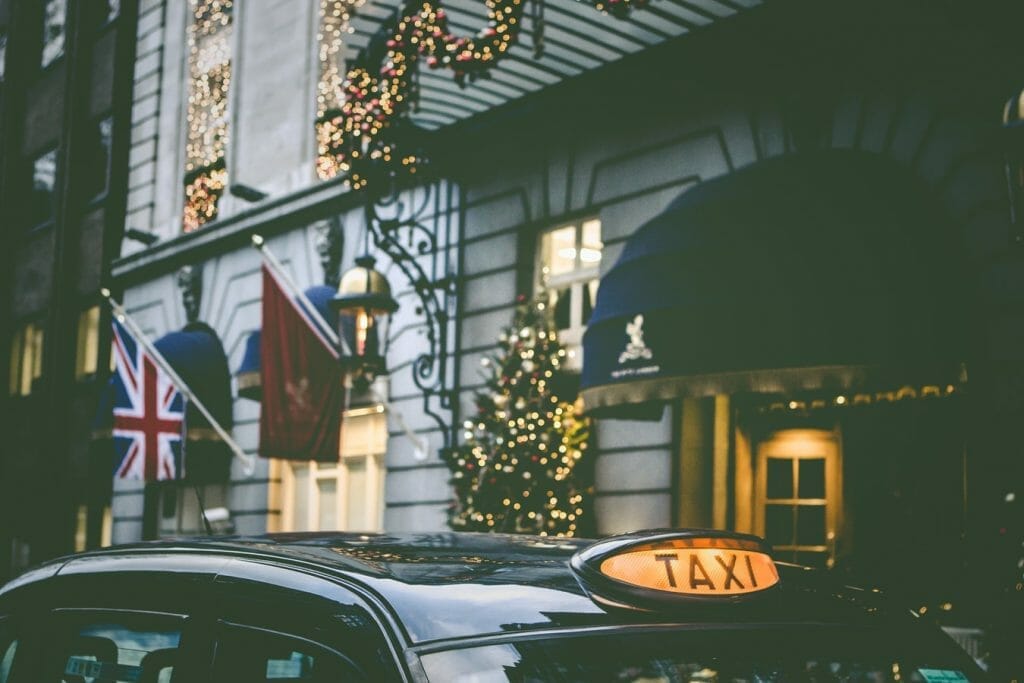 Does it Snow in London in the Winter?
Yes, but not often.
If you're dreaming of a white Christmas, go to Lapland instead.
London is in the south of England, which isn't particularly prone to snow in the first place, but mix in the heat of the hustle and bustle of a giant city and you've got a recipe for snow having a hard time sticking.
It does snow in London, don't get me wrong, but usually there's only a significant snowfall every couple of years, and maybe a light dusting in the others.
When it does snow, London gets a bit chaotic as it doesn't snow often enough for the infrastructure to be there to handle it.
Think closed train lines, people slipping all over the place, and general weather havoc.
That being said, snow is more common in the colder months of January and February, so if you're traveling around those times and want to see some of the white stuff, I'll keep my fingers crossed for you (and for me. Who doesn't love a snow day?)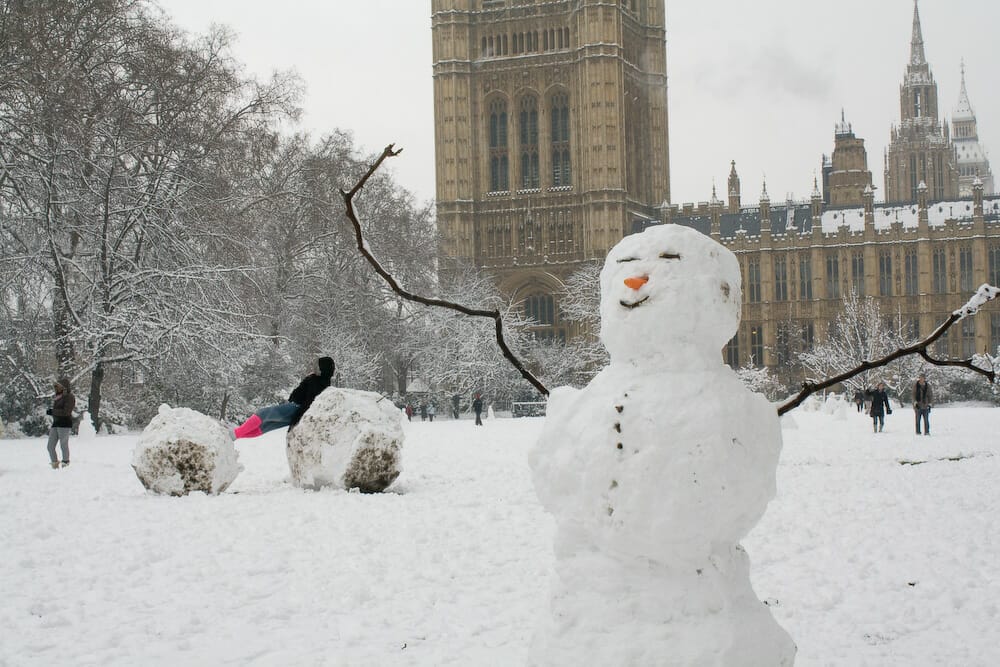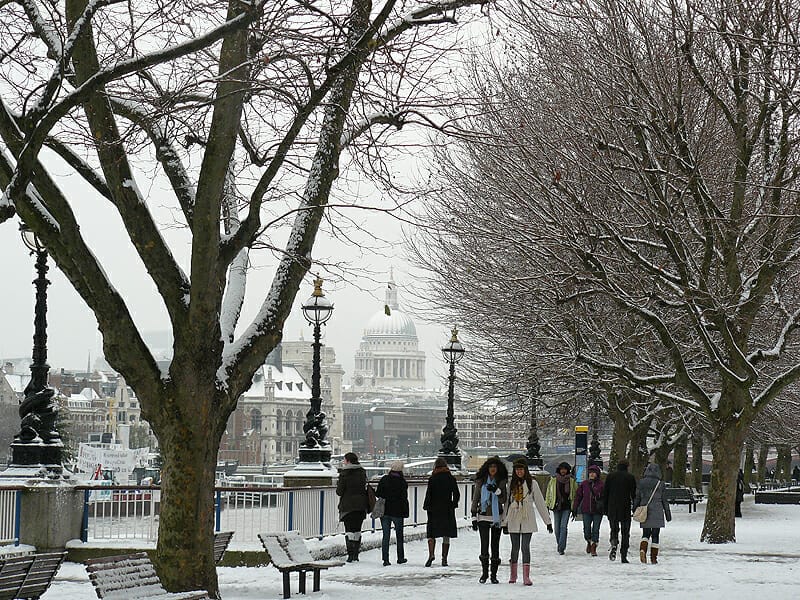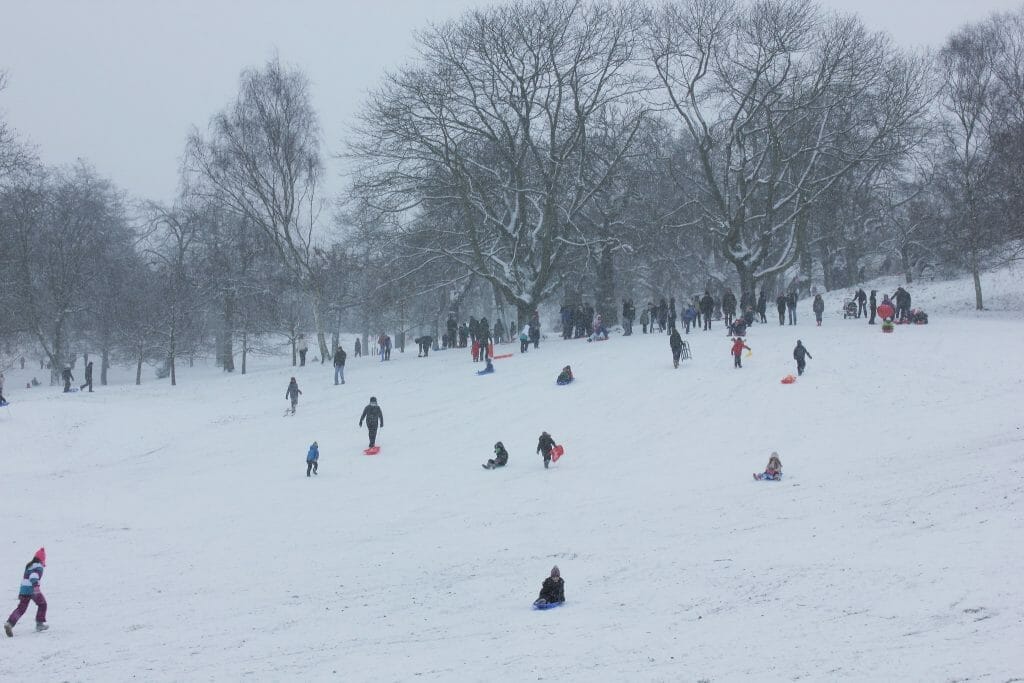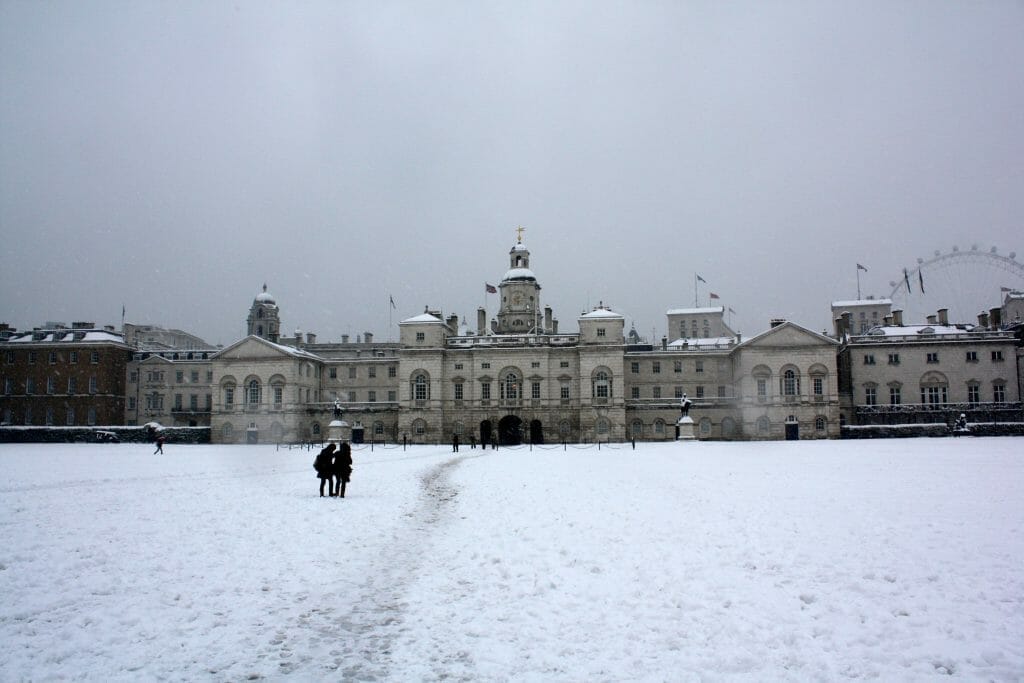 What else should I not miss in London?
If you're visiting London soon, here's a very brief rundown of a few of my other favorites to make sure you don't miss anything!
UK Travel Planning Guide: the FAQs
🏥 Should I buy UK travel insurance?
Absolutely yes. Basic coverage is not expensive, and as a visitor you are NOT covered under the NHS. Compare policies and prices with Travel Insurance Master here, a big name in the travel insurance business, and cross that off your list.
🔌 Do I need travel adapters for the UK?
Yes, you do, otherwise you won't be able to plug in your electronics/phone/lifelines. I recommend this one, which is all-in-one so you can use it in other countries.
🚗 What do I need to drive in the UK?
The first thing you need to check out if you're planning on renting a car in the UK is this guide to driving in the UK for visitors – the roads, signs, and driving experience will likely not be what you're used to and it's essential to prepare yourself to stay safe and aware.
🛌 What's the best way to book hotels in the UK?
For UK hotels, Booking is the best site as it offers free cancellation on many properties. If you want an apartment, I always recommend VRBO over AirBnb.
📳 Will my phone work in the UK?
Yes – if you set it up right. Check out my guide on making your foreign phone work in the UK to ensure that you get the type of service you need.
🚿 Can I drink the water in the UK?
Yes, UK water is great and perfectly safe. But drink out of taps in any kitchen or use water fountains. Double check before drinking out of the taps in hotel bathrooms, though, as they may be on a different system.