This post contains affiliate links for which I may make a small commission to help keep the site running. You will not be charged extra for these items had you not clicked the links. Thank you for your help to keep the site running!
Wondering what the best apps for London and the most useful apps in London are?
From public transportation apps to event apps to informational apps, there are so many London apps that you can use as an important tool for getting around London and having the best time in London.
Here are some of my favorite apps in London to recommend to visitors to help you make the most of the city.
GET A

FREE

LONDON INTRO GUIDE and ACCESS TO MY FB GROUP
Start your planning with this "Intro to London" guide and access to my London planning Facebook group!
The Absolute Must-Knows (from a Londoner)
1. Visit London App
This is the official Visit London app which has both articles on things to do, events going on during your stay, and sometimes offers and deals across the city.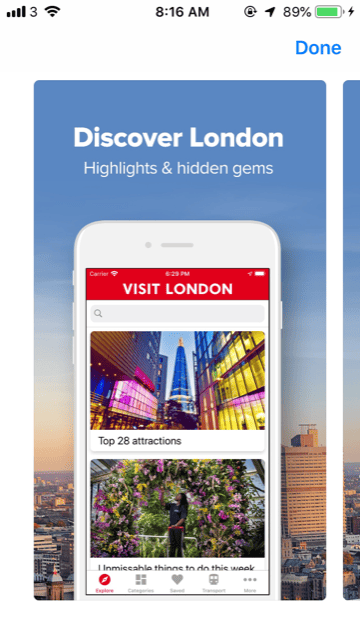 It's particularly good for if you want to know what events are happening around you on a particular weekend, which is something you sometimes can't plan for super far in advance if it's just a pop-up market or something like that.
Use it to scroll through ideas while waiting at a bus stop or just to keep you updated on local events, but have it downloaded.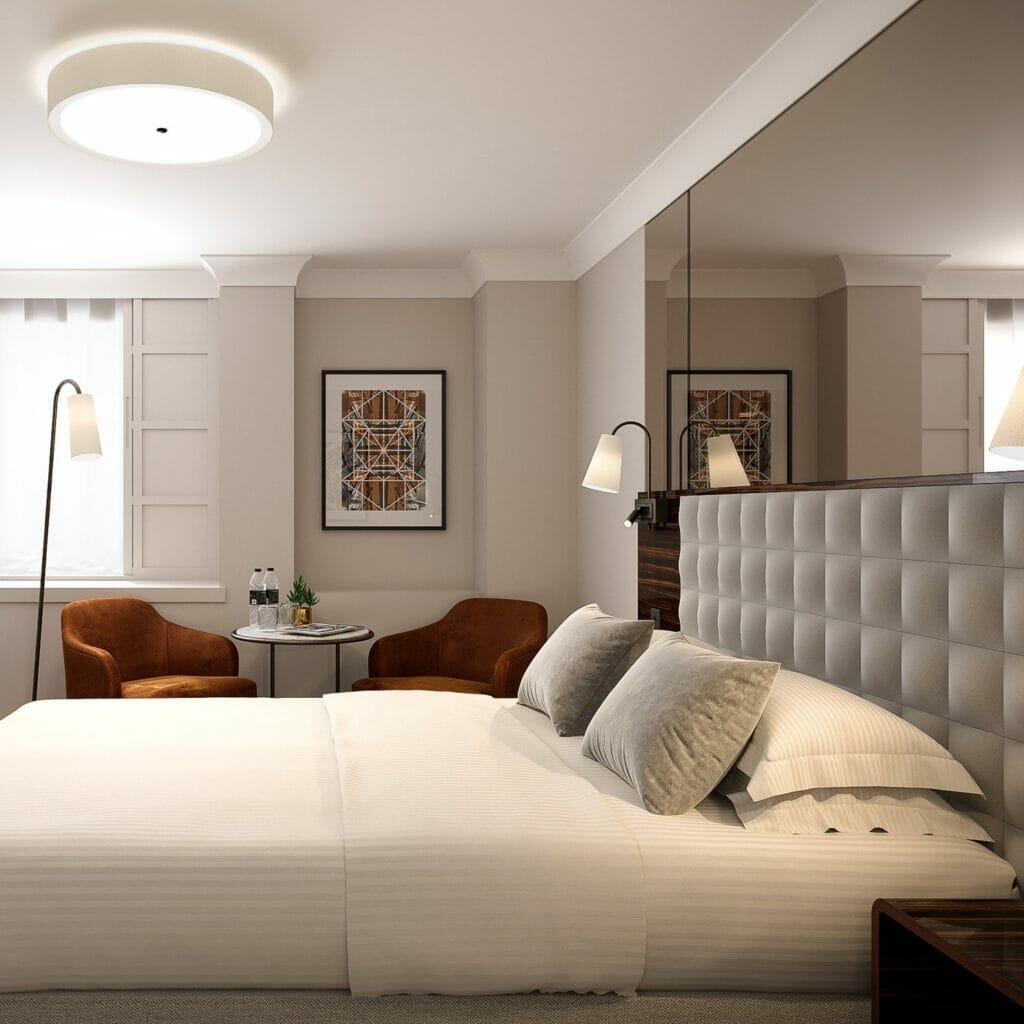 2. CityMapper: one of the best apps for London
This is the ultimate in London navigation.
Plug in anywhere you want to go and it will give you lots of different options on how to get there, including the price and how long it should take.
Easy to understand icons make it easy to figure out what you're doing, and when it tells you to take a bus or the tube, it will tell you what number/line and how long you'll need to wait until the next one.
This is a favorite of not just visitors, but Londoners, so download CityMapper before you leave and get familiar with it so you can just plug, pick a route, and go, once you're in London!
IMPORTANT: are you coming to the UK from abroad?
In case you're reading this from outside the UK and will be a foreign visitor here, you need to know these 2 things to stay safe and save money.
Travel insurance – you need it when going overseas! I use

this site

to get the best quotes and purchase my packages from. Do not skip this – having medical coverage abroad as well as other coverage in case of missed flights, lost luggage, etc is essential. As I said, I have never gone wrong using

this site

.
3. Tube Map – London: best travel apps in London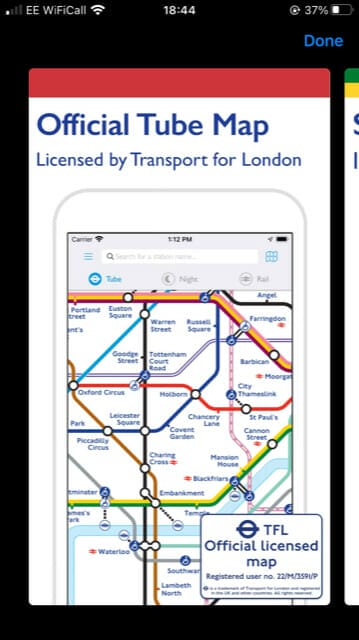 This app is specifically for the tube.
You'll get tube maps galore, easily navigated so you can check it without carrying a paper map around, as well as a section where you can see the first and last tube times for any stop and live departure information.
What more can I say?
This map is invaluable for anyone taking the tube in London, which is almost everyone!
4. London Live Bus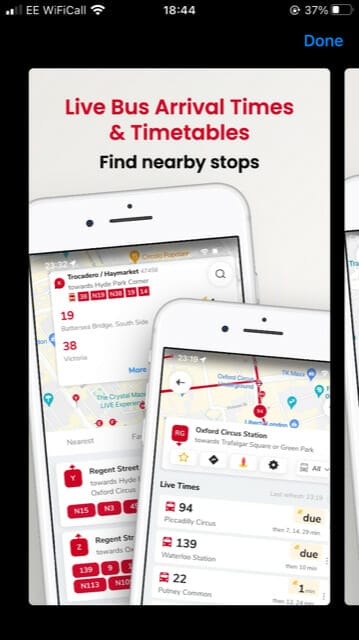 London's bus system can be confusing for a new visitor, but it's easily figured out with an app like London Live Bus that will help you figure out the route and options for each stop you're at.
You can also type in your location and it will show you the bus stops nearest you (each bus stop is lettered, making it easy to find by looking at the letter on top of the bus stop and comparing it to which letter bus stop you're supposed to be at!)
You can also see the live times of when the next bus is coming to your stop and where it's headed.
Seriously, this is one of the best apps to visit London!
5. Google Maps
This is a basic one, but I sometimes prefer Google Maps to CityMapper for walking directions, and you'll do a lot of walking in London.
You can also use it for public transportation directions by choosing the icon that looks like a bus/train.
It's likely that you're already familiar with Google Maps and use it in your daily life, so make sure to keep using it while in London.
6. Rome2Rio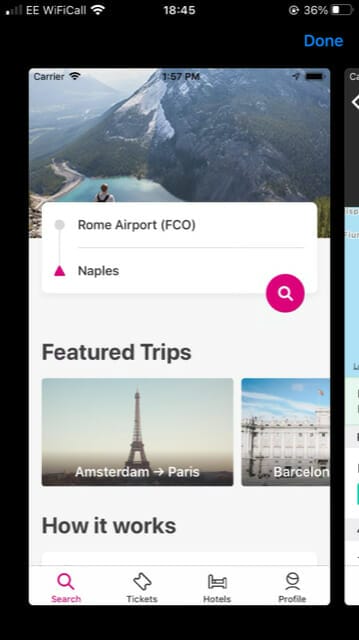 When you're thinking about taking London day trips or going a bit further out like Hampton Court Palace or Windsor Castle, Rome2Rio comes in handy!
This transportation app will help you figure out your journey including buses and trains outside of London – the London bus and tube app will obviously work for inside the city, but once you're out of the city limits, those apps can't help you!
With Rome2Rio, you can see all of your transportation options for outside of London, and it will also give you the comparisons when it comes to drive time and the time it will take on public transportation, for example.
7. Globe Convert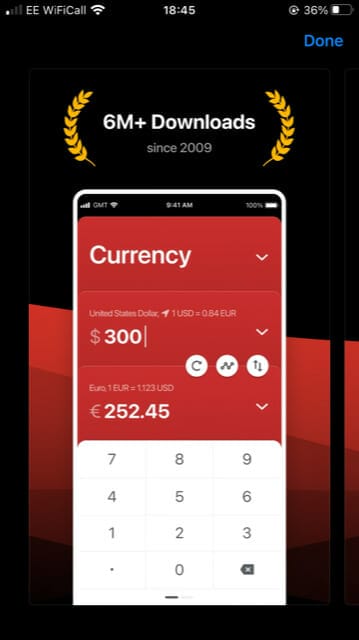 When you're making transactions in a foreign currency, it can be helpful to have a currency converter on hand to figure out how much money you're spending in London so you don't get hit by crazy shocking figures when you get home!
This is a great and easy to use currency converter app, though there are plenty more – just make sure to download one before you go.
Many will work offline, so you don't need to be connected to plug in the amount and let it do the work for you based on the current exchange rates.
8. Uber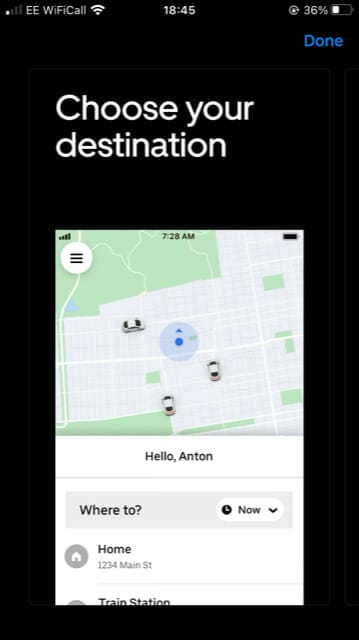 Uber operates the same in London as it does anywhere else, and many people find it useful and prefer to get the cheaper prices of Uber instead of using a London taxi.
If you're not familiar with Uber in your home city, play around with it before you go to make sure you understand how to order a ride when you're in London, but if you've used it before, no practice needed!
You'll just be taken to the Tower of London rather than your local neighborhood restaurant, and that's something to smile about!
9. Met Office Weather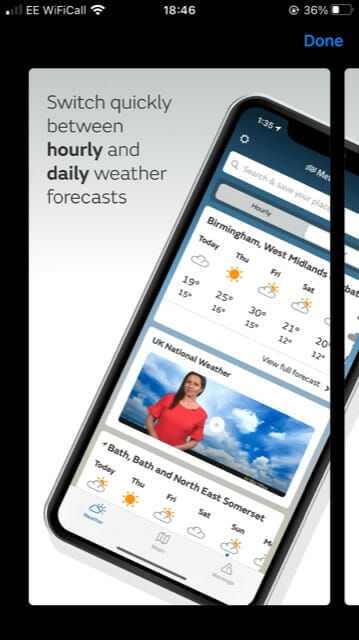 If you don't already have a weather app on your phone that you like, try Met Office Weather.
The weather in London is constantly changing, and it could be super sunny in the morning and grey and foggy later in the day.
I always check my weather app before getting ready for the day to see what is coming up, as well as checking it when I'm out and about to see if I need to change plans or head indoors.
It's one of the best apps for London tourists.
10. Addison Lee: one of the best apps for visiting London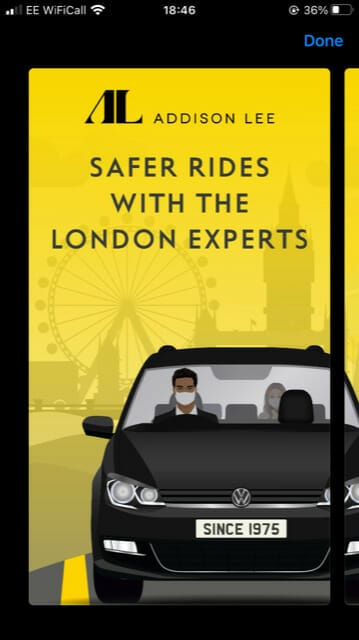 One of the best apps in London for people who want to preorder car transfer services/taxis is the Addison Lee app.
I recommend Addison Lee to all London visitors, as they're cheaper than hailing a black cab while also being more professional than Uber.
The great part is you can prebook a ride in advance, unlike Uber or a taxi where you basically need to try for it right when you need it.
So if you know that you need to be picked up at 5pm to get to the airport in time for your flight, you can preschedule it in the app and know that the driver will arrive at 5pm and not be desperately trying to hail a taxi at that time.
11. London Theatre Direct Tickets: one of the best London apps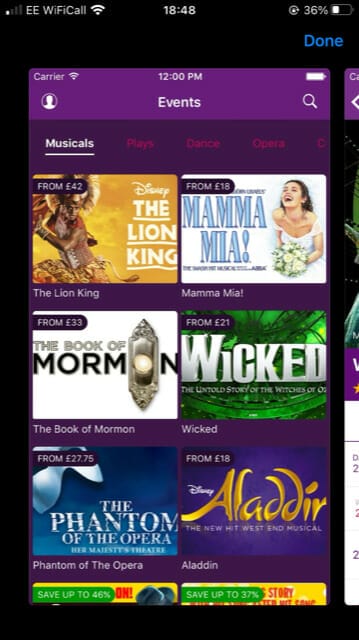 London Theatre Direct is a legitimate and trustworthy website selling theatre directs in London, often at discounted prices.
The app will help you see what's on sale, what is currently playing in the West End, and how many tickets are available.
The other way to purchase London theatre tickets is to go to each theatre's website individually, which means you may miss what else is on or not get the best deals.
Download the London Theatre Direct app and then, even if you're out and about, you can still purchase theatre tickets and get them send straight to your phone.
12. Voice Map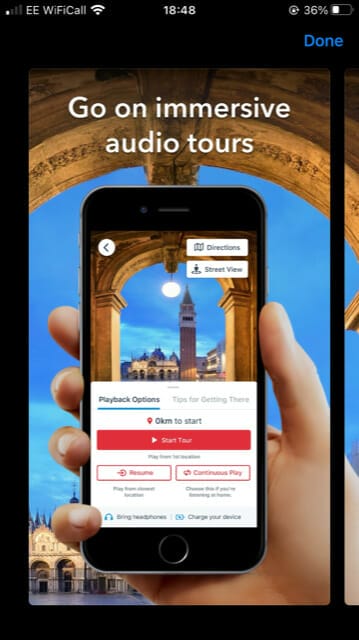 Want to explore London with a guided tour, but don't want to be following another gaggle of tourists around?
Enter: Voice map!
This app will let you take tours of various places across London, narrated by helpful experts and locals, so that you can learn more about the place you're visiting without needing to prebook onto a guided tour.
This is also fantastic for solo travelers who don't want to join big tours, as well as those looking to save a bit of money while in London.
13. First Table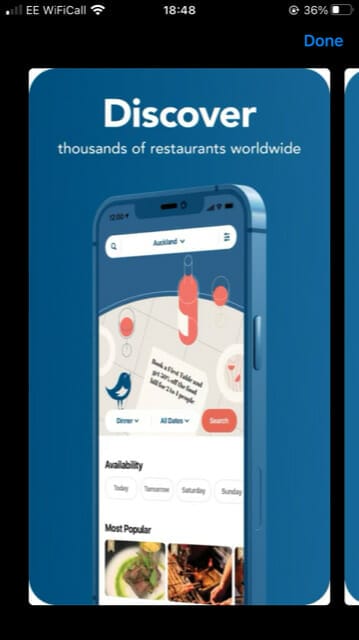 Restaurants book up quickly in London, particularly during peak times of the year. While it is possible to find reservations and to eat last minute, if there are certain places you have your heart set on, booking is a must-do.
Use an app like First Table to see what's available and to make multiple restaurant bookings through one app rather than having to use each of their separate platforms.
The beauty of this app is that you can also see other availability, so if your reservation time isn't available on one day, it'll show you which ones it is available on.
It's one of the best apps to download for London foodies, for sure!
14. Bolt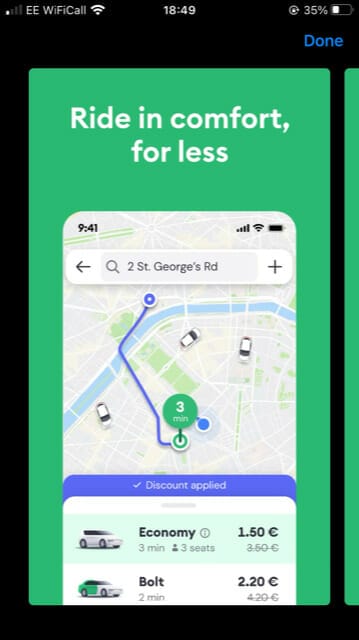 Cheaper than Uber, but with a similar concept, Bolt helps you hail "Bolts" in London to get you where you need to go.
This app is known for offering more discounts, but with longer wait times than Uber, so download both and see which one you like better.
15. Ticketswap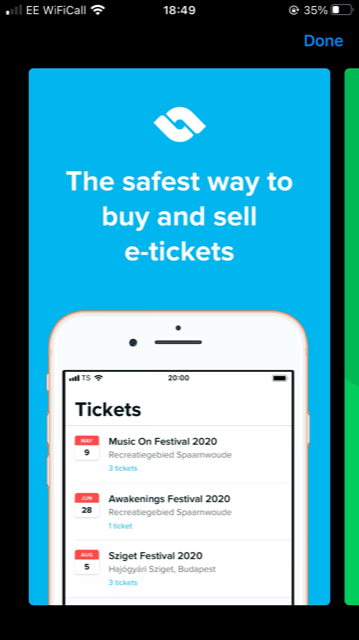 Many visitors come to London for specific events, concerts, and festivals throughout the year.
If you're looking to snag last minute tickets to an event or can no longer use your ticket, use an app like TicketSwap to securely sell your tickets or to purchase them from people who can no longer go.
16. Toilets4London: must-have apps in London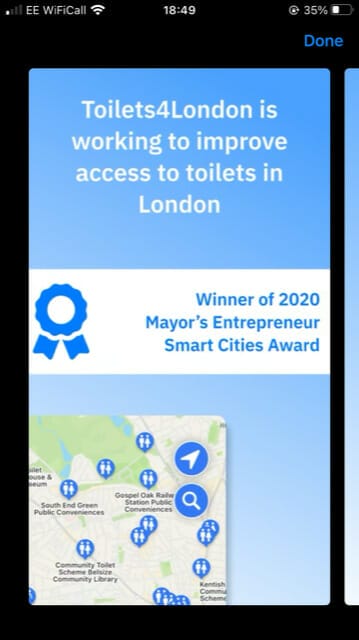 This is probably one of the most important apps for London in this list!
When you're out and about during the day, what do you usually need the most after awhile?
That's right, the toilet!
Particularly in large cities, it can be hard to find free toilets that aren't gross, if you can even find them at all.
This app will help you locate the nearest bathrooms so that you can build it into your itinerary or know where you need to make a mad dash to.
17. FreeNow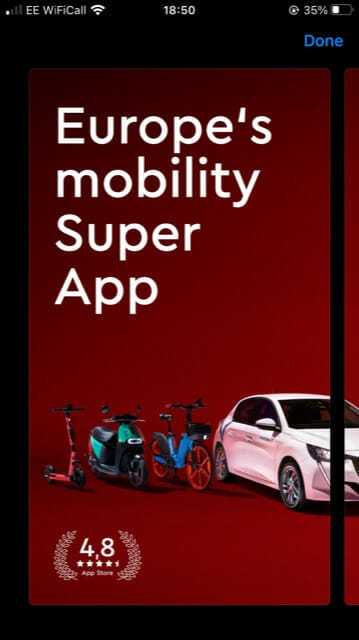 Another ride sharing app, Free Now is used in Europe and offers the ability to book private vehicles (like Uber or Bolt) or a black cab.
This is a great feature, as you don't have to stand on a street corner waving down a black cab if you'd prefer to ride with a London cabbie, and you can also see the price comparisons between the private rideshares and the taxi.
It will also show you other options it picks up, like e-Scooters if they're around.
18. Rick Steves Audio Tour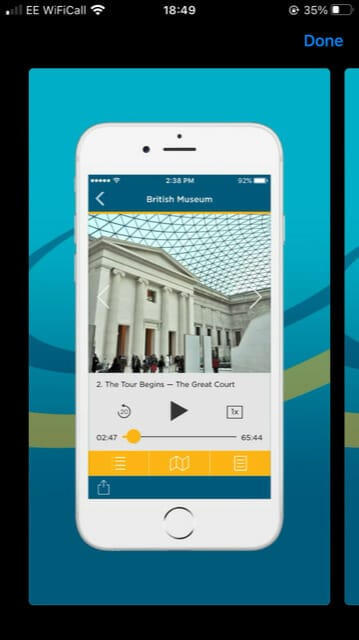 Rick Steves is known for being one of the travel gurus of Europe, and you can carry him and his guides around in your pocket with this helpful London app.
He's got specific tours on places like the British Museum, or more general information regarding culture, currency, and more.
I prefer this app specifically for the tours available, as you know they're coming from a trusted source and it's easy enough to do a search for a tour if you find yourself in a museum or area of London you'd like to learn more about, but don't have time for a full, official guided tour.
19. Open Table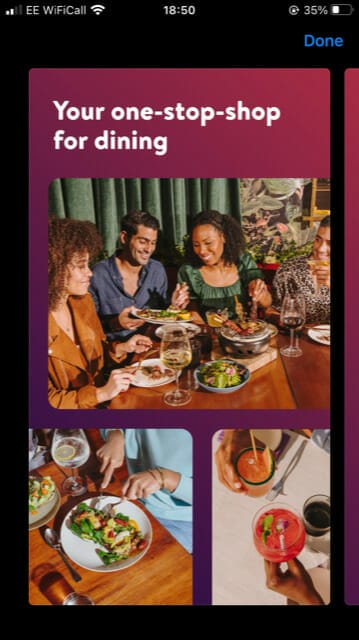 Another dining app for London, Open Table gives you the chance to book restaurants from the comfort of wherever you are in London using your cellphone.
It'll give you suggestions, so you can see what's available at the time you're wanting to eat, or you can search for a specific restaurant to see the options.
Open Table is used around the world, and it is definitely one of the more popular reservation apps used in London town.
20. Tube Exits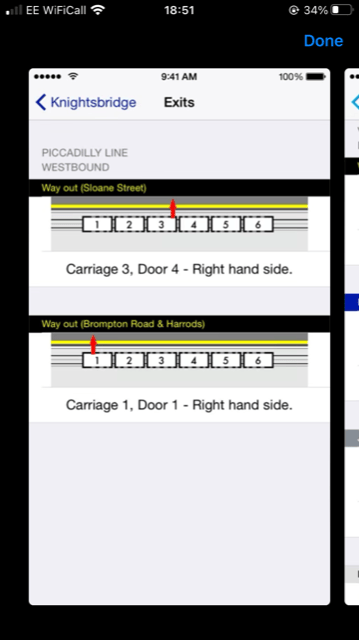 Whether you're a transportation nerd or you just really like to be efficient, the Tube Exits app is a wonderful idea.
It will tell you exactly which carriage and door to stand on to most efficiently leave the train and depart the tube station, and if you don't know why that's a good idea, you probably haven't traversed one of the tube platforms at Oxford Circus Stations during rush hour before.
It's not a must-have for the average traveler, but it's definitely something to impress your travel buddies with and can be fun to use (and a lifesaver during peak travel season and rush hour!).
21. Trip Advisor
You know it, you love it, and now you can have it in your pocket.
The TripAdvisor app is a great way to be able to check ratings for attractions, restaurants, parks, and more while you're in London.
We use it when we find a restaurant randomly and want to see what the reviews are like, as sometimes looks can be deceiving (and this goes in both directions).
What else should I not miss in London?
If you're visiting London soon, here's a very brief rundown of a few of my other favorites to make sure you don't miss anything!
Want more helpful London guides? Check these out!
UK Travel Planning Guide: the FAQs
🏥 Should I buy UK travel insurance?
Absolutely yes. Basic coverage is not expensive, and as a visitor you are NOT covered under the NHS. Compare policies and prices with Travel Insurance Master here, a big name in the travel insurance business, and cross that off your list.
🔌 Do I need travel adapters for the UK?
Yes, you do, otherwise you won't be able to plug in your electronics/phone/lifelines. I recommend this one, which is all-in-one so you can use it in other countries.
🚗 What do I need to drive in the UK?
The first thing you need to check out if you're planning on renting a car in the UK is this guide to driving in the UK for visitors – the roads, signs, and driving experience will likely not be what you're used to and it's essential to prepare yourself to stay safe and aware.
🛌 What's the best way to book hotels in the UK?
For UK hotels, Booking is the best site as it offers free cancellation on many properties. If you want an apartment, I always recommend VRBO over AirBnb.
📳 Will my phone work in the UK?
Yes – if you set it up right. Check out my guide on making your foreign phone work in the UK to ensure that you get the type of service you need.
🚿 Can I drink the water in the UK?
Yes, UK water is great and perfectly safe. But drink out of taps in any kitchen or use water fountains. Double check before drinking out of the taps in hotel bathrooms, though, as they may be on a different system.