This post contains affiliate links for which I may make a small commission to help keep the site running. You will not be charged extra for these items had you not clicked the links. Thank you for your help to keep the site running!
It's been said that you could eat in London for an entire year and have a different cuisine every night.
While that might be a bit of an exaggeration, the point is that London is filled with amazing places to eat and the best restaurants in London no matter your budget or taste.
In fact, one of London's best things to do is simply to sample the cuisine and try out some flavors and foods you might not have had before!
This ultimate list of the best places to eat in London includes the best London restaurants, where to eat in London and where to find the best food in London, compiled after years of personally researching (slash eating my entire weight in fish and chips) all of the options!
The Absolute Must-Knows (from a Londoner)
1. Da Mario: best restaurants in London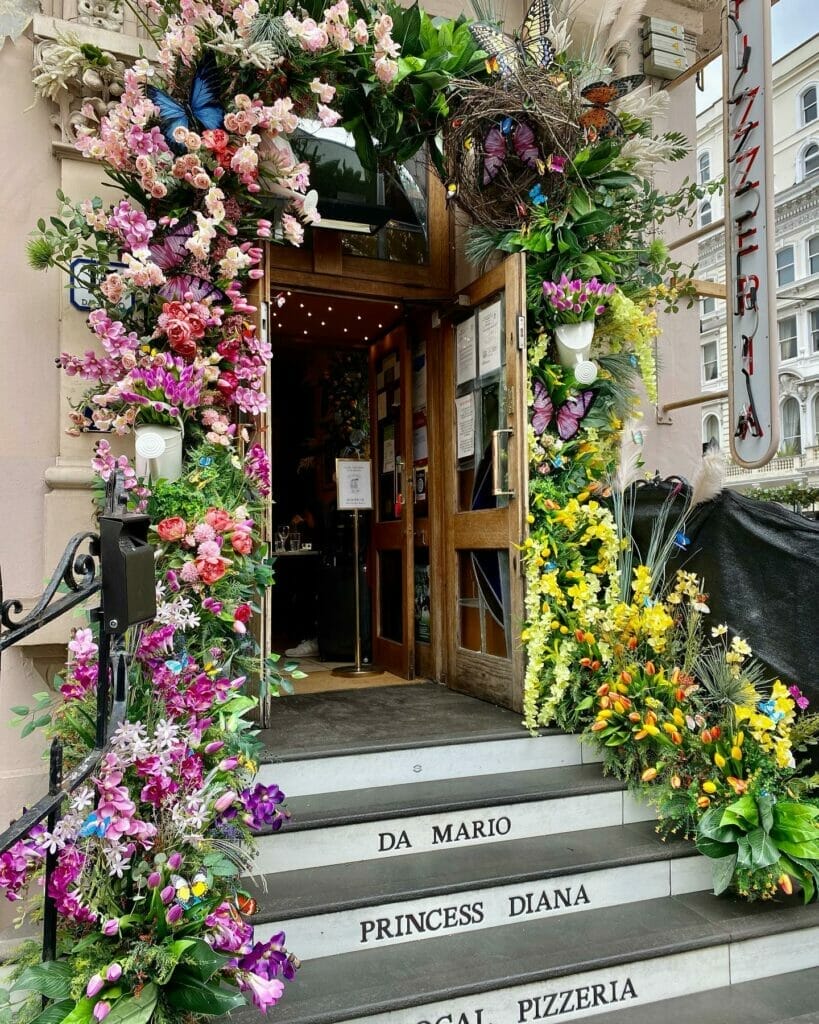 This Italian restaurant in Kensington is a fan favorite because of the amazing food and its history.
It's said to be Princess Diana's favorite choice for Italian, and photos commemorating her visits there adorn the wall.
Enjoy the atmospheric lighting when the night sets in, and clink a glass with your friends as you try the Pappardelle Pastore, the Rigatoni Al Forno, or one of the amazing pizzas with flavors like Calabrese, Margherita, and Sicilana.
South Kensington is a beautiful place for a visit and a stroll after dinner as well to work off all of those carbs!
Address: 15 Gloucester Rd, South Kensington, London SW7 4PP
GET A

FREE

LONDON INTRO GUIDE and ACCESS TO MY FB GROUP
Start your planning with this "Intro to London" guide and access to my London planning Facebook group!
2. Ciao Bella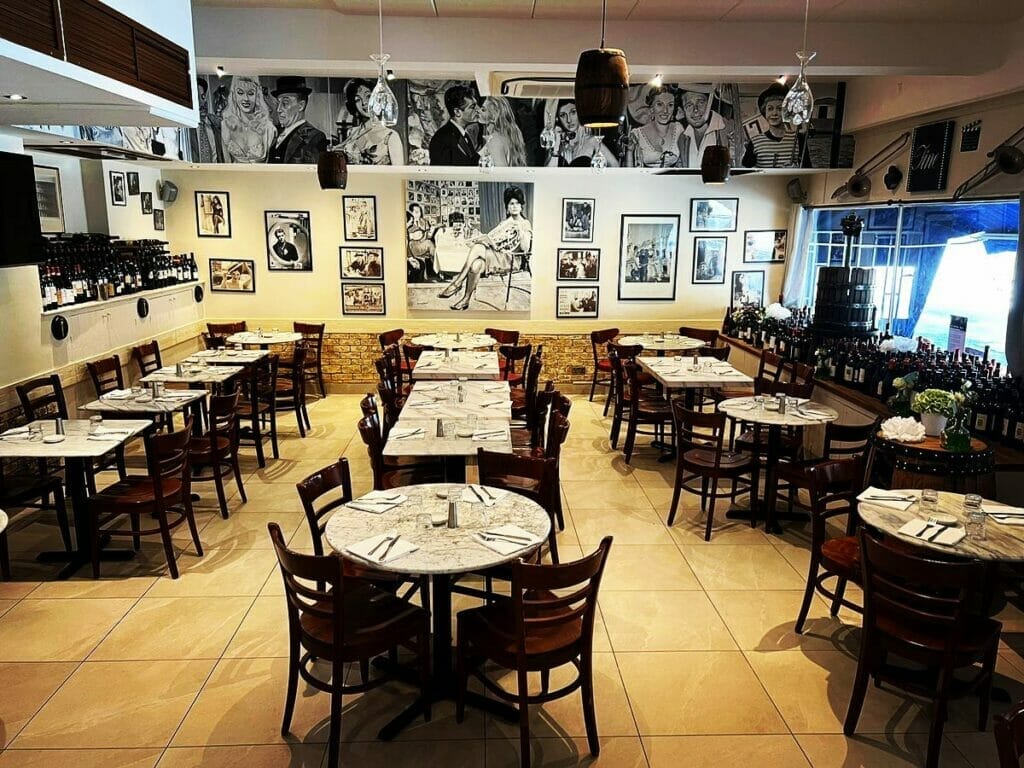 Another Italian restaurant with a great reputation, Ciao Bella in Bloomsbury is known for its cozy atmosphere and amazing freshly made pasta.
You'll feel right at home with family and friends when you dine here, and you can take in sites like the British Museum before or afterward.
Start with the bruschetta before your main courses, and then opt for the lobster pasta, the steak fillet, or the grilled seabass.
It's authentic, not known to most tourists so you know you're getting a real London experience, and the service is friendly and down-to-earth.
Address: 86-90 Lamb's Conduit St, London WC1N 3LZ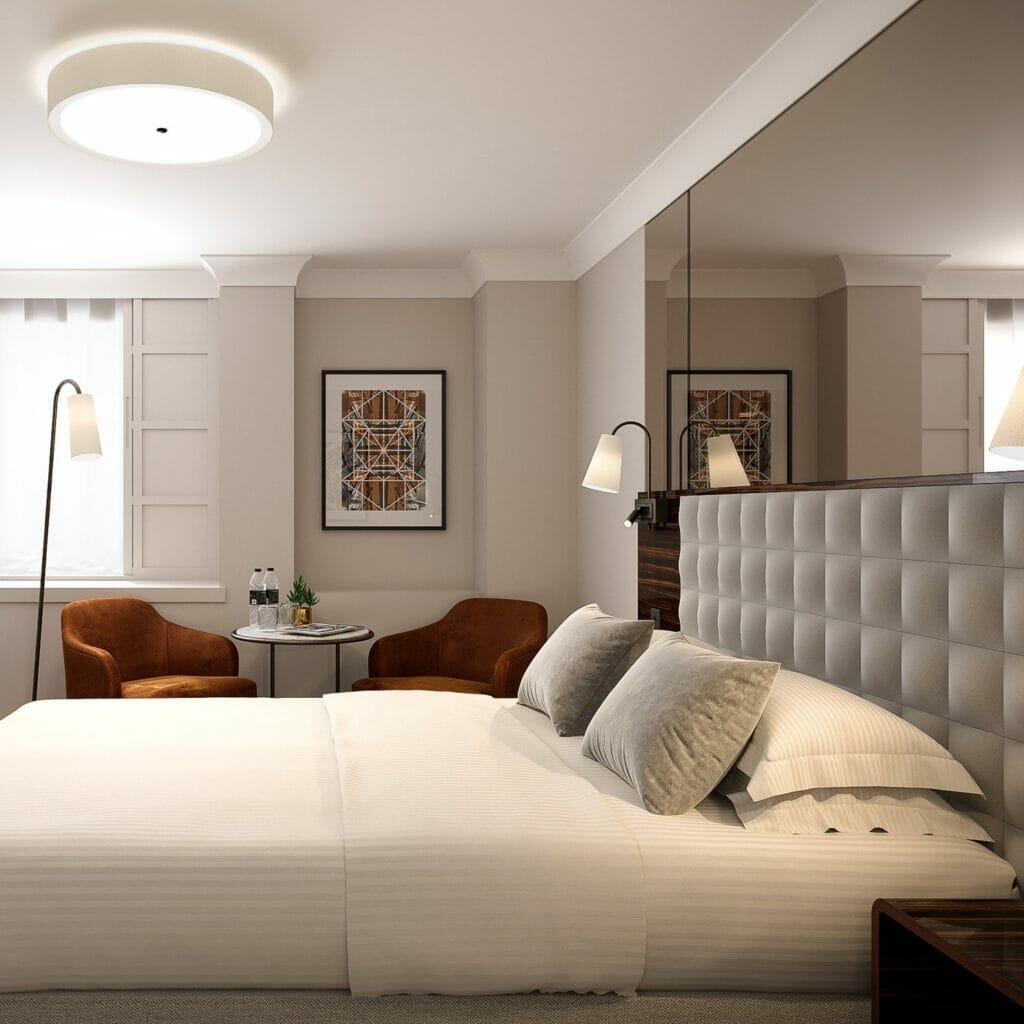 3. Mildreds Covent Garden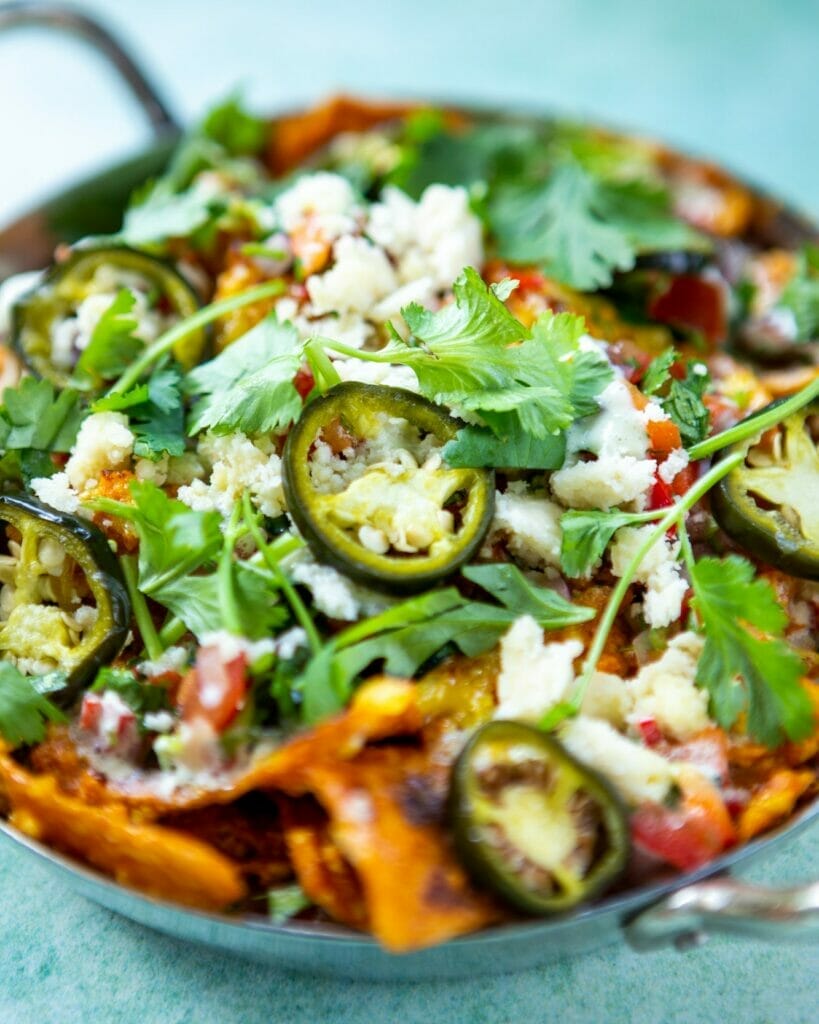 This vegan, plant-based restaurant isn't just for vegans.
The beauty of Mildred's is that the whole family of all kinds of eaters can dine together and not miss the meat that you can order at other restaurants.
Their dishes are top notch, using fresh ingredients with inspiring and hearty flavors to help vegans and vegetarians in London eat well, while also introducing their friends and family to recipes that they might not have tried before.
Try the curry dish with rice and mint sauce or try the Nashville hot (soy) chicken bun with southern fried soy chicken, coleslaw, bread, and butter pickles.
Finish with the white chocolate tiramisu or the caramel cookie cheesecake and you'll be incredibly happy you did!
Address: 79 St Martin's Ln, London WC2N 4AA
IMPORTANT: are you coming to the UK from abroad?
In case you're reading this from outside the UK and will be a foreign visitor here, you need to know these 2 things to stay safe and save money.
Travel insurance – you need it when going overseas! I use

this site

to get the best quotes and purchase my packages from. Do not skip this – having medical coverage abroad as well as other coverage in case of missed flights, lost luggage, etc is essential. As I said, I have never gone wrong using

this site

.
4. Beigel Bake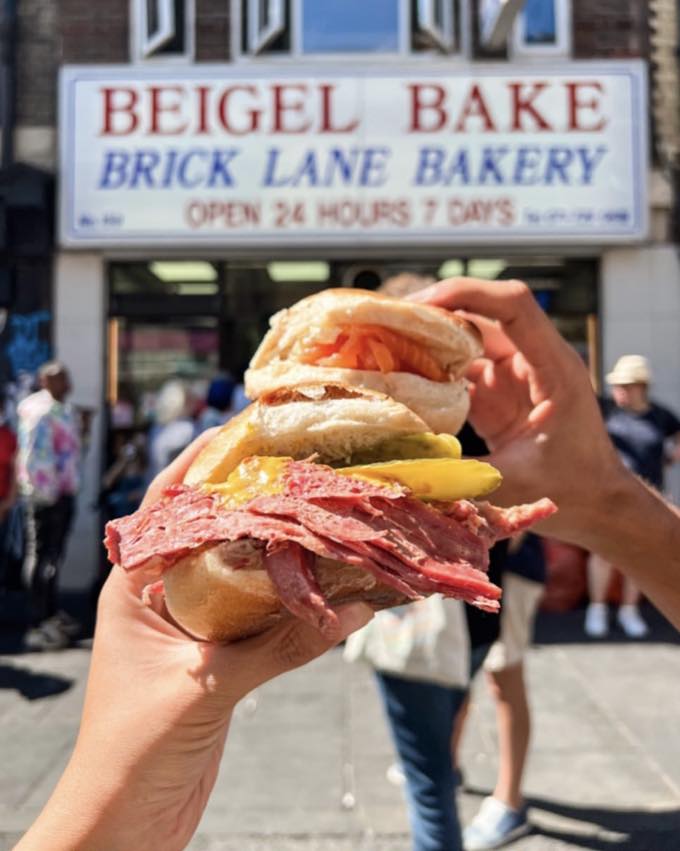 Head to Brick Lane for the best bagels in all of London at Beigel Bake, particularly the savory salt beef one.
Plenty of people head to this part of London specifically to eat bagels as they stroll down the street to do some shopping!
Address: 159 Brick Ln, London E1 6SB
5. Pizza Pilgrims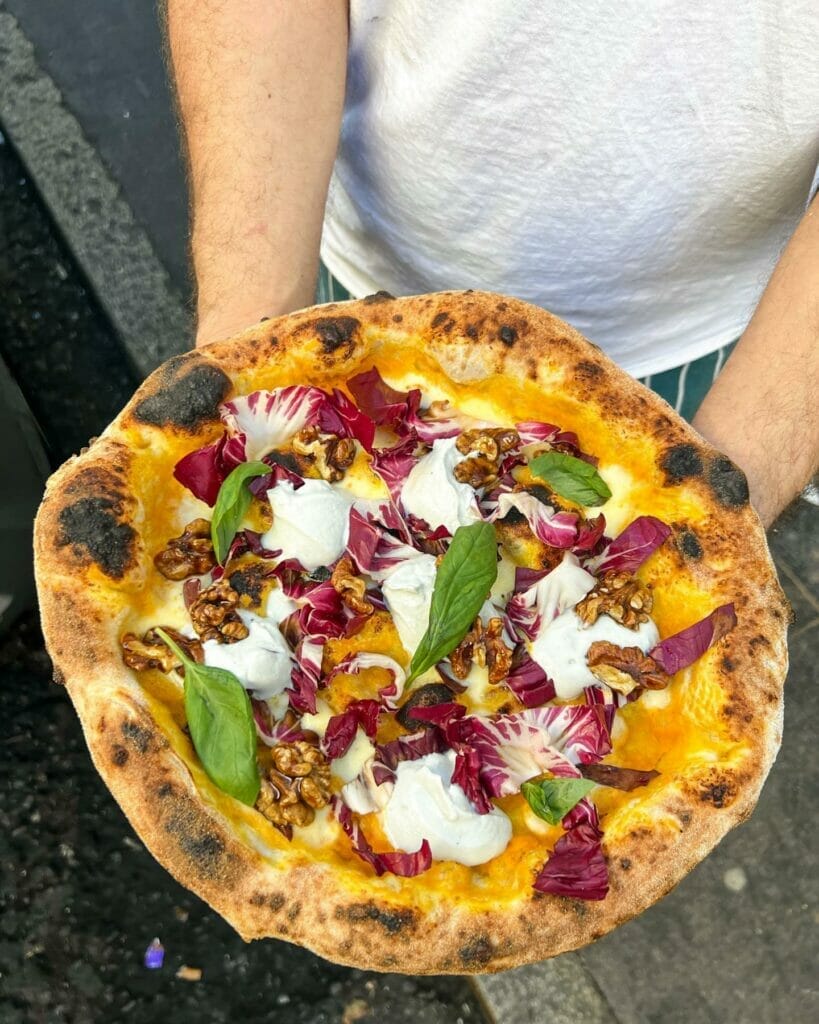 If you want some classic pizza, find one of the Pizza Pilgrims locations where you can't go wrong no matter what type you choose.
There are various ones across the city and it's a local favorite for when you just need to relax in heaps of cheese and pepperoni.
6. Icco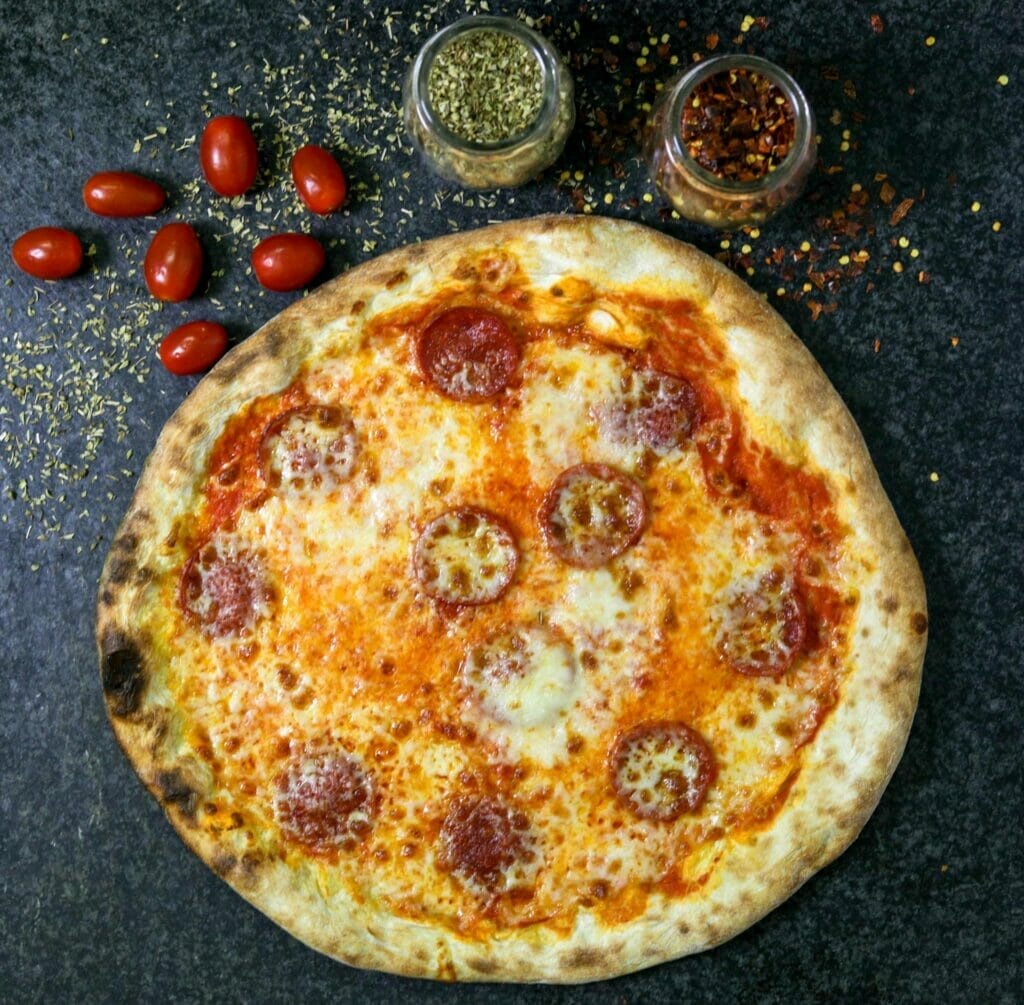 Whether you're a student in London or on a budget, Icco is by far the best place to go for cheap pizza and other items like sandwiches.
Seriously, I used to spend so much of my time here as a 20-something.
It gets top marks for the low prices, lovely location near University College London and good quality food.
Also, the portions are giant and enough to keep you going on your London sightseeing day out.
7. Brasserie Zedel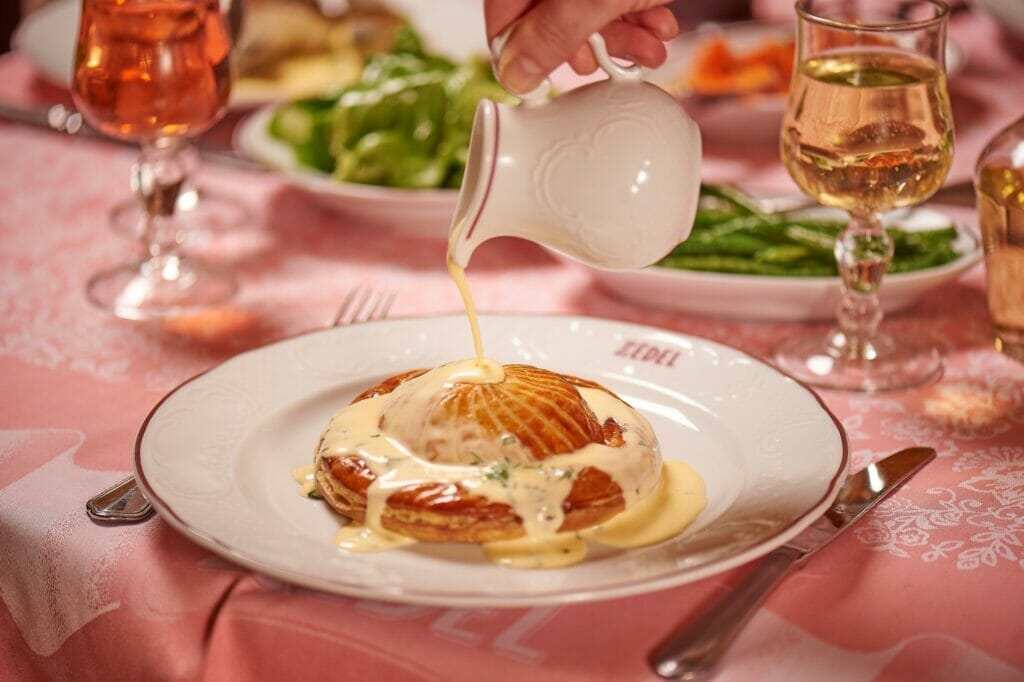 Themed like Paris, this French eatery in Piccadilly is a fantastic choice if you want a nice dinner without the expensive price tag.
You'll find French inspired dishes and a quirky atmosphere that's very London meets France.
If you want the freshest options, go for the Plat du Jour, or try the other menu options like grilled tripe sausage, steak tartare, twice-baked cheese soufflé or the French style fish stew.
Don't skip dessert here, as everything from the Crème Brule to the chocolate mousse are incredible.
Address: 20 Sherwood St, London W1F 7ED
8. Madison Restaurant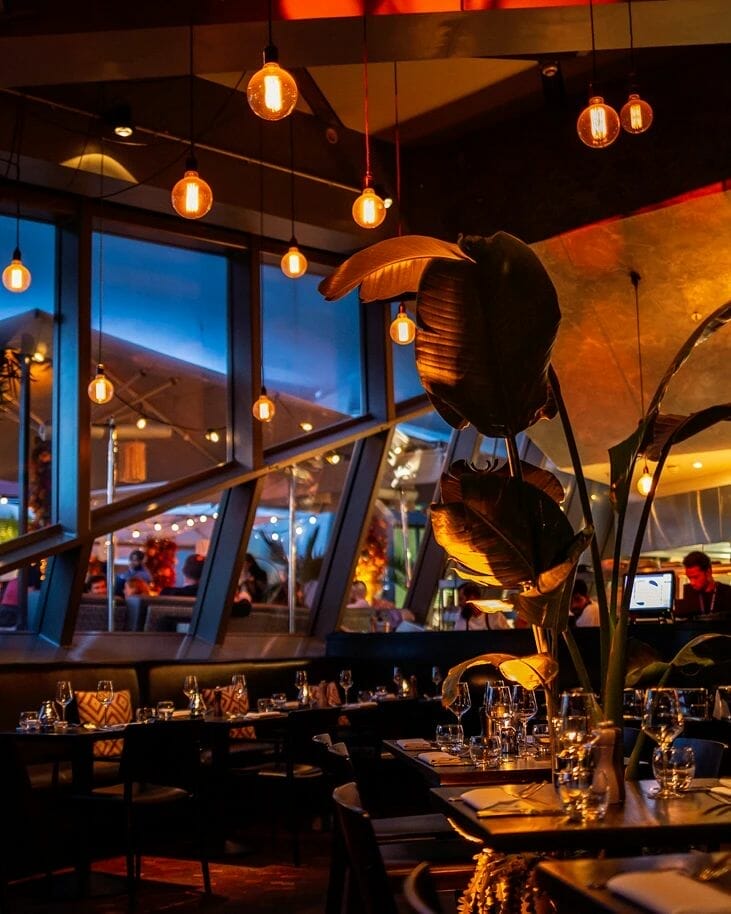 Rooftop views.
Penthouse lounges.
New York dining meets London landscape.
A night out at the Madison Restaurant near St. Paul's is a must-do for anyone who wants an upscale experience, delicious menu options, and some of the most gorgeous views across the city that you won't soon forget.
A dress code is enforced here, so leave the sneakers and shorts in your hotel, and instead make it a special night out.
With innovative starters like fried chicken & pancakes (yes, together) and decadent mains like chicken schnitzel and lobster linguine, you'll be eating like a king or queen.
The soft baked choc chip cookie (with hot chocolate sauce and milk ice cream) finishes off an amazing night of fun, food, drinks, and the London nightlife.
Address: Rooftop Terrace One, New Change, London EC4M 9AF
9. Dishoom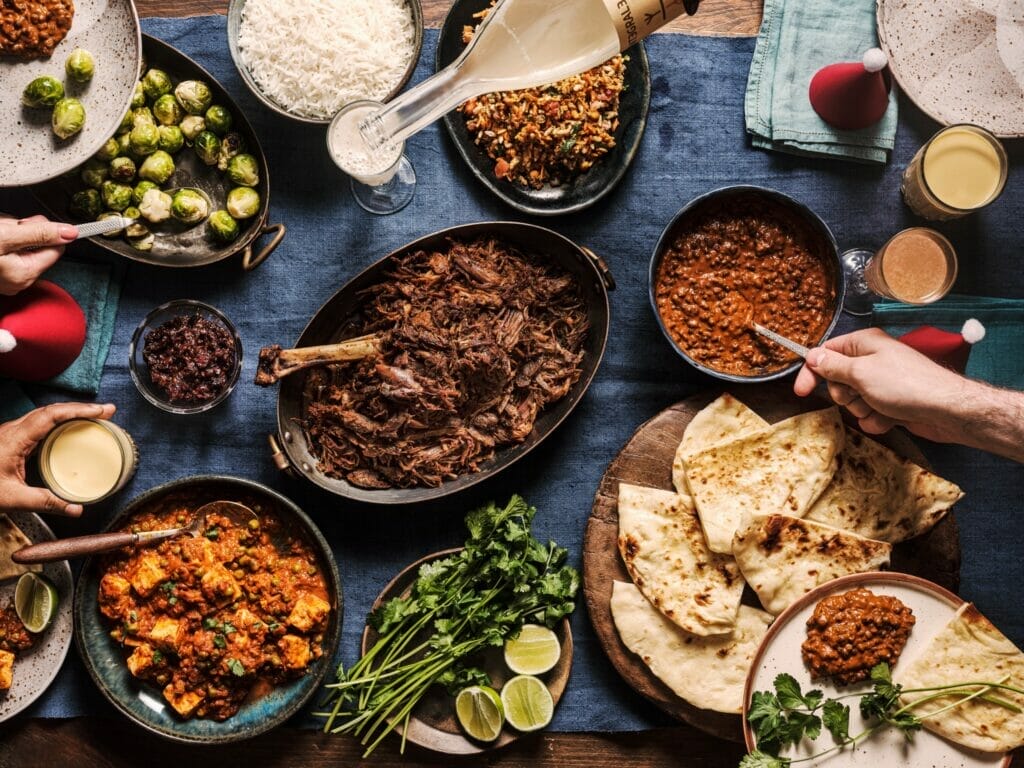 London does amazing Indian food, including breakfast, at the well loved Dishoom restaurants.
When my mom comes to London, that's all she wants and she could eat here for breakfast, lunch and dinner.
It's both casual and a bit luxury feeling, with different benefits depending on the location you choose, for instance the heated veranda in Shoreditch!
10. The Holly Bush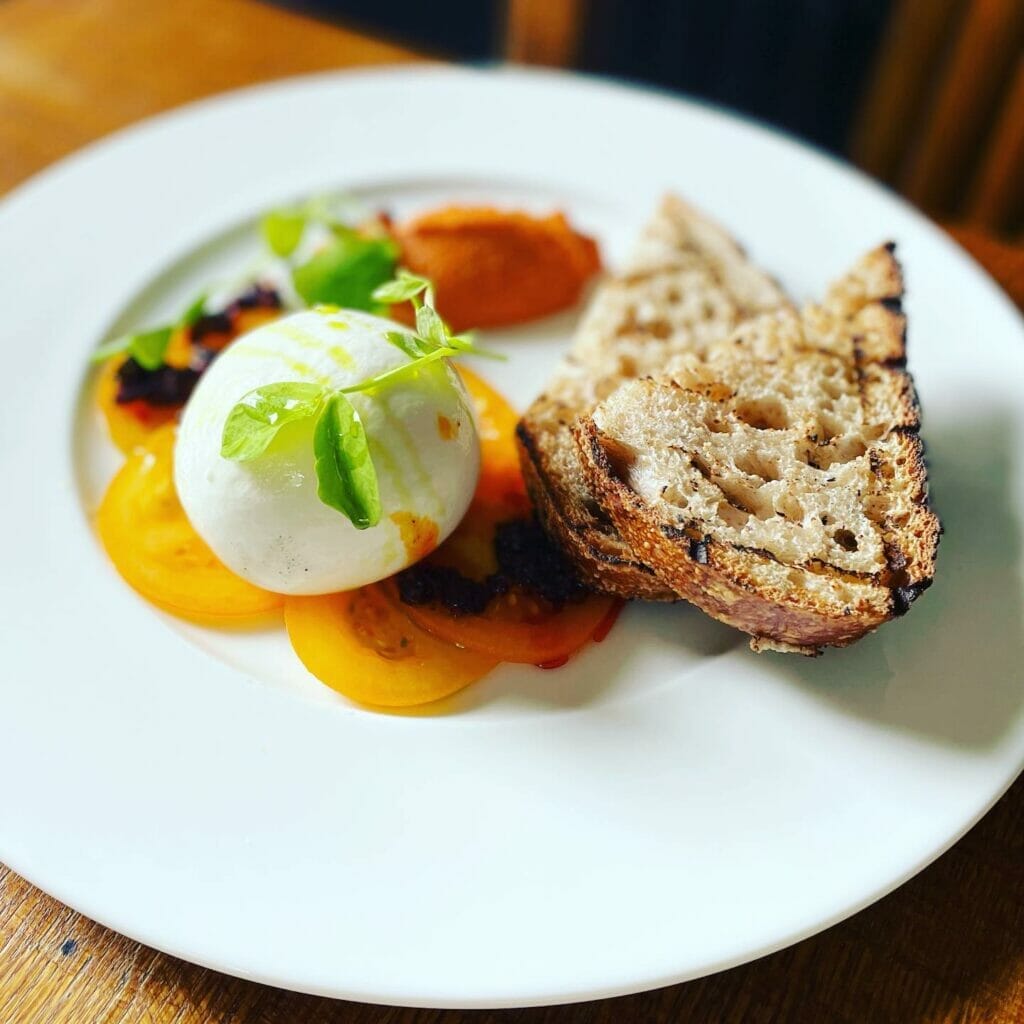 While technically a pub, I've included the Holly Bush in the restaurant section because it's most known for its great food.
It's got both a cozy pub side and a more formal dining room side and you'll find classic British dishes like roasted vegetables, meat pies and cauliflower cheese to delight the senses!
If you want to try British food while in London, this is one of the best places to do it.
Address: 22 Holly Mount, London NW3 6SG
11. The Ivy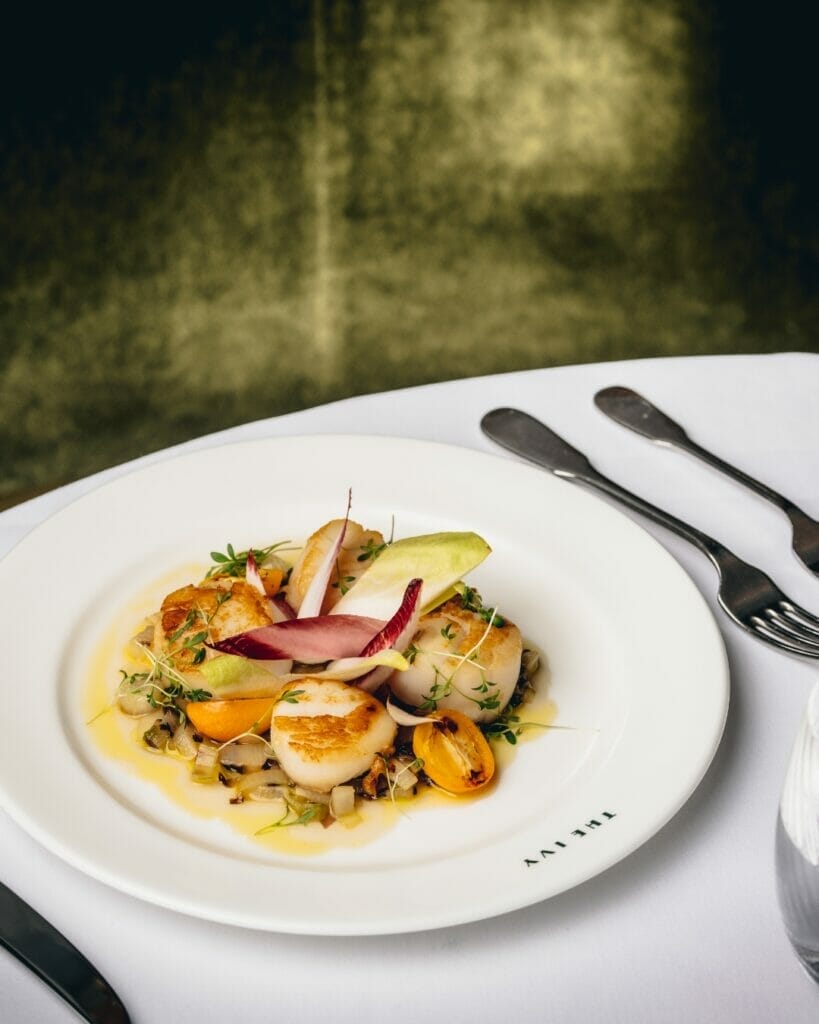 You can't go to London as a foodie without trying The Ivy.
This is upscale British cooking, not just fish and chips, and you can enjoy dishes like grilled tuna loin and artichoke salads that keep you talking about it for weeks.
Try the Tower Bridge location for incredible views of the river and Tower Bridge itself.
This is a great London restaurant for birthdays and special occasions.
12. Granger & Co Chelsea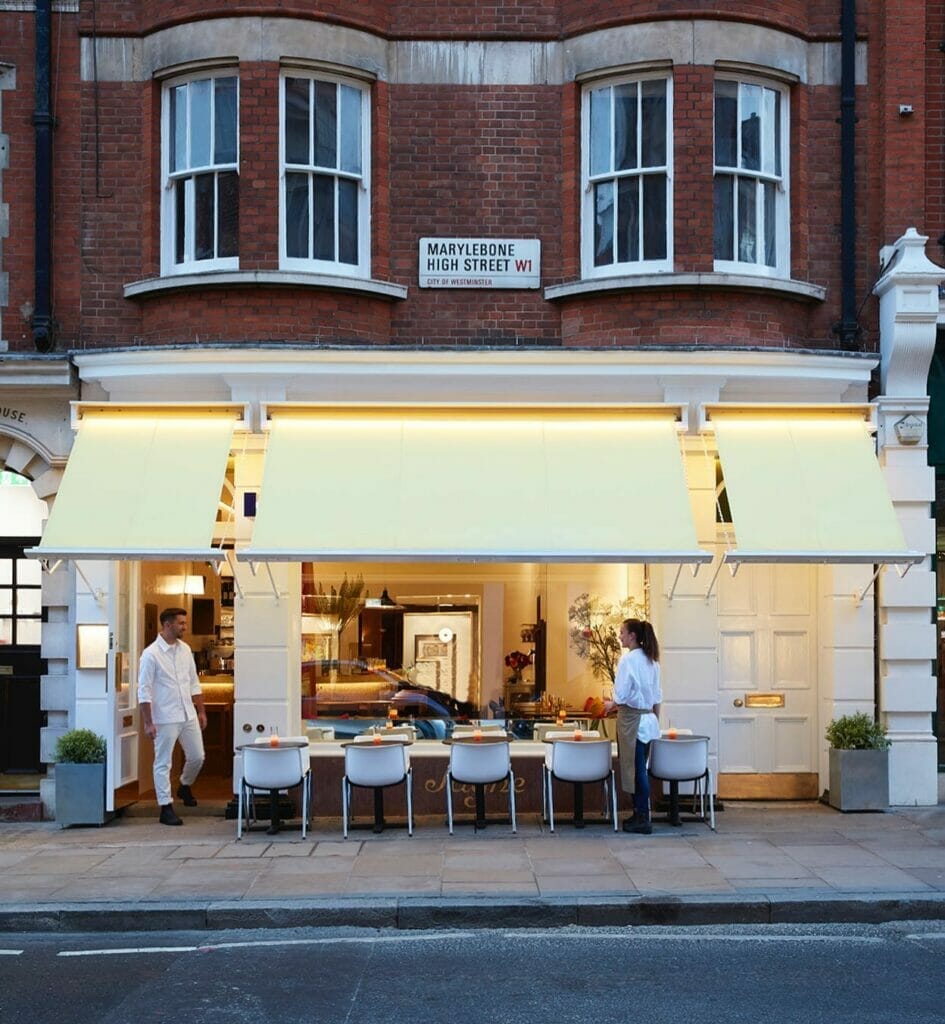 This casual dining experience in London has an eclectic fare and is extremely popular for its breakfast and brunch offerings.
Try the ricotta pancakes with honeycomb syrup for an out-of-this-world combo, or stick to classics like the scrambled eggs or granola bowls.
Granger & Co also serve lunch and dinner with interesting options like miso salmon and courgette fritters, as well as salads, beef burgers, more veggie options and coconut curries.
They don't take bookings for breakfast or lunch, so be prepared to wait a little bit.
If you want to visit for dinner, they do take bookings for after 5pm.
Address: 237-239 Pavilion Rd, London SW1X 0BP
13. Daphne's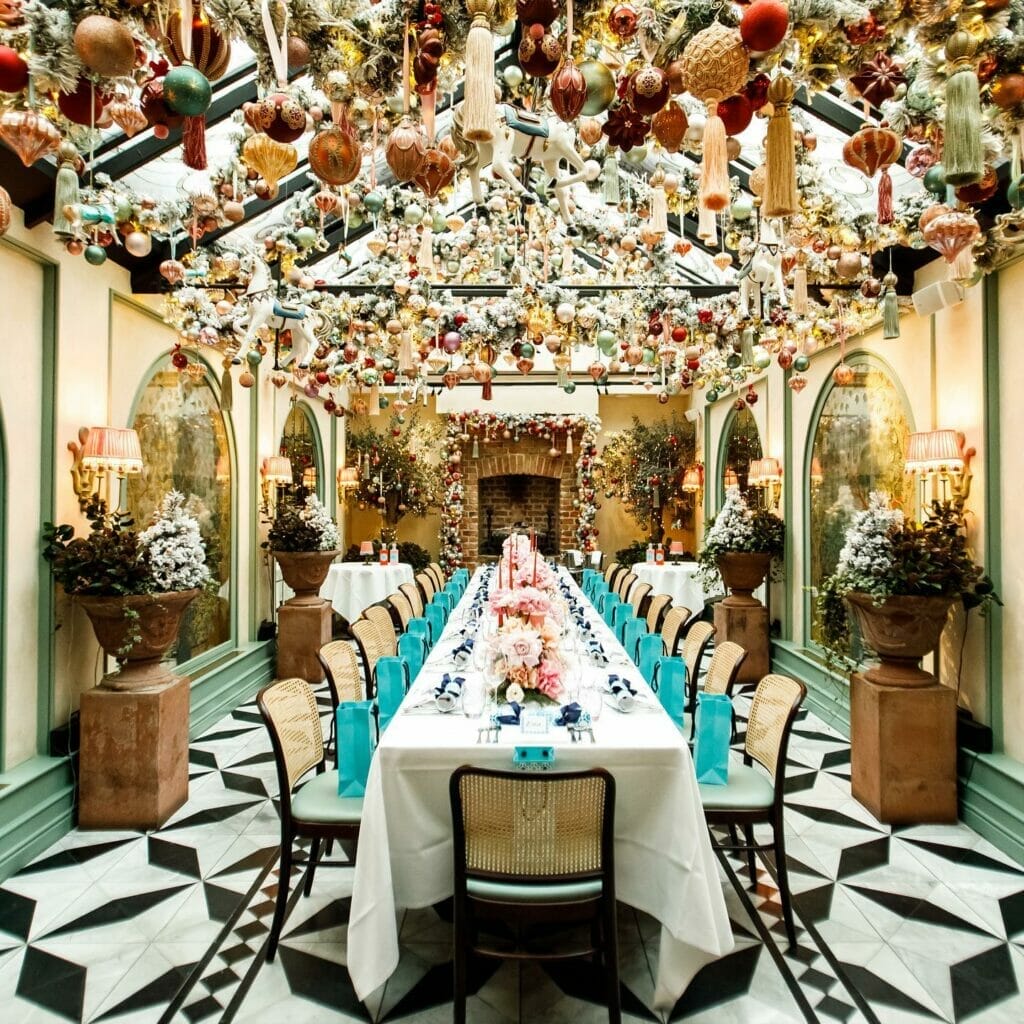 Want a special meal in London?
Daphne's is one of the best places to eat in London if you're looking for an incredible atmosphere, delicious Italian food, and service that won't disappoint.
It's great for people-watching and sneaking a few Insta pictures as the interior is absolutely stunning, but the food is where it really shines.
Try the burrata as a starter, then opt for either the spaghetti all astice or the ravioli di mozzarella for the mains.
The veggie fritters make a great side dish, and you can wash it all down with beautifully paired wines or a cheesecake or tiramasu.
Address: 112 Draycott Ave, London SW3 3AE
14. Hawksmoor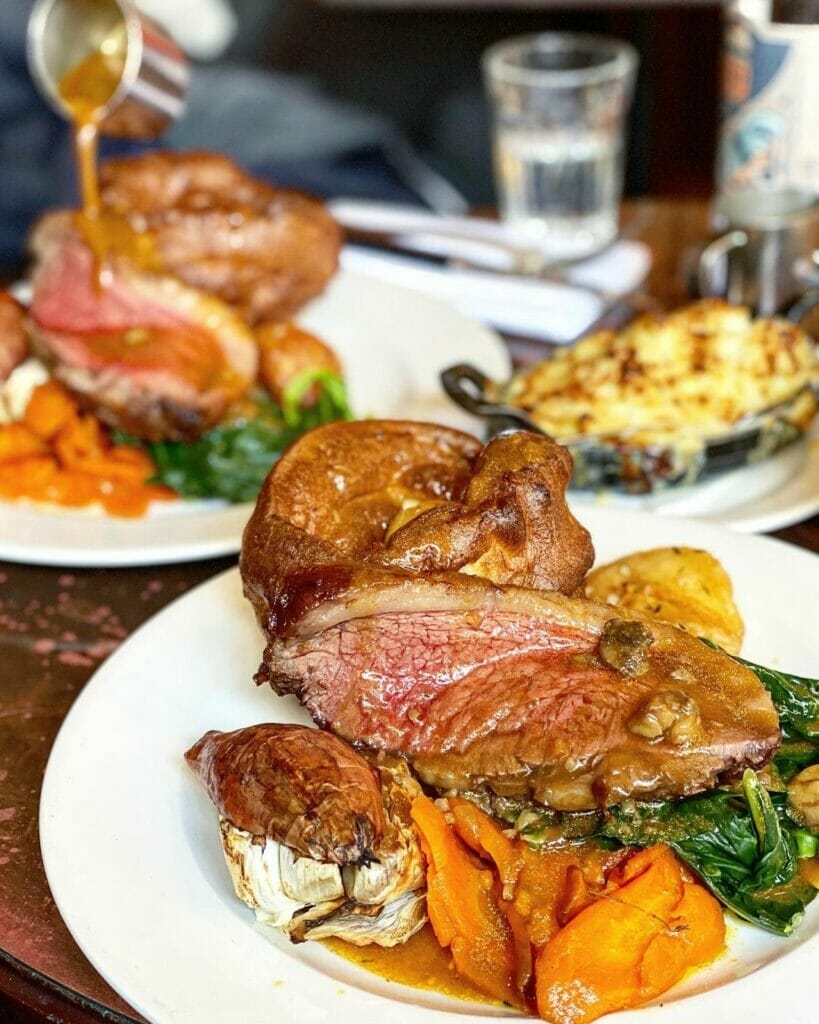 With multiple locations across London, you've got a few options of restaurants, each with their own local vibes but serving up the same quality.
Hawksmoor is known as a steakhouse in London, so it's perfect if you want to sink your teeth into a quality steak, but they also serve plenty of other options like fish, chicken, burgers, and always a veggie option.
They also do an incredible Sunday roast, featuring a slow roast rump, complete with roast potatoes, Yorkshire puddings, and plenty of greens.
Hawksmoor is an upscale dining experience in London without being stuffy, and they also do a great pre-and-post theatre menu at some of their locations near London's West End.
15. Harry's Dolce Vita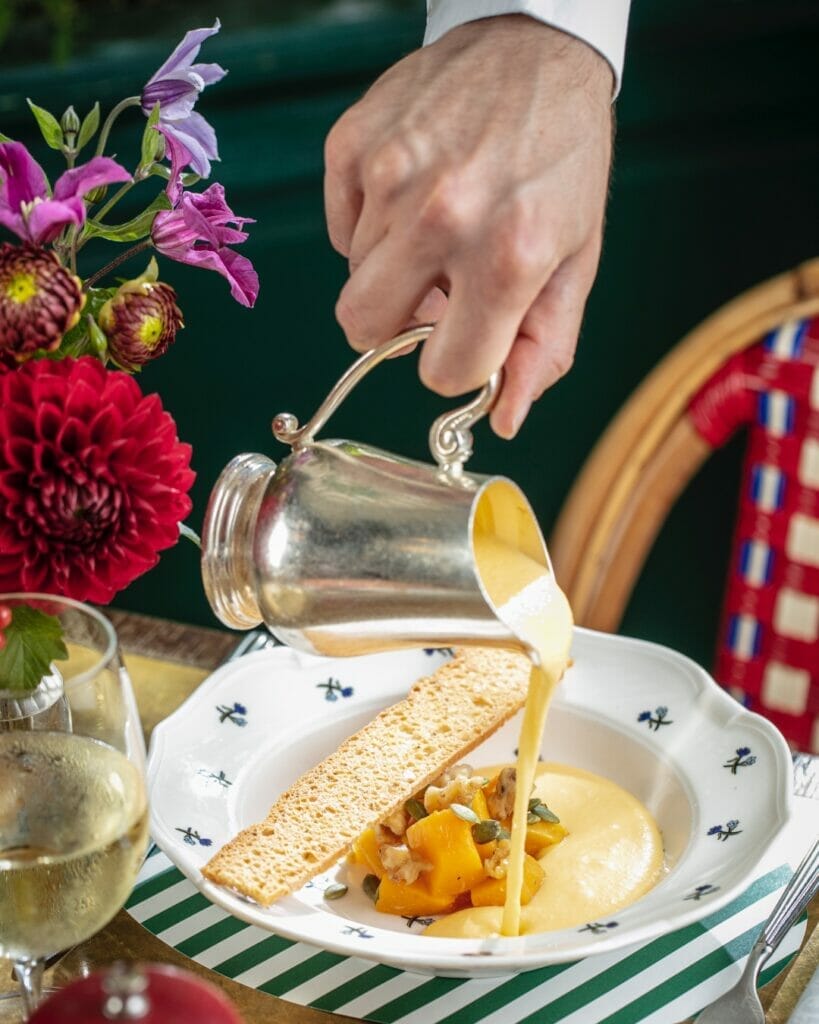 Want fine dining in London?
Harry's Dolce Vita is right behind Harrods (which is how you know we're talking fancy) and serves delicious food with incredible service that visitors continue to rave about.
Whether you're here for the pumpkin soup, the seafood pasta, the fried risotto balls, the pizza, or something else, you'll enjoy it in the wood paneled dining room reminiscent of a Parisian bistro with special touches and an ambiance that you won't soon forget.
It's a great stop for an anniversary, birthday, or other special occasion, and while it is an upscale dining experience, the prices are fair for London and cocktails are incredible.
Address: 27-31 Basil St, London SW3 1BB
16. Villa Mamas London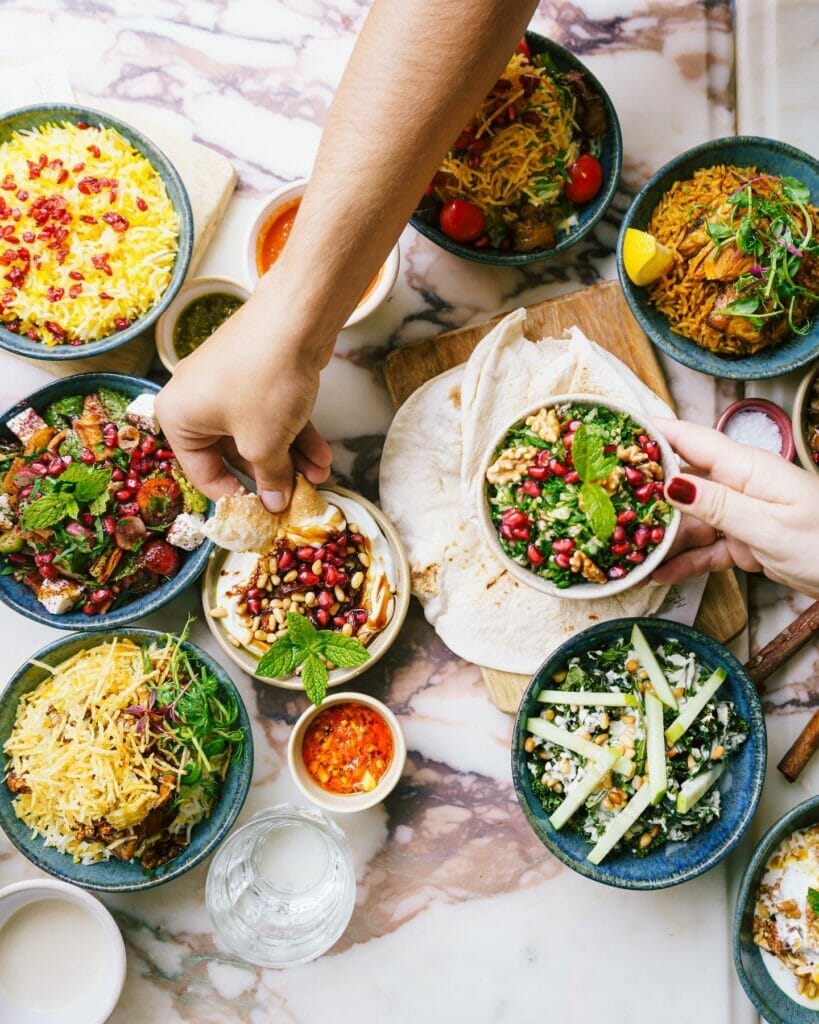 It's said that in London, you can get out every day of the year and try a different cuisine every day, and while we don't know if that's entirely true, your night for Middle Eastern cuisine should be spent at Villa Mammas.
They serve a fusion of Middle Eastern and Mediterranean cuisine, with an emphasis on traditional dishes with a twist.
Start with the Baba Ganoush or the Grilled Cypriot Halloumi, and then move on to Chargrilled Lamb Tikka, Chicken Machbous or Mousakka.
For dessert, the saffron ice cream is a unique flavor, while the Kaykat El Youm (cake of the day) is a great choice if you want something freshly baked.
The atmosphere is cozy and the staff are friendly and welcoming.
Address: 25 Elystan St, London SW3 3NT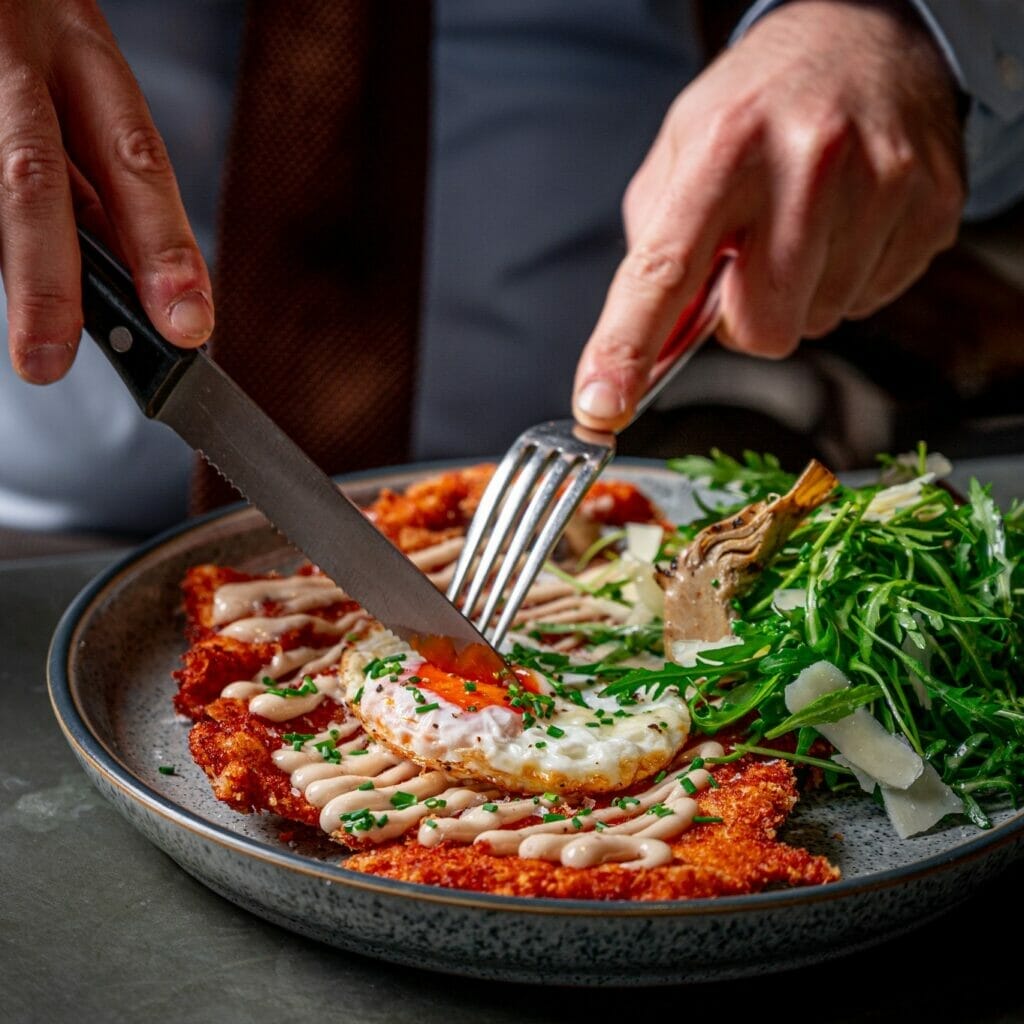 This adorable brasserie in South Kensington serves up elevated American dishes in a retro environment meant to resemble that of a polo club.
The bottomless brunch is top notch, but they also serve lunch and dinner with interesting options like truffeled chicken and seafood linguine.
There's also outdoor seating so you can people watchin South Kensington during the warmer months.
Address: 52 Fulham Rd., South Kensington, London SW3 6HH, UK
18. Fait Maison 50: cool restaurants London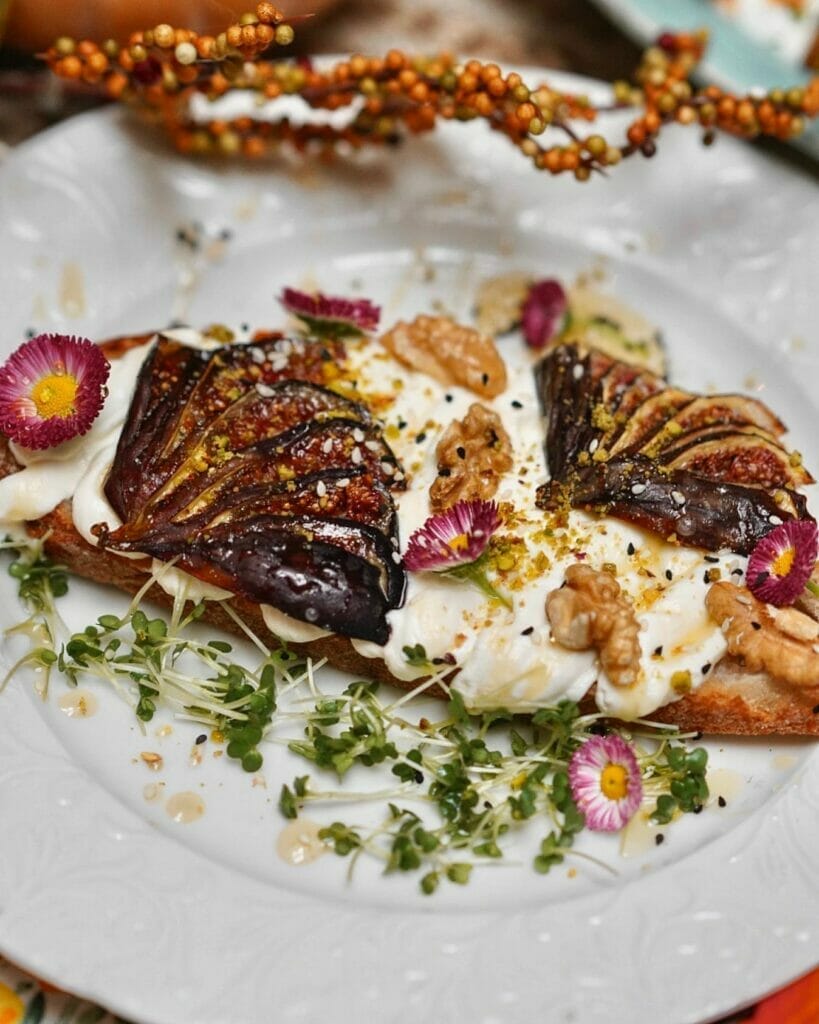 With beautiful decor and mouth-watering Middle Eastern dishes, Fait Maison is well-loved for its friendly atmosphere and awesome menu.
Try the shakshooka for breakfast, or try the chicken biryani or lamb maklouba for lunch.
There are also options for more picky eaters, like a vegetarian pasta or Fait Maison Chicken tacos.
Most people learn of Fait Maison through Instagram, as the interior is definitely photo-worthy, so make sure you have a reservation if you don't want to wait (though they do accept walk-ins as well).
Address: 50 Gloucester Rd, South Kensington, London SW7 4QT, UK
19. Eat Tokyo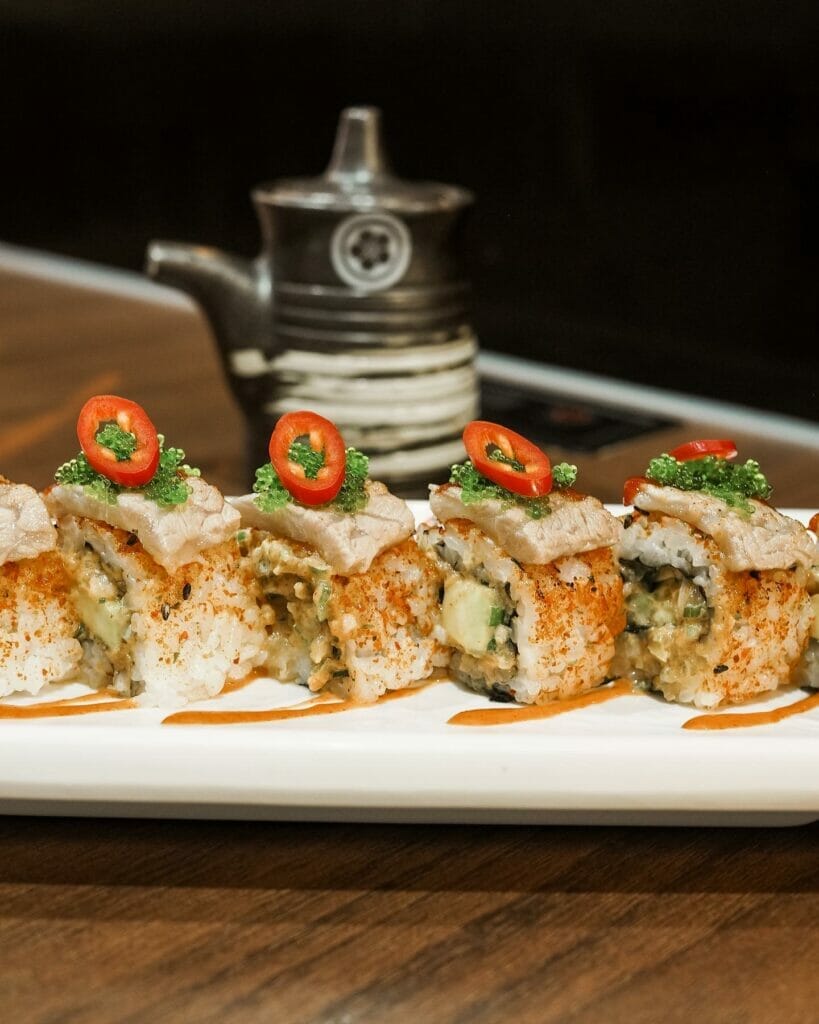 Eat Tokyo has 8 branches across London of authentic Japanese restaurants.
You can order dishes individually, or you can get a bento box which contains rice, fish, or meat with cooked or pickled vegetables.
From udon to fried squid to sushi, the menu is vast and well marked for food allergies.
The portions are generous and the prices are fair, and the Soho branch makes for a great pre-theatre meal if you love Japanese food.
They also do takeaway if you're staying in an AirBnb or hotel nearby and just want something to enjoy in the room.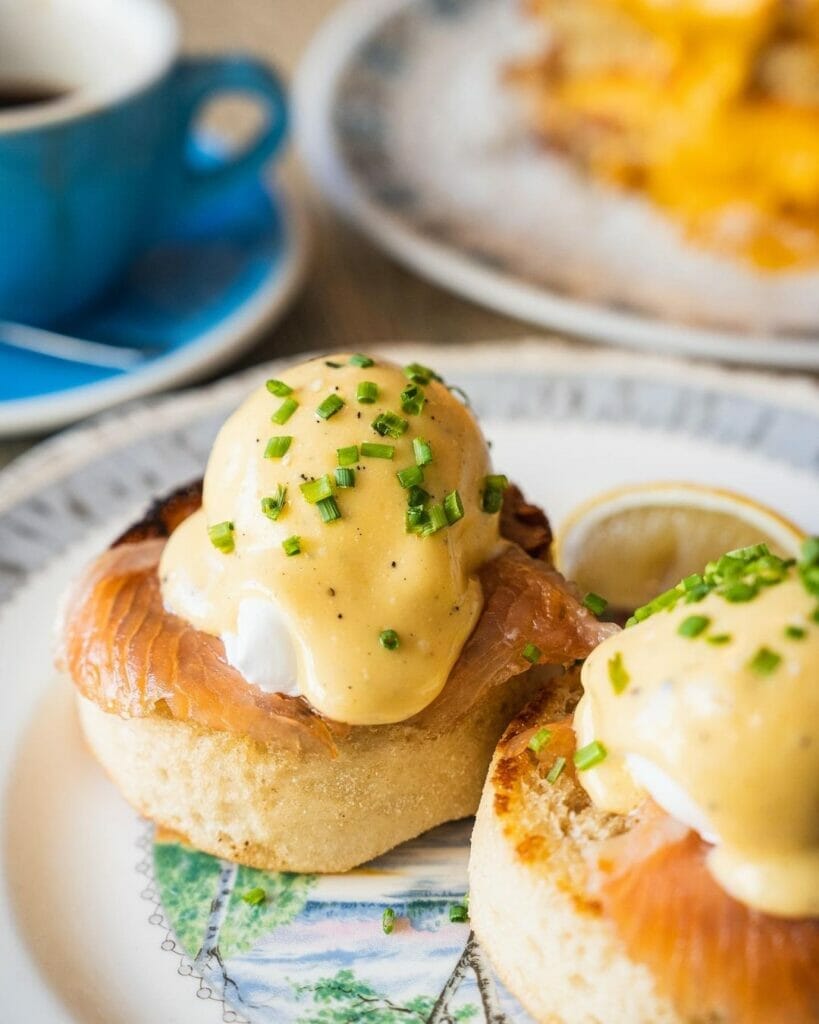 As the name might suggest, Eggbreak is one of the best London restaurants if you're all about eggs!
Eggs are the name of the game here from breakfast until dinner, with options like poached eggs on toast, eggbreak benedict, salmon fish cakes with poached eggs, and so much more.
If you're not a huge egg fan, you can still dine here with options like the BTA bap, halloumi and avocado salad, and pancakes or nutella French toast.
It's a hip café open until about 3pm daily, and it doesn't take bookings so be prepared to wait a little bit as it's a super popular London hangout.
Address: 30 Uxbridge St, London W8 7TA, UK
21. Pizza Express: best places to eat in London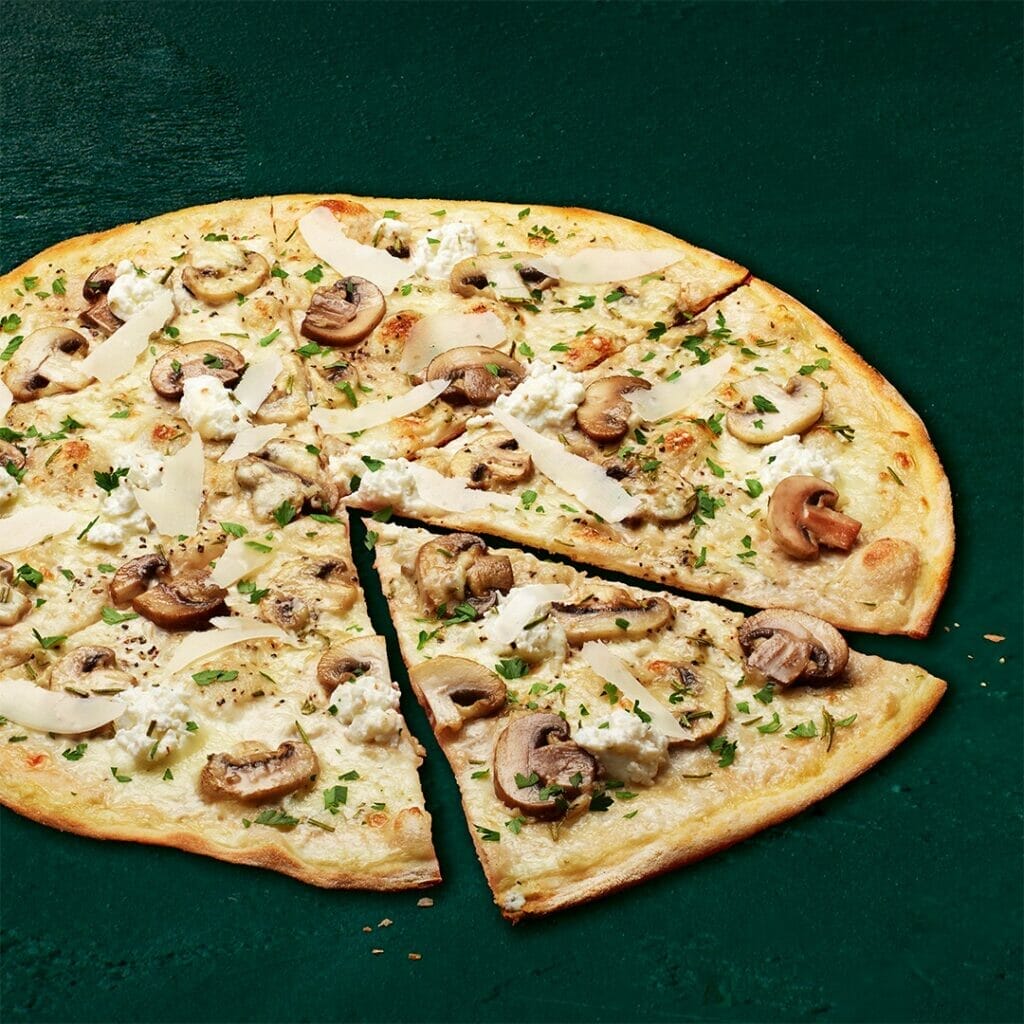 Unlike some of the other options on this list, Pizza Express is not a "fine dining" location or a unique experience in London: it's a pizza chain restaurant that has locations all around the city.
However, it makes the list because Pizza Express is one of the best chain pizzas in London, with plenty of other options like a wide variety of pastas and other Italian dishes.
The dough balls are basically renowned across the UK (they seriously melt in your mouth), and it's a great family-friendly dining experience with friendly service, typically large restaurants, and pizzas that are made right there in their open kitchen area so you can watch them tossing the dough and putting fresh ingredients on before serving.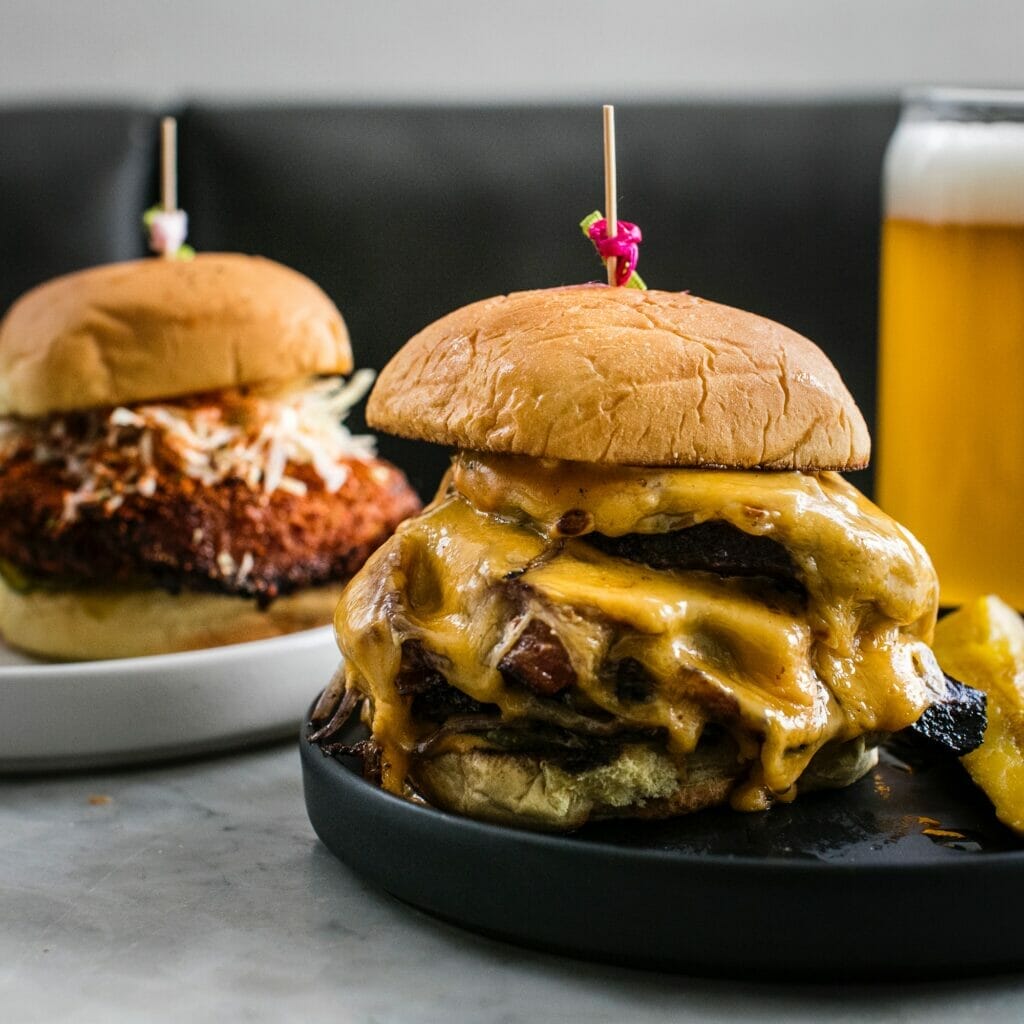 This American restaurant puts an authentic spin on classic American dishes and serves up some of the best brunch and dinner in London.
The adorable Notting Hill location makes for an enjoyable meal out with some shopping or sightseeing afterwards, and the atmosphere and service is super friendly.
Go for the shakshuka and egg sandwich, or try the pancakes with chocolate praline sauce.
It's a great place for a catch up with friends, as they also have some sharing-friendly dishes.
Address: 98 Westbourne Grove, London W2 5RU
23. Chez Maiss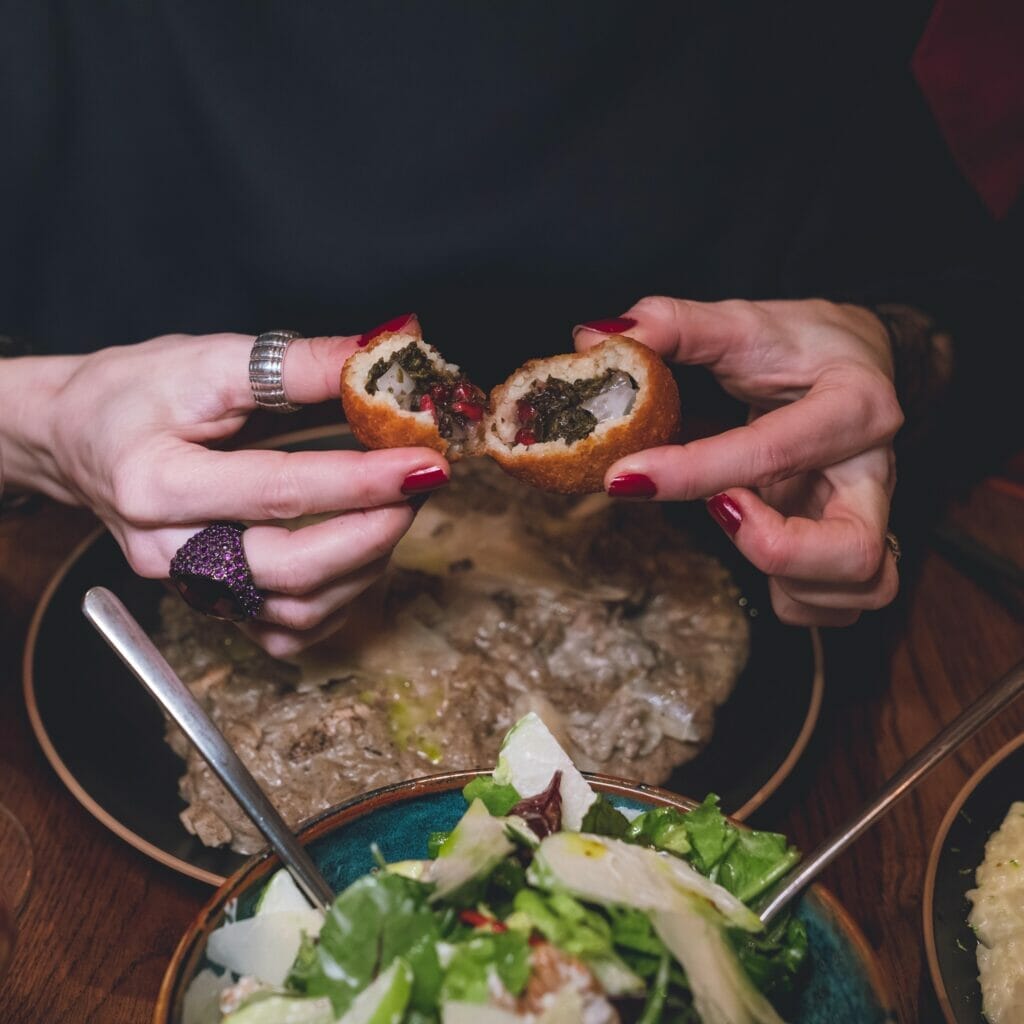 Mediterranean staples are on the menu as the super star at Chez Maiss.
With everything from kebabs to seafood to kid-friendly options, there's no better place to get quality food at good prices in London.
The bar and grill atmosphere is sleek and stylish, but the atmosphere is welcoming and comfortable – no stuffiness here.
The prawn risotto, gnocchi, and fried calamari get particularly high marks.
Address: Broadway Shopping Centre West, Unit 21a – 22b, Hammersmith Broadway, London W6 9YD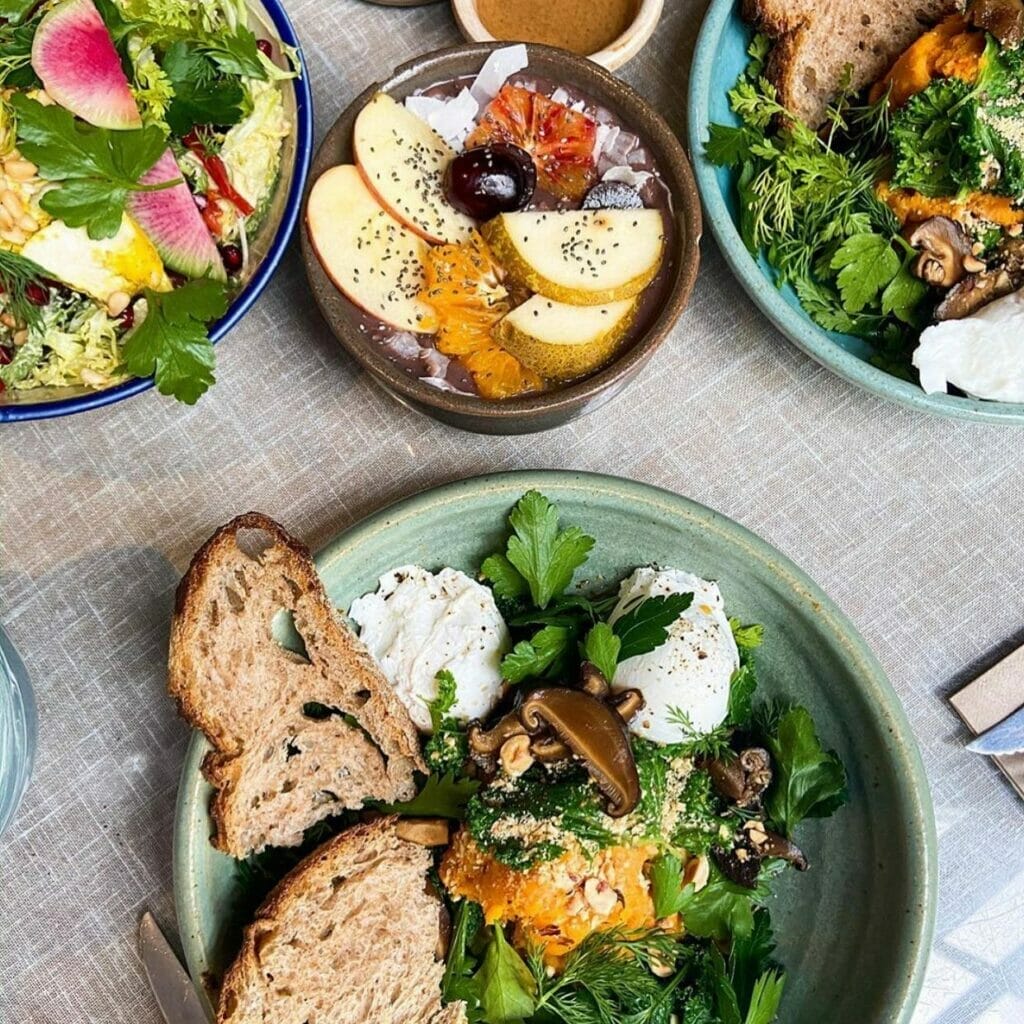 All day brunch is the name of the game at Farm Girl Notting Hill, where everything from avocado toast to cherry ripe pancakes call your name.
Try the apple and pear pancakes for something a little bit different, or opt for the farm breakfast plate to sample a little bit of everything.
After 11am, there are also sandwiches and salads to choose from like the coconut BLT sandwich or the farm bowl salad.
It's colorful, it's friendly, and it's got great vibes and great food so what are you waiting for?
Address: 59A Portobello Rd, London W11 3DB
25. Bondi Green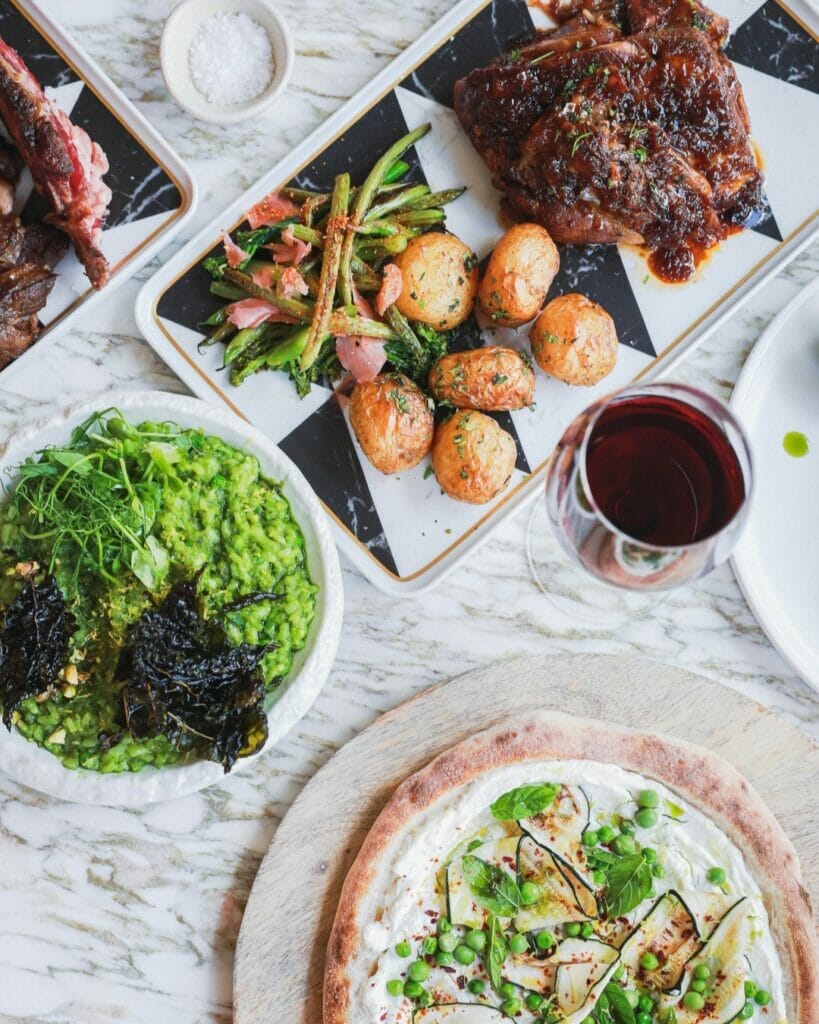 Bondi Green is an Australian-inspired restaurant with a bright and airy dining room near Paddington.
The meals are full of flavor and not expensive for their portion sizes, with decadent options like fancy bacon rolls, poached eggs and banana bread.
It's a great spot for brunch and casual enough to host a meet-up here with friends and acquaintances.
Bonus: it's right on the canal so you can take a nice stroll to stretch your legs afterwards!
Address: 2 Canal Side Walk, 2 Bishop's Bridge Rd, London W2 1DG
26. Fischer's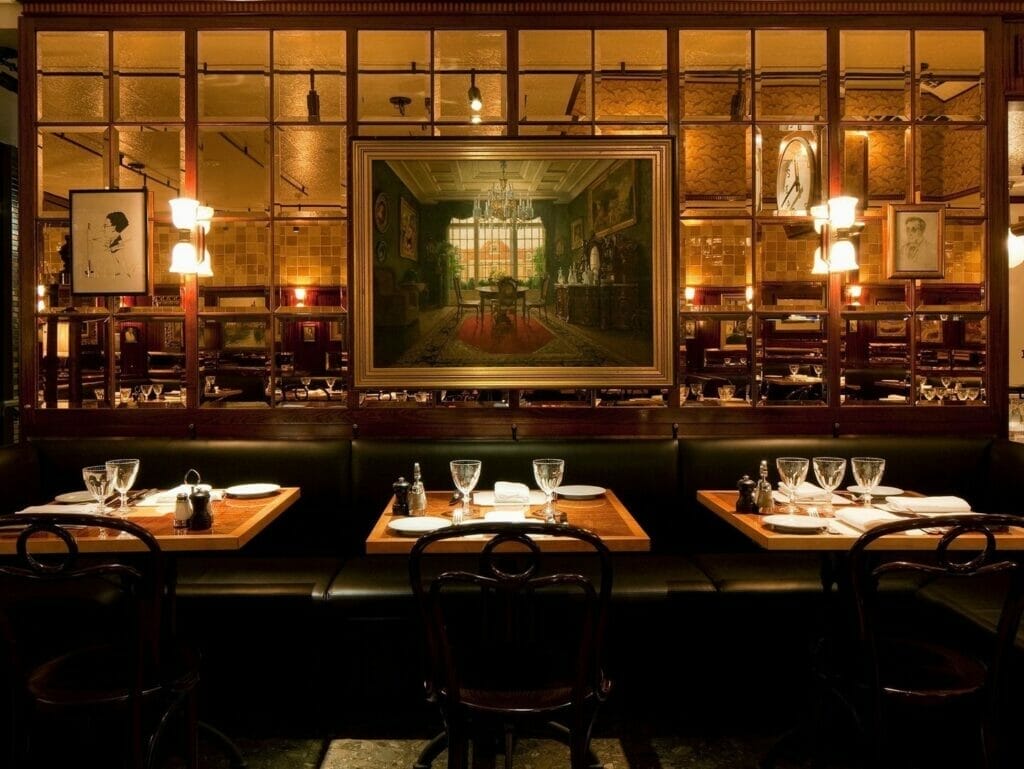 Want to travel to mainland Europe without leaving London?
Head to one of London's best restaurants, Fischer's, inspired by Vienna!
Right in Marylebone, it's easy to reach for anyone in central London and will make you feel like you've been transported to Austria with a menu featuring everything from strudel to schnitzels.
Try the sausages if you're a meat-eater, or opt for one of the amazing sandwiches.
They're open from breakfast until late, so no matter what time of day you can stop by, you'll find a fantastic option.
This is also a great place for a date!
Address: 50 Marylebone High St, London W1U 5HN
27. Kibele Restaurant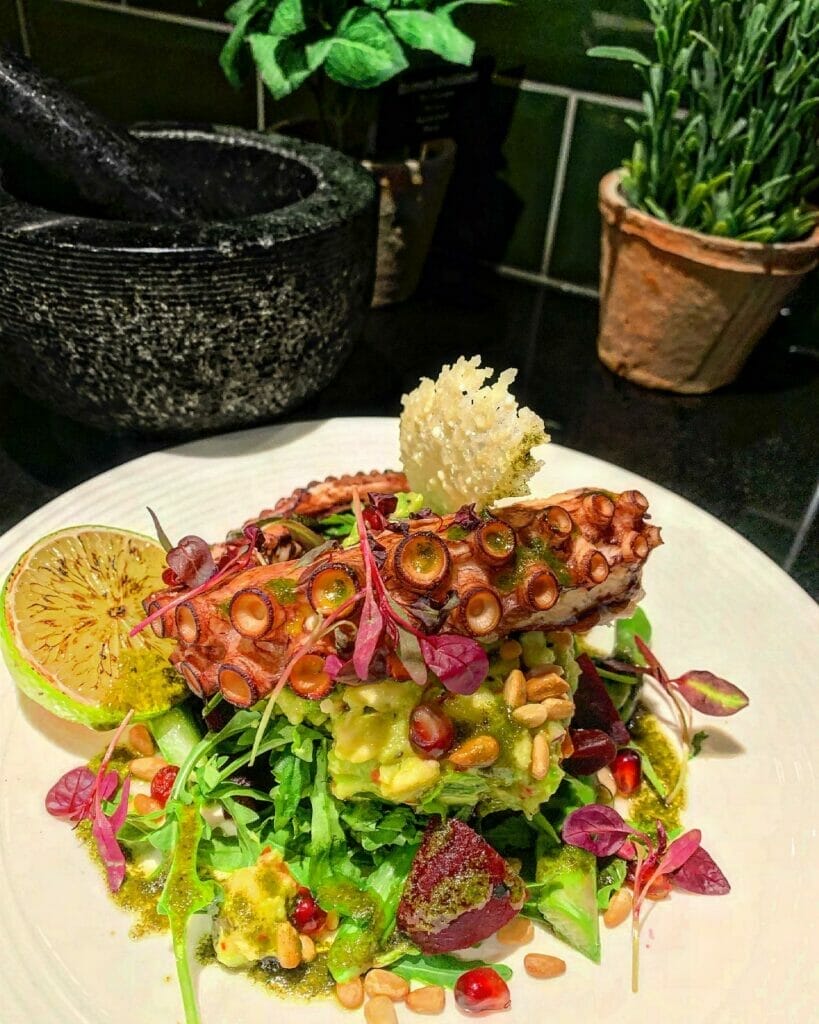 With some of the best Turkish cuisine in London, Kibele should go on any list for a London foodie.
The lamb is some of the best cooked you'll find anywhere, and the chicken shish is always grilled to perfection.
The desserts are also top notch.
Choose the pistachio baklava or the ice cream.
And there are often live bands and an in-house DJ late at night to keep the party going while everyone is enjoying their meals and drinks.
A true London experience.
Address: 175-177 Great Portland St, London W1W 5PJ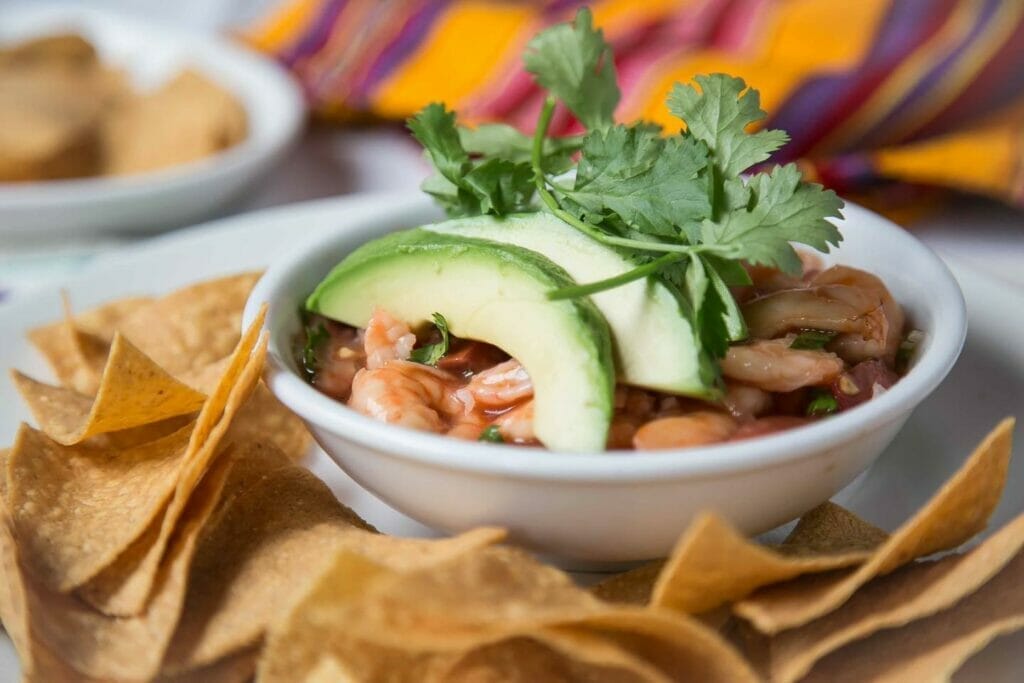 Let's face it.
London isn't known for great Mexican food.
But Mesitzo is changing all of that with their authentic offerings and origin story as a restaurant put together by a group of Mexicans to make sure the city finally had some good guacamole.
Choose from classic dishes such as enchiladas, or try a bit of everything with the taco tray.
The chips and guacamole (plus pico de gallo, of course) will satisfy that Mexican food craving, even in a capital city so far away from the heart of Mexican cuisine!
Address: 103 Hampstead Rd, London NW1 3EL
29. Murger Han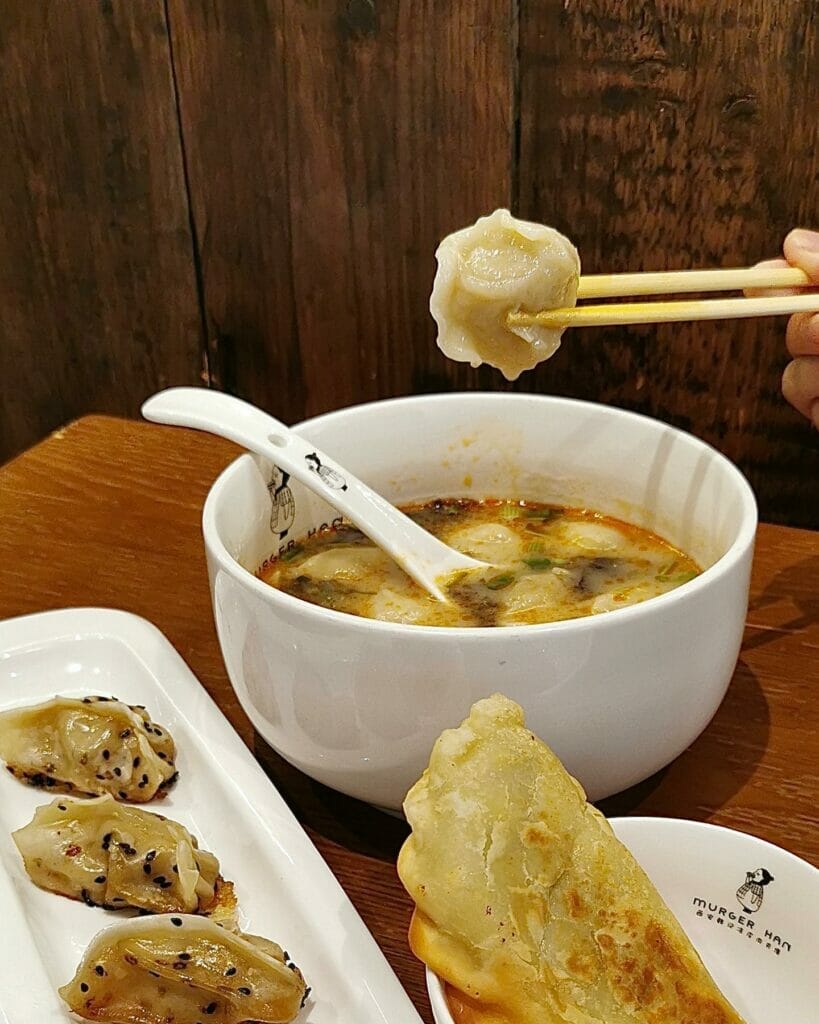 With 3 locations across London, Murger Han are bringing the Chinese street food scene to England.
A "murger" is basically "meat sandwiched between bread" and may be one of the oldest types of sandwiches available, dating back to the Qin dynasty!
Their signature dishes include murger, cold noodle, hot noodle, and murger soup, among other things.
It's a totally different twist on Chinese food that you've come to know, so expose your tastebuds to something different and try out this hot spot.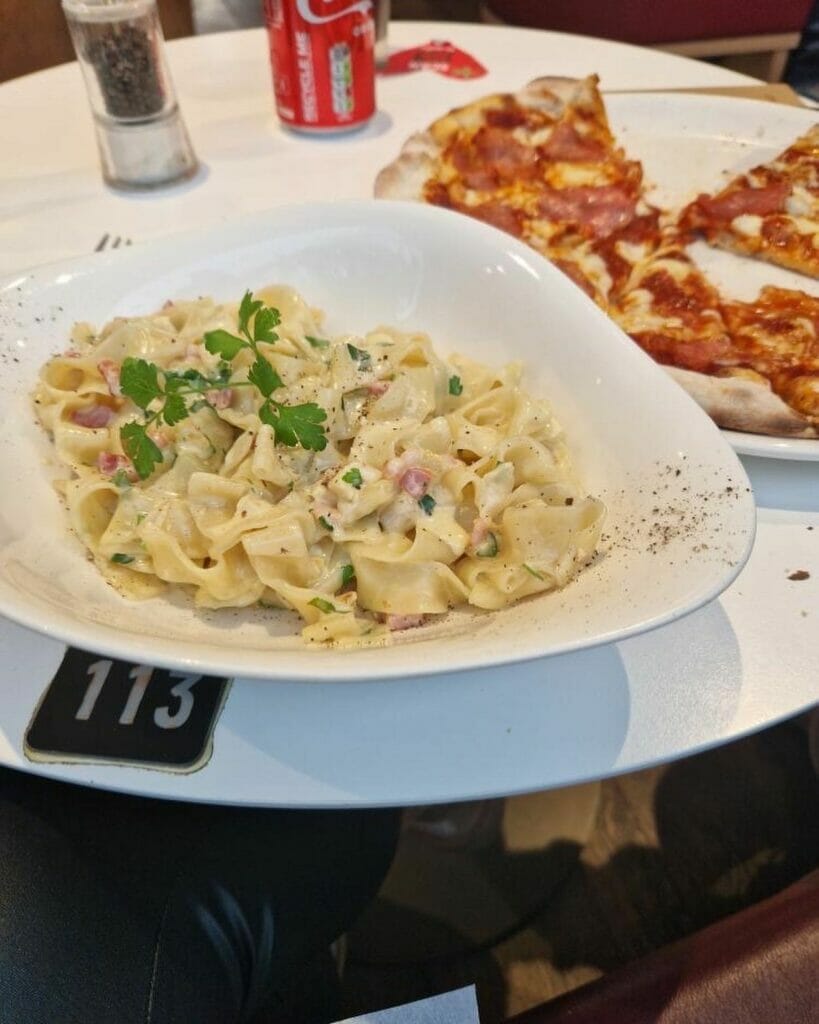 Pizzas and pastas are Vapianos specialty, all in a mix between fast food and traditional restaurant service.
It's casual, it's fast, and you can also "make your own," and have them create you a pasta or pizza concotion to suit you perfectly.
This is a great spot if you're looking for something before another booking like the theater, or if you don't want a long sit-down meal, but still want quality service and food.
Address: 19-21 Great Portland St, London W1W 8QB
31. Tattu London: nice restaurants London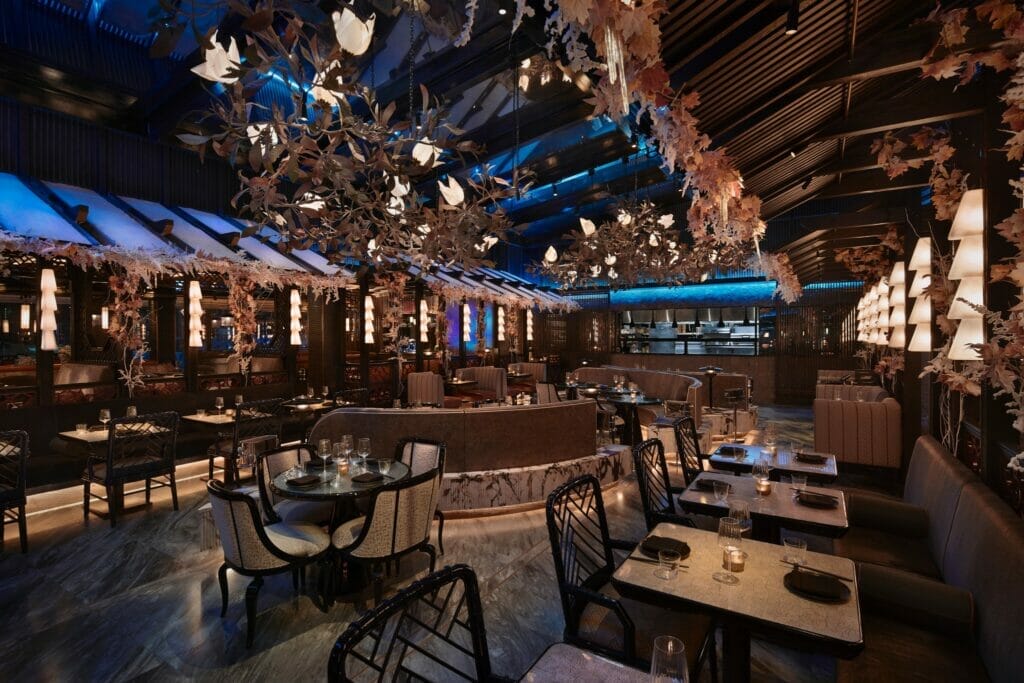 This trendy restaurant serves up contemporary Chinese cuisine in a seriously sleek and sophisticated atmosphere.
The cocktails are totally raved about, and the food is known from being beautifully presented (so no one will blame you if you take a quick Insta snap!)
Dining at Tattu is not just a meal.
It really is an experience, so prepare to be wow'd and to take your time as you explore the culinary delights it has to offer.
Address: The Now Building Rooftop, Outernet, Denmark St, London WC2H 0LA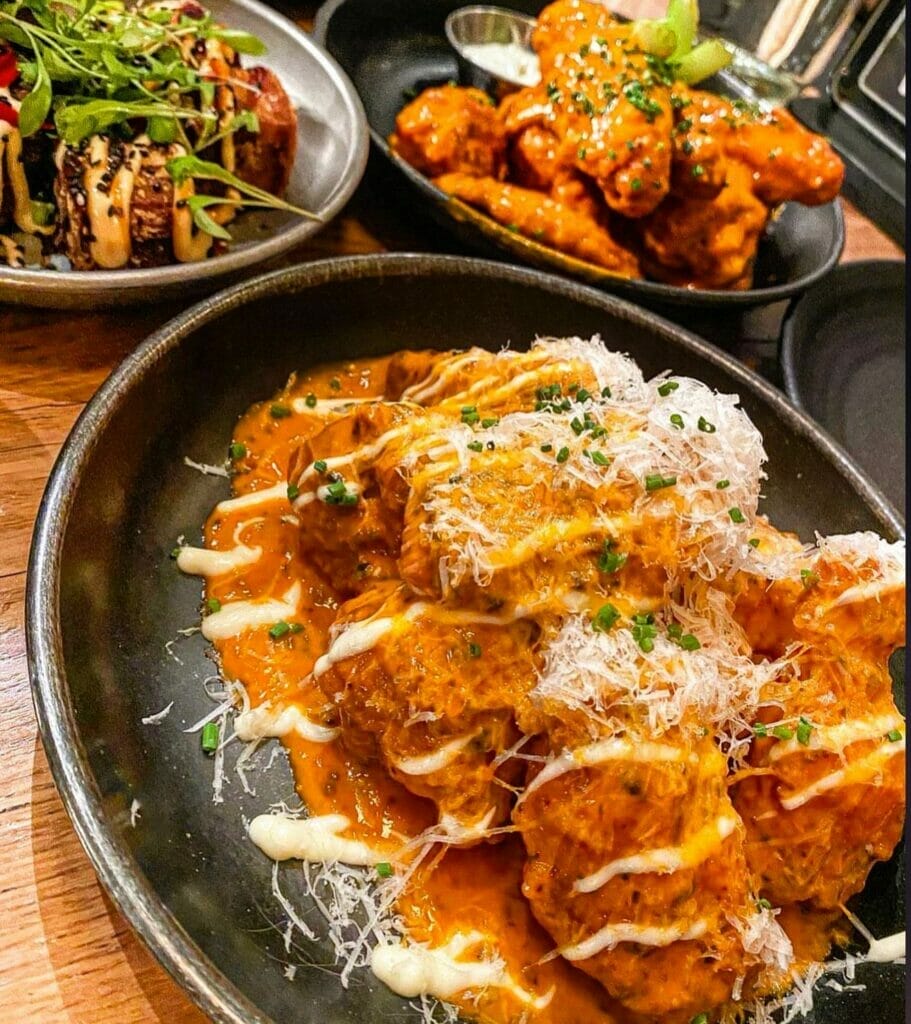 As the name suggests, it's all about the chicken wings at Wingman's!
This is a casual dining experience that still packs a punch and has an incredible array of wing dishes and other chicken dishes, like chicken burgers, to satisfy even the heartiest of appetites.
It's more American style in the menu, with some interesting options like homemade cornbread, a Thai Fry chicken burger, and sides like truffle mac and cheese or Korean cucumbers.
The locations are cozy and there may be music or TVs on in the background, so it's perfect for a catch up with friends if you want to feel the energy of London or have kids that you don't need to worry about keeping their voices down!
Address: 29-31 Old Compton St, London W1D 5JS
34. Rules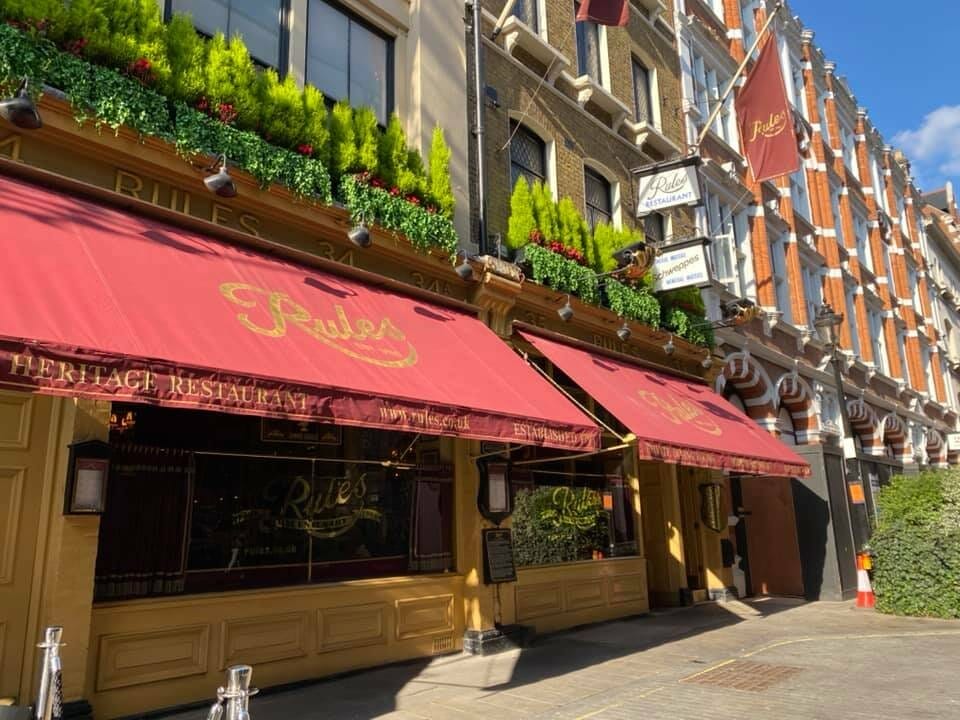 Established in 1798, Rules is the oldest restaurant in London.
Its age isn't the only reason this restaurant is iconic. It also serves amazing food.
That's why it's been open for over 200 years!
If you'd like to try some traditional classic British food, this is the place to go.
This is especially a great restaurant if you'd like to eat classic game dishes or oysters.
They also specialize in pies and puddings.
At Rules, you'll enjoy a great dining experience.
You'll also be able to soak in some rich heritage and history dating back to the 18th century.
Address: 34-35 Maiden Ln, London WC2E 7LB
35. Ave Mario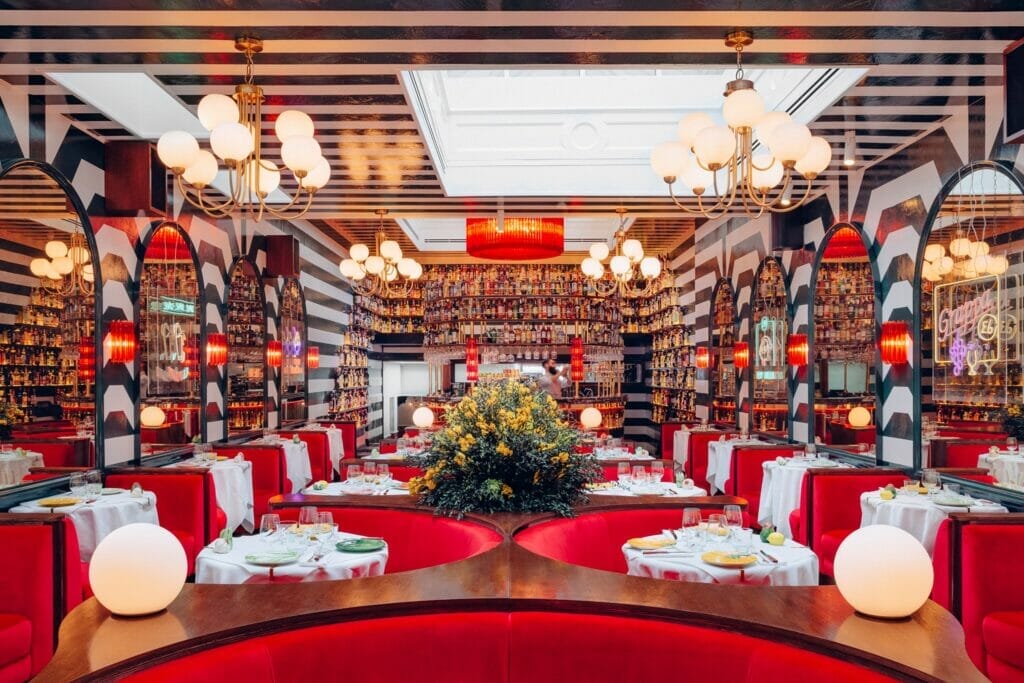 If you want the ultimate Italian dining experience, check out Ave Mario.
This restaurant was inspired by the "idyllic day in Florence."
Whether you want to grab lunch, dinner, or weekend brunch, Ave Mario has many open hours.
While you can make reservations, you can always walk in and grab a table.
This restaurant has nearly 300 seats so there's always room for one more visitor!
You can get ravioli, pizza, or any other Italian dish you can think of.
But save room for dessert!
Their Gelato Tower is 60 centimeters tall.
You'll want to share this with a friend after you take a picture.
Address: 15 Henrietta St, London WC2E 8QG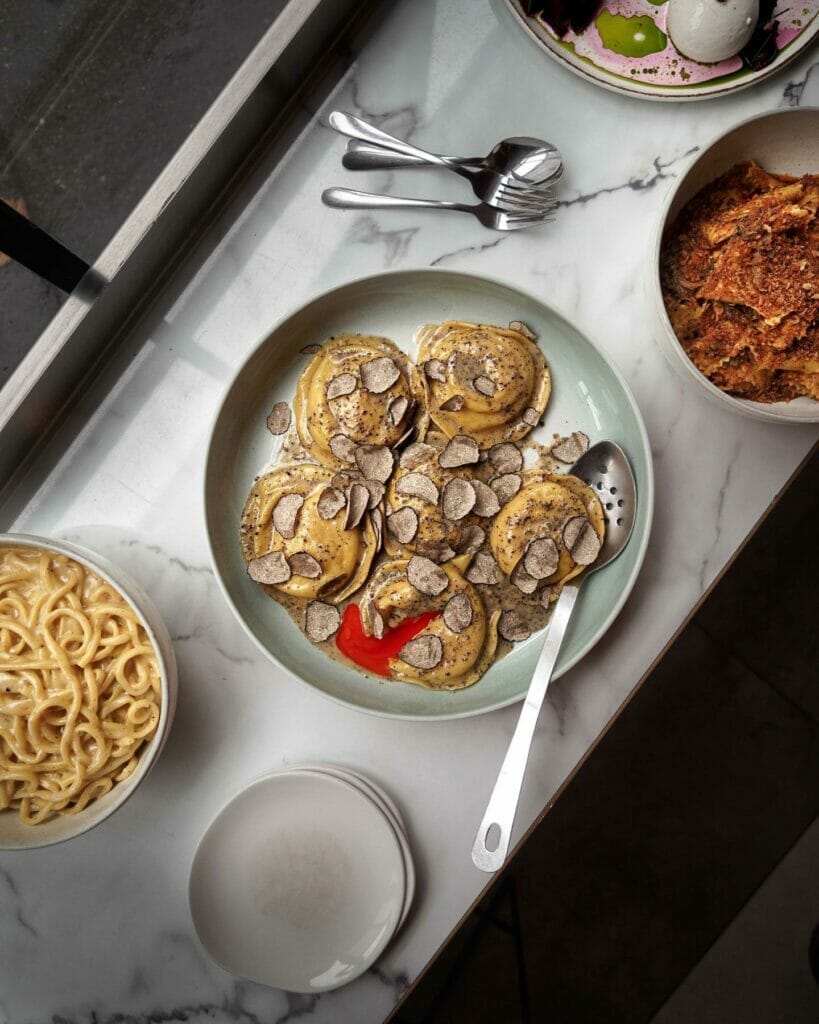 Bancone Covent Garden is known for its handmade pasta.
While the menu has an Italian vibe, the dishes are inspired by countries all over Europe.
This is also a great place to find obscure wines.
Their wine list features smaller wineries as well as some of the more popular ones.
If you'd rather get a cocktail, expect vermouth, bitters, and Campari.
These are the most common ingredients in their cocktail menu.
Bancone Covent Garden was awarded the Michelin Bib Gourmand in 2022.
This means you can definitely expect a quality dining experience!
Address: 39 William IV St, London WC2N 4DD
37. Spring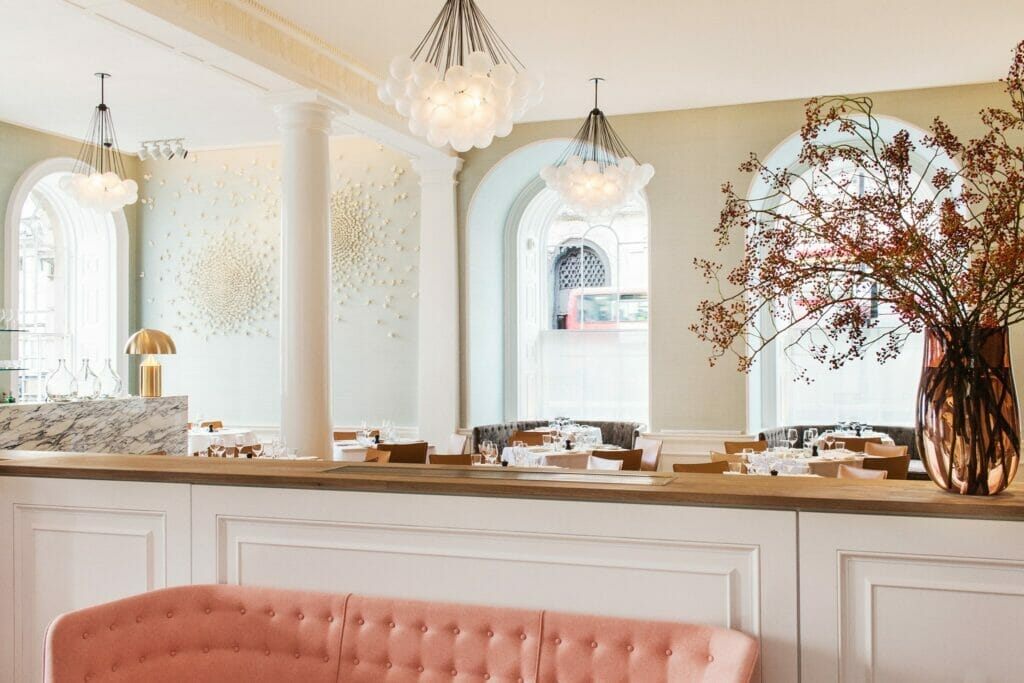 Spring is a cute restaurant located in the Somerset House.
If you love exploring the art scene, you'll already be in the area.
That makes this the perfect place for creative minds to grab a bite to eat.
Spring values using quality ingredients.
They use lots of vegetables and all their vegetables are the freshest available.
Although a vegetarian could fill up here, there are also meat options. Even meat lovers will enjoy high-quality food.
Another cool thing about Spring: it was the first plastic-free restaurant in London.
Not only does this restaurant source ingredients ethically, but they also don't use single-use plastic.
Support a cleaner planet by eating here!
Address: Lancaster Pl, London WC2R 1LA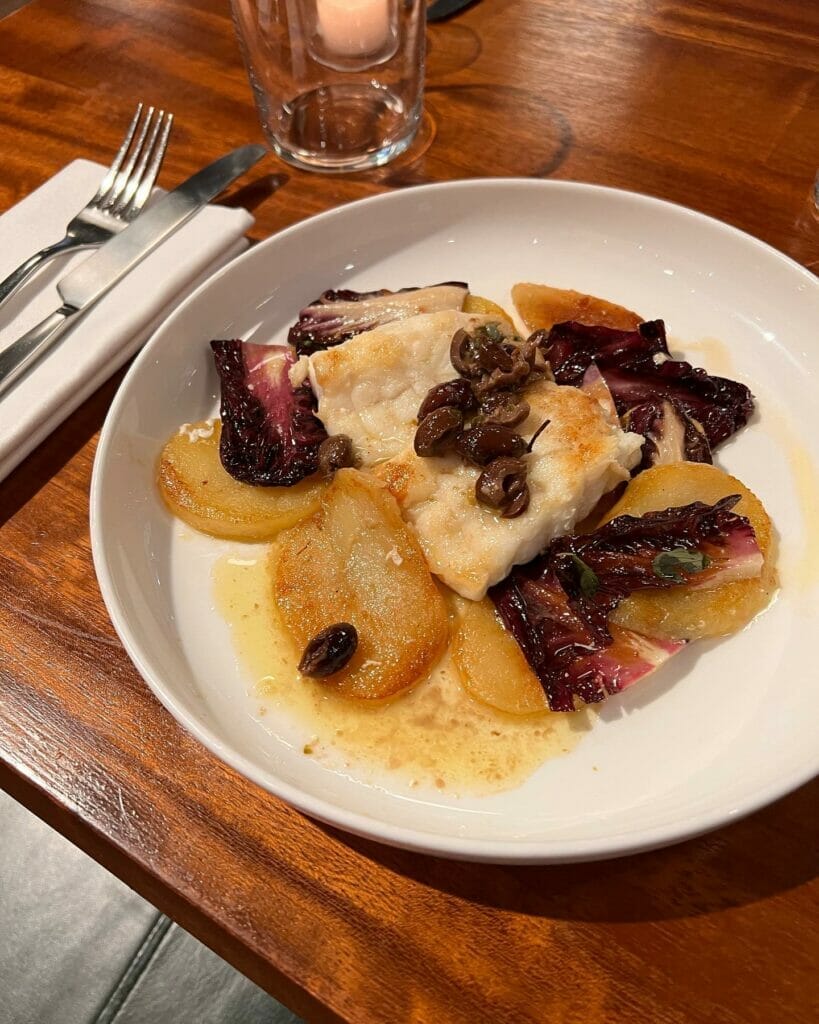 Toklas uses the best ingredients and focuses on a beautiful presentation.
If you're looking for the kind of meal you can post on Instagram, look no further!
This restaurant is also home to a bakery.
This means that you can count on fresh bread and other baked goods when you visit.
Even if you don't want to eat a full meal, you can stop by the bakery and grab a snack.
Toklas is especially known for its homemade bread.
You can grab a loaf for home or a sandwich on the go.
Address: 1 Surrey St, Temple, London WC2R 2ND
39. ROKA Aldwych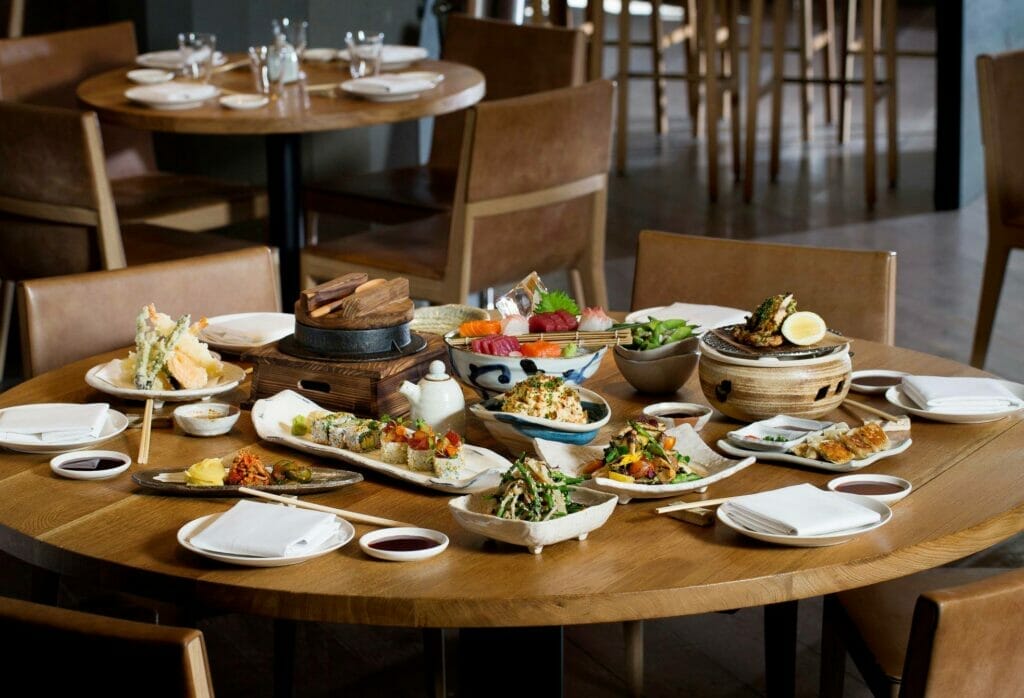 With ten locations throughout Europe and Asia, ROKA is a highly-esteemed restaurant.
ROKA is known for its Robata Japanese cuisine, or fireside cooking.
As with most Japanese restaurants, you could order a variety of sushi, sashimi, maki, and more.
If you're in the mood for something light, grab a salad or a healthy snack.
They also have a few Japanese-inspired desserts.
Since ROKA Aldwych is known for Robata, check out their Robata menu and see what sounds best.
They have a variety of meat, seafood, and vegetarian options.
If you can't decide, try the tasting menu.
This experience takes about two hours and is only available for parties of 2 or more.
Address: 71 Aldwych, London WC2B 4HN
40. Happy Lamb Hot Pot: top restaurants London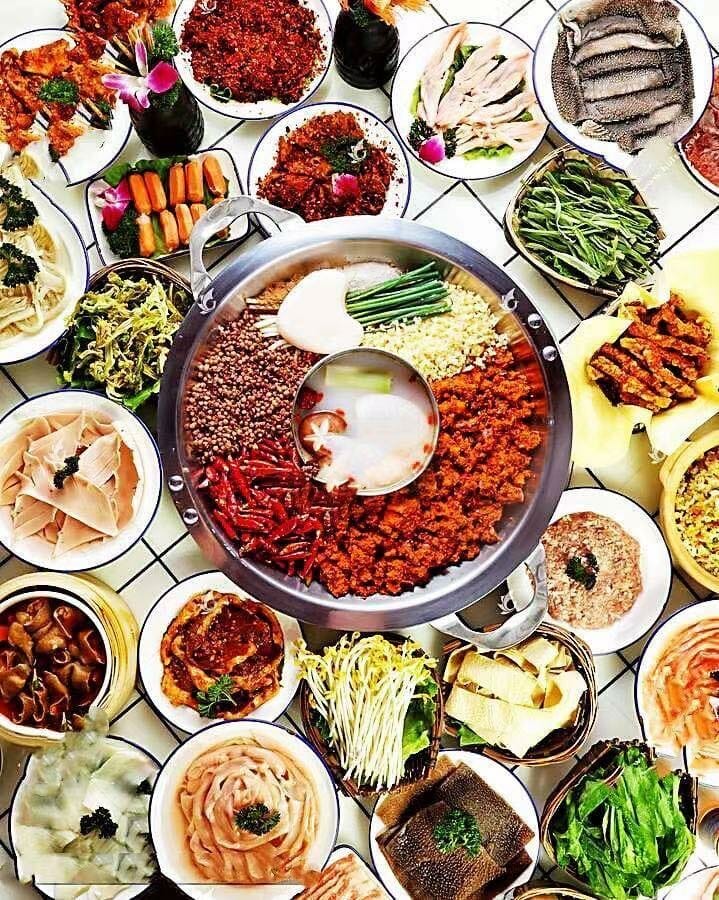 With several locations throughout the world, Happy Lamb Hot Pot is growing for good reason.
If you've never tried hot pot, you should add it to your bucket list.
At a hot pot restaurant, the tables have burners to warm up a pot of delicious broth.
You also have a variety of raw meat, vegetables, and sometimes other foods.
Cook these foods in the hot broth and then eat them at your own pace.
Happy Lamb Hot Pot boasts broth so delicious you won't even need sauce for your cooked foods.
Their four broth options take hours to make with dozens of ingredients.
Their meat is also of superior quality.
They use only the best lamb meat and beef at their restaurants.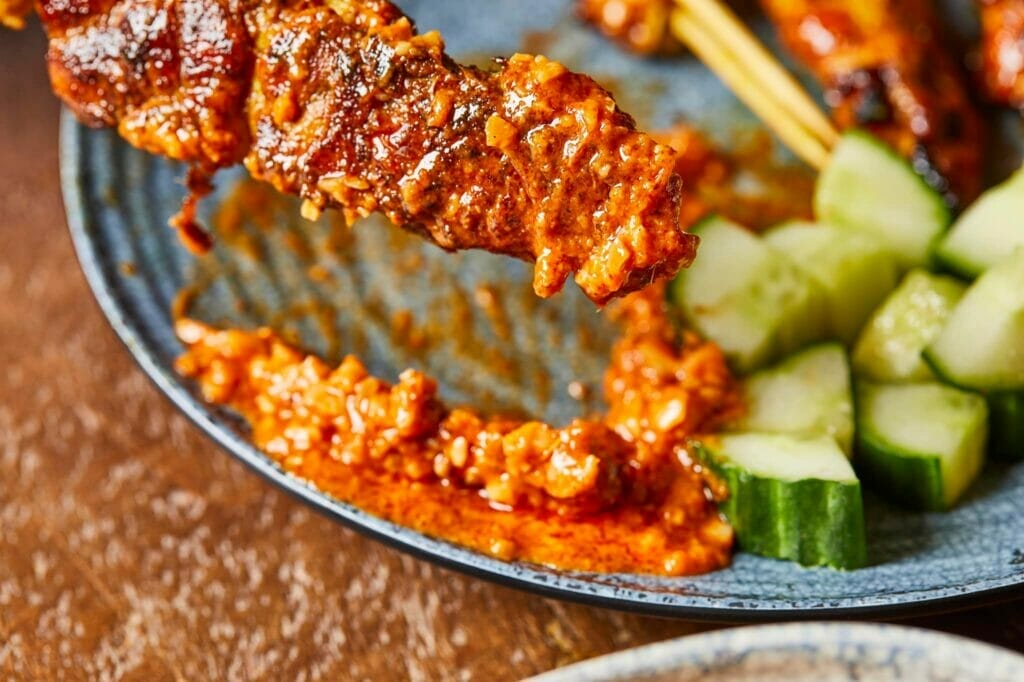 Roti King is the place to go if you want to enjoy Malaysian and Singaporean Street Food.
If you can't actually walk the streets of Malaysia, this restaurant in Euston is the second best!
Founded by a native Malaysian, Roti King was established to bring Malaysian street food to a wider audience.
The founder himself is the chef and creates dishes from the authentic recipes his parents passed down to him.
Roti is a type of flatbread native to Asia.
The Roti King is especially known for its Roti Canai.
However, you could try a few other roti options or something without roti at all.
However, we definitely recommend trying the signature dish if you visit.
Address: Euston, 40 Doric Way, London NW1 1LH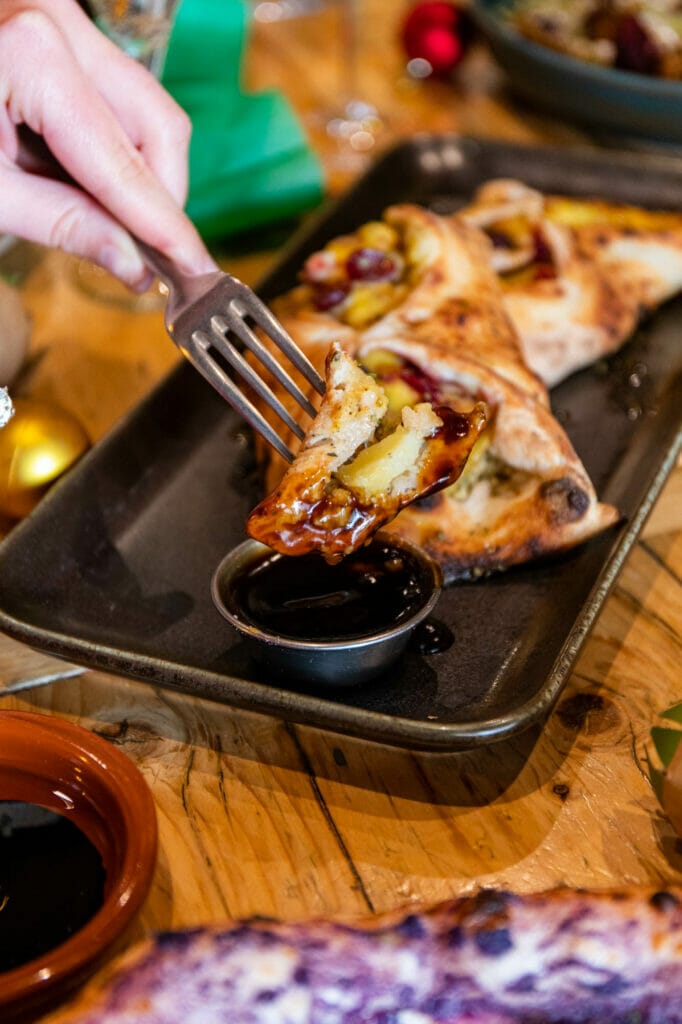 Purezza is a fully vegan restaurant that strives to be inclusive to all.
The menu is full of options for anyone who might struggle to find food they can eat.
Purezza serves vegan food to align with the company's values of sustainability.
Even their furniture and building are made of vegan and upcycled materials!
They also avoid sending anything to the landfill.
They have reduced their use of anything that can't be composted and recycled.
Even their used cooking oil is converted into biodiesel!
Their menu is full of Italian-type dishes, especially pizza.
It's also affordable. Kids eat free with an adult!
And go ahead and bring your dog because they even have a dog menu.
Address: 45-47 Parkway, London NW1 7PN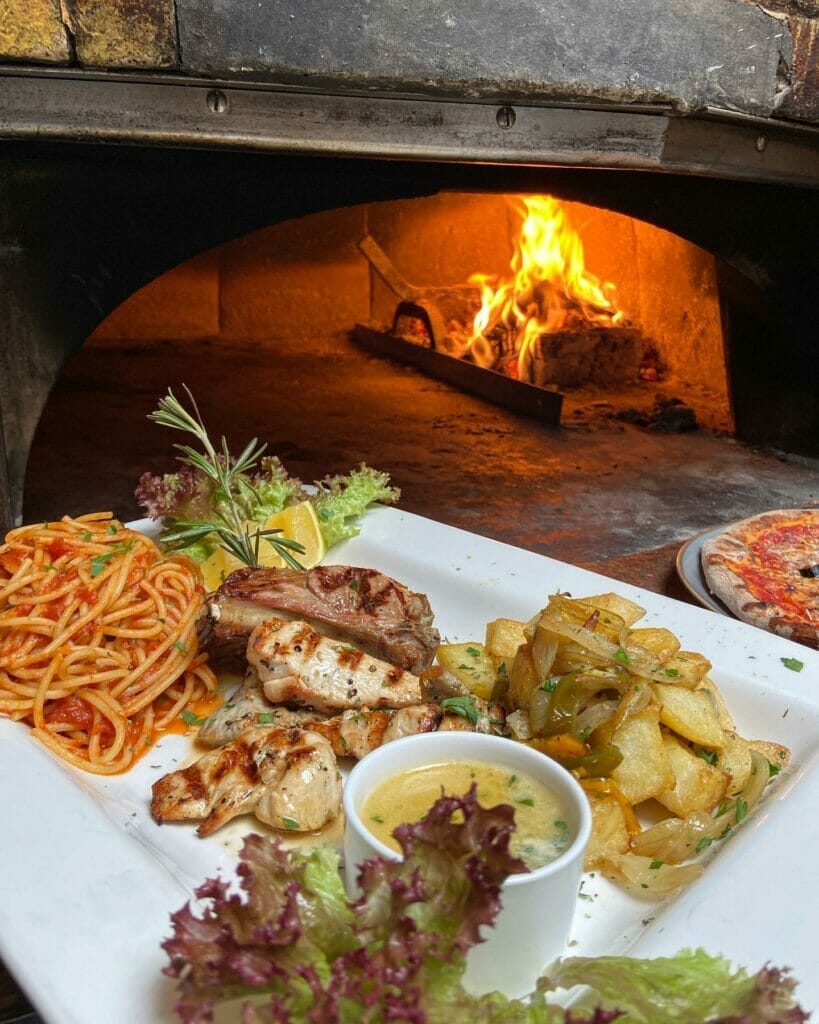 Zonzo Restaurant is known for its wood-fired pizza.
They have quite a few options and you can even edit the toppings to your liking.
One unique thing about Zonzo is that you can even get seafood on your pizza!
They also serve a ton of Italian dishes.
Whether you prefer meat, fish, or vegetarian options, you'll find something delicious.
Zonzo Restaurant has an extensive drink list.
Whether you want cocktails, beer, cider, or spirits, you have options to choose from.
Their wine list is even more extensive than the rest of their drink options!
And they offer mocktails if you want to avoid alcohol.
Address: 342 Edgware Rd, London W2 1EA
44. Coppa Club
Coppa Club is the ultimate space for relaxing with a drink.
The restaurant is built around a central brass bar so it's easy for guests to get refills.
Grab a booth in the cafe, pick a spot by the fireplace, or sit on the terrace.
Even if it's cold outside, you can grab a seat on the terrace because private igloos will keep you warm!
There is also a lounge with lots of comfy seating.
Coppa Club is designed so that visitors can hang out awhile and enjoy their evening.
Address: 3 Three Quays Walk, Lower Thames St, London EC3R 6AH
Chophouses have been a London tradition since the late 17th century.
Blacklock is recreating that phenomenon with their restaurants across London.
Blacklock City is actually located in an old electricity substation.
You can find it in the basement of a Grade II listed building where the first meat market in the city of London was established.
It's one of the best places imaginable for a chophouse!
Blacklock uses quality meat and uses the entire animal to prevent any food waste.
They also ethically source their meat.
Address: 13 Philpot Ln, London EC3M 8AA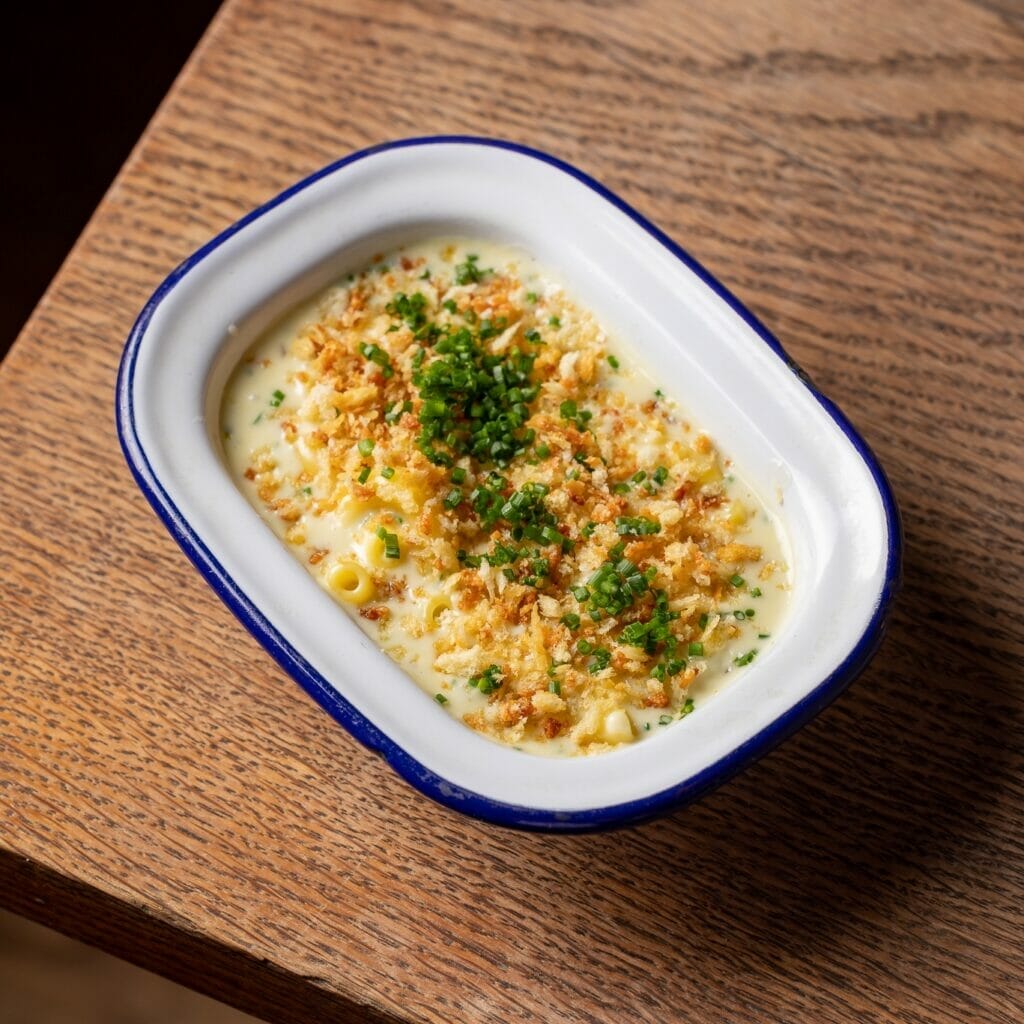 Flat Iron has several locations across London.
We think the London Bridge location is the best one to visit!
This restaurant feels like you've stepped into a storybook.
The U-shaped bar, mahogany panels, and parquet floor look so majestic!
The back room is decorated with hanging plants and an old copper fountain.
Flat Iron is known for the Flat Iron Steak.
Everything else on the menu will nicely complement the juicy steak.
You know that their steak is high-quality because they source it from local family farms.
Bonus: the steak is affordable so that anyone can have a steak dinner without breaking the bank.
Address: 112-116 Tooley St, London SE1 2TH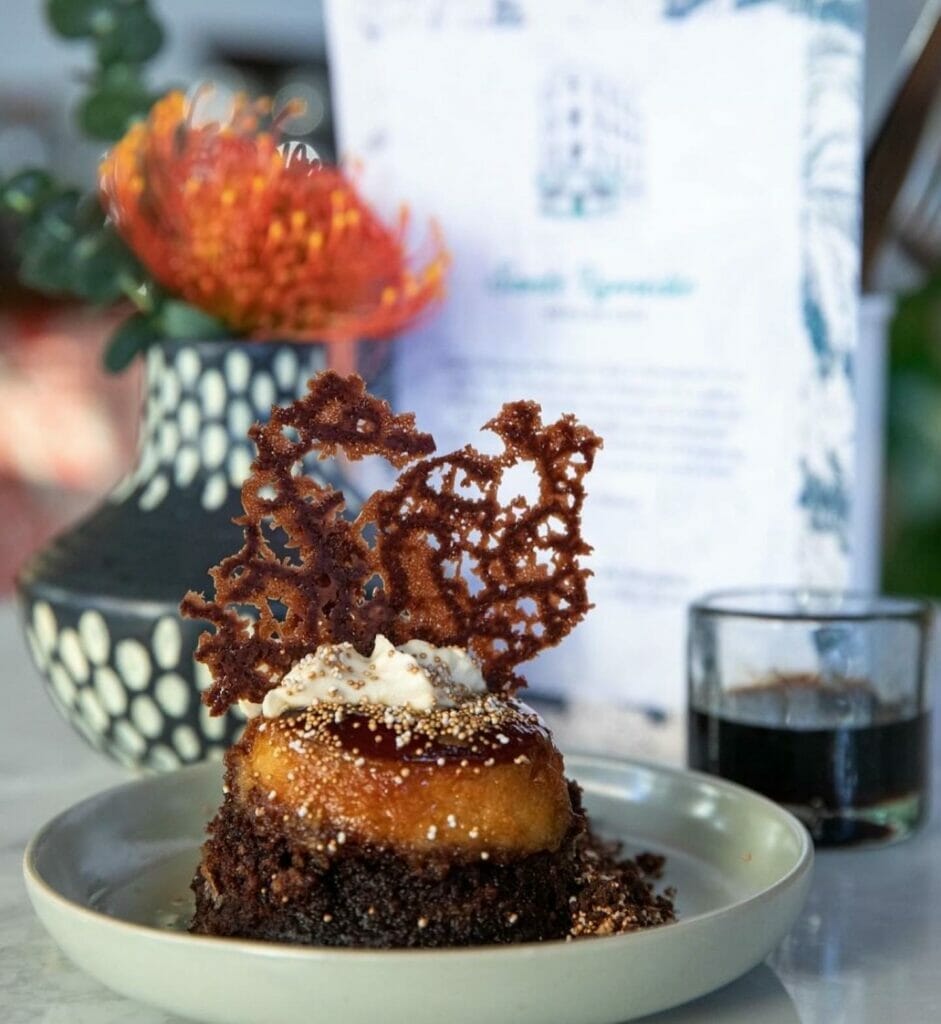 Santo Remedio is one of the best places in London for anyone craving authentic Mexican cuisine.
You can get food straight off the woodfired grill or served with homemade sauces.
The cocktails are created with Mexico's best tequila and mezcal options.
This Michelin restaurant is slow food certified.
That means they ethically source ingredients to prevent any risk of extinction of their ingredients.
Santo Remedio showcases the variety of Mexican cuisine so guests can experience the flavors of Mexico.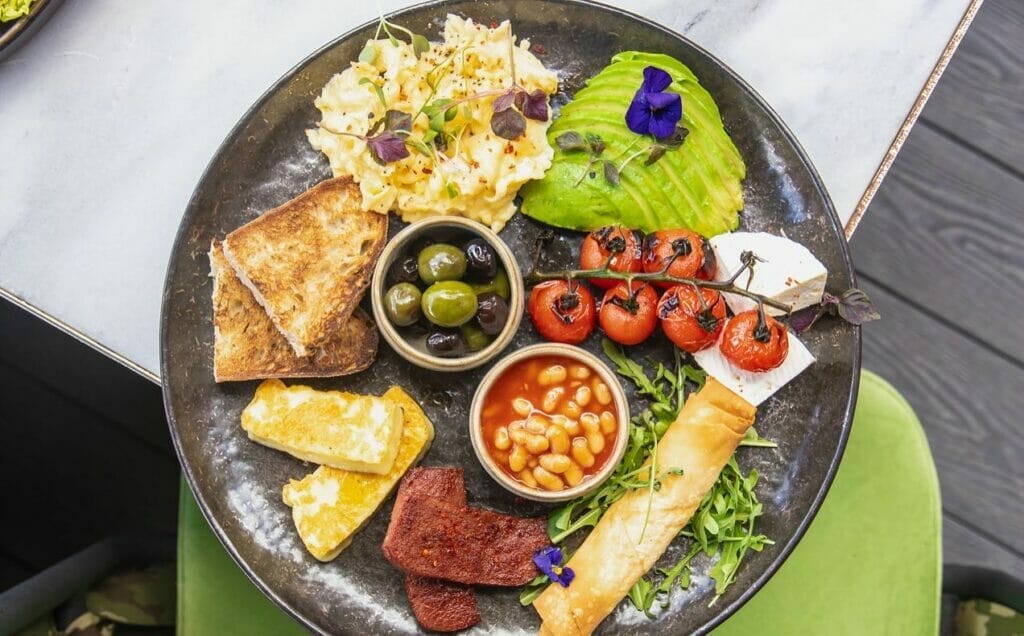 Coco Grill and Lounge has an excellent location.
While you eat, enjoy watching the sunset over the Thames waterside and Tower Bridge.
This sophisticated restaurant features dishes with Anatolian dishes from the Mediterranean and Black Sea region.
Their food is also halal-certified!
Since this restaurant has no alcohol, it is a great place for people who would like to avoid alcohol.
They have a few popular menu items, especially their Wagyu sirloin prepared with 24-karat gold.
Address: 34a Shad Thames, London SE1 2YG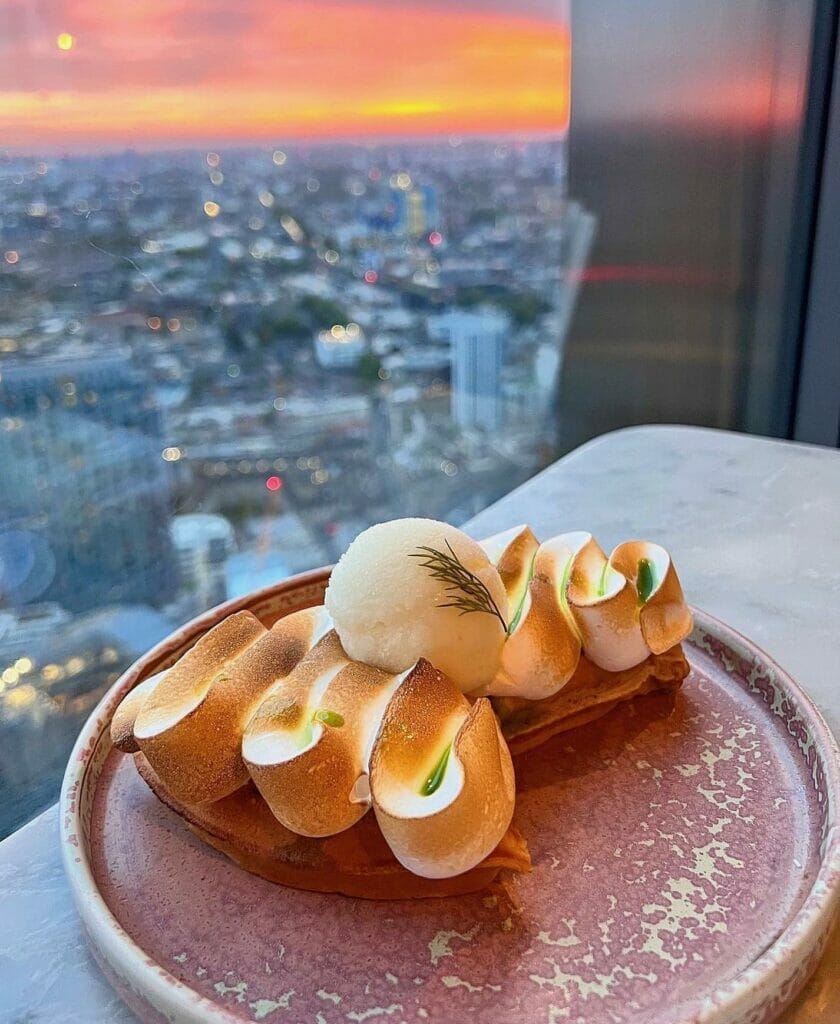 Duck and Waffle is a "gastro diner."
Whether you love a cozy diner or an innovative gastropub, you get the best of both worlds here!
The menu is full of diner-style foods.
But each menu item is a step up from what you'd expect from most diners.
And you can order a variety of items that feature duck, especially where chicken would be expected.
You can get chicken and waffles in many restaurants.
But how many restaurants serve Duck and Waffles?
Oh, and did we mention that this restaurant is on the 40th floor of the Salesforce Tower?
Enjoy breathtaking views of the city while you eat your food.
Address: 110 Bishopsgate, London EC2N 4AY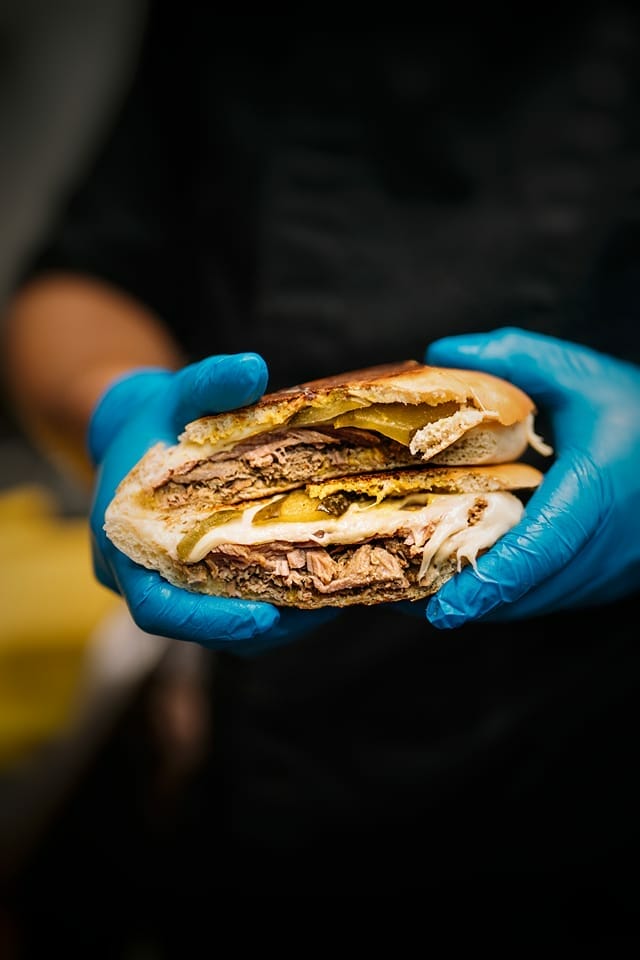 Cubana Restaurant Waterloo is the authority on Cuban food in London.
With daily happy hour, year-round outdoor seating, and music on the weekends, it's also a fun place to visit!
You'll want to try their legendary mojitos and popular street food options.
Vegans will also find a variety of menu items to try!
People come for the authentic Latin American food but stay for the party.
Whether they have a Latin DJ or live salsa music, you'll find yourself enjoying the music until the wee hours of the morning.
Address: 48 Lower Marsh, London SE1 7AB
Want more helpful London guides? Check these out!
UK Travel Planning Guide: the FAQs
🏥 Should I buy UK travel insurance?
Absolutely yes. Basic coverage is not expensive, and as a visitor you are NOT covered under the NHS. Compare policies and prices with Travel Insurance Master here, a big name in the travel insurance business, and cross that off your list.
🔌 Do I need travel adapters for the UK?
Yes, you do, otherwise you won't be able to plug in your electronics/phone/lifelines. I recommend this one, which is all-in-one so you can use it in other countries.
🚗 What do I need to drive in the UK?
The first thing you need to check out if you're planning on renting a car in the UK is this guide to driving in the UK for visitors – the roads, signs, and driving experience will likely not be what you're used to and it's essential to prepare yourself to stay safe and aware.
🛌 What's the best way to book hotels in the UK?
For UK hotels, Booking is the best site as it offers free cancellation on many properties. If you want an apartment, I always recommend VRBO over AirBnb.
📳 Will my phone work in the UK?
Yes – if you set it up right. Check out my guide on making your foreign phone work in the UK to ensure that you get the type of service you need.
🚿 Can I drink the water in the UK?
Yes, UK water is great and perfectly safe. But drink out of taps in any kitchen or use water fountains. Double check before drinking out of the taps in hotel bathrooms, though, as they may be on a different system.