This post contains affiliate links for which I may make a small commission to help keep the site running. You will not be charged extra for these items had you not clicked the links. Thank you for your help to keep the site running!
It's been said that you could eat in London for an entire year and have a different cuisine every night.
While that might be a bit of an exaggeration, the point is that London is filled with amazing places to eat no matter your budget or taste, and in fact, one of London's best things to do is simply to sample the cuisine!
Hey! Sidenote! Planning on visiting the UK or moving to the UK?

For more advice, photos and friendly help, click here to join my UK Travel Facebook group to carry on the conversation with fellow travelers and UK experts.
Wait, stop!
Before you keep reading, I just wanted to make sure you know about my expert 7-day London itinerary that includes all of the iconic attractions plus off-the-beaten path activities and restaurants, as well as step-by-step walking and public transportation directions!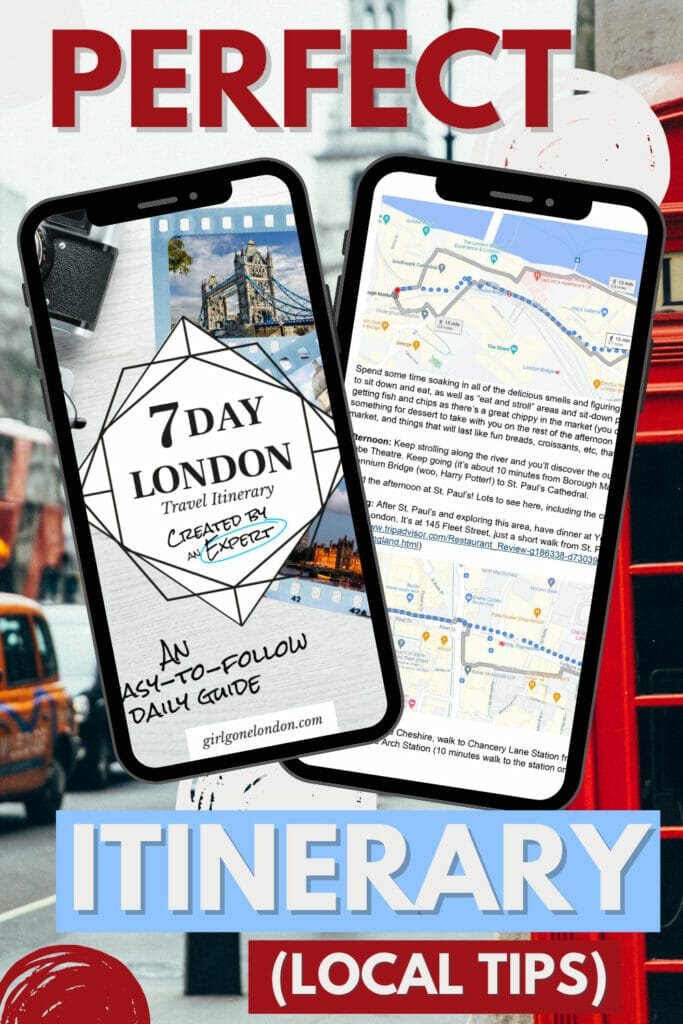 It can be stressful spending so much money on a London trip and not knowing if you're fitting everything in or making the most of your time.
To help you out, I've taken my 10 years of London experience (starting as a visitor and then as a resident) to make sure that you have the ultimate step-by-step itinerary that will make sure you see the real London.
And, hey, if you're not coming for exactly 7 days or already have some plans, don't worry, as it's editable so you can mix around the days, incorporate your own ideas, or pick and choose which days to follow.
1. Da Mario
This Italian restaurant in Kensington is a fan favorite because of the amazing food and its history.
It's said to be Princess Diana's favorite choice for Italian, and photos commemorating her visits there adorn the wall.
2. Ciao Bella
Another Italian restaurant with a great reputation, Ciao Bella in Bloomsbury is known for its cozy atmosphere and amazing freshly made pasta.
You'll feel right at home with family and friends when you dine here, and you can take in sites like the British Museum before or afterward.
3. The Diner
If you desperately need some American food, one of the best quality places I've ever found is a chain called The Diner, which is nicer than it sounds.
They do amazing American style breakfasts, pancakes all day and proper American style thick milkshakes.
Of course, if you are American, don't head here first – try some other places!
4. Beigel Bake
Head to Brick Lane for the best bagels in all of London at Beigel Bake, particularly the savory salt beef one.
Plenty of people head to this part of London specifically to eat bagels as they stroll down the street to do some shopping!
5. Pizza Pilgrims
If you want some classic pizza, find one of the Pizza Pilgrims locations where you can't go wrong no matter what type you choose.
There are various ones across the city and it's a local favorite for when you just need to relax in heaps of cheese and pepperoni.
6. Icco
Whether you're a student in London or on a budget, Icco is by far the best place to go for cheap pizza and other items like sandwiches.
Seriously, too marks for the low prices, lovely location near University College London and good quality food.
7. Brasserie Zedel
Themed like Paris, this French eatery in Piccadilly is a fantastic choice if you want a nice dinner without the expensive price tag.
You'll find French inspired dishes and a quirky atmosphere that's very London meets France.
8. Wild Food Cafe
Want some plant based food in one of the most happening parts of London.
The Wild Food Cafe has locations in Covent Garden and Islington and socialize in amazing salads and other dishes that celebrate all things plant!
And, as the name suggests, they've got choices that are fun and funky twists on classic dishes for you to enjoy.
9. Dishoom
London does amazing Indian food, including breakfast, at the well loved Dishoom restaurants.
When my mom comes to London, that's all she wants and she could eat here for breakfast, lunch and dinner.
It's both casual and a bit luxury feeling, with different benefits depending on the location you choose, for instance the heated veranda in Shoreditch!
10. The Holly Bush
While technically a pub, I've included the Holly Bush in the restaurant section because it's most known for its great food.
It's got both a cozy pub side and a more formal dining room side and you'll find classic British dishes like roasted vegetables, meat pies and cauliflower cheese to delight the senses!
11. The Ivy
You can't go to London as a foodie without trying The Ivy.
This is upscale British cooking, not just fish and chips, and you can enjoy dishes like grilled tuna loin and artichoke salads that keep you talking about it for weeks.
Try the Tower Bridge location for incredible views of the river and Tower Bridge.