This post contains affiliate links for which I may make a small commission to help keep the site running. You will not be charged extra for these items had you not clicked the links. Thank you for your help to keep the site running!
If you've come to London thinking that one of the best things to do in London is shop, you won't be let down.
These are the best London shopping locations, including great options for spending all the money in your wallet, whether you want to keep it cheap at places like Primark or buy everything you've ever dreamed in Harrod's.
In this post, I'm talking about London shopping in terms of the best areas to find concentrated sections of stores, but you can also check out my guides to London's best markets if you are more into wandering amongst rows of unique vendors.
GET A

FREE

LONDON INTRO GUIDE and ACCESS TO MY FB GROUP
Start your planning with this "Intro to London" guide and access to my London planning Facebook group!
The Absolute Must-Knows (from a Londoner)
Hey! Want more honest UK tips and planning advice? Click here to join my London and UK Travel Tips Facebook group, where I can answer more of your questions!
1. Westfields Stratford
If you're looking for a traditional "mall" (and not the "mall" that is the road that runs between Buckingham Palace and Trafalgar Square!), the closest you'll find is Westfields in Stratford.
I love Westfields for their variety of shops and restaurants and they do have an outdoor component as well that lets you feel like you're even that much fancier strolling through the promenade and popping into various eateries.
I wouldn't necessarily recommend Westfields as a "must-do" shopping destination if you want unique shopping in London, but I did feel I should mention it if you are looking for a mall-like atmosphere.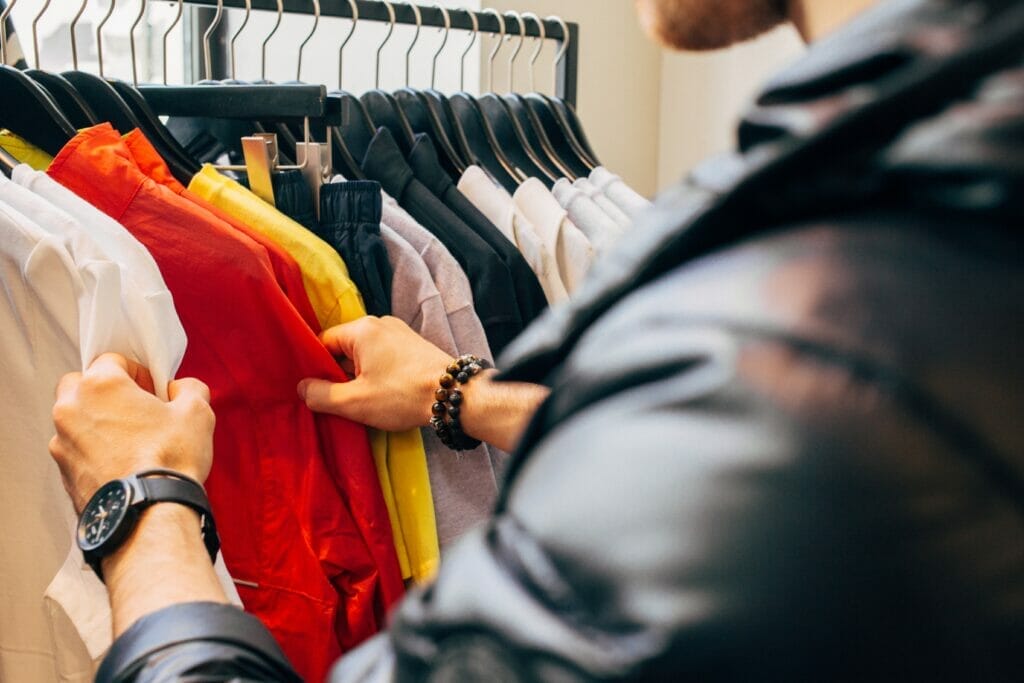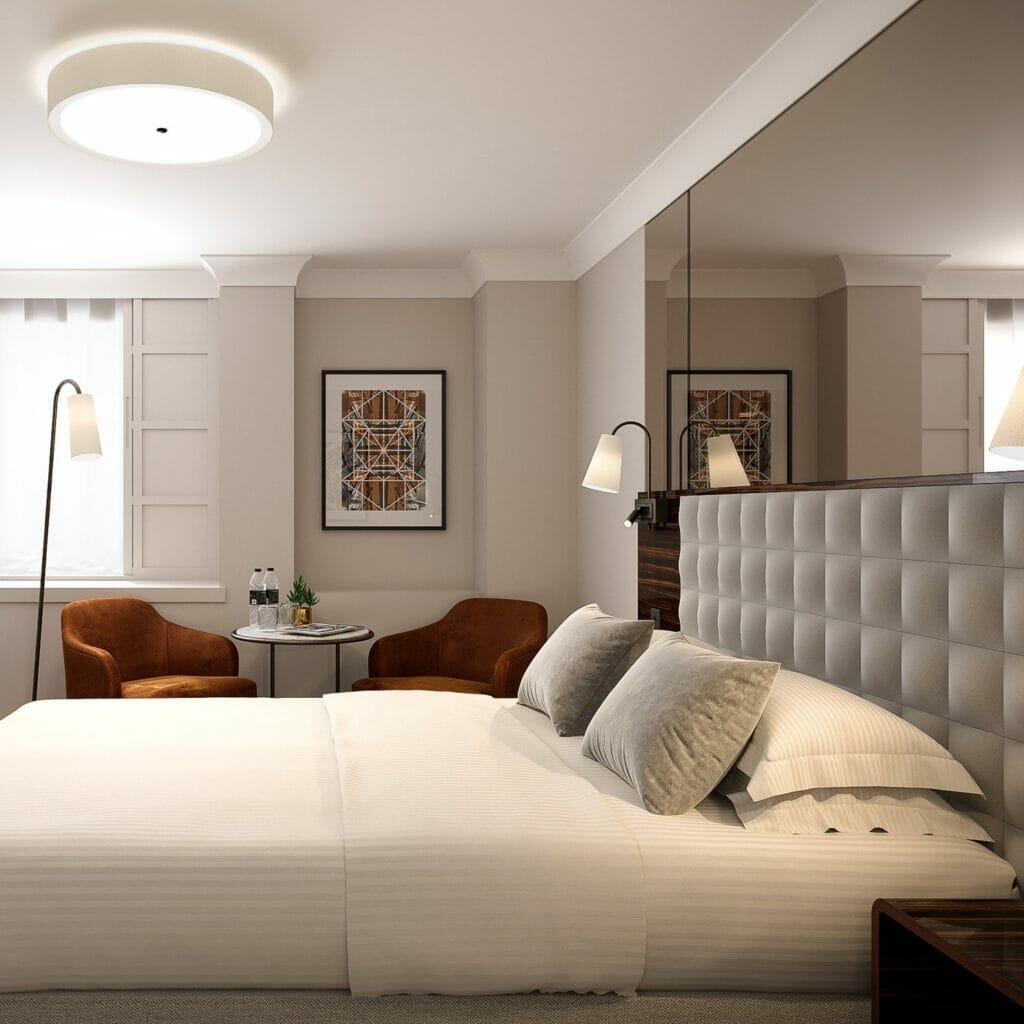 2. Oxford Street: shopping in London
London's premier shopping street is none other than Oxford Street, possibly one of the most famous shopping streets in all of Europe.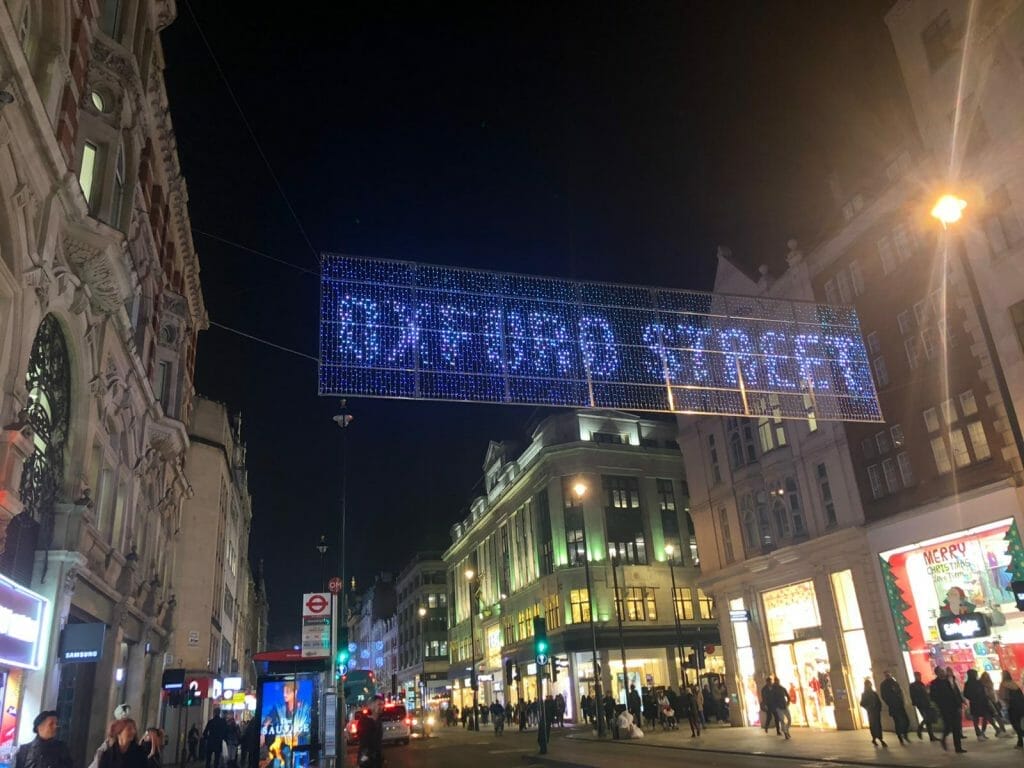 And trust me, when you're walking past the Oxford Street shops, you can feel how busy it is in the peak months with throngs of people trying to spend as much money as possible!
On Oxford Street you've got a variety of shops ranging from ones for the "regular person" like H&M and Primark, to more expensive shops and department stores like John Lewis and Selfridge's.
If I have to chose a London shopping district, Oxford Street would be it.
Intersecting Oxford Street is a street called Regent's Street which has a load more shops like Gap, Michael Kors, and a giant Apple store.
IMPORTANT: are you coming to the UK from abroad?
In case you're reading this from outside the UK and will be a foreign visitor here, you need to know these 2 things to stay safe and save money.
Travel insurance – you need it when going overseas! I use

this site

to get the best quotes and purchase my packages from. Do not skip this – having medical coverage abroad as well as other coverage in case of missed flights, lost luggage, etc is essential. As I said, I have never gone wrong using

this site

.
3. Harrods and Knightsbridge
If you really want to live your life in luxury, head to the Knightsbridge area where you'll find famous London department store, Harrods.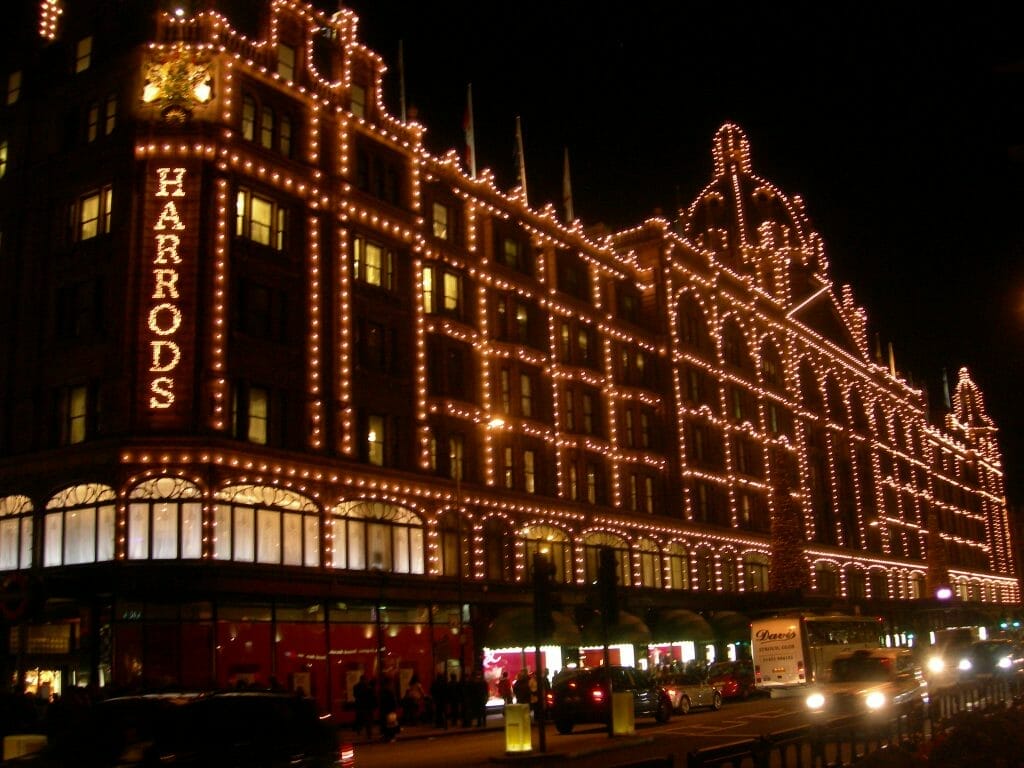 Very much still a symbol of wealth, Harrods has also now become a bit of a tourist experience where you can wander through the halls of very expensive items and dream about what you would buy if you won the lottery.
From Alexander Wang to Alexander McQueen, you'll stumble across designer label clothes, bags, accessories, makeup and more.
4. Covent Garden: best shopping in London
This shopping and restaurant area is one of my favorites in London and has a nice market feel while also being home to some upscale shops and boutique stores and some of the best shops in London.
Wander around here and find your way into the Covent Garden Disney store, an Apple store, Levi's, Gap and upscale brands like Bailey Nelson for eye wear and Tiffany & Co for jewelery.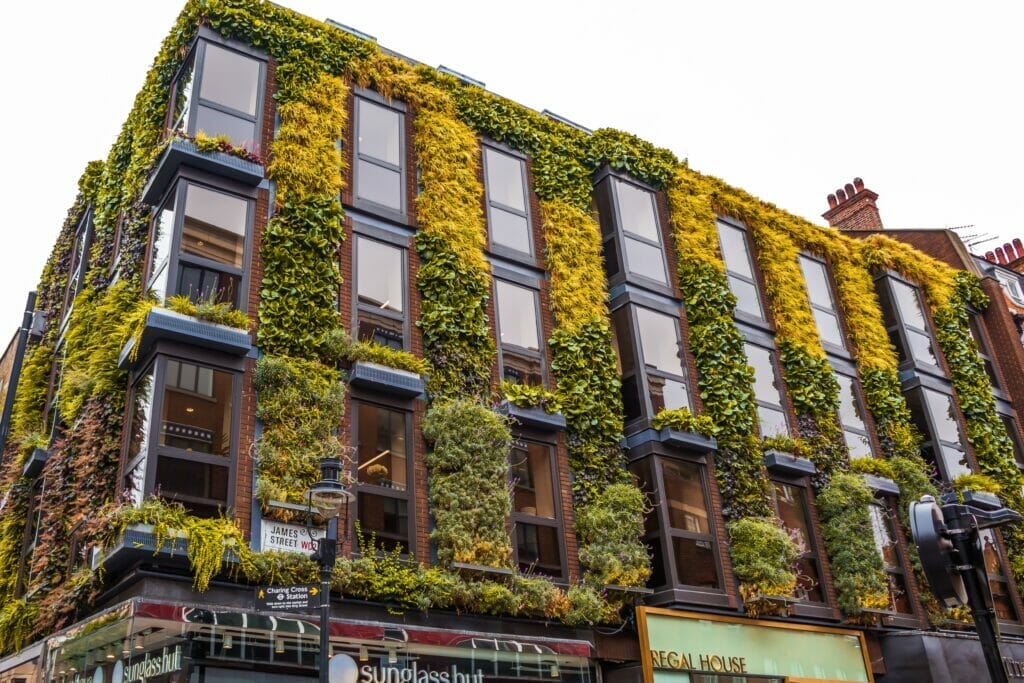 There are also plenty of places to eat here with outdoor seating, as well as regular street performances in the pedestrianized area of Covent Garden.
I've also rated Covent Garden as one of the best areas to stay in London for all visitors.
5. Bond Street
Keep walking down Oxford Street towards Marble Arch and suddenly it will turn into Bond Street.
This is where your shopping experience just got an upgrade to famous brands and fashion store, including places like Burberry, Tiffany & Co and luxury department stores in London.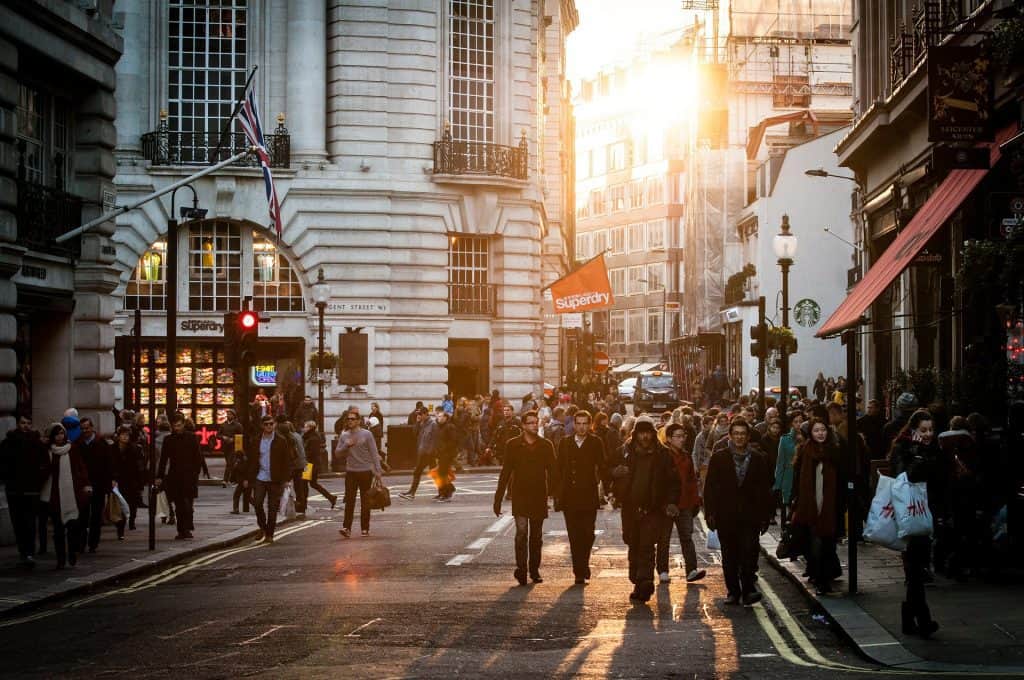 This is where the celebrities go to shop, and where many of us choose to do some window shopping after we've bought our actual purchases at Primark!
Because Bond Street and Oxford Street are the same stretch of road, they are both easy to explore at once, and then you can double back on yourself and start heading down the streets running perpendicular like Regent's Street.
6. Notting Hill
Of course famous for being a London filming location, but did you know what there actually is to do in Notting Hill?
Shop!
Get your boho chic on at the numerous independent retailers and iconic London stores in Notting Hill, and bask in the colorful and picturesque surroundings.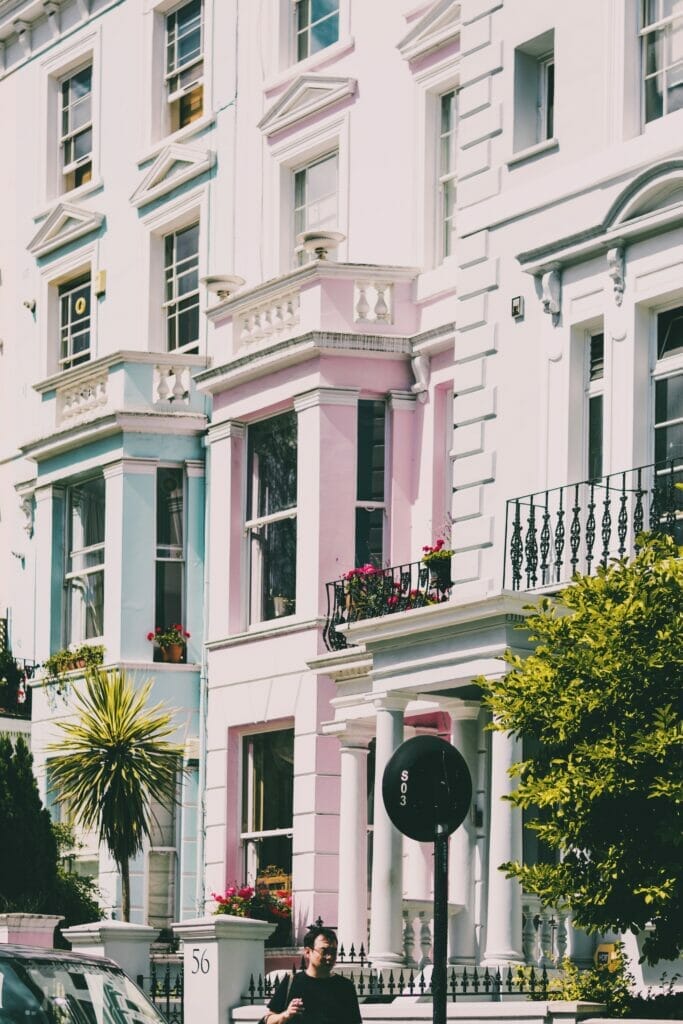 Shopping in Notting Hill manages to feel sophisticated without feeling stuffy or too over-the-top, and if you're wondering where to shop in London for clothes that are a bit unique, Notting Hill is it.
7. Mayfair
If you're into fashion and jewelry, Mayfair is the place to go.
This is upscale, world famous shopping, all centered around famous hotels like Claridge's.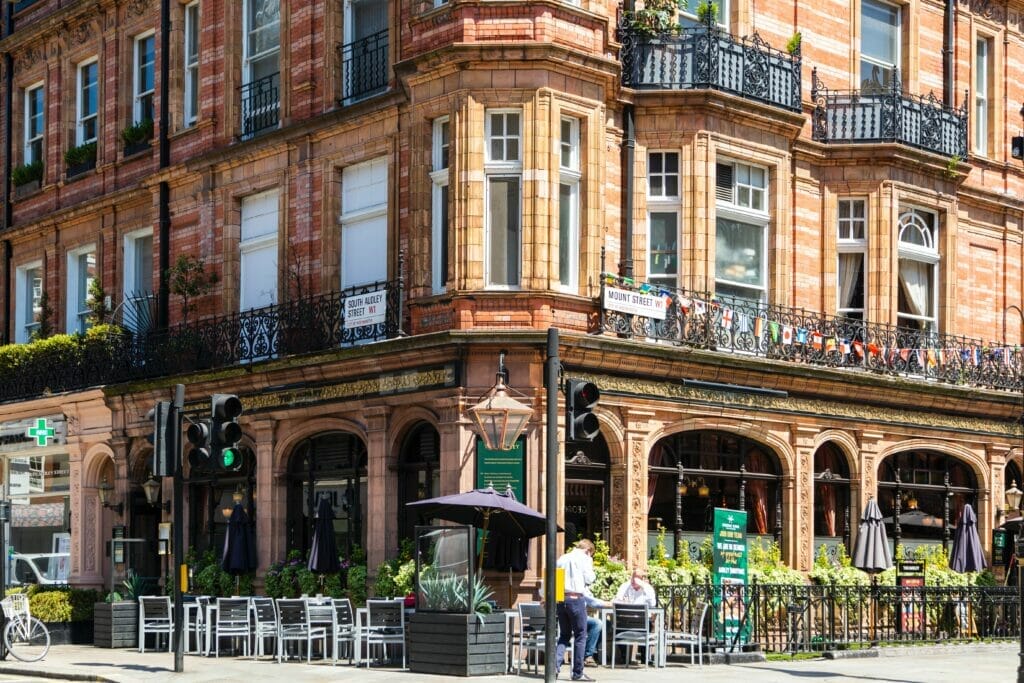 You'll stumble upon Armani, Dior, Fendi, Gucci, and so many more iconic brands as you wander the streets of Mayfair.
And don't be surprised if the cars you see around this area are equally as iconic.
When you need a breather from all of the spending, check out Berkeley Square Gardens where you can do some people-watching and enjoy a coffee from a nearby cafe.
8. Sloane Street: best places to shop in London
Known as a luxury shopping street in the Royal Borough of Kensington and Chelsea, Sloane Street is filled with iconic stores like Valentino, Versace, and Prada.
There are also iconic British brands like Harvey Nichols, Jo Malone and Emilia Wickstead.
If you're wondering where to shop in London to get a true British shopping experience, Sloane Street is it.
9. Shoreditch
Shopping in Shoreditch is for people who want something a little different, super trendy, and more focused on new designers and the emerging brands in London rather than the ancient favorites.
Walk up and down Shoreditch High Street and you'll find plenty of hipster cafes, contemporary art spaces, and of course places to open up your wallet.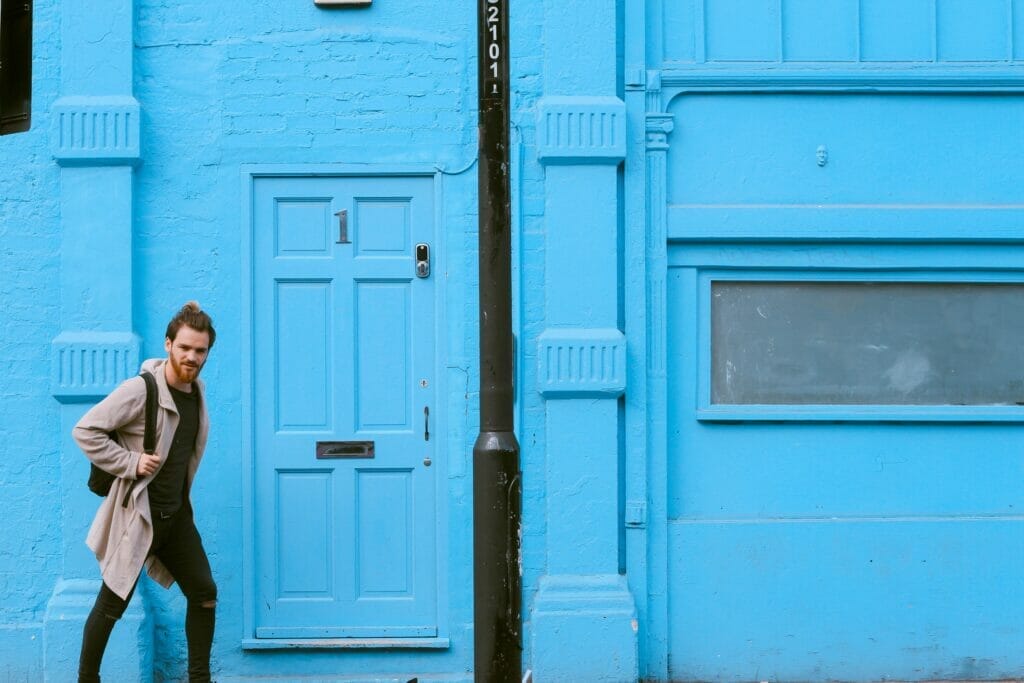 It's a colorful, fun, and vibrant area of East London and a great place to spend an afternoon of shopping in London.
10. Soho
From Carnaby Street to the hidden alleways, Soho is one of the most iconic parts of Central London and was the center of the fashion revolution in London.
This history is reflected in the amount of menswear stores and fashion brands you can find in Soho, in addition to plenty of restaurants and cafes to keep you going.
Soho is walking distance from Oxford Street and other iconic areas like Regent's Street, so plan your shopping day to include them all.
11. Hampstead
This upscale part of north London is a popular place for celebrities to live, including people like Harry Styles and Helena Bonham Carter.
It's also chock full of shopping options for those of you who like vintage shopping and "second hand stores" or charity shops, as they're known.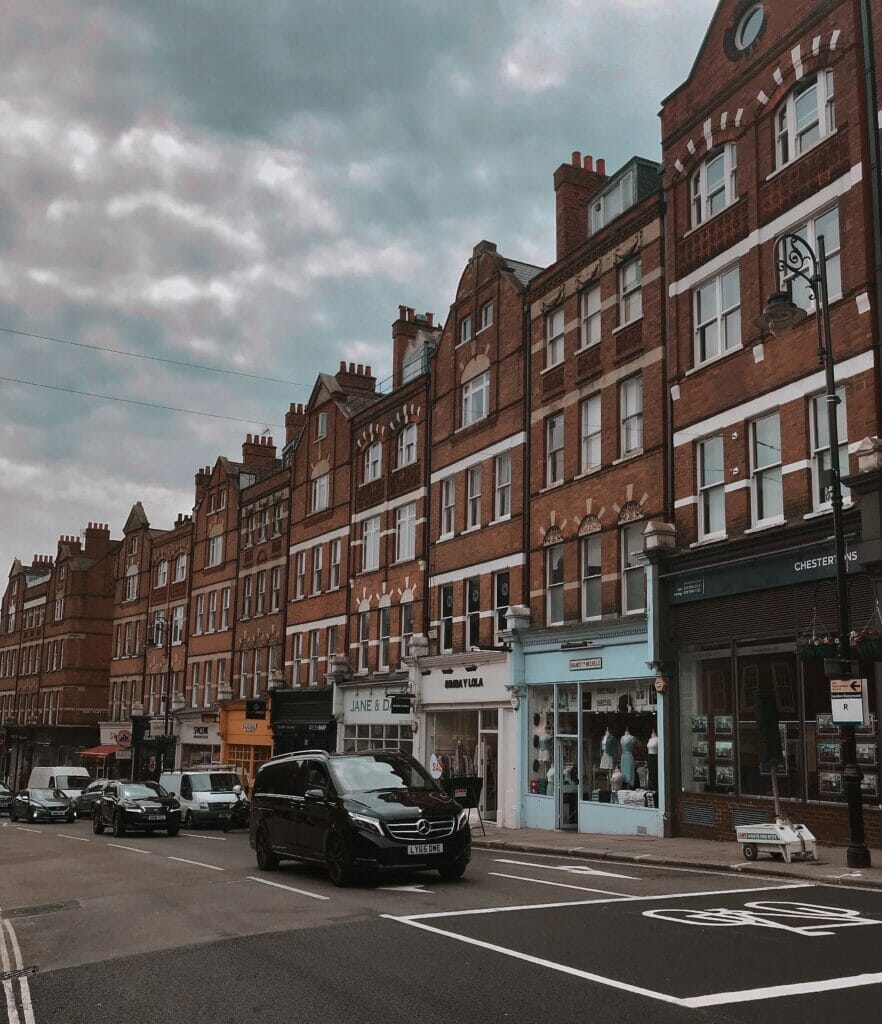 From second hand bookstores to second hand clothing stores to quirky cafes serving up really tasty rich people coffee, you can spend a great morning or afternoon here popping in and out of the stores and keeping an eye out for a celeb spotting.
You can also spend some time on Hampstead Heath, one of the most amazing green spaces in London if you need a break.
12. Westfields White City: where to shop in London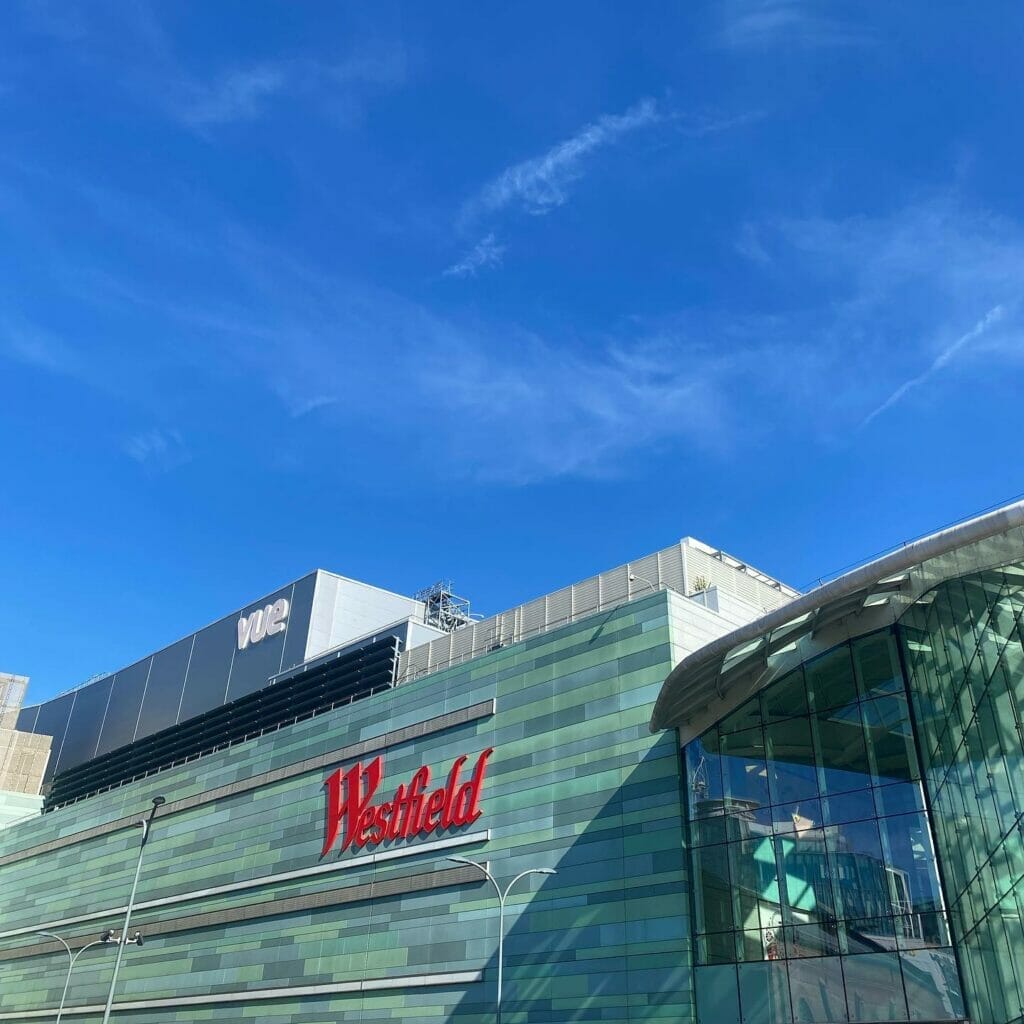 Head to West London for one of the biggest shopping malls in London, Westfields!
Westfields is a must-see if you want classic names like Zara, H&M, Primark, and the LEGO store.
Westfields White City is a traditional mall experience, with most of the stores opening up to the inside (ie, there are outdoor components, but it's mostly an indoors shopping center which can be relatively rare in the UK).
They've got plenty of restaurants to choose from, and you could truly spend a whole day here shopping until you drop.
13. Regent's Street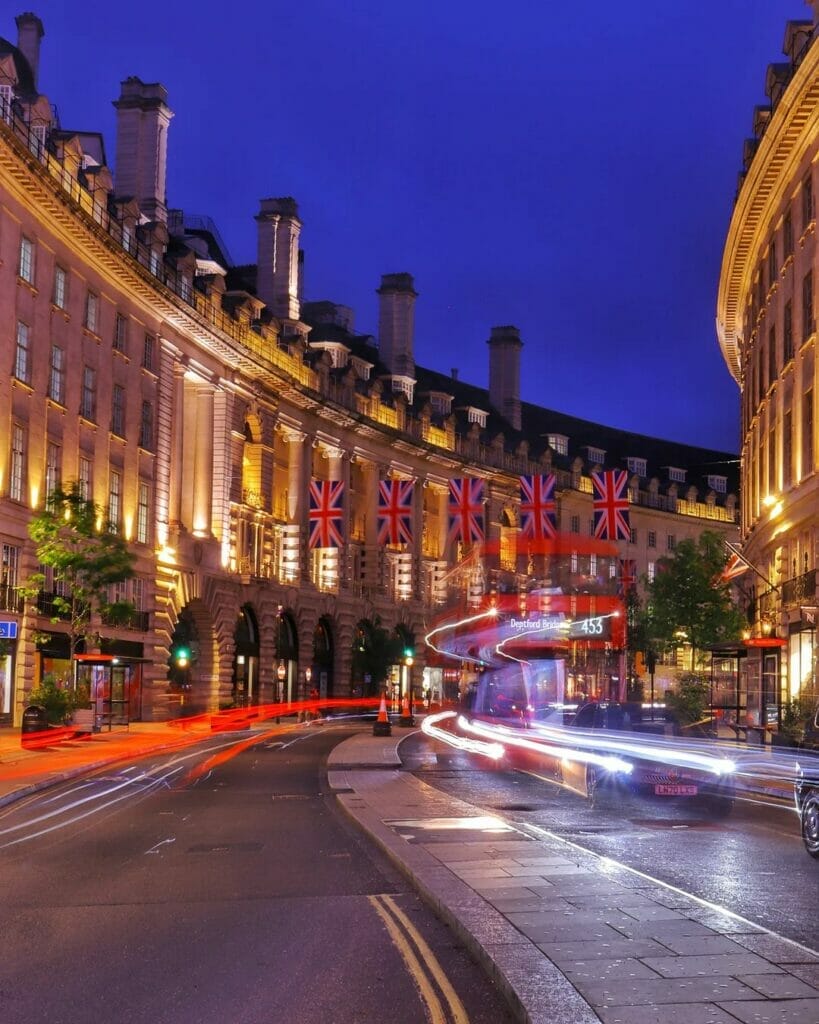 Right off of Oxford Street is the famous Regent's Street, known for high end brand names like Apple.
Buy a new wardrobe at Abercrombie, take the kids to Hamleys, the famous London toy store, or get some new workout apparel at lululemon.
They've also got Guess, Levi's, Tommy Hilfiger, the Body Shop, Burberry, and Charles Tyrwhitt, among other brands.
This is truly a fancy shopping street in the heart of London, with the beautiful store exterior and window displays to prove it.
14. Harvey Nichols: one of the best shops in London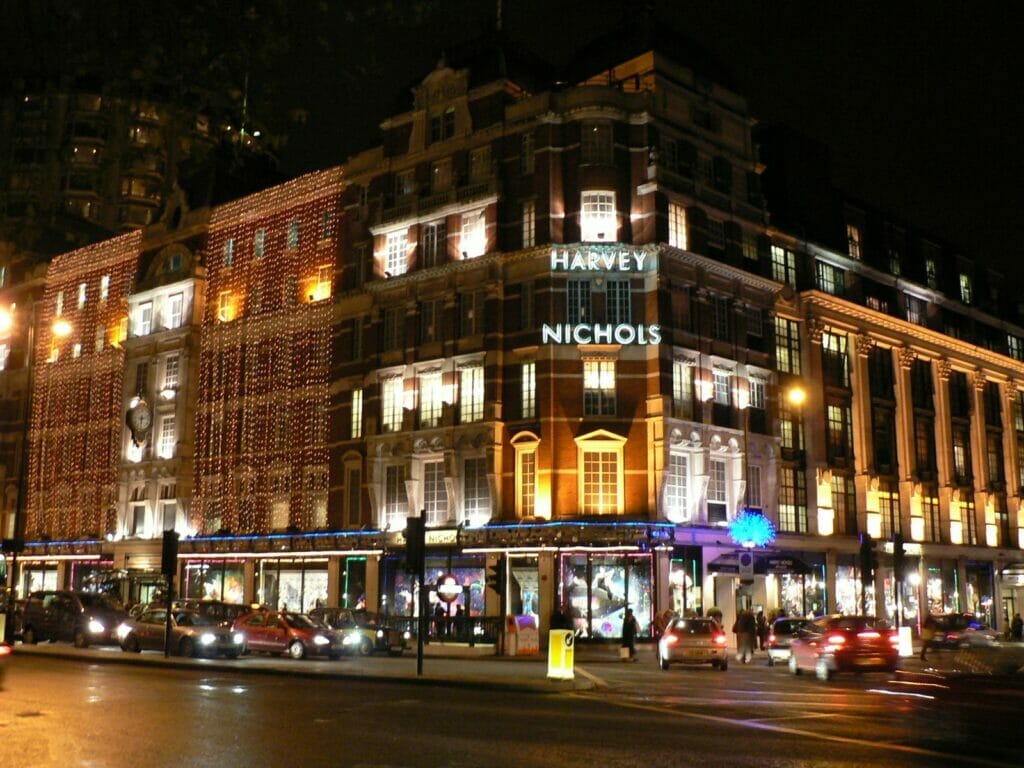 If you want true luxury shopping in London, head to Harvey Nichols in Knightsbridge.
Harvey Nichols is synonymous with class and luxury, and you'll find high end designer names in everything from clothing to beauty to food products.
The price tags might shock you if you're not used to Harvey Nichols prices, but even if you just go to window shop and take a look at what other people are buying, this is an iconic London shopping experience.
15. John Lewis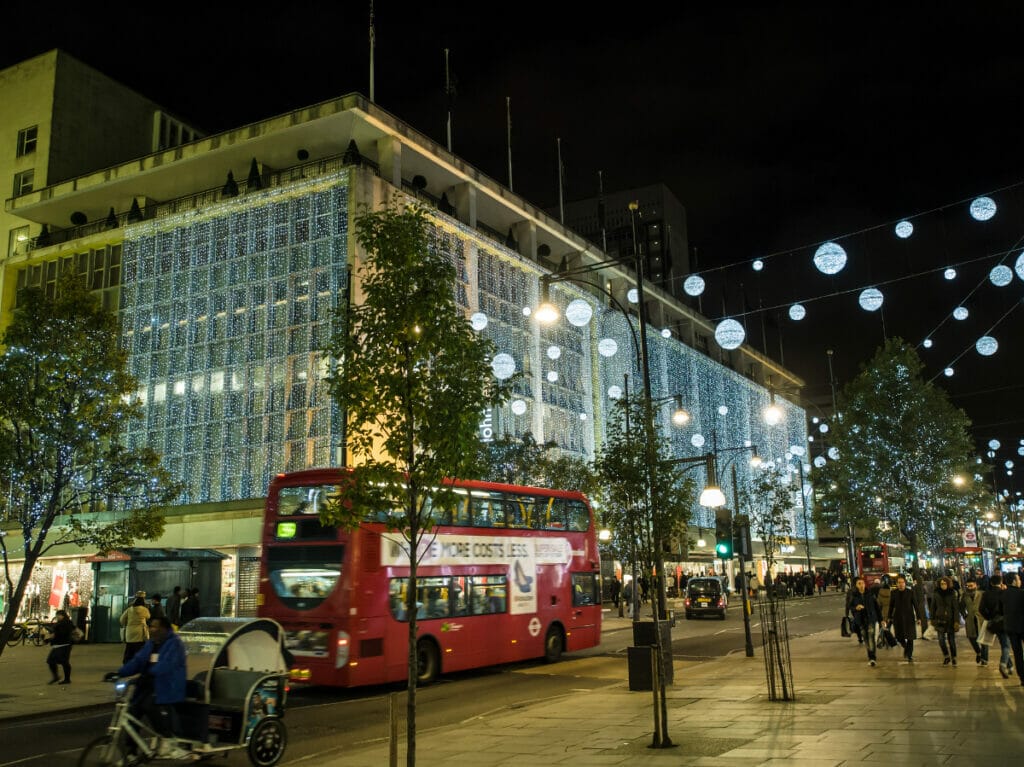 John Lewis on Oxford Street is one of the premier and most famous department stores in the UK.
They're known for their yearly Christmas ads, as well as being a department store that focuses on quality and customer service that make it easy to make returns and make sure that you're satisfied.
If you're familiar with US brands, John Lewis is similar to a Macy's – they have a long history within the UK and are a household name when it comes to department stores.
16. Outlets at the O2: London shopping for deals
Did you know that the O2 is more than just a concert venue in London?
There are actually shopping outlets at the O2 where you can get discounts on major brands including Adidas, Asics, Guess, Hallmark, Jack Wills and more.
Make your way out to this part of London (it's a little bit out of the way, but worth it for a shopping day) to save on big brands.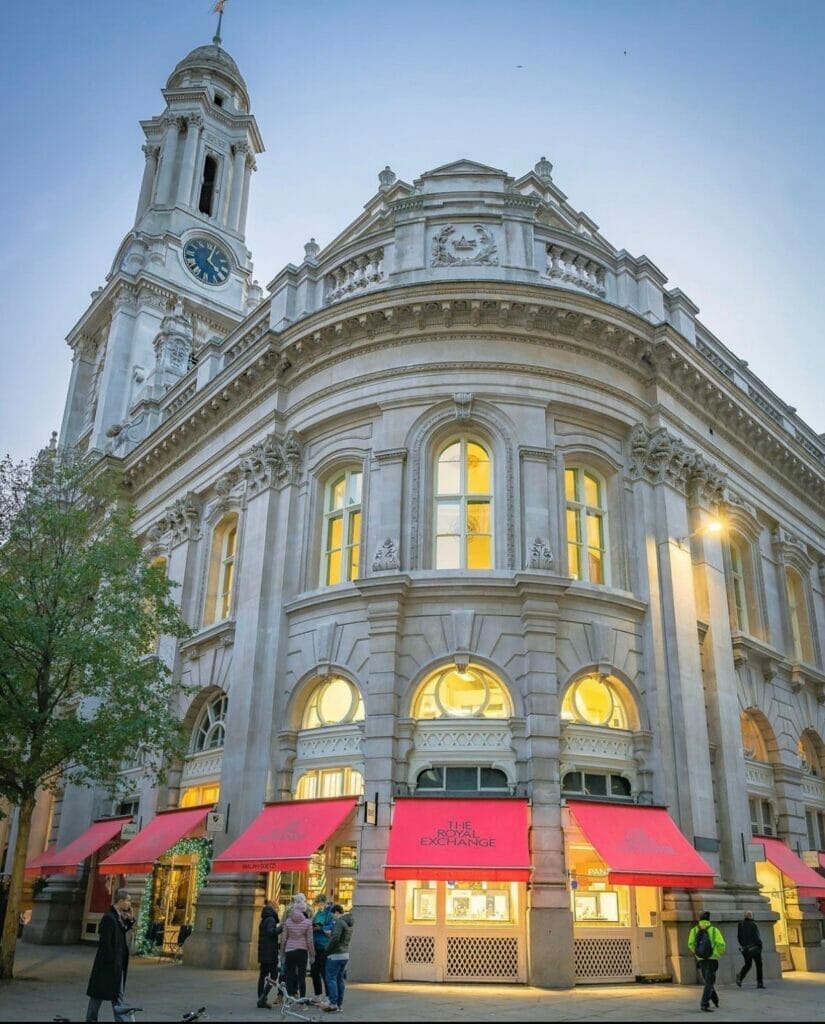 Visit the "City" to see this luxury shopping center where you'll rub elbows with high end bankers, tourists, and everything in between.
You'll find everything from the iconic hampers at Fortnum & Mason to Jo Malone London to Tiffany & Co.
This isn't a shopping center where you go to find bargains, but instead to admire the stunning architecture and buy yourself a special treat from a luxury brand.
They've also got some great dining shops and coffee options so you can get something (fancy) to munch on to keep you going.
18. One New Change: one of the best shopping areas in London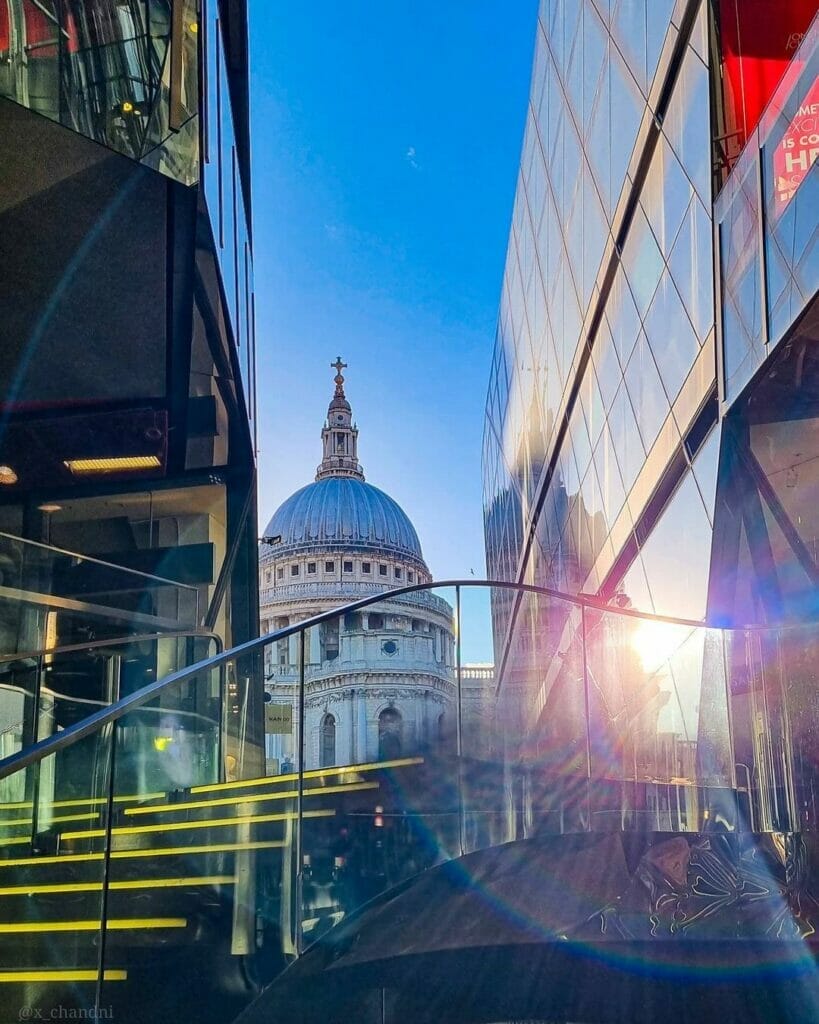 Right near St. Paul's Cathedral is One New Change, an open air shopping center with plenty of notable brands and restaurants.
Unlike some of the shopping centers mentioned above, this is much more down-to-earth, with brands like H&M, Boots (a drugstore), the Body Shop and Nespresso.
For food, they offer fun treats like Krispy Kreme, Nando's, and Zizzi Italian, so you don't have to worry about dressing up or putting on your best clothes to come shopping here.
Come as you are and grab some essentials or some new clothes and get dinner in a casual restaurant.
Situated in Sloane Square, Peter Jones is a fashionable department store in the Chelsea area.
While it is owned by John Lewis, it's a step above when it comes to luxury and has eight floors to explore.
It's another iconic London department store that you've got to step into if you're a shopaholic.
In addition to the homegoods, clothes, toys and more, you can also eat in their café or make an appointment for some pampering with the help of their personal stylists.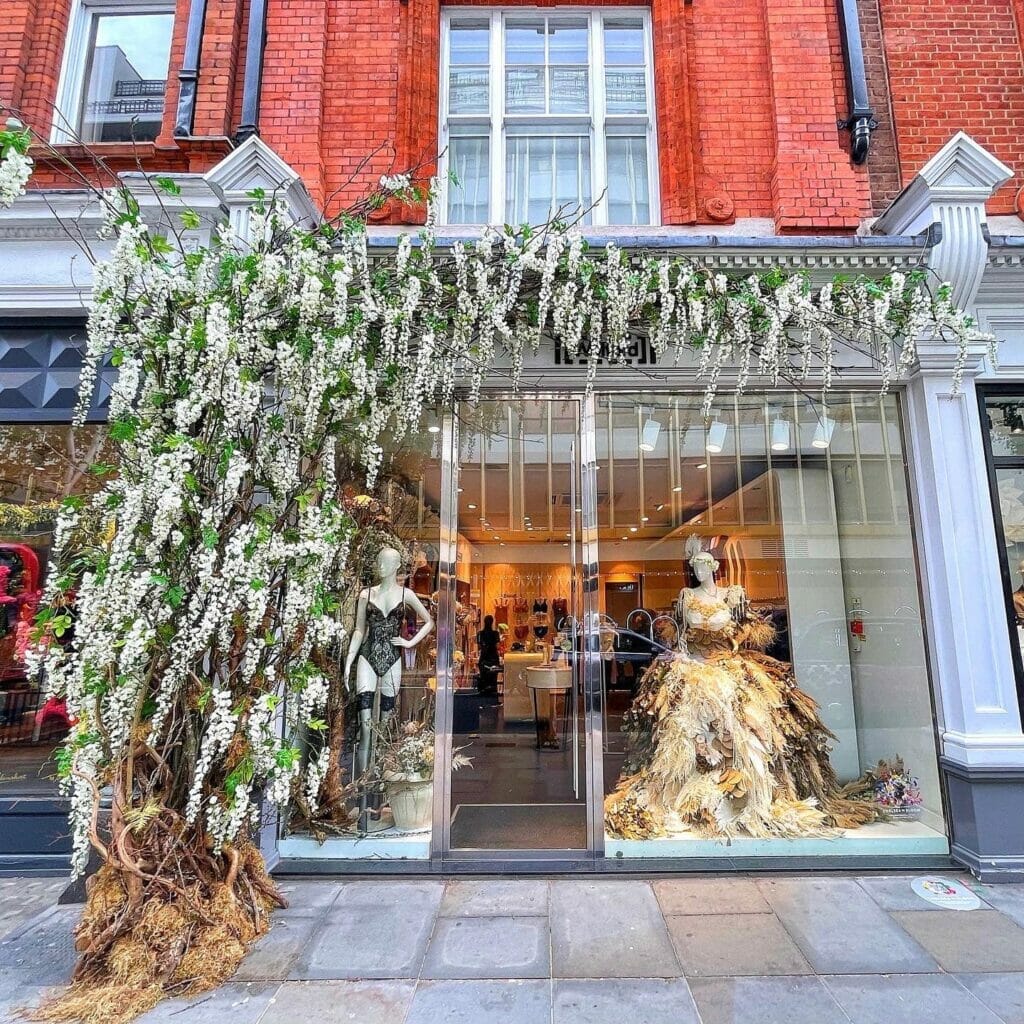 In Chelsea, another upscale shopping experience awaits you with over 30 high end stores, restaurants, and more.
From Free People to LK Bennett, this is the place to shop if you're looking for high end brands in a high end environment like Chelsea.
Visit during the holidays for the festive decorations, or head there in the summer when the weather is nice and the shopping vibes are on point.
21. Liberty London: where to go shopping in London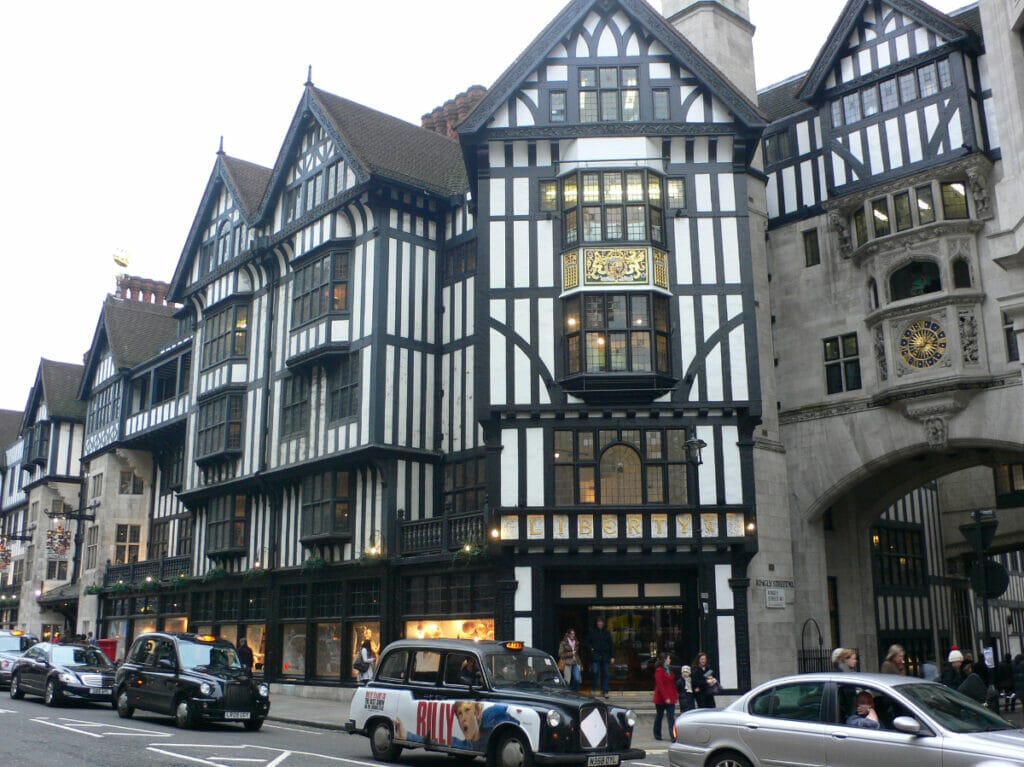 This department store on Regent's Street is a must-do, and if you don't believe me, just take a look at the exterior.
It's got high end fashion and luxury items to get you excited about your London shopping experience and buy yourself something nice to take home.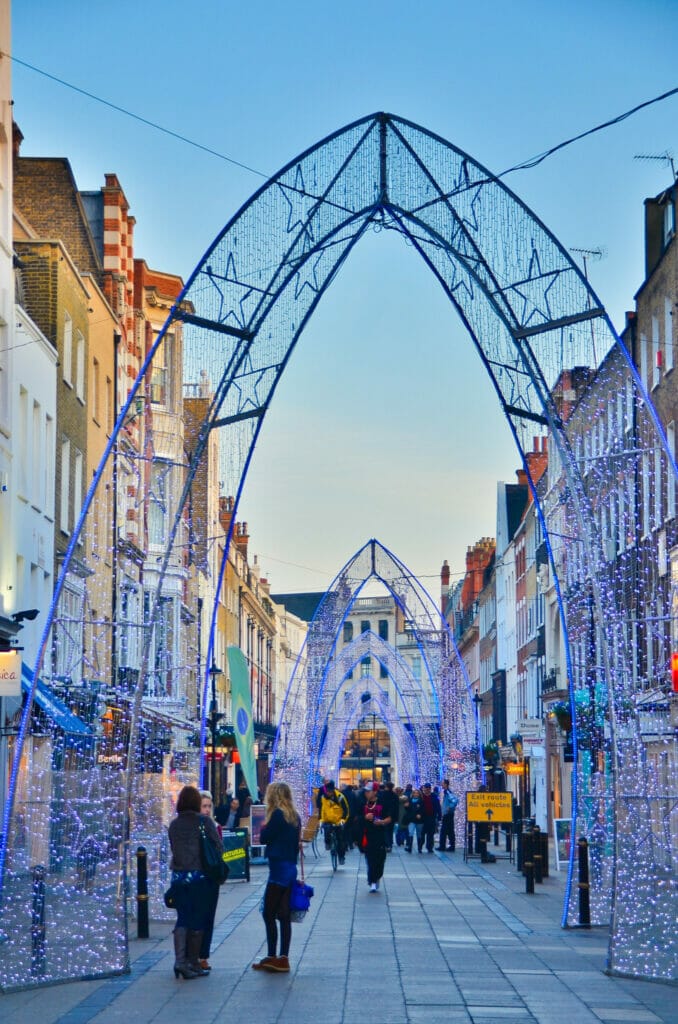 This shopping street in London is in Mayfair, just off Oxford Street, and is known for the jewelers and clothing stores on the street, as well as the enchanting lights at Christmas shopping time.
23. King's Road
King's Road in Chelsea is a major shopping thoroughfare for boutique shops (Will and Kate used to shop here when they lived in Kensington Palace!)
With 1 mile hosting over 300 stores, restaurants, and galleries, this road is a must-do for any shopaholics visiting London.
It's a true global hotspot for fashion, music, and dates back to the 60s when it first became popular for its shopping.
Belgravia is one of the richest areas of London, and with it comes high end stores and luxury goods that will make you want to say "here, take all my money!"
You'll also find antique shops, cute furniture stores, and lots of designer fashion.
Ever heard of a "savile row" suit?
This street in London is famous for its bespoke tailoring options, particularly when it comes to men's clothing.
You'll find it in Mayfair, and you can get your own "savile row" suit cut and made by hand if you're willing to pay a pretty penny.
If not, just do some window shopping!
What else should I not miss in London?
If you're visiting London soon, here's a very brief rundown of a few of my other favorites to make sure you don't miss anything!
Want more helpful London guides? Check these out!
UK Travel Planning Guide: the FAQs
🏥 Should I buy UK travel insurance?
Absolutely yes. Basic coverage is not expensive, and as a visitor you are NOT covered under the NHS. Compare policies and prices with Travel Insurance Master here, a big name in the travel insurance business, and cross that off your list.
🔌 Do I need travel adapters for the UK?
Yes, you do, otherwise you won't be able to plug in your electronics/phone/lifelines. I recommend this one, which is all-in-one so you can use it in other countries.
🚗 What do I need to drive in the UK?
The first thing you need to check out if you're planning on renting a car in the UK is this guide to driving in the UK for visitors – the roads, signs, and driving experience will likely not be what you're used to and it's essential to prepare yourself to stay safe and aware.
🛌 What's the best way to book hotels in the UK?
For UK hotels, Booking is the best site as it offers free cancellation on many properties. If you want an apartment, I always recommend VRBO over AirBnb.
📳 Will my phone work in the UK?
Yes – if you set it up right. Check out my guide on making your foreign phone work in the UK to ensure that you get the type of service you need.
🚿 Can I drink the water in the UK?
Yes, UK water is great and perfectly safe. But drink out of taps in any kitchen or use water fountains. Double check before drinking out of the taps in hotel bathrooms, though, as they may be on a different system.