This post contains affiliate links for which I may make a small commission to help keep the site running. You will not be charged extra for these items had you not clicked the links. Thank you for your help to keep the site running!
If you've come to London thinking that one of the best things to do in London is shop, you won't be let down.
These are the best London shopping locations, including great options for spending all the money in your wallet, whether you want to keep it cheap at places like Primark or buy everything you've ever dreamed in Harrod's.
In this post, I'm talking about London shopping in terms of the best areas to find concentrated sections of stores, but you can also check out my guides to London's best markets if you are more into wandering amongst rows of unique vendors.
Hey! Sidenote! Planning on visiting the UK or moving to the UK?

For more advice, photos and friendly help, click here to join my UK Travel Facebook group to carry on the conversation with fellow travelers and UK experts.
Wait, stop!
Before you keep reading, I just wanted to make sure you know about my expert 7-day London itinerary that includes all of the iconic attractions plus off-the-beaten path activities and restaurants, as well as step-by-step walking and public transportation directions!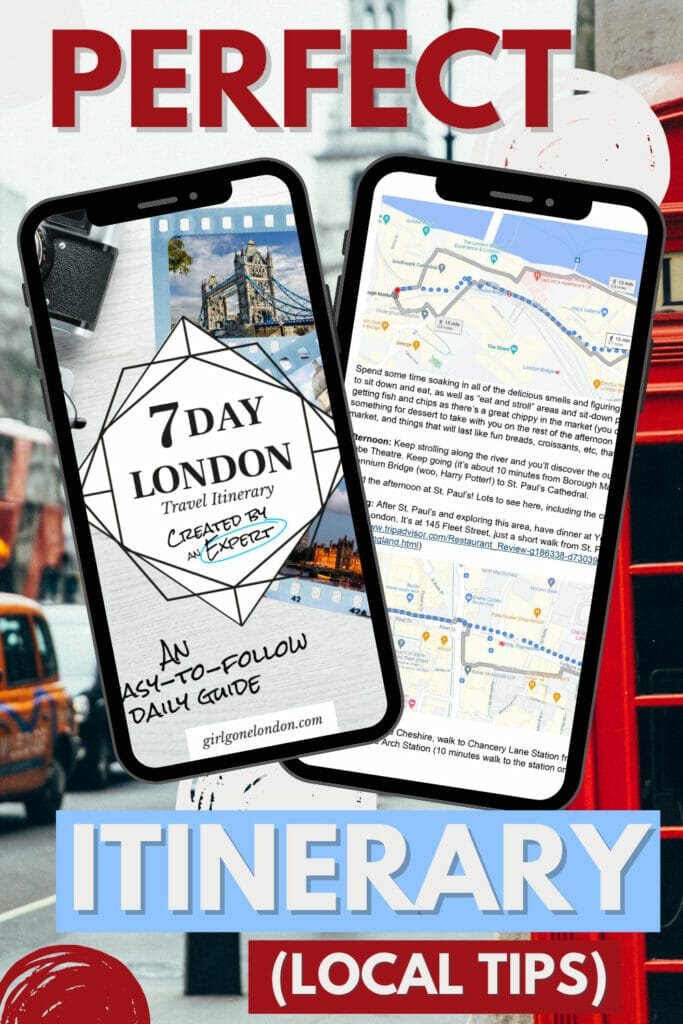 It can be stressful spending so much money on a London trip and not knowing if you're fitting everything in or making the most of your time.
To help you out, I've taken my 10 years of London experience (starting as a visitor and then as a resident) to make sure that you have the ultimate step-by-step itinerary that will make sure you see the real London.
And, hey, if you're not coming for exactly 7 days or already have some plans, don't worry, as it's editable so you can mix around the days, incorporate your own ideas, or pick and choose which days to follow.
1. Westfields Stratford or Shepherd's Bush
If you're looking for a traditional "mall" (and not the "mall" that is the road that runs between Buckingham Palace and Trafalgar Square!), the closest you'll find is Westfields in either Stratford or Shepherd's Bush.
I love Westfields for their variety of shops and restaurants and they do have an outdoor component as well that lets you feel like you're even that much fancier strolling through the promenade and popping into various eateries.
I wouldn't necessarily recommend Westfields as a "must-do" shopping destination if you want unique shopping in London, but I did feel I should mention it if you are looking for a mall-like atmosphere.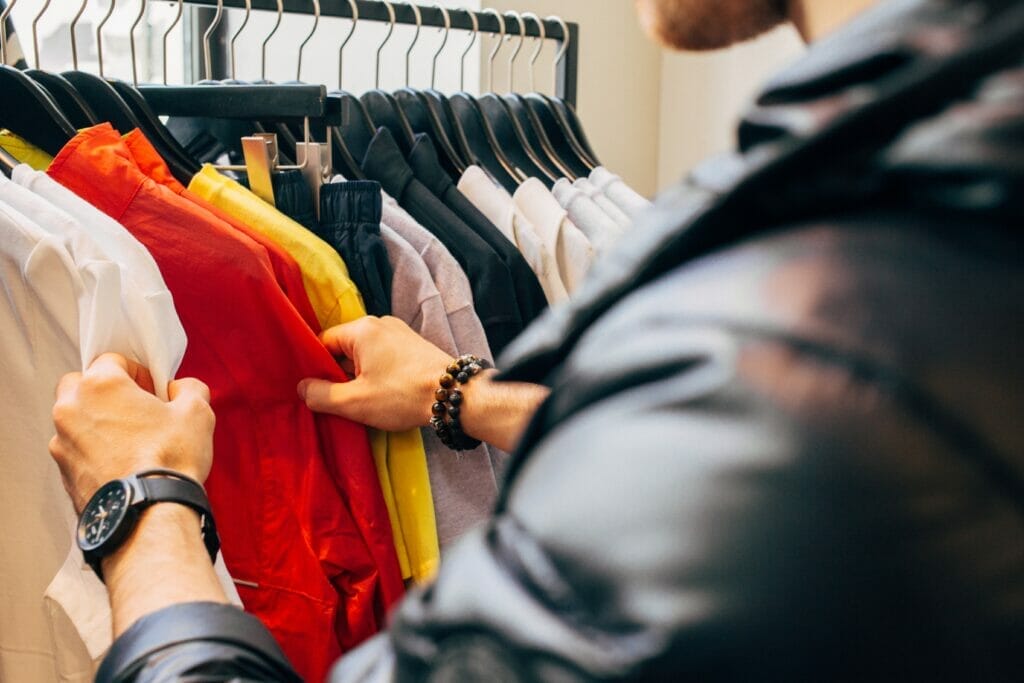 2. Oxford Street
London's premier shopping street is none other than Oxford Street, possibly one of the most famous shopping streets in all of Europe.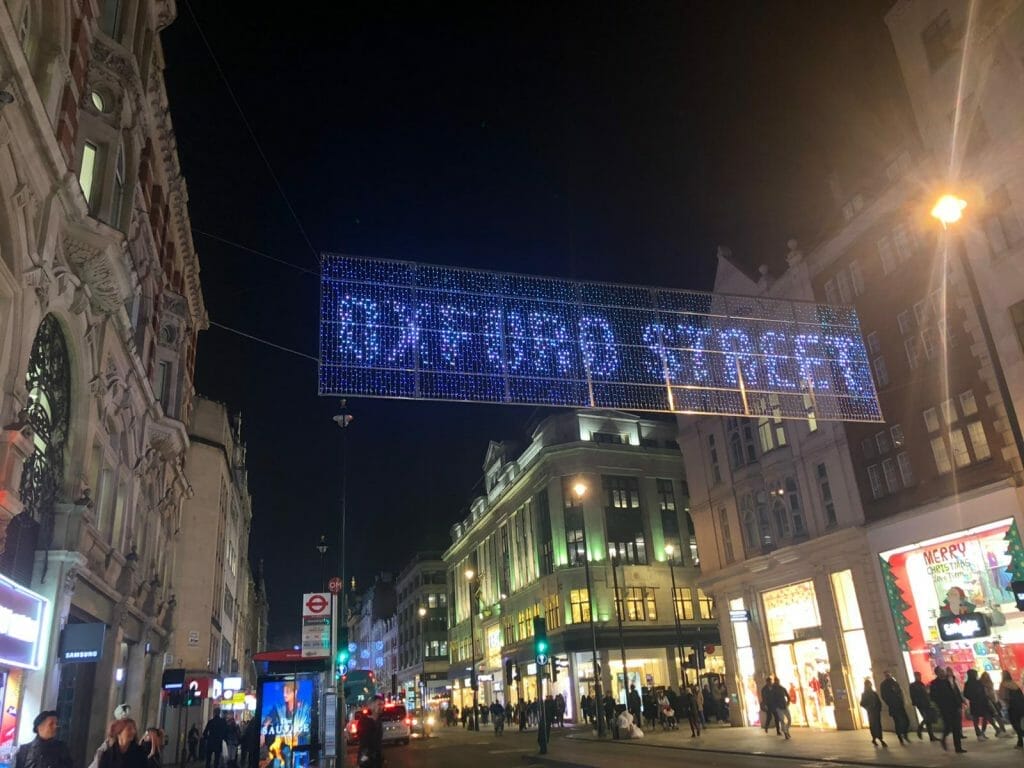 And trust me, when you're walking past the Oxford Street shops, you can feel how busy it is in the peak months with throngs of people trying to spend as much money as possible!
On Oxford Street you've got a variety of shops ranging from ones for the "regular person" like H&M and Primark, to more expensive shops and department stores like John Lewis and Selfridge's.
If I have to chose a London shopping district, Oxford Street would be it.
Intersecting Oxford Street is a street called Regent's Street which has a load more shops like Gap, Michael Kors, and a giant Apple store.
3. Harrods and Knightsbridge
If you really want to live your life in luxury, head to the Knightsbridge area where you'll find famous London department store, Harrods.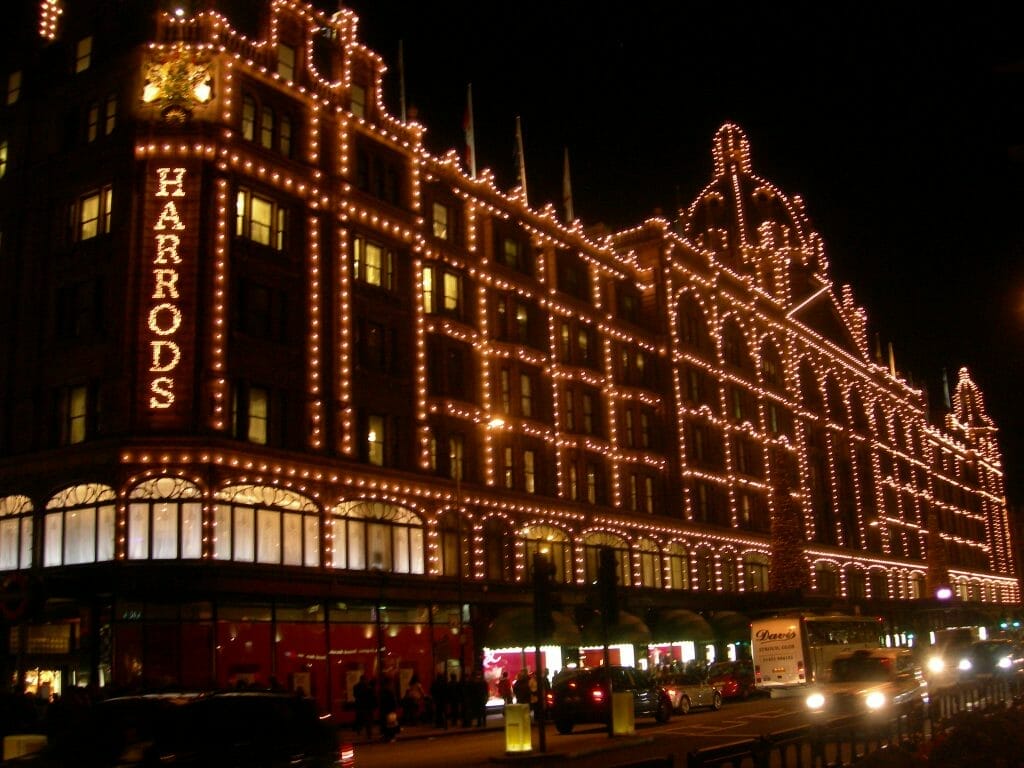 Very much still a symbol of wealth, Harrods has also now become a bit of a tourist experience where you can wander through the halls of very expensive items and dream about what you would buy if you won the lottery.
From Alexander Wang to Alexander McQueen, you'll stumble across designer label clothes, bags, accessories, makeup and more.
4. Covent Garden
This shopping and restaurant area is one of my favorites in London and has a nice market feel while also being home to some upscale shops and boutique stores and some of the best shops in London.
Wander around here and find your way into the Covent Garden Disney store, an Apple store, Levi's, Gap and upscale brands like Bailey Nelson for eye wear and Tiffany & Co for jewelery.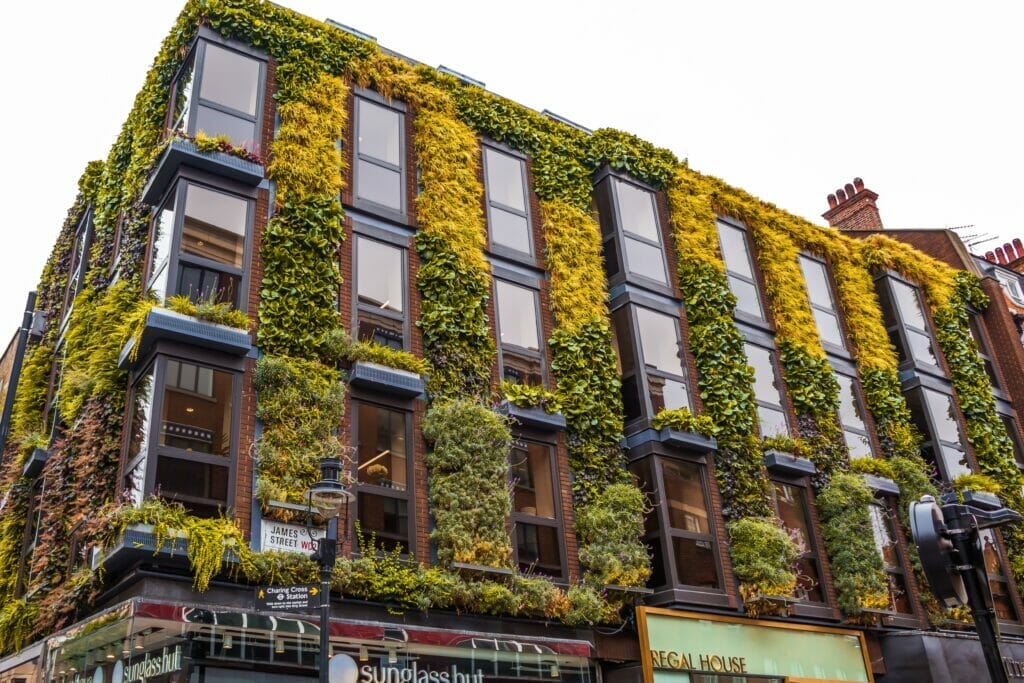 There are also plenty of places to eat here with outdoor seating, as well as regular street performances in the pedestrianized area of Covent Garden.
I've also rated Covent Garden as one of the best areas to stay in London for all visitors.
5. Bond Street
Keep walking down Oxford Street towards Marble Arch and suddenly it will turn into Bond Street.
This is where your shopping experience just got an upgrade to famous brands and fashion store, including places like Burberry, Tiffany & Co and luxury department stores in London.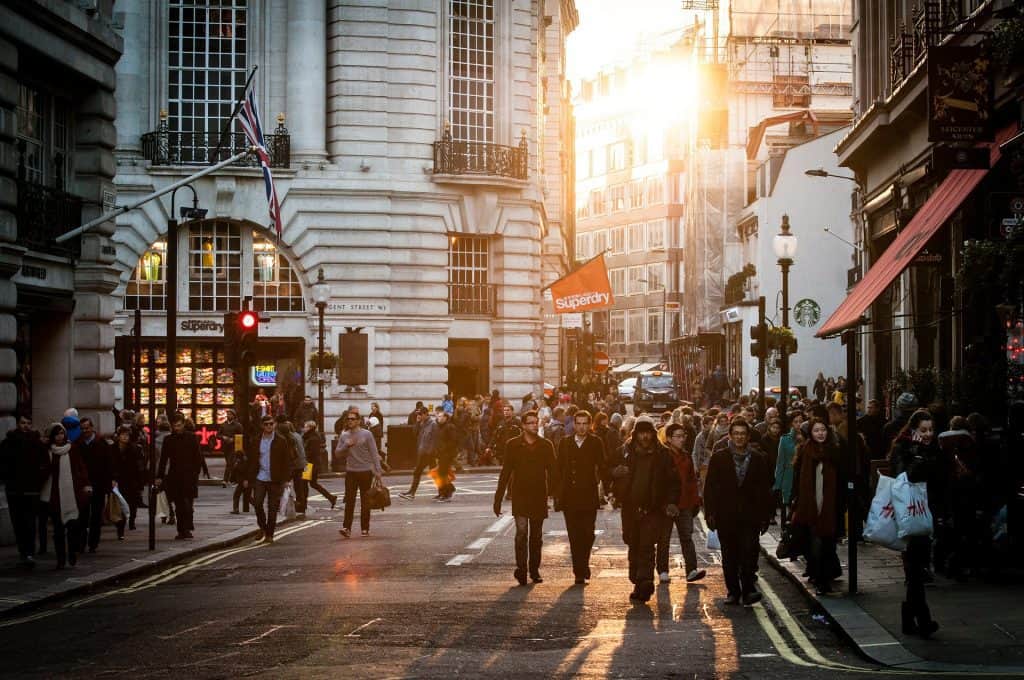 This is where the celebrities go to shop, and where many of us choose to do some window shopping after we've bought our actual purchases at Primark!
Because Bond Street and Oxford Street are the same stretch of road, they are both easy to explore at once, and then you can double back on yourself and start heading down the streets running perpendicular like Regent's Street.
6. Notting Hill
Of course famous for being a London filming location, but did you know what there actually is to do in Notting Hill?
Shop!
Get your boho chic on at the numerous independent retailers and iconic London stores in Notting Hill, and bask in the colorful and picturesque surroundings.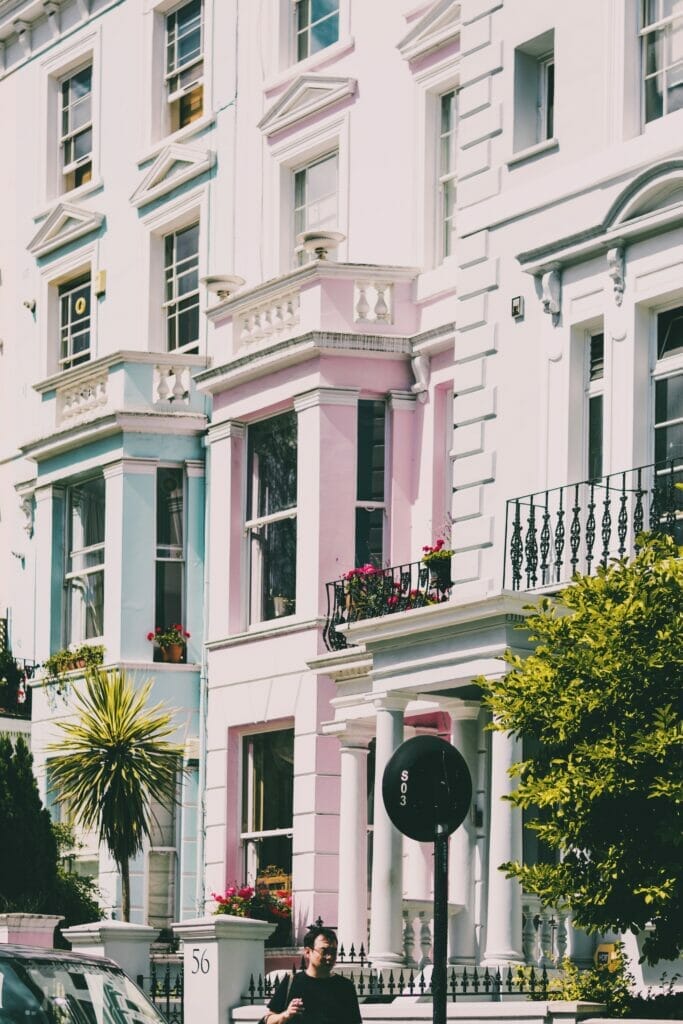 Shopping in Notting Hill manages to feel sophisticated without feeling stuffy or too over-the-top, and if you're wondering where to shop in London for clothes that are a bit unique, Notting Hill is it.
7. Mayfair
If you're into fashion and jewelry, Mayfair is the place to go.
This is upscale, world famous shopping, all centered around famous hotels like Claridge's.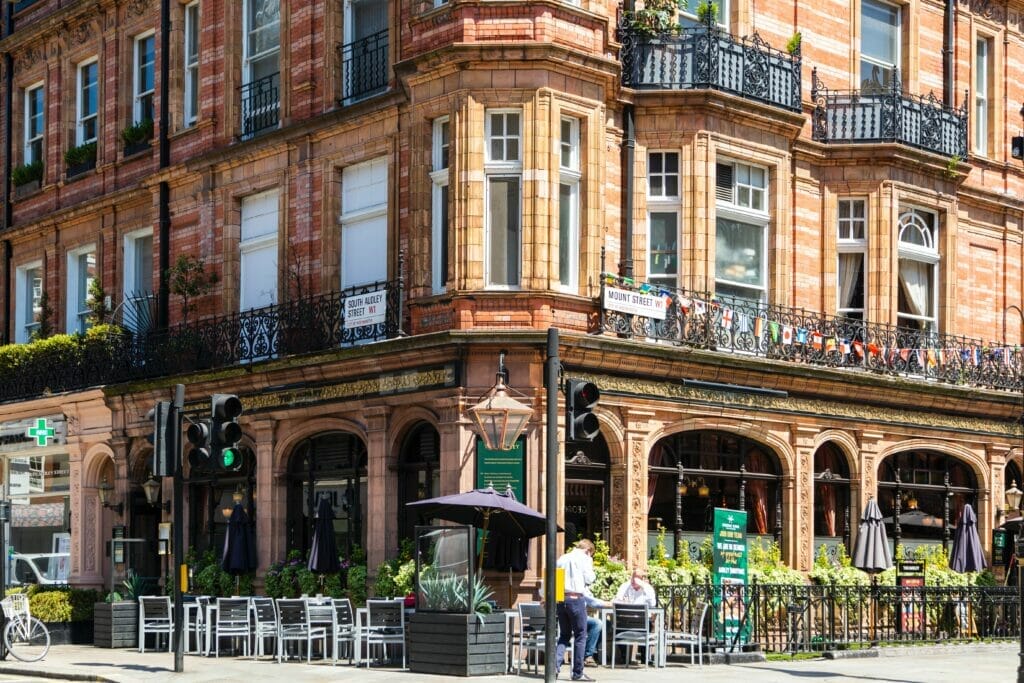 You'll stumble upon Armani, Dior, Fendi, Gucci, and so many more iconic brands as you wander the streets of Mayfair.
And don't be surprised if the cars you see around this area are equally as iconic.
When you need a breather from all of the spending, check out Berkeley Square Gardens where you can do some people-watching and enjoy a coffee from a nearby cafe.
8. Sloane Street
Known as a luxury shopping street in the Royal Borough of Kensington and Chelsea, Sloane Street is filled with iconic stores like Valentino, Versace, and Prada.
There are also iconic British brands like Harvey Nichols, Jo Malone and Emilia Wickstead.
If you're wondering where to shop in London to get a true British shopping experience, Sloane Street is it.
9. Shoreditch
Shopping in Shoreditch is for people who want something a little different, super trendy, and more focused on new designers and the emerging brands in London rather than the ancient favorites.
Walk up and down Shoreditch High Street and you'll find plenty of hipster cafes, contemporary art spaces, and of course places to open up your wallet.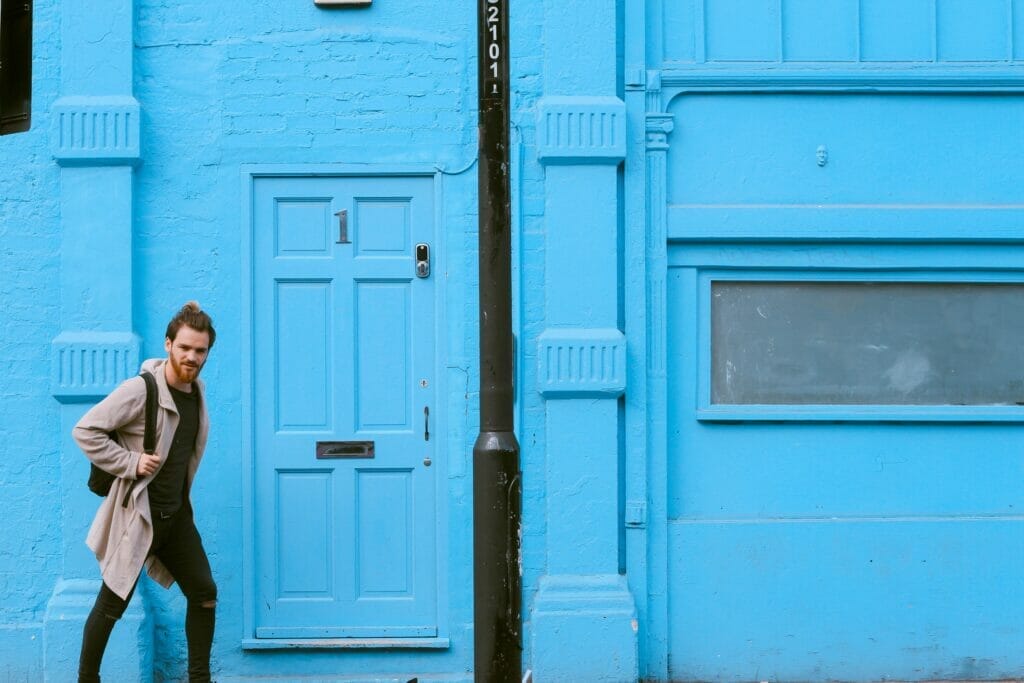 It's a colorful, fun, and vibrant area of East London and a great place to spend an afternoon of shopping in London.
10. Soho
From Carnaby Street to the hidden alleways, Soho is one of the most iconic parts of Central London and was the center of the fashion revolution in London.
This history is reflected in the amount of menswear stores and fashion brands you can find in Soho, in addition to plenty of restaurants and cafes to keep you going.
Soho is walking distance from Oxford Street and other iconic areas like Regent's Street, so plan your shopping day to include them all.
11. Hampstead
This upscale part of north London is a popular place for celebrities to live, including people like Harry Styles and Helena Bonham Carter.
It's also chock full of shopping options for those of you who like vintage shopping and "second hand stores" or charity shops, as they're known.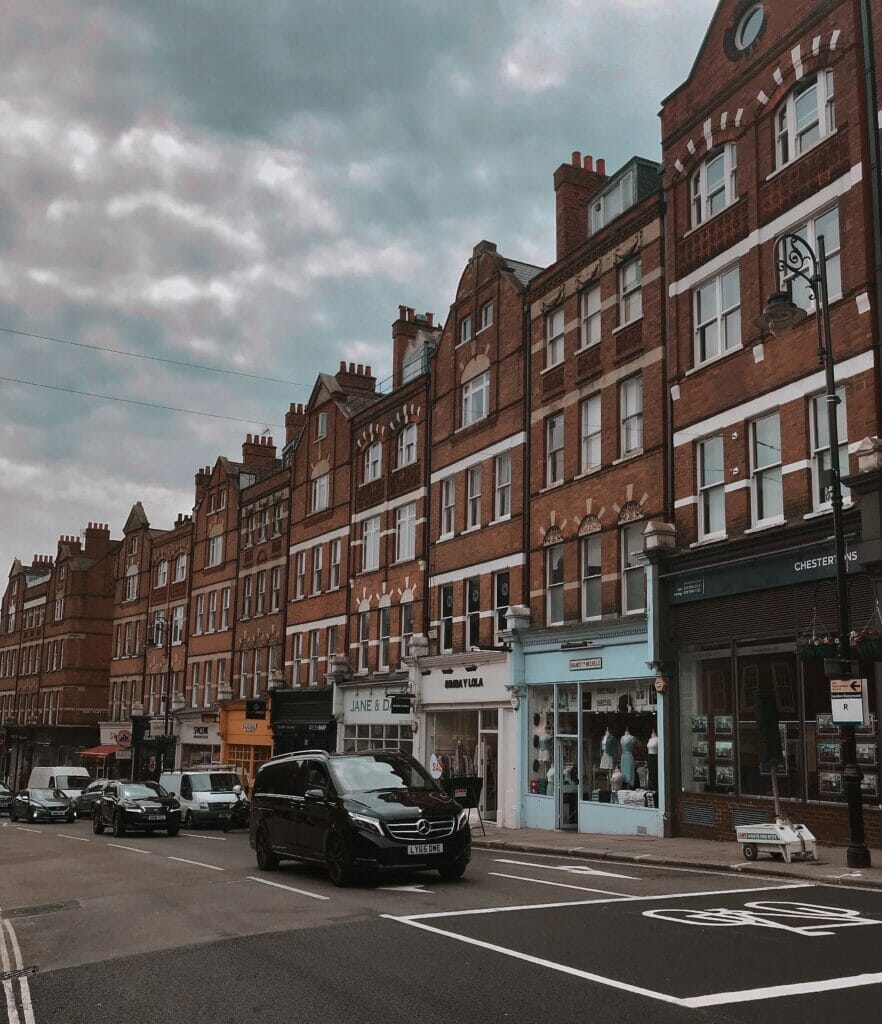 From second hand bookstores to second hand clothing stores to quirky cafes serving up really tasty rich people coffee, you can spend a great morning or afternoon here popping in and out of the stores and keeping an eye out for a celeb spotting.
You can also spend some time on Hampstead Heath, one of the most amazing green spaces in London if you need a break.