This post contains affiliate links for which I may make a small commission to help keep the site running. You will not be charged extra for these items had you not clicked the links. Thank you for your help to keep the site running!
Wondering what to do in London on your birthday?
You should treat yourself of course!
Whether that's splashing out on a luxurious experience or spending the day doing exactly what you want to do.
Read on for ideas on how to spend your birthday in London.
Hey! Sidenote! Planning on visiting the UK or moving to the UK?

For more advice, photos and friendly help, click here to join my UK Travel Facebook group to carry on the conversation with fellow travelers and UK experts.
Wait, stop!
Before you keep reading, I just wanted to make sure you know about my expert 7-day London itinerary that includes all of the iconic attractions plus off-the-beaten path activities and restaurants, as well as step-by-step walking and public transportation directions!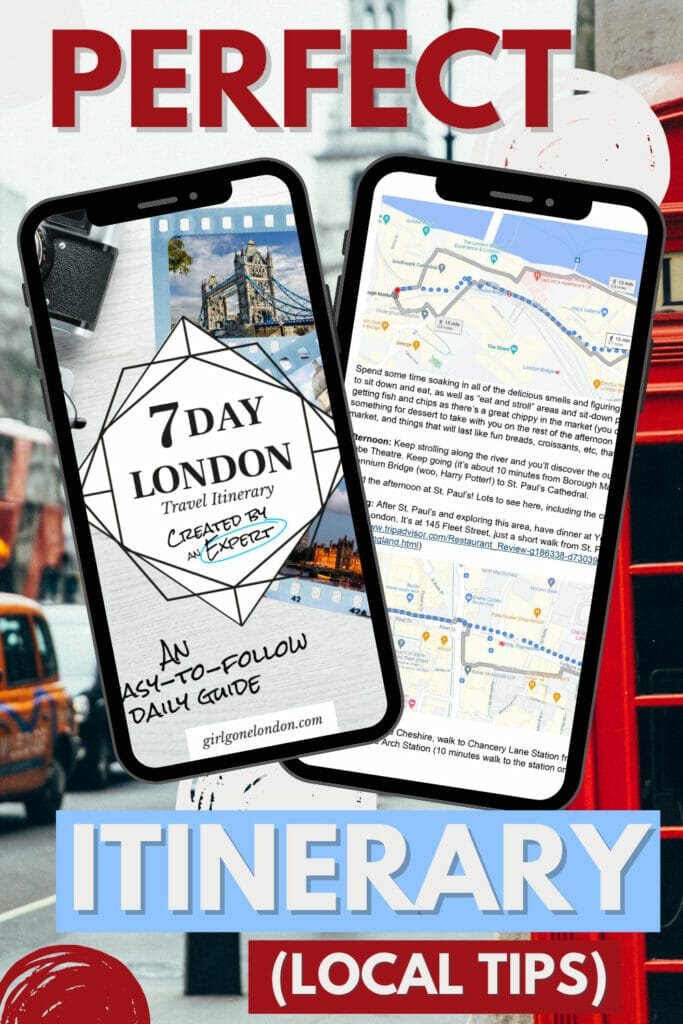 It can be stressful spending so much money on a London trip and not knowing if you're fitting everything in or making the most of your time.
To help you out, I've taken my 10 years of London experience (starting as a visitor and then as a resident) to make sure that you have the ultimate step-by-step itinerary that will make sure you see the real London.
And, hey, if you're not coming for exactly 7 days or already have some plans, don't worry, as it's editable so you can mix around the days, incorporate your own ideas, or pick and choose which days to follow.
Best Afternoon Tea for your Birthday in London
What's more iconic that having a proper afternoon tea?
Afternoon tea is practically a British institution.
Below you will find three fantastic places to have afternoon tea in London.
1.Brigit's Bakery Afternoon Tea Bus Tours
Each ninety minute long tour take place on a vintage Routemaster double-decker bus while touring through central London.
The tour takes you along the main sights including Big Ben, the Houses of Parliament, Buckingham Palace, Harrods, Hyde Park, No. 10 Downing Place and many more famous sights.
Brigit's Bakery offers three different tours tailored to suite every need.
The classic afternoon tea tour offers guests a traditional afternoon tea menu of finger sandwiches, scones, and treats from the bakery. Tea, coffee, water as well as a wine list is on offer.
For those who like a little more booze in their tea, Brigit's offers a Slingsby Gin Afternoon Tea.
The menu for this afternoon tea features three gin and tonics as well as gin infused cakes in addition to the sandwiches and scones you would expect.
Something to keep in mind, the bus tours do not have toilets!
For the little ones, Brigit's offers a Peppa Pig themed afternoon tea!
This tour is offered Thursdays through Sundays for those aged two plus.
Each table has a built in tablet featuring Peppa Pig guided animation along the route and sing-a-long songs throughout the tour.
The menu on the Peppa Pig afternoon tea tour is much more kid friendly, featuring mini pizzas, cheese sandwiches, veggie sticks, cookies and cupcakes! Yum!
For the Peppa Pig tour only, they allow children only to use the toilets on the bus.
Check out Brigit Bakery's website for more info.
2. Fortnum & Mason Diamond Jubilee Tea Salon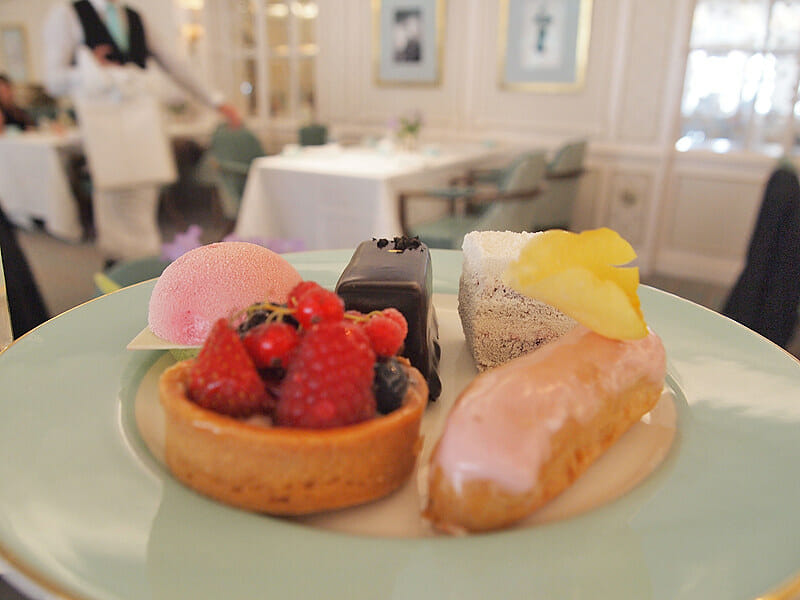 If it's good enough for the Queen, it's good enough for me!
If you're looking for an idea on how to spend your birthday in style and maybe purchase some some souvenirs to remember your trip by, Fortnum & Mason's is just the right place!
Fortnum & Mason's is on the pricier side and there is a dress code but why not treat yourself on your birthday?
With menus offerings from a classic menu to savory, vegetarian, vegan, dairy free, gluten free, and children's menus there's sure to be something for everyone.
For reservations and more information visit Fortnum & Mason's website here.
3. Reform Social & Grill at Mandeville Hotel
For something a little different check out one of the three afternoon teas offered by the Reform Social and Grill.
If you're just needing a little snack try out the mini afternoon tea.
The mini afternoon tea menu features things like peanut butter and jelly sandwiches, chicken sliders, and milkshakes.
Those with a heartier appetite should check out the gentleman's afternoon tea.
This menu offers salmon and cream cheese bagels, beef Yorkshire puddings, and chicken tikka sandwiches!
Reform social also offers a more classic menu for those who want to stick to the traditional afternoon tea.
The traditional afternoon tea menu features coronation chicken, smoked salmon and cream cheese sandwiches, scones and cakes.
Check out Reform Social & Grill's website for more information here.
Harry Potter Experiences for your Birthday
For the Harry Potter fans looking for ideas on how to spend your birthday in London check out these fun things to do!
4. Warner Brothers Studio Tour- The Making of Harry Potter
Get a behind the scenes look of how the blockbusters were made at the actual studio where the movies were filmed.
Short of getting your acceptance letter to Hogwarts, this is every Harry Potter fanatic's dream come true.
The studio tour offers a headset guided tour of sets like the great hall, the forbidden forest, Diagon Alley and more!
You can explore the collection of many hand-made props and costumes while pretending that you're at the Yule Ball with Victor Krum himself!
Since the studio is so big there are four different cafes on sight for refreshments if you need them.
You can even try Butterbeer!
There's also a fantastic gift shop where you can shop for souvenirs to your heart's content!
Just don't break the bank, Gringott's that is!
The studio tour is located outside of London in Leavsden.
The easiest way to get there via public transportation is to take the train from London Euston to Watford Junction where there is a shuttle bus to the studio tour.
For more information on hours and ticket prices, check out Warner Brother's website here.
5. Platform 9 3/4
Unfortunately there isn't a train hiding behind Platform 9 3/4 waiting to take us all to Hogworts, but there is a luggage trolly embedded into the wall at Kings Cross Station to make all of your Harry Potter photo-op dreams come true.
While it is a bit touristy, those who want to have their picture taken in their house colors can do so and purchase the picture next door in the Harry Potter Shop.
For some die-hard fans, it's a must do on their Harry Potter bucket list.
To learn more from King's Cross official website click here.
6. Georgian House Hotel
What better way to end your birthday in London than a stay in a Harry Potter themed hotel room?
The Georgian House has two different rooms to experience.
The wizard chambers feature castle like details including stained glass windows, stone walls, and four-poster beds with velvet curtains that will have you dreaming you're at Hogwarts in no time!
The enchanted chambers are concealed behind a book case and are a bit cozier than the wizard chambers.
This room features all of the castle like details and magic of the wizard chambers but on a smaller scale.
While the hotel prices fluctuate with the season they are pricey so depending on your budget this hotel stay might be a once in a lifetime experience for some.
The Georgian House also has other magical ways to celebrate your birthday in London.
They offer a Harry Potter style afternoon tea and potion making class (cocktail class).
For more information and to book your stay visit the Georgian House's website here.
Best Views of London for your Birthday
7. The London Eye
Something fun to do on your birthday in London is to take a ride on the London Eye.
You can even treat yourself to a champagne experience or a private pod to make it an extra special day!
These VIP experiences will get you a fast track pass to skip the line.
The London Eye is Europe's tallest ferris wheel and will take you on a thirty minute ride that will offer you phenomenal views of London.
On a clear day you can even see as far as Windsor castle!
For a different view of London take a ride on the London Eye at night and see all of London's sparking lights.
For ticket pricing, hours and other information visit the London Eye website here.
8. Sky Garden
If you're looking for a unique way to celebrate your birthday in London and want a spectacular view of the city then look no further than the Sky Garden.
Located inside of the Walkie Talkie building, the Sky Garden is dubbed as London's highest public garden.
The Sky Garden is free to visit but time slots are limited so booking in advance is suggested.
Tickets can be booked up to three weeks in advance.
The main garden is naturally ventilated so be sure to dress according to the outside weather.
The Sky Garden features two bars and two restaurants if you want to really celebrate your birthday in unique style.
To book your free tickets visit the Sky Garden's website.
Unique Overnight Stays for your Birthday in London
Who said sleepovers are just for kids?
If you're looking for a fun idea on how to spend your birthday evening in London these unique sleepovers are made just for you!
9. ZSL London Zoo
How many people can say they have stayed the night with lions, tigers and bears? Oh my!
What better way to spend your birthday than having a sleepover at the zoo?
The ZSL London Zoo offers sleepovers tailored to the animal lover.
Guests are treated to a drink upon a arrival, are served a two course dinner and a full English breakfast the next morning.
The stay includes three private tours of the zoo grounds after all of the other patrons have left for the day at sunset, after dark and another tour the next morning.
Entry to the zoo for the next day is included in your stay for you to further explore the zoo.
For more more information visit ZSL London Zoo's website here.
10. Natural History Museum
Science lovers rejoice!
You can can have a sleepover at the Natural History Museum "Night at the Museum" style.
Dino Snores for Grown-ups would be an amazing way to spend your birthday in London.
Guests will be treated to a live animal workshop, stand-up comedy, a science show, a live harpist, an all night monster movie marathon and access to selected galleries and temporary exhibitions.
You can also purchase a spirit collection tour for an additional fee.
Meals include a three course dinner and breakfast the next morning. Bar snacks and drinks are available for purchase.
For those really wanting to treat themselves, you can purchase the premium package which includes bubbly upon arrival, a personal team leader for activities, a private table for dinner, access to the top floors of Hintze Hall after they close for the night, a raised camp bed, and a museum goody bag to take home.
Let your inner child free and live out those "Night at the Museum" fantasies!
Visit the Natural History Museum's website for more information.
Best Birthday Pubs In London
If you want to take yourself out to a pub in London in your birthday you will be spoiled for choice.
There are over 3500 pubs to choose from so you are sure to find something that suites your style
11. Churchill Arms
The Churchill Arms is easily one of the most beautiful pubs with their fantastic floral displays year round.
The outside floral displays change with the season while the inside is covered with a lot of Winston Churchill memorabilia.
The pub is named after Churchill because his grandparents were regulars there!
If you feel like eating while at the pub, the Churchill Arms serves Thai food!
They have a full menu of family recipes that have been passed down for generations.
As for drinks, the Churchill Arms serves everything you would expect including seasonal ale, craft beer, cider, wines, spirits and even artisan soft drinks.
To look at their menu and hours you can visit the Churchill Arms' website here.
12. The Holly Bush
The Holly Bush is a historic pub located in Hampstead and is housed in a centuries old building that is Grade II listed.
Its walls are sure to have some stories to tell.
Their menu is said to be popular with foodies.
They don't serve typical "pub grub", but they have a more elevated menu.
If you're looking for a good steak or perhaps somewhere for a good Sunday roast this might just be your place of choice.
For more information about the Holly Bush, visit their website here.
13.The Mayflower
The Mayflower is one of the oldest pubs on the Thames.
Dating back to over 400 years ago, you can still the original mooring point of the Mayflower ship.
The Mayflower pub offers a small selection of beer and wine while their food menu is a little bit more diverse.
They have several vegetarian items offered throughout their various menus.
For lunch they offer a selection of sandwiches served with chips (fries to the Americans).
For the main menu, the starters range from a veggie or meat platter to Scotch eggs and wings.
The main courses feature traditional pub grub such as burgers, pie, and bangers and mash.
Their Sunday menu will fulfill all of your roast cravings.
Check out The Mayflower's hours and menu on their website.
Best Birthday Restaurants in London
If you want to treat yourself to dinner on your birthday in London, you have endless options to choose from.
From little known holes in the wall to high end dining there is something for everyone.
14. Padella
Serving up delicious pasta in the London Bridge area you can't go wrong with Padella.
Padella is a good choice for those who are a little more budget conscious but minding your money doesn't mean you have to skip out on taste.
Padella has been consistently ranked on best restaurant in London lists for a while.
Serving a simple menu of pasta done well, you can't do wrong here!
Padella's menu isn't a long one but every single item sounds delicious.
From fettuccine and mascarpone to gnocchi and nutmeg butter, pasta fiends will be in carb heaven here.
For more information regarding hours and menus click here.
15.Bob Bob Ricard
With a "press for champagne" button at every table you know that you are going to have a good time on your birthday at Bob Bob Ricard.
Bob Bob Ricard serves up a mix of classic British and Russian cuisine in a lush all booth dining room that's sure to impress the most picky birthday girls and boys.
The dress code is "elegant" and fashion wear is encouraged.
From 11 am-noon they offer a waffle and bellini hour.
If you feel like splashing out you can even order caviar.
Mains range from a selection of pie, chicken kiev, different tartares, and beef wellington. As one would expect from a restaurant with a "press for champagne button", the wine list is extensive.
Click here to visit Bob Bob Ricard's website for more information on opening times, menus and the wine list.