This post contains affiliate links for which I may make a small commission to help keep the site running. You will not be charged extra for these items had you not clicked the links. Thank you for your help to keep the site running!
Flowing streams.
Winding roads draped by beautiful plants and trees.
A legendary grave.
The absolutely stunning village of Beddgelert is a true Welsh treasure in the heart of Snowdonia, and we're featuring the area in the best things to do in Beddgelert for its utter charm and proximity for those interested in having a cozy place to stay when climbing Snowdon.
We visited Beddgelert as part of our Rabbie's 3 Day Wales tour, and it was the place I truly fell in love with the friendliness and beauty of North Wales.
GET A

FREE

UK GUIDE and ACCESS TO MY PLANNING FB GROUP
With 50+ pages of helpful travel tips and the "best of" UK lists, this is your ad-free key to your UK trip.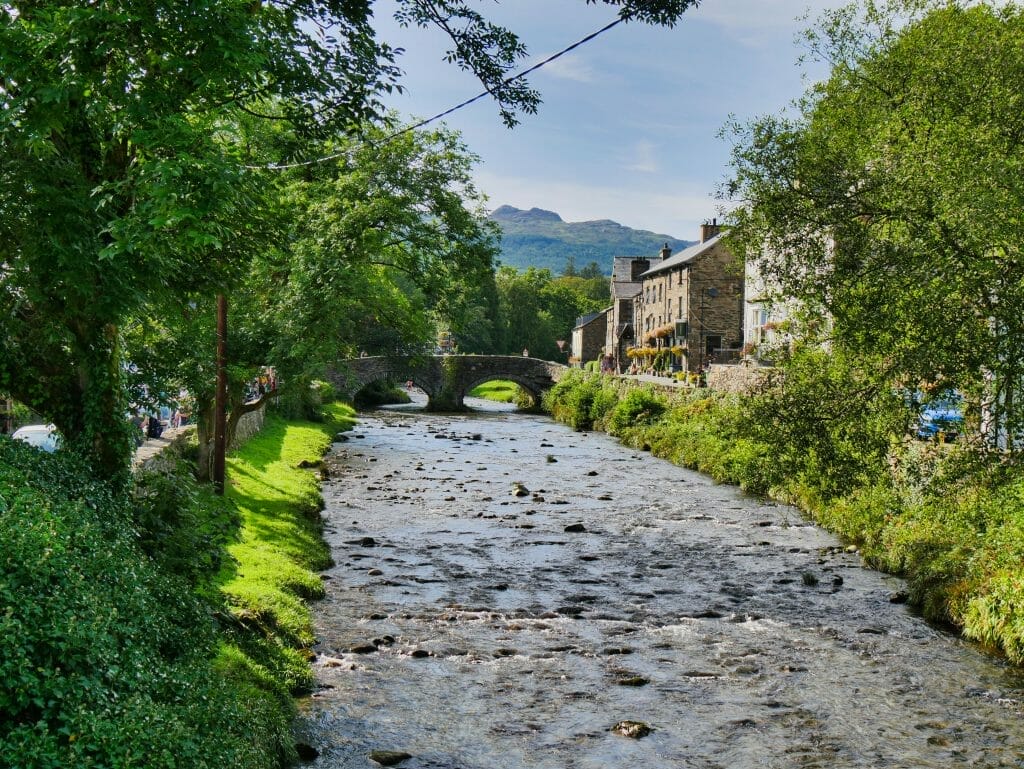 Want more amazing guides to Wales? Check these out!
History of Beddgelert
For those of us from countries like America with relatively short histories that we learn about, traveling to Wales is always a bit like wandering around and finding houses, landmarks, and villages that are hundreds of times older than anything you've ever known.
Beddgelert is one of those places, as it's believed to have been settled started around the 8th century by a Christian missionary named "Celert."
It's not until 1258, though that the first variation of Beddgelert comes into play, which, you know, is still ridiculously old.
Today, Beddgelert only has about 500 residents, so it truly is a tiny and charming village that has remained so over the years.
Another historic landmark in the village, St. Mary's Church, would have been part of an Augustinian Monastery, and parts of it still date back to about the 12th century.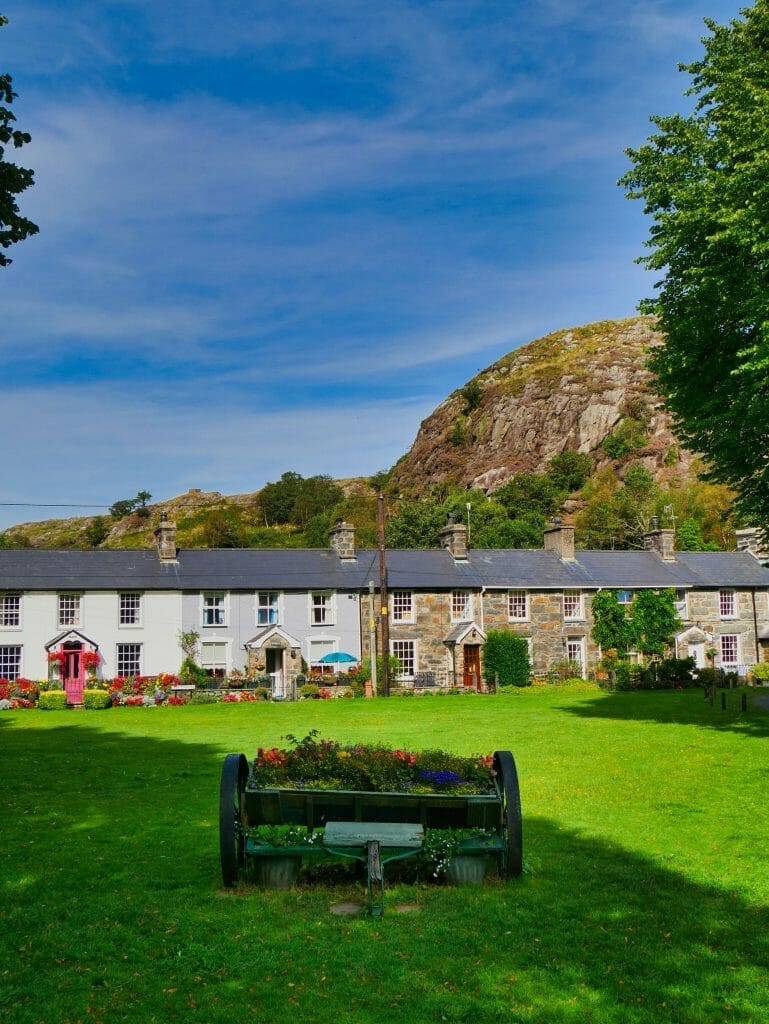 IMPORTANT: are you coming to the UK from abroad?
In case you're reading this from outside the UK and will be a foreign visitor here, you need to know these 2 things to stay safe and save money.
Travel insurance – you need it when going overseas! I use

this site

to get the best quotes and purchase my packages from. Do not skip this – having medical coverage abroad as well as other coverage in case of missed flights, lost luggage, etc is essential. As I said, I have never gone wrong using

this site

.
The Legend of Gelert's Grave
Perhaps the most famous tourist attraction in Beddgelert is Gelert's Grave.
This is essentially a gravesite in the middle of some greenery with trees, dedicated to a dog named Gelert.
The legend goes that in the 13th century, a Prince of North Wales had a palace in Beddgelert.
One day, he came home from hunting to find his faithful dog, Gelert, covered in blood.
The prince, alarmed, checked in his baby's crib and found it empty and also covered in blood.
Thinking that Gelert had killed his baby, the prince killed the dog with a sword only to hear the baby crying.
After checking on the baby, he found the dead body of a wolf.
The same wolf that Gelert had killed to protect the prince's baby.
The legend finishes that Gelert was buried in Beddgelert by the prince, who "never smiled again."
While this legend is incredibly jarring and particularly hard to bear for dog lovers, you can take a little heart that historians doubt the accuracy of the story.
Whether or not Gelert actually existed is actually not the point, in some ways, as Gelert's grave really speaks to the importance of stories and legend's in Welsh culture, which leads you down many fascinating paths!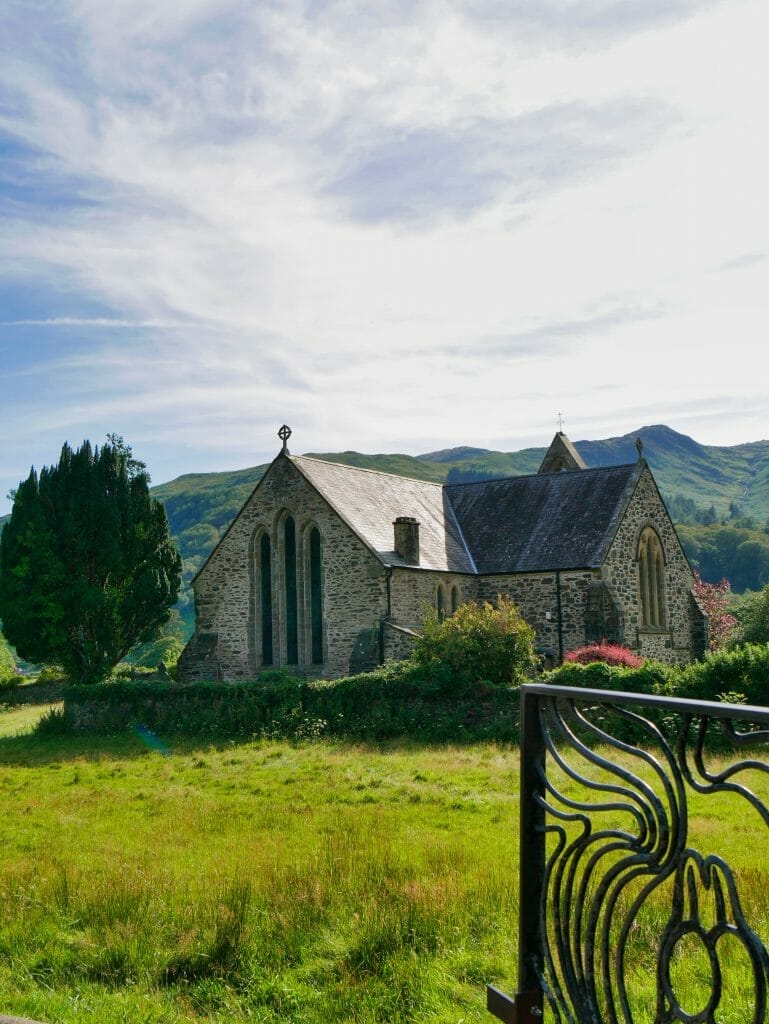 Where to Stay in Beddgelert
From hotels in Beddgelert to self-catering cottages in Beddgelert, it's such a small village that you won't have a problem narrowing down your list.
Here are some of my favorite places to stay in Beddgelert, depending on what type of accommodation you're looking for.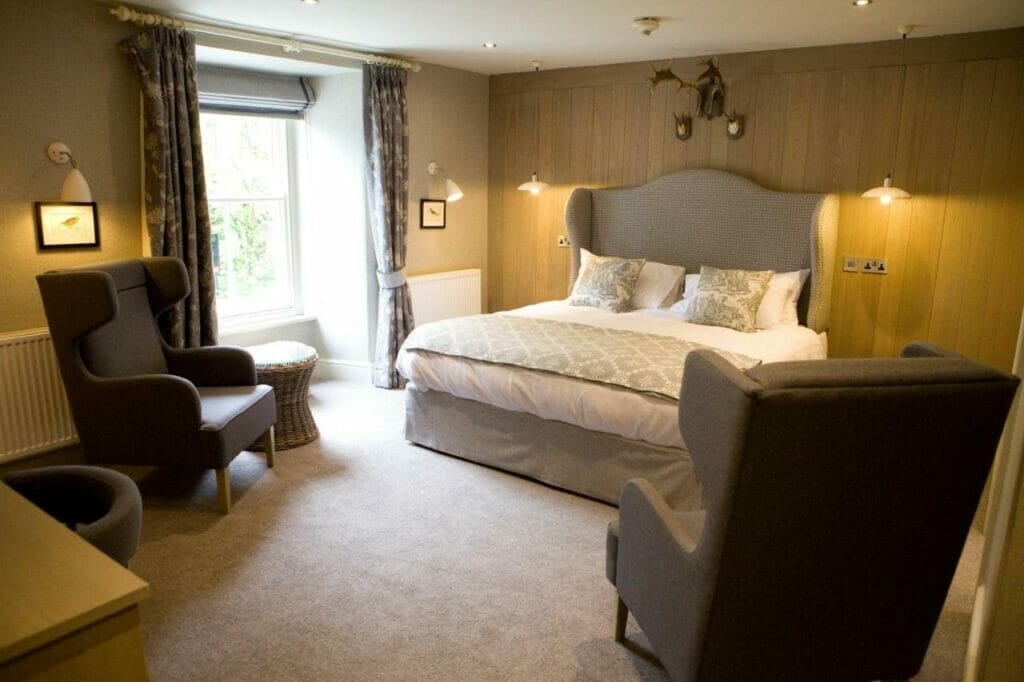 The Saracens Head Hotel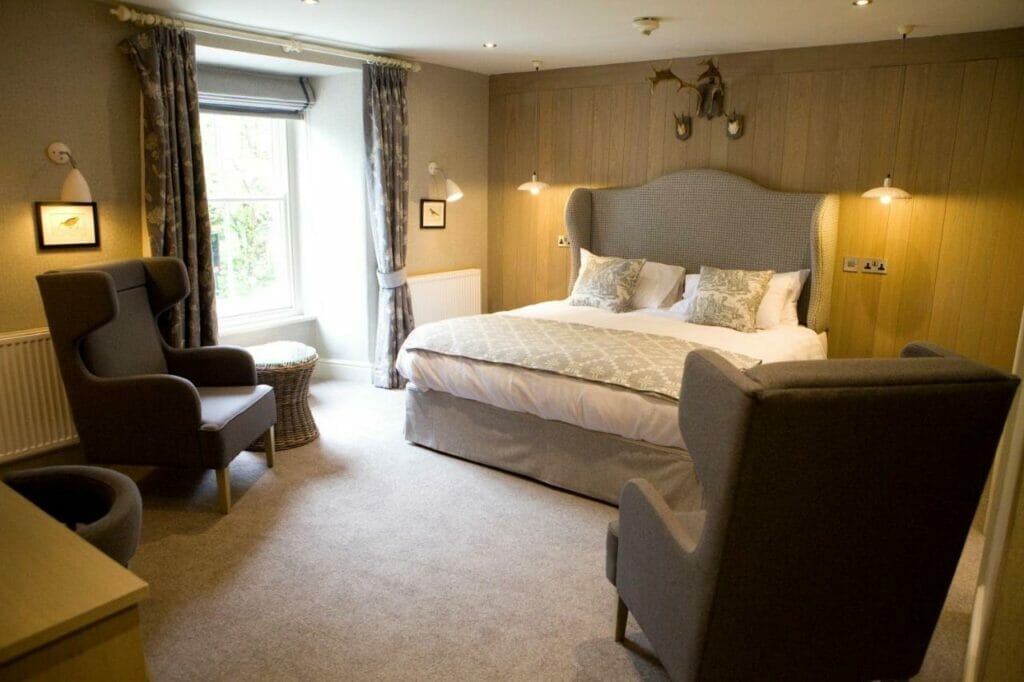 One of the most popular types of accommodation in villages in Wales is a pub or restaurant with rooms above.
This is the set-up of the Saracens Head Hotel, which has a cozy pub downstairs and eleven rooms upstairs.
These rooms are all en-suite, and beautifully decorated so you'll feel pampered and relaxed while you wind down from your day.
You've also got amenities like a flat screen television, tea and coffee making facilities, and a sitting area in the room.
And if you're traveling with your dogs, they are allowed in some of the rooms for no extra fee, so just tell the property that you've got some furry friends when you book.
Royal Goat Hotel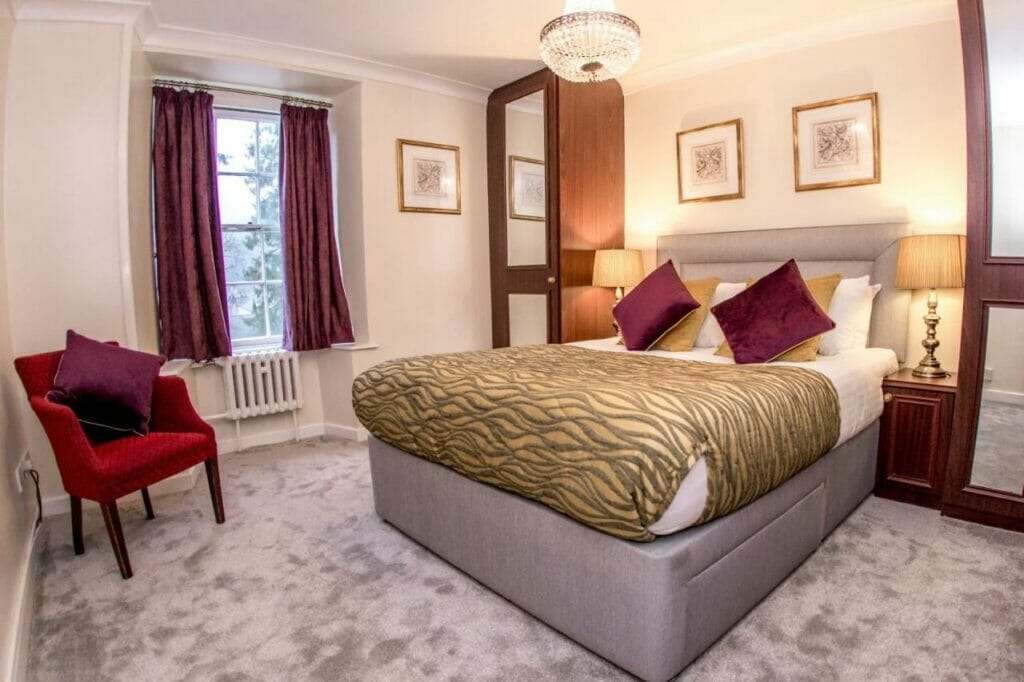 Another fantastic hotel in Beddgelert is the Royal Goat Hotel – upgraded to the "Royal" hotel in 1863 when Queen Victoria's son stayed there!
They've got over 30 rooms ready to welcome you in, as well as a family-friendly restaurant within the property.
The Royal Goat Hotel is family-run, right in the heart of Beddgelert with easy walking access to the entire village, and a fantastically cozy place to stay.
The Coach House
If you want to stay in Beddgelert on more of a budget (but still feel safe and cozy), the Coach House is a lovely option with great views and a self-service continental breakfast in the mornings.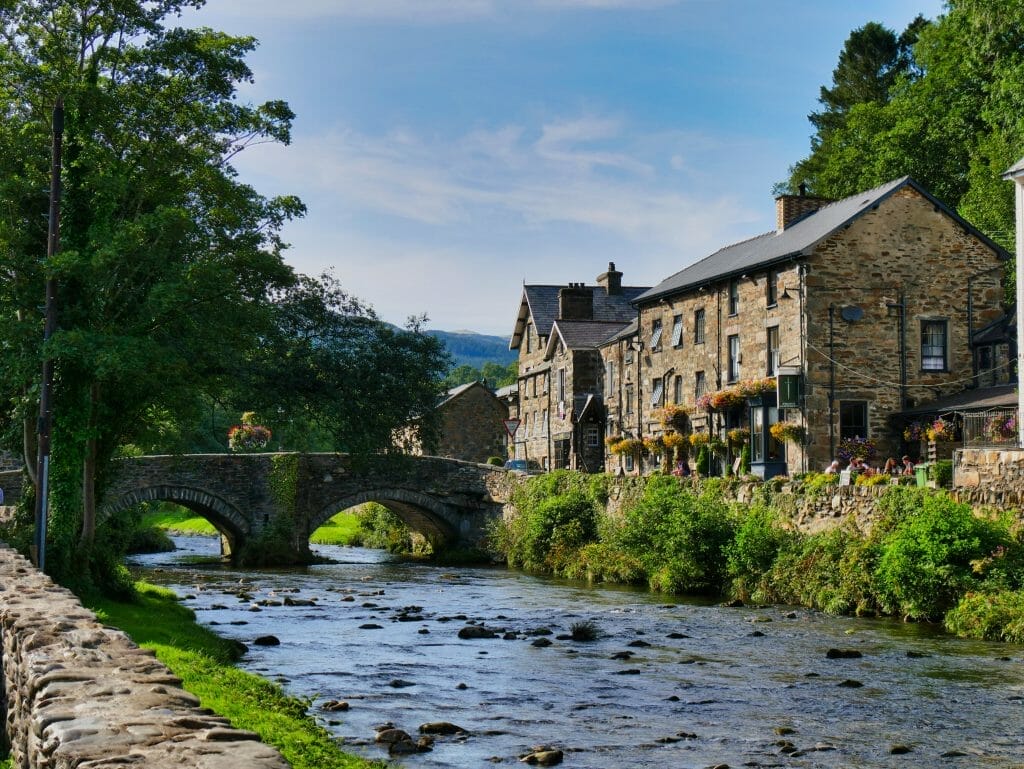 Gorgeous Holiday Homes
There are some absolutely beautiful holiday homes in Beddgelert that you can rent through booking sites.
I love the look of Gwyndy Bach (which holds up to 6 people).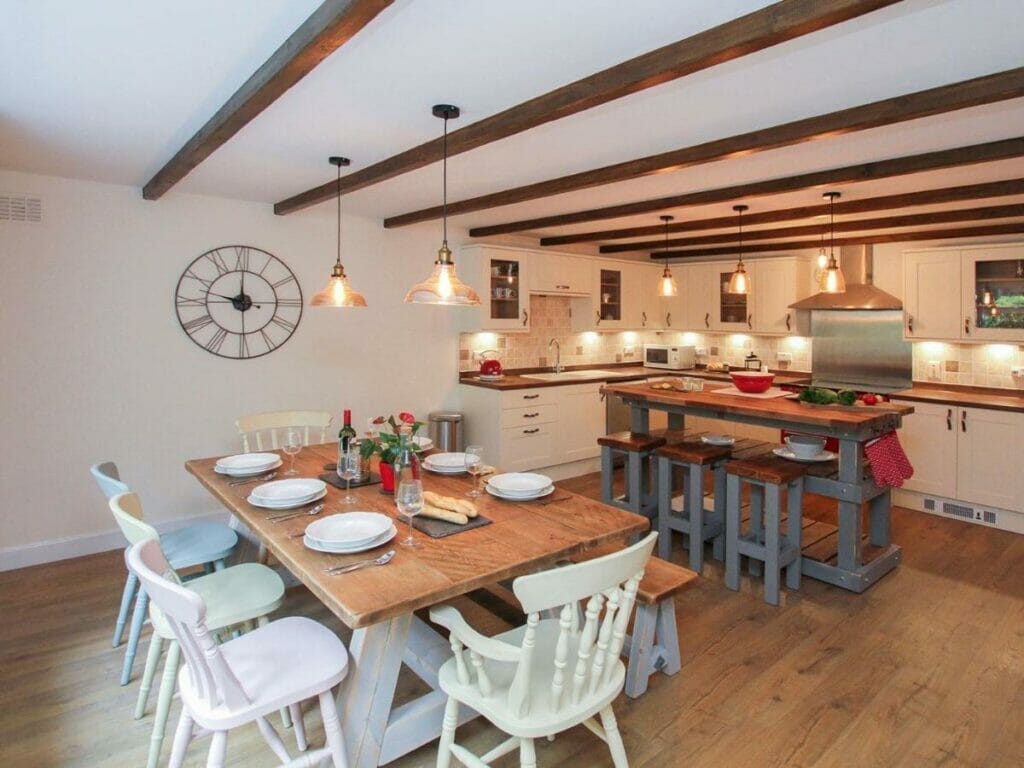 Renting a holiday home is a great way to be able to save money by cooking your own food and having a more spacious home base to come back to after a day of exploring Snowdonia.
Beddgelert Campsite
This gorgeous campsite run by Forest Holidays is within the forest and just a few minutes from Beddgelert.
You've got your choice between a hard standing pitch or a grass pitch, along with amenities like electric hook-ups, Wi-Fi (I mean, this is camping in 2022, come on), sinks, showers, toilets, washing facilities and more.
There's also an on-site bakehouse which services pastries, pizza and other snacks so you can have a lazy day around the campsite if you want.
This is an excellent choice for anyone who wants to get back to nature and really take the time to chill out and explore Beddgelert and the beauty of Wales in a slowed-down way.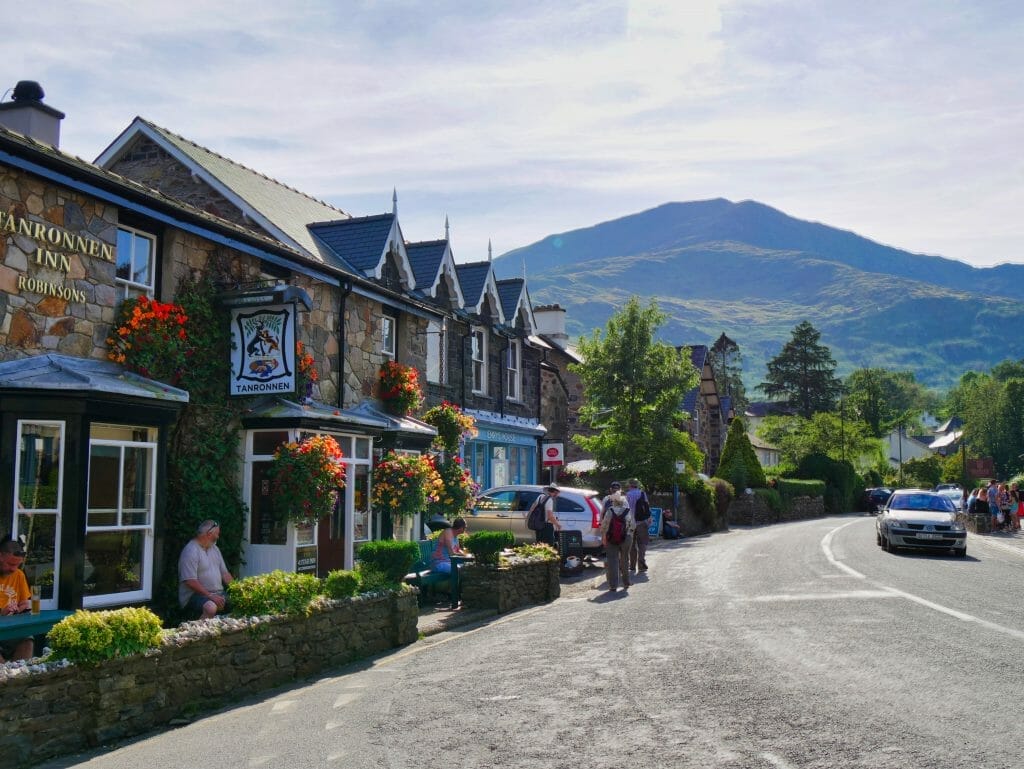 Best Things to Do in Beddgelert
As mentioned, Beddgelert is an absolutely charming small village, so I'm pretty confident that this is an excellent master list of what to do in Beddgelert.
And keep in mind that Beddgelert itself is a visitor attraction, so you don't have to do anything besides walk through it to really appreciate the gorgeous architecture and combination of natural beauty.
Gelert's Grave is accessible on foot by following a path along the River Glaslyn.
You'll come across some roaming sheep, as well as a statue of a dog on your way to this legendary final resting place.
There are two plaques telling the story of Gelert underneath the tree that holds his grave – one in Welsh and one in English.
Even if you're new to the Gelert legend, this is still a fantastic thing to do to help you get your bearings in Beddgelert and explore the walking trails.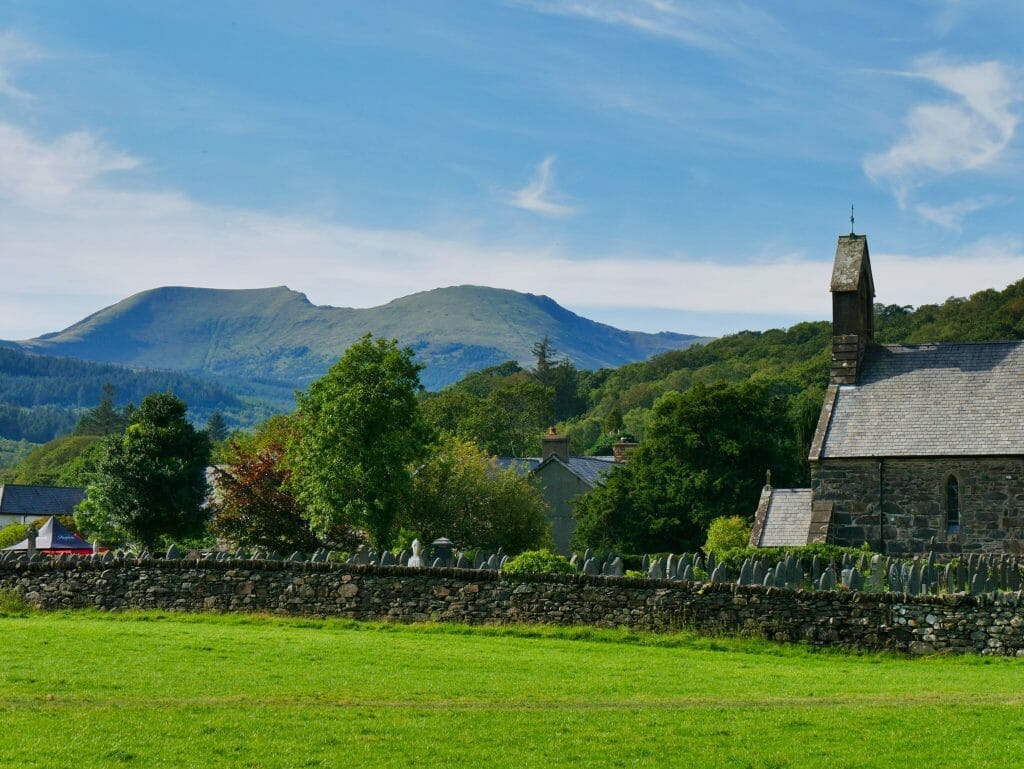 2. Check out the Sygun Copper Mine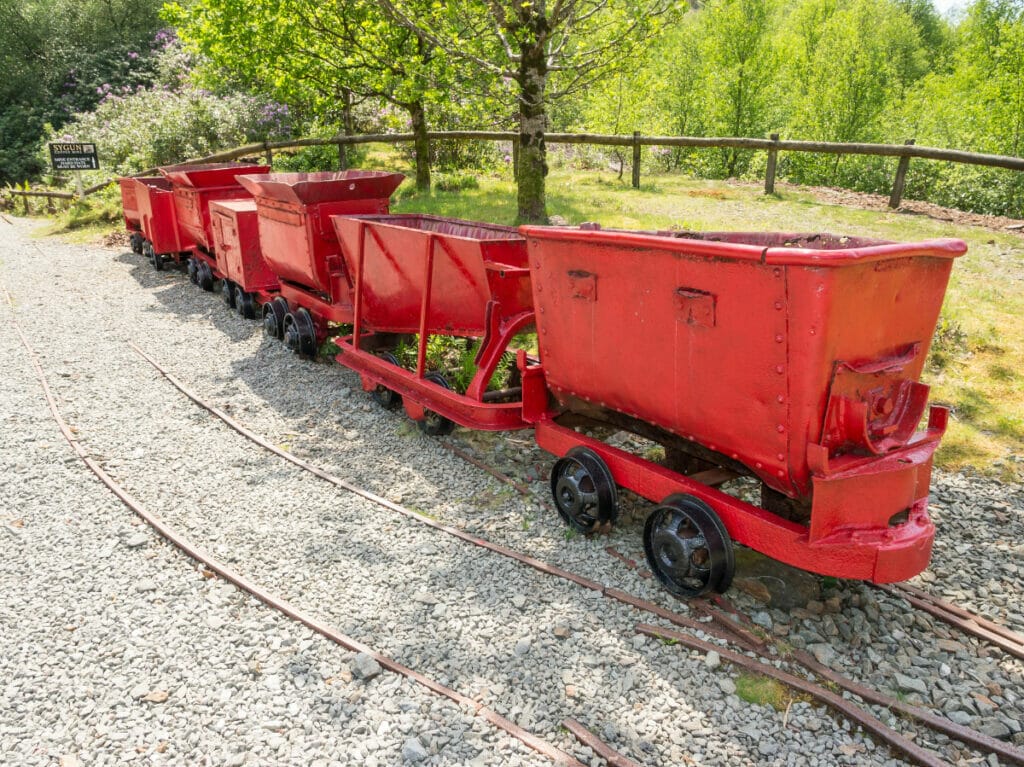 Forget being one of the best attractions in Beddgelert – this is one of the best things to do in North Wales, period!
The Sygun Copper Mine was abandoned in 1903, but has been reclaimed to use as a self-guided tour through the natural wonders of our world including stalagtites and stalagmites.
You'll also learn about what it would have been like to be a Victorian copper miner as you wander through the mine.
Make sure to wear proper shoes to walk on uneven ground, as well as clothes that will keep you warm in the cooler mine temperatures.
Even in the heat of the summer, the mine will be much cooler than above ground and it takes about 40 minutes to explore, so you want to be prepared.
3. Treat the Family to Local Ice Cream
One of the best ice cream shops in all of the UK is in Beddgelert – it's called Glaslyn and the ice cream is incredible.
We stopped by there on a sunny day and the flock of people surrounding the shop was a good indication of how good the ice cream was about to be.
They've won numerous awards throughout the years for their dairy ice cream, and they have dairy free sorbet option as well if that's more your style.
People come from all over to enjoy ice cream here, so what are you waiting for?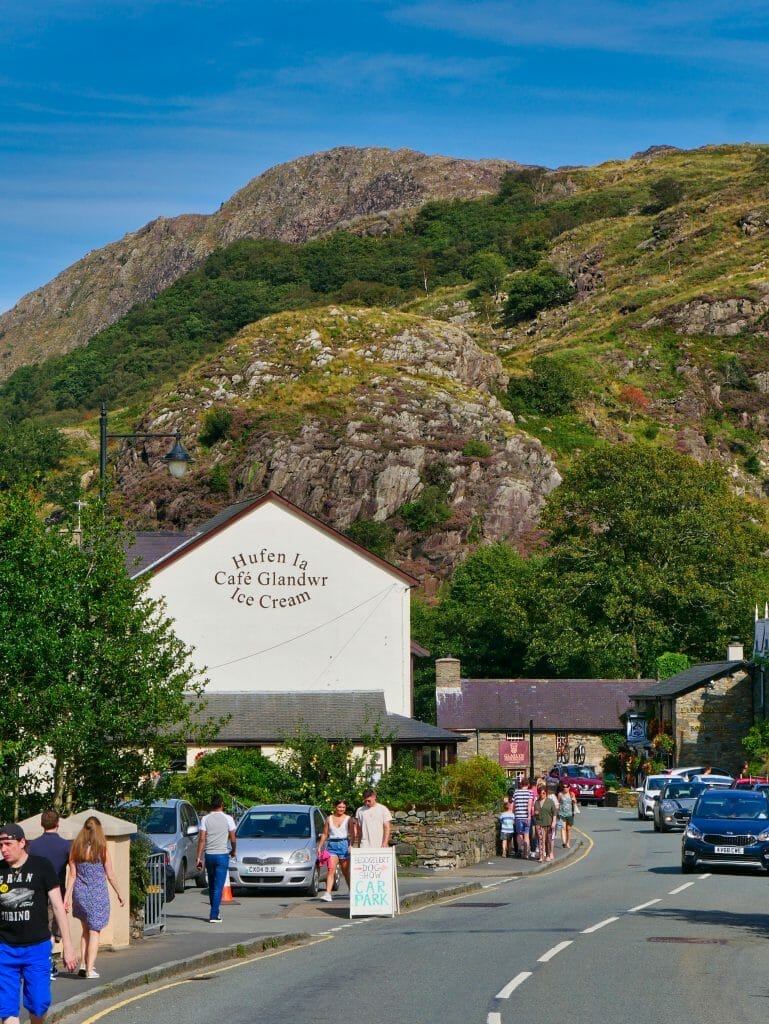 4. Rent Bikes to Explore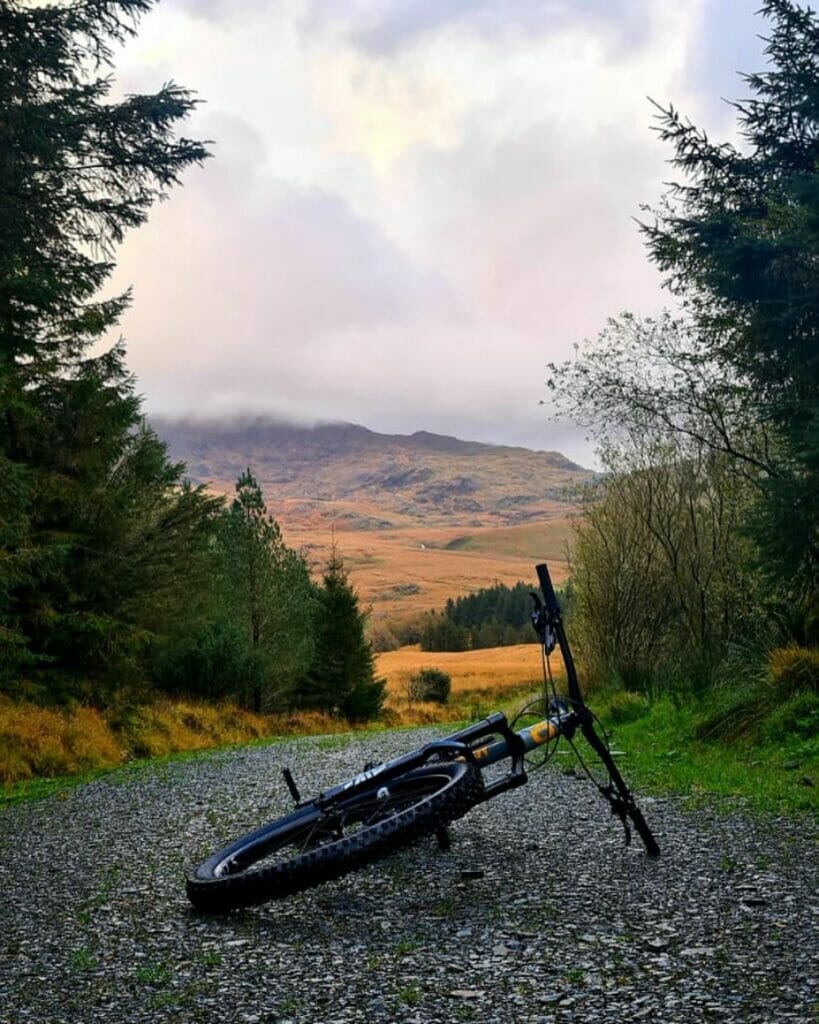 Beddgelert Bikes is just about a mile away from Beddgelert Forest, where walking and biking trails give you ample opportunity to get some exercise and explore this gorgeous part of the world.
They've been in business since 1993, so they know exactly what to do when it comes to renting you the perfect mountain bike for your size and skill level.
Seeing Beddgelert and the surrounding areas by bike is one of the healthiest ways to get around, and they also have children's bike so the whole family can explore together.
This Anglican church in Beddgelert holds a lot of history, as it dates back to a Christian community founded here in the 6th century.
Over the years, it has been destroyed through various means including a fire, but it's still in use today and you can step inside to check it out.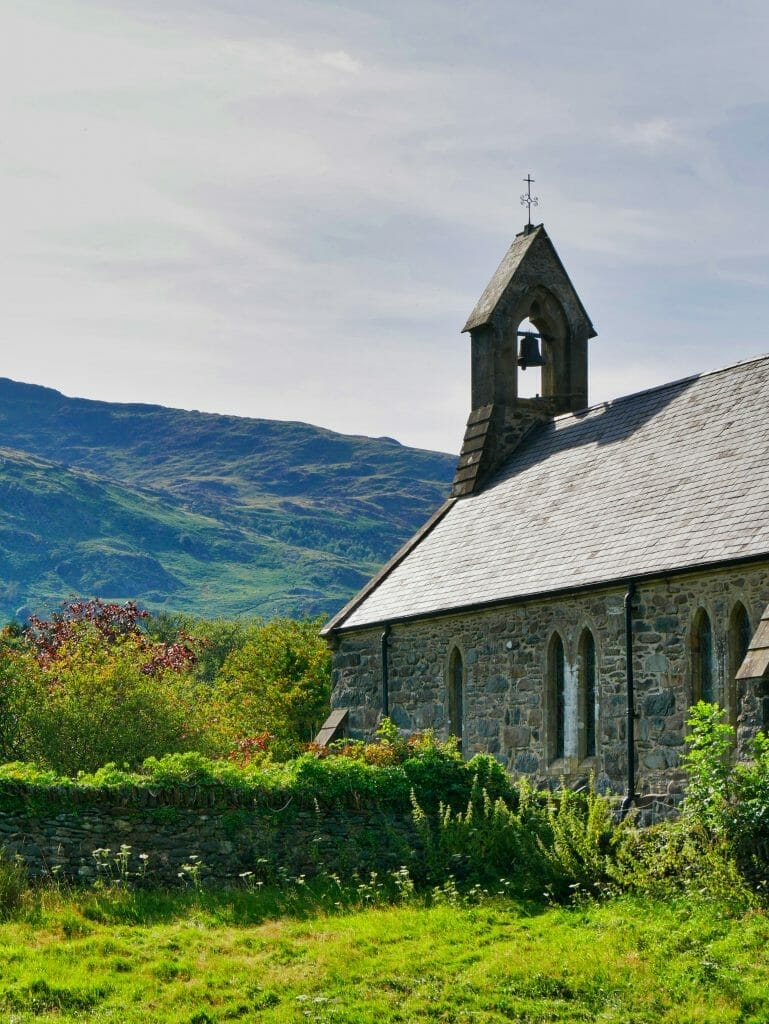 6. Stroll along the River Colwyn
The main river that runs along the Beddgelert main street is the River Colwyn, and it's a gorgeous walk to simply stroll alongside it as you wander your way through the village.
Despite being quite small, this river is fast-flowing and you can definitely get your "leaf race" on!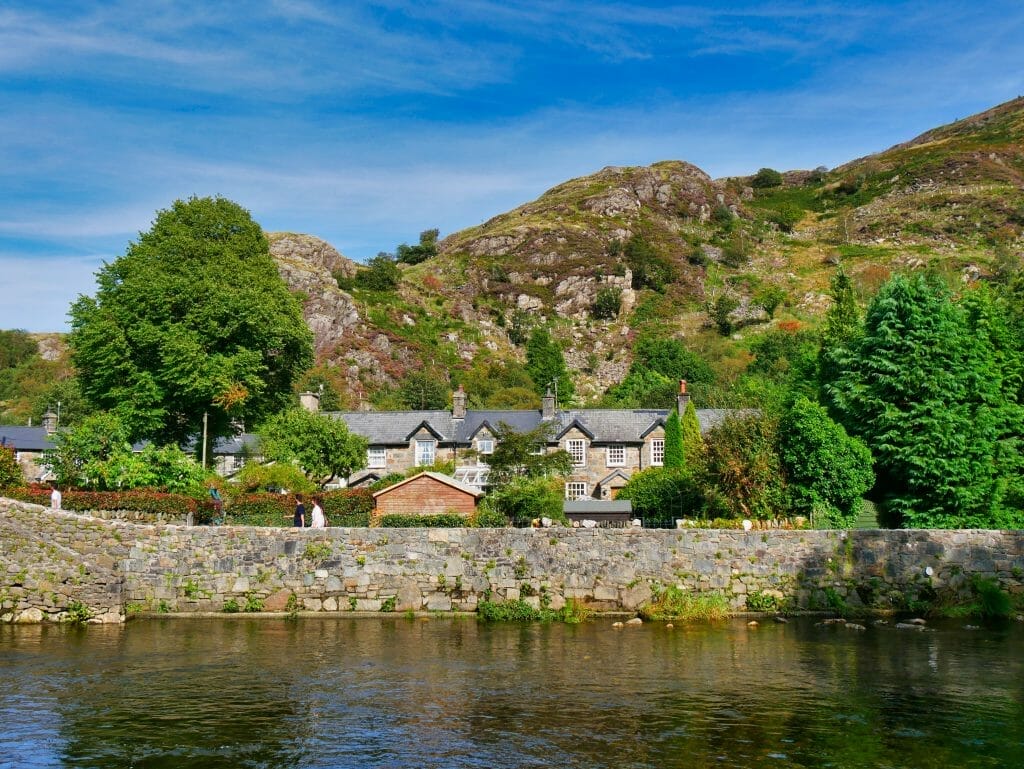 7. Enjoy one of Beddgelert's Best Walks
If you don't feel like mountain biking your way through the forest, check out some of Beddgelert's best walks.
You can try short ones, like the one to Gelert's Grave, or you can get really into the thick of Snowdonia with some circular walks starting and ending in Beddgelert that take you past amazing views and into the heart of the Welsh countryside and forest.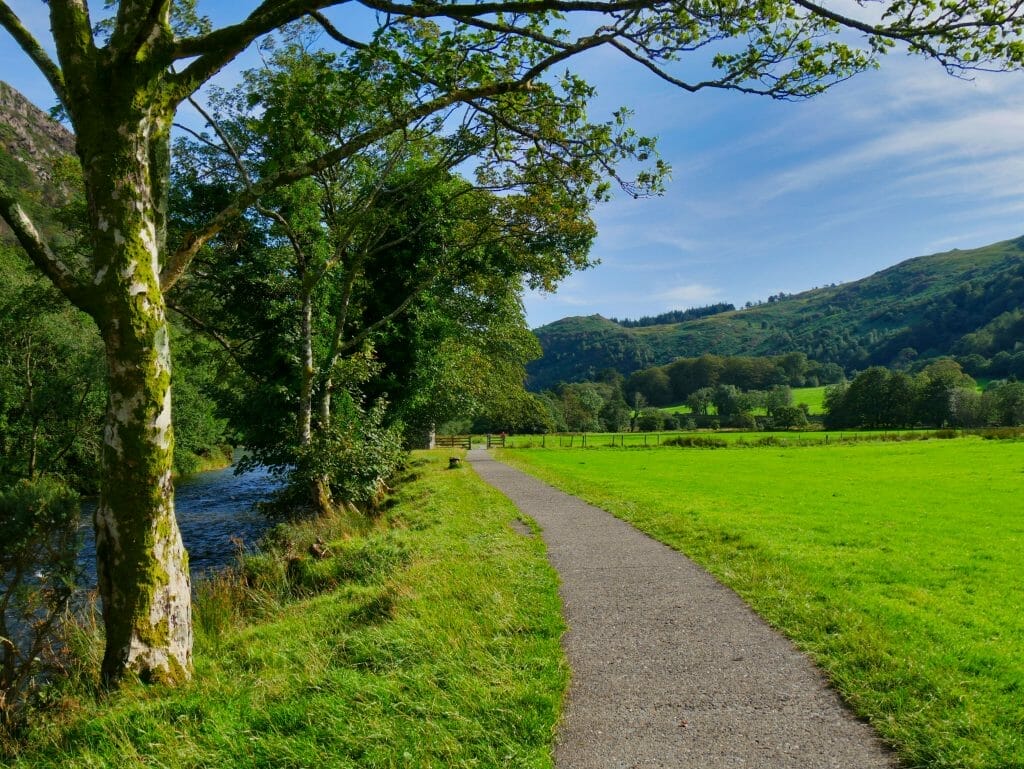 8. Get Pictures on the Bridge
One of the most Instagrammable spots in Beddgelert is on the bridge.
This stone structure is the perfect backdrop for the gorgeous views of both the rivers and the mountains in the background.
We enjoyed just standing on the bridge and watching the water flowing beneath us – it was mesmerizing and calming all at once.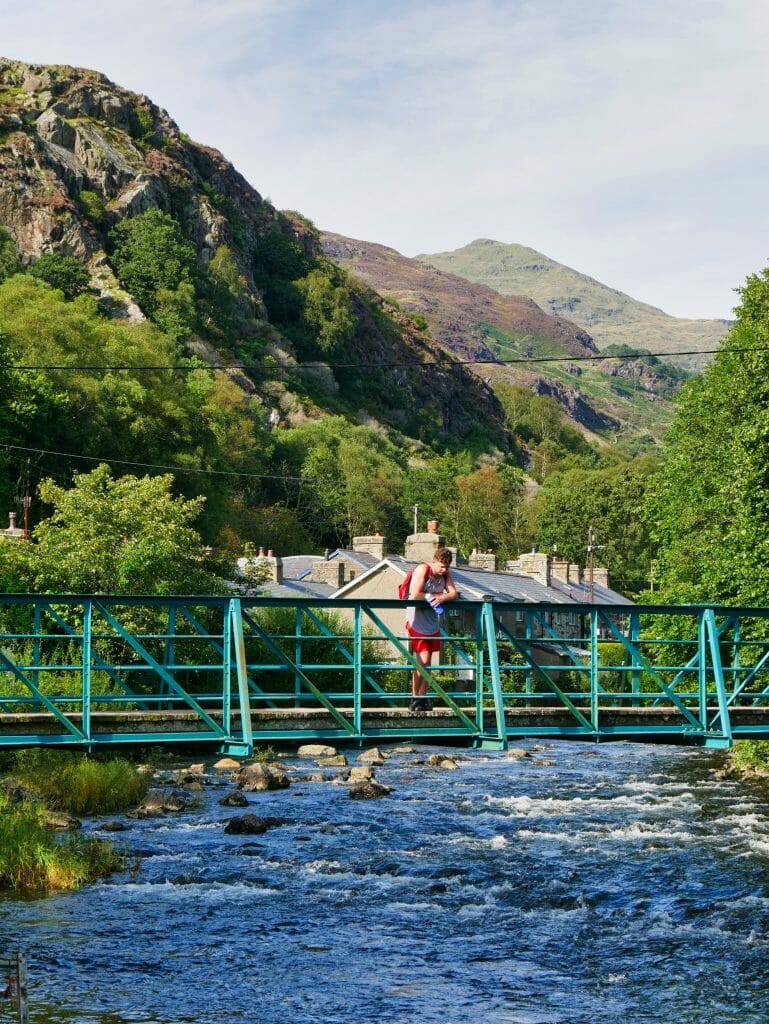 On a summer sunny day, you'll find lots of local splashing around in the River Glaslyn.
With very shallow parts, this river is perfect for letting the kids loose to enjoy a nature-filled day of skipping rocks and wandering around in the water.
We even took the opportunity to put our own feet in to cool off.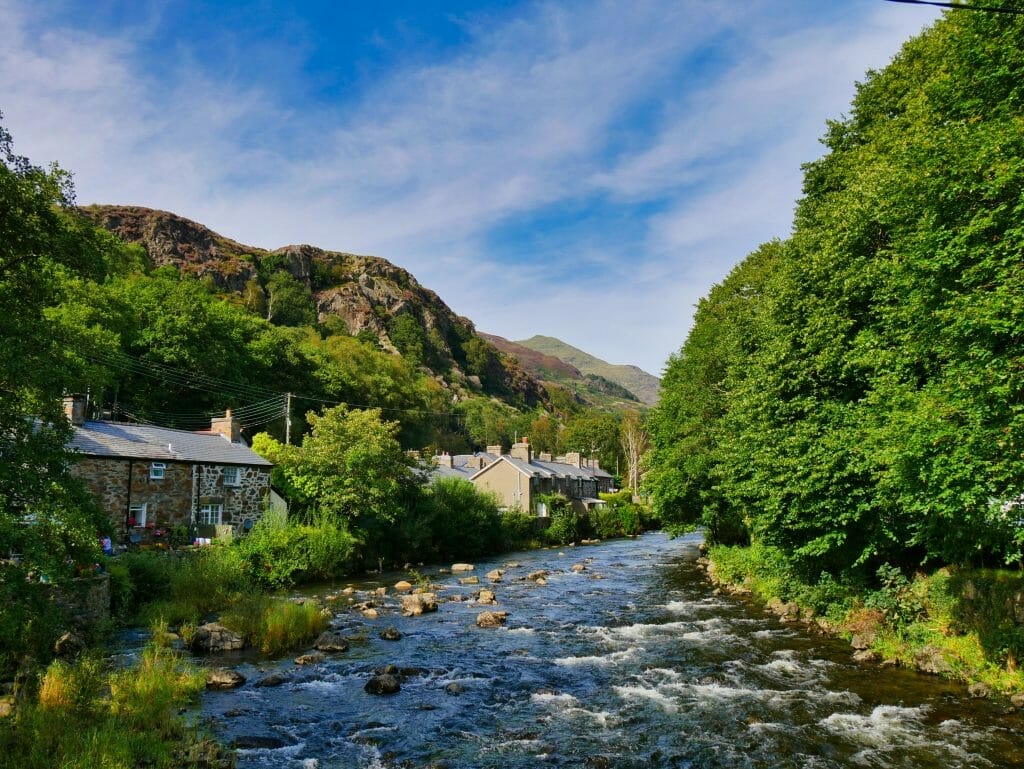 10. Enjoy a Sunny Pub Lunch
There are plenty of places to sit in the sun and enjoy a pub lunch in Beddgelert.
My top tip for finding an outdoor lunch here is simply to walk down the main streets and see what's open.
You'll instantly know who has the best outdoor seating based on the amount of people enjoying their lunches while watching you pass by.
Don't be like me and forget travel insurance when you really need it! Make sure to purchase travel insurance before you go abroad – I recommend World Nomads for great coverage and good prices.
Stop by the Beddgelert Information Centre for local tips and tricks on things to do, where to eat, and where to stay in Beddgelert.
The centre isn't large (and no need to be for a village this small!), but it is very helpful and also sells maps and guidebooks to help you navigate your way around if you're going on a longer walk.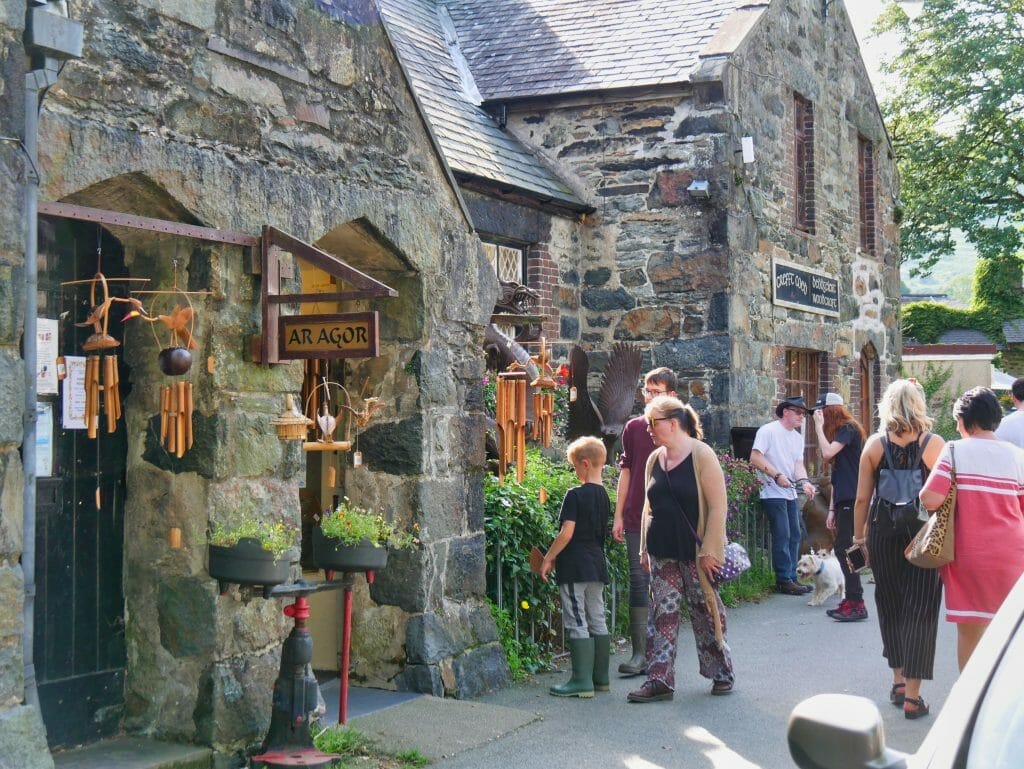 12. Hop on the Train at the Beddgelert Railway Station
The Beddgelert Railway Station is a stop on the scenic Ffestiniog and Welsh Highland railway line.
They use steam engine trains to give you a comfortable and historic tour of Wales, and this is one of the top picks for things to do in Beddgelert for kids and families.
This isn't a commuter train or necessarily a means to travel from place to place other than for sightseeing, but it is a fantastic option when you want to explore more of Snowdonia with the help of some old-fashioned steam power!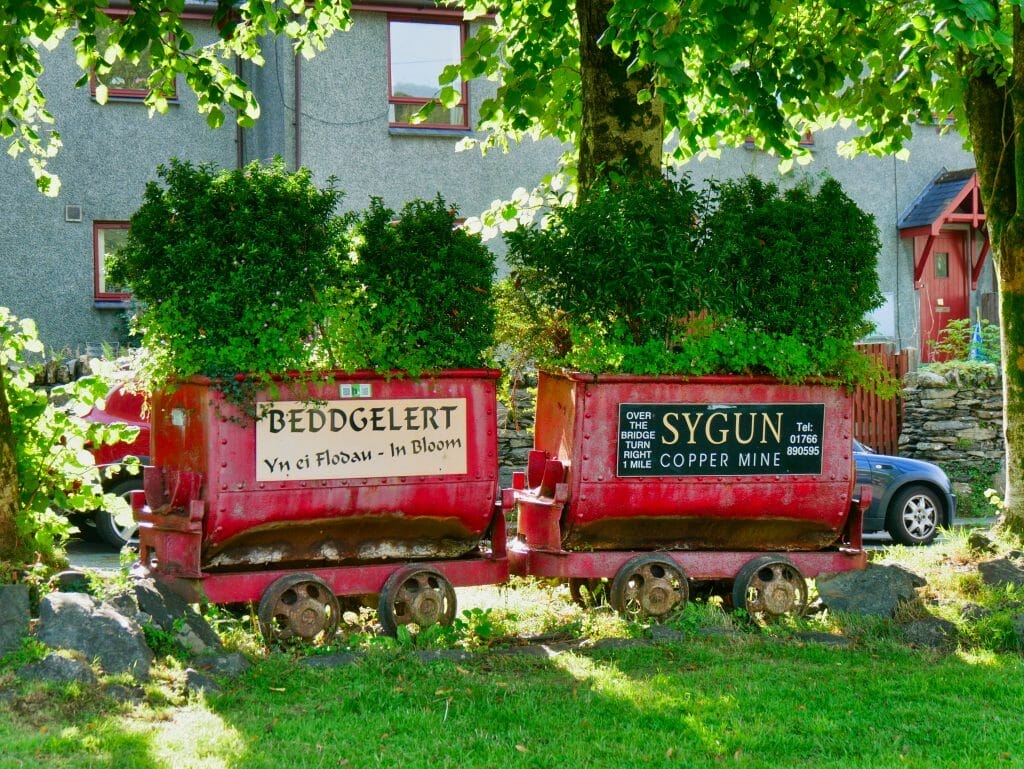 13. Warm Up in a Café
Whether you just need a tea or coffee boast or the weather has taken a turn for the worse, dip into a Beddgelert café like Caffi Colwyn or Hebog Eat to cozy up and get out of the elements.
14. Go Shopping for Knick Knacks
On the main street, Beddgelert has some lovely gift shops where you can buy local crafts or souvenirs of your time in Wales.
Spend a while roaming into the different shops you find throughout the village and supporting local businesses along the way.
15. Sit and Watch the World Go By
Seriously, you should just come to Beddgelert to sit.
Find a bench, find a rock, find a patch of grass and sit and watch life in this beautiful village go by.
So often, we're rushing around from place to place, trying to cross things off of our "top 10" list, and we forget to just…experience a place.
Of all of the places we went in Wales, Beddgelert was my favorite for just being still.
Watch, look, listen, and enjoy because life happens fast and to be able to soak up the beauty of the river and the mountains and the trees in this patch of paradise is a real privilege.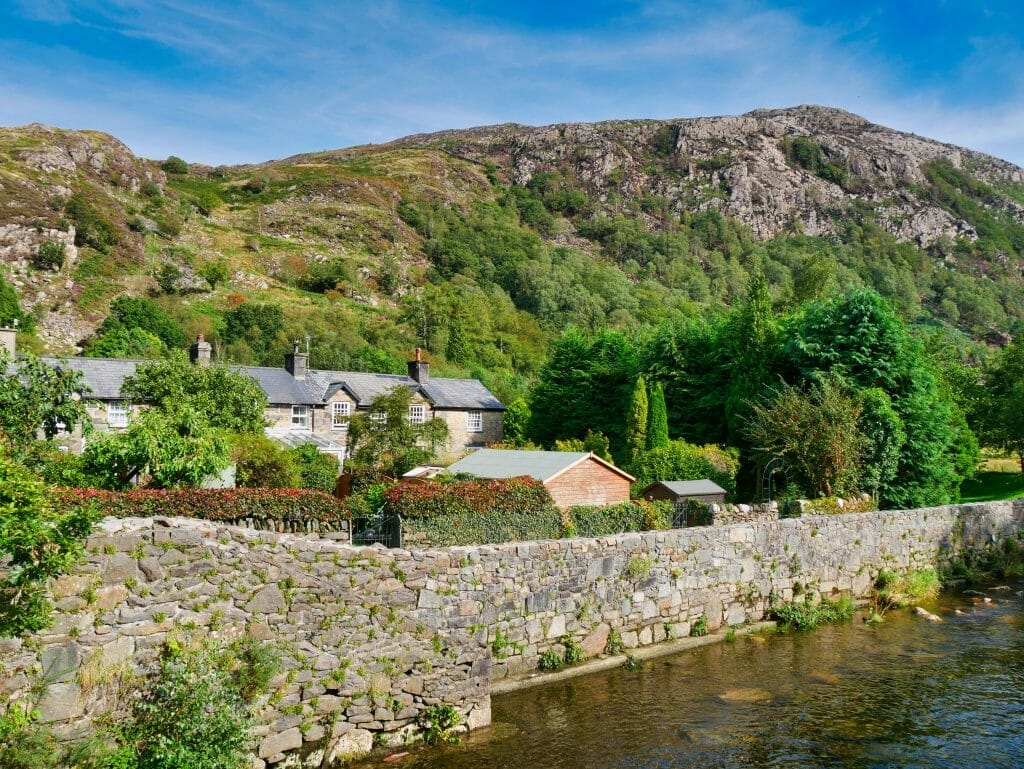 The illustrator of the classic children's series, Rupert the Bear, lived in Beddgelert for over 40 years.
His name was Alfred Bestall.
Today, there is a meadow planted in memory of him filled with flowers and shrubs that runs alongside the River Glaslyn.
It's a peaceful place to reflect and appreciate the scenery, much of which would have influenced the backgrounds and settings in Rupert the Bear.
17. Send a Postcard from the Post Office
Despite being a very small village, Beddgelert has its own Post Office!
Buy a postcard from one of the shops and then write a nice message home so you can send the postcard directly from this Welsh paradise and make your friends and family jealous.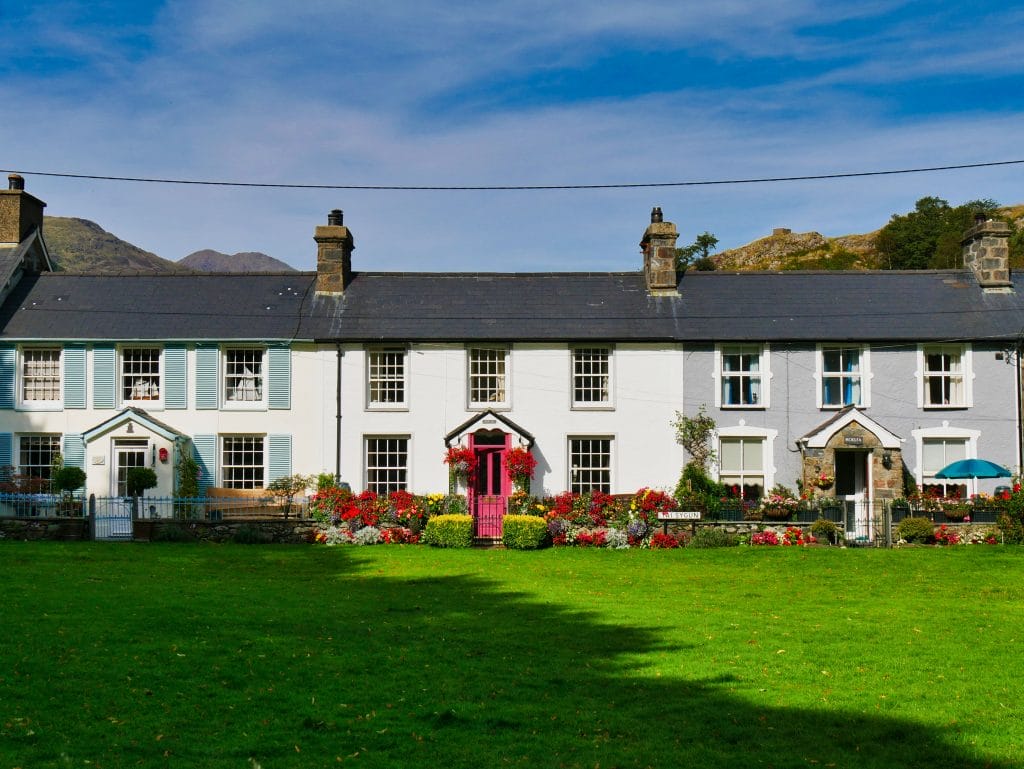 This cozy pub and hotel has an awesome fireplace for the winter months where you can enjoy a drink by the fire, or simply stop in in the warmer months to sit in the dining area and have a pub lunch or some drinks with friends in Beddgelert.
19. Take a Day Trip to Snowdon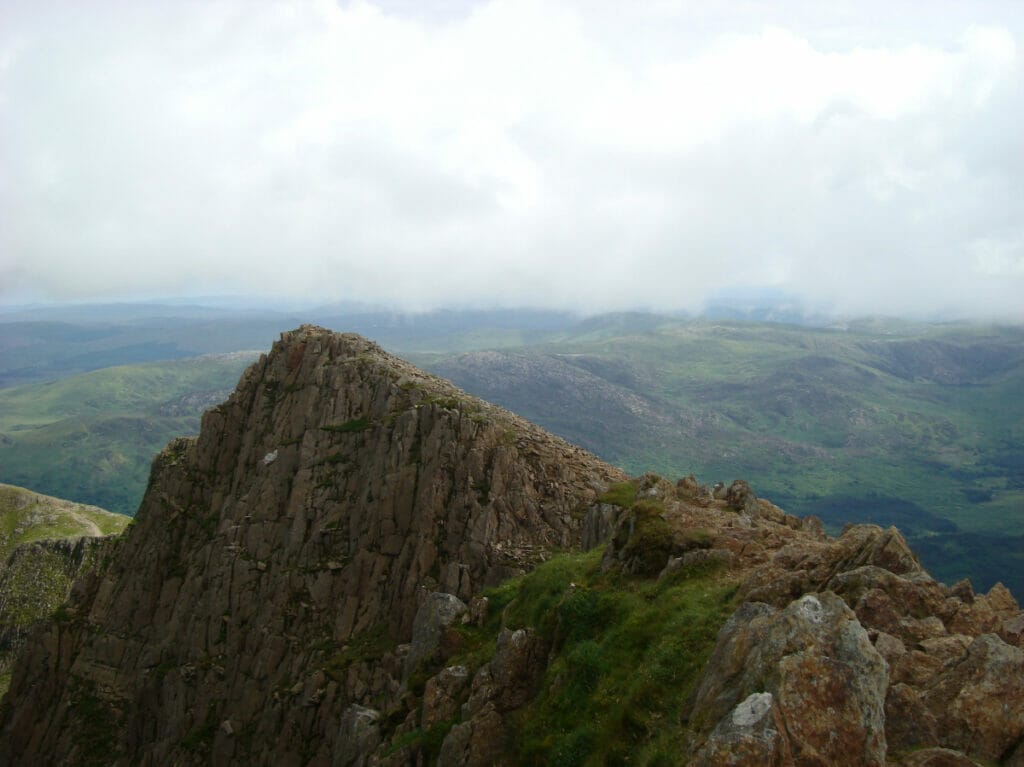 Not far away from Beddgelert is Snowdon, an amazing destination for hiking, wildlife watching, and other outdoor adventures in Wales.
Hire a car and drive to Snowdon for the day to appreciate the Wales natural beauty and adventure before returning to a cozy night's sleep in Beddgelert.
Beddgelert Weather
When you're planning your visit to Beddgelert, it's good to have an idea of what the weather might bring.
Of course, since this is Wales, the weather can vary a lot and is relatively unpredictable from day to day, but that doesn't mean there aren't some general trends.
Generally speaking, Beddgelert has its rainy season in the winter and its dry season in the summer, which is fantastic news for all of the visitors who descend on Beddgelert in the summer months.
The average high temperatures in the summer (in C) are about 16 to 19, while the winter highs range from around 8 to 9.
It does snow in Beddgelert, though not with frequency and not somewhere where you could guarantee yourself a white Christmas, for example.
That being said, as you're surrounding by the peaks of Snowdonia, in the winter months you'll definitely be able to see white covered peaks even if it isn't on the ground beneath your feet!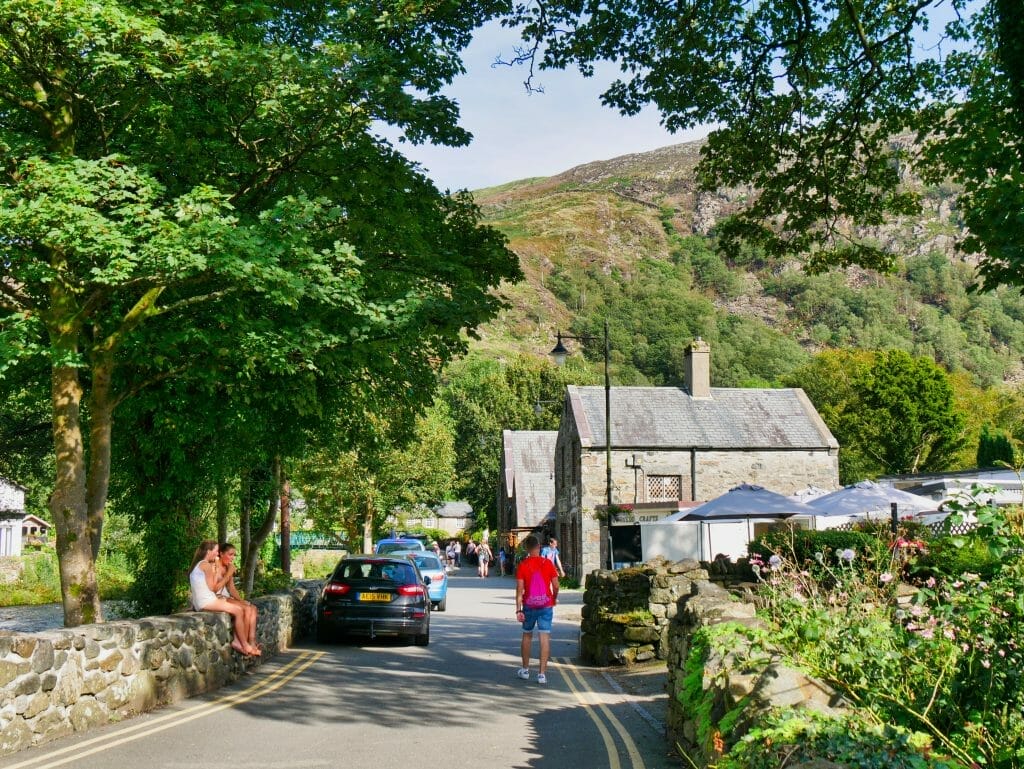 How to Get to Beddgelert
Much of the UK is accessible by public transportation, but when it comes to somewhere like Beddgelert and much of North Wales, I always recommend renting a car from a city nearby and driving in order to give yourself the maximum chance to see as much as possible.
The absolute best place to start is to use Discover Cars to find the best prices.
Beddgelert does have the railway station, as mentioned above, but this is more of a sightseeing railway line.
We visited Beddgelert from Manchester, which was about a 2 hour and 20 minute drive.
UK Travel Planning Guide: the FAQs
🏥 Should I buy UK travel insurance?
Absolutely yes. Basic coverage is not expensive, and as a visitor you are NOT covered under the NHS. Compare policies and prices with Travel Insurance Master here, a big name in the travel insurance business, and cross that off your list.
🔌 Do I need travel adapters for the UK?
Yes, you do, otherwise you won't be able to plug in your electronics/phone/lifelines. I recommend this one, which is all-in-one so you can use it in other countries.
🚗 What do I need to drive in the UK?
The first thing you need to check out if you're planning on renting a car in the UK is this guide to driving in the UK for visitors – the roads, signs, and driving experience will likely not be what you're used to and it's essential to prepare yourself to stay safe and aware.
🛌 What's the best way to book hotels in the UK?
For UK hotels, Booking is the best site as it offers free cancellation on many properties. If you want an apartment, I always recommend VRBO over AirBnb.
📳 Will my phone work in the UK?
Yes – if you set it up right. Check out my guide on making your foreign phone work in the UK to ensure that you get the type of service you need.
🚿 Can I drink the water in the UK?
Yes, UK water is great and perfectly safe. But drink out of taps in any kitchen or use water fountains. Double check before drinking out of the taps in hotel bathrooms, though, as they may be on a different system.