This post contains affiliate links for which I may make a small commission to help keep the site running. You will not be charged extra for these items had you not clicked the links. Thank you for your help to keep the site running!
Any visitor to London will soon get the impression that it is NOT, in fact, the city that "never sleeps," due to the fact that the streets do tend to empty out and London certainly doesn't have the all-night kind of vibe that NYC and some other European cities do.
However, there are plenty of things to do in London at night so rest assured that your day doesn't need to stop when the sun goes down (and it's great that it doesn't because the sun goes down pretty early in London in the winter!)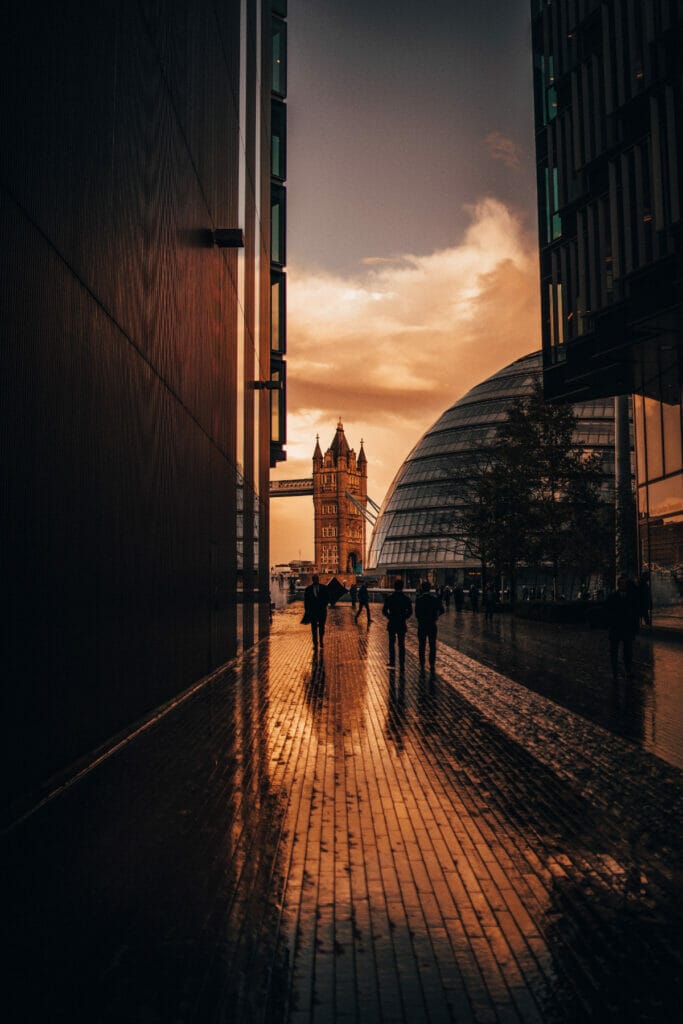 Some of London's mainstay attractions are open later at night too, especially as the weather gets warmer.
Enjoy this guide on the best evening things to do in London, exactly what to do in London at night, and where to go in London in the evening whether you want culture, food and drink, fun vibes, a relaxing night, or something else!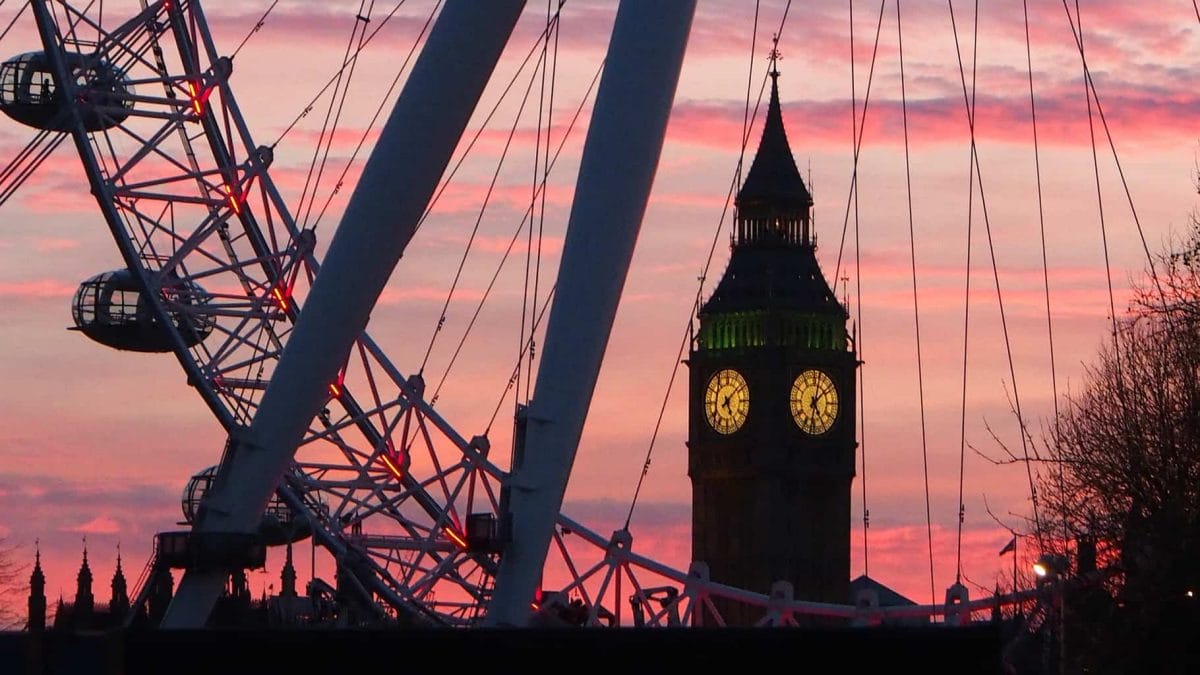 The Absolute Must-Knows (from a Londoner)
Cultural Things to do in London at Night
1. Get Tickets for Wicked in the West End
When it comes to West End shows in London, you're truly spoiled for choice and quality.
But, if you want a show that will surprise you and leave you wanting to watch it again immediately, then you should go to see Wicked.
Based on the untold story of the "Witches of Oz", it's a prequel to the Wizard of Oz.
Located in the Apollo theatre, Wicked is the perfect West End show to suit everyone: couples, solo adventurers, families and friends.
You can even combine your perfect evening in London with dinner beforehand at one of the many surrounding restaurants and bars.
While in the theatre there is also a bar and snacks to enjoy.
After you've left the show, you'll be on such a high that you simply can't sleep yet!
So why not head to a London pub for something to do in London in the evening.
You can book online in advance for tickets (the show is on every night) from London Theatre Direct or you can try your luck at finding discounted theatre tickets while in London, but it's a popular show, so I do recommend booking ahead of time.
Try and get a seat in the circle area, and if you buy a cheaper seat and there are empty seats beside you that are closer, you can move closer!
Contributed by Cazzy Magennnis from Dream Big, Travel Far
GET A

FREE

LONDON INTRO GUIDE and ACCESS TO MY FB GROUP
Start your planning with this "Intro to London" guide and access to my London planning Facebook group!
2. Attend a Museum Late: things to do in London at night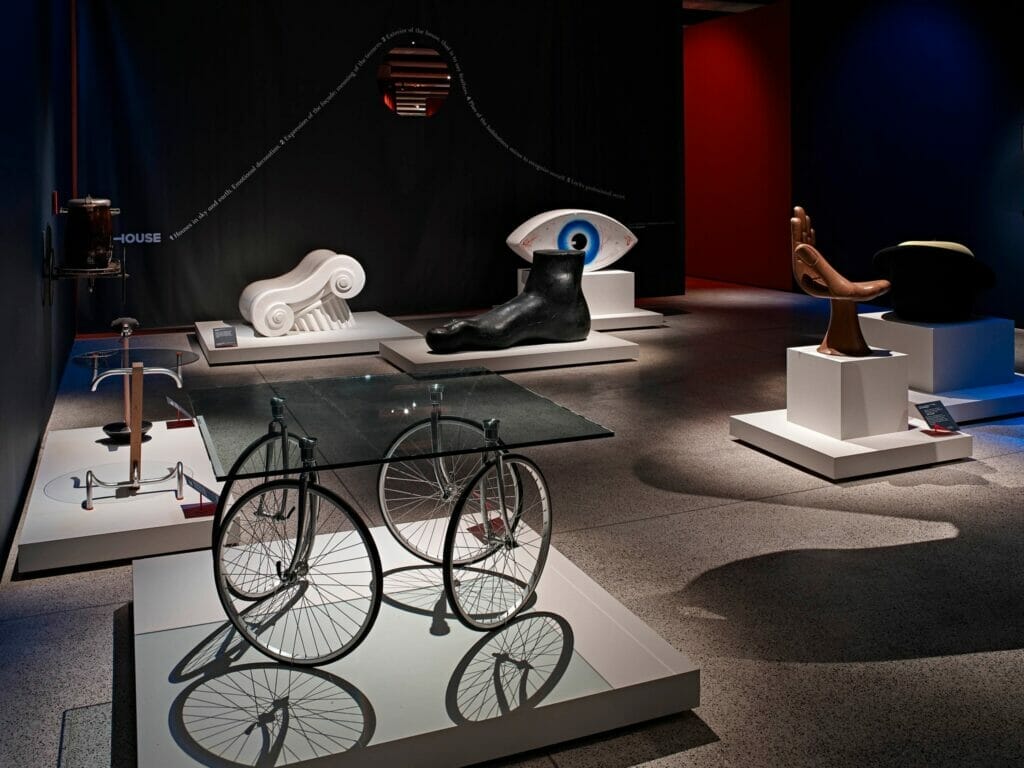 One of the best things to do in London at night is to attend a Museum Late event.
If you happen to be visiting on the right day of the week or month, a number of the major museums around London host evening events where the museums are open for extended hours and additional talks or events are organized.
Many of the Museum Lates are also free which makes this a great activity if trying to save costs while visiting London!
One of the best Museum Late events is at the Science Museum, which hosts an event on the last Wednesday of every month focusing on specific themes.
They also have a number of additional talks and exhibitions occurring.
The Natural History Museum and the Victoria & Albert Museum in South Kensington do a similar event on the last Friday of every month and, as they are across the road from each other, you can easily visit both in one night!
Some of the most popular museums in London such as the British Museum, National Gallery and Tate Modern are all open late on Fridays.
As Museum Lates occur in many of London's museums, make sure to check out the relevant museum's website to find details on when their next event is and to see if it interests you!
Contributed by Michael from The World Was Here First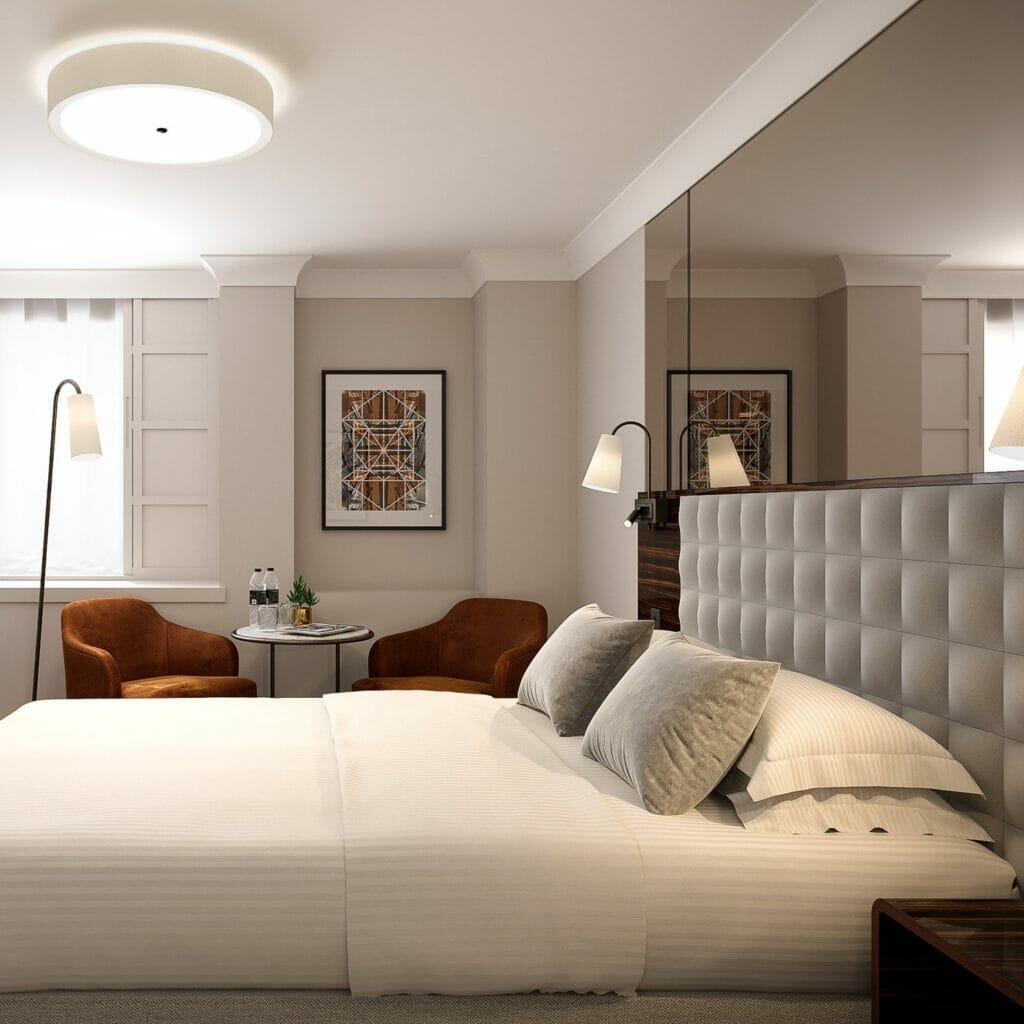 3. See a Show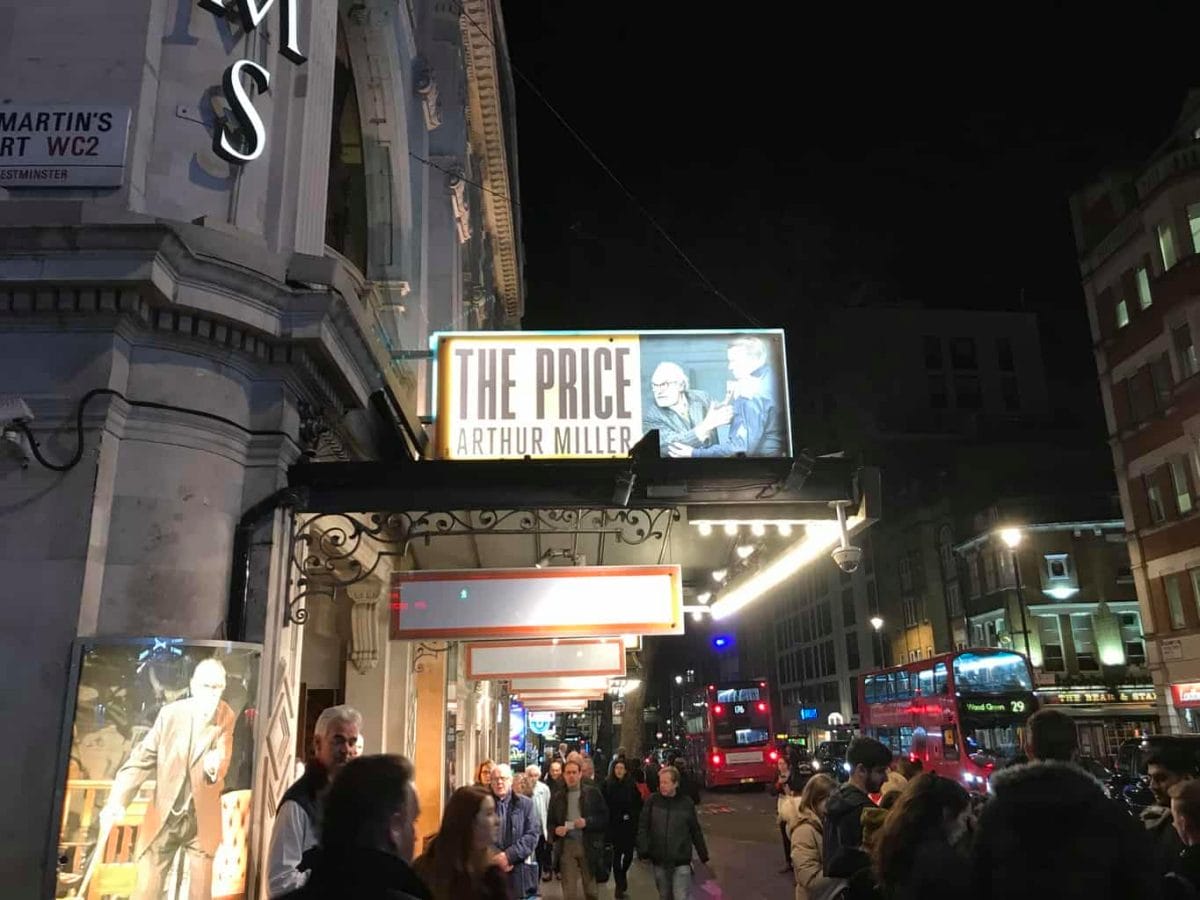 One of the best things to do in London in the evening is to go to a show!
The West End has amazing productions of musicals and dramas year round.
Of course, it can be very expensive to see a world class show, but it doesn't have to be.
When you are in London, if you have some flexibility and don't absolutely have to have tickets to a certain show on a particular night, you might be able to get some great seats at a reasonable price.
I recommend choosing a show you'd like to see and going directly to the box office and asking for day tickets, the day you want to see it.
Most box offices have these tickets available after 10:00 on the morning of the show.
We just got fantastic seats in the orchestra section and saw The Price, an Arthur Miller play, for £25 a ticket.
We got seats 7 rows from the stage of The Curious Incident of the Dog in the Nighttime for £18 each.
These were incredible shows, fantastic seats and amazing prices.
We even saw Hamilton for £57.50 per person!
Don't miss the chance to see some of the best that London's West End has to offer.
It doesn't have to break the bank!
Contributed by Betsy from Euro Travel Coach
IMPORTANT: are you coming to the UK from abroad?
In case you're reading this from outside the UK and will be a foreign visitor here, you need to know these 2 things to stay safe and save money.
Travel insurance – you need it when going overseas! I use

this site

to get the best quotes and purchase my packages from. Do not skip this – having medical coverage abroad as well as other coverage in case of missed flights, lost luggage, etc is essential. As I said, I have never gone wrong using

this site

.
4. Watch Mousetrap
London is a city chock full of amazing theatre but if you only have time to see one thing in London (whether you're on a 1 Day London itinerary, 2, 3 or even 4 day London itinerary) then I heartily recommend Mousetrap!
This is a truly British play being by British author Agatha Christie and is also the world's longest running show!
Running at St Martin in the Fields theatre, The Mousetrap is the world's longest running theatre play having reached 25,000 performances in November 2012!
When you enter the foyer to see your performance you can see the counter to see what number performance you are seeing!
Be sure to take your photo next to your show number!
The mousetrap is a quintessentially British murder mystery and tells the story of a group of people isolated from the outside world in a country manor as a murder is committed!
There is a huge twist ending, so be sure to keep the secret as the performers ask at the end of every show!
I recommend booking cheaper tickets ahead of time using London Theatre Direct.
Contributed by Leona from the Wandermust Family
Where to Get Food and Drinks in London in the Evening
5. The Bletchley Bar: what to do in London at night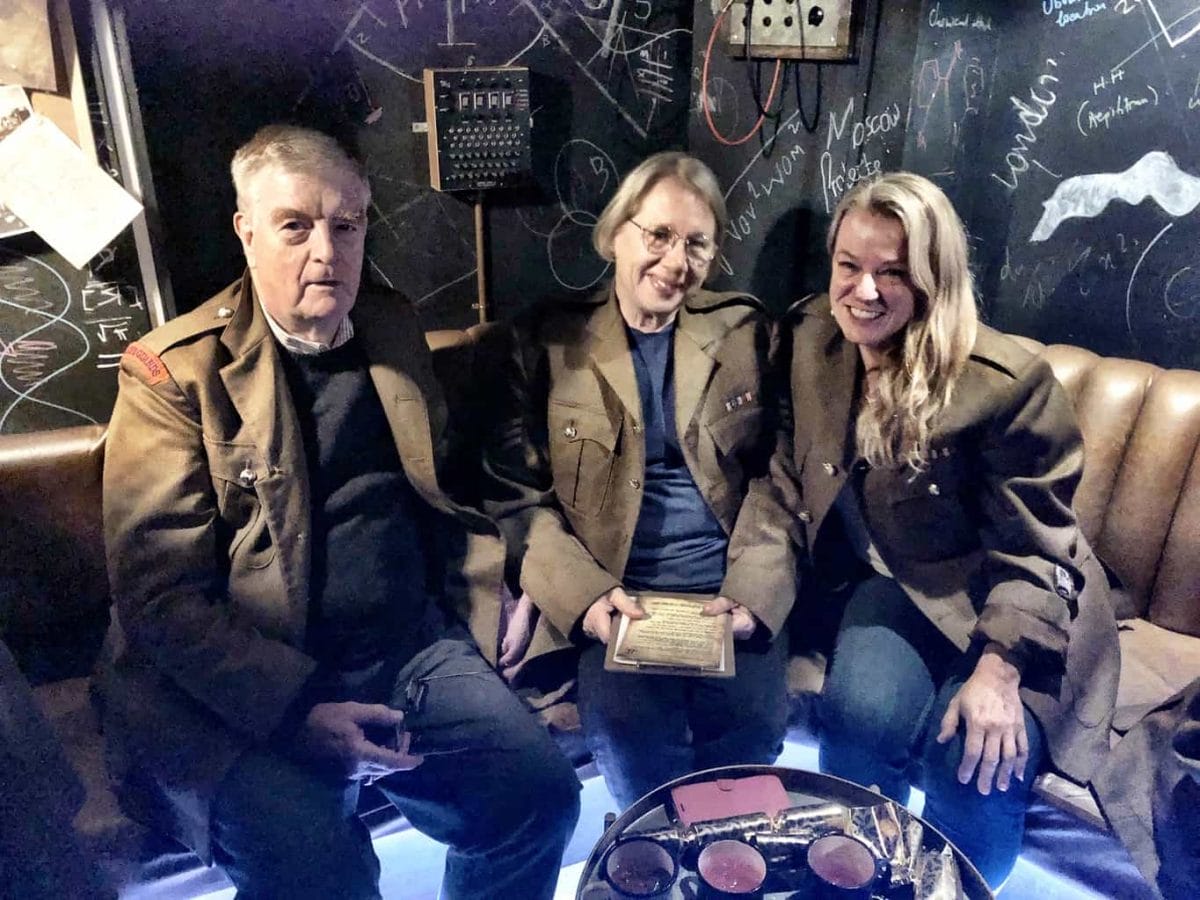 It is now often said the code breakers at Bletchley Park during World War 2 had a huge influence over bringing about the end of war.
I think it is unlikely that they ever envisaged that their amazing enigma machines would be used decades letter to order drinks in a bar in central London!
The Bletchley Bar aims to recreate World War 2 in a bunker like facility in Chelsea.
The bar and staff are all themed to match the times – and upon entry guests are given WW2 army jackets to wear.
Drinks will not be served until you have cracked your codes!
Each team is given tasks as well as an enigma machine to allow them to decode their findings.
Clues to solve the tasks are throughout the bar.
Once your group has cracked the code use the radio to send in your response and if it's correct you will be sent your drinks – and your next task!
The music, lighting, fantastic staff and memorabilia all create a unique atmosphere that genuinely does feel like going back in time.
And the cocktails are pretty good as well!
Before you check out the bar, try out some of the best London food tours to get your fill of some of the most delicious treats around.
Contributed by Amanda from The Boutique Adventurer
This hidden bar underneath the Spitalfields Breakfast Club location is truly one of the most unusual things to do in London.
To get there, you have to walk through a fridge (seriously) and then you'll find yourself in a cozy and intimate venue that serves up delicious food and drinks throughout the night.
They also do a brunch option, if you want to visit during the day.
You can actually make bookings to make sure that you get in, so if you're visiting for a special occasion like a birthday or date night where you don't want to risk being turned away, definitely book in advance.
When you get to the Breakfast Club, just say that you're "here to see the mayor" and they'll take you to the entrance to the speakeasy.
One of the most fascinating things is how different the environment is at the Mayors compared to the Breakfast Club upstairs.
It adds to the feeling like you're heading into a secret and exclusive world!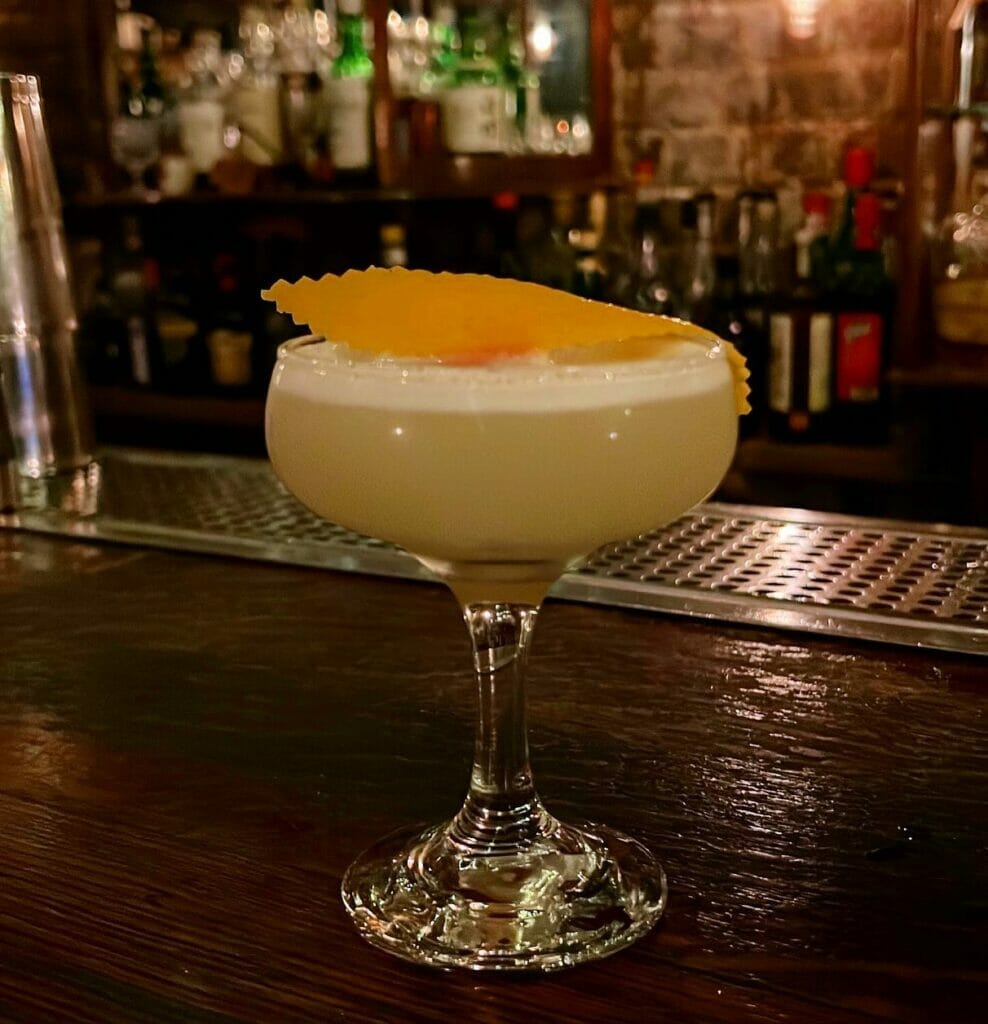 This speakeasy in London is part cocktail bar, part theatre, and it's a totally immersive experience no matter how you look at it.
Throughout the night, you'll attempt to crack the case that you've been given, but even if you don't quite figure it out, you can still enjoy the out-of-this-world cocktails and live entertainment.
You'll laugh, you'll feel like you're undercover, and you'll forget that you're even in Central London when you step into this prohibition-era themed speakeasy.
Family Friendly Things to do in London at Night
8. Skygarden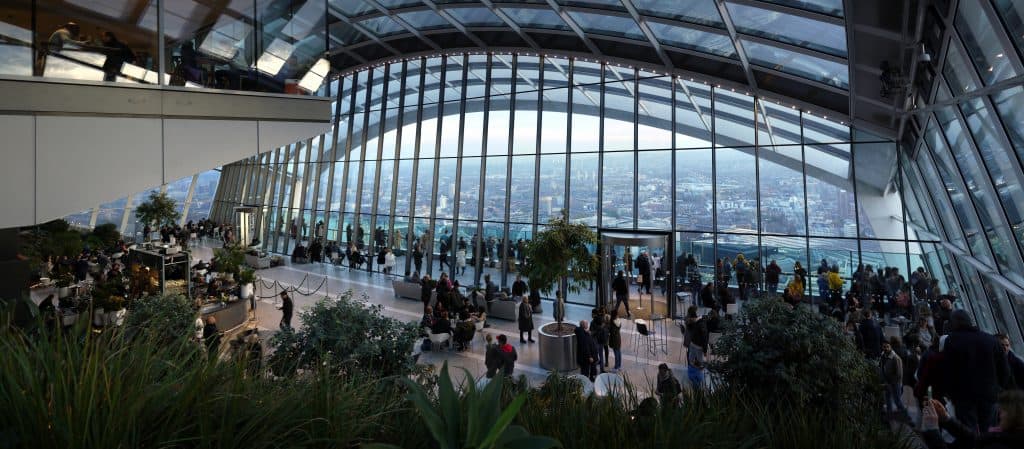 One of the best experiences in London to do in the evening or even during the day for that matter is Skygarden.
This is one of the best things to do in London for couples.
Located on the 35th floor of 20 Fenchurch Street is the highest garden in the city which offers stunning views over the top of the city in all directions.
The gardens are open to the public with free ticketed access that need to be booked in advance to ensure you can get in and although the balcony area closes earlier, the bars and restaurants are open until after midnight but again require booking.
Inside the garden you'll find three storeys filled with plenty of different types of plants including flowers, shrubs and ferns that flourish year round.
The views stretch for miles in 360 degrees with signs helping you identify landmarks on the skyline.
We visited during the day, but would highly recommend it as an evening event for those looking for something a little different.
Tickets can be booked up to three weeks in advance and early booking is highly recommended via the website.
Contributed by Peter and Lauren of Our So Called Life
9. Visiting the Shard in London at Night
Heading up The Shard at any time of day or night is an incredible experience, with the views of London sprawling out all around you.
However, seeing the twinkling lights of the city at night is truly magical.
Being the tallest building in Western Europe, the Shard offers exceptional panoramic vistas from 800ft above the chaos of the city.
During your evening visit to the Shard, you'll be whisked up to the viewing platform on the 68th floor where you can witness the sunset before seeing the bridges and buildings lit up around you.
Tickets for The View From The Shard have no time restriction so you can stay and enjoy the view for as long as you like!
If you'd rather enjoy a tipple or a meal, head to one of the restaurants and bars such as Oblix, Gong or Bar 31, that are spread over the 60+ floors of The Shard.
While you don't get to see as far as the 40 miles that you might get to witness during the day, visiting The Shard at night provides a wow factor like none other.
Tickets need to be booked well in advance to ensure you are able to visit at your ideal time!
Contributed by Chrysoula from Travel Passionate.
Other Things to Do in London at Night
10. Enjoy Evensong in Southwark Cathedral: what to do in the evening in London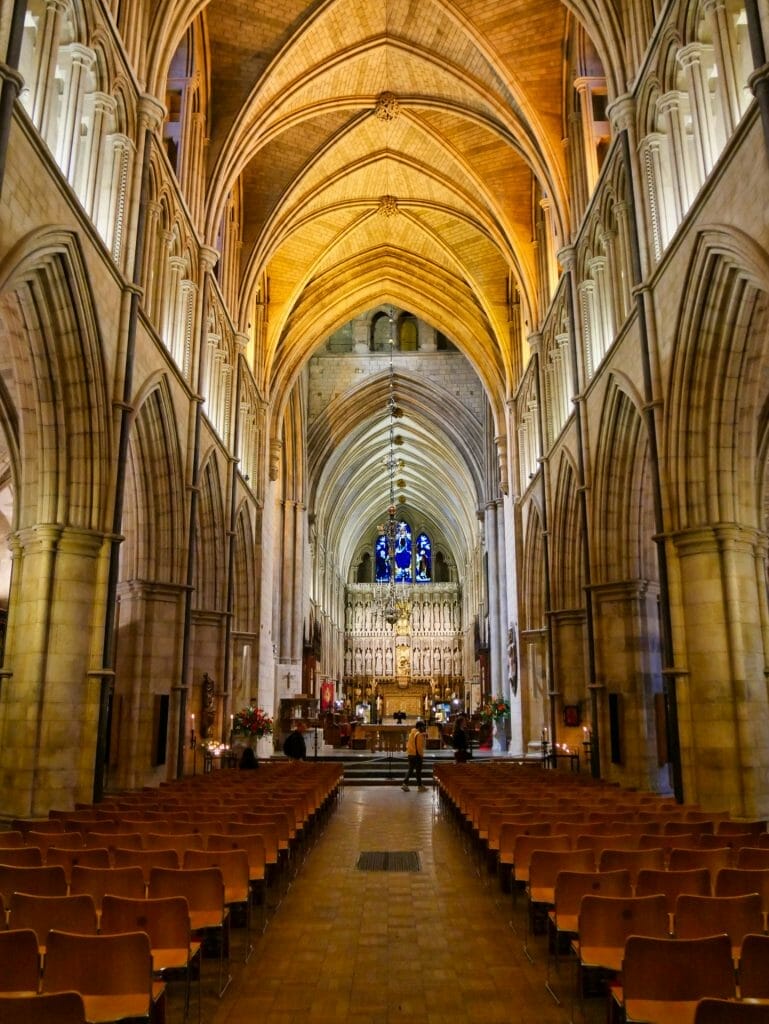 Southwark Cathedral is a gorgeous cathedral near London Bridge and one of the best things to do in London Bridge for couples who want to take a moment out of a busy day and sit and reflect.
The cathedral holds regular services, as well as Evensong on most nights, which is free and gives you the chance to sit and admire the gorgeous interior architecture while listening to a traditional Evensong service.
There is also a peaceful garden and places to sit in the courtyard that are removed from the hustle and bustle of the surrounding London Bridge area and give you a nice spot to sit and talk.
11. Evening Bus Tour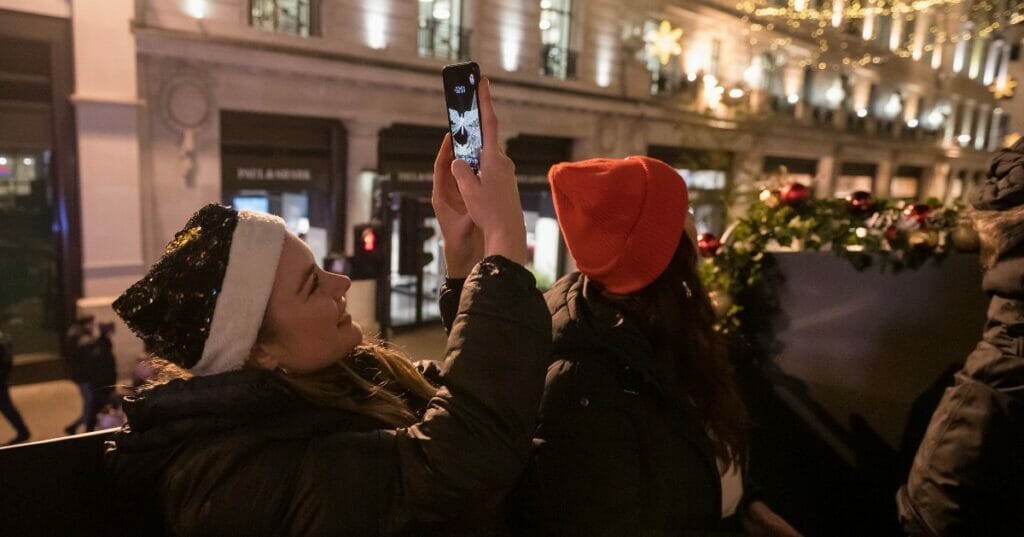 This open top bus tour takes places at night and includes 90 minutes of a live guide showing you around the city from an open-top bus.
In my opinion, this is a must-do.
You'll also see some iconic London attractions at night, such as Tower Bridge, the Tower of London, Big Ben and more.
A combination of historic and present-day narration helps you appreciate London in a whole new way.
Over 1,000 people have taken this tour and rated it highly, and I think it's the perfect addition to a London itinerary.
Here's an idea – do it the first night you arrive to make sure that you stay awake and get over that jet lag!
Nothing like seeing the city you're in without having to do too much walking AND having the refreshing night air in your face.
12. The George Inn
You won't struggle to find great pubs in London, but it might be hard to find one with a history like The George Inn.
Rebuilt in 1676, it has been standing at the same site since at least the 1540s and is the only galleried coaching inn that is still in business, a place where those traveling by horse could use the stables and rest a while.
Today, it's unlikely you'll be bringing a horse, but The George Inn still serves up some great food and drink on the riverside.
You can either sit inside beneath original oak beams or pull up some outside seating and watch the world go by, listening out for the click-clack of old travelers passing through.
13. Get dinner at Mallow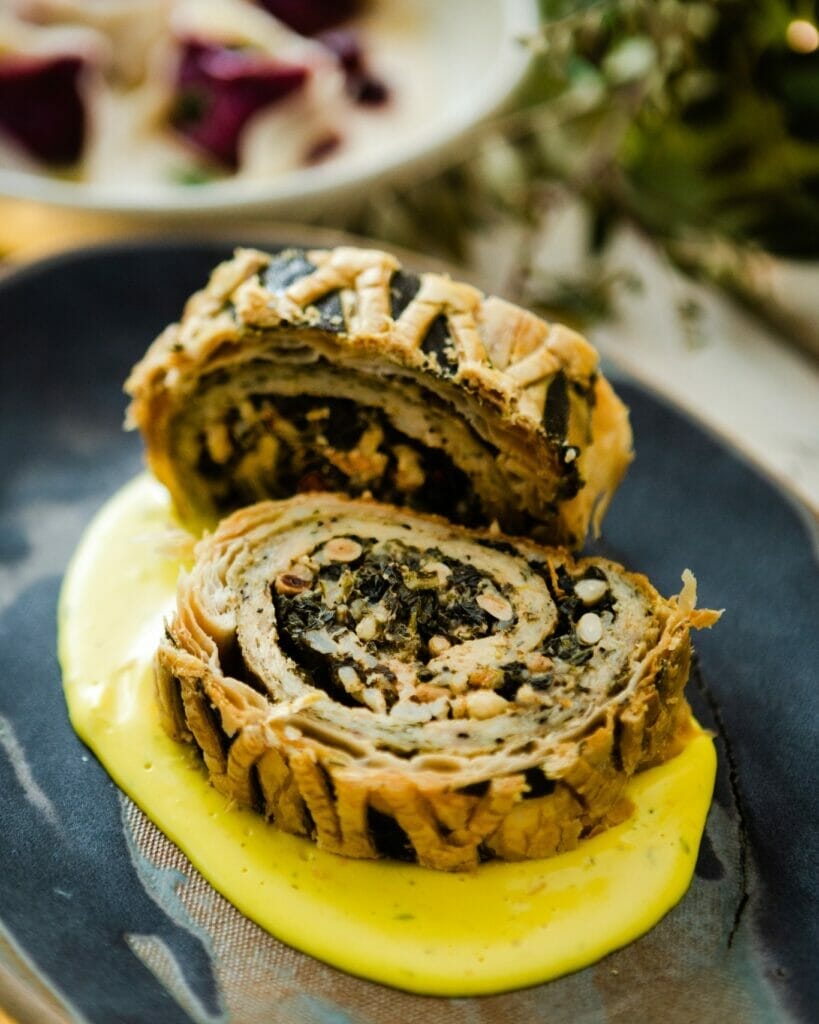 London Bridge is home to some of the best restaurants in London, serving everything from traditional British fare to cutting-edge, modern dining.
Mallow is very firmly in the latter camp.
A completely plant-based restaurant, it serves food with a global flavor profile, letting you taste from all over the world, but all made using local, seasonal ingredients.
Found just off the river, this eco-friendly spot is all classic brick on the outside and stylish low-lighting on the inside.
An oasis of plants and future-looking calm amid the city life.
14. Draughts Board Game Cafe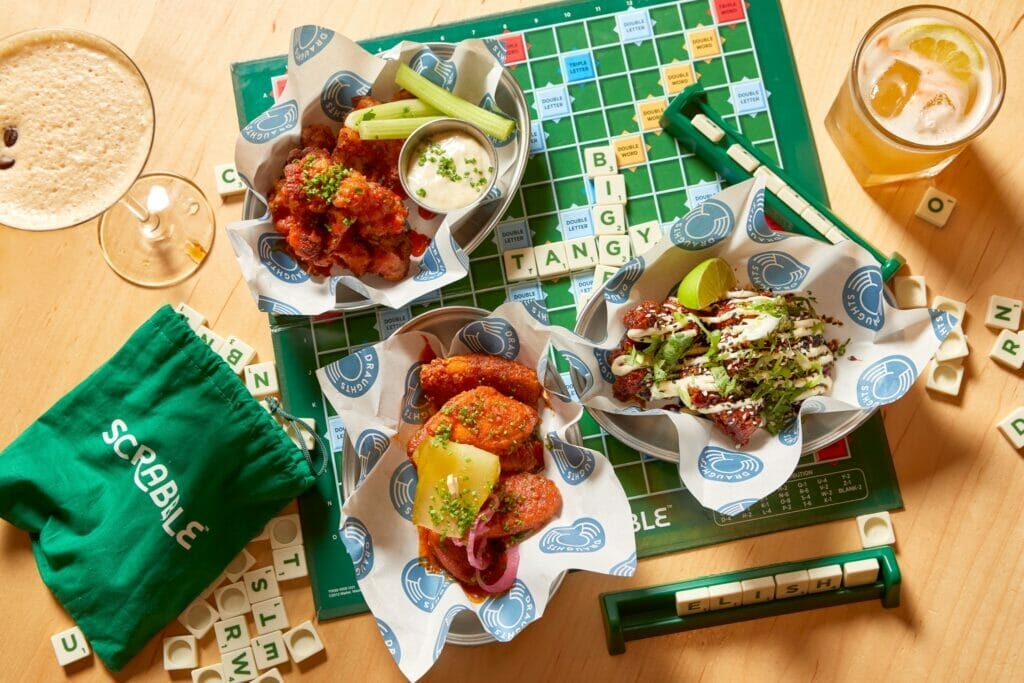 Draughts Board Game Café is a great option for those looking for unusual things to do in London on a date or with a group of friends.
They've got a giant collection of board games, ranging from the classics like Life and Scrabble to more niche board games that you might be trying for the first time.
There's nothing more fun than gathering around a board game and enjoying some drinks and food around the table.
15. Sleepover at the Natural History Museum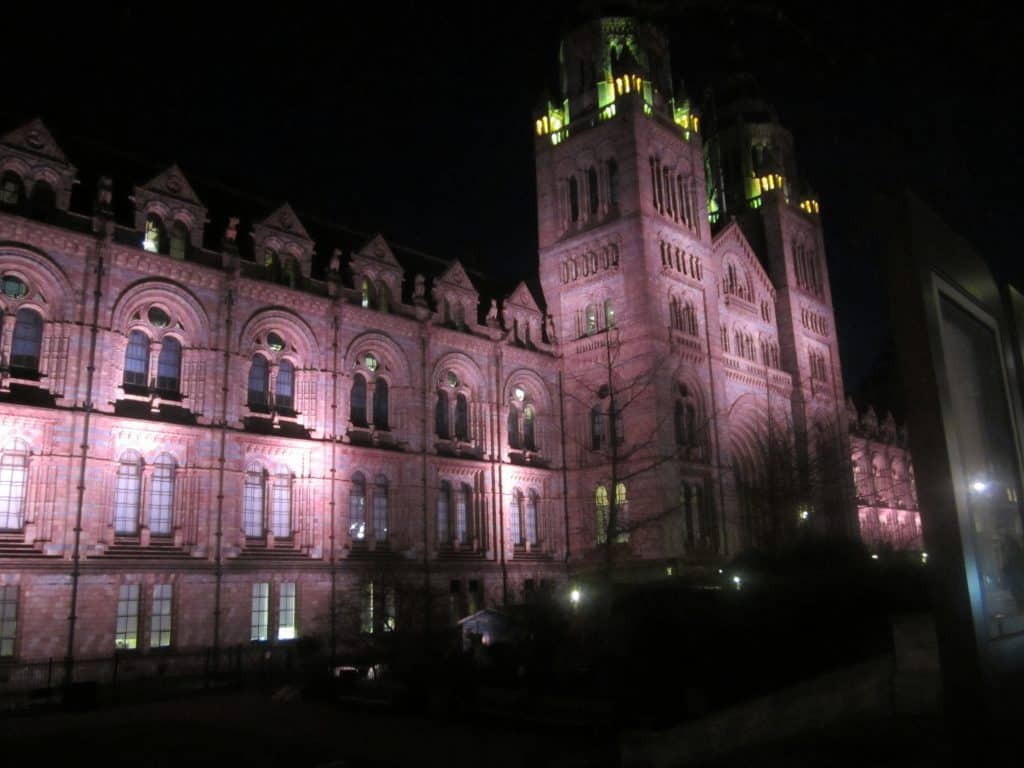 The Natural History Museum is one of London's premier museums and one of the best things to do in South Kensington, and while it's fantastic, it's certainly not an unusual thing to do in London.
But do you know what is?
Sleeping in it!
And not just sneaking in "Night at the Museum" style and setting up camp where the security guards can't see you, but actually an organized sleepover.
The museum regularly holds an event called Dinosnores (both a kid's version and an adult version) that allow you to bring your sleeping bag, camp out under your favorite exhibits, and enjoy an evening of dinner, talks, and the chance to explore the Natural History Museum in a way you've never seen it before.
While it can be pricey, this is truly a once-in-a-lifetime experience for many, and certainly an unusual thing to do in London that all of your friends back home would be envious of.
The kid's version is one of the best things to do in London with toddlers as well!
There's also edible insect tasting and stand-up comedy, so this event just got even weirder.
16. Bunch of Grapes: London evening things to do
The British pub is a hallowed institution, and Bunch of Grapes is a perfect example of it.
With an old brick and dark wood exterior, you can treat yourself to some British culinary classics – think pies and fish and chips – while drinking some fine real ales.
There's everything you could want here for a great British evening of food and drink.
There's a large outside space with tables to soak in the summer when the weather's good and here, tucked in the space between the towering Shard and the bustling Borough Market, you'll be happy whether you're just stopping off for a mid-meander pint or full afternoon in the beer garden.
17. Vinegar Yard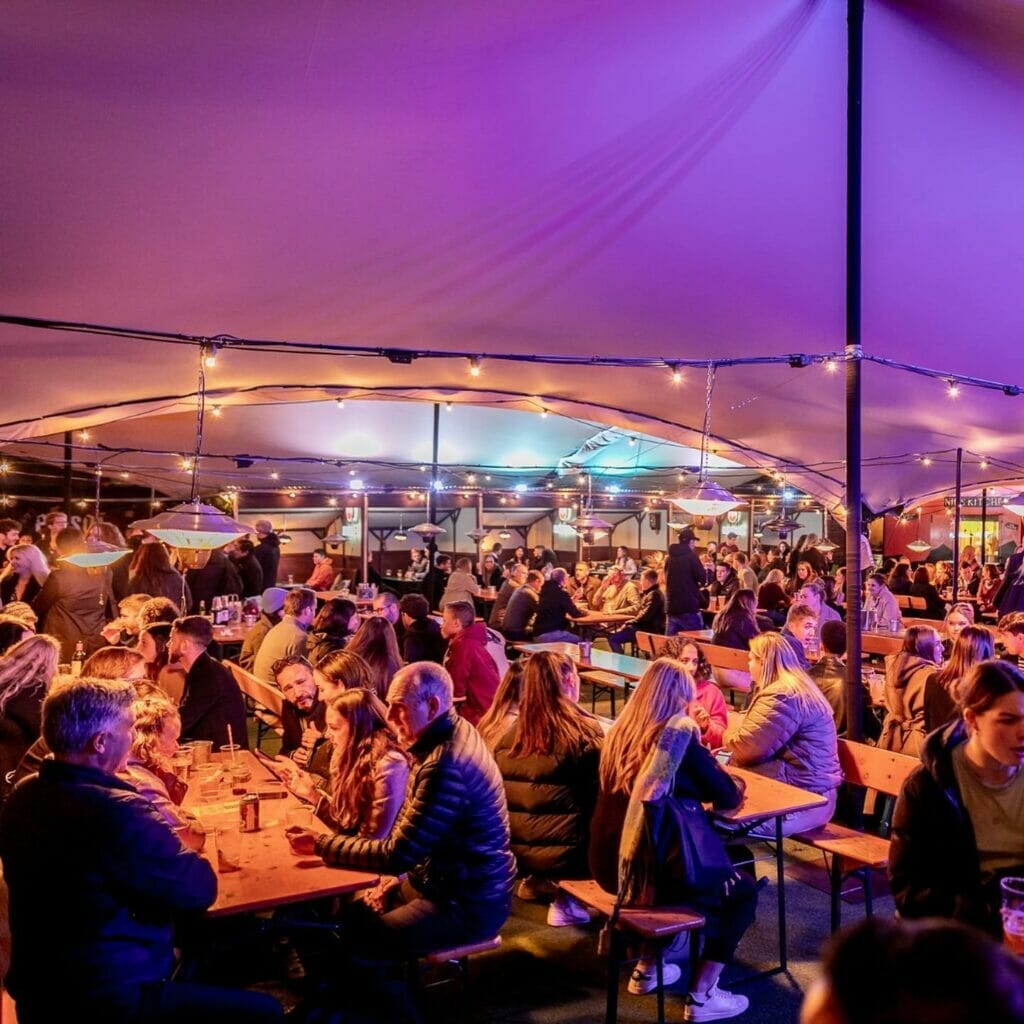 Don't let the name put you off, there's no bitterness here.
Vinegar Yard is a vibrant outdoor space where you can find some of the best street food and most interesting drinks in the city.
Located just a stone's throw from The Shard, there are even art displays, a flea market, and pop-up shops to wander around, drink in hand, before you tuck into some of the food options.
Long tables line up under the wide-open skyline in this airy, thriving spot, and you can bring friends or make some here as everybody enjoys some of the most modern fun you'll find anywhere in London.
For a restaurant experience like no other, visit Dans Le Noir where you will dine in the pitch black!
The idea behind the restaurant is to help raise awareness about blindness and visual impairments, and most of the waiters and waitresses are visually impaired.
When diners arrive, they make their orders in a lit room, and then are led into total darkness where you will enjoy your food and drinks without the help of any light.
To get ahold of your server, you simply say their first name that they have given you when you arrive.
If you need to get up for any reason or go to the bathroom, you will get an escort to help you so you aren't stumbling around in the dark.
This is truly a wonderfully quirky London experience that everyone should try out.
19. Plonk Crazy Golf: cool things to do in London at night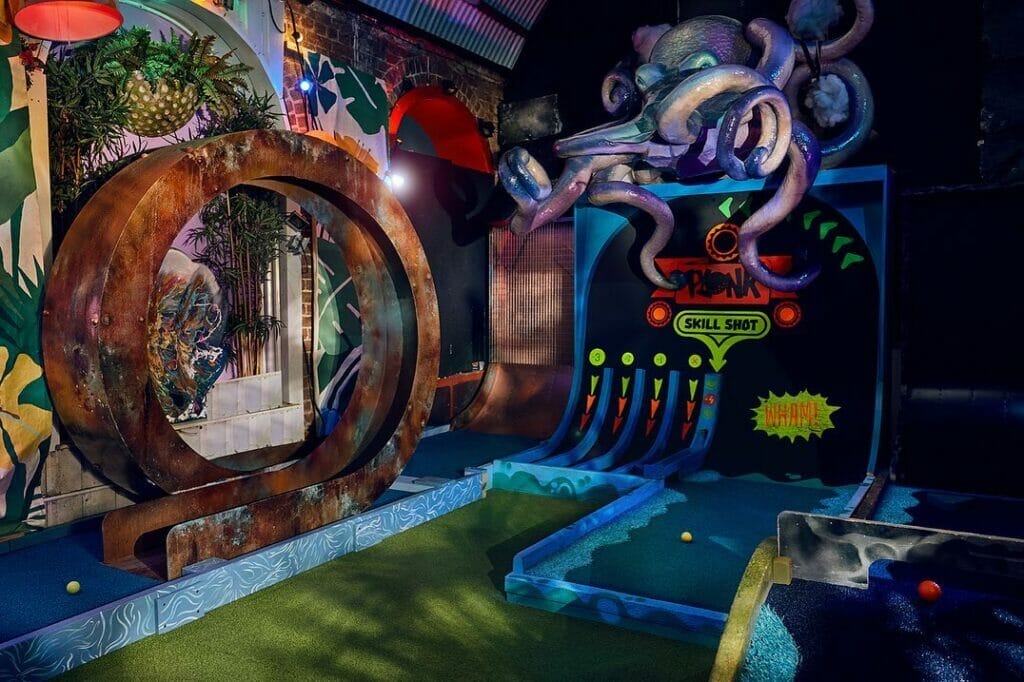 If you're looking for fun, color, and an all-round good time, you really can't go wrong with a few rounds of crazy golf.
Plonk have a few venues around the city, but the London Bridge space is maybe their best. Located between Borough Market and London Bridge Station, once you step inside it is its own world.
The music is always pumping and you can pit (or putt) your skills over a whole range of wacky terrains.
There are no dull stretches of open green here.
Instead, the balls will climb over a replica of Tower Bridge and flow around some of the wildest courses ever to be played on.
20. Westfield London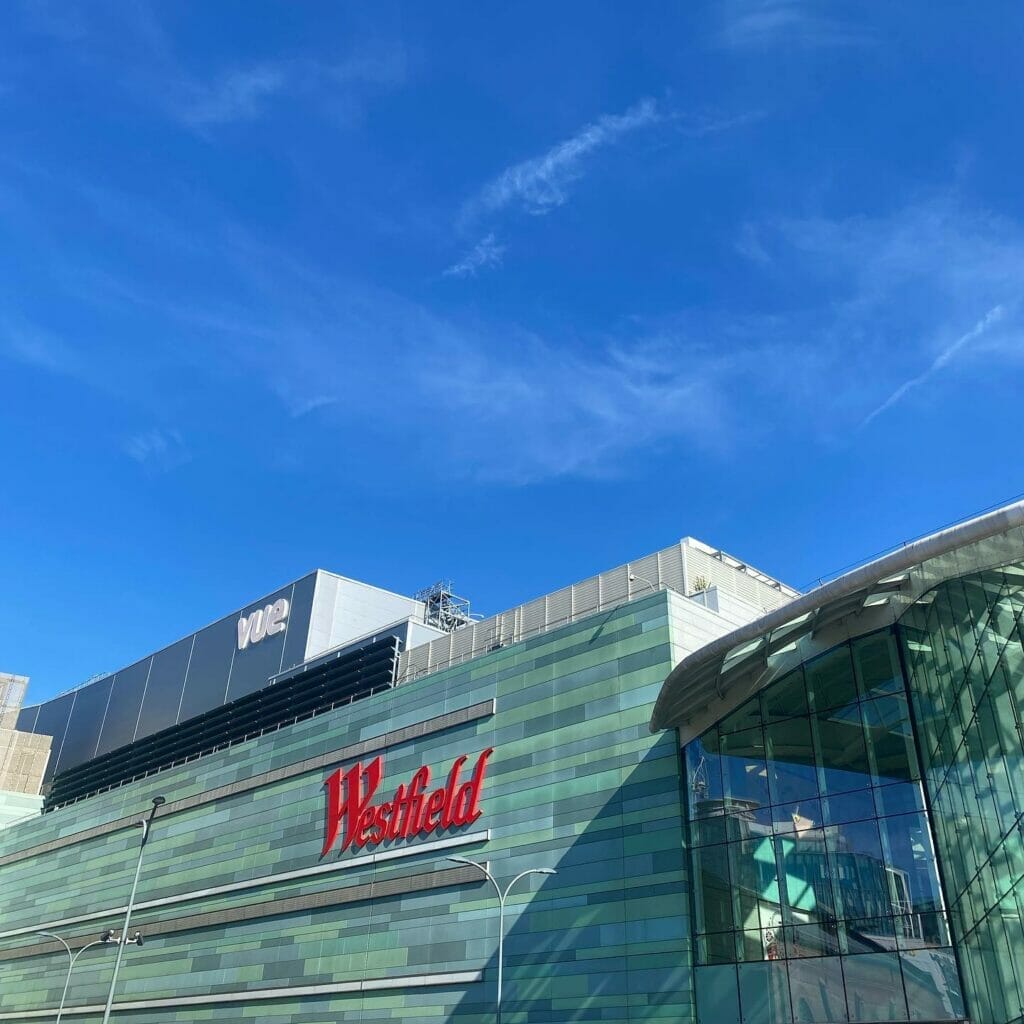 There are two Westfields locations in London, Stratford and Shepherd's Bush.
These are basically giant malls, with mostly interior stores so you can spend a few hours browsing some of the most iconic British stores while being out of the rain.
There are also plenty of restaurants on-site, which means you can combine a trip to somewhere like Debenham's to check out their lines of teapots with a trip to Nando's, one of the most popular British chains that serve up great chicken!
This is a particularly good option if you're in London for awhile and have time to spare, as I wouldn't recommend someone with just 24 hours in London to spend time in a shopping mall.
21. Ghost Bus Tour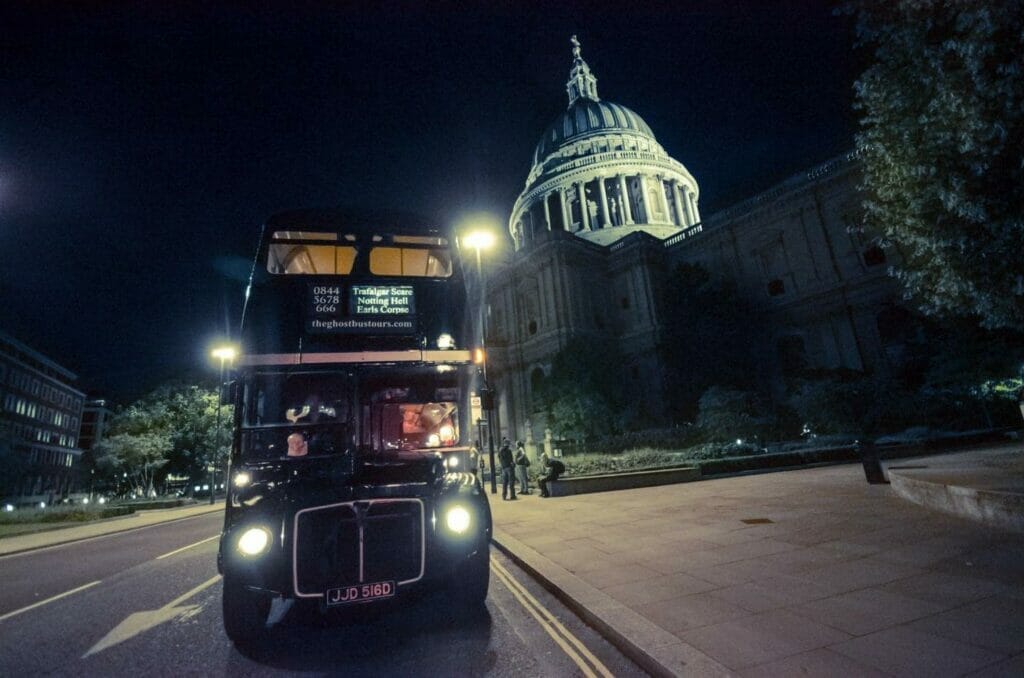 Who doesn't love a ghost tour?
Of course because this is London, there has to be a sense of humor in it as well.
For an evening activity that will keep the whole family entertained, enjoy this comedy horror show that takes you to some of the spookiest places in London (from the safety of your bus, of course, scaredy cats) and gives you some gory details about some of the street's seedy pasts.
I love this bus tour for its uniqueness – you can find ghost tours and you can find comedy shows, but combining them makes for a killer (GET IT?!) combination and I think it's a must do.
There are also live actors on board and a backstory to go with the bus, so get ready for a really immersive experience that will also teach you something at the same time.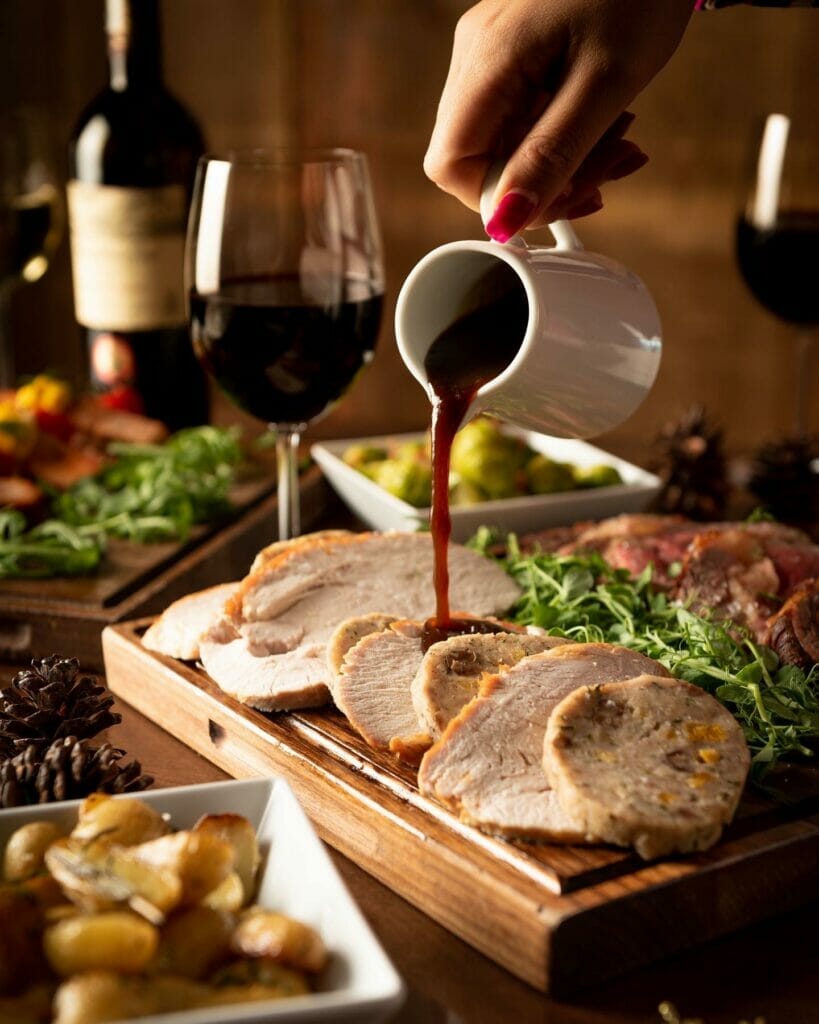 This is the place to head to if you're looking for quality South African food in London Bridge.
There are strong flavors – the depth of great red wines and smokey, charred meats, the crisp bite of fresh veg.
The menu changes with the seasons but there'll be locally sourced ingredients, fire-based cooking, and some of the rarest breed meats available in the UK.
Only a small walk from the Underground station, this can be the ultimate place to head over for great red meat, red wine, and good times.
23. Jack the Ripper Ghost Walk
The classic horror story of Jack the Ripper and his London murders still permeates the culture of today's East End – at least if you believe the guides on this Jack the Ripper Walking Tour!
There are a ton of Jack the Ripper Walking tours in London, but this is my favorite as I think you get really good value for the price and it's one of the best tours in London.
You'll learn the story of this infamous criminal, hear the stories of how his victims fell into his traps, and see the spots where he murdered some of his most infamous victims.
While the more recent film version of the musical has swept the globe, that movie was an adaptation of the real musical, playing on the West End, featuring Matilda, Miss Honey, Trunchbull and all of your Matilda favorites.
This is a fun, heart-warming, family-friendly thing to do in London in September, and what better way to tie in the back to school season than joining the cast of this incredible musical as they navigate the sometimes treacherous waters of school while singing and dancing their way to freedom from the Trunchbull.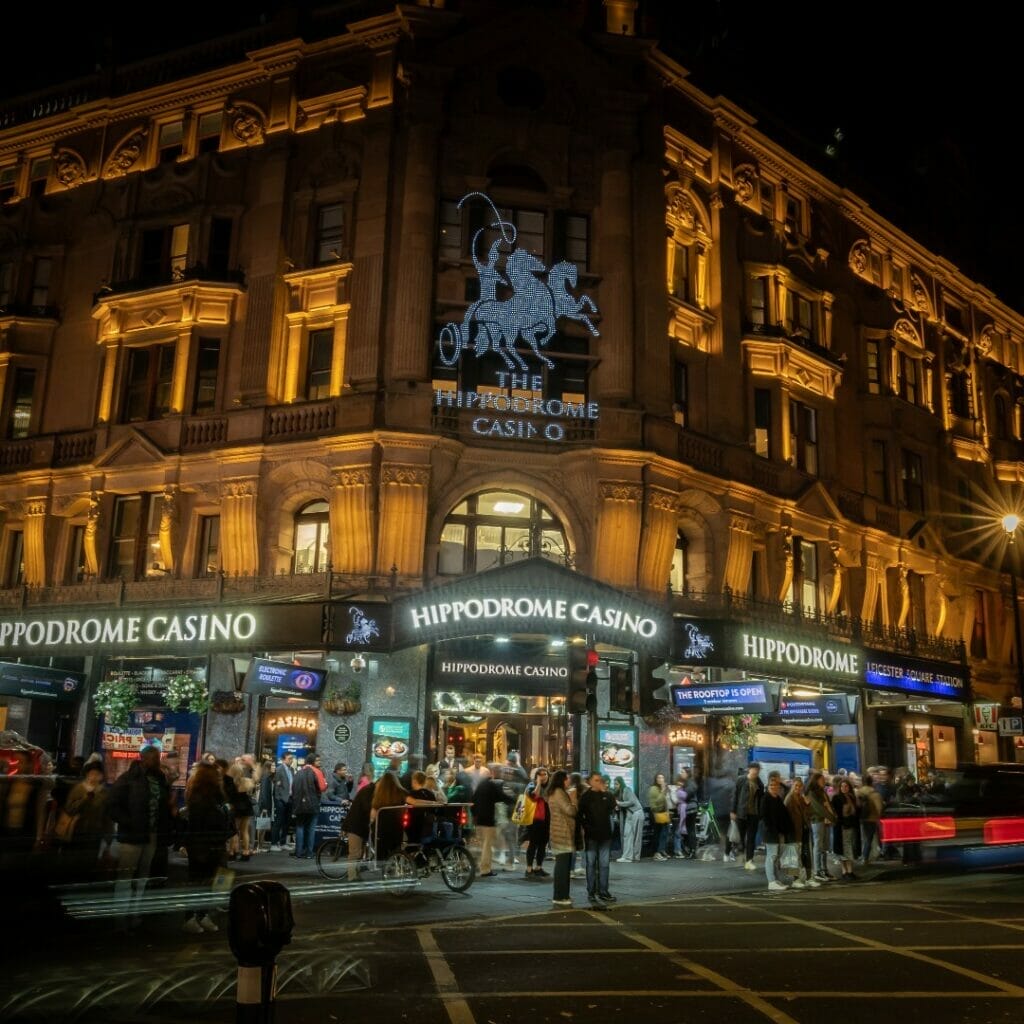 Feel like gambling tonight?
On a rainy night in London, head to Hippodrome Casino near Leicester Square where you can try your hand at the slot machines or watch live sports betting.
There are also some table games like roulette and blackjack if you want to get into the action that way.
26. Secret Cinema London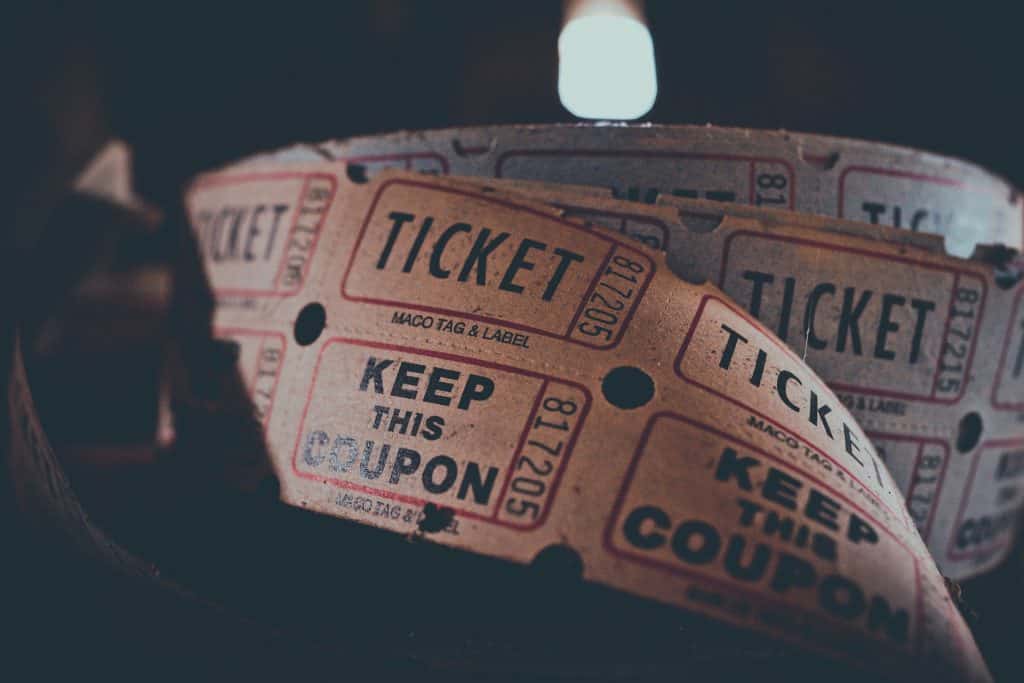 From Star Wars to Casablanca to Romeo and Juliet, Secret Cinema London aims to take classic movies and deliver them in a way you've genuinely never experienced before.
Not only is the location of the movie kept secret, but the entire "world" surrounding your experience is created to make you feel like you're part of the action.
You'll be given instructions on how to dress, where to meet, and what to bring, and then you just prepare yourself to be whisked away into an alternate reality made by some really talented set designers, prop designers and actors and musicians.
It's a truly immersive experience, and one of the quirkiest ways to see a movie in London.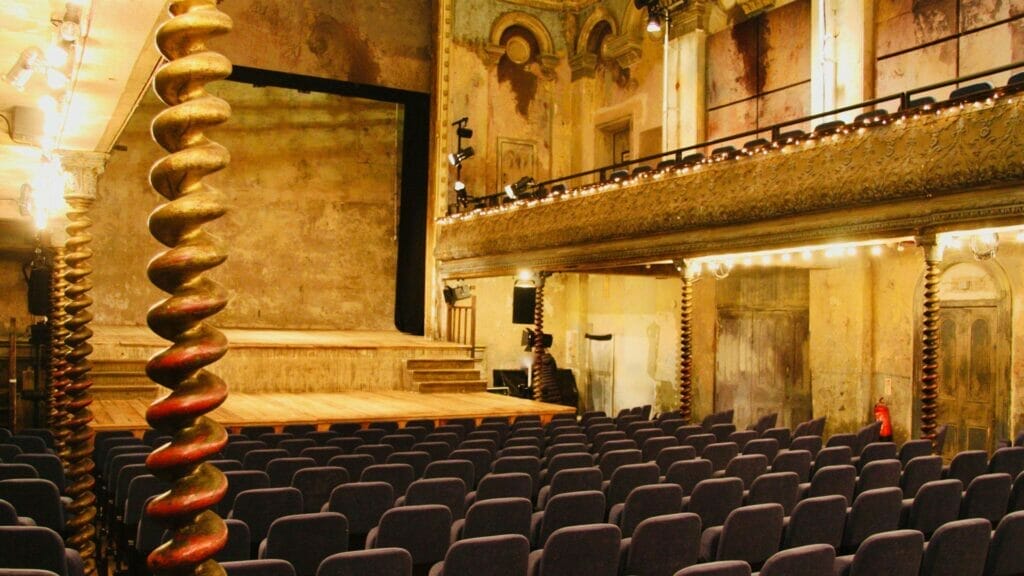 This performing arts theatre is a fantastic venue and Grade II listed building in London that holds all sorts of unique events, including Dead Poets Lives and local plays.
They also offer history tours, which will take you through the venue as you learn about how a sailor's pub from Victorian times turned into a Methodist Mission and beyond.
There's also a bar serving food and drinks on evenings when shows are taking place, so turn it into a fun evening out in London in this quirky venue.
28. Brick Lane Beigel Bake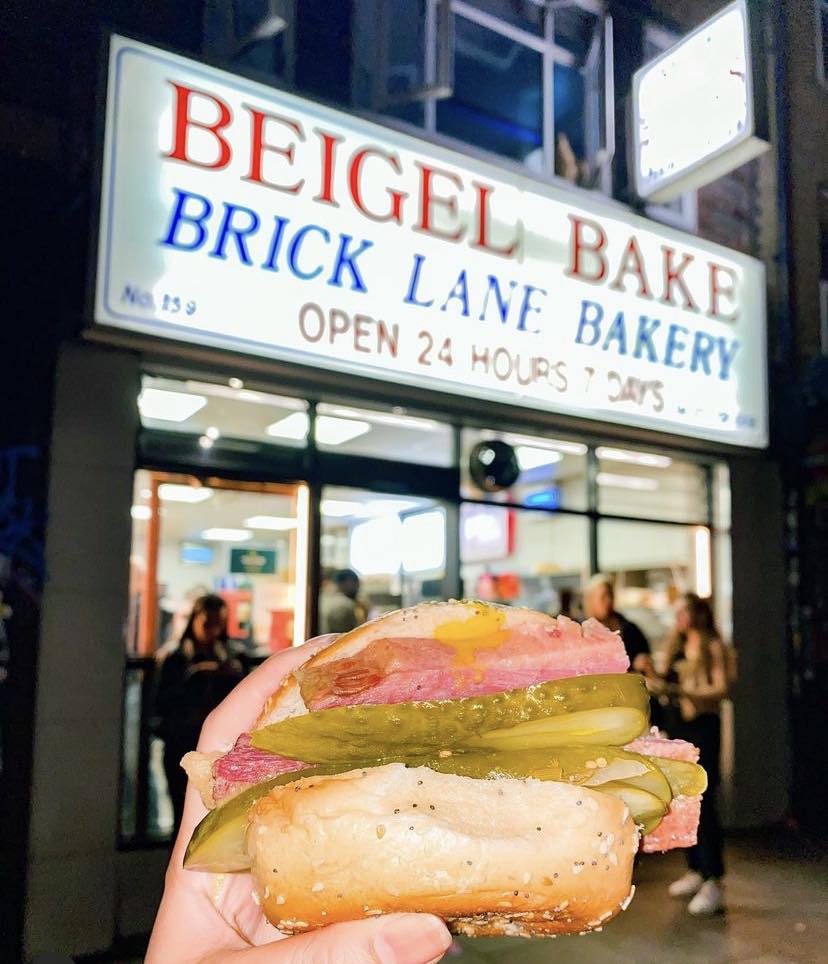 Head to Brick Lane for the best bagels in all of London at Beigel Bake, particularly the savory salt beef one.
Plenty of people head to this part of London specifically to eat bagels as they stroll down the street, including at night as it's open 24/7.
29. Flight Club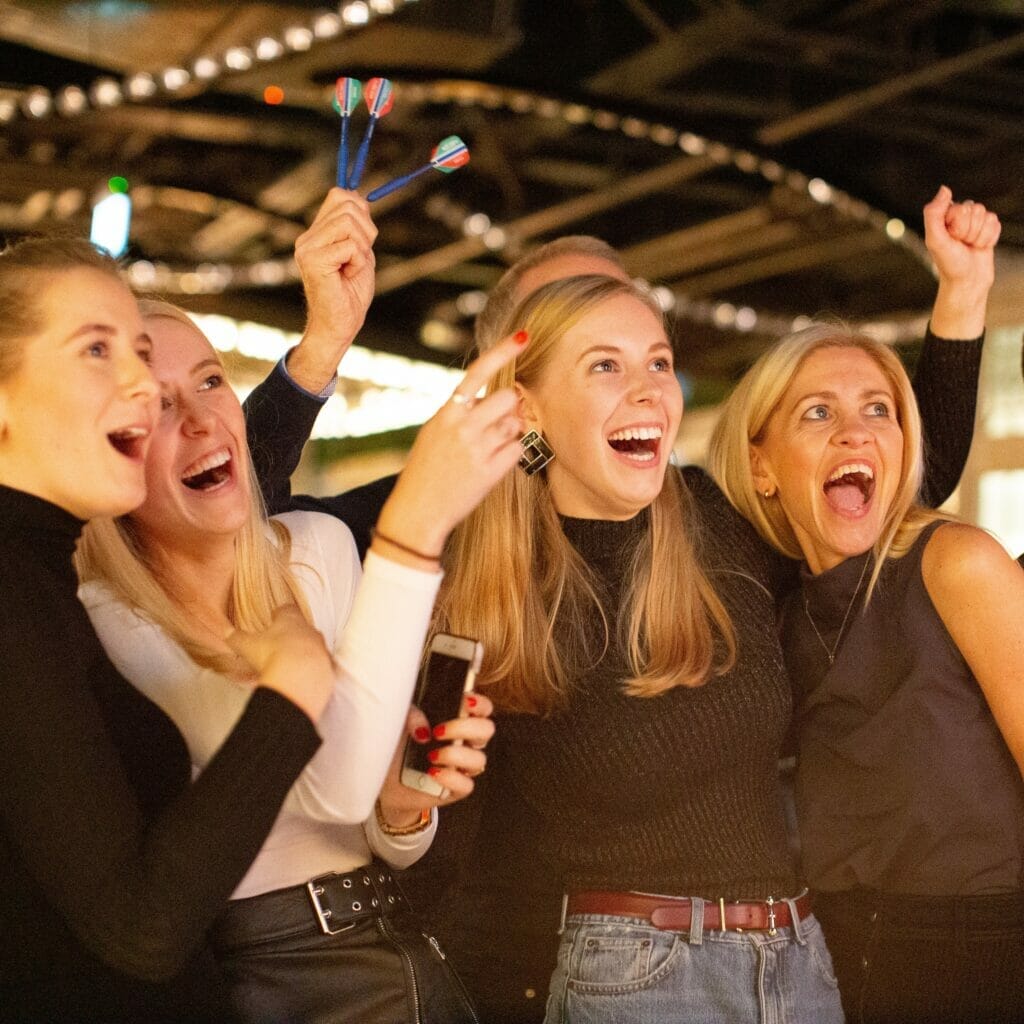 With multiple locations across London, Flight Club is a social darts bar where you can hang out with friends, perfect your aim, and spend late evenings laughing and competing in casual dart competitions.
It's got the warmth of a British pub, combined with a sort of fair-like atmosphere and a real vibe at the bar.
From regular catch ups with friends to a fun birthday night out in London, this is a unique London bar and perfect if you want something a bit off the beaten track.
30. Battersea Power Station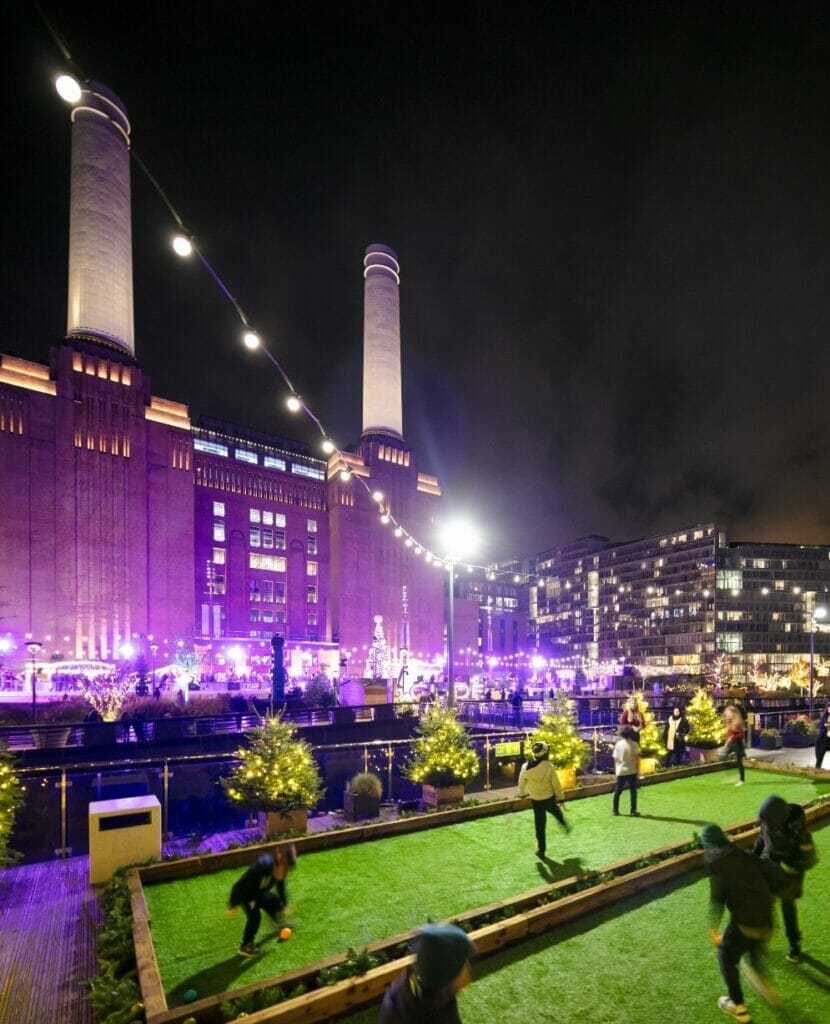 The new Battersea Power Station, reopened in 2022, is a great way to spend a September day in London as this shopping and entertainment complex is right on the river.
Hang out during the day to look around the stores and get some ice cream, or hang around at night to enjoy dinner and drinks and enjoy the twinkling lights as the sun goes down.
Battersea Power Station has gone to great lengths to combine current entertainment with historic importance, preserving much of the original architecture that makes this building such an iconic part of the river skyline.
31. Bob Bob Ricard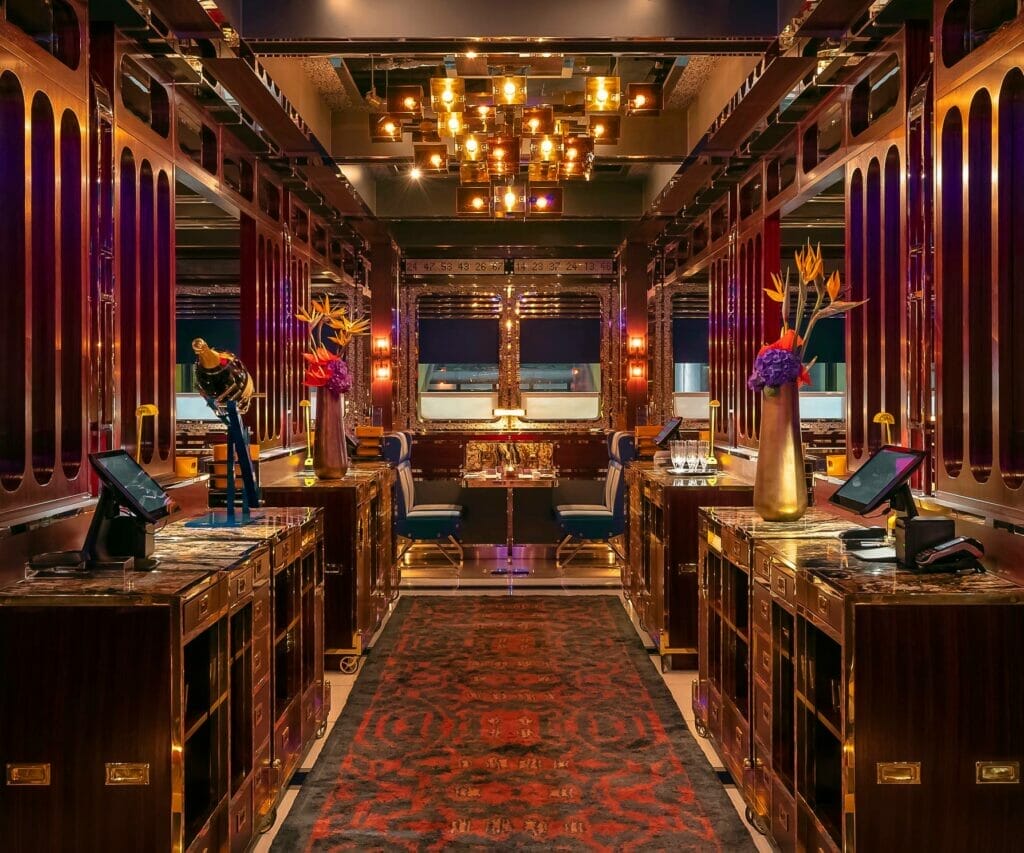 With a "press for champagne" button at every table you know that you are going to have a good time on your birthday at Bob Bob Ricard.
Bob Bob Ricard serves up a mix of classic British and Russian cuisine in a lush all booth dining room that's sure to impress the most picky birthday girls and boys.
The dress code is "elegant" and fashion wear is encouraged.
If you feel like splashing out you can even order caviar.
Mains range from a selection of pie, chicken kiev, different tartares, and beef wellington. As one would expect from a restaurant with a "press for champagne button", the wine list is extensive.
Click here to visit Bob Bob Ricard's website for more information on opening times, menus and the wine list.
32. Chinatown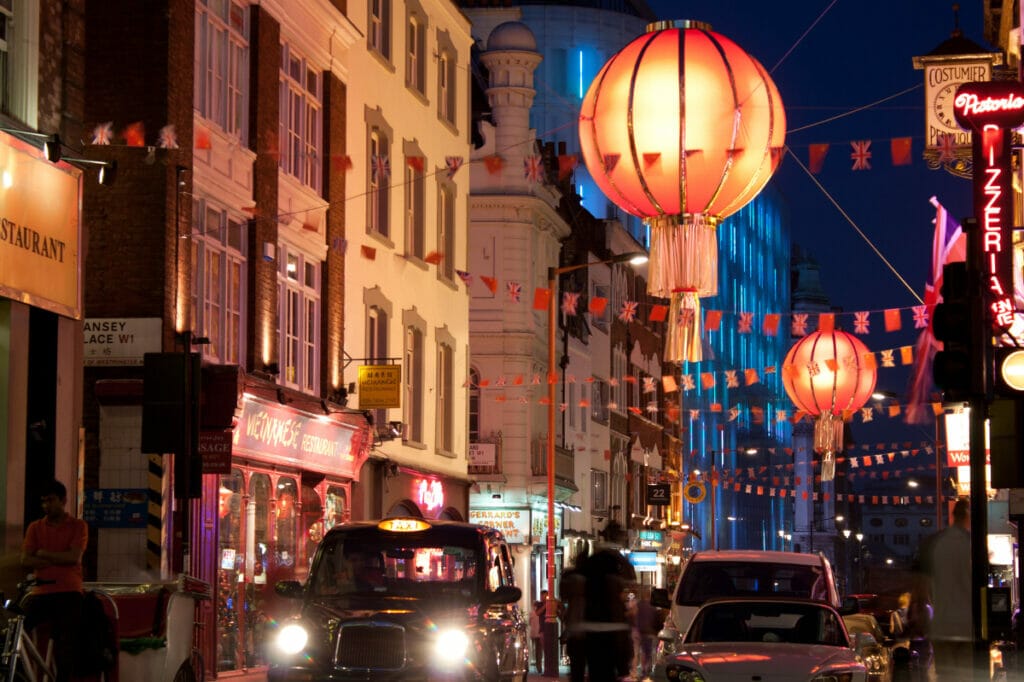 Head to Chinatown in Central London for a wonderful way to spend a London evening.
Soak up the colorful and vibrant atmosphere, stop by an authentic Chinese restaurant for some of the best dumplings in London, and eat and drink the night away under the lanterns.
33. Royal Opera House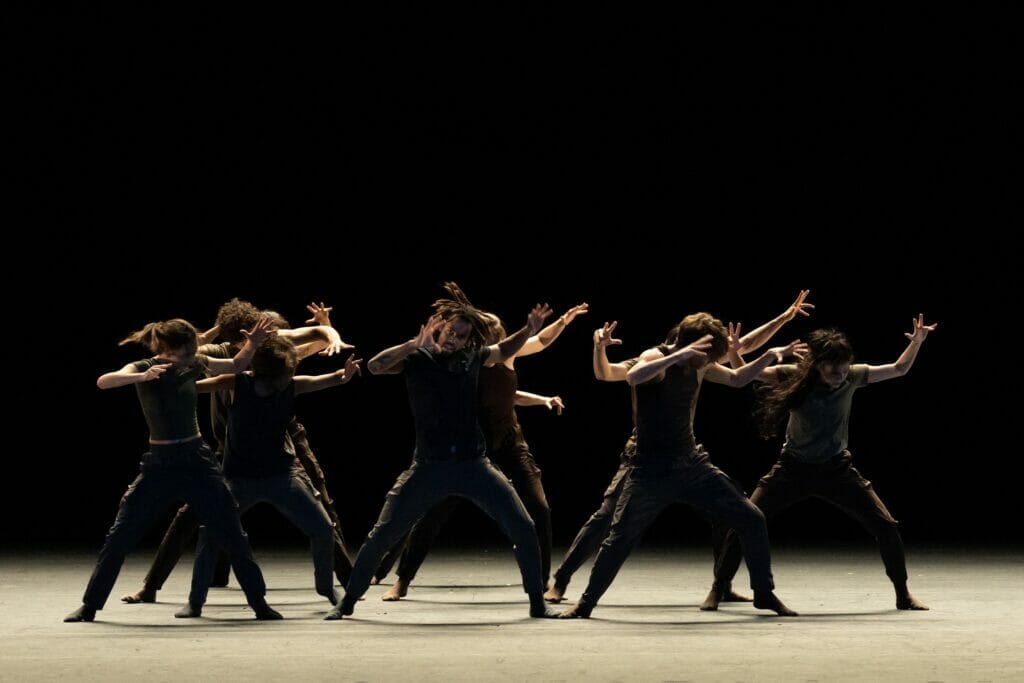 The Royal Opera House, a beautiful building in Covent Garden, features ballet and opera performances throughout the week in the evenings.
It's an incredible opportunity to see professional dancers and opera singers in a stunning setting.
34. Dennis Severs House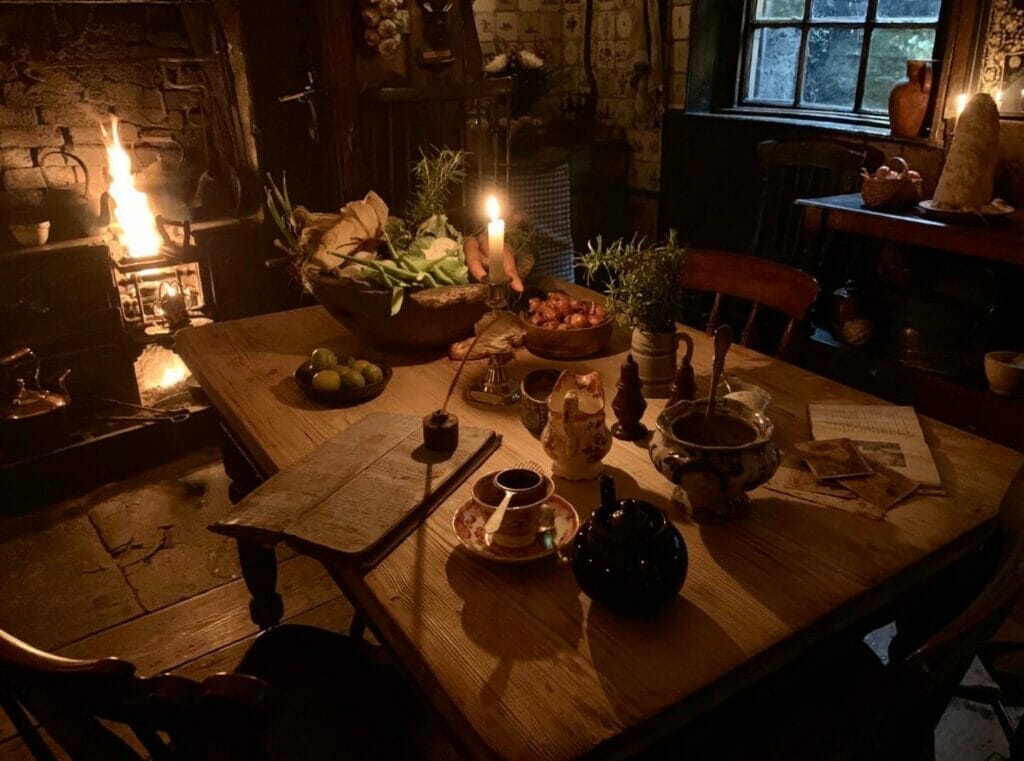 This London attraction is a fascinating look at the home of Dennis Sever, who created a mix between a still-life art gallery and a home with his collection of historical items meant to recreate the way of living in former centuries.
Each room has its own theme, and he lived here until 1999.
The house follows the fictional family of the Jervis', who are meant to be Huguenot silk weavers.
35. ZSL London Zoo's Lion Lodge: London at night with family
Everyone is familiar with London Zoo, but did you know that you can actually sleepover inside of it?
Stay at the Gir Lion Lodge, where you will literally sleep within hearing distance of the zoo's four lions.
You'll get private tours of the Zoo after hours, as well as a buffet dinner and breakfast.
This is truly a fun way to see London at night and learn about conservation in the heart of this bustling city.
The lodges are well-kept and stocked so you don't feel like you're camping in the wilderness (which is a bonus for me), while still feeling the right amount of disconnected from the rest of London.
Oh, and you may wake up to the sounds of the zoo's other animals screeching, singing and howling you awake, so be prepared for a fun way to wake up in London!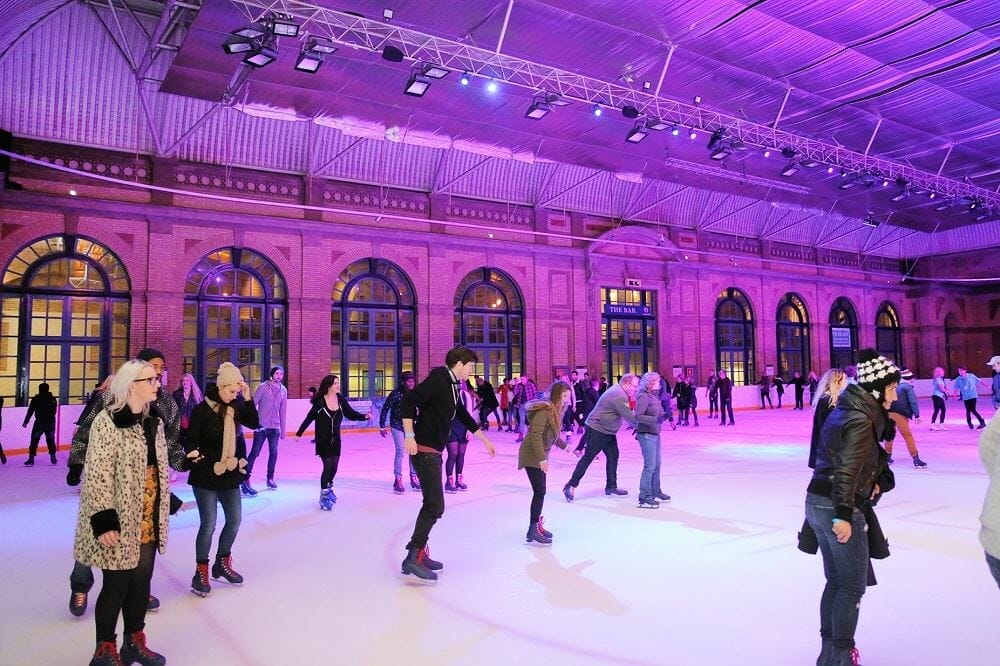 Whether it's the festive season or it's too hot outside (it does happen in London, occasionally), you can always go skating at Alexandra Palace (Ally Pally for short).
They have skates you can rent and offer plenty of public sessions throughout the day to give you a chance to perfect your glide and do circles around your friends.
The other benefit?
The view of London from Alexandra Palace is quite beautiful, and this area of London is a more unique and residential London area that many visitors don't make it to.
37. Go Bowling at Queen's Bowl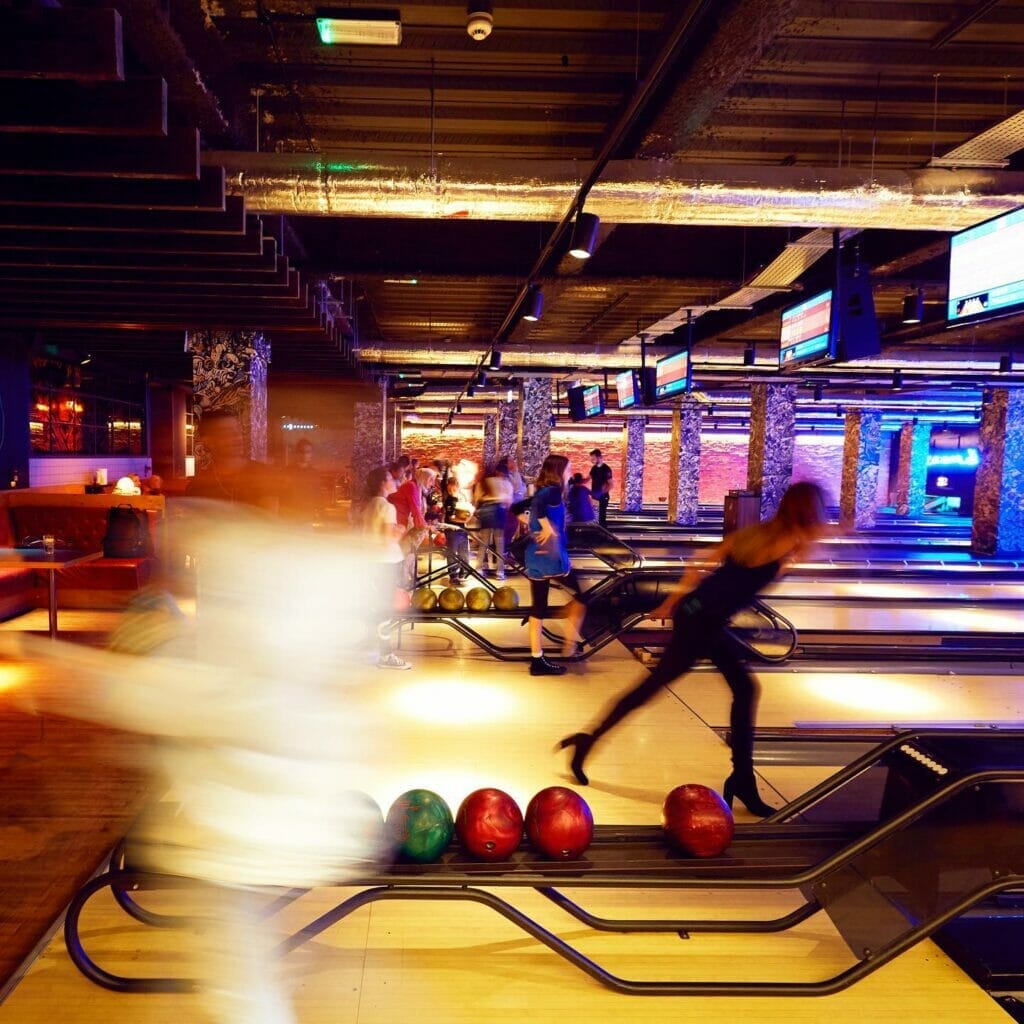 Whether you want to bowl the night away or take part in central London's only ice skating rink (the other ones are further out), visit Queens Skate & Bowl right near Hyde Park.
There's an on-site restaurant, the vibe is fun and funky, and the whole point is to be in a sort of underground party area so there aren't even windows to show you what the dreary weather is like outside.
38. Mixology Class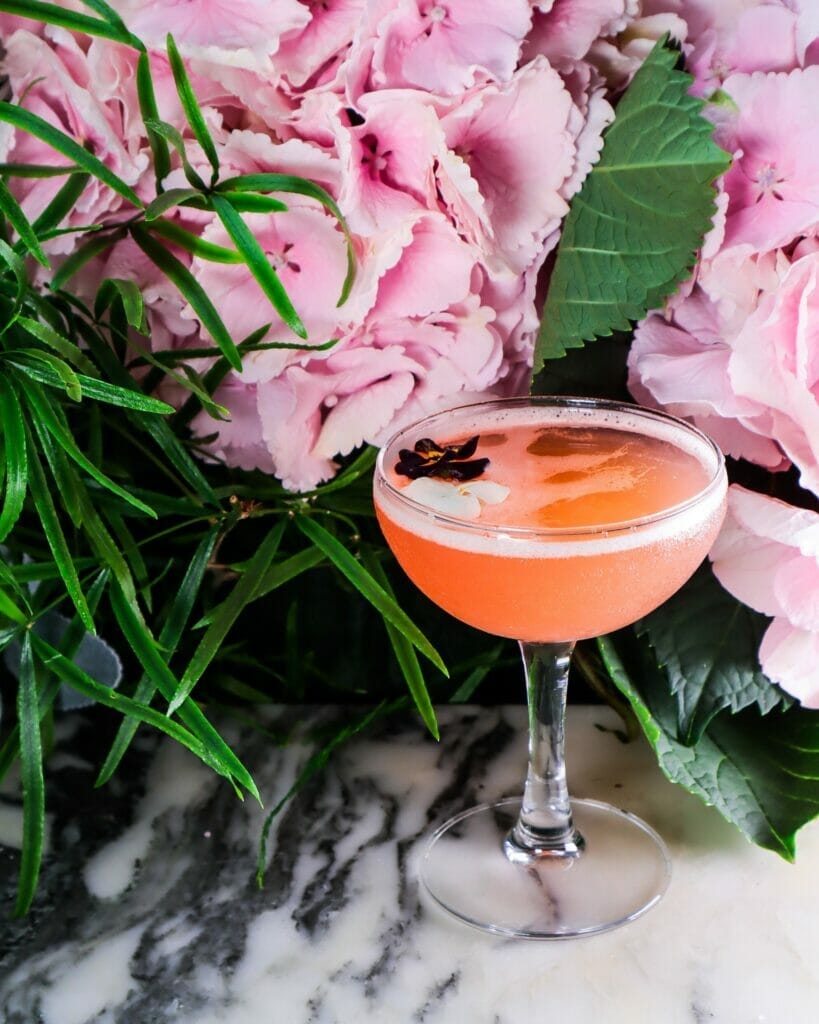 Want to learn how to mix some of your favorite drinks?
London has plenty of mixology classes to choose from, whether you want to do it as part of a bachelorette party, a couple's activity, or even on your birthday.
You'll learn from an experienced mixologist on how to mix, match, and create unique and beautiful cocktails that could rival any found in the best bars in London.
39. Prince Charles Cinema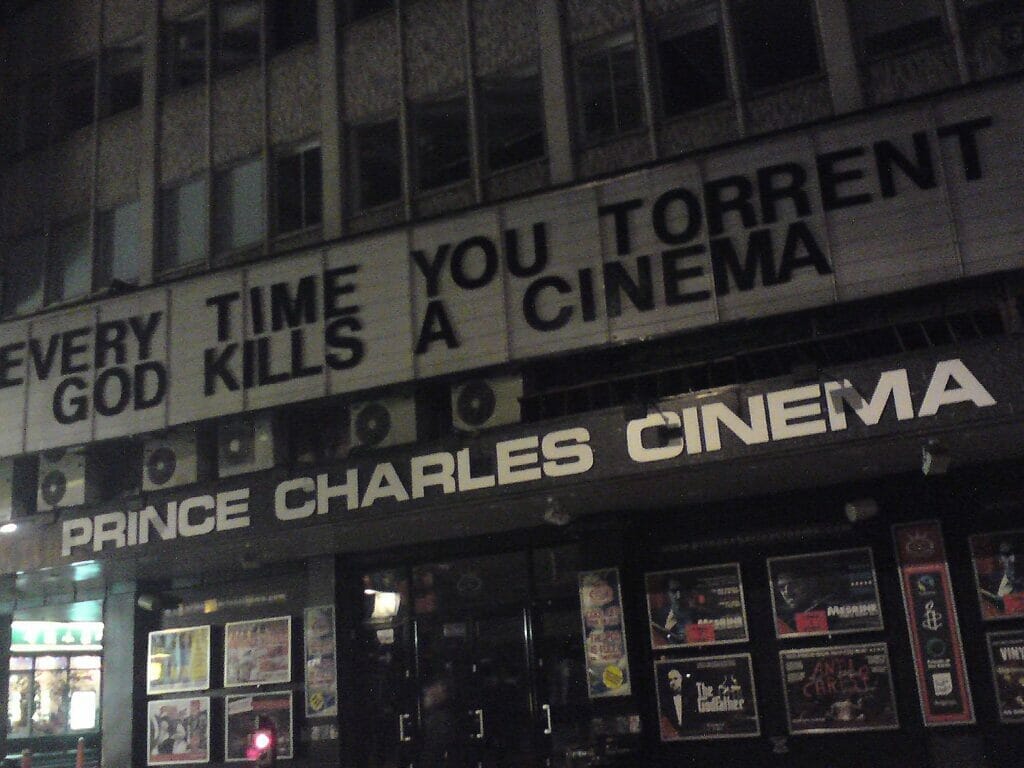 Located in Leicester Square, the Prince Charles Cinema is an iconic theatre known for its screenings of both old and new films (including sing-a-longs-while-wearing pajama nights, yes please!).
Regular screenings are usually around £10, but that's not where the discounts are.
No, Prince Charles Cinema is one of the cheapest cinemas in London when you get the annual membership.
It's a small membership fee, and from then on out you can enjoy tickets for as little as £1.
Choosing this as your London cinema makes the most sense if you live or work near the area and can take advantage of screenings often enough to make the £10 annual membership fee worth it.
40. Escape Room London: where to go at night in London
There are, as always, some nights in London where you'll find the weather might not be quite up to scratch.
In that case, head indoors to an escape room.
Famous worldwide nowadays, escape rooms are essentially live brainteaser experiences where you and your group are "locked in" a room and made to figure out clues to find your way out.
London has a variety of escape room companies throughout the city, and it's a great team bonding experience and way to make sure you have an indoor activity planned if the rain has set in.
41. Shakespeare's Globe
Whether you're a theatre buff or just want something cultural to do in London at night, you've got to make a show at Shakespeare's Globe part of your itinerary.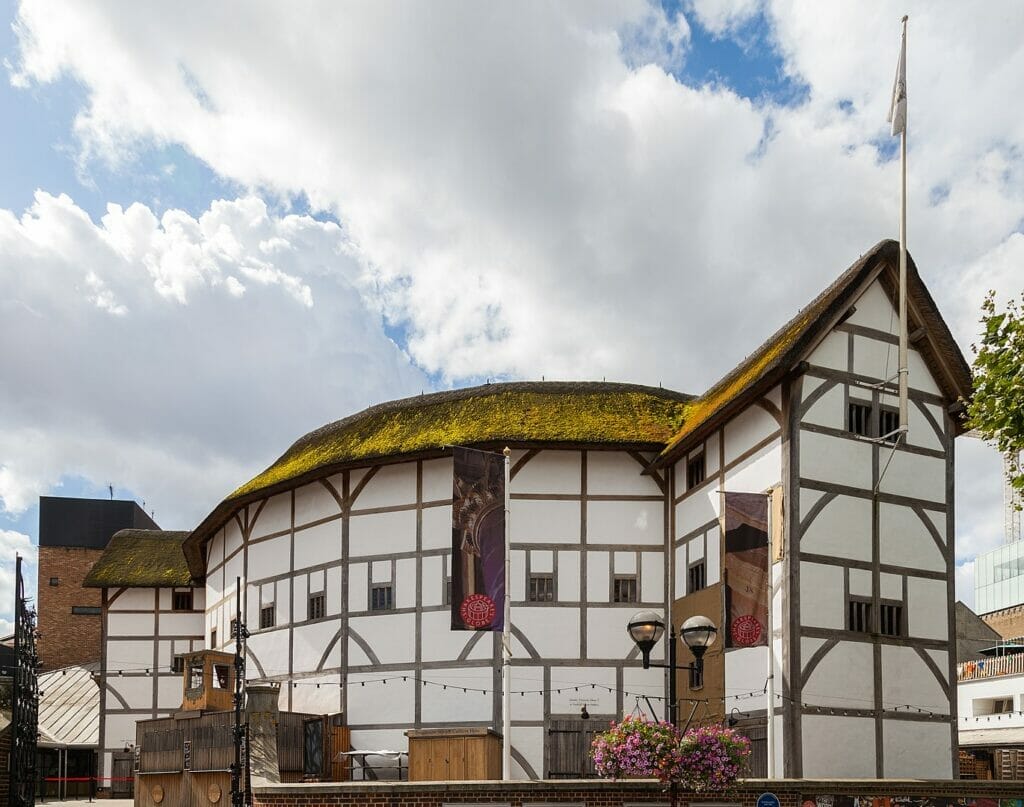 It's a great thing to do in the summer months as Shakespeare's Globe is an open-air event with no roof in the center where the "groundlings" (standing guests) are, so the weather really impacts your experience there.
You can buy these standing-only tickets for just 5 pounds, so it's also one of the best theatre bargains in the whole city.
42. London Eye at Night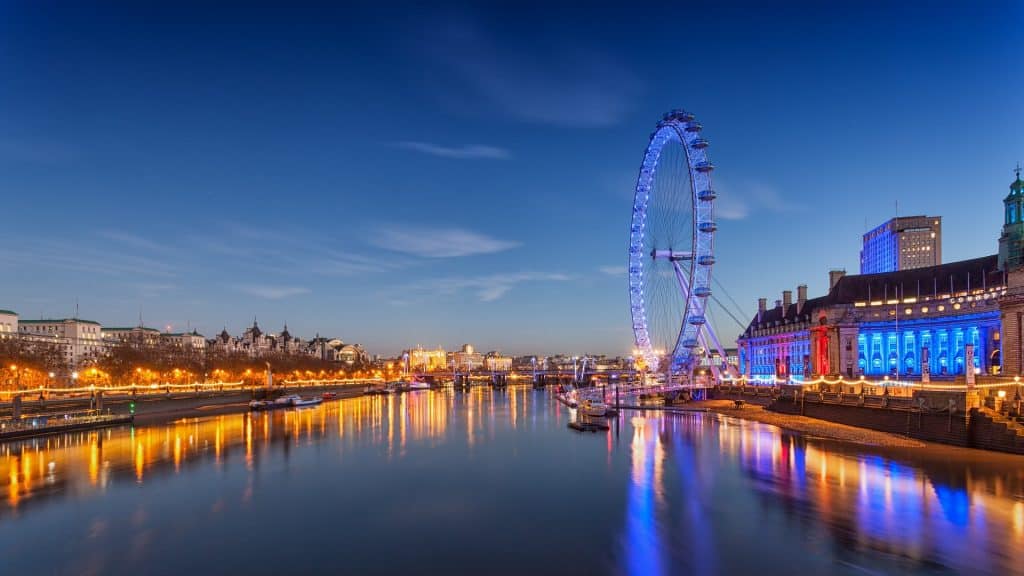 The London Eye is one of the most iconic attractions in London, and one of the best times to visit is on a clear night.
With everything lit up around you, you'll feel like you're looking at a fairytale awash with color and glowing as far as the eye can see.
Unlike other London attractions that close around dinnertime, the London Eye often has later opening hours so you can embrace these nighttime views.
43. Da Mario Kensington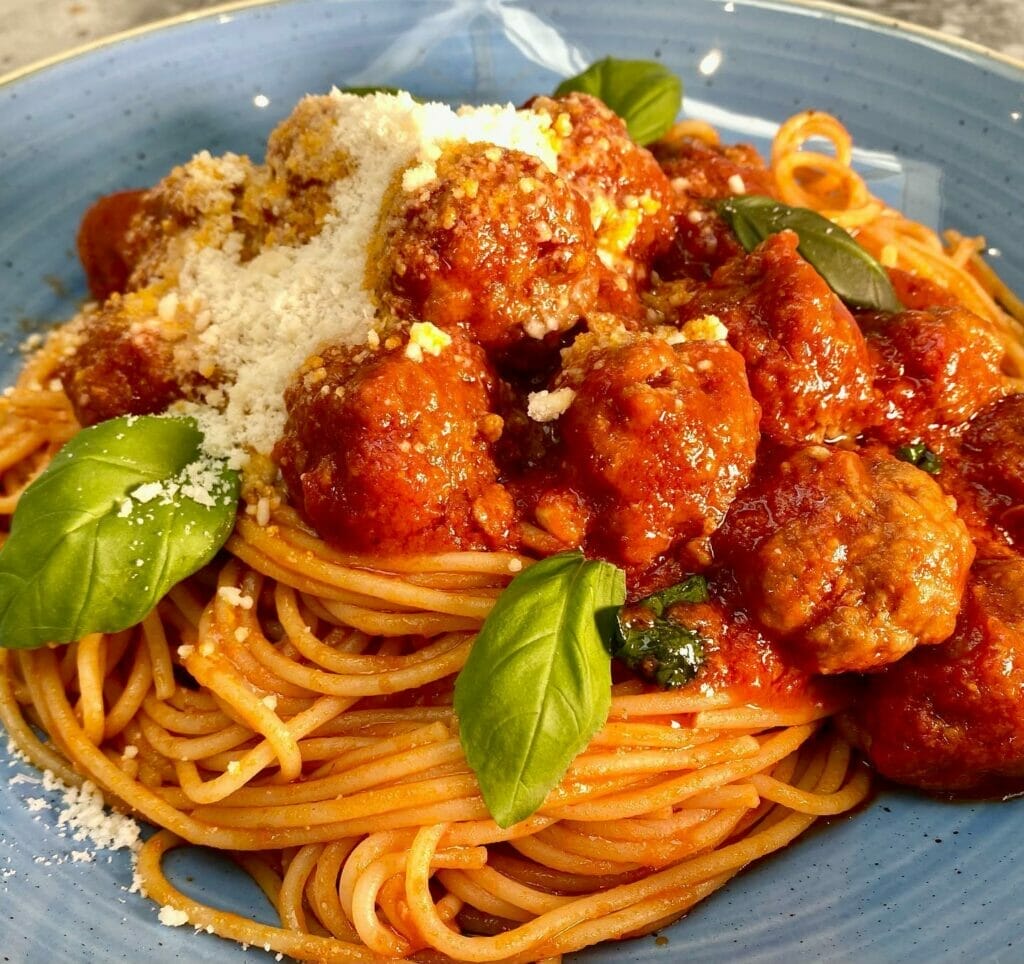 This Italian restaurant in Kensington is a fan favorite because of the amazing food and its history.
It's said to be Princess Diana's favorite choice for Italian, and photos commemorating her visits there adorn the wall.
Enjoy the atmospheric lighting when the night sets in, and clink a glass with your friends as you try the Pappardelle Pastore, the Rigatoni Al Forno, or one of the amazing pizzas with flavors like Calabrese, Margherita, and Sicilana.
South Kensington is a beautiful place for a visit and a stroll after dinner as well to work off all of those carbs!
44. Icco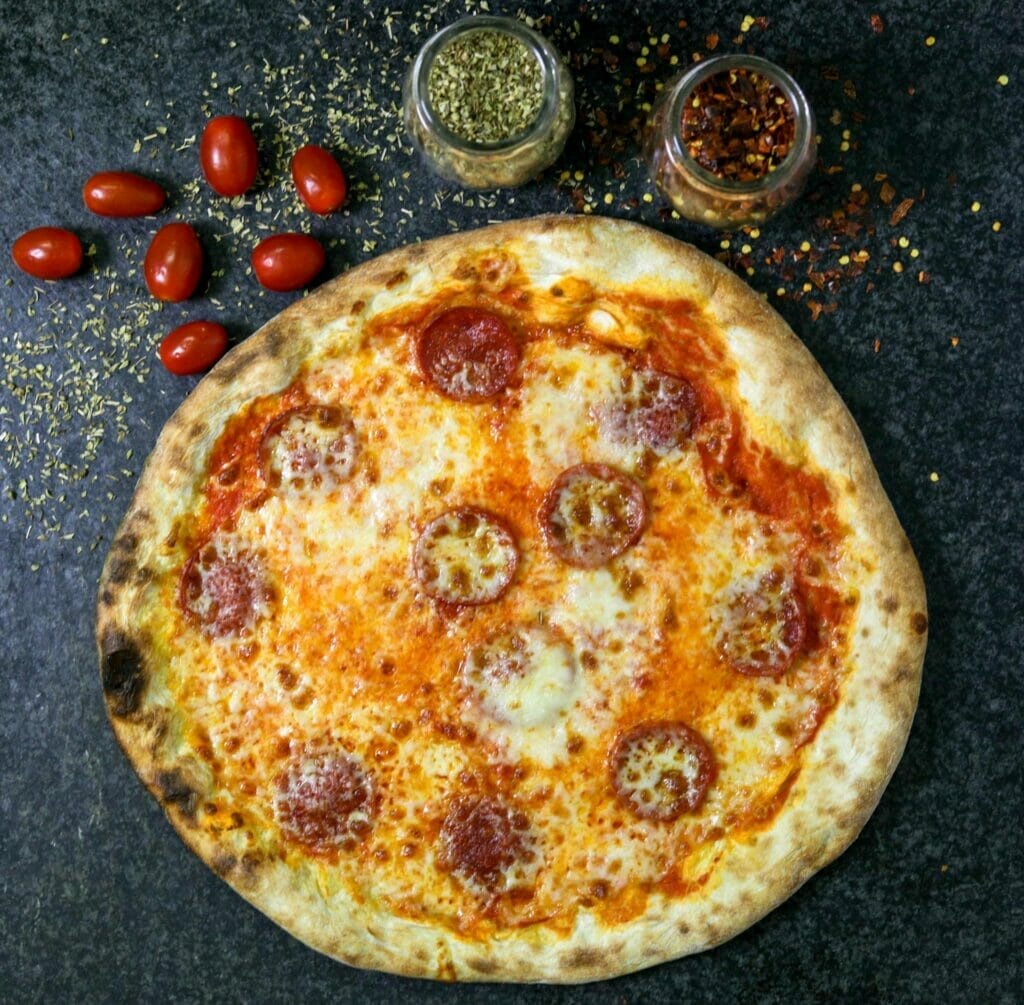 Whether you're a student in London or on a budget, Icco is by far the best place to go for cheap pizza and other items like sandwiches.
Seriously, I used to spend so much of my time here as a 20-something.
It gets top marks for the low prices, lovely location near University College London and good quality food.
Also, the portions are giant and enough to keep you going on your London sightseeing day out.
45. Madison Restaurant: London night attractions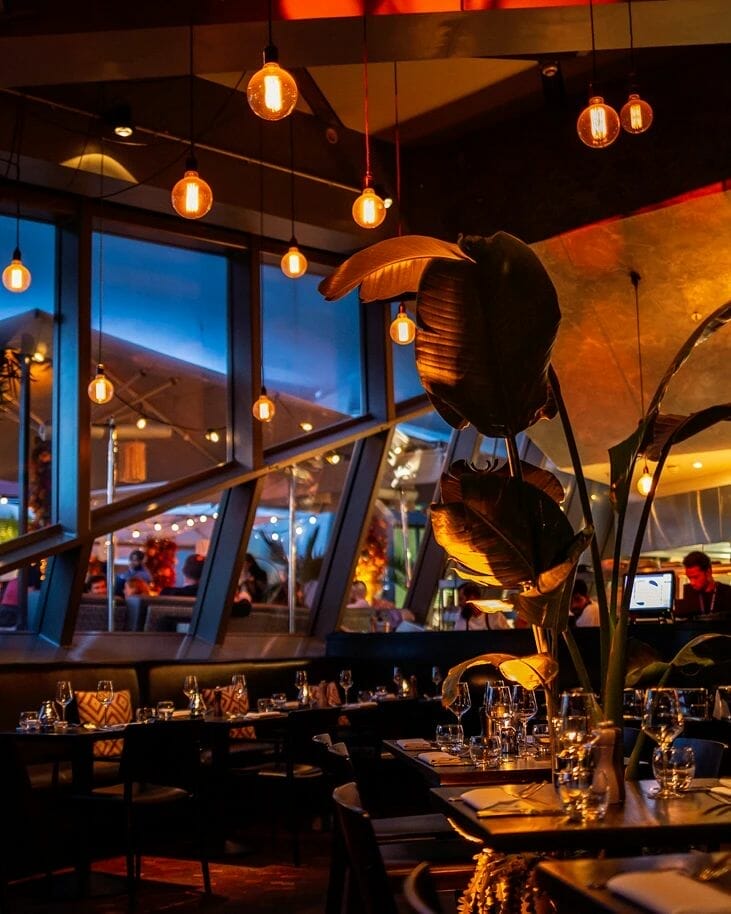 Rooftop views. Penthouse lounges. New York dining meets London landscape.
A night out at the Madison Restaurant near St. Paul's is a must-do for anyone who wants an upscale experience, delicious menu options, and some of the most gorgeous views across the city that you won't soon forget.
A dress code is enforced here, so leave the sneakers and shorts in your hotel, and instead make it a special night out.
With innovative starters like fried chicken & pancakes (yes, together) and decadent mains like chicken schnitzel and lobster linguine, you'll be eating like a king or queen.
The soft baked choc chip cookie (with hot chocolate sauce and milk ice cream) finishes off an amazing night of fun, food, drinks, and the London nightlife.
46. National Theatre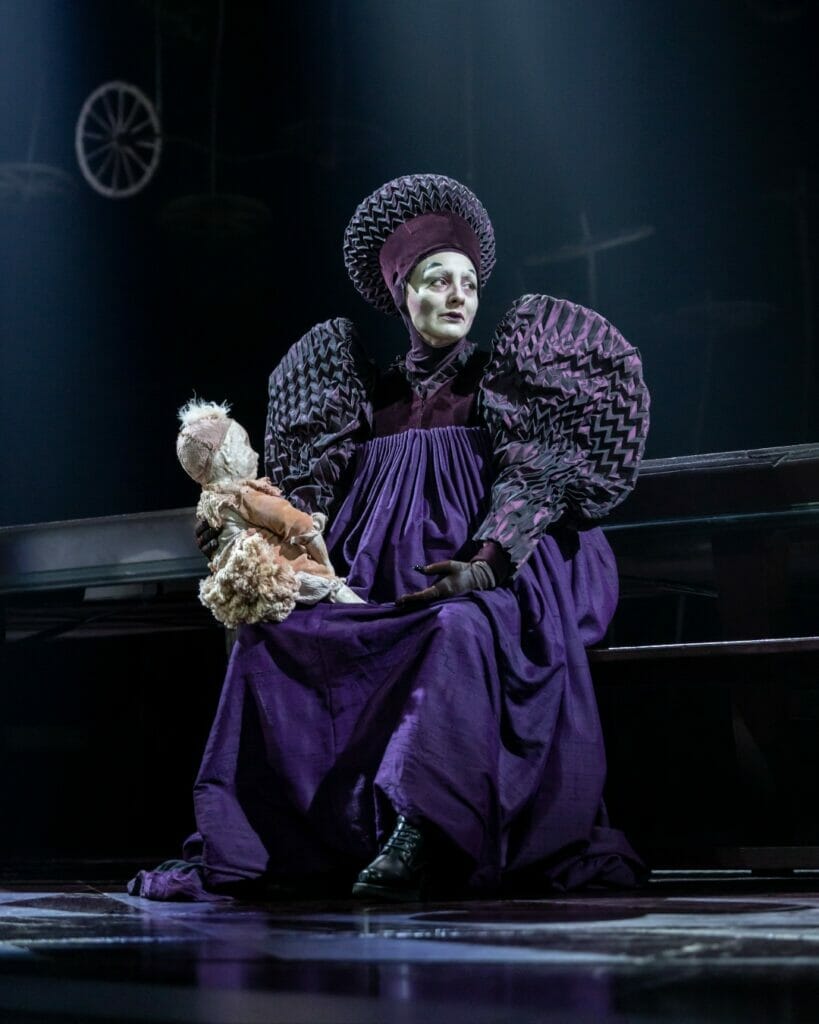 Known as the "National" for short, the National Theatre is one of London's leading theatres that has a full schedule throughout the year of plays of all genres.
Many famous plays that then go on to other destinations around the globe start at the National, including the recent Lehman Brothers Trilogy that started its run in the National Theatre and then moved on to Broadway in New York City.
Tickets can be less expensive than shows on the West End, and theatre lovers should make sure to check out the schedule for September 2023 here to see what's playing during your visit.
47. BFI IMAX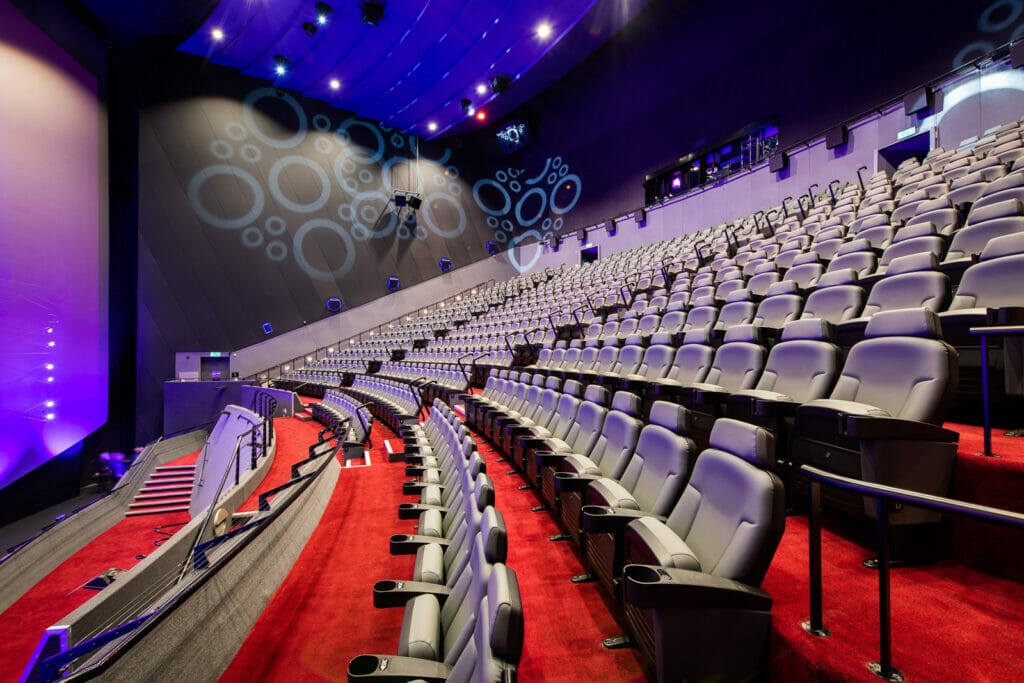 If you want to see the latest alien film in all of it IMAX glory, the best place to go would be BFI IMAX right off of the River Thames on the Southbank.
Here, you can experience the biggest cinema screen in all of Britain – the screen is almost higher than five double decker buses stacked on top of each other.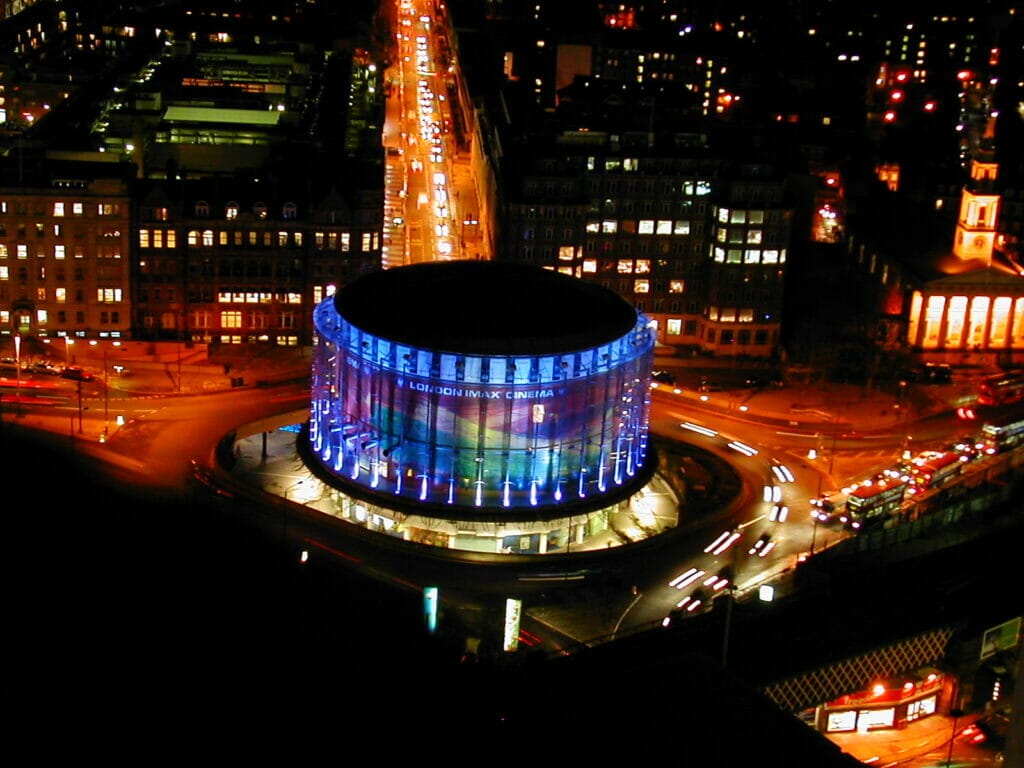 Prices here aren't cheap – at over £23 for an adult ticket on a Saturday, you're going to pay a pretty penny to see your favorite A-list actor's face on such a giant screen, but if it's a movie you're really looking forward to, there's nowhere better to experience IMAX than the biggest cinema screen in London.
48. Lexi Cinema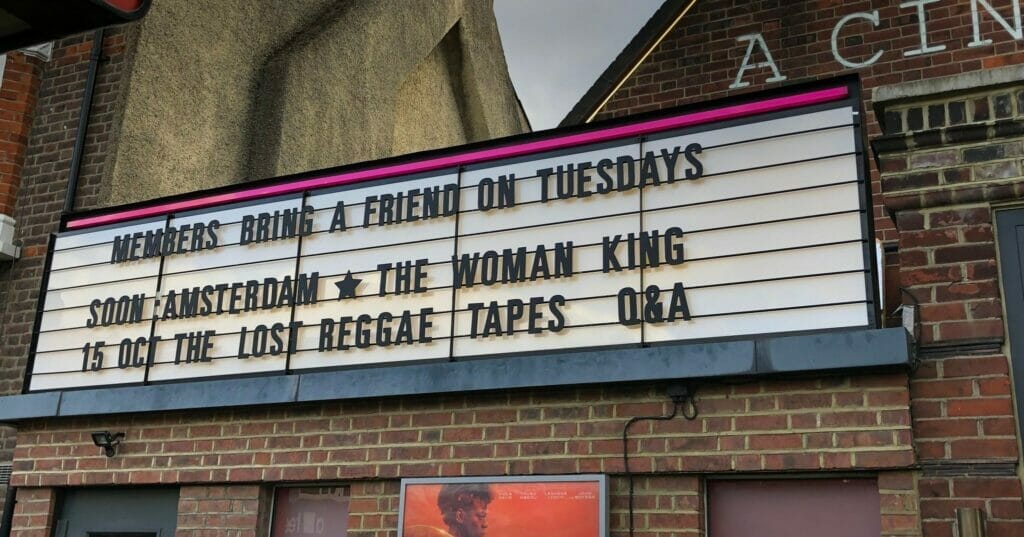 If you want to feel good about yourself while watching a movie, head to the Lexi Cinema where 100% of proceeds go towards charity.
This means that most of the staff are volunteers who are passionate about giving back, which just makes the whole cinema experience that much more interesting as you get to hear about their various passions.
It's London's best cinema for giving back, and I highly recommend it.
49. Electric Cinema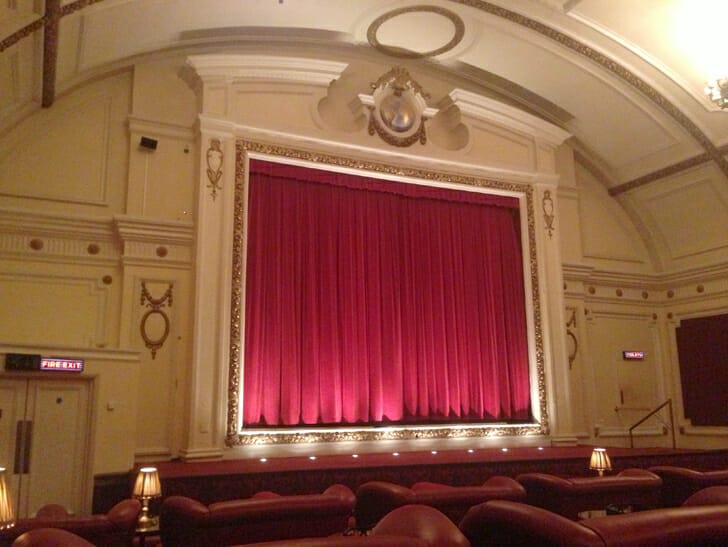 On Portobello Road, the Electric Cinema wins again for being one of London's most retro cinemas.
The leather armchairs have footstools AND side tables, and the retro-chic décor will make you feel like the coolest cinema goer around.
You can also pay extra to sit on a sofa in the back or a bed up front, which adds another element of fun to the evening.
50. Pub Tour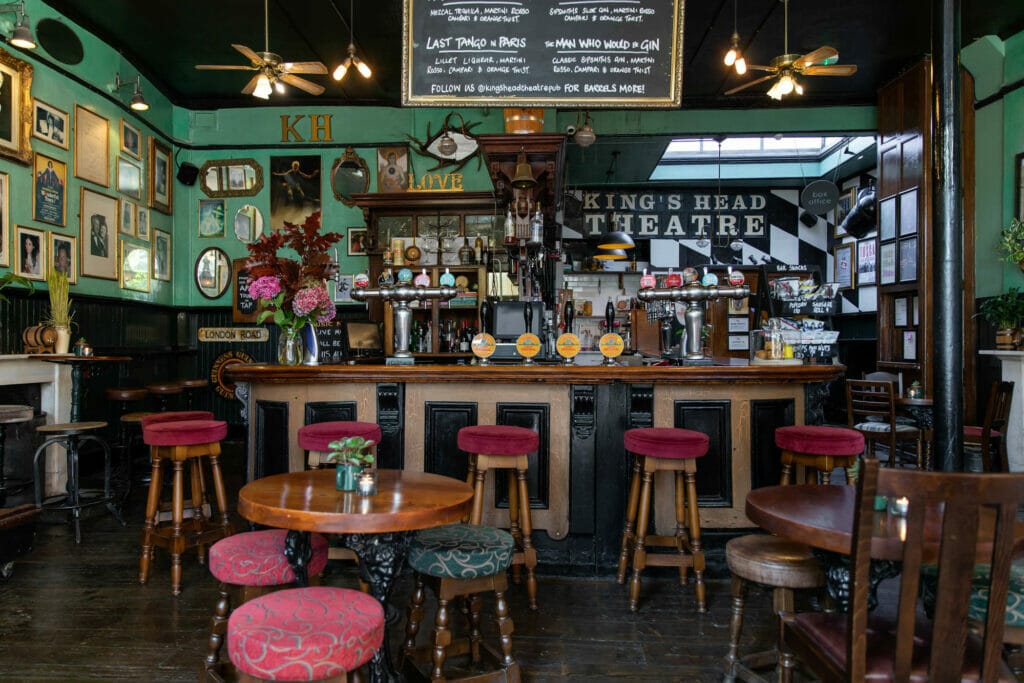 Pubs are a mainstay in British life, and one of the best ways for visitors to see some of the best ones is to take a historical pub tour.
People always think about London walking tours or river cruises, but a historical pub tour will make sure that you see some of the pubs that have shaped London history or played host to famous writers, actors, and politicians throughout the years.
This is such a fun thing to do at night in London, combining culture with history and great drinks.
51. Camden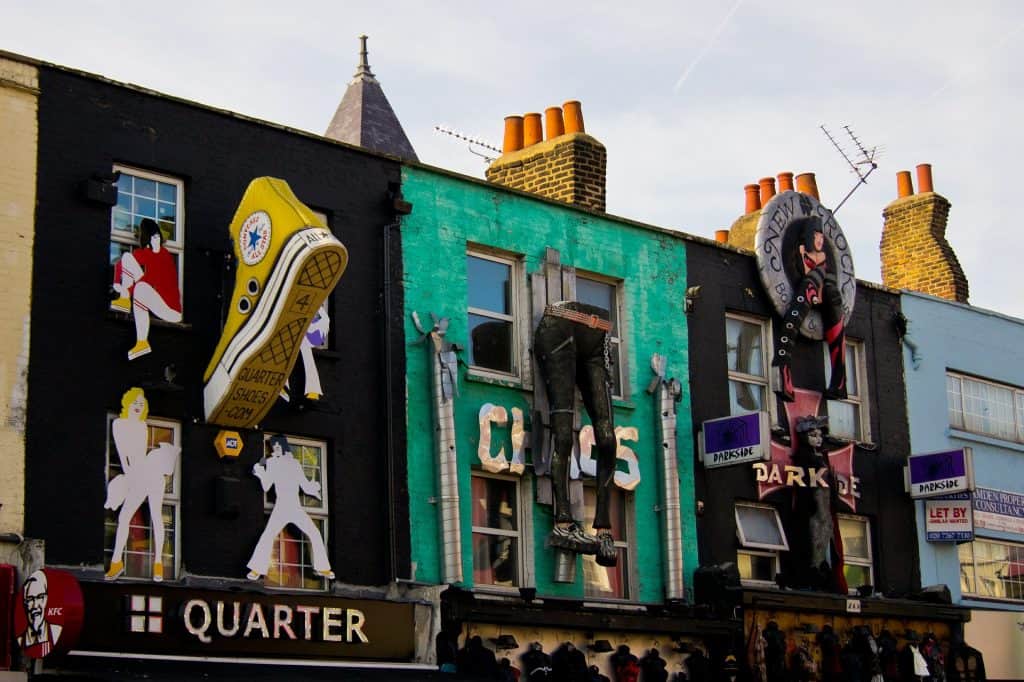 I used to live just around the corner from Camden Market, and while it's gotten increasingly hipster-fied over the years, it's still a quirky place to go to shop for gifts, clothing, jewelry, and more.
Its history is rooted in grunge, so you'll find lots of grunge items and "alternative" clothing options, but there are also really tasty food stalls and shops selling gifts that differ from the traditional Queen bobbleheads.
Camden Market is open every day of the week, except Christmas Day, which makes it way more accessible than some other markets in London with more specified opening days and nights.
Come for a wander or to let all of your shopping dreams come true!
It also has one of the best street food markets in London.
What else should I not miss in London?
If you're visiting London soon, here's a very brief rundown of a few of my other favorites to make sure you don't miss anything!
Want more helpful London guides? Check these out!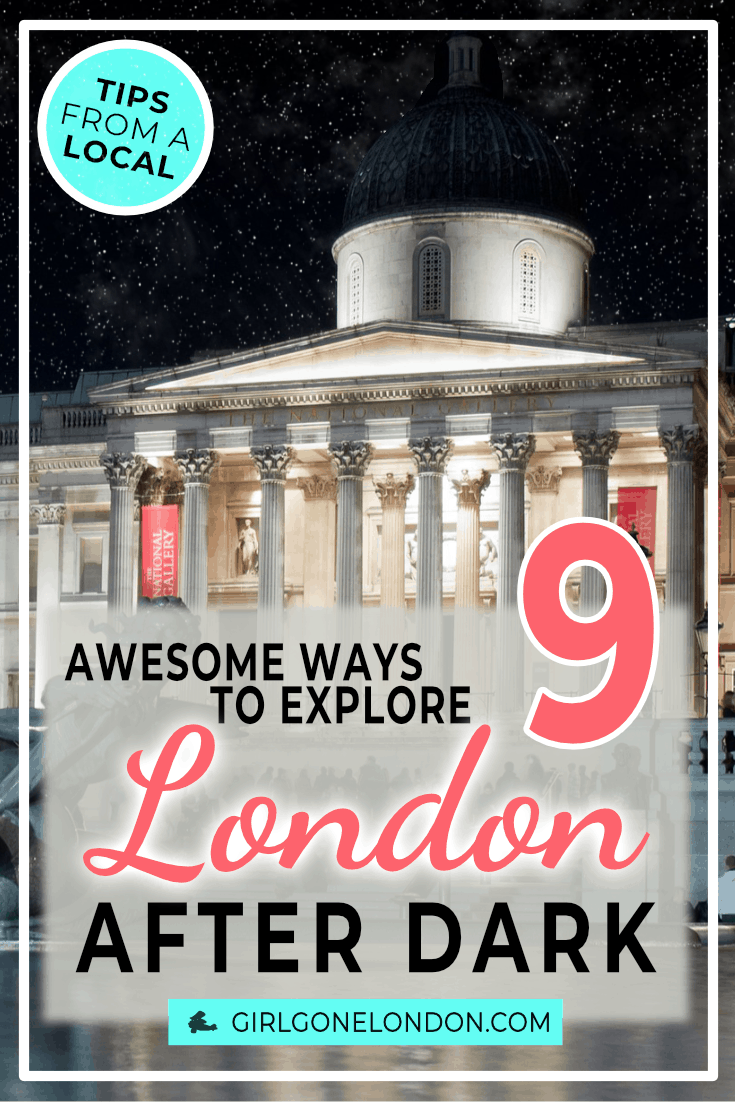 UK Travel Planning Guide: the FAQs
🏥 Should I buy UK travel insurance?
Absolutely yes. Basic coverage is not expensive, and as a visitor you are NOT covered under the NHS. Compare policies and prices with Travel Insurance Master here, a big name in the travel insurance business, and cross that off your list.
🔌 Do I need travel adapters for the UK?
Yes, you do, otherwise you won't be able to plug in your electronics/phone/lifelines. I recommend this one, which is all-in-one so you can use it in other countries.
🚗 What do I need to drive in the UK?
The first thing you need to check out if you're planning on renting a car in the UK is this guide to driving in the UK for visitors – the roads, signs, and driving experience will likely not be what you're used to and it's essential to prepare yourself to stay safe and aware.
🛌 What's the best way to book hotels in the UK?
For UK hotels, Booking is the best site as it offers free cancellation on many properties. If you want an apartment, I always recommend VRBO over AirBnb.
📳 Will my phone work in the UK?
Yes – if you set it up right. Check out my guide on making your foreign phone work in the UK to ensure that you get the type of service you need.
🚿 Can I drink the water in the UK?
Yes, UK water is great and perfectly safe. But drink out of taps in any kitchen or use water fountains. Double check before drinking out of the taps in hotel bathrooms, though, as they may be on a different system.