This post contains affiliate links for which I may make a small commission to help keep the site running. You will not be charged extra for these items had you not clicked the links. Thank you for your help to keep the site running!
Figuring out the best areas to stay in London without having been yourself feels like trying to pick a spot at random and hoping for the best (well, sometimes, that's exactly what you're doing!).
If you've already chosen where you're staying in London and know what hotel in London you'll find yourself in, use the following information as more of a neighborhood guide to London with the reassurance that everyone in London is great.
And I'm not just saying that.
As a tourist, there is nowhere you could stay that isn't safe, doesn't have its own charm, or doesn't have easy access to the attractions!
Let's talk about the best neighborhoods to stay in London and the cool areas to stay in London.
London is just built for visitors!
GET A

FREE

LONDON INTRO GUIDE and ACCESS TO MY FB GROUP
Start your planning with this "Intro to London" guide and access to my London planning Facebook group!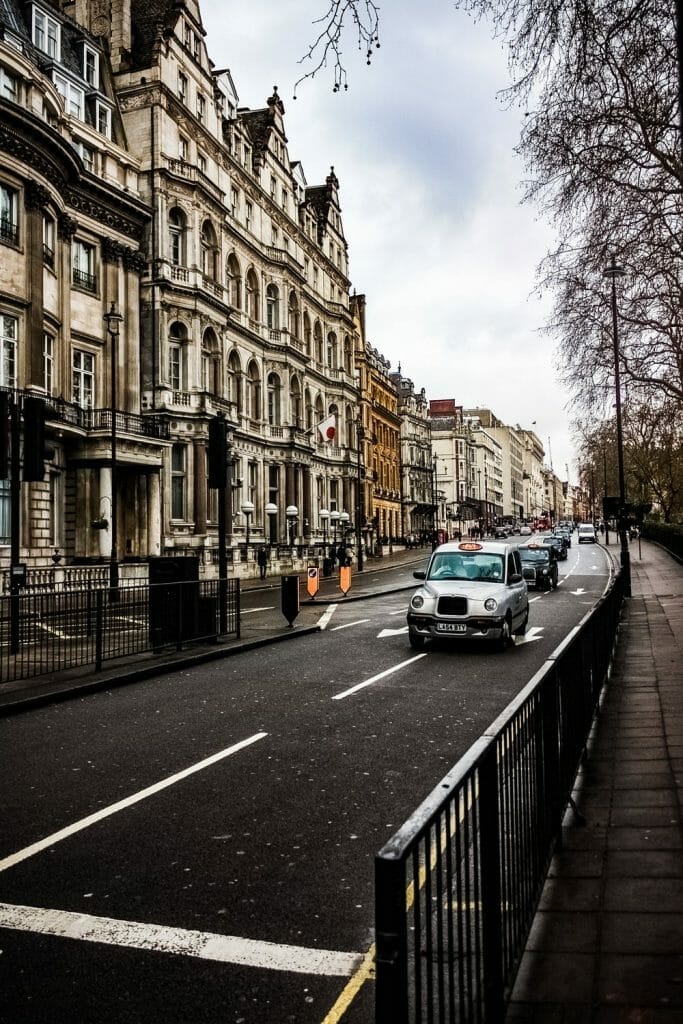 As we metaphorically walk through the different areas of London to help show you where to stay in London, make notes of what kinds of things you're looking for in the area you stay in London.
It's also worth mentioning that there is no one "central" spot in London – all of Zone 1 on the Tube Map is considered central London and each area is closer to certain famous landmarks in London.
Unlike some cities, London isn't divided into just "downtown" and then everywhere else.
This is why it can be so hard to choose the best area to stay in London – what do you want to be near, is the question!
The Absolute Must-Knows (from a Londoner)
1. Covent Garden: good areas to stay in London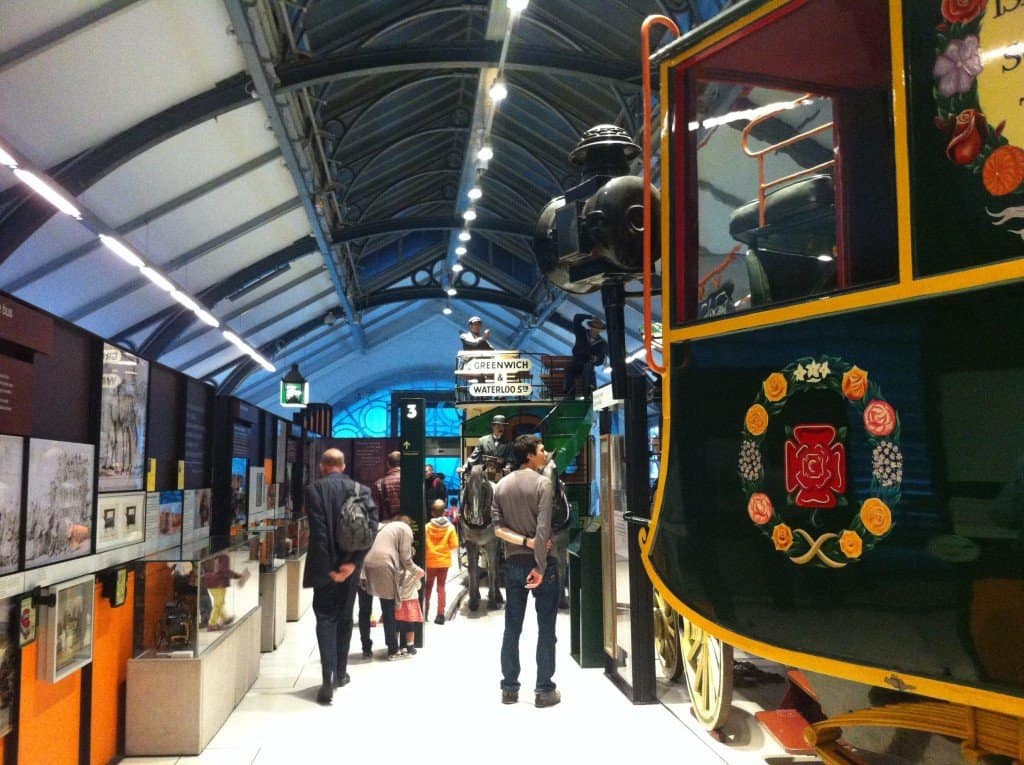 From the Royal Opera House to high end shopping to the West End to live entertainment and awesome pubs and restaurants, Covent Garden pretty much has it all.
This is one of my top choices to recommend to visitors staying in London due to how central it is and how much it has going on, while also having a bit of culture and charm to it.
Most of the more iconic London attractions are in neighboring Westminster and St. James, but Covent Garden has tons of London plays, Covent Garden itself which is a cool shopping, eating, and entertainment square, and you've also got one of my favorite museums, the London Transport Museum.
And in just a short walk, you can get from Covent Garden to major sights like Trafalgar Square and Big Ben, so what's not to love?
Good for: Theatre gurus, those wanting to be in the heart of central London activities, travelers happy to be among other tourists in an area that also has a lot of charm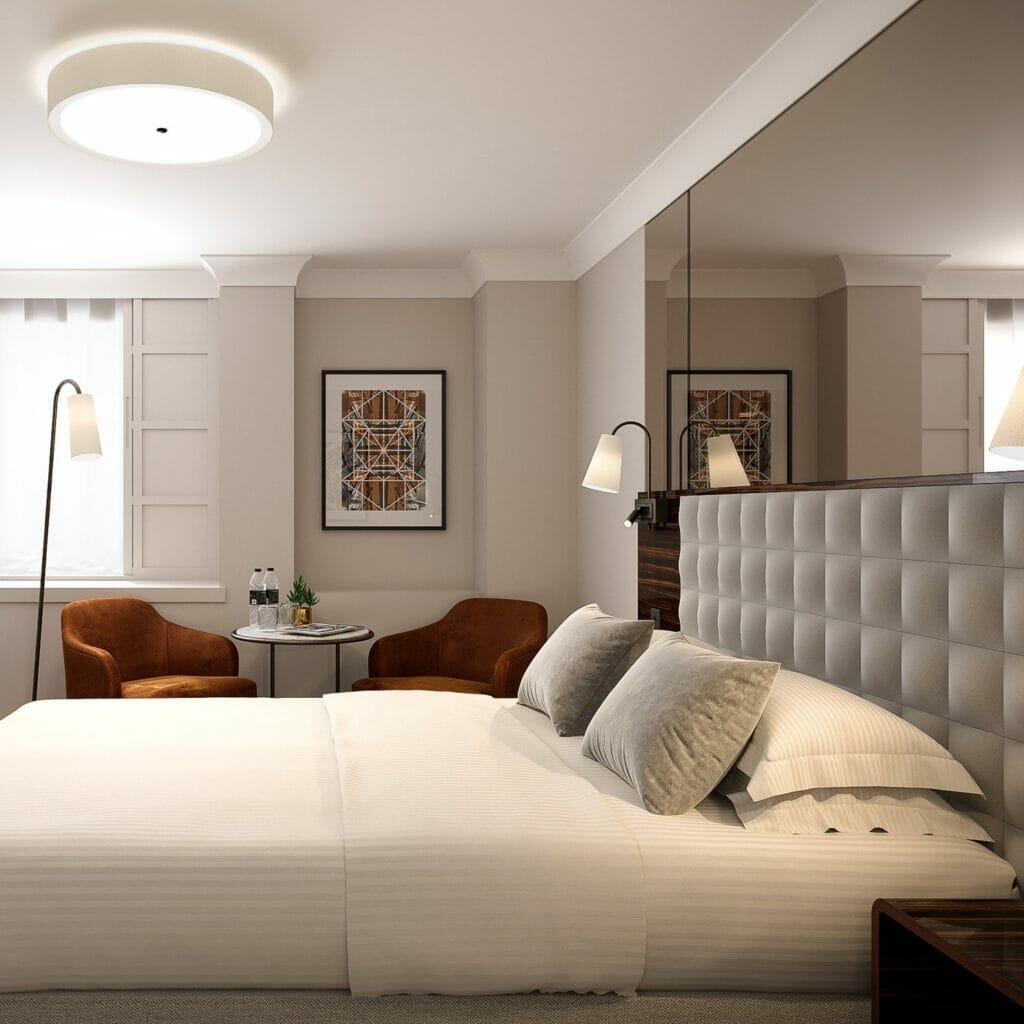 2. Westminster and St. James: best area to stay in London with family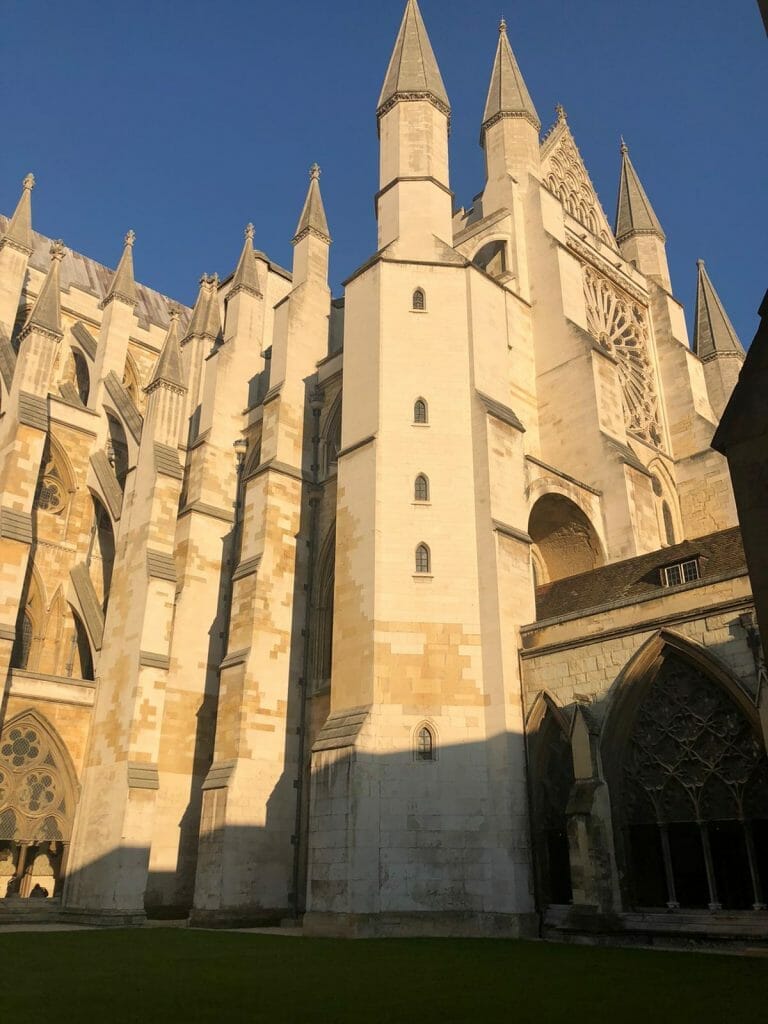 The Westminster and St. James' districts are what you think of when you think of London.
We're talking Big Ben, Trafalgar Square, Buckingham Palace, Houses of Parliament – the works.
This is obviously an area that you will explore extensively during your time in London, so for those history buffs who anticipate not wanting to leave, you could consider staying here.
This would be a good place to stay if you only had 24 hours in London and really wanted to be near all of the postcard-worthy sites to pack it all in.
I wouldn't recommend this as my top area to stay in London because of the sheer amount of tourists, which means that many of the restaurants in this area are either highly priced or tourist traps.
If you're using it as a base and being mindful of where you go and not just eating at the first place around the corner, this can be a great area for an iconic London adventure.
You're also going to often encounter more protests and events in this area blocking car and foot traffic, as this is the center of the UK government.
Good for: People on shorter trips to London who just want to be walking distance from the absolute top sights
IMPORTANT: are you coming to the UK from abroad?
In case you're reading this from outside the UK and will be a foreign visitor here, you need to know these 2 things to stay safe and save money.
Travel insurance – you need it when going overseas! I use

this site

to get the best quotes and purchase my packages from. Do not skip this – having medical coverage abroad as well as other coverage in case of missed flights, lost luggage, etc is essential. As I said, I have never gone wrong using

this site

.
3. Kensington and Chelsea: safe area to stay in London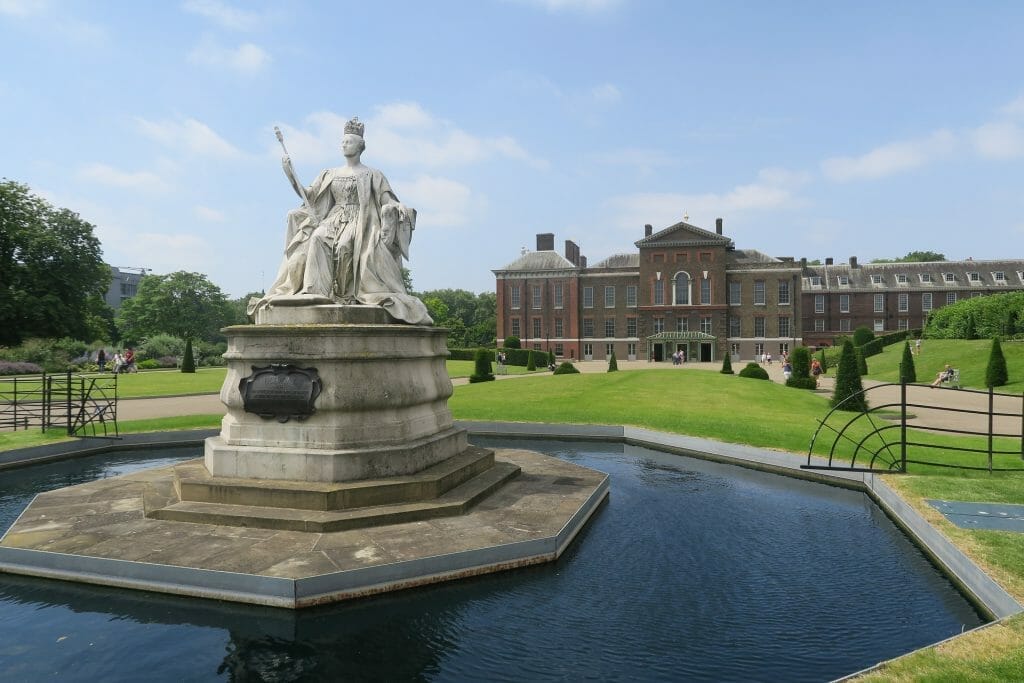 Considered some of the fanciest (and most expensive to live in) boroughs of London, Kensington and Chelsea are both great areas to stay in London.
The safety is top notch (all of London is safe, but at its height in Kensington and Chelsea) and it's home to lots of expats and families.
You've also got Hyde Park, Kensington Palace, and three of London's best museums in this area: the Natural History Museum, Science Museum, and Victoria and Albert Museum.
Good for: Families, anyone new to city travel, travelers who prefer a bit of quiet in the evenings and not loud nightlife
4. East End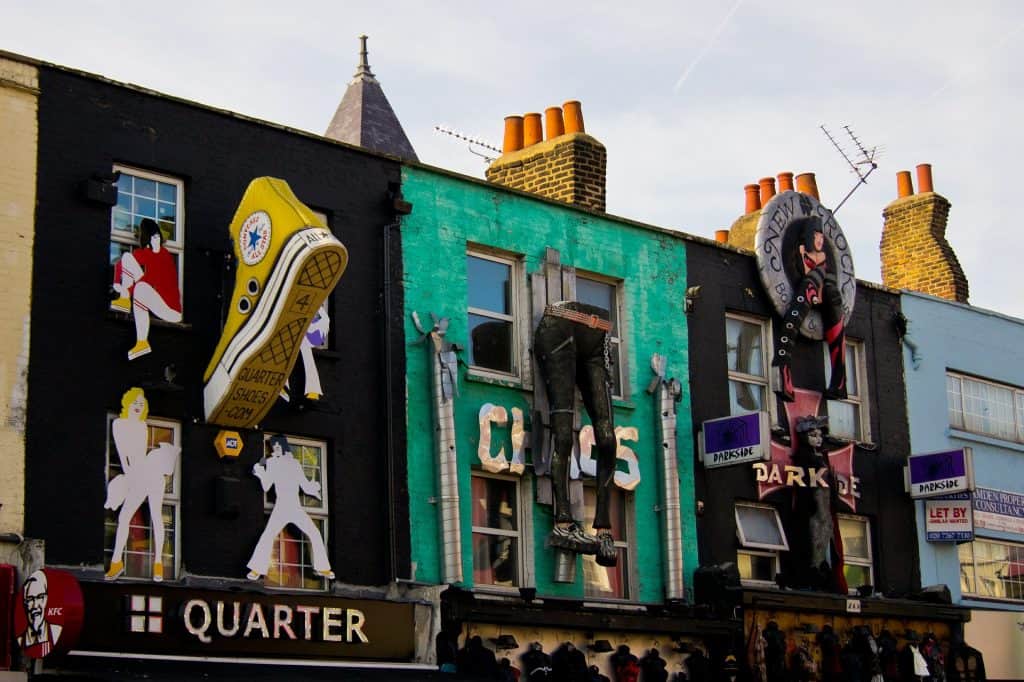 Head to London's East End (areas like Shoreditch and Hackney) if you're on a budget or want easy access to some hipster vibes and nightlife.
This is a popular area of town for start-ups, artists, students and those wanting a bit of a grittier experience than prim and proper London.
Increasingly, as the hipsters move in, this area is becoming increasingly expensive and certainly isn't "grotty" or run down – it's just hip, cool, and got plenty more street art than the other neighborhoods in London!
Good for: Students, young couples, groups of friends, travelers interested in nightlife
5. Bloomsbury and Fitzrovia: best area to stay in London for couples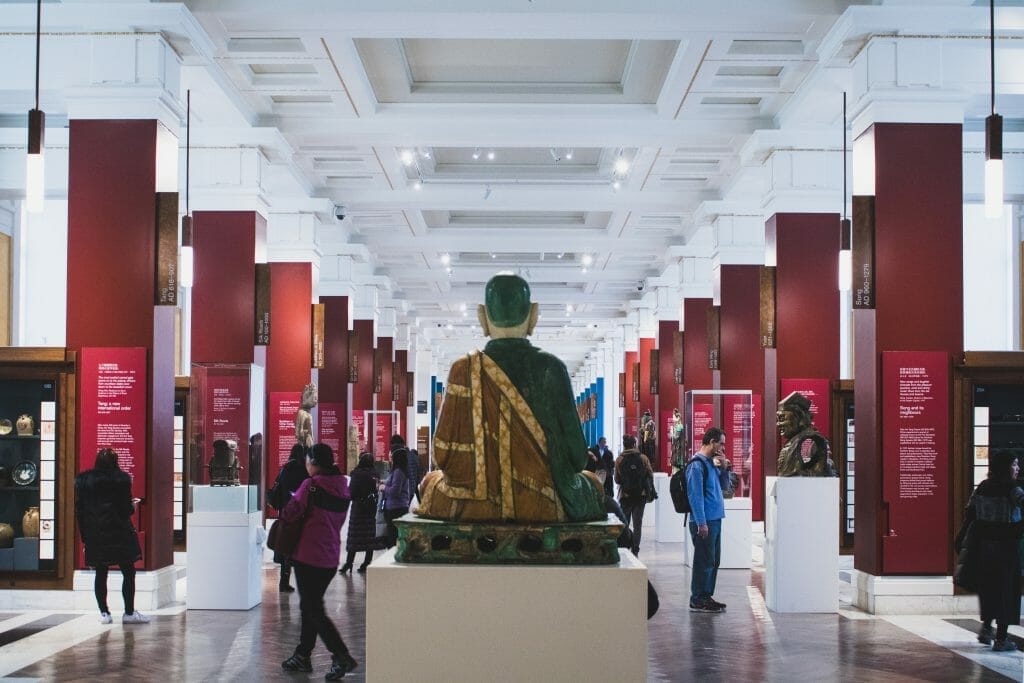 Another one of my all-time favorite areas to recommend to visitors is Bloomsbury and Fitzrovia.
These are adjacent to each other and exist just north of Oxford Street, in between Oxford Street and King's Cross Station.
This is a huge student area with the University of London dorms and universities spread out throughout, as well as lots of literary history.
In this area, you're central enough to easy make your way around the rest of London (not to mention the British Museum is in Bloomsbury, a huge draw), but it doesn't feel quite so heaving with tourists as other parts of the city.
There is something really charming and residential feeling about some of the streets in this area at times, which is a nice way to feel like you're getting to see the "real" London.
Good for: Families, couples, literary lovers
6. The City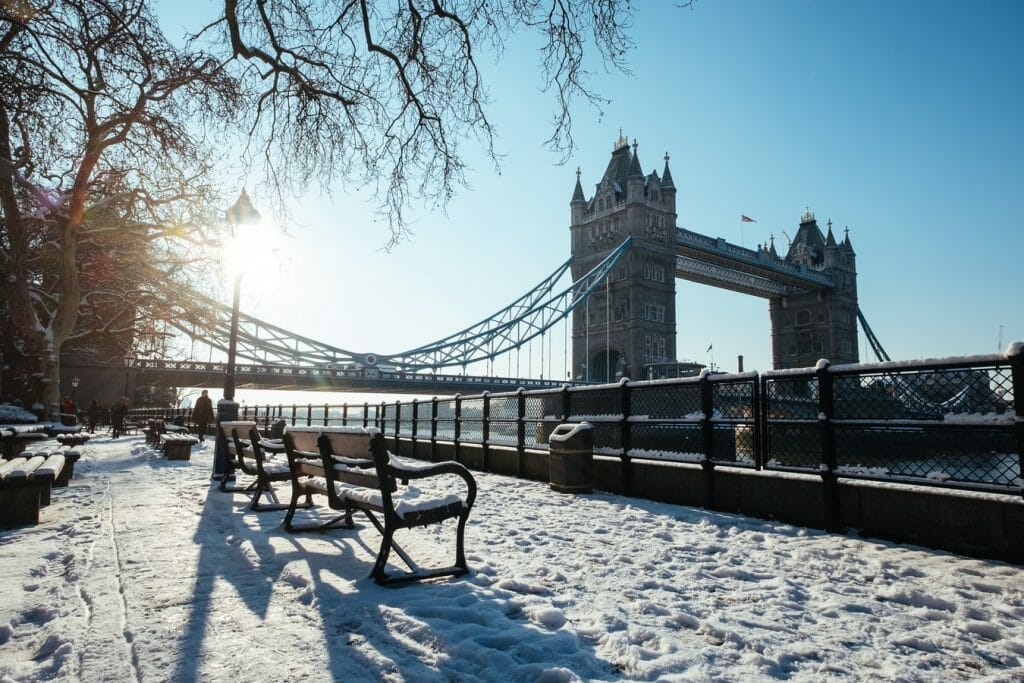 Known as "the City," the City of London is actually just one square mile, and you'll fit it and surrounding areas near Tower Bridge and the Tower of London.
It's the financial district, popular with businessmen in suits during the day and pretty empty in the evenings and on the weekends in low seasons once the workers have gone home, but it can be a great place to stay for easy access to some popular attractions and overall upscale and gorgeous surroundings.
Here, you're walking distance from St. Paul's Cathedral, the Tower of London, the Museum of London, London skyscrapers like the Gherkin and the Shard and many other points of interest.
Good for: couples, history lovers who will appreciate being in the area where London began!
7. Southbank
The area south of the Thames river is known as "Southbank" and is where you can find the London Eye, Christmas markets in London, restaurants, the London Aquarium and Waterloo Station.
You are also just across the bridge, quite literally, from Westminster and Big Ben.
If you want to be super central and wake up to the Thames every morning, the Southbank area can be a good option.
It's not my favorite part of London, but there's absolutely nothing wrong with it – I just think it's touristy and so want you to know that going in.
It's a great space to hang out and very popular.
Good for: families with plans to do the Aquarium and London Eye, people wanting a cheaper place to stay than Westminster while still being close
8. Soho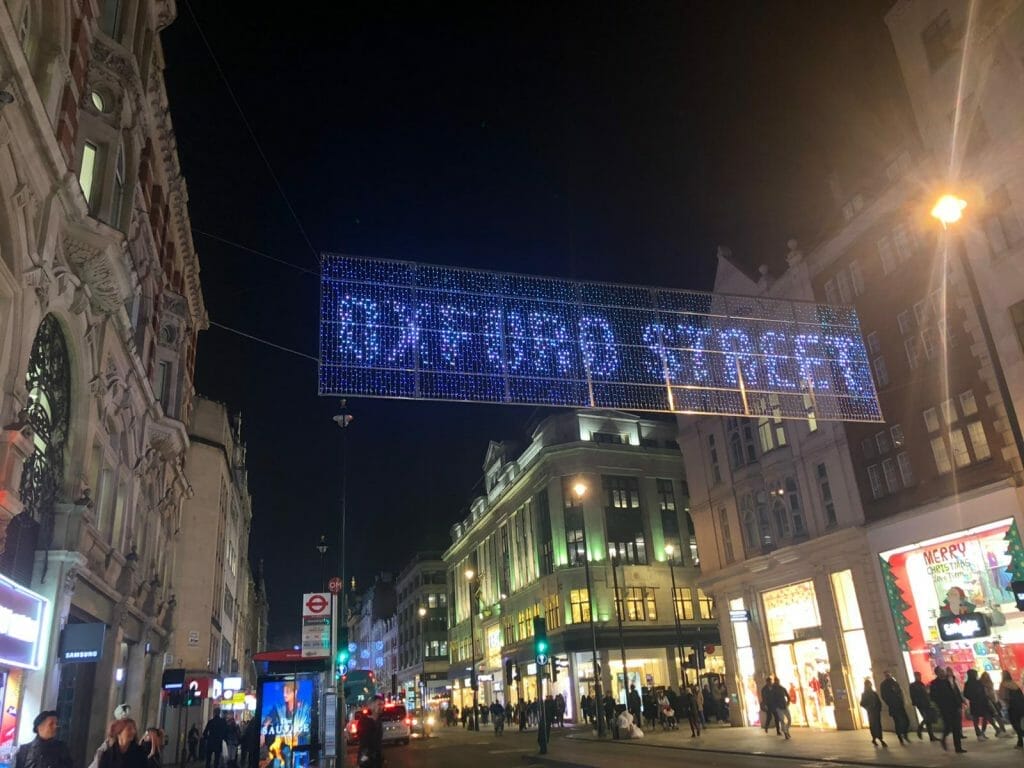 London's Soho stretches from Oxford Circus Station to Piccadilly Circus Station and includes lots of restaurants, culture, bars, pubs, theatre, and more.
It's super central, with a concentration of a lot of the central London nightlife, and you've got the shopping on Oxford Street within walking distance as well as the lights and sounds of Piccadilly Circus.
As far as actual London attractions in this area, Soho is pretty much the attraction in and of itself!
Good for: couples, those looking for nightlife, students, shopaholics
9. Marylebone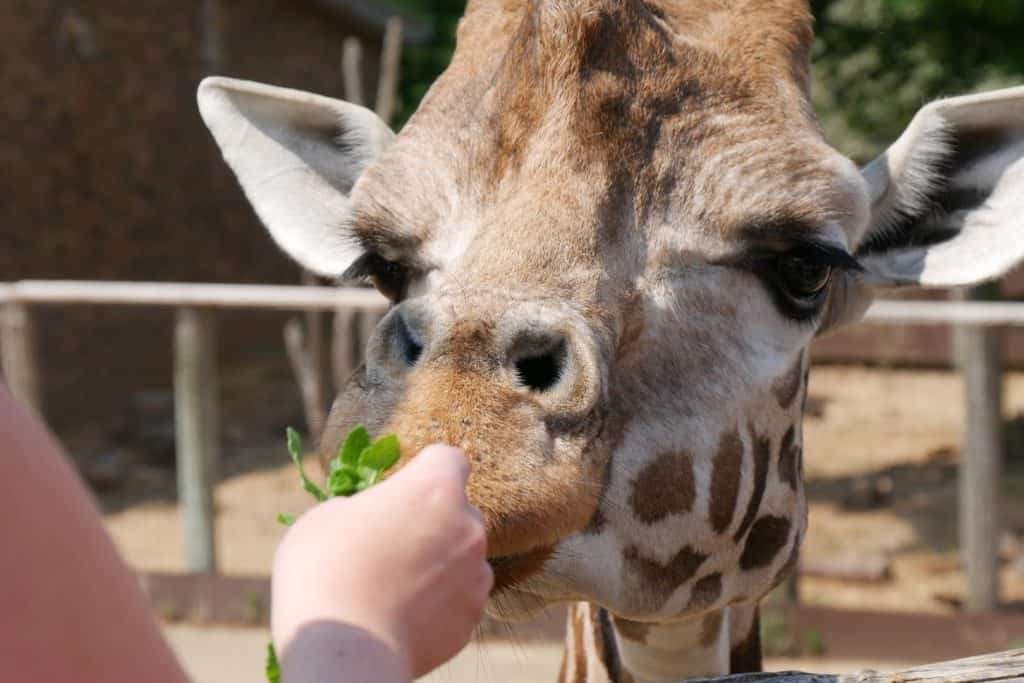 Marylebone isn't always thrown out there as a great place for visitors to stay, but I think it deserves a mention.
This area is bordered by Regent's Park (my favorite) to the North and Oxford Street to the South and within it you've got Baker Street (Sherlock Holmes, anyone), quirky galleries like the Wallace Collection, gorgeous architecture, London's top medical street known as Harley Street, and cool pubs and restaurants.
It's in central London with easy transport links, it feels a bit more open and spacious than some areas of central London, and the draw of staying near Regent's Park can't be overlooked.
You've got the London Zoo, gorgeous views from the park's Primrose Hill, and manicured gardens and a wonderful lake that you can row on that help put this park at the top of my London list.
Good for: families, couples
10. King's Cross: one of the best areas in London to stay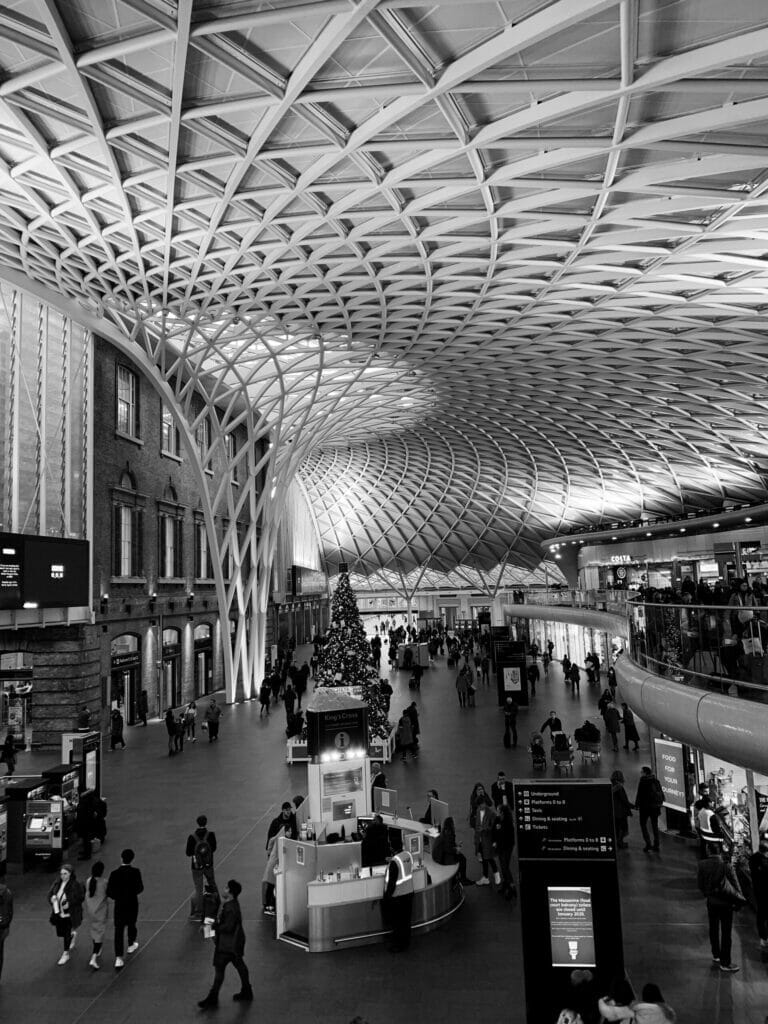 If you want to be close to transport links, including the Eurostar to Paris as well as a large tube station, King's Cross is a great central area of London to stay in.
You'll be next to the British Library, the Wellcome Collection, walking distance to Camden Market, and of course you can visit the incredible Harry Potter store at Platform 9 3/4 within the train station itself.
If you find a flat or a hotel near the King's Cross area, don't hesitate to book it.
Good for: people wanting great public transportation connections in a central London location
11. London Bridge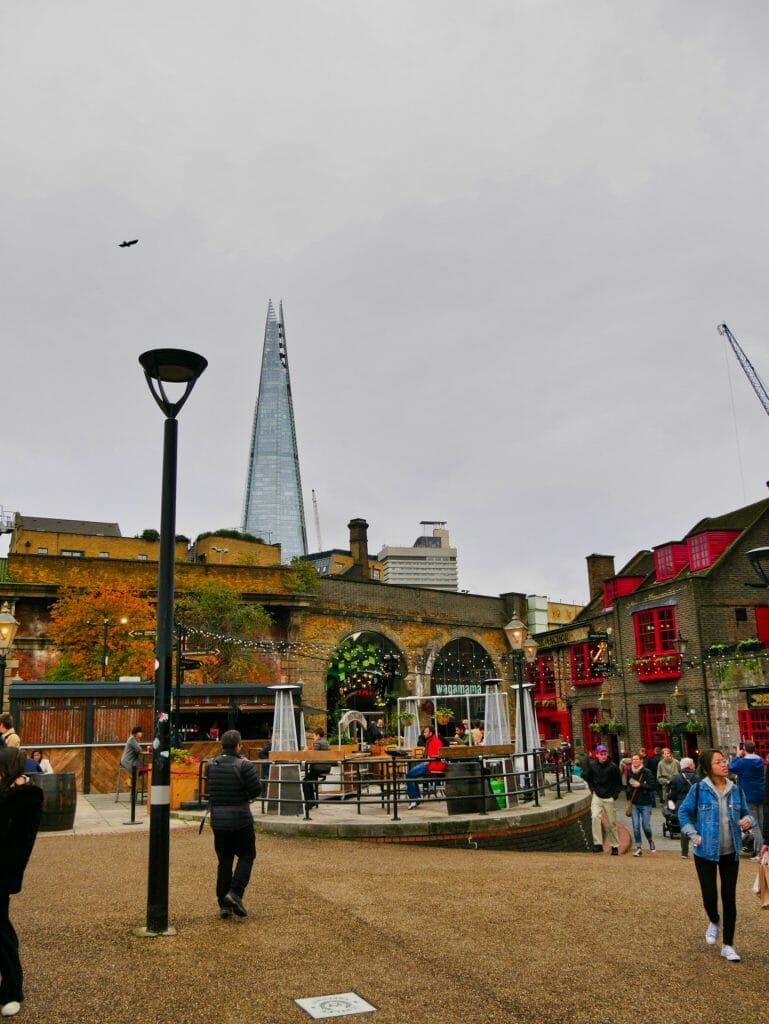 Just south of the River Thames is the London Bridge area, featuring London heavy hitters like Borough Market, Southwark Cathedral, the Golden Hinde and beautiful views of the river.
The London Bridge area has a great tube station, as well as being walking distance to the Tower of London, and it's very safe for families, couples, and solo travelers alike.
I often prefer this location over staying directly next to the Tower of London because you can more easily get to other destinations within London and it can be a cheaper option south of the river.
Good for: people who want a lot of things (and local, more hidden gem attractions) within walking distance
Where Not to Stay in London
As I've mentioned in my London safety guide, London is very safe and there is no where that is categorically "dangerous" as it were.
However, general visitor advice is that the closer into Zone 1 on the tube you are, the better.
There are surrounding areas like Greenwich that are great to stay in, but the further out you go, the more residential the areas become and the more diverse the safety stats.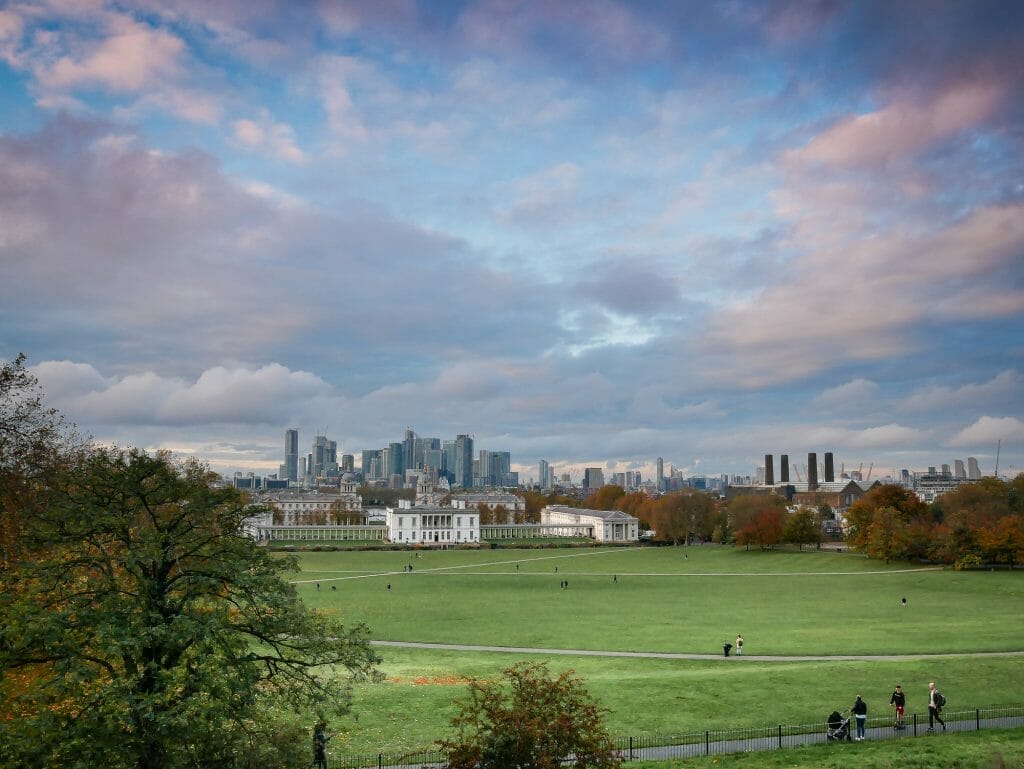 I wouldn't recommend visitors to stay in Camberwell or Peckham in South London, and in fact, much South of the river past Southwark and Waterloo isn't the best place to stay for visitors either.
What else should I not miss in London?
If you're visiting London soon, here's a very brief rundown of a few of my other favorites to make sure you don't miss anything!
Want more helpful London guides? Check these out!
UK Travel Planning Guide: the FAQs
🏥 Should I buy UK travel insurance?
Absolutely yes. Basic coverage is not expensive, and as a visitor you are NOT covered under the NHS. Compare policies and prices with Travel Insurance Master here, a big name in the travel insurance business, and cross that off your list.
🔌 Do I need travel adapters for the UK?
Yes, you do, otherwise you won't be able to plug in your electronics/phone/lifelines. I recommend this one, which is all-in-one so you can use it in other countries.
🚗 What do I need to drive in the UK?
The first thing you need to check out if you're planning on renting a car in the UK is this guide to driving in the UK for visitors – the roads, signs, and driving experience will likely not be what you're used to and it's essential to prepare yourself to stay safe and aware.
🛌 What's the best way to book hotels in the UK?
For UK hotels, Booking is the best site as it offers free cancellation on many properties. If you want an apartment, I always recommend VRBO over AirBnb.
📳 Will my phone work in the UK?
Yes – if you set it up right. Check out my guide on making your foreign phone work in the UK to ensure that you get the type of service you need.
🚿 Can I drink the water in the UK?
Yes, UK water is great and perfectly safe. But drink out of taps in any kitchen or use water fountains. Double check before drinking out of the taps in hotel bathrooms, though, as they may be on a different system.