This post contains affiliate links for which I may make a small commission to help keep the site running. You will not be charged extra for these items had you not clicked the links. Thank you for your help to keep the site running!
While London isn't exactly known as the romance capital of the world (and for good reason – the King doesn't exactly endorse PDA!), that doesn't mean that there aren't tons of things to do in London for couples and London date ideas, ranging from days at the park to late night museum events to cozy cinema experiences.
My first date with my now-husband was in London, as well as many dates after that, and considering I hate Paris (read more about why here), traditionally known as the most romantic city in the world, I would go for romantic things to do in London every time.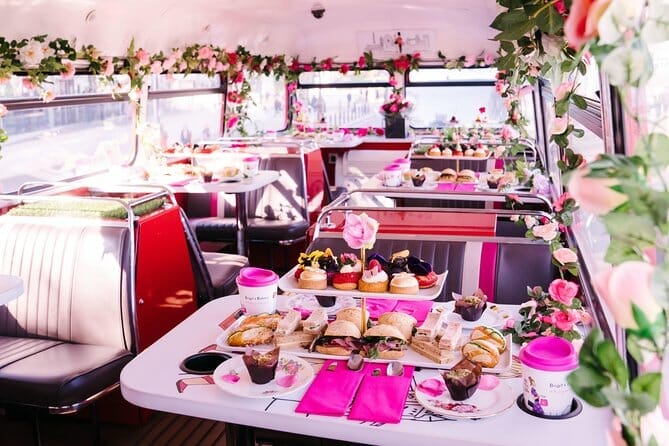 It doesn't matter who you are, who you're dating, or what you like to do, you'll find something to keep the sparks alive with this list of couple things to do in London.
The Absolute Must-Knows (from a Londoner)
Fun Things to Do in London for Couples who Like to Eat (aka everyone)
I'm not going to lie, my preferable date in London involves eating somehow.
Whether it's breakfast buffets in the UK, lunch at a pub or dinner at a pizza restaurant, I'm all in for the food.
If you're the same way, check out my list of great things to do in London for couples that involve food!
GET A

FREE

LONDON INTRO GUIDE and ACCESS TO MY FB GROUP
Start your planning with this "Intro to London" guide and access to my London planning Facebook group!
1. Have Afternoon Tea at Bea's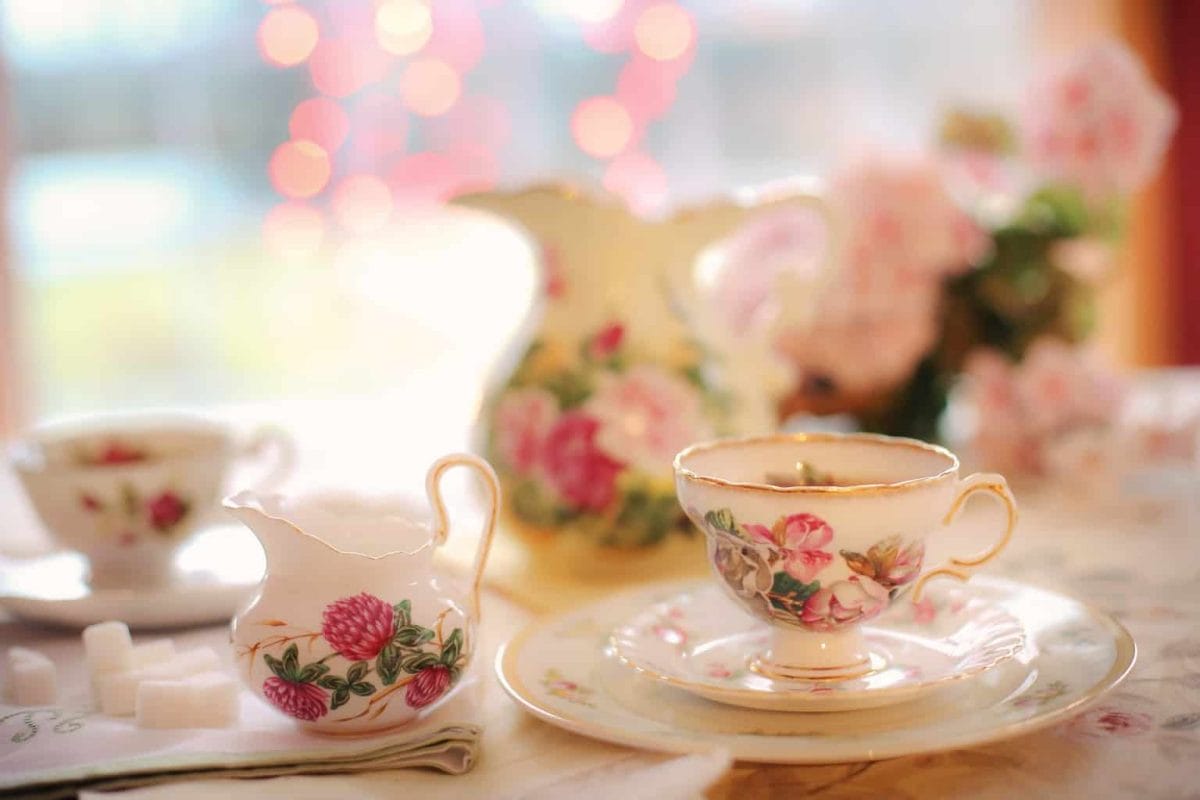 Having afternoon tea in London is just an essential for any visitor, but when you have so many to choose from, it can be hard to decide.
I've been to a lot of different teas in the UK, but my favorite one for couples is Bea's.
Bea's has locations in Bloomsbury, St. Paul's, and elsewhere, and while they are not the fanciest, they are still really nice and good food.
I prefer this type of atmosphere for a London date that's a bit more casual rather than spending your entire paycheck at the Ritz anyway.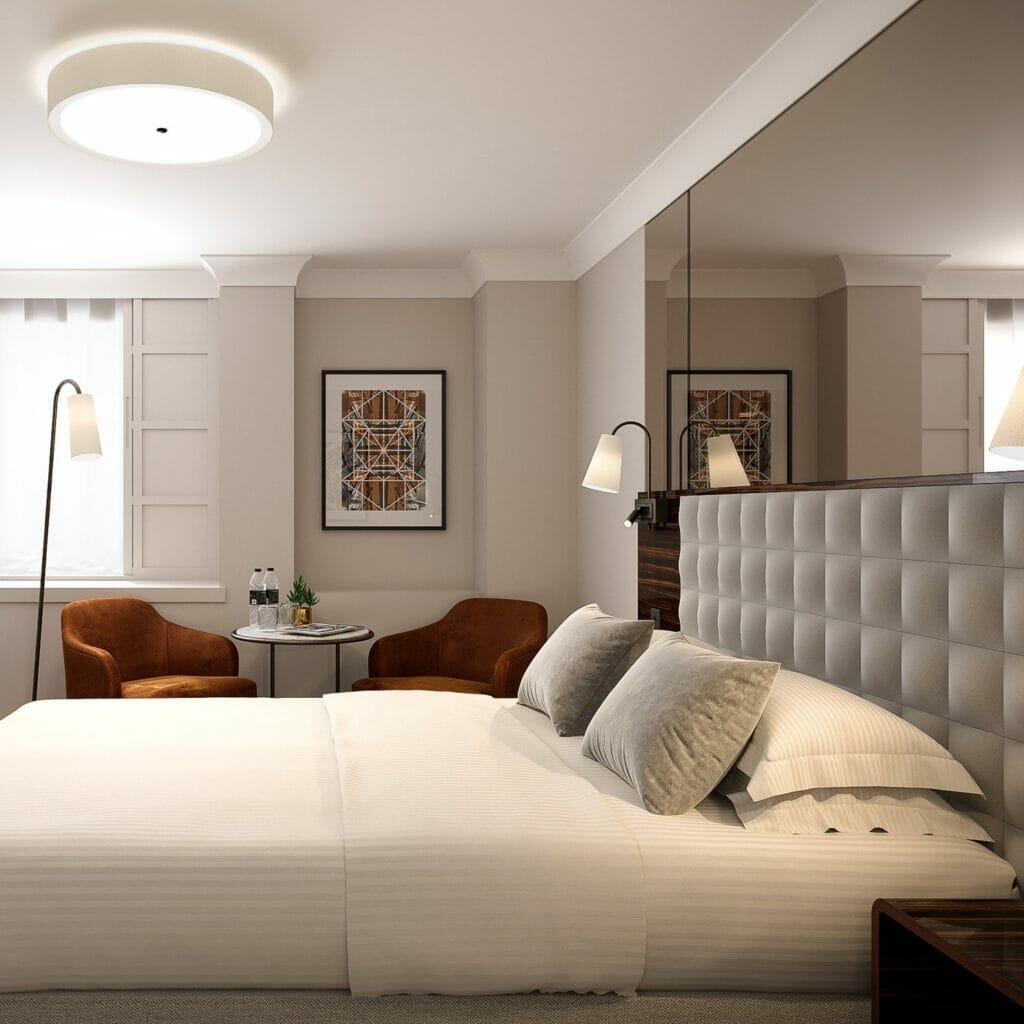 2. Enjoy a Pub Lunch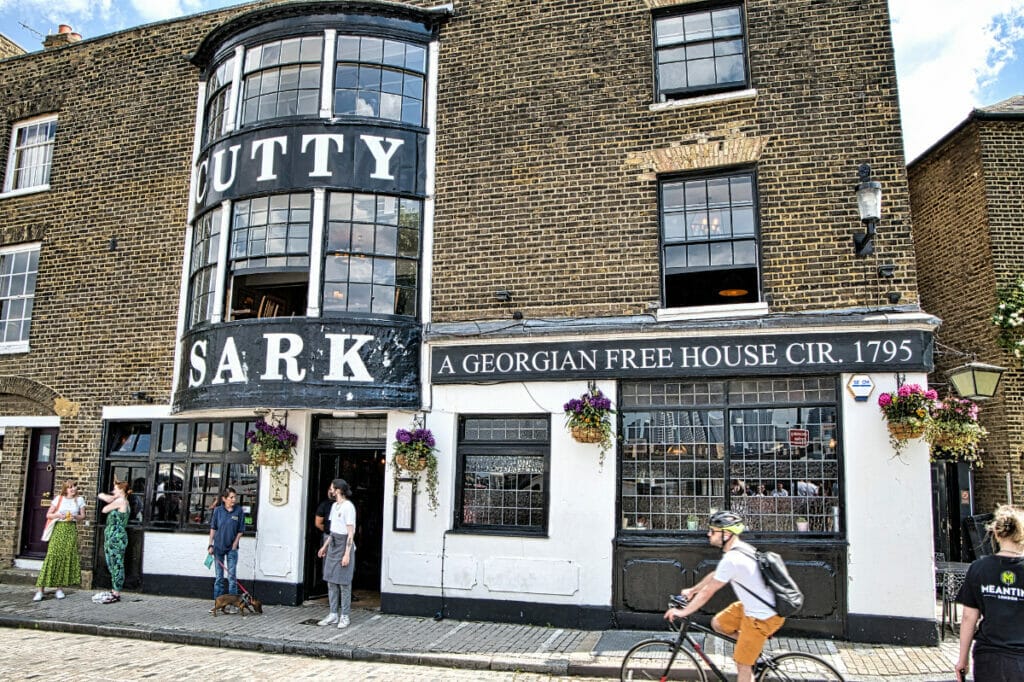 There's nothing more quintessentially London than a pub lunch.
It's a great way to get to know someone, sitting around and talking with them for hours on end while a cozy fire roars next to you and you chow down on some British classics.
My one tip with finding a pub for a romantic date in London is to go for ones that are darker and cozy rather than chain pubs that tend to be a bit glaring.
Go for something with history, like the Mayflower in Rotherhide.
IMPORTANT: are you coming to the UK from abroad?
In case you're reading this from outside the UK and will be a foreign visitor here, you need to know these 2 things to stay safe and save money.
Travel insurance – you need it when going overseas! I use

this site

to get the best quotes and purchase my packages from. Do not skip this – having medical coverage abroad as well as other coverage in case of missed flights, lost luggage, etc is essential. As I said, I have never gone wrong using

this site

.
3. Attend a Chocolate Making Class: fun activities in London for couples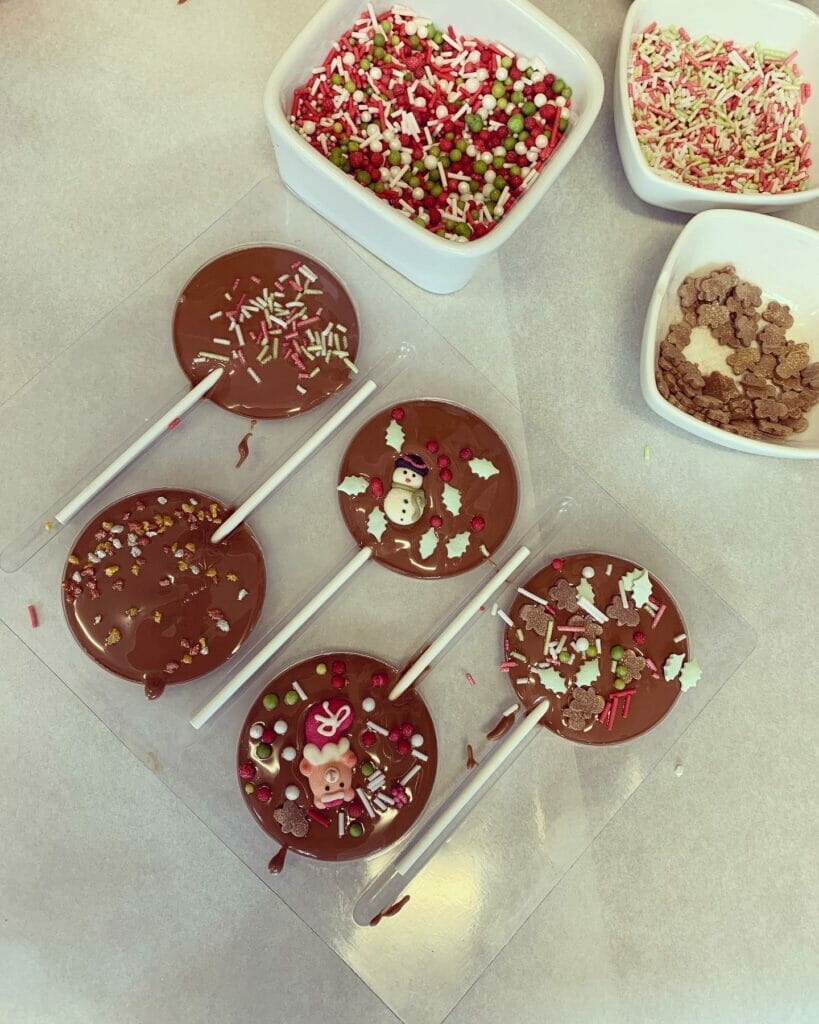 I haven't met too many couples in my life who don't like chocolate, so I feel safe to advise on a chocolate making class as a great food-inspired thing to do as a couple in London town.
For the ultimate in chocolate making, do a workshop at the Chocolate Museum so you won't be able to escape from this delectable treat.
You can also often find a lot of chocolate making experiences on sites like Last Minute and Virgin Experiences, meaning that you could give this as a gift to your loved one for a special occasion and use it at a later date.
4. Eat Your Way around Borough Market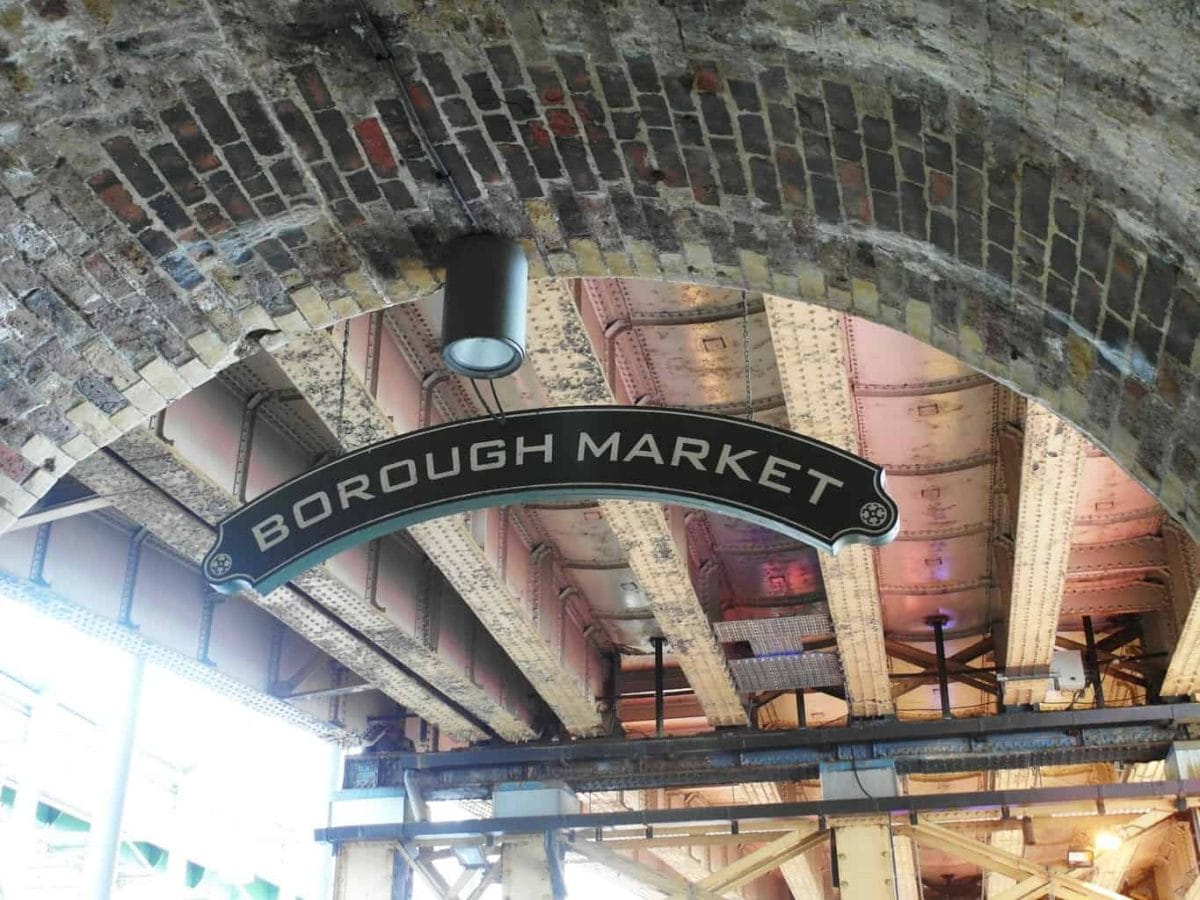 If you don't want or need a set schedule, but do want some delicious food, spend the afternoon browsing the stalls in Borough Market and eating on the go as you wander around and take in all of the sights and smells.
Borough Market is London's leading street food market and in addition to selling fresh food, also sells ready to eat meals that cater to the visitor who wants to enjoy a snack or their lunch as they're walking around.
There are also regular demonstrations on at Borough Market in nicer weather, so you can both learn how to make delicious meals at home.
5. Go out for Ice Cream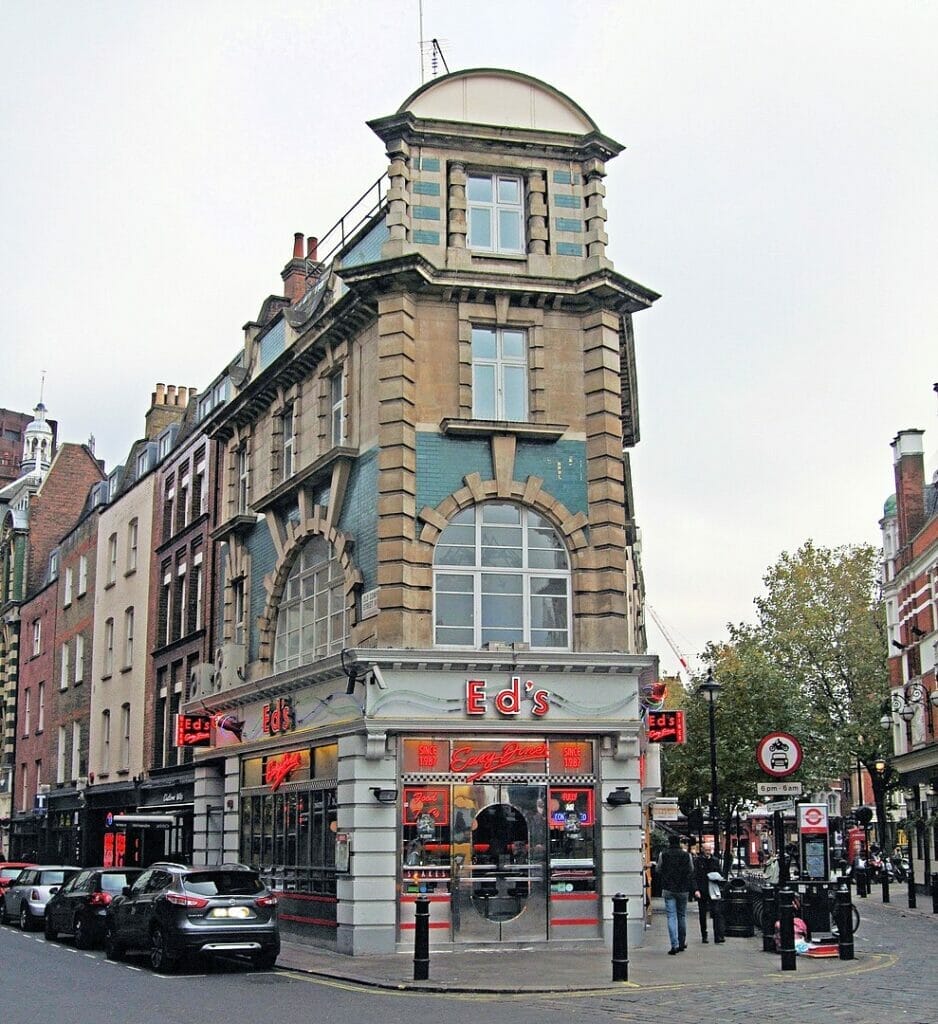 My husband took me to get milkshakes on one of our first dates, which was basically the way straight to my heart because despite my lactose intolerance, I love a milkshake.
While this one won't necessarily work as well in the depths of winter, give it until summer time and then spend a sunny evening at somewhere like Ed's Easy Diner enjoying gigantic Oreo milkshakes and reminiscing on favorite childhood memories.
6. Eat at a Romantic Restaurant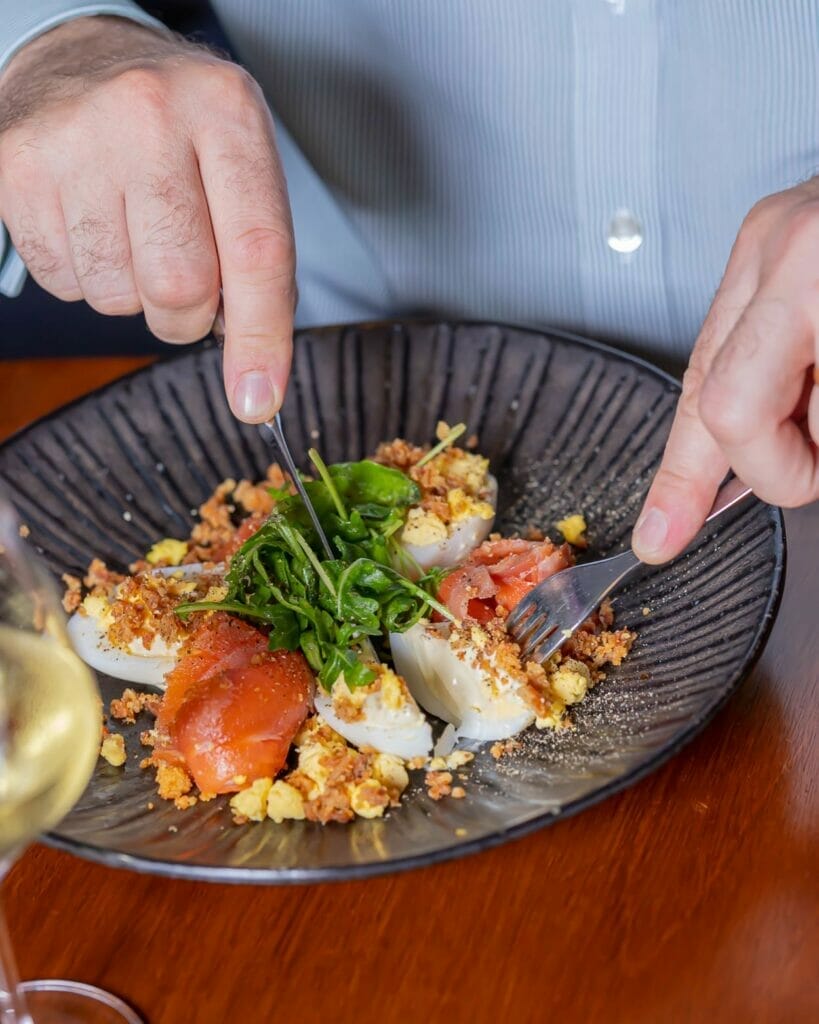 Of course, sometimes you just want to go to a proper dinner – not ice cream, not a pub, not a food making class.
And that's perfectly fine, because London has you absolutely covered with both family-friendly and fine dining restaurants to choose from.
7. Have drinks on a Rooftop Bar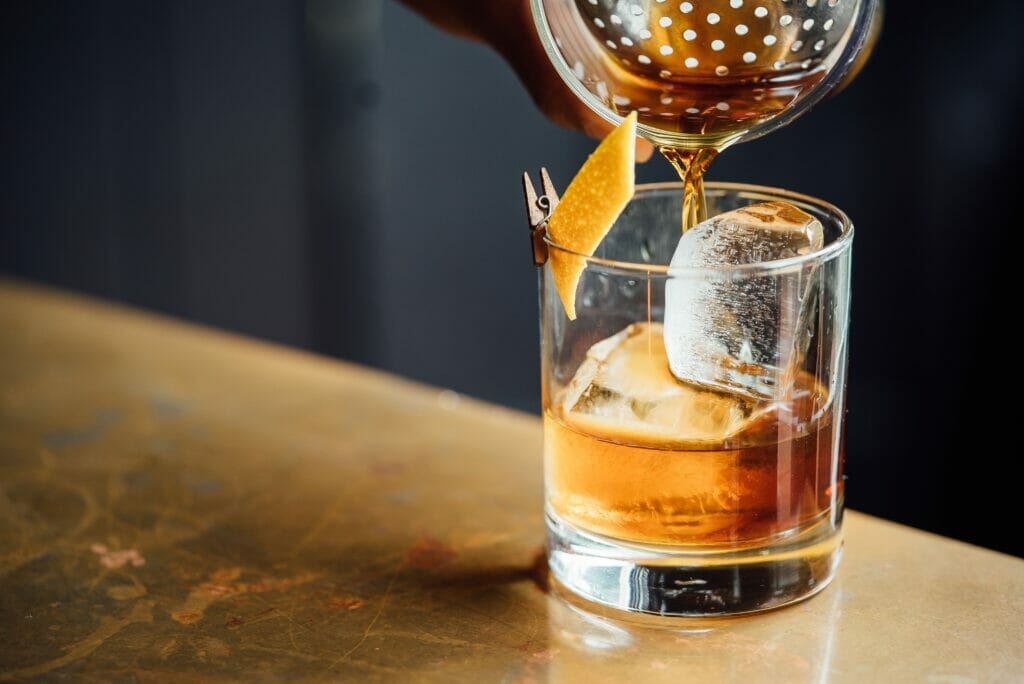 You wouldn't be on a romantic date in London without enjoying some time on a rooftop bar, would you?
Well, maybe you would but I wouldn't recommend leaving this option off the table.
In good weather, there's nothing more enchanting than sitting on a rooftop adorned with fairy lights watching the city twinkle while indulging in a perfectly blended drink.
It's a great way to finish off a night after dinner, or to start the night before you head to your dinner reservation or other activity.
Or, of course, you can just spend the whole night chatting and trying out the different cocktail combinations.
Check out the Sky Pod Bar as a great option.
Active Things to Do in London for Couples
If you're one of those adorably active couples who just like to workout together and skip hand and hand through a field of daisies, well I both envy you and also have a list of great active things for couples to do in London.
They range from walking to skating to rowing to escaping (more on that in a minute), but they'll keep you on your feet and laughing together as you explore the world's most amazing city.
8. Walk hand in hand through Southbank
Known as Southbank because it's the stretch on the south of the River Thames, Southbank is a great place to go for a stroll together or even a jog if you're up for that.
As you run along, you'll pass cultural icons like the National Theatre, shops and restaurants, the London Eye and eventually you'll be able to spot Big Ben and the Houses of Parliament.
This is very much a city atmosphere, not "outdoorsy" as such, but you can definitely keep active along the Southbank.
9. Escape Game
Who doesn't love an Escape Game?
While it might not be active in the sense that you're completing a marathon, you'll be busy running around trying to solve puzzles and work together in ways you haven't had to before.
I wouldn't recommend escape games for a first date in London because it's a lot of pressure and who needs more of that on a first date, but for a future date or with your established significant other who isn't going to break up with you once they realize you're a total idiot when it comes to solving puzzles, go for it!
For some of the best ones, check out Escape London.
10. Go Kayaking in Camden Lock: fun things to do in London for couples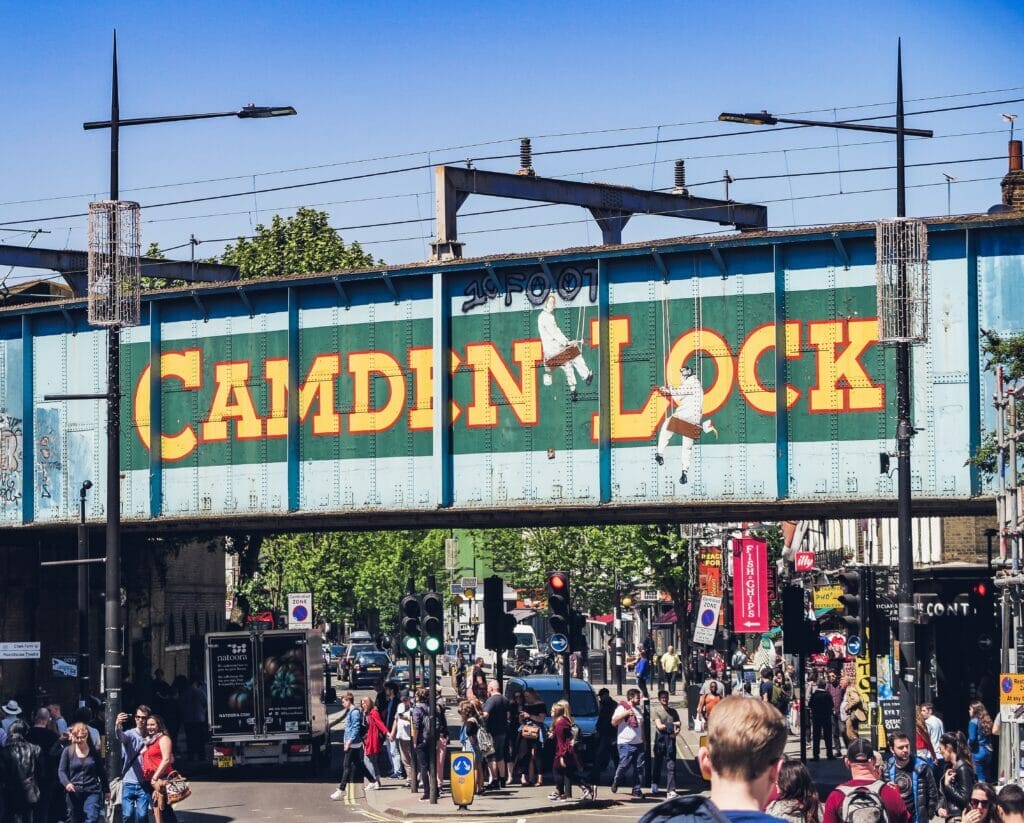 Picture this.
You're floating along in your kayak, lazily paddling your way through a beautiful waterway surrounded by trees and people jogging, biking or walking on the pavement above.
This is Camden Lock, and while you can bike or jog on the trail, you can also take to the water in a kayak and see it from a whole new point of view.
This is a great thing for couples to do in London who want to do something a bit off the beaten path while still being in the city.
11. Ice Skating in Winter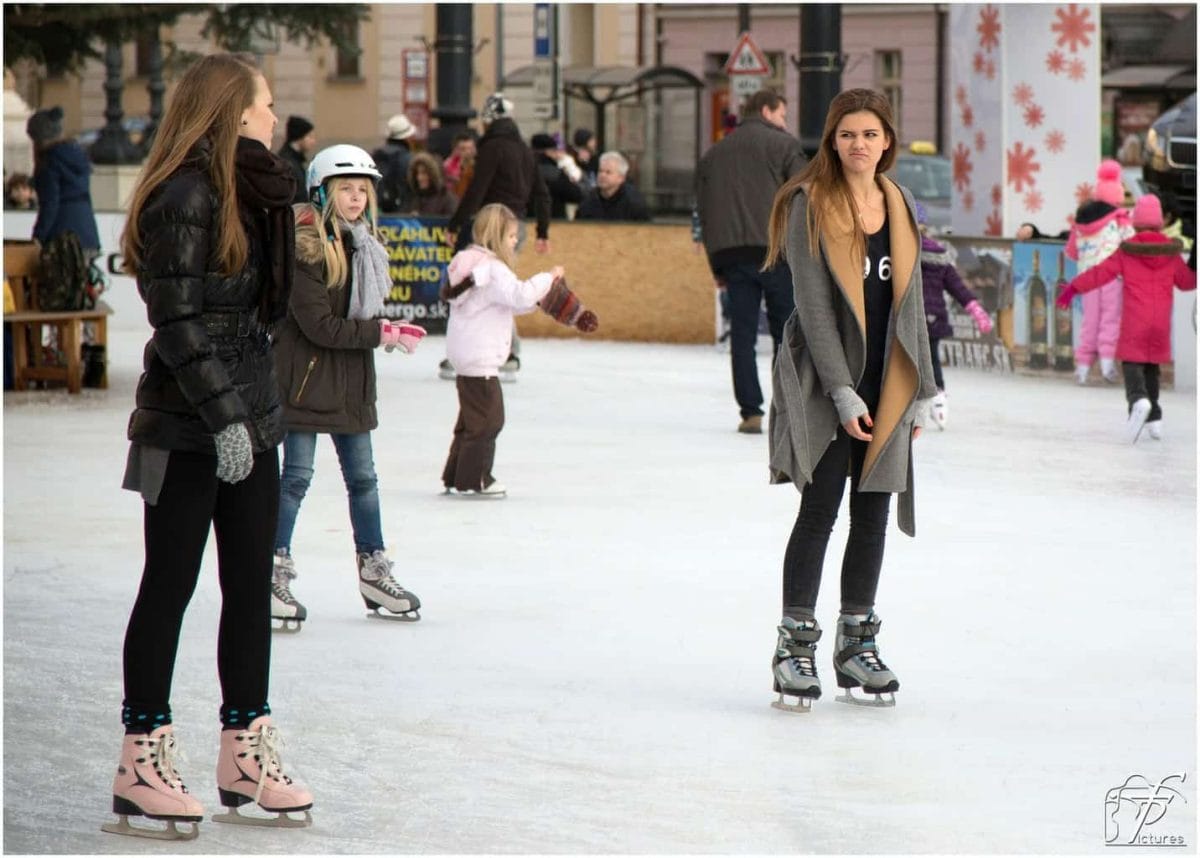 If you're heading to London in the winter, you have to the traditional date night idea of taking your loved one ice skating!
There are rinks set up all around the city, so it's simply a matter of finding one that suits your tastes.
We prefer to skate at Somerset House for its beautiful location.
If you really want to lay it on thick, pretend that you can't skate very well (or simply be your natural self if you indeed can't) and let your date help pick you up and teach you how to put one foot in front of the other.
Everyone say, "Awww!"
12. Hire a Pedalo in Hyde Park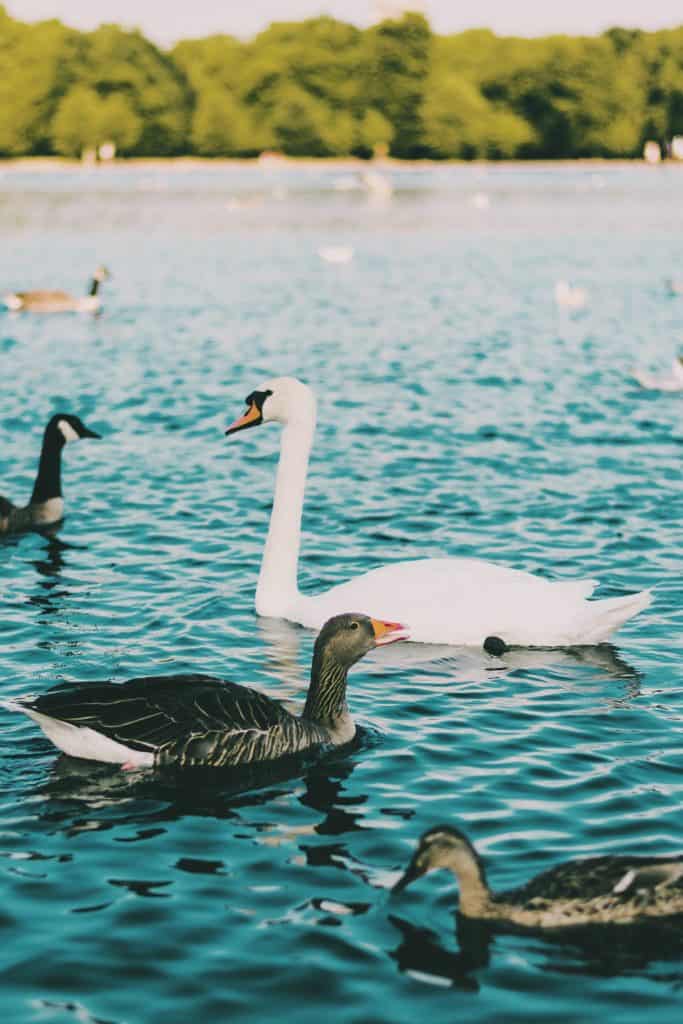 Hyde Park is a great place for couples to relax, but it's also a wonderful place to burn some calories!
Hire a pedalo, which is a boat that you pedal, to take out onto the Serpentine Lake in the middle of Hyde park.
On a gorgeous summer's day, this is all the rage and you can peddle as much as you want to get around the lake as fast as you can, or you can simply pick a spot on the water and let the water bob up and down around you as you do some people-watching.
One word of warning, though: the last time I rented a pedalo, I got absolutely covered in bird poop from above, so bring a change of clothes in case you're preparing for a fancy night out!
13. Ride a bike through Olympic village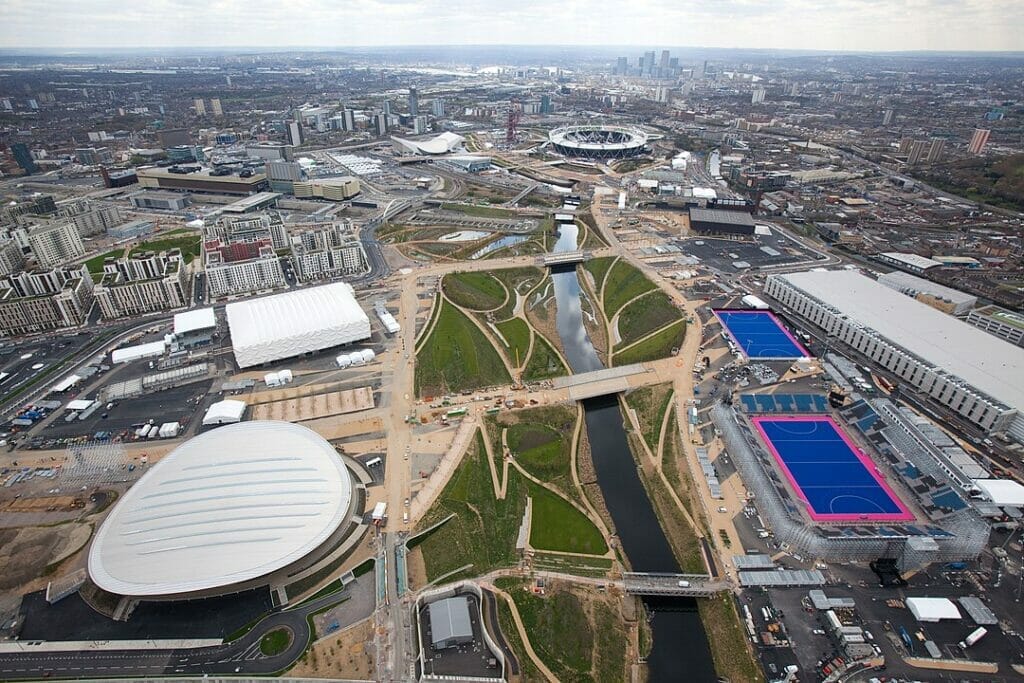 London encourages bike riding throughout the city with the rental "Boris bikes," now owned by Santander, that you can find throughout the city.
While I wouldn't recommend going on a date in London where you dart and weave your way through dangerous traffic with your loved one, if you head out to the Olympic Village in East London, there is plenty of room to ride without causing harm to yourself or others, and you can stop off and see some of the Olympic buildings used in London in 2012.
This is great for sports loving couples in London who want to both be sporty and check out sporting event history.
14. Go bowling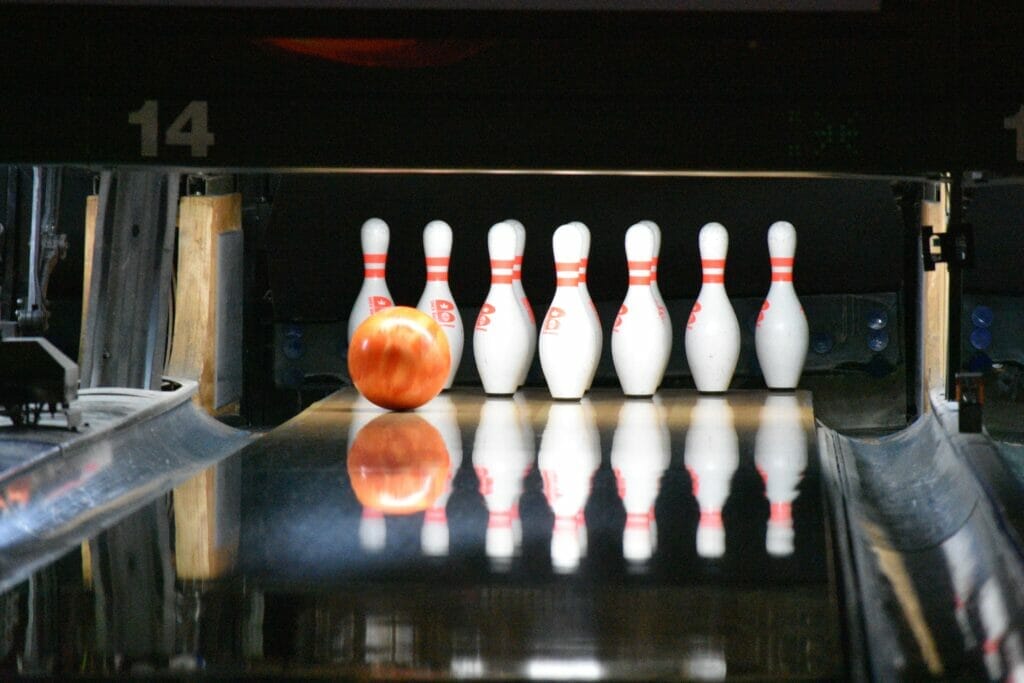 While, sure, bowling might not be the most "London" idea for a date, there will always be something romantic about a bowling date in London and you should know there are some bowling alleys ready for you and your date to strike (but hopefully not strike out).
We went bowling on my first date with my husband, in addition to loads of other things, and while I don't remember who won, I do remember that it was a nice way to get to know each other while also having something else to do so we weren't too intensely staring into each other's eyes.
Of course, bowling shoes weren't included in my essential London packing list, but no worries, you can rent them at the alley.
15. Spend time at London Zoo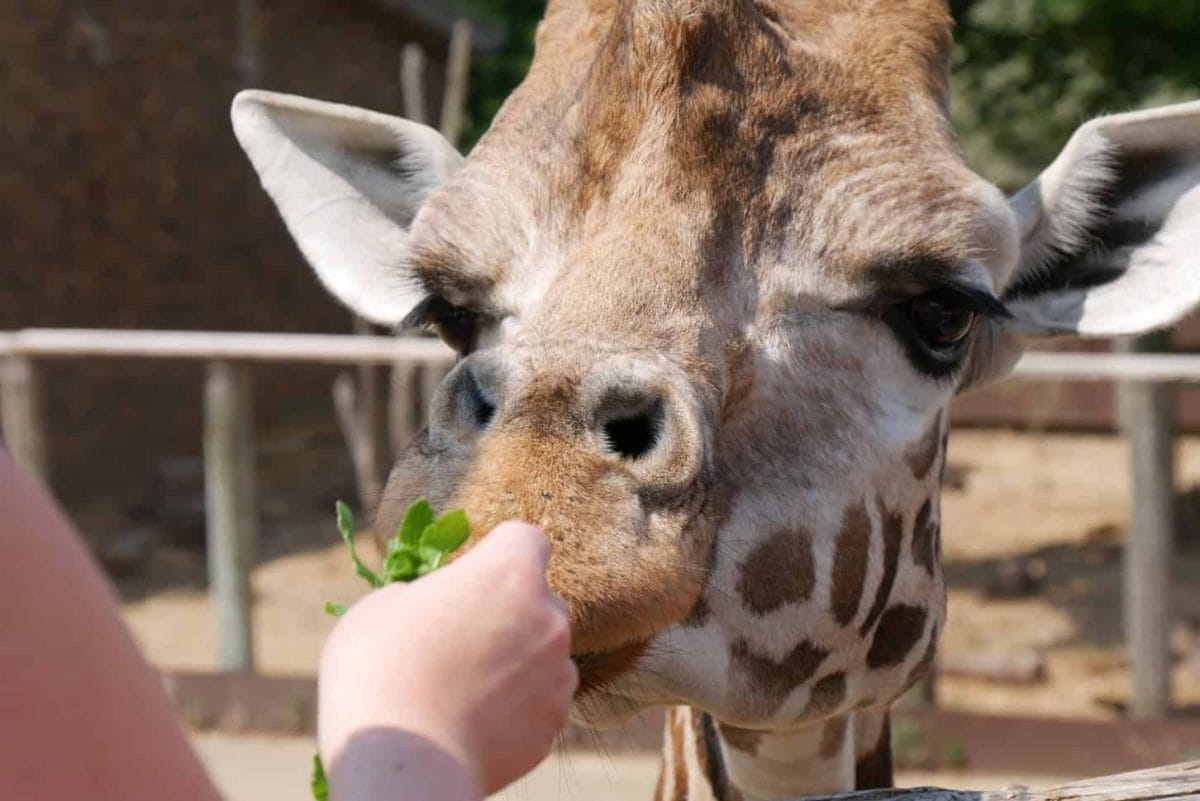 For animal loving couples in London, one of the most romantic things to do can be to spend an afternoon at London Zoo.
Nestled just next to Regent's Park, the London Zoo has some lovely animals including giraffes, sloths, and some monkeys.
If you're worried about animal welfare, know that London Zoo and its sister zoo, Whipsnade Zoo, are dedicated to conservation and the best quality of life for the animals in their care.
16. London Dungeon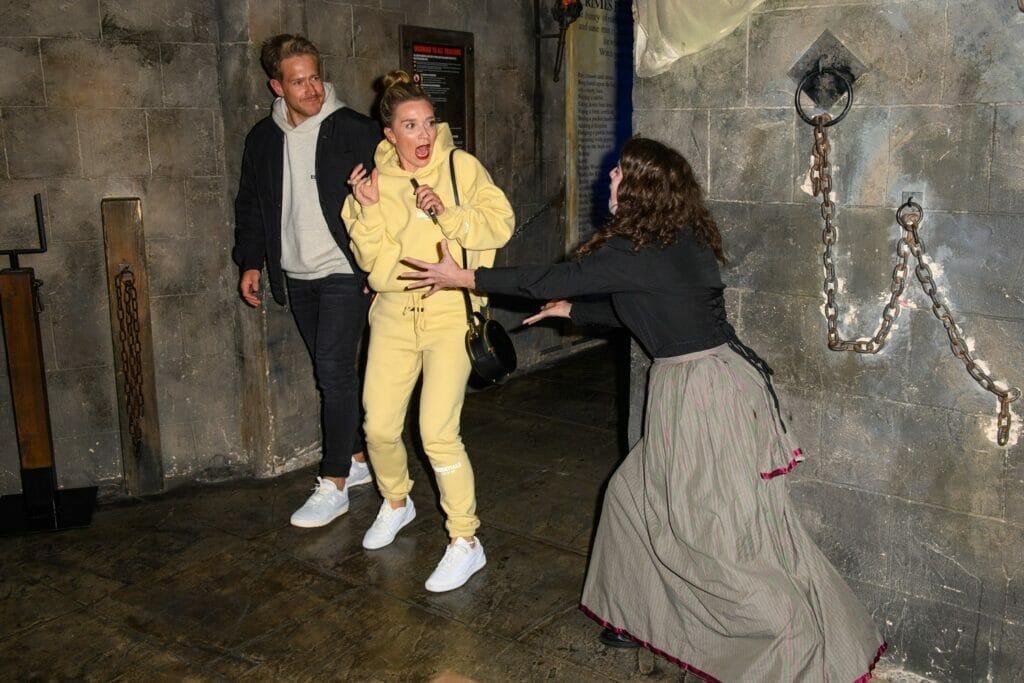 Okay, I'm going to recommend the London Dungeons as an active thing for couples to do in London only because I feel like you spend a lot of time hiding and jumping as you wind your way through this interactive experience.
The London Dungeon isn't necessarily a historical site – it's more of a touristy entertainment site that does teach you some things about what life would have been like for London residents and prisoners back in "the day."
Particularly around Halloween, this is a great place to take a date in London if you know they like horror movies and being scared.
Otherwise, stick to something tamer!
Relaxing Romantic Things to Do in London
It doesn't always have to be go-go-go, even when you are in a bustling city.
Instead, you can take a step back and relax with the one you love the most with these relaxing things to do for couples in London.
17. Watch the Sunset from Primrose Hill: couple activities in London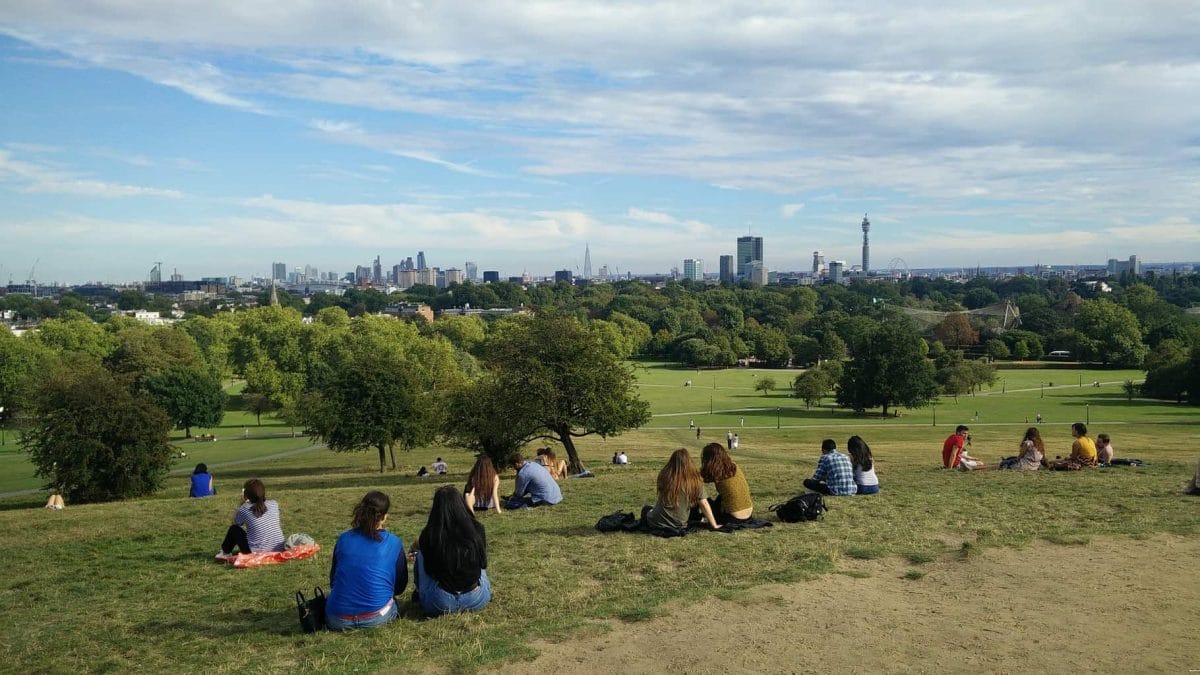 Primrose Hill is my favorite spot in all of London.
Sitting adjacent to Regent's Park, you can climb up it and sit on the hill and overlook part of the London skyline.
It's such a cool atmosphere and really chilled out.
People are having picnics, just sitting and talking, or further down the hill, running around and maybe kicking a ball back and forth.
For your relaxing evening out, plan to catch the sunset from here.
You won't want to miss it.
18. Enjoy the Views in St. James Park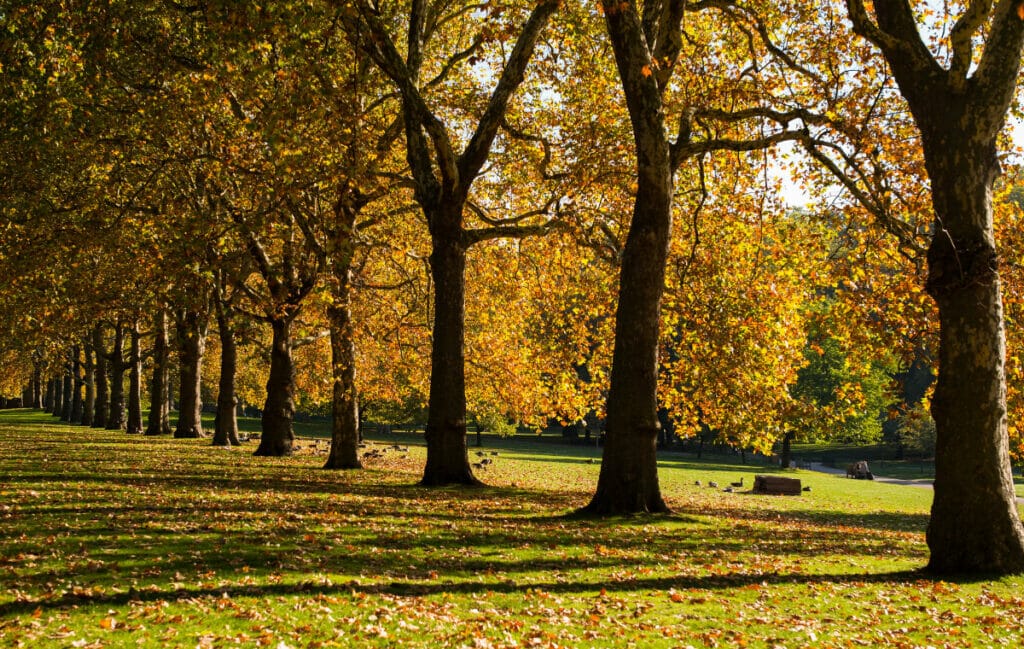 Right across from Buckingham Palace, St. James Park is an amazing London park to relax in because of the picturesque views and fantastic location in central London.
Walk across the quaint bridge to get gorgeous shots of one of London's most iconic landmarks, or just sit on a bench and watch kids feed the birds.
This park does tend to be busier than ones like Hyde Park because it's much smaller, but I still think it's a really relaxing thing to do in London when you have a free afternoon.
19. Listen to the Sounds of Jazz at a Jazz Club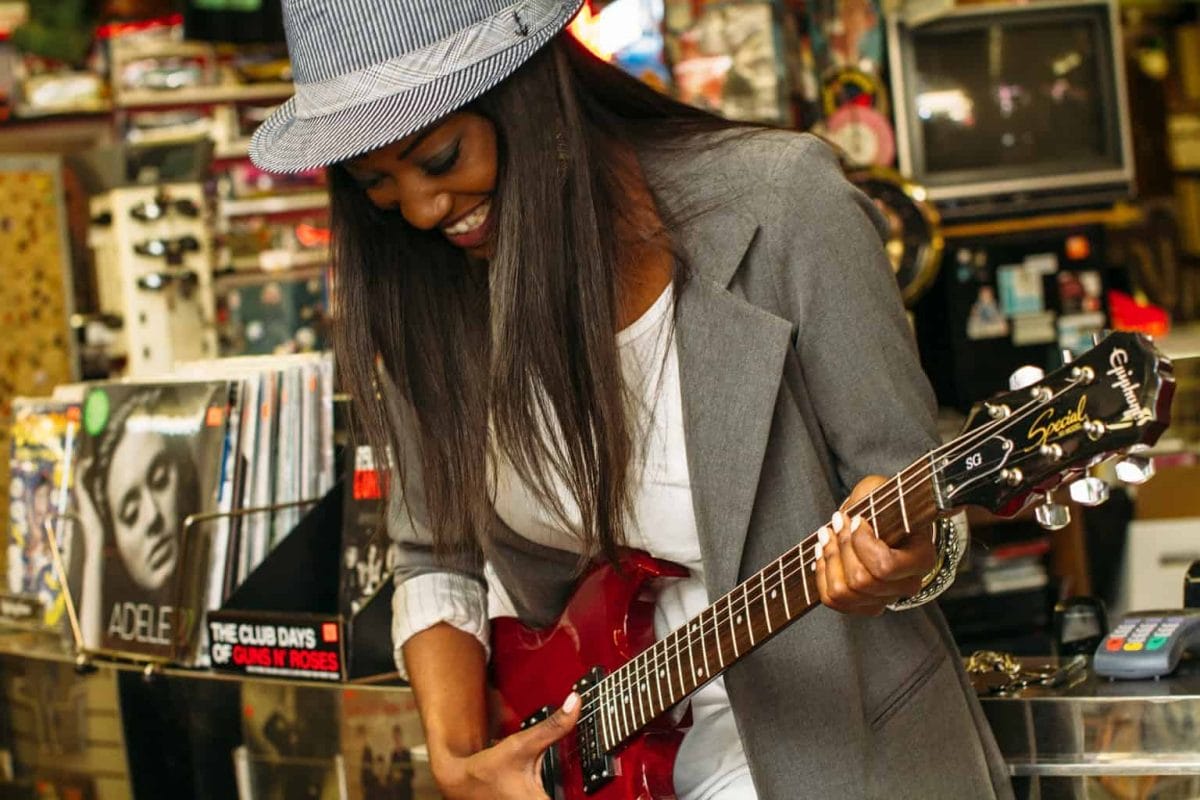 London has plenty of jazz clubs where you can sit back, relax and listen to the sounds of jazz float through the room.
These are spread around the city, but you'll find a particular concentration of them in Soho.
Oh, and did we mention that some Pizza Express restaurants now have a jazz club attached?
Literally you can sit and eat pizza with your partner while in a Jazz Club.
Yes, please.
20. BBC Proms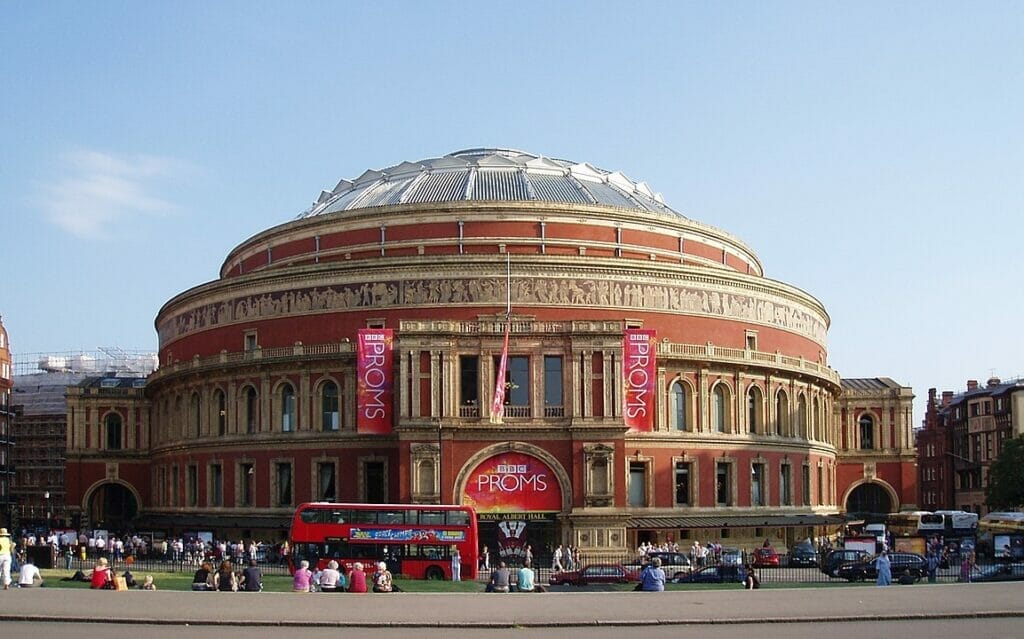 Every summer, the BBC's premier classical music concerts take place at Royal Albert Hall, and they're known as "the Proms."
Now, this isn't an American style prom with awkward music and chaperones, but instead a swanky event with wonderfully trained musicians showing off their skills.
The Royal Albert Hall is a gorgeous venue as it is, and the Proms bring them to that next level of complete sophisticated.
Get tickets to the Proms to let yourself be carried away by the sounds of classical music so you can drift off to sleep last night with pleasant sounds in your head rather than the roar of the London Underground.
Romantic Things to Do in London for Culture Lovers
Just because you're hanging out with your significant other in London doesn't mean you need to miss all the culture and history!
Incorporate it into your time spent together as a couple in London and soon you'll be annoying each other with all of the fun facts you've learned!
21. Visit Buckingham Palace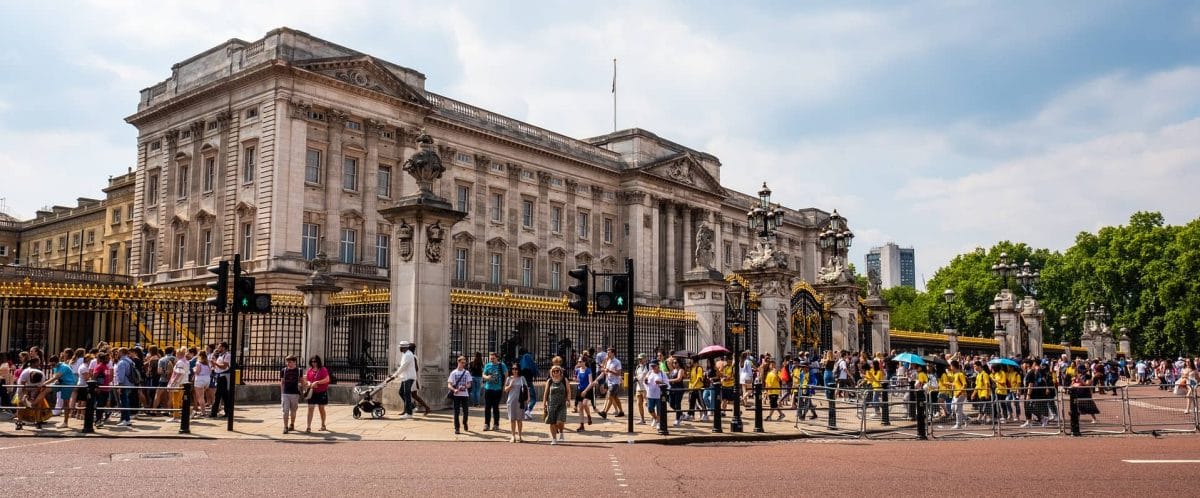 Is there anything better than actually stepping foot inside the Queen's palace while trying to impress your other half?
In the summer months, certain parts of Buckingham Palace is open to visitors while Queenie is away, and you should definitely consider stopping by here for some royal history and window shopping for the gold-plated furniture you'll have in your first house together.
Make sure to purchase tickets ahead of time as the tickets have times on them and are prone to booking up.
When I was a study abroad student in London, this was the highlight of my semester.
22. Look at Art at the National Gallery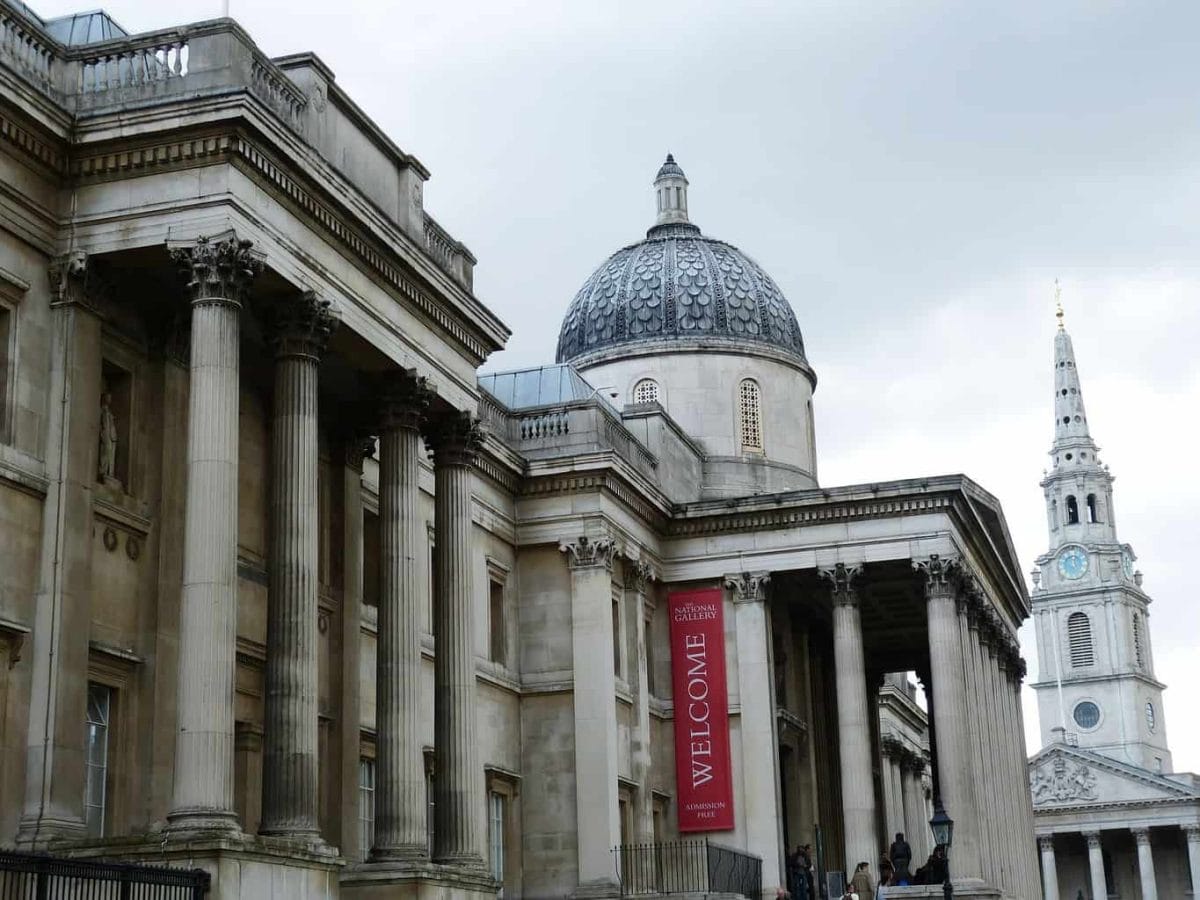 Whether you're an art guru or just like to stare quizzically at paintings, you can explore a whole treasure trove of British art at the National Gallery.
Situated overlooking Trafalgar Square, just walking distance from Big Ben, this is a wonderful place to spend a few hours in a morning or afternoon.
Not to mention, if you visit the National Gallery as a couple, you'll be pleased to know that there is a wonderful café for you to hang out and chat in after your visit to talk about what you've seen and plan your future adventures.
23. Hampton Court Palace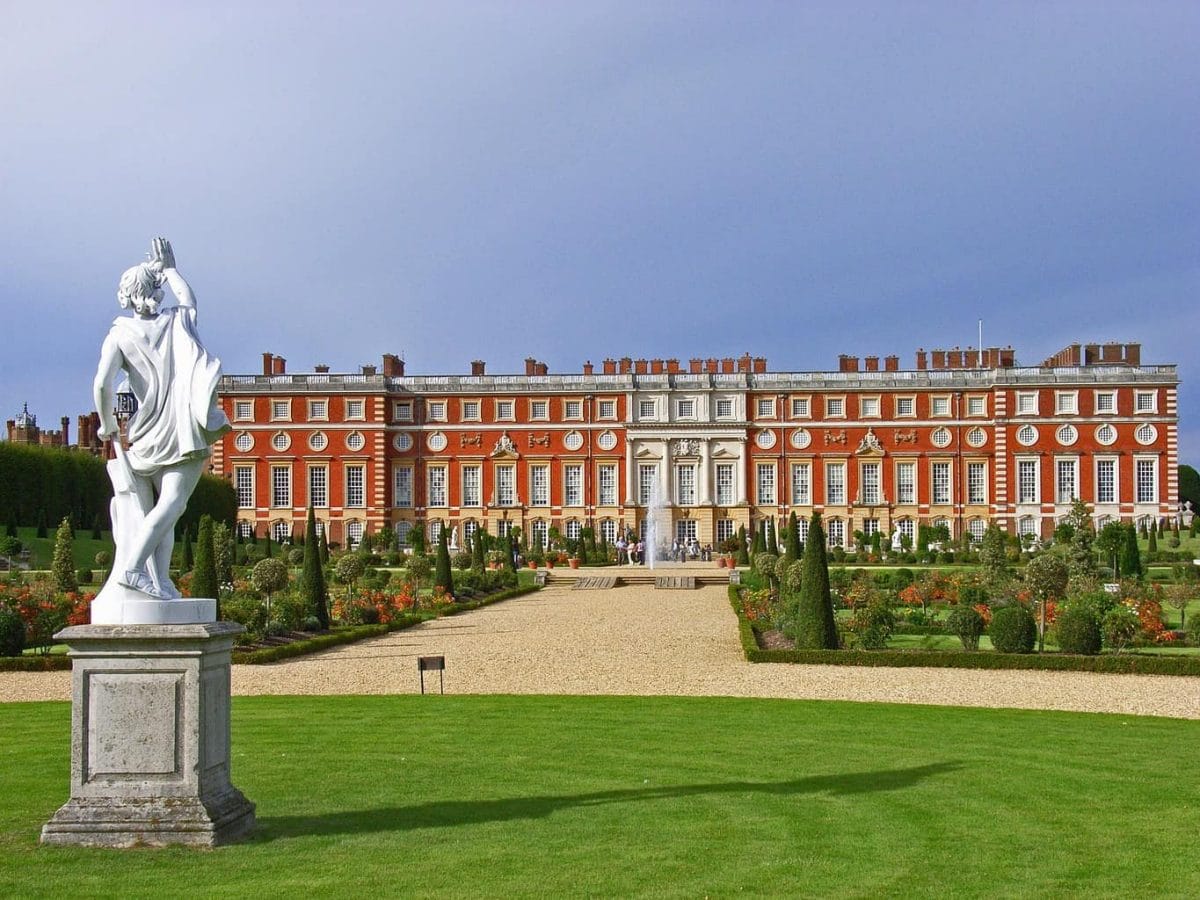 Ready for a bit of an adventure?
Travel to Hampton Court Palace by riverboat on the Thames and soon you'll be exploring the grounds of this gorgeous palace, walking hand-in-hand with your own prince or princess.
Not only can you explore the inside and see the historical exhibits set up in the rooms, but you can also explore the large grounds and the vegetable and flower garden that is lovingly tended to.
Oh, also it might be haunted so you know – nothing says romantic like running way from ghosts together!
24. Crown Jewels at the Tower of London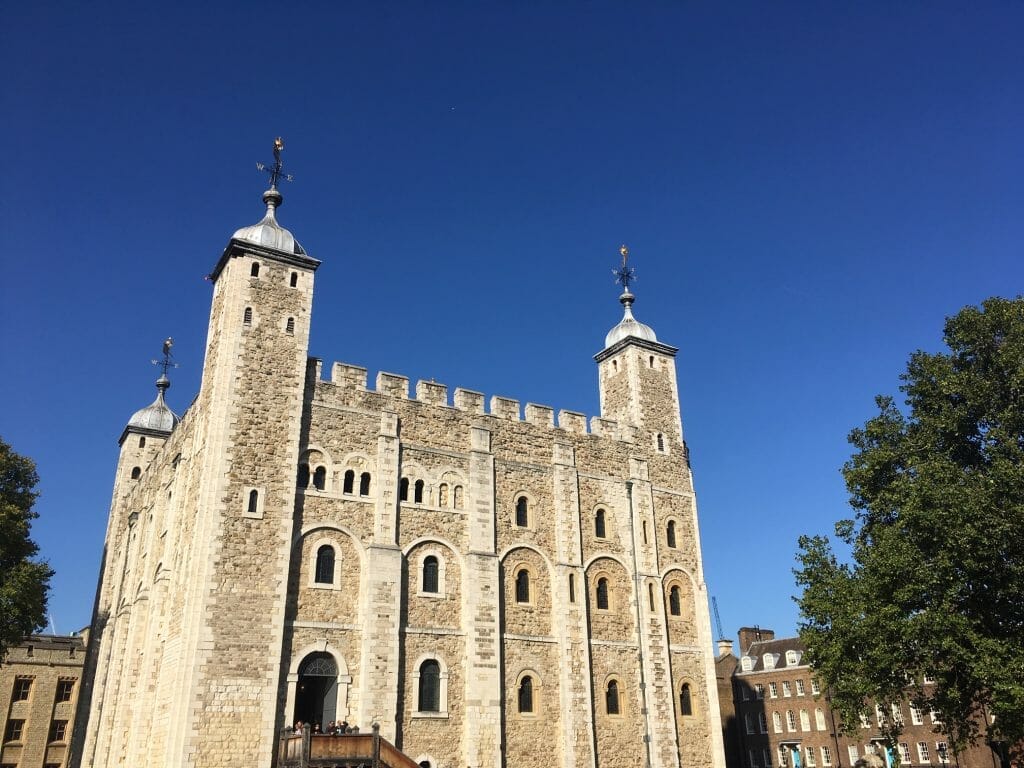 While I wouldn't consider the Tower of London itself particularly a romantic thing to do in London (learning about torture may turn you off a bit), I do think it's worth a visit with your significant other to spend time in the room with the Queen's crown jewels on display.
These are the real deal – the tableware, crown, and other jewelry that was used on her coronation day and belongs to the Royal Family.
There is also an exhibit featuring footage of Queen Elizabeth II on her coronation day, which is an uplifting and lovely way to forget all of the medieval torture chambers you just learned about.
25. Go to the top of St. Paul's Cathedral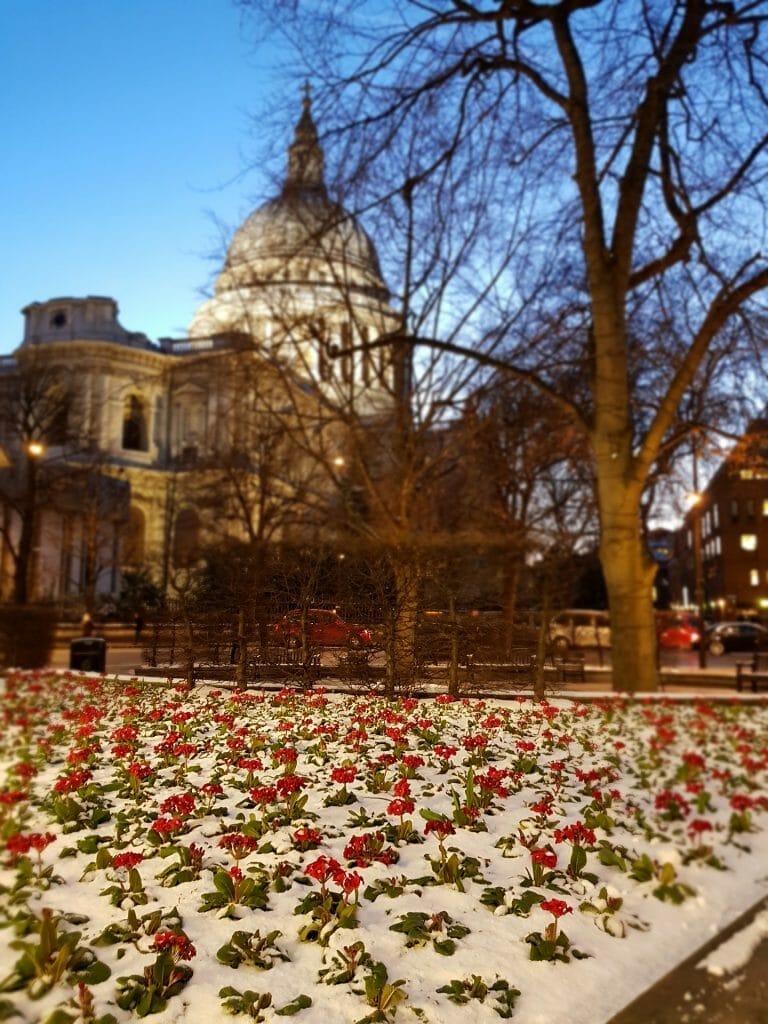 St. Paul's Cathedral, designed by Christopher Wren, is one of London's leading landmarks and a true slice of both past and present London history.
Of course you can explore this together with your history buff girlfriend or boyfriend, but what's even more romantic is walking through the narrow staircase all the way to the top of St. Paul's Cathedral, where you can look out and see the city from a unique vantage point that only favors those willing to put up with the winding stairs.
26. Take a Bus Tour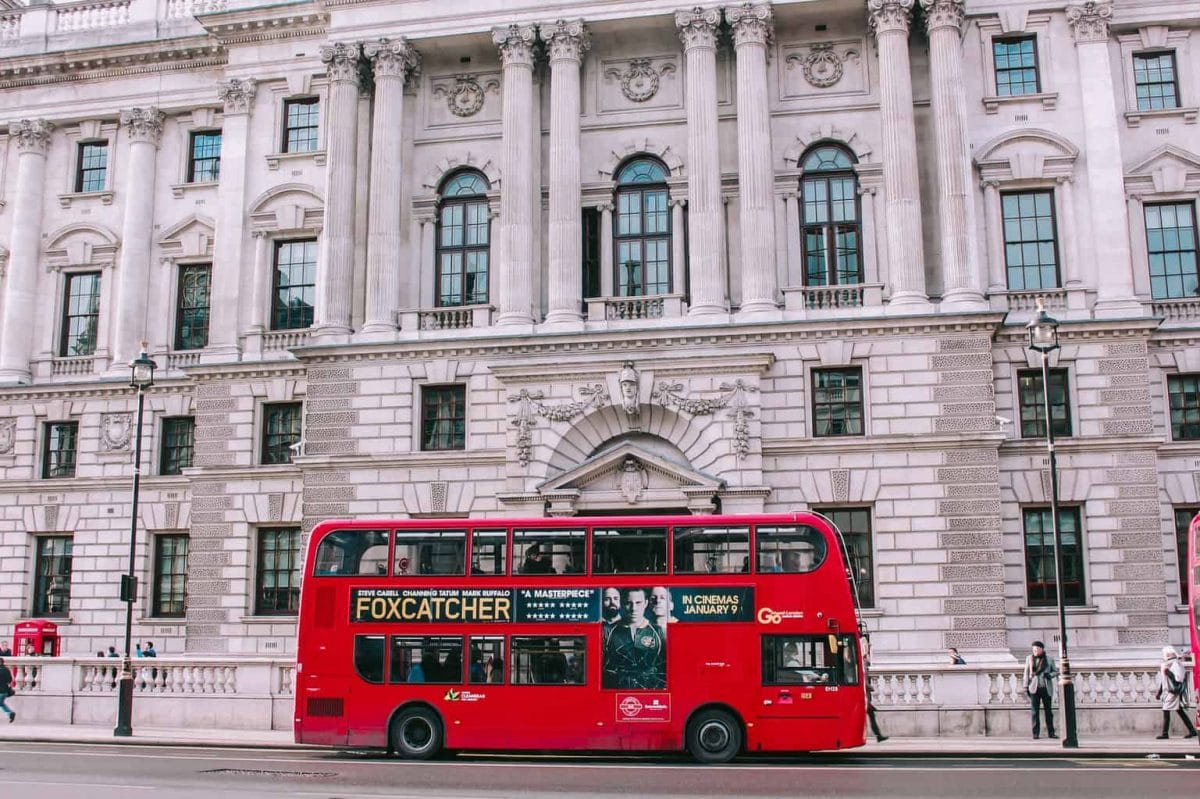 If you're completely new to London and want to experience some culture and history in a hurry, you can always hop on a dedicated London bus tour.
You can choose from ones with experienced live guides talking you through the attractions you're seeing, ones that have a hop-on/hop-off element so you can plot out your own journey, or ones that give you recorded guides so you can follow along in your language of choice as the bus zooms around the city.
Outdoorsy Things to Do in London for Couples
When I first moved to London, I was afraid I was in for a concrete jungle full of skyscrapers and no green space.
Luckily for my suburban loving self, what I found was plenty of parks, nature and green spaces to enjoy.
If you're a couple who is also looking to get back to nature in London, I've compiled some of the best outdoor things to do in London for couples.
27. Take a Boat tour of the Thames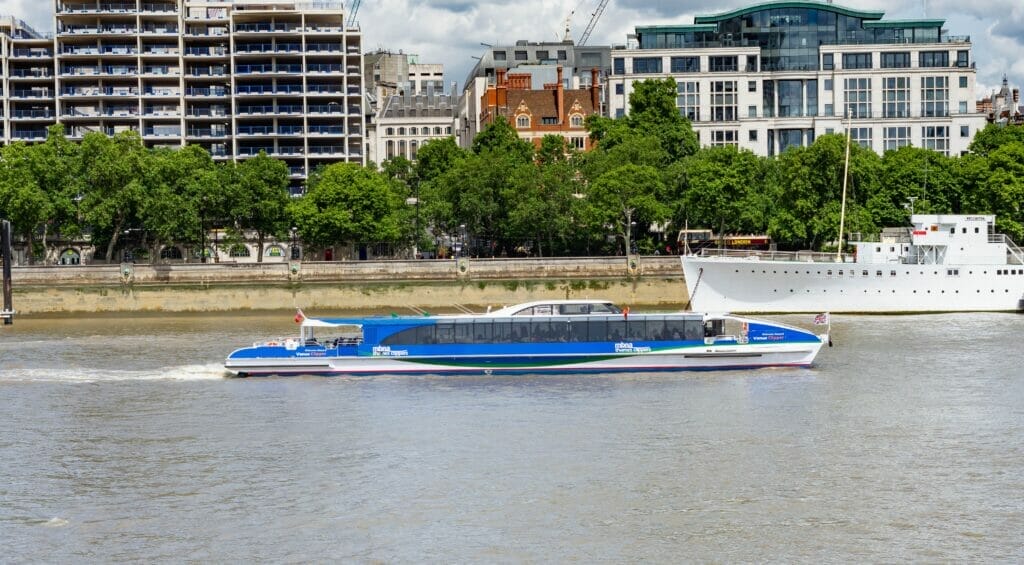 The Thames is the main river that flows through London and, of course, the reason why the city is there in the first place.
While it isn't necessarily a river that I'd be quick to jump into, a boat ride on the Thames will keep you dry while letting you feel the breeze in your face and getting up close to this mighty river.
You can choose from a lot of different types of boat tours, but if you're looking for something adventurous I would consider one of the Rib Boats that keep you close to the water and speeding along, or you could opt for a slower boat tour that even includes an afternoon tea!
28. Take a picnic to Hyde Park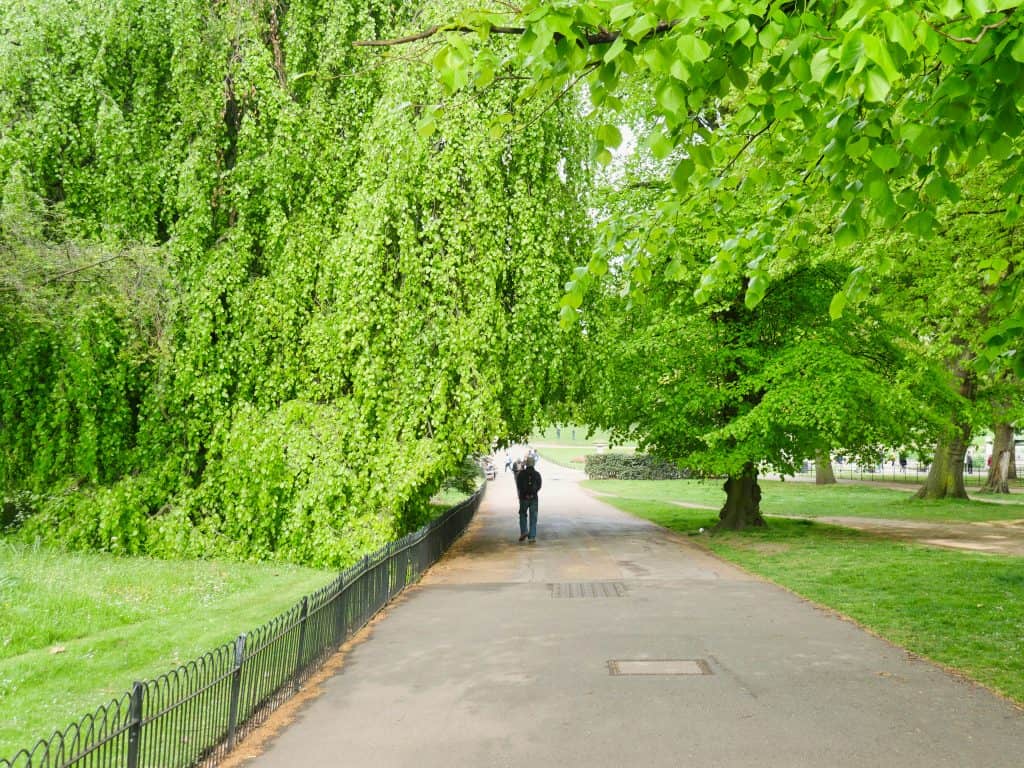 As the biggest park in London, the best place to take a picnic with your date is Hyde Park.
Opt for a bench near the Serpentine Lake, or go further towards Marble Arch where you'll just find loads of open grass to sit in.
Pack a picnic with food from the local supermarket and enjoy the sounds of people kids playing and people trying to soak in as much of the London sunshine as possible.
You could also find a more secluded spot further into the park if you wanted to have a more serious conversation…a proposal perhaps?!
29. Wander through Richmond Park to see the Deer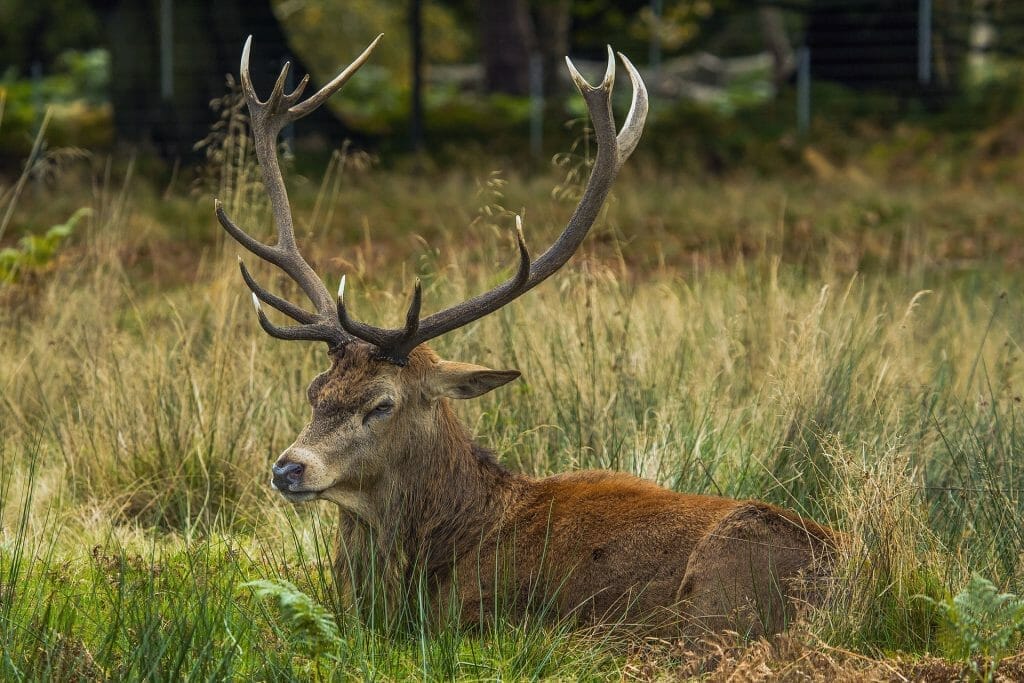 One of the top things for nature loving couples to do in London is to head to Richmond Park in the morning, when you have a high chance of seeing the beautiful deer in the London mist.
Richmond Park is a National Nature Reserve and has over 600 deer freely roaming.
Take a romantic stroll through the park while you see which ones you can spot.
30. Kew Gardens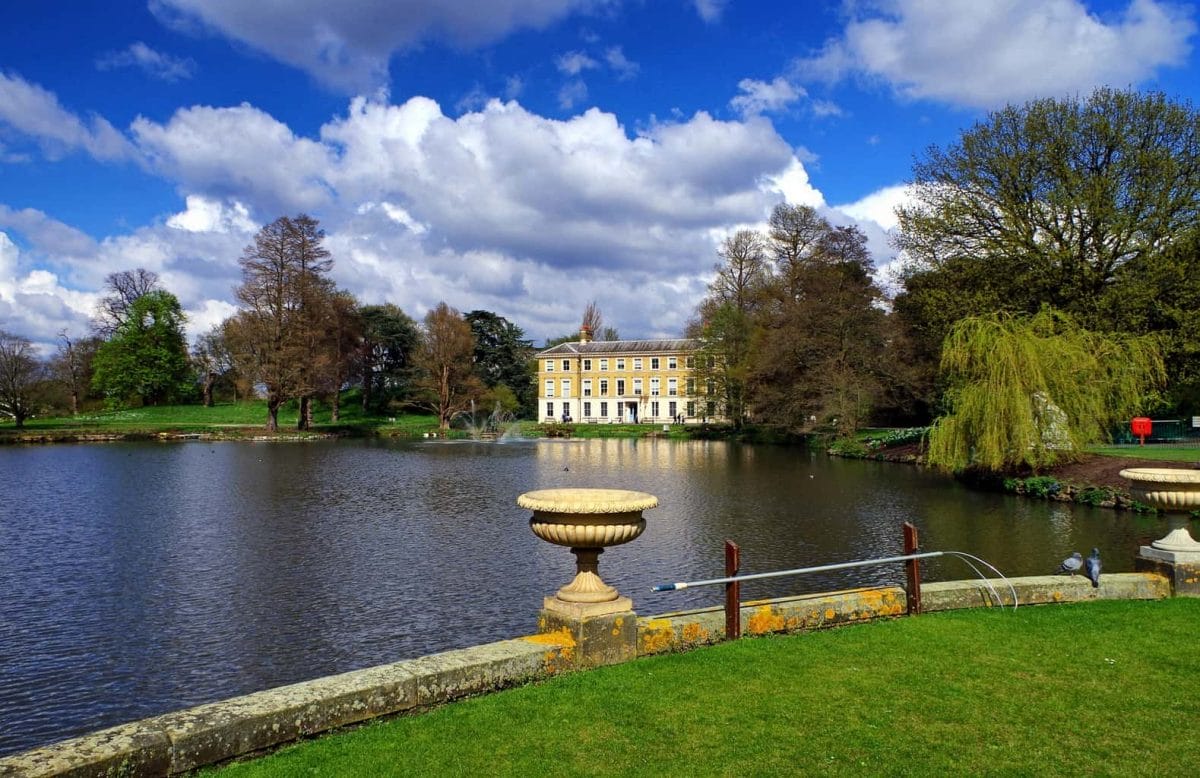 Kew Gardens is my favorite place in all of London, full stop.
You seriously won't even feel like you're in London when you're wandering around the gardens, greenhouses and other natural exhibits.
Kew Gardens can be a full day out for couples in London due to the sheer size of the gardens, and there are also places to eat on site so you can grab some lunch before heading back into the exhibits.
31. Enjoy Epping Forest: things to do in London with your boyfriend or girlfriend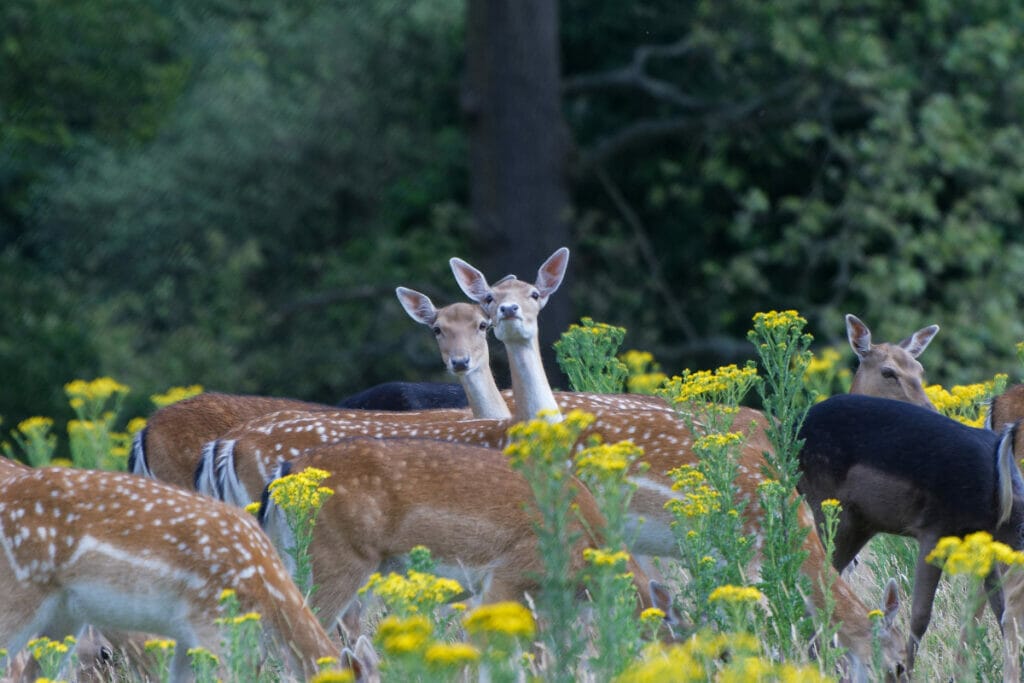 Did you know that you can go for a countryside walk in London?
Seems too good to be true, but simply take the Central Line to Epping Forest and you'll find a land filled with open space and preserved forest to walk and talk in.
In addition to plenty of walking trails through the forest, you can also do some white water rafting in the summer if you're looking for an adventurous thing to do in London for couples.
Free Things to Do in London for Couples
If you want some cheap date ideas for London, you're in luck because there is a ton to do in this city without paying a single cent (besides your transportation, but you can even get over that most of the time by walking).
Check out my favorite romantic things to do in London for free.
32. Take in an Art Exhibit at the Tate Modern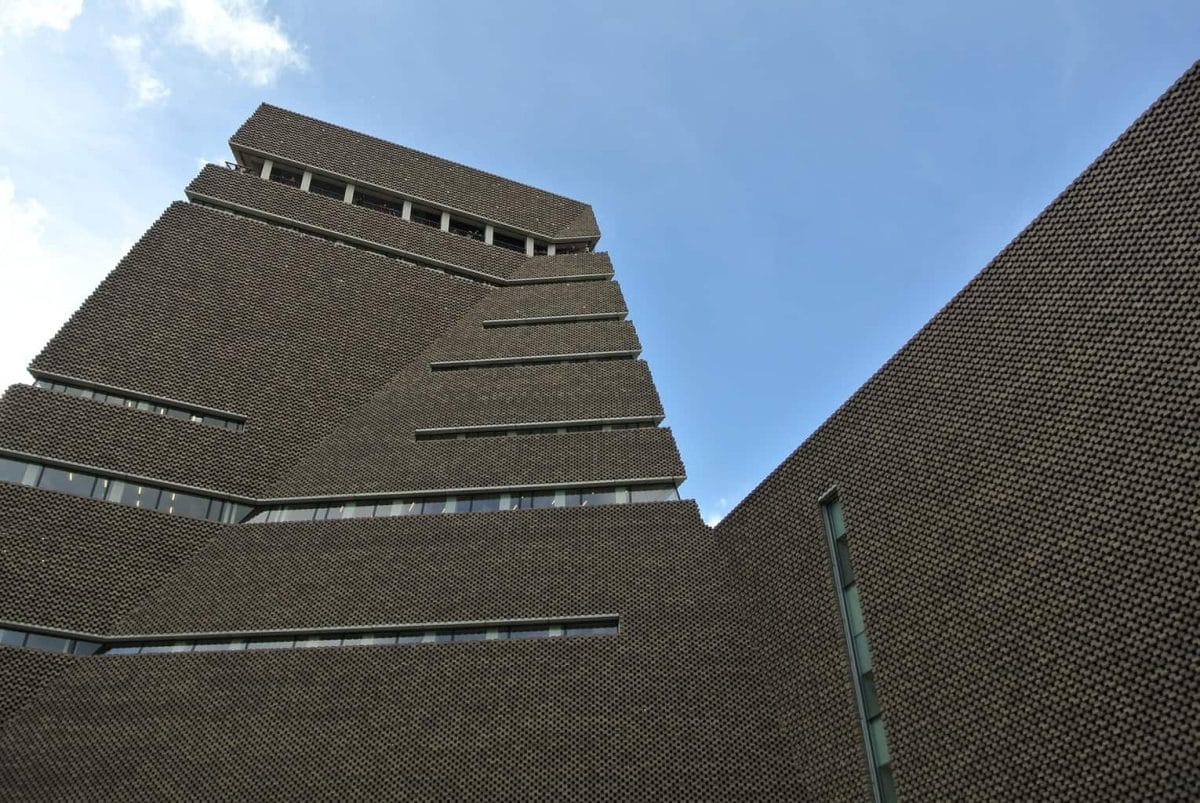 With completely free entrance, your day at the Tate Modern is going to save you loads of money and also give you a lot to talk about.
From blank canvasas to intricate sculptures to multimedia presentations, Tate Modern celebrates the idea that art is what you make of it – you won't find any easy-to-decipher paintings of landscapes here.
It's all about what's innovative, what's new, and what's appealing to the senses.
Walk hand in hand as you stroll through the Tate Modern and use the art to start up conversations about life, art, and everything that's great about London.
33. Stroll around Greenwich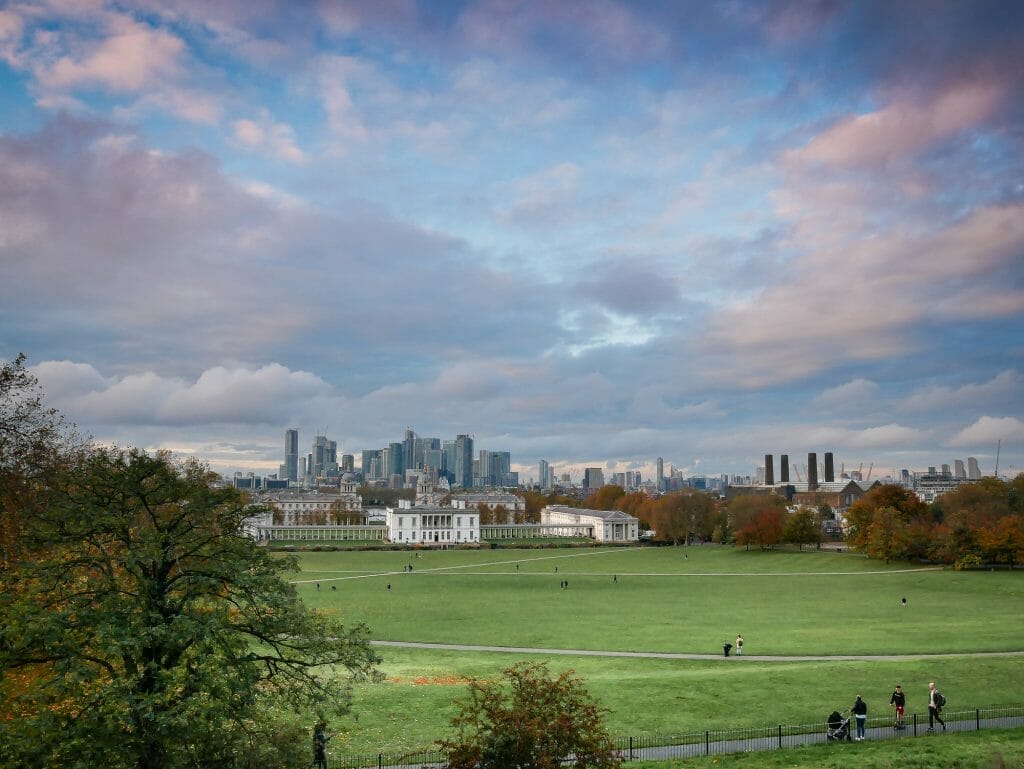 Did you know that you can go stand on the prime meridian for free?
Check out Greenwich for a lovely afternoon walking through a beautiful part of London that holds a lot of culture, history and enchantment.
You can simply people watch in the park, or you could watch the boats float by you down the Thames.
Whatever you choose to do, save it for a sunny day in London for the ultimate London date idea.
34. Explore South Kensington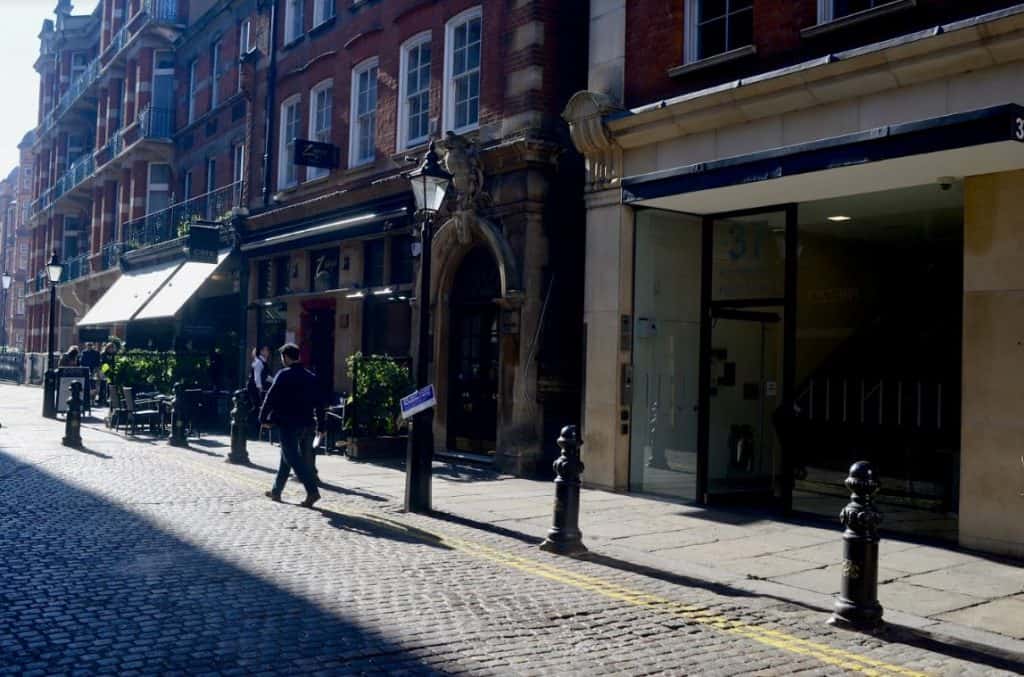 You know the London you see on television – the posh looking, beautifully presented row homes that just seem to be dripping with money?
You'll find those in South Kensington, along with some incredible free London attractions like the Natural History Museum and the Science Museum.
One of my best suggestions for couples in London is to get off at South Kensington tube station and simply pick a direction and keep walking until you decide to change direction.
There is something to be found around every corner, and you might just spot a celebrity!
35. Stop and Smell the Roses at the Columbia Road Flower Market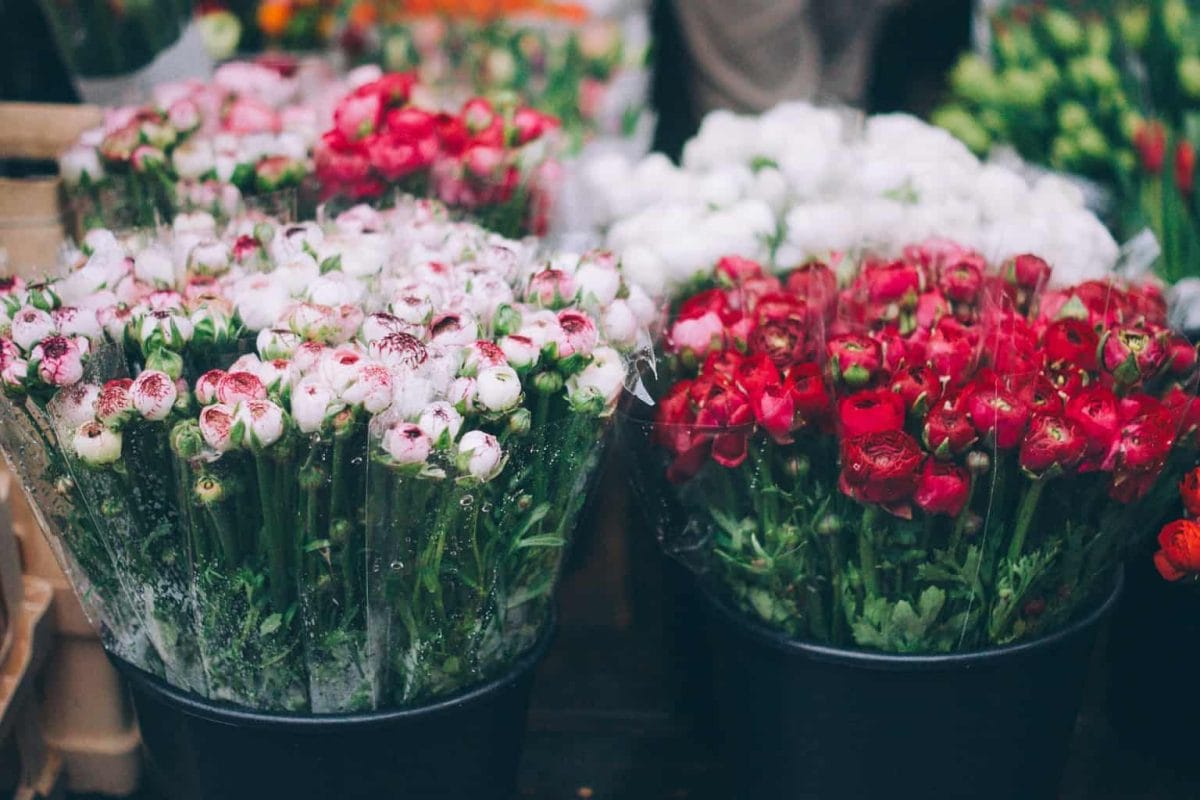 You don't need to purchase anything to take a romantic stroll through the Columbia Road Flower Market in East London.
Just let your nose be delighted with the smells of the flowers drifting through the air and take your camera to capture it all in bloom.
The Columbia Road Flower Market is open every Sunday from 8am until about 3pm, so fit it into one of your other London date ideas or just go for a wander after a lazy Sunday brunch.
36. Christmas Markets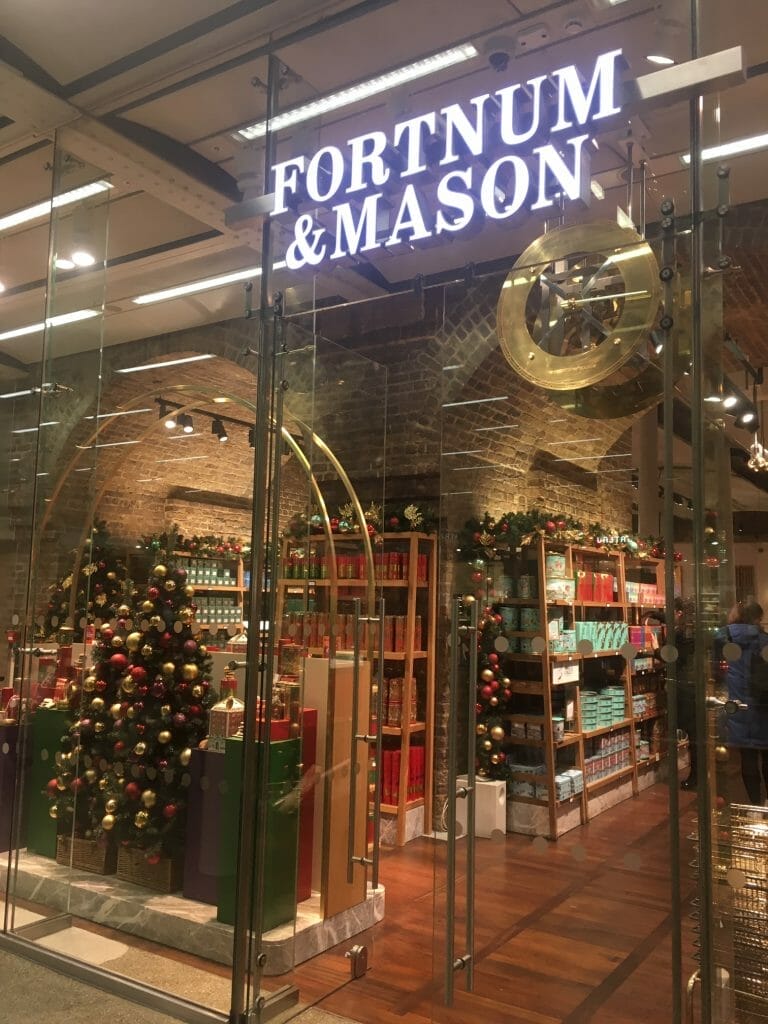 During the winter season, London comes alive with the sight and sound of gorgeous Christmas Markets that are situated on the Southbank.
Simply bundle up in your warmest gloves and coat and head off towards the Thames to appreciate the holiday cheer (yes, it's true, Londoners do have some cheer hidden somewhere!) and people-watch.
There is no charge to enter the markets, though you can bring some extra pocket change if you want to purchase a hot chocolate or small gift for each other.
This is one of the most romantic things to do in London in the winter, so don't miss out!
Romantic Things to Do in London at Night
London feels like a whole new city at night, and going on a night-time date in London gives you a whole new world of choices that you can't necessarily get the same experience with in the daytime.
37. Ride on London Eye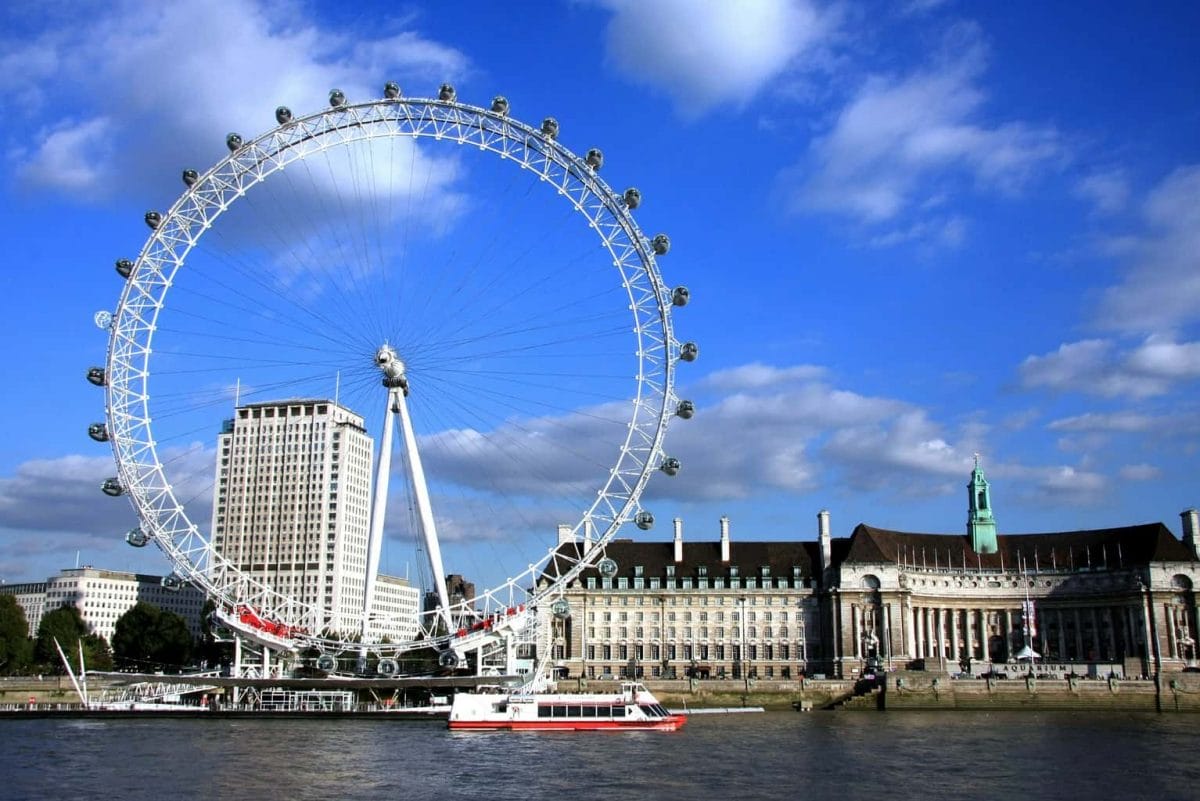 Riding on the London Eye in the evening is a great romantic date idea for couples who want to get a birds eye view of the city and see the sparkling lights.
It takes about 30 minutes to rotate entirely around, and while you are in a bubble with other people, they are big enough that you can stake out your own space.
Finish off your night time ride on the London Eye with a walk around Southbank or under Big Ben and you'll be sure to remember your romantic evening in London.
38. Walk through Harrods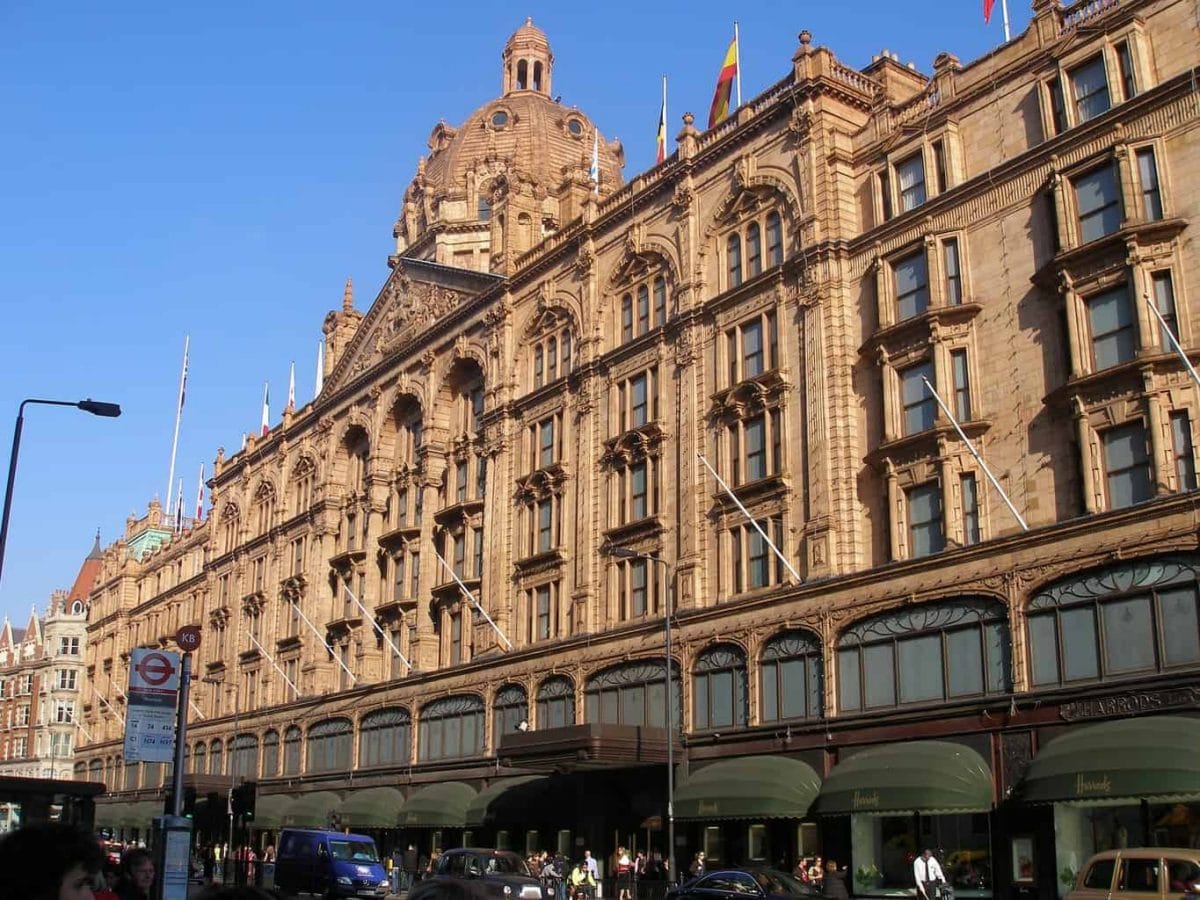 As the sun goes down, head into one of the world's most famous department stores to see the glitz and the glam like you've never seen it before.
Harrods is a premier shopping destination for the wealthy, and there you can find almost anything you could possibly be looking for.
Watch as shoppers try and decide which multi-thousand pound dress they're going to wear for that weekend's party, or head to the toy shop where you can see toy demonstrations and let loose a bit.
39. Look at the View from the Shard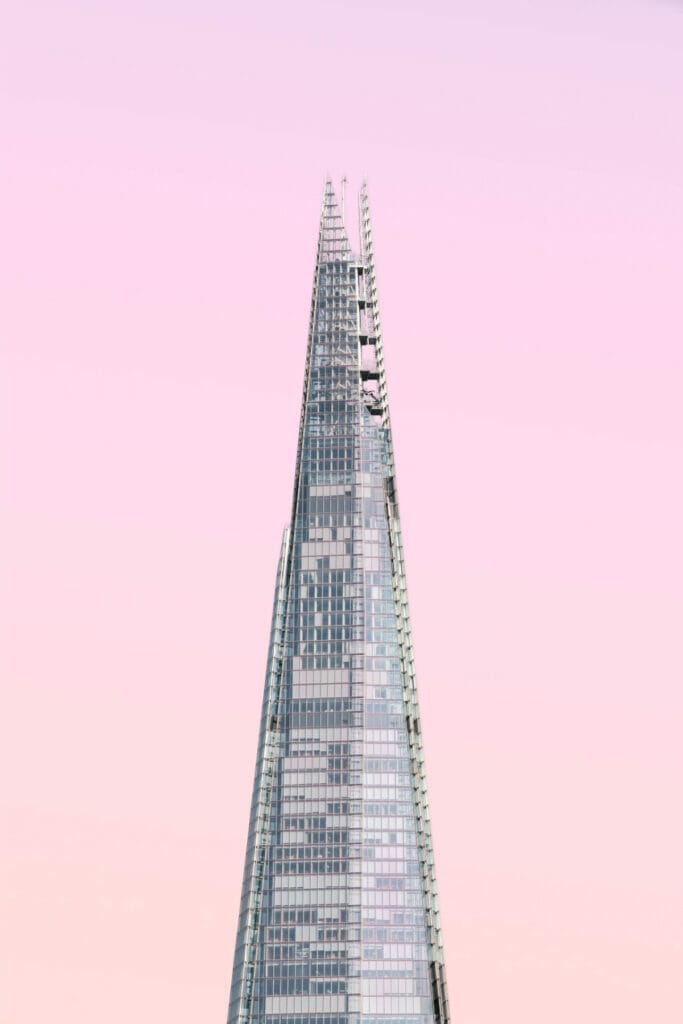 One of the coolest options for things to do in London at night for couples is to go up to the viewing platform in the Shard (you need to buy tickets) and get a view of the city from above.
The Shard, completed right before the Olympics in 2012, is the tallest building in the whole country and one of the tallest in Europe.
There are also restaurants in the Shard, should you wish to turn it into an evening of fun, or you can appreciate the view and then move on to your next adventure.
40. Attend a West End show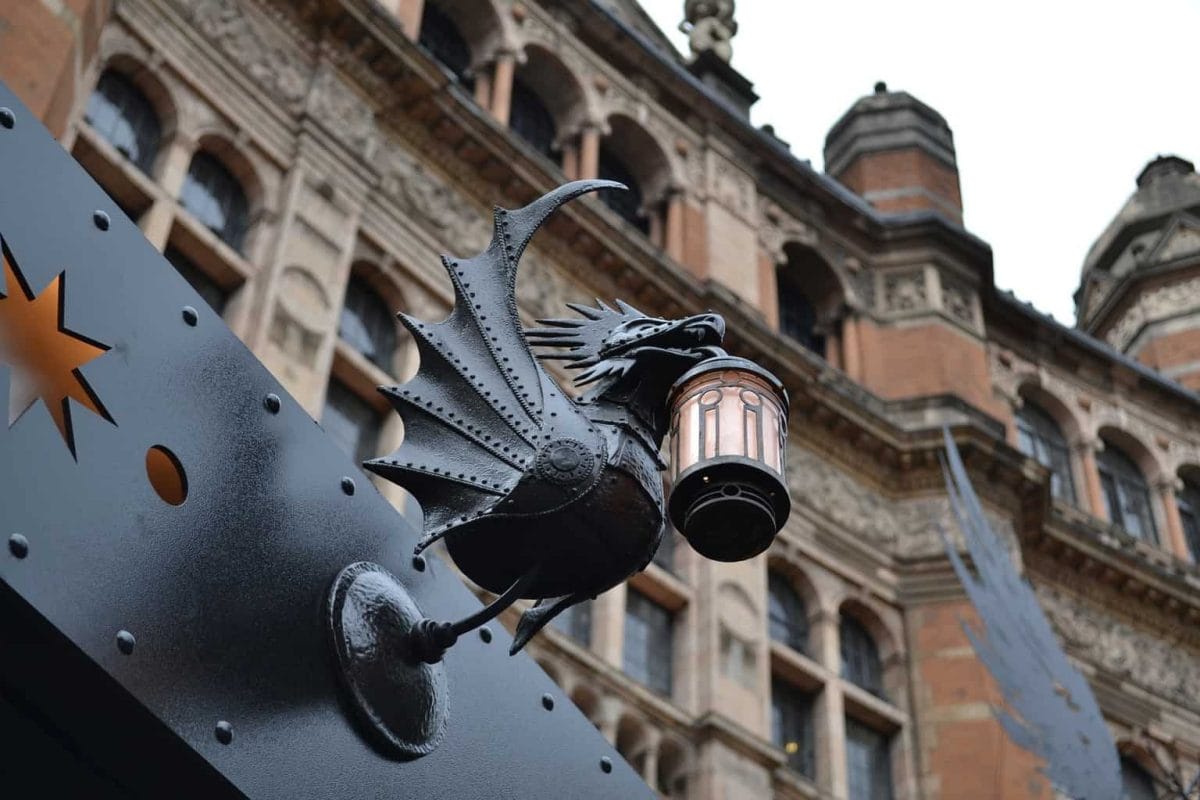 There's nothing quite like dinner and a West End show in London.
Whether you're seeing Mamma Mia, Hamilton or Phantom of the Opera, going to the theatre at night is what many people's London dreams are made of and you can find some great cheap London theatre deals!
Get dressed up with your date to look a bit fancy, then head to a nice restaurant for a "set menu" theatre deal, and then head on in to find your seats and enjoy a couple of hours of laughing, crying, singing, dancing – whatever's on offer!
I always recommend booking with London Theatre Direct here for the best deals.
41. Royal Opera House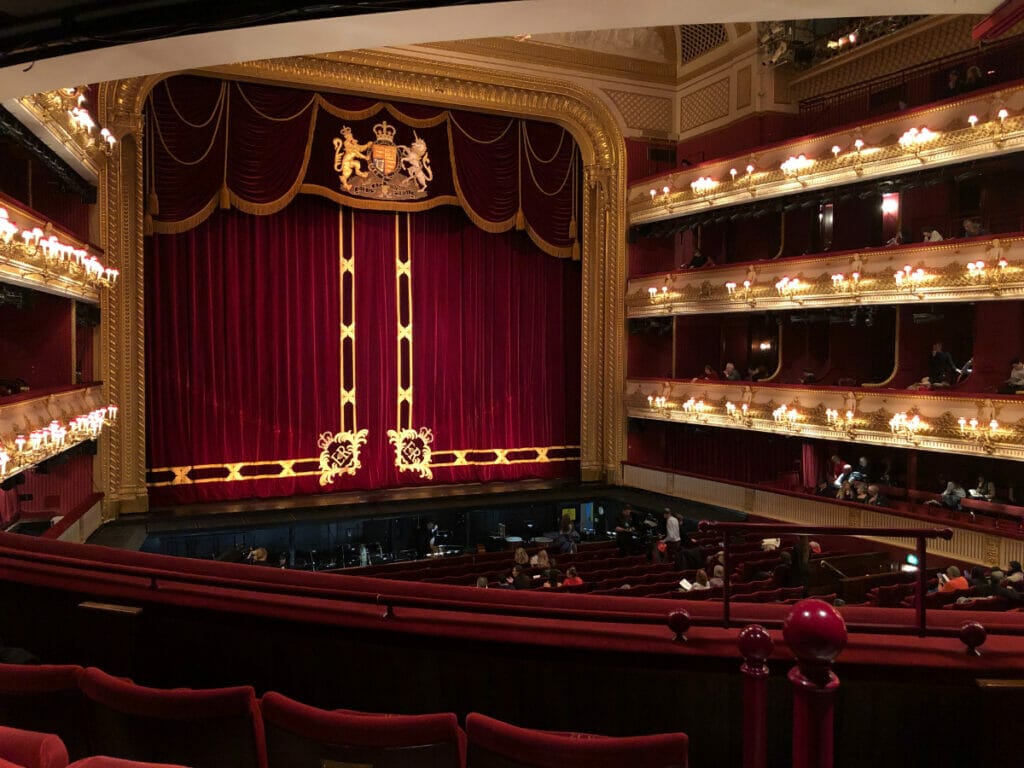 When you want to feel incredibly cultured after dark, book an opera at the Royal Opera House where you'll be dazzled by the range and skill of the singers.
The Royal Opera House is a real London gem and one of the most important places in the city for arts and culture.
42. Silent Disco
While much less prestigious than the Royal Opera House, going to a silent disco in London is still a ton of fun.
In a silent disco, you put on a pair of headphones and then dance to the music in your ears – meaning that if you were to just walk into the room, you'd just hear a bunch of people dancing but to no music!
They're a super fun way to break the ice with a date (though maybe not on the first one so you can, you know, actually talk) or way to explore London at night with your significant other.
43. Champagne Bar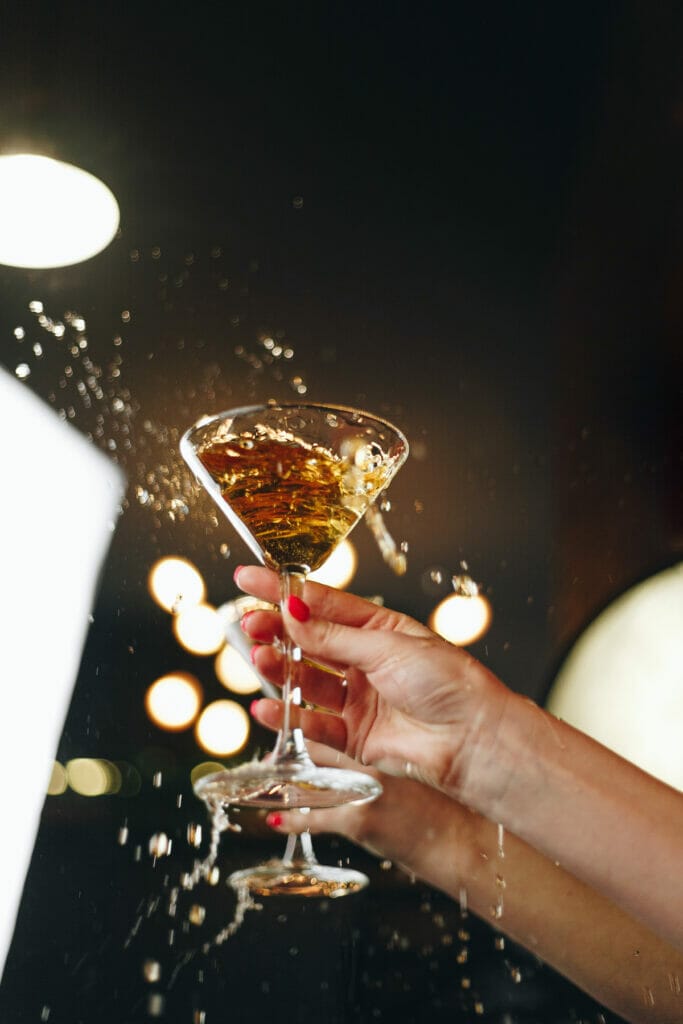 You know an even classier thing to do as a couple in London in the evening than a wine bar?
A champagne bar!
There are multiple champagne bars around the city where the name of the game is, as would be expected, to taste and enjoy champagne together.
You can choose from a variety of venues, including one where you can press the "Press for Champagne" button and get it delivered right to you!
What else should I not miss in London?
If you're visiting London soon, here's a very brief rundown of a few of my other favorites to make sure you don't miss anything!
Want more helpful London guides? Check these out!
UK Travel Planning Guide: the FAQs
🏥 Should I buy UK travel insurance?
Absolutely yes. Basic coverage is not expensive, and as a visitor you are NOT covered under the NHS. Compare policies and prices with Travel Insurance Master here, a big name in the travel insurance business, and cross that off your list.
🔌 Do I need travel adapters for the UK?
Yes, you do, otherwise you won't be able to plug in your electronics/phone/lifelines. I recommend this one, which is all-in-one so you can use it in other countries.
🚗 What do I need to drive in the UK?
The first thing you need to check out if you're planning on renting a car in the UK is this guide to driving in the UK for visitors – the roads, signs, and driving experience will likely not be what you're used to and it's essential to prepare yourself to stay safe and aware.
🛌 What's the best way to book hotels in the UK?
For UK hotels, Booking is the best site as it offers free cancellation on many properties. If you want an apartment, I always recommend VRBO over AirBnb.
📳 Will my phone work in the UK?
Yes – if you set it up right. Check out my guide on making your foreign phone work in the UK to ensure that you get the type of service you need.
🚿 Can I drink the water in the UK?
Yes, UK water is great and perfectly safe. But drink out of taps in any kitchen or use water fountains. Double check before drinking out of the taps in hotel bathrooms, though, as they may be on a different system.