Figuring out the best London cinema for your needs isn't as easy as hurling a few suggestions at you and hoping they stick.
There are so many different cinemas in the capital city that it can be hard to figure out where to find the London cinemas best for your family.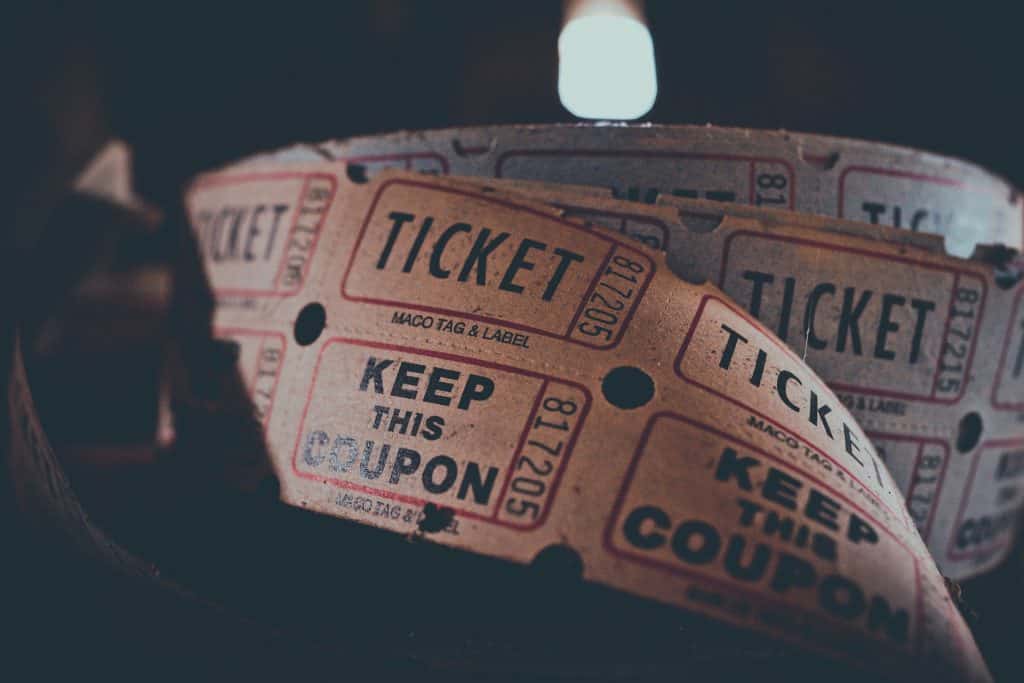 From independent movie theaters that show Disney films on special nights to cheap London cinemas where you don't need to sacrifice your first born to go, the options are plentiful.
And, it's one of the best things to do in London at night!
GET A

FREE

LONDON INTRO GUIDE and ACCESS TO MY FB GROUP
Start your planning with this "Intro to London" guide and access to my London planning Facebook group!
It can be stressful spending so much money on a London trip and not knowing if you're fitting everything in or making the most of your time.
To help you out, I've taken my 10 years of London experience (starting as a visitor and then as a resident) to make sure that you have the ultimate step-by-step itinerary that will make sure you see the real London.
And, hey, if you're not coming for exactly 7 days or already have some plans, don't worry, as it's editable so you can mix around the days, incorporate your own ideas, or pick and choose which days to follow.
(or click here for my popular personalized itinerary option to exactly suit your needs!)
You might also be surprised that the closest cinema to you in London isn't always the best!
Enjoy this handy guide on London's best cinemas to figure out where to see the next blockbuster – get ready to pull out your popcorn boxes (I recommend these ones!).
Oh, and if you're looking to appreciate cinema that has been filmed in London, then get yourself on this Harry Potter location walking tour or this tour of James Bond, Harry Potter and Bridge Jones Diary filming locations ASAP.
Best Budget Cinemas in London
Finding the cheapest cinemas in London is always quite the task given the overall expensive nature of the city.
However, I've scouted out some of the best budget cinema options in London for you so you can try and save as much of your London paycheck as possible (and as we all know, it's basically impossible!)
Whether you're a study abroad student in London or just a local resident, here's how to pinch your pennies.
1. Princes Charles Cinema
Located in Leicester Square, the Prince Charles Cinema is an iconic theatre known for its screenings of both old and new films (including sing-a-longs-while-wearing pajama nights, yes please!).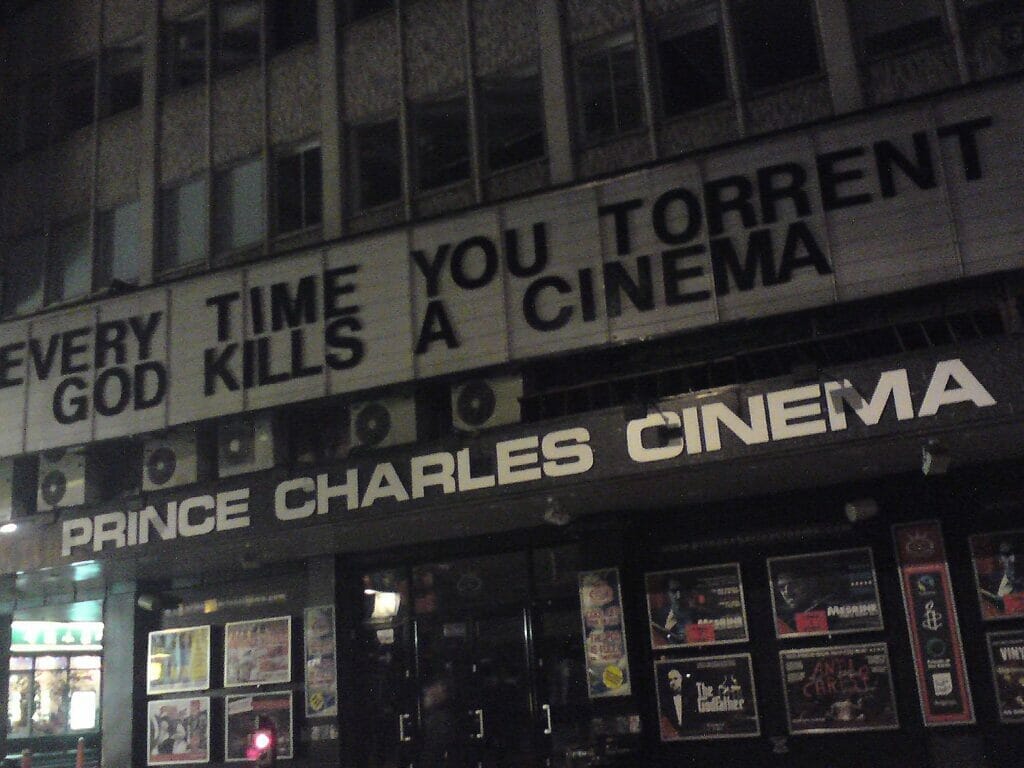 Regular screenings are usually around £10, but that's not where the discounts are.
No, Prince Charles Cinema is one of the cheapest cinemas in London when you get the annual membership.
It's a small membership fee, and from then on out you can enjoy tickets for as little as £1.
Choosing this as your London cinema makes the most sense if you live or work near the area and can take advantage of screenings often enough to make the £10 annual membership fee worth it.
2. PeckhamPlex
When I first moved to London, I was all about seeing movies in London but was choosing the more expensive theaters in the city center.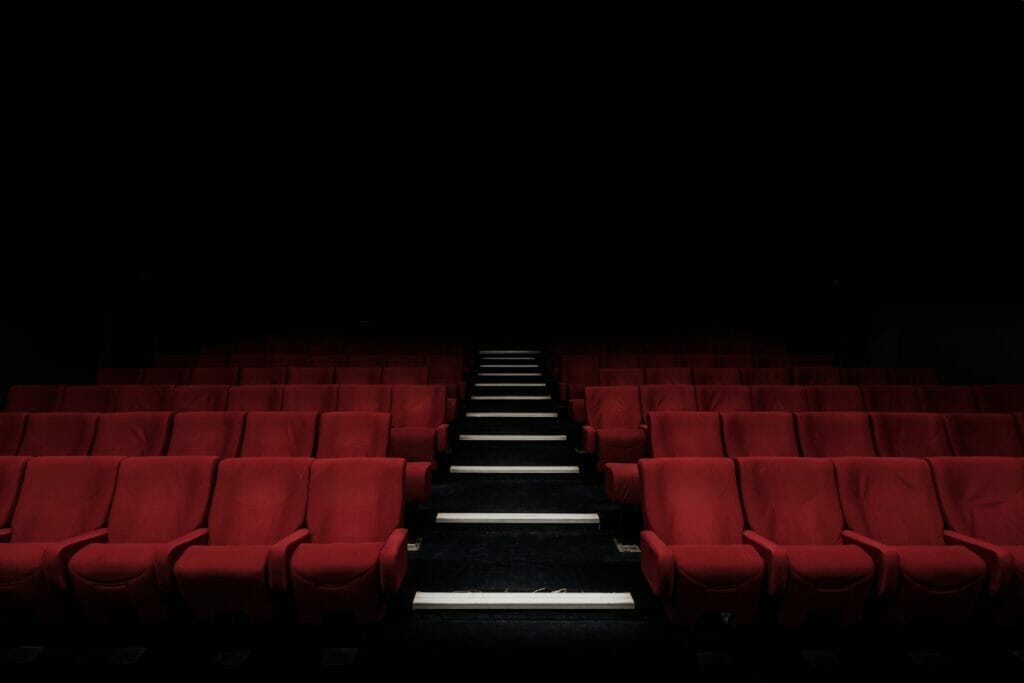 Then my friend took me to the PeckhamPlex, and now my life is forever changed.
Each ticket here is only £4.99, no matter what time of day or movie, and that's something to celebrate in a city where movie theater tickets can top £20.
Is it going to win awards for being the nicest movie theater with new seats and the latest sound technology?
Definitely not.
But if you want to see a movie at one of the best budget cinemas in London and not break the bank, PeckhamPlex is for you.
Head to Whitechapel for an awesome renovated cinema with weekday prices that can be under £10 (and as low as £5).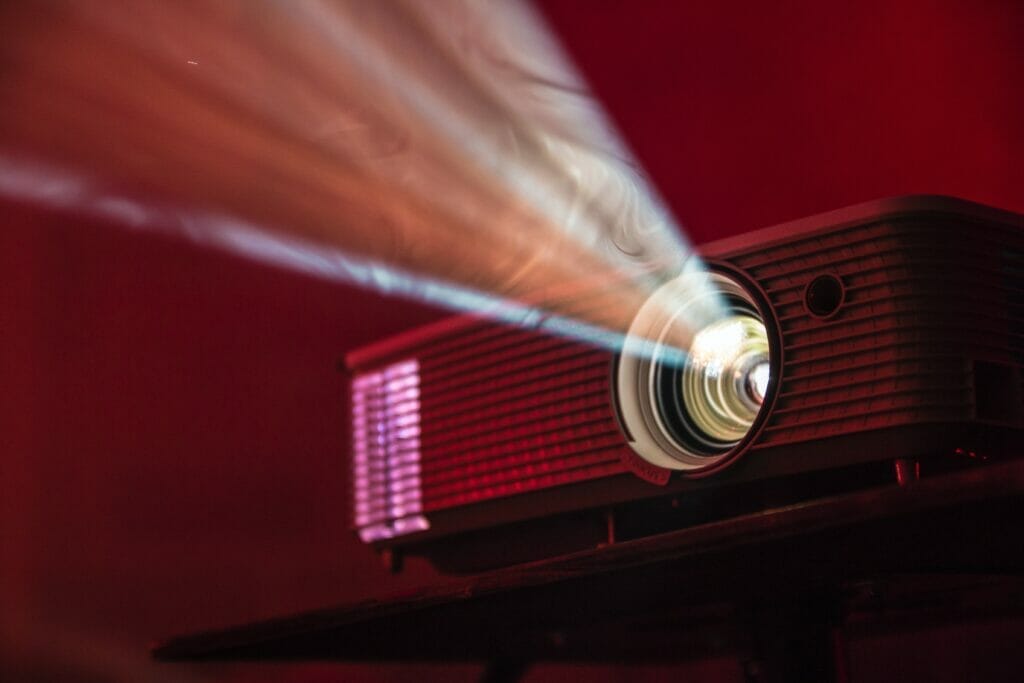 There's also a bar upstairs and the seats inside are super cozy and comfortable.
Best Independent Cinemas in London
For quirky cinema options, seek out the best independent cinemas in London.
Whether you want to watch a movie while sitting on a roof-top or under a railway arch, London is full of interesting places to watch a film.
Here are some of my favorites.
4. The Lexi Cinema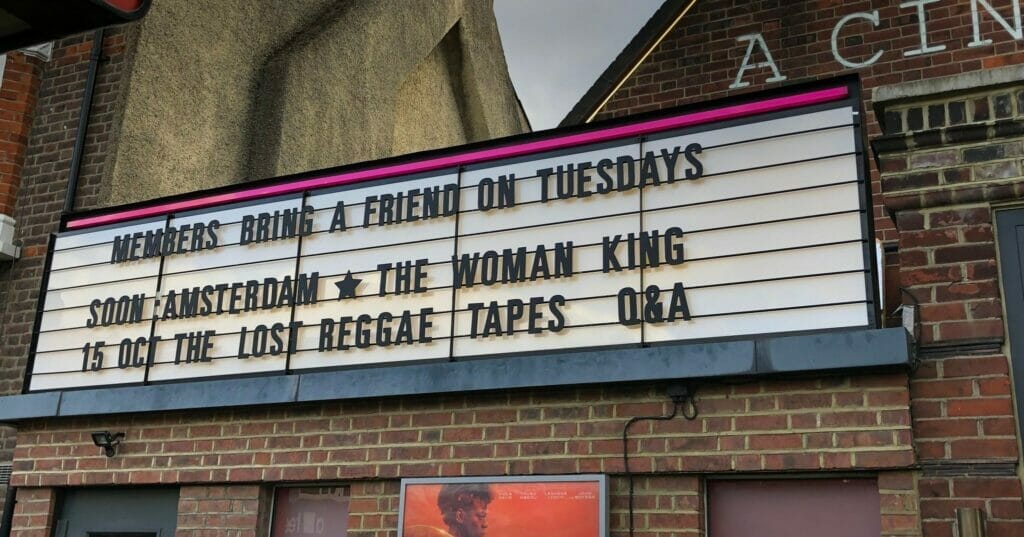 If you want to feel good about yourself while watching a movie, head to the Lexi Cinema where 100% of proceeds go towards charity.
This means that most of the staff are volunteers who are passionate about giving back, which just makes the whole cinema experience that much more interesting as you get to hear about their various passions.
It's London's best cinema for giving back, and I highly recommend it.
5. Rich Mix
Back when I was an intern for a charity in Shoreditch as a student, we used the Rich Mix as a space to hold student exhibitions, but it's much more than that.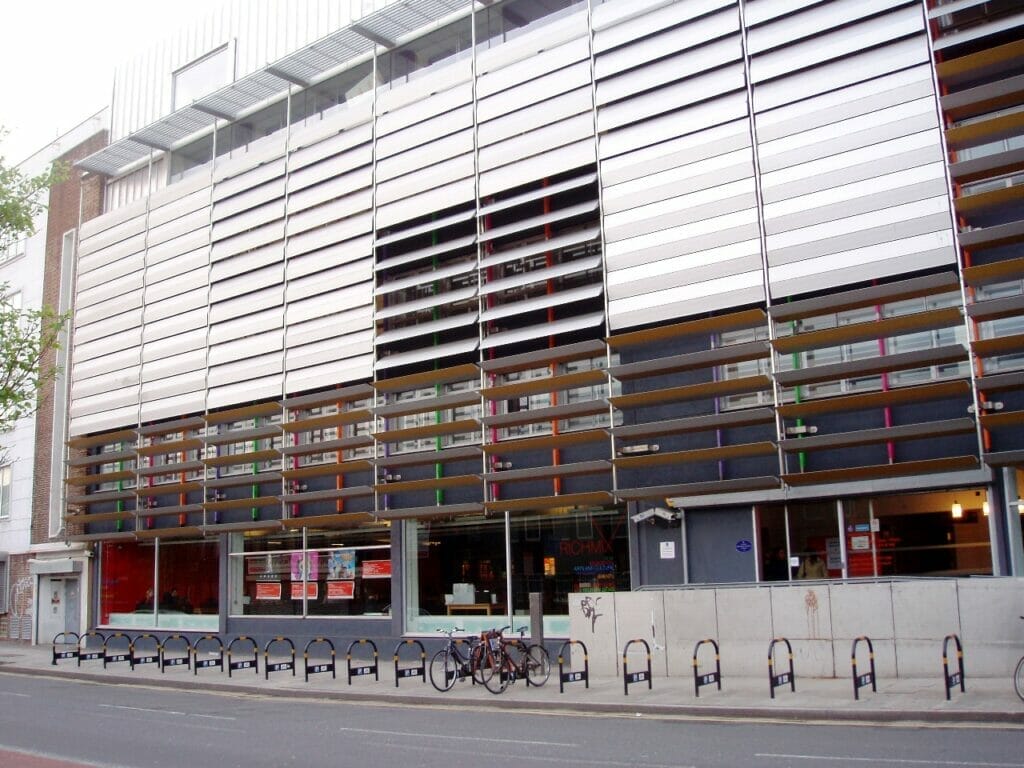 This independent cinema in London is just a short walk away from Shoreditch High Street and has three screens plus a bar.
Prices are also relatively cheap here, and you may just run into an art exhibition on your way in.
6. Electric Cinema
There are literally beds and electric blankets available at Electric Cinema, which is not really up my street but if it's your thing – go for it!
For everyone else, there are awesome leather armchairs that are basically calling out to you to snuggle yourself in them.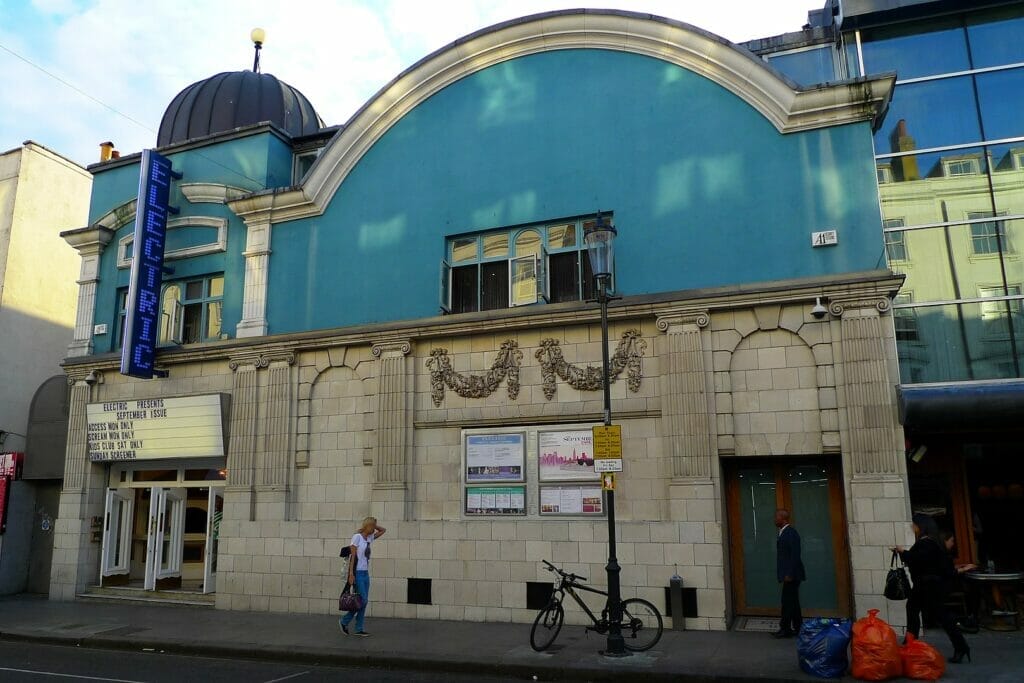 Electric Cinema is located in Portobello and shows a variety of regular and art house films, so you'll be sure to find something that works for you whether you want to see Matt Damon in his latest thriller or an obscure filmmaker in his directorial debut.
Oldest Cinema in London
History buffs will fall head over heels in love with some of London's oldest cinemas, as there's no better way to experience London's history than to sit in seats that have been around since the early 1900s…or something like that.
Seriously, though, London is the hub of a major motion picture industry and finding one of the oldest cinemas in London is a great way to pay respect to a city that consistently cranks out blockbusters year after year.
7. The Phoenix
Art Deco is the name of the game at Phoenix Cinema, which is one of the oldest cinemas in London that has continuously shown films.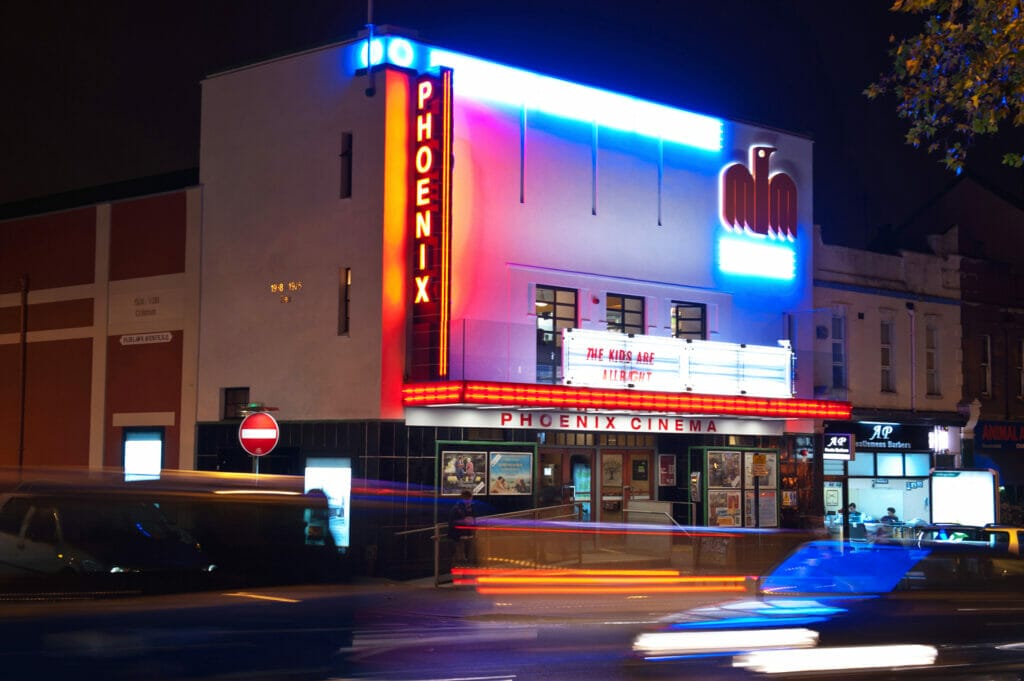 Today, you can watch classics as well as some of the most recent blockbusters and appreciate the beautiful auditorium and colorful lights outside to guide you to the right place.
8. Ritzy Cinema
Opened in 1911, the Ritzy Cinema has been bringing London cinema fans the latest and greatest for a century.
It shows all kinds of films, including recent releases and documentaries, and there's also a space upstairs for live music and stand-up comedy.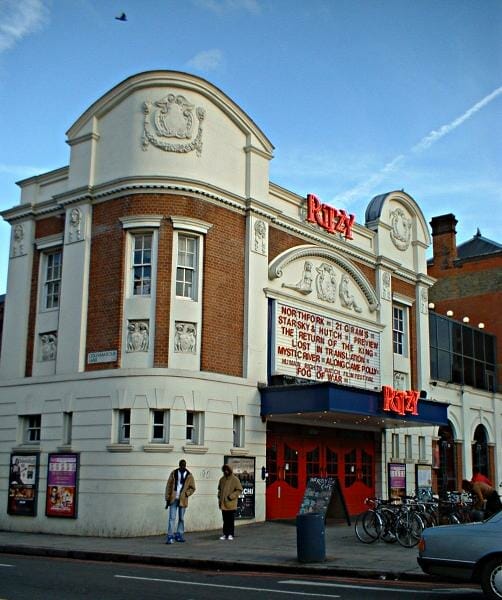 Take note of the original arch that remains from the original building in 1911, making Ritzy Cinema one of London's best cinemas for architecture lovers as well.
9. Rio Cinema
Rio Cinema in Dalston is over 100 years old and is known for its annual film festivals celebrating films from around the globe.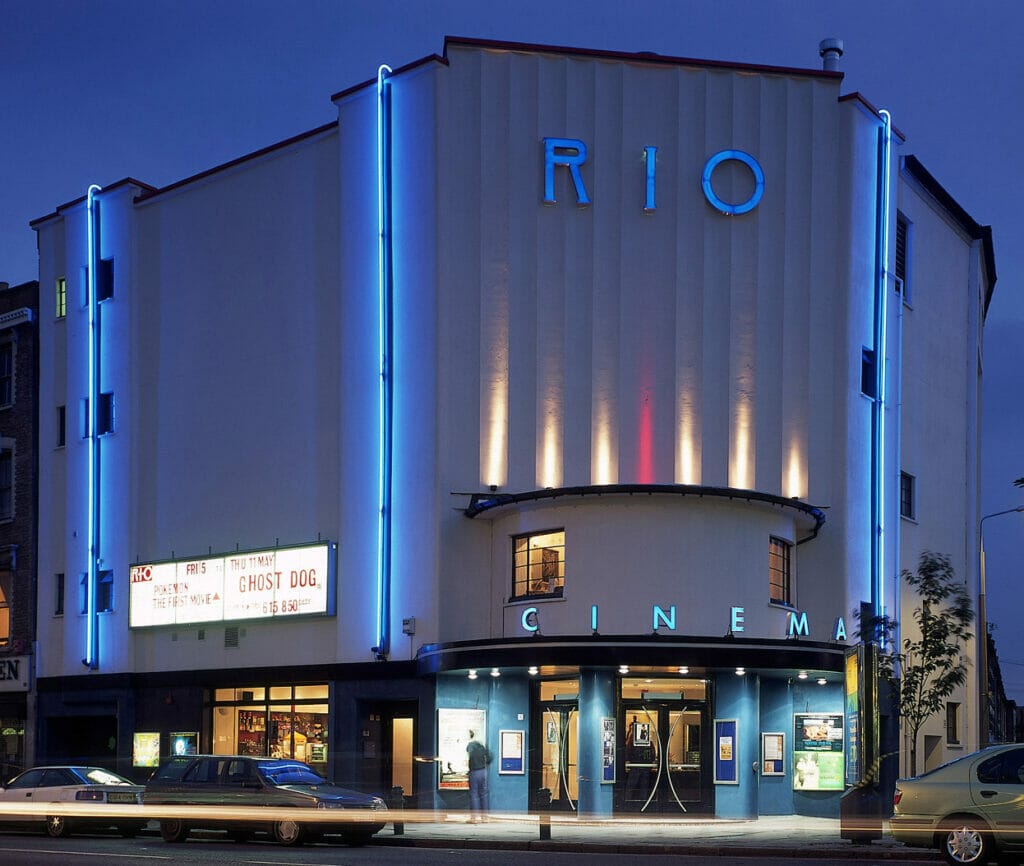 There are also screenings of cult films and fan classics so you can experience your favorite scary, funny, or downright weird films while soaking in London's history.
Best IMAX Cinema in London
Finding IMAX cinemas in London can be a bit more difficult than you would expect, but I've found two of the most popular – for very different reasons.
10. BFI IMAX on the Southbank
If you want to see the latest alien film in all of it IMAX glory, the best place to go would be BFI IMAX right off of the River Thames on the Southbank.
Here, you can experience the biggest cinema screen in all of Britain – the screen is almost higher than five double decker buses stacked on top of each other.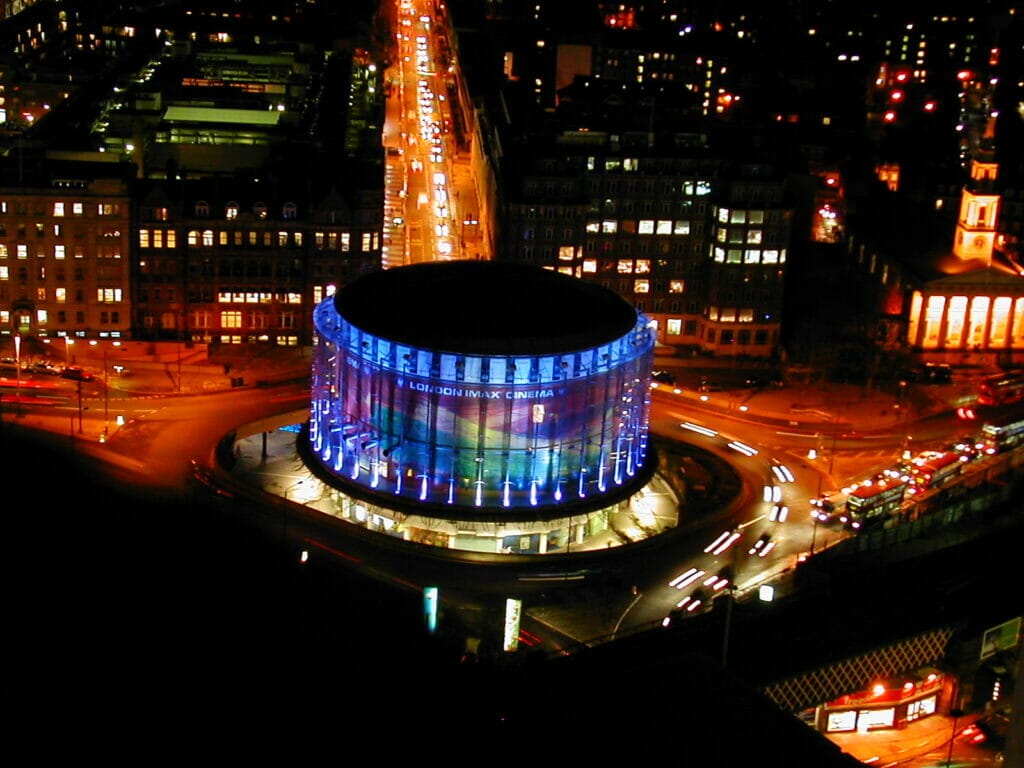 Prices here aren't cheap – at over £23 for an adult ticket on a Saturday, you're going to pay a pretty penny to see your favorite A-list actor's face on such a giant screen, but if it's a movie you're really looking forward to, there's nowhere better to experience IMAX than the biggest cinema screen in London.
11. The Science Museum
On a completely different note, if you're interested in educational films on an IMAX for the whole family, the Science Museum in Kensington has a fantastic IMAX screen that shows really interesting films on everything from space to nature to submarines.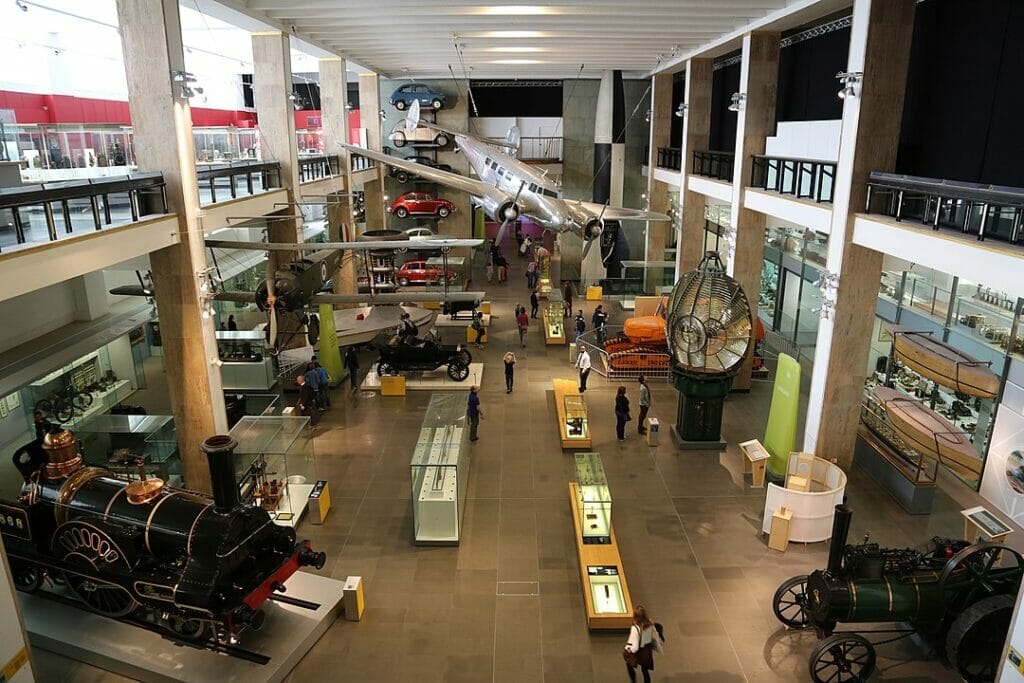 Do keep in mind that you need to book IMAX tickets – you will need to pay for them instead of having them included as part of your Science Museum donation-only visit.
The films also don't play every day, so this is something to schedule in advance if you're interested.
Best 3D Cinema in London
Finding the best 3D cinemas in London means that you're going to want to stick to the bigger name cinemas that are equipped to show 3D movies – ones run by Odeon, Vue, or CineWorld.
12. BFI IMAX on the Southbank
It should come as no surprise if you've read up on the best IMAX cinemas in London that the best 3D cinema in London is also the BFI IMAX on the Southbank.
They regularly show 3D films and are all set up with 3D glasses and the latest technology.
They even show 3D IMAX films, which is kind of blowing my mind with all of its boldness.
As a reminder, IMAX has to do with the actual screen itself – there are no special viewing glasses required.
A 3D film can be shown on a non-IMAX screen or an IMAX screen, and these films require special viewing glasses so you can experience the film how it was meant to be with its extra depth and dimension.
Best French Cinema in London
There are a lot of French visitors and expats in London with Paris being just a 2 hour train ride away, so it makes sense that London has its own best French cinema for those wanting to experience the latest release in French or to watch a French classic.
13. Cine Lumiere
The best French cinema in London (there's no competition) is Cine Lumiere. It's part of the Institut Francais and provides regularly scheduled French, European and World films.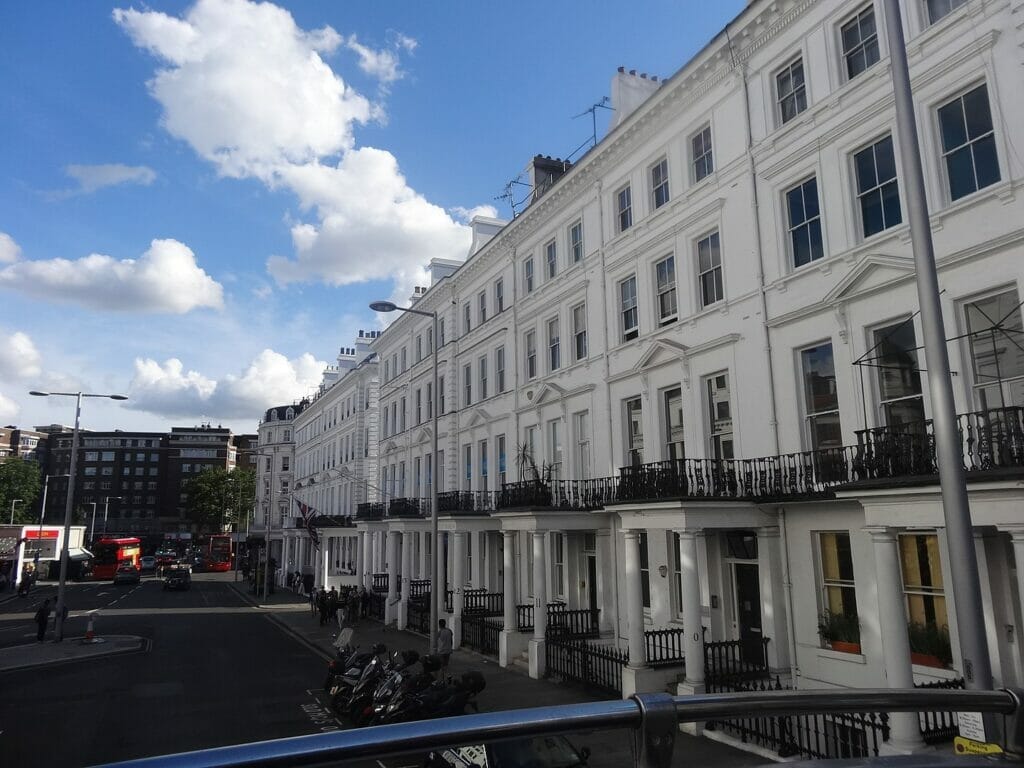 Question and answer sessions with French directors and filmmakers are a popular activity, and on Sunday they screen French classics.
It's a great option if you're French yourself, have an interest in French film, or are learning French and want to immerse yourself in the language by way of film.
Best Retro Cinema in London
For me, finding the best retro cinema in London involve searching for somewhere that really embraces the neon lighting and art deco style of cinema from decades past.
Your definition of retro may differ, but when we're talking about "cool" and "funky" cinemas in London, these are some great options.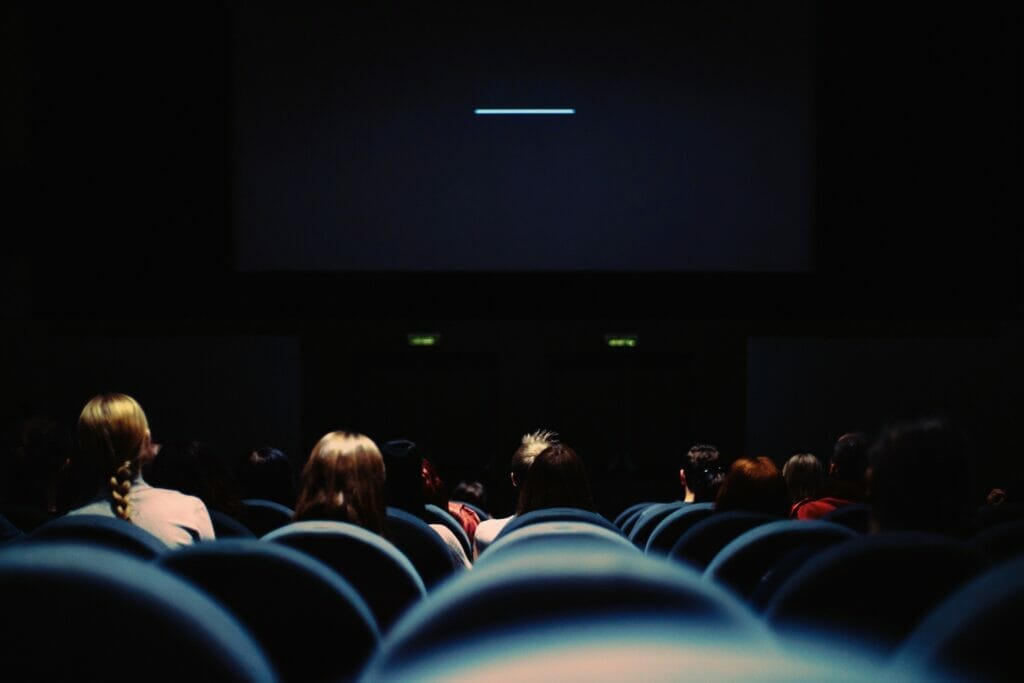 14. The Screen on the Green
With just one cinema screen, Screen on the Green in Angel is a super cozy and intimate setting for a film that was opened in 1913.
It's got everything you need – the comfy seating, a bar for your pre-film drinks, and a giant neon sign out front that's impossible to miss.
Choose this as one of the quirkiest things to do in London so you can tell your friends you've been up to something a bit different.
15. The Electric Cinema
On Portobello Road, the Electric Cinema wins again for being one of London's most retro cinemas.
The leather armchairs have footstools AND side tables, and the retro-chic decor will make you feel like the coolest cinema goer around.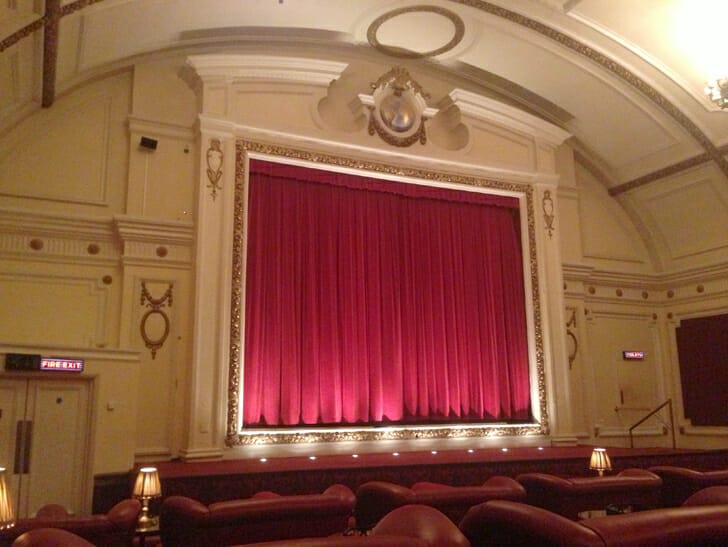 You can also pay extra to sit on a sofa in the back or a bed up front, which adds another element of fun to the evening.
Best Hot Tub Cinema in London
Okay, so hot tub cinemas seem a bit crazy for most people, but if you're searching for a hot tube cinema in London, I've found just the place.
This is a great thing to do for couples in London as well.
16. Hot Tub Cinema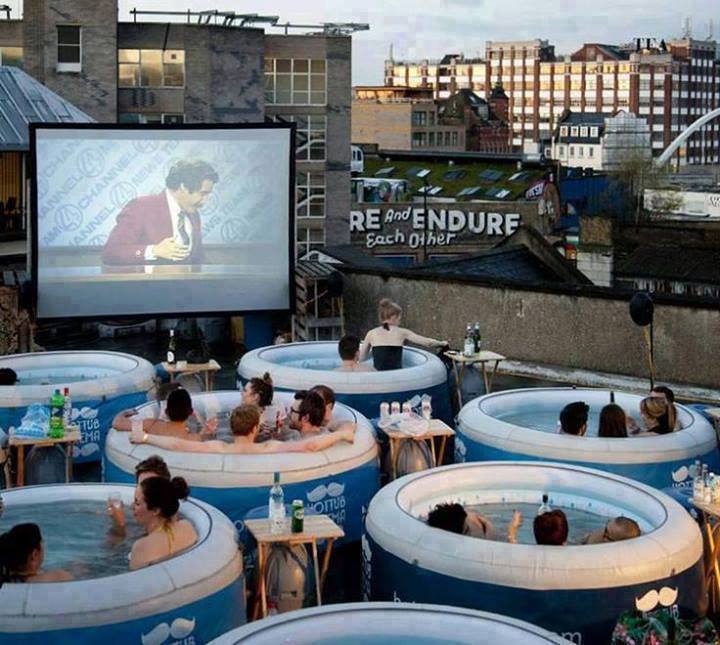 Every summer, Hot Tub Cinema brings cinema and hot tubs together for an event that includes a lot of soaking in hot tubs and not so much paying close attention to the movie at hand.
It's a party atmosphere, filled with drinking, singing along, and annoying residents who live nearby, but if that sounds like your style, then go for it.
As the London weather doesn't allow for hot tub cinemas all year long, this is often a pop-up event you'll need to keep an eye on dates for the summer.
Best Outdoor Cinema in London
Similar to the hot tub cinemas, the best open air cinemas in London can be often be found in the summer months when the weather is great for sitting outside for a while and the kids won't want to run indoors straight away.
That being said, there are also a couple festive Christmas events that allow you to enjoy London's best outdoor cinemas, so I've compiled both types into this round up.
The thought of watching a movie while floating down a river makes me slightly sick, but for those of you who don't suffer from motion sickness – enjoy a cruise down the Thames in the summer months while watching a classic like Dirty Dancing or a new release.
It's one of my favorite things to do in London in August!
The boat is filled with snacks, as well, so you can eat your sweet treats while watching the world go by.
18. Luna Cinema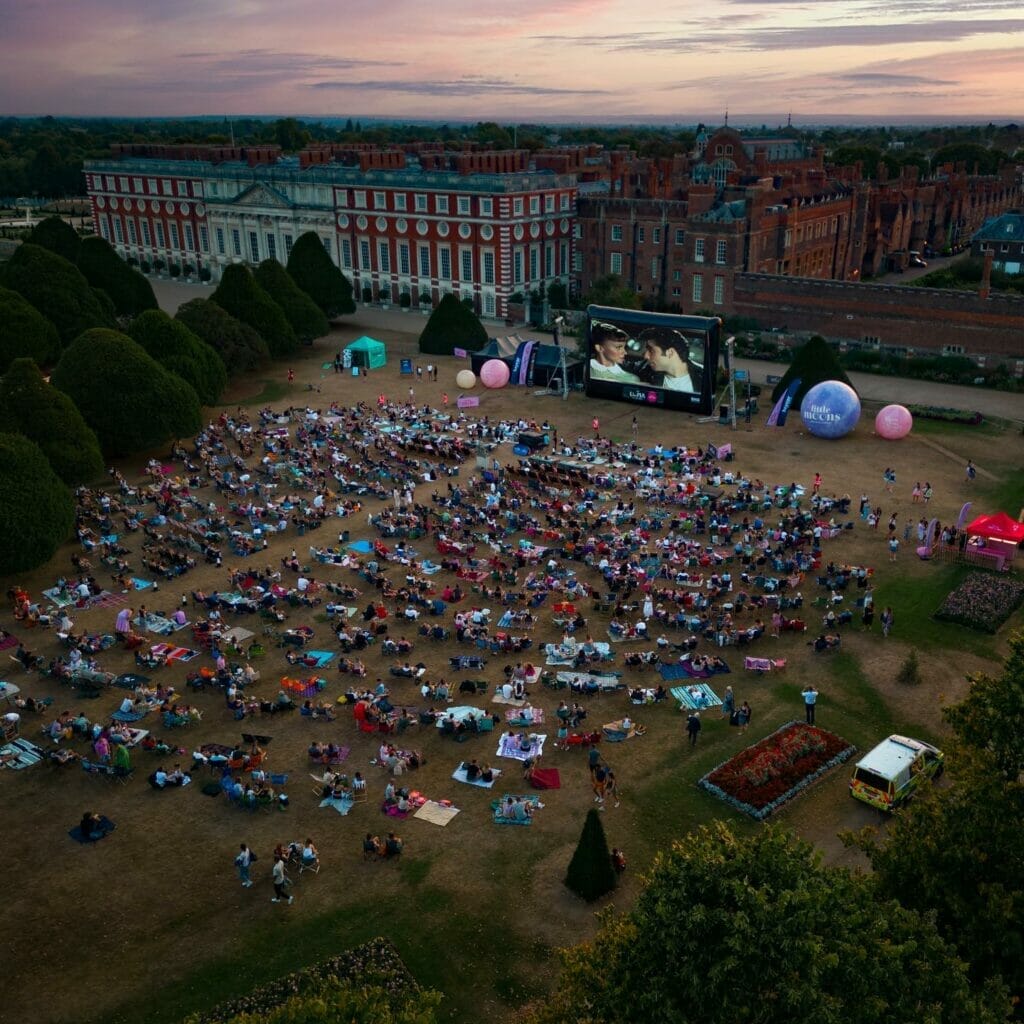 Luna Cinema events take place in venues across London, including some of London's best parks, and the idea is that you take your own blanket and enjoy a movie under the stars (and moon, as the name of the event suggests).
This is definitely an event to check the schedule ahead of time, as the venues and dates change along with the movies that are shown.
19. Christmas Floating Film Festival
The cold weather can't stop some Londoners from wanting to experience film outdoors.
One of the best outdoor cinemas in London happens at the Christmas Floating Film Festival, where you grab some blankets and lounge on a beanbag while watching a Christmas classic and enjoying food from nearby Benugo.
It's not quite ice skating in London at Christmas, but it's the next best thing.
Best Rooftop Cinema in London
Rooftop cinemas seem to be all the rage these days, and luckily London has a lot of rooftops ready to host them.
Whether it's the gorgeous views you get of the sun as it's setting or just the hipster vibe of watching a movie on a rooftop, here are some of the best rooftop cinemas in London.
20. Rooftop Film Club, Bussey Building
Head to Peckham to watch a movie on top of the Bussey Building.
Folding chairs keeps the event casual, while panoramic views of the city lets you experience London in a whole new way.
21. Rooftop Film Club, Stratford
Grab your pair of wireless headphones to enjoy the movie on top of Roof East in Stratford.
This is definitely one for the Instagram with its director-style chairs and colorful blankets draped over pallet furniture.
The best part of the wireless headphone set-up is that if you want to chat for a bit while just watching the movie instead of listening to it, you can do that without disturbing others.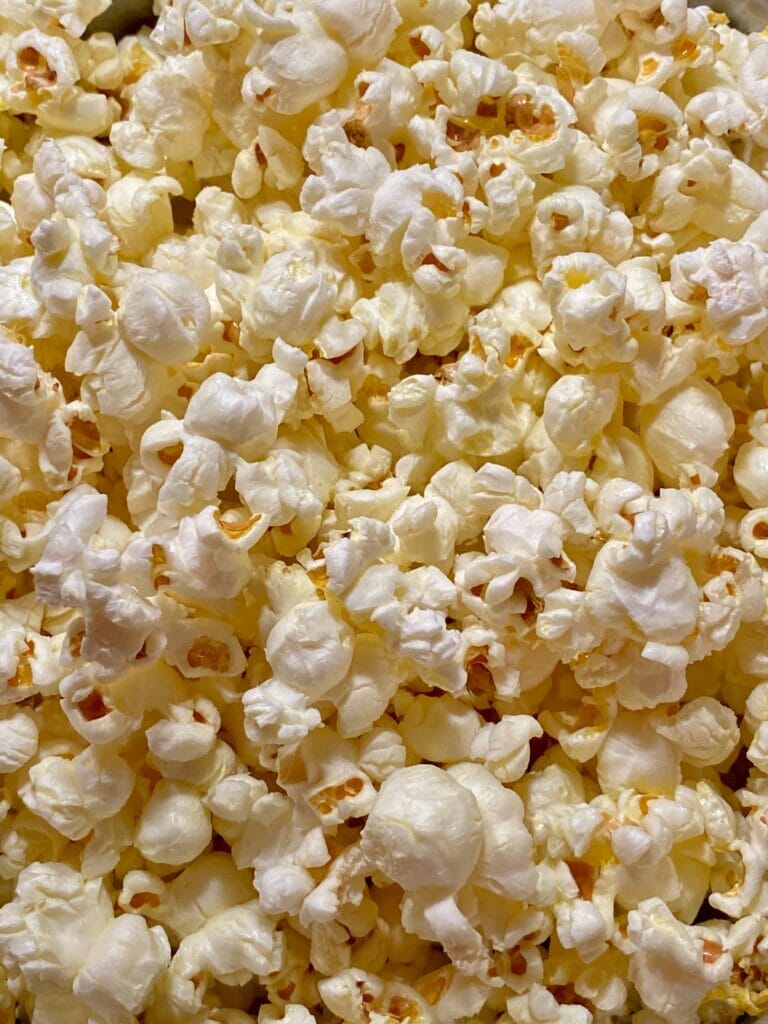 Best Art Cinemas in London
Forget the latest releases and newest Harry Potter movie.
The best art cinemas in London are showing European films, indie movies, foreign language films and more.
London's best art cinemas give you a space to relax, unwind, and experience entertainment that isn't simultaneously playing across 36 other screens in London.
22. Arthouse Cinema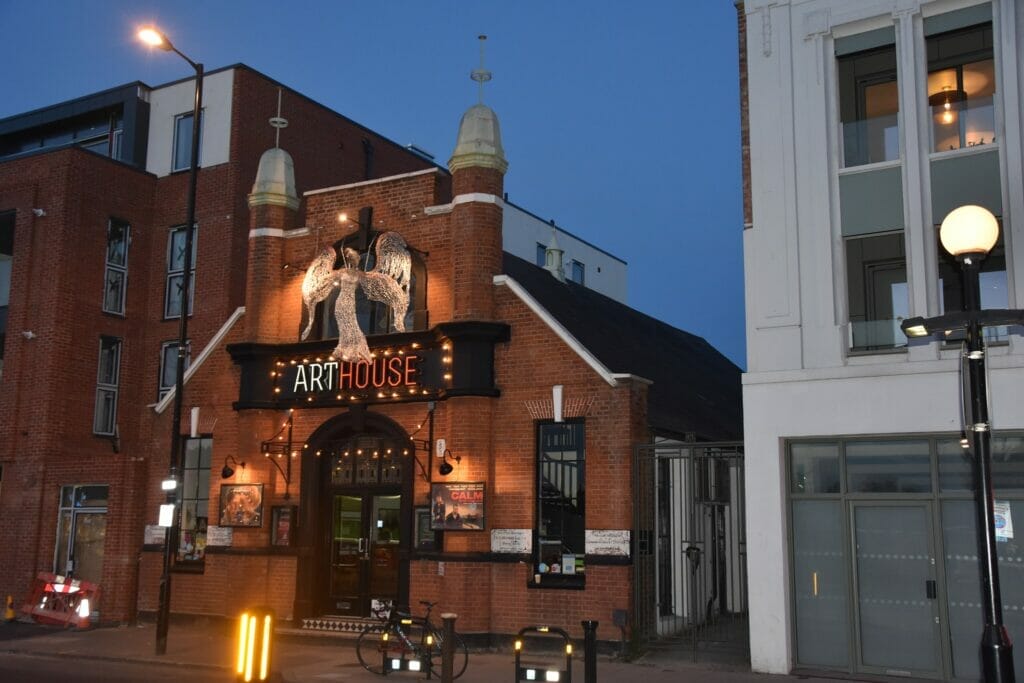 It would be impossible to leave off the Arthouse Cinema in this category, as the name itself reveals the purpose of this cinema in Crouch End.
The purpose of this cinema is to serve the community and bring indie movies, dance workshops and other live entertainment to the local residents.
There are two screens so double the fun, as well as a film-themed book club that meets regularly.
23. Cine Lumiere
Discussed earlier for its contribution to London's French film scene, Cine Lumiere also shows other foreign language films and world cinema, which is just what the artsy filmgoer is looking for.
It was named after the Lumiere brothers who were instrumental in bringing us today's filmmaking, so it's no surprise that this cinema takes their role in supporting indie and art cinema very seriously.
24. Regent Street Cinema
Head to the Regent Street Cinema to see experimental cinema or appreciate film types that you can't view in other modern cinemas.
It's also considered the birthplace of British cinema, so you'd be supporting the British film scene in more ways than one if you paid it a visit.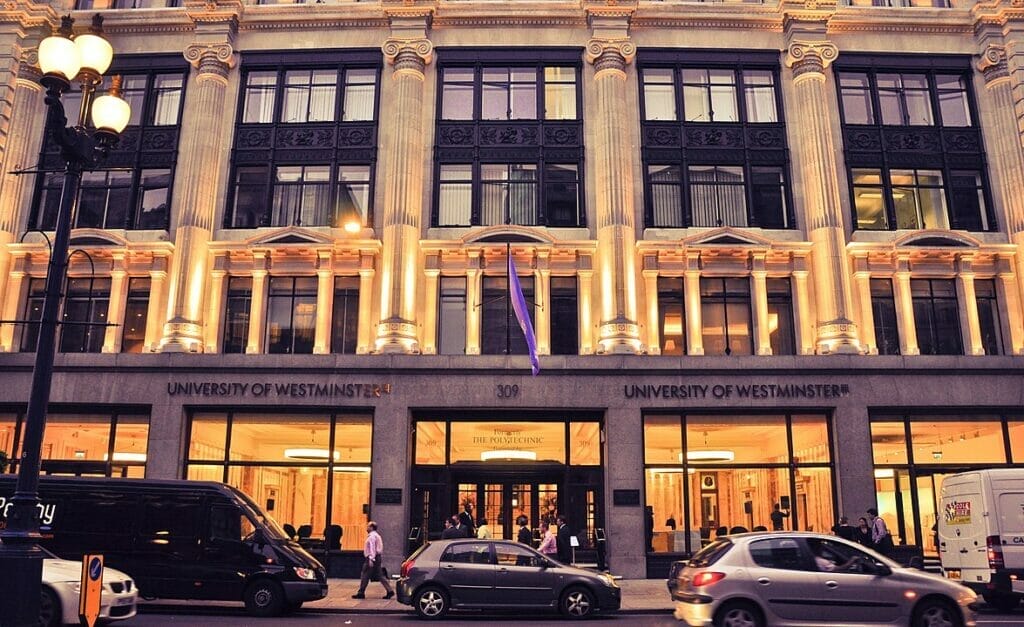 Best Cozy Cinemas in London
25. Everyman Hampstead
Visit the Everyman Hampstead for its plush interior and awesome deluxe sofas.
The armchairs are delightfully comfortable, and there is even waiter service so you can order some of your favorite drinks while watching the film. How's that for comfort?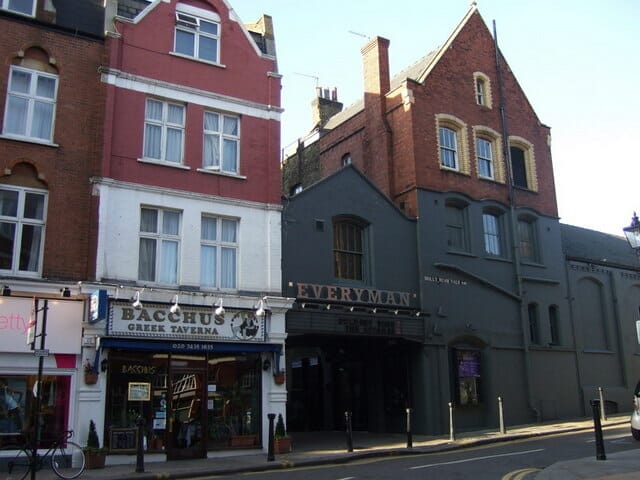 26. Electric Cinema
Okay, so the Electric Cinema has already been on this list twice, but we're going to add it a third time for being the best cozy cinema in London.
Not only does it have the options to watch the movie from an actual bed, but everything is just covered in cashmere goodness and cozy armchairs.
Put your feet up on a footstool, cuddle yourself into your seat and enjoy the film.
Best Baby Cinemas in London
Finding a cinema to enjoy with your baby in London is a bit difficult, and for good reason – babies are not great cinema goers and you probably can't enjoy the film either while trying to keep the little one hushed.
That being said, London's best baby cinemas are ones that have special screenings for parents with babies so you all know you're in the same boat and you can still get out and about once in awhile. It's also a great activity for toddlers in London.
I've put together a list of some of the most popular here.
27. Olympic Studios
Located in Barnes, Olympic Studios has a parents and baby showing where you can meet other parents and curl up with your baby in the reclining seats.
You do need to leave your pram at the door, so make sure that you come prepared for something for your baby to cuddle up in if it won't be your lap.
28. The Barbican
Head to the Barbican for a baby-friendly cinema showing.
The chairs are super comfortable and there are snacks and hot drinks on offer if you need a pick-me-up.
The building itself may not seem super baby-friendly from the outside with its modern edges and sleek design, but once inside you'll find a welcoming atmosphere and other parents taking advantage of the activities.
29. Everyman Maida Vale
The baby cinema mornings at Everyman Maida Vale are super popular, and it's easy to understand why.
With cozy sofas and lots of other parents who live in the local area, you'll get to enjoy a film while not being judged if your little one cries a bit too loudly or you have to turn your phone light on for a second to make sure she hasn't eaten something off the floor.
Want more helpful London guides? Check these out!