This post contains affiliate links for which I may make a small commission to help keep the site running. You will not be charged extra for these items had you not clicked the links. Thank you for your help to keep the site running!
Whether you want to up your Instagram game or you just want some great place to take some family photos, these are the best Instagrammable places in London.
London has some stunning backdrops around the city that will make your photos pop, including some of the best things to do in London that just so happen to be Instagrammable.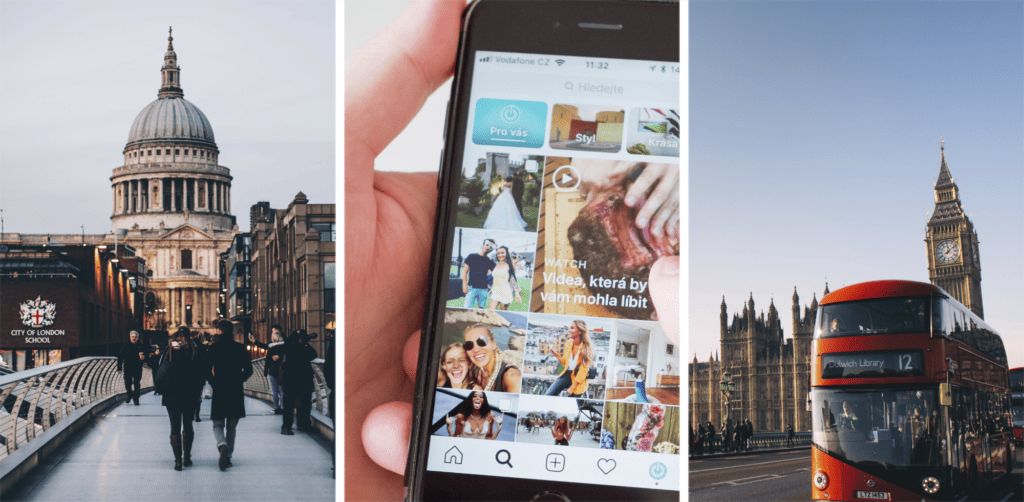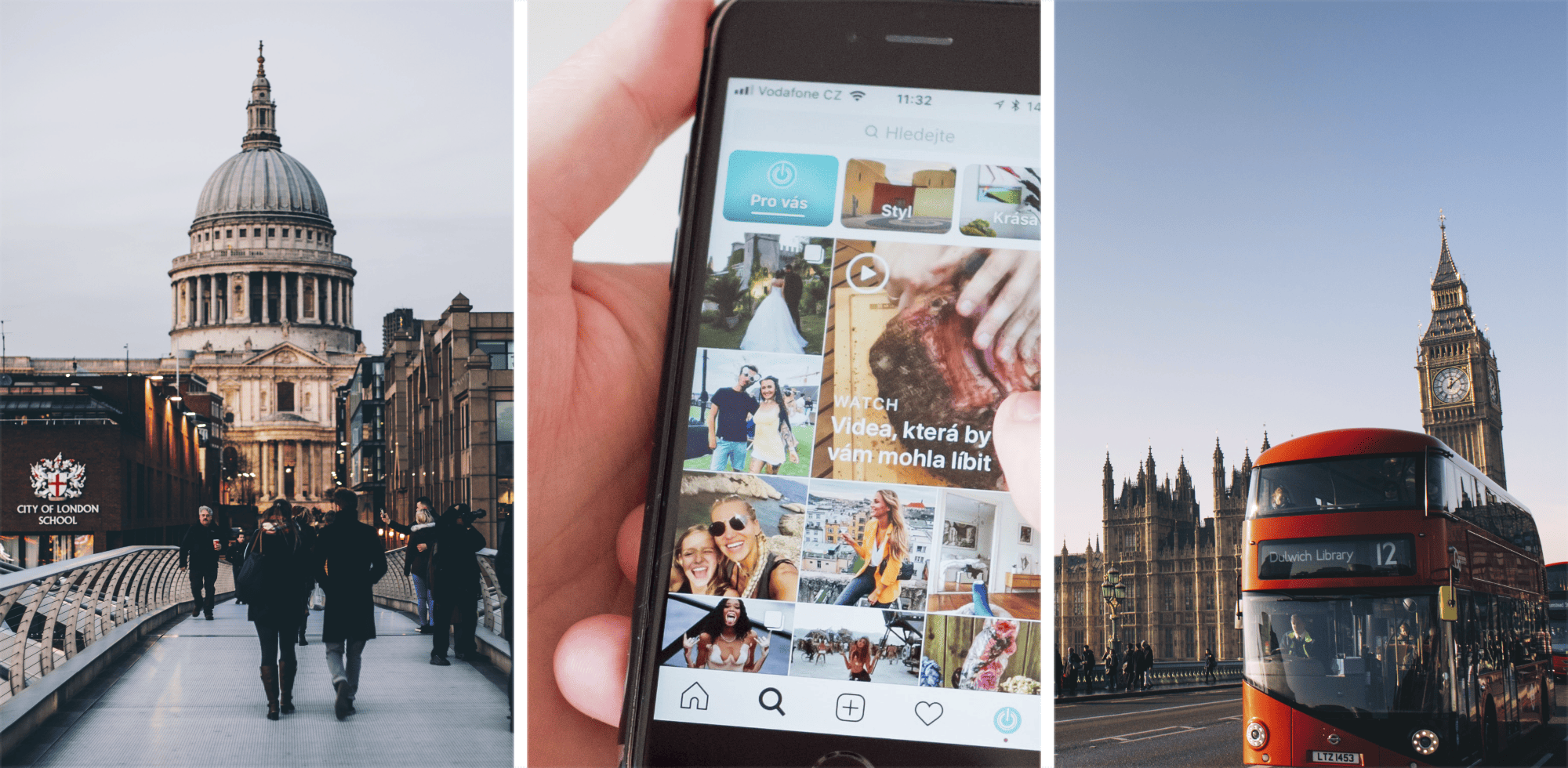 From flowers to iconic attractions to street art, here is the ultimate list of London's most photogenic and Instagrammable spots.
The Absolute Must-Knows (from a Londoner)
1. Carnaby Street
Carnaby is a string of 14 streets in London's West End, but Carnaby Street itself is always awash with activity and cool decorations.
Not only is this a great area of London to explore for its own sake, but it's a great place to get some fabulous pictures, and you can come back on multiple trips and always get a different vibe.
GET A

FREE

LONDON INTRO GUIDE and ACCESS TO MY FB GROUP
Start your planning with this "Intro to London" guide and access to my London planning Facebook group!
2. Notting Hill
Notting Hill might be a cliché place to snap some pictures, but that's only because it's one of London's prettiest areas.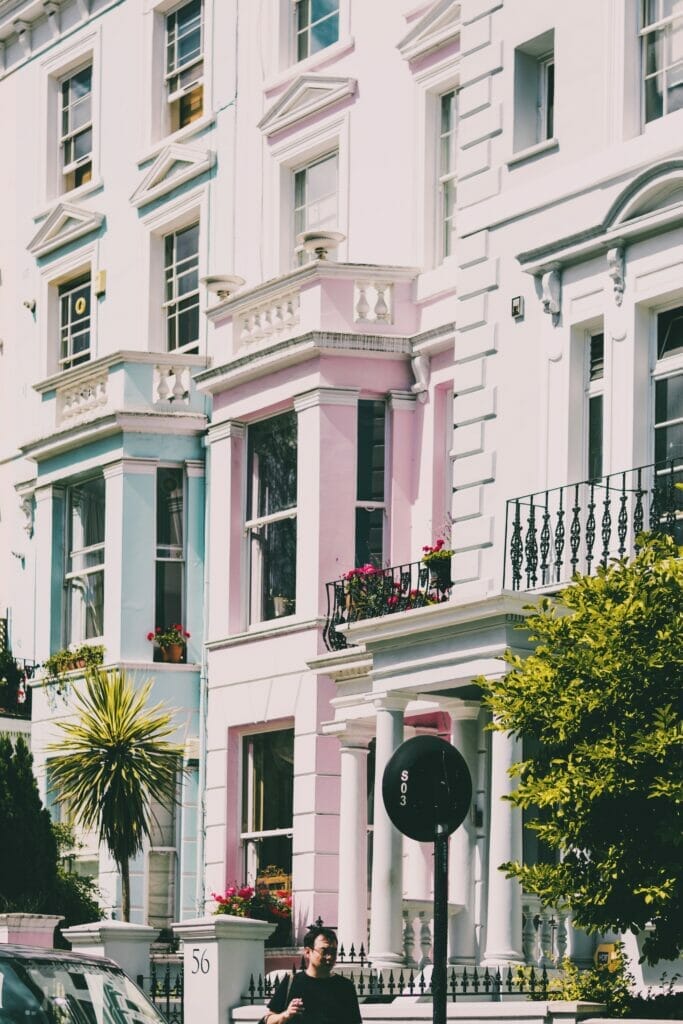 Head to Portobello Road in Notting Hill, one of the best markets in London, to capture the colorful buildings and chic vibe.
And, of course, you can see London filming locations from the film of the same name.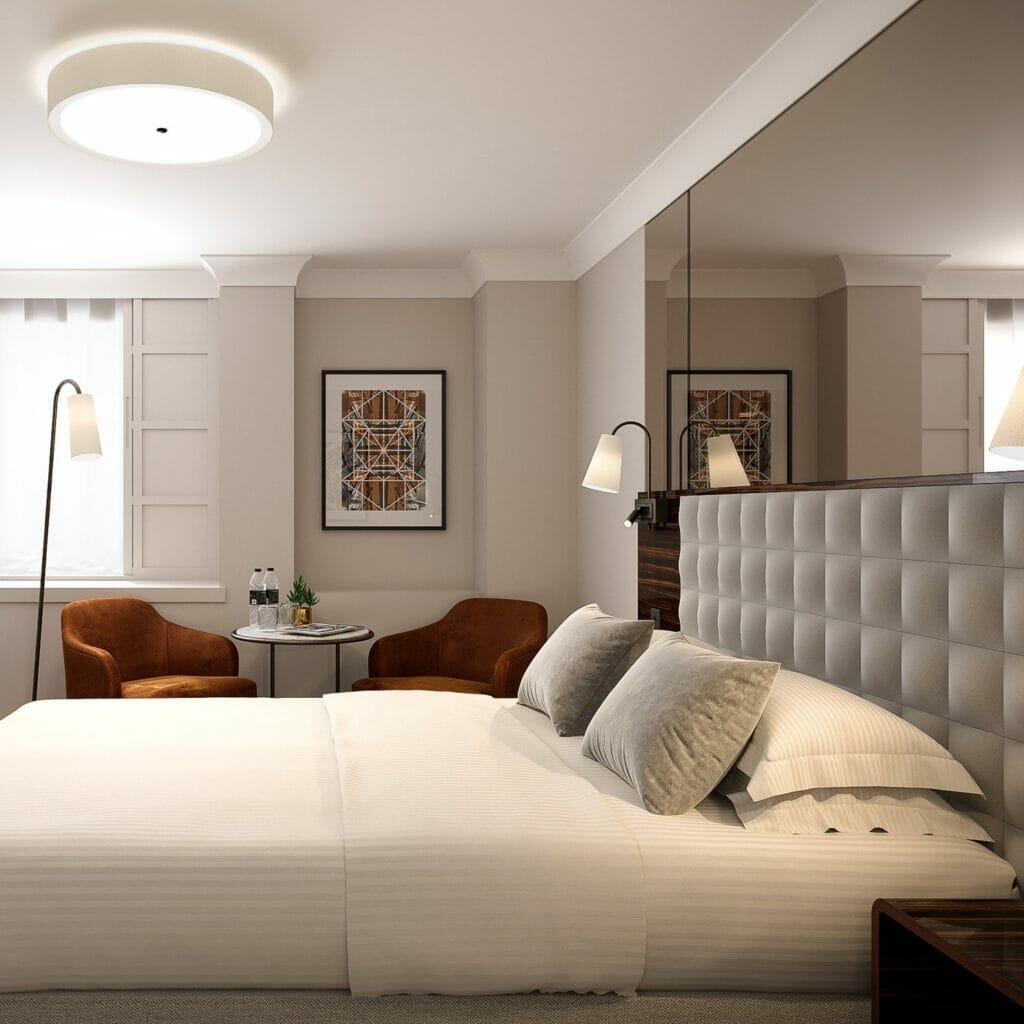 3. Churchill Arms
This London pub is listed as one of my favorite places to eat in London, and it's also one of my favorite to photograph.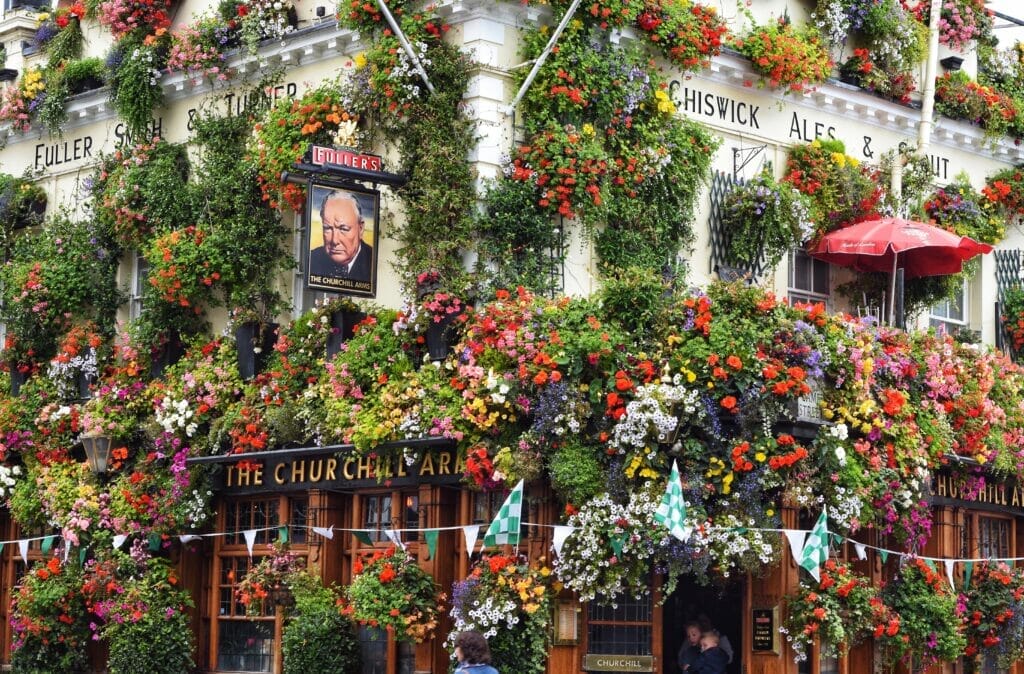 They don't spare any expense when it comes to decorating the outside in flowers and other plants and it makes for a unique view and some great pictures of all of the popping colors.
4. Neil's Yard
In the Covent Garden area, Neil's Yard provides some great backdrops for photos and leaves you feeling awash in color.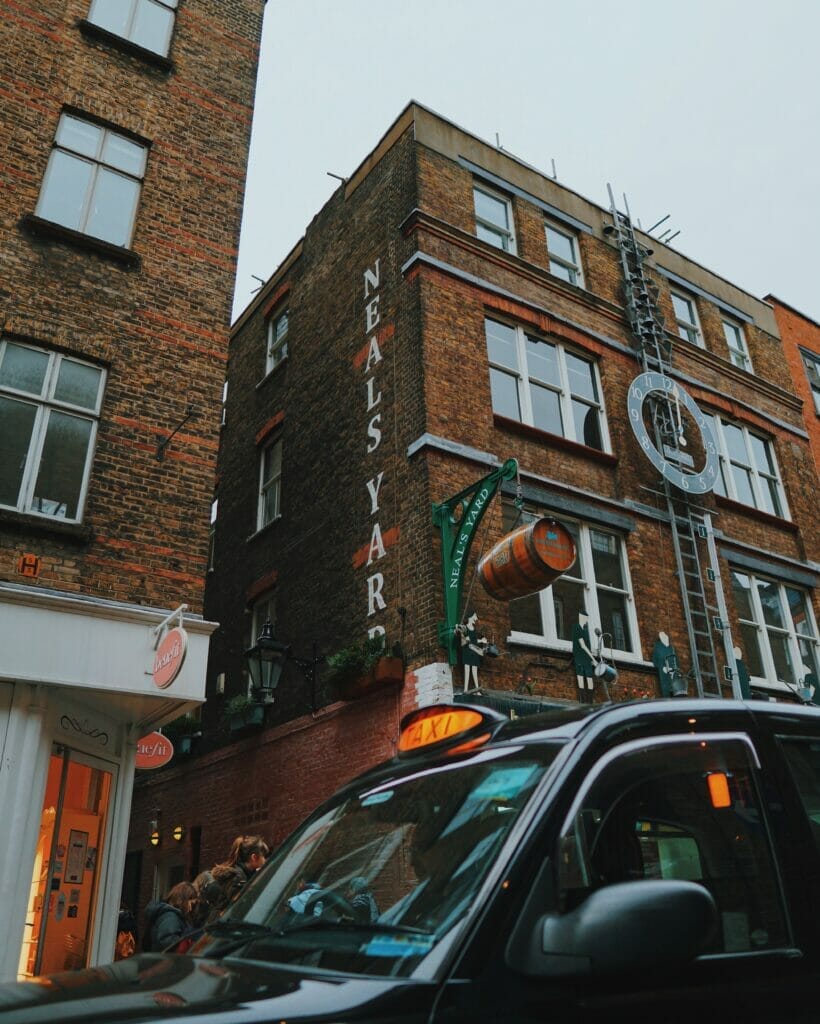 This is another photo spot that is nearby to places you should be exploring in London anyway (ie, Covent Garden), so don't forget to take a stroll through and seek out this fun loving area for the best Instagram spots in London.
5. London Eye from the benches on the North Side of the River
You can get lots of pictures of the London Eye from many different angles, but my favorite for one of the best London pictures is actually from across the river.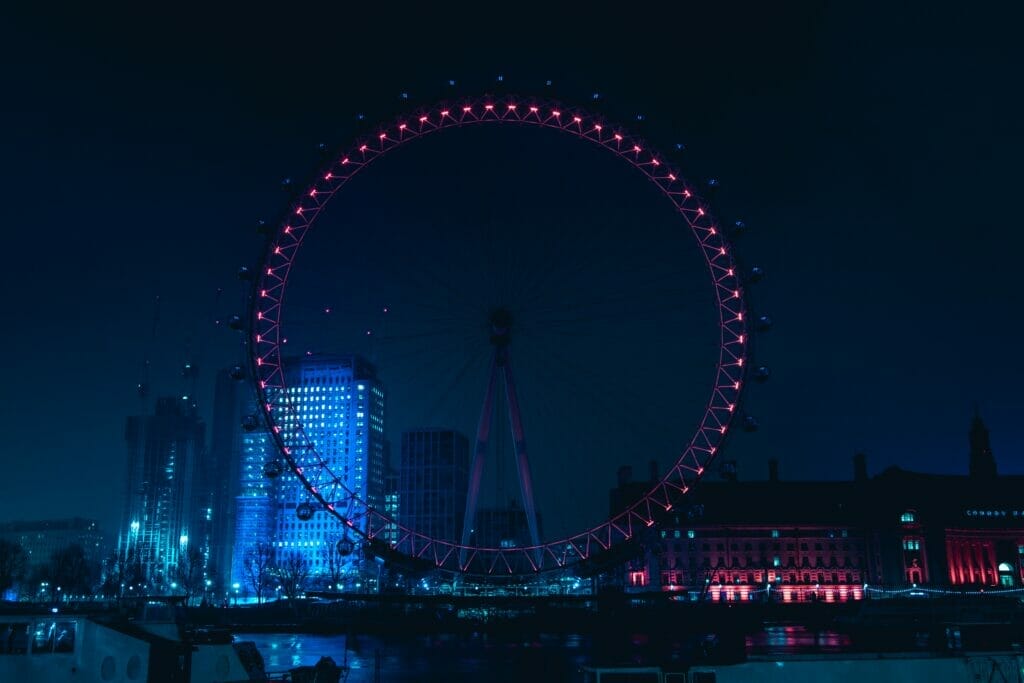 The London Eye sits on the south side of the river, but if you go across Westminster Bridge from the Eye and then work your way back to where you can see the Eye, you'll find lots of benches to sit on and an amazing view of the Eye with the River Thames in the forefront.
6. Millennium Bridge
It's famous for being the bridge that was blown up in the sixth Harry Potter film, but rest assured the Millennium Bridge is still there and fully in tact, ready for you to get creative using it in your photos.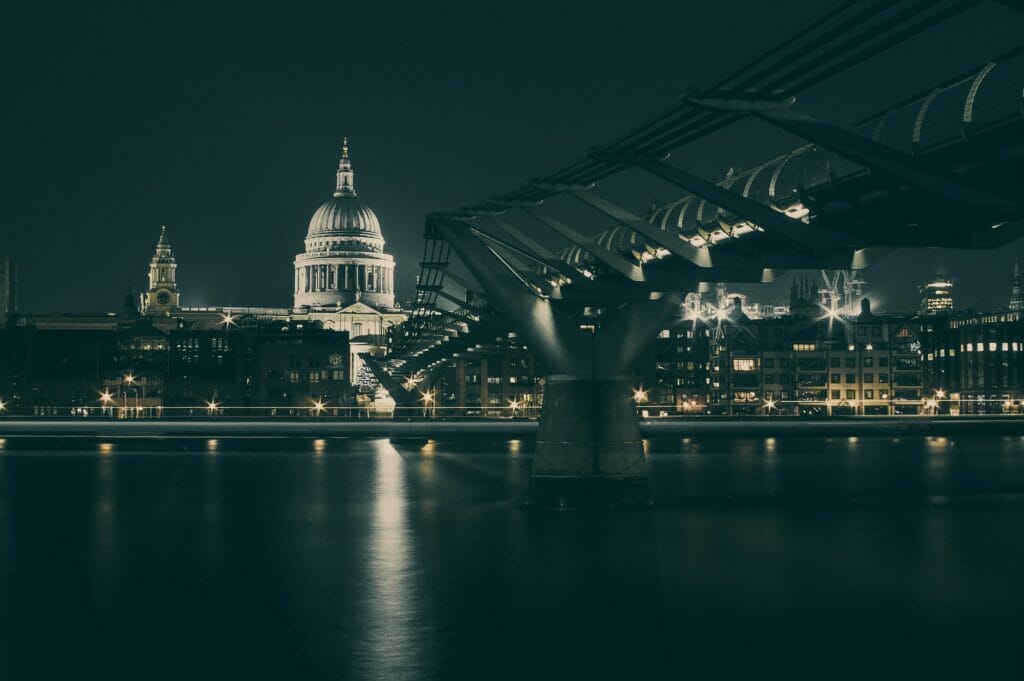 At the end of the Millennium Bridge is St. Paul's Cathedral, and this line of sight is often used by photographers to get some really cool shots.
7. Queen's Gate Terrace, Kensington
There's a street called Queen's Gate Terrace in the Kensington area that I feel I should point out specifically as one of the best Instagram places in London – it's filled with traditional posh London homes with white exteriors and grand steps and numbers painted on the pillars.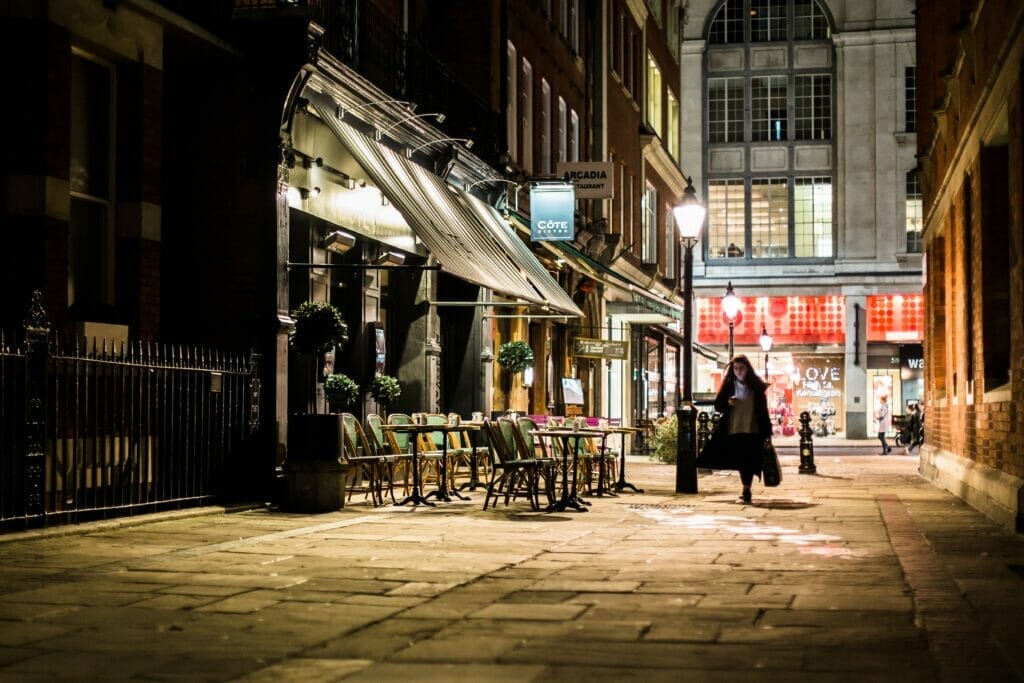 It's a nice street to stroll down and get some pictures of the richer side of London.
8. Primrose Hill
There are two types of pictures you can get in the Primrose Hill area, and both are fantastic.
One is of the actual view from the hill itself – my favorite view in London and a nice way to capture one of the best parks in London and the cityscape at the same time.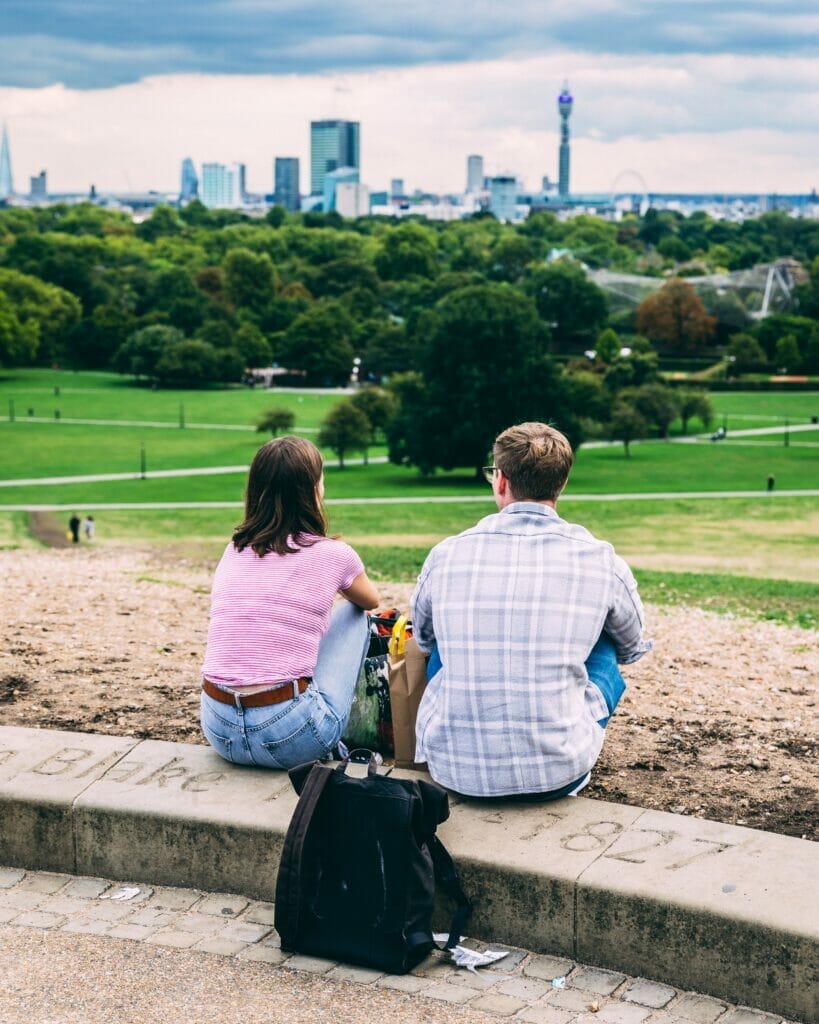 The other is the area of Primrose Hill, which is filled with quaint streets and colorful houses.
9. British Museum
The exterior of the British Museum is nice, but for some real photography fun, head inside into the grand lobby and check out the view of the sky through the glass ceiling.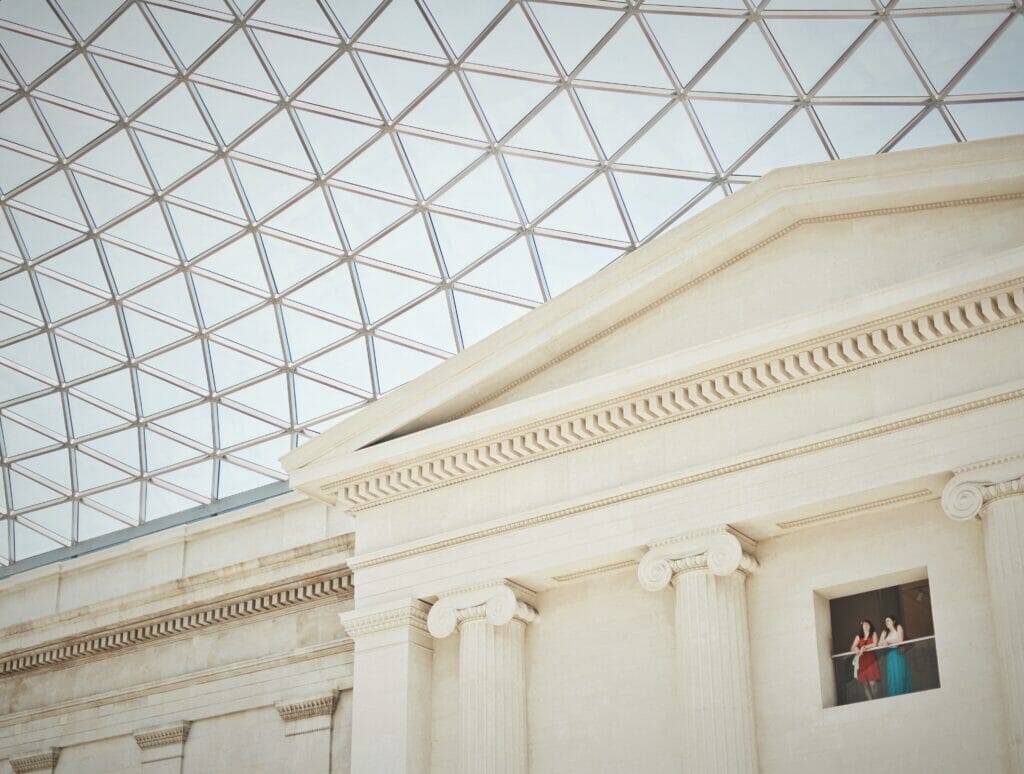 There are also some incredibly impressive stairs inside and other architectural details that make the inside of the British Museum a top spot for budding photographers and those wanting a different backdrop.
10. Shoreditch
Shoreditch is one of East London's hippest areas and is filled with colorful street art and grunge chic.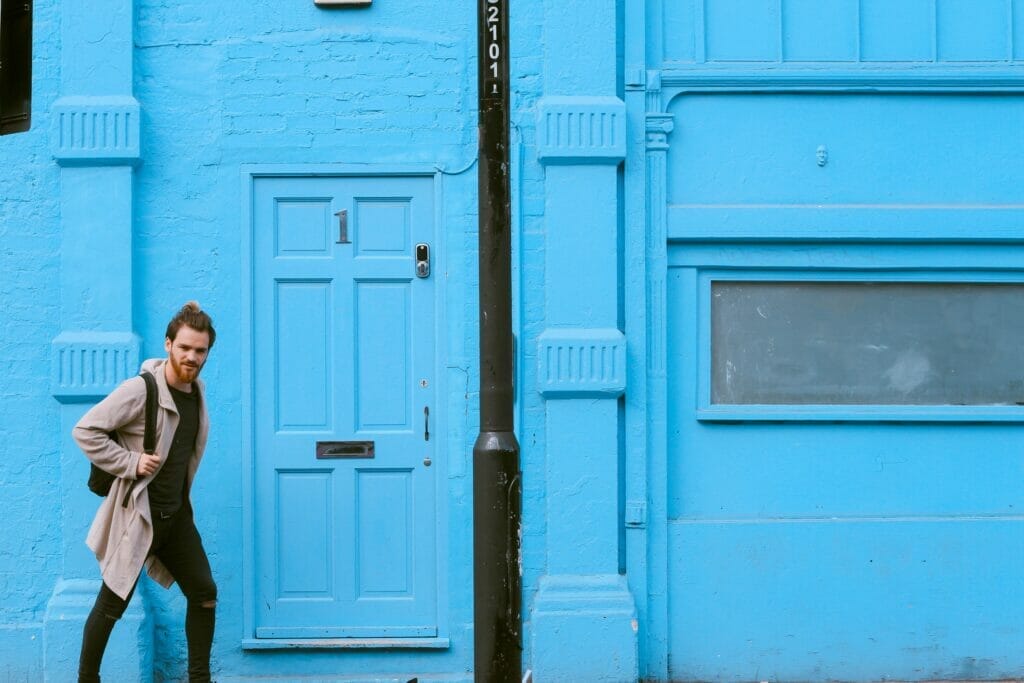 I would recommend heading to Shoreditch to explore all of its nooks and crannies and find plenty of spots for an Instagram photoshoot in London and to capture London's colorful and clever street art.
11. King's Road, Chelsea
One of the richest roads in London is called King's Road in the Royal Borough of Chelsea.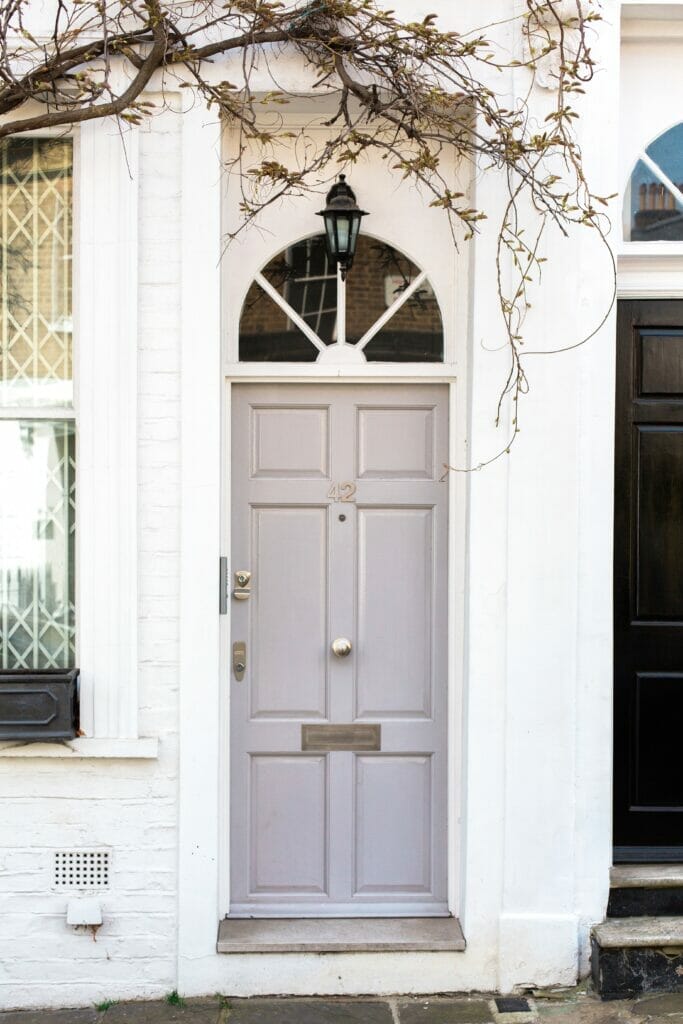 This is a gorgeous shopping street in London to explore and check out all of the posh shops, as well as featuring some visually interesting details like colorful buildings.
12. Mews in Kensington
Almost everywhere you turn off of the main streets in Kensington are "mews" – roads that are usually cobbled stone with lots of plants and a dead end.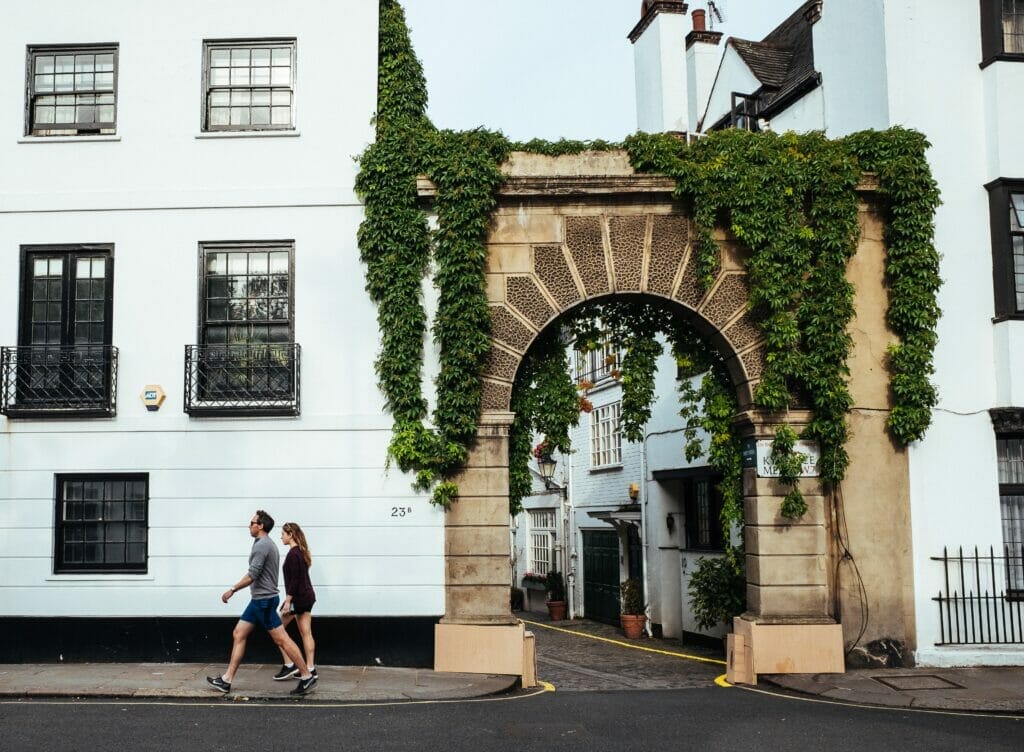 Seriously, you can find them everywhere if you just start walking in any direction, and they make for great photos and pretty walks.
13. The Landmark Hotel, London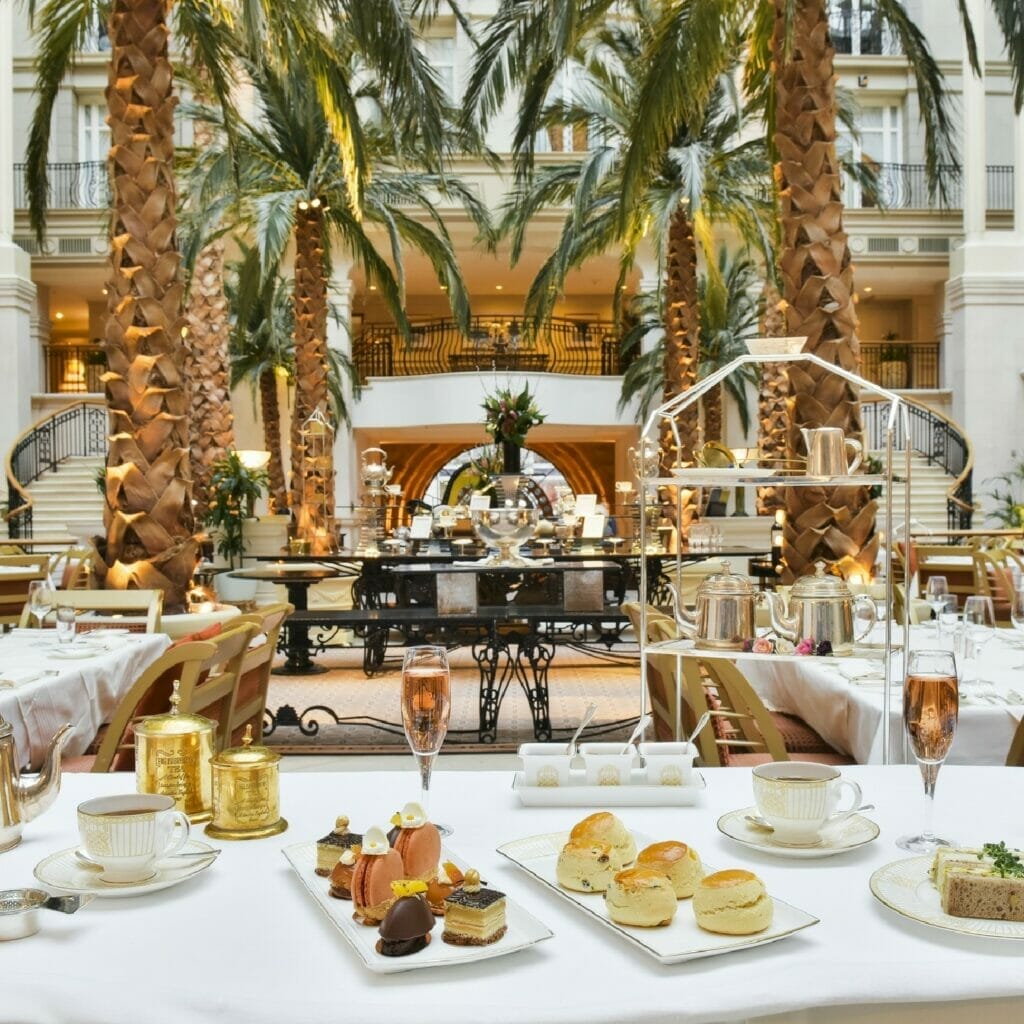 If you want a stunning interior in London as a backdrop for your Instagram, the Landmark Hotel is the place to go.
This hotel is out of this world beautiful, and they also serve afternoon tea so you could combine a photoshoot with some afternoon tea and feel like you've escaped into the most beautiful place in the world.
14. The Mall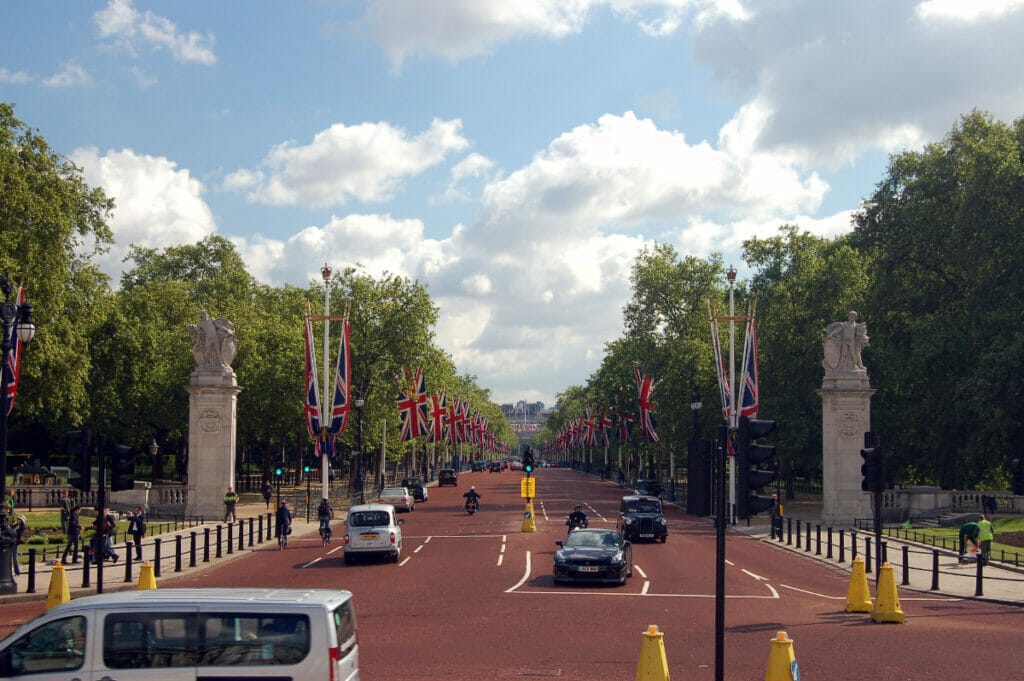 The Mall is the road in London that leads from Buckingham Palace to Trafalgar Square, and I'd like to specifically point out the part of the Mall that ends at Buckingham Palace as a photogenic street in London that gives you all of the British vibes and has interesting things to look at including flags and the actual palace at the end of the street.
15. Hampstead Heath
If you want some countryside London vibes for your Instagram, check out Hampstead Heath.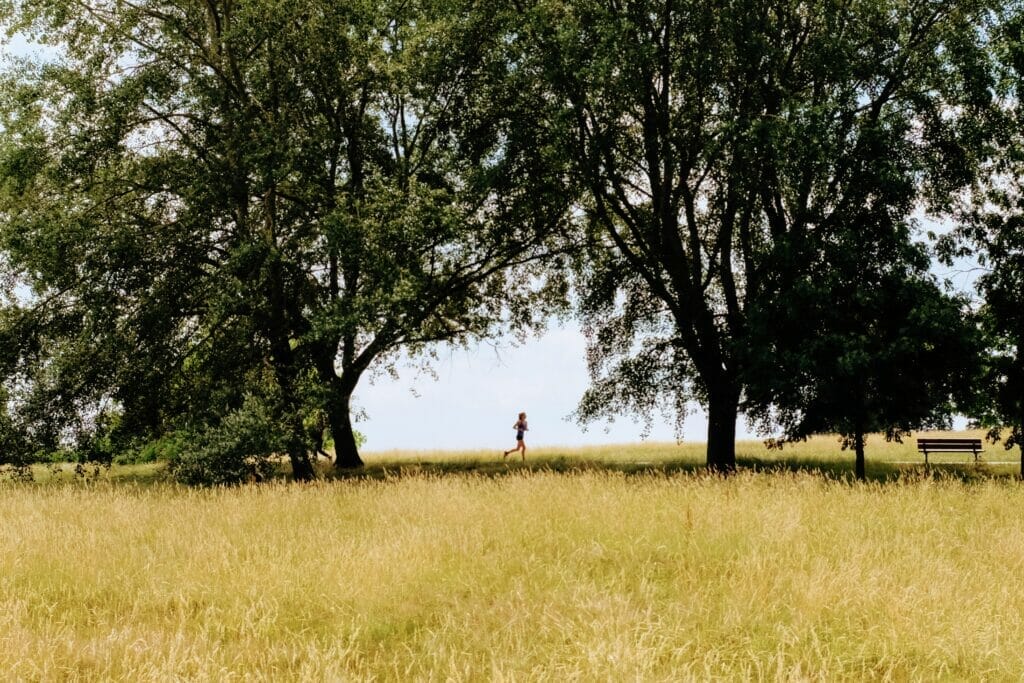 There are hundreds and hundreds of acres to explore, and it's a great place to get London's more unknown greenery in your shot and try out all of your flowy dresses and sun hats.
16. Brick Lane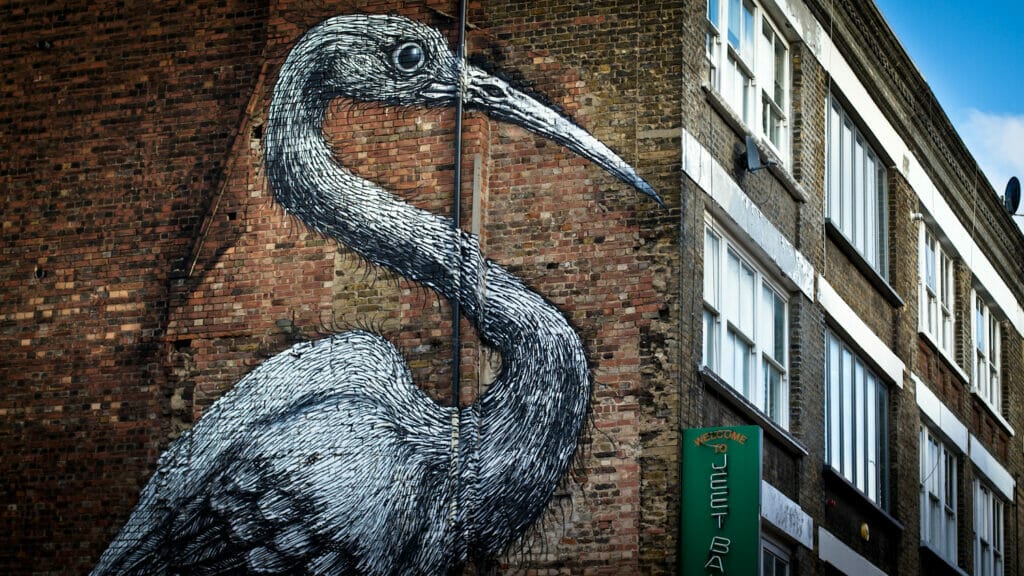 Looking for a London Instagram spot with plenty of gritty vibe and street art to enjoy?
Brick Lane is one of the most diverse and incredible markets in London, and if you take your camera to East London, you'll find incredible food, vintage shops, London culture, and some really great street art to act as a backdrop for your Insta photos.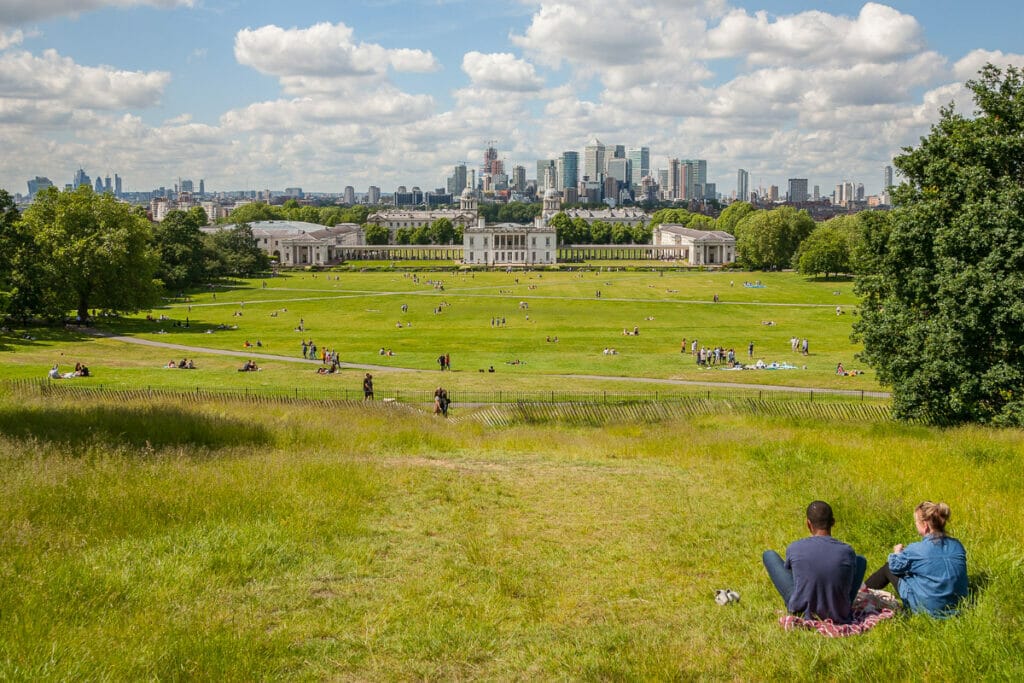 Greenwich is a wonderful neighborhood just on the outskirts of Central London, known for famous attractions like the Cutty Sark and Royal Observatory.
The park has beautiful views of the London skyline and is a great Instagrammable place in London on a clear day.
Bring some changes of clothes if you want to do some cute outfit snaps in London and appreciate all of the space in this park for photography.
18. Highgate Cemetery
You'll want to make sure you're being respectful in Highgate cemetery, but if you want some moodier Instagram snaps of the "real" London, this is a great place to go.
You'll find overgrown plants, historic tombstones, and lots of London history to explore.
Just make sure that you're aware of your surroundings and treat the cemetery with the reverence it deserves.
19. Thames Cable Car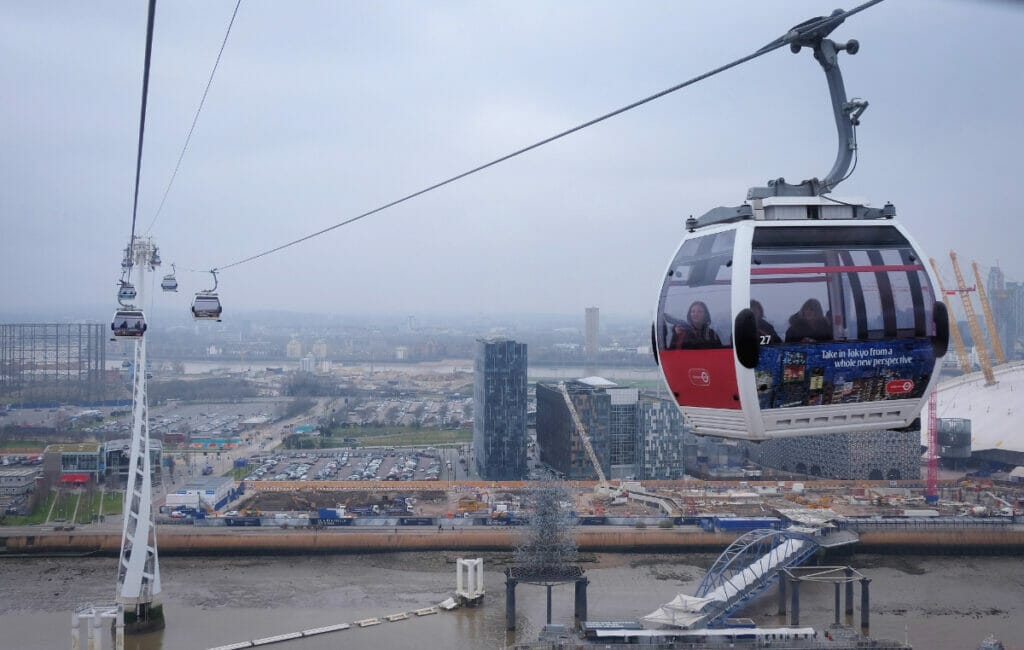 Want some Instagram snaps of London from high up?
Take a unique ride on the London cable car!
Truthfully, this isn't used for much these days besides visitors and a few people who do use it to commute over the river, so you won't have trouble getting on it at any time of day and can really get some cool photos from high in the sky.
20. Thames River Cruise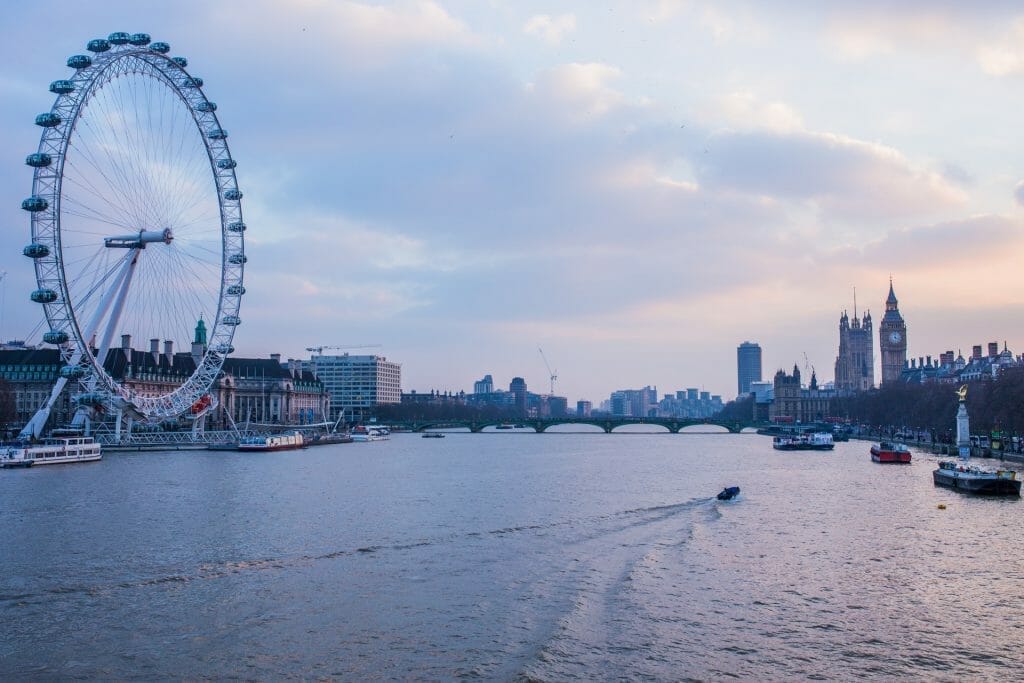 What's one of the most Instagram friendly places in London?
The Thames, of course!
It's the main waterway through London and while it looks good as a background in photos, it looks even better when you're on it.
Take a Thames river cruise and get some Insta snaps from the river, looking out to the banks or ahead to the bridges.
21. Kew Gardens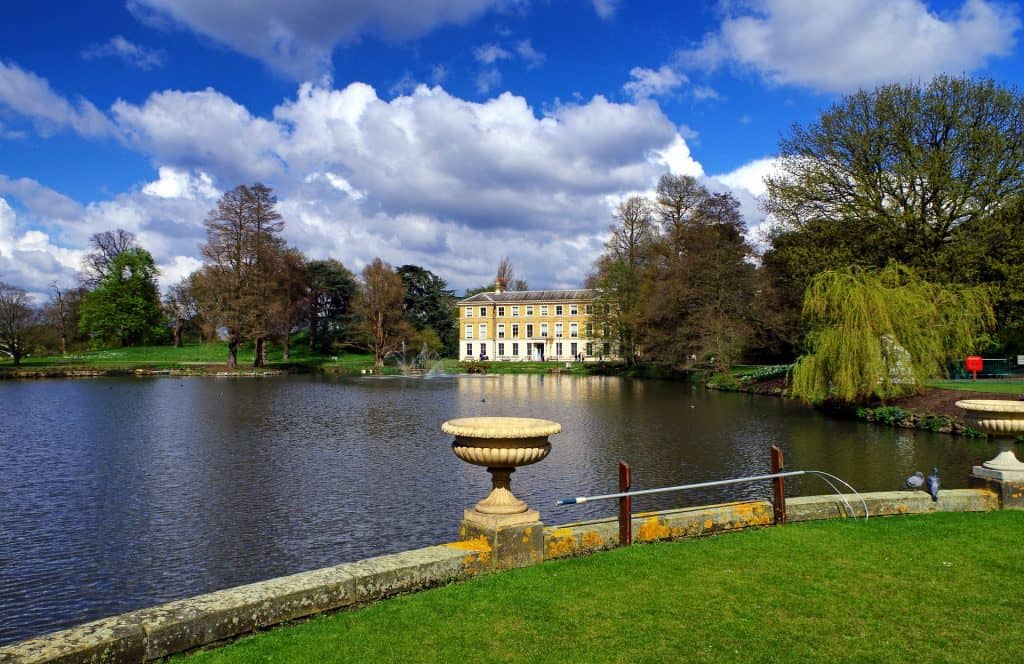 If you want some floral photos or nature-based Instagram snaps, head to Kew Gardens.
Kew Gardens is London's botanical gardens (royal, in fact!) and there are so many colors, backdrops, and beautiful photo opportunities around every corner.
Particularly in the spring when everything is blooming, Kew Gardens is a must-do for any London photographer.
22. Hampstead Heath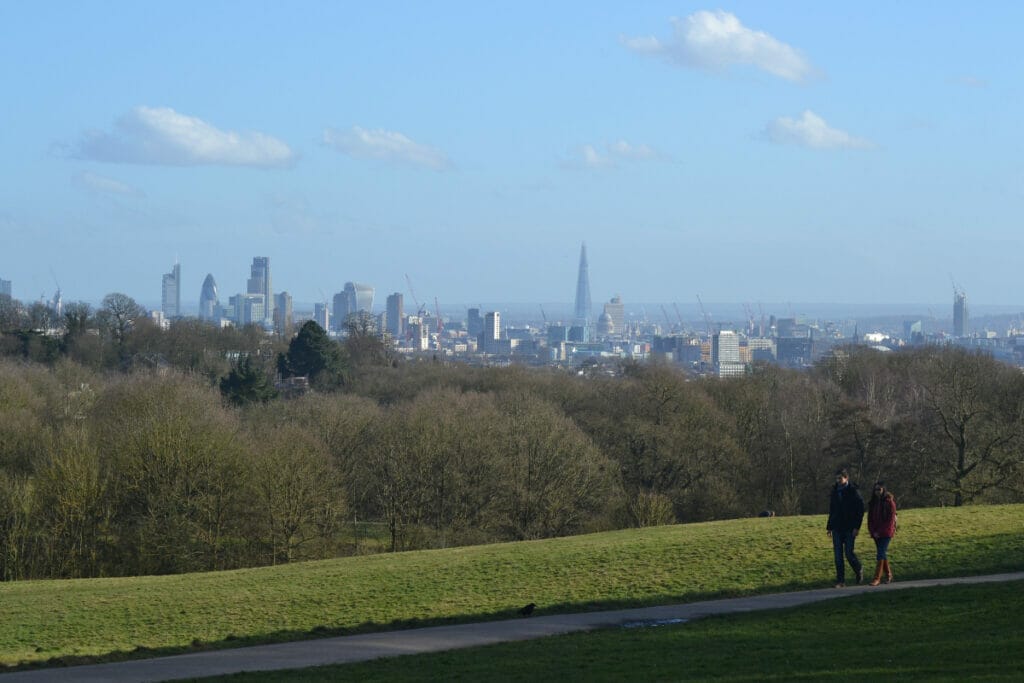 Get acclimated with a different side of London when you head to Hampstead Heath.
Many visitors will never visit here, as it's more of a local area, known for housing many celebrities and wealthier London residents.
But this means that not only does it have some beautiful homes, it also has a great view overlooking London that you won't constantly find on everyone else's Instagram.
Be unique and get some gorgeous pictures of sunset from Hampstead Heath.
23. Richmond Park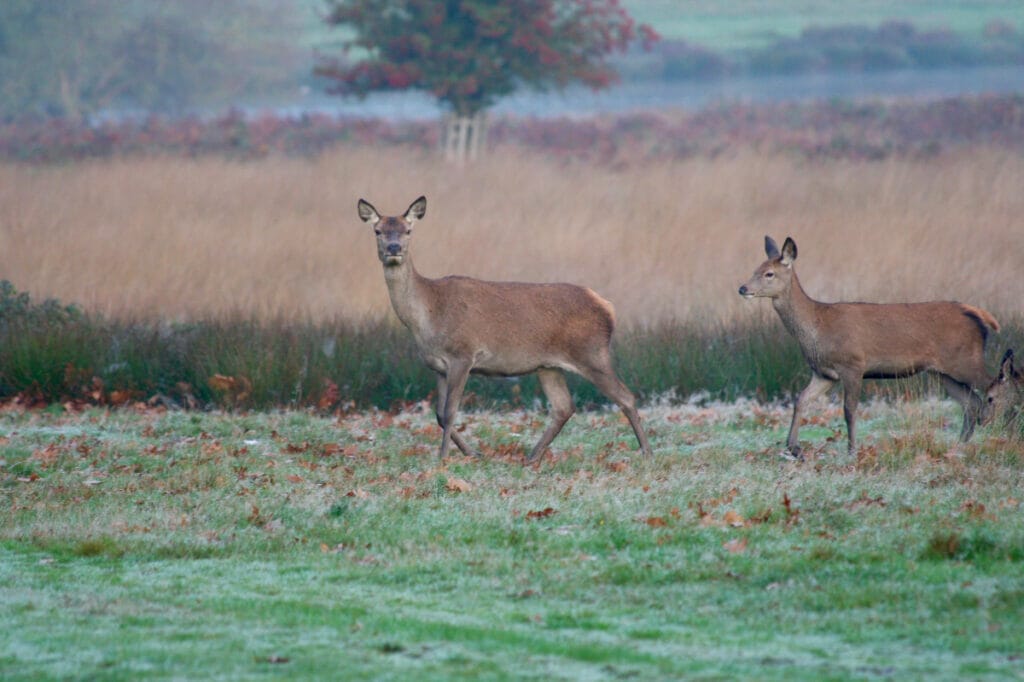 While the park itself is definitely gorgeous, the most Instagram friendly part of Richmond Park is definitely the deer!
This park is known for its resident deer population, and while they might not pose just how you want them for your pictures, they're super cute and can help make for some unique photos in London.
Most of your followers won't be expecting to see deer in the wild in London, so show them what they're missing!
24. Portobello Road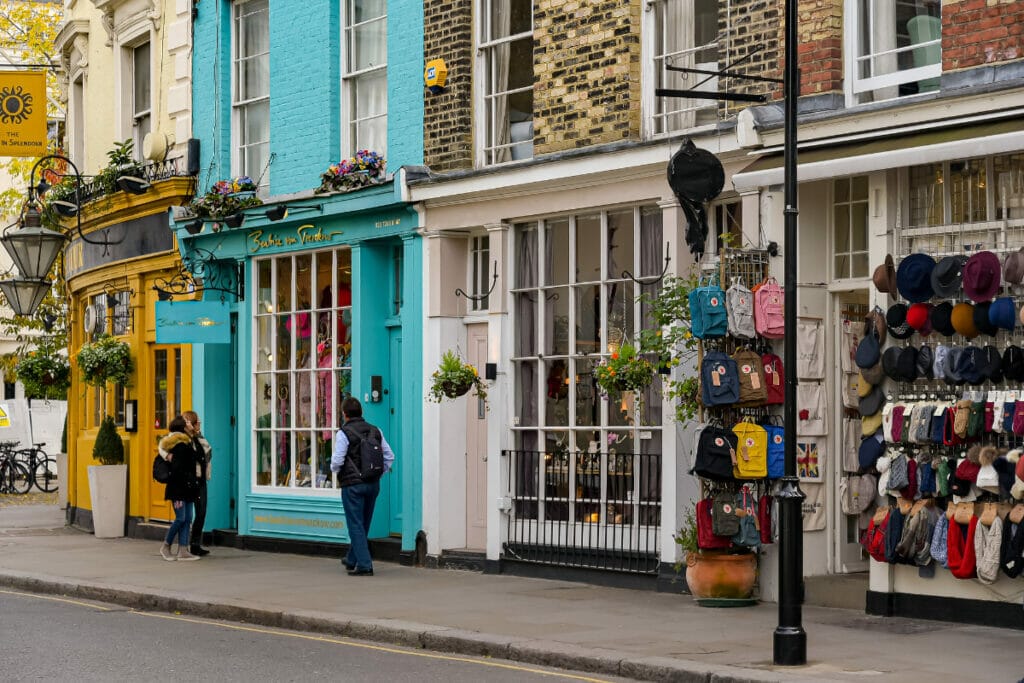 Known for Portobello Road Market, Portobello Road is a wonderful street in London filled with market stalls, bright colorful buildings, and a buzz that you just have to capture.
Take your phone or photography down to Portobello Road for some cute aesthetic snaps and to really appreciate the different colors and textures here.
Head to Hyde Park for some absolutely stunning photos of a gold-plated memorial dedicated to Prince Albert.
It was built to commemorate him after his death, and it is seriously beautiful with plenty of detail, ornate designs, and geometric beauty that will help you create some great London Instagram pictures.
26. Camden Lock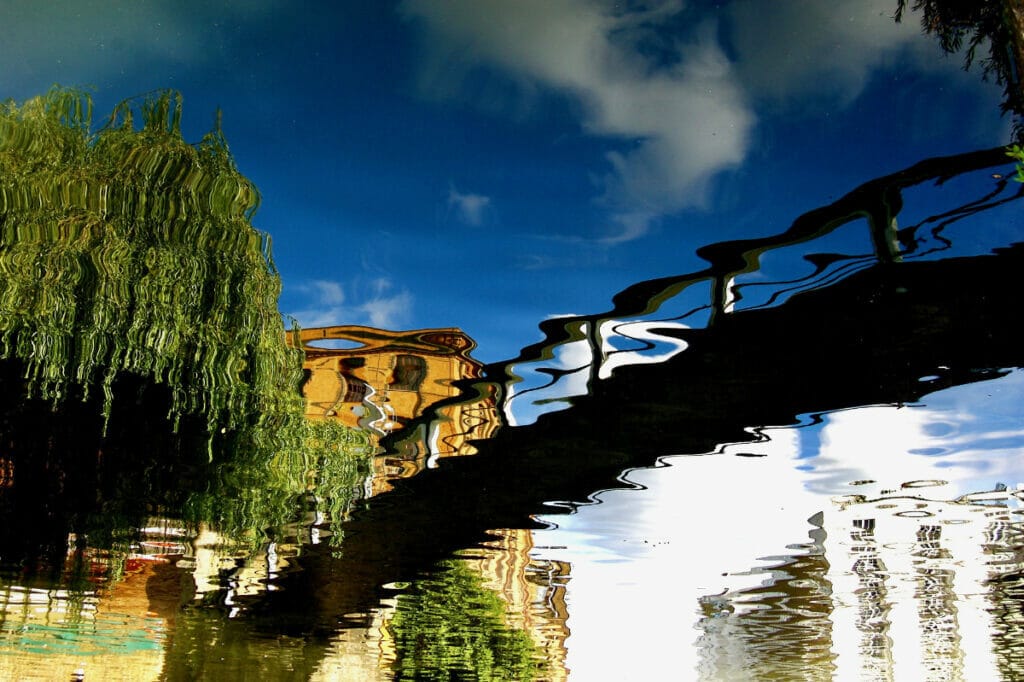 The Thames isn't the only waterway in London.
Visit Camden Lock for a chance to take some creative photos in London.
This lock, which flows through Camden Market, is great as a London Instagram backdrop while also giving you easy access to the market itself, where you'll find more cool alleyways and prints and textures to take photos of.
Camden is one of the "grittier" and alternative areas of London (not unsafe, though, just eclectic), so be prepared to take a snap of all of the weird and wonderful things Camden has to offer.
27. Canary Wharf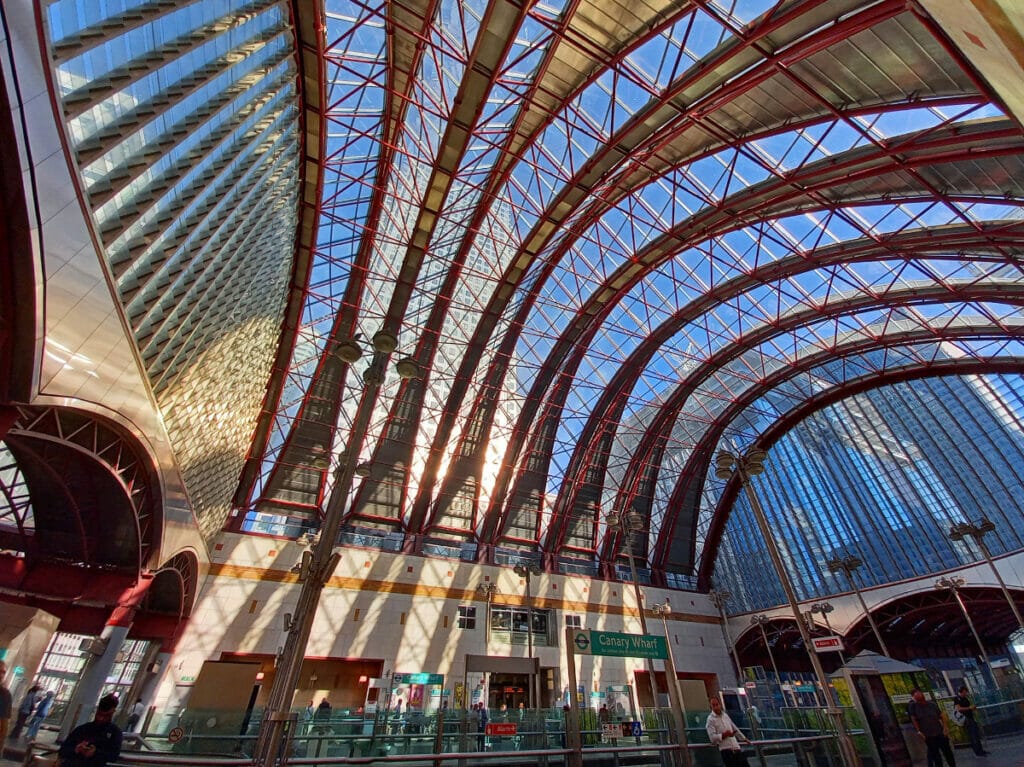 You might not think of Canary Wharf as a London Instagram spot, as it's typically known as mostly a place for businessmen.
However, if you're into architecture or geometric design, Canary Wharf offers some really unique options for photos.
This photo above is from the Canary Wharf train station, and patterns like this can be found across the area.
28. Leadenhall Market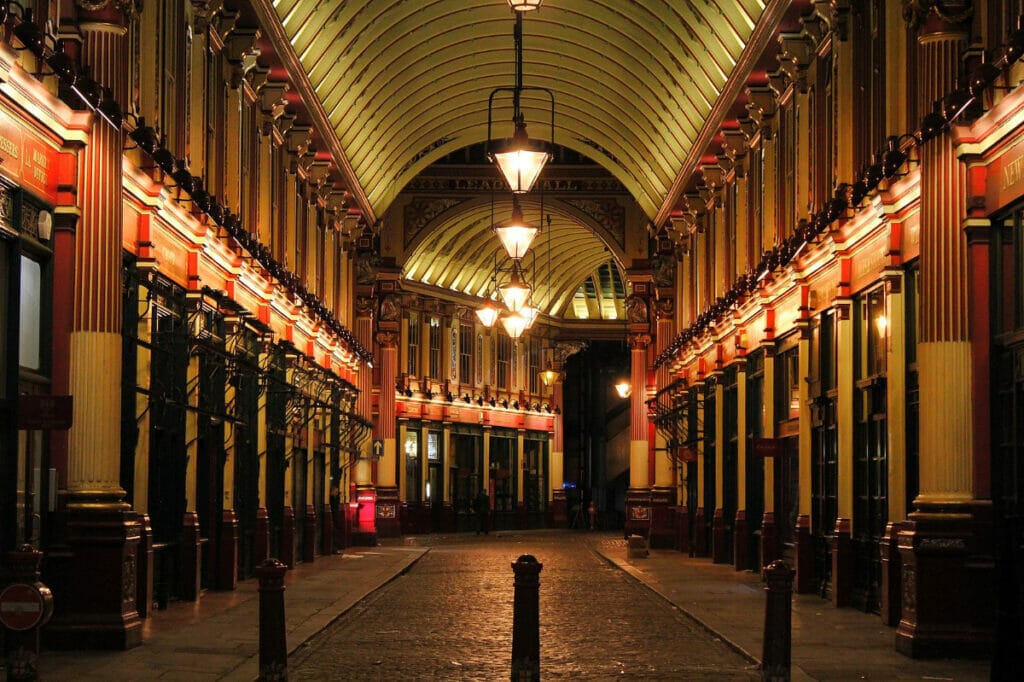 Known for appearing in the Harry Potter films, Leadenhall Market is a wonderful place for London Instagram photos as the architecture gives you unique shapes and ornate designs around every corner.
This spot tends to get super busy, so if you can get there first thing in the morning, you stand the best chance of catching snaps like the photo above and having more room to play around with the angles without people in your way.
29. Great James Street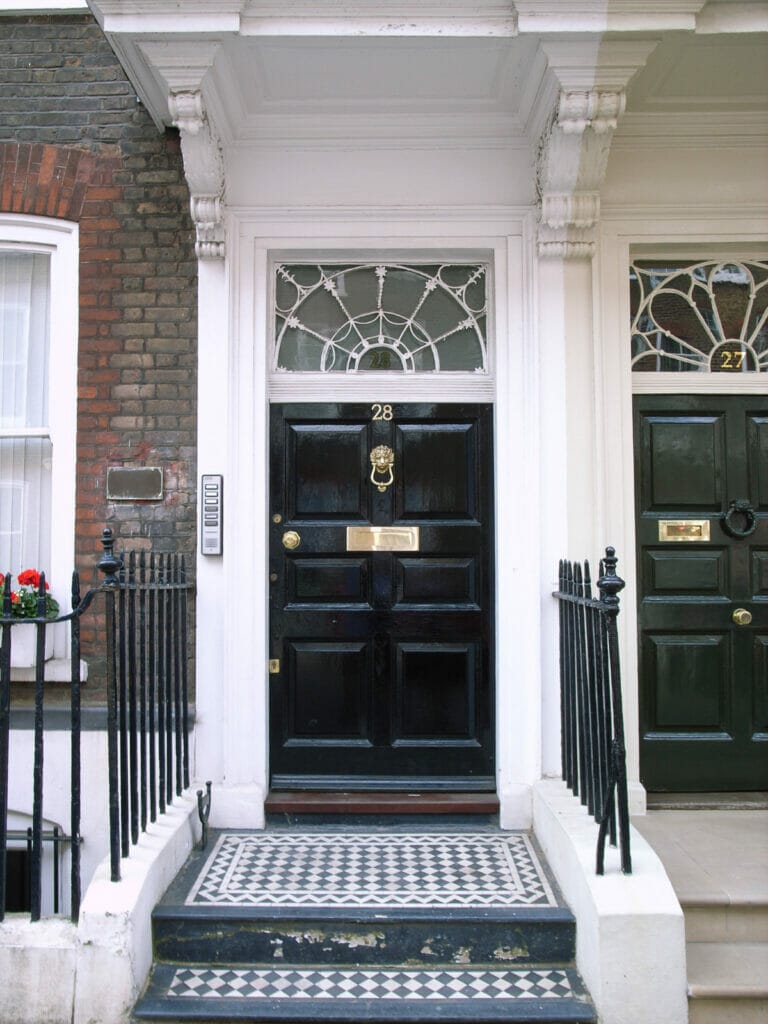 Ever seen Enola Holmes on Netflix?
This street is used for their filming, which is fun, but we love it as a London Instagrammable spot as it's one of the best preserved Georgian streets in London.
From the gorgeous window designs above the doors to the impressive door knockers and unique patterns on the door stoops, there's something to love here for every photographer.
30. Oxford Circus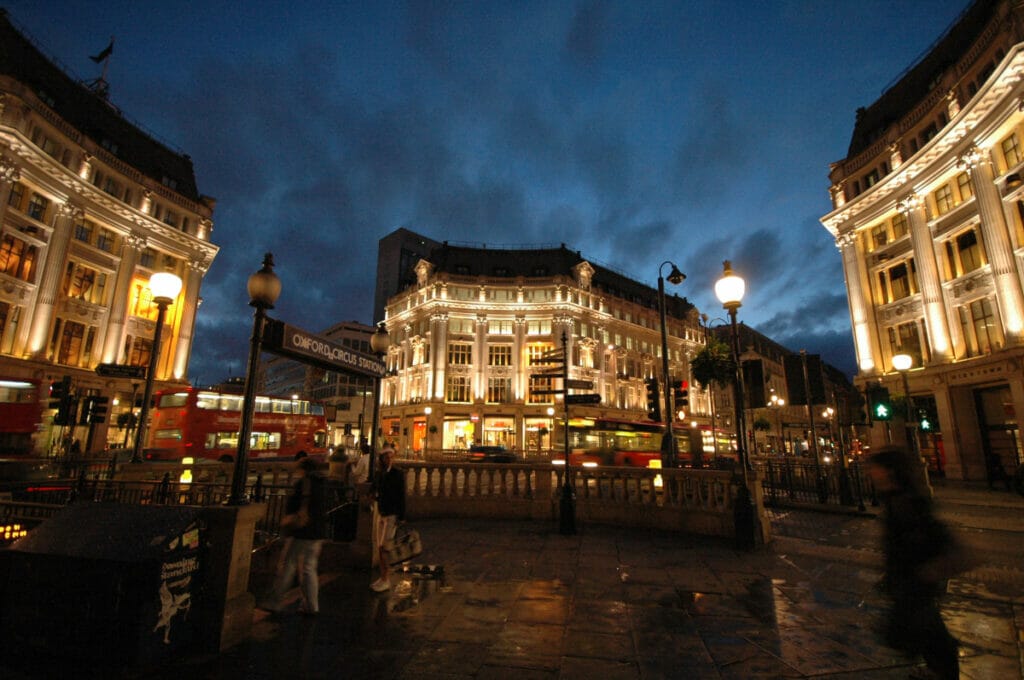 It might be one of the most popular spots in London for visitors, but just because it's touristy doesn't mean that it's not great for London Instagram snaps.
The "circus" aspect refers to the circular nature of Oxford Circus, giving you some creative angles and lots of different vantage points to take photos.
Walk around it, a total 360, to test out your Instagram skills and see what you can come up with.
31. Piccadilly Circus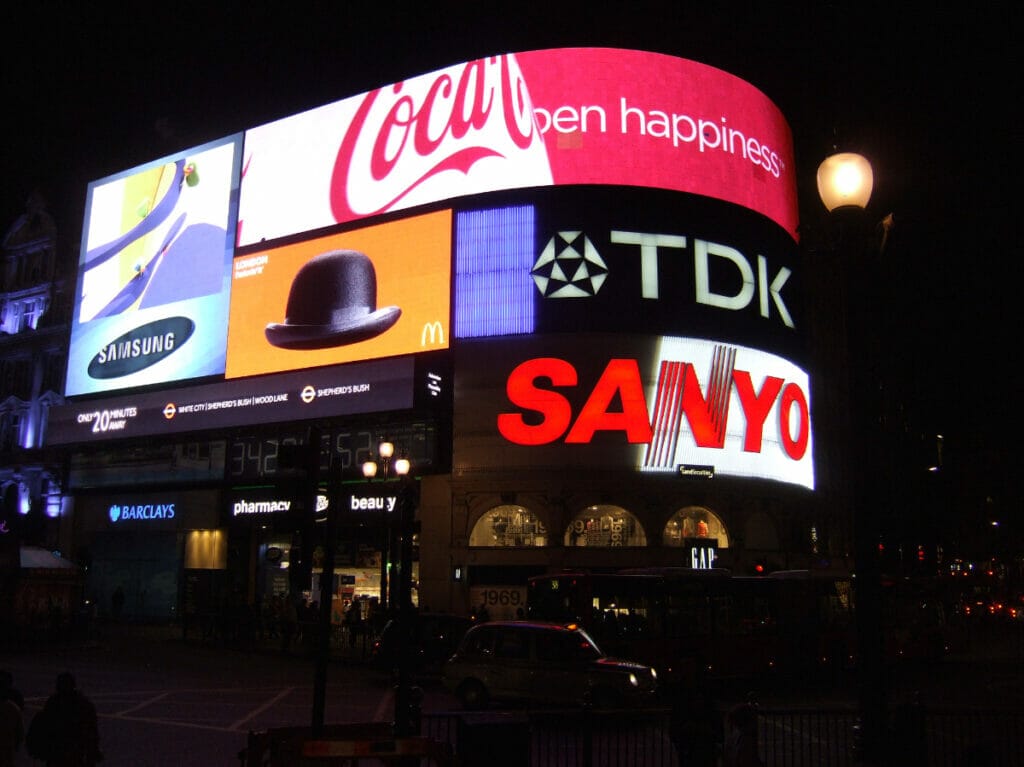 Piccadilly Circus is like the Times Square of London, bold and lit up at all hours of the day.
It's a beautiful photography spot at night, as well as during the day, so use it as your London Instagram backdrop if you really want your Insta to scream "iconic London."
32. Regent's Canal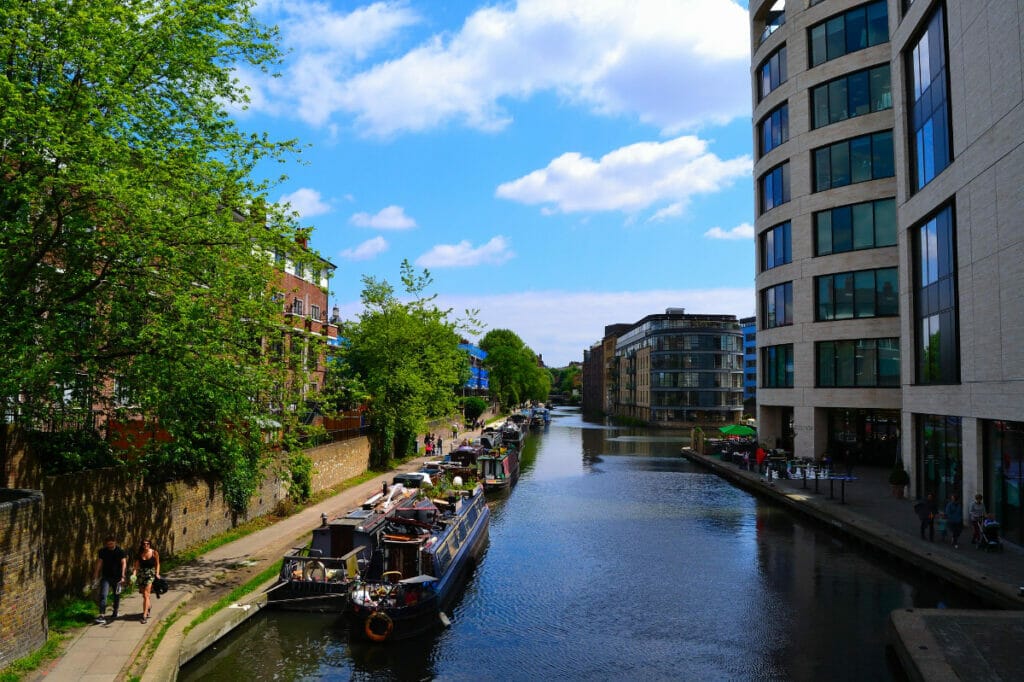 Another gorgeous spot in London that most visitors don't know about is Regent's Canal.
The beautiful houseboats will give you lots of fun Instagram content, and on a blue sky day in London, there's nowhere better to capture photos that bring in tons of natural colors with the gorgeous green trees against the blue sky and water.
Take a stroll along the side of it, or stand on one of the bridges to capture some photos straight down the waterway.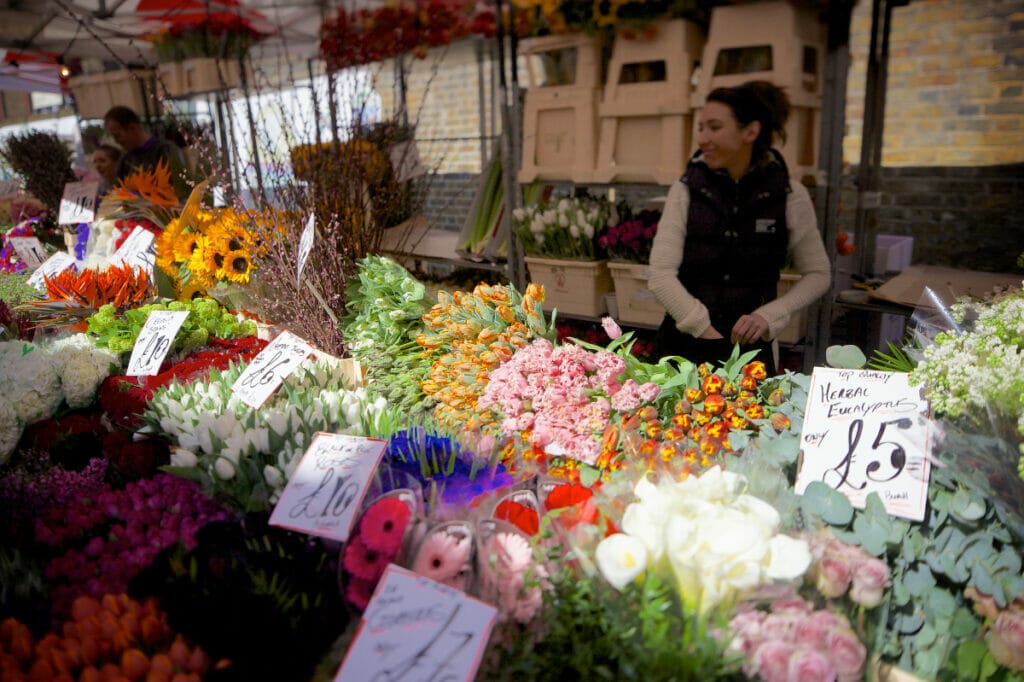 Open every Sunday, the Columbia Road Flower Market in East London is a fun place for Instagram photos if you want natural textures and the beautiful pops of colors of a flower market.
It's an iconic thing to do in East London, and you have to check it out.
34. Buckingham Palace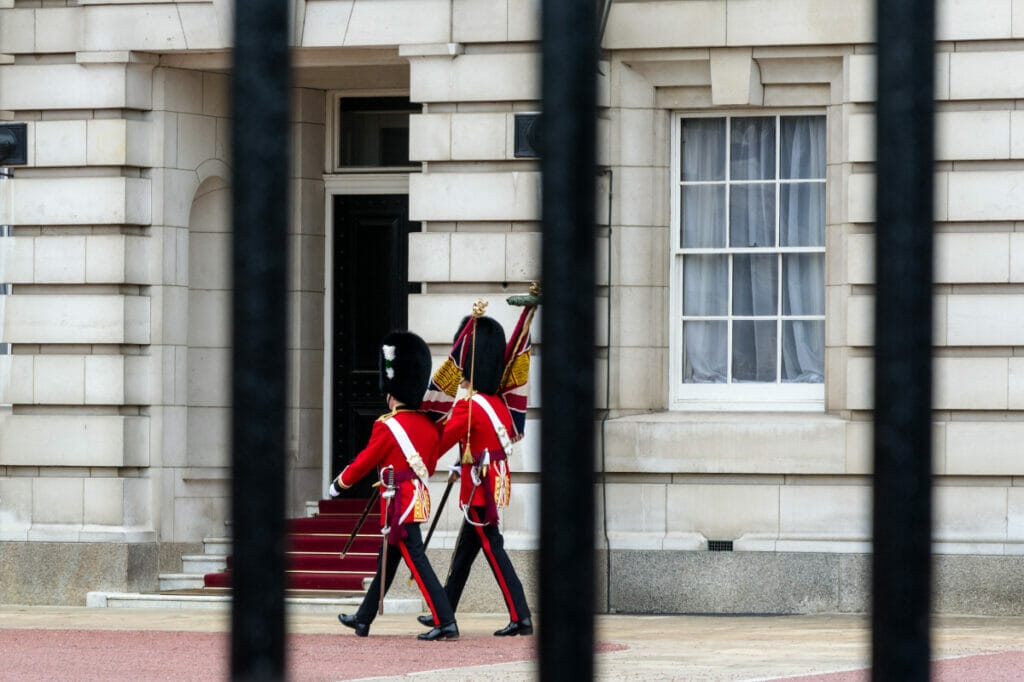 While it might be one of the more obvious Instagram spots in London, Buckingham Palace offers a wonderful opportunity for Instagram snaps and is one of London's most Instagrammable places.
Get a snapshot through the gates to get up close to the royal guards, or try it from different vantage points like from standing on the Mall and looking down the road to the palace.
35. Westminster Abbey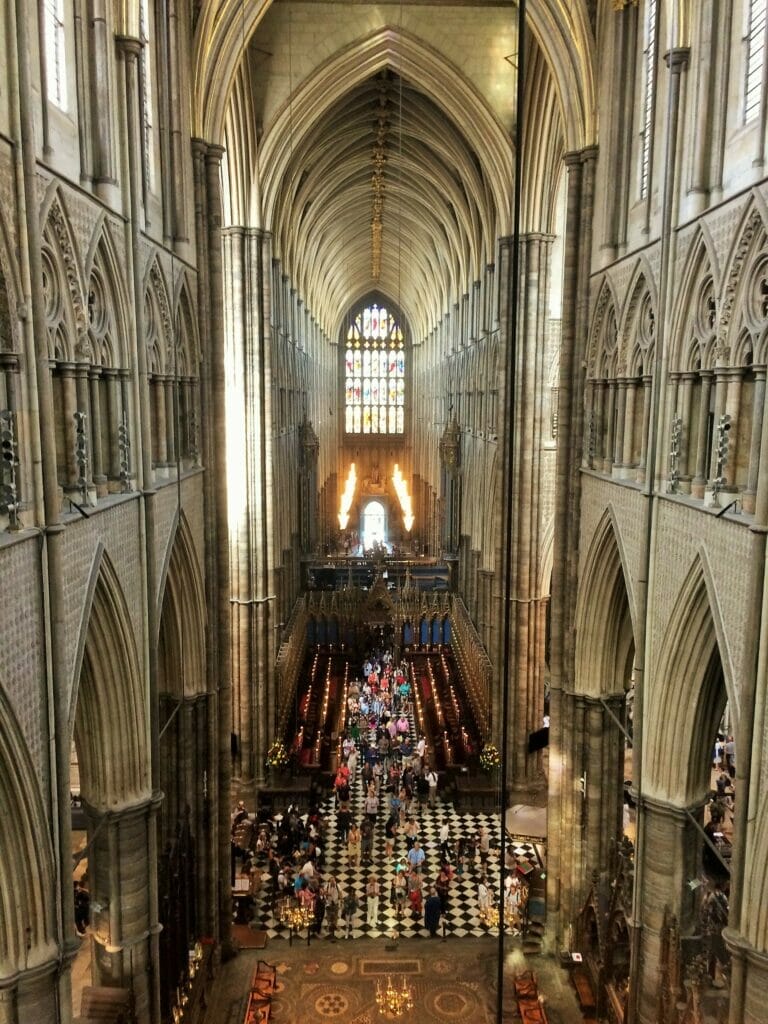 While the outside of Westminster Abbey is gorgeous, many of the best Instagram spots are actually from within the cathedral itself, where patterns abound and lots of interesting geometric things happen with the light and the design of the building.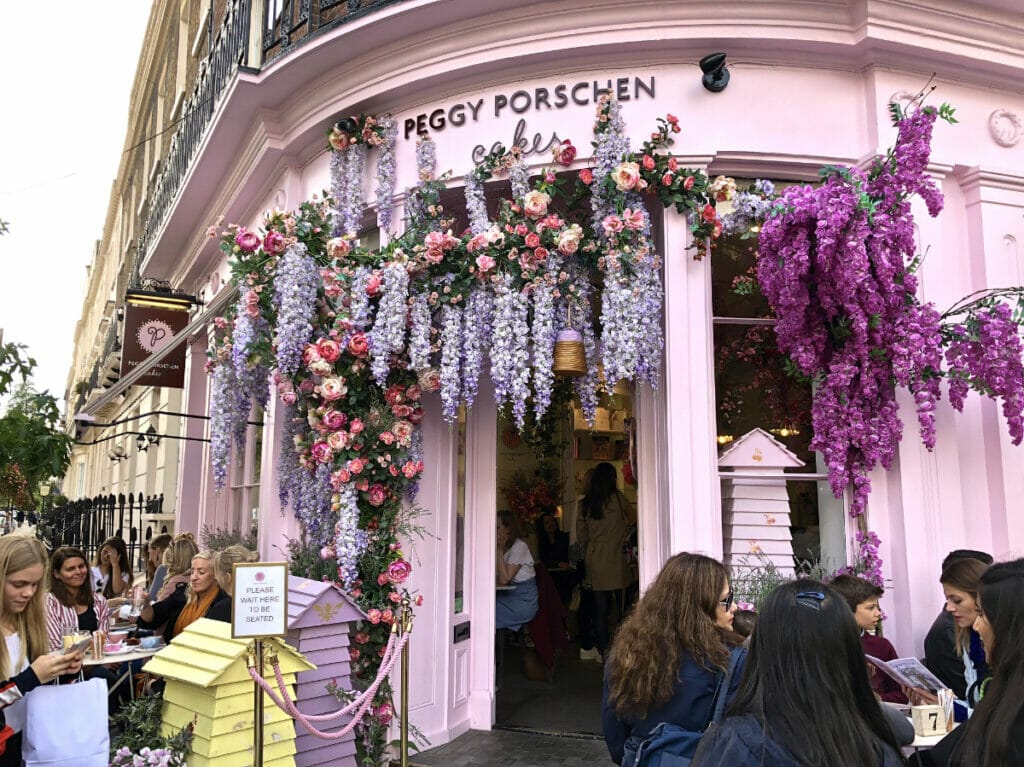 Peggy Porschen is a classic London Instagram spot, known for their iconic pink building and cute desserts and teacups that look great on camera.
This is definitely a place to check out if you're an influencer heading to London or just want to visit the place that you've probably seen a million times on Instagram.
The food itself isn't incredible (sorry), but the pictures you can get are worth it if this is your London vibe.
37. Somerset House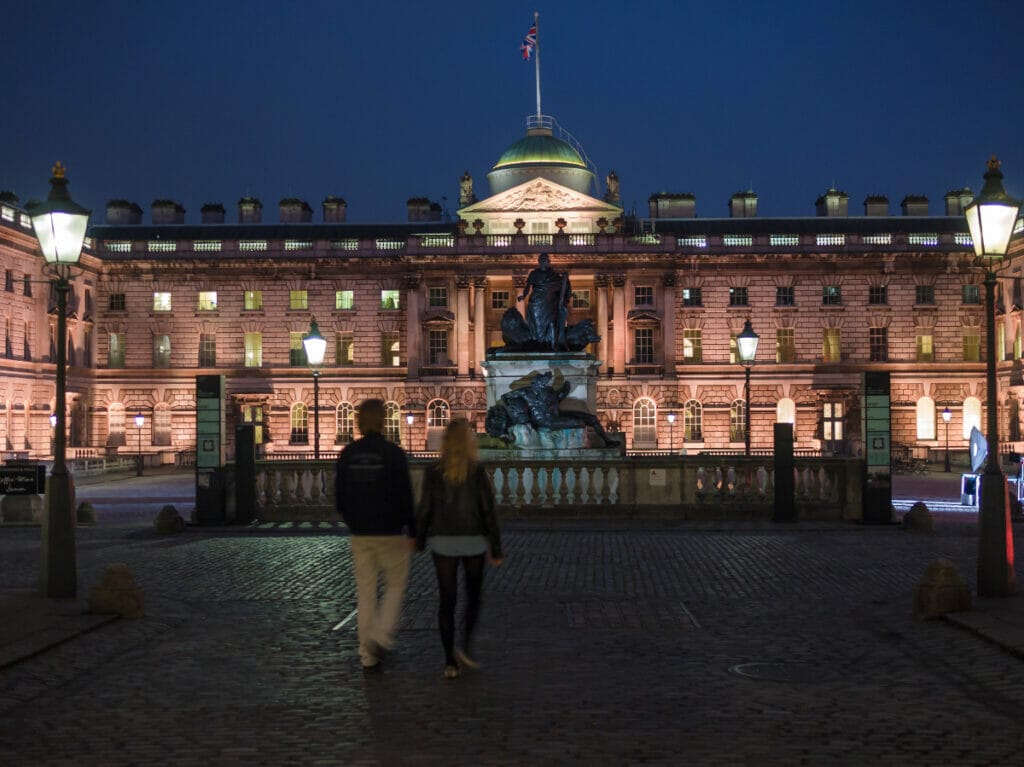 Head to Somerset House at night for some really beautiful Insta snaps, focused on the gorgeous dome on top or maybe showcasing the statues out front.
In the winter, ice skating at Somerset House is very popular and will give you another angle for your photos as you can incorporate the ice rink into the backdrop of the photos.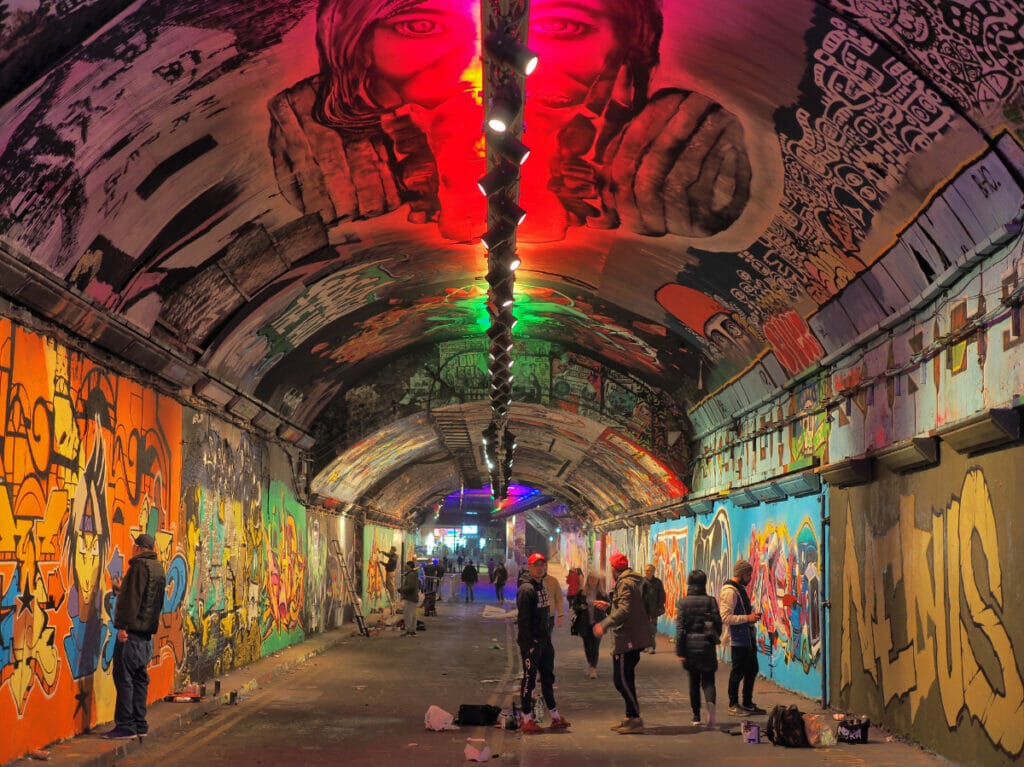 Underneath Waterloo Station, the Leake Street Tunnel is a mecca for street art, making it also a mecca for London Instagram!
There's no better place to fit in London's color and street art scenery than a visit to this tunnel, where you'll find street artists hard at work creating new murals and testing out new techniques.
It's fun, it's funky, and it's super easy to access right below the station, so what are you waiting for?
As one of the oldest churches in London, St. Dunstan's in the East offers a beautiful London Instagram backdrop for some really iconic and historic photos.
40. Tate Britain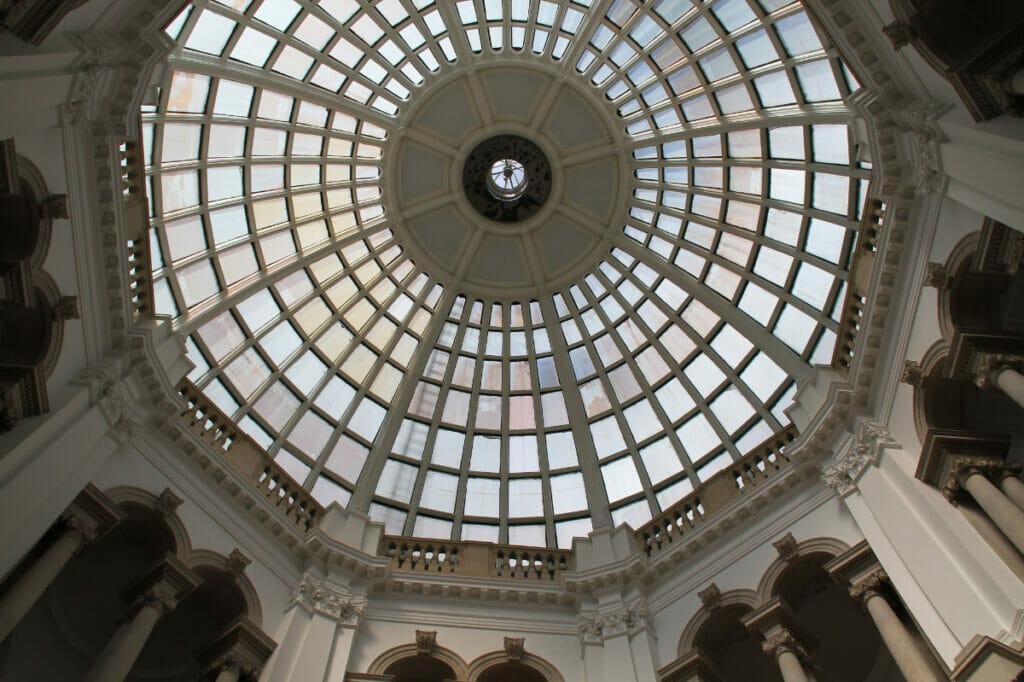 Tate Britain is another spot on this list that, while beautiful from the outside, is really most Instagrammable from the inside!
All you have to do is look up at the stunning glass dome or look around you at the architecture within the building and you'll find plenty to keep you and your phone occupied.
41. Platform 9 and 3/4 at King's Cross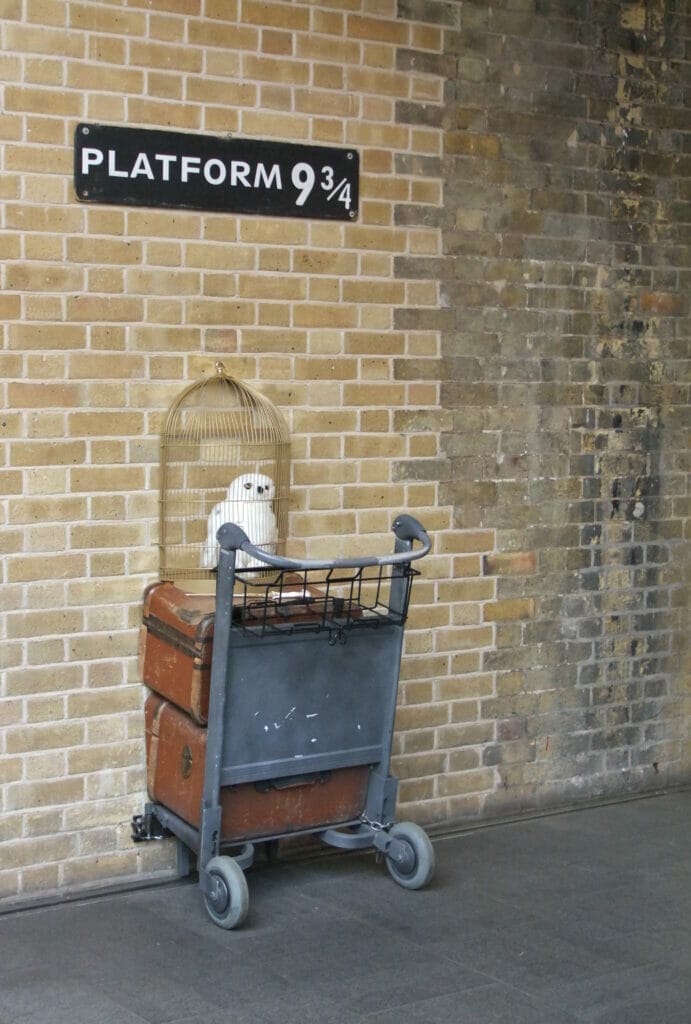 We couldn't make this list without incorporating the Harry Potter favorite, the photo spot at Platform 9 and 3/4!
Yes, it's totally cheesy, and yes there is often a long line, and no, it wasn't the filming location used in the movies, but when in London, you know?
What else should I not miss in London?
If you're visiting London soon, here's a very brief rundown of a few of my other favorites to make sure you don't miss anything!
Want more helpful London guides? Check these out!
UK Travel Planning Guide: the FAQs
🏥 Should I buy UK travel insurance?
Absolutely yes. Basic coverage is not expensive, and as a visitor you are NOT covered under the NHS. Compare policies and prices with Travel Insurance Master here, a big name in the travel insurance business, and cross that off your list.
🔌 Do I need travel adapters for the UK?
Yes, you do, otherwise you won't be able to plug in your electronics/phone/lifelines. I recommend this one, which is all-in-one so you can use it in other countries.
🚗 What do I need to drive in the UK?
The first thing you need to check out if you're planning on renting a car in the UK is this guide to driving in the UK for visitors – the roads, signs, and driving experience will likely not be what you're used to and it's essential to prepare yourself to stay safe and aware.
🛌 What's the best way to book hotels in the UK?
For UK hotels, Booking is the best site as it offers free cancellation on many properties. If you want an apartment, I always recommend VRBO over AirBnb.
📳 Will my phone work in the UK?
Yes – if you set it up right. Check out my guide on making your foreign phone work in the UK to ensure that you get the type of service you need.
🚿 Can I drink the water in the UK?
Yes, UK water is great and perfectly safe. But drink out of taps in any kitchen or use water fountains. Double check before drinking out of the taps in hotel bathrooms, though, as they may be on a different system.