This post contains affiliate links for which I may make a small commission to help keep the site running. You will not be charged extra for these items had you not clicked the links. Thank you for your help to keep the site running!
If you just want to go on a self-guided tour or if you want to hit a few stops during your stay in London, but not all at once, here are some of the most famous filming locations for Harry Potter in London.
Hey! Sidenote! Planning on visiting the UK or moving to the UK?

For more advice, photos and friendly help, click here to join my UK Travel Facebook group to carry on the conversation with fellow travelers and UK experts.
Leadenhall Market
Check out one of London's oldest markets, Leadenhall Market, to see some of the spaces that inspired the look for Diagon Alley. A couple of the exteriors were used as exteriors in Diagon Alley, including the entrance to the Leaky Cauldron in the first movie.
King's Cross Station
How could you forget a stop at King's Cross Station while on a self-guided Harry Potter tour? It's here that the Hogwarts students would push their way through Platform 9 3/4.

Nowadays, Platform 9 and 3/4 isn't found right in between Platform 9 and 10 as King's Cross is a working station and the Londoners don't need Harry Potter fans getting in the way of them making their train!

Instead, you can find a photo op in the main concourse, complete with the option to pay for a professional photographer to get a snap of you pushing your way through the wall.

Is it a tourist trap? Yes. Is it a must-see for Harry Potter fans? As long as you are going in knowing that it's a tourist trap and you're happy about that and ready to see the train station that is mentioned in the books and movies, then enjoy!
Australia House
You may be able to guess, by the name of this building, that it houses the Australian Embassy, but did you know that it was also used for some interior shots of Gringotts bank? You can't go inside, sadly, due to embassy security measures, but you can marvel at it from the outside and know that your favorite Harry Potter stars probably walked over the same patch of sidewalk you have to get in the building!
Millennium Bridge
At the start of the sixth movie, the Death Eaters are ripping apart London and one of the most iconic scenes is where they tear apart Millennium Bridge, which is silver and looks a bit futuristic.

You can walk across and enjoy the cool vibes behind Millennium Bridge, as it very much still stands (sorry Death Eaters!)
Reptile House at London Zoo
London Zoo, near Regent's Park, is a London gem and the Zoological Society of London takes their job in animal conservation very seriously. But Harry has also been here, speaking to the snakes in the Reptile House in the first movie when he set it free.

Fans will instantly recognize the interior and the large window that today houses some of the zoo's biggest reptiles, like the Black Mamba.
Lambeth Bridge
You know the scene in Prisoner of Azkaban where Harry gets on the Knight Bus and it squeezes in between other buses? That takes place on Lambeth Bridge, which you can easily spot!
St. Pancras Renaissance Hotel
This gorgeous hotel right near King's Cross St. Pancras was actually used for some of the exterior shots of King's Cross Station in the movie, despite the fact that…well, it's not! The magic of movies!
Piccadilly Circus
Head to Piccadilly Circus and look around to recreate one of the scenes in Harry Potter and the Deathly Hallows Part 1 where the trio end up in Piccadilly Circus after apparating and get very close to being hit by a bus!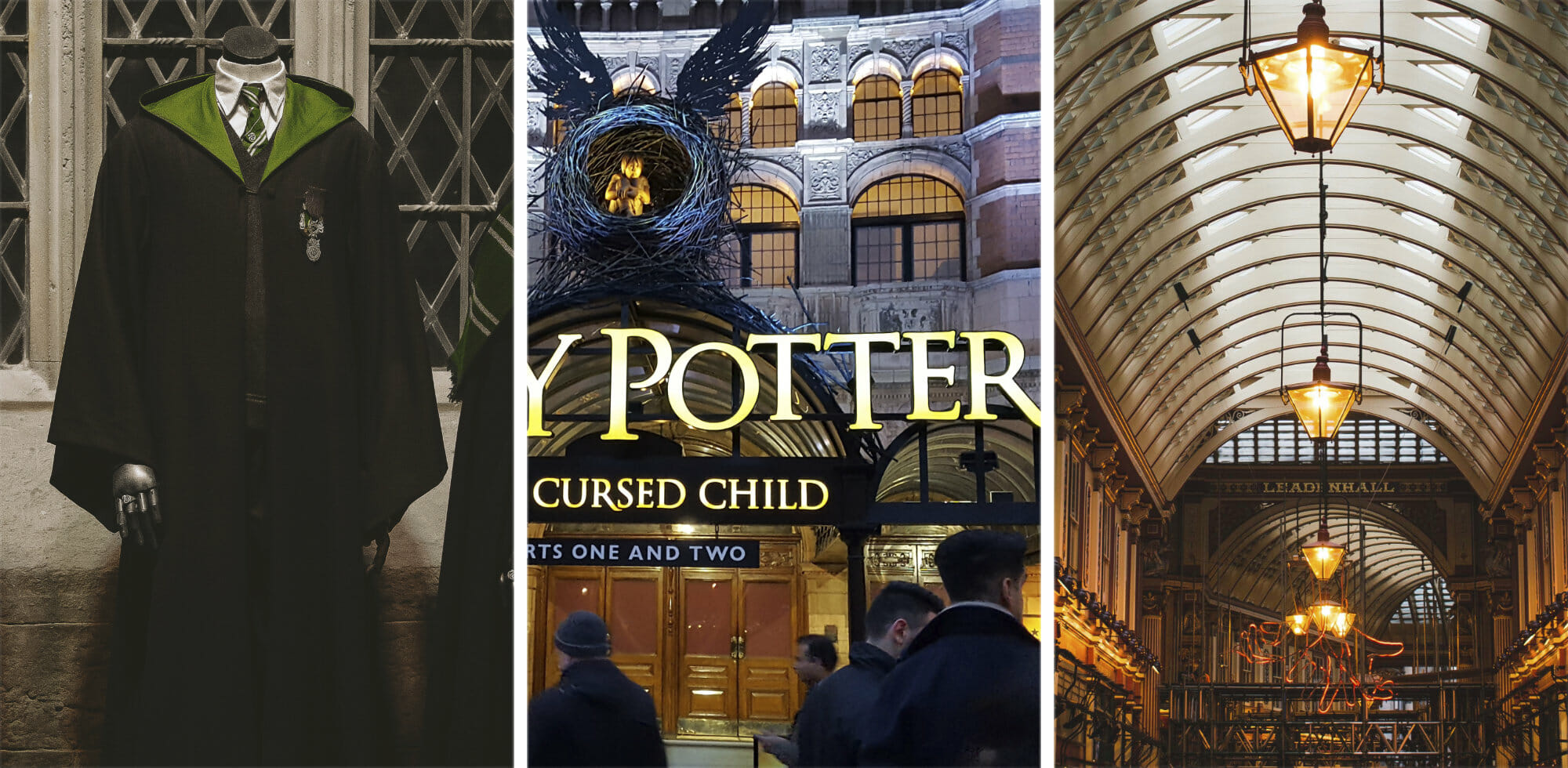 Enjoyed this? Share it!