This post contains affiliate links for which I may make a small commission to help keep the site running. You will not be charged extra for these items had you not clicked the links. Thank you for your help to keep the site running!
One of the best parts of living in London is neverending access to exhibits, events, and museums.
It keeps the city thriving and allows Londoners to actually get out and experience life rather than sitting at home eating ramen noodle because their train ticket cost more than their annual salary.
Whether you're just visiting or call London home, here are some of the best museums in London that you shouldn't miss.
Hey! Sidenote! Planning on visiting the UK or moving to the UK?

For more advice, photos and friendly help, click here to join my UK Travel Facebook group to carry on the conversation with fellow travelers and UK experts.
Wait, stop!
Before you keep reading, I just wanted to make sure you know about my expert 7-day London itinerary that includes all of the iconic attractions plus off-the-beaten path activities and restaurants, as well as step-by-step walking and public transportation directions!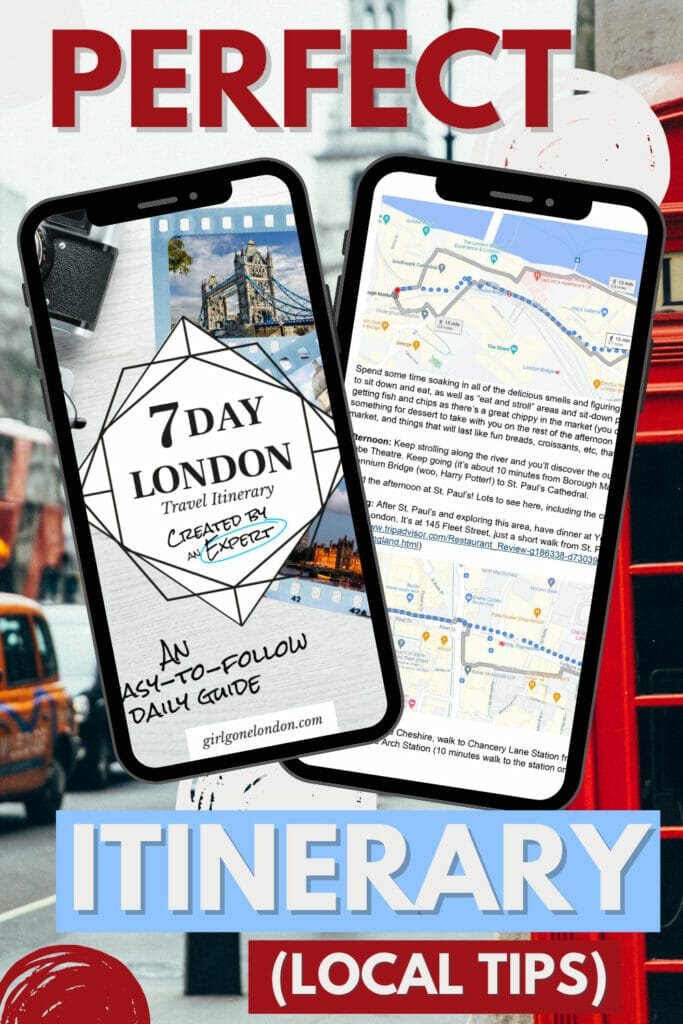 It can be stressful spending so much money on a London trip and not knowing if you're fitting everything in or making the most of your time.
To help you out, I've taken my 10 years of London experience (starting as a visitor and then as a resident) to make sure that you have the ultimate step-by-step itinerary that will make sure you see the real London.
And, hey, if you're not coming for exactly 7 days or already have some plans, don't worry, as it's editable so you can mix around the days, incorporate your own ideas, or pick and choose which days to follow.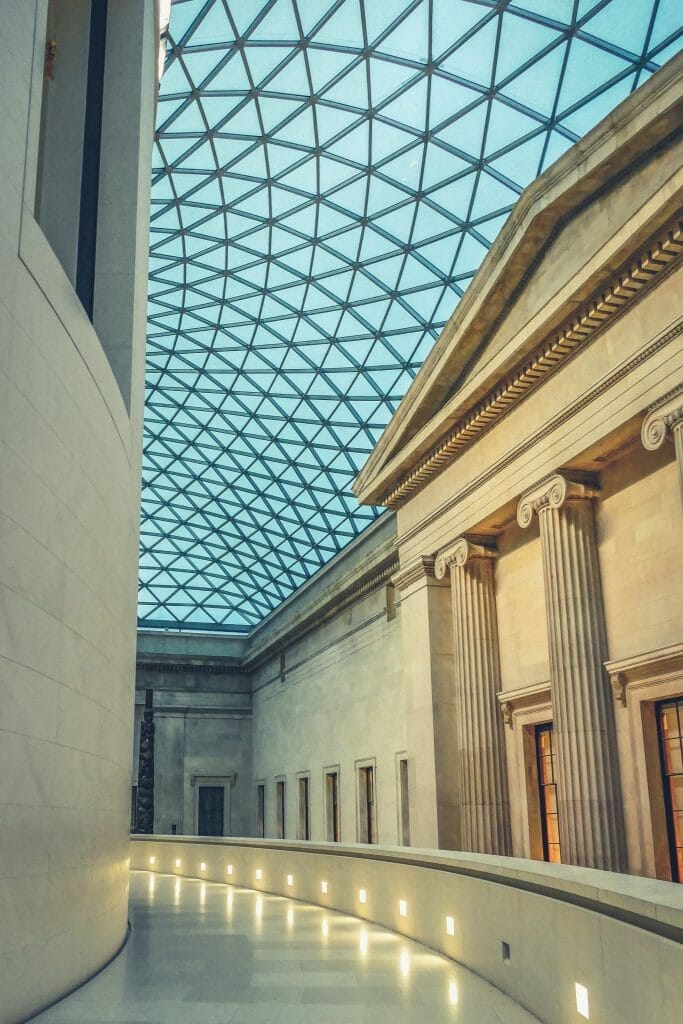 1. Science Museum
From plate tectonics to energy consumption to the future of DNA testing, the Science Museum has always been one of the best museums in London, and it's a free museum in London!
It's a bit 'other-worldly' with responsive screens and twinkling lights and interactive exhibits.
Sometimes you're not sure if you're in a museum or on an episode of the Twilight Zone, which is all for the best.
Address: Exhibition Rd, South Kensington, London SW7 2DD
Open daily.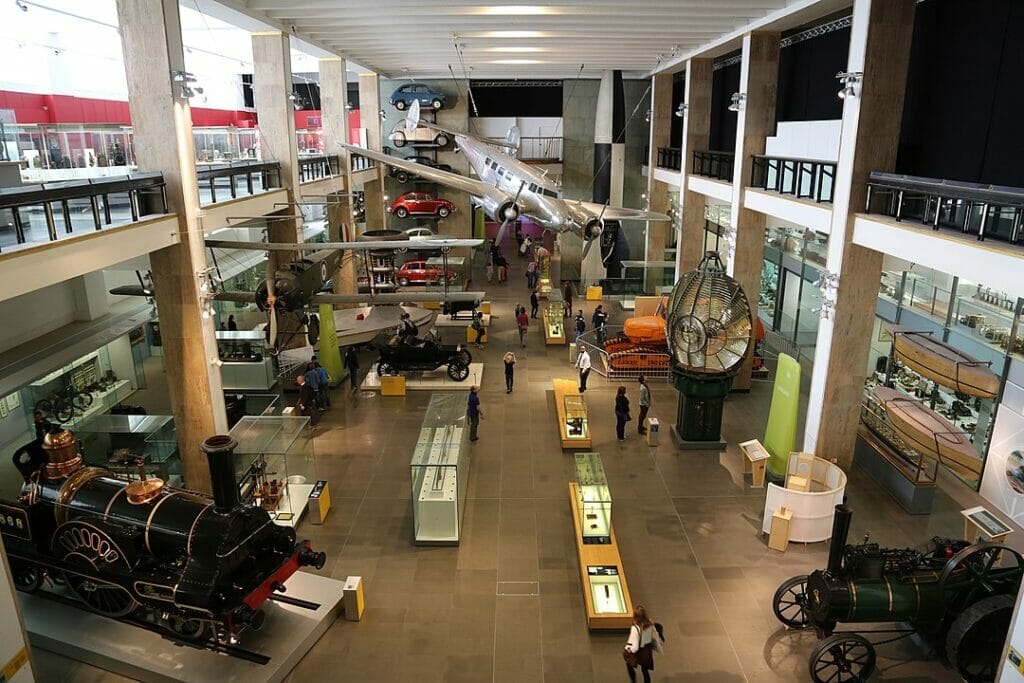 2. Natural History Museum
Are you a fan of Charles Darwin?
Could you stare at dinosaur bones for hours (or days, in Guy's case)?
The Natural History Museum is for you! A great day out and one of London's best attractions.
In the winter, the museum hosts their annual ice skating rink and celebrates the holidays with a merry-go-round and hot chocolate.
Address: Cromwell Rd, South Kensington, London SW7 5BD
Open daily.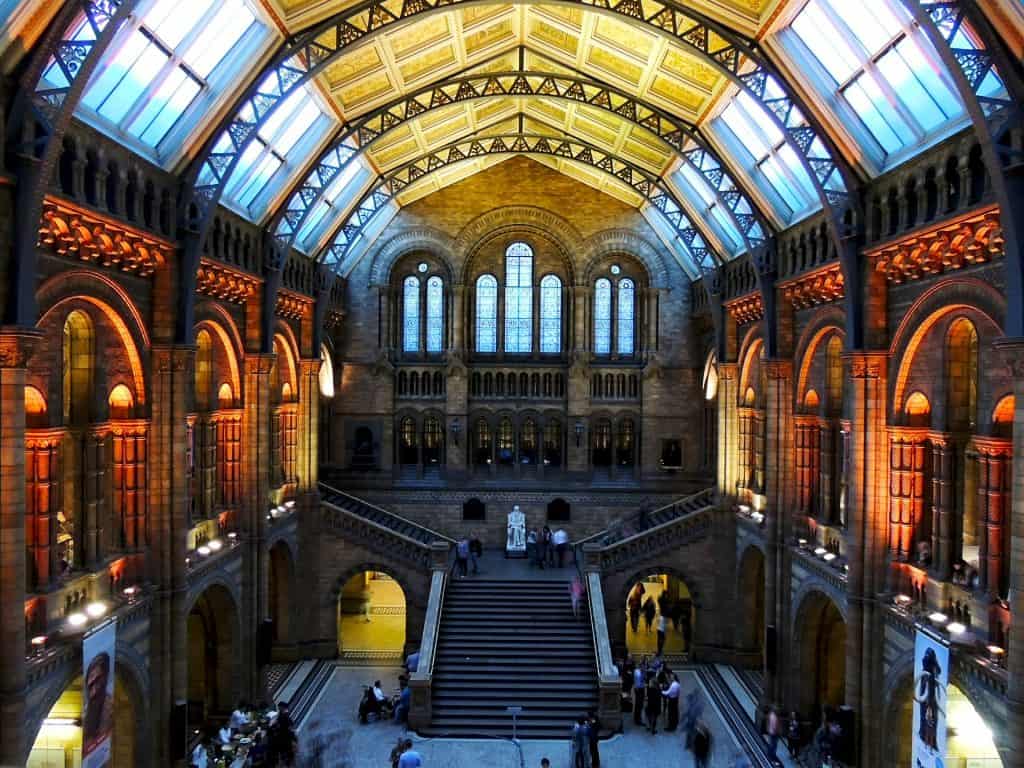 3. The V & A
The V & A can best be described as "a giant collection of stuff given to the royals that they didn't have room for."
Okay, that sounds less awesome than it is, but whether you're interested in Chinese art or European textiles or Greek ruins, you can find it here.
This is a wonderfully sophisticated thing for couples to do in London.
Address: Cromwell Rd, Knightsbridge, London SW7 2RL
Open daily.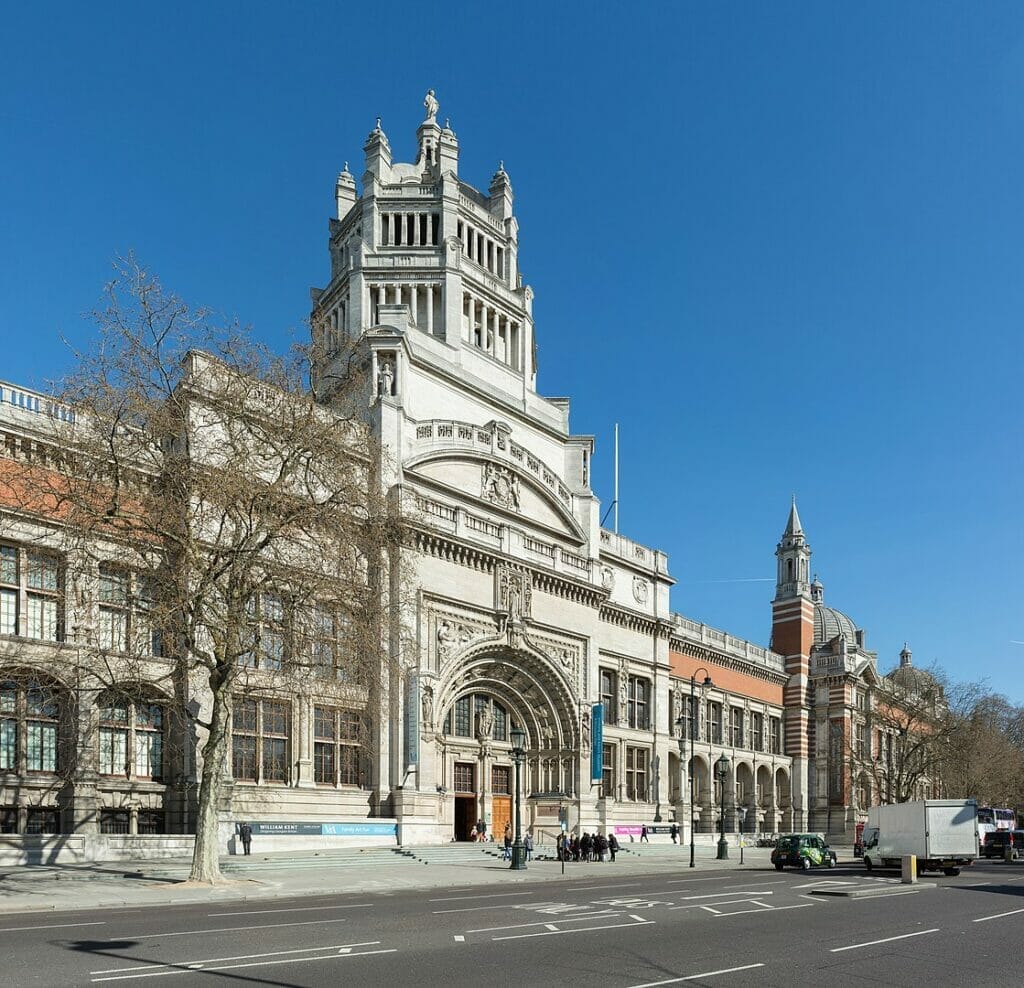 4. British Museum
Home of Cleopatra and the Rosetta Stone, the British Museum is a treasure trove of beautiful and historic artifacts.
The lobby alone is the perfect people-watching spot for a bright day, and local students tend to use the grounds to study and hang out.
Address: Great Russell St, Bloomsbury, London WC1B 3DG
Open Daily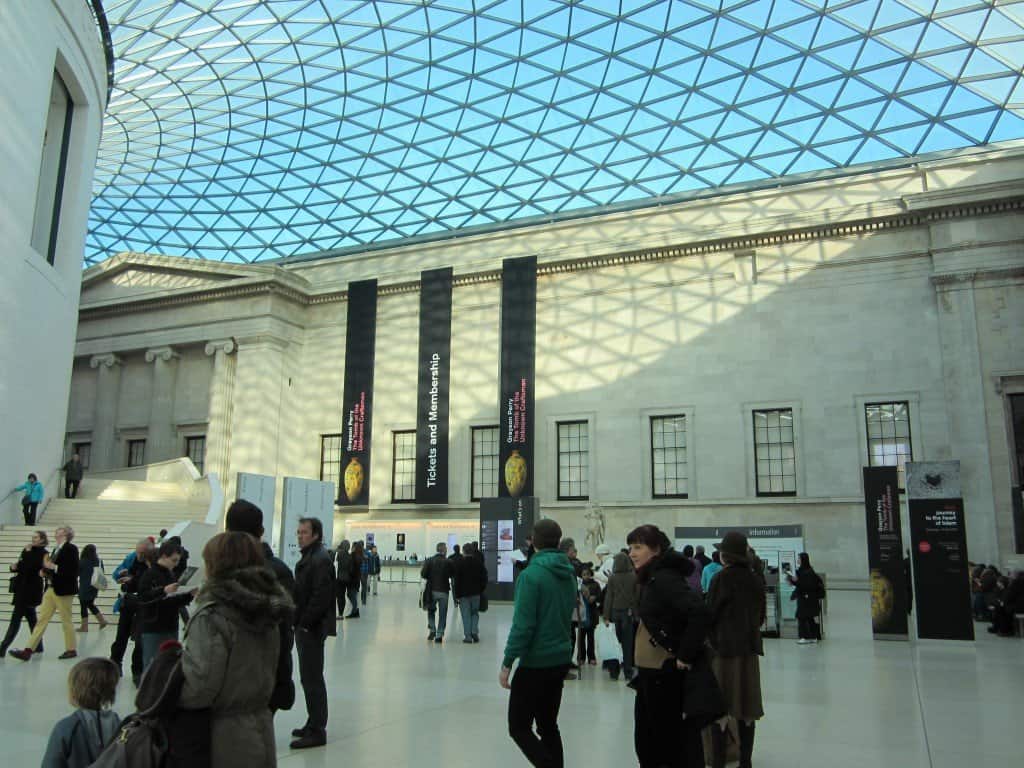 5. British Library
Inside the British Library is an exhibit that many people skip due to the larger surrounding museums, but it is not to be missed if you're into literature, religion, or science.
You can see original Shakespeare, old religious texts, and writings from some of the world's most brilliant minds including Galileo.
If you look carefully, you can also find original Beatles lyrics scribbled onto a scrap sheet of paper.
Address: 96 Euston Rd, London NW1 2DB
Open Daily, with shorter hours on Sunday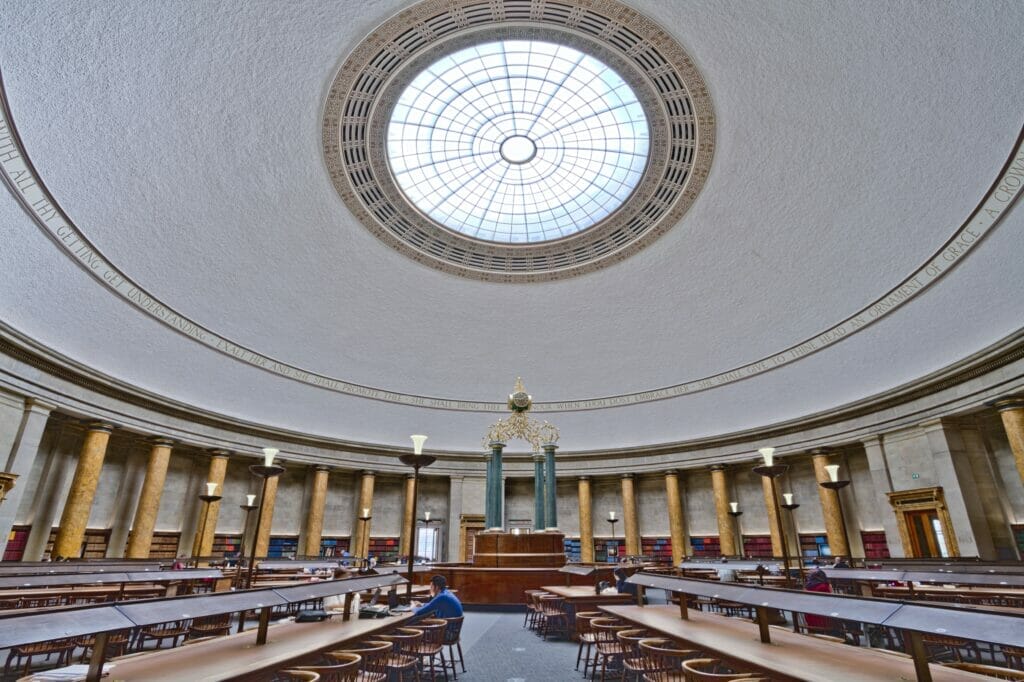 6. Museum of Childhood
The V & A Museum of Childhood is one of London's hidden gems, partly because it is the little sister of the much larger V & A museum, and partly because it's in Bethnel Green which is not exactly tourist central.
I would highly recommend a trip, though, as it houses toys, books, and games from ancient history all the way through to modern day.
Just don't blame me when you feel old for seeing your favorite childhood toy in a glass display case.
Address: Cambridge Heath Rd, Bethnal Green, London E2 9PA
Open Daily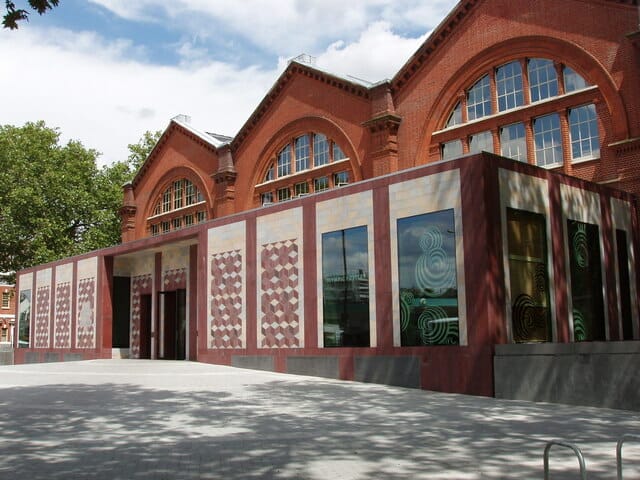 7. Museum of London
If you couldn't guess from the name, the Museum of London is dedicated to all things London.
Every part of the city's past is documented and explained in interactive exhibits.
While they do have paid-for exhibitions on, the main part of the museum is free and worth stopping by at the beginning of your trip to get a feel for the city you're about to explore.
Address: 150 London Wall, Barbican, London EC2Y 5HN
Open Daily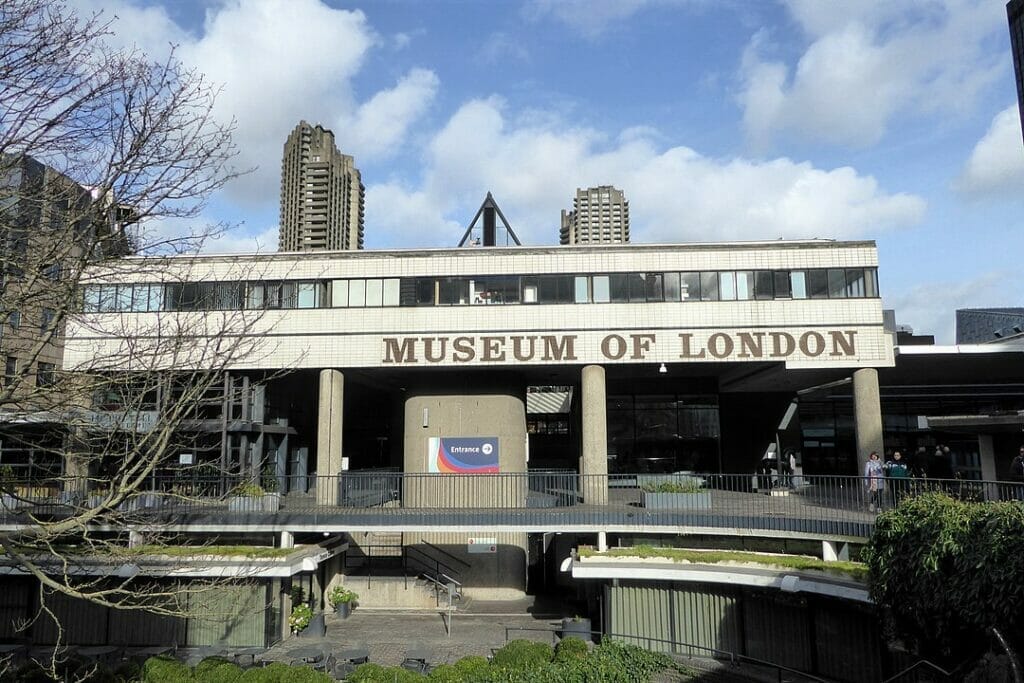 8. National Gallery
Situated right above Trafalgar Square and looking down the street to Big Ben, the National Gallery is London's most recognizable art museum.
These aren't copies either.
From da Vinci to Van Gough to Rembrandt and Monet, the world's greatest painters come together in this treasure-filled gallery.
They've also got a great café and a perfect location for exploring much of central London.
Address: Trafalgar Square, Charing Cross, London WC2N 5DN
Open Daily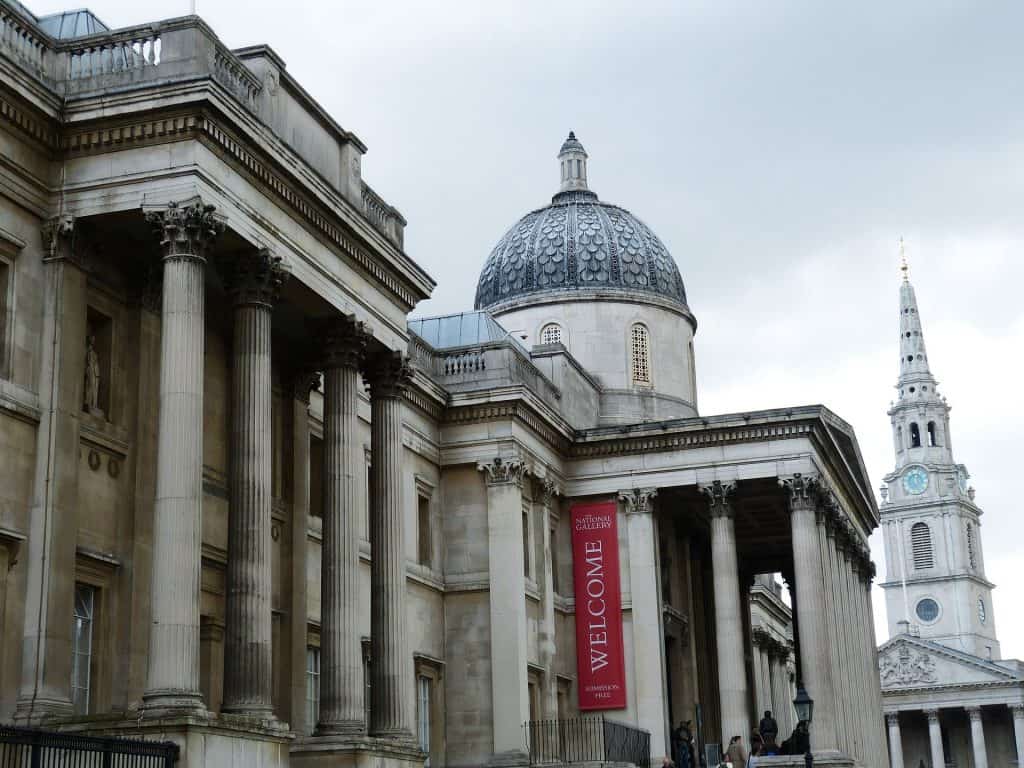 9. Tate Modern
Tate Modern has just finished a museum-wide restoration to improve its displays and refresh the building.
If contemporary art is your thing, then you won't want to miss their funky collections.
Address: Bankside, London SE1 9TG
Open Daily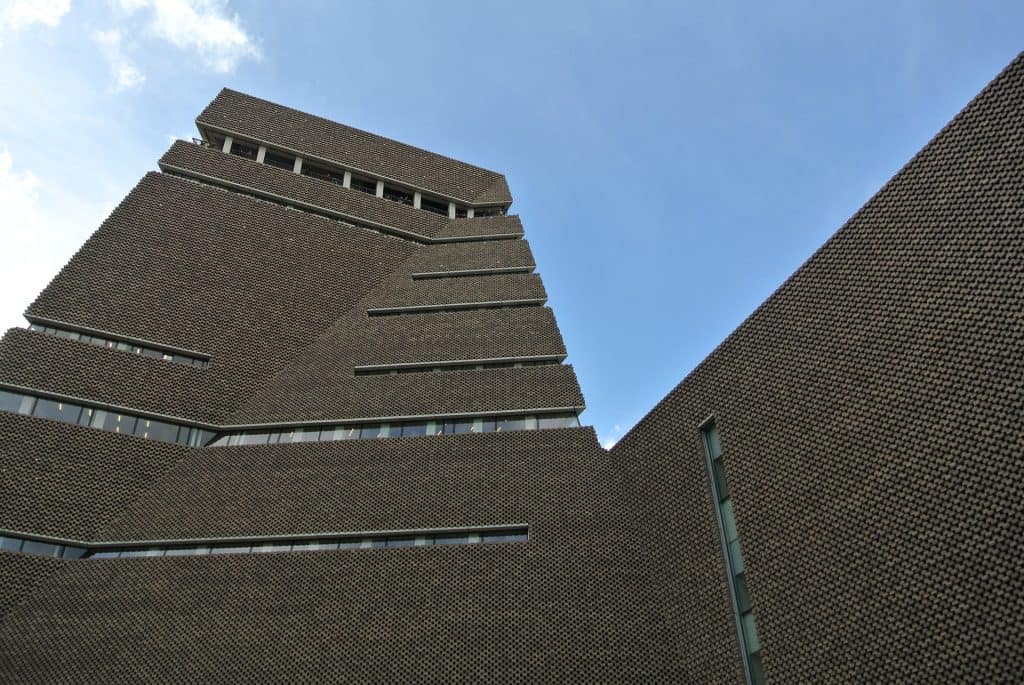 10. London Transport Museum
The London Transport Museum does come with a hefty fee compared to free London museums, but it's honestly worth it.
This family-friendly museum takes you through the history of London public transportation including trains, tubes, trams, buses, and more, and it's incredibly fascinating for adults and children alike.
You'll find interactive exhibits, the opportunity to climb in and around lots of transport relics, and really cool information on things you never knew you wanted to learn more about, like how tube line tunnels are built!
Address: Covent Garden, London WC2E 7BB
Open Daily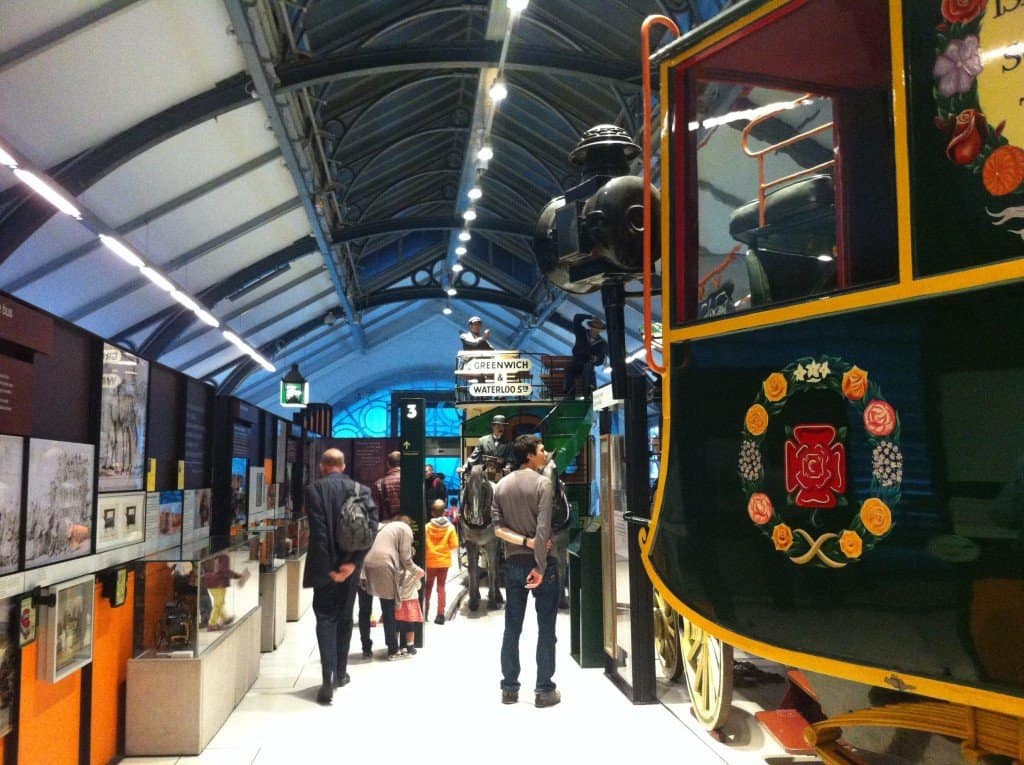 11. National Maritime Museum
If seafaring is your thing, then head down to Greenwich for the National Maritime Museum.
This collection of artifacts and information fit for a wannabe sailor tell you the story of London's maritime trade and all of the ways this city has come to rely on a thriving maritime industry.
And of course, there's no better place to learn about this than Greenwich, which is nestled perfectly on the river Thames.
Address: Park Row, Greenwich Peninsula, London SE10 9NF
Open Daily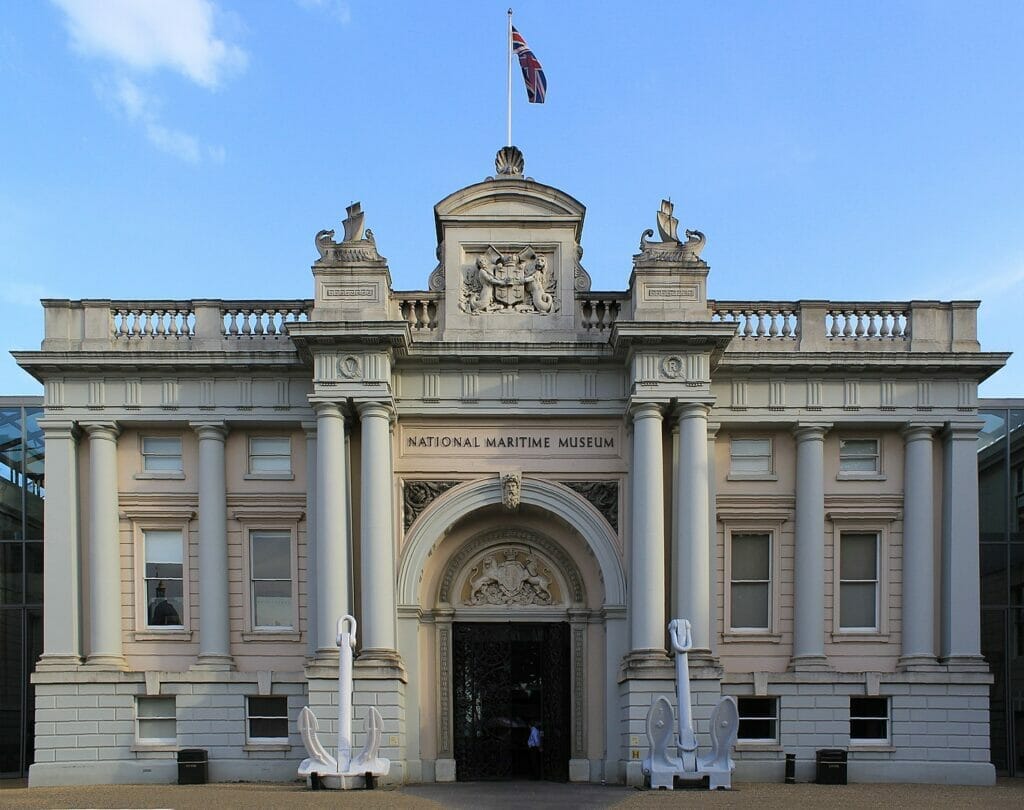 12. The Wallace Collection
The Wallace Collection is one of London's premier museums with a fascinating collection of 18th century French art, along with big names like Rembrandt, as well as one of the most unique things to do in London.
Better yet, it's free, has a beautiful courtyard restaurant, and is housed in a historic London town house with a past that includes an illegitimate son and a diverse collection of art!
Address: Hertford House, Manchester Square, London W1U 3BN
Open Daily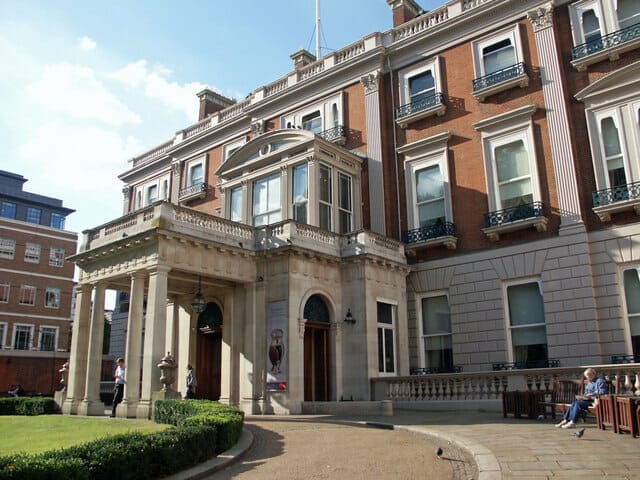 13. Imperial War Museum
This thought-provoking museum is a staple in London and takes you through some of the conflicts that the British empire has been involved in, including World War I and World War II.
You'll find artifacts and information about both of these wars, as well as exhibits and galleries that explore events like D-Day and the Cold War in Russia.
Address: Lambeth Rd, London SE1 6HZ
Open Daily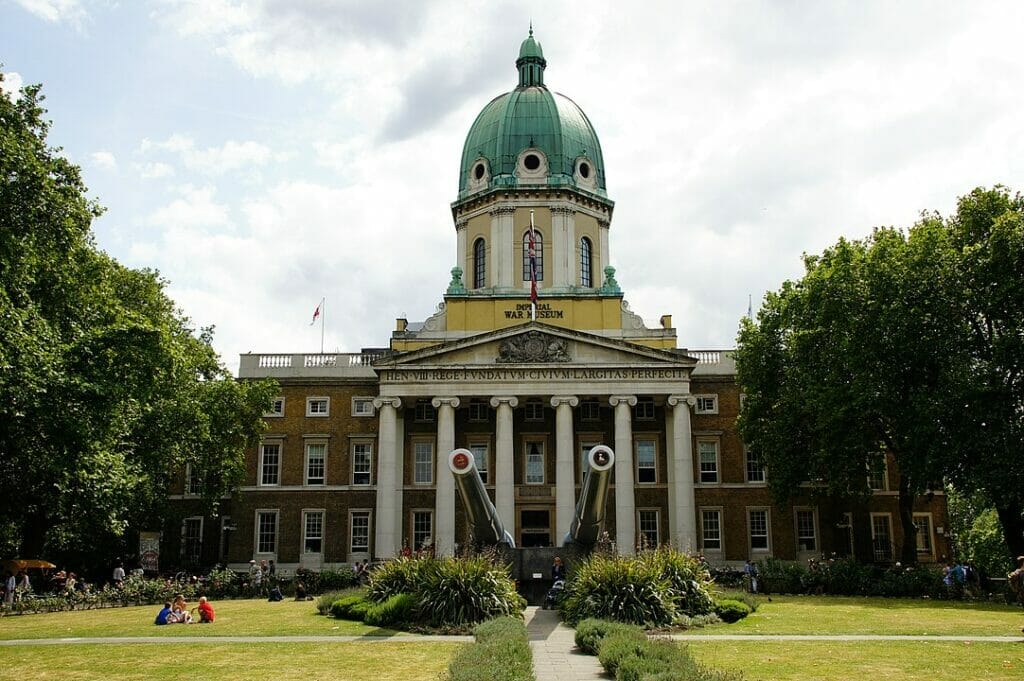 14. Museum of Brands
This small museum is a look back in time as you discover how British brands have evolved over the years.
Picture a collection of 18 soup cans, all from different time periods.
You'll see old Disney memorabilia, what dish detergent used to be packaged in, and all kinds of funky things that make the small entrance fee worth it.
This museum won't take your whole day, just an hour or so, but it's a lovely stop out of the rain or other bad weather and into a nice treasure trove of history.
Address: 111-117 Lancaster Rd, Notting Hill, London W11 1QT
Open Daily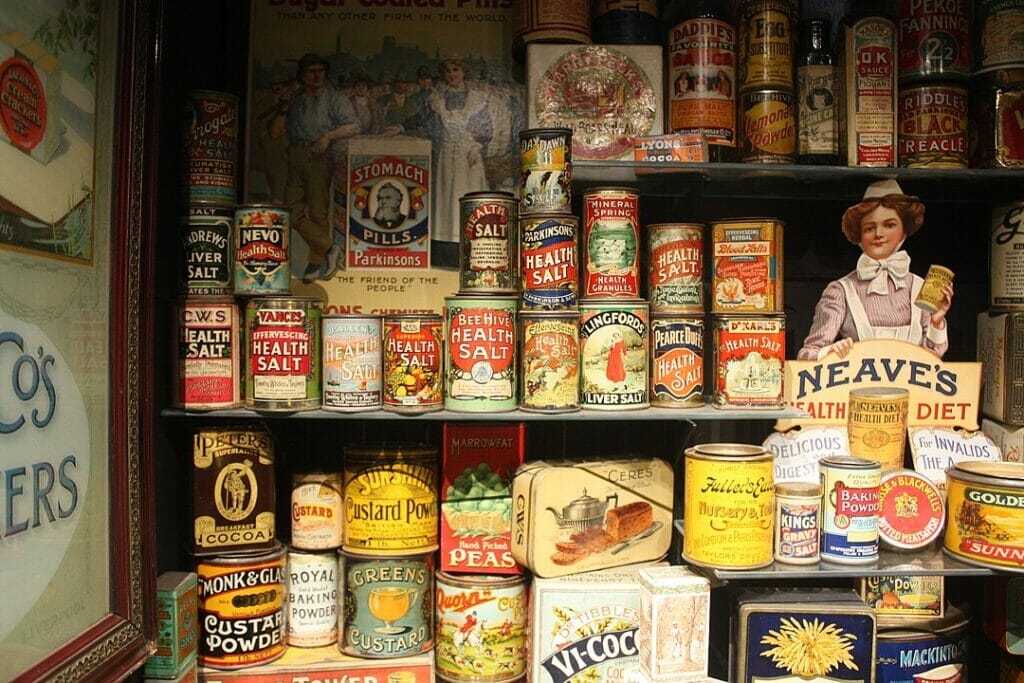 15. Bank of England Museum
Want to hold some real gold in your hand?
The Bank of England Museum has both permanent and temporary exhibitions that take you through the past of English banknotes and coins and show you how the currency and banking system in England came to be.
Luckily for Londoners, it doesn't cost any money to go explore the history and future of money in England.
You can hold a bar of gold (in a glass case, don't get excited), and browse the currency and coins of years past.
This is one of the best things to do in London with kids!
Address: Bartholomew Ln, London EC2R 8AH
Open Weekdays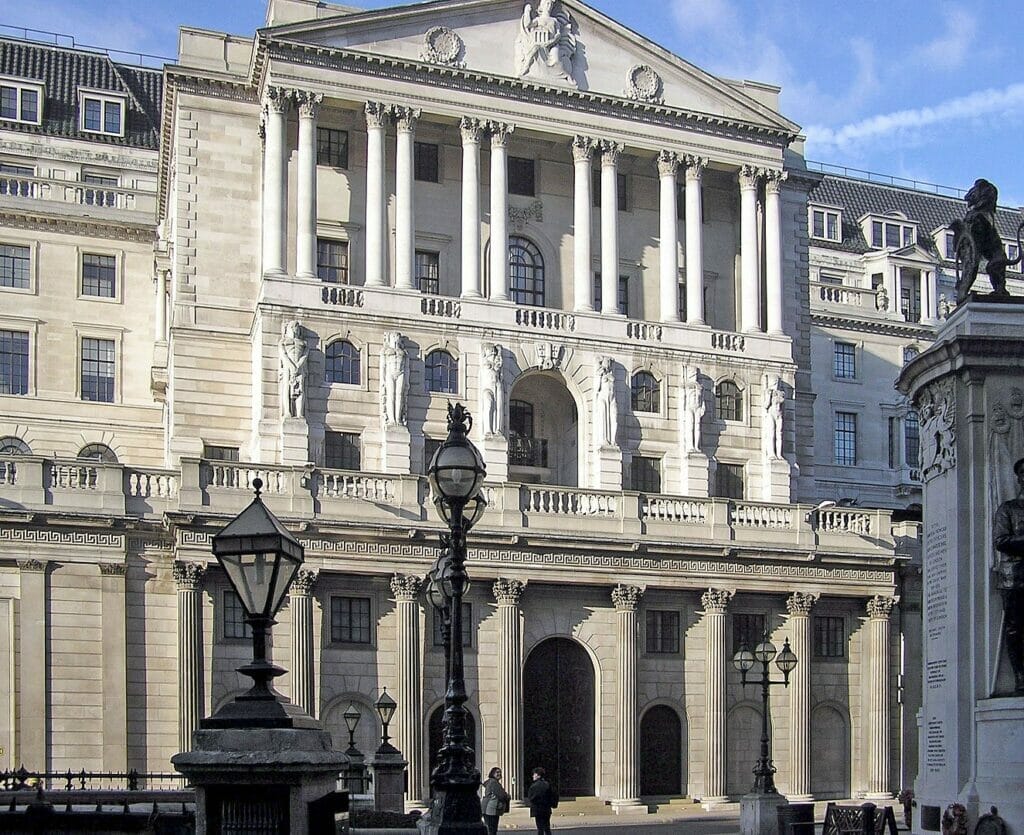 16. Charles Dickens Museum
You've probably already guessed what the Charles Dickens Museum is about, but you might not know that it is housed in the author's house where he wrote such great works of literature as Oliver Twist.
This is truly a once-in-a-lifetime opportunity to discover his life and the inspiration behind some of his greatest works.
They do fantastic exhibitions all year round, and particularly at Christmas when Christmas at the Charles Dickens Museum really helps visitors have an authentic Dickensian Christmas.
At every time of year, you can get up close to his manuscripts and other personal items to help you understand his life.
Address: 48-49 Doughty St, Holborn, London WC1N 2LX
Open every day except Monday.