This post contains affiliate links for which I may make a small commission to help keep the site running. You will not be charged extra for these items had you not clicked the links. Thank you for your help to keep the site running!
Pub culture is one of the staples of London life.
Whether you meet at the pub with friends for a drink or you have a casual work meeting or you're there to celebrate a special occasion, it's been said that a pub is a British person's living room, meaning that it's here that they hang out and entertain.
You'll find a pub on almost every corner in London, and by all means you should explore the ones local to your accommodation and try some out as part of your London bucketlist.
If you want to check out some of the most notable pubs in London, I've compiled a list of some of my favourites and some of the most highly rated.
Hey! Sidenote! Planning on visiting the UK or moving to the UK?

For more advice, photos and friendly help, click here to join my UK Travel Facebook group to carry on the conversation with fellow travelers and UK experts.
Wait, stop!
Before you keep reading, I just wanted to make sure you know about my expert 7-day London itinerary that includes all of the iconic attractions plus off-the-beaten path activities and restaurants, as well as step-by-step walking and public transportation directions!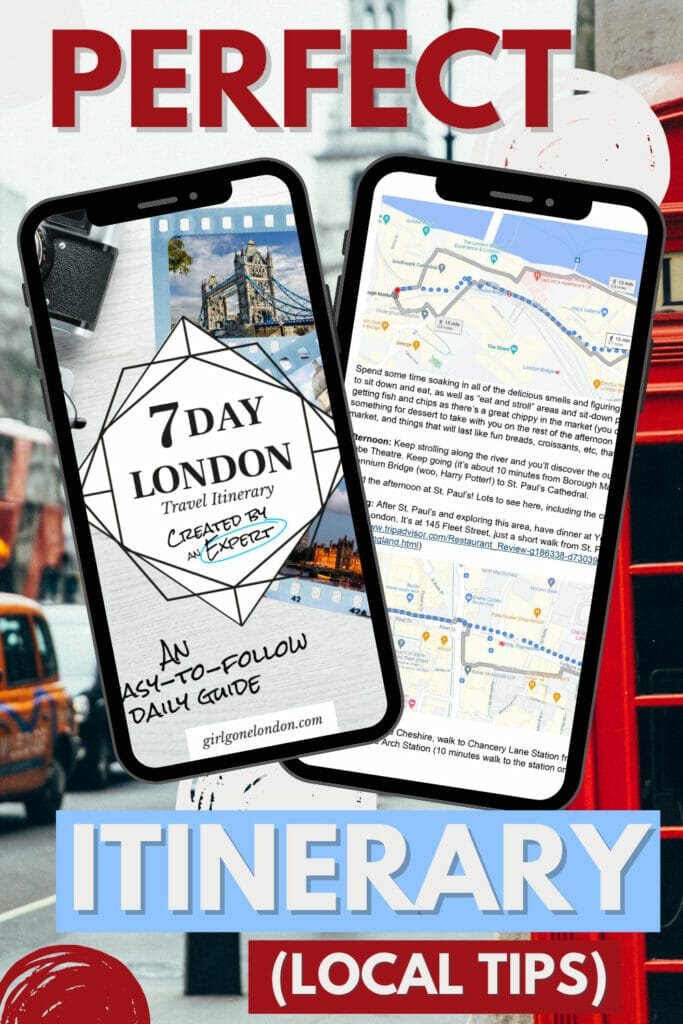 It can be stressful spending so much money on a London trip and not knowing if you're fitting everything in or making the most of your time.
To help you out, I've taken my 10 years of London experience (starting as a visitor and then as a resident) to make sure that you have the ultimate step-by-step itinerary that will make sure you see the real London.
And, hey, if you're not coming for exactly 7 days or already have some plans, don't worry, as it's editable so you can mix around the days, incorporate your own ideas, or pick and choose which days to follow.
1. The Churchill Arms
This pub named after Winston Churchill is best known for its floral arrangements that adorn the outside and the fantastically quirky interior.
I recommend it to all visitors to London as a must see London pub, and they're always glad they went.
You can get drinks here like any normal pub, but the food they serve in the restaurant section is actually Thai food (not uncommon in some pubs), and good Thai food at that!
Address: 119 Kensington Church St, Kensington, London W8 7LN ; Nearest Tube Station: Notting Hill Gate.
2. Ye Olde Cheshire Cheese
If you want to feel like you're back in olden times, Ye Olde Cheshire Cheese is for you. Located on Fleet Street, this pub has been standing since just after the Great Fire of London and serves up pub classics like pie and fish and chips.
Take some time to explore the interior and appreciate the history of all of the historic Londoners who would have walked through its doors.
Address: 145 Fleet St, London EC4A 2BU ; Nearest Tube Station: St. Paul's Cathedral
3. The Mayflower
It's a bit out of the way of Central London, but this pub is a wonderful place to make an evening trip and enjoy riverside views and great food.
Named for the ship that Christopher Columbus sailed on, there is a pub downstairs and a restaurant upstairs so you can either get just drinks or food and drinks.
The views from the terrace are excellent, and it's easily accessible from central London without too much headache.
It's also not right in the middle of tourist central, which means you'll get a great pub and a more local vibe.
Address: 117 Rotherhithe St, Rotherhithe, London SE16 4NF, Nearest Tube Station: Canada Water.
4. Earl of Essex
The name alone is enough to draw visitors in, but the Earl of Essex is particularly known for its beer selection.
The brews offered range from local beers to those from around the world, and the daily offers are on a sign on the wall when you walk in.
Address: 25 Danbury St, Islington, London N1 8LE; Nearest Tube Station: Angel
5. The Carpenters Arms
If you're based in East London, dip into The Carpenters Arms which has a ton of London history.
It used to be owned by the mother of Ronnie and Reggie Kray, who were notorious London criminals and gang members back in the day.
But don't worry, the pub isn't as seedy as it's history would suggest and today is a relaxing place to visit that has the feel of a traditional London pub.
Address: 73 Cheshire St, London E2 6EG ; Nearest Tube Station: Whitechapel
6. The Volunteer
If you're headed to the Baker Street or Regents Park area, whether for the Sherlock Holmes museum or to explore Regents Park, I would recommend The Volunteer as a nice family friendly pub that offers easy access to both of those attractions and is a great place to hang out for a bit.
Address: 245-247 Baker St, Marylebone, London NW1 6XE; Nearest Tube Station: Baker Street
7. The Harp
If you want a traditional pub in the Covent Garden area, this pub has 2 floors and features beautiful interior architecture like stained glass and dark wood.
Try the real ale or get sausages and mash for an authentic London experience. The prices are good and the staff friendly!
Address: 47 Chandos Pl, Charing Cross, London WC2N 4HS
8. The BlackFriar
This pub on Queen Victoria Street has its history as a friary (hence the name) and is lauded by locals as one of the most beautiful pubs inside, as well as having tons of history and a monk statue that sits outside.
Try the cask ales, as well as the afternoon tea in this sophisticated dining location.
Address: 174 Queen Victoria St, London EC4V 4EG