This post contains affiliate links for which I may make a small commission to help keep the site running. You will not be charged extra for these items had you not clicked the links. Thank you for your help to keep the site running!
Pub culture is one of the staples of London life, and the best London pubs are a must-visit.
Whether you meet at the pub with friends for a drink or you have a casual work meeting or you're there to celebrate a special occasion, it's been said that a pub is a British person's living room, meaning that it's here that they hang out and entertain.
You'll find a pub on almost every corner in London, and by all means you should explore the ones local to your accommodation and try some out as part of your London bucketlist.
If you want to check out some of the most notable pubs in London, I've compiled a list of some of the top pubs in London and some of the most highly rated pubs in London for visitors.
The Absolute Must-Knows (from a Londoner)
1. The Churchill Arms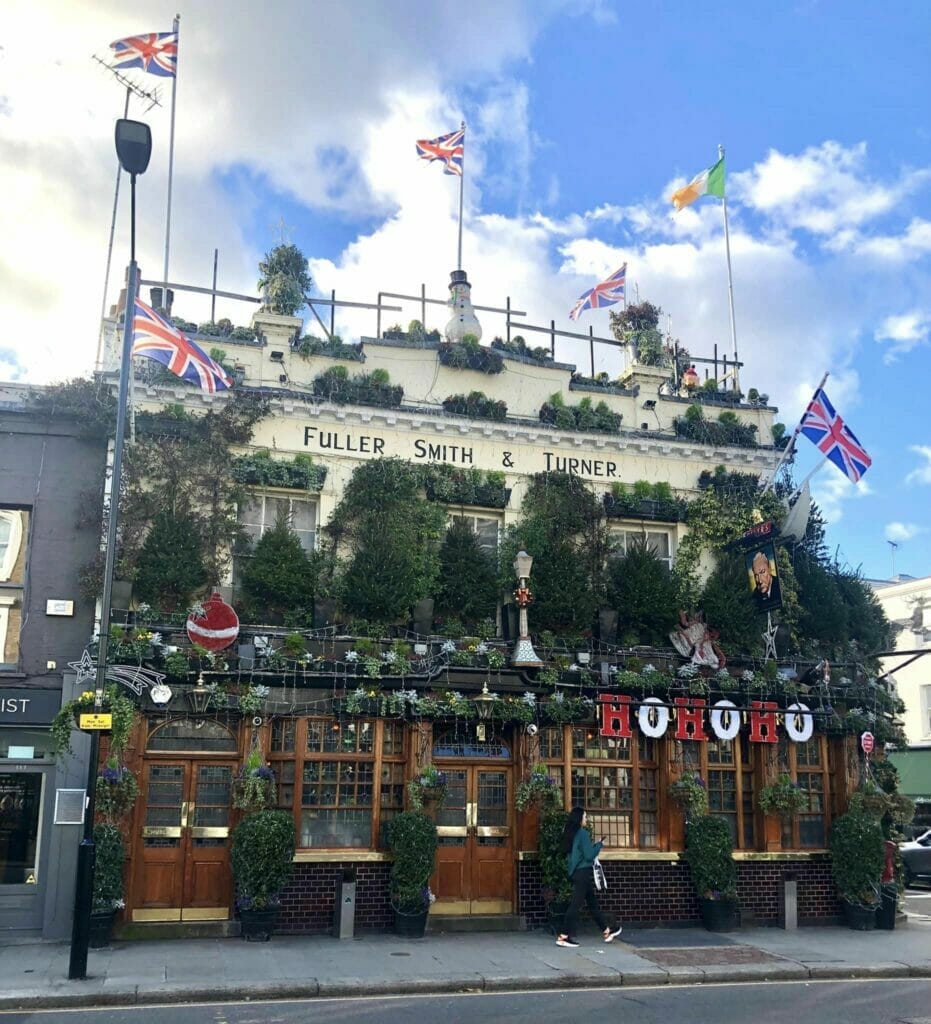 This pub named after Winston Churchill is best known for its floral arrangements that adorn the outside and the fantastically quirky interior.
I recommend it to all visitors to London as a must see London pub, and they're always glad they went.
You can get drinks here like any normal pub, but the food they serve in the restaurant section is actually Thai food (not uncommon in some pubs), and good Thai food at that!
Address: 119 Kensington Church St, Kensington, London W8 7LN
Nearest Tube Station: Notting Hill Gate.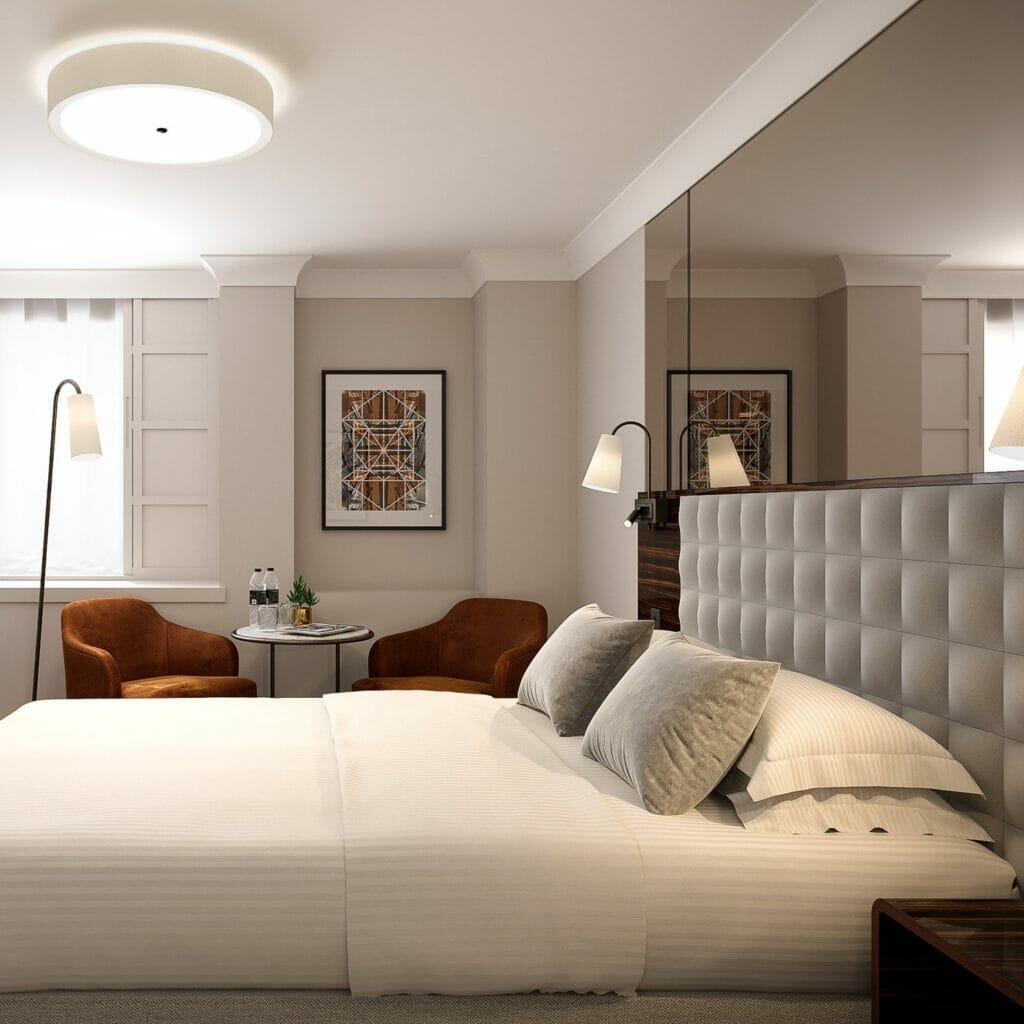 2. Ye Olde Cheshire Cheese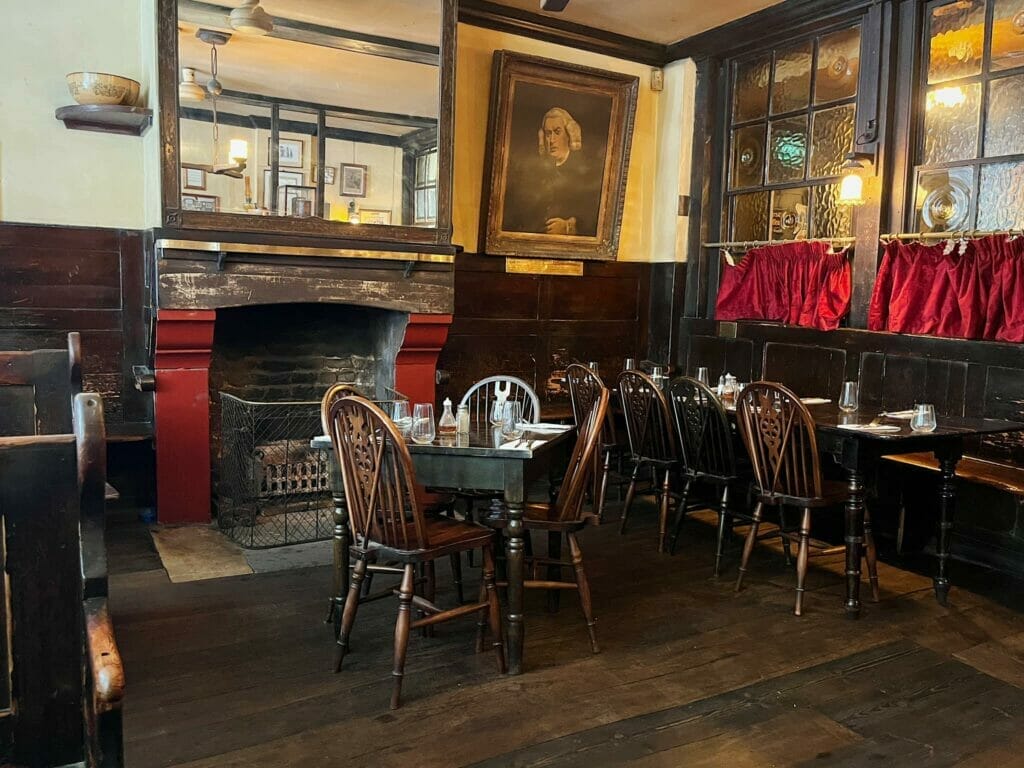 If you want to feel like you're back in olden times, Ye Olde Cheshire Cheese is for you.
Located on Fleet Street, this pub has been standing since just after the Great Fire of London and serves up pub classics like pie and fish and chips.
Take some time to explore the interior and appreciate the history of all of the historic Londoners who would have walked through its doors.
Address: 145 Fleet St, London EC4A 2BU
Nearest Tube Station: St. Paul's Cathedral
IMPORTANT: are you coming to the UK from abroad?
In case you're reading this from outside the UK and will be a foreign visitor here, you need to know these 2 things to stay safe and save money.
Travel insurance – you need it when going overseas! I use

this site

to get the best quotes and purchase my packages from. Do not skip this – having medical coverage abroad as well as other coverage in case of missed flights, lost luggage, etc is essential. As I said, I have never gone wrong using

this site

.
3. The Mayflower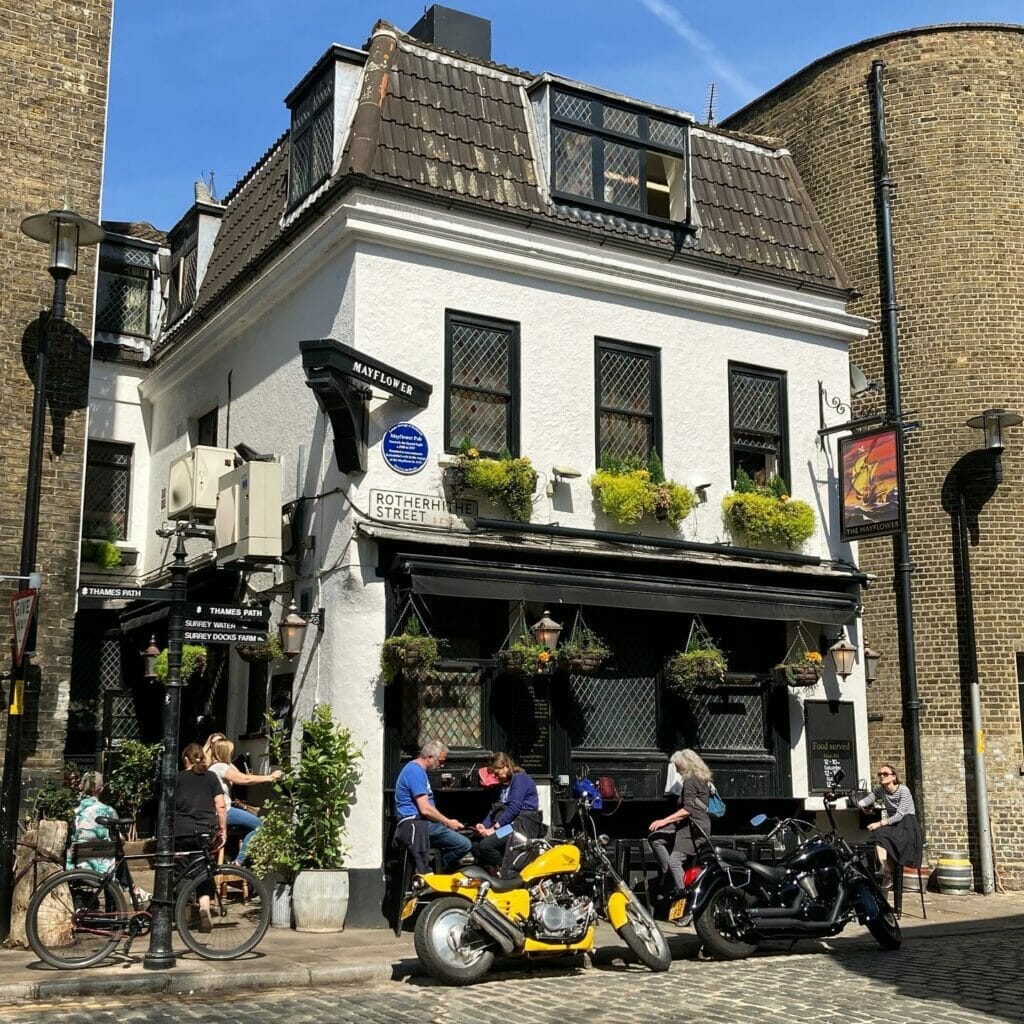 It's a bit out of the way of Central London, but this pub is a wonderful place to make an evening trip and enjoy riverside views and great food.
Named for the ship that Christopher Columbus sailed on, there is a pub downstairs and a restaurant upstairs so you can either get just drinks or food and drinks.
The views from the terrace are excellent, and it's easily accessible from central London without too much headache.
It's also not right in the middle of tourist central, which means you'll get a great pub and a more local vibe.
Address: 117 Rotherhithe St, Rotherhithe, London SE16 4NF
Nearest Tube Station: Canada Water.
4. Earl of Essex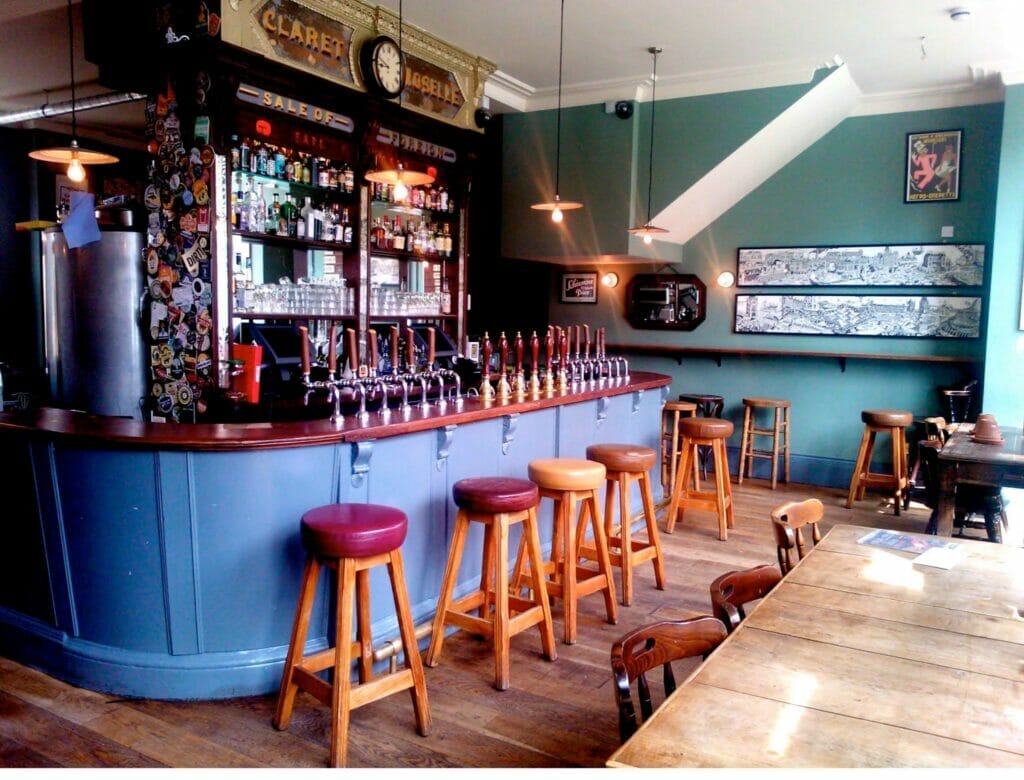 The name alone is enough to draw visitors in, but the Earl of Essex is particularly known for its beer selection.
The brews offered range from local beers to those from around the world, and the daily offers are on a sign on the wall when you walk in.
Address: 25 Danbury St, Islington, London N1 8LE
Nearest Tube Station: Angel
5. The Carpenters Arms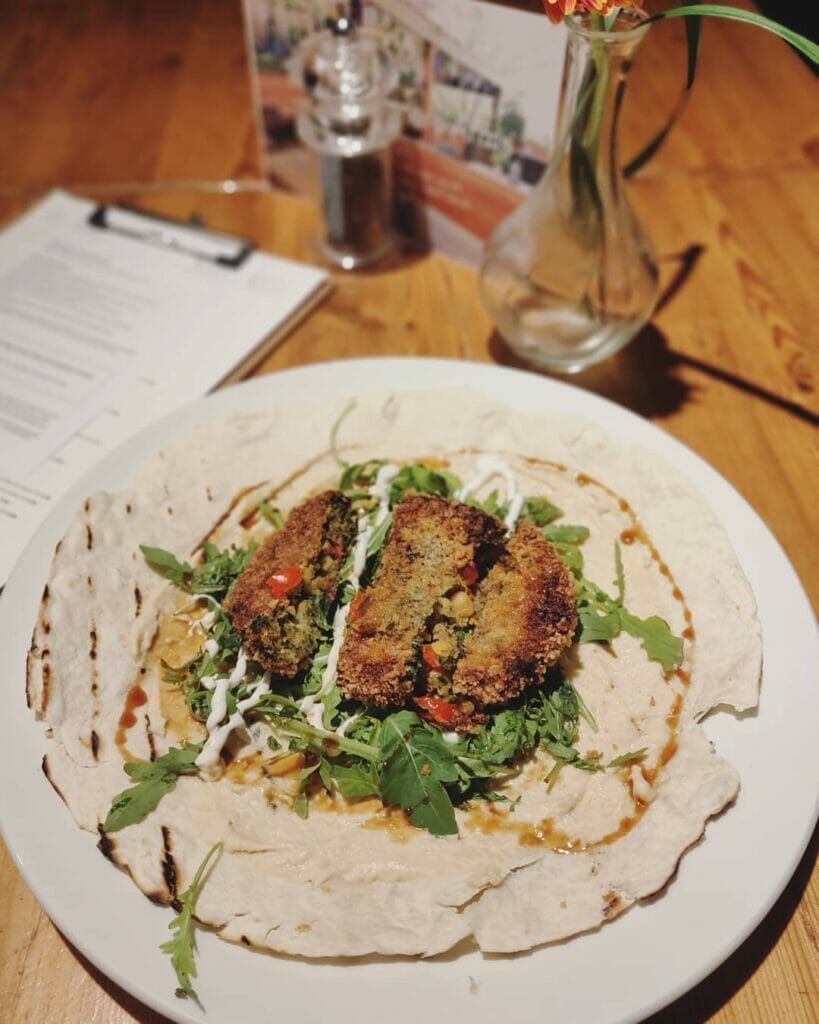 If you're based in East London, dip into The Carpenters Arms which has a ton of London history.
It used to be owned by the mother of Ronnie and Reggie Kray, who were notorious London criminals and gang members back in the day.
But don't worry, the pub isn't as seedy as it's history would suggest and today is a relaxing place to visit that has the feel of a traditional London pub.
Address: 73 Cheshire St, London E2 6EG
Nearest Tube Station: Whitechapel
6. The Volunteer Baker Street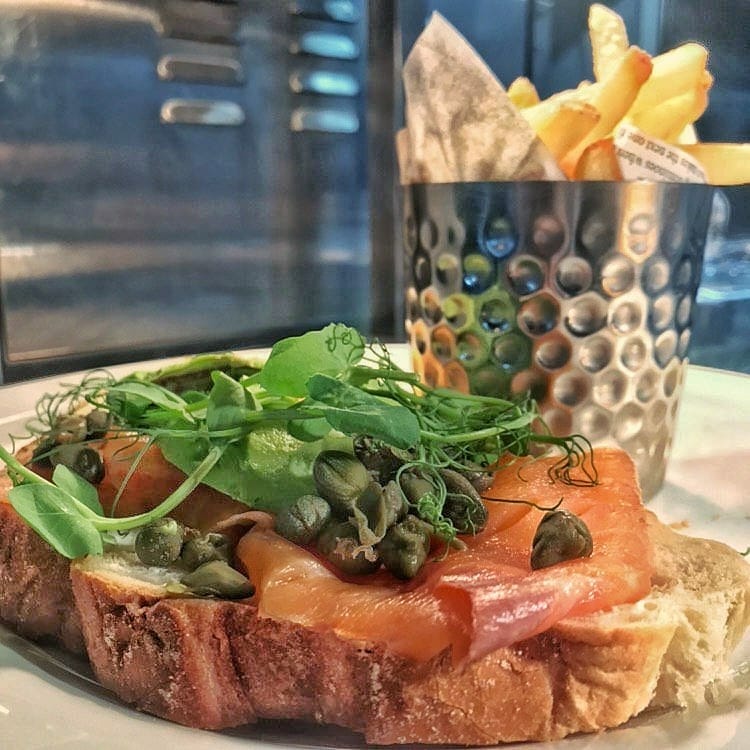 If you're headed to the Baker Street or Regents Park area, whether for the Sherlock Holmes museum or to explore Regents Park, I would recommend The Volunteer as a nice family friendly pub that offers easy access to both of those attractions and is a great place to hang out for a bit.
Address: 245-247 Baker St, Marylebone, London NW1 6XE
Nearest Tube Station: Baker Street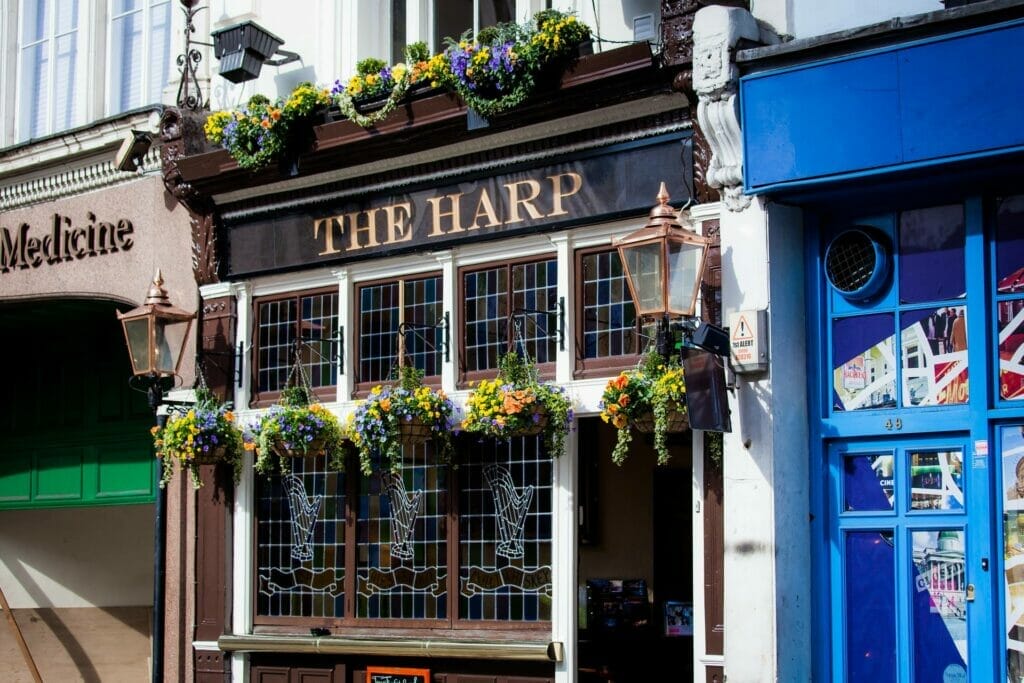 If you want a traditional pub in the Covent Garden area, this pub has 2 floors and features beautiful interior architecture like stained glass and dark wood.
Try the real ale or get sausages and mash for an authentic London experience. The prices are good and the staff friendly!
Address: 47 Chandos Pl, Charing Cross, London WC2N 4HS
8. The BlackFriar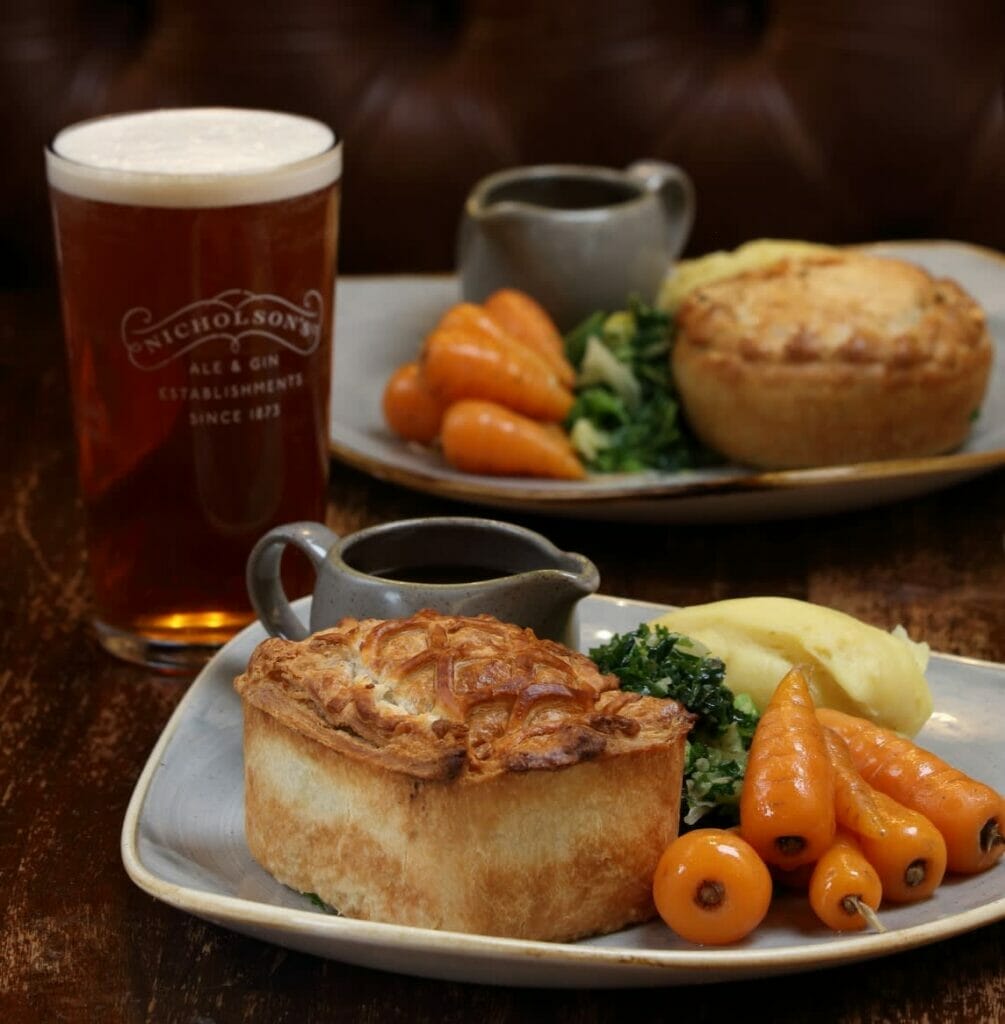 This pub on Queen Victoria Street has its history as a friary (hence the name) and is lauded by locals as one of the most beautiful pubs inside, as well as having tons of history and a monk statue that sits outside.
Try the cask ales, as well as the afternoon tea in this sophisticated dining location.
Address: 174 Queen Victoria St, London EC4V 4EG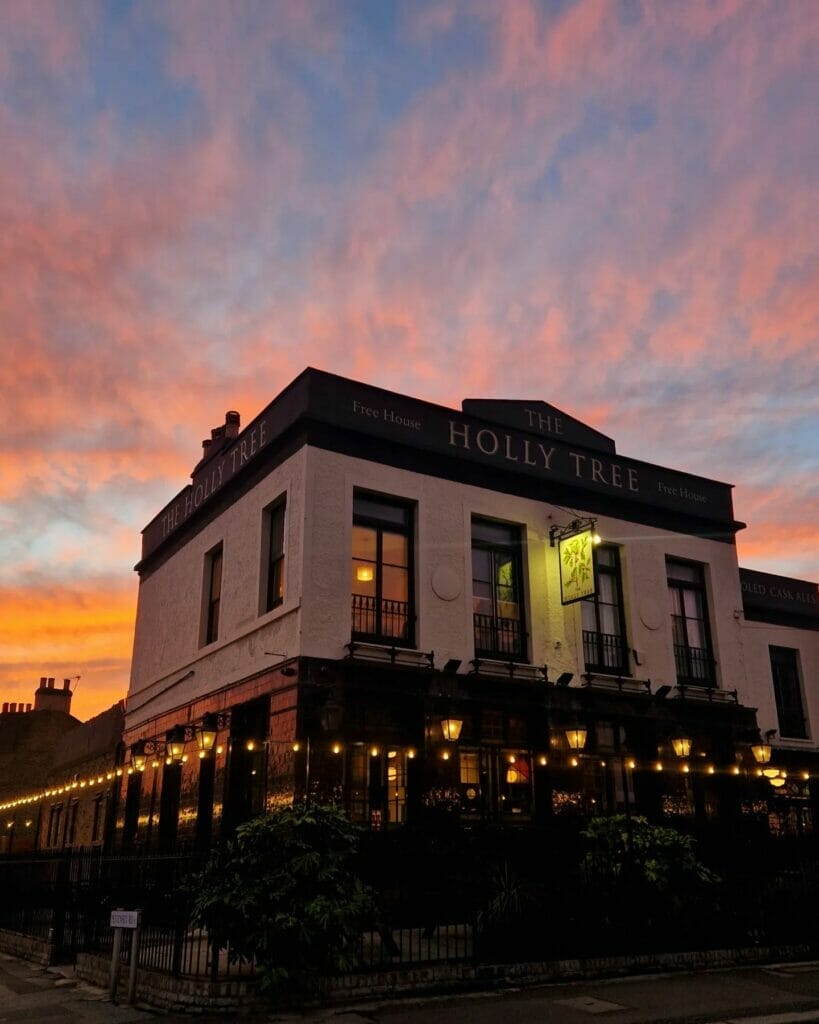 This refurbished pub is a favorite among locals!
The Holly Tree is best known for the beautiful garden in the back.
Since it's heated, you can enjoy it year-round!
The garden also houses a miniature railway that you can ride around on for fun.
While kids are allowed, there are also kids-free zones for adults to enjoy a relaxing pint.
With 25 rotating craft beers, you can always find something unique and delicious to drink when you visit!
Their menu boasts a variety of unique items so you can try something exciting if you need a bite to eat.
Address: 141 Dames Road, London E7 0DZ England
Nearest Tube Station: Wanstead Park Rail Station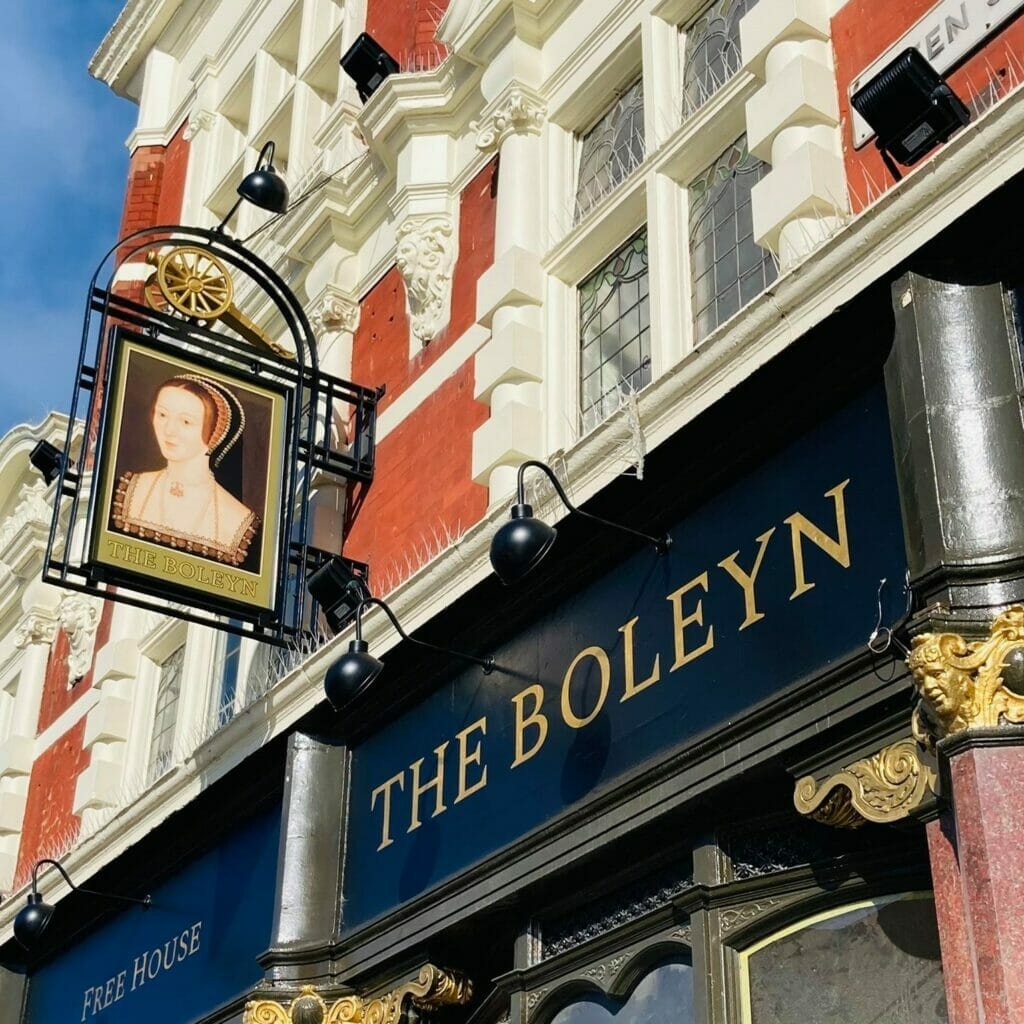 The Boelyn Tavern has recently been reopened.
It was restored to best remind us of its former Victorian glory.
When you visit, you may feel as if you stepped back in time!
It's divided into seven bars so that each area feels cozy.
Each of these bars has something special that sets it apart from the others so you may want to return several times.
The menu at the Boelyn Tavern boasts several vegan and gluten-free options for anyone who follows those diets.
With the extensive drink menu, you'll find that there's something for everyone!
Address: 1 Barking Rd, London E6 1PW
Nearest Tube Station: Upton Park Underground Station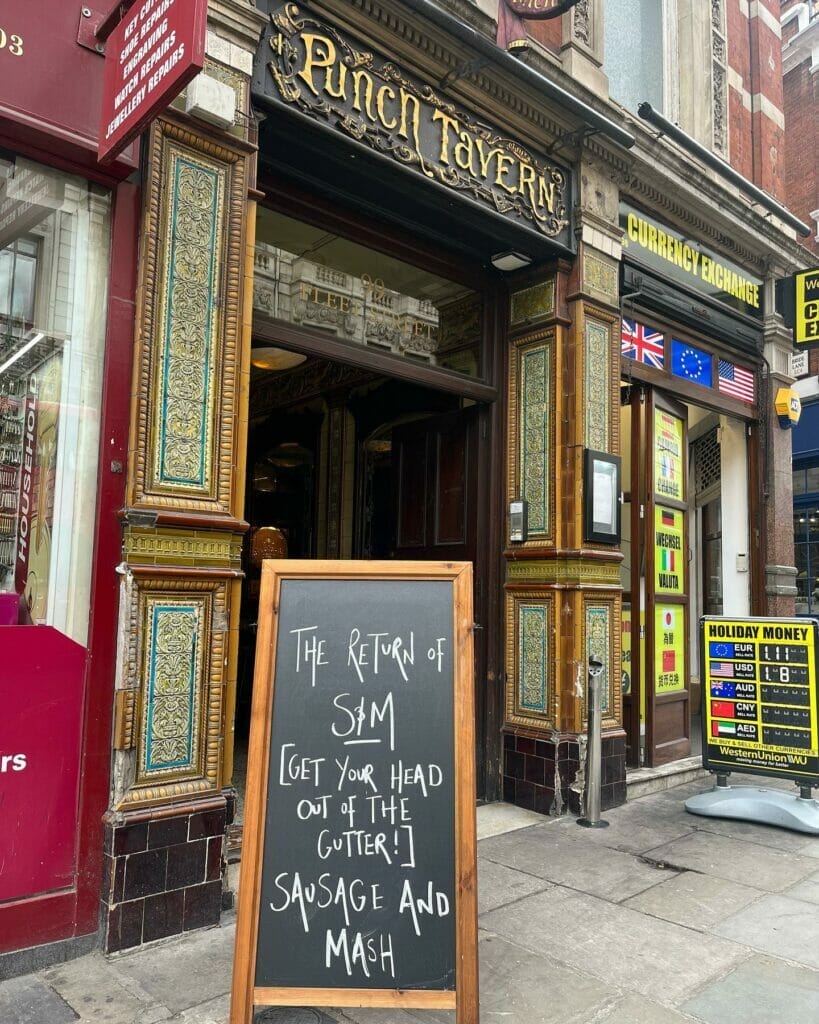 Named in the 1840s, the Punch Tavern was named for the employees from Punch Magazine who often came here to grab a drink.
Originally a Gin Palace, this tavern has been refurbished to maintain some of its original charms.
If gin is your drink of choice, you will be pleased to know that they still have an extensive gin menu in addition to their many other drinks.
With trivia night on Tuesdays and special deals throughout the week, there are many reasons to visit the Punch Tavern!
Address: 99 Fleet St, London EC4Y 1DE
Nearest Tube Station: Bus stop, City Thameslink Rail Station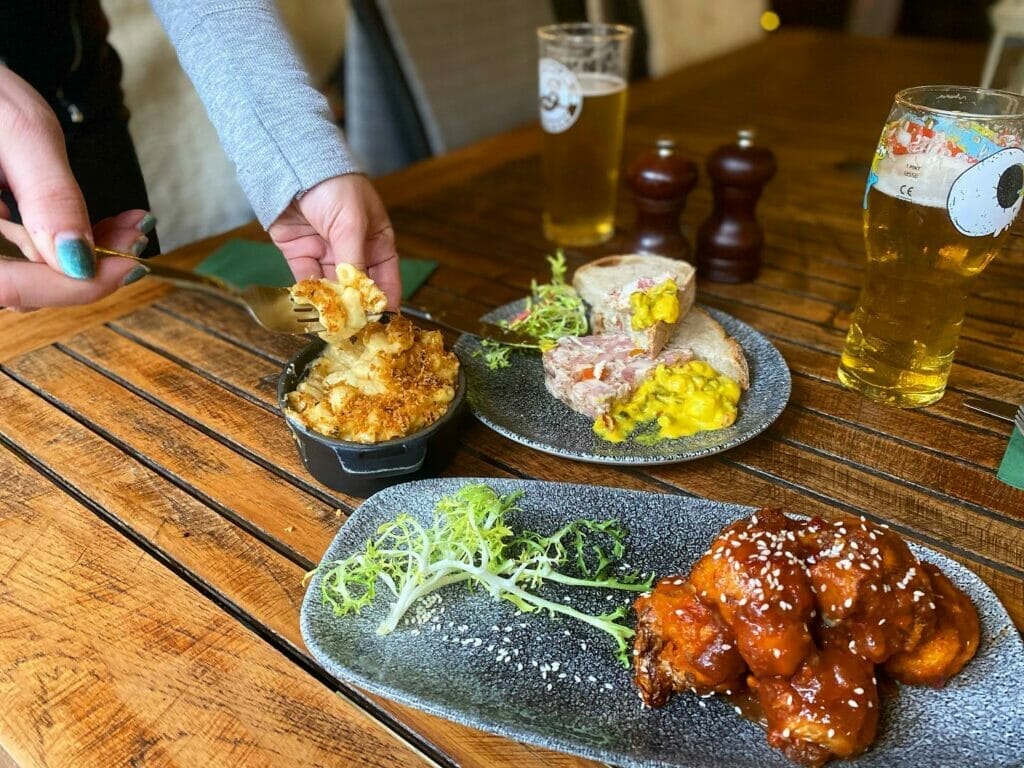 The Eagle in Shepherd's Bush has a cozy atmosphere that encourages guests to stay awhile.
The beautiful outdoor garden is heated so you can enjoy it year-round.
They also have canopies so it won't rain on your parade!
They host many events, some weekly and some seasonally.
You can even host your own event if you book one of their huts.
They have an impressive menu but are best known for their burger shack.
If you love a good burger, you will not leave hungry.
Address: 215 Askew Rd, London W12 9AZ
Nearest Tube Station: Stamford Brook Underground Station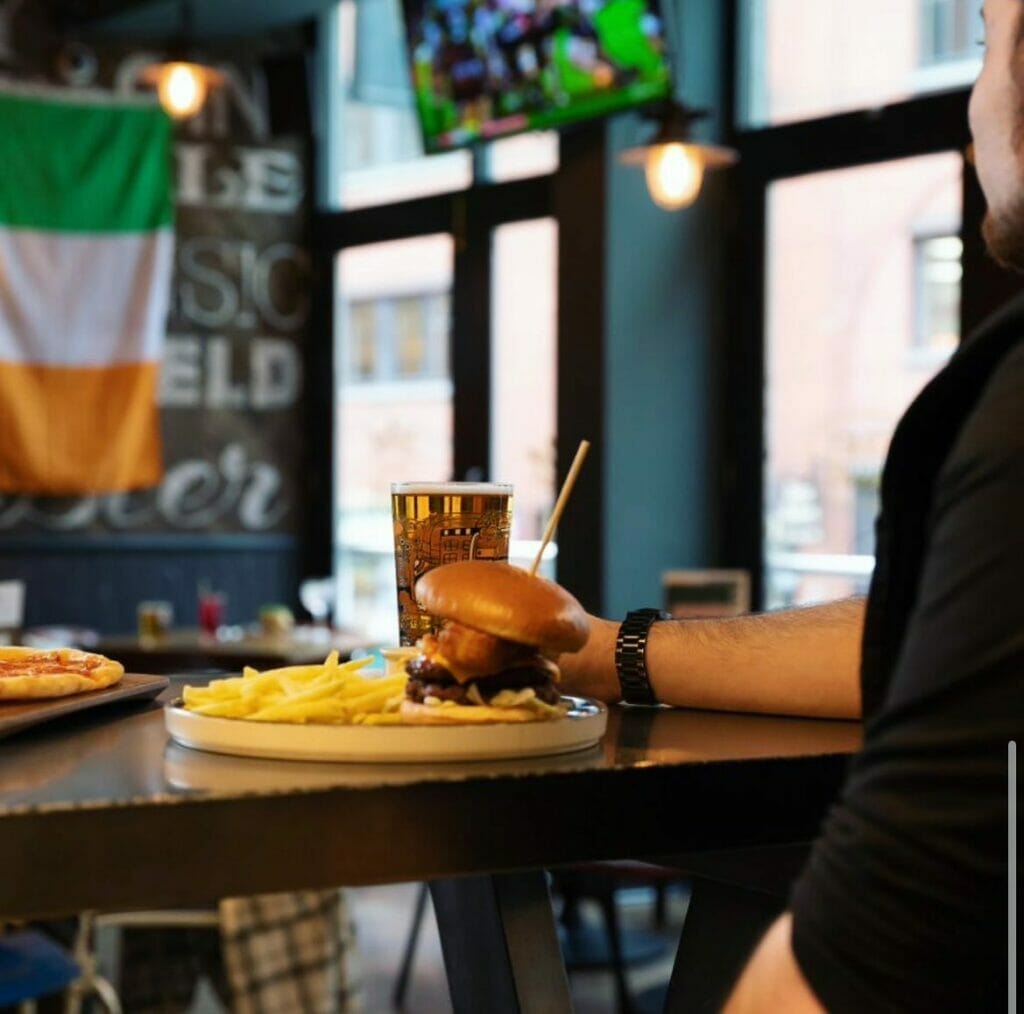 Voted Sports Pub of the Year five years running, Famous Three Kings is a popular pub.
This family-friendly pub is a great place to watch sports.
You can even play a game of pool while you visit.
Book a bottomless brunch on the weekend to ensure that you have the best brunch experience imaginable!
In addition to brunch foods, the menu is quite extensive.
Most of the foods are popular pub foods that would go great with your drink.
They also have a lot of drinks to choose from! If you like gin, you can experiment with a different drink by trying the "Gin Lab Experience."
Address: 171 North End Rd, London W14 9AE
Nearest Tube Station: West Kensington Underground Station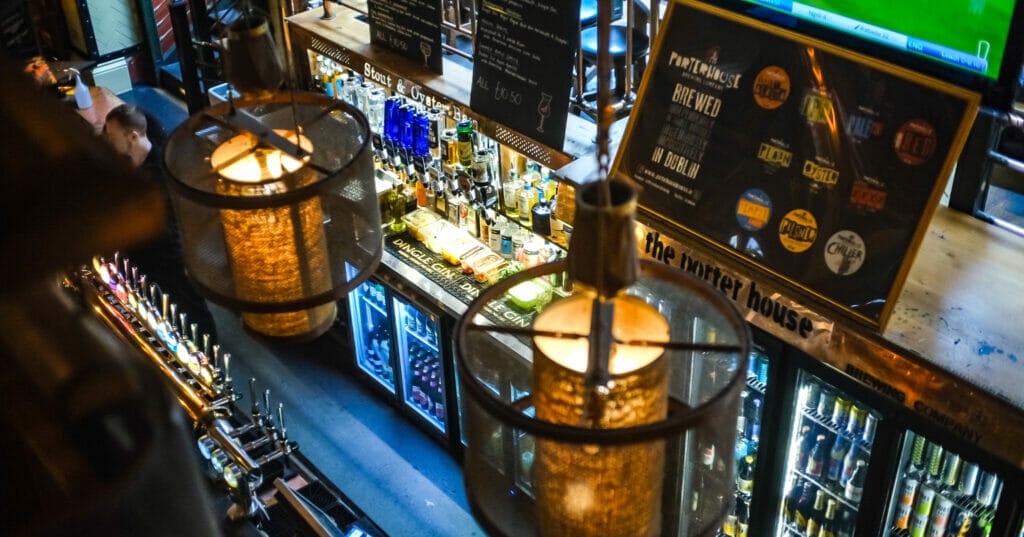 One of the biggest bars in London, the Porterhouse has a lot to offer.
If you prefer an intimate setting, just find a seat in one of the mezzanine areas!
With dozens of beers to choose from, you don't have to worry about whether or not they'll have something you like.
If you really don't want beer, they also have spirits and cocktails.
You can almost always catch live music on the weekends.
They even have live music on weeknights sometimes, too.
The Porterhouse has a simple menu that boasts classic pub foods.
Address: 21-22 Maiden Ln, London WC2E 7NA
Nearest Tube Station: Charing Cross Underground Station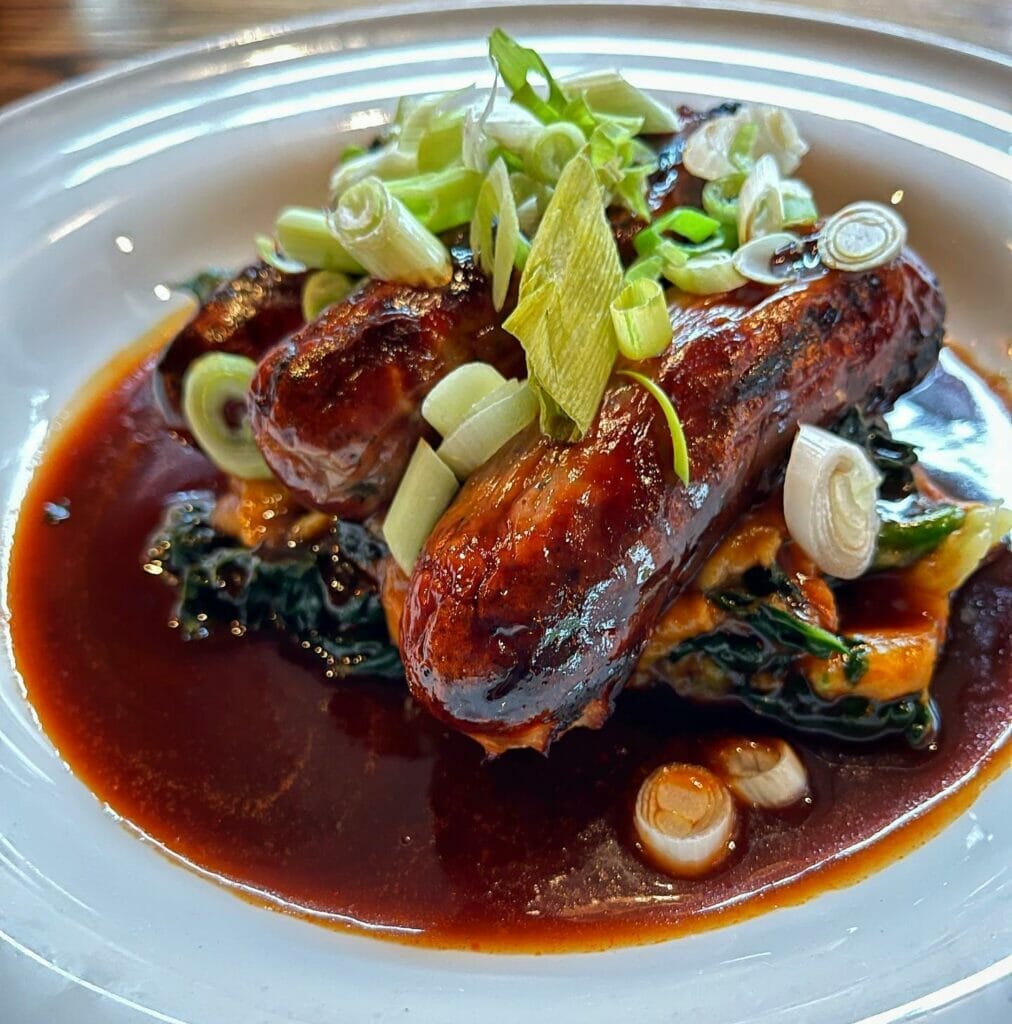 Sometimes called the Sloaney Pony, the White Horse is one of London's finest pubs.
This iconic pub is located on the edge of Parson's Green.
The classy pub has combined both Victorian and modern decor to make the dining room appealing to visitors.
The upscale menu boasts delicious food items that utilize high-quality ingredients.
This is a great place for a celebration!
Come on Fizz Friday to share a discounted bottle of Veuve Clicquot with your friends.
Address: 1-3 Parsons Grn, London SW6 4UL
Nearest Tube Station: Parsons Green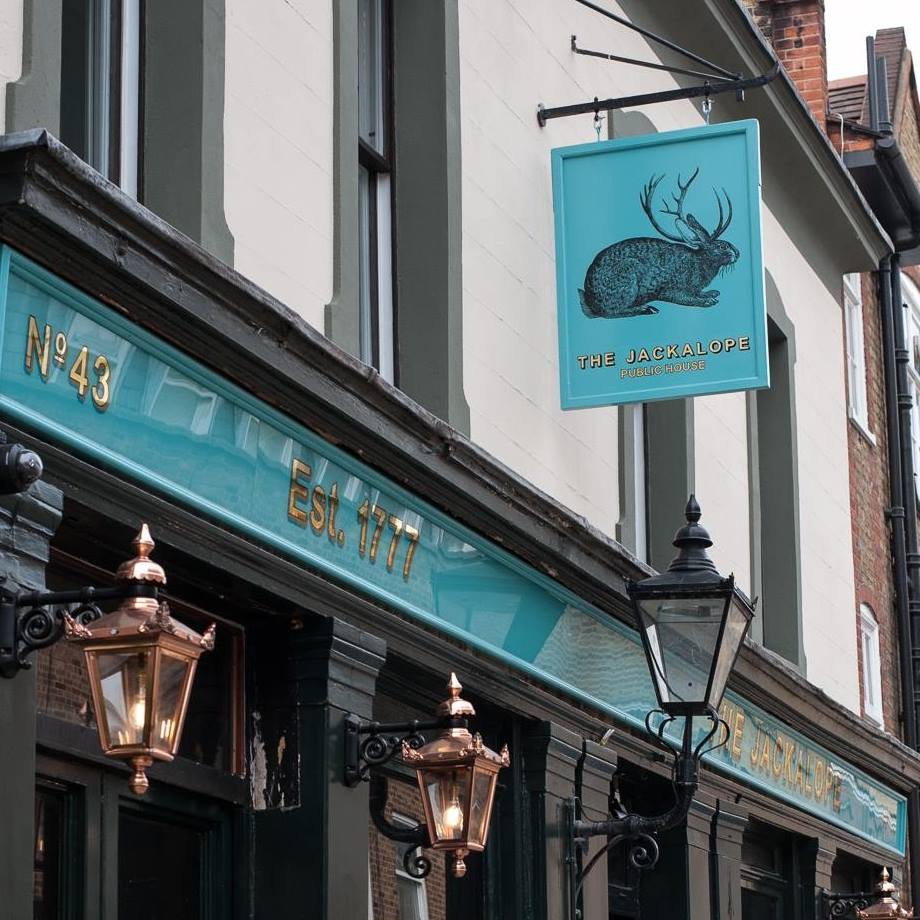 Originally founded in 1777, the Jackalope is a classic London mews pub.
Its most distinguishing feature is the "secret" noodle bar downstairs.
Chongqing noodles are spicy noodles made fresh at the Jackalope daily.
With 4 casks and 14 kegs, you can also choose from a variety of beers.
The Jackalope also offers outdoor seating which creates a relaxing atmosphere.
Address: 43 Weymouth Mews, London W1G 7EQ
Nearest Tube Station: Oxford Circus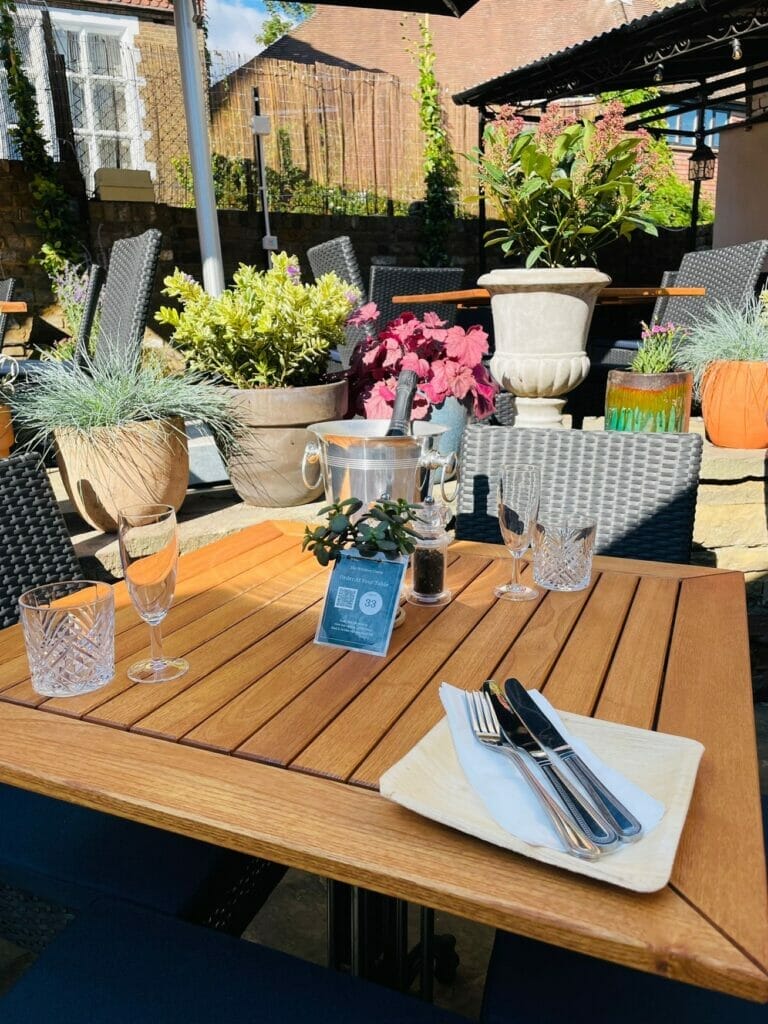 The Windsor Castle Pub is located within walking distance of Windsor Castle.
If you find yourself visiting Windsor Castle, this will be a great place to grab a drink and some food.
This gastropub is a traditional English pub that even the locals enjoy!
When you eat here you will feel like royalty.
This is because of the service and the impressive menu. No matter what you order, you can expect it to be delicious.
Address: 98 Kings Rd, Windsor SL4 2AP
Nearest Tube Station: St. James's Park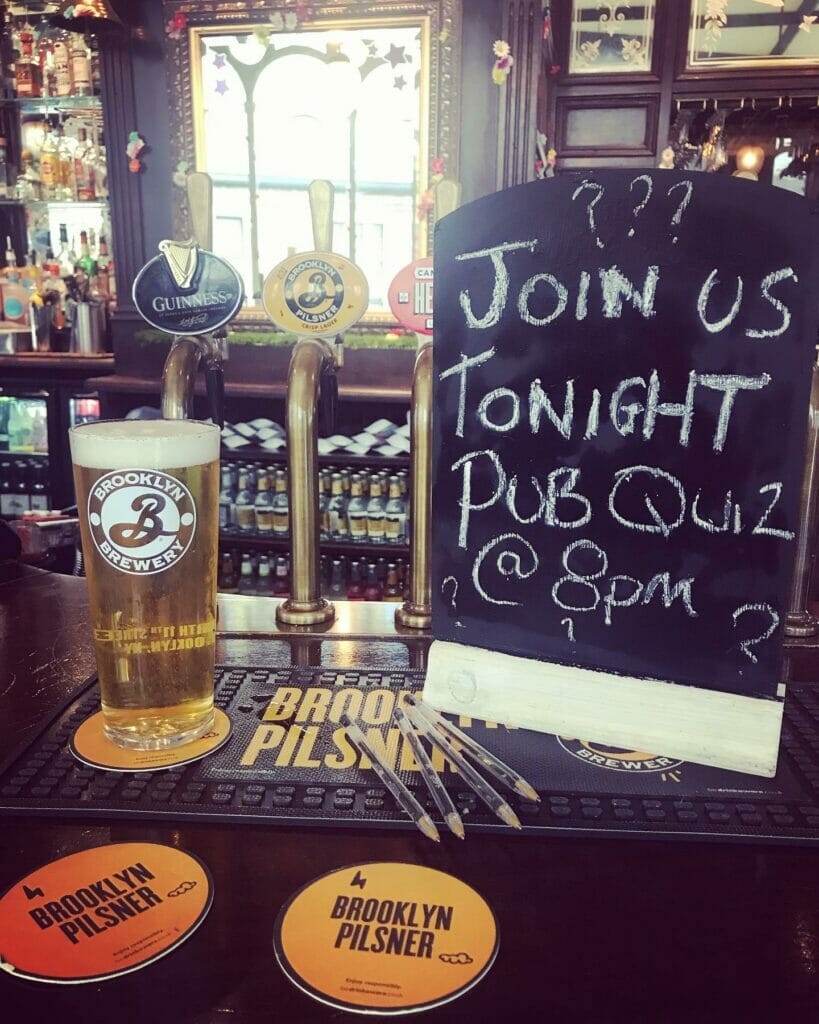 While the Mitre at Lancaster Gate is a great place to catch a game, it's also a classy joint.
You can enjoy a nice meal while watching your favorite sports team.
The best part about this restaurant is that it's home to Old Mary's Cocktail Bar.
Located below the pub in the Dickensian basement is a bar named for the resident ghost.
Supposedly Mary was found murdered here and still haunts the place.
Address: 24 Craven Terrace, Lancaster Gate, London W2 3QH
Nearest Tube Station: Lancaster Gate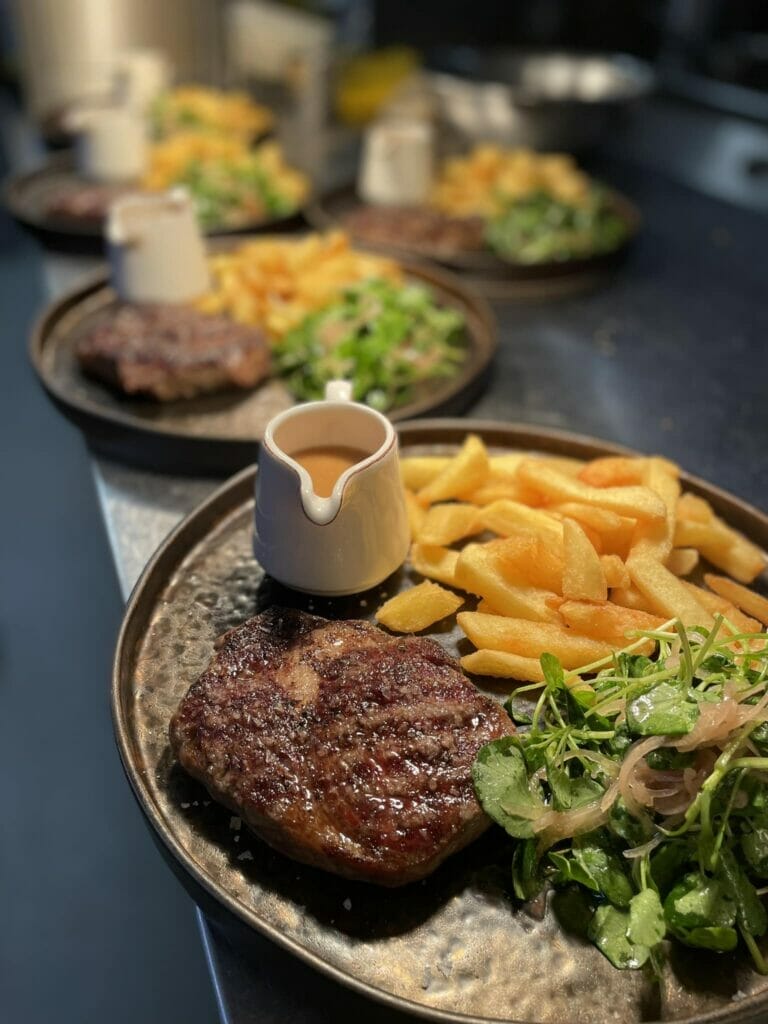 The Victoria is a historic pub that is both family and dog friendly!
Their menu is full of hearty yet sophisticated food items.
You'll be excited to try something new when you visit!
When you walk in, you'll feel as though you've stepped back in time.
The gorgeous interior resembles a past time. Guests also agree that it is quite cozy.
Trivia fans will want to visit on a Tuesday night.
Every Tuesday, Victoria hosts a quiz night.
Address: 10A Strathearn Pl, Tyburnia, London W2 2NH
Nearest Tube Station: Lancaster Gate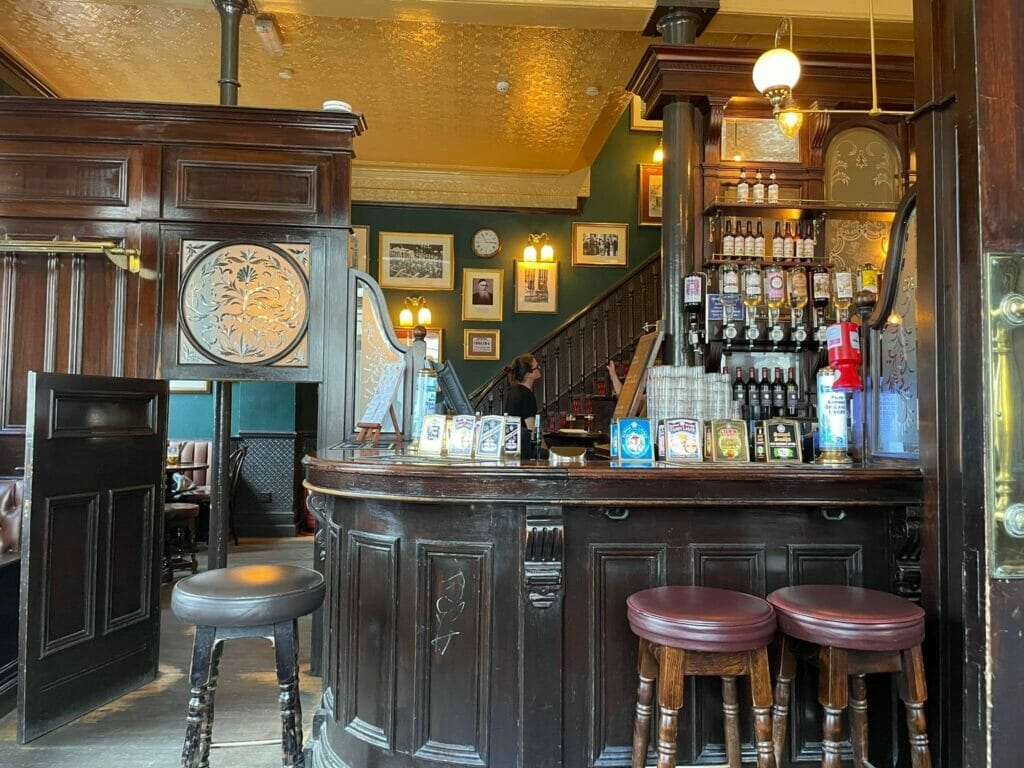 Named for John Snow, this public house commemorates history.
John Snow was a doctor who noticed a pattern in cholera outbreaks.
He found a few water pumps that had supposedly been contaminated–one was by this pub.
John Snow also noticed that pub workers weren't dying of cholera.
He suspected that this was because they drank beer instead of contaminated water.
If you've ever needed a reason to grab a pint, that sounds like a good one!
Visit this bar with a historic ambiance to enjoy a drink and learn some history.
Address: 39 Broadwick St, Carnaby, London W1F 9QJ
Nearest Tube Station: Piccadilly Circus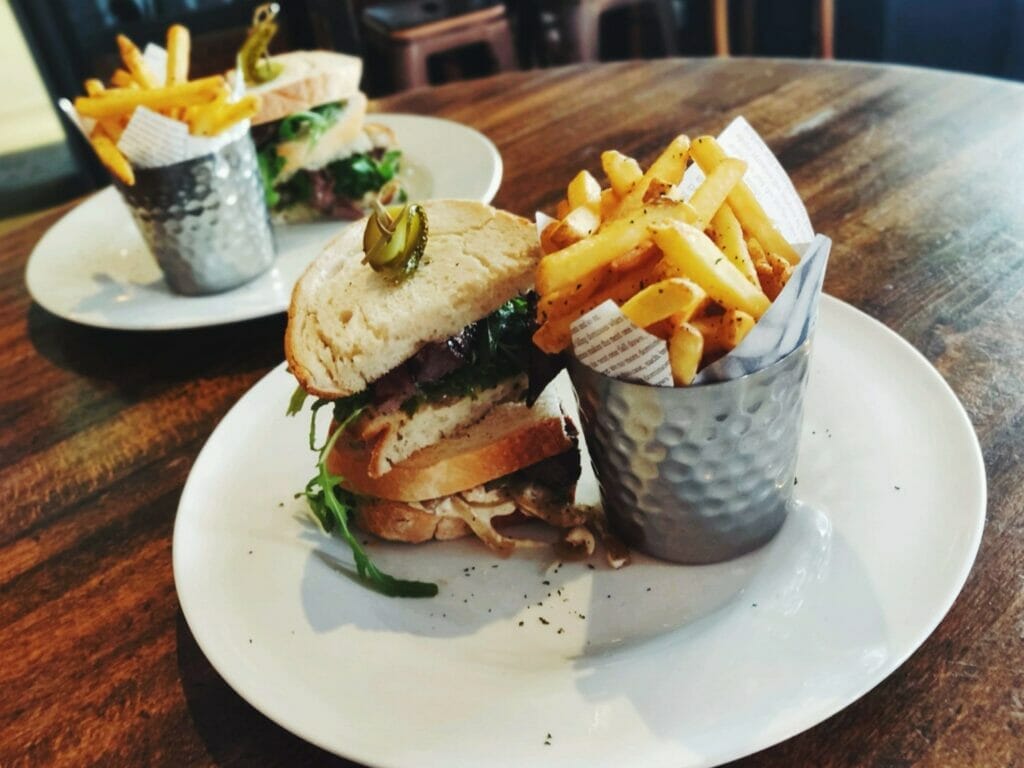 The Crown and Two Chairmen is a cozy pub with a quirky vibe.
Many locals visit regularly!
They offer traditional British pub food.
They also have an extensive drinks list.
Whether you prefer beer, wine, soda, or a cocktail, you'll find something you love.
This pub focuses on sustainability.
Only 4% of their waste goes to a landfill and all their energy sources are renewable.
They also distribute extra food to those in need!
Address: 31-32 Dean St, Greater, London W1D 3SB
Nearest Tube Station: Leicester Square
The Coach and Horses is a historic pub in Soho.
Many people frequent this pub to have meaningful conversations with other creative thinkers.
Order a beer or a classic drink and dive into a deep conversation with an old friend or a new one! Head upstairs to grab a bite at the vegan restaurant.
One downside of this restaurant is that it's always busy.
But that means people love it!
Address: 29 Greek St, London W1D 5DH
Nearest Tube Station: Leicester Square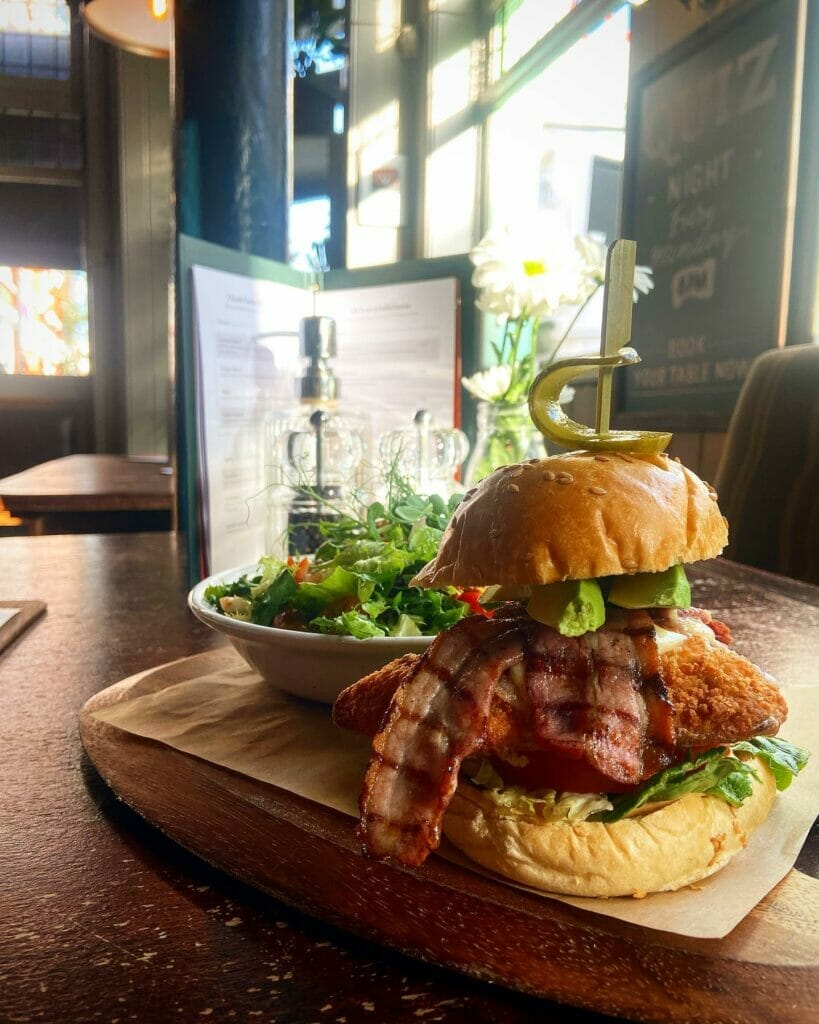 Located in the heart of Kensington, The Builder's Arms is an innovative British pub that you'll love!
Their seasonal menu is always changing.
That means you can try something new and delicious every time you visit!
They pride themselves on serving authentic British food to everyone who walks through the door.
They also have an extensive drink menu.
No matter what you're in the mood for, you can find it here.
Since the Builder's Arms dates back to the 1800s, you'll find period influences throughout the restaurant.
This is the perfect way to end a day in Kensington.
Address: 1 Kensington Ct Pl, Greater, London W8 5BJ
Nearest Tube Station: Gloucester Road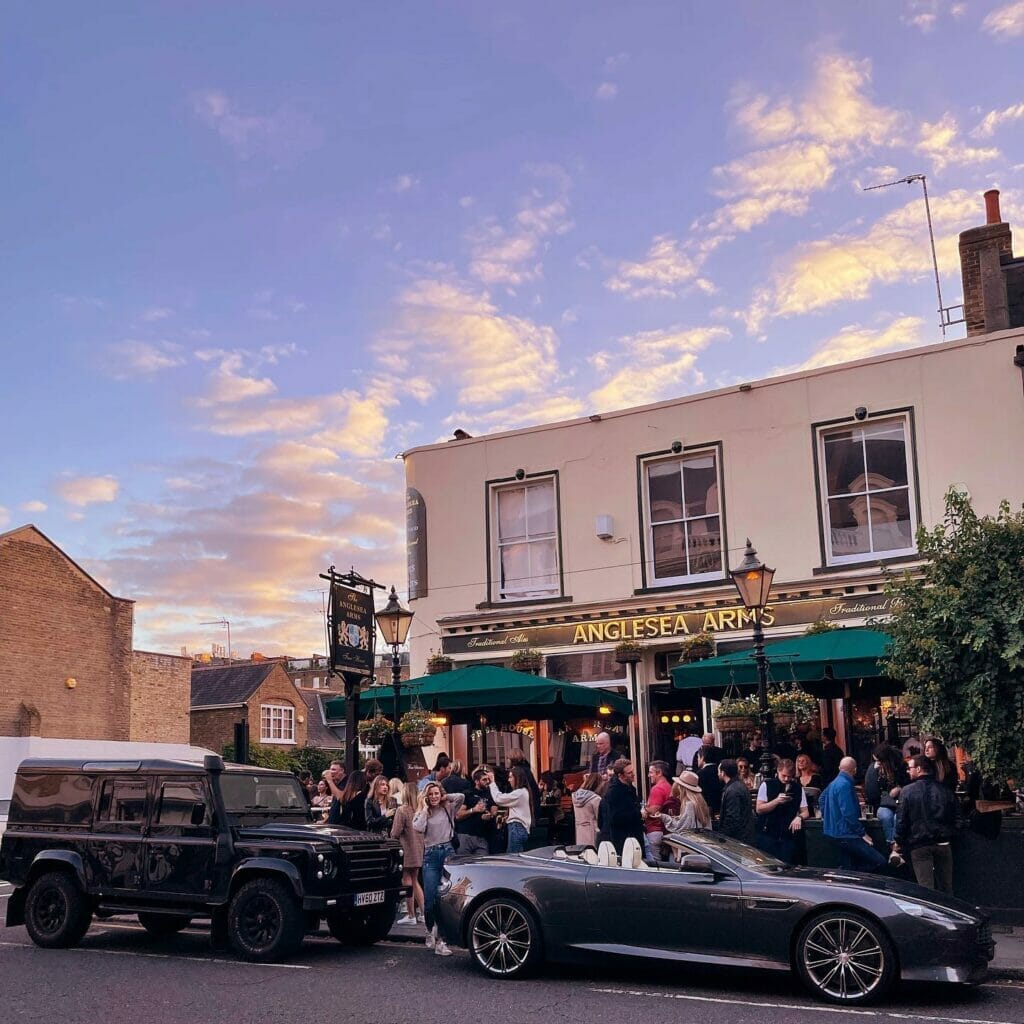 Originally a garden and nursery from the early 18th century, the Anglesea Arms has a rich history.
Their culinary excellence earned them a 1 AA Rosette.
You'll definitely want to try one of the traditional British menu items they offer!
With special events for many holidays, a lot of guests come here for special occasions.
The classy and cozy atmosphere is perfect for celebrating with a few close friends.
Address: 15 Selwood Terrace, South Kensington, London SW7 3QG
Nearest Tube Station: South Kensington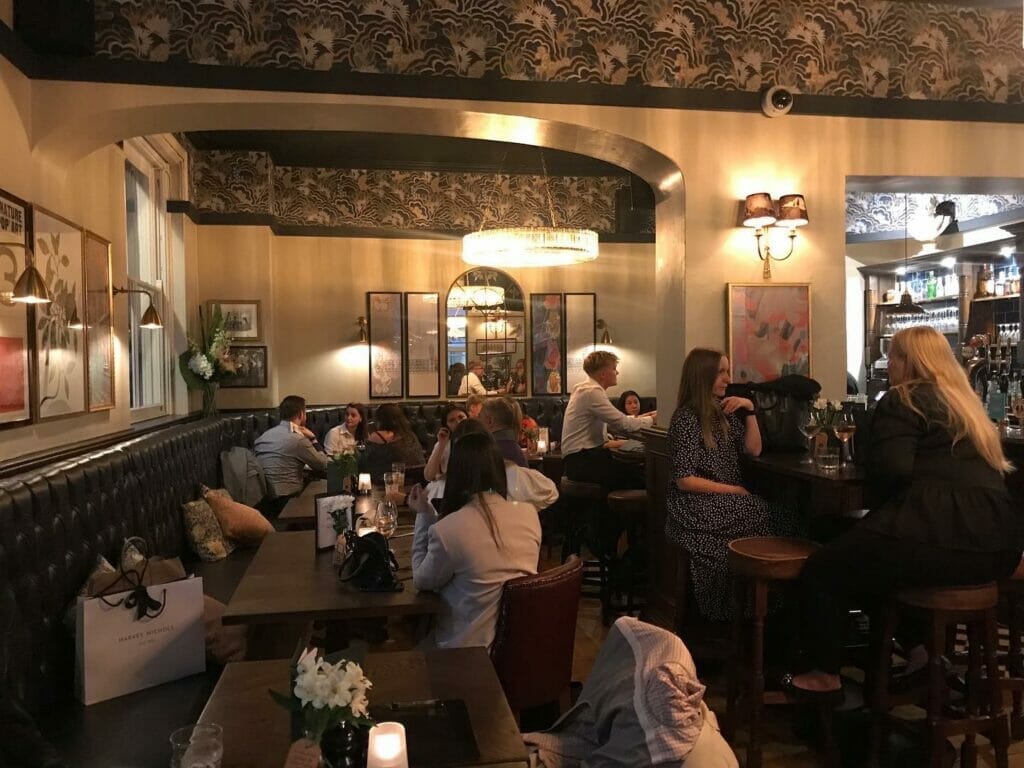 This hidden gem is one of the prettiest mews pubs in the region.
The Queens Arms in Kensington is a great place to meet with your friends and family.
This restaurant dates to the 1800s and still features Georgian architecture from its original building.
Serving classic pub food, the Queens Arms has many options for people with different diets.
This is another reason why it's a great place for a group dinner!
Address: 30 Queen's Gate Mews, Greater, South Kensington, London SW7 5QL
Nearest Tube Station: Gloucester Road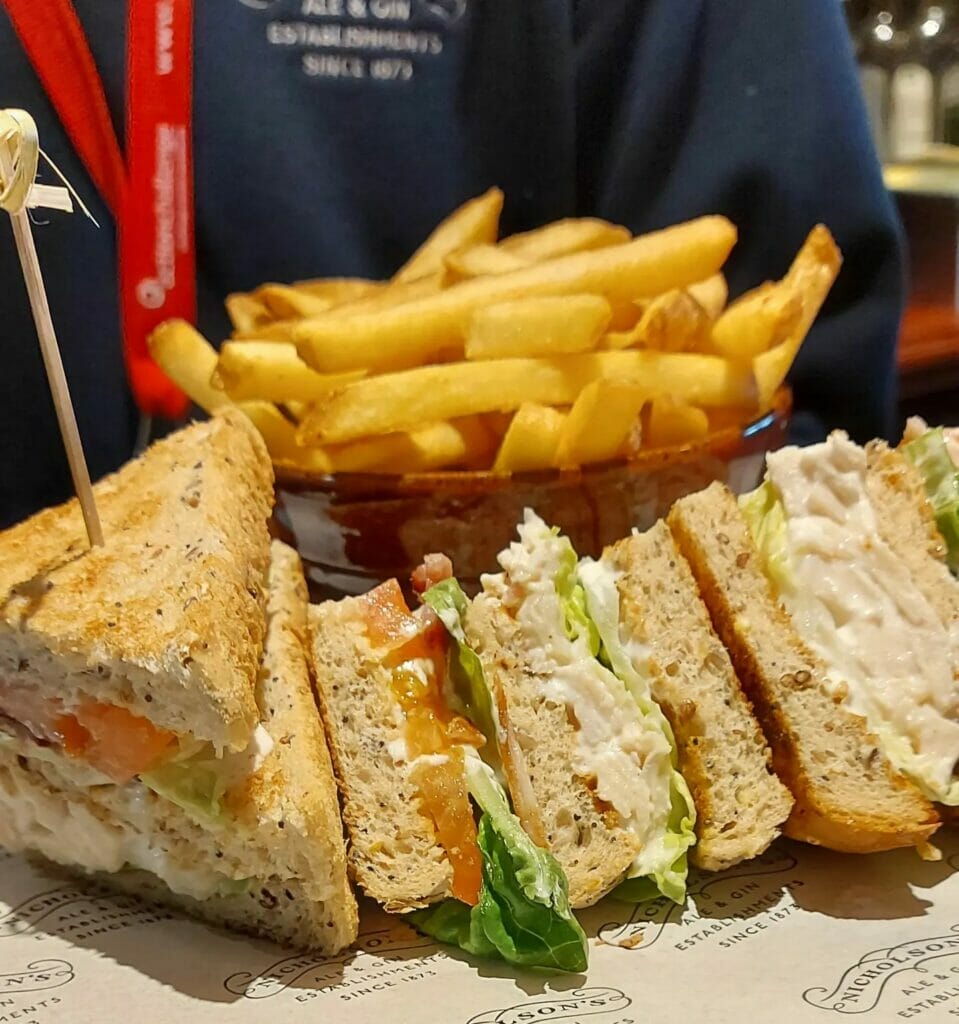 Named for Thomas Doggett, Doggett's Coat and Badge is located on the River Thames. Doggett organized the London Bridge to Chelsea rowing race.
This sporting event is supposedly London's oldest.
This leads to interesting history and gorgeous views at Dogget's Coat and Badge.
This pub is especially known for its pies and its gin palace.
Stop here for a drink or some food while enjoying a view of the River Thames.
Address: 1 Blackfriars Bridge, London SE1 9UD
Nearest Tube Station: Blackfriars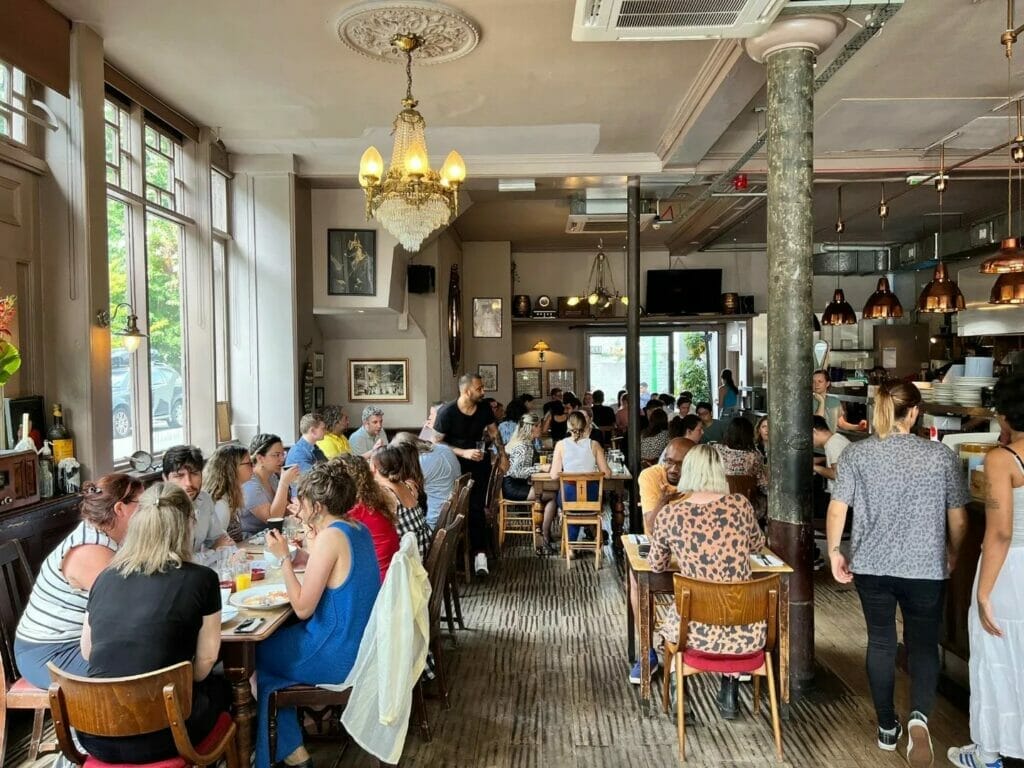 The Black Dog Freehouse is especially known for using fresh seasonal ingredients in its kitchen.
Their ingredients are so fresh that the menu changes daily!
You can expect to find a wide variety of traditional British foods that feature local ingredients.
The restaurant has a vibe as fresh as its food.
When you visit here, the staff and the atmosphere will help to refresh your mood.
Address: 112 Vauxhall Walk, London SE11 5ER
Nearest Tube Station: Vauxhall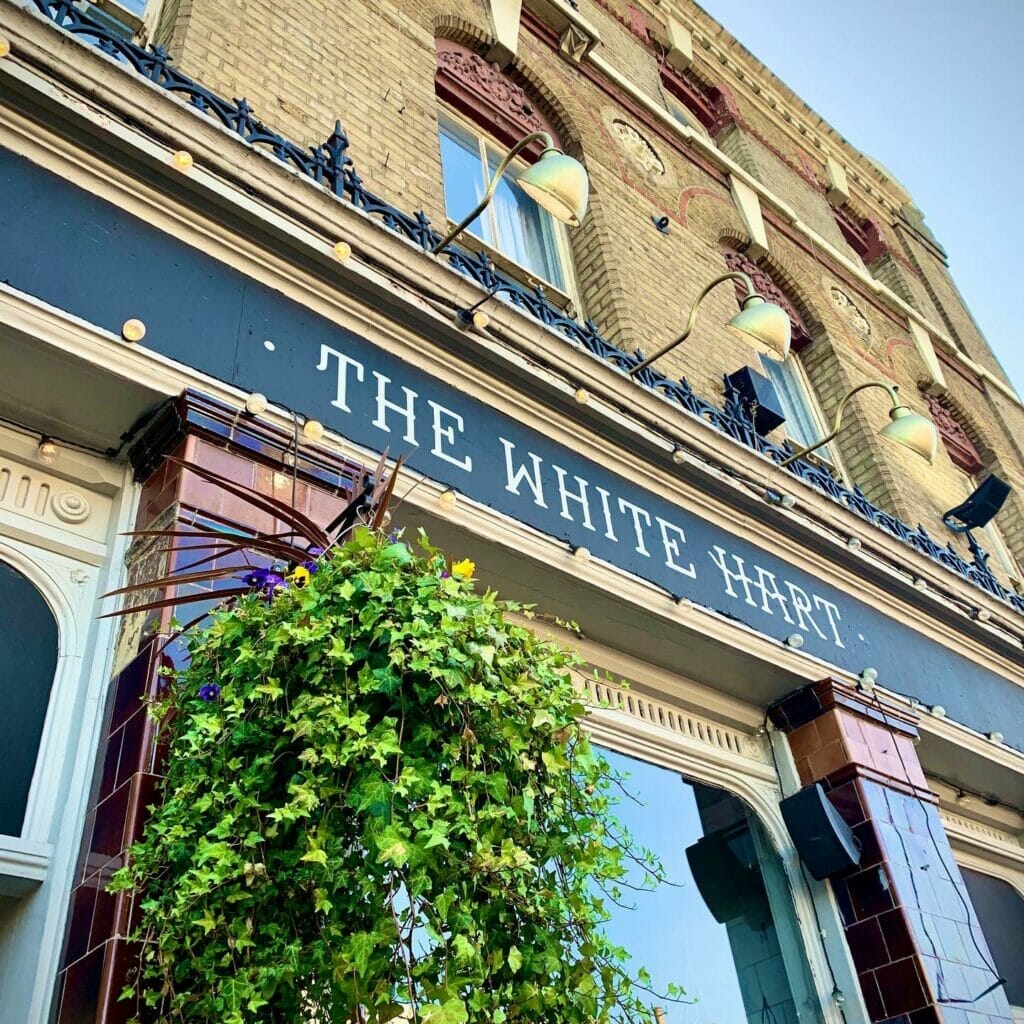 In 2017, the White Hart was restored to its former glory.
It's a great place to enjoy a local brew and some live music.
They also have options to buy food and drink online.
This is great if you want to support a local business without actually sitting in a restaurant!
They serve typical pub grub as well as popular Mexican foods.
On Sundays, you can enjoy a traditional Sunday roast meal.
Address: 184 New Cross Road, SE14 5AA
Nearest Tube Station: New Cross Gate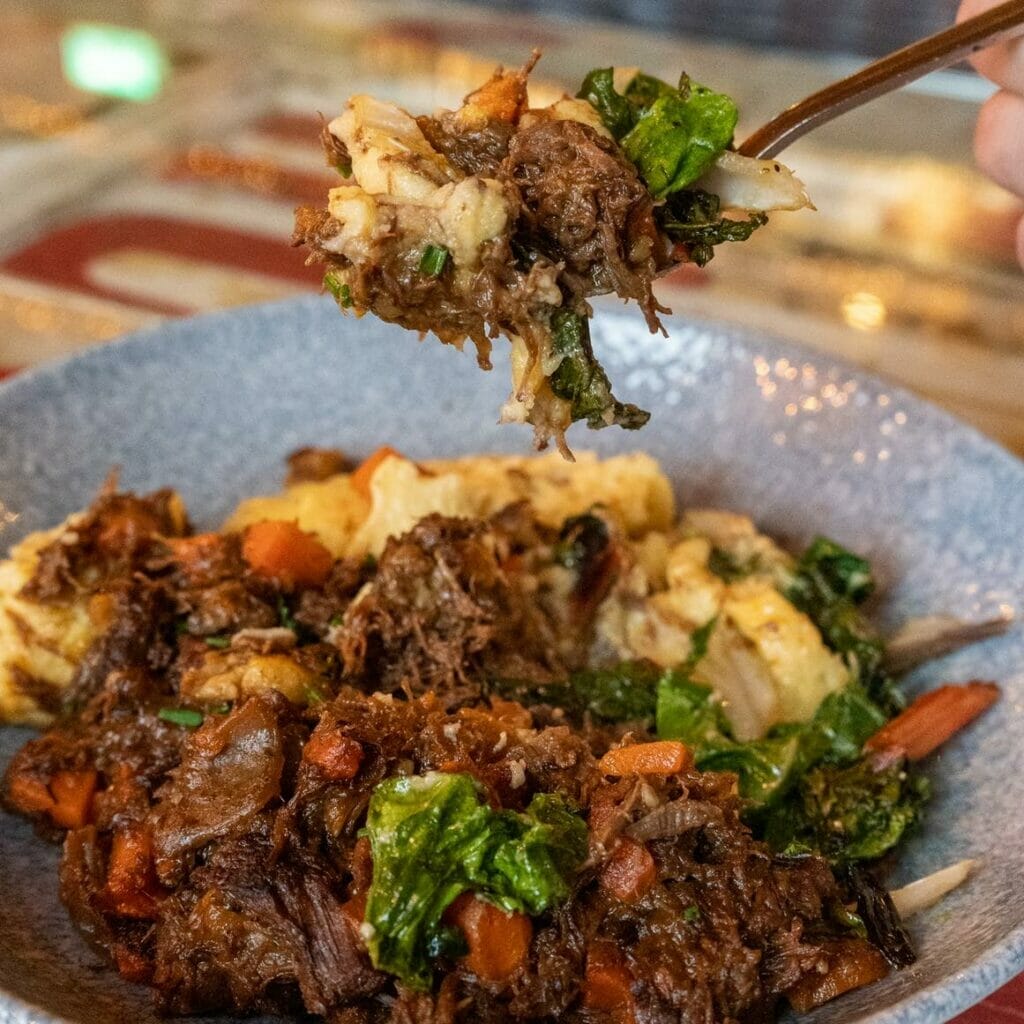 The Alexandra Wimbledon is a great place to watch sports.
However, if you don't love the loud atmosphere of a sports bar, you can head up to the Lounge Bar.
This is a cozy area where you can grab a drink in a more relaxing environment.
They also have the Green Bar which allows you to soak in the sunshine.
Or you could sit in the Loft which allows you access to fresh air.
There's an environment for everyone!
They serve the typical British pub food, but their menu changes as their ingredients do.
This is because they use fresh and seasonal ingredients.
Address: 33 Wimbledon Hill Rd, London SW19 7NE
Nearest Tube Station: Wimbledon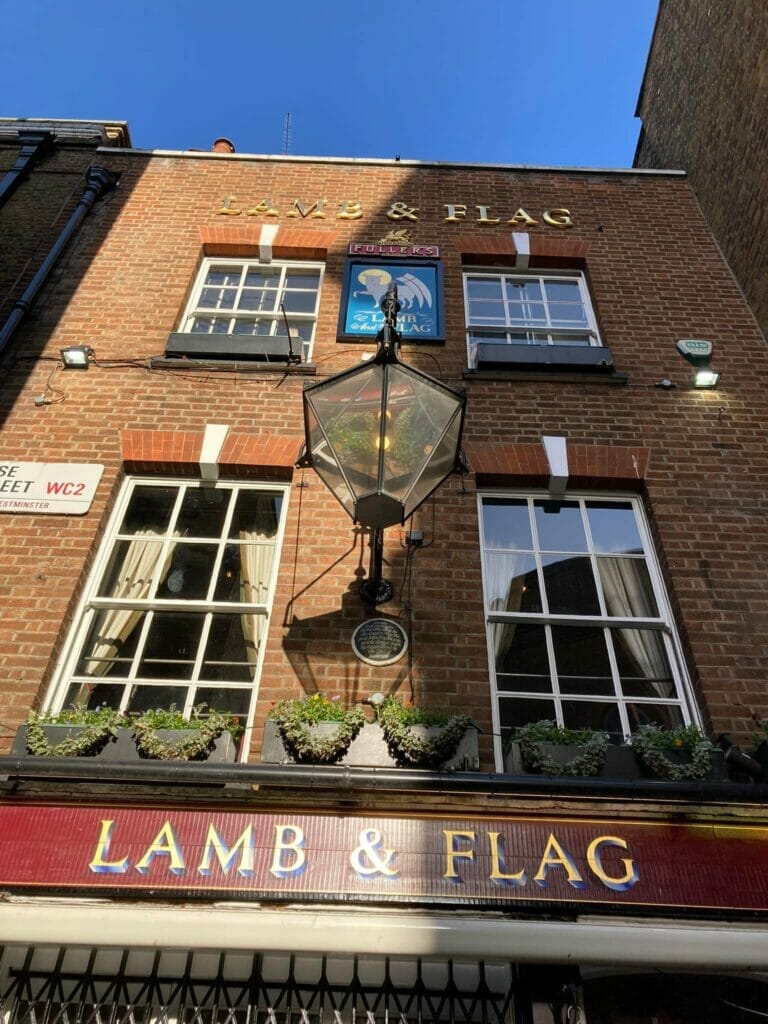 The Lamb and Flag was a favorite of Charles Dickens.
Both tourists and locals love to visit!
If you stop by, you can learn about some of the scandalous history that took place at this address.
You can enjoy live jazz on the last Sunday of each month.
You can also bring your family or your dog!
The menu boasts traditional British foods that will surely fill your belly and soul.
Their rotating drinks include a wide variety of options.
Address: 33 Rose St, London WC2E 9EB
Nearest Tube Station: Leicester Square
The Hand and Shears is located in the heart of Smithfield.
There are many things to do in the are to work up an appetite!
It has been around for over 500 years, making it one of the oldest pubs in the UK.
The current building was built in 1852 and has hardly changed since then.
As you can imagine, a pub of this age is full of interesting history.
Today, you can get an award-winning pork pie, exclusive beer, and traditional bar snacks.
Address: 1 Middle St, Barbican, London EC1A 7JA
Nearest Tube Station: Barbican
Rebuilt in 1913, the Lord Clyde is a gastropub with a courtyard garden.
The atmosphere draws in repeat customers.
It was named for a field marshall who won many awards during the 19th century.
You can find bits about Lord Clyde's life here.
You can also learn some other historic trivia while visiting.
When you visit, you'll want to try one of their pies.
Don't forget to look at their drink list to find something new!
This is a great place to catch the game, as well.
Address: 340-342 Essex Rd, London N1 3PB
Nearest Tube Station: Canonbury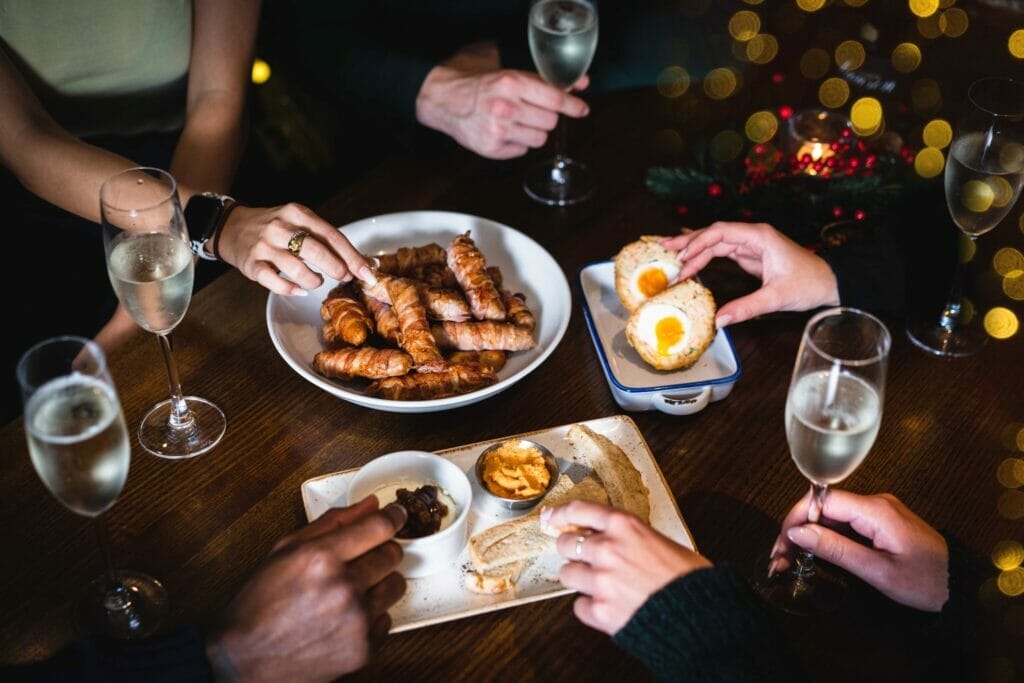 The George offers a wide variety of menu items.
You'll find some classic pub food.
You'll also find some delicious options that aren't at many other pubs.
They also have a great wine list.
Wine lovers will love trying some of the options here.
This pub dates back to the 17th century and has been mentioned by Charles Dickens.
It has a charm that has been present for over 300 years!
The George has DJs come fairly regularly.
It's a great place to listen to fun music with your friends!
Address: 75 Borough High St, London SE1 1NH
Nearest Tube Station: London Bridge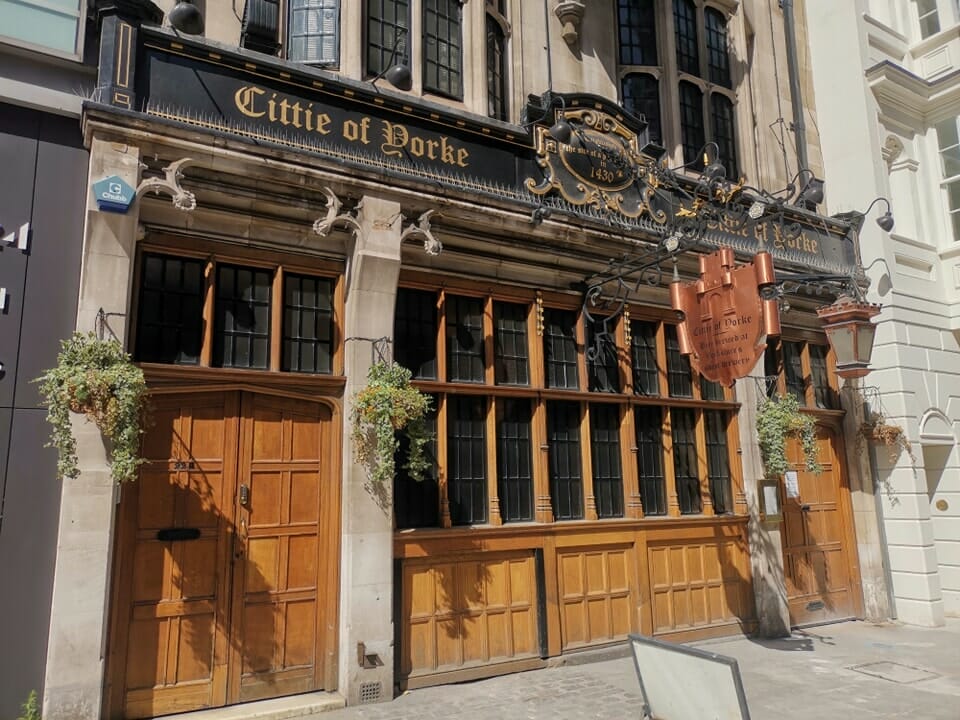 Often voted as one of the best 'ye old pubs' in London, the Citte of York is a charming pub from the 1920s with a noticeable old world feel.
Walking in, you'll notice a quiet brooding vibe thanks to the lack of music, but you'll soon find that it adds to the atmosphere of this stately venue.
With its arched cavernous roof and traditional Tudor English decor, you'll half expect a knight to waltz through the door and join you for a pale ale.
If you like your beers with a side of history, this is a pub worth adding to your London itinerary.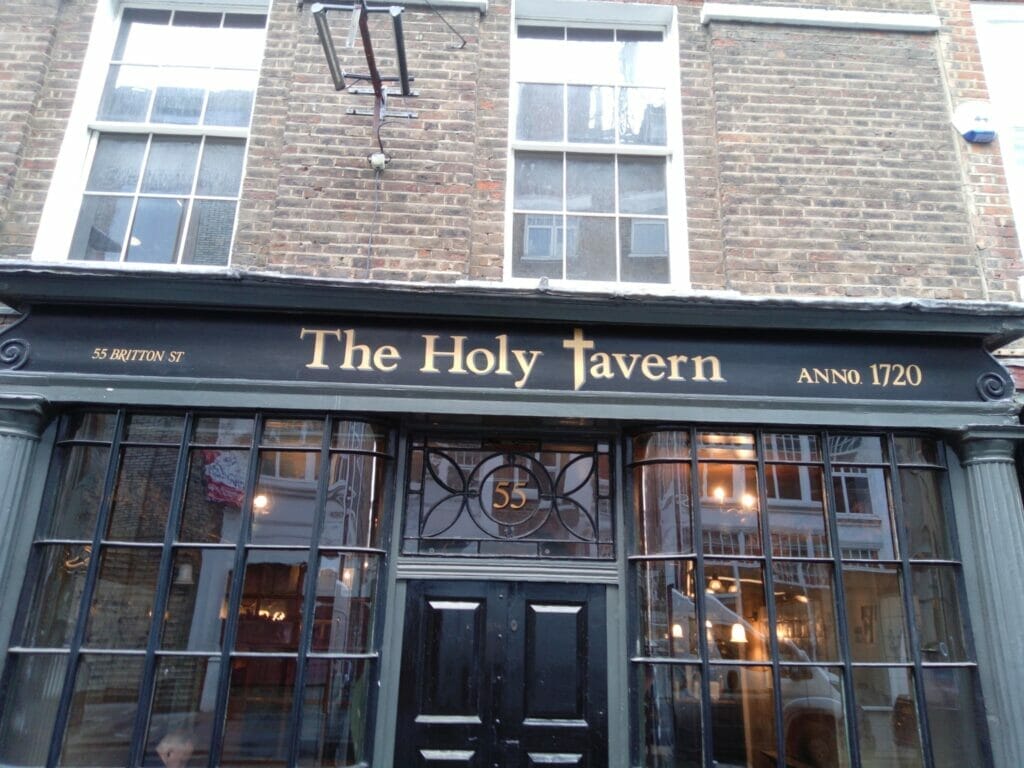 Set in a 1720s building, this pub has been serving up ales and fruit beers to locals and eager travelers since the mid-1990s.
With its intimate booths and cozy seating arrangements, this pub is much loved for a quiet place to enjoy a refreshing beverage or light meal.
During your visit, keep an eye out for the blue and white painted tiles, the artwork of the changing seasons and delightfully warm fireplace.
If you happen to visit on a Tuesday, you'll enjoy a candlelit experience with a bottle of wine and cheese and charcuterie board for a very reasonable price.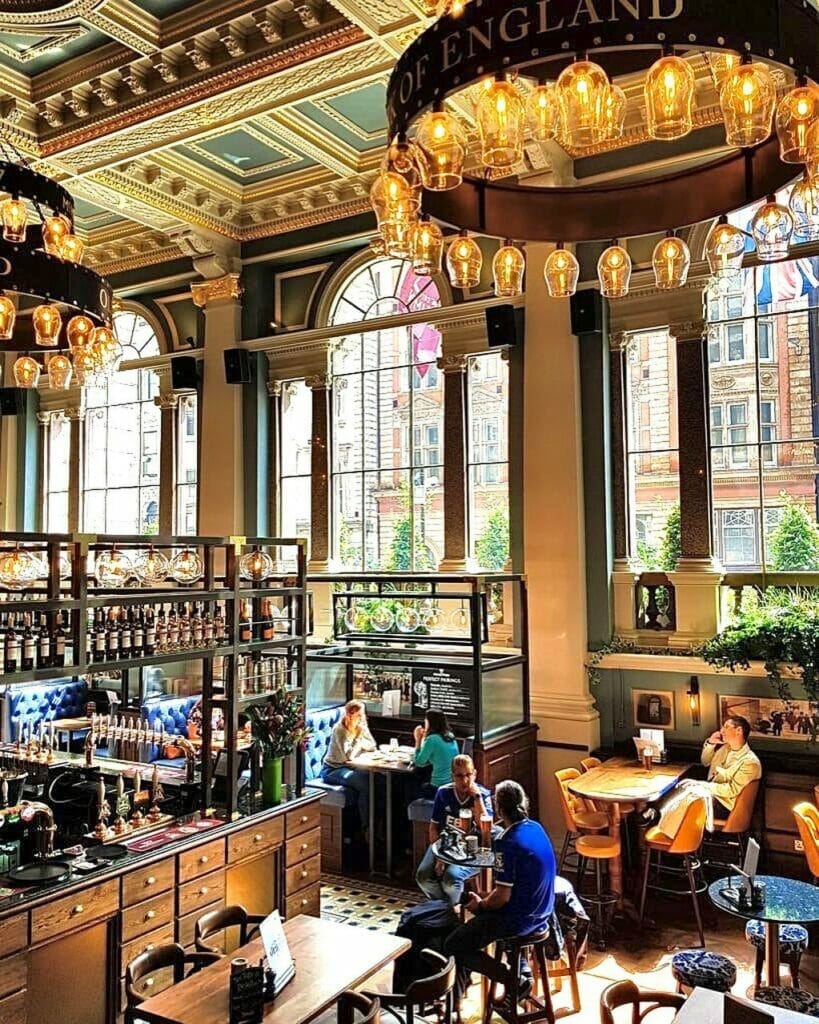 Housed in the old Bank of England Law Courts, this ornate pub is set in one of the most stunning and architecturally splendid buildings in London.
Due to its historical significance, this is a popular place for locals to bring visitors.
Stop in for a beer or fish and chips and you'll see why.
Before heading out, take a quick detour to the back of the building where you'll find a whole double decker bus, complete with additional seating, making for a classic London experience.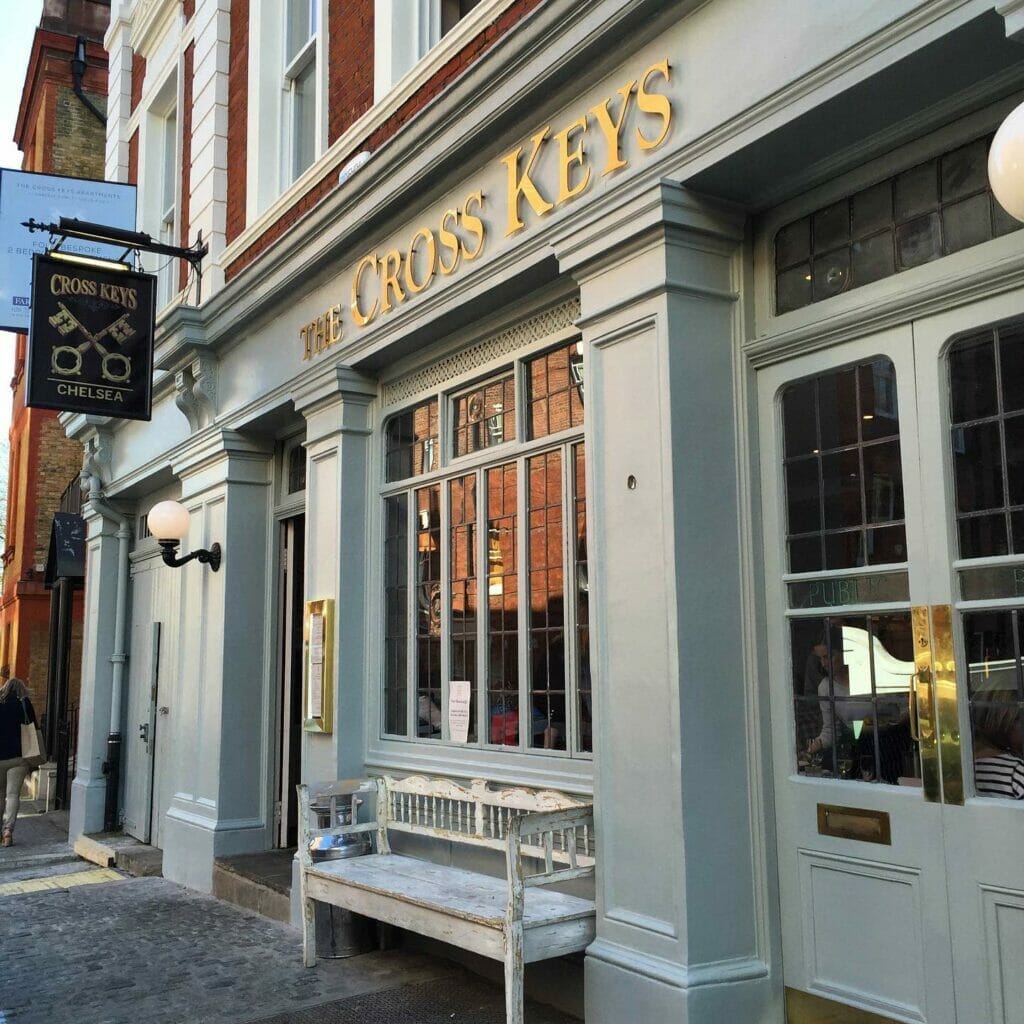 For a gastropub experience where the focus is shared equally between the food and beer, you'll want to consider The Cross Keys in Chelsea.
Serving up a unique take on European and British cuisine, the menu includes fresh and delicious fare, an impressive range of beers and cider, all served up amongst elegant historic surroundings.
If you're feeling full after the meal, you're only a hop away from the Thames riverside.
A stroll along the river can be an ideal way to top off the afternoon.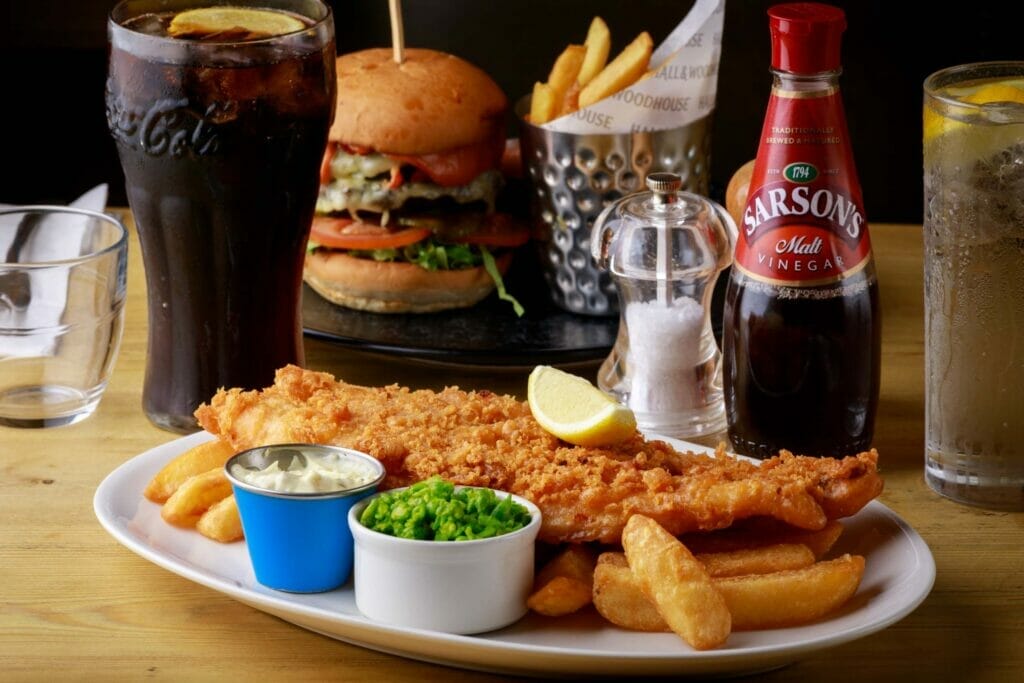 Centrally located but still tucked away, just a few minutes away from Trafalgar Square is where you'll find this traditional London pub.
With a full pub menu, including steak, burgers and fish and chips, the Ship & Shovell makes for a wholesome stop before the theatre or after a busy day exploring the streets of central London.
There are also a number of vegetarian options available.
A fun fact about this pub is that it spans both sides of the street and is joined by an underground passage, which houses both the kitchen and cellar.
If you've spent the morning walking around Westminster or trying to get a glimpse of 10 Downing Street, you've definitely earnt a stop at the classic London pub, the Clarence.
This light and airy pub is a testament to all things British, with its London themed wallpaper, tartan decor and traditional British menu.
The Ploughman's Lunch is a hearty meal that makes for a great way to sample several of the house specialties and the fish and chips are highly rated amongst visitors.
It's also a dog friendly pub, so keep an eye out for a thirsty pooch.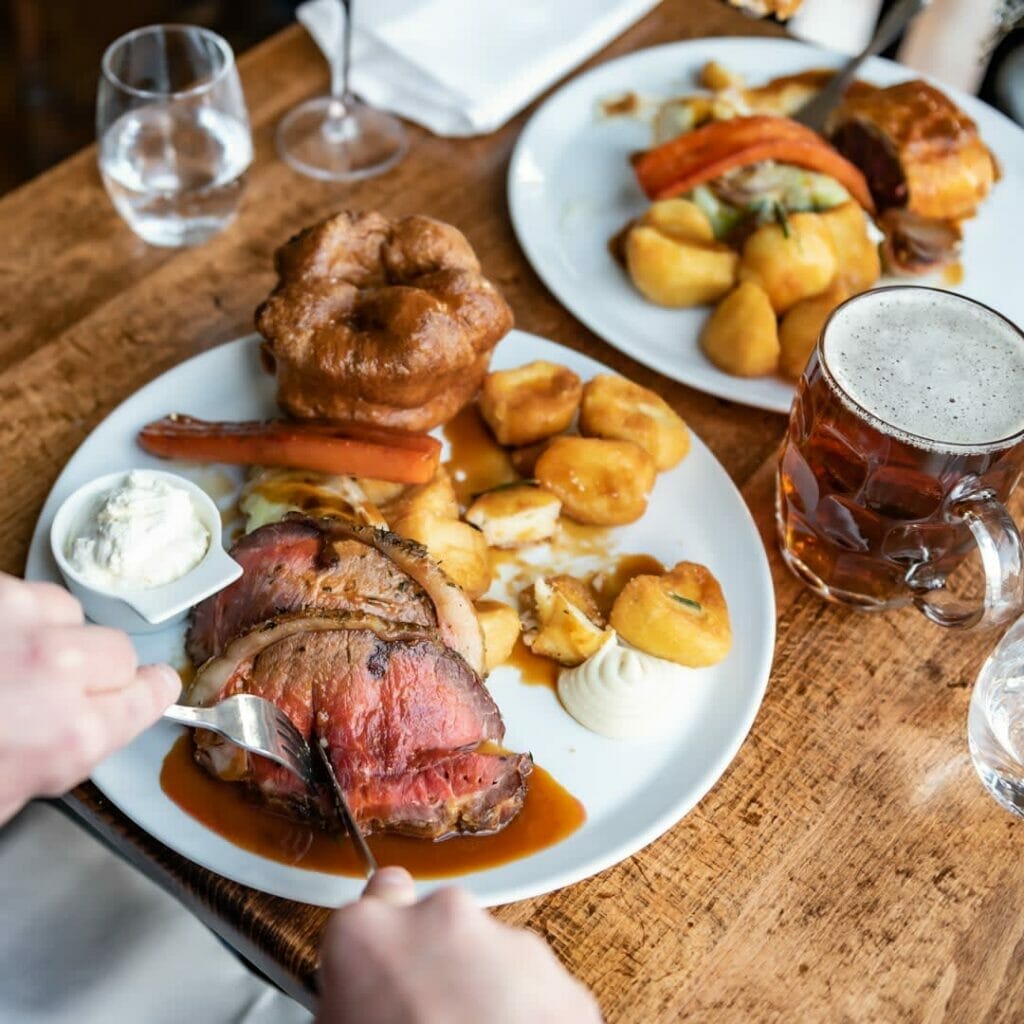 Tucked away behind the glamourous high end designer stores of Knightsbridge is a compact former officers' mess with grenadier-themed décor and delicious pub meals.
This pub might be small in space but it makes up for its cosy size with its abundantly warm and friendly service.
A common stomping ground for locals and students thanks to its laid back atmosphere, this is a great way to sample London's iconic cozy pub scene.
As you tuck into your meal, flick an eye up to the paper money covered ceiling and to the military themed artwork peppered around the walls.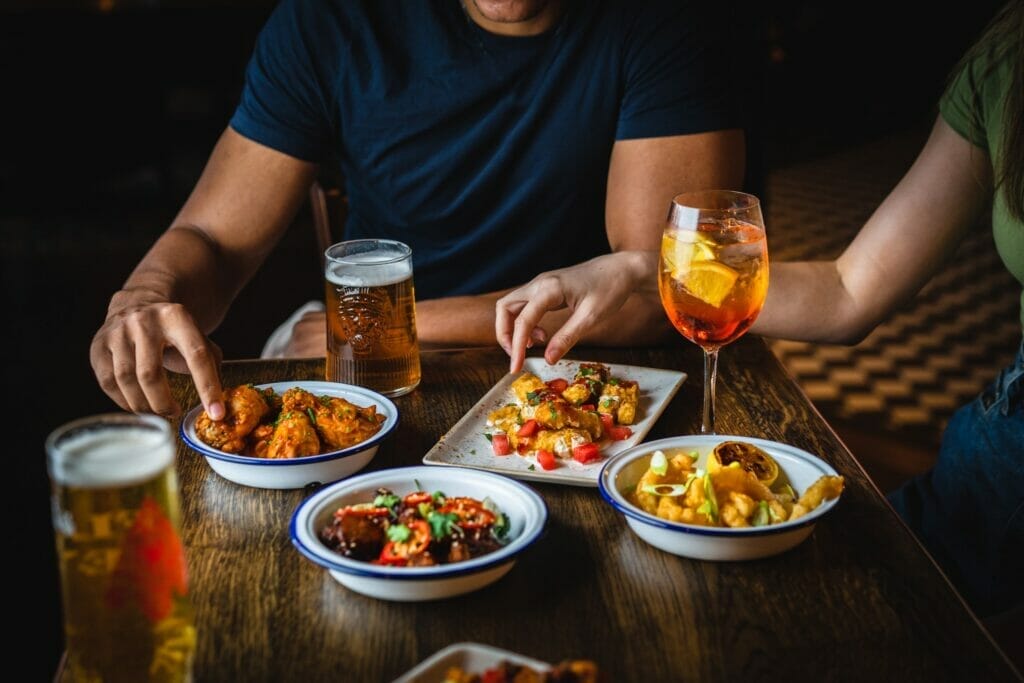 A classic British pub so close to Oxford Circus?
Oxford Street may have its own charm, but it's not the locale most people would expect to find a traditional Victorian pub that is genuinely homely and comforting.
Spread Eagle also shows a number of sporting matches, so if you're looking for a central spot to grab a pint whilst watching the football, there's likely to be no better place for a lively atmosphere in the heart of London's busiest shopping district.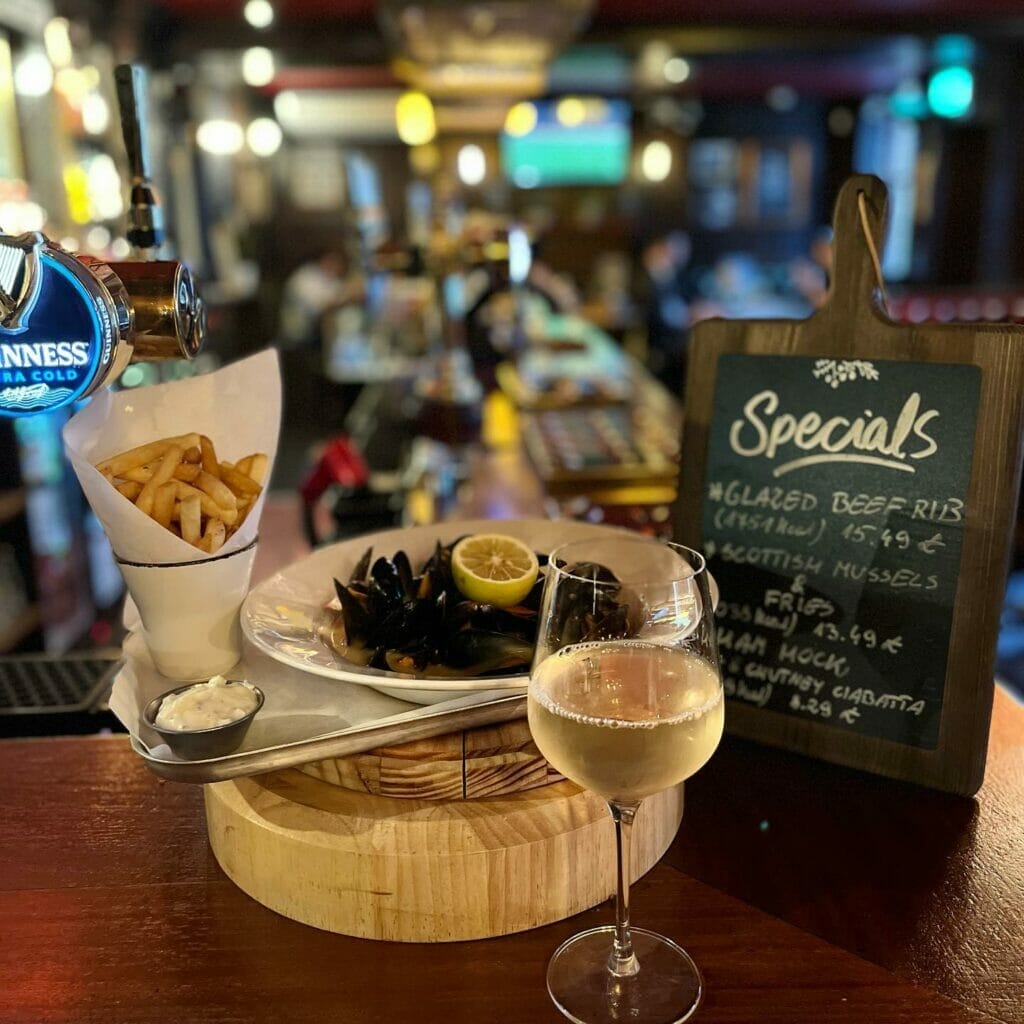 Tucked away in the quiet yet centrally located Portman Mews is where you'll find a splendid local favourite, the Three Tuns.
Serving up all the traditional hits from fish and chips, to bangers and mash, this is the place to come when you're looking for a genuine British pub experience.
The dimly lit interiors and cozy seating all add to an intimate atmosphere and it's the perfect place to while away a few hours with a friend or even by yourself, before stumbling back out onto the hustle and bustle of Oxford Street.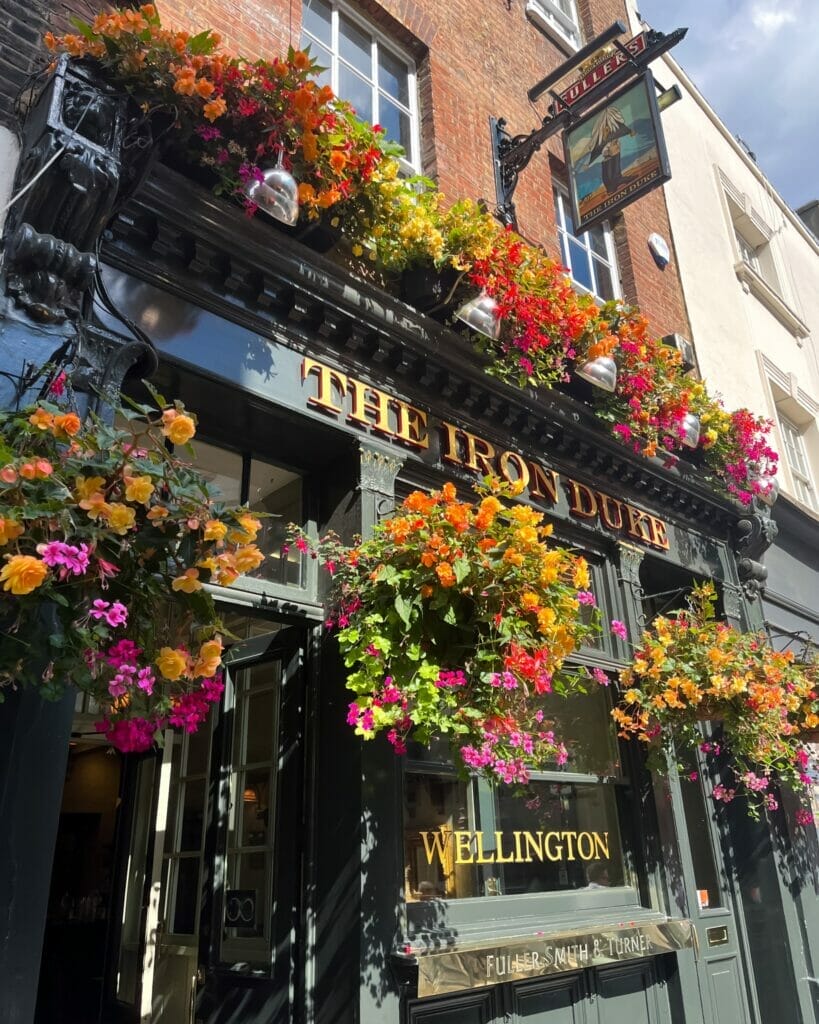 The Iron Duke may be located in swish Mayfair, but it's still got a charming and family-friendly atmosphere that gives it a place on this list of best pubs in London.
The pub can get busy, especially when a game is showing, so it's best suited to smaller groups.
The walls are also decorated with boots and other memorabilia related to the duke, making for interesting and quirky décor.
Just a note that the pub doesn't serve food, so best to get a dinner nearby and pop in to The Iron Duke for a drink afterwards.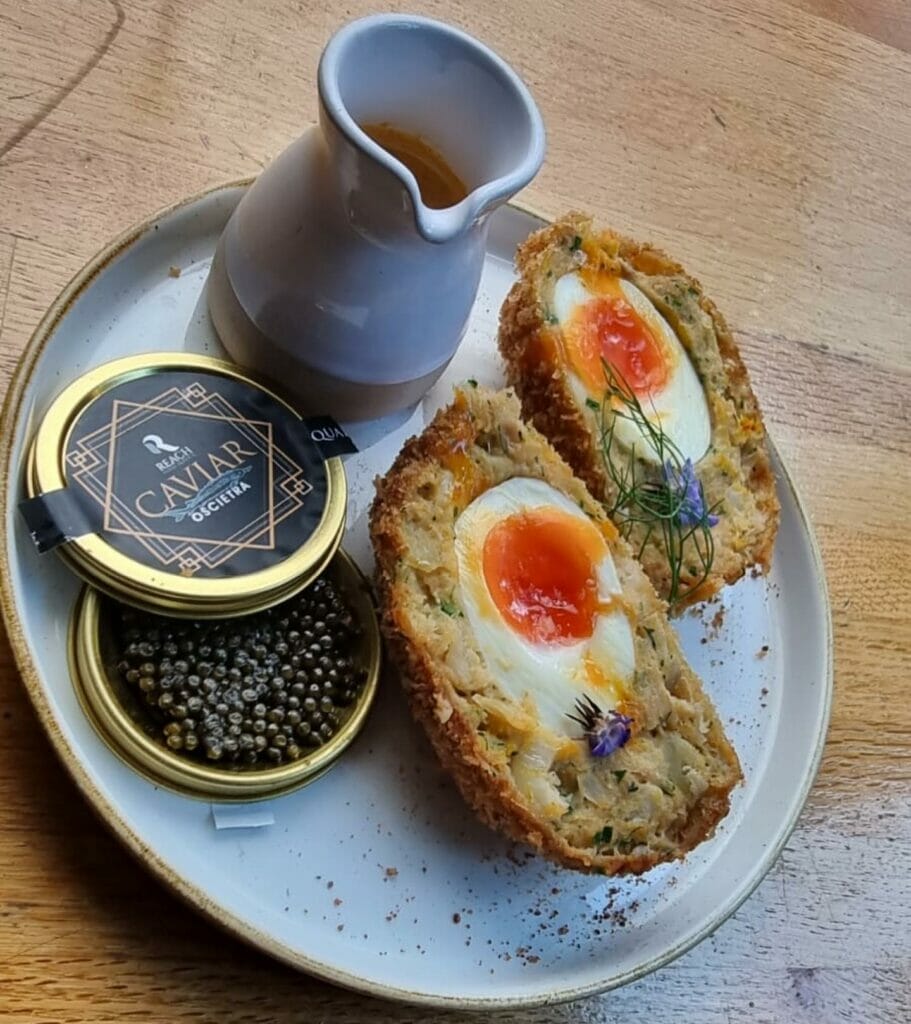 Alternatively, if you're looking for another Mayfair pub that is known for serving up excellent and hearty meals, you'll want to consider The Guinea Grill.
Whilst the venue might technically be considered a pub, it's well known amongst locals for specializing in premium grass-fed Scotch beef steaks and top quality service.
The sides also come highly rated, so be sure to save some space for them. The Guinness is also worth a try at this classy establishment.
It might be a pub but it does serve some well-heeled locals, so consider this as an option when you feel like dressing up a little.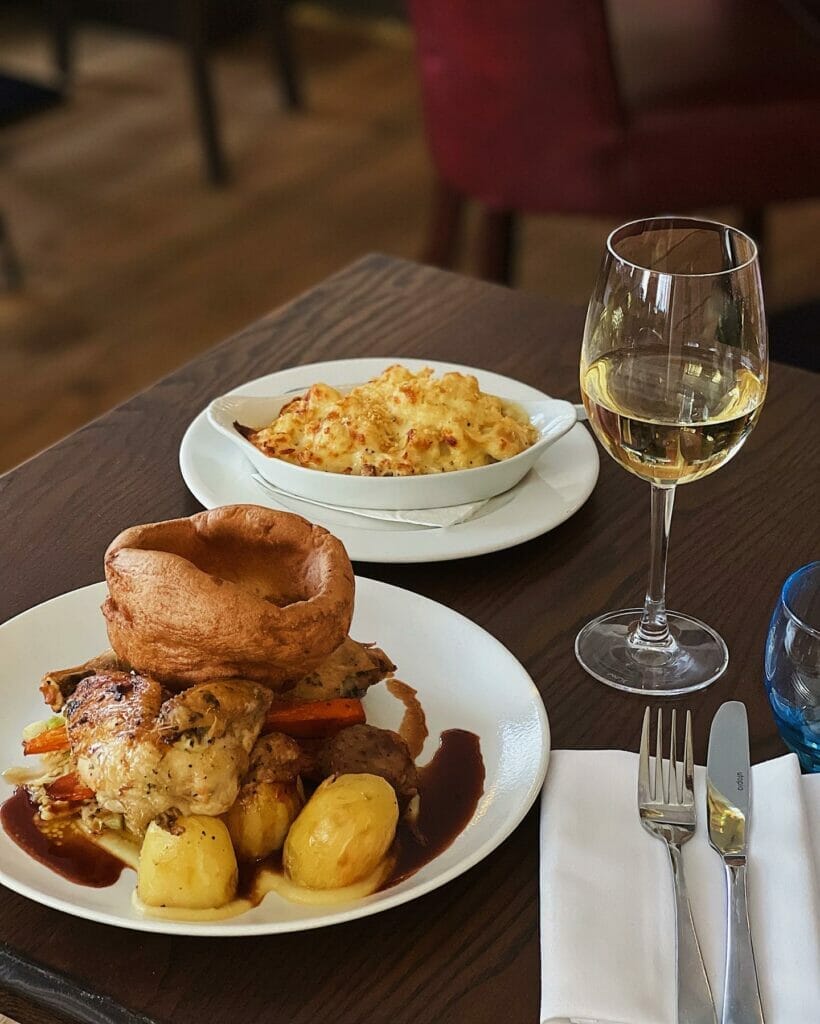 Another Mayfair institution is the spacious and elegant pub known as The Footman.
Spread over three floors, with the ground floor being the most laid back whilst the two dining rooms upstairs offer a more formal dining atmosphere.
The building itself is built in a traditional style of bare brick and is located down a quiet alley, all adding to its quiet elegance.
With leather coated booths and top quality service, this is a pub you'll want to visit when you're in a celebratory mood or for an intimate dinner.
From the menu, the Sunday roast is highly rated by visitors and the Guinness is a popular choice of beverage.
For a buzzy and vibrant pub experience that feels a world away from the classic wood paneling and pale ales, you'll want to check out The Sussex Arms.
Recently renovated to don an aviation theme, this is a great pub to try in the heart of Paddington for a fun night out.
Don't be scared off by the neon lights, the splashings of colour or modern art, this pub is still known for serving up classic pub food, with fish and chips and burgers featuring prominently on the menu.
The Sussex Arms also shows a number of live matches, so check the schedule if you're hoping to catch a game in the midst of a buzzing atmosphere.
Somewhat hidden away behind mysterious Marylebone lies the relaxed yet charming Duke of York Gastro Pub.
This pub is known for its traditional style of food and drinks and the easy outdoor sitting area, which makes it perfect for a sunny afternoon lunch or tipple.
The menu has bar snacks along with burgers and a traditional Sunday roast.
The drinks menu also has a full cocktail list, along with soft drinks and mocktails.
If you're visiting the Sherlock Holmes Museum, Madame Tussauds or The Regent's Park, you'll find the Duke of York to be just a short (and worthwhile) stroll away.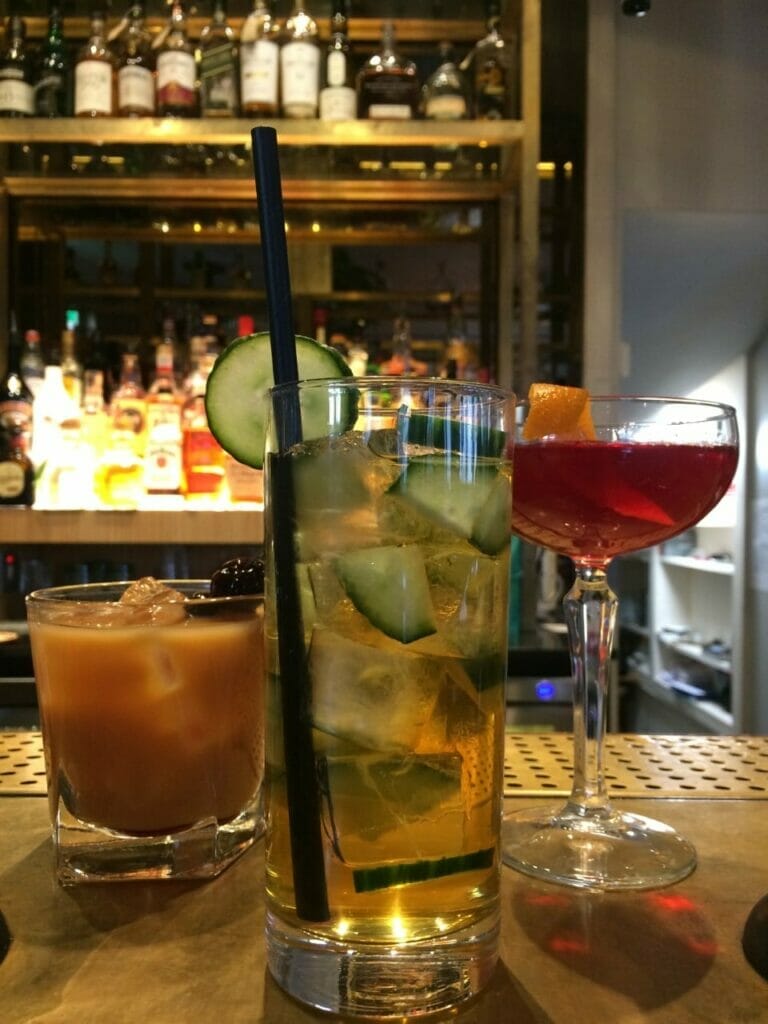 The Duke of Kendal is a more modern style of pub compared to many of the others on this list, with dark wood furnishings and a more minimal layout.
But despite the modern setting, the menu is traditional and delicious, with a classic roast plus gourmet bar snacks such as baked camembert.
Despite its proximity to Marble Arch and Hyde Park, the pub is still a bit of a hidden gem, meaning you can likely get a table upon walking in.
The pub does show live sports on its large screen, so if your visit happens to coincide with a popular game, you might have to wait a few minutes for a seat and service.
The Devonshire Arms is a quaint pub, just a few blocks away from the buzz of Oxford Street.
The pub prides itself on having an independent wine list, so it can be a great way to sample some drops from top independent winemakers.
There are also four cask ales, cold beer and a lunchtime pie menu.
There are also options available for vegetarians and vegans.
For a compact pub not too far from the chaos of London's busiest shopping street, this small but mighty pub packs a punch.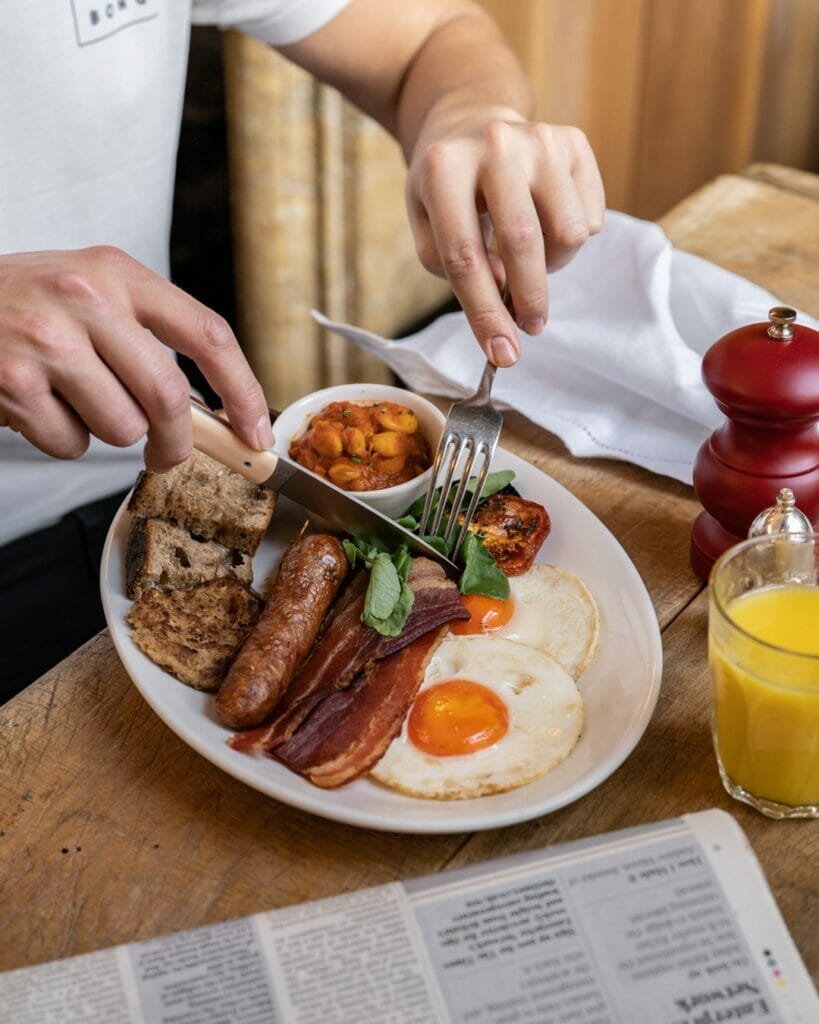 The Grazing Goat is a boutique hotel with a pub that has an excellent, sharing style feasting menu.
Whether you're staying in one of the cozy hotel rooms upstairs or simply stopping in for a dinner, the restaurant serves up delicious, homely cuisine including fish and chips, steak and roast.
For dessert, there's a delectable menu of hot chocolate pudding, baked cheesecake or a cheese platter of British cheese and quince.
If you are staying at the hotel, it's also reputed to serve an excellent full English breakfast.
This traditional pub is located a short distance from the British Museum, straddling the trendy suburb of Fitzrovia with classically cool Bloomsbury.
This central location makes this pub a popular place for visitors, giving it a year-round buzzing atmosphere.
The busy atmosphere can mean service takes a few minutes longer than you'd expect, but there are also board games, cards and books that can be borrowed, meaning you'll hardly notice the time spent waiting.
The pub has a full menu, with some of the most popular menu items being the sharing platter of nachos and chicken wings.
For drinks, there is also a wide selection of craft beer and the pub hosts the occasional gin tasting.
Just a few minutes away from Madame Tussauds museum in Marylebone is where you'll find a local favourite, the Allsop Arms.
This is a traditional style pub with dark paneling, exposed brick walls and Victorian era décor.
The pub has an extensive food menu, so it makes for a great dinner spot on a casual evening, feasting on some of the most popular items, including burgers, pies and mash.
Dessert changes seasonally, but you'll likely see traditional favorites including apple pie and chocolate fudge cake.
The service is speedy and there's a friendly pub dog and cat, so keep an eye out for the local residents.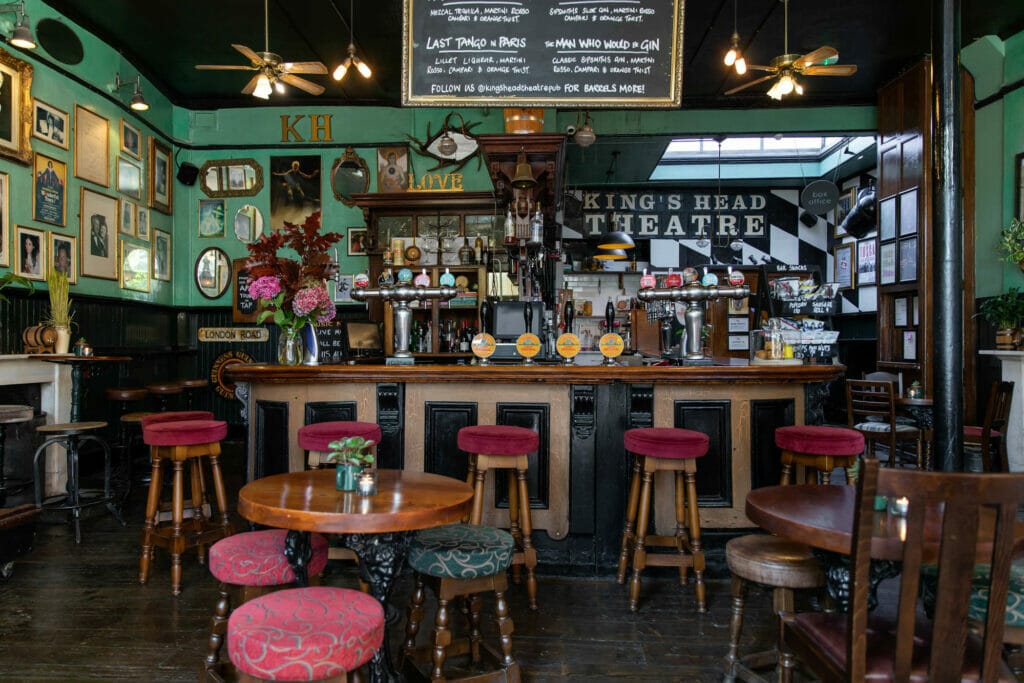 The King's Head Theatre Pub is an intimate venue that sits below an actual working theatre.
With its old world décor and traditional service, walking in here feels like you've stepped back in time.
The vintage gold furnishings combined with the classic artwork on the sage green walls will truly make you feel like you're in a traditional British pub.
There's a roaring fireplace and a generous wine list, so grabbing a toastie from the kitchen menu, a glass of delicious red wine and cozying up by the fireplace makes for a wonderful way to spend an evening in London.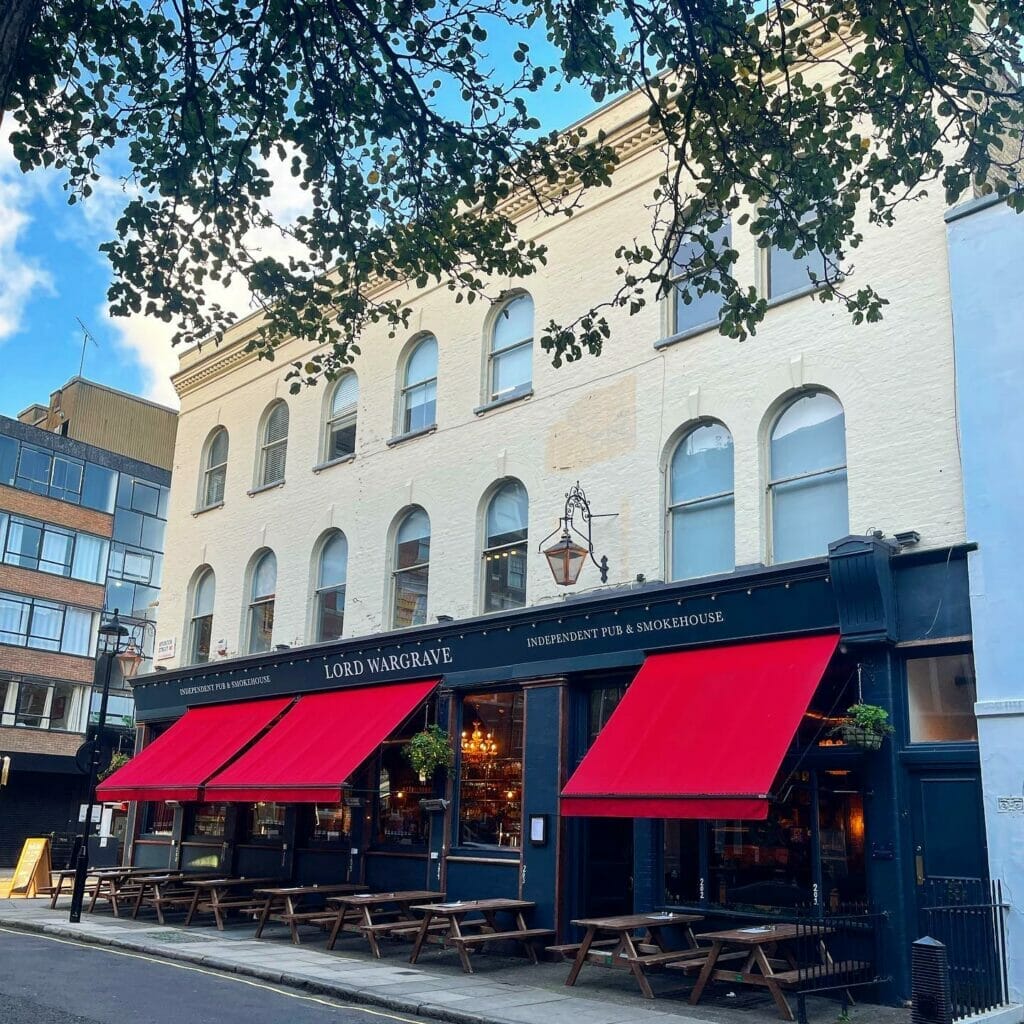 The Lord Wargrave is a Victorian style pub with a fully stocked bar and a first rate malt whisky list.
Priding itself on its top class barbeque, beers and whiskey, this pub is a great option if you're in the mood for a hearty meal and strong liquor.
The food menu is varied and extensive, although the specialties include barbeque ribs and dirty chips, which come topped with pulled pork and pickles.
If you're not sure what to order, ask for the Chef's Platter which includes a variety of the house favorites.
Plan to finish the meal with a glass of whiskey and you'll have a thoroughly enjoyable evening out in Marylebone.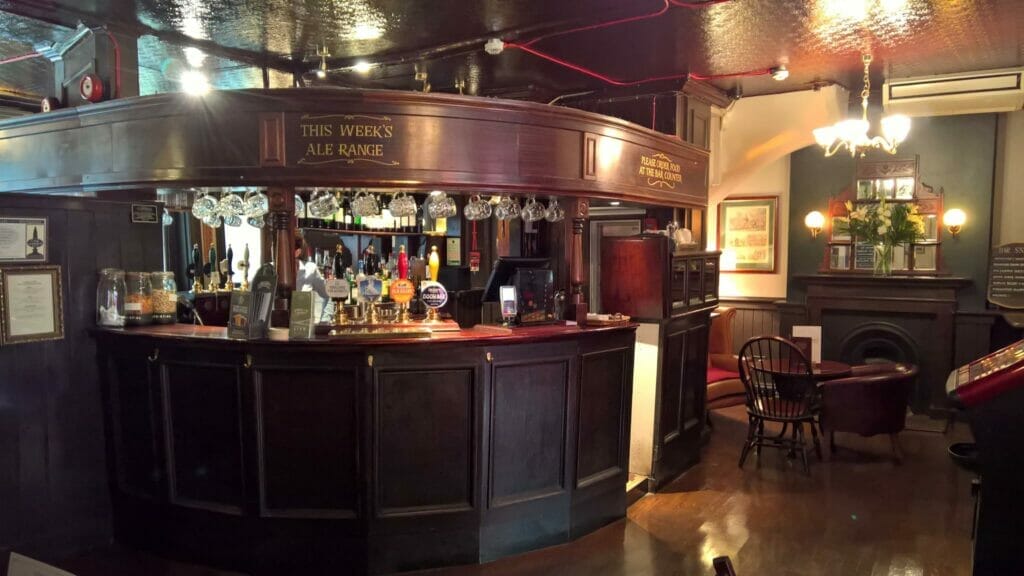 The Old Bell Tavern is a truly historical pub, built by Christopher Wren (the architect best known for designing St Paul's Cathedral) for housing his masons in the 17th century.
The stained glass windows, leather booths and rich colors add to the classic vibe and are all complemented by an excellent traditional food and drinks menu.
From lighter bar snacks to a full and hearty meal of burgers, pies and fish and chips, you'll find a range of menu items to nibble on.
If you have limited time in London but want to experience a traditional English pub with history, a classic British menu and warm and friendly hospitality, the Old Bell is an ideal place to visit.
Want more helpful London guides? Check these out!
UK Travel Planning Guide: the FAQs
🏥 Should I buy UK travel insurance?
Absolutely yes. Basic coverage is not expensive, and as a visitor you are NOT covered under the NHS. Compare policies and prices with Travel Insurance Master here, a big name in the travel insurance business, and cross that off your list.
🔌 Do I need travel adapters for the UK?
Yes, you do, otherwise you won't be able to plug in your electronics/phone/lifelines. I recommend this one, which is all-in-one so you can use it in other countries.
🚗 What do I need to drive in the UK?
The first thing you need to check out if you're planning on renting a car in the UK is this guide to driving in the UK for visitors – the roads, signs, and driving experience will likely not be what you're used to and it's essential to prepare yourself to stay safe and aware.
🛌 What's the best way to book hotels in the UK?
For UK hotels, Booking is the best site as it offers free cancellation on many properties. If you want an apartment, I always recommend VRBO over AirBnb.
📳 Will my phone work in the UK?
Yes – if you set it up right. Check out my guide on making your foreign phone work in the UK to ensure that you get the type of service you need.
🚿 Can I drink the water in the UK?
Yes, UK water is great and perfectly safe. But drink out of taps in any kitchen or use water fountains. Double check before drinking out of the taps in hotel bathrooms, though, as they may be on a different system.