Whether you're looking at AirBnB, VRBO, or another apartment rental agency, there's no denying that having your own apartment and kitchen facilities while traveling can really make a difference.
Especially if you're staying for longer than 4-5 days, you might go a little bit stir crazy in a hotel and long for more space, actual bedrooms, and a more local experience.
It can be incredibly difficult to narrow down the options when you're not familiar with London, so I've done the hard work for you!
These are the best AirBnbs and VRBOs in London for everyone from a solo traveler to large families (I actually prefer VRBO, so if you see VRBO suggestions in here, that's why!)
GET A

FREE

LONDON INTRO GUIDE and ACCESS TO MY FB GROUP
Start your planning with this "Intro to London" guide and access to my London planning Facebook group!
Best AirBnbs in London for Location
If you're mostly concerned about location, these are the best AirBnbs for easy access to the city and in safe, wonderful, and thriving areas.
1. Convenient Studio Flat near Hyde Park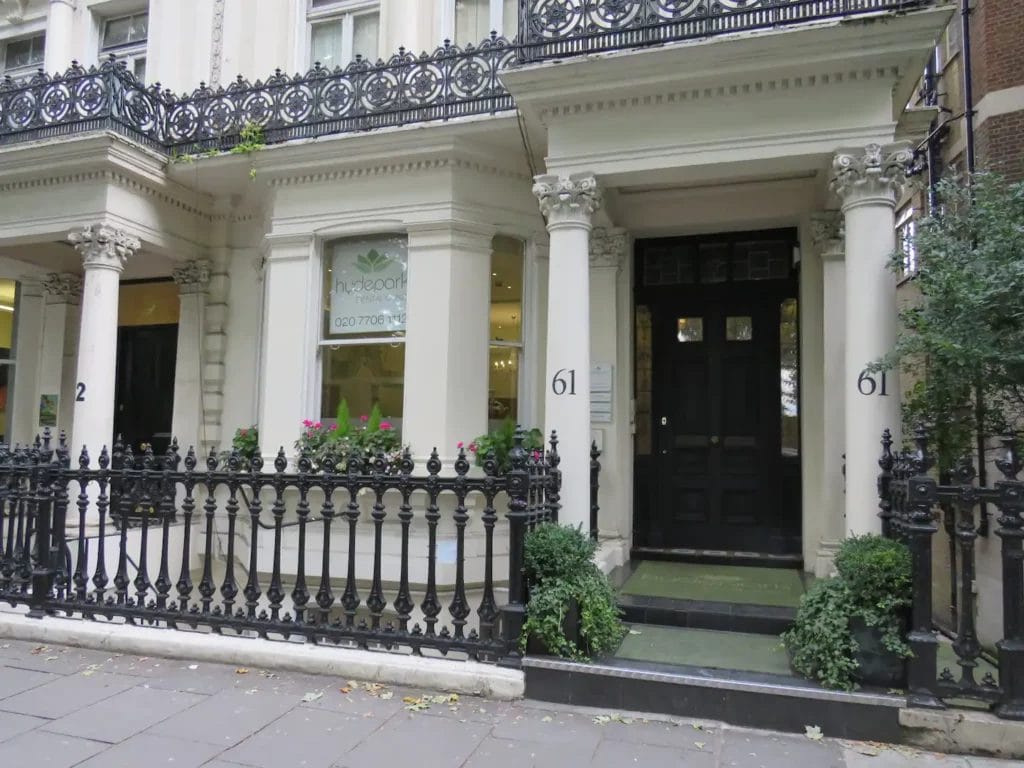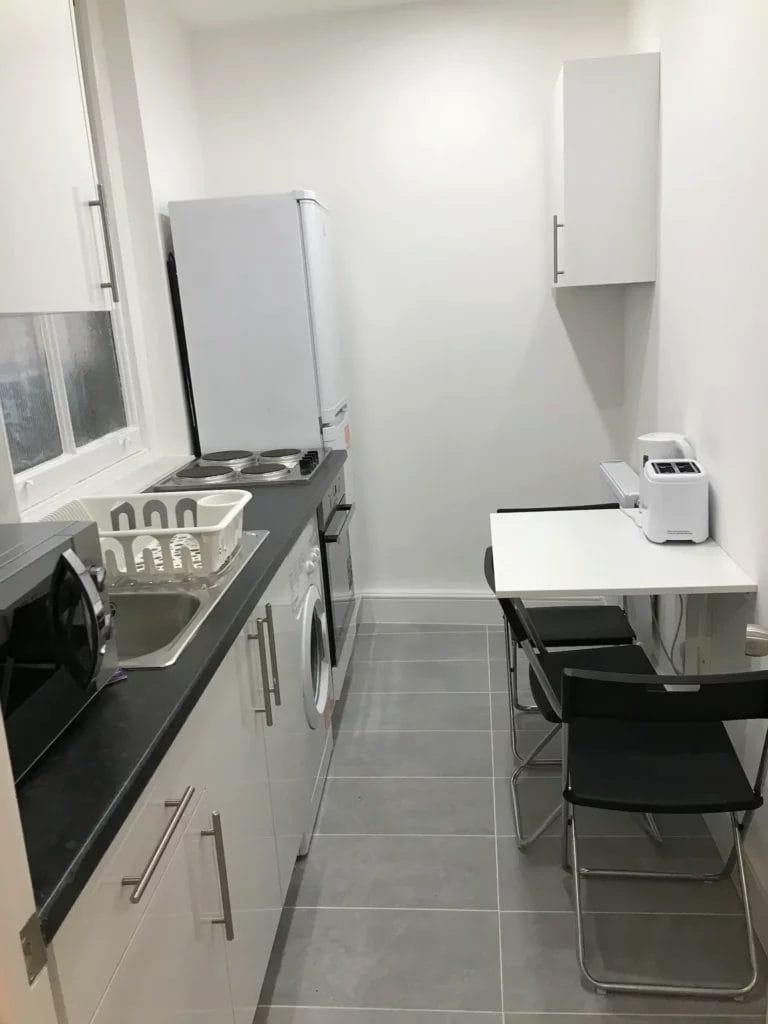 This is one of the most beautiful areas of London, right near Hyde Park and with easy access to neighboring Paddington and Oxford Street.
It's only less than a minute walk from Lancaster Gate tube station (and being close to a tube station is a must in London!)
The flat itself can sleep 3 people in 3 separate beds (2 are real beds and 1 is a sofa bed) so it's great for either a solo traveler or two friends traveling together.
With an equipped kitchen, dining table, and plenty more space than a hotel room, this is a steal.
2. Marylebone Mews 2 Bedroom Flat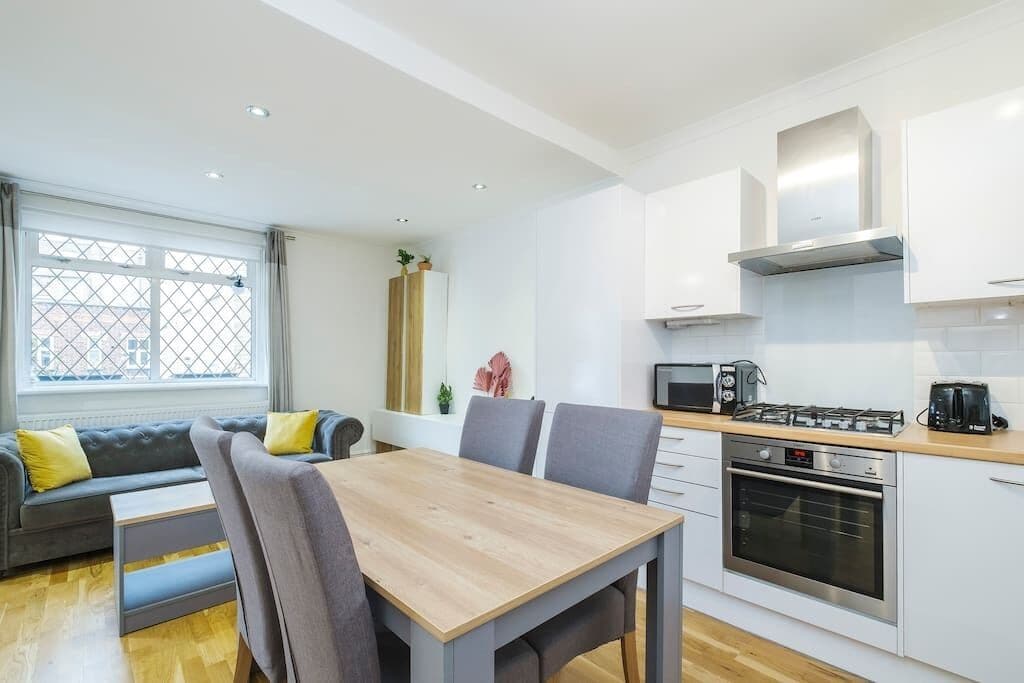 This gorgeous 2 bedroom flat is incredibly modern with its appliances while still retaining the character of the local area.
It's within steps of Baker Street (Sherlock Holmes, anyone?) and very close to Regent's Park and walking distance to Oxford Street.
This is the part of London that I'm actually most familiar with and having spent a lot of time here, I can say you won't be disappointed with a stay in Marylebone for easy access to London attractions and beautiful, safe, streets.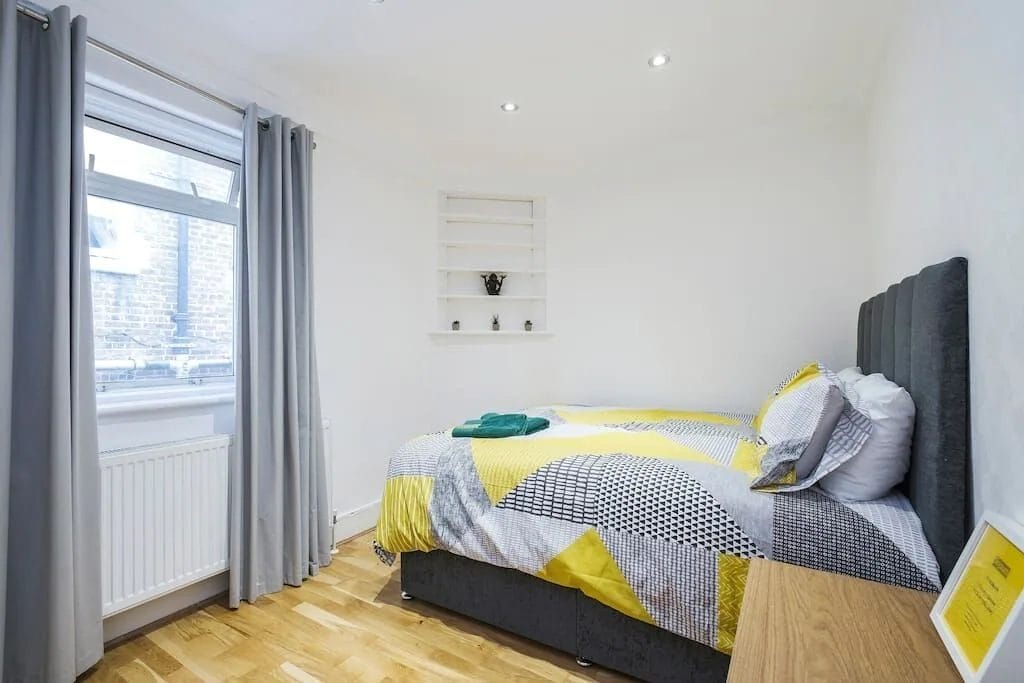 It sleeps up to 6 people and with appliances like a washing machine and oven, you can feel comfortable here for a week or more rather than crowding into hotel rooms.
Bonus: past visitors say this is a quiet flat, which can be hard to find in London. Enjoy that sleep to get ready for the next day of sightseeing!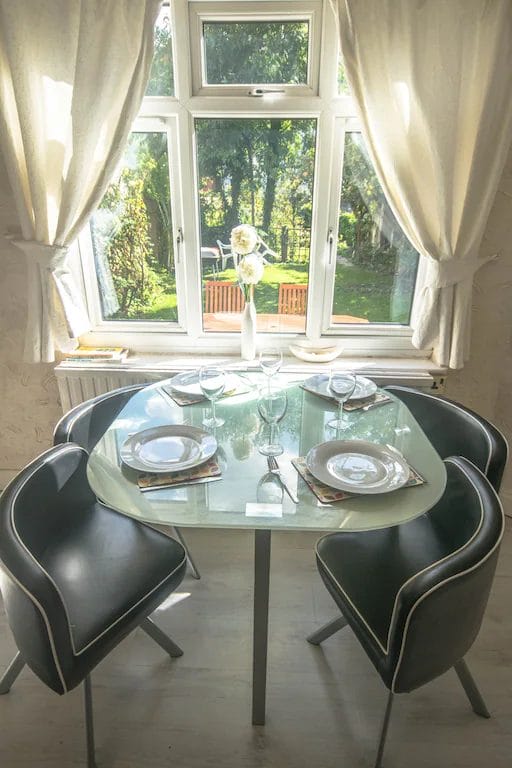 Looking for the best location in London that will give you a more local feeling while still having easy access to all of the iconic London attractions?
Wimbledon is hands-down the best place (famous for the Wimbledon tennis tournament), and with this apartment, you're only a 2 minute walk away from the Wimbledon tube station with the rest of London at your fingertips.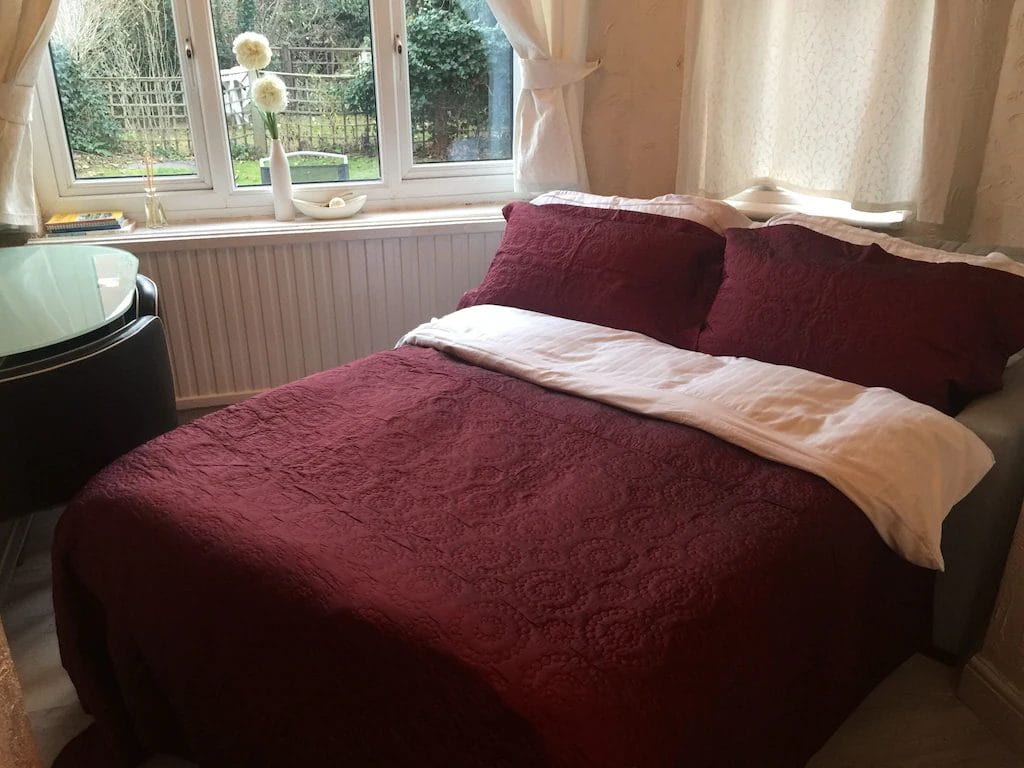 It's a fully private space with outdoor areas, a full kitchen, comfy beds (it sleeps 4 total) and a price tag that you'll love due to its more residential location.
If you want peace and quiet in your London stay, as well as the ability to stay somewhere that isn't going to break the bank but will allow you to do everything you want to do easily, this apartment is the one for you.
Best AirBnb London for Couples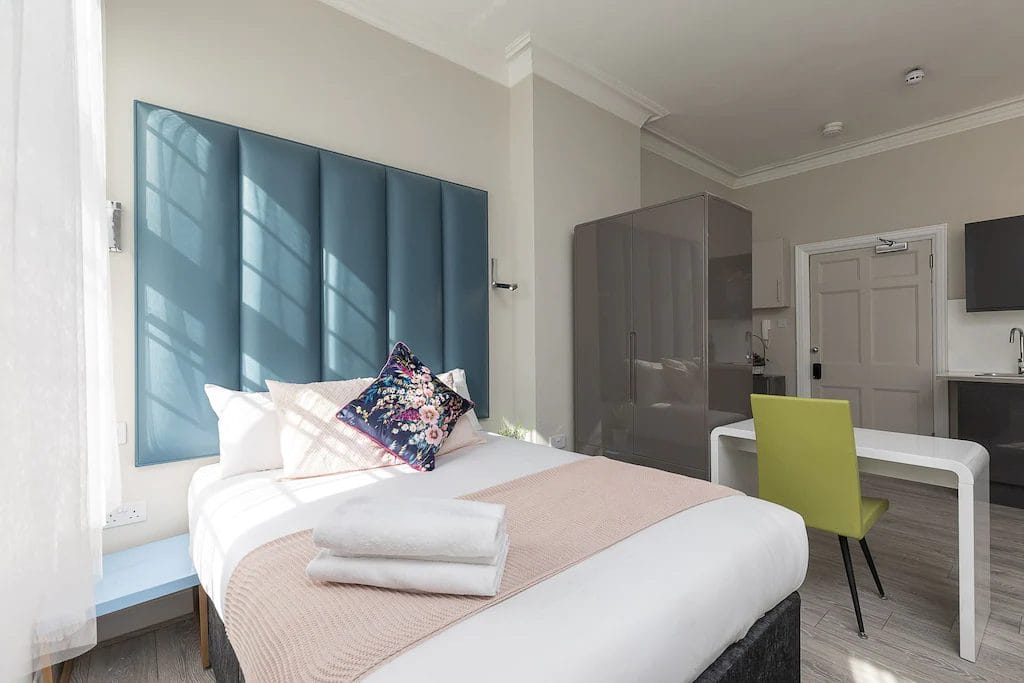 London gets hotter than you might expect, particularly during the summer months, so if you want somewhere with guaranteed AC, this one bedroom apartment is the thing for you.
Kensington is one of the safest and most beautiful parts of London, and there's a full kitchen and living area, perfect for a couple coming for a week or more (or who just want more space and the ability to cook for themselves instead of eating out all of the time).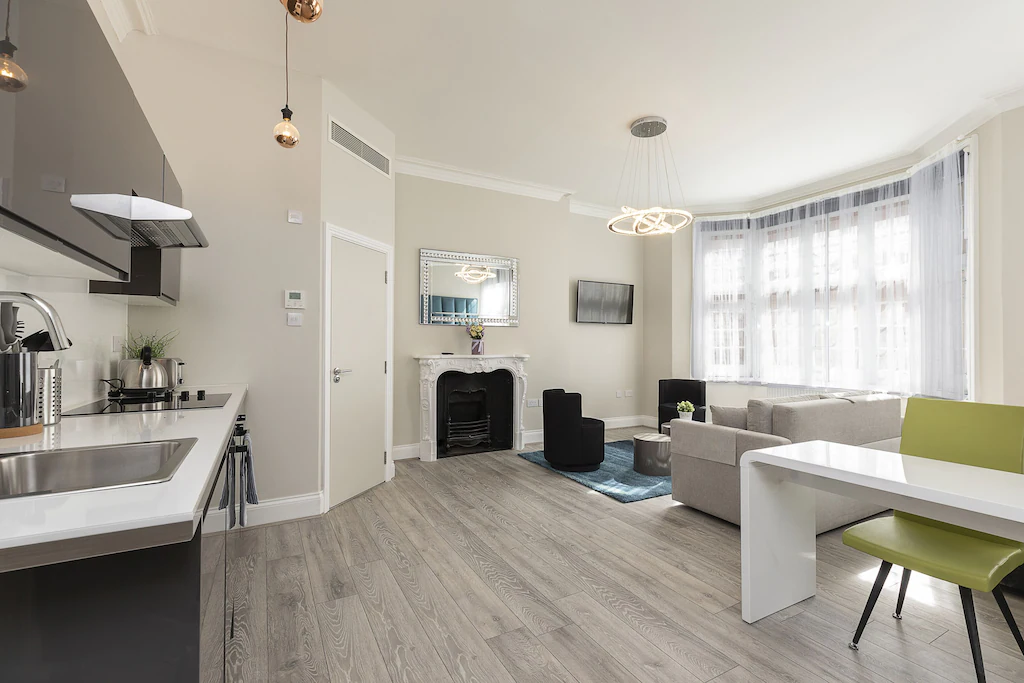 Free WiFi is included to keep in touch with friends and family back home, and the apartment is walking distance to Hyde Park for those glorious walks and open air.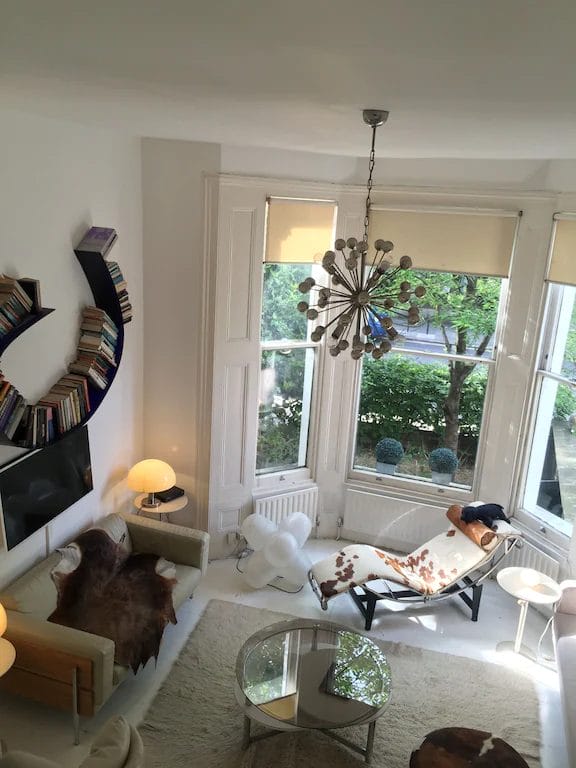 Whether you want to live out your dreams from the movie with the same name or you just like the funky vibe of Notting Hill and nearby Portobello Road Market, this is a beautiful flat furnished with antique furniture and lots of character.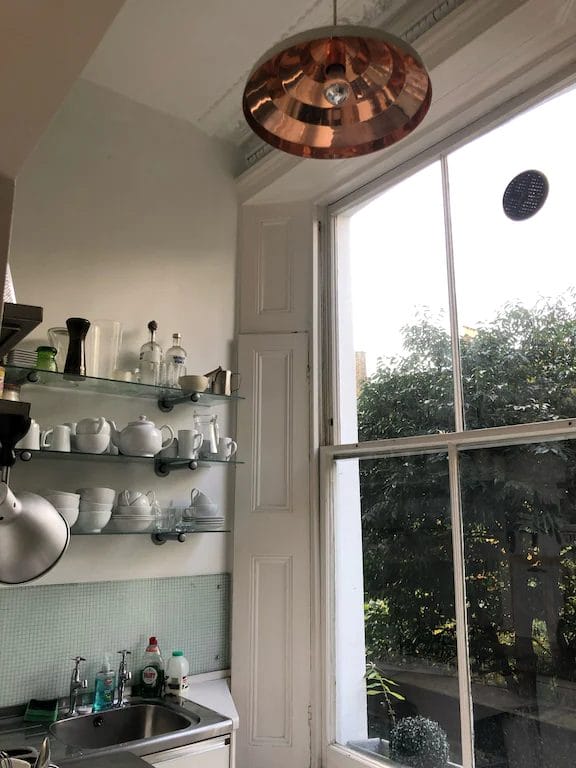 It's the perfect size for a couple, and you'll be in walking distance to plenty of culture, bars, restaurants, and green space as well as markets and the colorful houses of Notting Hill.
There's a sofa bed for a third person if you have a friend join you, and the kitchen has a microwave, stove, dishwasher, and washing machine for your clothes if you're staying for a long enough period of time.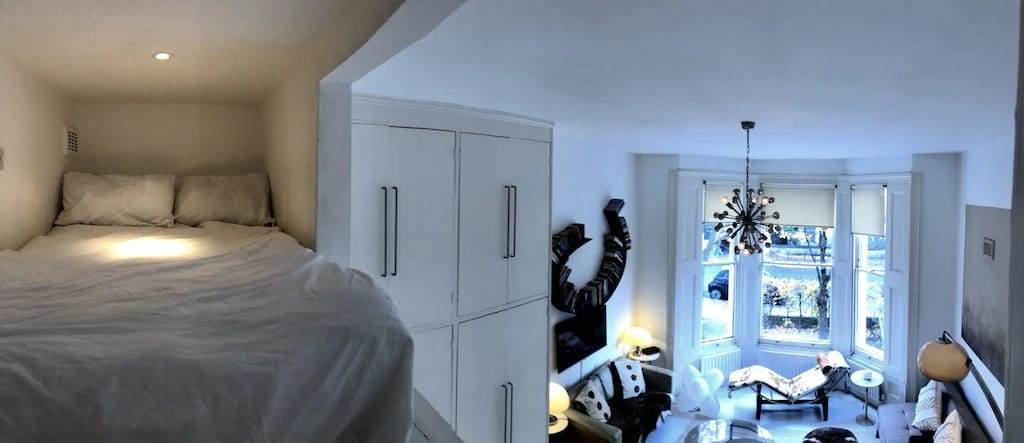 It's cool, eclectic, and in a very nice area within 4 minutes walk to Ladbroke Grove tube station.
Win!
6. Studio Apartment near Hyde Park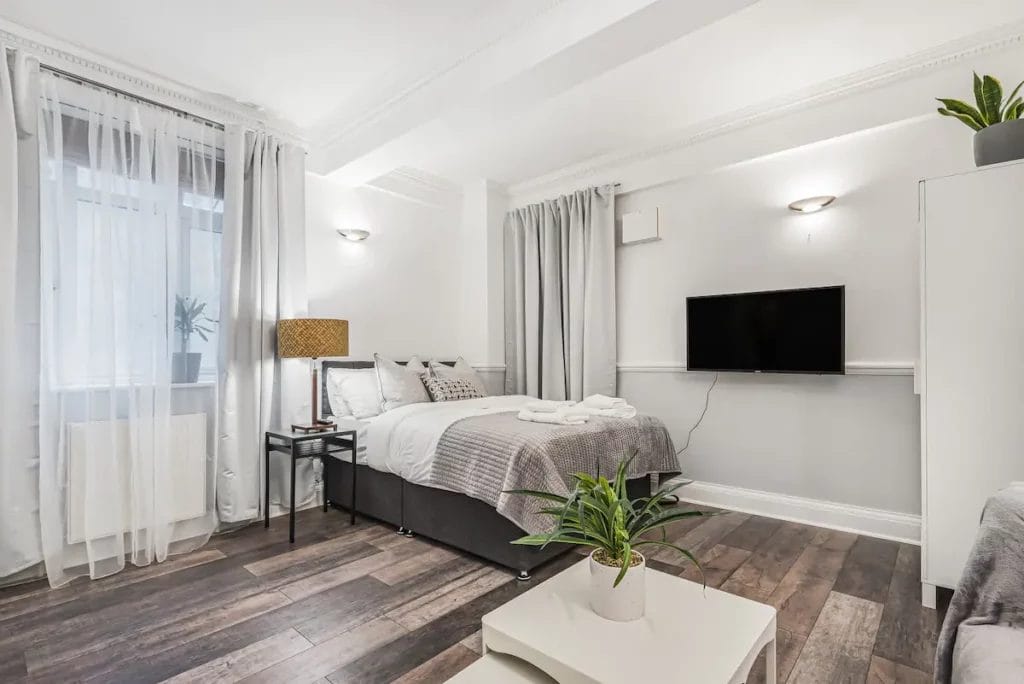 This is another gorgeous studio apartment that couldn't get you closer to Hyde Park. It's a good fit for two (would be cramped with three, but doable) and offers a really beautiful space to stay while you're in London.
It's a 5 minute walk to the nearest tube station and there are kitchen amenities for some cooking.
You'll get more room than many hotel rooms, while still being in Central London and having Hyde Park right on your doorstep.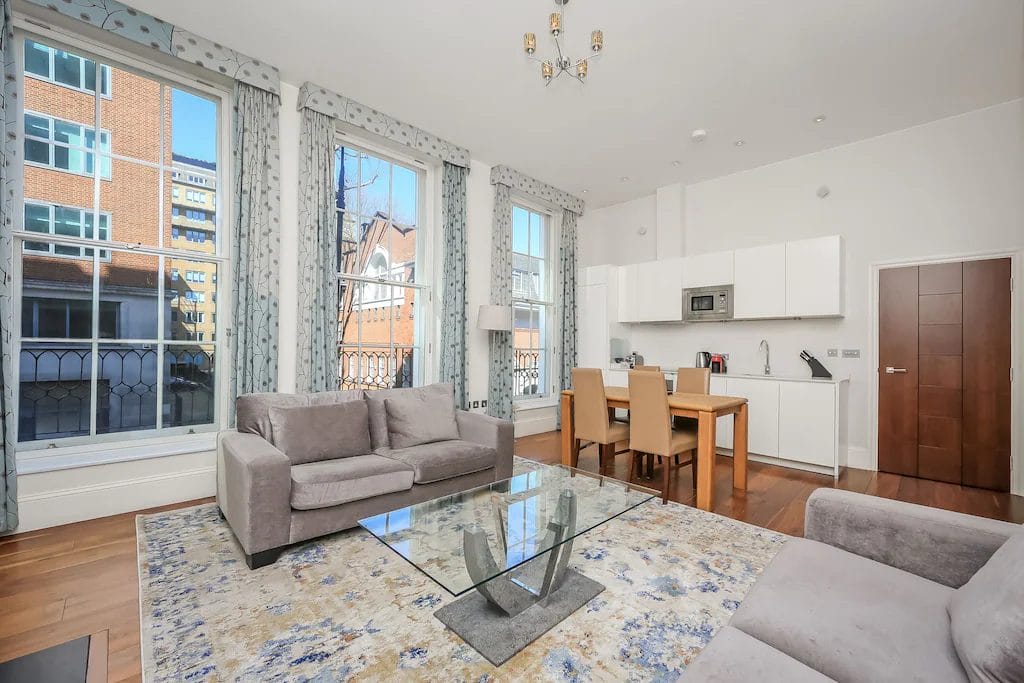 Situated in one of the most gorgeous parts of London with plenty to do (British Museum, anyone?) but not as tourist-filled as other areas, this is the perfect apartment for anyone who wants to stay in the heart of London and get that "authentic," charming experience.
With high ceilings and excellent soundproofing, you'll feel like you're living the life of luxury (also, the kitchen is amazing).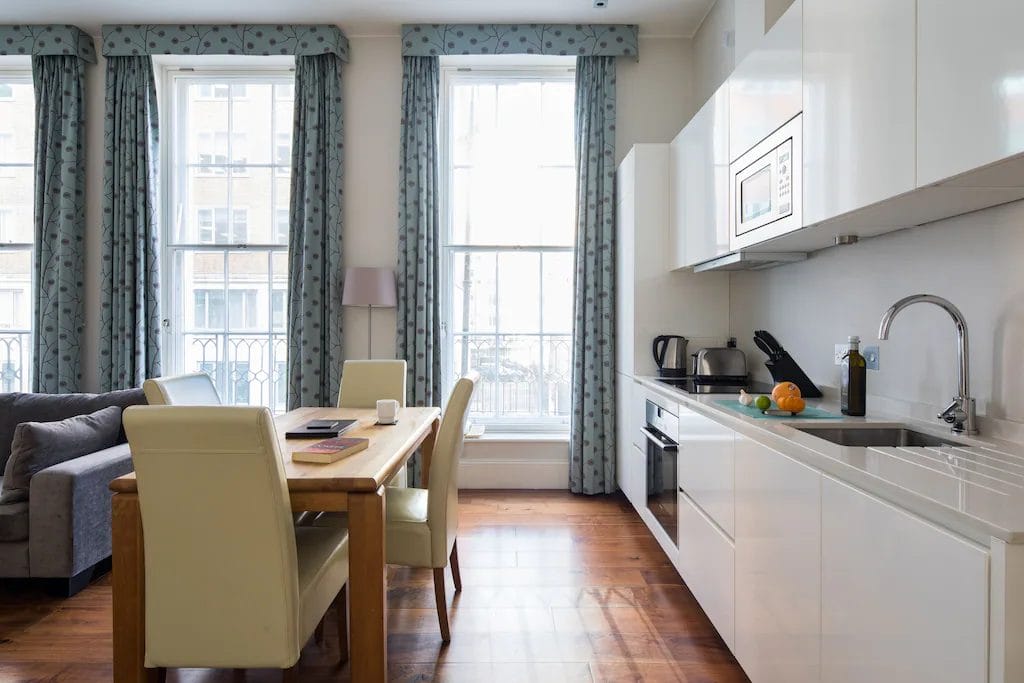 In good weather, step out onto your balcony and enjoy the London vibes, or cozy up in the peaceful living room for a mid-day break.
I cannot recommend this area highly enough, and every detail in this apartment has been tended to to make sure that it's a pleasant, clean, well-designed and memorable stay.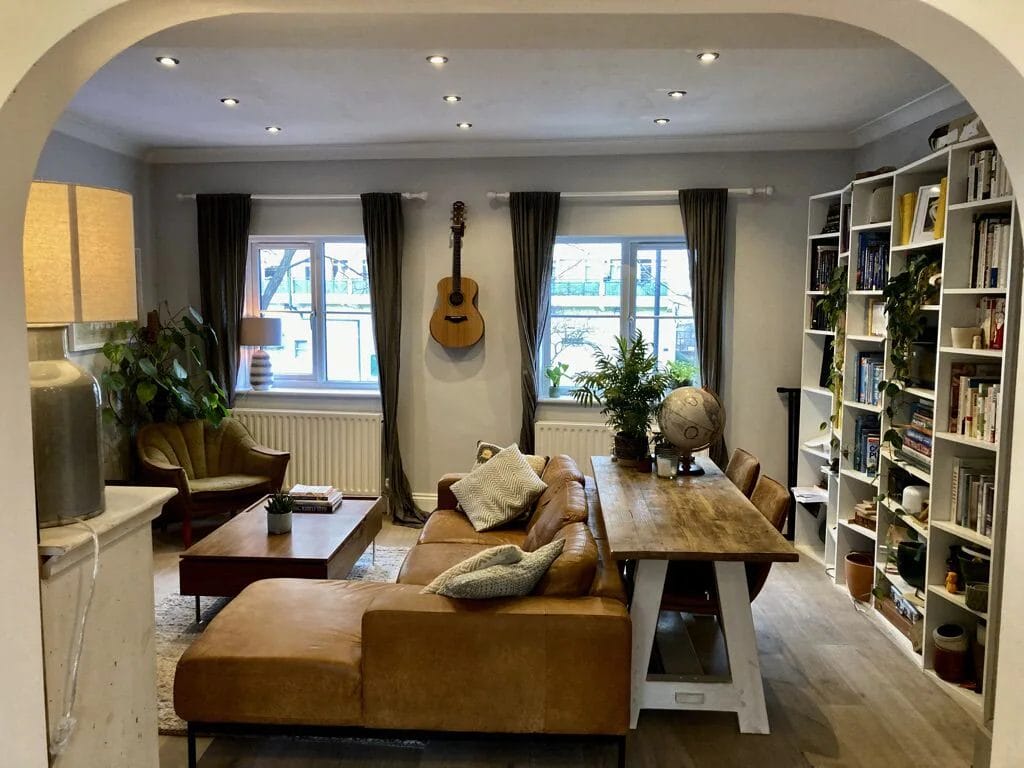 Got a hankering for east London?
One of the best London AirBnbs is there, right next to the beautiful Victoria Park.
With a stylish interior and cozy design, this flat really encompasses the vibe of East London.
Couples wanting a London experience that isn't filled with lines of tourists should check out East London, where you'll find everything from the hipster streets of Shoreditch to famous markets, galleries, and trendy coffee shops that make this a hot place to live for London locals.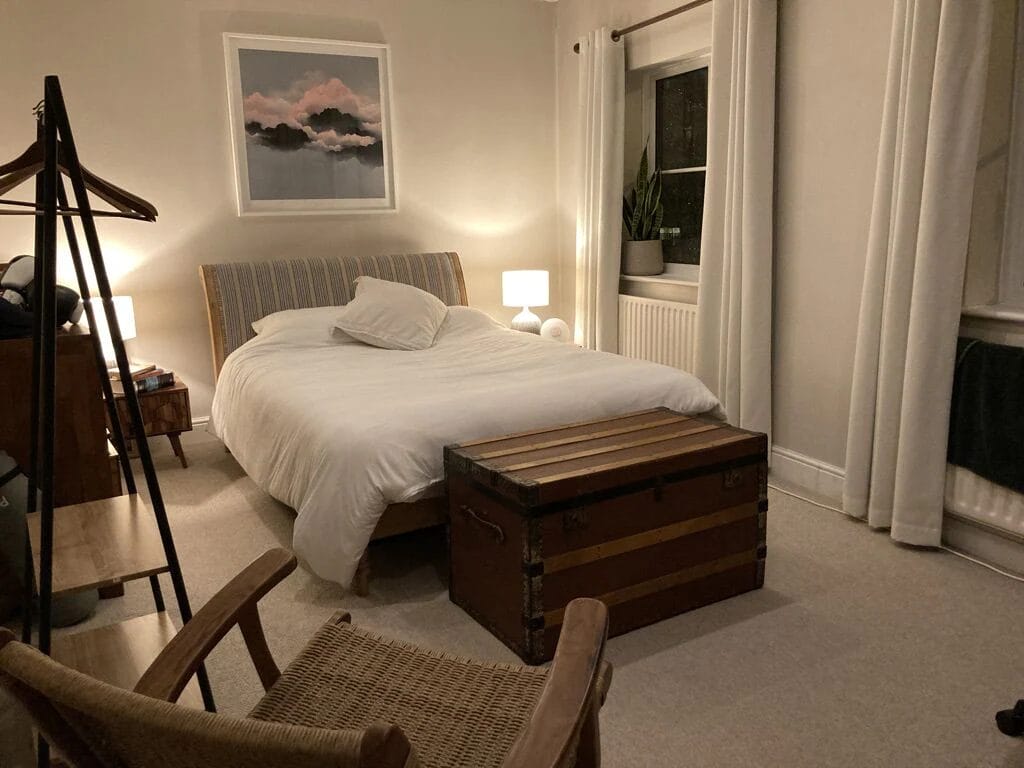 The flat is one of the "homiest" ones you can find in London, and you won't feel like you're staying in a stark hotel room or boring AirBnb with no character, but instead your own oasis of bookshelves, comfy rugs, and beautiful furniture pieces.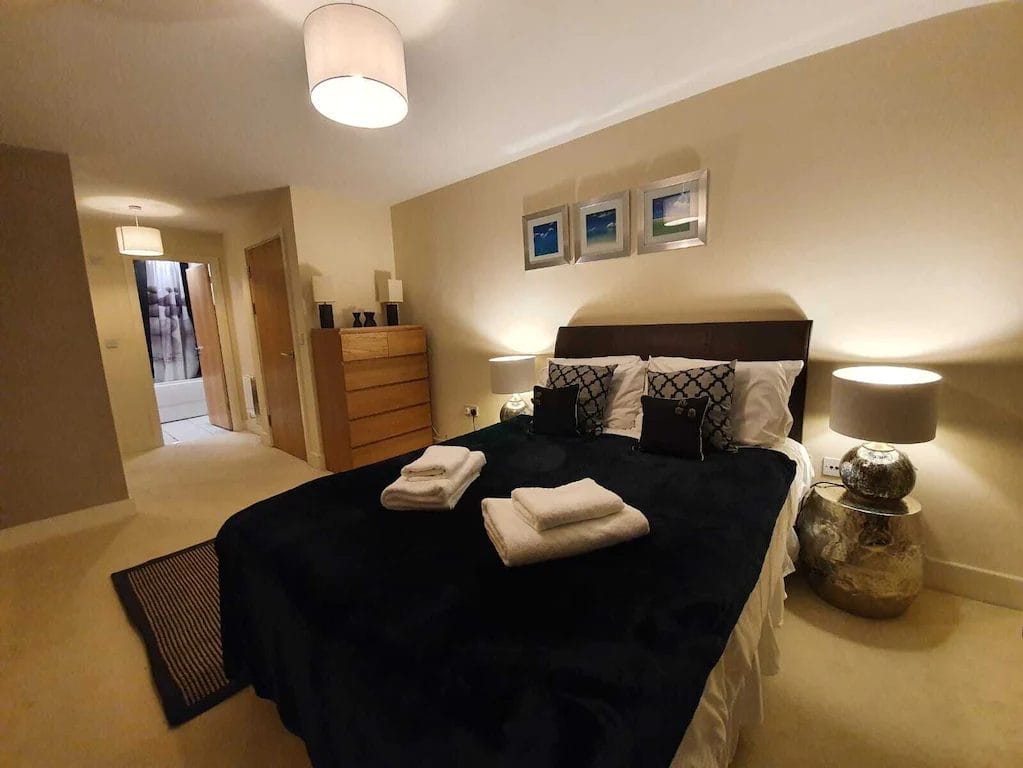 Canary Wharf is one of the hidden gems of London for people who prefer quieter areas (seriously, after hours and on the weekend, this area is very peaceful!)
This flat is super secure with a 24/7 concierge and gorgeous views of the water.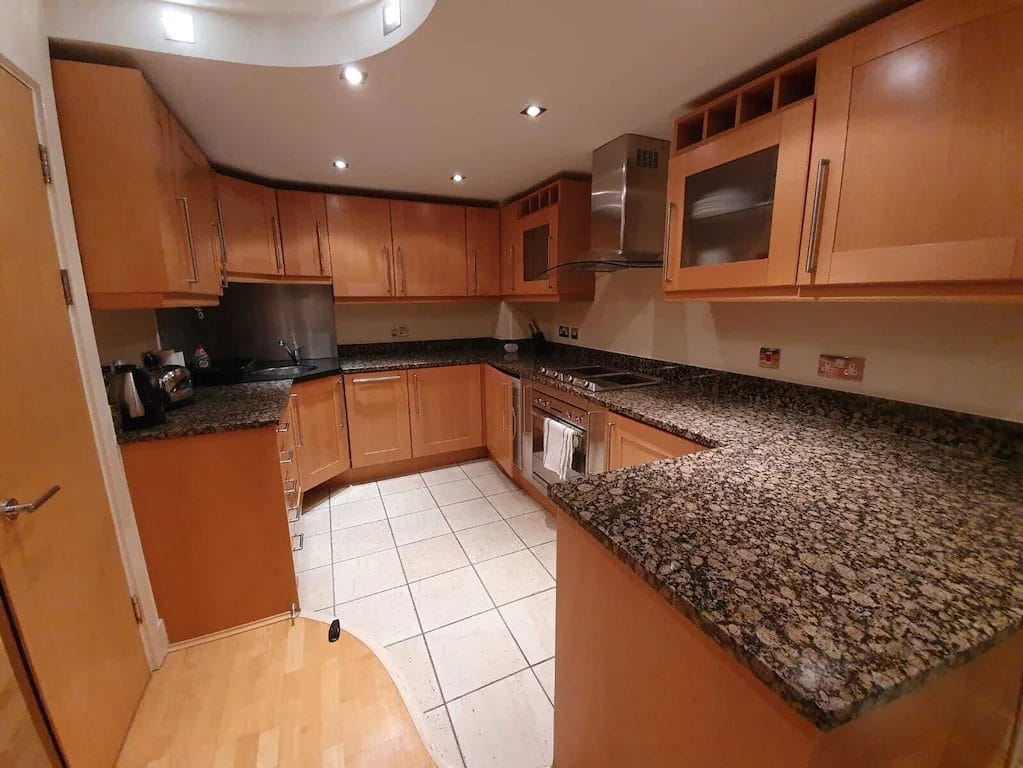 The bedrooms are incredibly spacious, and the full kitchen means you can cook instead of constantly eating out if you're visiting London on a budget.
Speaking of budget, for such a gorgeous location and great apartment, you'll pay much less than other apartments in London as this area is not as popular with tourists.
But with incredibly easy connections to all of Central London, it's a great option!
AirBnBs in London for Families
Got a large family coming with you?
This wonderful apartment sleeps 10 across three bedrooms and other options like sofa bed.
You'll have plenty of room, each bedroom having its own TV for some chill time, a full kitchen with all appliances and table for 8, and full air-conditioning (yes, please).
The location is top notch in one of the most vibrant parts of London, near the major museums (Natural History Museum, Science Museum, and the V&A) and you're also right near Notting Hill and Hyde Park.
When you're in the apartment, the large living room and couches give you a great place to catch up and hang out, and the owner of this apartment has fantastic reviews!
11. Soho One Bedroom with Sofa Bed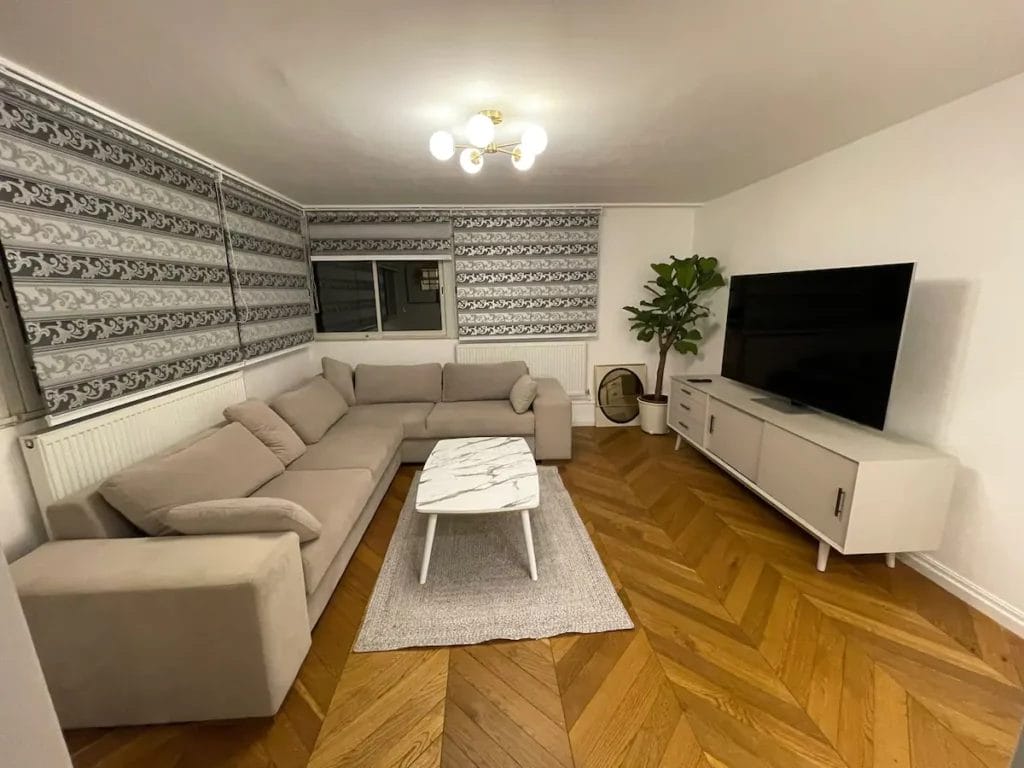 If you prioritize location above all else, your family of 4 can easily fit into this beautiful apartment in Soho.
Soho, in Central London, is within walking distance to Oxford Street, the West End, and many other London attractions (right in the heart of everything with great transportation links!)
The apartment is furnished beautifully with a gorgeous kitchen, comfortable bed, easy-to-use sofa bed and everything you could need to have a wonderful stay in London.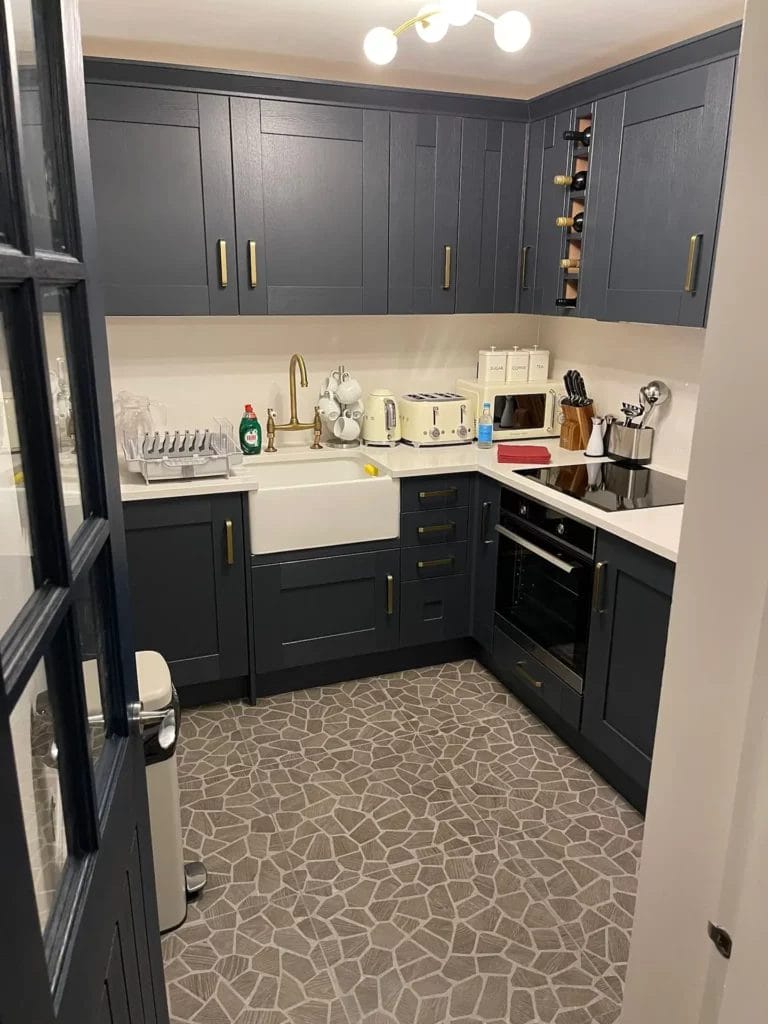 You'll also have full appliances so you can cook at "home" if you prefer or have breakfasts in your apartment, and there is storage in the bedroom for luggage and to hang up clothes so you can unpack and make yourself feel at home.
You really can't go wrong with this one.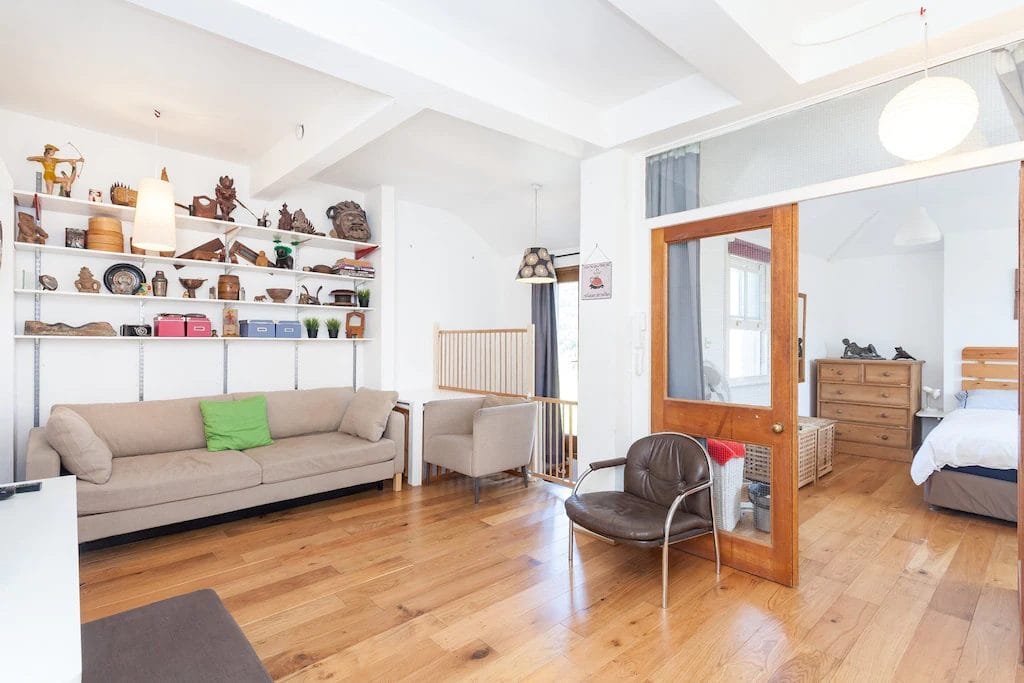 Hampstead is one of the quietest and most sought-after areas of London that you might not have heard of as a visitor.
At this penthouse with three bedrooms, you'll find the comforts of home like coffee and tea for your use, as well as a full kitchen and a living room with character.
The building itself is 140 years old, so you're already stepping back in history!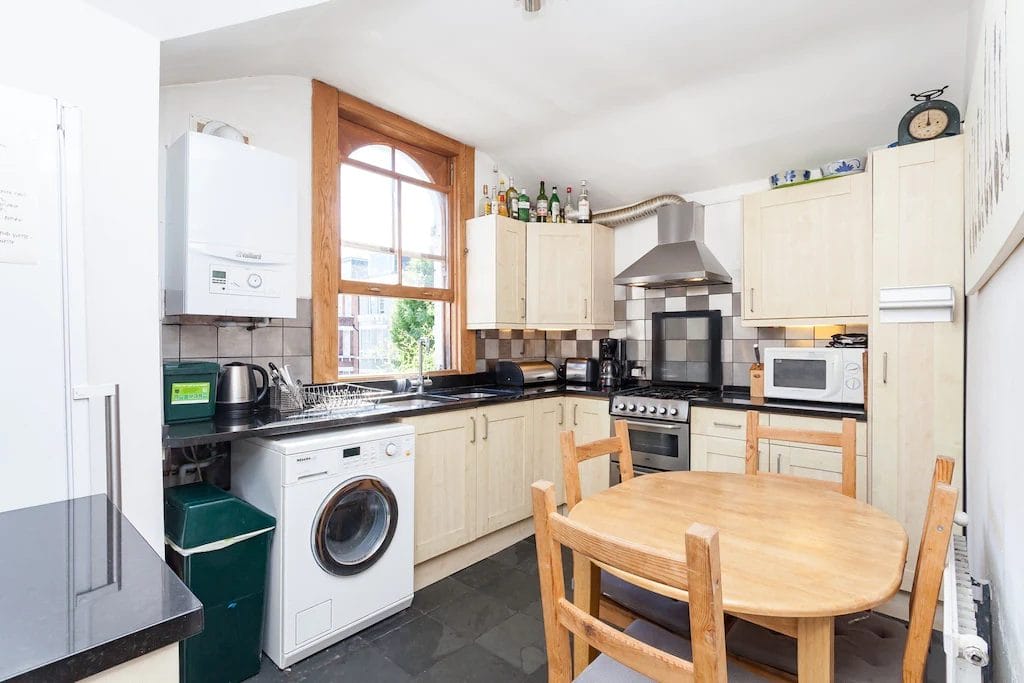 The nearest tube station is only 6 minutes walk away and the price for a family with multiple kids is fantastic for the space you get in London.
Unique AirBnbs in London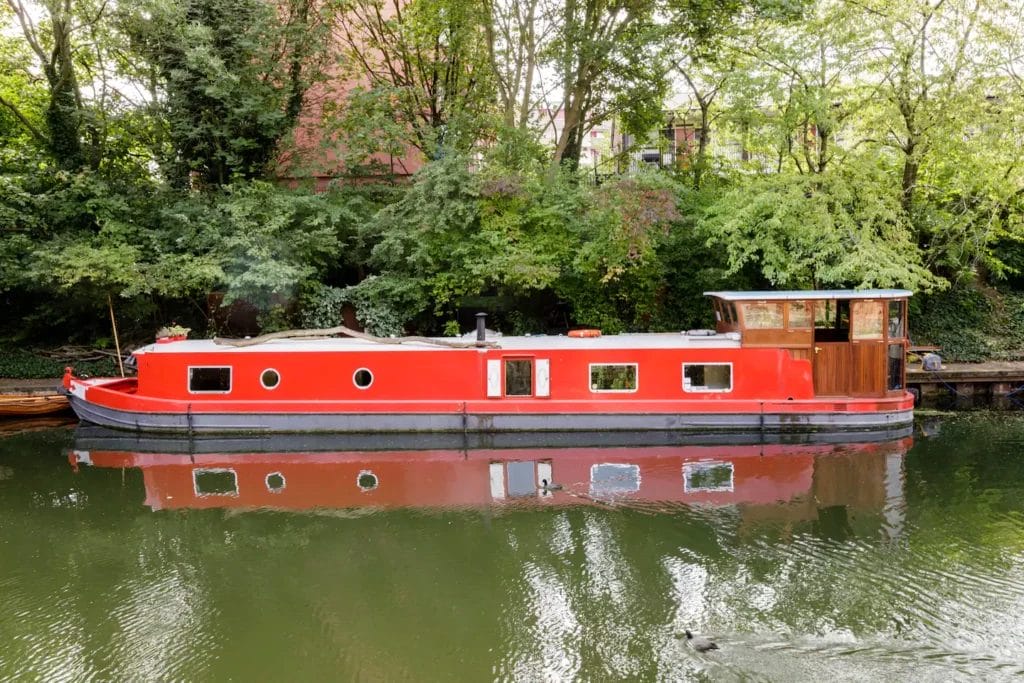 There's something incredibly enticing for many about living on a houseboat, and now you can have your chance at seeing if it's the life for you!
Hop onboard this houseboat moored in the canals of London and enjoy everything from the onboard fireplace (seriously) to the full kitchen and multiple bedroom and bathrooms.
You also get to enjoy a rowboat, if you want, as well as a BBQ and private garden space (there is no public access to the mooring).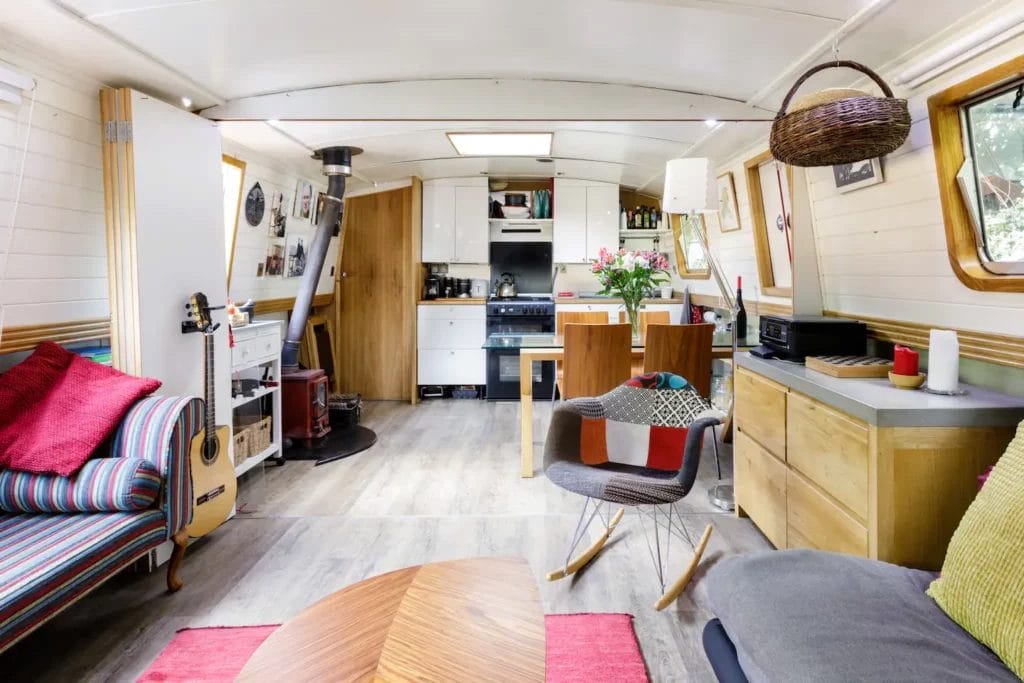 If you dream of lazy, secluded days in London watching the sunset and enjoying the hot tub in the green space, then there is absolutely for you.
14. Victorian Flat with Fireplace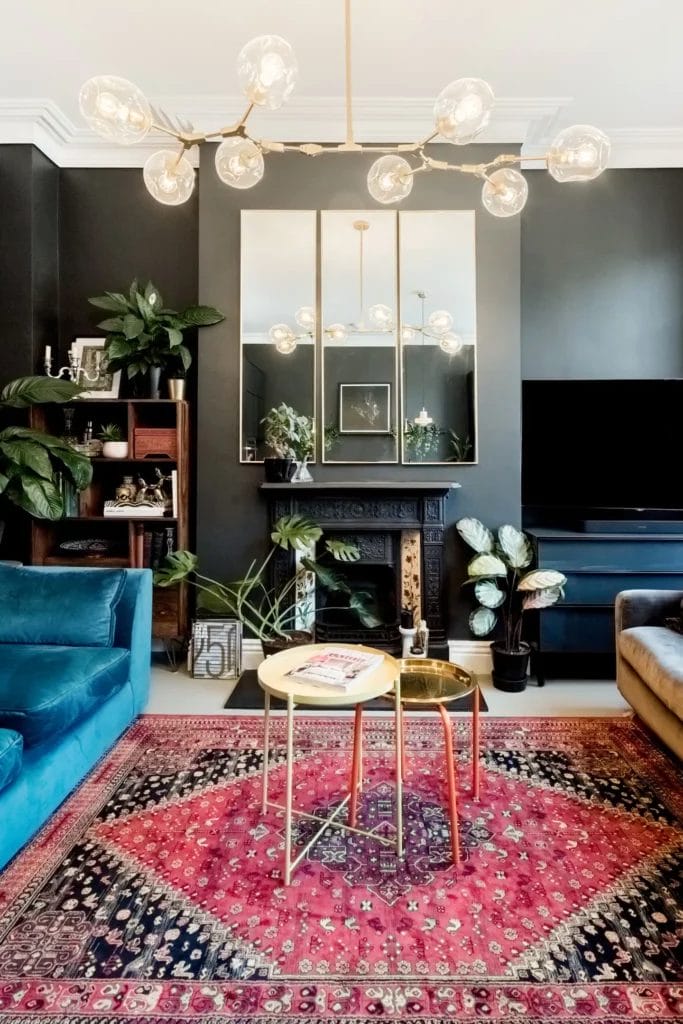 Want to live a bit of history while also enjoying modern appliances and beautiful design?
This AirBnb in London is for you.
The building itself is Victorian, and you can find evidence of this in the decadent fireplace that shows the Victorian features of the flat's history.
It's the perfect cozy spot for winter, and the design is absolutely stunning.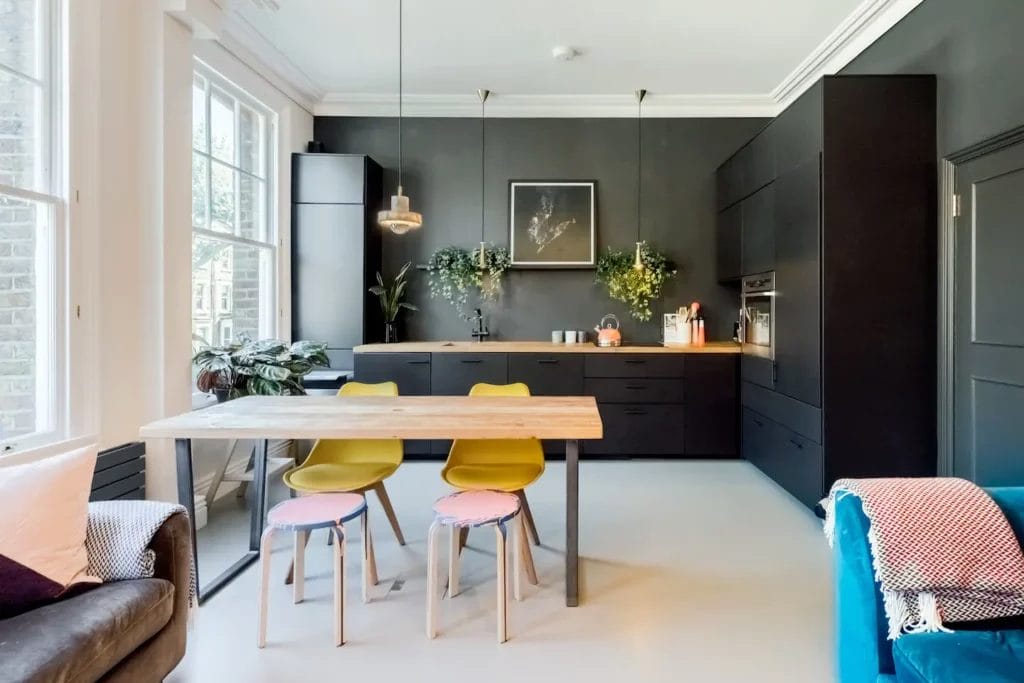 From an espresso machine to a huge soaking tub, it has everything you need for a luxury stay in London, and it easily sleeps 3 in two separate bedrooms.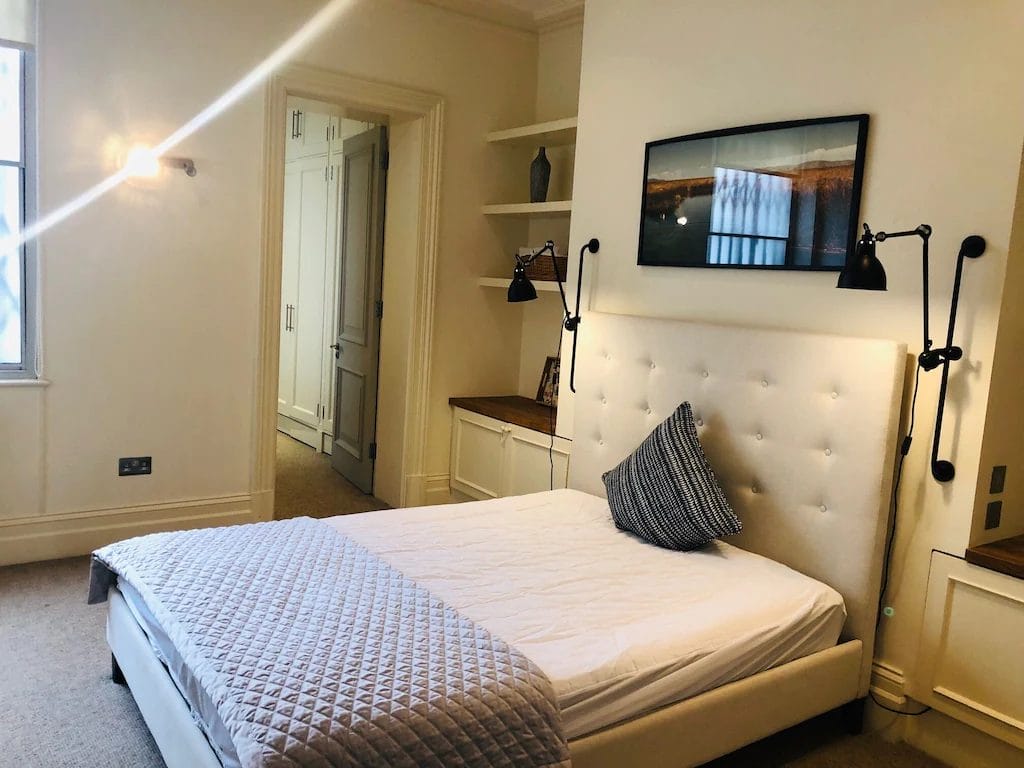 When we talk about VRBOs and London AirBnbs, we often talk about location as being "near" somewhere, but what if you weren't "near" Covent Garden, but rather, in it!
If you're not familiar, Covent Garden is an open air market that is a must-do when you're in London, and this townhouse is actually overlooking Covent Garden, right in the heart of it all.
The beds are incredible comfortable so you'll get a great night's sleep, the townhouse is light and airy, and you'll get to learn more about Covent Garden history while you actually stay in it.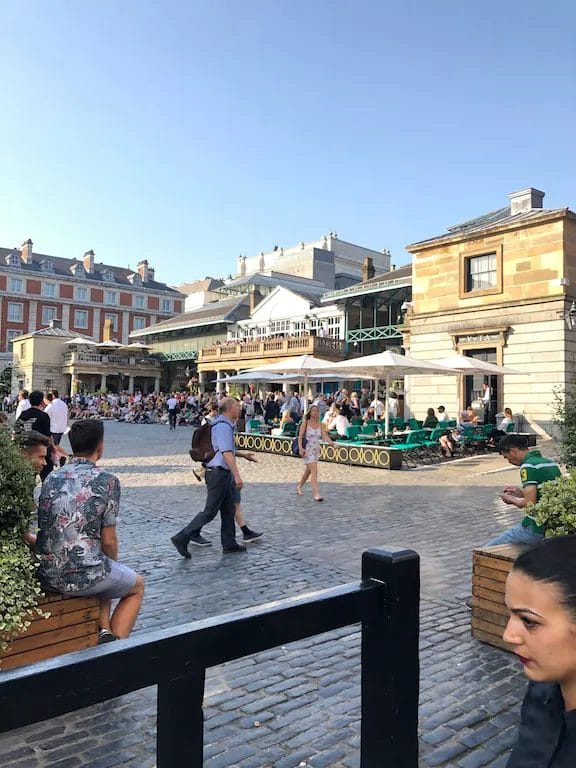 There are two bedrooms, but it can sleep 8 people total including sofa beds if you have a larger traveling party.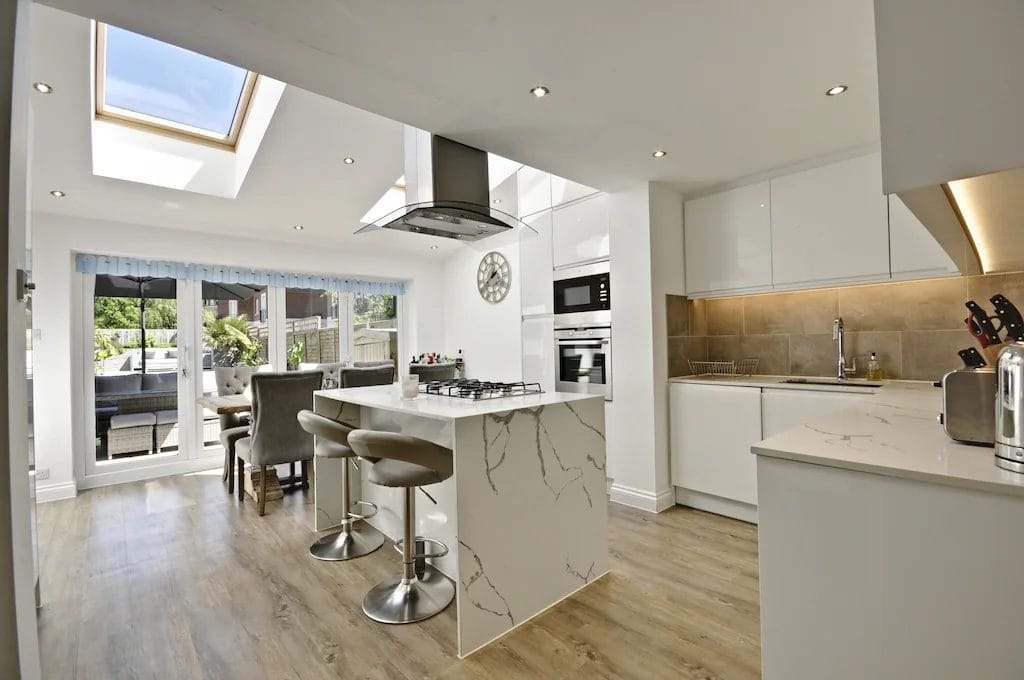 Often people think of London as crowded and cramped, with no space to move.
But in this Richmond villa, you're going to have it all, including three bedrooms, your own outdoor living areas with outdoor BBQs, and your own herb garden!
The kitchen and living room are massive (for London standards) and well-decorated and equipped, so you feel like you're staying in a true home rather than a smaller townhome or flat.
The backyard is perfect for the kids to run around or to catch some sun, and this luxury villa would work well for a family reunion or larger travel group who prefer to spread out and relax in addition to seeing the city.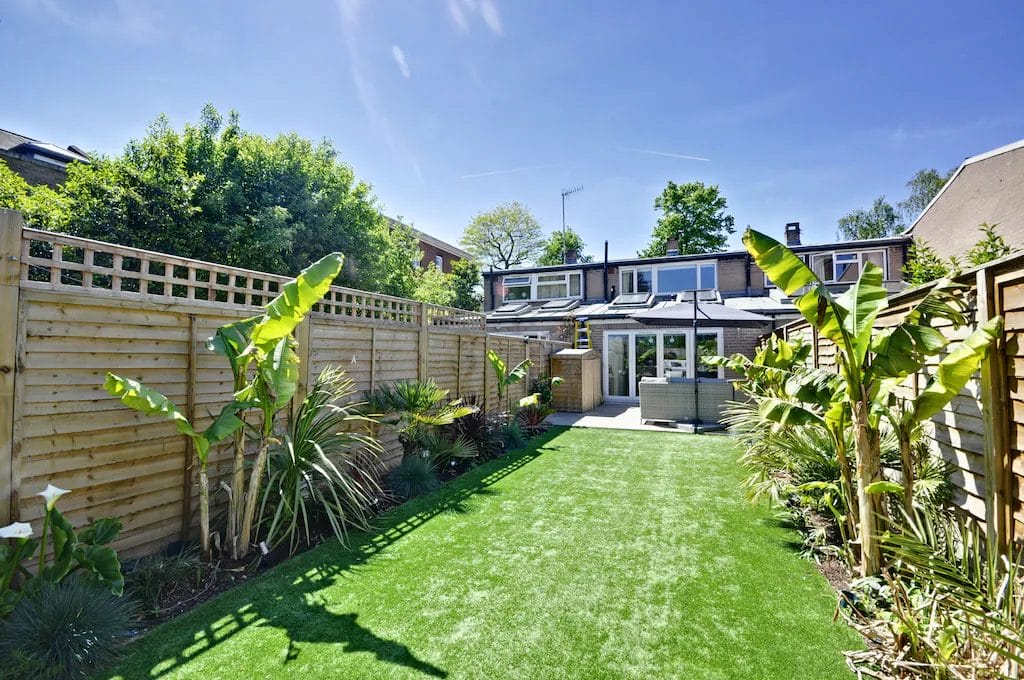 Richmond, in and of itself, is a gorgeous area to explore, and it's walking distance to Richmond Tube Station, where you can hop on the District Line for an easy ride into Central London.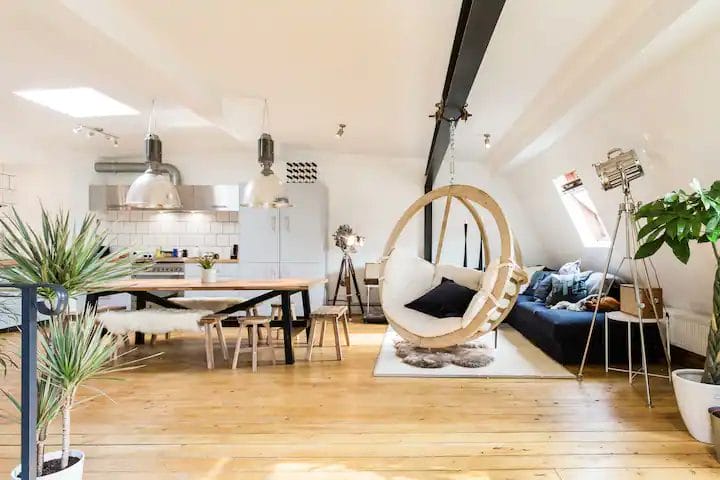 Whether you're in love with the beautiful swing hanging from the ceiling in the living room (who doesn't want to be able to twirl around while watching TV?) to the piano, this loft is the perfect escape for anyone who wants to see a different side to London.
Located in Hackney, this is one of the more "real" sides to London ("real" as in "really cool"). You'll find real London life here, not hop-on and hop-off buses, but rather a huge range of eclectic cafes, cultural venues, and access to nearby markets.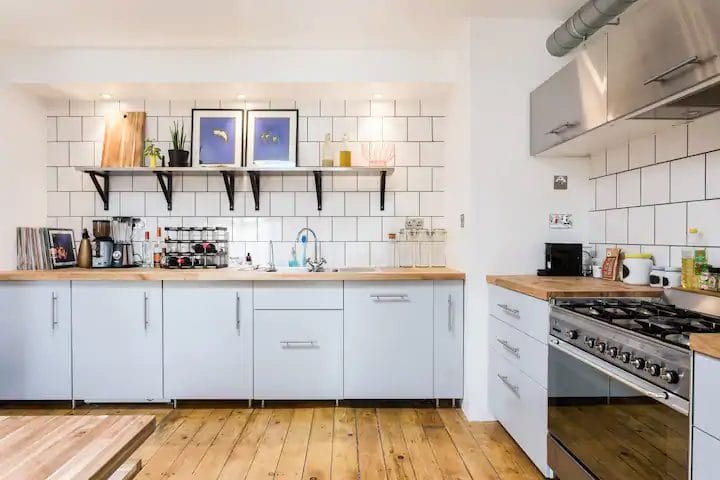 With local artwork on the walls and exposed metal beams, you'll feel like you're an artist on a retreat or a musician in their studio writing their next big hit.
The apartment is incredibly spacious, and perfect for 2 people with the bedroom having a king bed (and room darkening shades so you can sleep in the long days of a London summer!)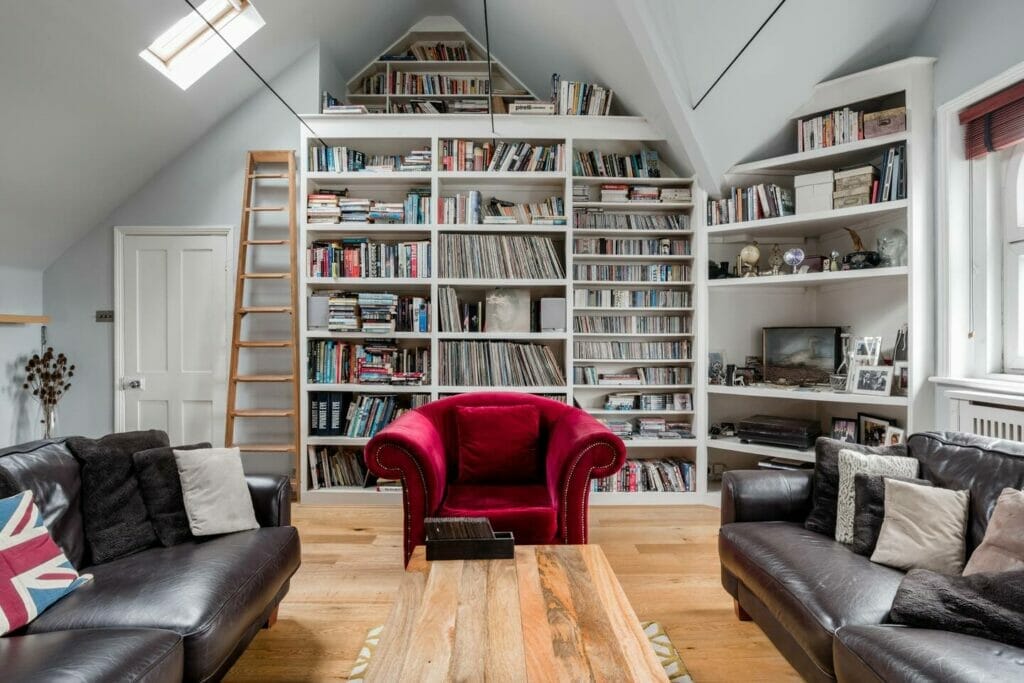 When you're looking for somewhere to stay in London, "fire pit" does not often make the list of "must-haves," but when you consider how variable the London weather is and the rain and dark days that can be incredibly common in the autumn, spring, and winter, then you'll realize why this is one of the best AirBnbs in London.
Not only will you get a gorgeous outdoor space with treetop views, but there's a fire pit to use while you talk about your day and enjoy your final tea of the day (yes, you're in England, so you must drink tea!)
Chiswick is one of the cutest areas in greater London, with plenty of greenery and friendly people, and you can get into central London in only 25 minutes.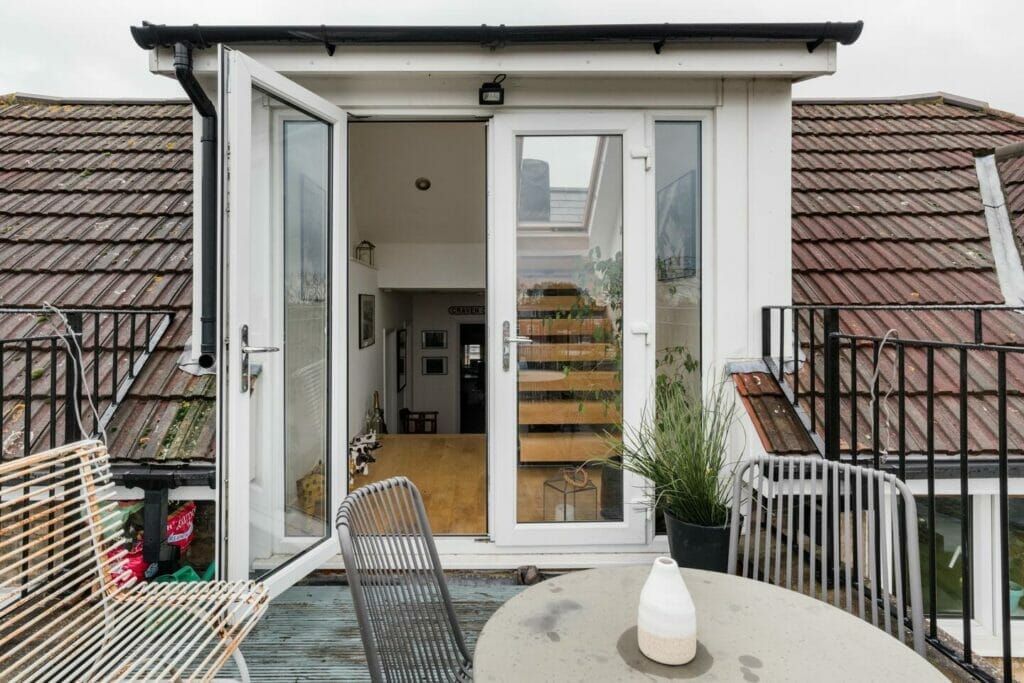 5 guests will be able to enjoy the AirBnb, spread across 3 rooms (with 2 bathrooms total, so perfect for a group of friends or larger family).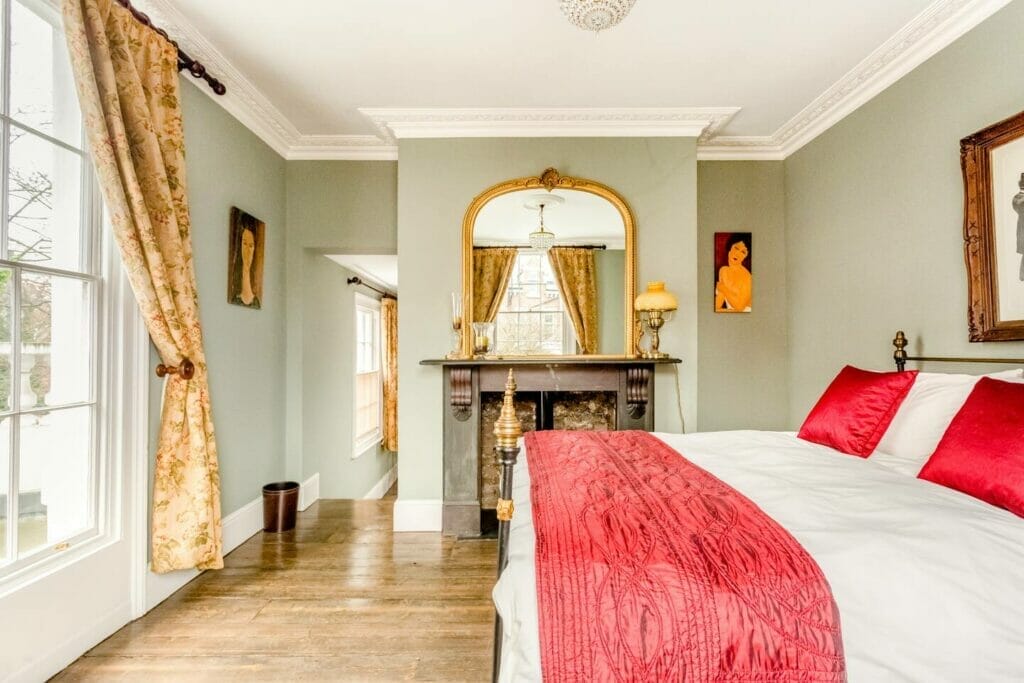 Another option for history lovers, this London AirBnb is in the cultural hub of Brixton and dates back to the 1820s.
This Georgian home has a beautiful backyard (rare in London) and you will absolutely feel like you're staying somewhere fit for the Queen.
Despite the age of the building, the interior has all of the modern appliances you could want, as well as stunning design and a dining room that you won't ever want to leave.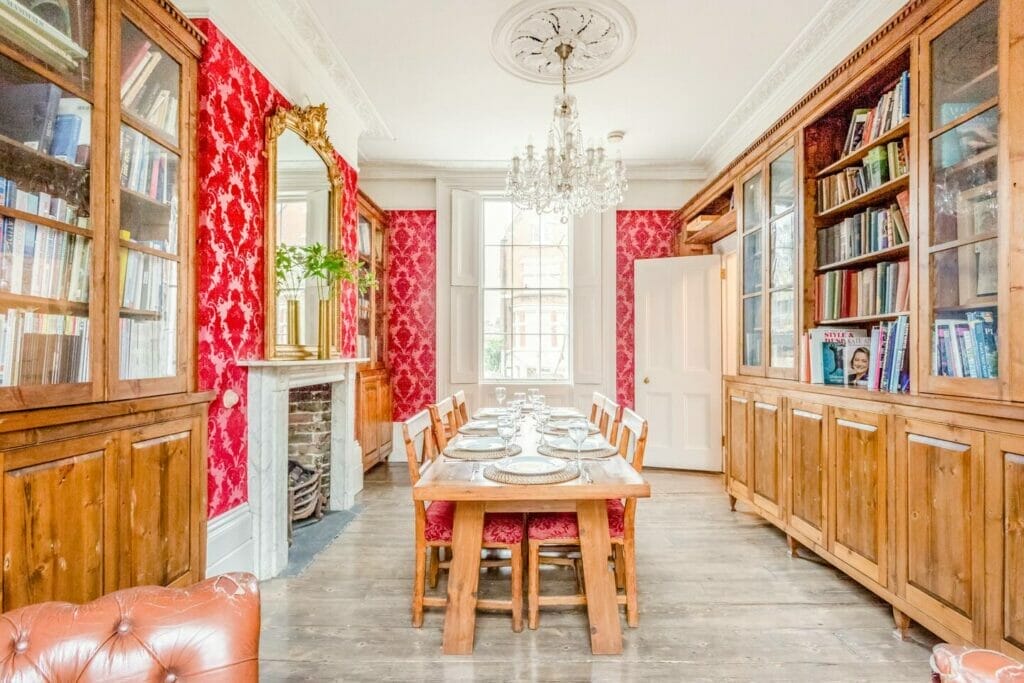 The home can fit 8 guests total.
Want more helpful London guides? Check these out!