From Shakespare to Beatles lyrics, the UK has produced some incredible texts, lyrics, manuscripts and more.
While some have been lost to the ages, much of what remains is on display at the British Library in the "Knowledge Quarter" of London, right near King's Cross Station.
Visitors can spend time getting up close and personal to everything from the Magna Carta (yes, the real one) to ancient religious manuscripts.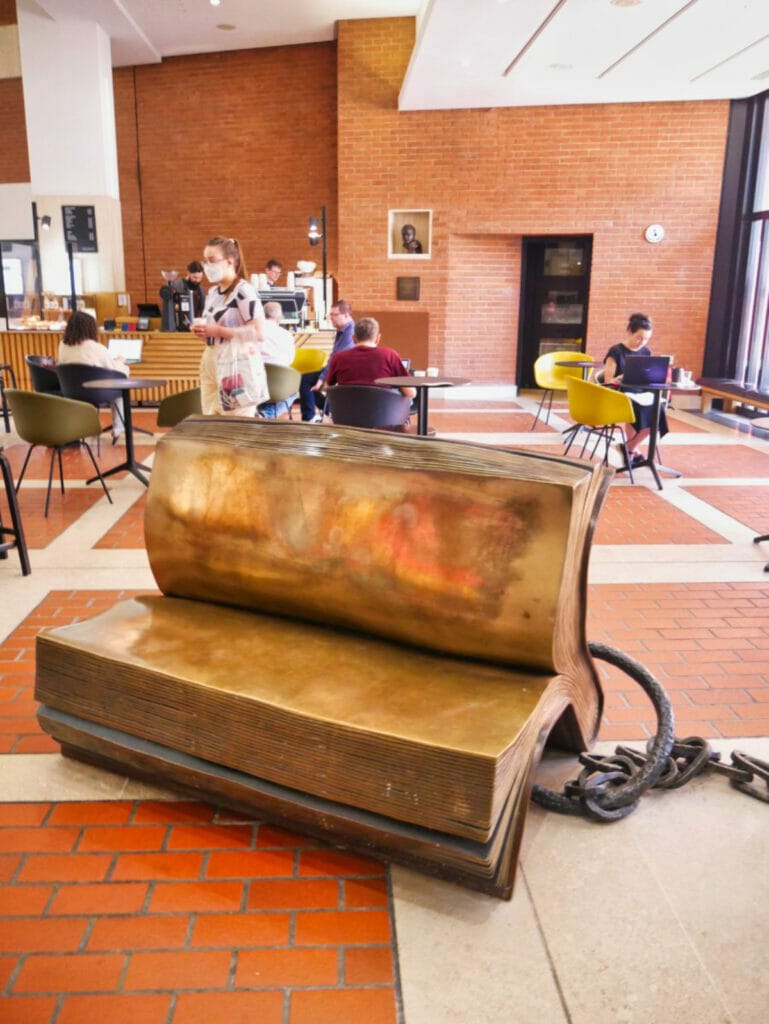 It's one of the most iconic things to do in London, perfect for any reader, and will change your perception of what it means to be a library.
This isn't just "London's library," this is the UK's library, a safe place for its most precious works and a beacon of hope for the future that we can learn from, appreciate, and build on these past writings, formulas, and drawings.
On top of that, there is a significant amount of indoor and outdoor space to use at leisure, whether you want to take a break from walking, meet up with a friend, or just sit and marvel at all that the British Library has to offer.
GET A

FREE

LONDON INTRO GUIDE and ACCESS TO MY FB GROUP
Start your planning with this "Intro to London" guide and access to my London planning Facebook group!
History of the British Library
The British Library was founded in 1973 as part of the British Library act.
Not only is it one of the world's largest collections of books, but it is meant to be the UK's main hub of information, to help further progress in research, the arts and humanities, science, and more.
The British Library as you see it today is the coming together of multiple libraries and organizations, including the British Museum Library as well as the National Lending LIbrary for Science and Technology.
As you walk around, notice the architecture within the library. Can you see any odes to its history as an old rail goods yard?
This library opened to the public in 1997 and was officially inaugurated by HM Queen Elizabeth II.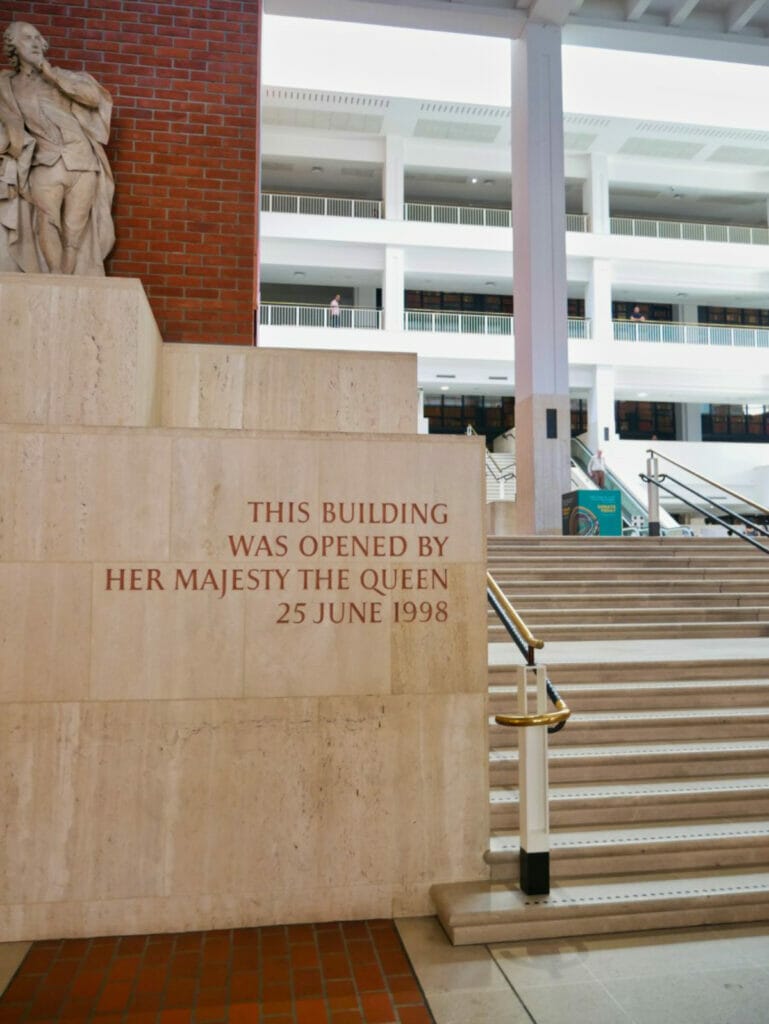 Who should go to the British Library?
Unlike many attractions in London that are good for the whole family, the British Library will really hit home for certain types of people.
I would recommend that you visit the British Museum if:
you're an adult visitor to London who wants to see the major sites
you're a child with an excitement about reading or understanding of big names like Shakespeare
you identify as a "reader" and love books
While this covers many people, I would not recommend that those with small children spend a lot of time here, as they would have more fun at a place like the Science Museum or Natural History Museum that are more interactive.
They are welcome, of course, but probably won't want to spend the same amount of time wandering around the cases of sacred texts as you do, so turn it into a lunch stop for them and get something in the café and then take a quick tour of the Treasures of the British Museum exhibit before you leave.
Where is the British Library?
The British Library is easily accessible from a few tube stations, being just a short walk from King's Cross and Euston Station.
It is in the heart of Central London, and so close to everything that it's easy to add into your London itinerary (psst – if you need help organizing your London itinerary, don't forget to take advantage of my UK itinerary planning services here!).
How to Get to the British Library
You'll find the British Library at 96 Euston Rd, London NW1 2DB.
It's an 8 minute walk from King's Cross Station.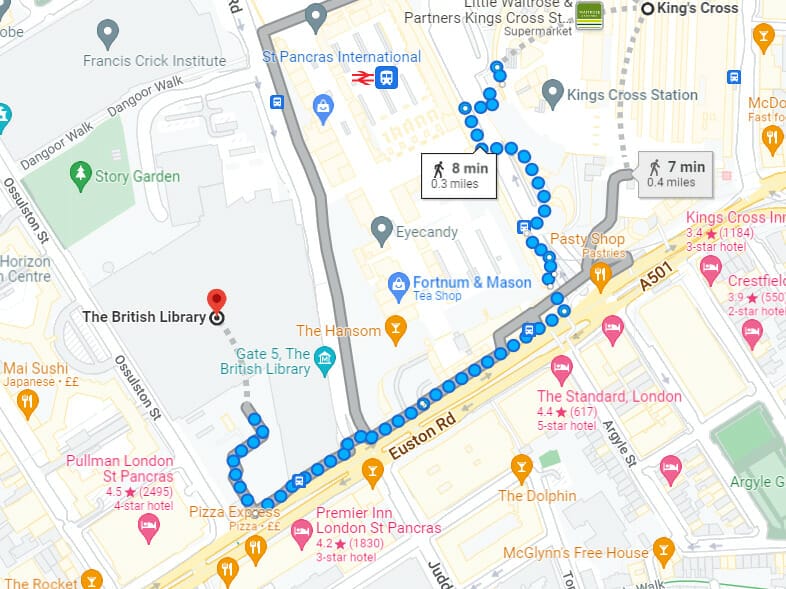 or a 6 minute walk from Euston Station.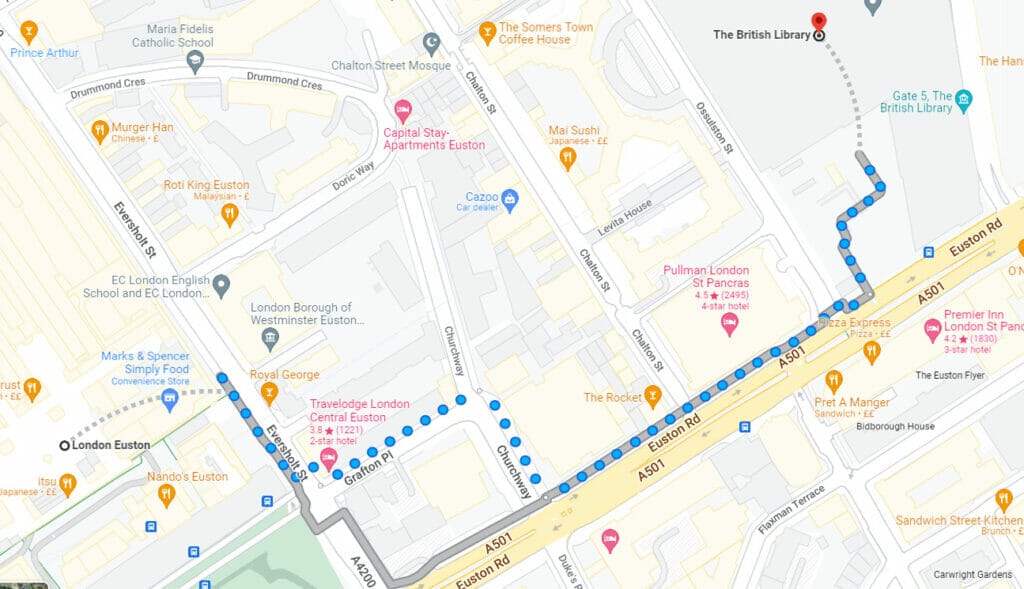 British Library Entrance Fee
The best part for visitors is that entrance to the British Library in order to see the Treasures of the British Library exhibit, walk around the interior, or get something from the café is absolutely free.
British Library Opening Hours
Typically the British Museum is open from 9:30am to 8pm on weekdays, and 11pm to 5pm on weekends, but check the schedule here to make sure it's open during your visit.
British Library Experience
Part of what the British Library offers is an incredible gathering place in London. Outside, you'll find a courtyard with gorgeous views of neighboring King's Cross and a nice cafe.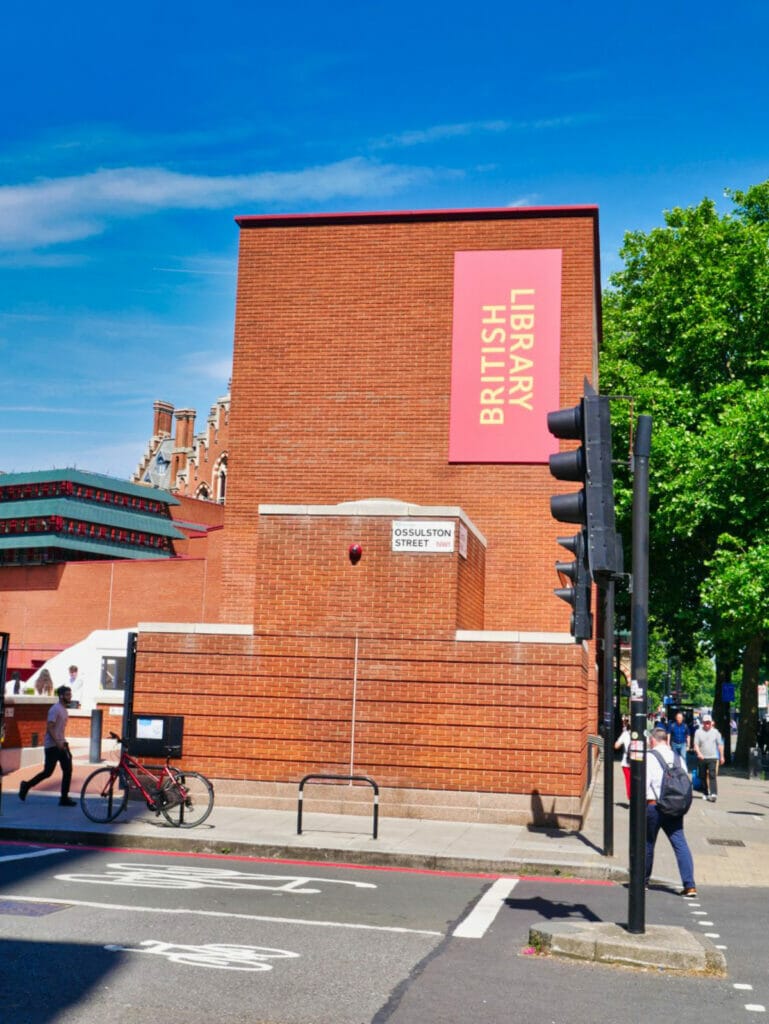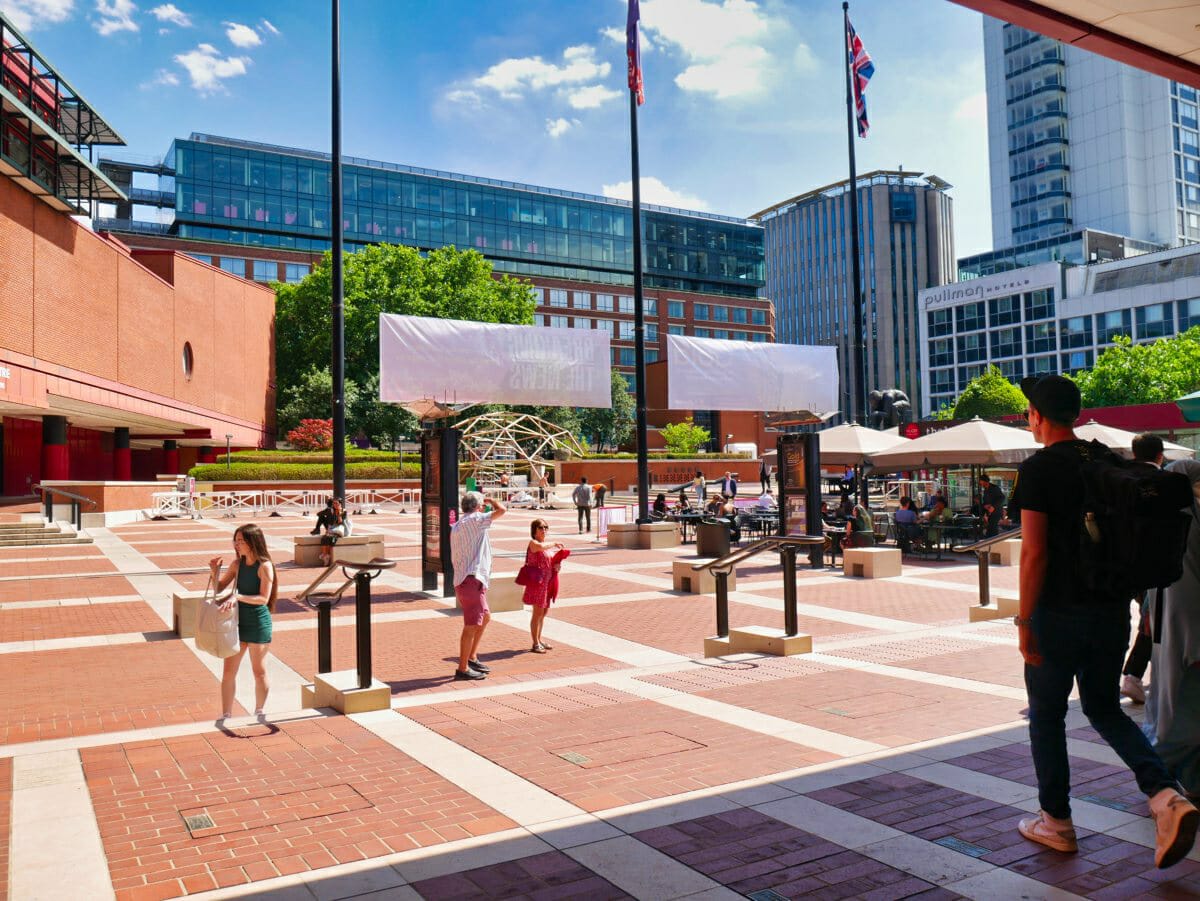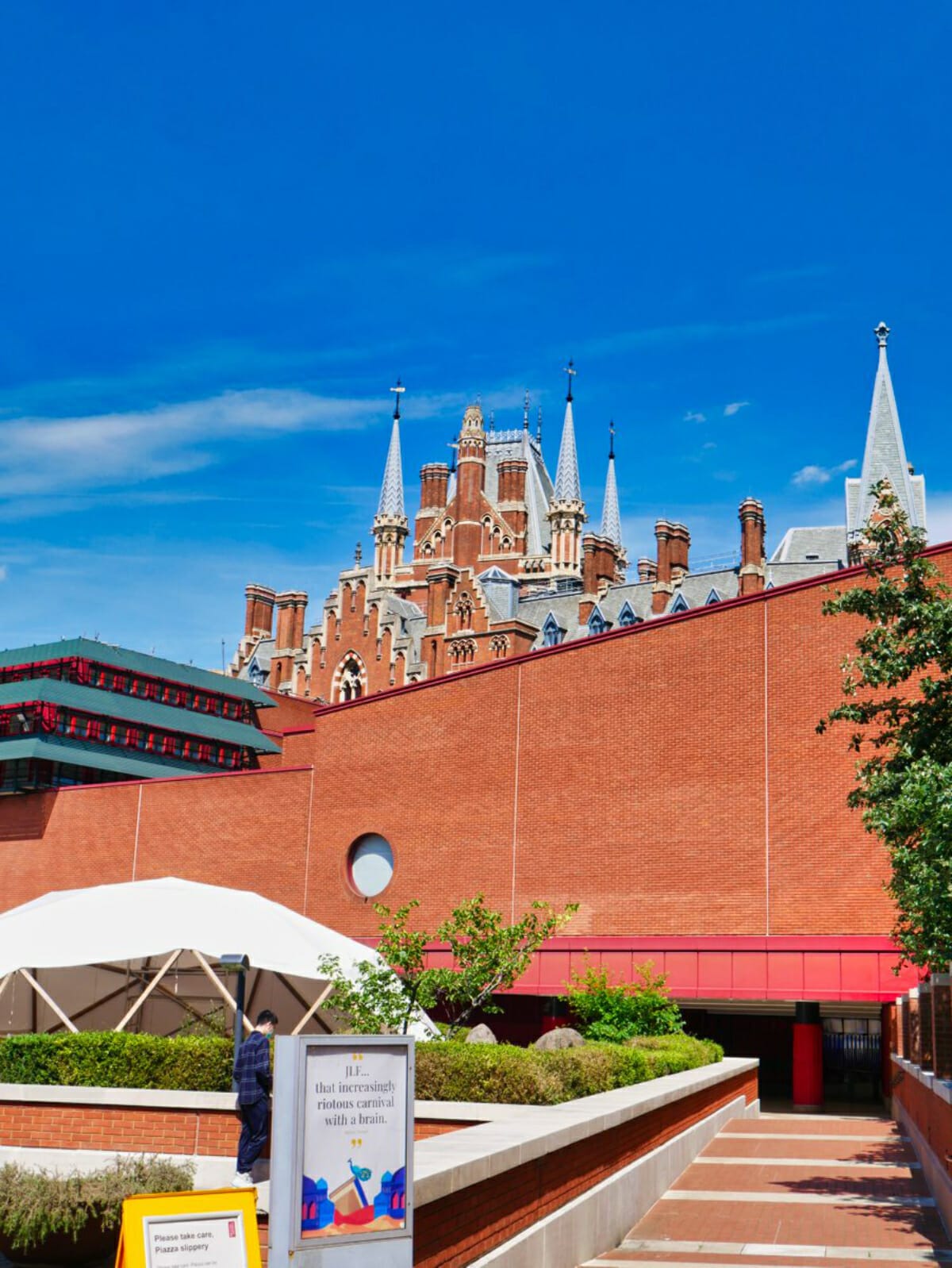 The architecture on the exterior is also stunning and makes for some great pictures.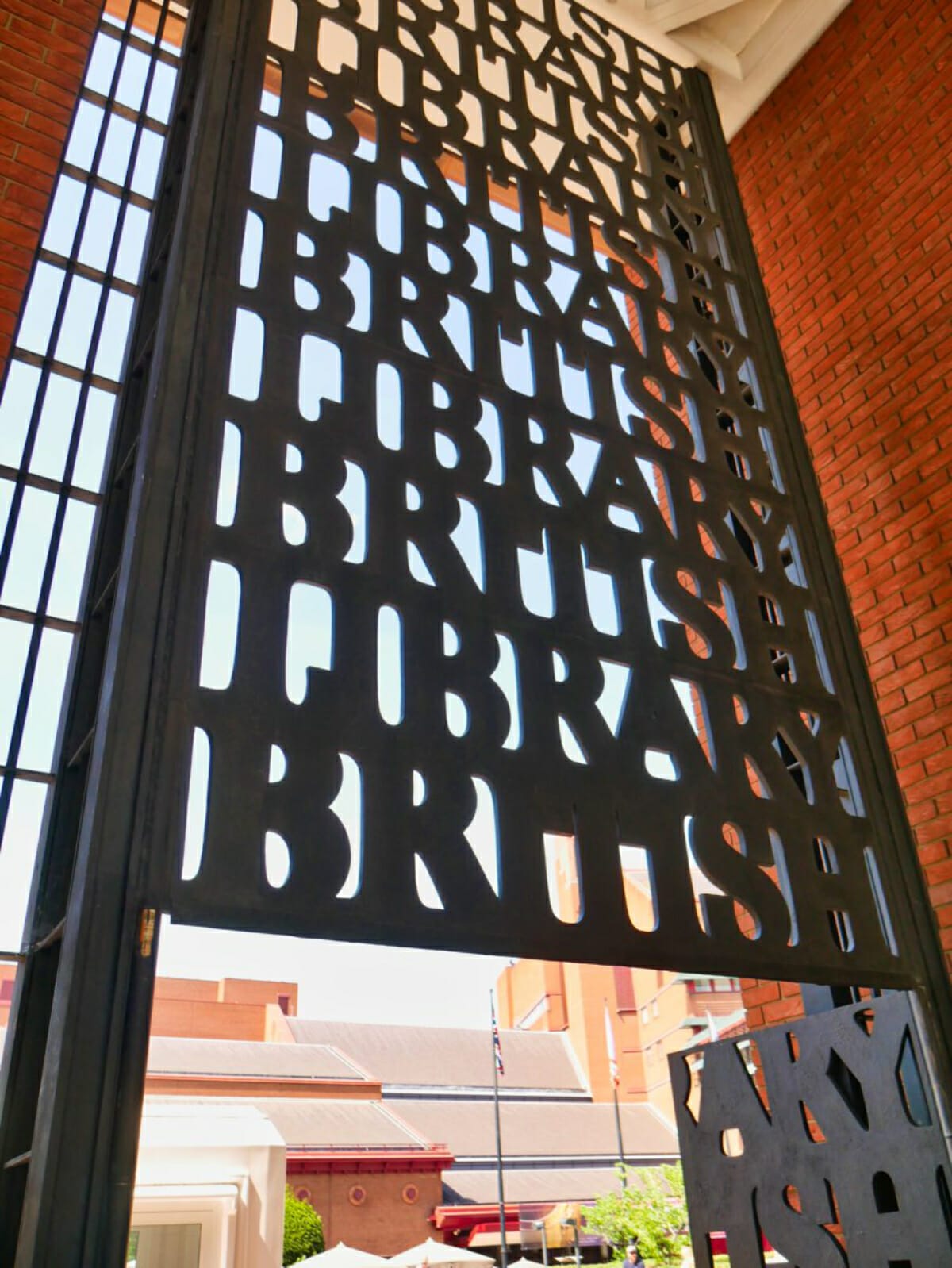 Head inside and you'll find another treasure trove of architectural intrigue, as well as "open space" areas to sit down and get some work done or enjoy a brief break in your hectic London day.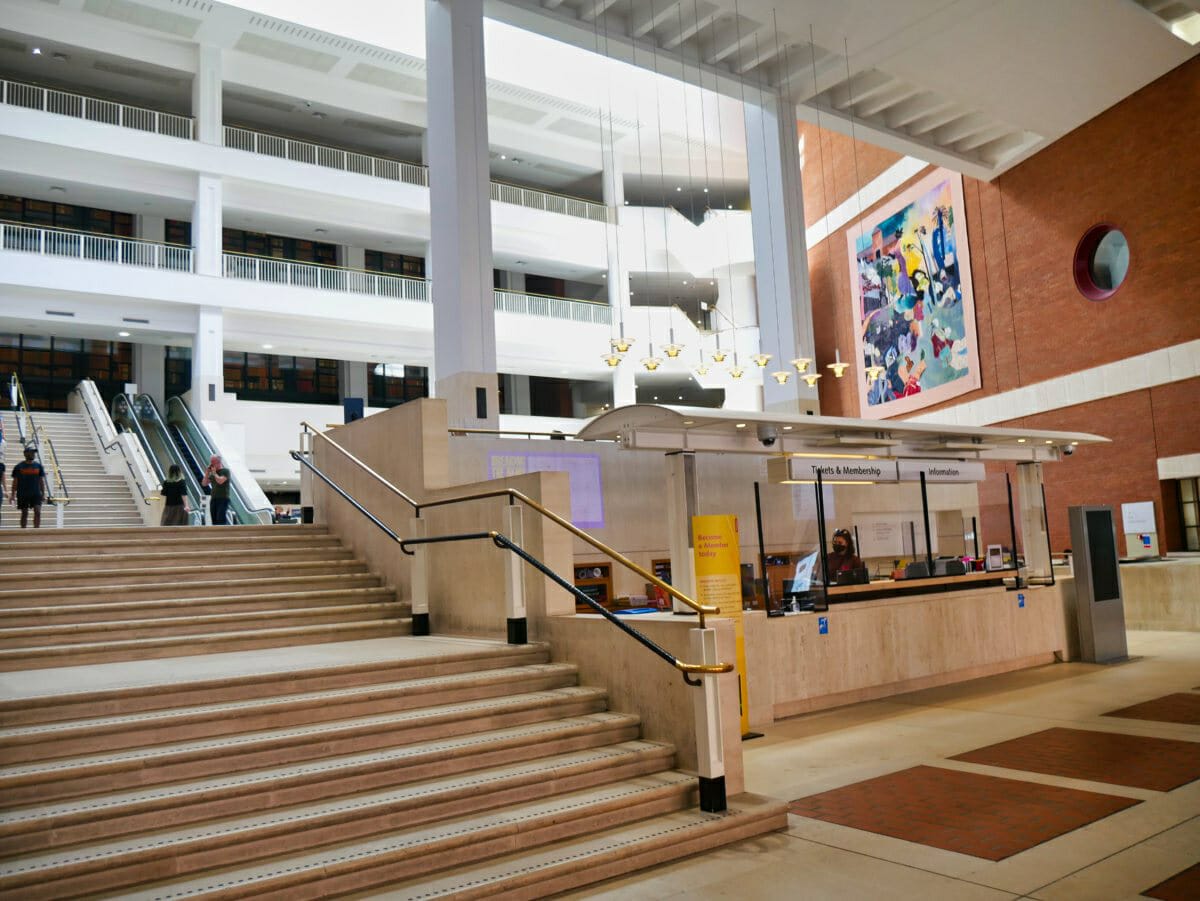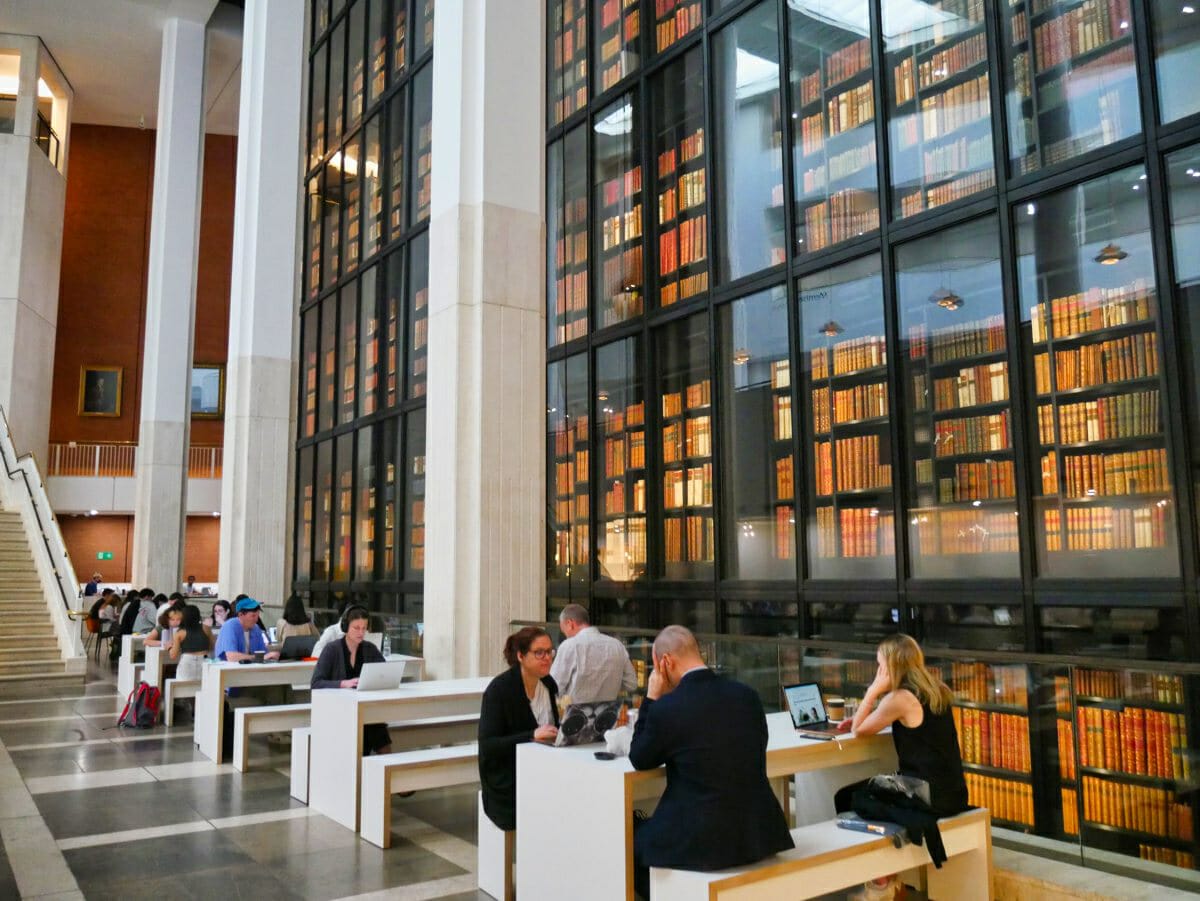 Locals in London can sign up for the British Library Membership, which allows them into the exclusive members room and the ability to actually get up close to many of the books, but as mentioned, no one needs to pay a fee to actually enter the building and to wander around and soak up the wonderful texts in the permanent exhibit, Treasures of the British Library.
As you wander around, there are also other things to see, including printing presses and one of the largest stamp collections you've ever seen.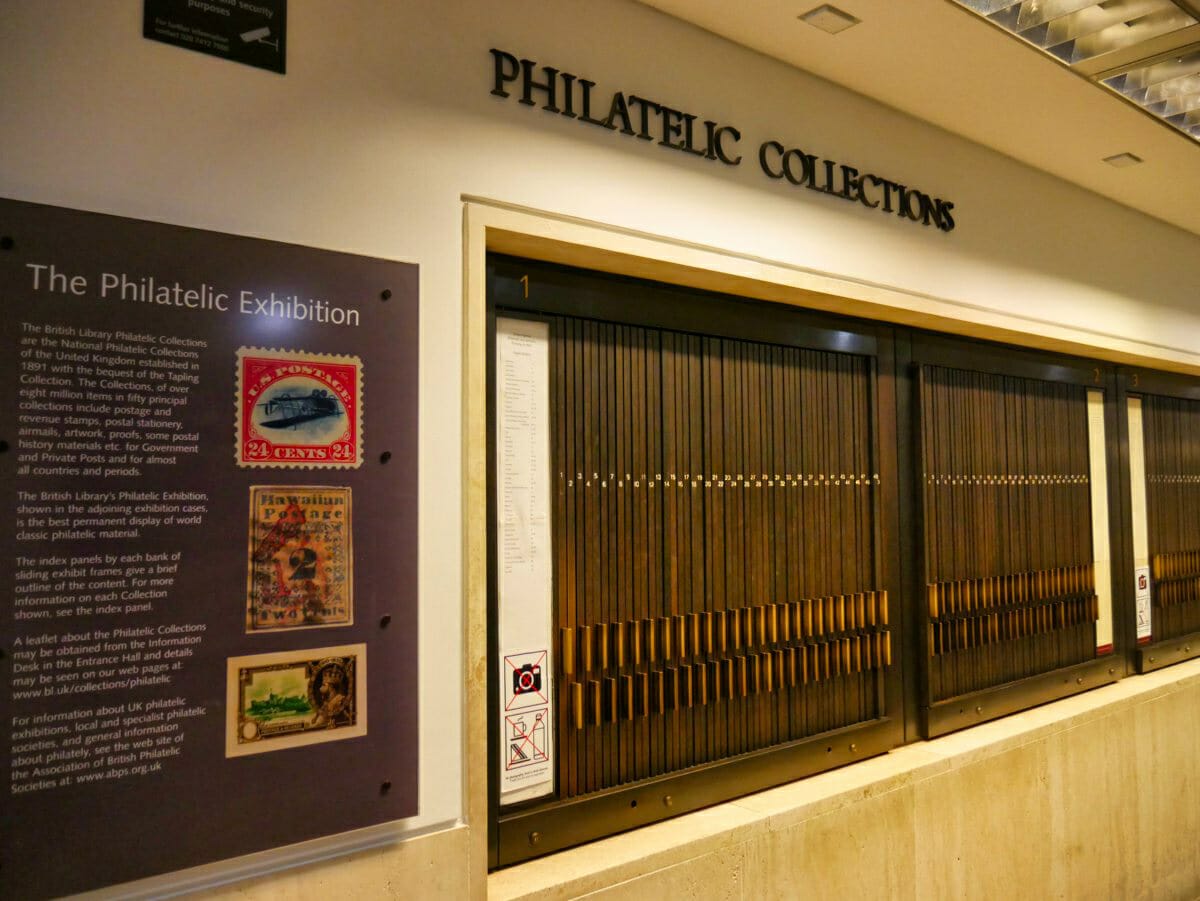 Treasures of the British Library
This is the must-do when it comes to the British Library, as this exhibit houses some of the most incredible past works in literature, science, medicine, and politics, including the Magna Carta, Shakespeare's works, and even Beatles lyrics.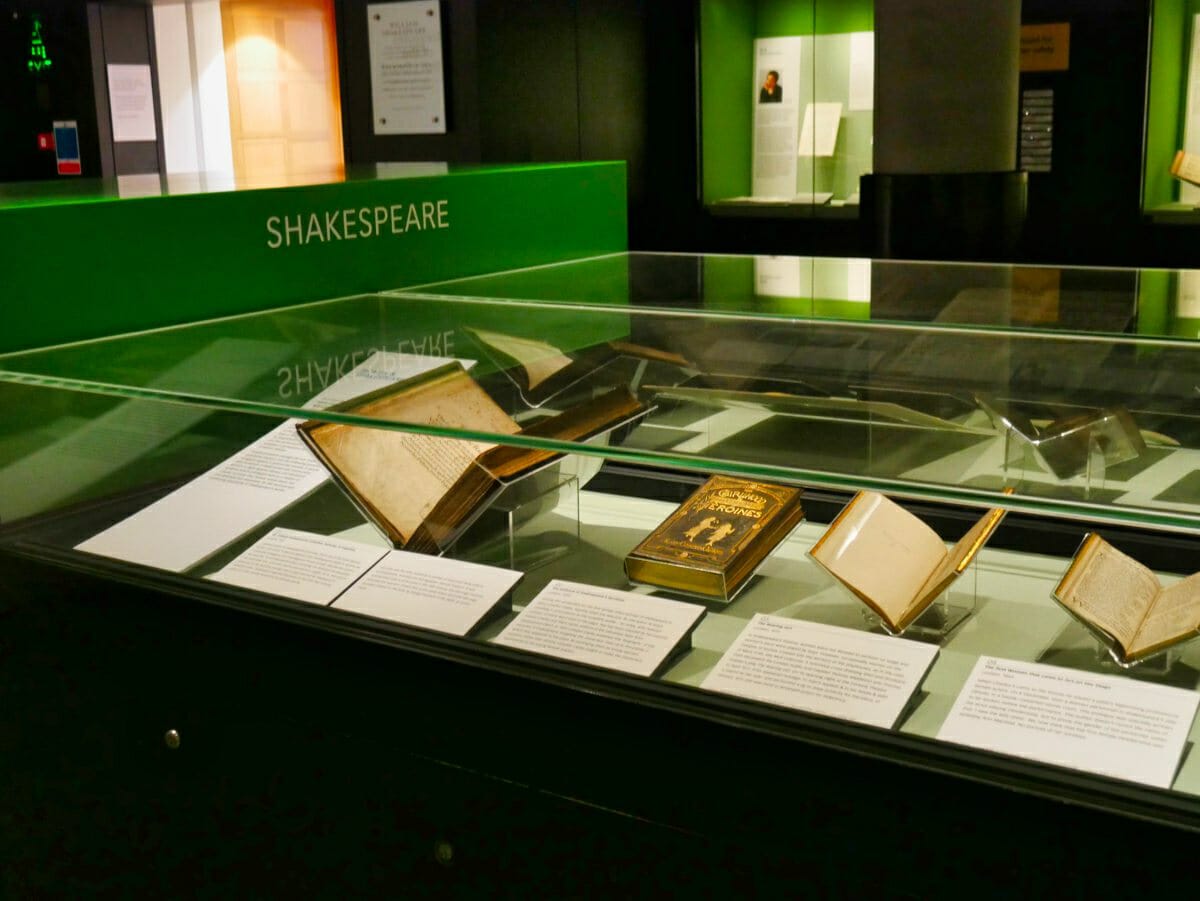 The lights are kept dimmed to preserve the books, creating a spotlight effect on each book that really showcases the incredible history in this room.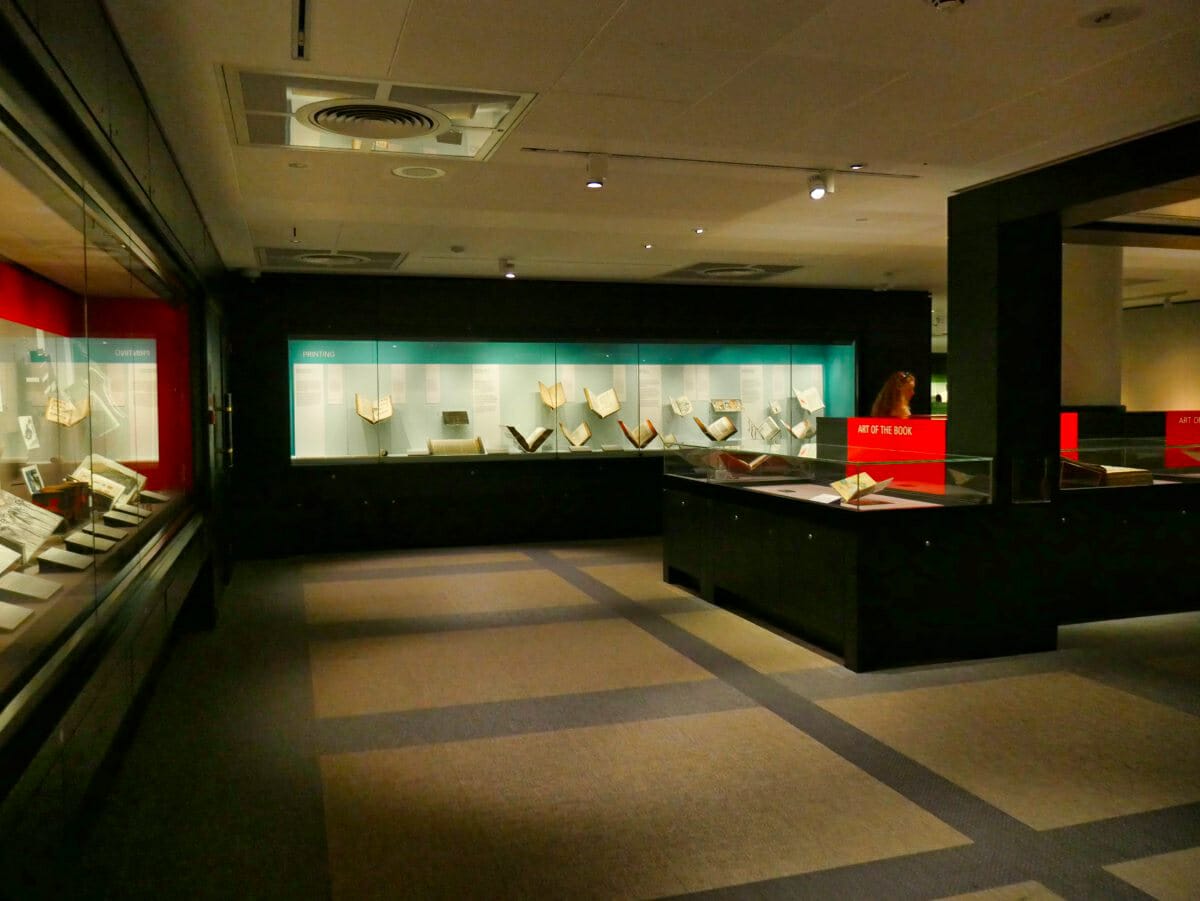 As you walk around, you'll notice everything from scores written by famous composers like Mozart and Purcell.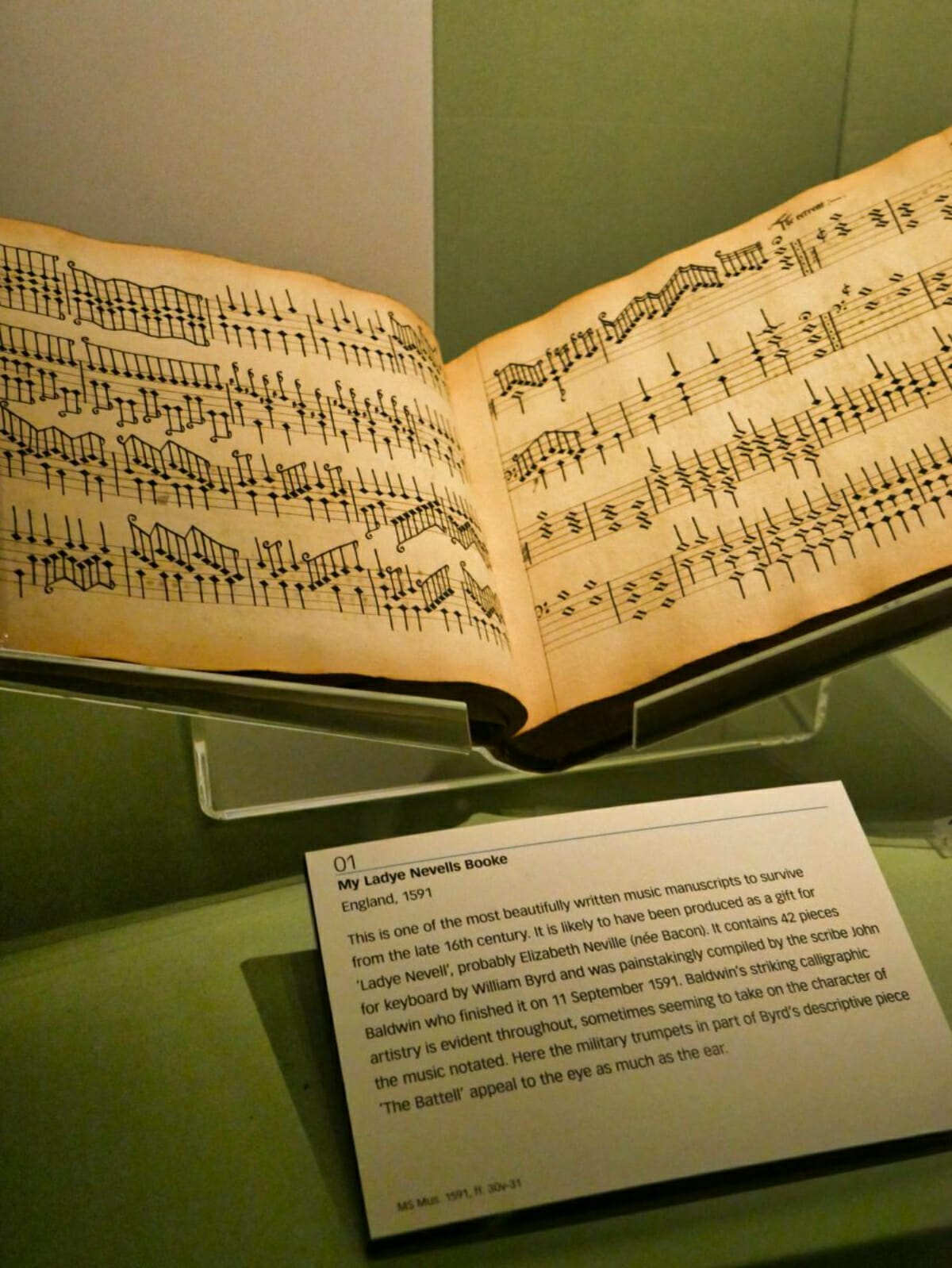 To religious texts going back centuries.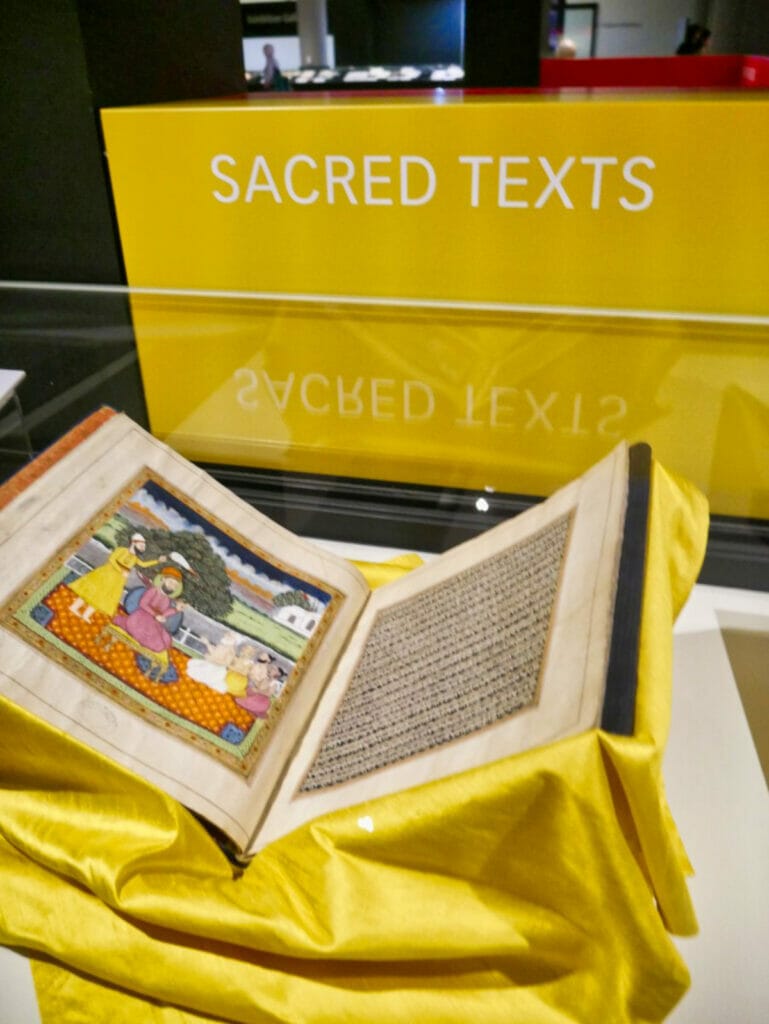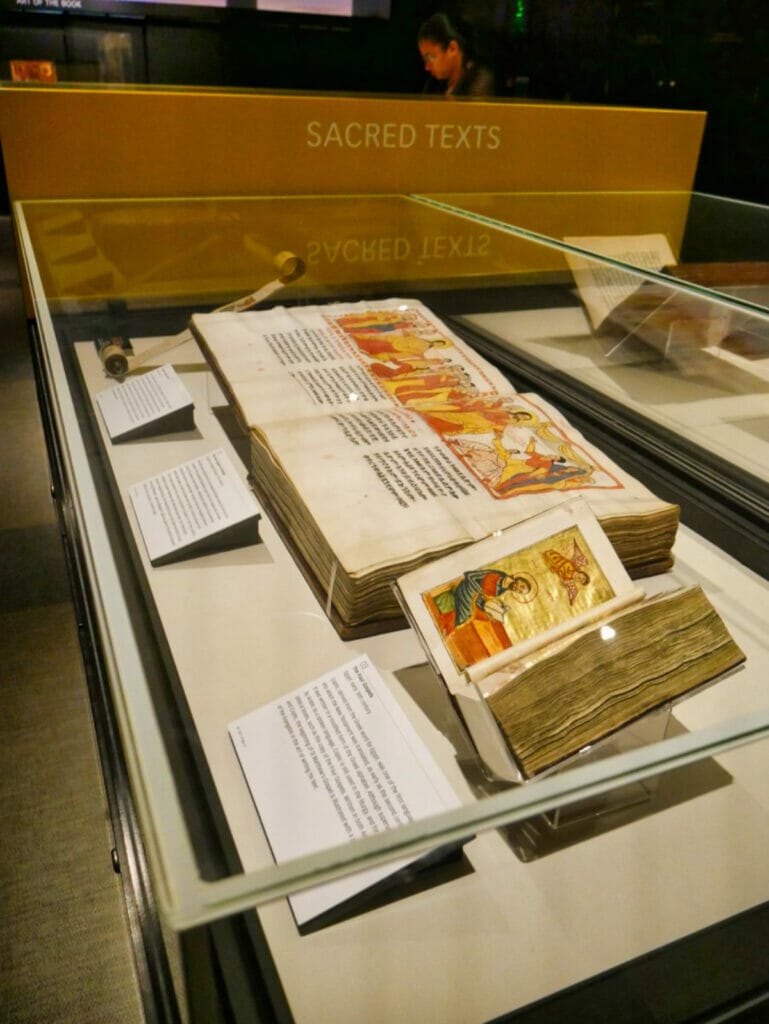 To literature and printing press originals.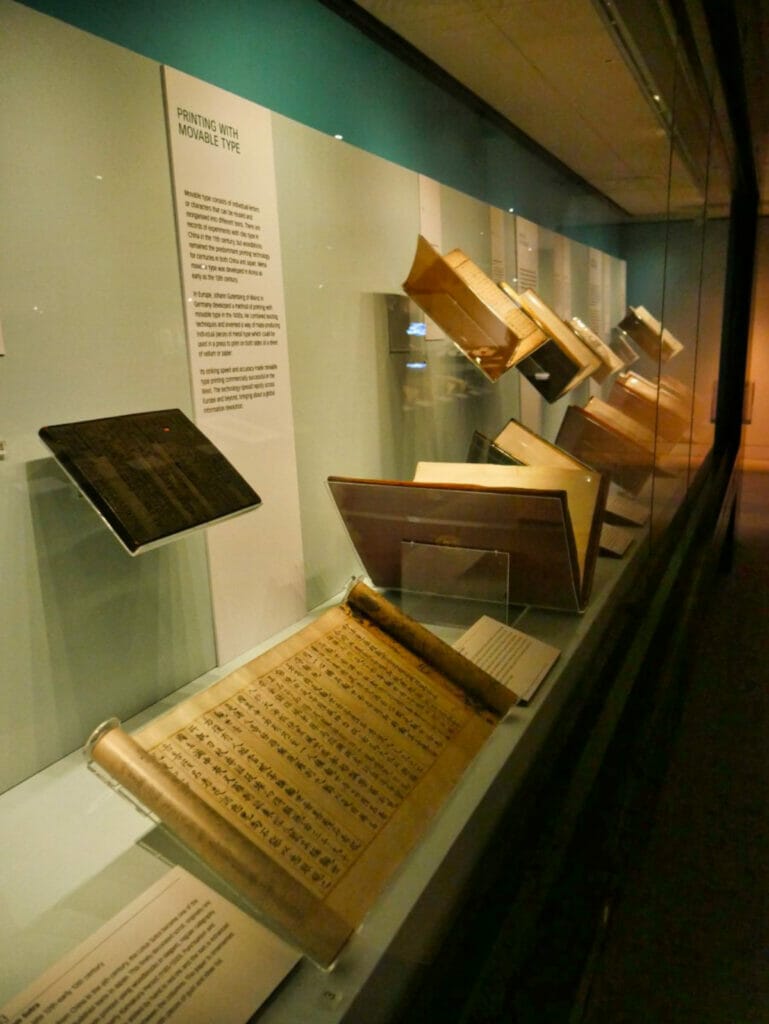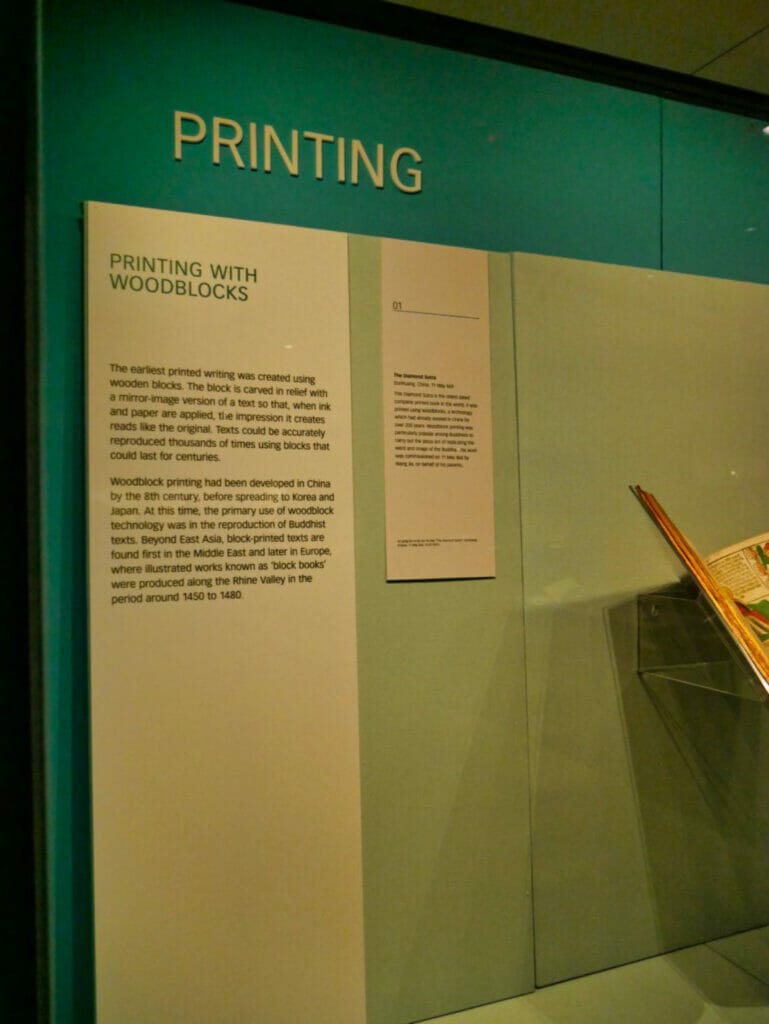 British Library Amenities
In addition to the exhibits, the British Library has plenty of outdoor café space, perfect for the summer months.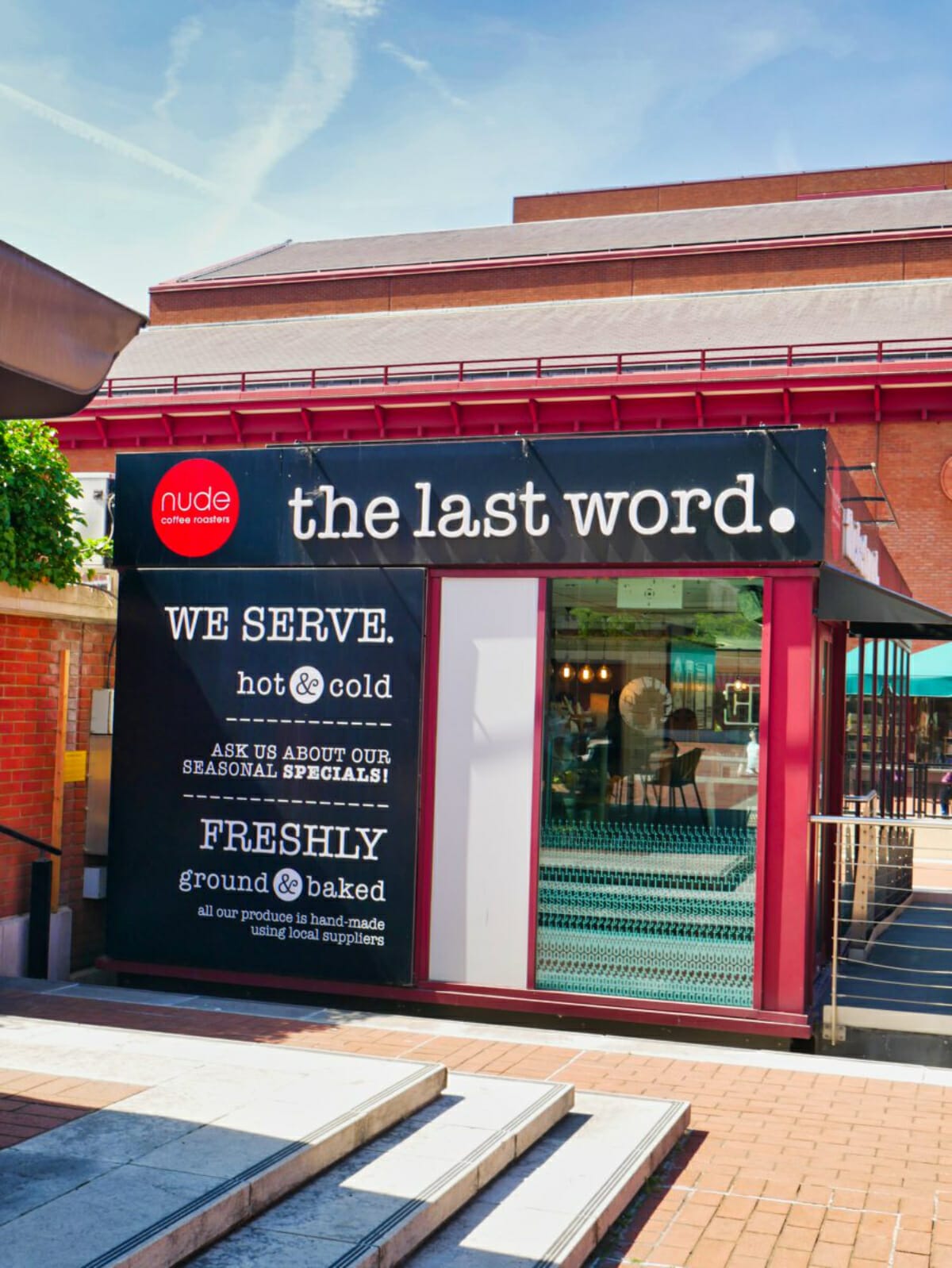 Then you've got an awesome indoor café, with more spaces to sit.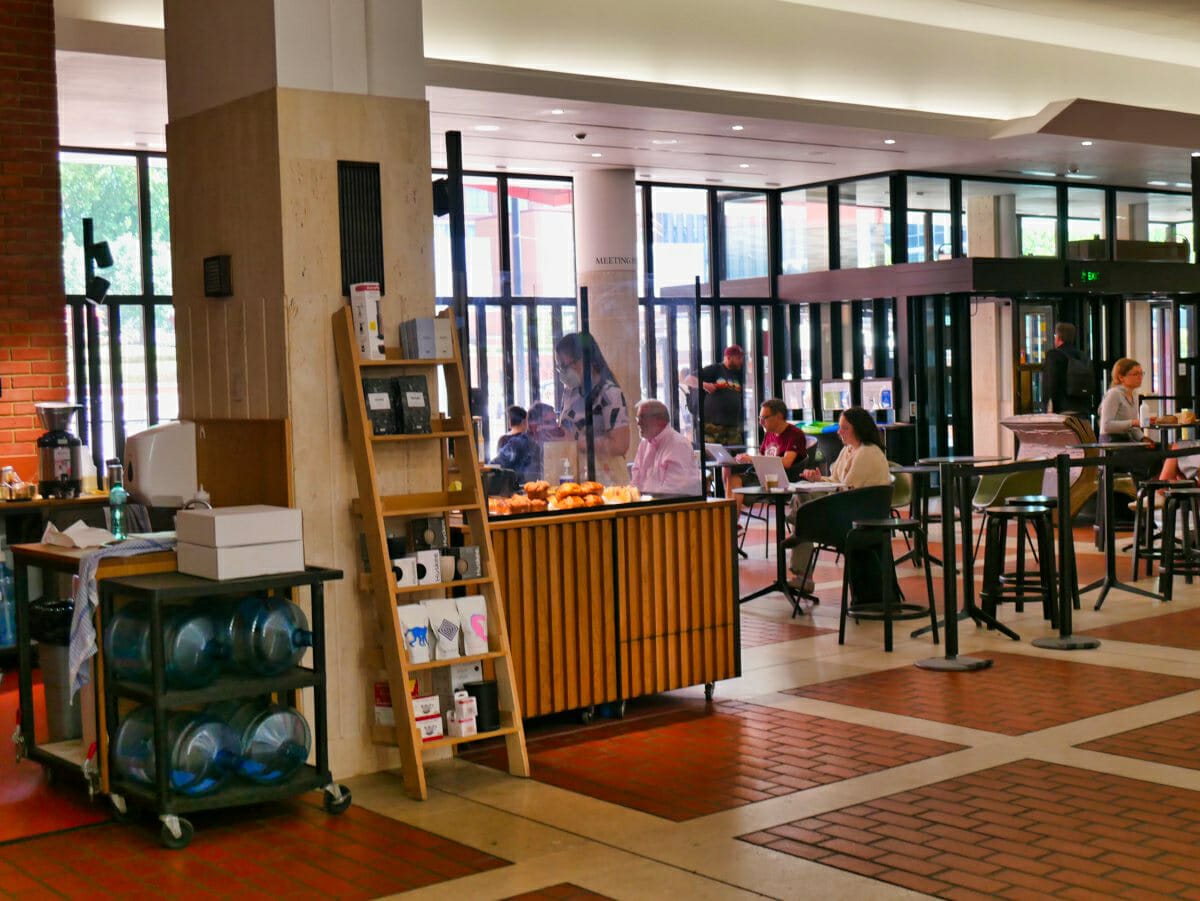 There's the bookshop, which has a variety of souvenirs, gifts, and research texts and other reading-themed apparel.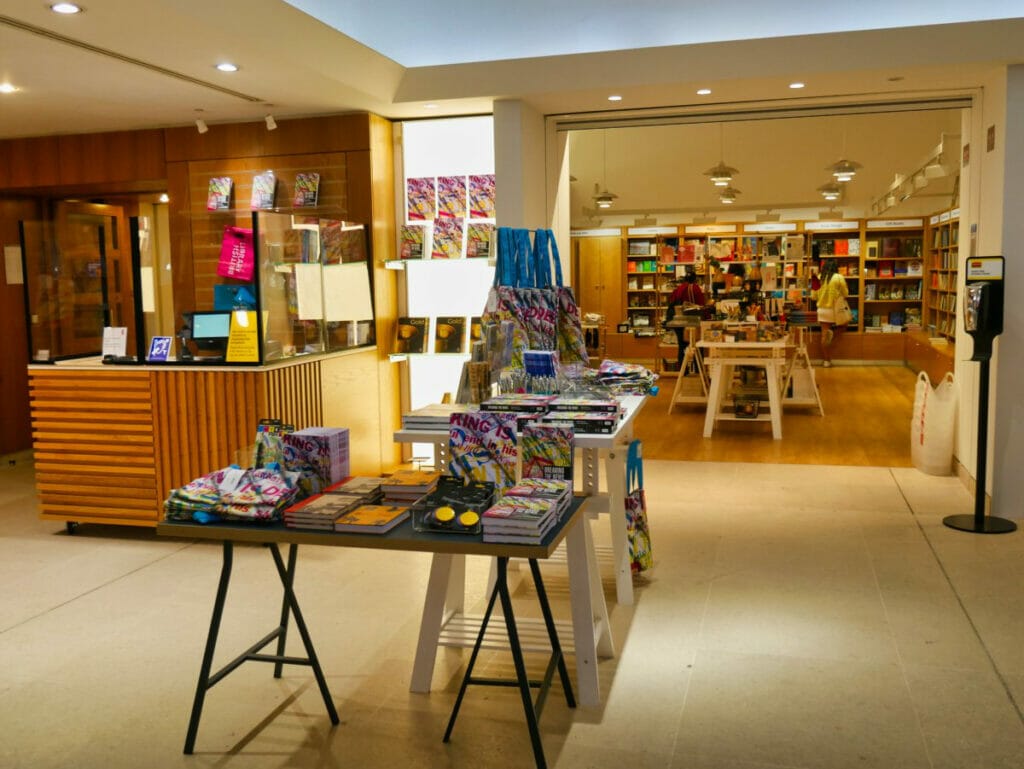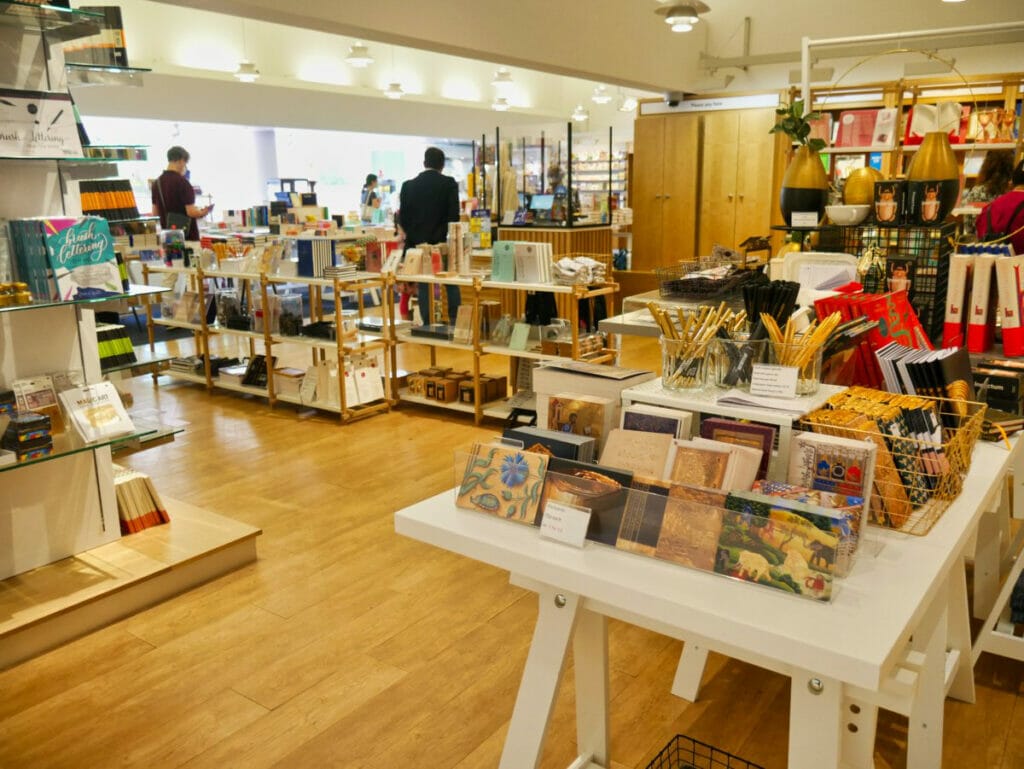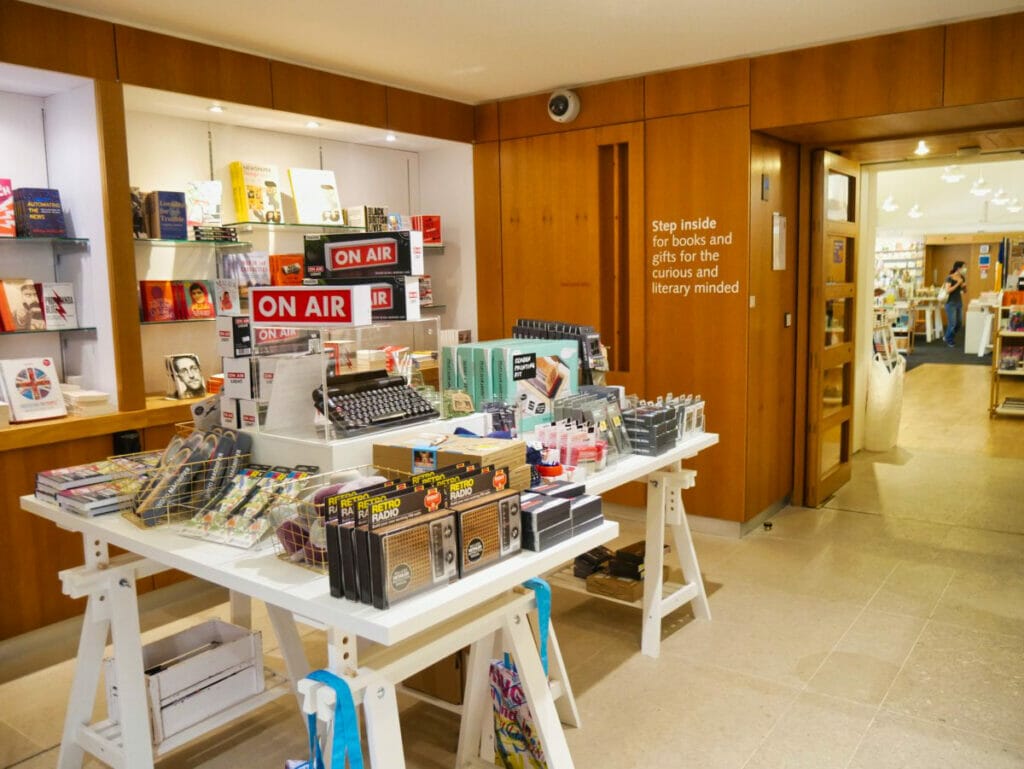 And then you have a cloakroom, toilets on the lower level.