This post contains affiliate links for which I may make a small commission to help keep the site running. You will not be charged extra for these items had you not clicked the links. Thank you for your help to keep the site running!
With a spooky entrance near London Bridge, complete with a skeleton hanging overhead, London's Clink Prison museum is a treasure trove (if you can call it that) of London's torture history!
In this Clink Prison Museum review, we're going deep into the heart of the namesake for the nicknames for prisons and learning all about whether the Clink Prison Museum is worth your money and time.
Hey! Sidenote! Planning on visiting the UK or moving to the UK?

For more advice, photos and friendly help, click here to join my UK Travel Facebook group to carry on the conversation with fellow travelers and UK experts.
Wait, stop!
Before you keep reading, I just wanted to make sure you know about my expert 7-day London itinerary that includes all of the iconic attractions plus off-the-beaten path activities and restaurants, as well as step-by-step walking and public transportation directions!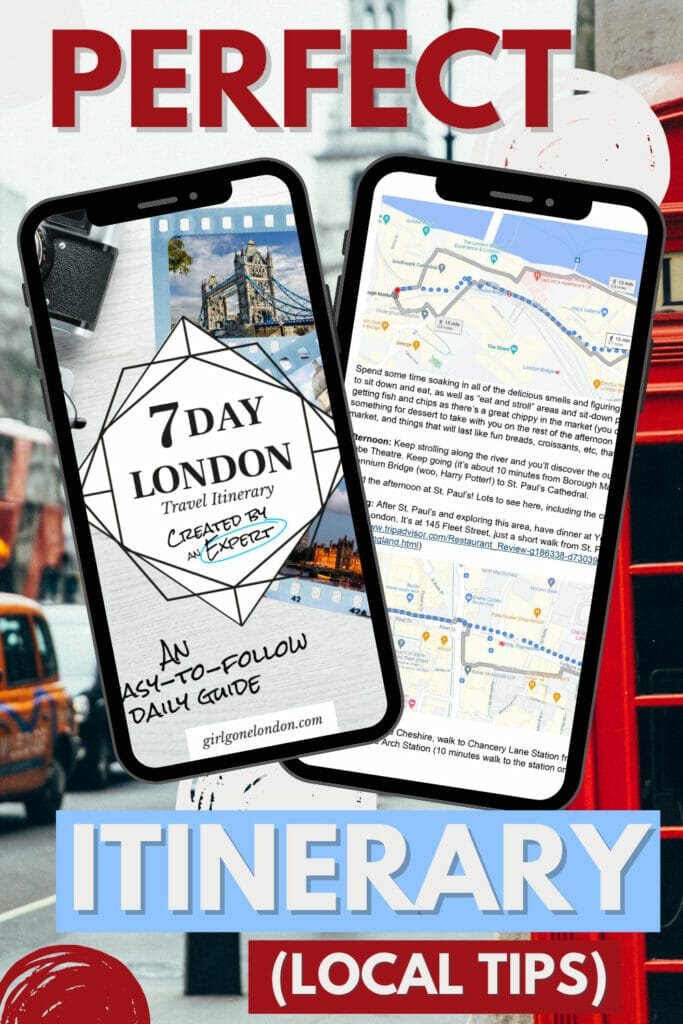 It can be stressful spending so much money on a London trip and not knowing if you're fitting everything in or making the most of your time.
To help you out, I've taken my 10 years of London experience (starting as a visitor and then as a resident) to make sure that you have the ultimate step-by-step itinerary that will make sure you see the real London.
And, hey, if you're not coming for exactly 7 days or already have some plans, don't worry, as it's editable so you can mix around the days, incorporate your own ideas, or pick and choose which days to follow.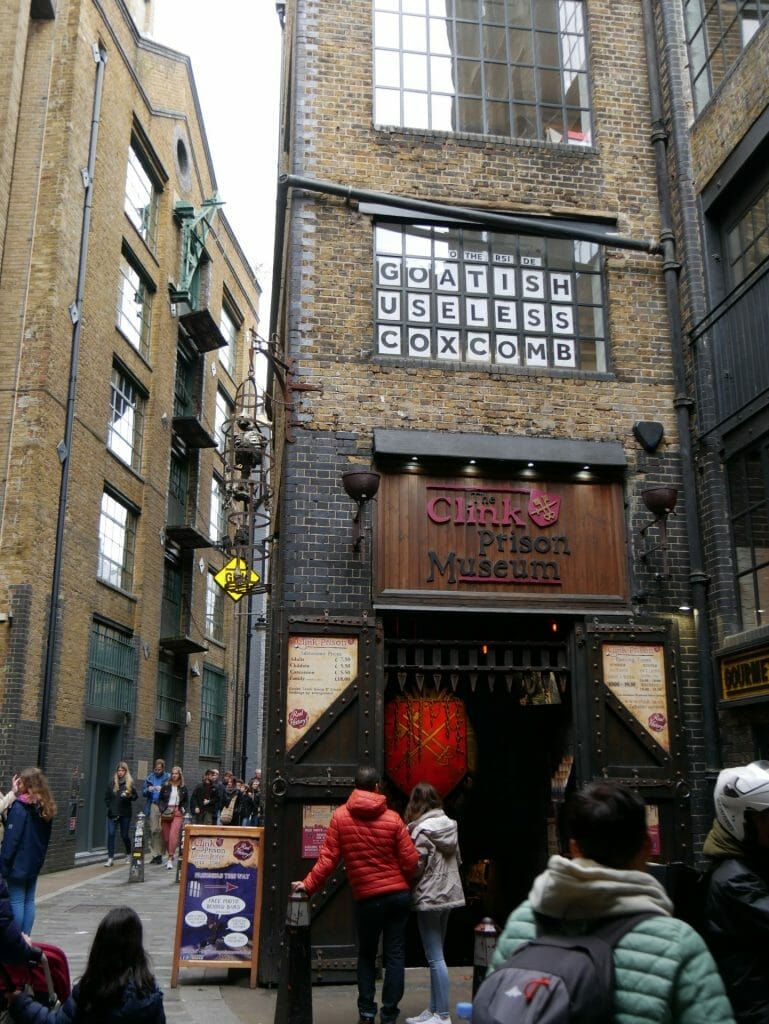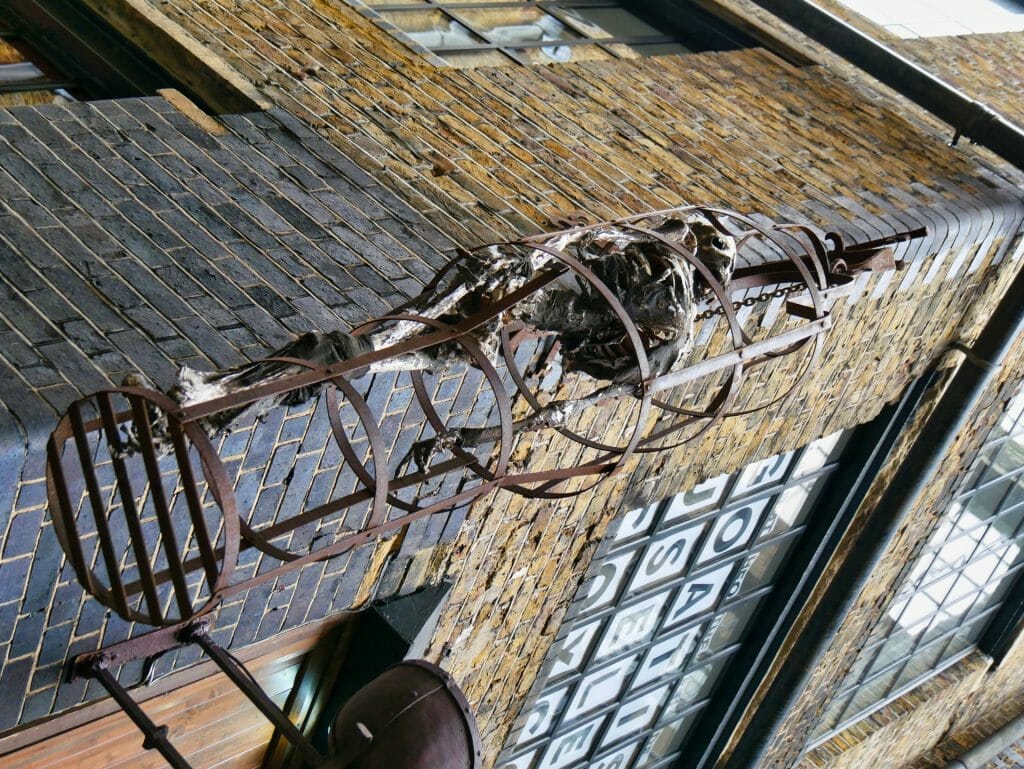 My expert London recommendations for saving money, at a glance:
When comparing the Clink Prison Museum vs the London Dungeons, I prefer the Clink Prison Museum to the London Dungeons because the Clink Prison Museum has some actual history to see.
For me, it's important to go to the actual historic places and get a feel for what London was really like back in the day.
When you enter the Clink Prison Museum, you'll pay your toll at the kiosk, manned by a prison guard, and once he or she is happy your debt is settled, you'll be let into a gate that takes you into the museum.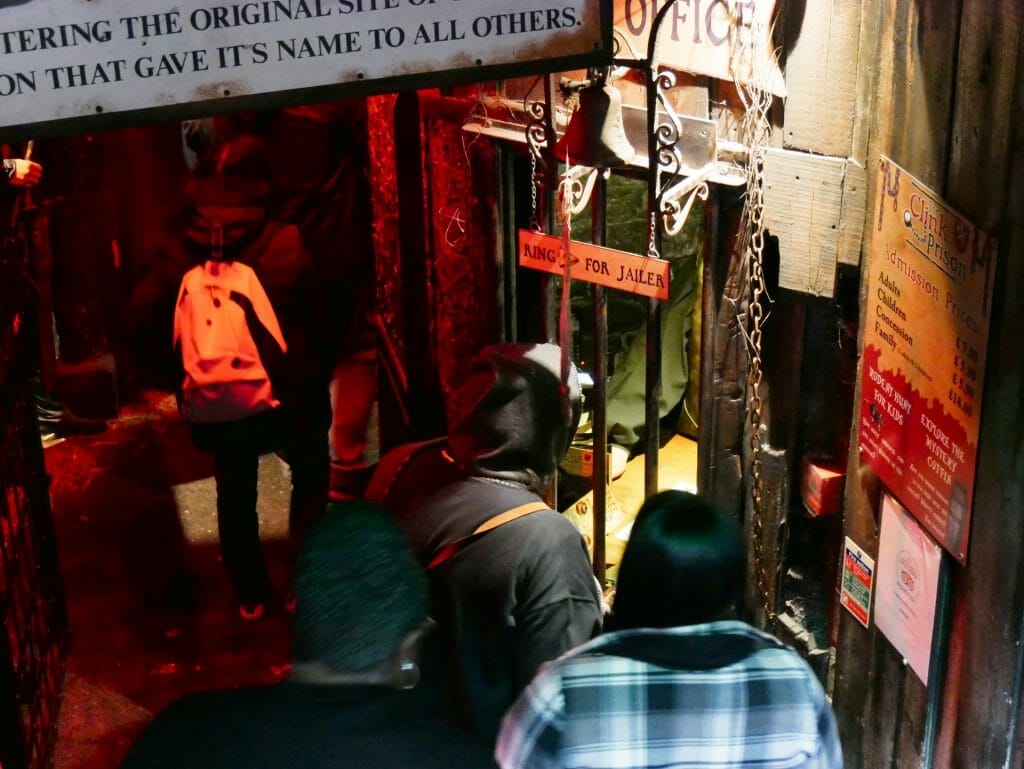 We had to wait just a couple of minutes for the people in front of us to clear as they were having trouble with their card, but they got us in as fast as possible.
There are no time slots like at the Churchill War Rooms.
As you tour the rooms, you've got a number of different things to check-out: written plaques on the wall telling the stories of the people that were held in the Clink Prison, interactive torture devices (okay this sounds horrible, but really it's all safe), as well as some spooky looking figures to help add a visual element to your time in the museum.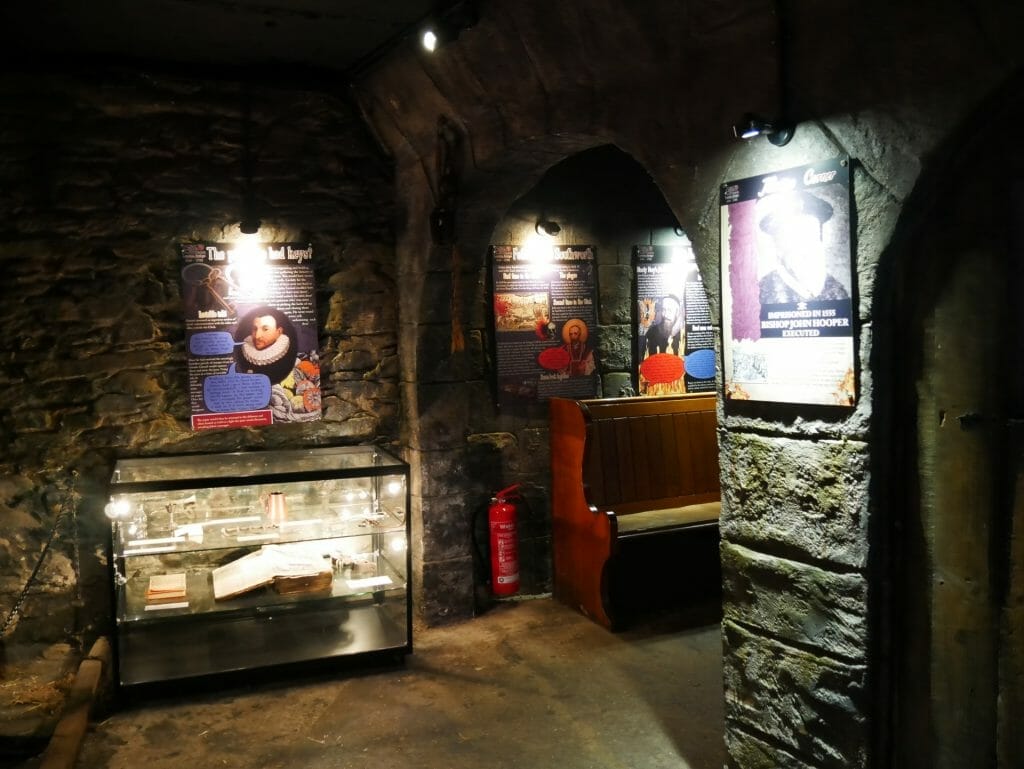 This is a self-guided experience, and one thing you should know as part of this Clink Prison Museum review is that this is not a "scare" fest.
People aren't going to jump out at you.
The horror of what happened down here and how past Londoners used to treat prisoners is fully on display to scare you without someone jumping out at you from behind a wall.
Don't be like me and forget travel insurance when you really need it! Make sure to purchase travel insurance before you go abroad – I recommend World Nomads for great coverage and good prices.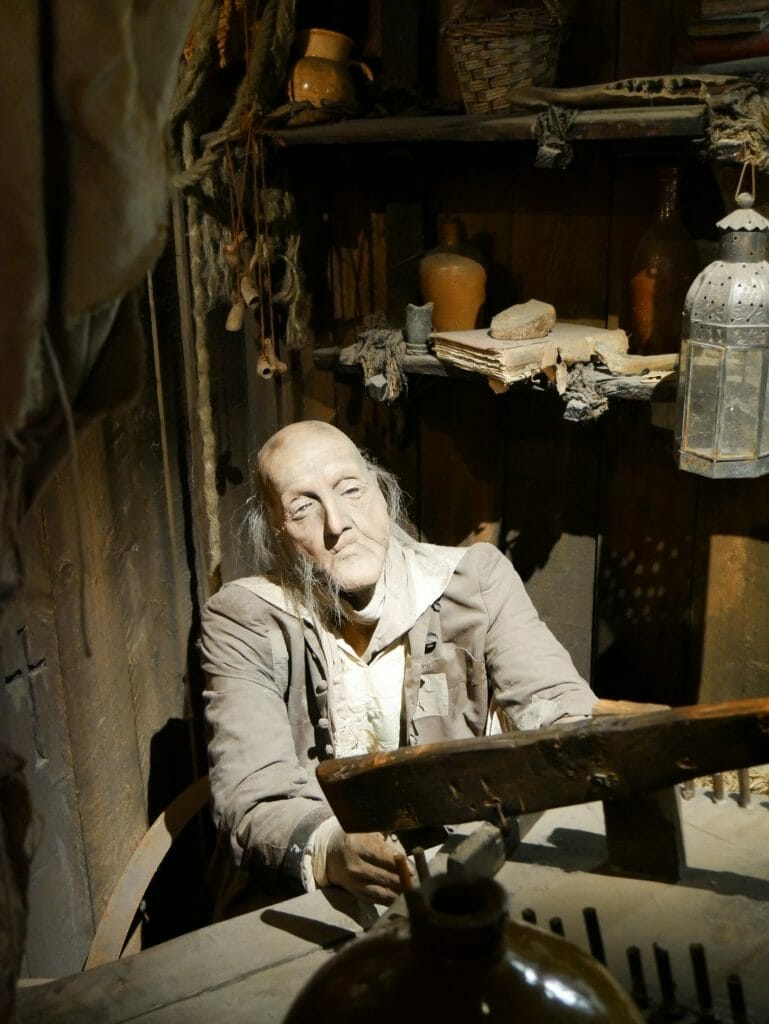 Oh, and keep your eyes peeled for some friendly rat figurines everywhere.
This place would have been infested with them, and in one of the rooms, you'll learn about what happened when the waters of the Thames rose and left prisoners practically swimming about in rat-happy sewage.
Yum.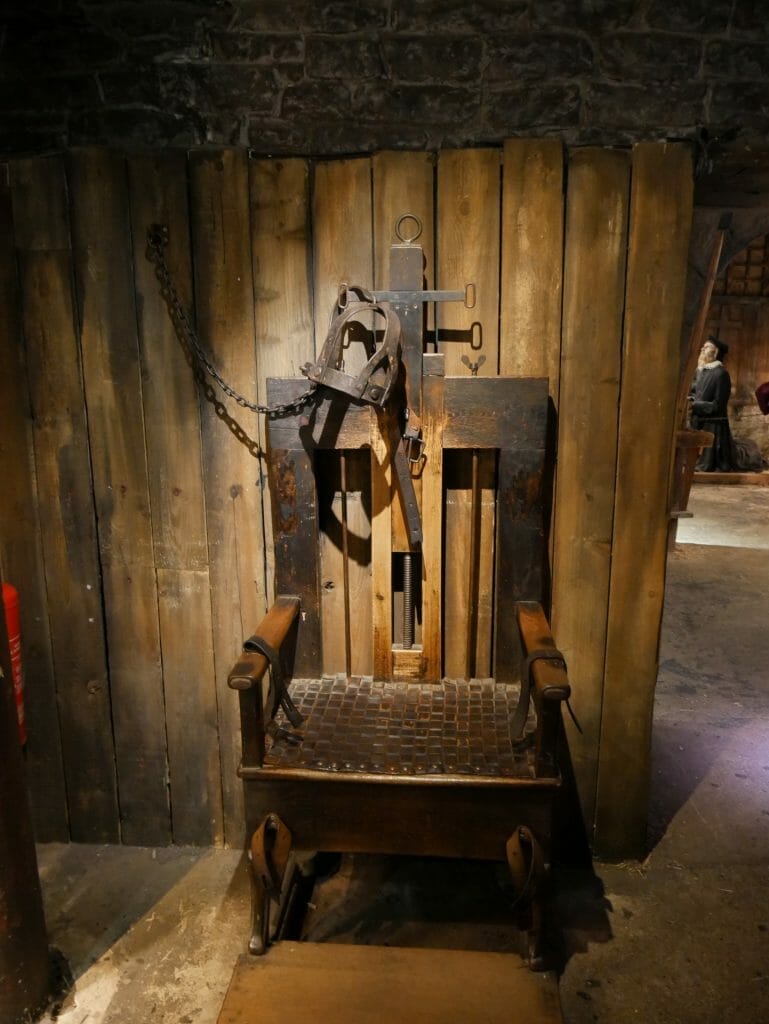 Another fun fact is that the Clink Prison Museum in London is built on the site of the Clink, which dates back to 1144, and there is a section of the museum where you can see parts of the original structure.
One of the most interesting things about the Clink Prison Museum is its dedication to helping explain the stories of the people here.
In addition to debtors (a popular way of landing yourself in prison in those times), you'll also explore London's religious and political history as you see who, exactly, they locked up.
From religious fanatics to trespassers to people accused of assault or worse, there were many things that could land you in the Clink and make sure that your days were spent begging for food and wandering around in your own filth.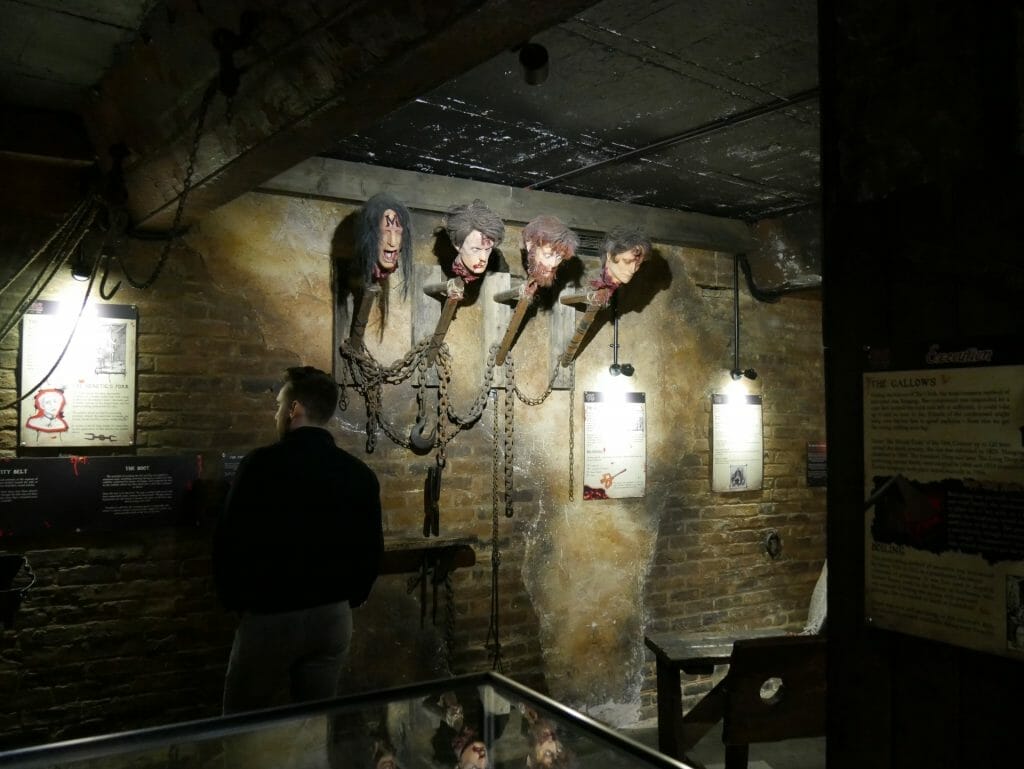 If you're coming to London, you'll also appreciate some of our other London guides, including…

x The Ultimate London Packing List for All Seasons
x London's Most Iconic Attractions to Add to Your Bucketlist
x A Dummy's Guide to Getting Around London
Each room has a different theme and walks you through a different period in the Clink Prison's history, and finally you end up in the small gift shop area, complete with a space to have your photo taken (because this is a London tourist attraction, of course!).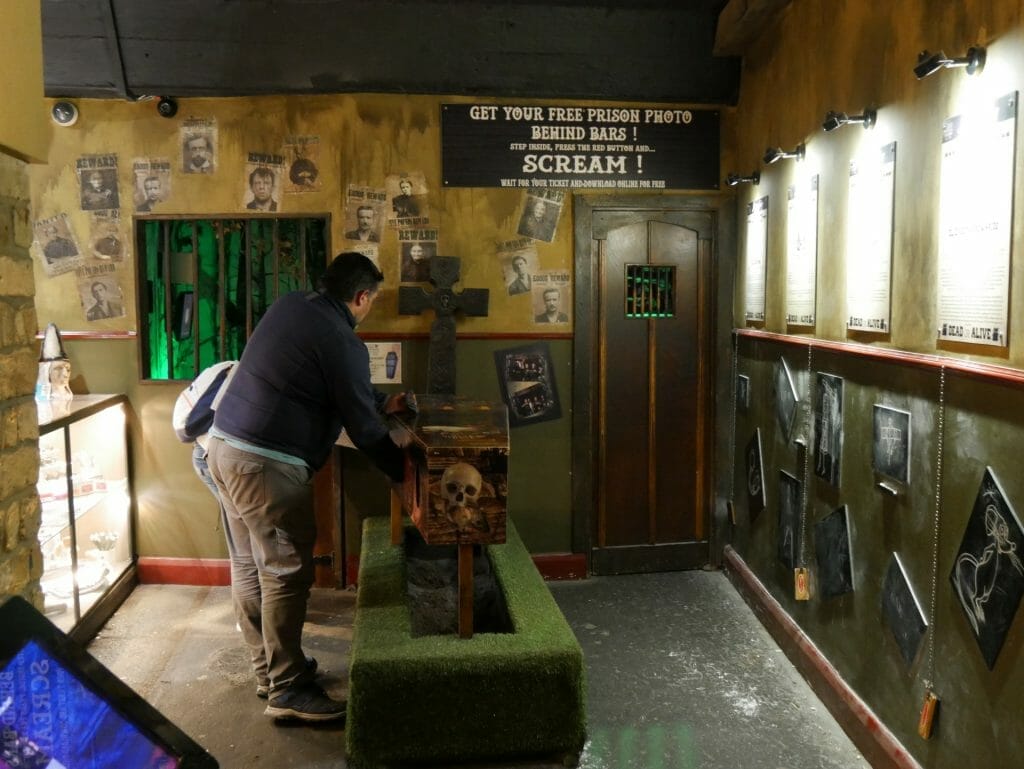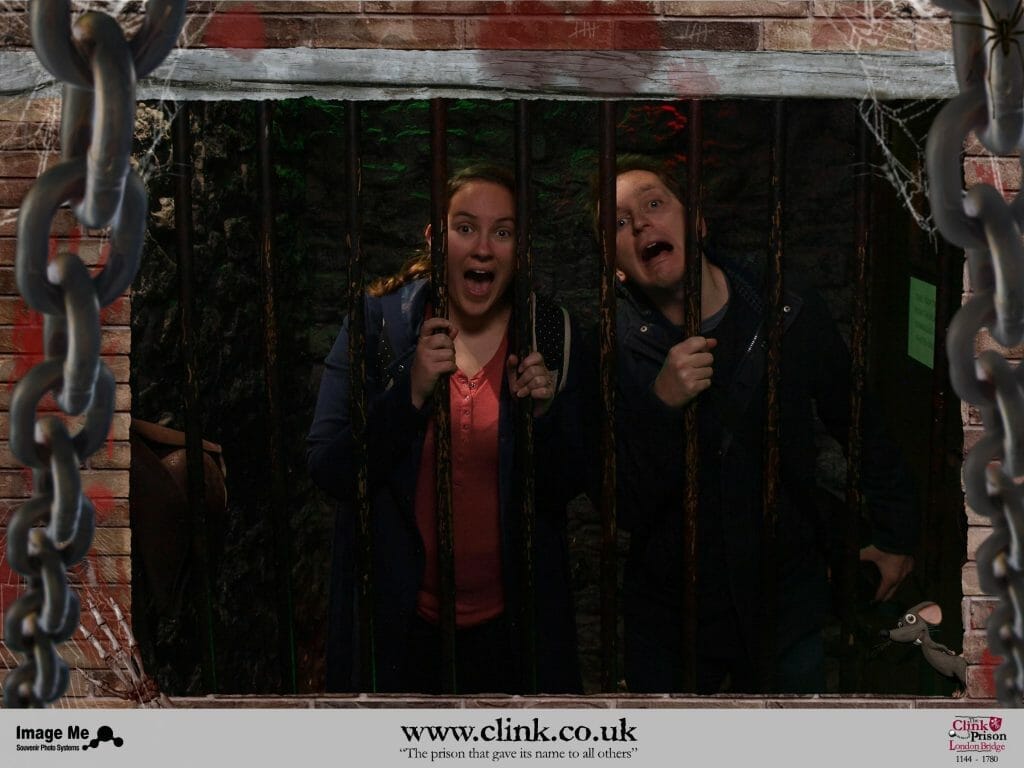 There's also an interactive quiz for both adults and kids to test your knowledge of what you've learned in the Clink and see if you can answer all the trivia question correctly – see, a little bit of learning on vacation isn't all that bad!
Clink Prison Museum Cost
The Clink Prison Museum is £8.00 for adults and £6.00 for children, with discounts for families and students and seniors.
You can purchase tickets online in advance, or you can simply walk up and buy your entrance there.
I think, for the price, this museum is worth it if you haven't done anything similar before.
While it isn't a huge museum, there is enough to see to make it worth the entry fee and I don't have a problem recommending it for the price.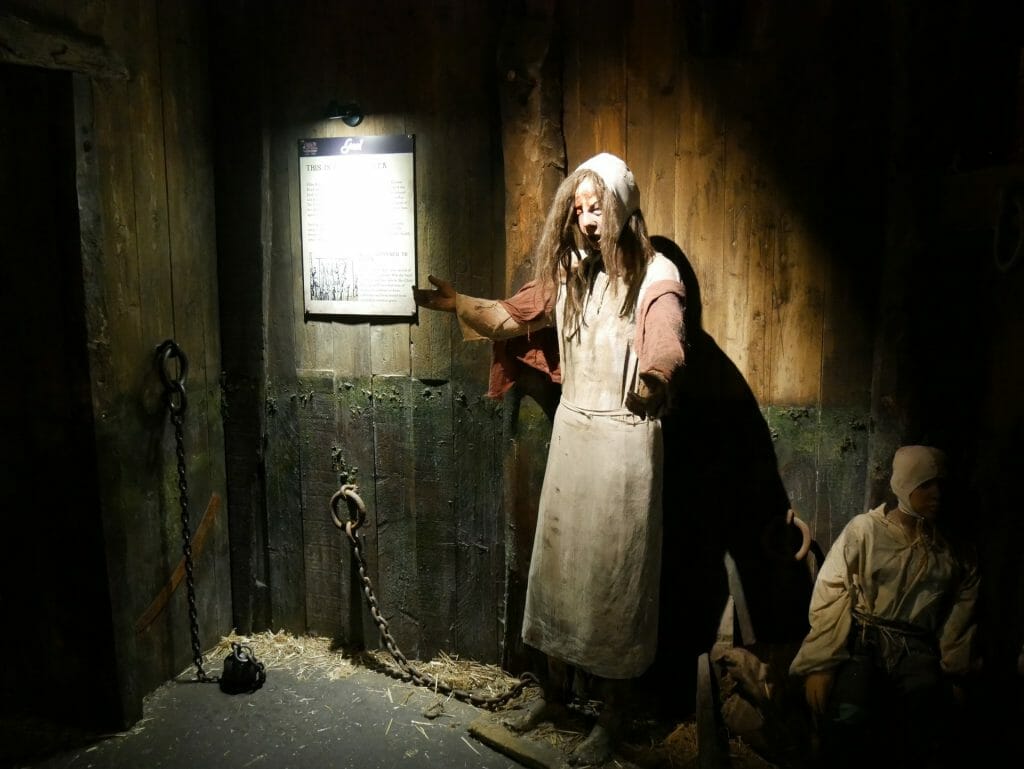 Clink Prison Museum for Kids
Kids in London are more than welcome in the Clink Prison Museum.
As mentioned, this isn't a scare experience where you're going to need to worry about people jumping out at you from behind walls.
It is, of course, creepy in a way that going through a prison museum can be, and some of the figurines and torture devices are very gory, but not inherently "scary" unless a child is especially fearful.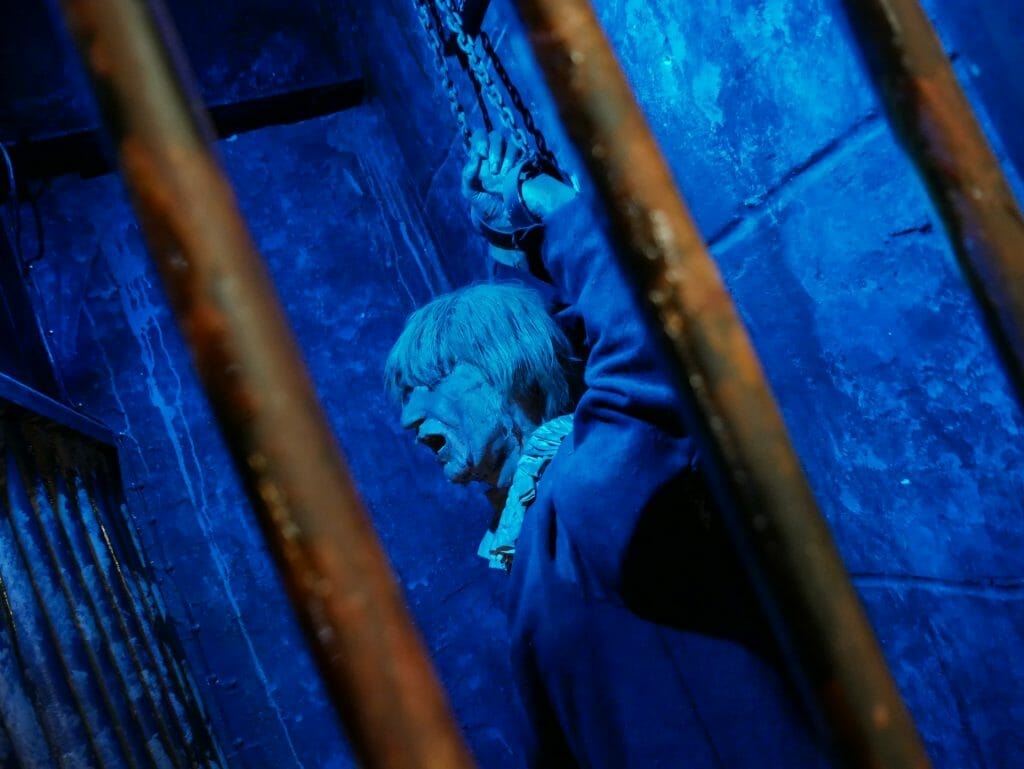 The lighting in the Clink Prison Museum is lit enough so that you can see where you are going and read all of the information on the walls.
It is not like a catacombs attraction where most of the lights are off.
I would make sure to keep an eye on the kids when it comes down to interacting with the "torture" equipment and other interactive displays.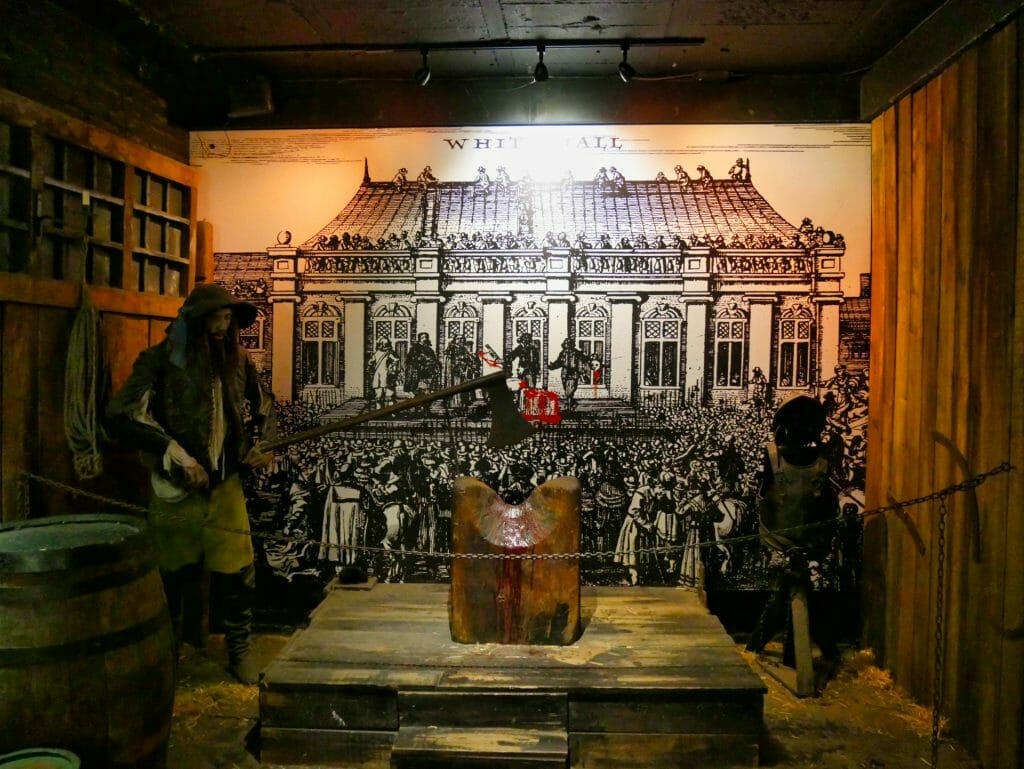 They won't necessarily hurt your kids if they are interacting with it properly, but for instance there's a section where there is quite a heavy blacksmith tool that you can practice swinging that could land on a finger and other parts of large metal ball and chains on the floor that could be easily tripped over if you've got kids that aren't super aware of what they're doing.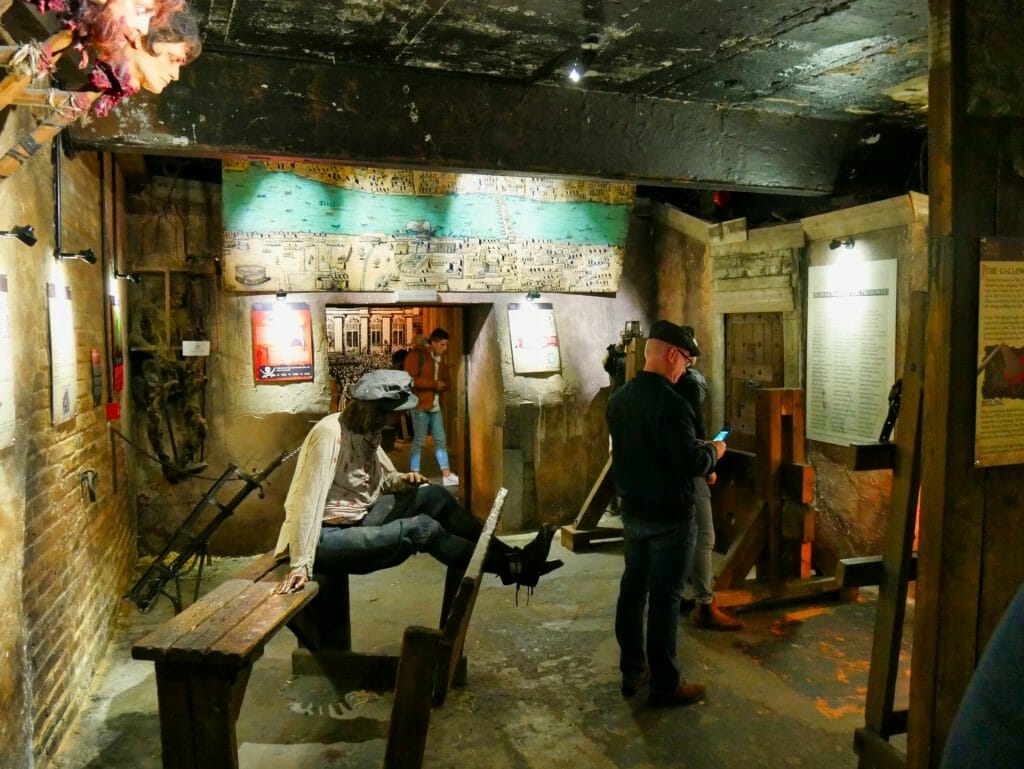 How to Buy Tickets to the Clink Prison Museum
As mentioned, you can buy tickets to the Clink Prison museum online here, or show up on the day and purchase them at the gate.
How to Get to the Clink Prison Museum
To get the Clink Prison Museum, I would suggest going to London Bridge Station and walking the 7-8 minutes to the museum.
How Long for the Clink Prison Museum?
It took us about 45 minutes to an hour to make our way around the entire museum.
Leave yourself an hour and a half to buffer your time and make sure you're not having to dash off anywhere and you'll be all set.
What Else Should I Do in London?
Whether you're in London for a day, two days, a week, or more, here are our other top picks for excellent London sightseeing activities to help you get to know the city in an engaging way!