This post contains affiliate links for which I may make a small commission to help keep the site running. You will not be charged extra for these items had you not clicked the links. Thank you for your help to keep the site running!
When it comes to choosing where to stay in London, people often want specific recommendations.
Seeing as there are so many hotels to choose from in London, I've put together some of the best hotels in London to help you plan.
Keep in mind that this is a short list, and just because your hotel isn't on this list doesn't mean it's not a great option.
You can also read more about my favorite areas to stay in London to help you narrow down your search.
These are just places I have personal experiences with and can recommend when you're searching for where to stay in London.
GET A

FREE

LONDON INTRO GUIDE and ACCESS TO MY FB GROUP
Start your planning with this "Intro to London" guide and access to my London planning Facebook group!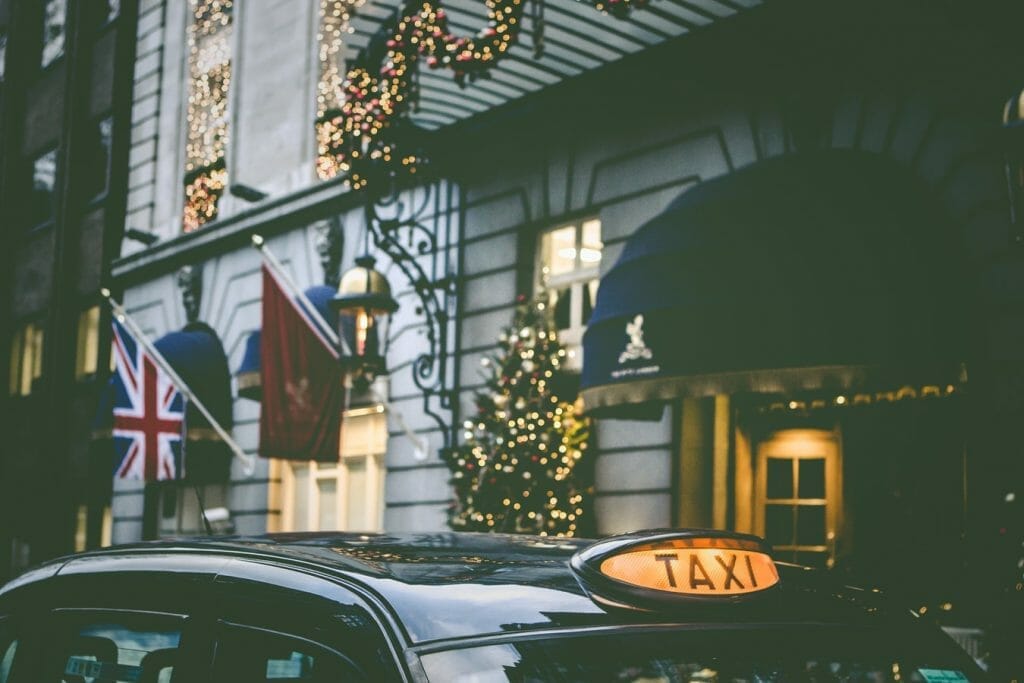 The Absolute Must-Knows (from a Londoner)
| Name | Price | Why here? | Book |
| --- | --- | --- | --- |
| Generator Hostel | $ | Funky hostel vibe in safe surroundings | Click here |
| Premier Inn | $ | Clean and basic hotel chain across London | Click here |
| Thistle Hotel Holborn | $$ | Great location + amenities at a good price | Click here |
| One Hundred Shoreditch | $$ | Hipster East London hangout for vibes | Click here |
| St. Ermins | $$$ | Classic hotel with great afternoon tea | Click here |
| Strand Palace | $$$ | Covent Garden location for theatre gurus | Click here |
| The Goring | $$$ | Private terraces and Buckingham luxury | Click here |
| The Lanesborough | $$$ | Opulence in a Hyde Park location | Click here |
| Corinthia | $$$ | Fine dining and incredible spa options | Click here |
| Kimpton Fitzroy | $$$ | Modern luxury near the British Museum | Click here |
| The Clermont | $$$ | Historic hotel with gorgeous breakfast | Click here |
| Rubens at the Palace | $$$ | Incredible views of royal events | Click here |
| L'Oscar London | $$$ | Boutique hotel with just 39 rooms | Click here |
| Trafalgar St. James | $$$ | Art deco opulence meets London | Click here |
| Ritz London | $$$ | Personalized service and the best of the best | Click here |
IMPORTANT: are you coming to the UK from abroad?
In case you're reading this from outside the UK and will be a foreign visitor here, you need to know these 2 things to stay safe and save money.
Travel insurance – you need it when going overseas! I use

this site

to get the best quotes and purchase my packages from. Do not skip this – having medical coverage abroad as well as other coverage in case of missed flights, lost luggage, etc is essential. As I said, I have never gone wrong using

this site

.
Best Cheap Hotels in London
London on a budget can be tough, as this is a very expensive city compared to many others, but that doesn't mean it's not doable.
The first thing to figure out when deciding on a budget place to stay in London is whether you're okay with a hostel in London or you prefer a cheap hotel in London.
I've recommended both types below, with the emphasis that if you're traveling to London with kids or aren't quite down for being among lots of people in their 20s, staying in a hostel in London may not be the best way forward!
1. Generator Hostels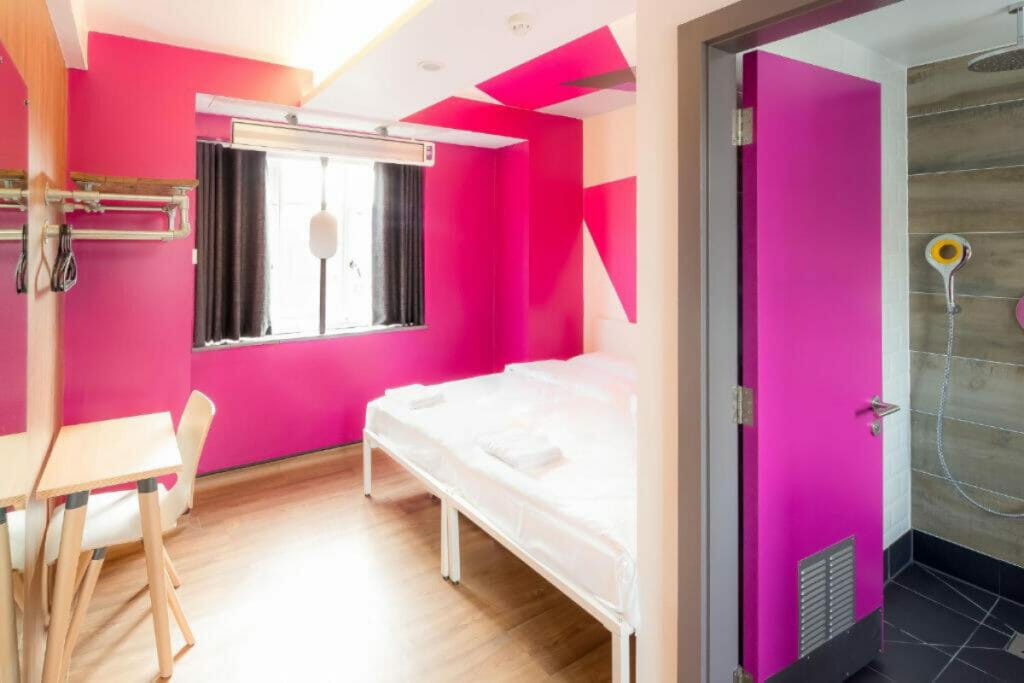 If you're on a hostel budget and happy to deal with dorm style bathrooms and bunk beds, Generator Hostel London is a great place to stay with clean rooms, clean bathrooms, super friendly staff and an awesome reception area with game rooms, food options and choices to book a private room or a shared one.
Make sure you pay attention to what kind of room you are booking and whether you are booking a space in a shared room or an entire room to avoid any surprises, but if the hostel life is for you, Generator London is one of the best.
The location is walking distance from King's Cross Station (Paris trip, anyone?!) and the lovely British library which has tons of permanent collections including Beatles handwritten lyrics.
Hey! Want more honest UK tips and planning advice? Click here to join my London and UK Travel Tips Facebook group, where I can answer more of your questions!
2. Premier Inn or Travelodge: the best London hotel chains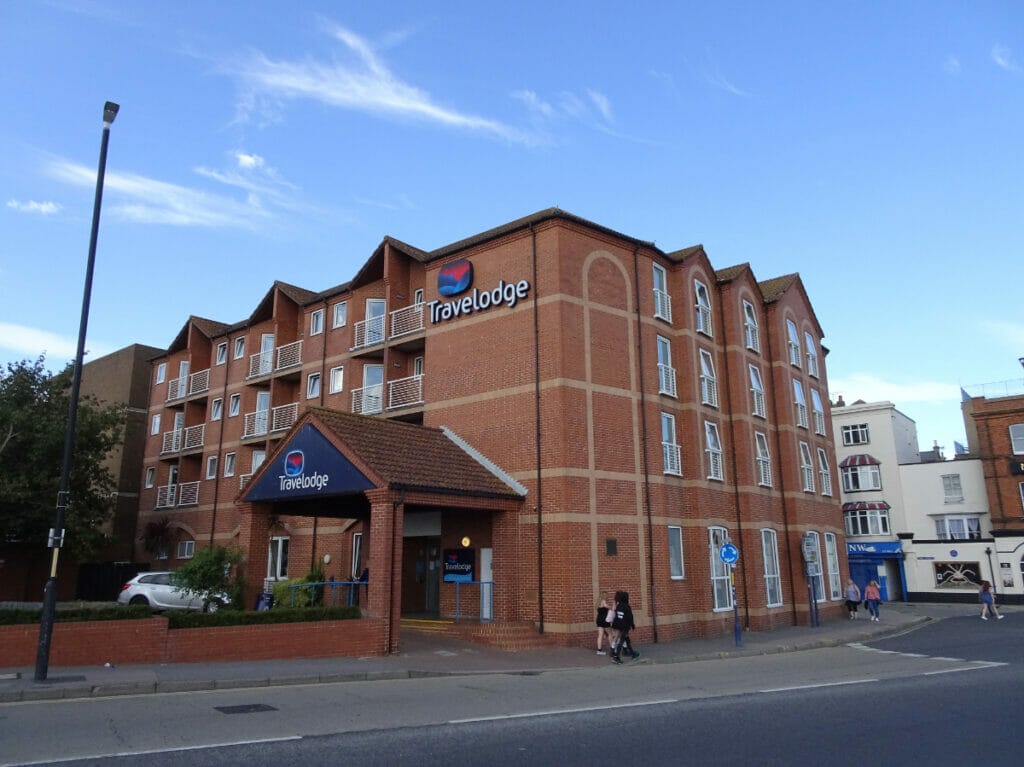 If you don't want to live the hostel life but would still like to stay on a tight budget in London, consider staying at one of the many Premier Inns or Travelodges across the city.
These are both respected, budget hotel chains that have multiple locations and are a "you know what you're getting", kind of place.
That is to say, a clean room, bathroom, and a place to sleep.
You won't get anything fancy here, but you will be perfectly safe and comfortable when you are in the room.
Again, there are locations all around the city so you could match up your ideal location with any one of these chains.
Mid-Range
I've recommended where to stay in London for mid-range budgets below, which will be where most people end up staying.
These are for people who do want to stay in a proper hotel that is safe and nice and has some amenities, but don't necessarily need to stay in a place that's too luxurious.
The rooms may be smaller than you would get in a more luxury hotel, but they're family-friendly, are considered more than just "basic" hotels, and the prices fit more families well.
3. Thistle Hotel Chains: the top hotels in London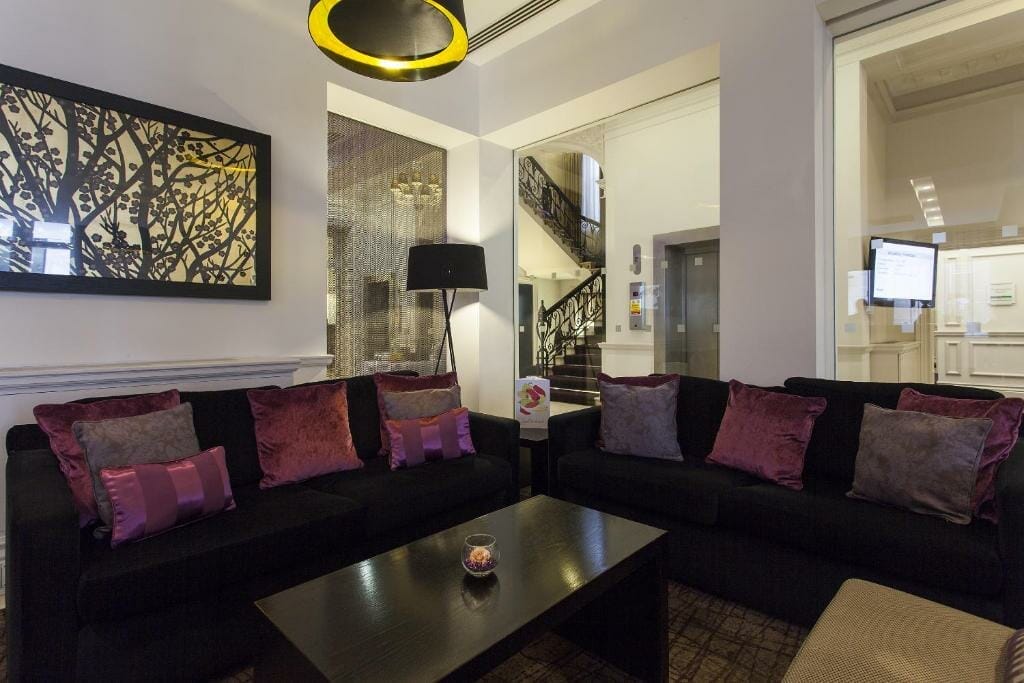 I've chosen Thistle Hotels for my brand of choice for the mid-range hotel options, as I find them fantastic for a mid-range budget.
They aren't over the top expensive, but they are comfortable and in great locations around the city.
They will have their own restaurant/breakfast area as well as en-suite rooms and some different room options depending on your needs and how many people you're traveling with.
My personal favorite is the Thistle Hotel in Holborn on Southhampton Row, as it's walking distance to the British Museum, in a safe area with lots of restaurants around, and you're very central so you can hop on the tube easily.
4. One Hundred Shoreditch: cool hotels in London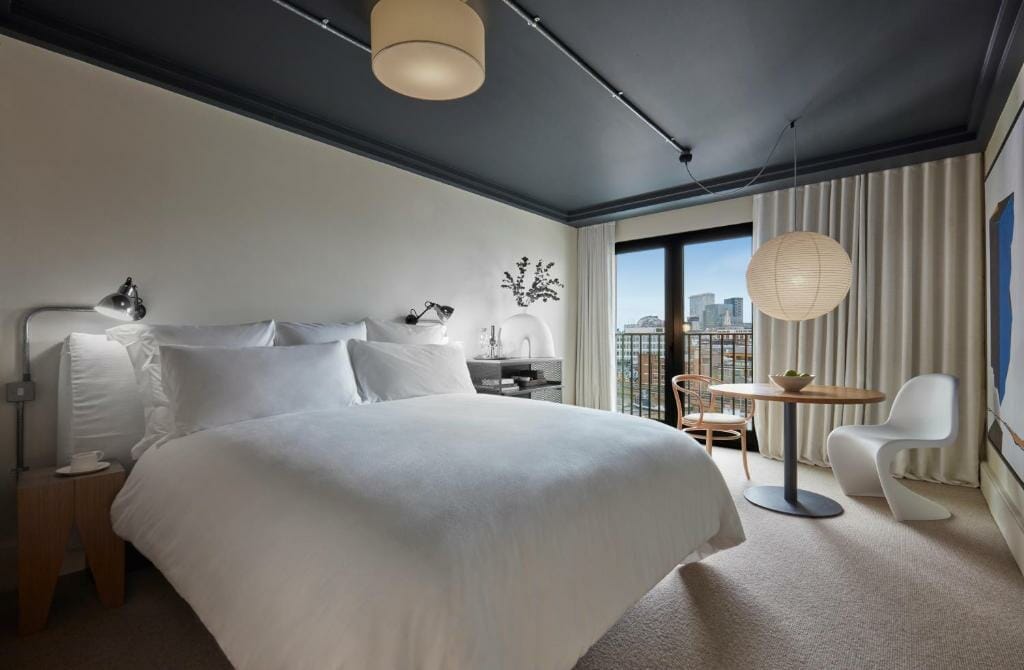 For younger mid-range travelers who want to stay in a quirky and cool part of the city, I've chosen One Hundred Shoreditch in Shoreditch.
The rooms are sleek and Instagram-friendly, and the hotel also has dining options and places to host events or meet up with people.
Shoreditch is in East London and has lots of street art, hipster-style eateries, and artists.
It's easily connected to central London on the Central Line, and One Hundred Shoreditch has becoming super popular with visitors in recent months.
Boutique or Luxury
If you're splurging on your trip to London or just want to make sure you stay somewhere that is going to look out for you, these are my favorite luxury hotels in London.
Now, you can often find some deals, particularly in the low season, so do check into the prices of these hotels depending on your dates to see if you can afford them, as ultimately they are my most recommended hotels in London if you have the cash!
5. St. Ermin's Hotel in St. James Park: one of the best hotels in Central London
This is one of the most beautiful hotels in all of London, in my opinion, with a fantastic location, amazingly helpful staff and luxury feel.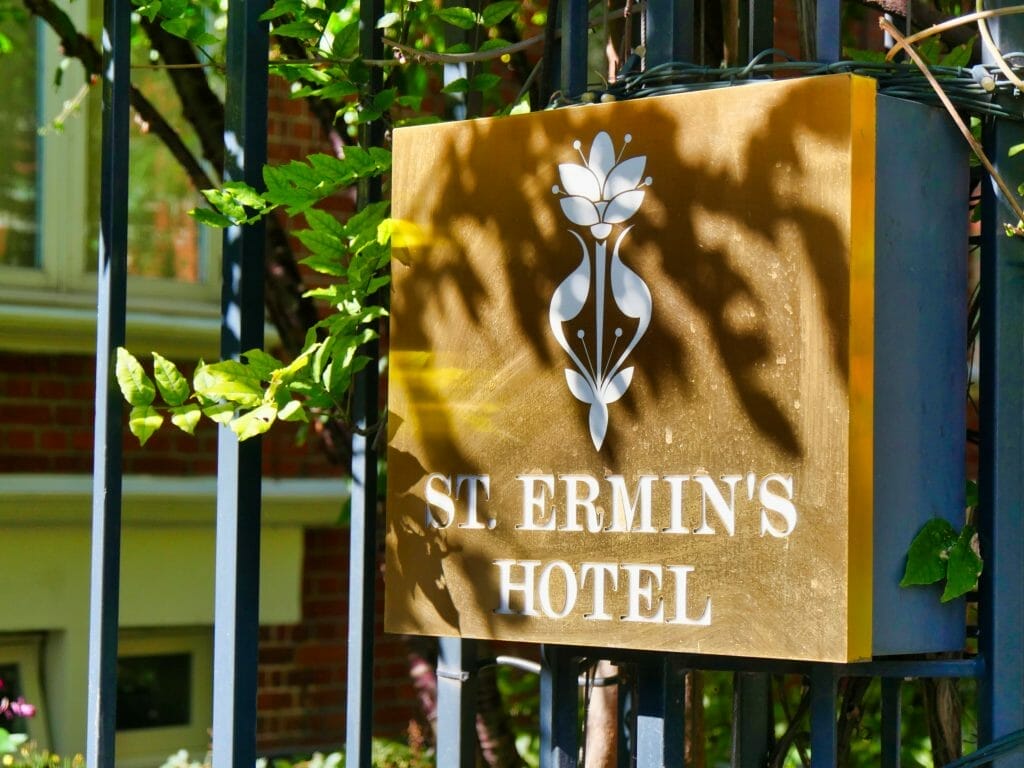 St. Ermin's Hotel seems to cater to a mostly American audience who love the size of the rooms and the proximity to St. James Park, while also appreciating how it feels tucked away in its own little oasis.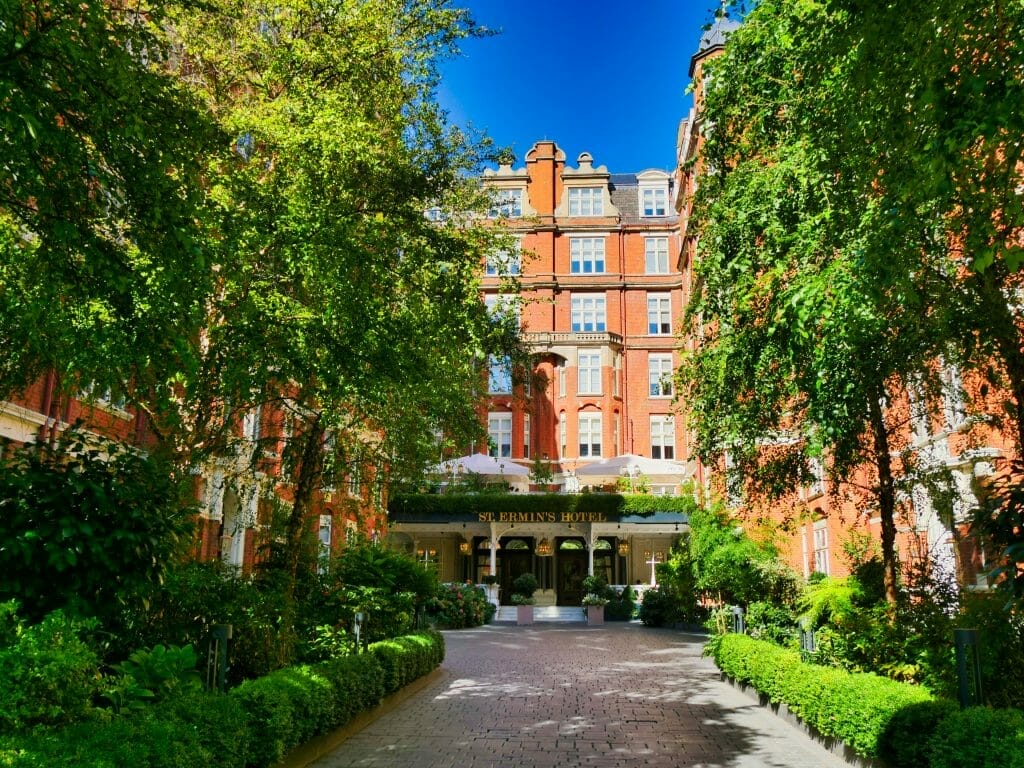 They also do a fantastic afternoon tea at St. Ermins, as well as have their own colony of bees who you can watch making their honey outside the third floor window!
You'll feel like you're living the life of luxury, particularly with the gorgeous gardens.
The staff is top notch and super friendly, and this is one of the best hotels in London for couples and older travelers.
6. Strand Palace Hotel: best London hotel for kids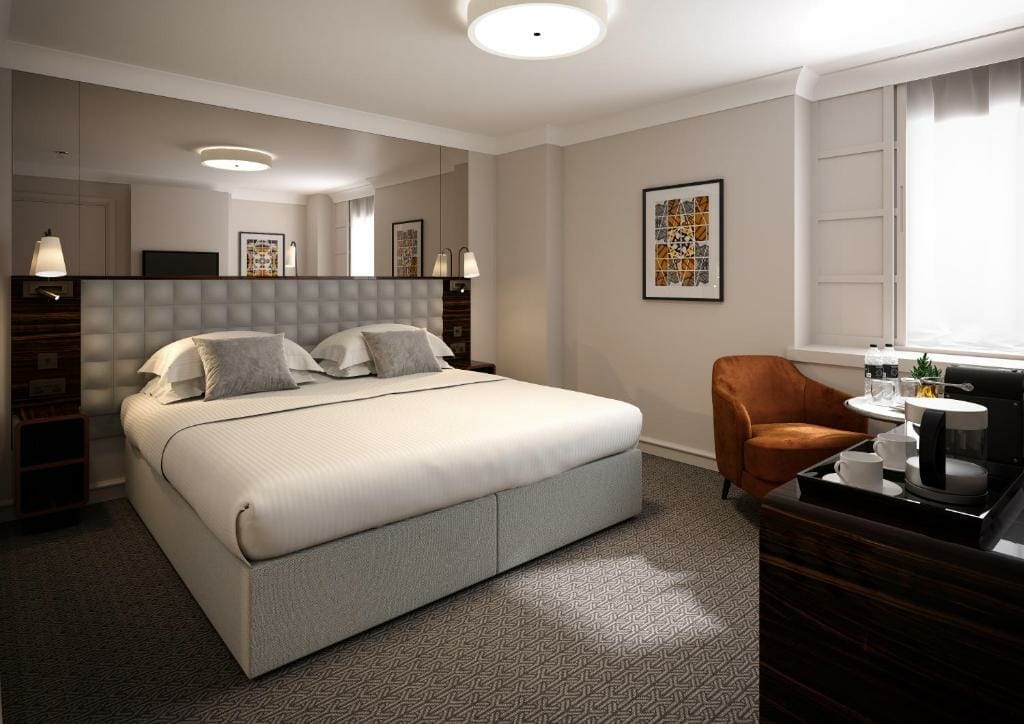 For a hotel in the Covent Garden area, you can't go wrong with the Strand Palace Hotel.
It's right in the heart of London, the rooms are generously sized for London, the Deluxe rooms have air conditioning (perfect for the summer) and they've got room service, a fitness room, and multiple places to eat and drink.
It has just recently been refurbished and will continue to be upgraded.
7. The Goring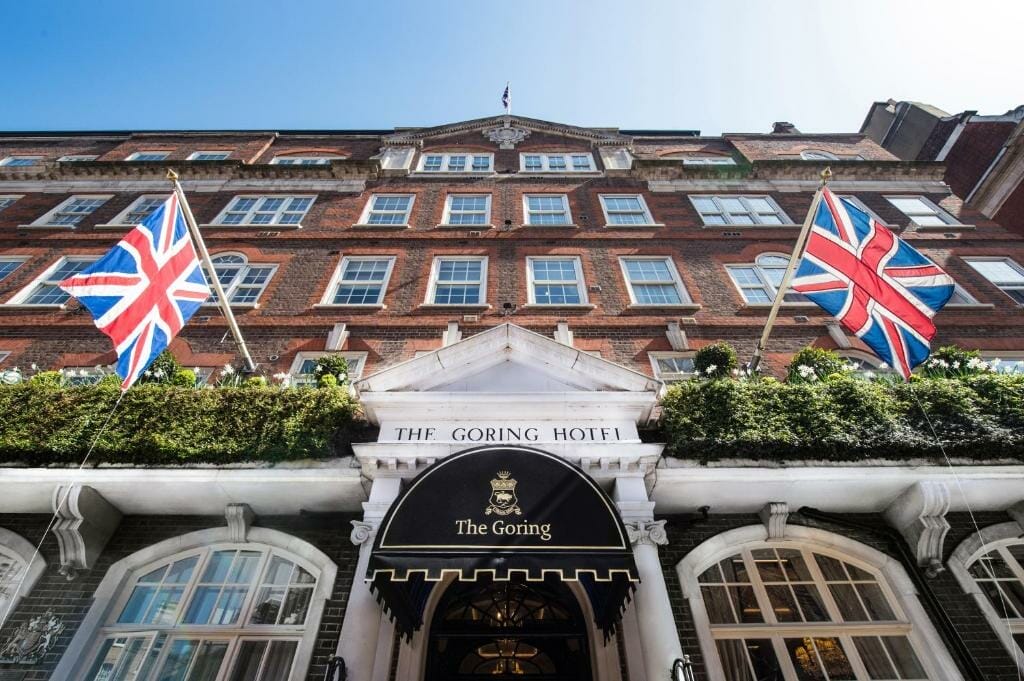 You're only half a mile away from Buckingham Palace at this absolutely stunning hotel with luxury rooms, gourmet cuisine, and a spacious hotel garden for when the weather is nice.
Fine dining is an important part of The Goring experience, as the hotel restaurant serves up fresh British-sourced produce with perfectly paired wines.
Book a room with a private terrace for the ultimate in London adventures, or check out the junior suites for an unparalleled experience.
Guests love the linens (a hallmark of a fancy hotel!) and the service is just as you would expect for the pricetag.
8. The Lanesborough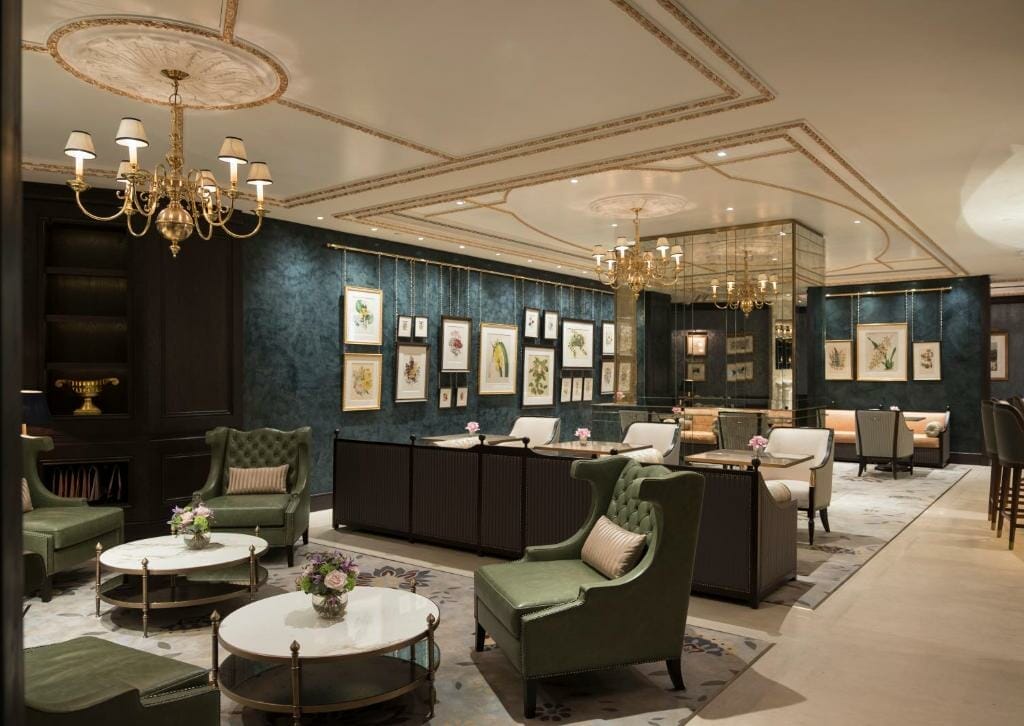 Not only does the Lanesborough have one of the best afternoon teas in London, but it also has some of the most stunning rooms and common areas.
You'll feel like true royalty when you step into the beautifully adorned rooms with regal colors, bed canopies, and often an entirely separate sitting area with chandeliers and other luxury decor.
It's a true 5-star hotel in Knightsbridge and just steps away from Hyde Park, which makes it one of the top London locations.
Lose yourself in the 19th century style and enjoy being pampered with their beauty facility if you want to rest and relax after a long day of walking.
9. The Corinthia: where to stay in London for luxury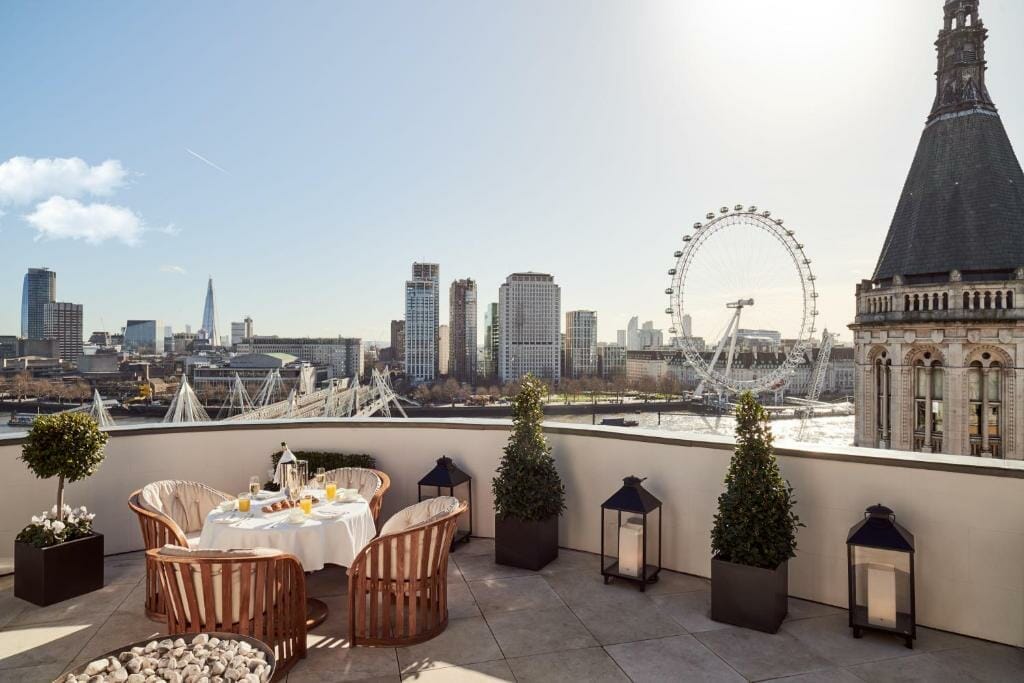 When you head to a luxury hotel like the Corinthia, you expect personalized service and a stay that you'll truly remember forever.
And that's exactly what you'll get here.
The gourmet food will tickle your taste buds until you're completely in love with British dining options and the quality of ingredients this side of the pond, and the friendly hotel staff can help you make anything happen whether you want to use the concierge to help book tickets or you need advice on creating a special occasion like a birthday or anniversary.
The character of the hotel dates back to 1885 and the cocktail bar gives you a place to connect with friends and family at the end of a long day.
Take advantage of the four-storey spa or enjoy the city views from the comfort of your room.
10. Kimpton Fitzroy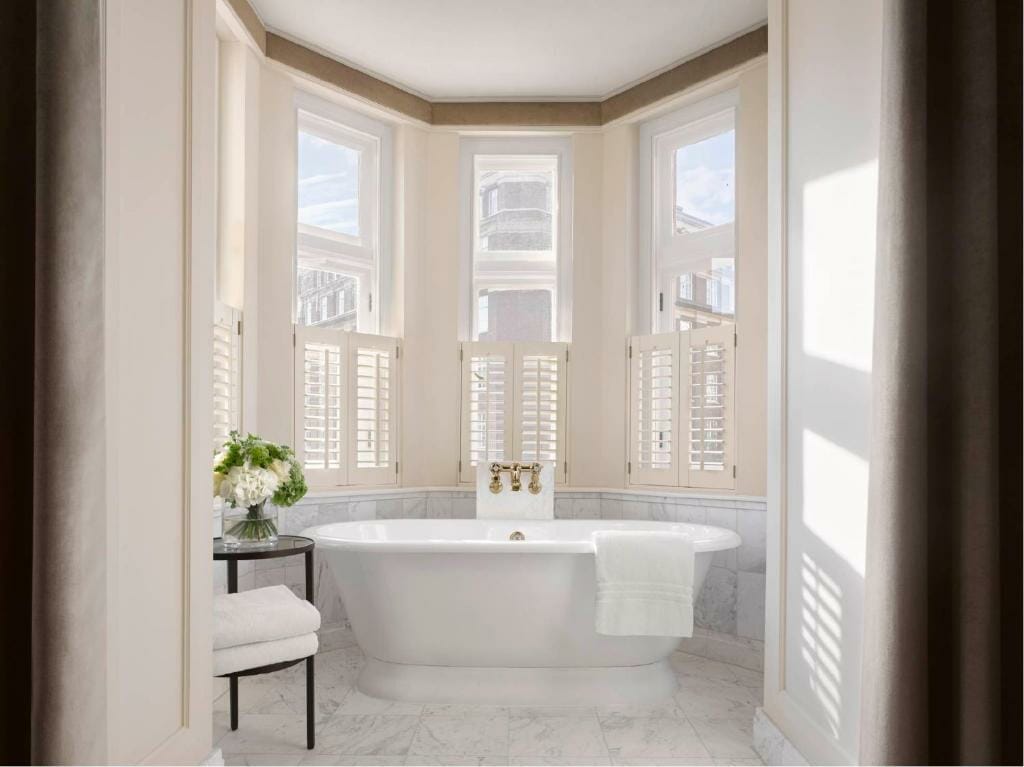 Modern luxury is the name of the game at the Kimpton, where you're just a short walk from iconic attractions like the British Museum in one of my favorite London neighborhoods, Bloomsbury.
The rooms are absolutely stunning and the entrance will make you feel like you've just walked into a palace.
There are also plenty of food options on-site, including a coffee house, cocktail bar, and nice restaurant where you can take the family for a celebration dinner.
11. The Clermont London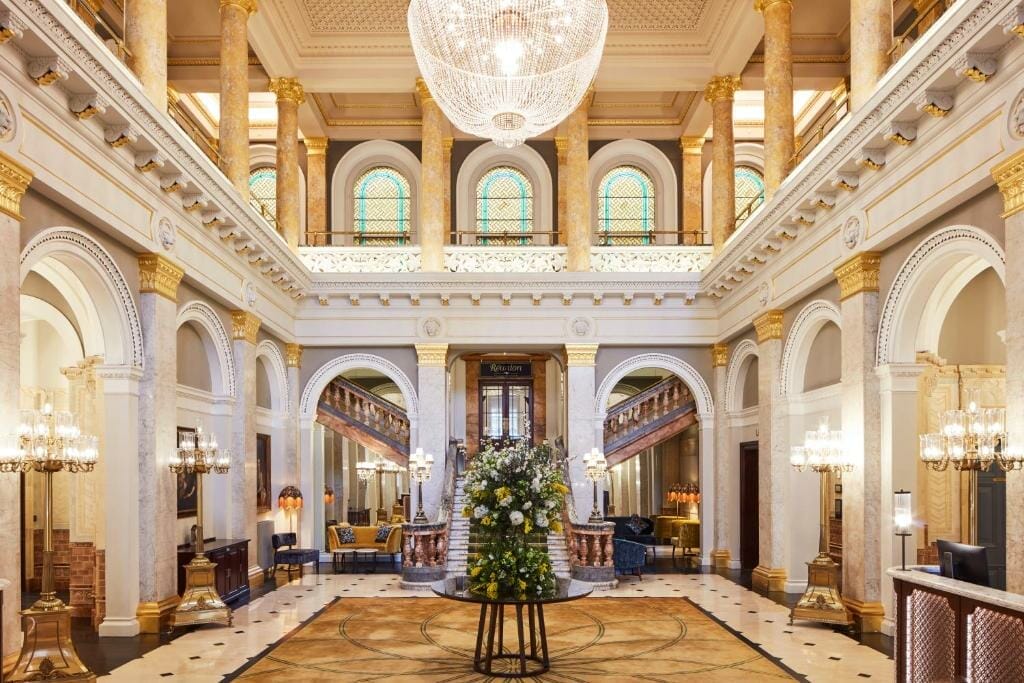 Dreaming of Victorian opulence combined with a Grade II listed building and modern comforts?
Of course you were!
The Clermont is the answer for anyone who wants a historic hotel in London with friendly staff, a great restaurant, and easy access to some of London's most popular theatres.
The breakfast is top notch, the foyer is absolutely stunning, and the bedrooms are very large in London standards which means you can spread out and enjoy the experience.
Bonus: it's super quiet at night, even despite the bustling area, so you can get a good night's sleep!
12. The Rubens at the Palace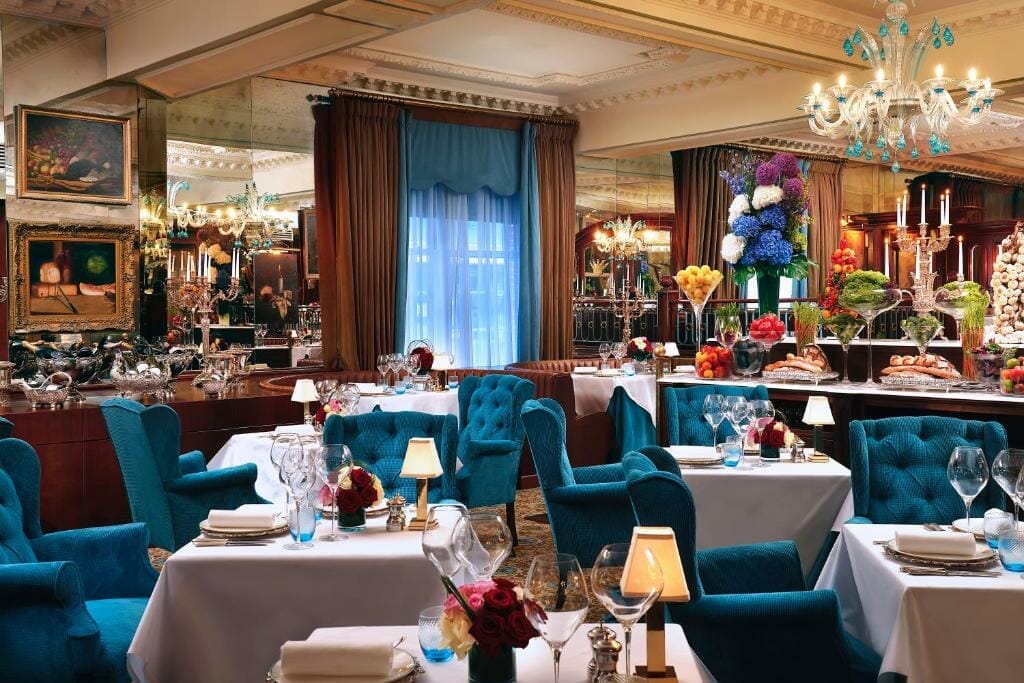 If you want to feel like royalty for your stay, the Rubens at the Palace is a must-stay hotel in London.
Right near Buckingham Palace, The Rubens has everything from plush seating areas to literal photos of royals on the wall.
A glass paneled lounge offers insanely good views of royal occasions.
The afternoon tea is delightful, the location top notch, and the staff will go out of their way to make your stay special in almost every possible way you can imagine.
13. L'oscar London: one of the best places to stay in Central London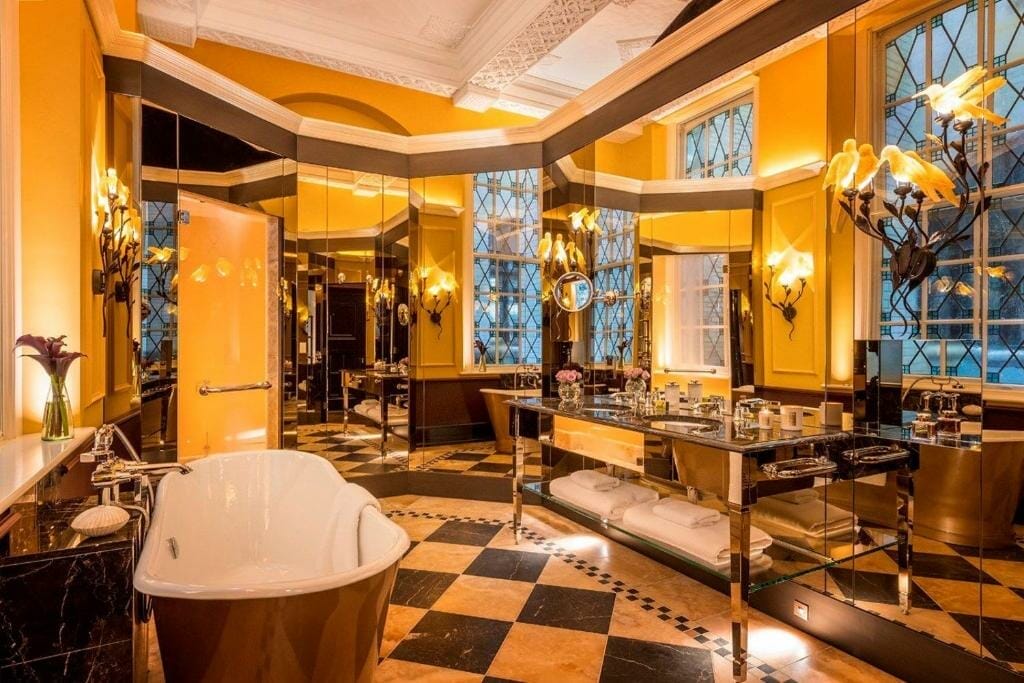 Looking for a luxury hotel in Covent Garden?
This boutique hotel with 39 bedrooms will make you feel like you're living the dream life without feeling like there are tons of other visitors around.
Choose an inner courtyard view to save a few extra pounds or opt for the city view in the Duplex Suite.
You're steps away from Theatreland and the Royal Opera House, as well as shopping and entertainment in Covent Garden.
14. Trafalgar St. James by Hilton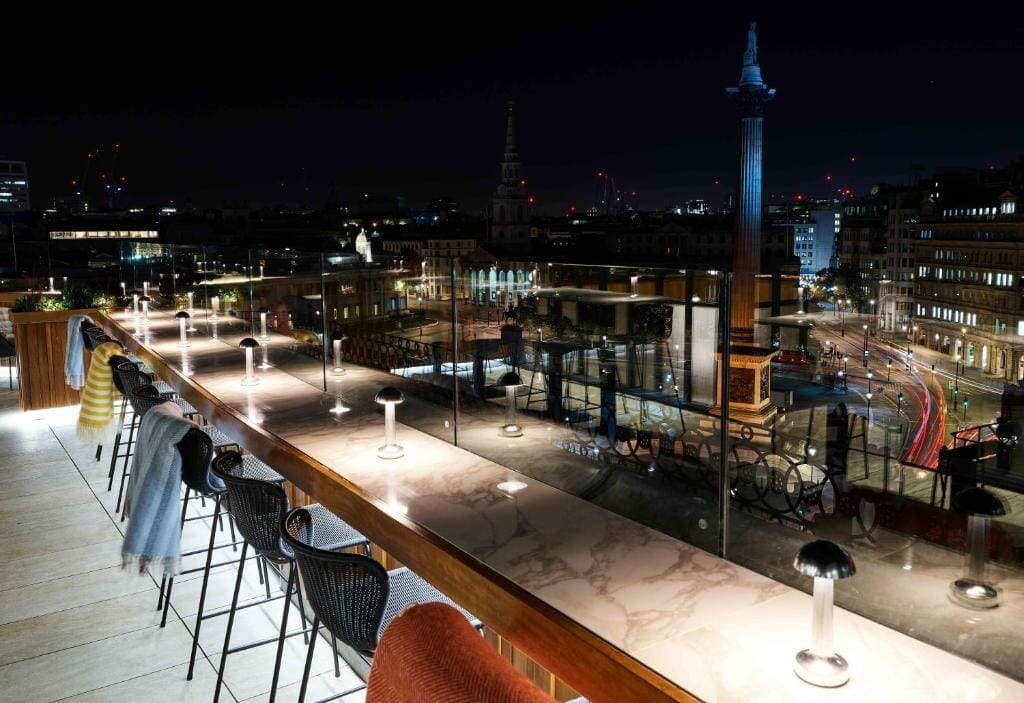 Art deco is the name of the game at the Trafalgar St. James, where you'll find pops of color, sleek designs, and comfortable beds with the best linens around.
Each room is cozily designed to offer you an oasis away from the hustle and bustle of the city, and the incredible rooftop terrace offers stunning views as the sun goes down.
Travel's golden age is on display at this London hotel, fantastic for honeymoons and couples who want a taste of the luxurious London.
15. The Ritz London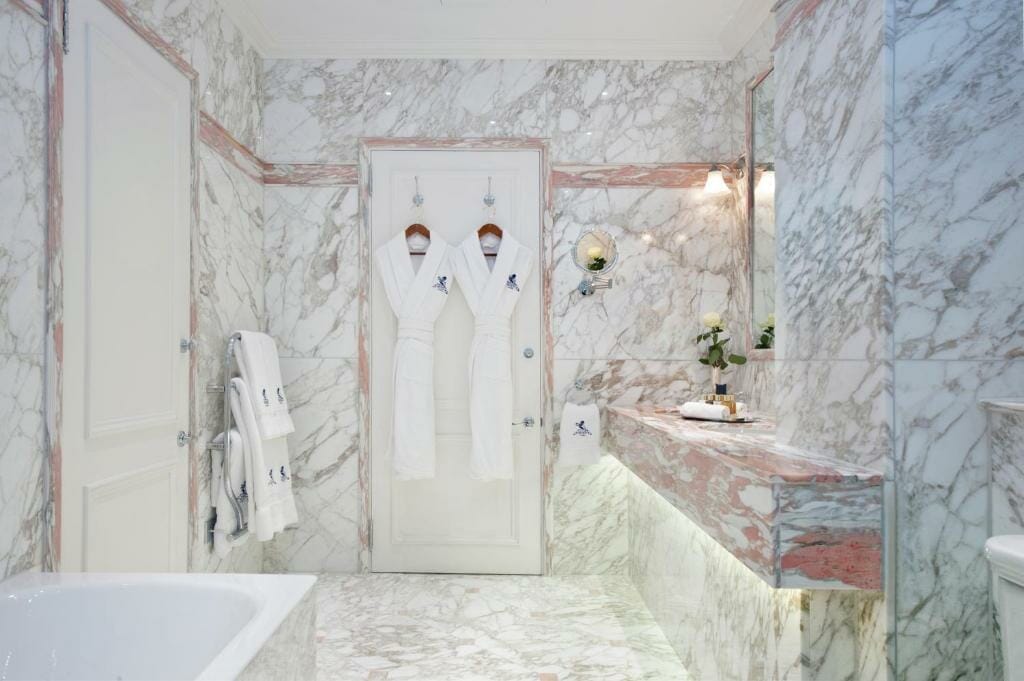 The Ritz has a world class reputation worldwide, but particularly in London where its gorgeous building overlooks Green Park.
You'll find antique furnishings mixed in with modern amenities and the best service anywhere in London.
Michelin star chefs provide incredible dining options, and the combination of ornate ceilings and gorgeous fireplaces will make you feel like you've just stepped inside of London's most secret palace (that you can actually stay in!)
If you've ever wanted to try the fanciest hotel in London, the Ritz is absolutely waiting for you.
Want more helpful London guides? Check these out!
UK Travel Planning Guide: the FAQs
🏥 Should I buy UK travel insurance?
Absolutely yes. Basic coverage is not expensive, and as a visitor you are NOT covered under the NHS. Compare policies and prices with Travel Insurance Master here, a big name in the travel insurance business, and cross that off your list.
🔌 Do I need travel adapters for the UK?
Yes, you do, otherwise you won't be able to plug in your electronics/phone/lifelines. I recommend this one, which is all-in-one so you can use it in other countries.
🚗 What do I need to drive in the UK?
The first thing you need to check out if you're planning on renting a car in the UK is this guide to driving in the UK for visitors – the roads, signs, and driving experience will likely not be what you're used to and it's essential to prepare yourself to stay safe and aware.
🛌 What's the best way to book hotels in the UK?
For UK hotels, Booking is the best site as it offers free cancellation on many properties. If you want an apartment, I always recommend VRBO over AirBnb.
📳 Will my phone work in the UK?
Yes – if you set it up right. Check out my guide on making your foreign phone work in the UK to ensure that you get the type of service you need.
🚿 Can I drink the water in the UK?
Yes, UK water is great and perfectly safe. But drink out of taps in any kitchen or use water fountains. Double check before drinking out of the taps in hotel bathrooms, though, as they may be on a different system.