This post contains affiliate links for which I may make a small commission to help keep the site running. You will not be charged extra for these items had you not clicked the links. Thank you for your help to keep the site running!
If you've already booked your ticket, fear not – the best time of year to come to London is when you're coming!
Seriously, this is an awesome city year round, and while you should be prepped for certain types of weather in London depending on the month you come and read up on attraction openings (no use coming in the winter if your only wish list is to see the Buckingham Palace State Rooms which are only open in the summer), you'll still have a fantastic time whenever you visit.
To help you navigate your plans or figure out the best time to go to London, I'll talk about the experience of visiting in each season.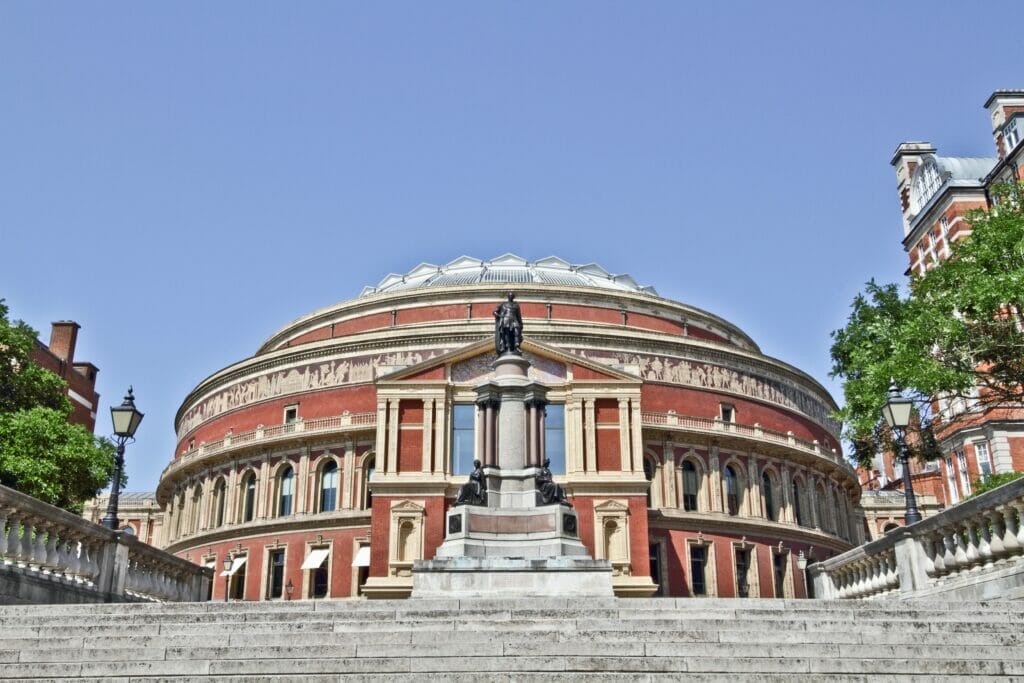 GET A

FREE

LONDON INTRO GUIDE and ACCESS TO MY FB GROUP
Start your planning with this "Intro to London" guide and access to my London planning Facebook group!
Wait, stop!
Before you keep reading, I just wanted to make sure you know about my expert 7-day London itinerary that includes all of the iconic attractions plus off-the-beaten path activities and restaurants, as well as step-by-step walking and public transportation directions!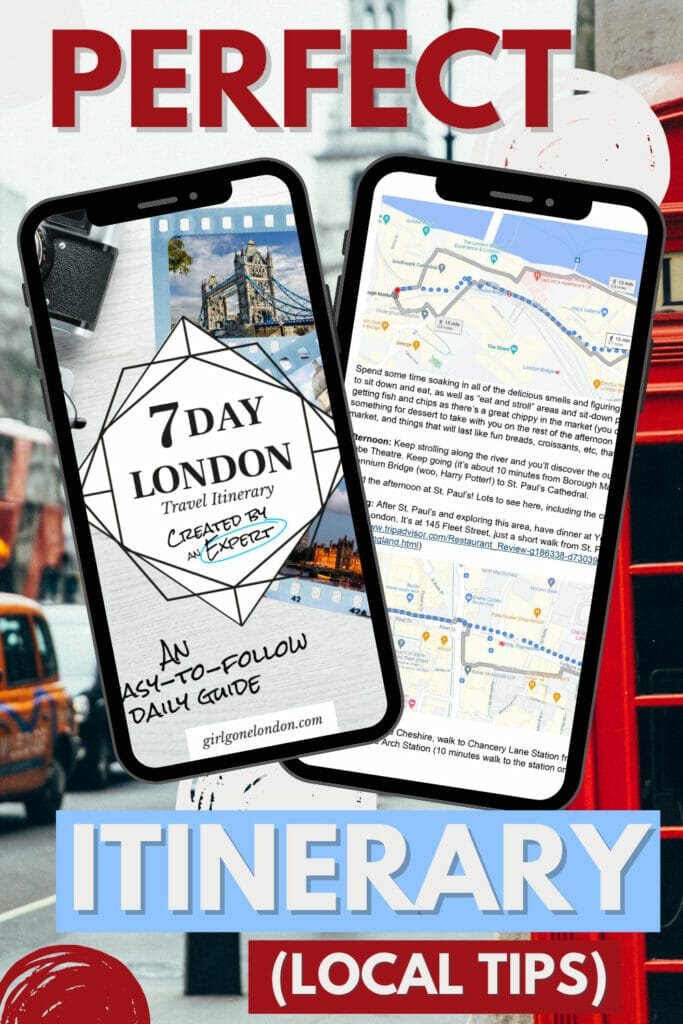 It can be stressful spending so much money on a London trip and not knowing if you're fitting everything in or making the most of your time.
To help you out, I've taken my 10 years of London experience (starting as a visitor and then as a resident) to make sure that you have the ultimate step-by-step itinerary that will make sure you see the real London.
And, hey, if you're not coming for exactly 7 days or already have some plans, don't worry, as it's editable so you can mix around the days, incorporate your own ideas, or pick and choose which days to follow.
(or click here for my popular personalized itinerary option to exactly suit your needs!)
The Absolute Must-Knows (from a Londoner)
Best month to visit London
What is the best month to travel to London?
If you want the short honest answer, the best time to visit London for me is May or September, both months with relatively good weather but fewer tourists than peak season.
IMPORTANT: are you coming to the UK from abroad?
In case you're reading this from outside the UK and will be a foreign visitor here, you need to know these 2 things to stay safe and save money.
Travel insurance – you need it when going overseas! I use

this site

to get the best quotes and purchase my packages from. Do not skip this – having medical coverage abroad as well as other coverage in case of missed flights, lost luggage, etc is essential. As I said, I have never gone wrong using

this site

.
When's peak season in London?
High season in London is typically June through August, with the real high season happening in July and August.
Why's that?
This is the most popular time of year in London that most people are on vacation with their kids as it lines up with school vacations around the world.
It's also typically the warmest months in London, which attracts a lot of visitors, and London comes to life in the summer with events like Wimbledon, music festivals, and so much more.
When's the cheapest time to visit London?
Want to visit London on a budget?
The best time to visit London if you want to save money is to visit during the winter, primarily January through March.
The weather in these months, as you'll find out in the "winter in London" section below, is subpar with a lot of grey and drizzle, but all of the iconic attractions will be open and you'll save money on flights and hotels.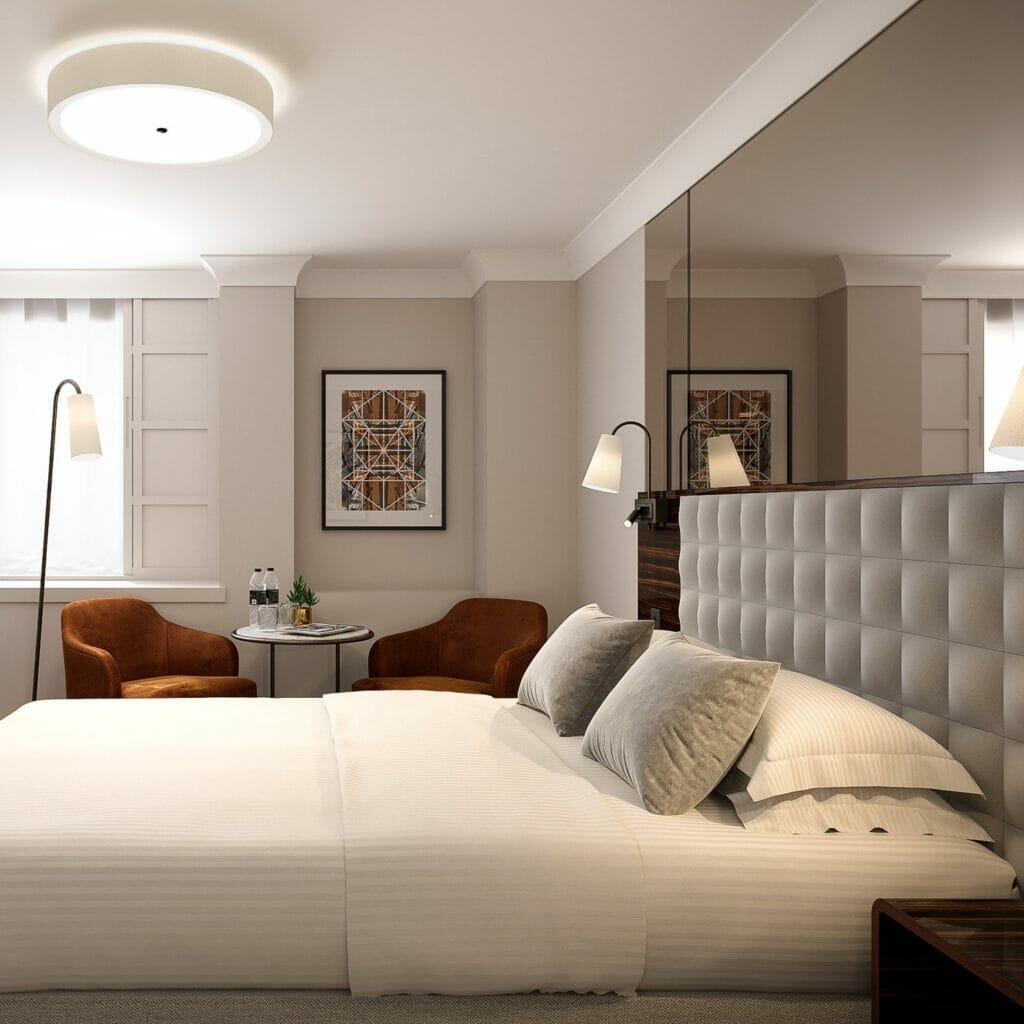 Spring in London: the best season to visit London
The months of March, April, and May are some of the most variable in the UK.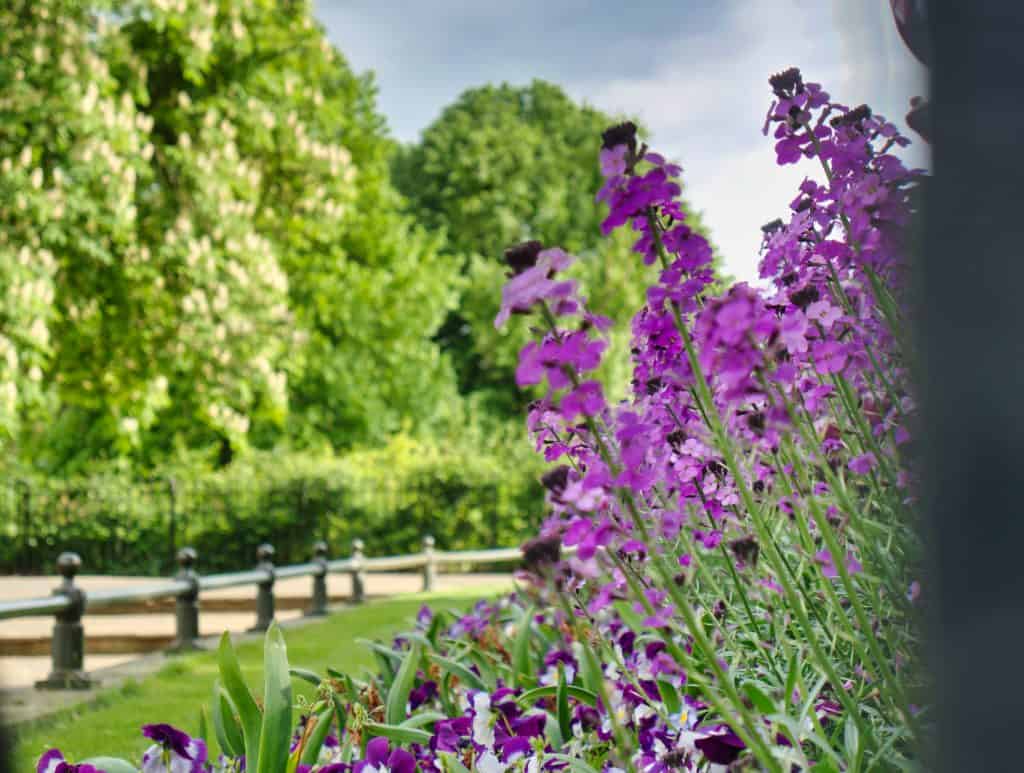 The earlier months are still very much winter temperatures, whereas May can be either pretty chilly or pretty warm depending on what Mother Nature decides to do.
In any case, you'll get amazing daylight hours as you head towards late Spring, and I love Spring in the UK as it's when the UK starts to come to life again, both literally in the sense of the flowers and trees, but also in the sense that people seem to start coming out of their own hibernation a bit and start planning events and activities at a faster pace.
Spring can be a cheap time to visit the UK if you come outside of the "Easter holidays," which is two weeks surrounding whenever Easter falls that year that kids are out of school.
It isn't peak tourist season, which means you can enjoy (hopeful) sunshine and Spring excitement without the hoards of visitors that come in the summer months.
Definitely one of the best times of year to visit London.
Summer in London: best time to visit London weather-wise
The months of June, July, and August in London are mostly going to be temperate to warm in the UK.
It can get a bit cool in June, but by July and August you're looking at mostly temperatures in the 70s to 90s (gasp!).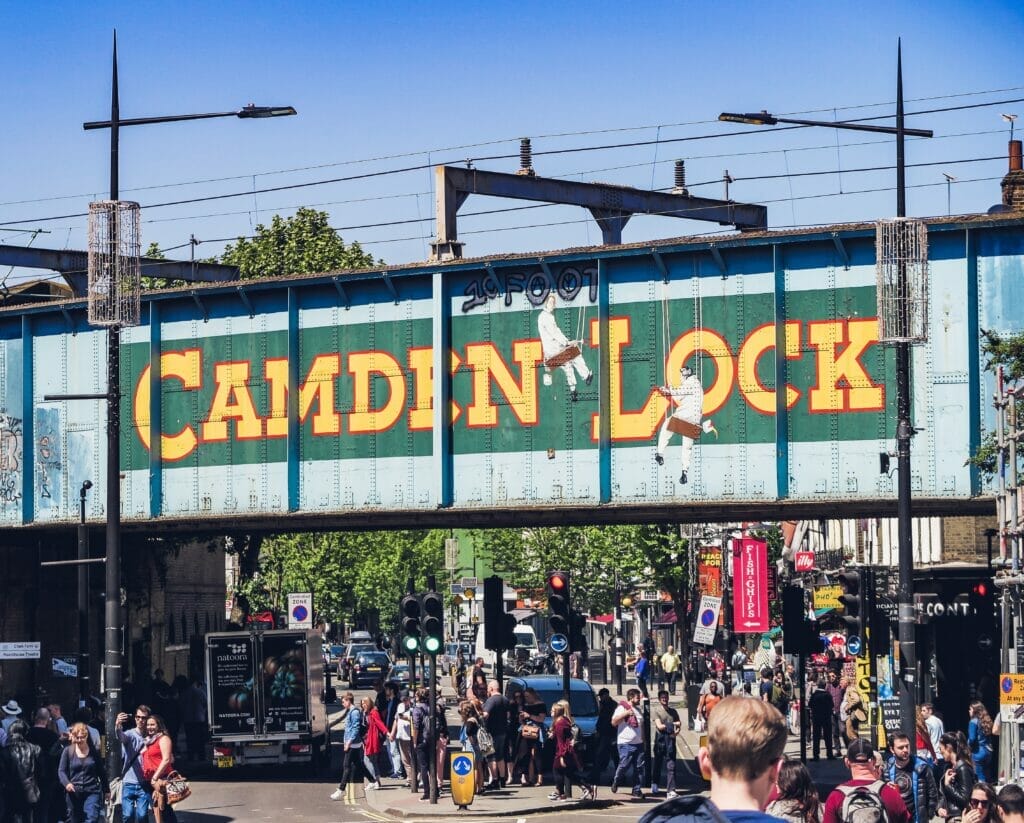 If you are prone to getting overheated, make sure to book somewhere with air conditioning as heatwaves can hit the UK at this time and the infrastructure just isn't meant for it.
The tourist season starts up really in full force in June, but is really in its peak in July and August.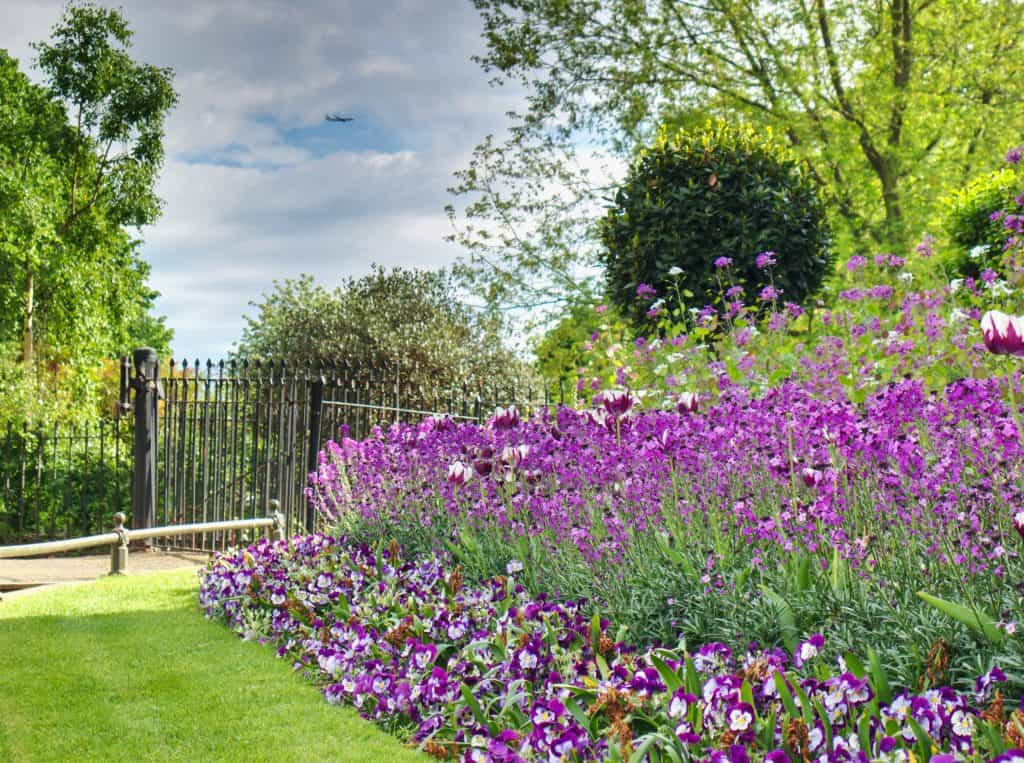 British students get their summer starting in July for six weeks, which leads to an increased number of people traveling, even within the country.
This can mean long lines for some attractions, an incredible amount of people trying to take the tube and wander through the touristy areas like Westminster, and the need to book further ahead for tours and activities.
However, that being said, summer in the UK is hands down the best time to be able to take advantage of the most opportunities and attractions, and June is the best month to visit London.
When you live in a country that doesn't see sunshine for much of the rest of the year (okay, it does, but not as much as you'd like), people really embrace the summer.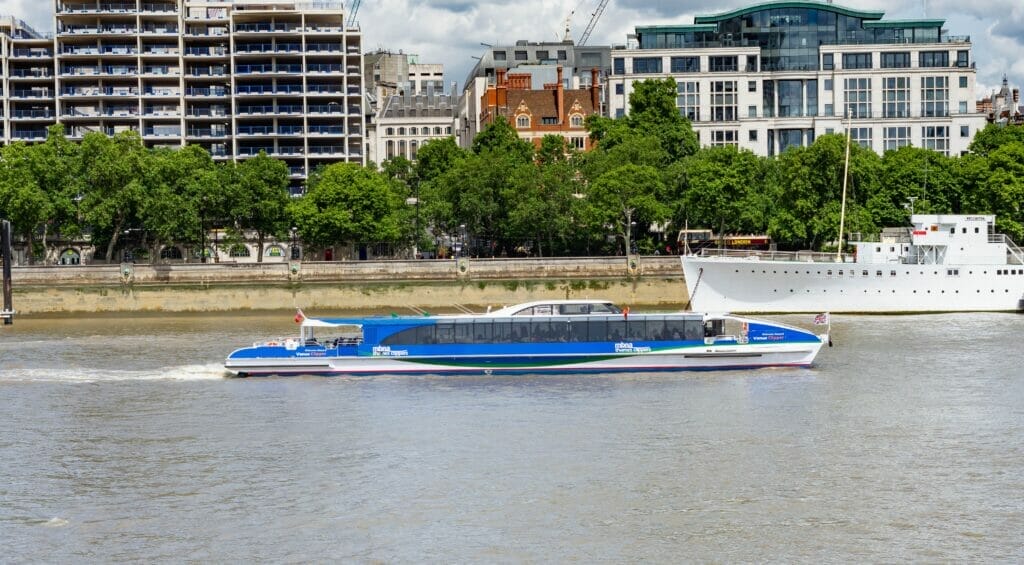 You'll find festivals, events, special attractions like the Buckingham Palace State Rooms open, and of course the chance to really take advantage of green space, whether that be sitting in the park with a picnic or exploring the Lake District.
Daylight hours in the summer are also great, with the longest day of the year being in June.
In the summer, it's common for the sun to rise at 4-5am and not set until 9-10pm depending on the month.
A real bonus when it comes to maximizing your time!
Fall in London: one of the best times to visit London
In September, October, and November, the UK has its transition from the summer days (September can still be pretty summery) to the cold and dark days of November.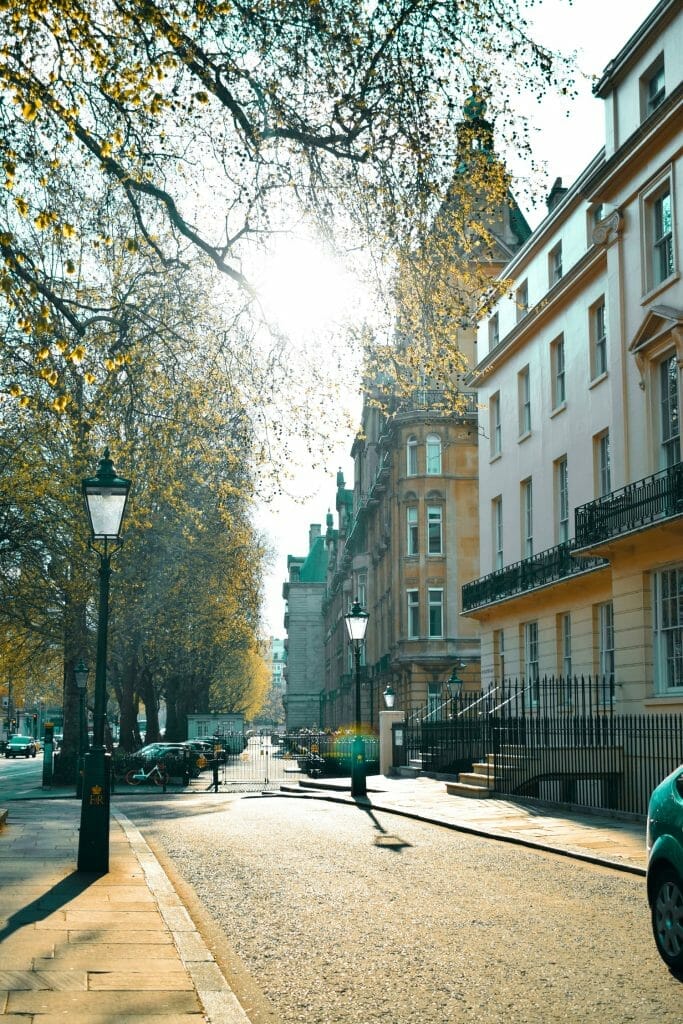 How fast it will happen is anyone's guess, but we usually consider October 14th, my husband's birthday, as the point at which you "feel" like it's the Fall and put your shorts and short sleeves away.
Like Spring, the weather is particularly variable in this time period so make sure to look at the weather right before you go.
As the daylight hours start to fade, the kids go back to school, and the UK starts to sink into a sort of hibernation again, but with it also go the same hoards of tourists that visited in the summer.
Fall can be a lovely time to walk around and enjoy the UK with a bit of elbow room, particularly in the later Fall months.
If you visit late enough in November, many of the Christmas activities will have started up as well, so you can turn it into a festive trip.
From December to February, the UK sees the least sunlight of the year and its coldest temperatures.
Snow is not a frequent occurrence, but when it does happen, it will be a big weather event and cities like London will grind to a halt if it's more than a dusting.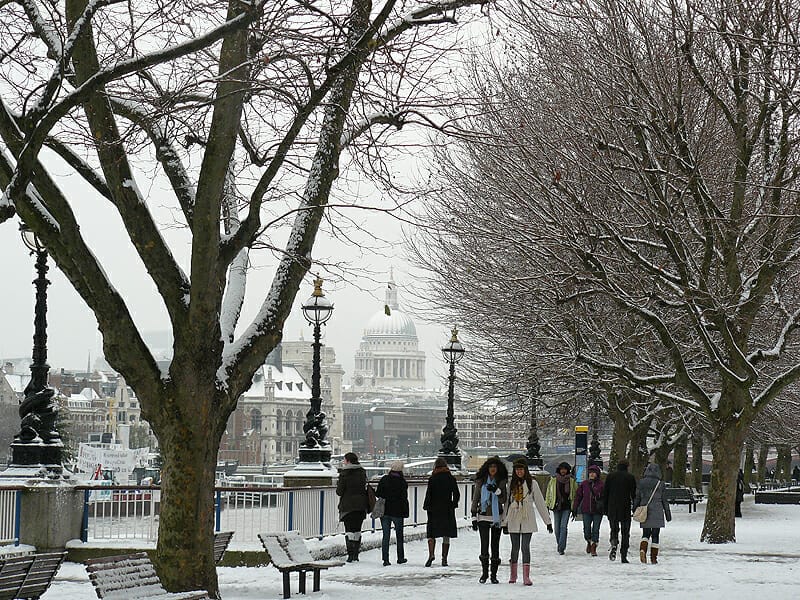 You can get some of the cheapest flights to London in January and February, which means it can be a great answer to "when to come to London" if you're on a budget.
December is still a popular month as people are traveling specifically to spend Christmas and the holidays in the UK, but you still won't see the same amount of crowds as you do in the summer.
And, I won't lie, January and February can also be a bit bleak weather wise, but if you're ready to cozy up by a log fire or put on your warmest mittens and embrace whatever weather the UK has to throw at you, you can absolutely have an amazing time (and, bonus, spend less on hotel rooms and flights so you can splurge in other areas!)
And there you have it – a run down of visiting in each season.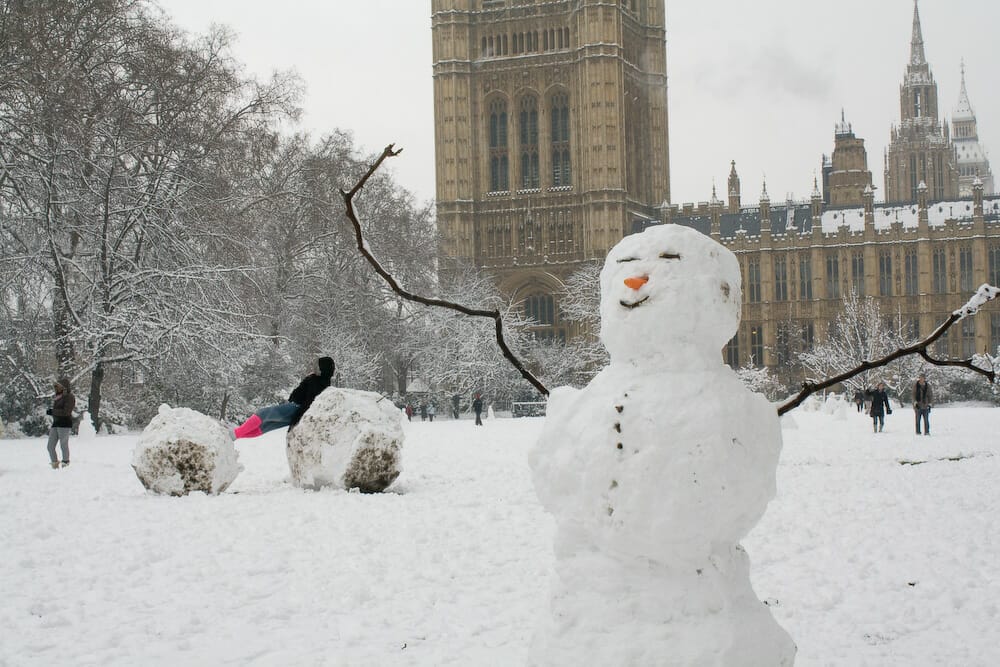 If you're really desperate to know the absolute BEST TIME to come to London or the best month to come to London, I can't give you a definitive answer because it depends on what you prioritize, but hopefully this has helped give you an idea of when would be the best for you to come based on your budget, crowd tolerance, and weather tolerance!
Want more London travel guides? Check these out!
UK Travel Planning Guide: the FAQs
🏥 Should I buy UK travel insurance?
Absolutely yes. Basic coverage is not expensive, and as a visitor you are NOT covered under the NHS. Compare policies and prices with Travel Insurance Master here, a big name in the travel insurance business, and cross that off your list.
🔌 Do I need travel adapters for the UK?
Yes, you do, otherwise you won't be able to plug in your electronics/phone/lifelines. I recommend this one, which is all-in-one so you can use it in other countries.
🚗 What do I need to drive in the UK?
The first thing you need to check out if you're planning on renting a car in the UK is this guide to driving in the UK for visitors – the roads, signs, and driving experience will likely not be what you're used to and it's essential to prepare yourself to stay safe and aware.
🛌 What's the best way to book hotels in the UK?
For UK hotels, Booking is the best site as it offers free cancellation on many properties. If you want an apartment, I always recommend VRBO over AirBnb.
📳 Will my phone work in the UK?
Yes – if you set it up right. Check out my guide on making your foreign phone work in the UK to ensure that you get the type of service you need.
🚿 Can I drink the water in the UK?
Yes, UK water is great and perfectly safe. But drink out of taps in any kitchen or use water fountains. Double check before drinking out of the taps in hotel bathrooms, though, as they may be on a different system.