This post contains affiliate links for which I may make a small commission to help keep the site running. You will not be charged extra for these items had you not clicked the links. Thank you for your help to keep the site running!
Any visitor to London will soon get the impression that it is NOT, in fact, the city that "never sleeps," due to the fact that the streets do tend to empty out and London certainly doesn't have the all-night kind of vibe that NYC and some other European cities do.
However, there are plenty of things to do in London at night so rest assured that your day doesn't need to stop when the sun goes down (and it's great that it doesn't because the sun goes down pretty early in London in the winter!)
Hey! Sidenote! Planning on visiting the UK or moving to the UK?

For more advice, photos and friendly help, click here to join my UK Travel Facebook group to carry on the conversation with fellow travelers and UK experts.
Wait, stop!
Before you keep reading, I just wanted to make sure you know about my expert 7-day London itinerary that includes all of the iconic attractions plus off-the-beaten path activities and restaurants, as well as step-by-step walking and public transportation directions!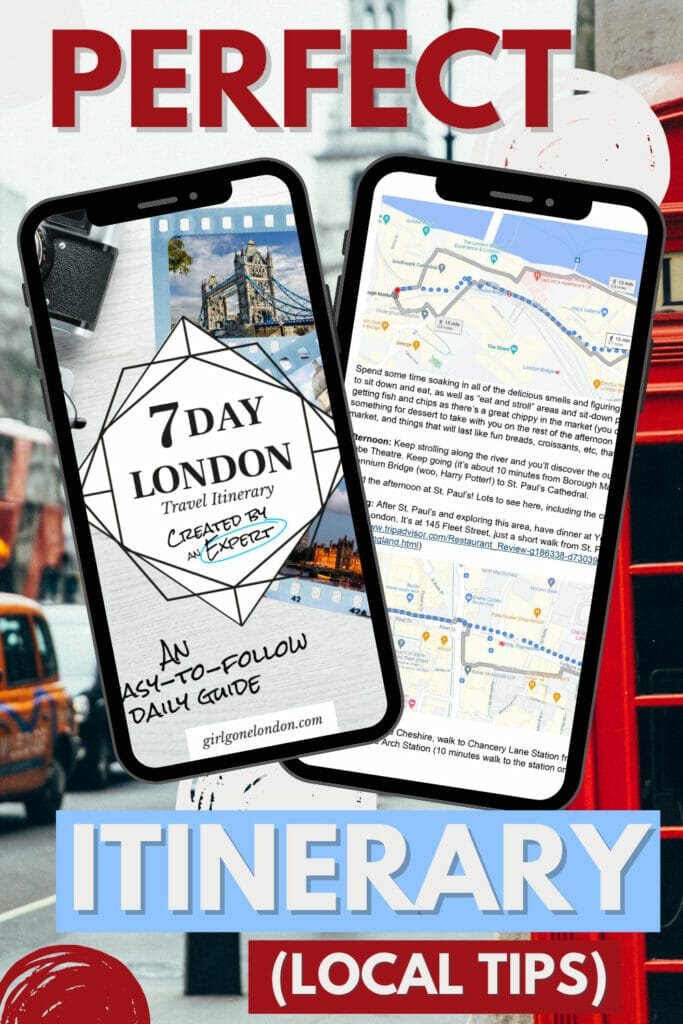 It can be stressful spending so much money on a London trip and not knowing if you're fitting everything in or making the most of your time.
To help you out, I've taken my 10 years of London experience (starting as a visitor and then as a resident) to make sure that you have the ultimate step-by-step itinerary that will make sure you see the real London.
And, hey, if you're not coming for exactly 7 days or already have some plans, don't worry, as it's editable so you can mix around the days, incorporate your own ideas, or pick and choose which days to follow.
Some of London's mainstay attractions are open later at night too, especially as the weather gets warmer.
Feel free to check out which ones you can access on the London Pass.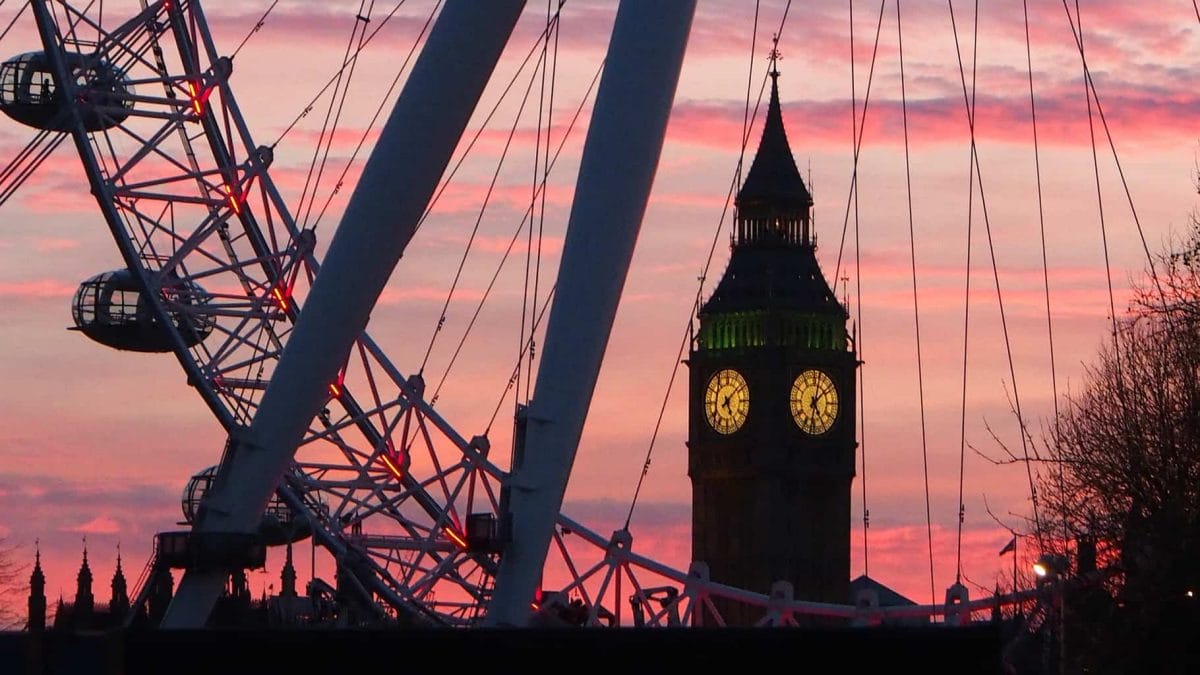 Cultural Things to do in London at Night
1. Get Tickets for Wicked in the West End
When it comes to West End shows in London, you're truly spoilt for choice and quality.
But, if you want a show that will surprise you and leave you wanting to watch it again immediately, then you should go to see Wicked.
Based on the untold story of the "Witches of Oz", it's a prequel to the Wizard of Oz.
Located in the Apollo theatre, Wicked is the perfect West End show to suit everyone: couples, solo adventurers, families and friends.
You can even combine your perfect evening in London with dinner beforehand at one of the many surrounding restaurants and bars.
Whilst in the theatre there is also a bar and snacks to enjoy.
After you've left the show, you'll be on such a high that you simply can't sleep yet!
So why not head to a London pub for something to do in London in the evening.
You can book online in advance for tickets (the show is on every night) or you can try your luck at finding discounted tickets whilst in London, but it's a popular show, so I do recommend booking ahead of time.
Try and get a seat in the circle area, and if you buy a cheaper seat and there are empty seats beside you that are closer, you can move closer!
They won't complain. As someone who has seen Wicked fives time, I guarantee it's one of the best things to do in London at night for everyone.
Contributed by Cazzy Magennnis from Dream Big, Travel Far

2. Attend a Museum Late
One of the best things to do in London at night is to attend a Museum Late event.
If you happen to be visiting on the right day of the week or month, a number of the major museums around London host evening events where the museums are open for extended hours and additional talks or events are organised.
Many of the Museum Lates are also free which makes this a great activity if trying to save costs while visiting London!
One of the best Museum Late events is at the Science Museum, which hosts an event on the last Wednesday of every month focusing on specific themes.
They also have a number of additional talks and exhibitions occurring.
The Natural History Museum and the Victoria & Albert Museum in South Kensington do a similar event on the last Friday of every month and, as they are across the road from each other, you can easily visit both in one night!
Some of the most popular museums in London such as the British Museum, National Gallery and Tate Modern are all open late on Fridays.
As Museum Lates occur in many of London's museums, make sure to check out the relevant museum's website to find details on when their next event is and to see if it interests you!
Contributed by Michael from The World Was Here First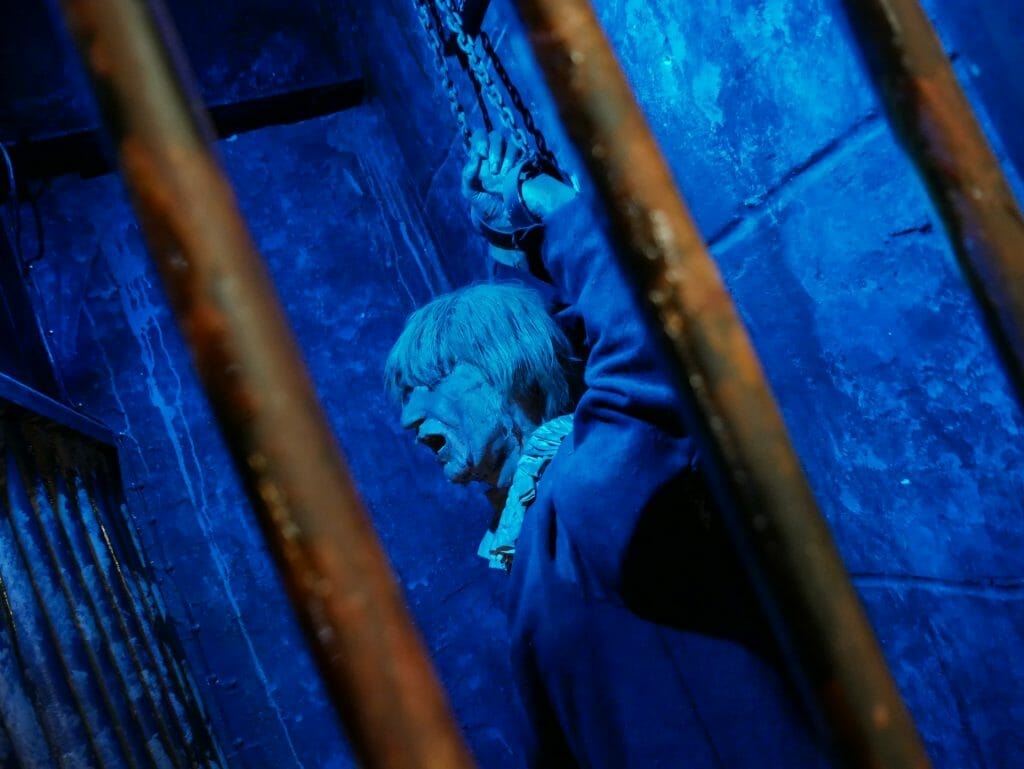 3. See a Show
One of the best things to do in London in the evening is to go to a show!
The West End has amazing productions of musicals and dramas year round.
Of course, it can be very expensive to see a world class show, but it doesn't have to be.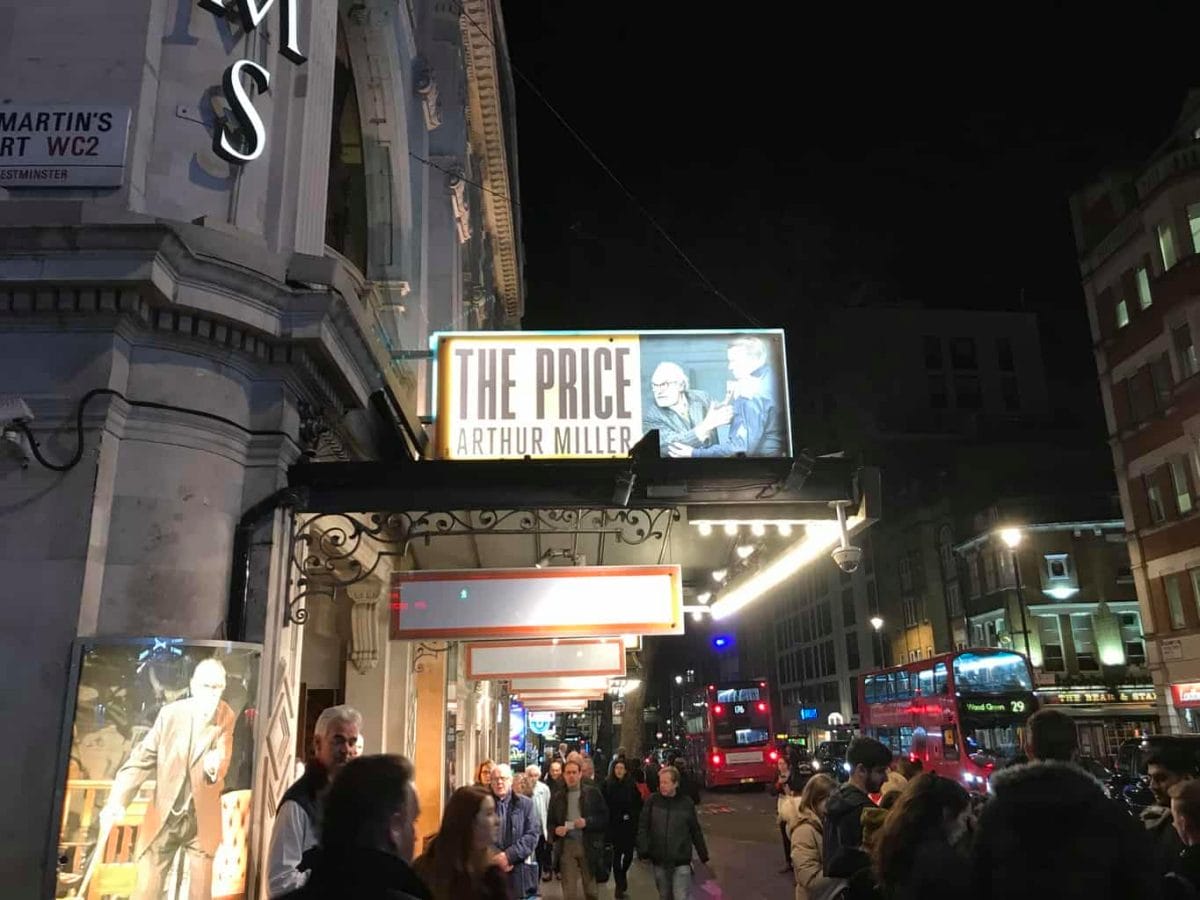 When you are in London, if you have some flexibility and don't absolutely have to have tickets to a certain show on a particular night, you might be able to get some great seats at a reasonable price.
I recommend choosing a show you'd like to see and going directly to the box office and asking for day tickets, the day you want to see it.
Most box offices have these tickets available after 10:00 on the morning of the show.
We just got fantastic seats in the orchestra section and saw The Price, an Arthur Miller play, for £25 a ticket.
We got seats 7 rows from the stage of The Curious Incident of the Dog in the Nighttime for £18 each.
These were incredible shows, fantastic seats and amazing prices.
We even saw Hamilton for £57.50 per person!
Don't miss the chance to see some of the best that London's West End has to offer. It doesn't have to break the bank!
Contributed by Betsy from Euro Travel Coach
4. Watch Mousetrap
London is a city chock full of amazing theatre but if you only have time to see one thing in London (whether you're on a 1 Day London itinerary, 2, 3 or even 4 day London itinerary) then I heartily recommend Mousetrap!
This is a truly British play being by British author Agatha Christie and is also the world's longest running show!
Running at St Martin in the Fields theatre, The Mousetrap is the world's longest running theatre play having reached 25,000 performances in November 2012!
When you enter the foyer to see your performance you can see the counter to see what number performance you are seeing!
Be sure to take your photo next to your show number!
The mousetrap is a quintessentially British murder mystery and tells the story of a group of people isolated from the outside world in a country manor as a murder is committed!
There is a huge twist ending, so be sure to keep the secret as the performers ask at the end of every show!
Contributed by Leona from the Wandermust Family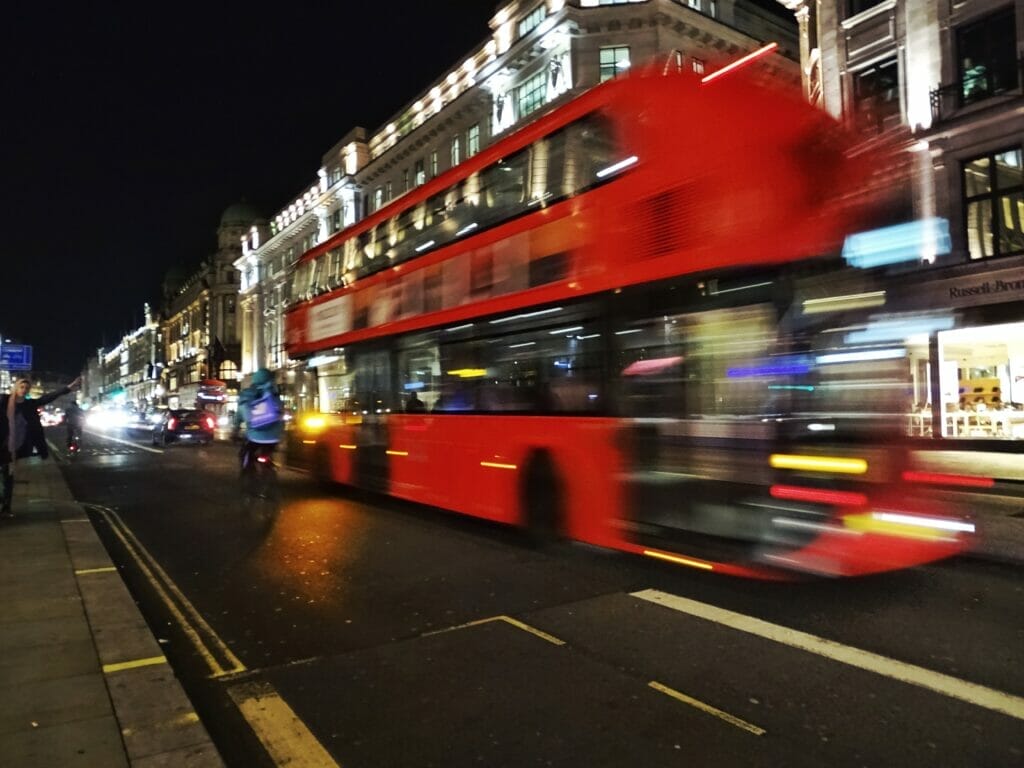 Where to Get Food and Drinks in London in the Evening
5. The Bletchley Bar
It is now often said the code breakers at Bletchley Park during World War 2 had a huge influence over bringing about the end of war.
I think it is unlikely that they ever envisaged that their amazing enigma machines would be used decades letter to order drinks in a bar in central London!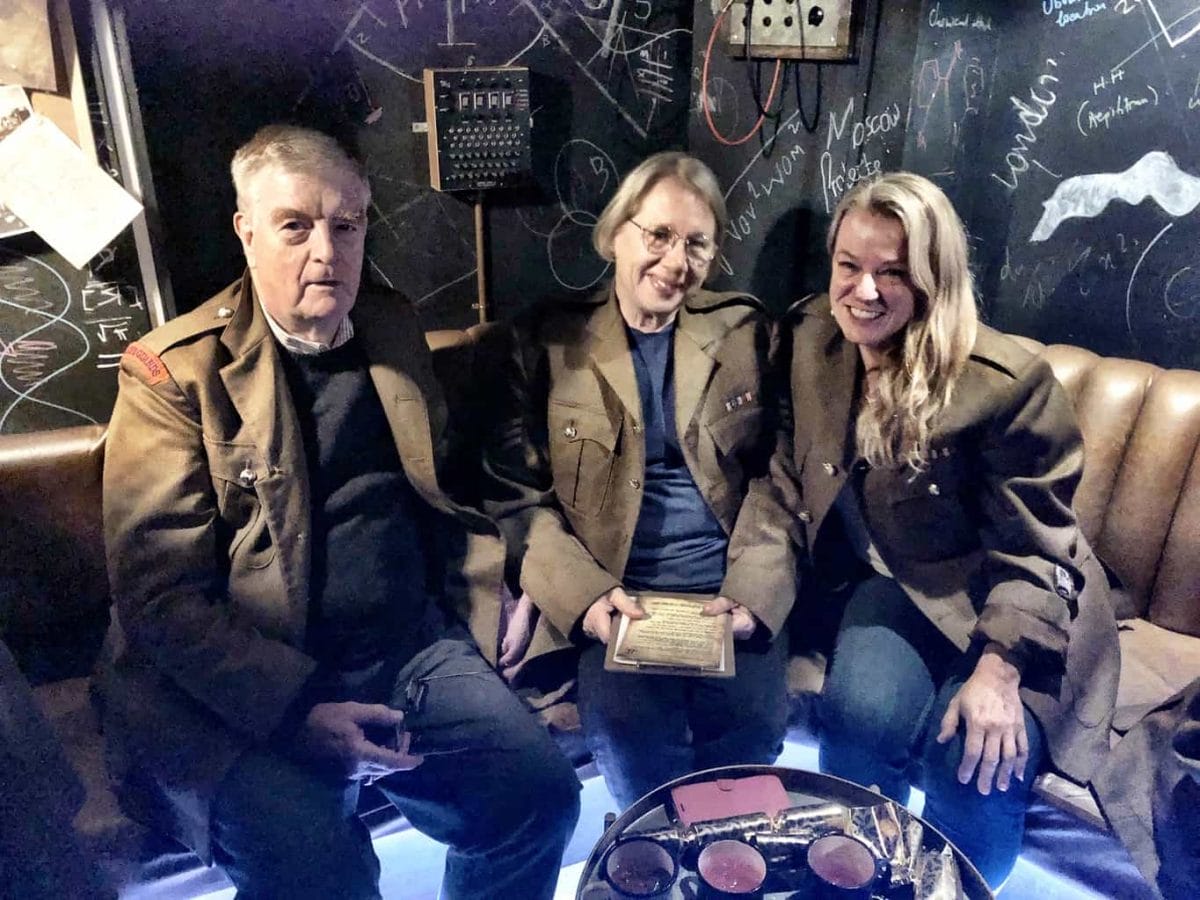 The Bletchley Bar aims to recreate World War 2 in a bunker like facility in Chelsea.
The bar and staff are all themed to match the times – and upon entry guests are given WW2 army jackets to wear.
Drinks will not be served until you have cracked your codes!
Each team is given tasks as well as an enigma machine to allow them to decode their findings.
Clues to solve the tasks are throughout the bar.
Once your group has cracked the code use the radio to send in your response and if it's correct you will be sent your drinks – and your next task!
The music, lighting, fantastic staff and memorabilia all create a unique atmosphere that genuinely does feel like going back in time.
And the cocktails are pretty good as well!
Before you check out the bar, try out some of the best London food tours to get your fill of some of the most delicious treats around.
Contributed by Amanda from The Boutique Adventurer
6. The Grand Expedition
How many of you have ever been to an immersive dining experience before?
Well if you haven't you're missing out on one of the best night's around!
Gingerline are the best immersive dining production company in London – this is where you marry food with a theatre production to create an unforgettable evening.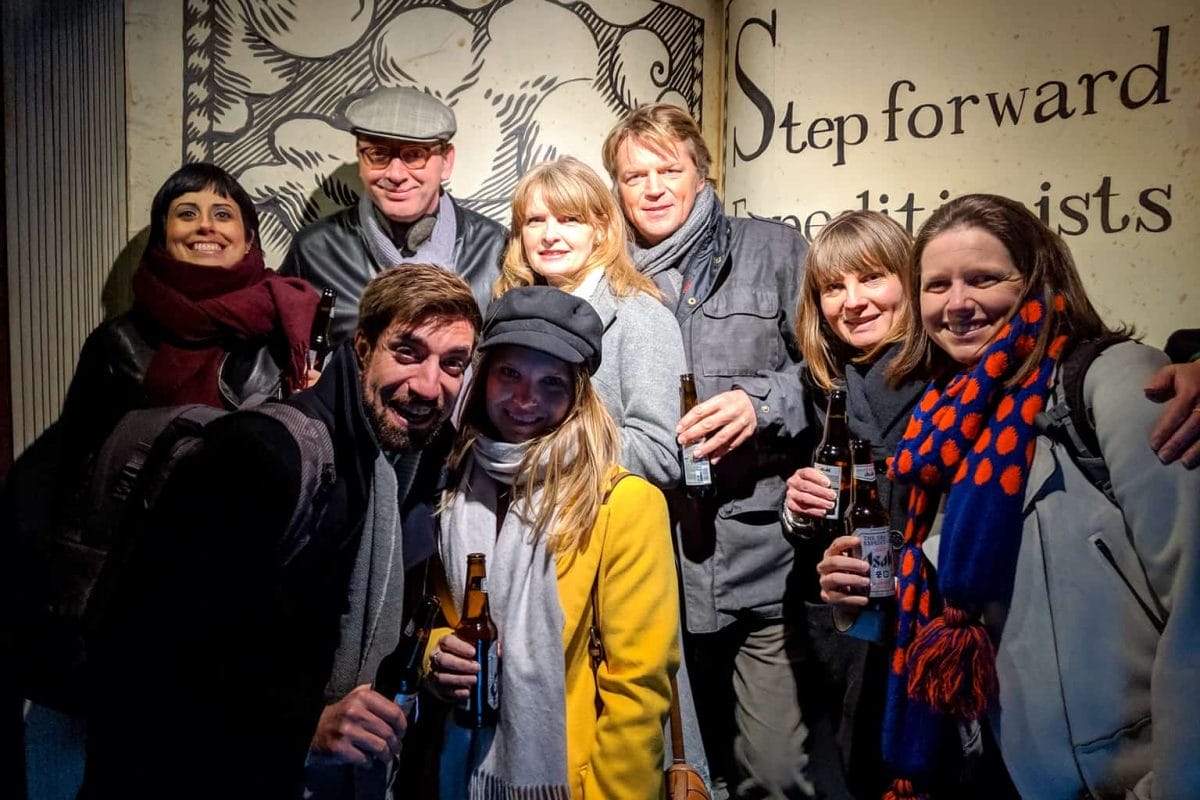 It's basically like going out for dinner when there's this incredible show going on around you.
I recently went to Gingerline's latest production The Grand Expedition and it was one of the best nights I've had out in a very long time.
The theme was aeronauts and we travelled around the world on a culinary Odyssey.
As they say: "Part dance spectacle, part multi-media simulation, part poetical dream-scape, this experience is designed for adventurous people who want an unconventional, unforgettable, once in a lifetime dining adventure."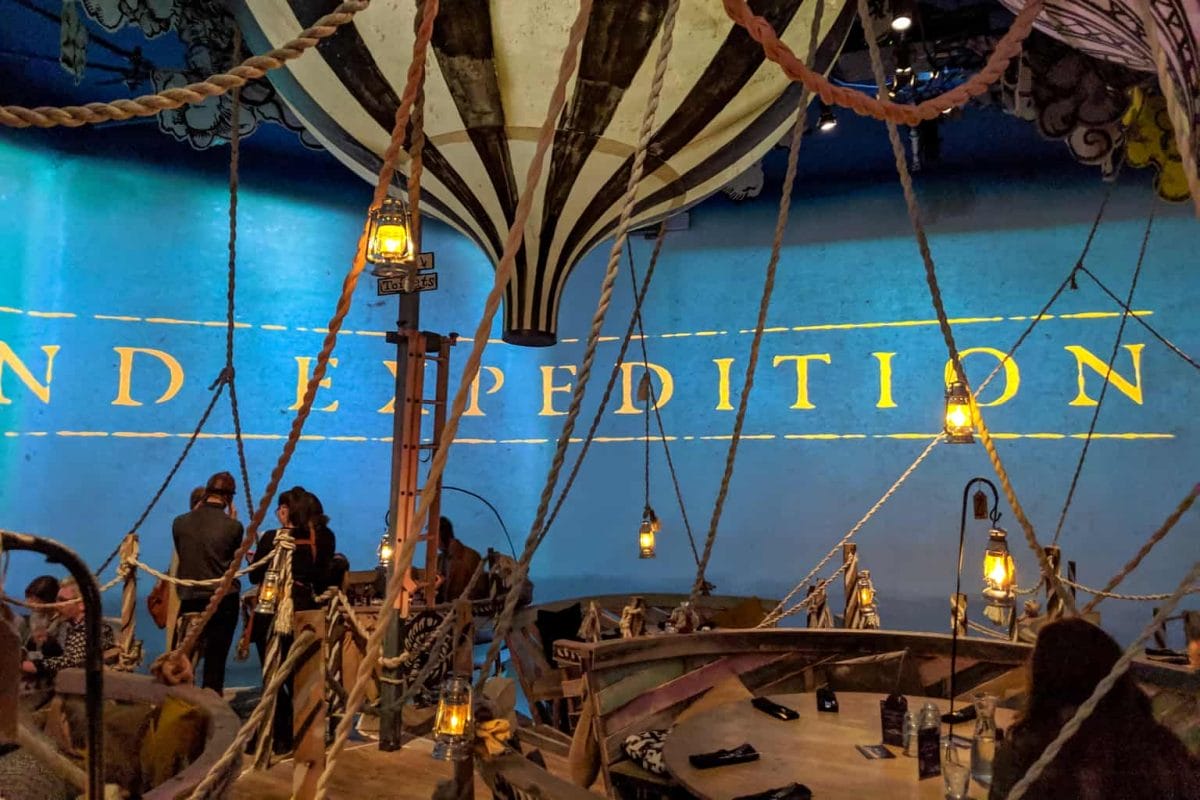 For me, The Grand Expedition is unlike anything else out there at the moment and it really was so much fun.
Oh, and the food was delicious too!
If you're looking for one of the best things to do in London then this is it!
Contributed by Macca Sherifi from An Adventurous World.
7. Street Feast
Travelling foodies unite!
If you are in the mood for some warming food, great drinks, live DJs and a unique and buzzing atmosphere, then the Street Feast food markets are the place to be.
Catch the Docklands Light Railway (DLR) to the southeastern suburbs of London, where the markets are hidden in plain sight.
Since 2012, the Street Feast team have been transforming derelict and disused spaces into these vibrant drinking dens, hosting cuisine from around the globe.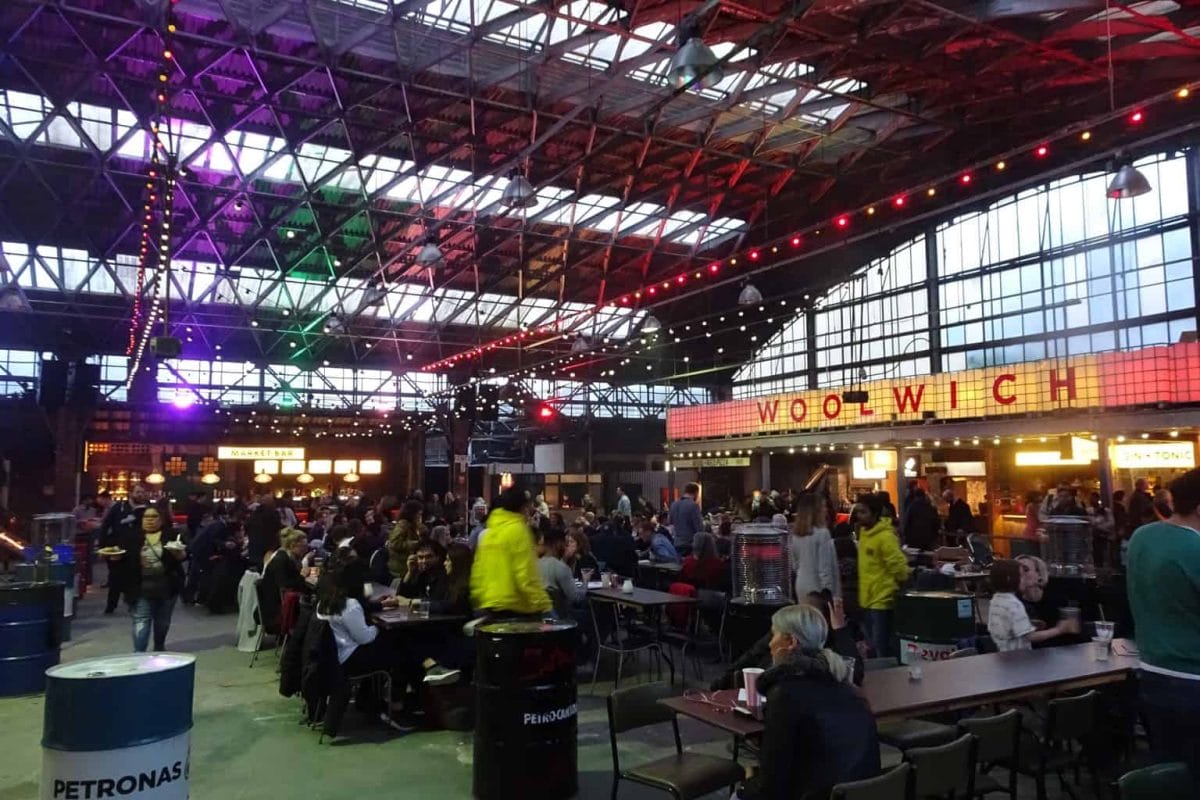 Offering year round entertainment, the food markets are the perfect place for a mid-summer, post-work mixer, or a winter's night belly warmer.
The different markets have either open or closed roof options, all with space heaters to keep bustling foodies warm, as they sample the exotic platters on offer.
Not all of the markets are open all year however, so you can check out the opening times and menus for each market here.
No matter your taste in venue, Street Feast has a market for you.
With styles ranging from a classic, 1950s open air market in Lewisham to a sleek, modern, indoor food hall on Canary Wharf, it will not be hard to find your perfect watering hole.
Contributed by Gemma and Campbell of Highlands 2 Hammocks
Family Friendly Things to do in London at Night
8. Skygarden
One of the most unique experiences in London to do in the evening or even during the day for that matter is Skygarden. This is one of the best things to do in London for couples.
Located on the 35th floor of 20 Fenchurch Street is the highest garden in the city which offers stunning views over the top of the city in all directions.
The gardens are open to the public with free ticketed access that need to be booked in advance to ensure you can get in and although the balcony area closes earlier, the bars and restaurants are open until after midnight but again require booking.
Inside the garden you'll find three storeys filled with plenty of different types of plants including flowers, shrubs and ferns that flourish year round.
The views stretch for miles in 360 degrees with signs helping you identify landmarks on the skyline.
We visited during the day, but would highly recommend it as an evening event for those looking for something a little different.
Tickets can be booked up to three weeks in advance and early booking is highly recommended via the website.
Contributed by Peter and Lauren of Our So Called Life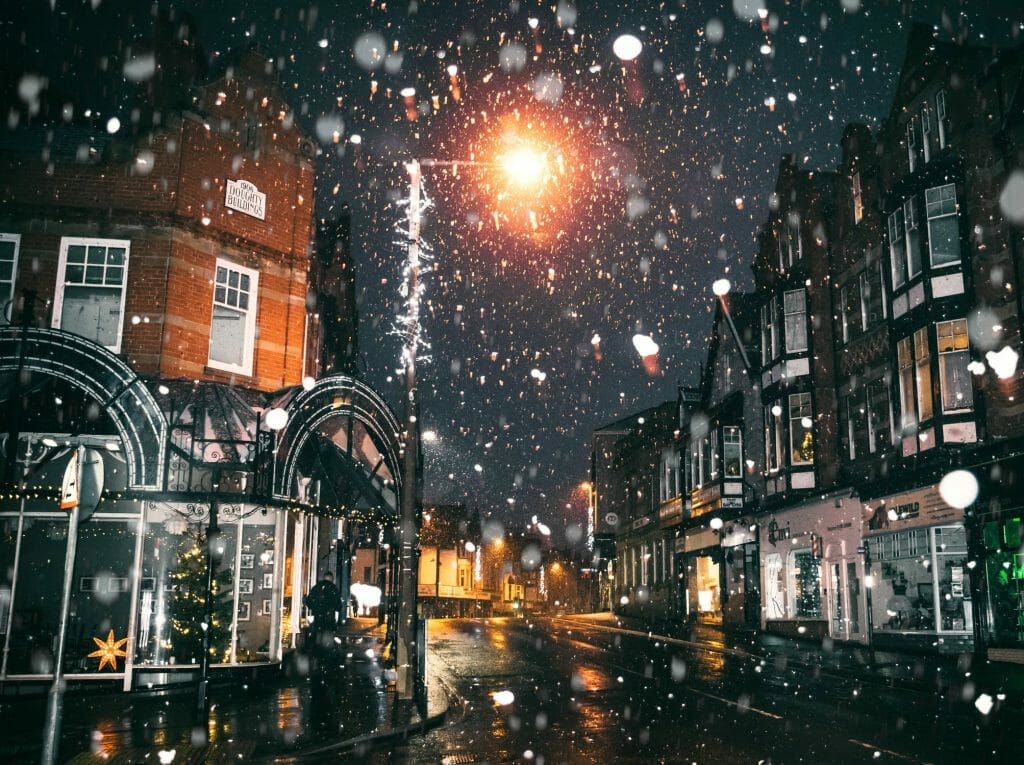 9. Visiting the Shard in London at Night
Heading up The Shard at any time of day or night is an incredible experience, with the views of London sprawling out all around you.
However, seeing the twinkling lights of the city at night is truly magical.
Being the tallest building in Western Europe, The Shard offers exceptional panoramic vistas from 800ft above the chaos of the city.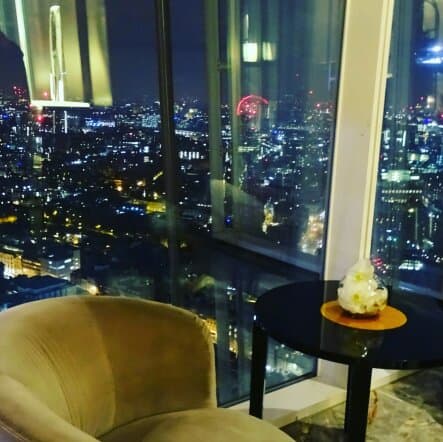 During your evening visit to The Shard, you'll be whisked up to the viewing platform on the 68th floor where you can witness the sunset before seeing the bridges and buildings lit up around you.
Tickets for The View From The Shard have no time restriction so you can stay and enjoy the view for as long as you like!
If you'd rather enjoy a tipple or a meal, head to one of the restaurants and bars such as Oblix, Gong or Bar 31, that are spread over the 60+ floors of The Shard.
While you don't get to see as far as the 40 miles that you might get to witness during the day, visiting The Shard at night provides a wow factor like none other.
Tickets need to be booked well in advance to ensure you are able to visit at your ideal time!
Contributed by Chrysoula from Travel Passionate.
Coming to London Soon?
Hey!
Since you're here I'm assuming you're intent on visiting this amazing city soon!
A great way to really immerse yourself in UK culture is see the sights with the help of a guided tour. I've picked out a few highly recommended ones below!
Tower of London Tour with Crown Jewels: One of the best things about having a Royal family is imagining you'll be a part of it one day… and what better way than to imagine yourself in their jewels!
Or at least stare dumbfoundedly. Either way, this tour is a sure fire way to get dazzled by London.
Westminster to Greenwich River Thames Cruise: London is built around the River Thames, and one could even say it's the most important part of the whole city!
As such there's no better, or relaxing for that matter, way to see the sights than from the view of the river itself! This tour takes you around the city and shows why all Londoners are really still rugged sea voyagers at heart, if maybe just a little more posh now.
Oxford, Stratford, and Cotswolds: Londoners would have you fooled, but there's more to this beautiful nation than just what remains within the confines of London… shocker I know!
And if picturesque beauty is what you're looking for I really recommend checking out the quaint and historical towns that scatter the outskirts. If nothing else, this tour will give you a break from commuting by the tube, and we all need that eventually.