This post contains affiliate links for which I may make a small commission to help keep the site running. You will not be charged extra for these items had you not clicked the links. Thank you for your help to keep the site running!
Figuring out what to pack for London can be a REAL struggle.
With such variable weather in the UK, sometimes you're stuck wondering whether you're going to need your bikini and board shorts in June or your parka and leggings (this is slightly extreme, but you get the picture).
As someone who has lived in London for the past 9 years, I'm pulling together this London packing list to help you prepare for all eventualities, including what to pack for London in the winter, what to pack for London in the summer, and everything in between.
This packing list for London will be incredibly useful to someone who is
a) a visitor to London for a short period
b) a study abroad student in London wondering what to pack for your semester or program abroad
c) expats to London who are coming from very different climates and trying to assess which clothes to bring with them (as someone from Florida, I can relate to this!)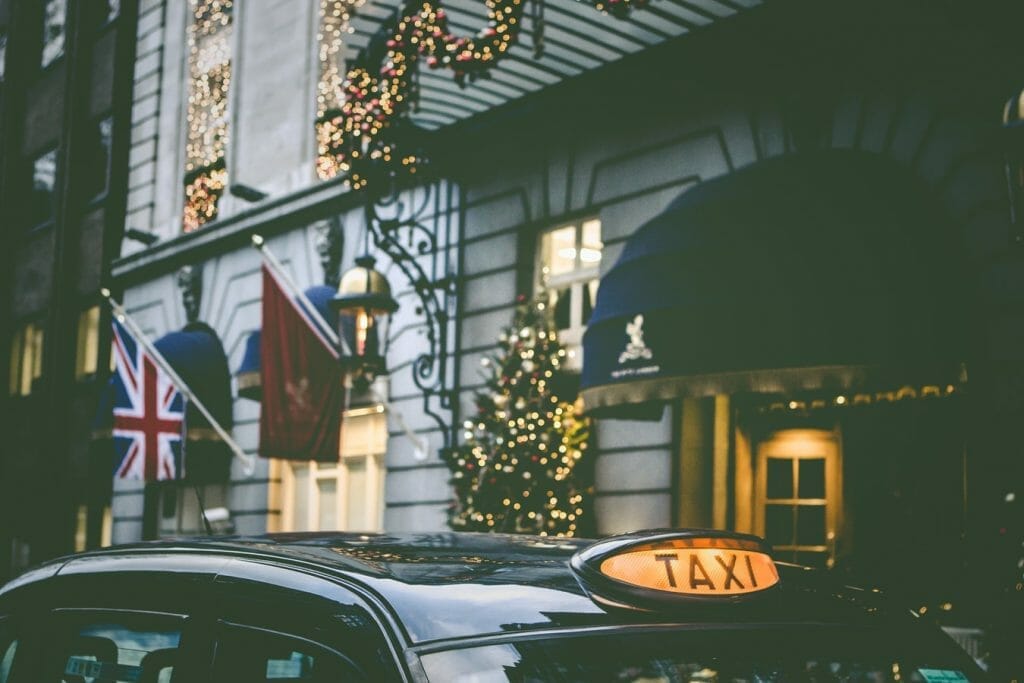 Now, let's get into what you should bring to London for the adventure of a lifetime…or at least so your feet don't get cold.
GET A

FREE

LONDON INTRO GUIDE and ACCESS TO MY FB GROUP
Start your planning with this "Intro to London" guide and access to my London planning Facebook group!
The Absolute Must-Knows (from a Londoner)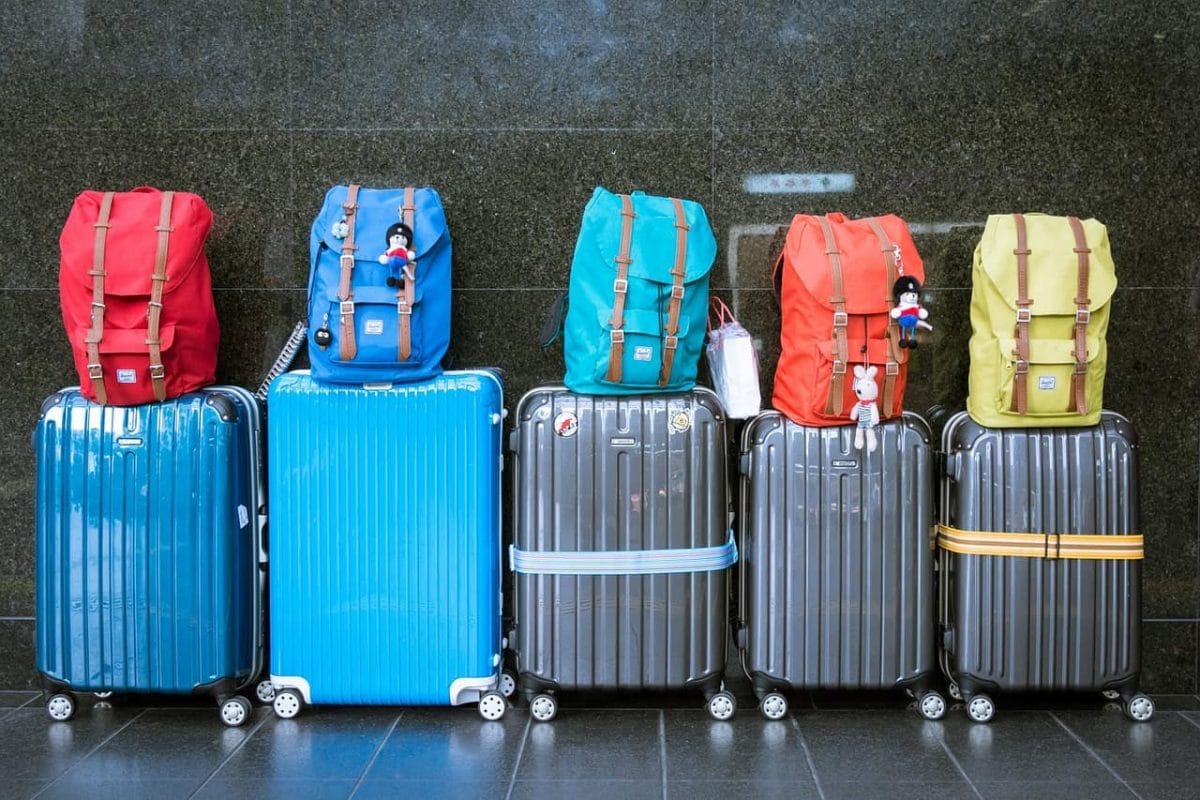 | | |
| --- | --- |
| Umbrella or raincoat | Converter |
| Adapters | Portable phone charger |
| Passport copies | Waterproof shoes |
| Boots | Cardigan/layers |
| Toiletries | Travel backpack |
| Luggage compartments | Comfy walking shoes |
| Vitamin D pills (in winter) | Dressy outfit for afternoon tea |
| Underwear and socks | Hoodie or comfy clothes for plane |
| Headphones | Sunglasses (in summer) |
| Leggings | Hats |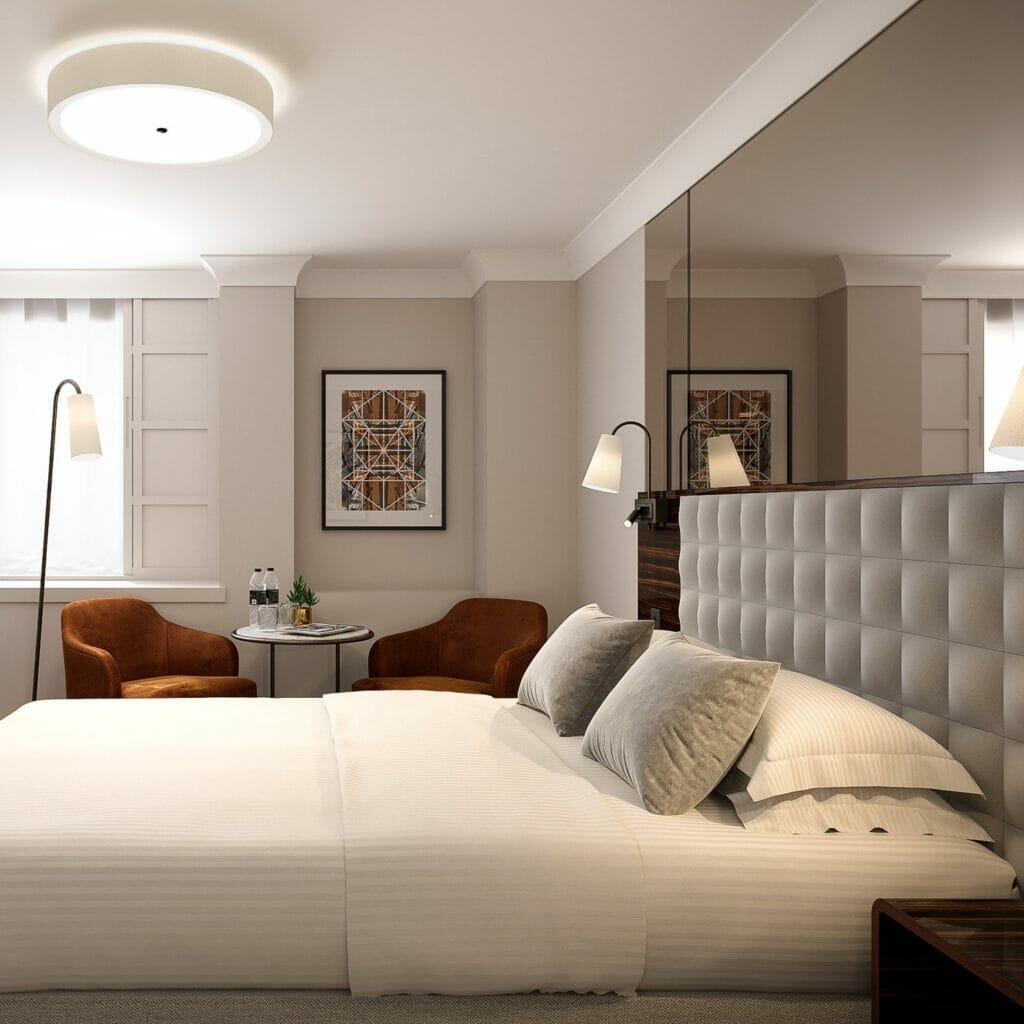 London Packing List Essentials
You know the things you pack in your carry-on so you can still have a good trip and not completely fall apart should the airline lose your luggage?
The stuff that is ESSENTIAL and oh-so-important and will make your trip either a success or an awkward story about the time you lost all of your luggage and then cried in London for two weeks?
Yeah, that stuff.
These are the top tier requirements for your London packing list that I want you to drill into your head now so you don't forget them!
IMPORTANT: are you coming to the UK from abroad?
In case you're reading this from outside the UK and will be a foreign visitor here, you need to know these 2 things to stay safe and save money.
Travel insurance – you need it when going overseas! I use

this site

to get the best quotes and purchase my packages from. Do not skip this – having medical coverage abroad as well as other coverage in case of missed flights, lost luggage, etc is essential. As I said, I have never gone wrong using

this site

.
I'm not suggesting that it rains in London every day.
In fact, I'm not suggesting that it rains in London as much as you think it might rain in London.
That being said, the weather in London doesn't always act like it's predicted to.
And when the rain comes, it might not be a deluge type of thunderstorm rain, but it can be a misty, constant, annoying rain.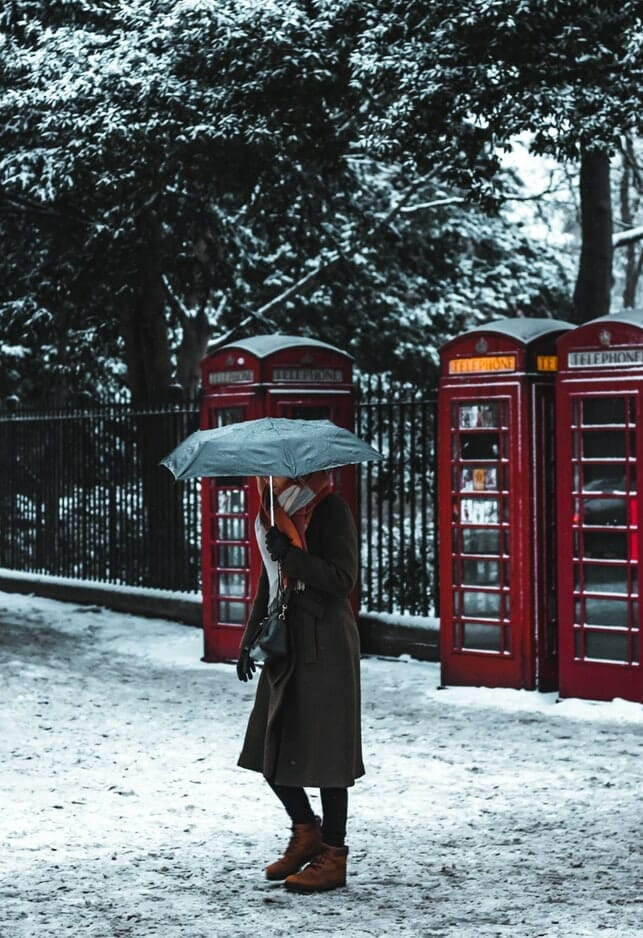 This goes for all seasons!
With that in mind, I would suggest that one of the first things you pack for London is either a small umbrella like this one that you can pack up tightly and put in a backpack, or a waterproof coat like this one (it doesn't have to be a dedicated raincoat).
This ensures that you're always covered, quite literally, and you don't have to find yourself sitting in Trafalgar Square trying to eye up where you can run for cover.
After all, the British way is to "keep calm and carry on," and that includes when it rains.
When bringing electronics such as laptops, phones and cameras over to the UK, it's important to make sure that your electronics are either capable of handling the voltage of the UK, or that you pack a converter which will convert the UK voltage into the voltage your electronics require.
There are some cases where you just shouldn't plug an American item into a UK socket (more on that below in the What Not to Pack for London list), but for things like your laptops and camera, just do your research beforehand to figure out whether you do or do not need a converter like this one.
In today's day and age, converters are mostly a thing of the past as most electronics are built to handle both the UK and other voltages, but like I said, do your own due diligence to double check the labels beforehand.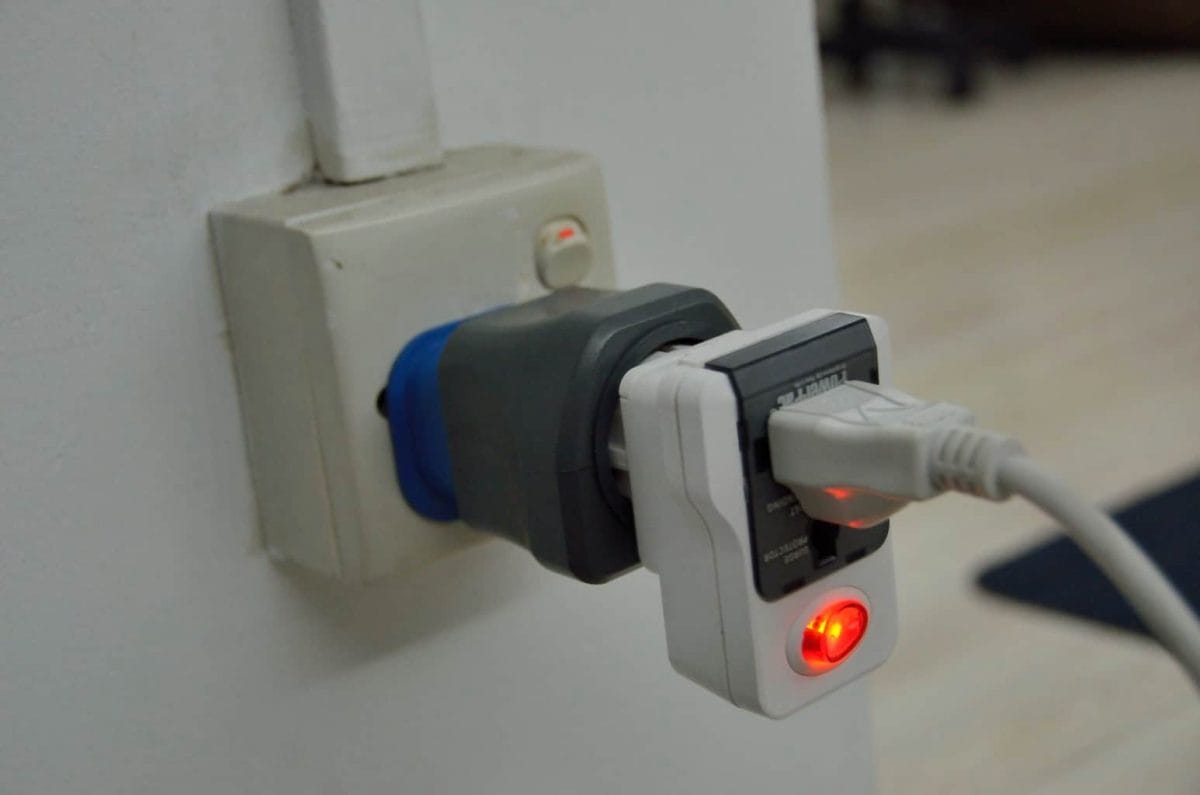 3. Adapters
Regardless of the voltage your electronics can take, you're definitely going to need an adapter for everything you want to plug into a wall in the UK.
This is because UK sockets are shaped differently from sockets around the world and have their own design.
My favorite types of adapters are the ones you can use for lots of countries like this one.
The beauty of having ones like these is that you don't have to keep buying specific adapters wherever you go.
If you take a day trip to Paris from London, boom – you've got the European adapter.
If you happen to buy something in the UK and then want to use it in the US, boom – you've got an adapter.
Remember that you're going to need these for each plug you have to plug in, so don't just pack 1 for a family of four – bring plenty so no one is stressed over not being able to charge their phone before leaving for the Harry Potter tour.
4. Good Walking Shoes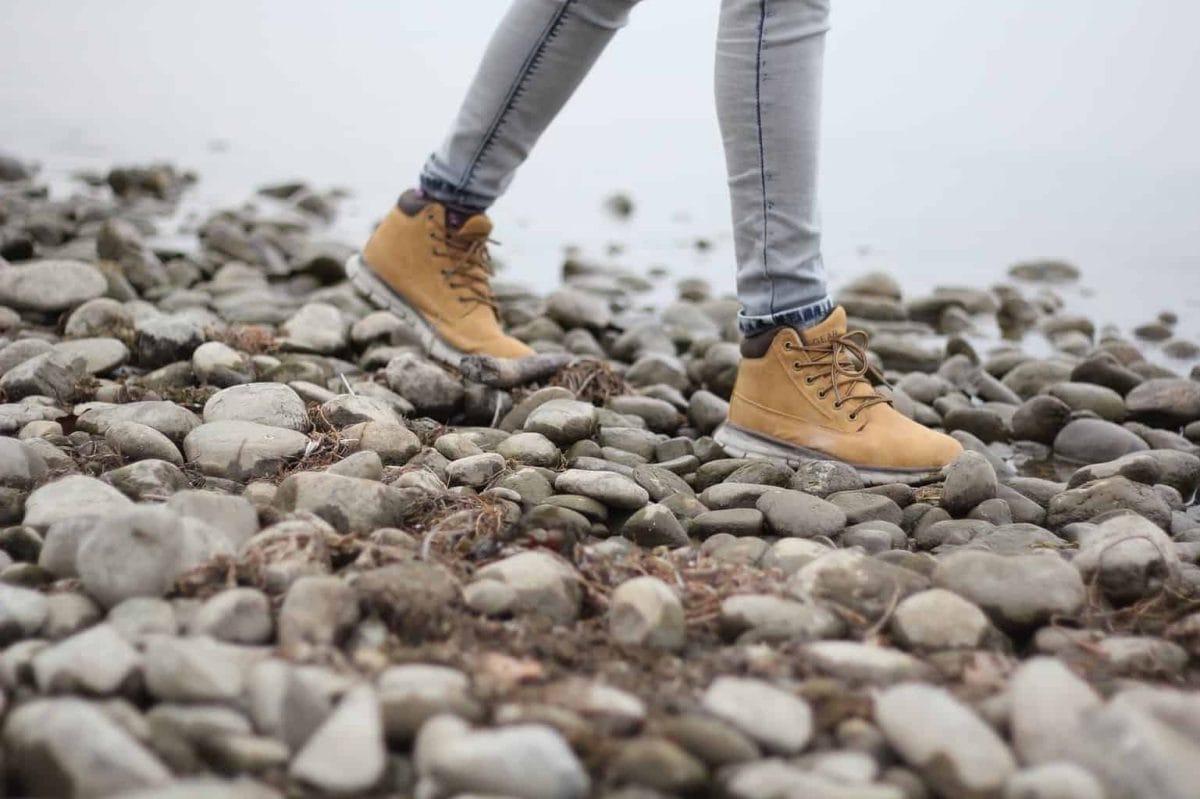 While London is not a "walkable" city in the same way that somewhere like Malaga or Bruges or Oxford is a walkable city (meaning you can basically walk everywhere), there is still a LOT of walking to be done in London.
In fact, it's mostly how we get around – sure, we use public transportation, but once you get off and on at tube stops, work your way to bus stations, etc, you're still using your feet quite a lot.
And on nice days, walking is one of the best ways to get around central London.
Sure, you might not want to walk from London's East End to Kensington in the west (it would take hours!), but you can absolutely walk from Hyde Park to the Science Museum or from Churchill War Rooms to Southbank or from Soho to Covent Garden.
What does this mean for your packing list for London?
It means you need some EXCELLENT walking shoes.
They don't have to be a stereotypical walking shoe, if you don't want.
You don't have to rock the Sketchers all the way around town (though more power to you if you do).
You simply need a shoe that feels comfortable on your feet for many miles.
You should have broken them in first before getting to London, and if possible, they should be an all-weather type of shoe like this one.
5. Underwear and socks
Back to the "essentials to put in your carry-on in London list" – um, don't forget your underwear.
At least a couple of pairs.
What underwear you wear is not my business or problem, and I would highly recommending exploring London with clothes on, so London's not going to care what you've got going on underneath either.
Just don't forget to pack it in your carry-on, because I've almost done that on a ski trip before and was really contemplating how I was going to find underwear for less than like $100 on top of a mountain and it wasn't great.
So, yeah – underwear!
Bring it!
What to Pack for London in the Winter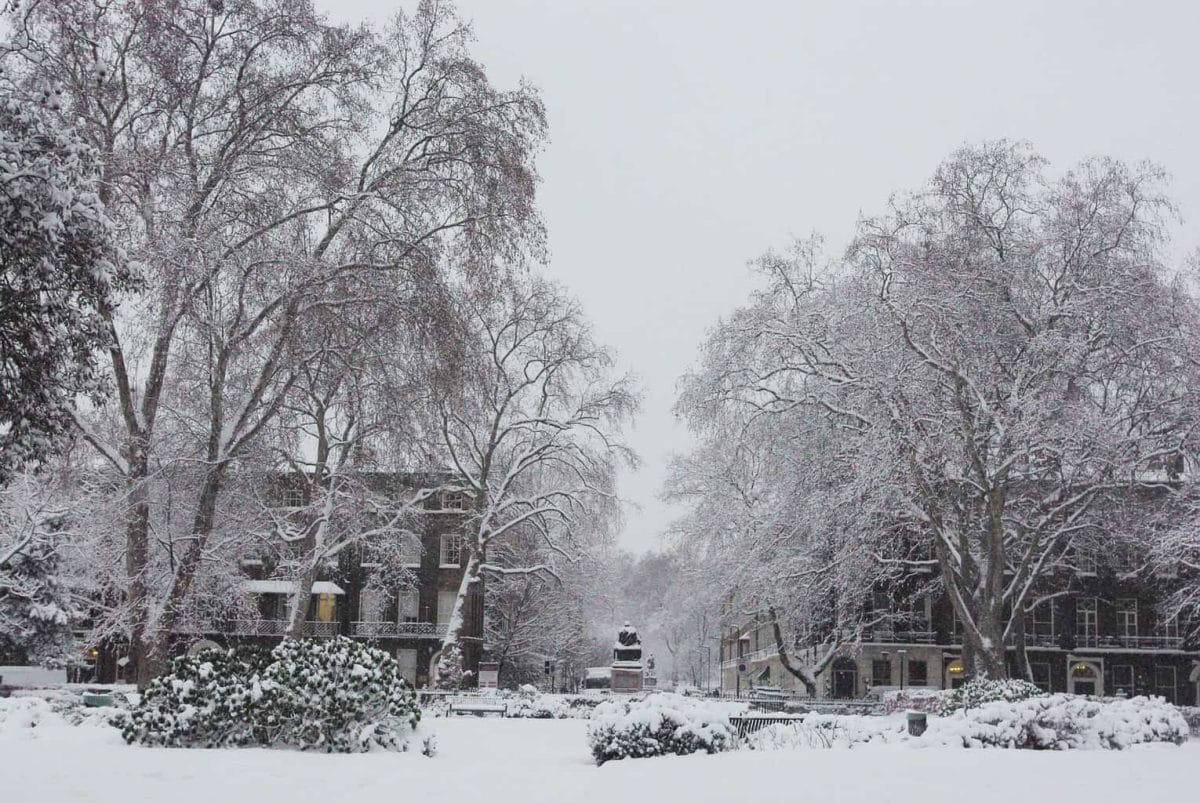 Winter in London is one of the only times that the weather is pretty much guaranteed – it's going to be cold.
Not Arctic cold, but cold.
And probably grey.
And probably rainy.
And definitely dark because it gets dark at like 4pm in the winter and you spend your whole day begging the sunshine to come out, but it hates you in December and so just doesn't.
Or something like that.
Anyway, your London packing list in the winter should include the essentials listed above, as well as…
6. Winter coat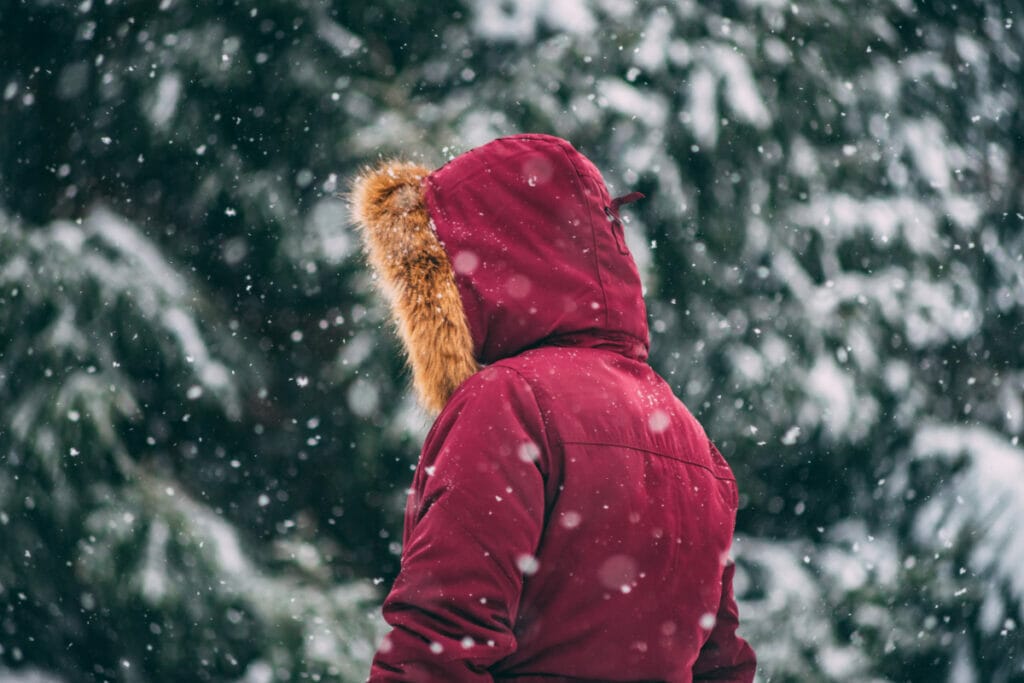 You need a warm coat to visit London in the winter.
Londoners typically wear dark colors, but I say go for whatever color you prefer because life's too short to be in all black all the time.
I prefer peacoats like this that are good for going to plays or afternoon tea in London, going to work and just general commuting and living life, but for the really cold days, consider a jacket like this that is windproof, waterproof and super warm so that you don't feel frozen to your core.
7. Waterproof shoes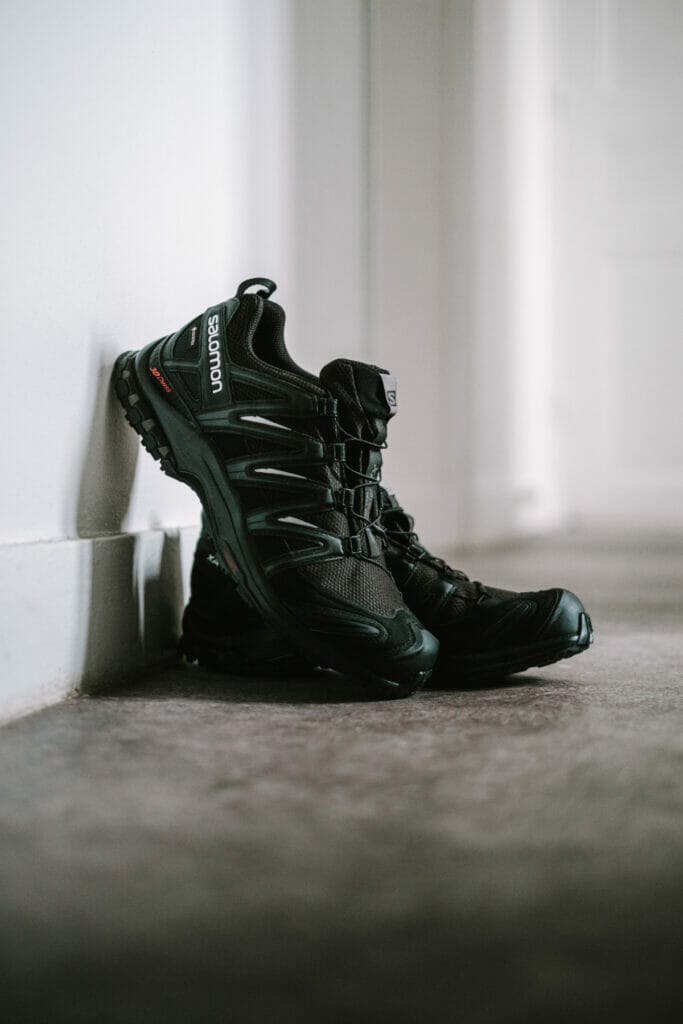 I cannot recommend a good pair of waterproof shoes enough.
Guy has some like these, and I've got my eye on some like these, but they seriously are a great idea for the winter when you're more likely to encounter wet and damp.
The reason these work so well is that you don't have to wear a separate pair of shoes or boots, like rain boots, in order to deal with the weather.
You can simply incorporate them into your existing outfit and, wallah – dry feet!
8. Boots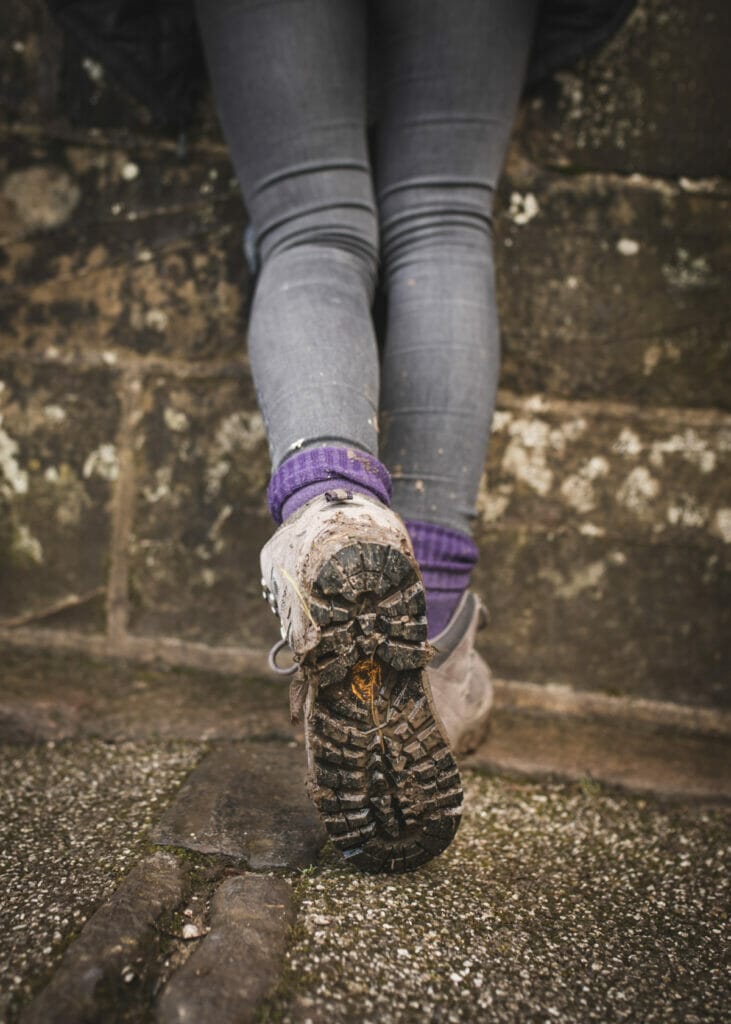 When the weather outside is frightful, the boots on your feet are so…delightful.
Packing a pair of boots for London in the winter is always advisable due to the cold and slush and general dreariness that's possible.
You don't need like full on hiking boots, but a pair of fur-lined boots like these are always a great idea, or possibly a fashionable pair of knee high boots for going out at night like these.
9. Scarves
Scarves are such a fashion statement AND a practical accessory in London.
Add a loop scarf like this to your London packing list – I use kinds like these and they are super cozy around your neck and really easy to travel with because they serve as good neck pillows on trains and planes and are easy to take off and on with one hand.
If you're more partial to a more traditional scarf, try a super soft one like this.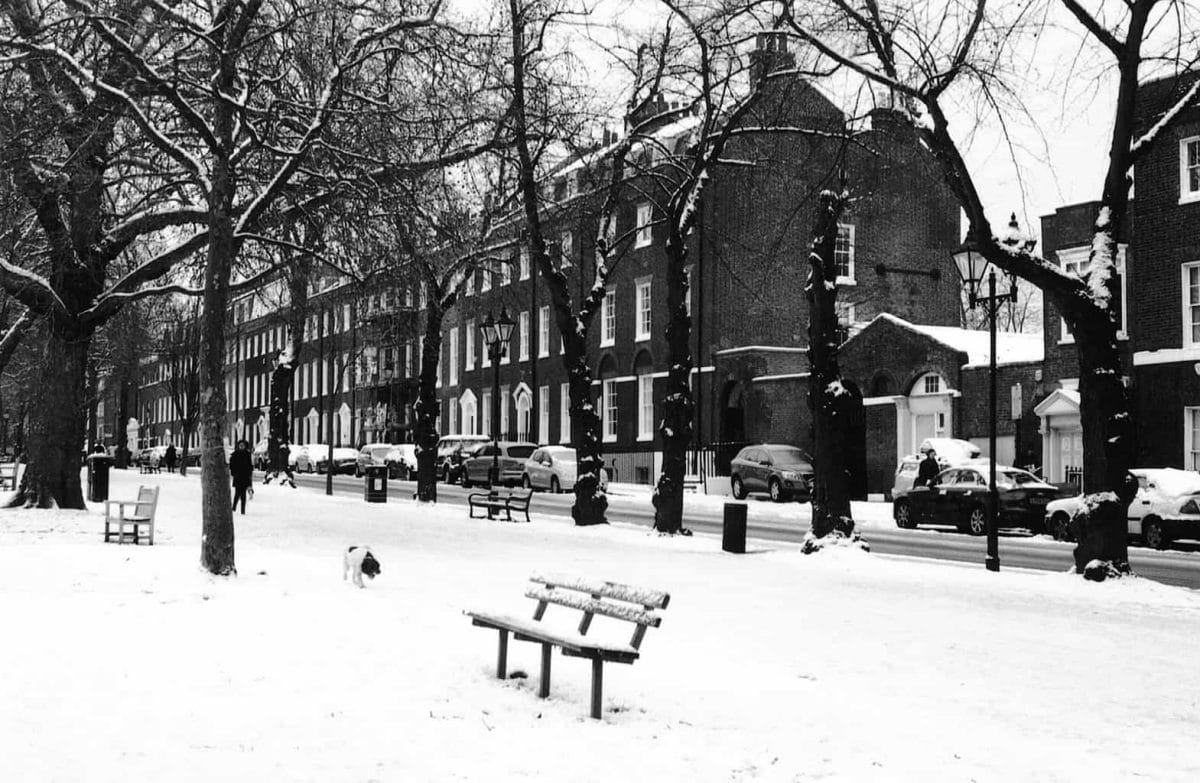 10. Winter Hats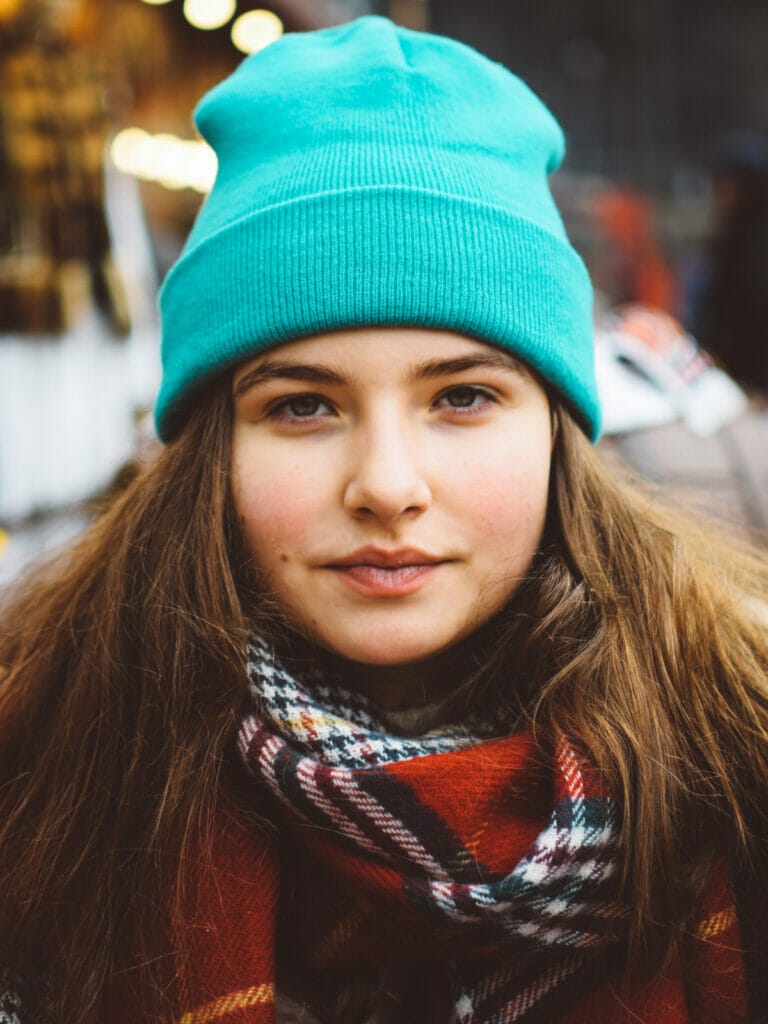 Especially if you're walking around all day, having a hat to keep your head warm in London is a real necessity.
You can opt for any style you want, though I do mean something more like a knit hat like this one as opposed to your wildest west cowboy hat.
I like a slouchy one like this, while Guy prefers tighter beanies like this one.
Whatever you choose, make sure it keeps your ears warm as the cold can be really biting, especially if you're walking along the water.
11. Leggings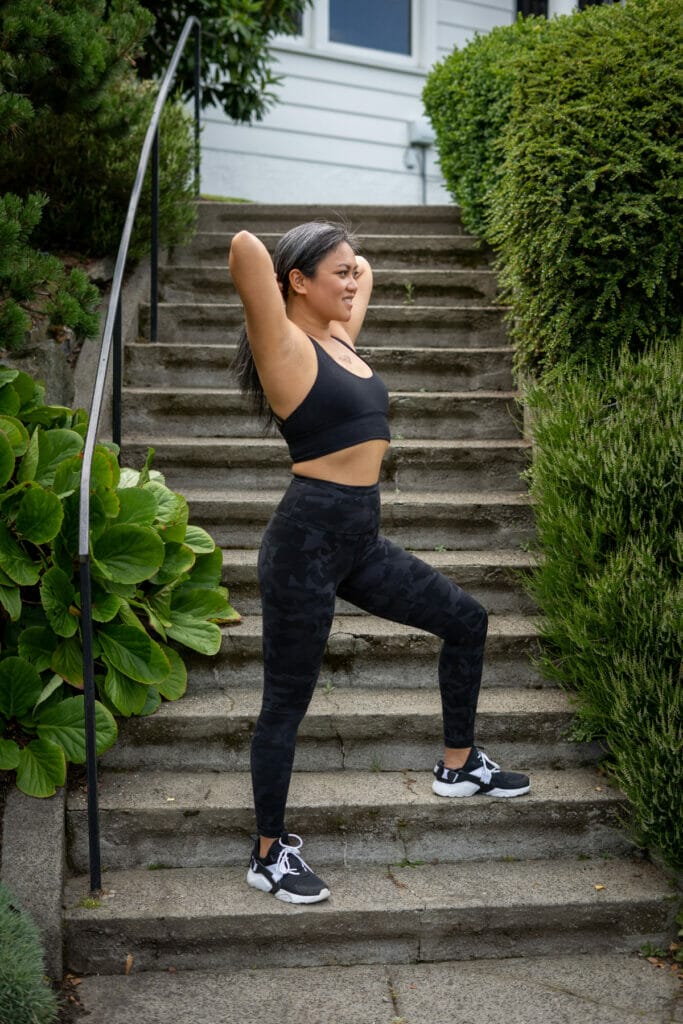 People, leggings are where it's at.
You can wear them by themselves if you choose dark, thick pairs like these ones or these ones.
Or you can use them as extra insulation under your jeans, which I am ALL ABOUT.
Get a thinner pair like these that will keep your legs warm while also not making you feel like a bloated whale.
12. Comfortable hoodie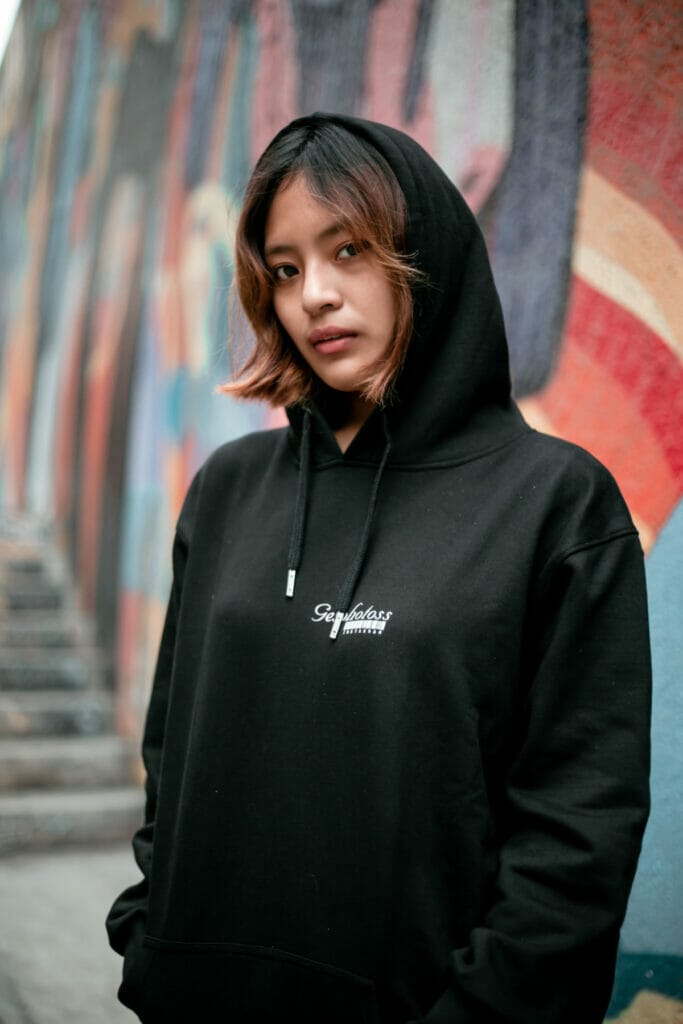 To be honest, while I know London is a fashionable place and most people are going to be walking around with more trendy or fashionable winter wear, there's something about a slouchy, comfortable hoodie that really comes in handy when you're just lounging around your accommodation or want to pop out to the store or something similar.
I love these hoodies like these with cool designs and usually get them in a size up so they're cozy rather than fitted.
13. Vitamin D pills
If you're coming to London for a long time in the winter, bring some Vitamin D with you!
The sun really doesn't shine all that much, and when it does it's not for long.
This can lead to a Vitamin D deficiency, so if you're here for a couple of weeks or longer and prone to things like Seasonal Affective Disorder, it can't hurt to have some on hand.
We use this kind from Amazon.
Things to Bring to London in the Spring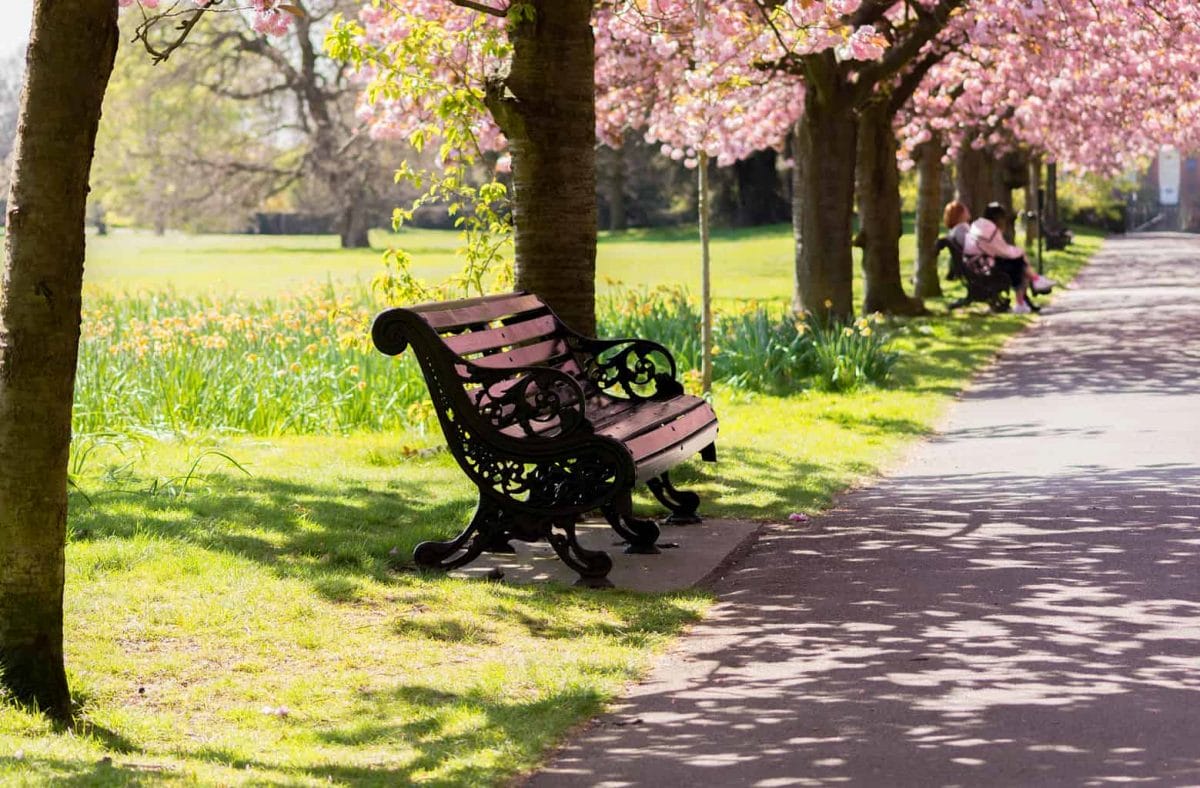 Spring is an interesting time to pack for London because it could snow in April or you could have an amazingly warm day in March – it's sort of all up to the UK weather gods, and unfortunately I haven't been able to get in touch with them yet about how to regulate the temperature better.
This means that you should come prepared for a wide variety of weather, which is easily accomplished with layers!
14. Cardigans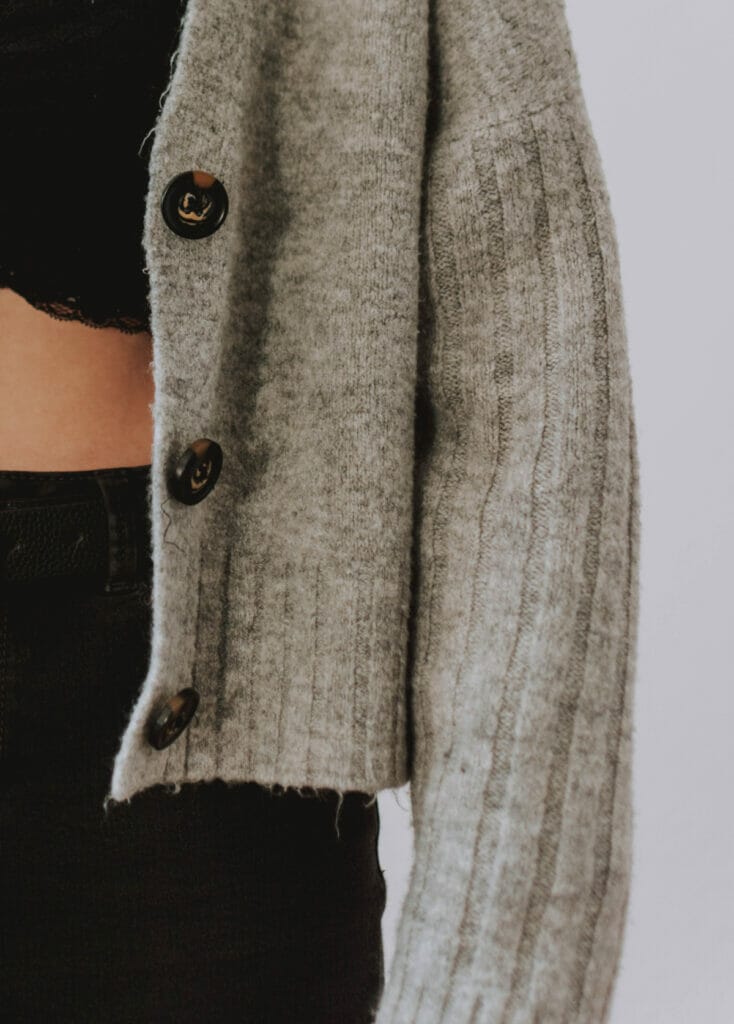 A cardigan is the perfect item on your Spring in London packing list due to the easy ability to put them on and take them off.
You're not committed to wearing it the whole day if you don't want, and you can get thin or thicker ones depending on the month in Spring you're going (erring towards thinner ones in late April/May and thicker ones in late March/April).
I love ones like these that are chunky and cozy for the early Spring ones, and ones like these that are much lighter for the later Spring months.
Also, they can pair with loads of outfits, and they're versatile in how you wear them so you can create multiple different outfits with the same cardigan.
That is a bonus for packing light!
15. Long sleeve t-shirts
Spring is still a great time for long sleeve shirts – they are easy to layer with adding a scarf, sweater, or cardigan, or you can just wear it on its own if the weather gets warmer.
Guy prefers more plain long sleeve shirts like this, while I go for something like this to add a bit more color while still being cute.
16. Short sleeve t-shirt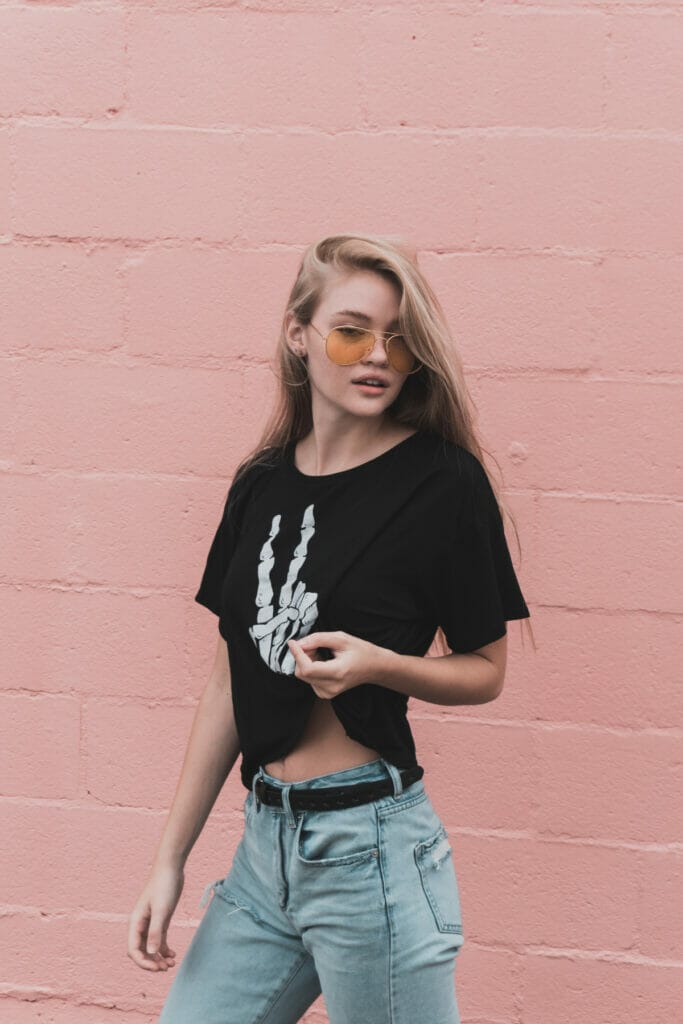 In Late Spring, short sleeve shirts will allow you to really have the ultimate wardrobe flexibility!
You can layer almost anything on top of it, or strip down to just the shirt and enjoy the sunshine.
Get a pack of moisture wicking shirts like this that will dry quickly if you are traveling for a long time and don't have time to wash your clothes anywhere except the hotel sink.
17. Capris or Jeans
As for your bottom half, long pants like jeans are still very much worn in London in the Spring.
This isn't a tropical climate where you're going to be hit with incredibly warm temperatures every day.
Like I said, it has snowed in April!
If you want to prepare for a warmer spring, bring some capris to give your ankles a bit of room to breathe.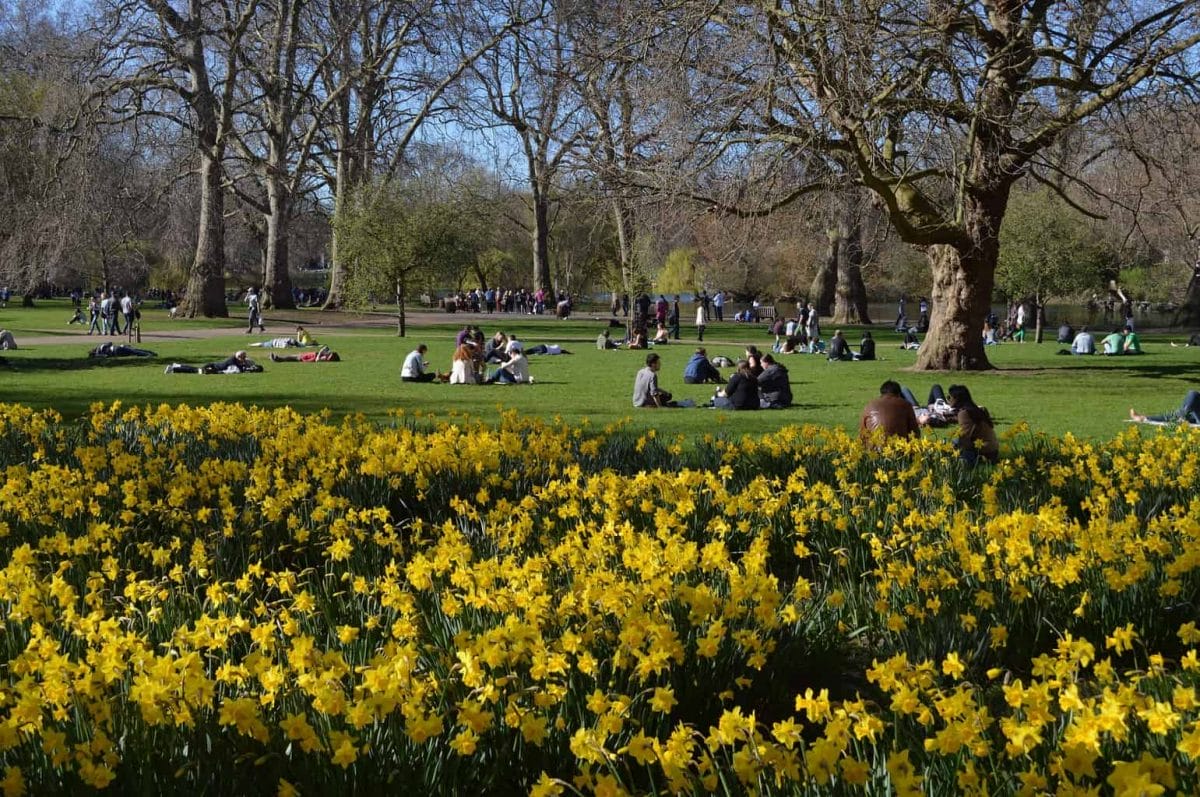 18. Light Scarf
By the time Spring is in full swing, you can leave the chunky knit scarf at home and instead opt for a light scarf like this one that will add that extra bit of oomph to any outfit.
19. Tights and dresses
You can start breaking out the lighter dresses like these ones to enjoy the spring months in London.
Dresses like these with loads of bold patterns aren't necessarily the norm, but you can either dare to be different or keep it a bit more floral/plain with dresses like these that will help you blend in with every other Londoner on the streets.
I would recommend wearing tights with dresses all throughout Spring in London, unless you're in a heatwave.
That being said, Brits tend to dress more formally than Americans so even in a sweltering summer, you'll still find some people that won't ditch the tights at all!
20. Comfortable hoodie
I tend to dress more casual, and I find that hoodies are the way to go on colder Spring nights.
Look out for a comfortable hoodie like this one for nights spent chilling on a balcony somewhere, or opt for a more dressed up look like this for a night on the town.
21. Flats
When Spring has sprung in London, a comfortable pair of flats in addition to your walking shoes will be a godsend given the cute dresses and jeans you're planning on wearing.
The problem with flats, for me, is how they can really tear up your feet if you walk in them all day.
For that reason, I recommend ones like these that put comfort first, and ones like these that roll up easily so you can fit them in your suitcase without taking up all the space.
London Packing List for the Summer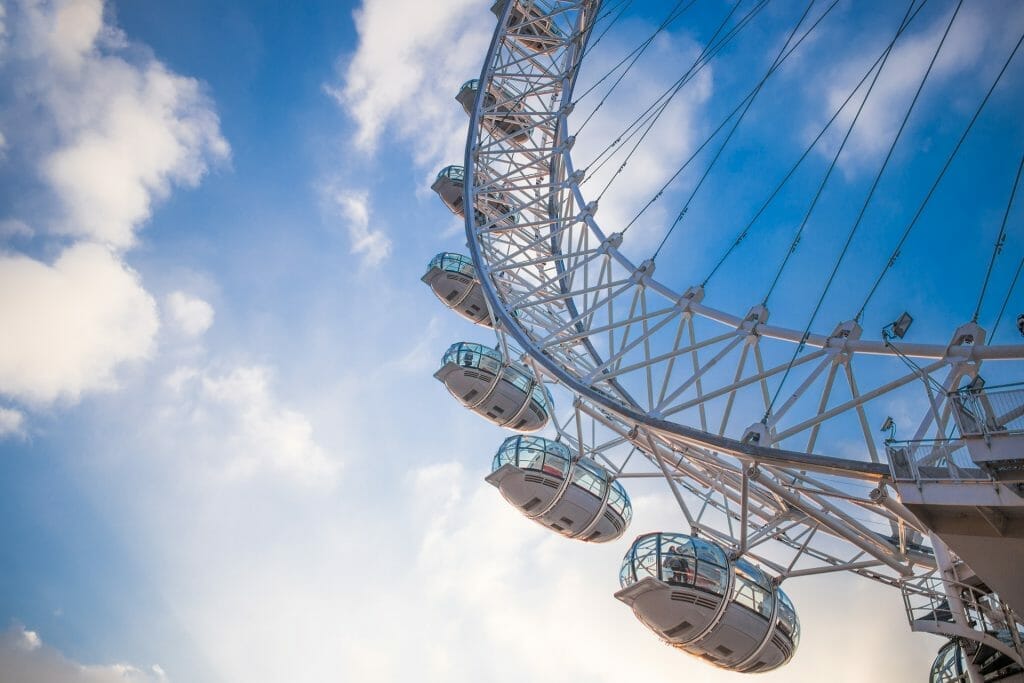 Whether you're visiting London in August, coming to London in September or visiting earlier in the summer, you're going to be in for a wild ride of London summer weather.
Sometimes, it's rainy and cold and you need a coat.
Sometimes, it's so hot and there's no air conditioning that everyone basically sleeps with their windows open and ice packs in their beds.
So, as you can imagine, putting together a London packing list for the summer can be a real struggle.
I would still recommend layers and keeping your options open, but here are some of the must-haves.
22. Short sleeve shirts
Finally, London in the summer means you can usually wear short sleeve shirts (at least underneath a cardigan or other layer if you need to).
Break out the graphic tees, break out the colorful prints, break out the skin because summer might last only a day so might as well make the most of it!
23. Shorts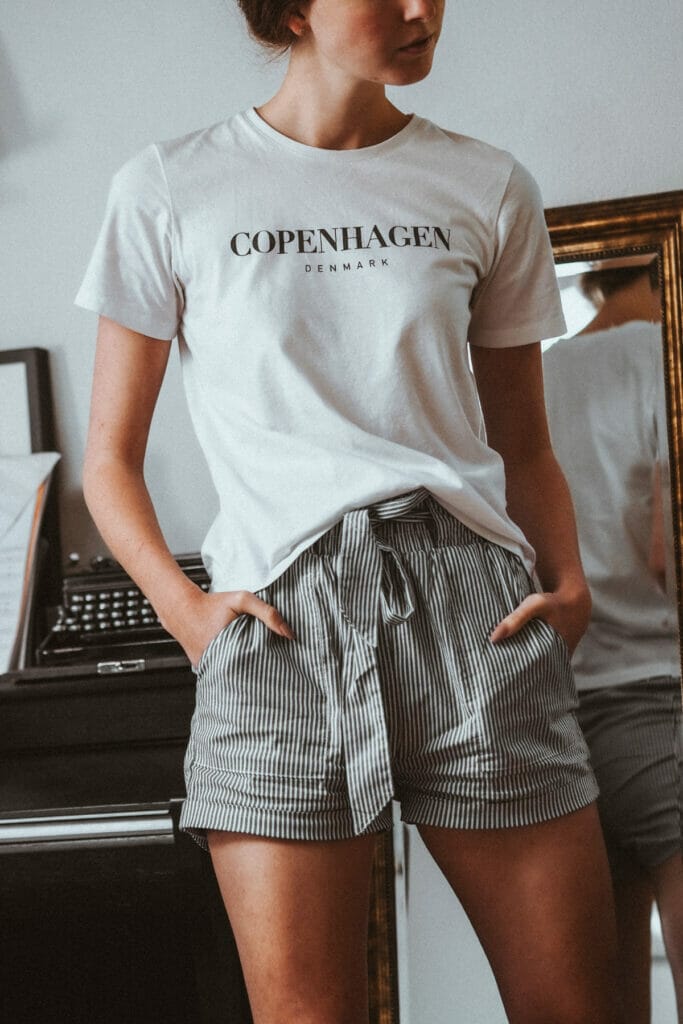 Okay, so Londoners don't really wear shorts.
Even when it's really hot.
However, that being said, there is also no air conditioning in most of London or England because why would they need air conditioning when the heat doesn't last for a long time?
Except, as a visitor to London, I feel like you should embrace your favorite shorts if that's what you want to do to stay cool – I certainly do in the summer and I have a full time job I have to go into and THANK GOD it's casual enough that I can get away with it, because otherwise all of my skin would melt off on the Central Line.
Keep it a bit more formal with shorts like these, or rock some denim like its 1995 with shorts like these.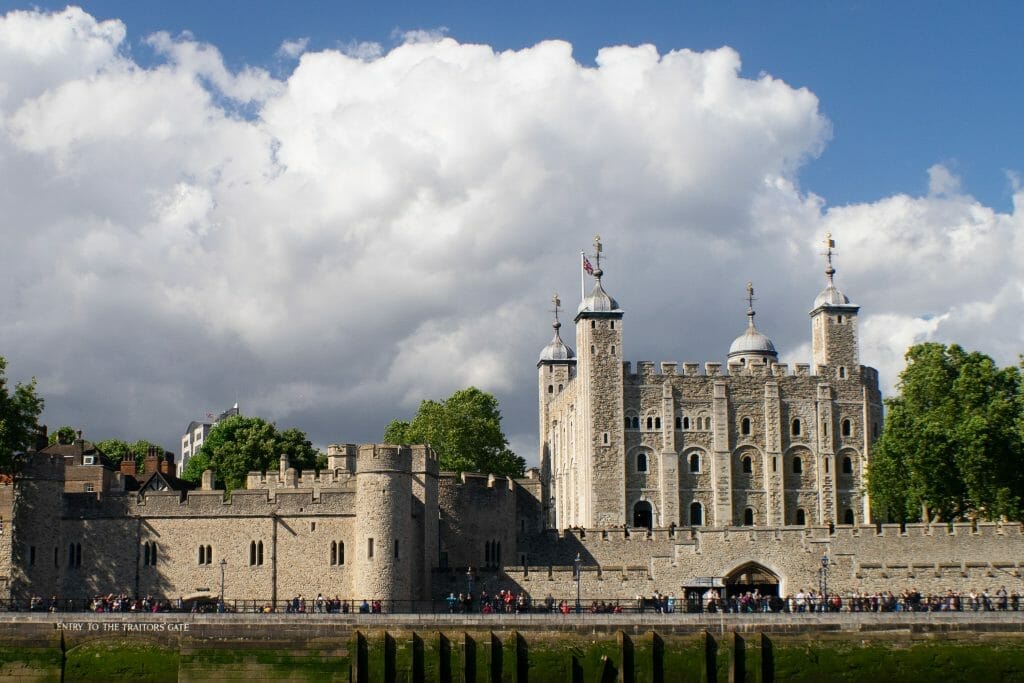 24. Skirts
For another way to enjoy London in the summer, add skirts to your London packing list.
They're great for going out in the evening when you don't want to wear jeans or long pants, and perfect for enjoying some time in the parks while letting the breeze pass you by.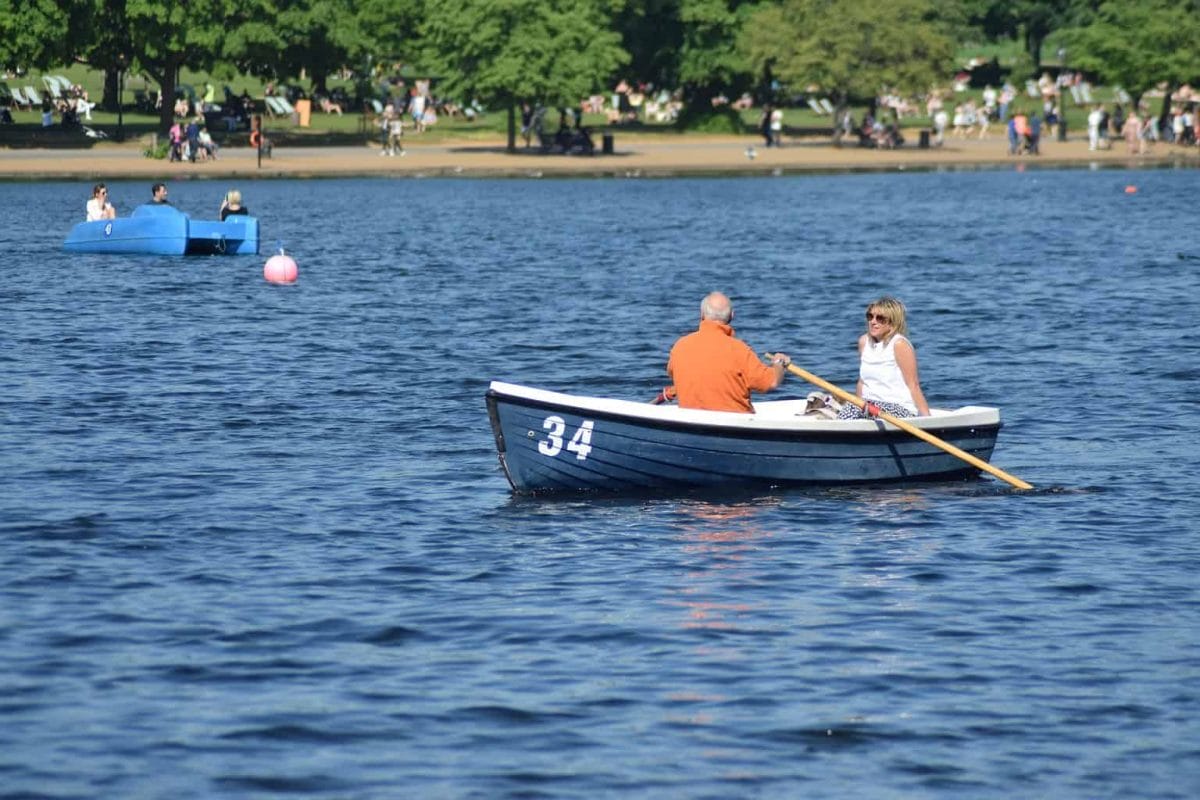 25. Dresses
Break out some adorable summer dresses like this one or this one to really embrace summer in London.
Bonus – dresses look great in Instagram shots if you're hoping to impress all of your family and friends back home, and they give everything room to breathe (and they will also expand to fit the giant portion of fish and chips you just ate).
26. Lightweight tights
As I mentioned, Londoners often prefer to wear tights under dresses even in the summer, so if you want to fit in, get yourself a pair of sheer tights like these ones or lightweight tights like these ones that won't make your legs sweat but will make sure you don't have a Marilyn Monroe moment while walking over a storm grate or something.
27. Long pants
Okay, so summer in London isn't ALL ice cream and sunshine.
There will be some colder days as well, and perhaps some colder days, so wear long pants on the plane or train as your travel clothes and then use them during your trip if you need to.
People recommend all different type of jeans like these and hiking pants like these, but I like just a pair of dark pants like these that go with a lot of outfits and aren't too hot.
28. Flats
Flats are another essential part of your London summer packing list – choose a bright and colorful pair like these to go with your new dress, or opt for a more subtle black or brown look like these ones to pair with a more sophisticated 'going out' outfit.
The great thing about flats are that they're also not bulky, so you can put them in your luggage no problem.
29. Sandals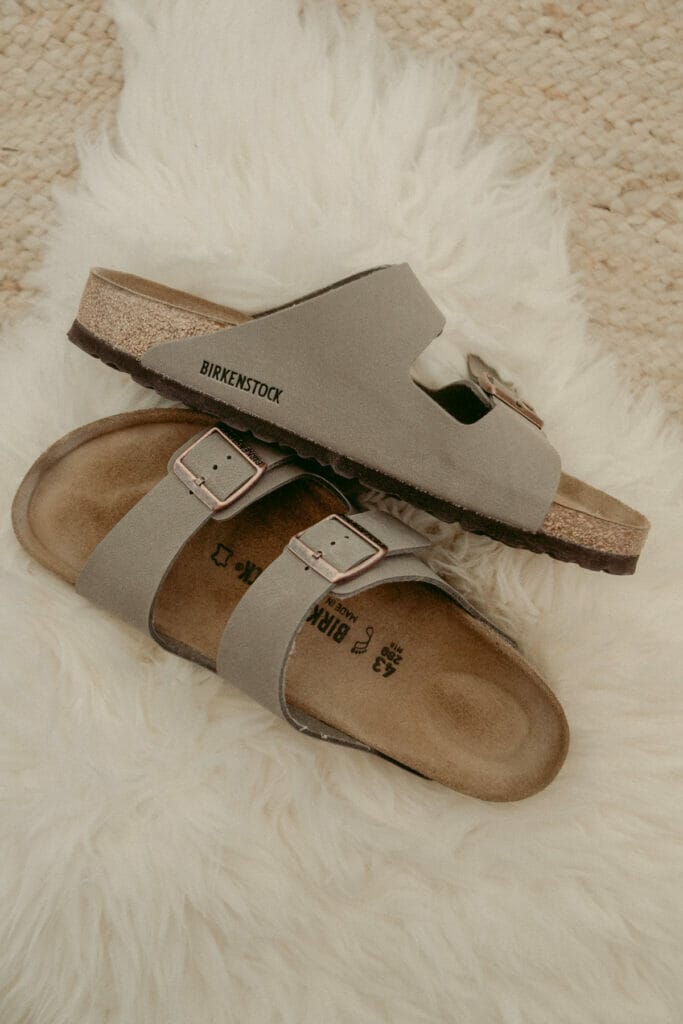 Summer in London of 2018 was one of the hottest on record, and basically all of the fashion rules went out the window.
While I wouldn't typically recommend sandals for walking around London, on the hottest days, you should really invest in some comfortable sandals like these that will let your feet breathe.
Like, no, you shouldn't be wearing your favorite Mickey Mouse crocs if you want to blend in, but a more subtle sandal might be the difference between losing your mind or not on a really hot London summer's day when the air is still and the air conditioning is nowhere to be found.
30. Sweaters for night
Again with the layers – pack a few lightweight sweaters like these ones to pair with jeans and flats if you need to in the evening or on colder, rainy, days.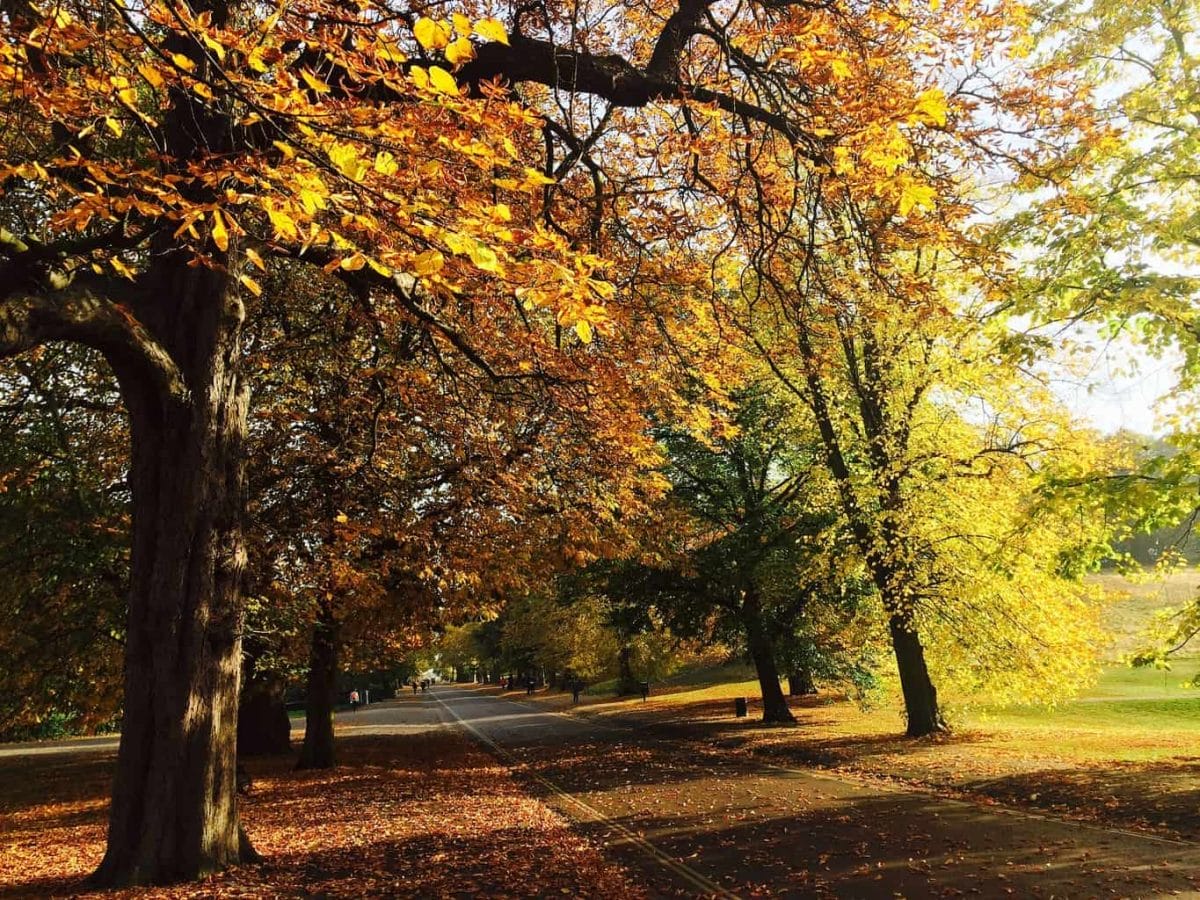 What to Pack for London in the Fall
Want the ultimate London packing list for the autumn?
Lucky for you, I've got a whole post on the topic you can access by just clicking here!
What Else Should You Include on Your London Packing List?
In addition to the clothing items and essential things to bring listed at the beginning of this article, there are some other things that I would make sure to include on your packing list for London to make sure you have a great, comfortable, time.
31. Travel camera
Trust me, I know phone cameras are amazing nowadays.
You can basically create works of art just from an iPhone and I am ALL for that.
That being said, if you are someone who likes to scrapbook your experiences or print pictures from your trip instead of just posting them to Instagram, don't forget to bring a more professional camera than your phone.
My husband uses this one, and the picture he's able to take with it with just a few changes in the settings are truly amazing – night skies with stars shining brightly, gorgeous sunset photos, and architecture photography that really captures the essence of what it means to be in London.
This isn't something for everyone – if you're happy taking pictures on your phone and sending them to grandma, then that's absolutely your call – but if you do want to branch out a bit and try to get some even better photos of London, don't forget to pack the camera!
32. Travel backpack
I don't care who you are in London, student, businessman, the Queen – you're probably carrying around a backpack (okay probably not the Queen but I bet she would if she were allowed).
Backpacks are the easiest way to carry your belongings around if you're going on more than a couple hour trip.
I carry one into work every day, and take it with me wherever I go, even if I'm going out to dinner or a show or an event afterwards.
When you're traveling, you want a backpack that you can use both as a carry-on on the plane and as a travel backpack while in London.
Because of that, I want to recommend a couple of different European travel backpacks I know and love that should not only go on your London packing list, but be an integral part of how you actually pack your things!
First up is this one – this is the one I use to take to work every single day.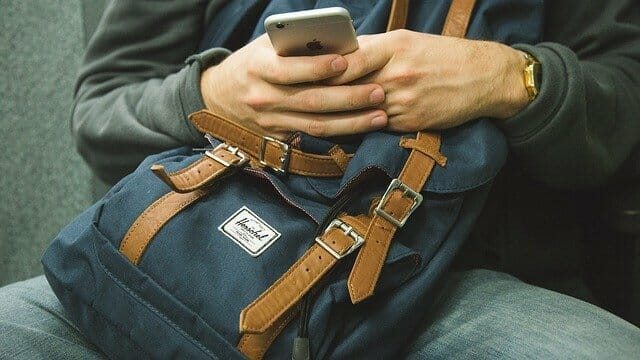 I like it because there are a ton of different designs and it's pretty cute.
It's also small enough to not feel unwieldly when I carry it around, but large enough that I use it as a "place under the seat in front of you" carry-on just fine.
The one thing it does lack is compartments on the inside – it's mostly just an empty cavern with a few pockets internally and then the smaller compartment on the outside like on most backpacks.
This works for me, but maybe not for you if you prefer endless pockets and zips in your backpack.
If you do want one that's a bit more organized inside, check out this one.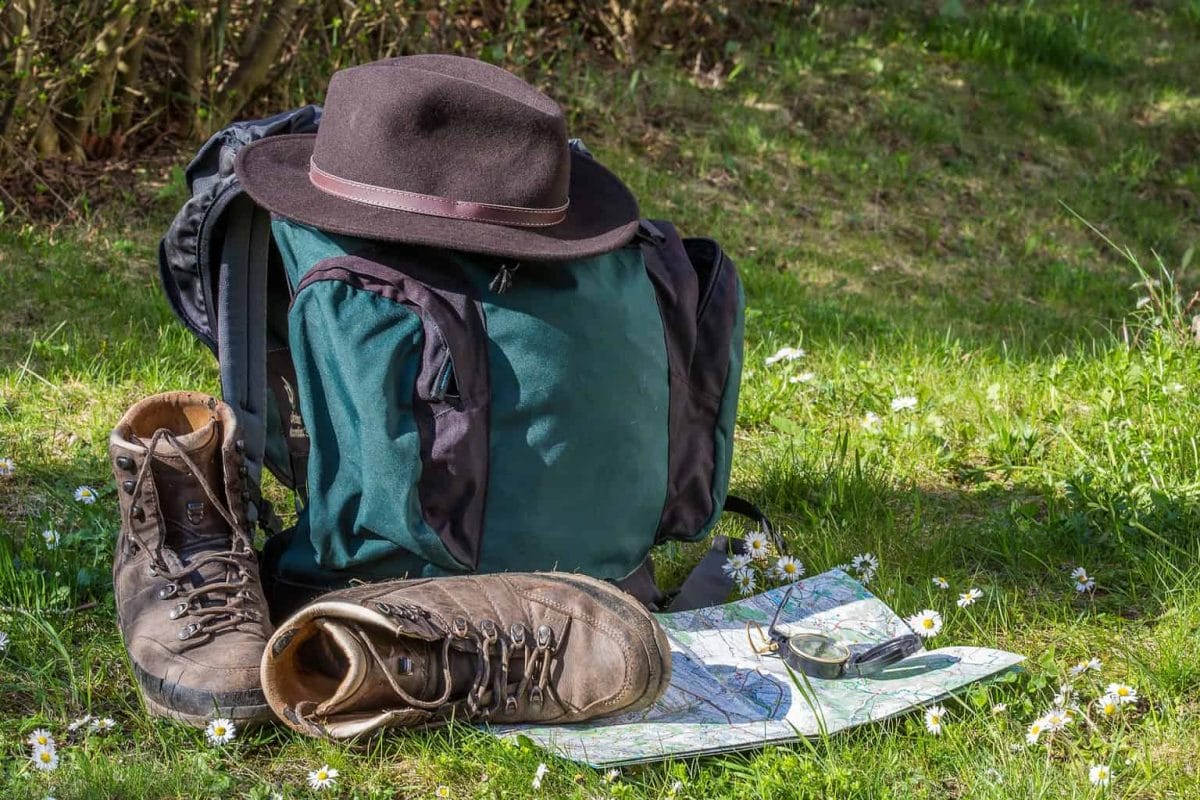 33. Compartment suitcases
Packing is an art form, and packing for London when your hotel room or AirBnb is probably going to be smaller than you're used to (what can I say, it's a big city on a small island), you're going to want to pack as efficiently as possible.
That's where these compartmentalizing packing cubes come in handy!
Before I started using these, basically everytime I packed it was a real roll of the dice as to whether I'd be able to find my pajamas without throwing every single thing out of the suitcase and onto the floor.
Now, I keep separate compartments for separate types of clothes and items, which makes it way easier for me to find, gives me more space when I get to where I'm staying, and sort of just makes me feel like I have my life together.
34. Portable charger
In addition to your regular chargers and the extra adaptors you need for your phone to be charged in the UK, I would highly recommend carrying around a portable cellphone charger like this one.
Essentially, with all of the use your phone will likely get – from looking up directions to possibly taking photos to WhatsApping your friends back home to show them that you're in front of Buckingham Palace and HA HA THEY ARE NOT – you're going to want some extra support in keeping it charged.
These things are lifesavers when you're running out of battery and still halfway through your day with no chance to go anywhere for a long period of time to charge your phone.
They're easy to shove in your travel backpack, and ones like these are even small enough to keep in your pocket so you can charge your phone while it's in your hand!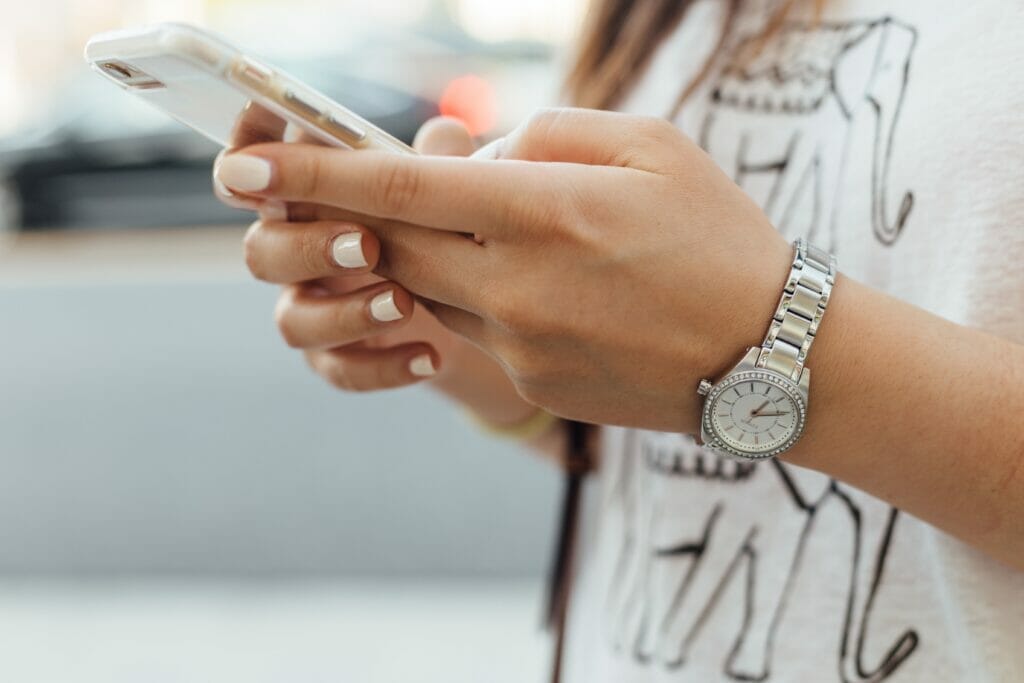 35. Passport holder and extra copy of passport
Do not forget an extra copy of your passport, in full color, on your packing list for London!
If you find that you lose your passport while here, you'll be so grateful you have a copy as it will help you get a new one faster.
In addition to that, finding somewhere safe to keep your passport is essential, so I would recommend buying a dedicated passport holder like this one that makes it way easier to get track of and less likely to get shoved to the bottom of a bag somewhere.
There is no fear quite like the fear of losing your passport, so take note!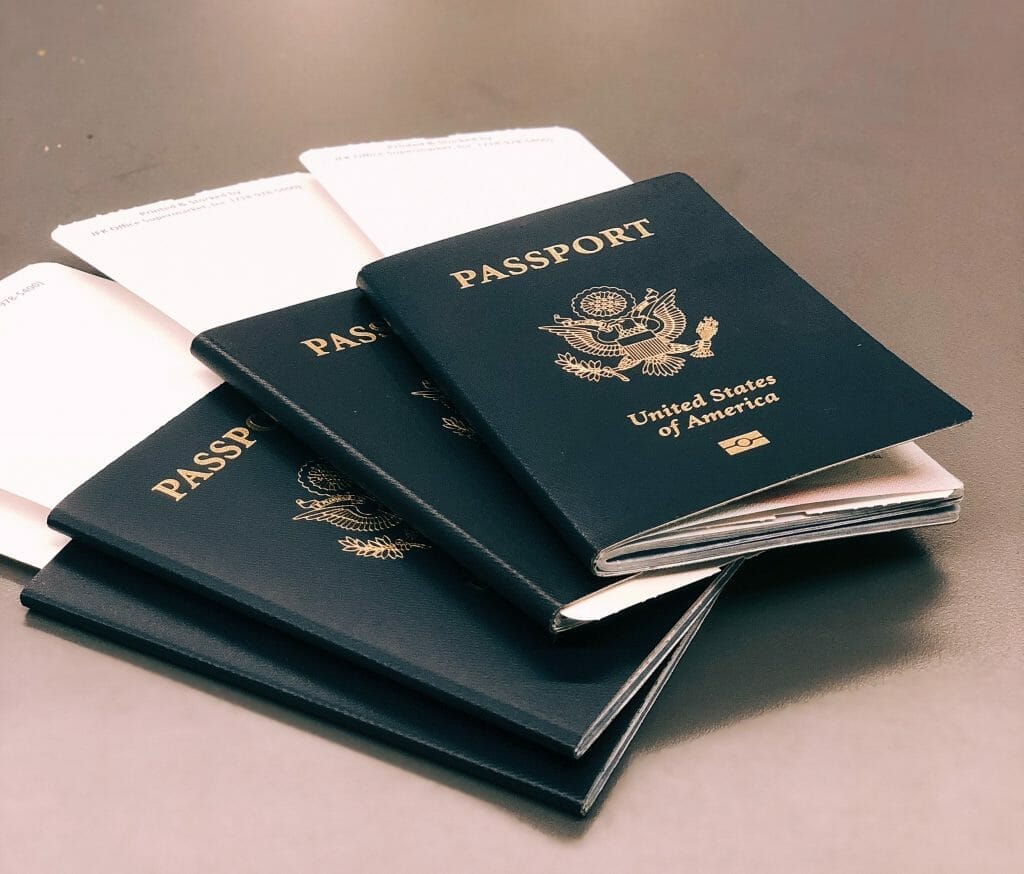 Toiletries
It goes without being said that you should include things like your toothbrush and deodorant on your London packing list, but I do want to address toiletries to let you know that you can easily find shampoo, conditioner, soap, toothpaste and other toiletries in London.
Head to somewhere like Tesco or Sainburys and boom – you've saved yourself having to pack your toiletries in your luggage and worry about fluid limits.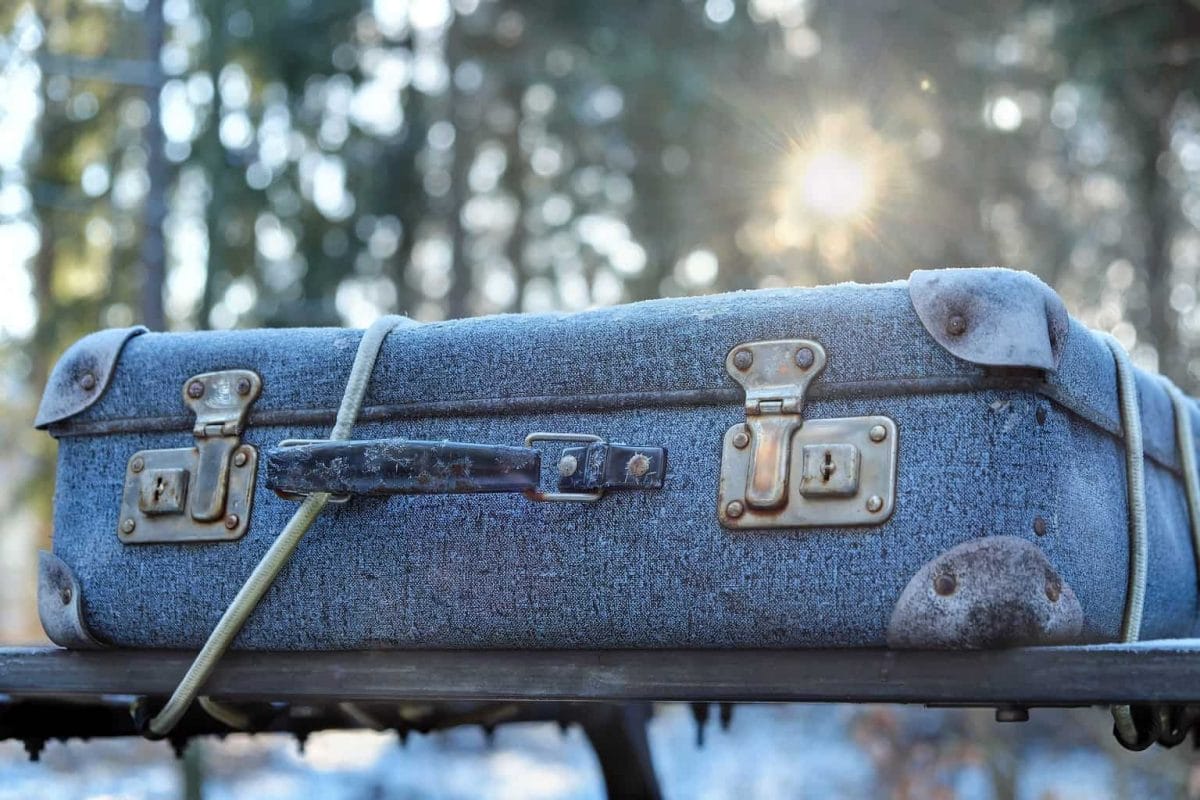 What Not to Pack for London
Certain items can and should be left at home when you're packing for a trip to London.
I mean, basic things like: don't actually take the kitchen sink and also you won't really need to take your scuba diving gear with you.
But also things that you might have thought you needed and you don't, like…
Tank tops or swimsuit
This is a very specific one, but unless you love swimming and are determined to swim while in London, there's no point in bringing a bathing suit because you're certainly not going to swim in the Thames – gross!
I would also leave your tank tops at home in the summer unless you use it to layer underneath other clothes.
The weather often isn't hot enough to wear tank tops or spaghetti straps by themselves, and even when it is, it's not the most London-suitable clothing items.
Hair dryer
I'm not saying you don't need a hair dryer in London, I'm just saying – DON'T BRING YOURS!
The voltage on an American hair dryer isn't compatible with the UK voltage and you could start a fire if you plug yours in in the UK.
It's not worth the potential damage to your life, your accommodation, or your hair dryer.
Instead, buy a cheap one there from somewhere like Boots or ask ahead to see if your accommodation has one there.
Hair straightener or curling iron
Same thing with a hair straightener as above – don't bring yours because it could start melting after being plugged in in the UK and ain't nobody got time for that.
Outdoorsy stuff
London is wonderful, but unless you have some day trips planned to other places, you don't need your hiking boots and survival kit.
It's a big city, and while the parks are beautiful and spacious, you can appreciate them in your regular clothes – fear not.
Money belts
When I first moved abroad, I was convinced that everyone was out to get me.
And of course I think you should keep your belongings safe in London, but I really wouldn't bother with a money belt in London.
I am in London every day of the week and have not worn a money belt and have never had anything stolen.
London, like every other big city, has its own issues and of course you always need to keep an eye on your belongings, but leave the money belt at home.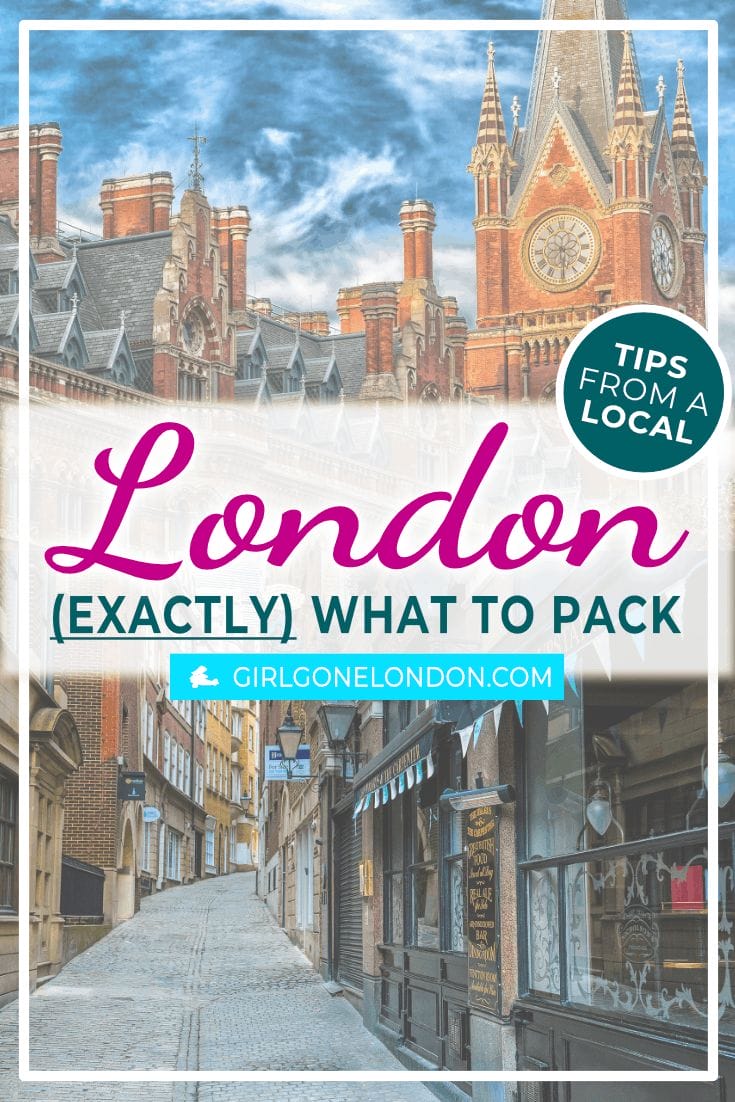 Want more London travel guides? Check these out!
UK Travel Planning Guide: the FAQs
🏥 Should I buy UK travel insurance?
Absolutely yes. Basic coverage is not expensive, and as a visitor you are NOT covered under the NHS. Compare policies and prices with Travel Insurance Master here, a big name in the travel insurance business, and cross that off your list.
🔌 Do I need travel adapters for the UK?
Yes, you do, otherwise you won't be able to plug in your electronics/phone/lifelines. I recommend this one, which is all-in-one so you can use it in other countries.
🚗 What do I need to drive in the UK?
The first thing you need to check out if you're planning on renting a car in the UK is this guide to driving in the UK for visitors – the roads, signs, and driving experience will likely not be what you're used to and it's essential to prepare yourself to stay safe and aware.
🛌 What's the best way to book hotels in the UK?
For UK hotels, Booking is the best site as it offers free cancellation on many properties. If you want an apartment, I always recommend VRBO over AirBnb.
📳 Will my phone work in the UK?
Yes – if you set it up right. Check out my guide on making your foreign phone work in the UK to ensure that you get the type of service you need.
🚿 Can I drink the water in the UK?
Yes, UK water is great and perfectly safe. But drink out of taps in any kitchen or use water fountains. Double check before drinking out of the taps in hotel bathrooms, though, as they may be on a different system.