This post contains affiliate links for which I may make a small commission to help keep the site running. You will not be charged extra for these items had you not clicked the links. Thank you for your help to keep the site running!
Scotland is full of beautiful islands – there are over 790 islands that make up the country and each has its own charm and diversity.
Not all are inhabitable or able to be visited, but of the ones that are, I want to share some of the best Scottish islands to visit, including the most beautiful Scottish islands.
Hey! Sidenote! Planning on visiting the UK or moving to the UK?

For more advice, photos and friendly help, click here to join my UK Travel Facebook group to carry on the conversation with fellow travelers and UK experts.
Whether you're looking for stunning natural landscapes, family-friendly activities or just the serenity of being in the middle of the sea, this list of Scotland's best islands will inspire you to book your next trip.
If you're coming from England, take the train from London to Edinburgh or Aberdeen and then you can take flights, ferries, and more to get to your final destination.
Things to Pack when Visiting Scottish Islands
You're going to want to make sure you're prepared for all weather when you journey out to the Scottish islands.
Depending on where you go, you won't find all of the amenities such as big box stores that you would in big cities – and that's the charm of it!
Here's a packing list for the Scottish islands to give you an idea of what to bring.
A heavy duty rain jacket:there's no getting away from the fact that it rains in Scotland throughout the year.
Instead of worrying about an umbrella, invest in a heavy duty rain jacket like this one for women and this one for men.
Not only will it keep you dry, but it will help keep you warm and act as a windbreaker as well.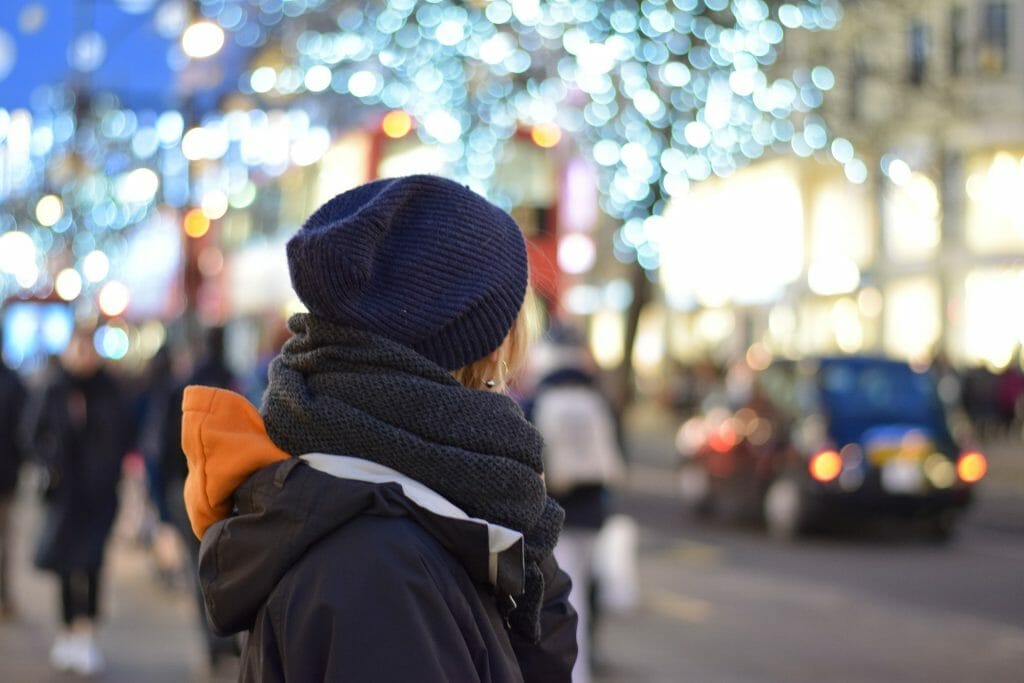 Waterproof shoes: my husband swears by his waterproof shoes and has both waterproof sneakers and waterproof hiking boots.
His regular waterproof shoes are light enough that he can wear them with any outfit and no matter the weather, but if it starts pouring, he doesn't need to run for the nearest covering.
The waterproof hiking boots are just essential for walking around the Scottish islands, as you never know when you're going to be stuck in a storm or just want to wade through some puddles.
Comfortable socks: on an adventure like this, you should always travel with comfortable hiking socks like these ones.
Not only will it help prevent your feet from blisters, but they'll keep your feet warm in the colder months and feel all cozy inside.
Sunglasses: If you haven't experienced the joy of a Scottish summer, you should know that the sun lasts a long time!
Like, from 4am to 10pm kind of long, if not longer.
Come prepped with your favorite pair of sunglasses so you'll be both stylish and functional.
Waterproof travel trousers: Visiting Scottish islands isn't the best time to rock your newest pair of jeans.
You want to be comfortable and functional, and the only way to do that is with these travel trousers.
They're versatile so you can match them with plenty of outfits, and you'll appreciate how fast they dry if you do get caught in some sort of storm.
Which Scottish Island to Visit: the Most Beautiful Scottish Islands
1. Islay Island
The Isle of Islay is best known for the smoky whiskies it creates in its eight distilleries, but the joy of visiting Islay Island is much more than that.
In addition, there are beautiful coastal views, gorgeous beaches and regular festivals.
The main town on Islay is known as Bowmore, home to shopping options, amenities like the post office and supermarket, and a unique round church that is said to give evil spirits nowhere to hide.
One of the things that makes this island one of the best Scottish islands to visit is its abundance of wildlife.
Visit the RSPB reserve to spot local animals like geese and other birds. Lovely trails along the way help you navigate your way through the reserve while still feeling like you're in the wilderness.
Islay is in the Inner Herbridies off the west coast of Scotland and holds just over 3,000 regular residents.
How to Get There: The best way to get to the Isle of Islay is to catch the ferry from Kennacraig, which runs on a regular schedule.
There are also weekly departures from Oban.
2. Arran Island
It's the seventh largest Scottish island and one of Scotland's most beautiful islands with its fantastic landscapes ranging from beaches to rural fields to rocky peaks.
If you enjoy golf, you'll feel right at home on the luxurious golf courses on Arran.
There are seven in total, meaning that you can easily find one to suit your skill level.
And what's better than teeing off while looking at seriously gorgeous landscapes?
That's right, nothing!
Let's say golf isn't your thing, though.
And I get it!
While some of your group tee off, you can explore niche shops on the island selling everything from crafts to furniture to delicious food.
If the weather isn't quite up to scratch, you can also head indoors to a swimming pool or indoor tennis or snooker area.
Or stop into one of the local cafes like the Isle of Arran Distillers Cafe where you can get fresh food and panoramic views.
How to Get There: Car ferries run from Ardrossan Harbor, which is about a 3 hour drive from the north of England.
The crossing takes just under an hour, except for in the winter months when there is a reduced service that takes about an hour and a half.
3. North Ronaldsay Island
Head to the north of the Orkensy to find North Ronaldsay Island, the best Scottish island for seeing its unique sheep and wildlife (the sheep eat seaweed, which is the cutest thing I've ever heard).
Though the island is small, it has been inhabitated for many centuries and previous civilizations have left behind structures and artifacts that make this area of the world an anthropologist's goldmine.
Today, there are only about 60 full time residents (the school had 1 student until they graduated in 2017).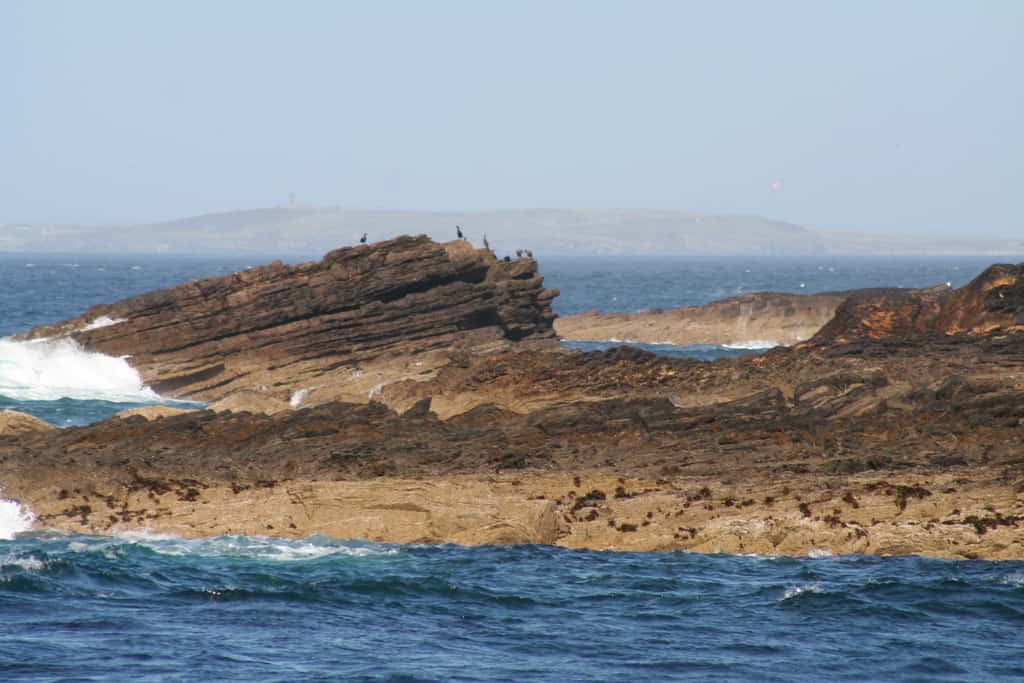 North Ronaldsay Island is also home to the tallest land-based lighthouse in Britain, known as New Lighthouse.
How to Get to Ronaldsay Island: Fly to North Ronaldsay Island from Kirkwall on the Orkney mainland. Alternately there is also a weekly ferry.
4. Isle of Skye
Perhaps one of the most well known islands to visit in Scotland is the Isle of Skye.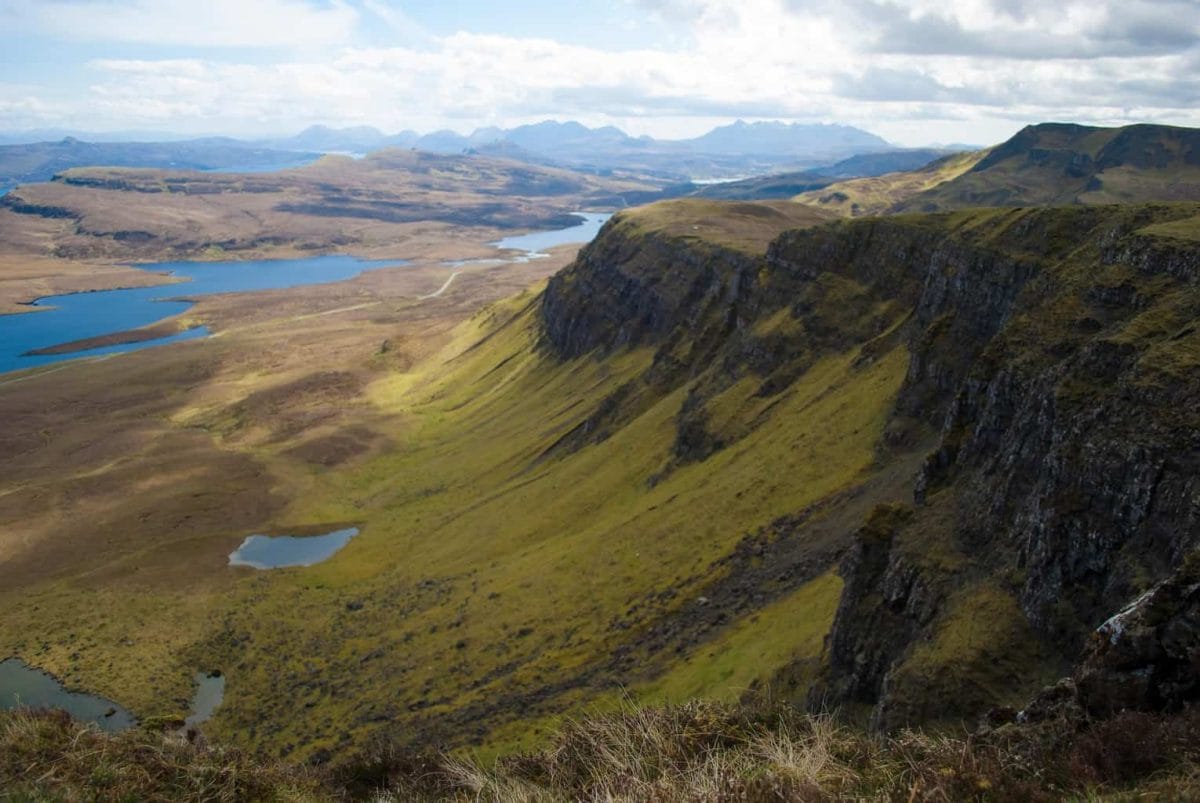 It's the largest island in the Inner Hebrides and measures 50 miles long – plenty of room to enjoy yourself and spread out in the open air!
Walkers will instantly fall in love with the Isle of Skye for its fantastic peaks and climbs.
Try out the Cuillin Range to scale peaks above 3000 feet or take a more leisurely walk to the fairy pools near Glenbrittle.
Wildlife watchers should travel to the Isle of Skye to spot the sea eagle, a majestic creature that's also the largest bird of prey in Britain.
The capital of the Isle of Skye is Portree, but there are other charming villages and towns surrounding it on the island including Uig, Carbost and Elgol.
How to Get to the Isle of Skye: Visiting Scotland's lovely island isn't difficult, as you can reach it by car ferry or bus. The nearest airports are Glasgow and Inverness, where you can rent a car to make the journey.
5. Eday
There's a tiny isle in the Orkneys that would be perfect for anyone truly wanting to get back to nature.
Its name is Eday, and its just about eight miles long so you could walk from end to end in one day easily!
Bird watchers will find their paradise here with the sheer amount of wildlife there is to observe – especially from Mill Loch.
You can also dig into Eday's history by taking the Eday Heritage Walk.
This walk takes you past remains from past time periods including the Neolithic age, Bronze age and Iron age.
Don't forget your camera to snap some shots of the Stone of Setter, Orkney's tallest standing stone (hey, it's the little things!)
Check out the Red House Croft Restoration Project where you can hear more about island life and see a thresing mill.
How to Get to Eday: There is a daily ferry service in the Orkneys for service to Eday, as well as weekly flights should you prefer to travel by air.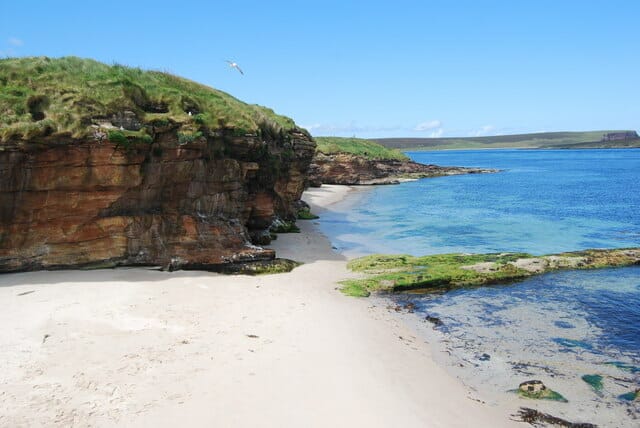 6. Isle of Iona
Ready for some white sand beaches or a spiritual retreat?
The Isle of Iona in the Inner Hebridies is the place for you.
The Isle of Iona is one of the best islands to visit in Scotland for its rich history filled with stories of revolts, kindgdoms, feuds and more.
Discover one of the most popular attractions on Iona, Iona Abbey, known for being the best preserved ecclesiastical building from the Middle Ages.
There's also an ancient burial ground filled with historic kings, as well as other Christian monuments.
If you're hoping for some out-of-this world Instagram goodness, head to St. Columba's Bay where you can enjoy beautiful views of the sea and surrounding landscape.
How to get to the Isle of Iona: Cars aren't allowed on the island, so the first part of getting there is to get yourself to the Isle of Mull by ferry.
Then you can take a bus or a taxi to the Iona port from the Isle of Mull.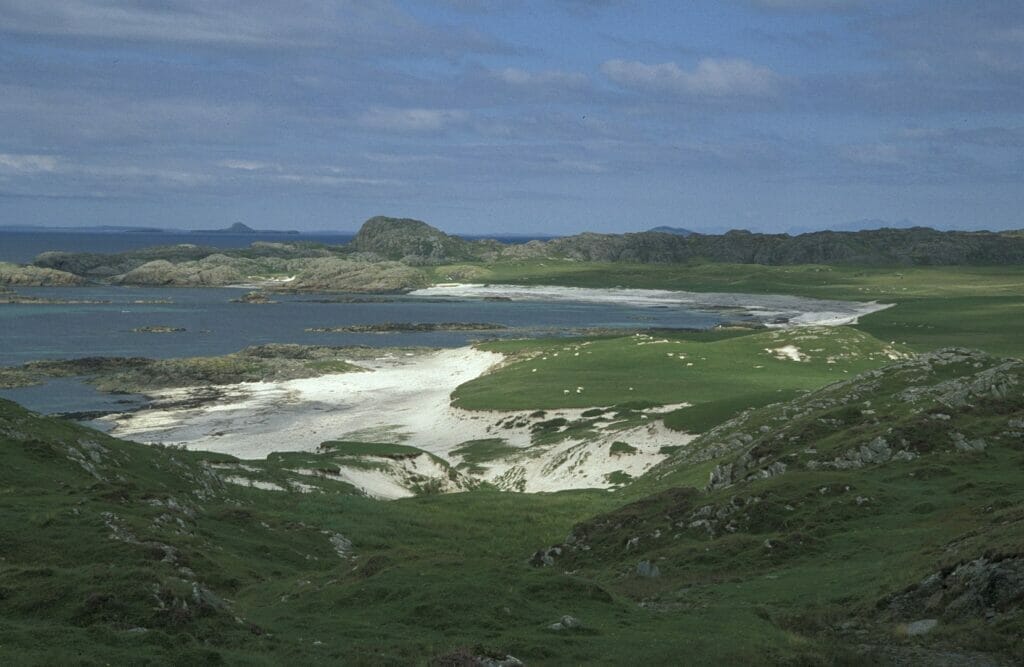 7. Isle of Colonsay
From agriculture to oyster farming, life on the Isle of Colonsay is a friendly community filled with gorgeous landscapes and lovely residents.
This island is about 10 miles long and is located in the Hebridies – a fantastic part of Scotland!
Want to know why the Isle of Colonsay is one of Scotland's best islands to visit?
Look no further than the cave exploration option at the north end of Kiloran Bay.
Here, you can bring your best flashlight and wander your way through the natural home to bats, otters, pigeons, and spiders (but don't tell my arachnaphobic husband that or I'll never get him to come!)
If you're into star gazing, this island is perfect for it with low levels of light pollution and rare sightings of the Northern Lights.
How to get to the Isle of Colonsay: Take a ferry from Oban to the Isle of Colonsay, which runs every day in the summer and a few times a week during the winter.
Flying is also an option during certain parts of the year.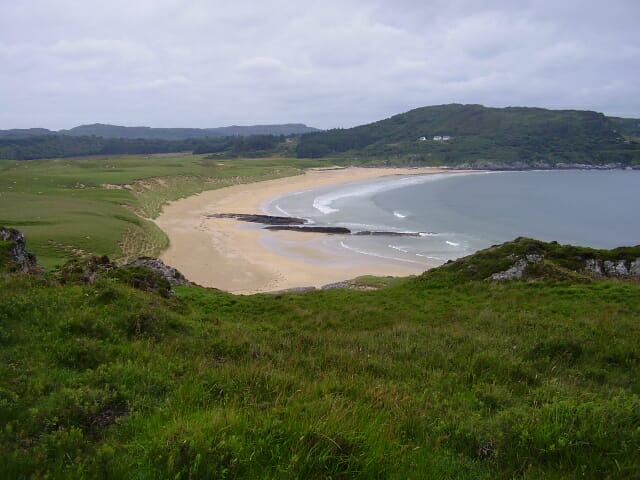 8. Barra Island
Take a journey to the Outer Hebrides where Barra Island dazzles even the most jaded of visitors with its untouched natural beauty and charm.
Learn about the history of the area at medieval castles like Kisimul Castle, or discover the same views that the Clan McNeil would have seen as you stand on the shores.
Sea kayaking is a popular activity, too, and guided excursions will take you out into the sparkling water of Castlebay to see what you can find.
If you like golf, you can play a few holes at Barra Golf Club, the most westerly golf course in the entire United Kingdom.
How to get to Barra Island: The most fun way to arrive to Barra Island is by plane.
Flights land on the beach in between tides, and at high tide you can't see the runaway as it's washed under the waves. I did say that you should prepare yourself for an adventure!
9. Isle of Mull
Situated off the west coast of Scotland,the Isle of Mull gained loads of notoriety after being featured on BBC programs, but it's still a lovely place to escape to nature and relax.
Popular as a summer holiday getaway, the Isle of Mull is one of the most beautiful Scottish islands to visit and filled with things to do.
Because the Isle of Mull is on the larger side, finding a new way to get around – say, on two wheels, is a favorite pasttime of residents and visitors.
Rent a bike and go for a spin around town to get a glimpse of some of the island's most beautiful views.
If you'd like someone else to do a bit more of the work for you, how about a pony ride around the island?
When the weather turns bad, head to the Mull Aquarium to learn about the local aquatic life and speak to animal professionals about how you can help conserve the wildlife in the Scottish islands.
How to get to the Isle of Mull: There are various ways to get there, but a popular one is to get yourself to Oban via train, car, or bus, and then head over to the Isle of Mull from there via the ferry crossing.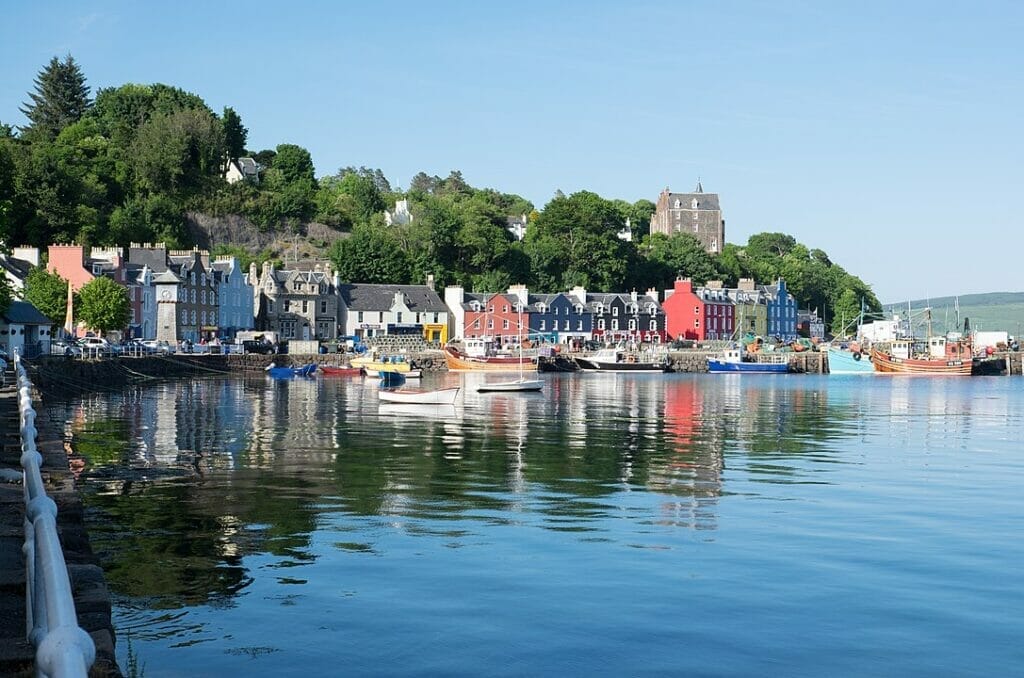 10. Isle of Lewis
Visit the North west corner of the Hebrides for one of Scotland's most beautiful islands – the Isle of Lewis.
The Herbrides have a viking past, and it's very apparent when you wander around and see the names of the shops (and the names in the phone books).
Some of the most popular cultural activities include seeing the various standing stone circles throughout the island, which display the area's rich history.
They also look beautiful against the blue background of a late summer Scottish sky.
Other things to do include visiting the beaches like the Beach at Ness, where you'll find room to play and dunes to get lost in.
For gorgeous sand and turquoise water, check out Tolsta Beach as well.
How to Get to the Isle of Lewis: There are both ferry and flight options to get to the Isle of Lewis.
The main airport is in Stornoway, and the ferries are run by Calmac.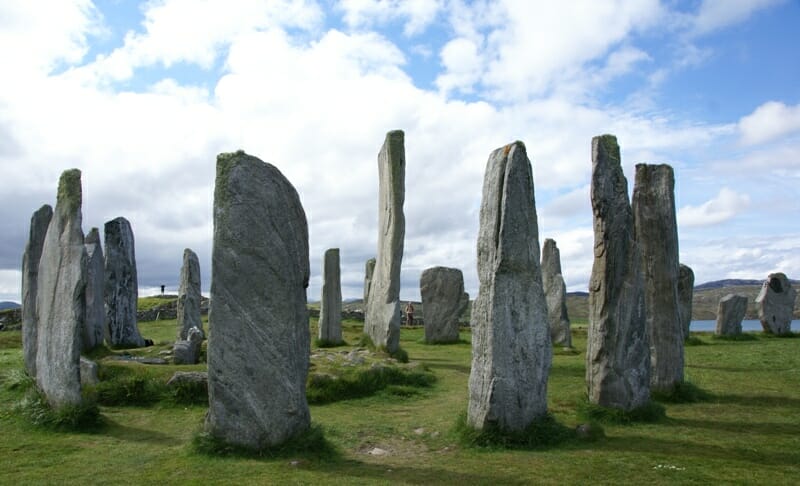 11. Isle of Gigha
The Isle of Gigha has gone by many different names in the past, including God's Isle, and it's easy to see why once you step foot on land.
Here, beauty is at every turn and the warmer climate of this island compared to other Scottish islands means that you can enjoy it that much longer.
Spend the day swimming in a sparkling green sea, or take a long walk through varying landscapes including beaches and hillsides.
Watch the boats bob up and down in the water and breathe the fresh air knowing that you are truly in a paradise.
Check out the standing stones on Gigha or go and try and spot some seals at Cuddyport.
This is island life your way.
How to get to the Isle of Gigha: There's a car and passenger ferry from Tayinloan on the Scottish mainland, which is the easiest way to get to Gigha.
There is also an airstrip on the island for private planes, though in true Scottish style, you'll need to call first to make sure the area is free from grazing sheep!