This post contains affiliate links for which I may make a small commission to help keep the site running. You will not be charged extra for these items had you not clicked the links. Thank you for your help to keep the site running!
Haunting gas masks. Iconic British war planes. Colorful propaganda posters.
The exhibits at the Imperial War Museum London are harrowing, in their purest form, but also educational and fascinating for history buffs who want to understand the sights, sounds, and sentiments that surrounded wartime Britain.
Part of the larger Imperial War Museum family (including the Churchill War Rooms which I highly recommend) and HMS Belfast), the free Imperial War Museum London ties together every era of war with artifacts, interactive exhibits, and educational talks.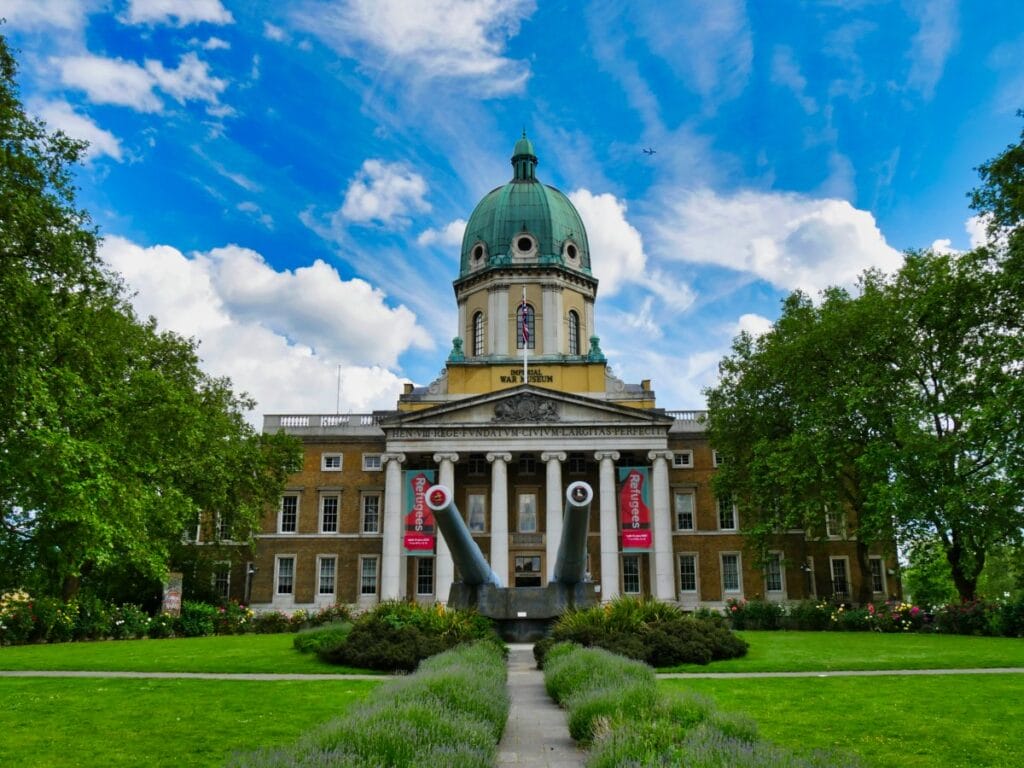 GET A

FREE

LONDON INTRO GUIDE and ACCESS TO MY FB GROUP
Start your planning with this "Intro to London" guide and access to my London planning Facebook group!
The Absolute Must-Knows (from a Londoner)
Hey! Want more honest UK tips and planning advice? Click here to join my London and UK Travel Tips Facebook group, where I can answer more of your questions!
Who Should Go to the Imperial War Museum?
While the Imperial War Museum is open to all, there are certain groups of visitors to London who would benefit the most.
any and all with an interest in wartime experiences, maneuvers, weapons, or tactics used
families with late elementary-aged children and up – there are lots of interactive exhibits with touchscreens and some big, impressive wartime vehicles like Jeeps and planes on display
history buffs who are interested in British history
Younger children are allowed in the museum, but my recommendation is to take the littles to a museum that better suits them like the Science Museum early childhood rooms.
For those wondering the "spin" or lens the museum views war through, the museum's aim isn't to glorify war or to present one side of it, but to capture the history of it.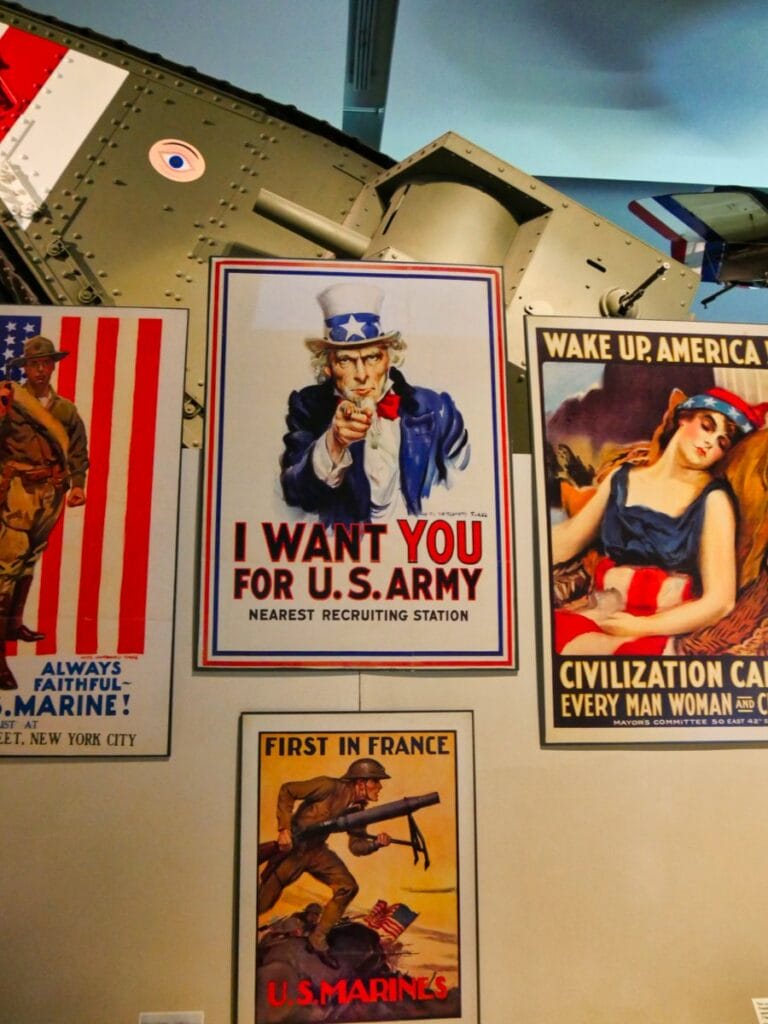 Of course, it is impossible to be completely neutral, however, so while it is not pro-war, it is not anti-war either and a passionate pacifist may not find much here to interest them.
IMPORTANT: are you coming to the UK from abroad?
In case you're reading this from outside the UK and will be a foreign visitor here, you need to know these 2 things to stay safe and save money.
Travel insurance – you need it when going overseas! I use

this site

to get the best quotes and purchase my packages from. Do not skip this – having medical coverage abroad as well as other coverage in case of missed flights, lost luggage, etc is essential. As I said, I have never gone wrong using

this site

.
Imperial War Museum Exhibits & Experience
From the moment you arrive on the steps of the museum, you'll get that "larger than life" feeling and sense of wonder, similar to seeing the whale in the atrium at the Natural History Museum or some of the grand halls at the National Gallery.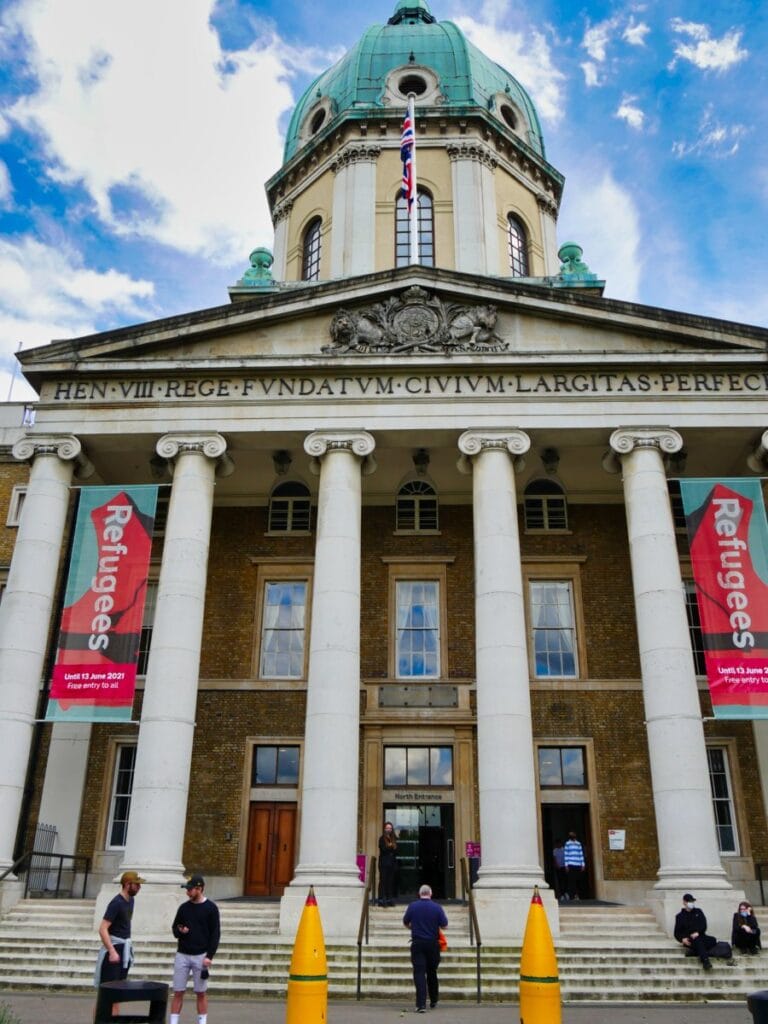 The front of the museum has two naval guns that were both used in the Second World War and the copper dome at the top is really something special.
Fun Fact
The Imperial War Museum building used to be the Bethlem Royal Hospital, but has been used as a museum since 1936.
When you step inside, you're hit by the sheer magnitude of the main atrium that features historic wartime weapons and vehicles.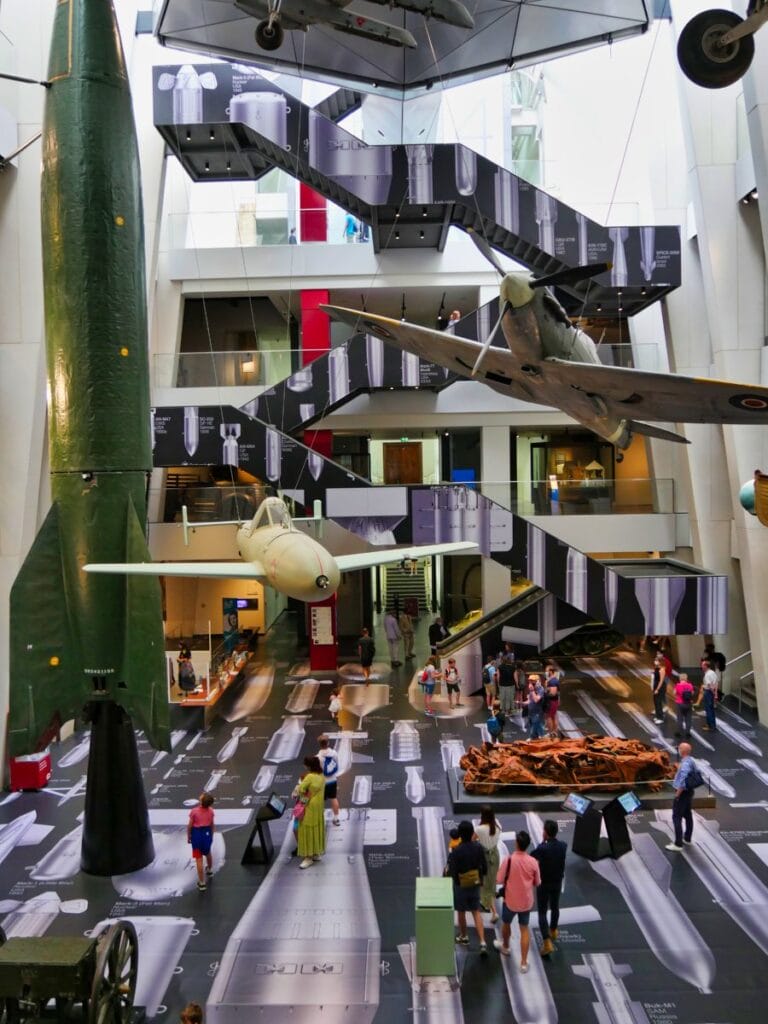 In many ways, the chaotic nature of war is on display here.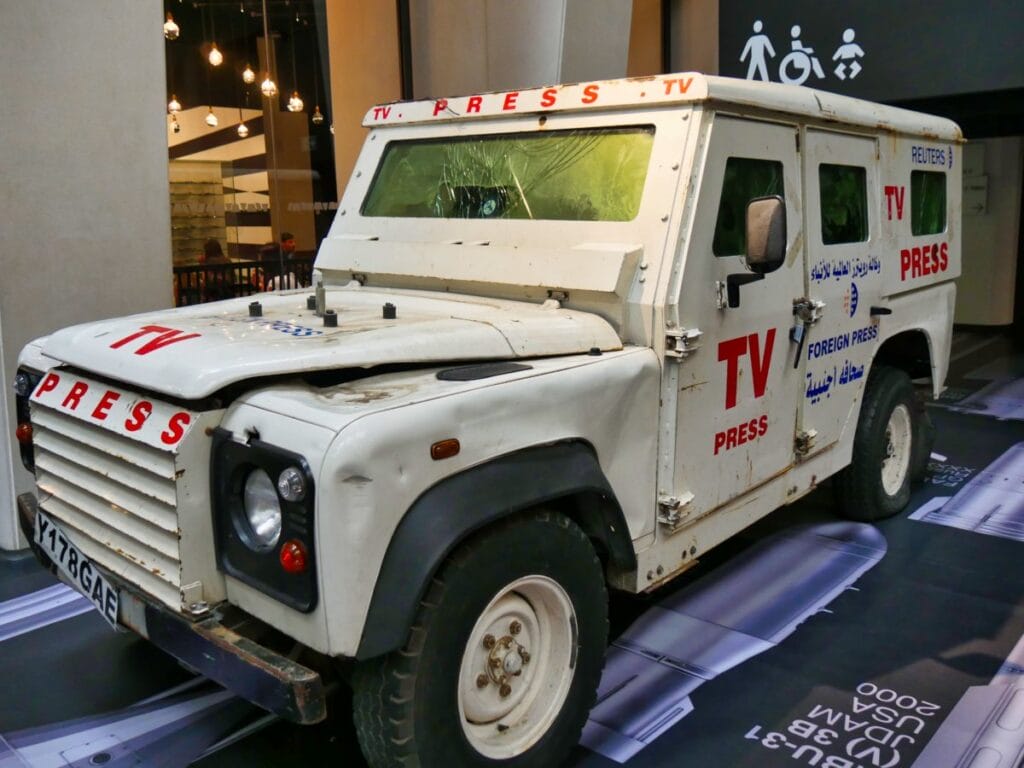 Each floor takes you through permanent and temporary exhibitions.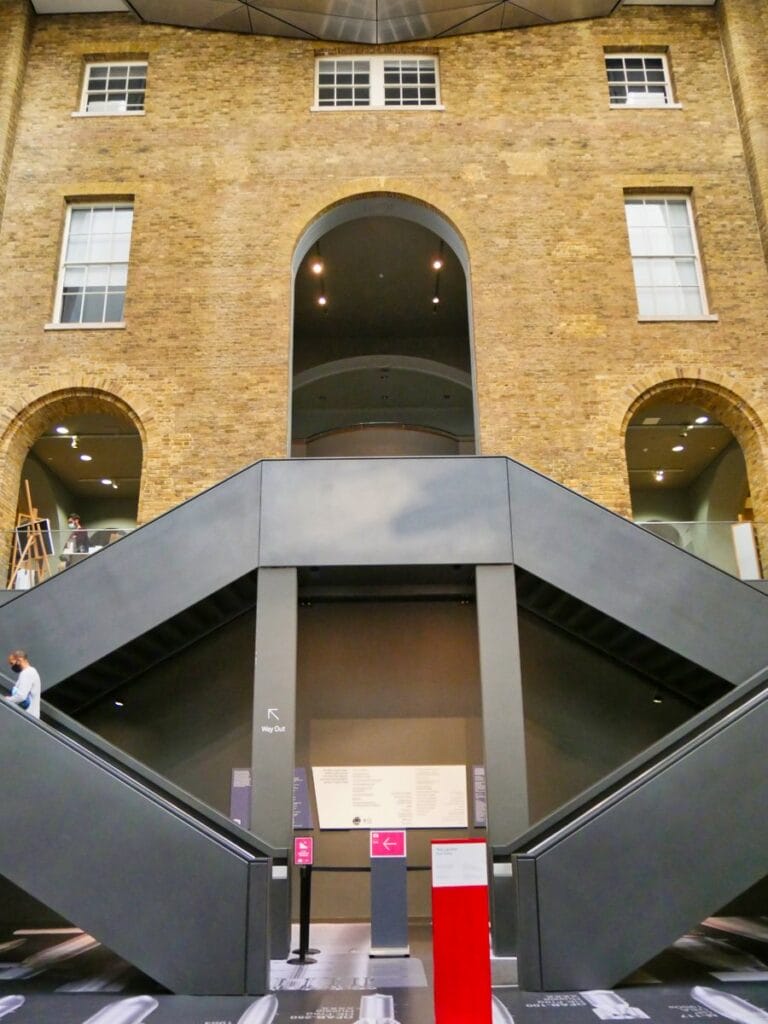 The permanent galleries include the First World War, Second World War, the Holocaust, Peace and Security 1945 – 2015 and Turning Points 1934 – 1945.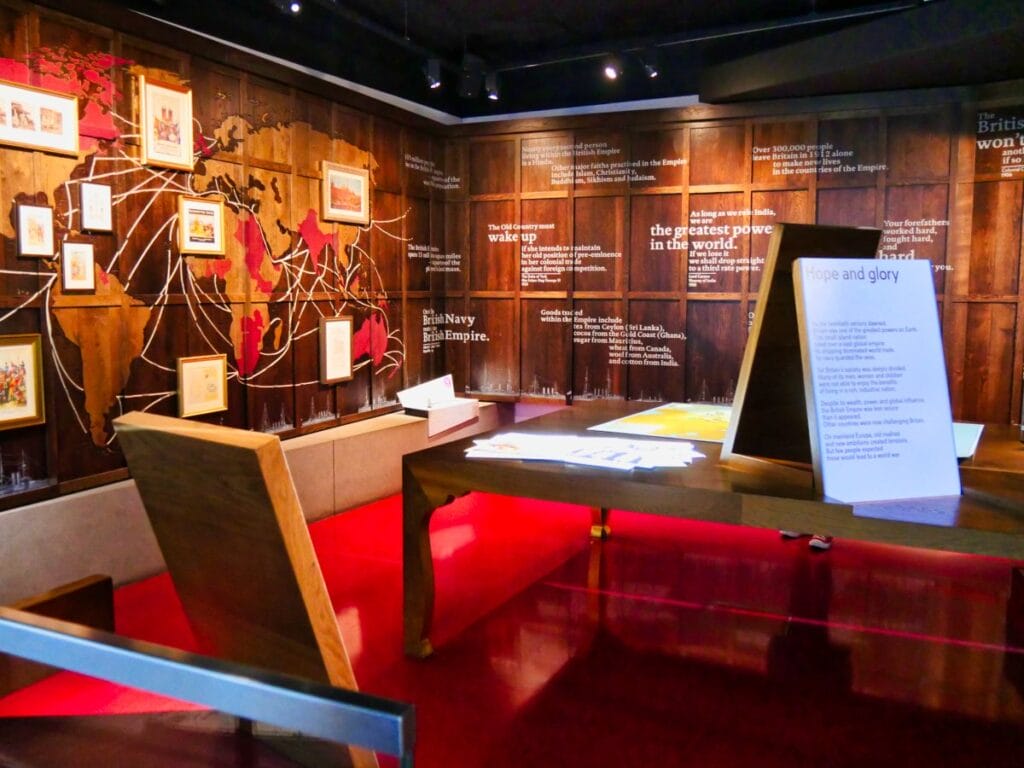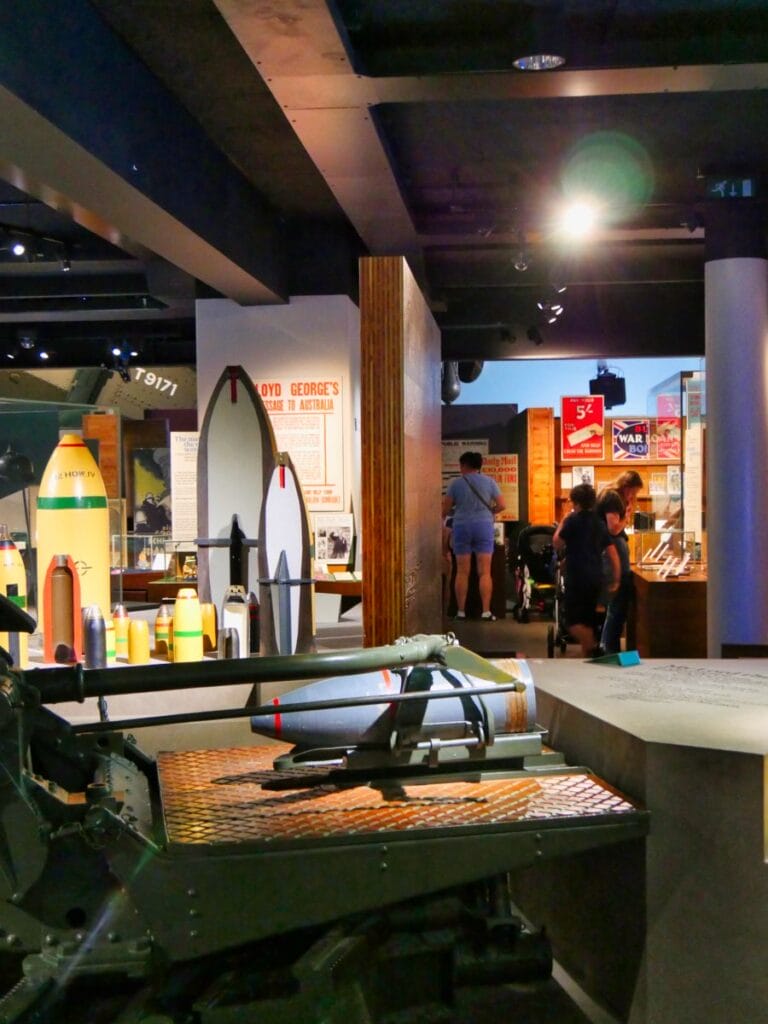 The First World War starts on the ground level, and then you work your way up as you carry on through history with the Second World War and beyond.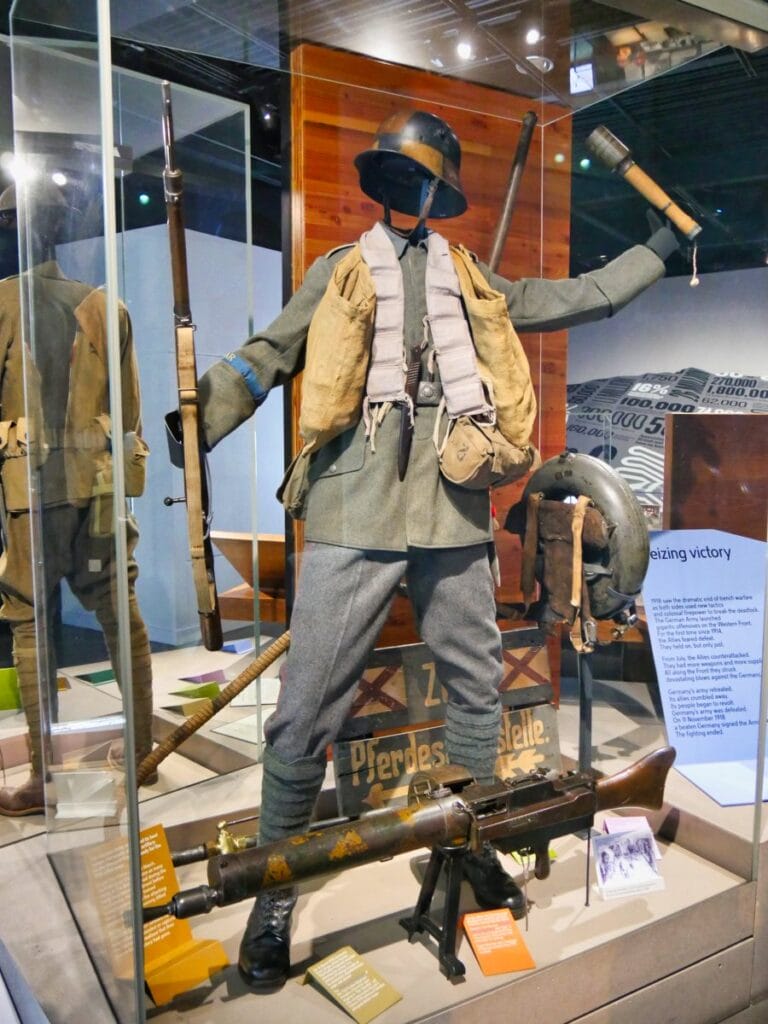 Unlike other museums that may be all artifacts or all interactive exhibits, IWM London combines the two.
In some areas, you will be looking at stationary artifacts with accompanying plaques with information, but then the next second you are winding your way through recreated trenches and hearing the sounds of planes overhead.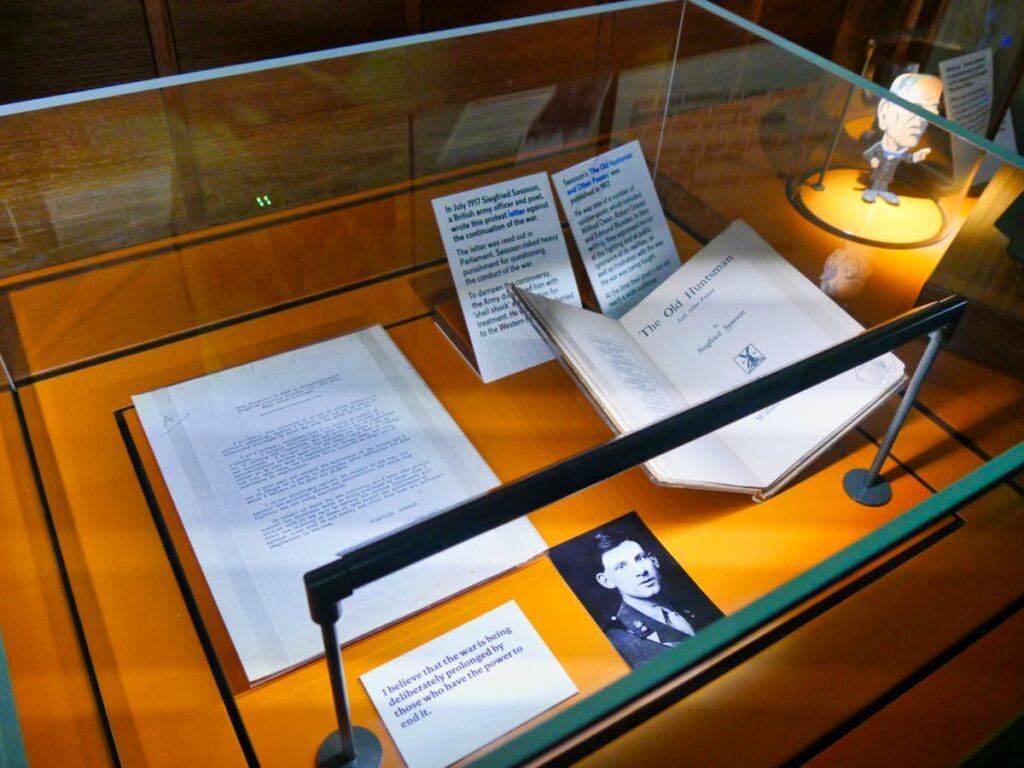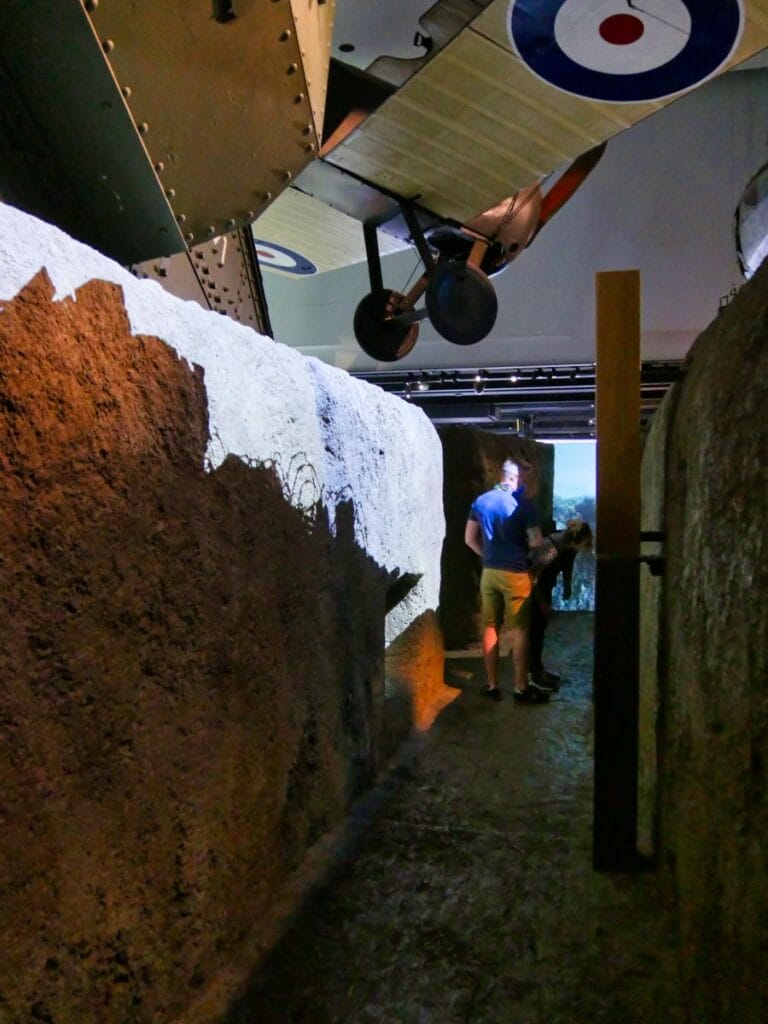 There are quite a few video presentations to engage with, as well as actual talks scheduled throughout the day by staff members who will take you through some of the galleries and share their knowledge of the exhibits.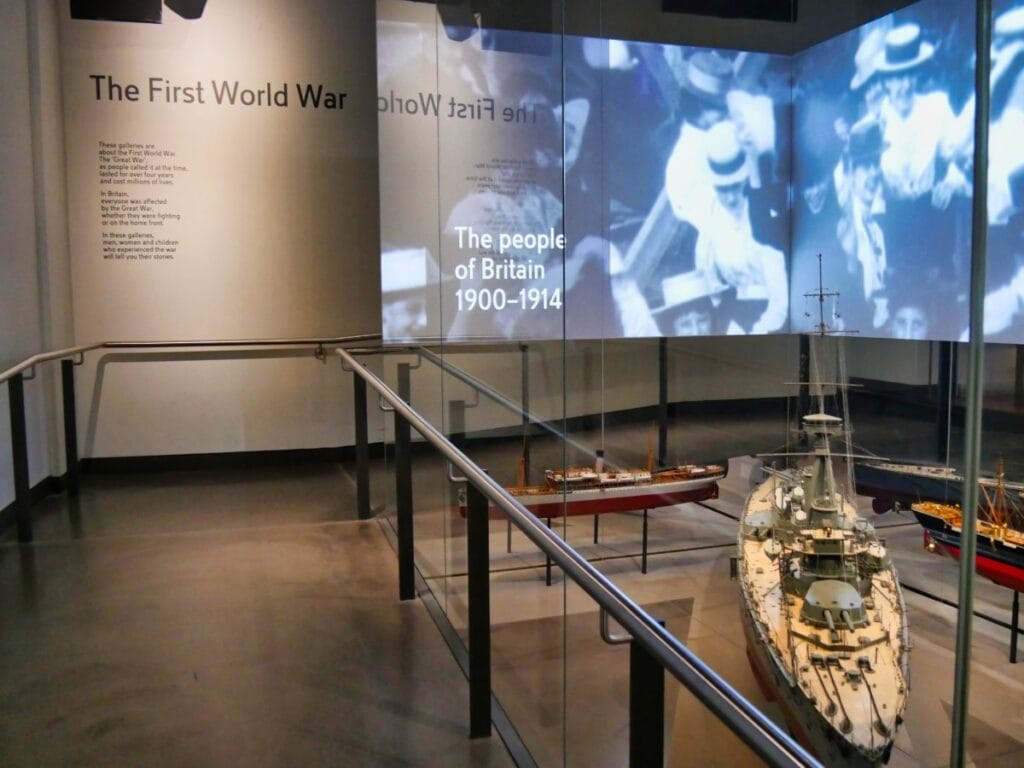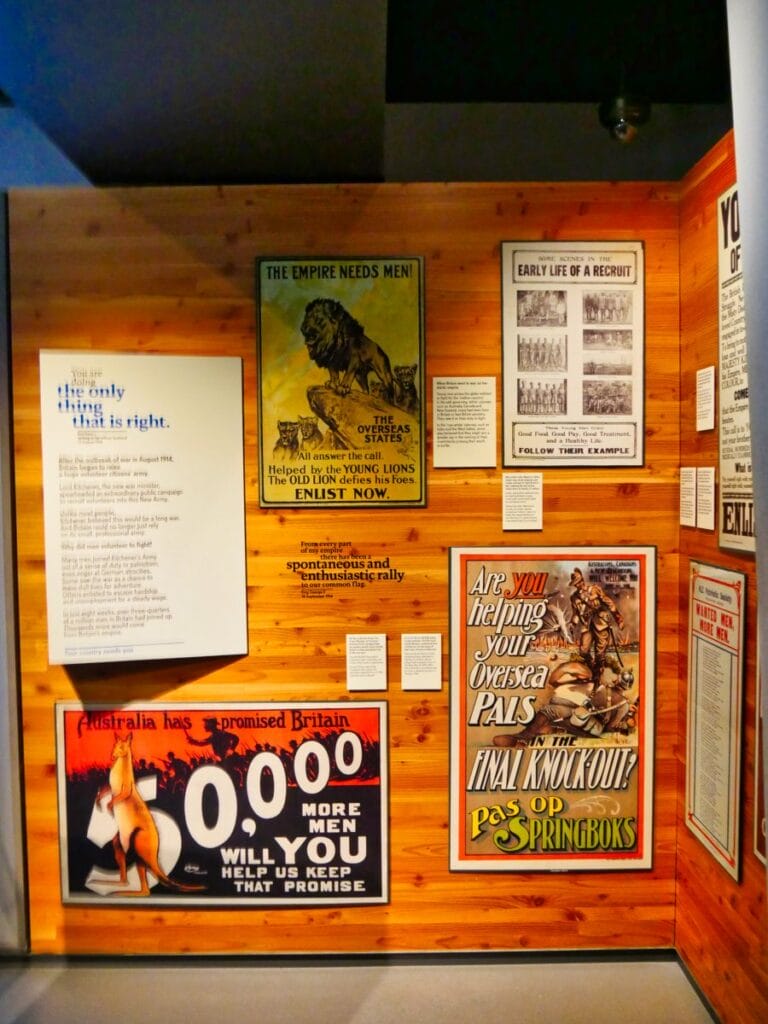 In addition to curated galleries with smaller artifacts, you'll find some really impressive large artifacts like tanks, warplanes, and even submarines.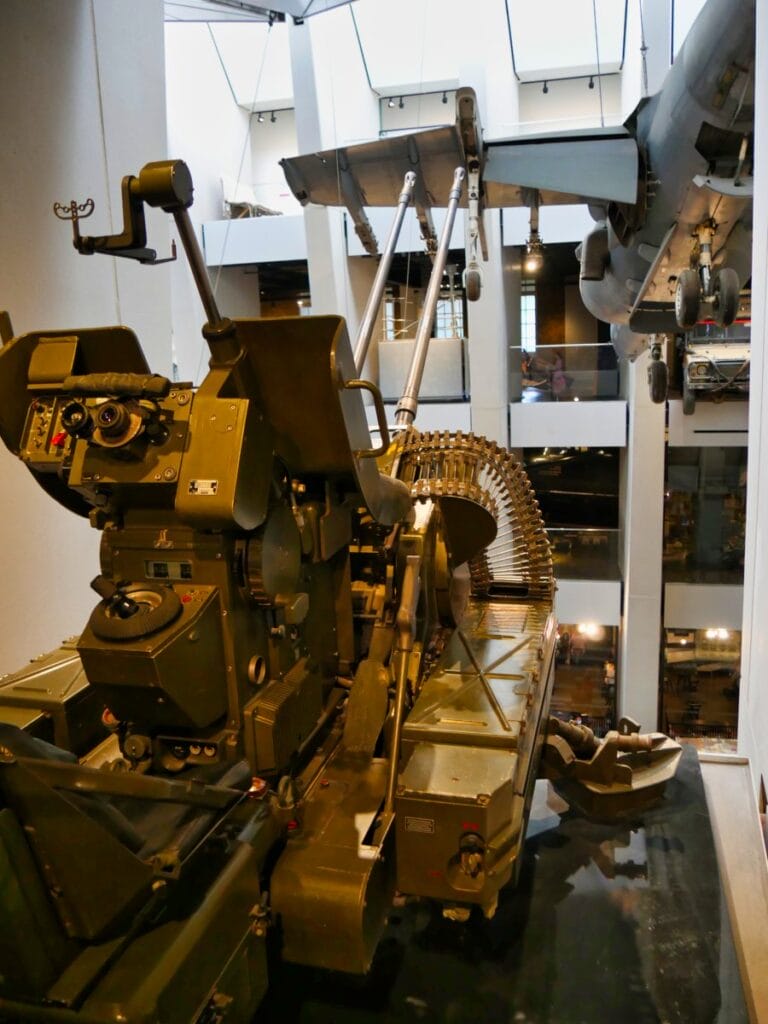 Americans will be particularly interested to know that debris from the World Trade Center was moved to the museum in 2011 from an exhibit at JFK airport, and it remains on display to honor the lives lost, including 67 Britons.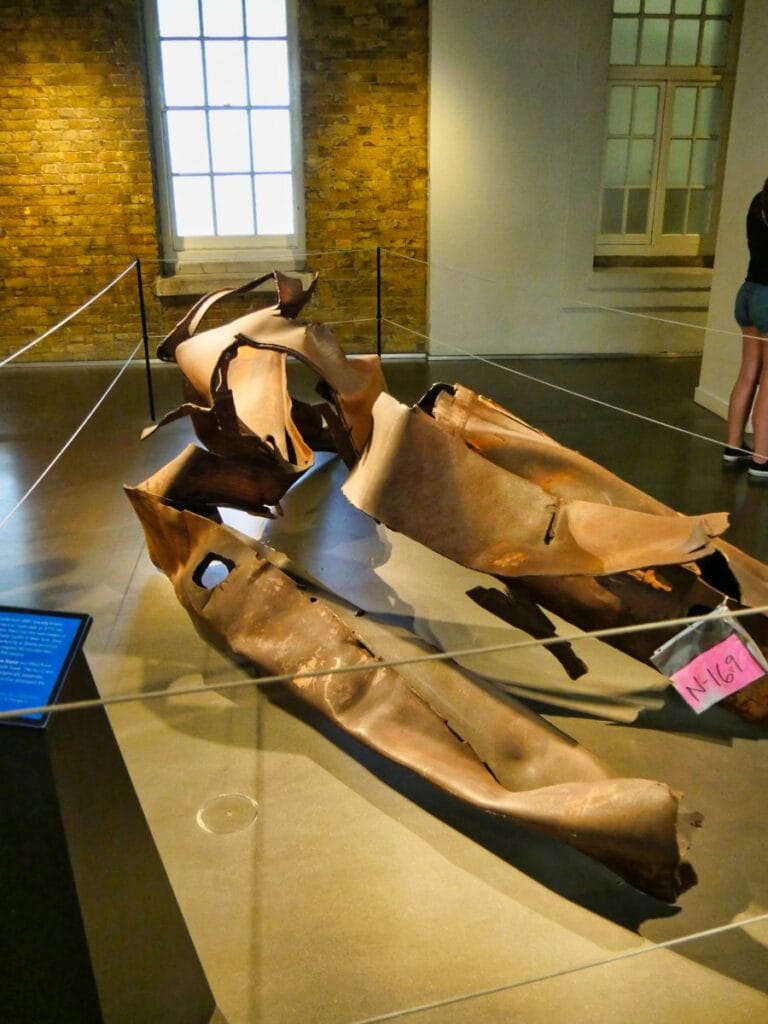 Imperial War Museum Café
There are museum "cafes" where you can grab a drink and that's about it, and then there are museum CAFES.
Imperial War Museum has the latter, a full blown cafe that is serving actual meals and plenty of drink options with lots of tables and even a terrace for the warmer weather months.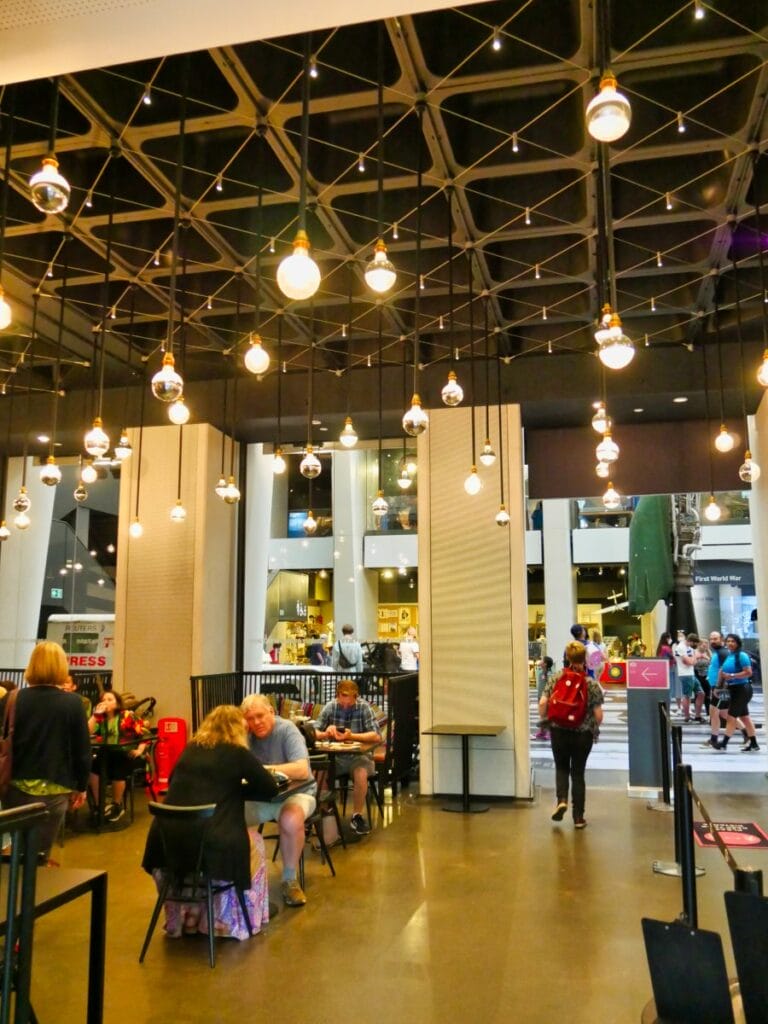 We stopped by to have a brownie and a pizza, and both were excellent.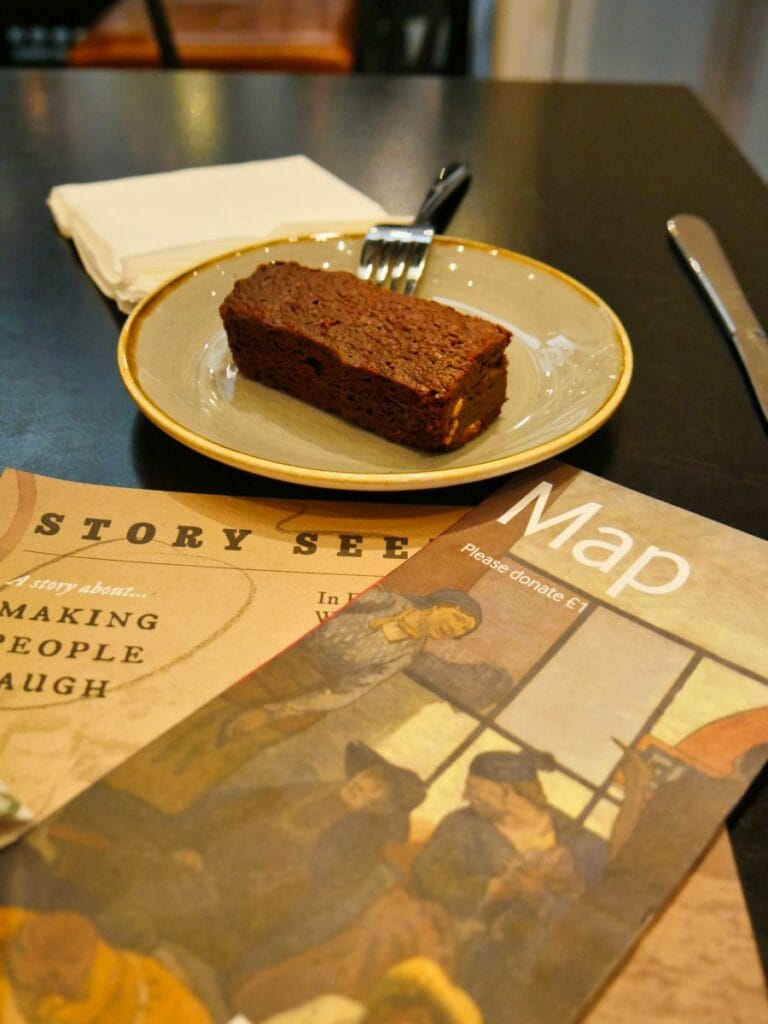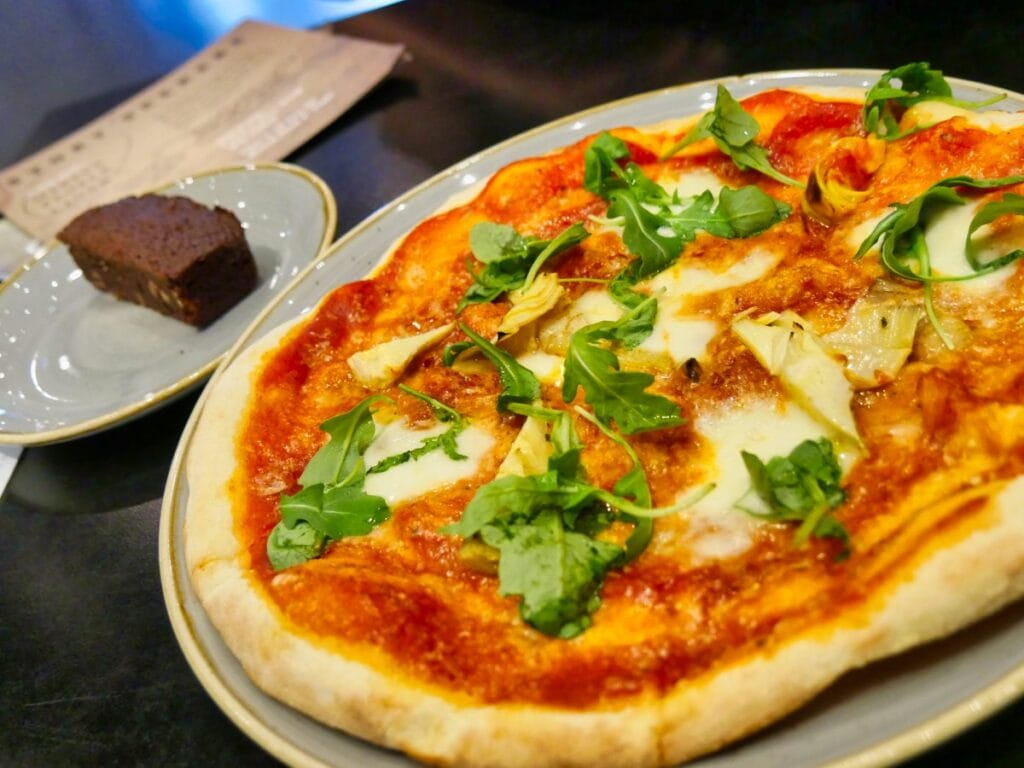 You can actually see the sourdough pizzas being put together in front of you, and seeing as how we spent about 4 hours at the museum, it was a nice way to take a break halfway through.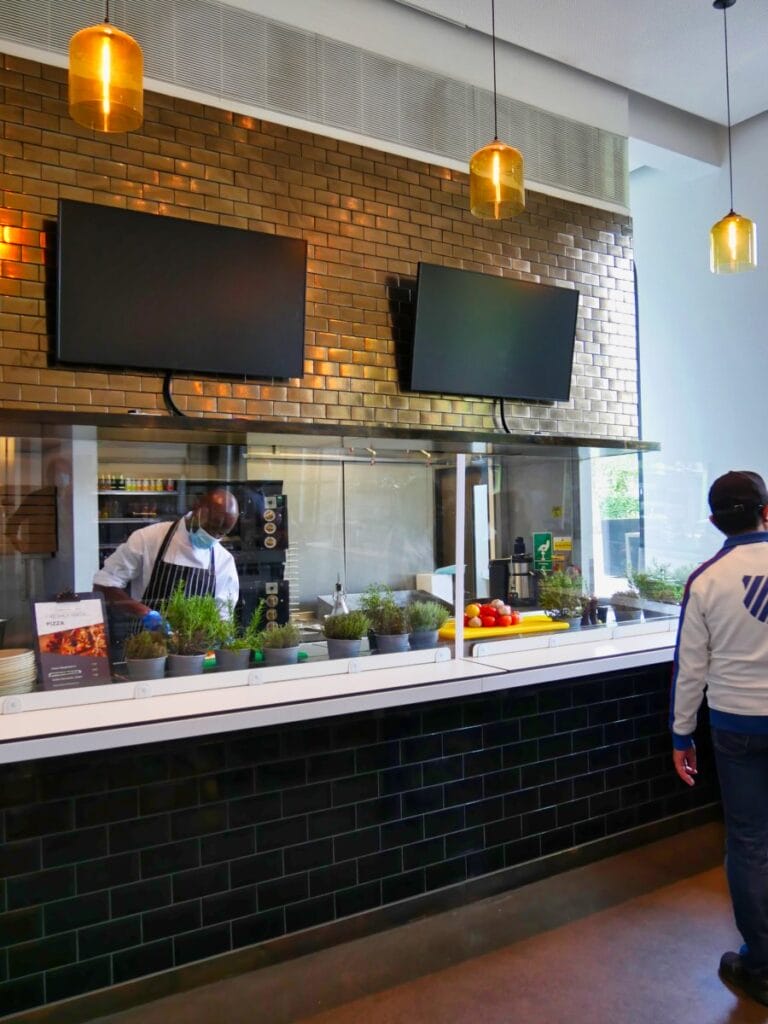 Imperial War Museum Shop
If you're a British history buff, the Imperial War Museum is one of the best for souvenirs in London.
There is everything from sweaters featuring Santa on a spitfire to mugs, socks, wallets, and more with British symbols and famous wartime slogans on them.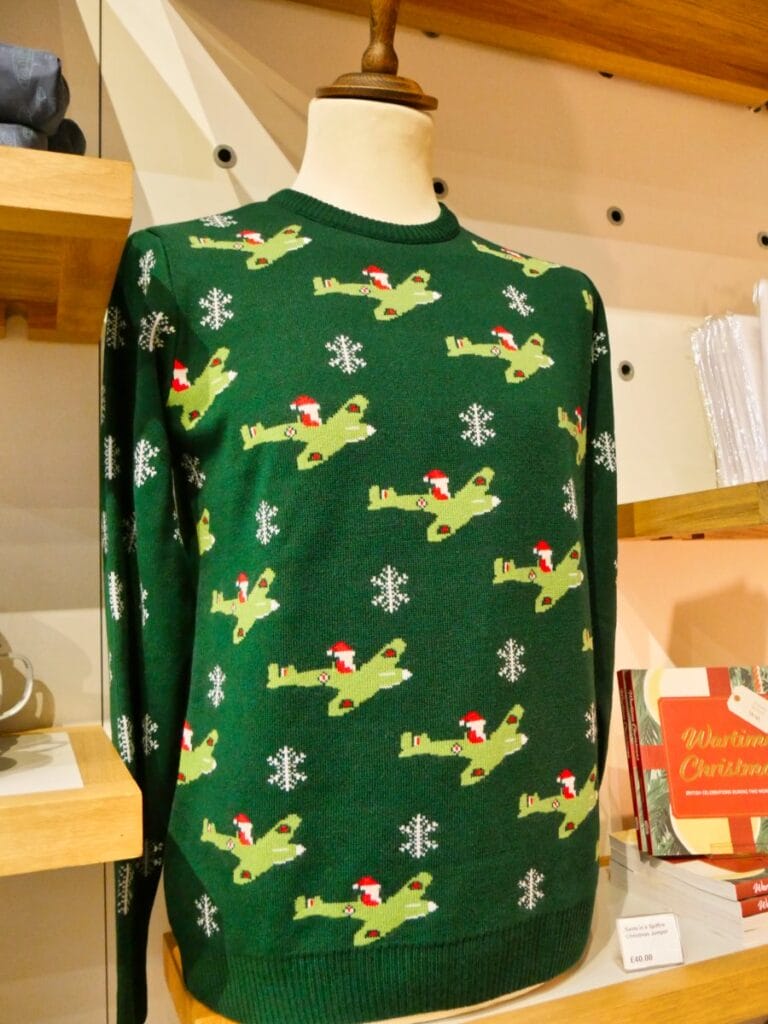 It's also a great shop for kids to pick something out with quite a few toy options.
Practical Tips for Visiting
If the Imperial War Museum seems up your alley, it's important to figure out the practical parts of your visit because this museum is in a bit of an out-of-the-way location for many tourists and you don't want to show up on a day they are closed.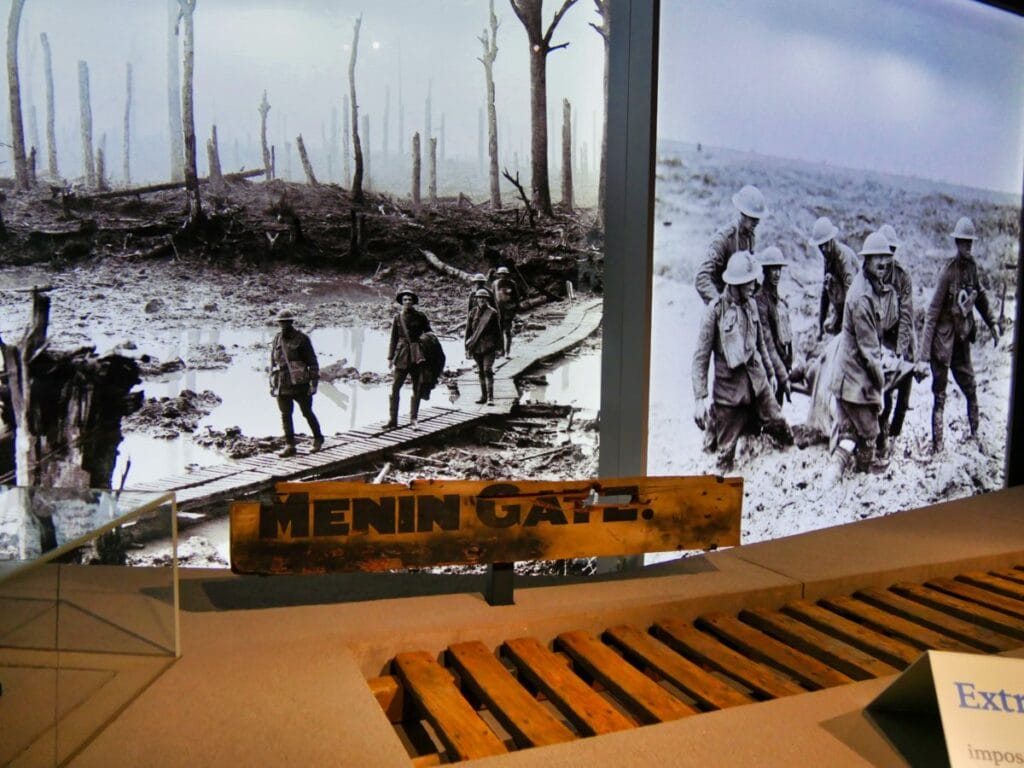 Imperial War Museum Cost
The Imperial War Museum London is free to visitors.
A budget-friendly thing to do!
Imperial War Museum Tickets
Typically, tickets are not required for the Imperial War Museum, but as of January 2022, you can still book timed (free) tickets to guarantee entry.
Walk-up is also allowed, though at busy times you may need to wait if you haven't pre-booked a ticket.
Based on my experience of this museum, I would only recommend booking if you're going on a weekend or school holiday.
If you miss or are early for your window, still go anyway as the worst that can happen is you are asked to wait a bit. This isn't an attraction that is going to be turning people away, really.
How to Get to the Imperial War Museum
You'll find the museum at:
IWM London
Lambeth Road
London
SE1 6HZ
The closet tube stations are either Lambeth North or Elephant & Castle, and both are about a 7-10 minute walk away so choose which is easiest for you based on where you're coming from.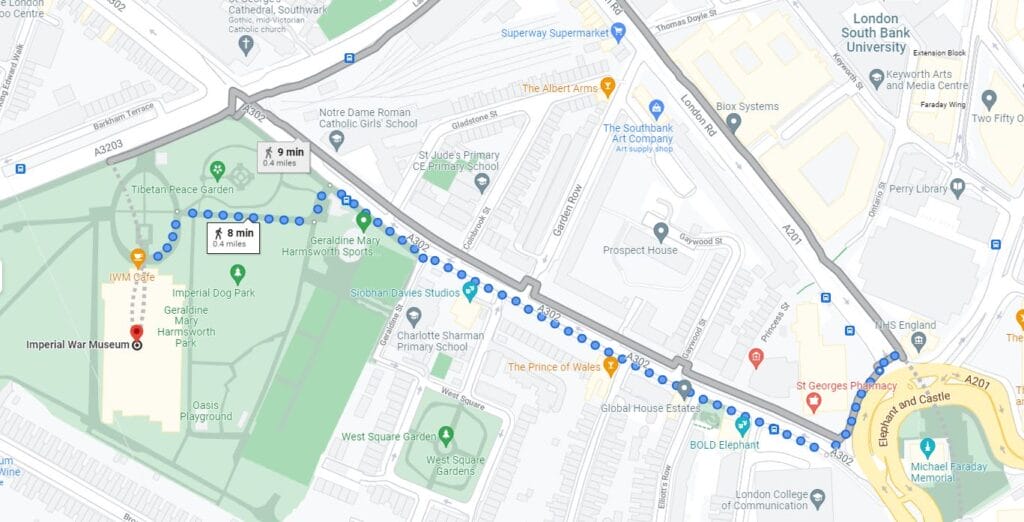 It's not advised to drive to the museum, as parking nearby is limited and who really wants to deal with parking in London for something that is easily accessible by tube?
You'll notice that this area in South London is not necessarily a museum hub like you would find with Kensington, which is why I say that this is a little bit of an "out of the way" museum, but we're not talking miles away.
It's only a 20 minute walk from Westminster Station, for example.
Imperial War Museum Opening Hours
The Imperial War Museum is open from Wednesday to Sunday from 10am to 6pm, though it does usually operate with more opening hours during school holidays.
What else should I not miss in London?
If you're visiting London soon, here's a very brief rundown of a few of my other favorites to make sure you don't miss anything!
UK Travel Planning Guide: the FAQs
🏥 Should I buy UK travel insurance?
Absolutely yes. Basic coverage is not expensive, and as a visitor you are NOT covered under the NHS. Compare policies and prices with Travel Insurance Master here, a big name in the travel insurance business, and cross that off your list.
🔌 Do I need travel adapters for the UK?
Yes, you do, otherwise you won't be able to plug in your electronics/phone/lifelines. I recommend this one, which is all-in-one so you can use it in other countries.
🚗 What do I need to drive in the UK?
The first thing you need to check out if you're planning on renting a car in the UK is this guide to driving in the UK for visitors – the roads, signs, and driving experience will likely not be what you're used to and it's essential to prepare yourself to stay safe and aware.
🛌 What's the best way to book hotels in the UK?
For UK hotels, Booking is the best site as it offers free cancellation on many properties. If you want an apartment, I always recommend VRBO over AirBnb.
📳 Will my phone work in the UK?
Yes – if you set it up right. Check out my guide on making your foreign phone work in the UK to ensure that you get the type of service you need.
🚿 Can I drink the water in the UK?
Yes, UK water is great and perfectly safe. But drink out of taps in any kitchen or use water fountains. Double check before drinking out of the taps in hotel bathrooms, though, as they may be on a different system.