This post contains affiliate links for which I may make a small commission to help keep the site running. You will not be charged extra for these items had you not clicked the links. Thank you for your help to keep the site running!
Vienna is known for being many things, including being a city of music, the city of dreams (due to Sigmund Freud's life here), and a city of culture with a very high quality of life.
One thing it's not known for, necessarily (or at all), is for being a cheap city.
Because…it isn't.
Vienna, one of the coolest 30th birthday destinations in Europe, can be an expensive city to visit, and it takes some real planning to explore this city on a budget, especially if you're studying abroad in Europe.
But have no fear, lovely readers, because I am bringing you 27 incredible free things to do in Vienna so you can just focus on enjoying Vienna on a budget without departing with all of your money.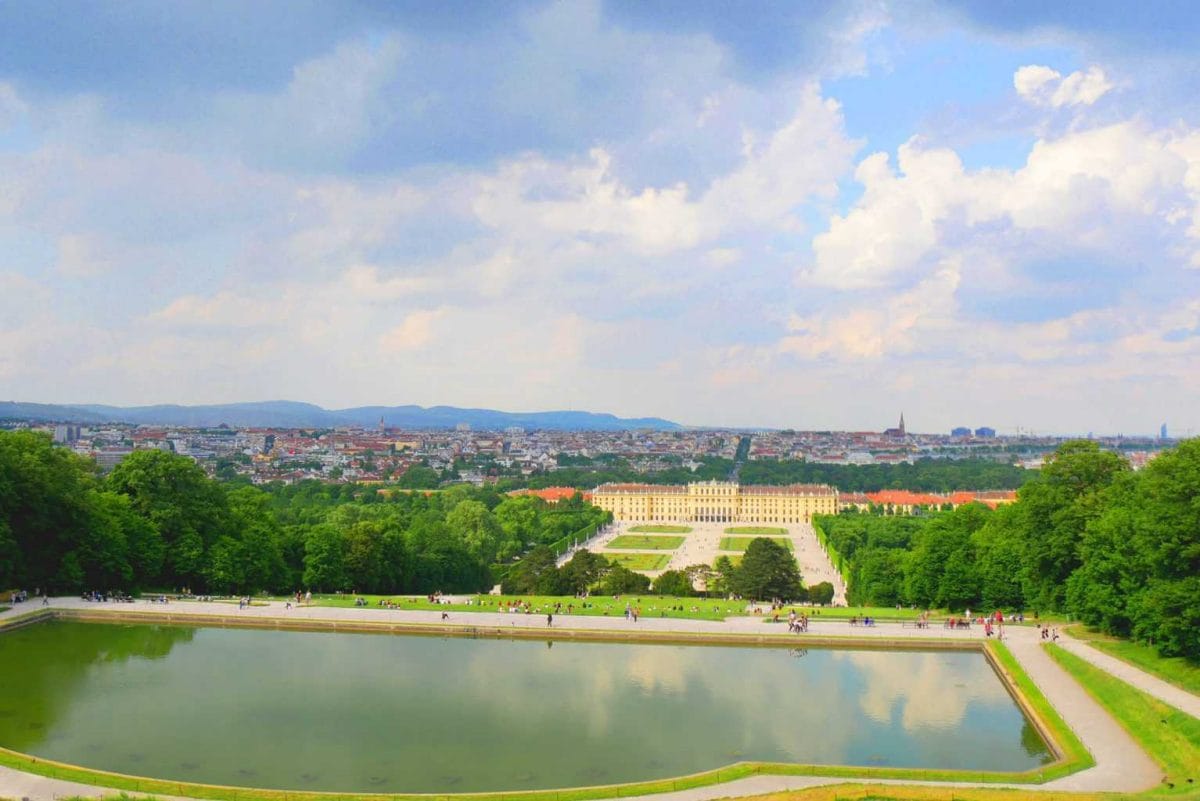 Now, these free things to do in Vienna can get you through the whole trip without spending a dime, but I would encourage you to pick one major splurge that you want to make in the city, whether that's a night at the opera (inside – we'll get to that in a minute!) or a visit to the inside of Schoenbrunn Palace or a nice dinner out somewhere.
Vienna is welcoming to all and one of the highlights of a European bucketlist trip, no matter the size of your bank account, but doing only free things in Vienna is going to rob you of the satisfaction that comes from enjoying a fancy city while at a fancy palace or at a fancy meal.
You deserve to spend some cash – you work hard!
Right, where was I?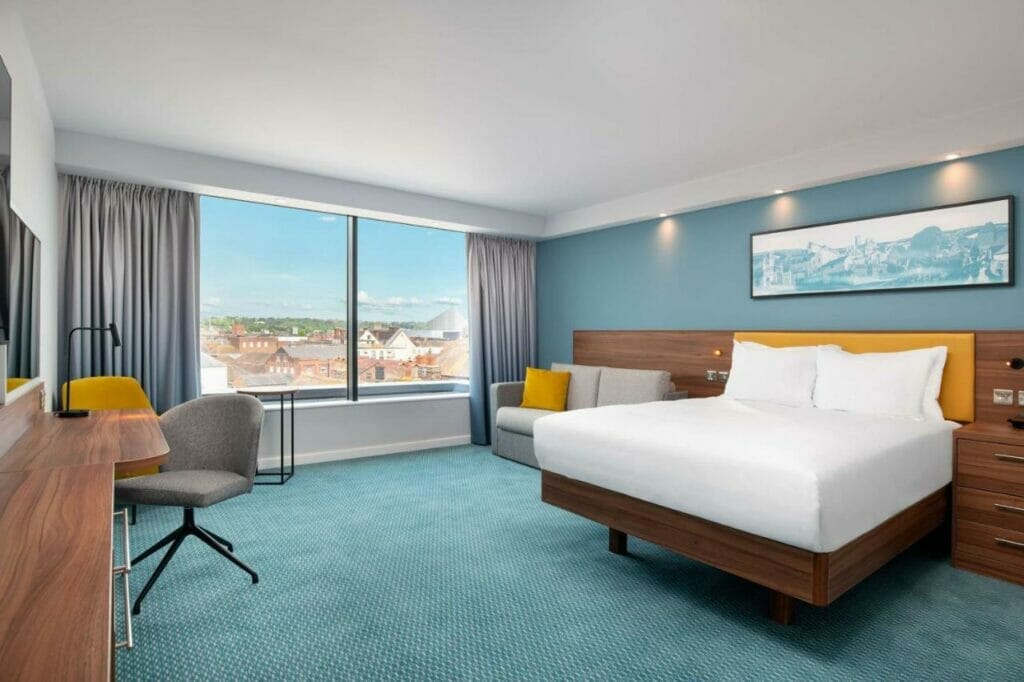 Free Museums in Vienna
1. Free Museums first Sunday
If you're not visiting Vienna on the first Sunday of the month, skip this section as it doesn't apply to you (sorry!).
If you do happen to be in Vienna on the first Sunday of a month, or have the power to change your vacation so that you do – well, you're in luck!
One of the best free things to do in Vienna is to hit the museums on the first Sunday, as many are completely free.
Zero. Nada. Zilch.
Just you, your need to learn about all things Vienesse.
And the following museums:
Wien Museum Karlsplatz
Hermesvilla
Romermuseum (Roman Museum)
Uhrenmuseum (Clock Museum)
Neidhart Fresken
Otto Wagner Hofpavillion Hietzing
Otto Wagner Pavillon Karlsplatz
Pratermuseum
Virgilkapelle (Chapel under Stephansplatz)
Ausgrabungen Michaelerplatz
Musa Museum
Musa Start Gallery
Musa Artothek
Beethoven Museum
Beethoven Pasqualatihaus
Haydnhaus
Mozartwohnung (Mozart's apartment)
Schubert Geburtshaus (Schubert's birth house)
Schubert Sterbewohnung
Johann Strauss Wohnung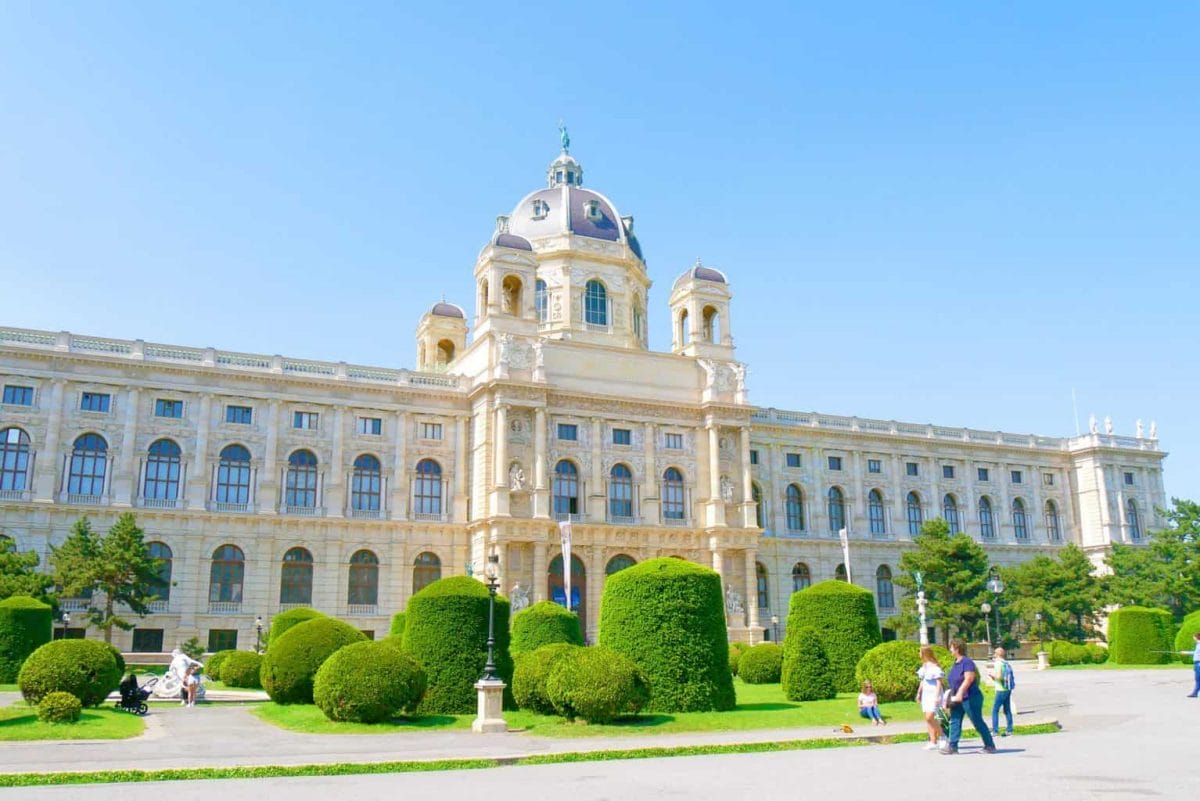 Top Tip: Some of these museums are free all year long, like the Musa Museum listed below, so it's not a good use of your time to visit on the first Sunday of the month.
2. Street Art Passage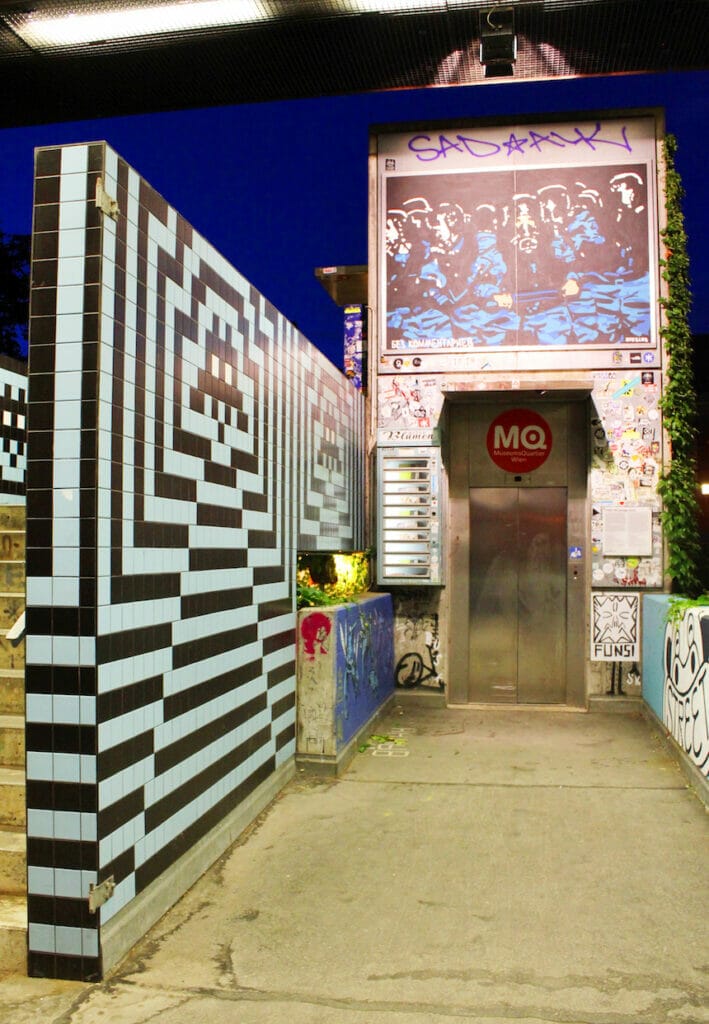 Vienna's Street Art Passage is exactly what it sounds like – a passage filled with street art.
It's not a formal museum, but it is one of the best places in the city to see outdoor art, and it's free and open all hours.
The Street Art Passage is located near the Museumsquartier, where many of Vienna's premier art museums are housed.
The name of the game here is boldness, color, and a twist on the normal art museum filled with hushed tones and white walls.
As you enter the passage, you see a dizzying array of brown and blue tiles that lead you into the tunnel and let you know that your world is about to be rocked by beautiful, intentional, incredible street art.
3. MUSA Museum: one of the best free museums in Vienna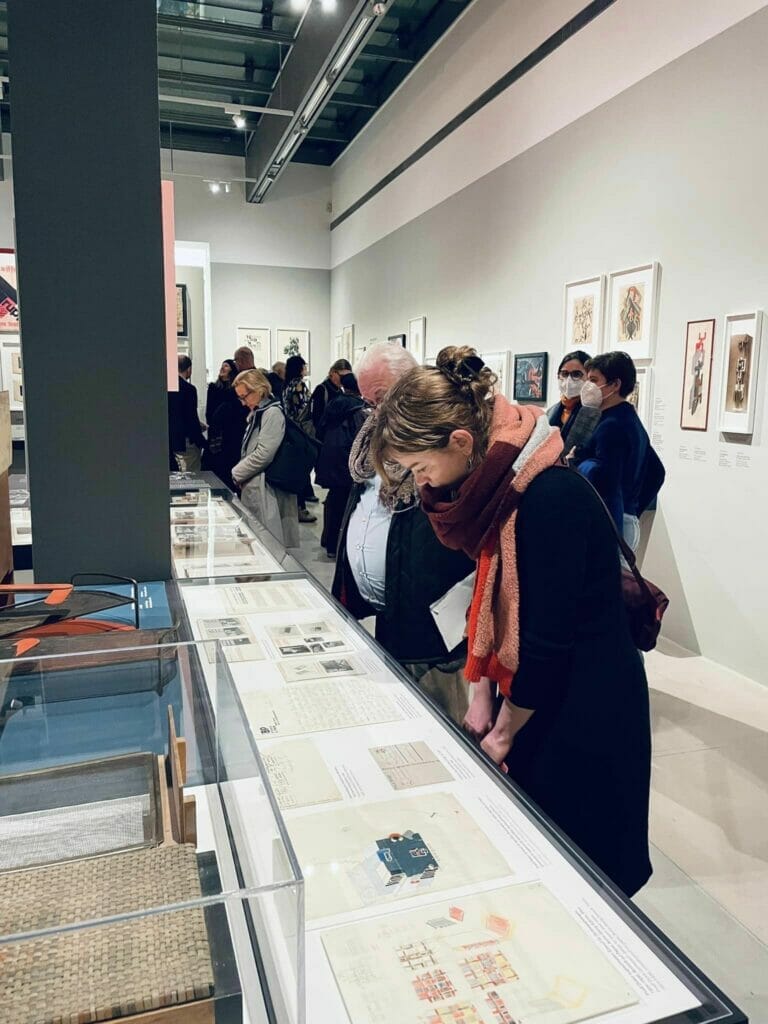 Known formally as the MUSA Museum Startgalerie Artothek (but I'll forgive you if you forget all of that), the MUSA Museum houses contemporary art sourced by the City of Vienna's Department of Culture.
There are 40,000 objects across many genres, and it's the largest museum of its kind in Austria.
The pieces have been collected since 1951 and reflect the past decades and the work of over 4,000 artists.
There are also temporary exhibits that put the art of the local community on display.
Not only is this perfect for visiting Vienna on a budget, but it also helps support the locals who make the city such a wonderful place to visit.
4. Money Museum
One of my favorite things to do in Vienna for free involves looking at a lot of money.
But not in an envious way, rather in a historical one!
The Money Museum is located at the Austrian National Bank and provides an interetisting glimpse at Austrian currency, gold and its past.
The building itself was designed by Otto Wagner's student, and it also served as the USA's military headquarters during World War II.
The Money Museum is closed on the weekends and Mondays, so make sure to plan a visit during the weekdays.
You can also go on a guided tour, free of charge, with a group of 10 people or more.
Perfect if you've with a large group of friends or can convince a couple of strangers to go look at some money with you!
Free Parks and Gardens in Vienna
5. Stadtpark: places to visit in vienna for free
Stadtpark was the first park that we came across when we entered Vienna, and we were absolutely thrilled to find a free food tasting event happening!
Well, some of the food you had to pay for, but there were plenty of stalls with small samples to try.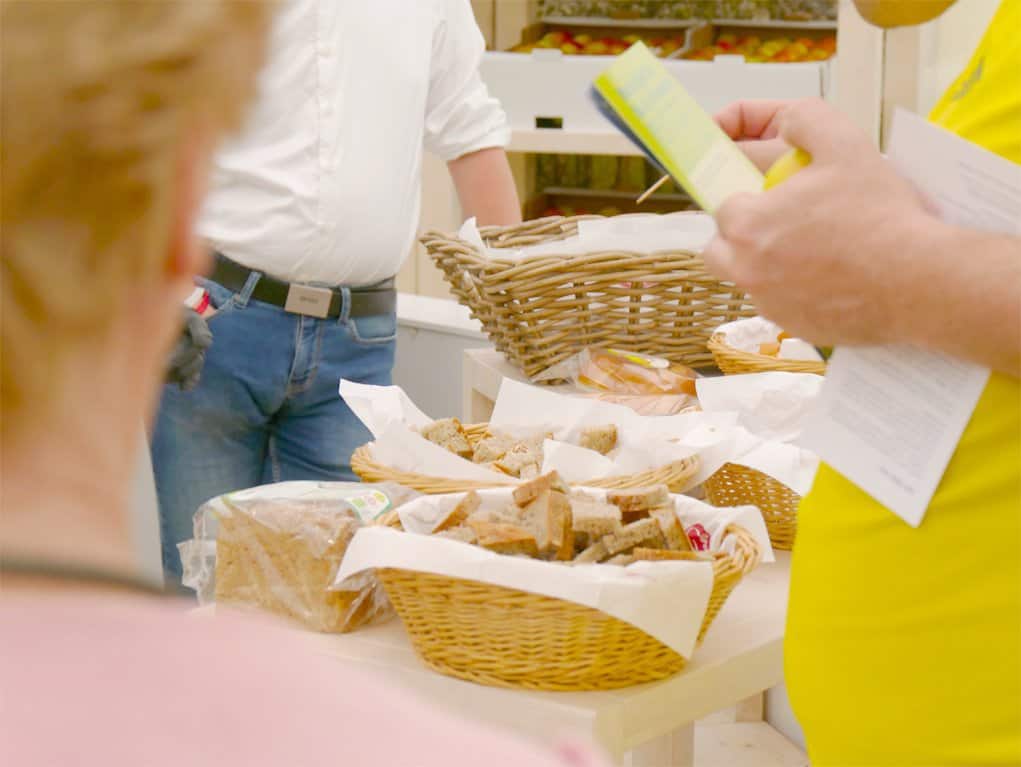 Stadtpark is meticulously designed and meant to link the city centre and Vienna's third district.
In fact, we entered from the railway station and were marveling at how quickly it turned from noisy and crowded to an oasis with shaded paths and open spaces.
The park opened in 1862 and was Vienna's first communal park.
The shrubbery and flowers along the paths were meant to be in bloom almost year round, along with a wide variety of fruits and trees that would keep the public's interest and provide a relaxing space for all to enjoy.
The most famous statue in Stadtpark is the golden (of course) one of Johann Strauss, an Austrian composer.
I may have thought it was Mozart at first, but that's because I am clearly uncultured – forgive me.
There is also a children's section of the park, where we saw many families taking advantage of the amenities on a sunny day in May.
6. Gardens of Schonbrunn
The gardens at Schonbrunn Palace are free to the public and probably the best free thing to do in Vienna if you want to make a whole day of it.
They opened in 1779 and span over 1 kilometer from east to west and another from north to south.
Together with the palace, it made it onto the UNESCO World Heritage list in 1996.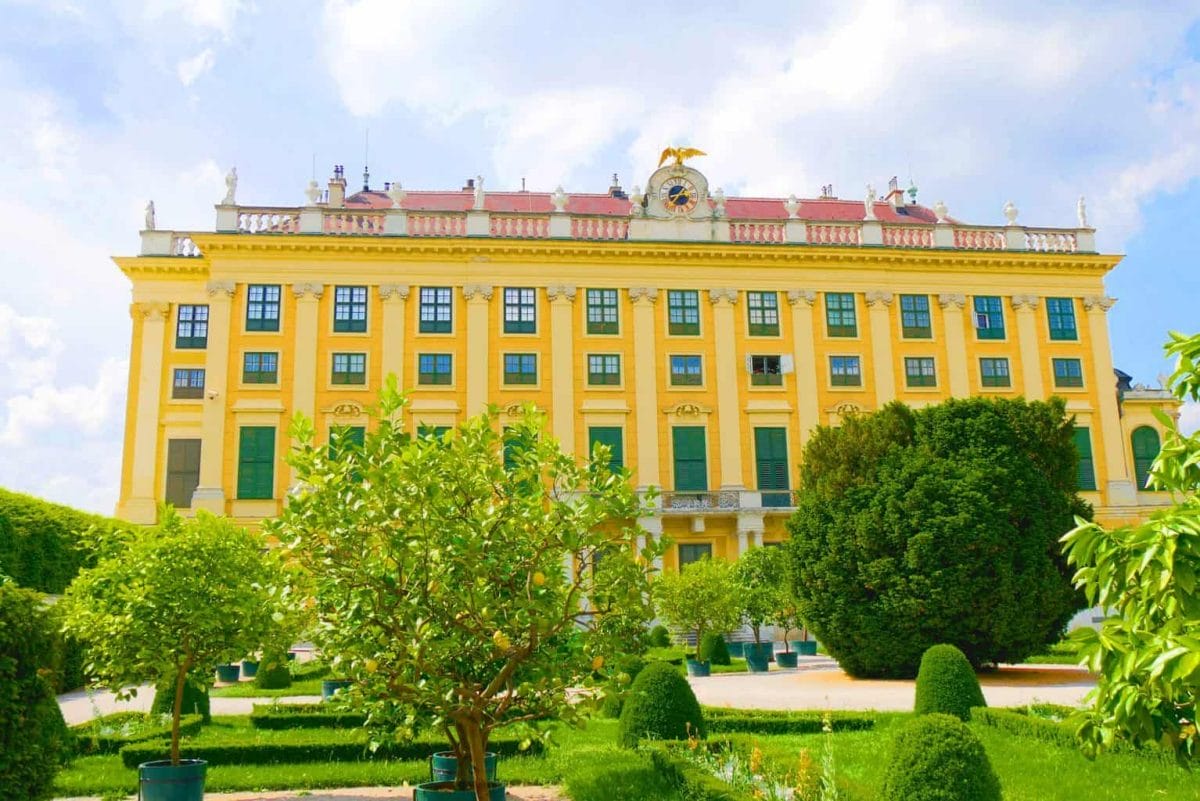 We found ourselves getting completely lost with all the things there are to do and see, including formal gardens, fountains, statues, beautiful views over Vienna and over the park, walking paths, paths through wooded areas, ponds, benches, and gazebos to sit in.
There are a few attractions within the park that aren't free, including the interior of Schonbrunn Palace, the Orangerie, the Gloriette, the zoo, and a rose garden.
Even so, there's still plenty of space to roam around, and the park is regularly used by runners, joggers, and families just visiting Vienna on a budget.
It's one of the best things to do in Vienna with kids due to the sheer amount of space to run around.
7. City Hall Park
City Hall Park is a smaller park within Vienna's inner city that sits in between Parliament and Vienna's University.
The park is cross-crossed by City Hall Square, which is used as an event location almost year round.
We found City Hall Park a lovely place to people watch and also to feel like you're in the center of the action while enjoying a picnic lunch, filling up your water bottle with Vienna's free water filling stations (they think of everything), or just chatting with some friends at a convenient location in the middle of the city.
Oh, and it boasts incredible views of City Hall so you really can't go wrong.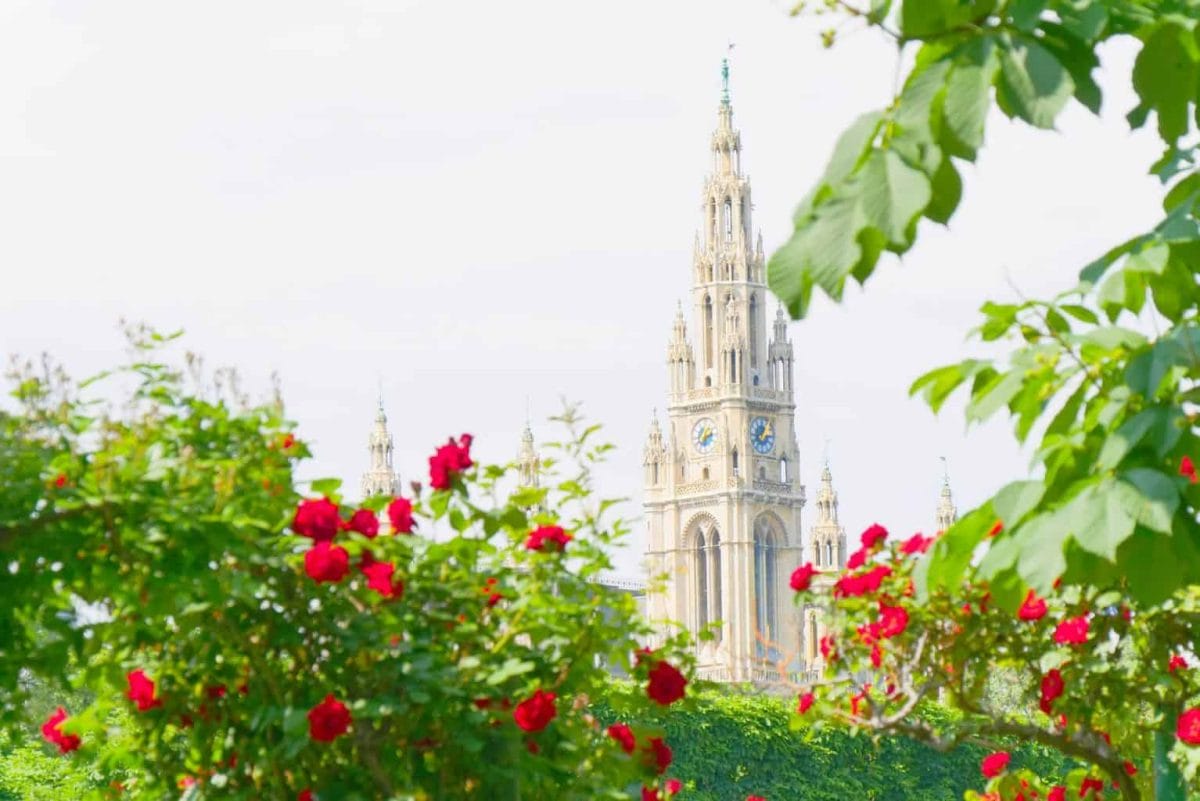 8. Sigmund Freud Park: what to do in Vienna for free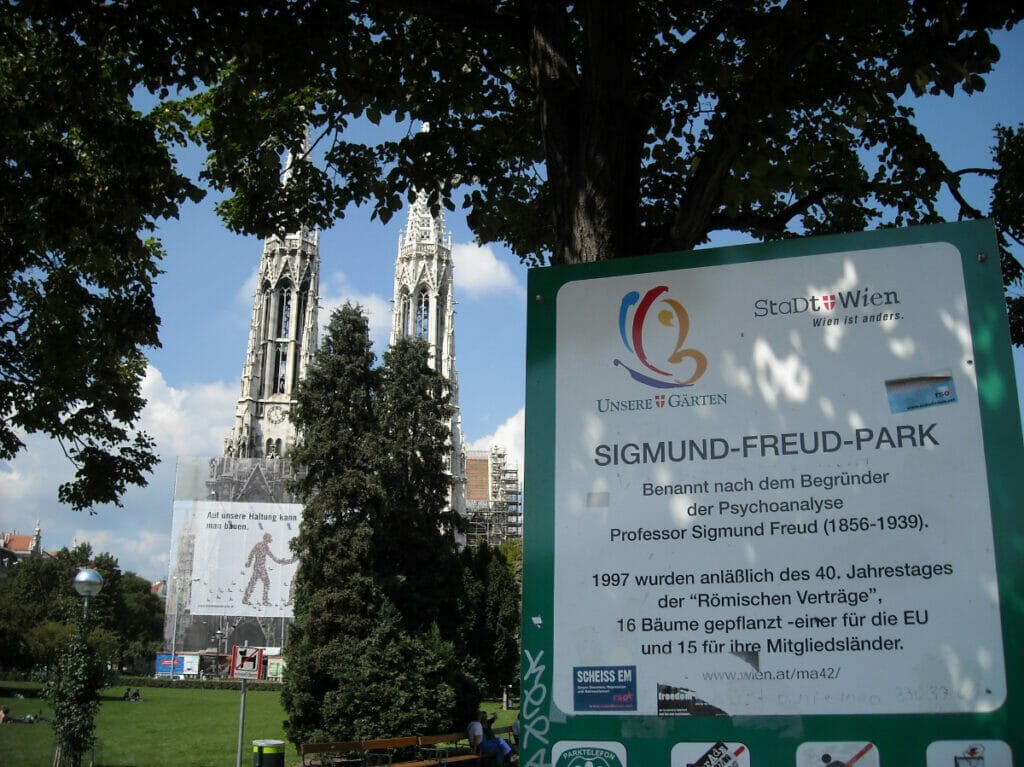 While this is more of a green space and less of a full park, there are still some interesting things to find in Sigmund Freud Park.
It's located in front of Votivkirche, a gothic church in Vienna.
In Sigmund Freud Park, you'll find a circle of trees that was planted in 1997 to represent the countries of the EU.
You'll also find the Partner of All Nations monument which was created in 2004.
This monument has 10 chairs surrounding a table and represents 10 new nations that joined the EU that year.
There are also other sculptures such as the Ruolf Moratti sculpture, but this is one of the places to go in Vienna for free that will give you a little bit of history and also lovely views of the church nearby.
Take a picnic or grab some cheap lunch from a stall and enjoy the weather.
9. Volksgarten
Situated next to Hofburg Palace, the Volksgarten translates to "People's Garden" and is a public park created in 1821.
It opened to the public in 1823, and was even built over the city walls destroyed by Napoleon in 1809.
Because this is Vienna, of course there are lovely rose gardens in the park, as well as two fountains: the Triton and Nymph Fountain and the Volksgarten Fountain.
You'll also find some lovely monuments, a replica of the Temple of Hephaestus in Athens, and places for performances.
10. Burggarten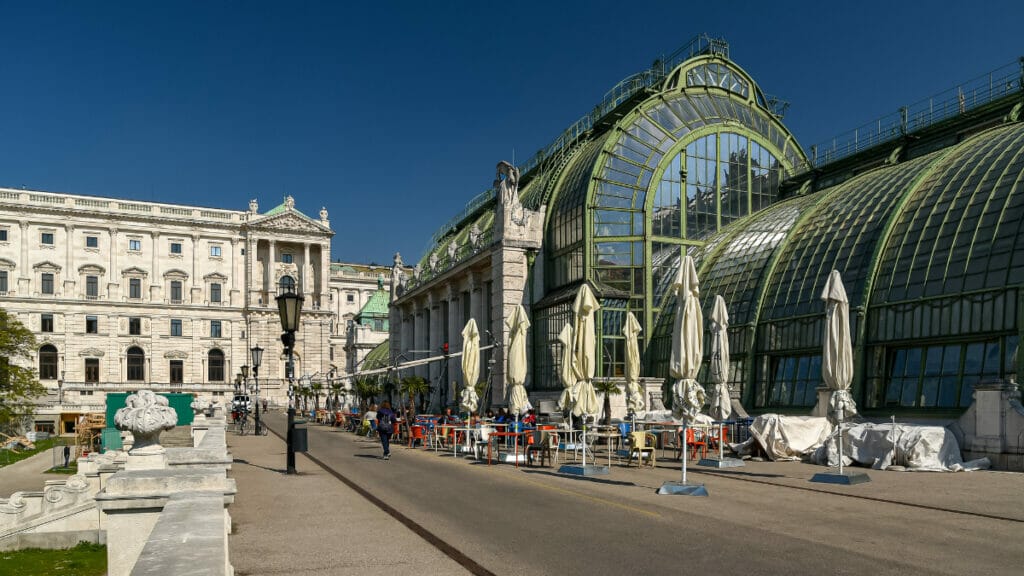 Right between the Hofburg Palace and the Albertina museum is the Burggarten Vienna Garden, one of my top free things to do in Vienna.
It was designed with the help of emperor Franz who chose plant types from all over the world.
This is where you'll see beautiful monuments, and a stunning palm house that now has a café and a butterfly garden.
Back in the day, before the public could enter, you could only look in through the fence that seems to stretch up to the sky.
And, of course, THIS IS VIENNA, so the fence is golden.
The garden is usually open until 10:00pm in the summer and 5:30pm in the winter, and you can enter from the main road both in the direction of the Hofburg and of the opera.
Free Attractions in Vienna
11. St. Stephens Cathedral
One of Vienna's most stunning landmarks, St. Stephens Cathedral, is free to go into, and if that's not a sign that you can visit Vienna on a budget, then I don't know what is.
We were drawn to St. Stephen's Cathedral at first by its beautiful roof, which contains 230,000 glazed tiles in different colors.
On the tiles are mosaics of eagles, which symbolize the empire of the Habsburg dynasty who ruled Vienna.
Fun fact: the roof is so steep that it's almost never covered in snow and is usually cleaned with just the rain running down the sides.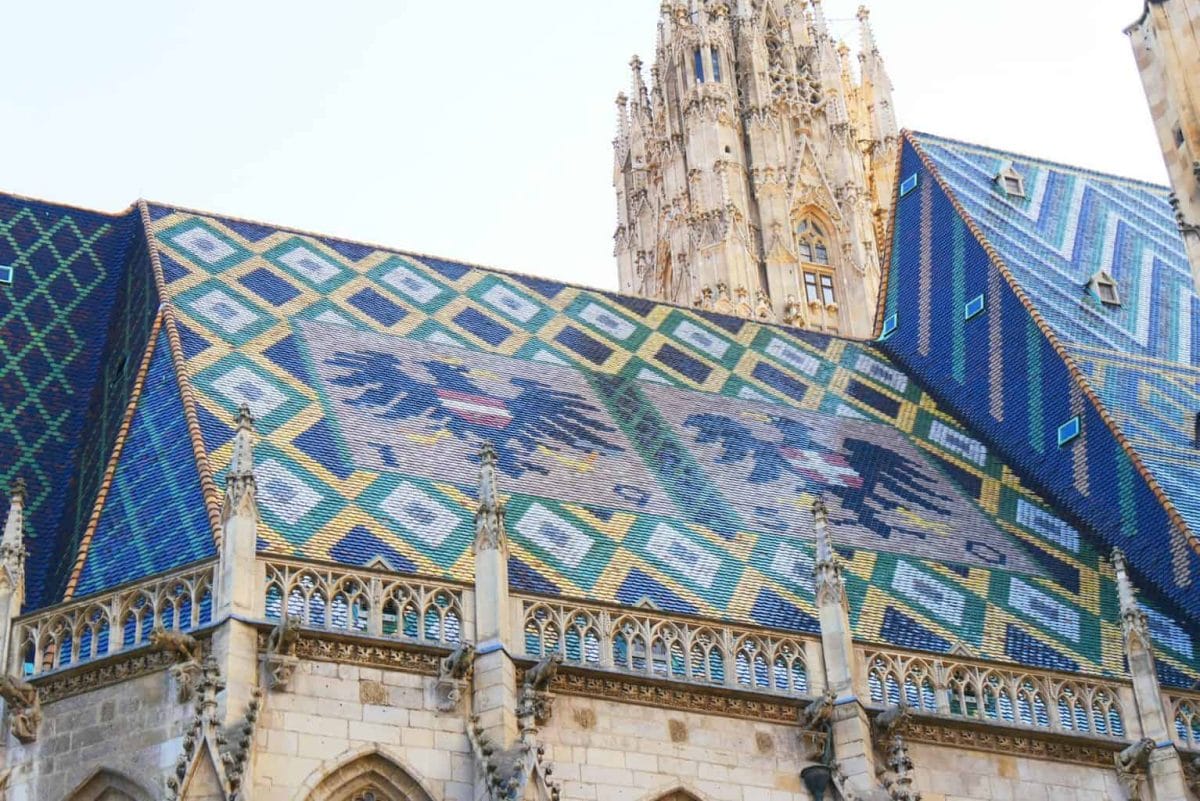 Inside the cathedral are some gorgeous paintings and ornate chapels and architecture.
There are some parts of the cathedrals only open to paying tourists, but we got plenty far in without needing to pay and were able to see enough to appreciate its history.
Sometimes, when going to a new destination, we get a bit bored of cathedrals and are a bit, "if you've seen one, you've seen them all," but St. Stephens is definitely one to keep on the bucketlist.
12. Danube Island: Vienna free things to do
Danube, the famous European river, flows right through the heart of Vienna, and of course you can relax on its banks for free.
However, one of the coolest free things to do in Vienna is to head to Danube Island, a Viennese hang out spot that has over 42 kilometers of sand and grassy beaches.
There are places to run, jump, play ball, bike, surfboard, and play in the water playground.
There are bathing beaches for anyone looking for one, including a family one and one for nudists (not my thing, but you do you).
There is also the Danube Island Festival, held every June, that is a free open air party on the island and boasts around 3 million visitors.
It's free to enter the island, though some of the activities like surfing school and boat rental do coast. To save money, bring a picnic to sit on the grass and soak in the sun or bring a towel to do some sunbathing right next to the water.
If you can spare a bit of change though, there is an ice cream stand calling your name.
13. St Marx Cemetery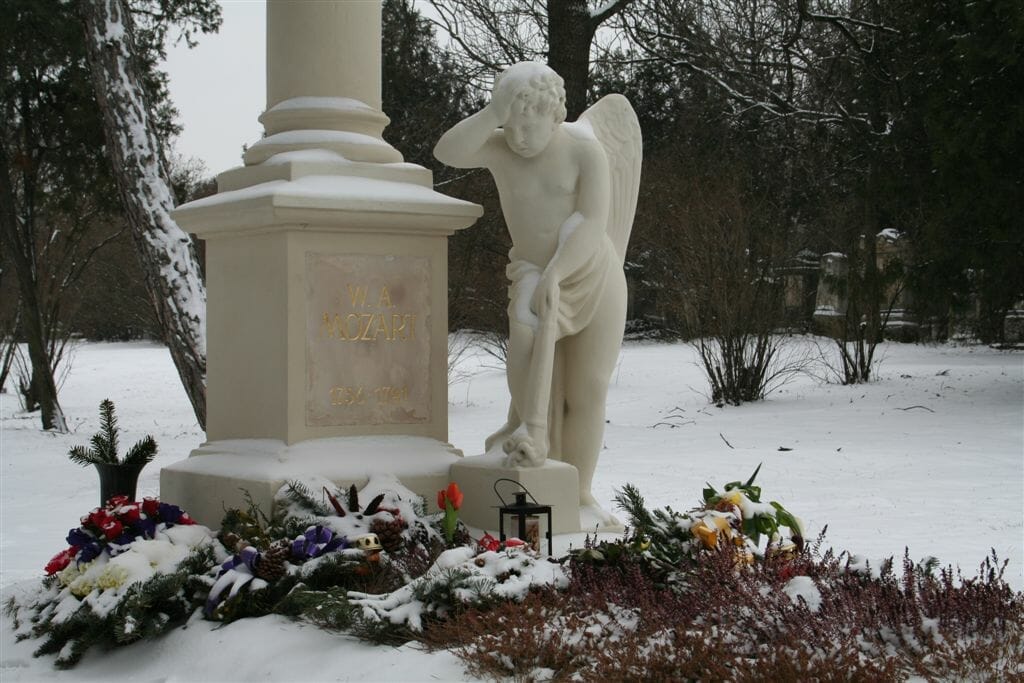 The St. Marx Cemetery is actually part of a larger park, and it has paths around and throughout the area.
It's free for anyone to enter, and is situated in a more remote part of the city, making it great for some self-reflection.
It's believed that Mozart is buried in St. Marx cemetery, but there is no telling where exactly, as it was a mass grave and over time knowledge of the exact spot has been lost.
You can wander through the lilac hedges and look at the gravestones, as well as sit under the large, old trees that surround the perimeter and make the area very shaded.
14. City Hall
The name for city hall, the Rathaus, troubles me slightly as I can't stop thinking of it as a "rat house," but Vienna's City Hall looks nothing like a rat house, whatever they might look like.
In fact, it was one of our favorite buildings in the whole city, and when we first spotted it, we thought it must be some super expensive museum or something.
Nope!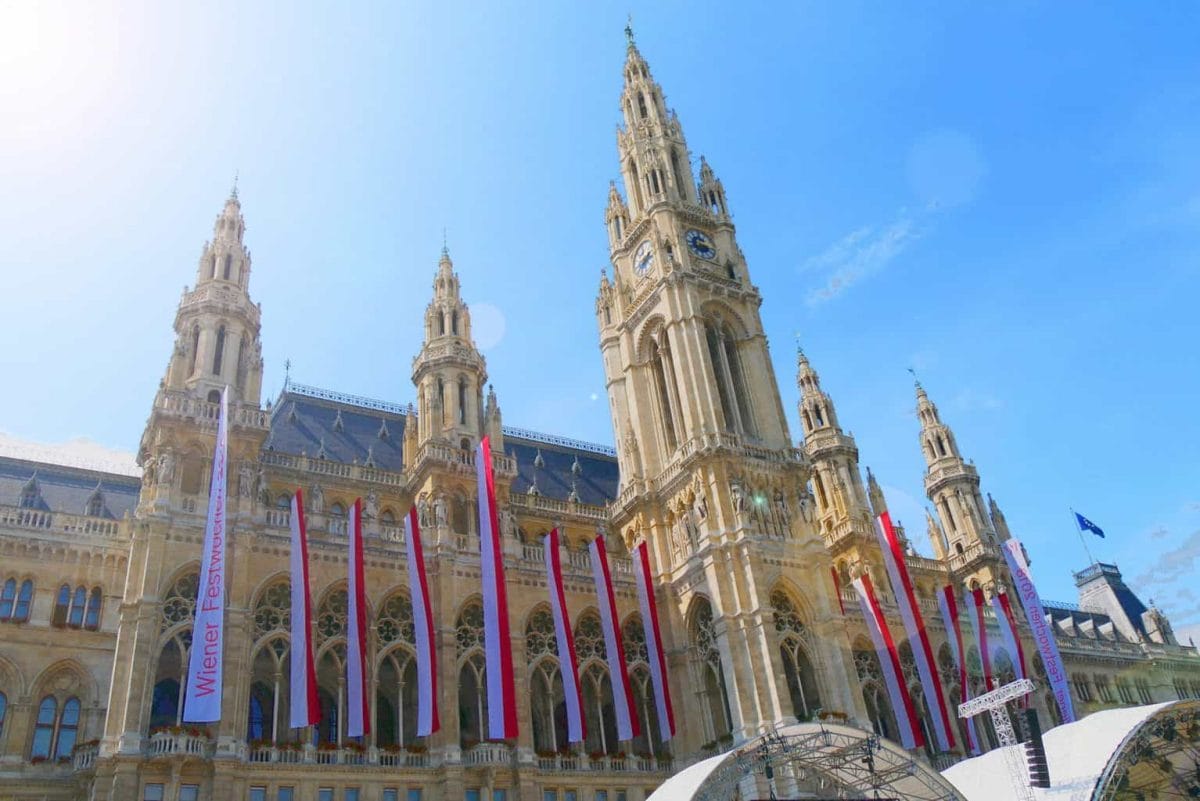 City Hall was built between 1872 and 1883 and built in gothic style with a tower.
Inside are the offices of many government officials, as well as state rooms used to welcome visiting guests.
If you're not quite on the Viennese government's guest list (though why wouldn't you be?!), you can still peak inside by going on a free guided tour.
On the tour, you'll look at the state rooms, the Grand Staircases, the Council Chamber, the two Coat of Arms halls, and more.
Tours run regularly on Monday, Wednesday, and Friday at 1pm, except on certain meeting days and public holidays.
They are in German, so do be aware of that if you don't understand a word of German, but it's still worth it to be able to go inside.
If you speak English, French, Italian, or Spanish, you can also pick up an audio guide that are available to free if you leave your ID with them while you take it around with you.
This makes sure you get the tour while also understanding the information provided.
15. Free walking tour: things to do in Vienna for free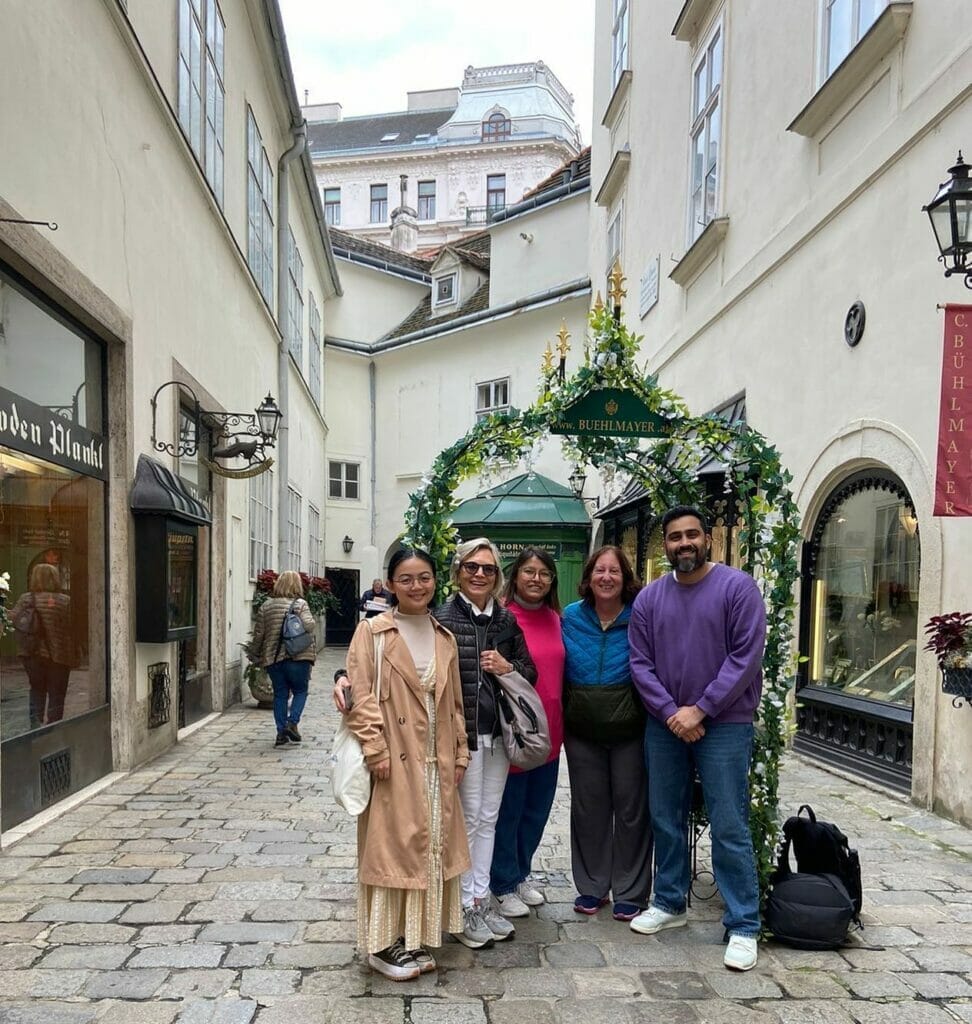 While you do need to pay a tip towards your tour guide if you go on a "free walking tour" of Vienna, you can go on a free walking tour of the city with a local guide using a company like Free Tours by Foot.
Walks are offered in English as well as German, and they are usually on multiple times a day throughout the year.
Most free Vienna walking tours are intros to the city or a "welcome" tour rather than delving into any specific area, which is a great idea if you've never been to Vienna before.
16. Beethoven Walk
Beethoven spent most of his life in Vienna and made it is home, which means that there are plenty of places to explore in Vienna that he has either lived in, worked at, or visited.
Use this information from Austria's tourism board to put together your own Beethoven walk around the city.
17. Kahlenberg Hike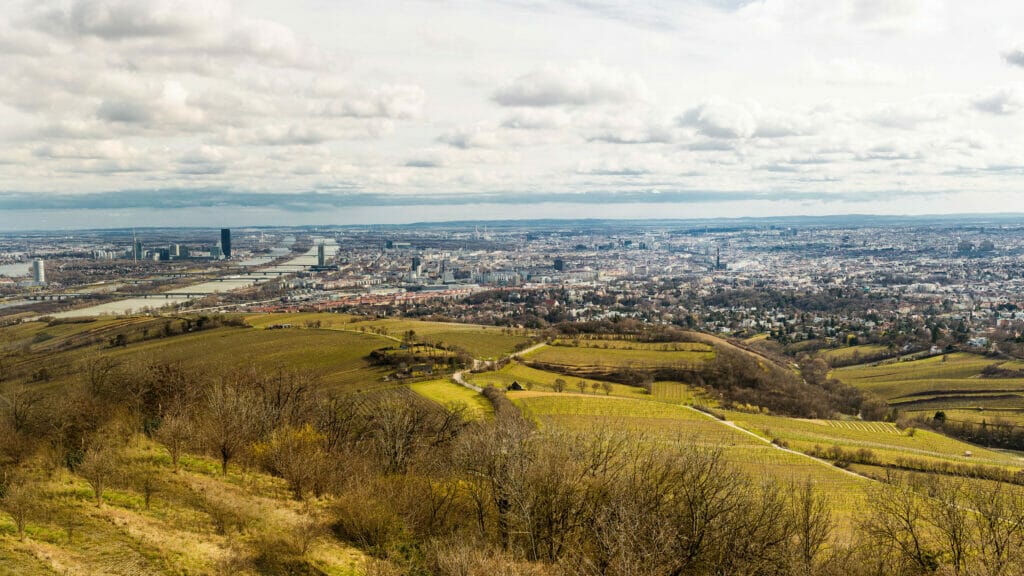 This hike in Vienna starts and ends at the last stop of Tram Line D and takes about half a day.
You'll wander your way through vineyards, wooded hills, and the city itself, and you'll be rewarded with some absolutely incredible views of Vienna and the Danube.
You won't be isolated the whole time and you'll find places to eat along the way, so pack a backpack with some water and supplies and then take your time as you enjoy this free Vienna activity.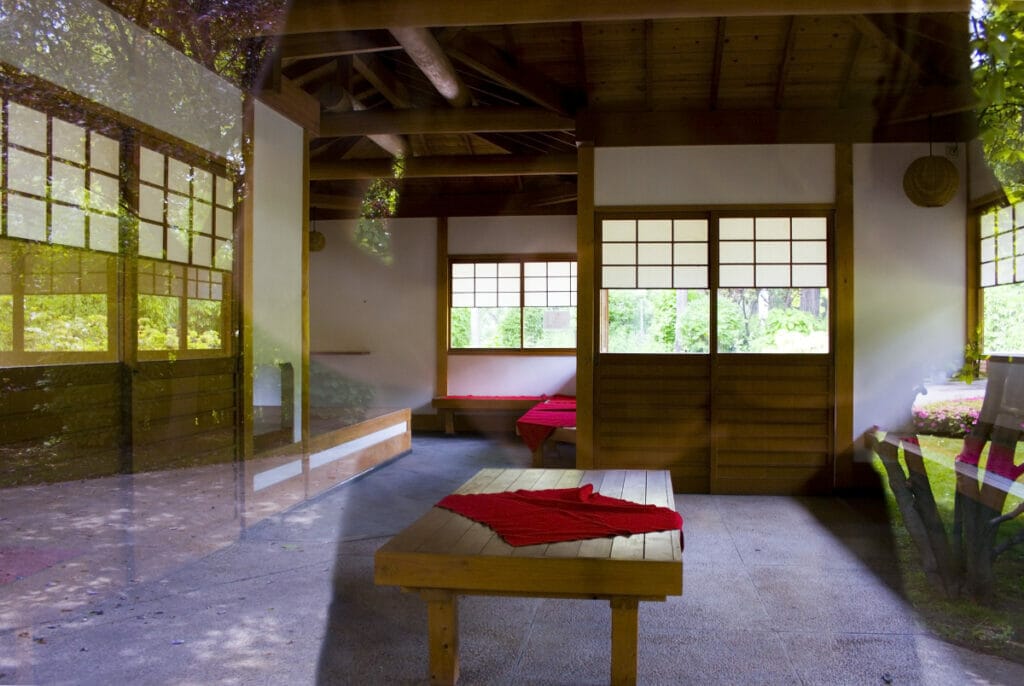 When you need somewhere to chill out in Vienna for free, check out the Setagaya Japanese Garden!
This beautiful garden was designed in 1992 and has everything from a Japanese tea house to stone sculptures and streams.
You'll find Japanese maple, cherry trees, and other Japanese plants that work together to create a beautiful blossom in the gardens throughout the seasons.
19. Hundertwasserhaus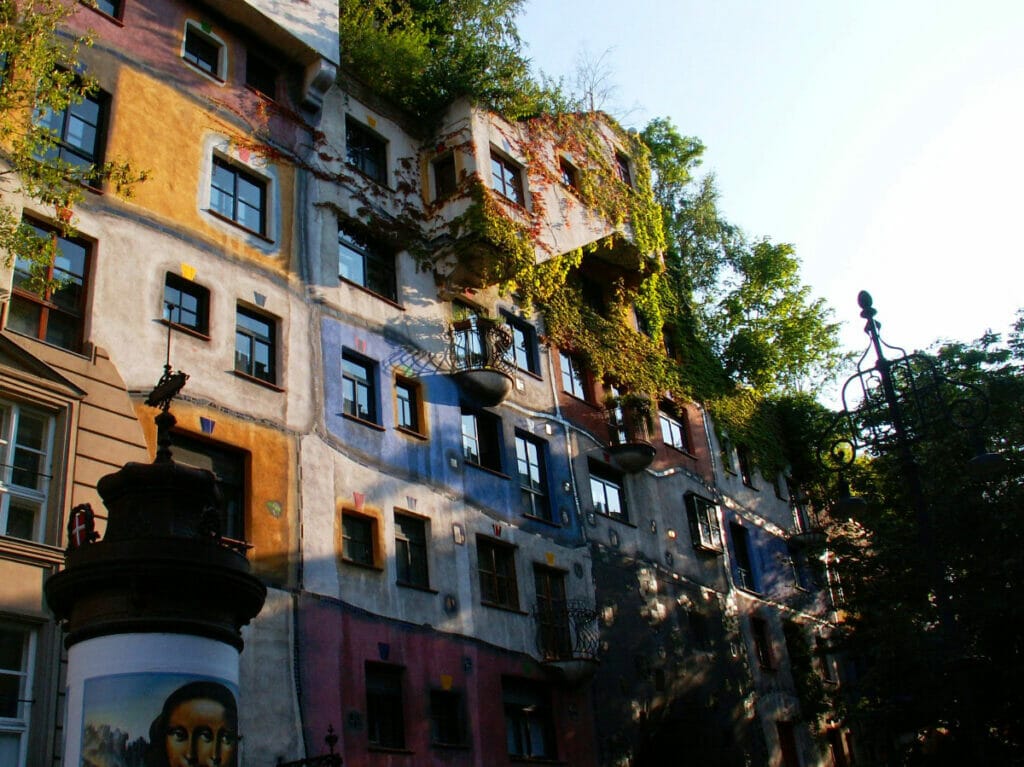 You can't go inside this quirky apartment, but that's why it's completely free and something to see in Vienna without paying anything.
There aren't straight lines or boring colors to be found here, as it was designed in the style of artist Friedensreich Hundertwasser.
It belongs to the city of Vienna, and is worth walking by.
20. MQ Art Box
This free outdoor container of art in Vienna's Museum Quarter is a fun place to see rotating exhibits of contemporary art, free of charge.
21. Theseus Temple: best free things to do in Vienna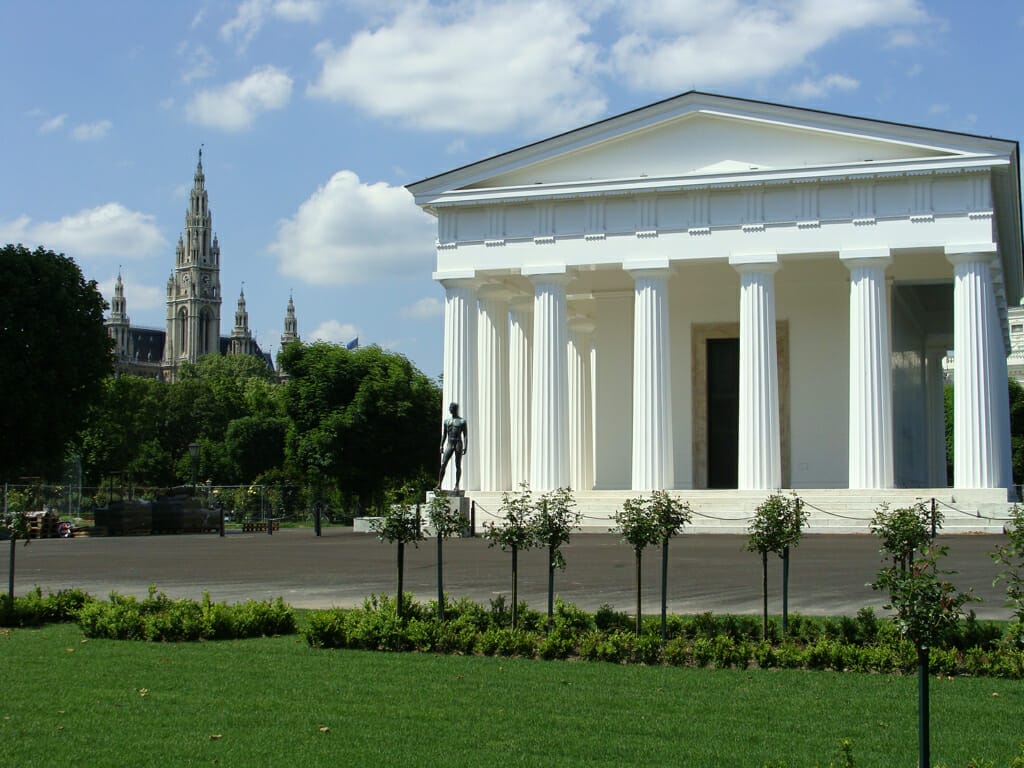 Head to Vienna's Volksgarten Park, where you'll find this sculpture in Greek style, featuring a temple with columns.
It's a nice place to sit down in the summer and sometimes has art installations inside.
Free Events in Vienna
22. Free Mozart
Finding the best free things to do in Vienna doesn't mean you need to forgot the opera house.
We looked into buying tickets, but as we only had a weekend in Vienna, we didn't want to confine ourselves to watching the opera for a couple of hours if we didn't end up being enthralled.
Luckily, the Vienna State Opera takes pity on all of the tourists like us, and in the summer, they project opera and ballet live on a video screen outside the opera.
The is no fee to take a seat and enjoy, though you should go a bit early if you want to grab an actual seat rather than sitting on the floor.
There are 180 chairs set up for each performance, as a guide to how many people to expect.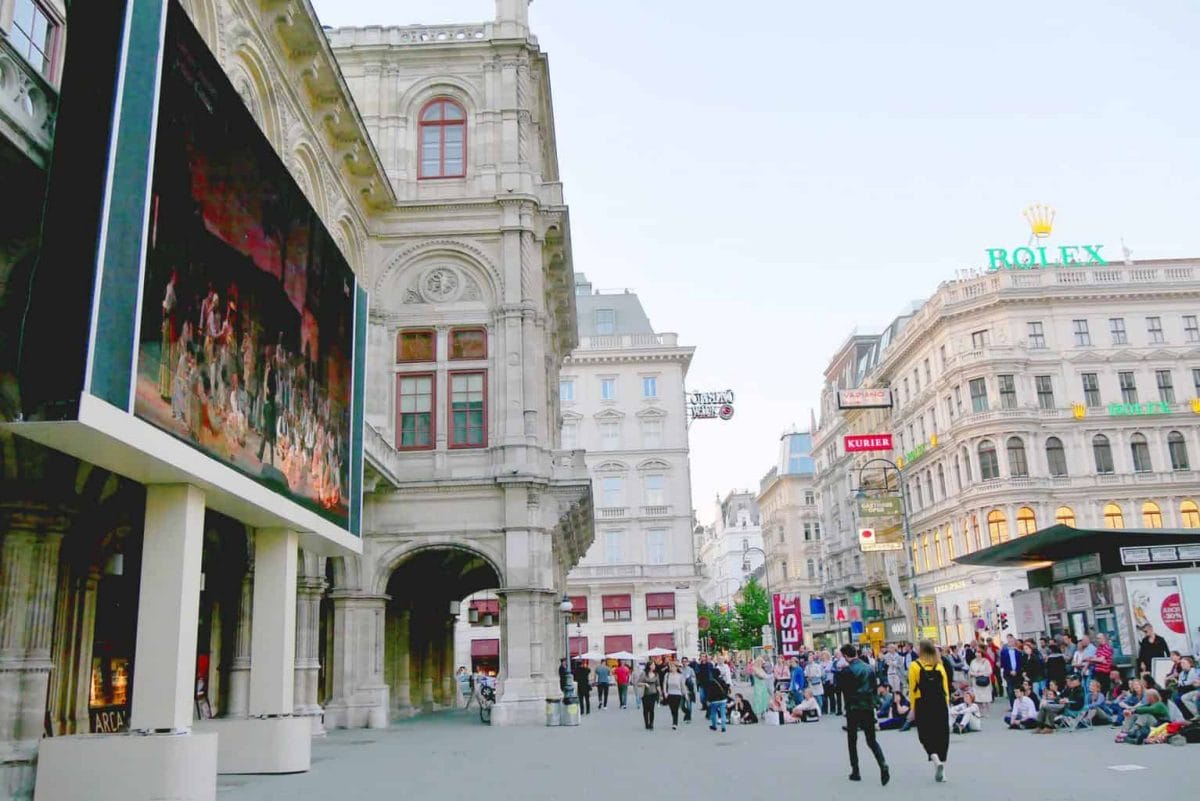 This was a surprising, but really wonderful way to get to know Vienna a bit more.
It was something we stumbled across and found ourselves more even enchanted by the atmosphere in the square than the performance itself.
People from all walks of life gathered, some stopping on their way to somewhere else, some who had been seemingly dragged along by a significant other, and many who knew exactly where the best spots where and had been there before.
Even if you do get tickets to the opera as part of your trip to Vienna, experiencing the atmosphere outside the Opera House on another show night is a must-do.
23. Naschmarkt
Before I get your mouth watering for this one, know that you will need money if you're visiting this market and hoping to buy something, but if you just want to take it all in, you won't need to spend a time.
This produce and food market has been one of the premiere markets in Austria and in Europe since the 16th century.
Back in the day, people would have come from all over the world to find the most luxurious food and bring their goods from their farms and cities.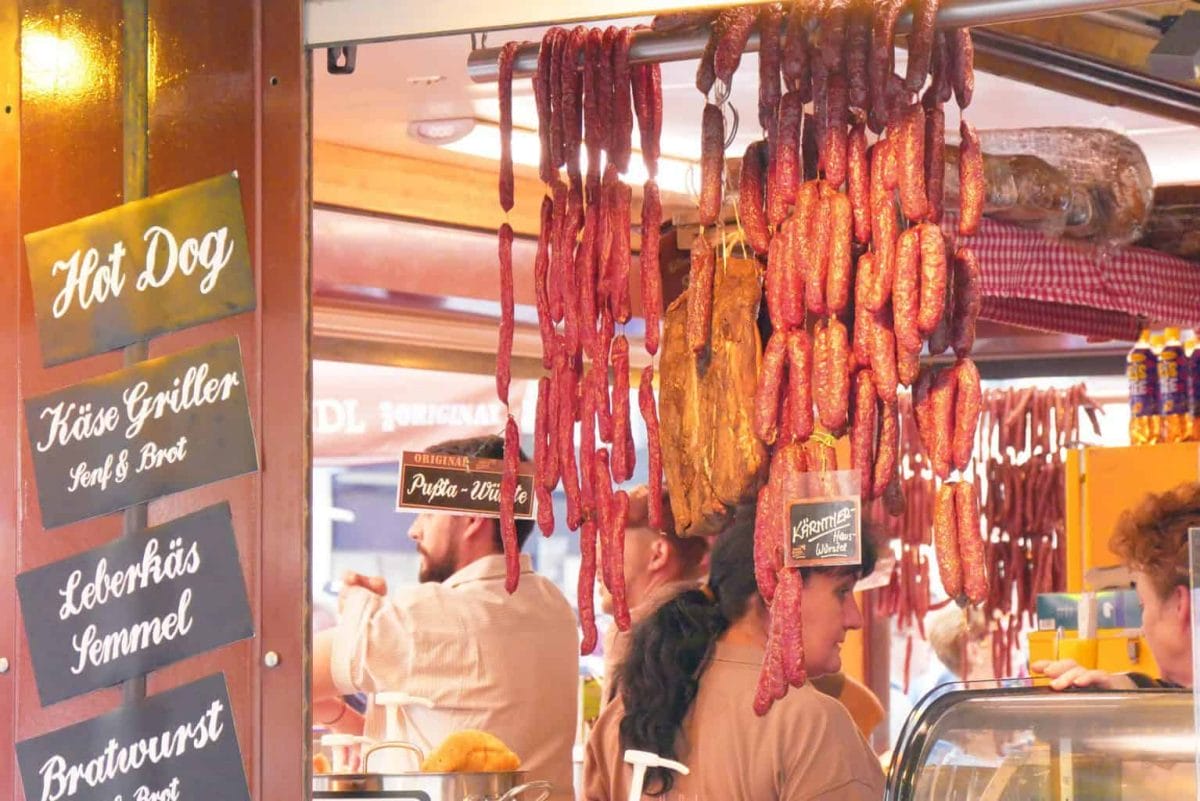 You can find things to eat like hotdogs and sandwiches to enjoy right away, or you can browse the fresh meat butchers and fishmongers selling the best quality cuts.
For a relaxing day in the Naschmarkt, spend it walking around people-watching and appreciating the diversity that makes up the market.
Vienna is a multicultural city with plenty of expats, and their diversity, home cooking, and businesses are well represented here.
This is the perfect place to try and strike up a conversation with a local and ask for their favorite suggestions on things to do in Vienna for free.
24. Brunnenmarkt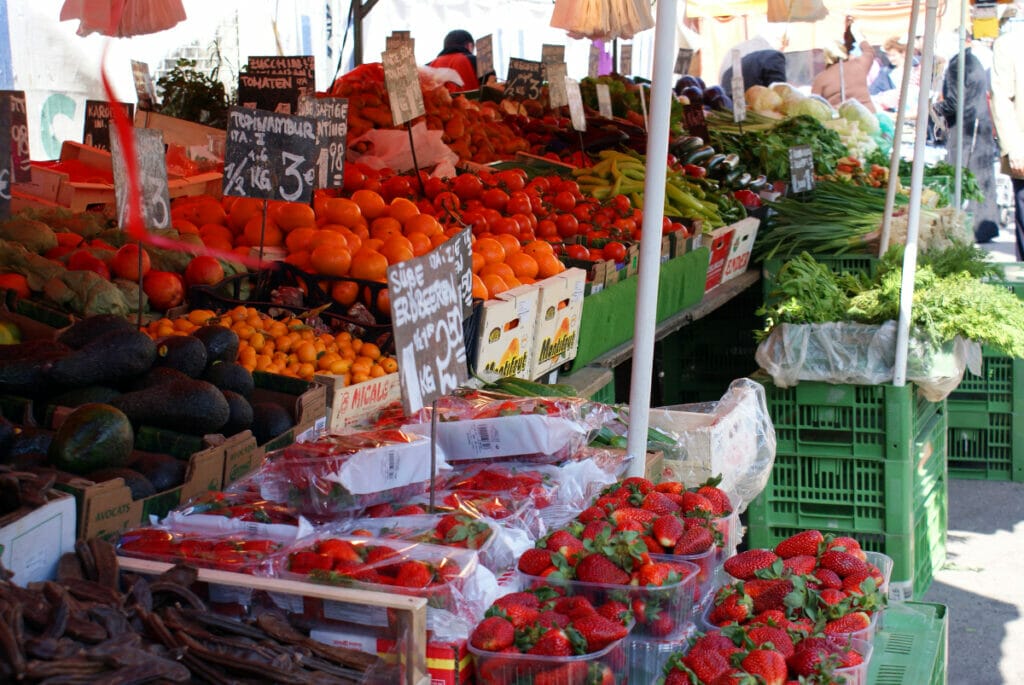 As Vienna's largest street market, Brunnenmarkt is almost guaranteed to have something for everyone.
There are 170 market stalls, so if you don't find something, then I feel like that's on you!
The area, situated around Yppenplatz square (no, I have no idea how to say that) is colorful and vibrant, filled with artists, produce stalls, coffee shops, and more.
Smell the spices drifting through the air, crack a smile at a local vendor and try to learn a bit more about their lives, or visit Staud's delicatessen, where Johanna Staud has been selling jams and pickled vegetables since 1947.
25. Summer Vienna Philharmonics Concert
In the gardens of Schonbrunn Palace, this annual summer concert brings an orchestra and philharmonics to this gorgeous historic settings and puts on a show for visitors and residents of Vienna with a stunning light display and some famous names.
26. Open Air Cinema at Kaleidsocop
In the summer months, Kaleidsocop puts on an open air cinema month where they play everything from Austrian films to famous international films.
Admission is free, seating is free, and the screenings happen in all weather so don't worry if there's a bit of rain.
27. Karlsplatz at Christmas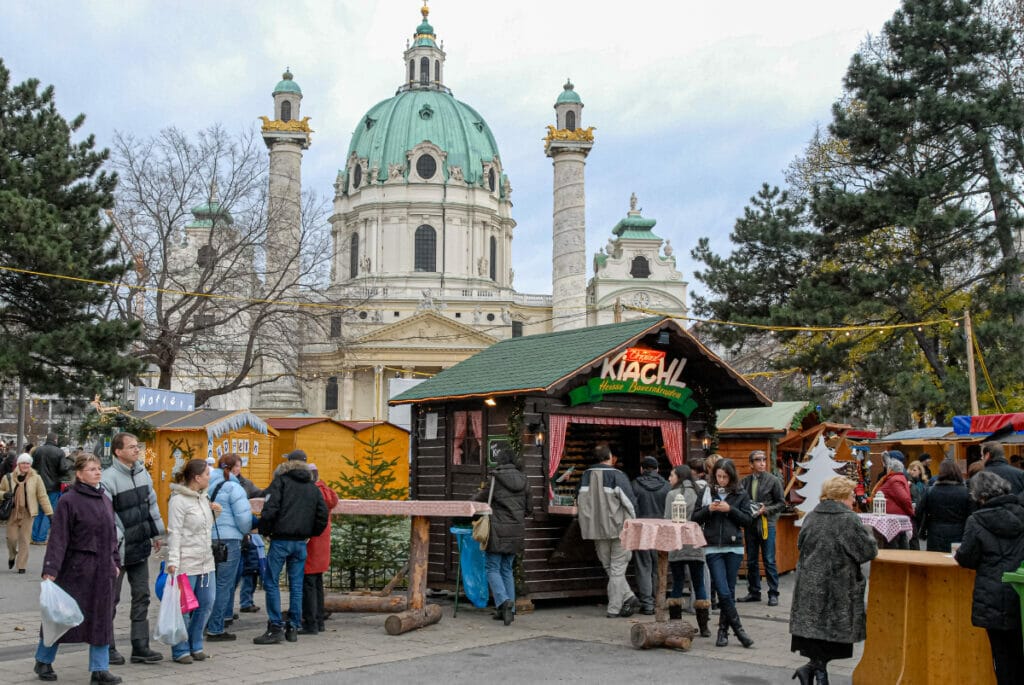 At Christmas time, one of the best free things to do in Vienna is to wander the Karlsplatz Christmas market, where you'll find plenty of food, things to buy, festive cheer, and holiday vibes.
You don't have to pay to enter, so as long as you keep your wallet in your bag and not in your hands, you'll be good to go.
Watch my Ultimate Travel Guide to Vienna!