This post contains affiliate links for which I may make a small commission to help keep the site running. You will not be charged extra for these items had you not clicked the links. Thank you for your help to keep the site running!
When it comes to finding the best views in London, some people automatically think of the major sights, the ones listed in the tourist guidebooks, but in this article, I'm covering a few extra!
There's a good mix of types of views in here, including free views of London and paid views of London, as well as views of London for people who are scared of heights and don't really feel like standing on top of a billion story building and looking down.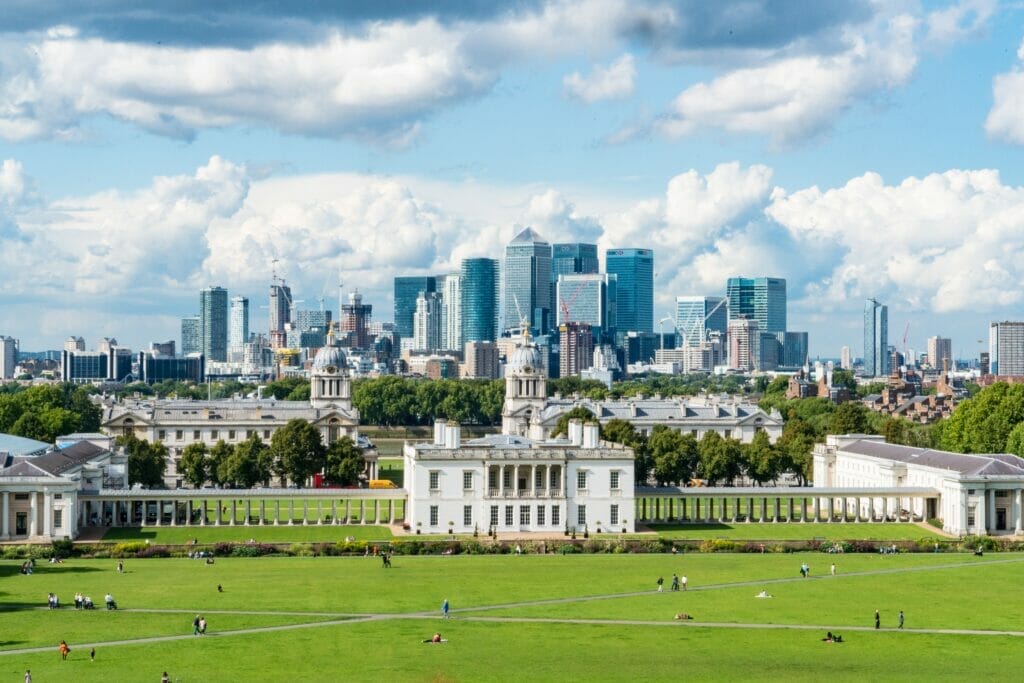 Hey, sidenote! If you're traveling to the UK or live in the UK, whether for a short period of time or as an expat, why don't you join my Facebook group where you can ask questions, get advice or just look at pretty pictures of this part of the world! Just click here to request to join and I'll add you!

You should also check out my ultimate course on visiting London with over 70 topics, including how to stay safe in the city, to help you make the most of your London trip here!
Wait, stop!
Before you keep reading, I just wanted to make sure you know about my expert 7-day London itinerary that includes all of the iconic attractions plus off-the-beaten path activities and restaurants, as well as step-by-step walking and public transportation directions!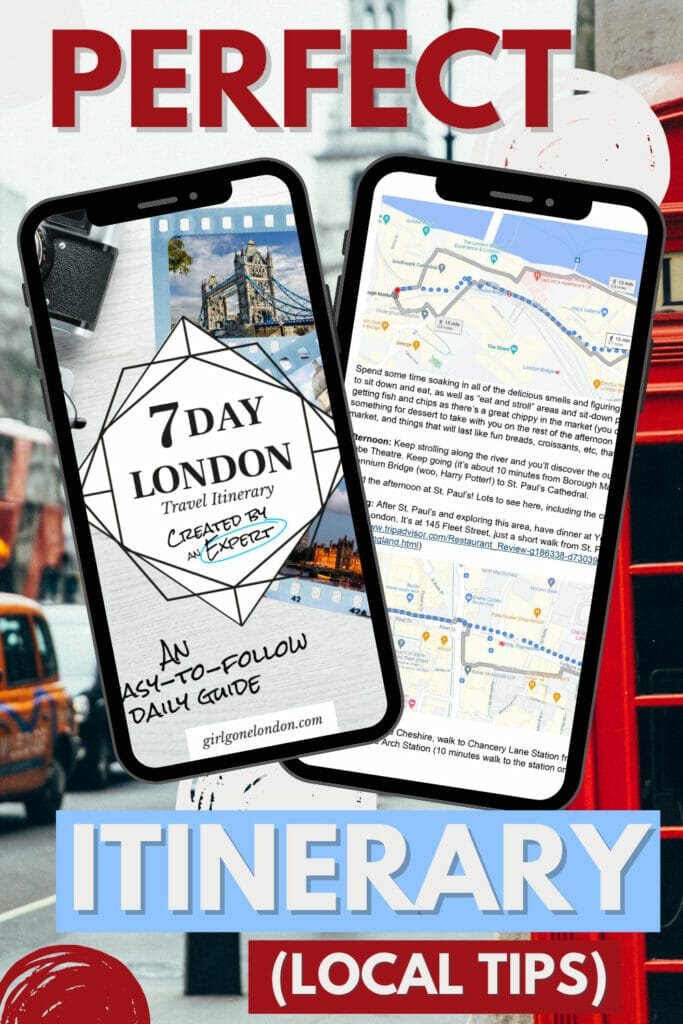 It can be stressful spending so much money on a London trip and not knowing if you're fitting everything in or making the most of your time.
To help you out, I've taken my 10 years of London experience (starting as a visitor and then as a resident) to make sure that you have the ultimate step-by-step itinerary that will make sure you see the real London.
And, hey, if you're not coming for exactly 7 days or already have some plans, don't worry, as it's editable so you can mix around the days, incorporate your own ideas, or pick and choose which days to follow.
1. SkyGarden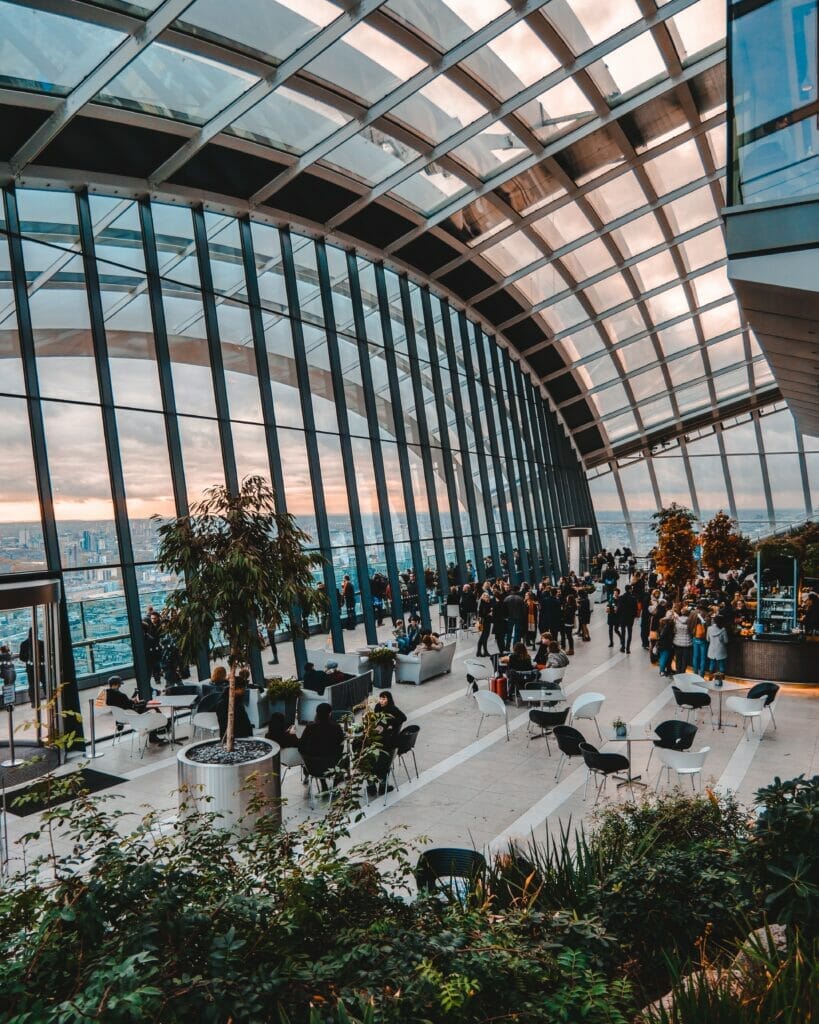 Perhaps the best free view in all of London is that from the SkyGarden, located in the funnily named "walkie talkie" building.
Not only is the view free, but the surroundings are gorgeous, living up to its name as London's garden in the sky.
You'll find it on the 35th floor, with an entrance on Philpot Lane, and public tickets for viewing are time limited to one hour (but if all you're doing is looking at the view, that's all you'll need).
You can get drinks from the bar or snacks, as well as actually booking a table at one of the restaurants to really take in the view for a longer period of time.
In addition to the indoor garden, there's an outdoor terrace that can be enjoyed when the weather is nice.
While you do need to book in advance (and should make sure to do so 3 weeks in advance), there are a few walk-in slots available from Mondays to Fridays before and after the timed tickets close.
When you tally up all of the money you can spend on the view up the Shard, this is truly a great suggestion for seeing London on a budget and soaking up that sunset.
From the Skygarden, you can actually see out to the Shard, as well as a great view of the Thames, Tower Bridge, and more.
2. Primrose Hill
So you're afraid of heights, but you still want to see a gorgeous London skyline?
Primrose Hill has you covered.
This beautiful part of Regent's Park is not too tough to climb if you take your time (it is a relatively steep incline, but we're not talking real hiking here, just a bit of huffing and puffing if you're out of shape!)
It's common to take a blanket to sit out on the hill and watch the sunset over London.
Of course, since it's in a park, it's completely free!
From here, you can a stunning view of the London skyline featuring the BT Tower, the Shard, and the London Eye.
Afterwards, head to the London Zoo in Regent's Park or nearby Camden for some of London's best markets.
3. The Shard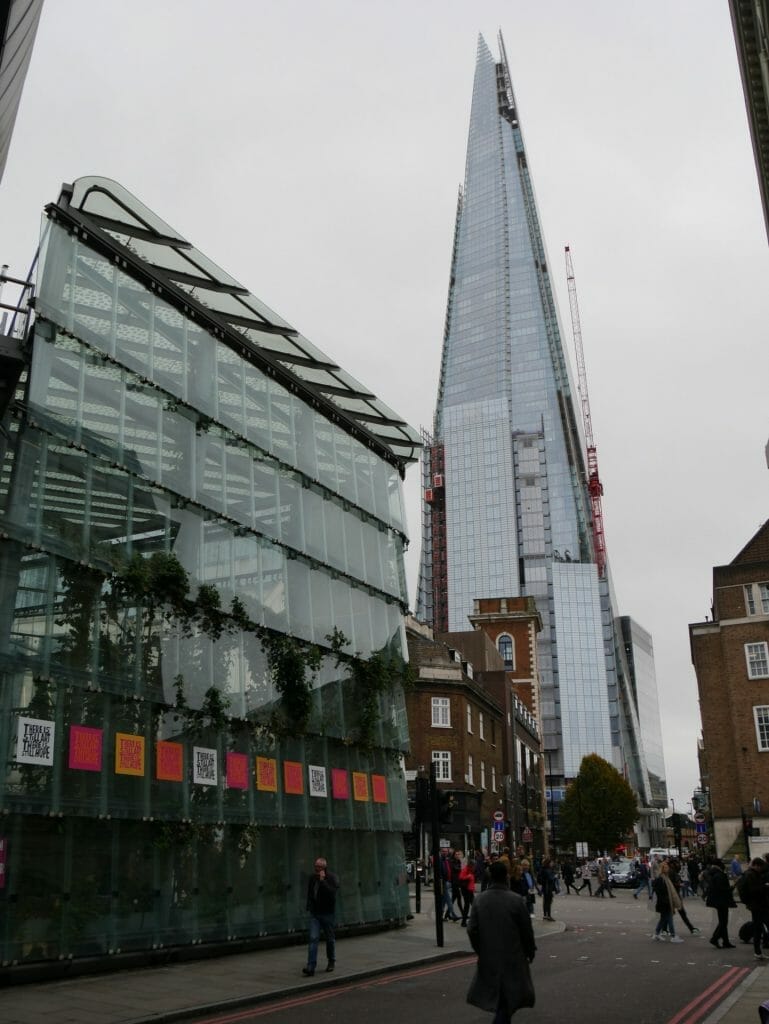 Perhaps one of the most expensive views in London and one of the most famous is the "View from the Shard."
Finished in 2012 right before the London Olympics, this is the tallest building in the UK.
You can buy tickets to experience the view of London from up here, as there are two viewing areas (one indoors and one partially outdoors).
The cost is £25+ for a standard ticket, which mostly just includes the view.
There are also other ways to enjoy the view from the Shard, like booking afternoon tea or a champagne experience at one of the restaurants.
While the view from the Shard is spectacular and I encourage anyone using the London Pass to check it out (it's included as a London Pass attraction), I don't think it's a London must-do if you're on a budget or looking for other ways to see the city.
4. London Eye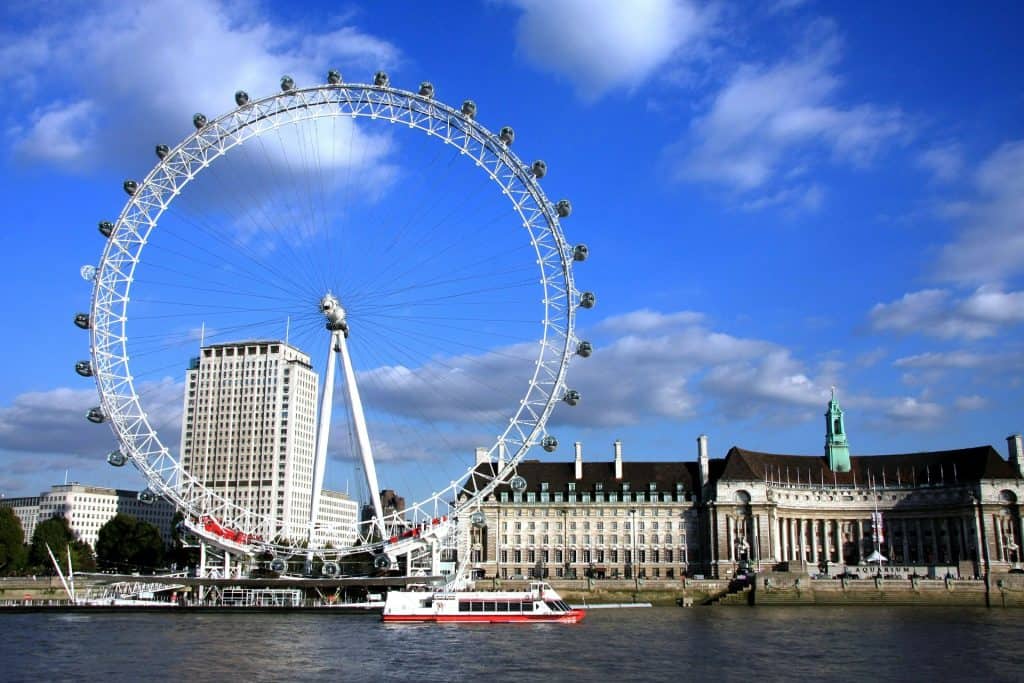 If you want a truly 360 degree view over the Thames and out to all areas of London, the London Eye is your best bet for one of the best views of London.
I've written an entire guide on whether the London Eye is worth it, and while I don't think it's worth it when it's grey and drizzly out (as you won't get to see much), on a clear day, it's truly awe-inspiring to be able to see everything from Tower Bridge to the Houses of Parliament to the BT Tower to St. Paul's Cathedral from above.
In fact, it's a great thing to do to really see where things in the city are in relation to each other.
When you're seeing London from underground or on street level all of the time, it can be really hard to figure out the lay of the land.
The London Eye has glass viewing capsules that mean you can stand on all sides and make your way around during the 30 minute ride, so the "view" itself is mostly up to you and where you'd like to look!
5. Millennium Bridge looking Towards St. Paul's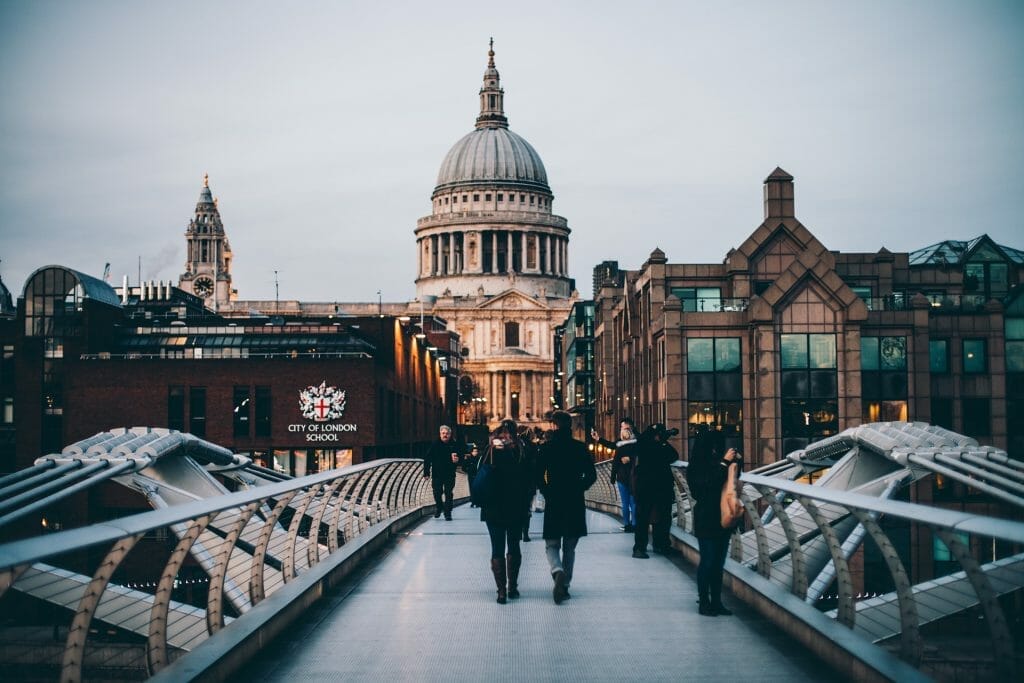 This is the one London view that's closer to the ground, but I've included it because I think it makes a magnificent photo and is one of the best views of London even if it's not from a bird's eye vantage point.
All you need to do is get to the Millennium Bridge and look in the direction of St. Paul's Cathedral.
The buildings on either side have framed it perfectly, as well as the Millennium Bridge itself with its steely appearance contrasting wonderfully with the historic architecture of St. Paul's.
And while you're there…you might as well move on to the next view!
6. View from St. Paul's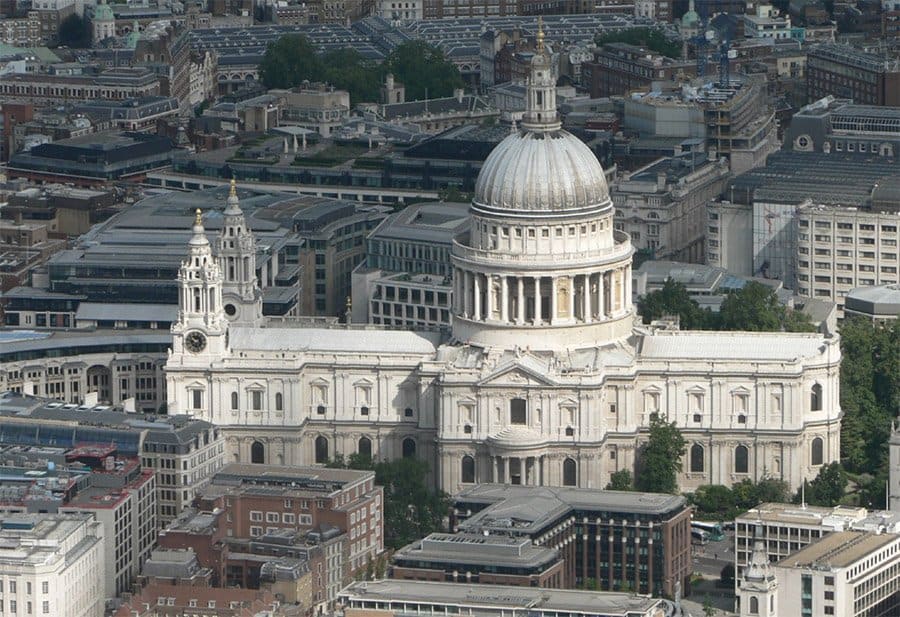 Did you know you can walk up the steps of St. Paul's and actually take in views of London from up there?
Not many people know about it, but it's included in your St. Paul's entrance ticket and while it does involve a lot of steps and some really narrow passageways, you could be standing at the very top of this London landmark in what's known as the "Golden Gallery."
There are 528 steps to get up there, but once you do you'll be treated to amazing views of Tate Modern, Shakespeare's Globe and plenty of tiny London visitors milling about below you.
This view wins out for many because it's a historic view, not just a view from a purpose-built modern building.
It has purpose, meaning, and is really incredible to be standing where so many famous London names have stood.
7. View of the Thames from Tower Bridge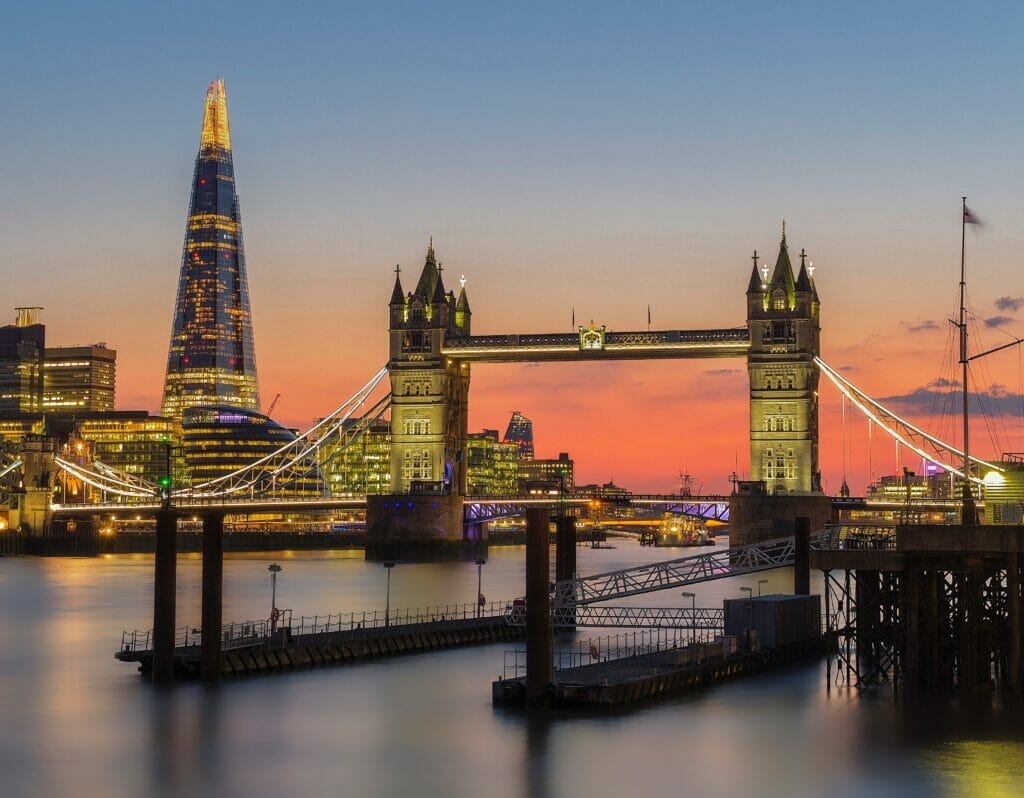 There are a few views of London that include a great view of the river, but one of the best is the view of the Thames from Tower Bridge.
You can walk across Tower Bridge as a pedestrian and look out to the Tower of London and the Thames for a really gorgeous view of boats floating up and down lazily in the London sun (okay, who am I kidding, it's probably grey but still).