This post contains affiliate links for which I may make a small commission to help keep the site running. You will not be charged extra for these items had you not clicked the links. Thank you for your help to keep the site running!
There's nothing more confusing than trying to figure out where to have the best afternoon tea in London.

Do you go for something fancy, something casual, something in the city center, something on a boat?

Should you keep it traditional, or get a bit exotic?
What about seating, inside or outside?
Hey! Sidenote! Planning on visiting the UK or moving to the UK?

For more advice, photos and friendly help, click here to join my UK Travel Facebook group to carry on the conversation with fellow travelers and UK experts.
After 7 years of living in London and trying afternoon teas across the city, I'm ready to start bringing you the best of the best, the crème of the crop, the "go here and I promise you'll have a good time."

And today, after much research and a lot of cakes, that spotlight is on afternoon tea at St. Ermin's Hotel in this St. Ermin's Hotel afternoon tea review.
Where is St. Ermin's Hotel?
St. Ermin's Hotel is perfectly placed near St. James Park, so it's very much central for all of your before and after sightseeing needs, but it's tucked away in it's own little oasis so you don't feel as if you're in the middle of the hustle and bustle.
The grand entrance with the beautiful foliage adds to this secret garden type of atmosphere and helps set the mood for your afternoon tea as you walk inside.
Why St. Ermin's Hotel for Afternoon Tea?
The afternoon tea at St. Ermin's is just the right blend of traditional and new.

You've got the classic scones and clotted cream and jam, along with sandwiches and cakes, but each season they put a new spin on their menu.
For instance, we tried the honey afternoon tea, which is in celebration of the bees who live and produce honey at St. Ermin's on the third floor!
Honey was infused into many of the sandwiches and desserts, and when combined with the excellent tea selection, you truly felt like you were experiencing a unique, while still classic afternoon tea.
If you're coming to London, you'll also appreciate some of our other London guides, including…

x The Ultimate London Packing List for All Seasons
x London's Most Iconic Attractions to Add to Your Bucketlist
x A Dummy's Guide to Getting Around London
The Afternoon Tea Experience at St. Ermin's Hotel
When you arrive for your afternoon tea booking, you'll notice that there is a gorgeous interior tea room as well as an outdoor terrace.

In the nicer months, say if you're visiting London in August, the outdoor terrace offers a nice breeze and chic outdoor seating, while the interior tea room provides a year-round classic atmosphere.
First things first, you'll be given the menu and asked to choose which type of tea you would like to drink, ranging from classic English breakfast teas to herbal teas.

As someone who doesn't normally drink tea (I know, I know), I chose the herbal berry tea and it was the best tea I've ever had!
We were given a "tea timer" to help us know when the tea would be ready to drink, and from there it was the start of our afternoon tea with the sandwiches and cakes delivered first.
The sandwiches came in five different flavors, and because I was having the vegetarian menu, the staff ensured that I got my own sandwiches on a separate plate.
This is where the uniqueness of St. Ermin's afternoon tea shone through, as the fillings in the sandwiches were more inspired than your normal afternoon tea selection.
From there, it was time to continue sipping tea and try the desserts.
Again, honey was the theme, but the flavors were so varied.

From an amazing apple dessert in the shape of an actual apple to a banana flavored cake, you got much more than your standard afternoon tea offerings.
To help us finish off our tea, warm scones and clotted cream and jam were brought over.
I preferred this to having it all delivered at once, as it takes a while to get through the tea and enjoy it, and scones are best warm!
How Much Does it Cost?
The sittings for afternoon tea are 1.5 hours and the adult afternoon tea costs £30 per person without prosecco and wine, and £45 per person with unlimited prosecco and wine.
If you're got little ones with you, it only cost £18 per child for the adorable children's afternoon tea which has more kid-friendly flavors and portions. It's my top pick for something fun to do with kids in London for this reason!
How to Book Afternoon Tea at St. Ermin's Hotel
You can book afternoon tea at St. Ermin's Hotel online here. Make sure to do so in advance, as spaces can fill up and you'll want to make sure you snag reservations!
What Else Should I Do in London?
Whether you're in London for a day, two days, a week, or more, here are our other top picks for excellent London sightseeing activities to help you get to know the city in an engaging way!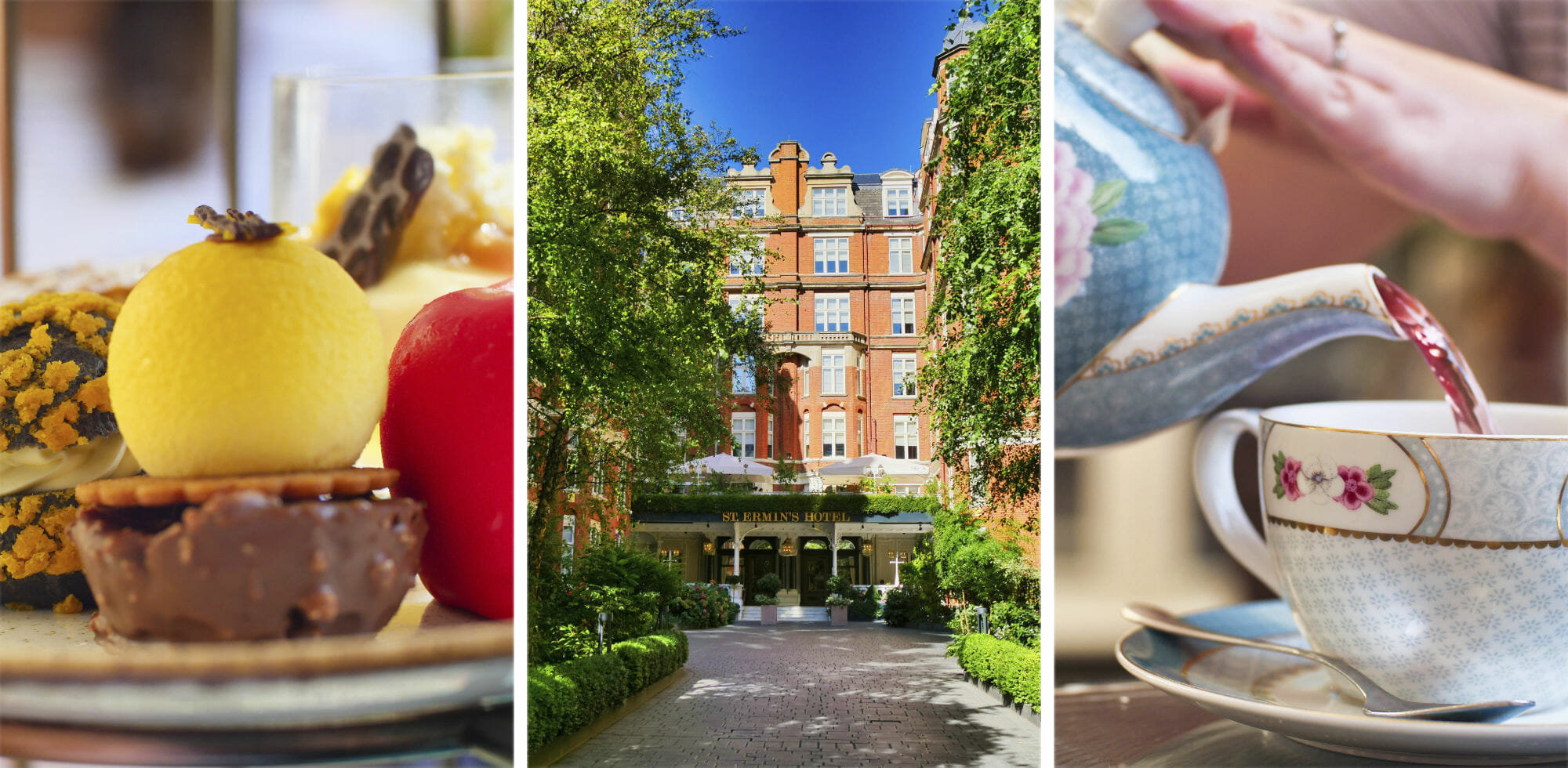 Enjoyed this? Share it!