This post contains affiliate links for which I may make a small commission to help keep the site running. You will not be charged extra for these items had you not clicked the links. Thank you for your help to keep the site running!
Ready to tour one of the most pro-graffiti cities across the planet on a best street art tour from London?
You've come to the right place, as we're going to explore the best 9 street art tours that depart from London – all led by expert guides who want to share and celebrate the open-air galleries of England and help you skip the tourist traps.
If you're like, just cut to the chase already, then don't worry.
The best street art tour from London is the Shoreditch London Street Art Tour.
It has about 206 amazing reviews, so there's no going wrong.
The diversified and ever-changing London art scene is not just about galleries and theatres showcasing masterpieces from around the world.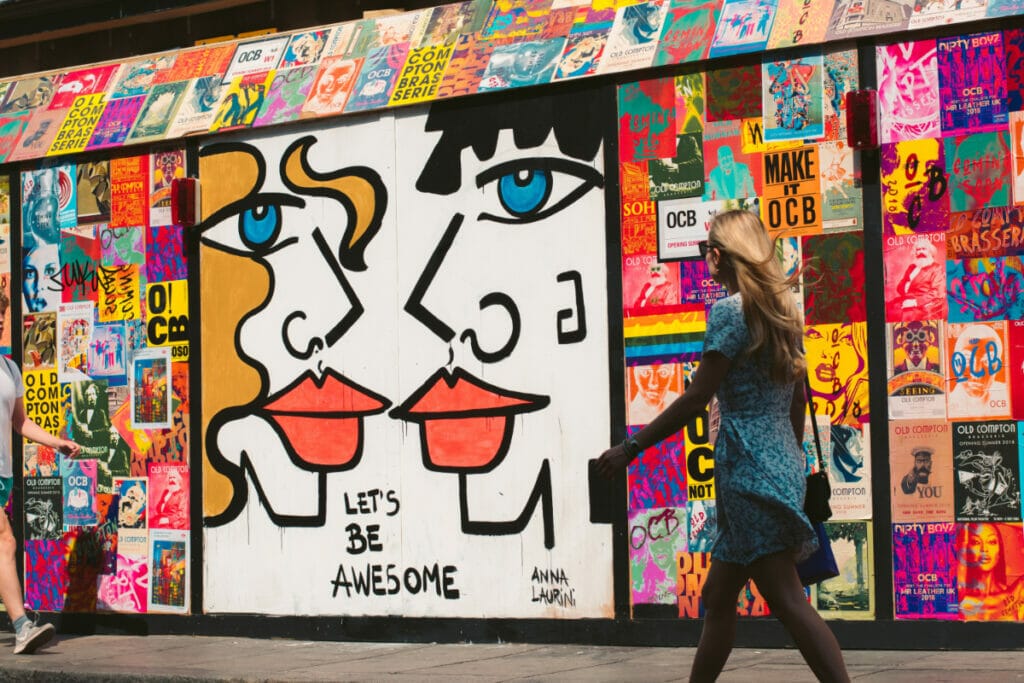 It's also about its vibrant and evolving street art, which provides an excellent opportunity to connect with the minds of the locals and the creative heartbeat of the city.
If you want to see what your other options are, here are 8 more tours that are definitely worth your time, including Banksy tour London, East London street art tours, street art Shoreditch tours, alternative London street art tours, and more.
So let's get into the list of the best street art tours in London so you can book it already!
PS – booking in advance is highly, highly recommended so you don't miss out.
Hey! Want more honest UK tips and planning advice? Click here to join my London and UK Travel Tips Facebook group, where I can answer more of your questions!
Easy Guide: Best Street Art Tours in London
⭐️ RATING: 5 out of 5 Stars, 200+ reviews | ⏳ TOUR LENGTH: 2 hours 30 minutes | ✔️ BOOK NOW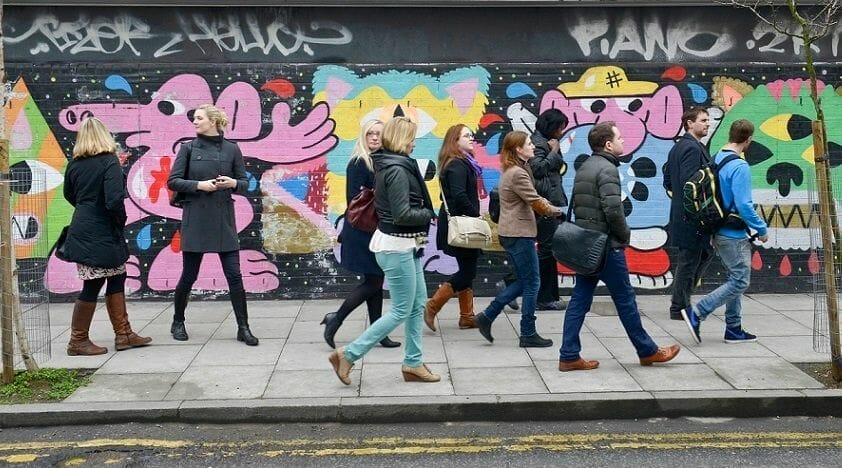 WHAT'S INCLUDED IN THIS TOUR
Professional expert guide
Artists at work
Unique post-tour email containing street art information, each one specifically formatted for that day's tour
Murals, stencils, and artwork
Shoreditch is famous for its diverse street art scene and what better way to discover some truly amazing stencils, murals, and artwork than going on this highly-rated tour?
An experienced and knowledgeable guide will show you some extraordinary pieces of street art while telling you stories about local artists and educating you on how to interpret the various pieces.
"This was seriously an experience that way surpassed our expectations! The art speaks for itself, but it was the stories behind the art, artists, messages, and history of the movement that added so much value, all thanks to our guide Dave. Cannot recommend highly enough!."
You'll find some great photo opportunities along the way as you walk down Brick Lane to find huge murals that are three stories tall, some bronze castings, paste-ups, stickers, and stencils.
As you head into Shoreditch, you'll be mesmerized by the vibrant and ever-changing display of graffiti and street art.
Overall, you'll find some exquisite street art on this tour with the help of your guide and watch it come alive as he not only identifies but interprets and explains street art that's even only a few hours or minutes old.
⭐️ RATING: 5 out of 5 Stars, 58+ reviews | ⏳ TOUR LENGTH: 3 hours | ✔️ BOOK NOW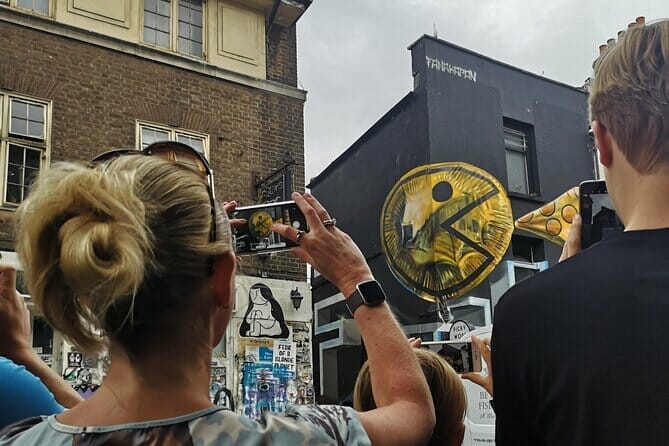 WHAT'S INCLUDED IN THIS TOUR
Local professional guide on this street art walking tour London
Street art workshop
Lesson on basic spray-painting techniques
Walking tour and workshop combination
This walking tour will take you all over Soho and Fitzrovia.
This is the perfect tour for people who fancy themselves as the next Shepherd Fairy or Banksy.
A combination of a walking tour and workshop, this tour is held in a Bohemian neighborhood of the city.
Start your walking tour near Old Street station where you'll meet your guide and venture on to London's most artistic areas, Shoreditch and Hoxton.
"Our guide Josh was very knowledgeable & informative, and I appreciated his passion for street art. The workshop following the tour was hands-on fun, and really emphasized the skill level needed for the street art we saw on the tour. Definitely recommend!."
Enjoy some of the city's best street art as you listen to the long history of street artists recounted by your experienced guide.
See street art by Jimmy C, Stik, Banksy, ROA, Invader, Shepherd Fairy, and many more and discover a completely new side of London.
After the tour, join a spray-painting workshop and learn the basic skills needed to make your first piece of street art.
Stimulate your creativity as you cut stencils and learn basic graffiti techniques in this 45-minute hands-on workshop.
⭐️ RATING: 5 out of 5 Stars, 7+ reviews | ⏳ TOUR LENGTH: 2 hours 30 minutes | ✔️ BOOK NOW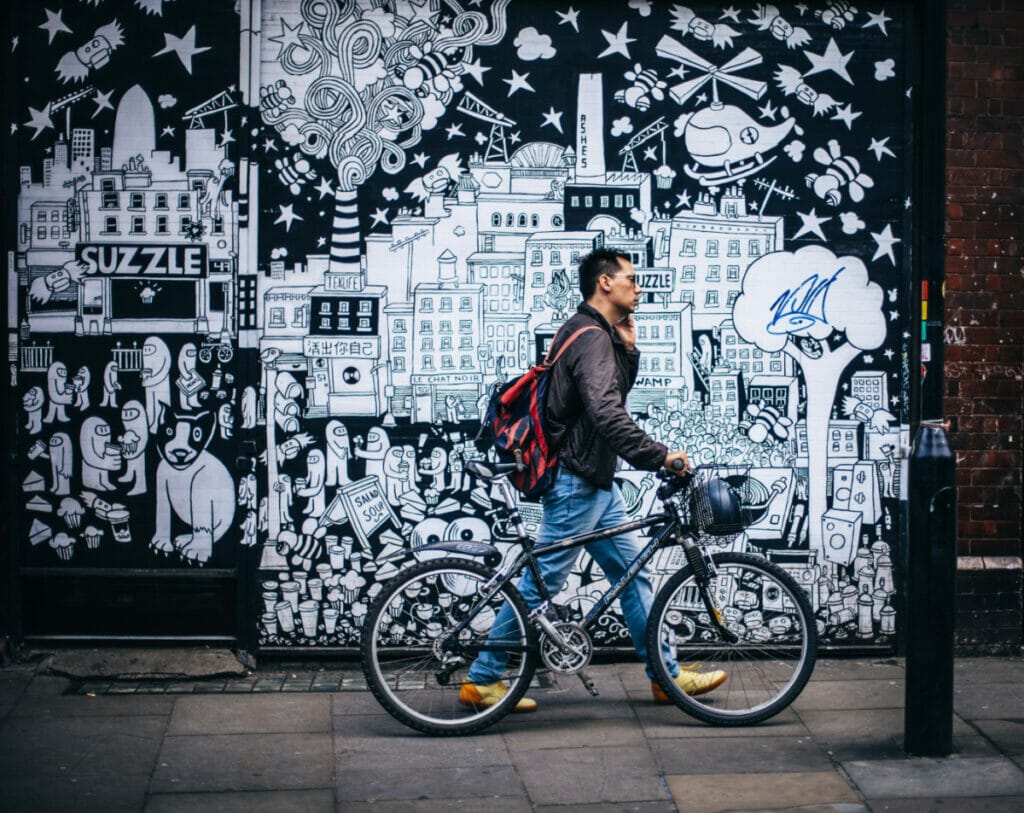 WHAT'S INCLUDED IN THIS TOUR
Guided walking tour
Private tour guide
Stories about the legend of Jack the Ripper
Various styles of etchings, stencils, and artwork
The street art scene in East London is a beautiful amalgamation of various cultures prevalent in this area.
Home to some of the most talented artists in London, this area is alive with stencils, etchings, and artwork in various colors and styles.
Take a private walking tour of this amazing neighborhood alongside an expert guide.
Browse through Shoreditch's vintage boutiques, tantalize your senses with the mouth-watering aromas of curry houses in Brick Lane, and find out about the origin of Cockney rhyming slang as you pass by some vibrant examples of street art.
"Jake was an amazing tour guide! We were lucky to only have a few people on this tour, so we were able to ask a lot of questions. He gave us so much more than an art tour! He's a foodie, and a Londoner himself. We highly recommend this tour!."
Listen to chilling tales of Jack the Ripper while taking photos of iconic street art pieces by legendary artists like Shepard Fairey and Banksy.
Stroll over to Petticoat Lane Market before heading over to Artillery Passage where you can get a glimpse of 17th Century London.
Visit Brick Lane and Shoreditch High Street, home to a striving artistic community, and enjoy all the impressive street art around you.
You can customize the itinerary according to your preference and taste and enjoy the undivided attention of your guide.
⭐️ RATING: 5 out of 5 Stars, 4+ reviews | ⏳ TOUR LENGTH: 4 hours | ✔️ BOOK NOW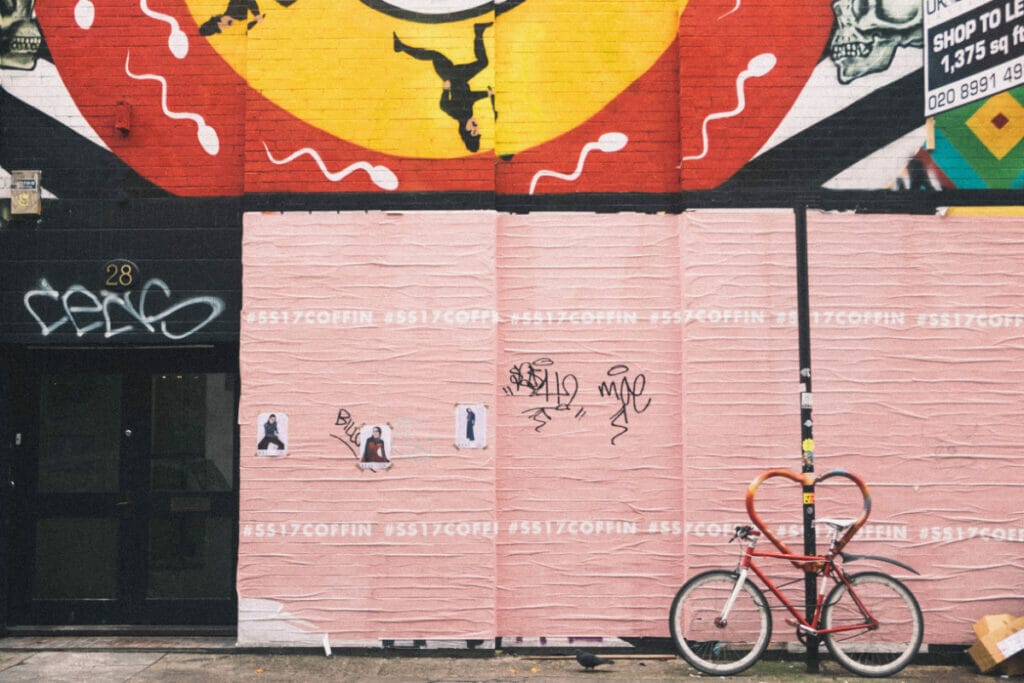 WHAT'S INCLUDED IN THIS TOUR
Professional fine art photographer with an extensive teaching experience
Expert photography instruction on this Shoreditch street art tours
Review of photographs
Exclusive private tour
This walking tour will take you all over Soho and Fitzrovia.
Capture some of London's eye-popping street art through your lens on this 4-hour private walking tour.
Benefit from the extensive knowledge of your private guide, a professional photographer, as he takes you through the secret hideouts and backstreets of Shoreditch.
Discover some of the best creations by renowned street artists like Eine, Shepard Fairey, Roa, and Stik.
Shoreditch's street art is an ever-changing landscape of color, as new street art is produced daily.
"Lou is a creative, opportunistic photographer. I really enjoyed the three hours we spent exploring Shoreditch, a very friendly and street art section of London. She pointed out areas that were ideal for capturing images unique to the area, that told the neighborhood story, but what I found most valuable was her expert knowledge of my Canon camera."
Your guide will take you to all the best locations and viewpoints to help you capture these extraordinary street scenes, complete with vintage markets, pop-up designer shops, and colorful shopfronts.
Stroll along Brick Lane and experience a colorful East End London from your camera lens.
Learn about the best ways to photograph street art by famous artists and how you can brush up your photography skills from your experienced Fine Art photographer guide.
⭐️ RATING: 5 out of 5 Stars, 3+ reviews | ⏳ TOUR LENGTH: 2 hours 30 minutes | ✔️ BOOK NOW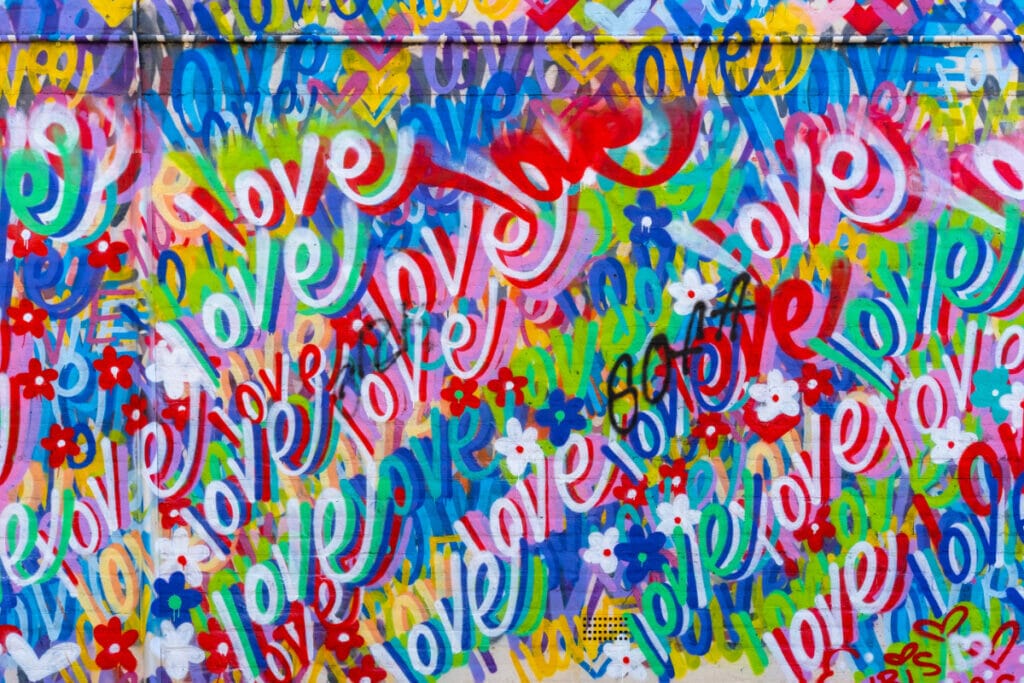 WHAT'S INCLUDED IN THIS TOUR
Semi-private walking tour
Small tour experience with a maximum of 8 guests
Professional tour guide
Colourful graffiti and bold street art
On this walking tour of London's hippest neighborhoods, see a totally different side of Shoreditch.
Follow your guide and learn how the East End transformed from Victorian London slums to one of the city's most cosmopolitan and coolest districts.
Along the way, be inspired by the bold street art and colorful graffiti found on many building facades and walls.
"It was very interesting and educational Becky made it a fun experience with her special way. We will recommend the tour to all."
Admire the legacy of famous street artists like Banksy, Eine, and Shephard Fairey, who have turned the city walls into their canvas.
Hear tales about Jack the Ripper, London's most notorious serial killer, and learn about some unforgettable historical events as you walk alongside your guide.
Stroll down the Spitalfields Market and enjoy a unique shopping experience while exploring the array of boutiques, distinctive restaurants, and lifestyle stores.
Walk along Brick Lane and enjoy the impressive art around you before walking along Shoreditch High Street, the perfect location for visitors interested in checking out authentic restaurants and trendy bars.
⏳ TOUR LENGTH: 2 hours 30 minutes | ✔️ BOOK NOW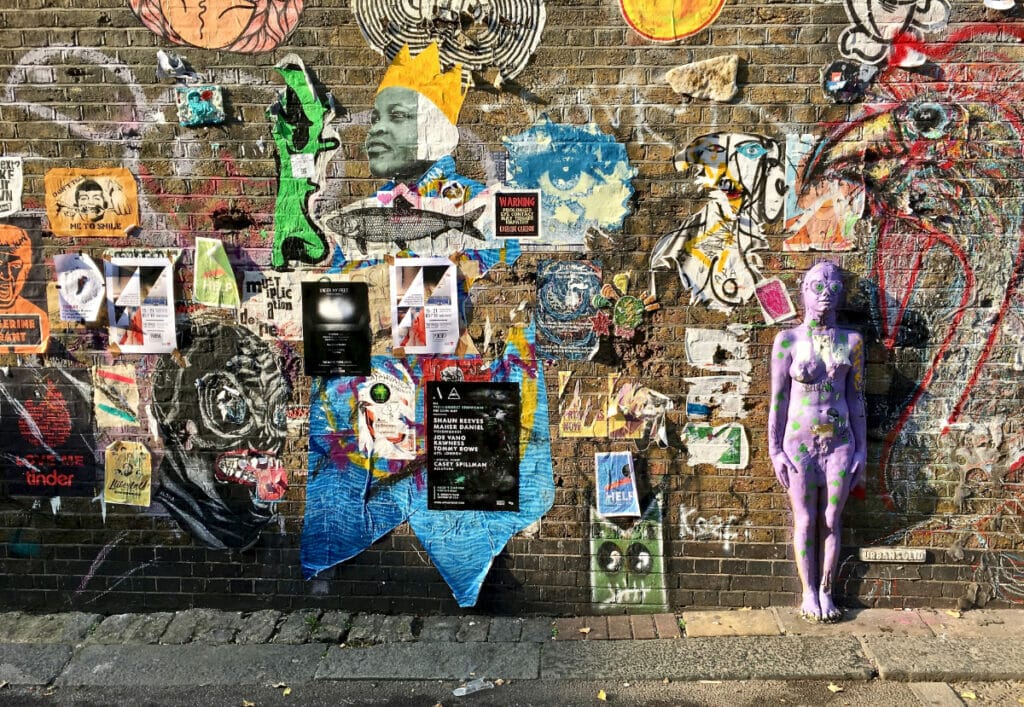 WHAT'S INCLUDED IN THIS TOUR
All fees and taxes
Maximum 15 people
Insight into the local art scene
Multiple tour departure times
The colorful districts of East London are famous for their pioneering street art scene.
The buildings and walls in this area portray works by celebrated artists like Thierry Noir, Ozmo, and Banksy.
Admire the well-known murals and obscure graffiti art as you walk down the neighborhoods of Spitalfields, Whitechapel, Shoreditch, and Brick Lane and gain valuable insight into the local art scene.
Meet the vendors of Spitalfields Market, which is one of the oldest Victorian Market halls in London, and enjoy a unique shopping experience.
"The East London Tour was great! We got all the insight about the murals, street artists and the art scene of London! Go and do this tour if you like street art and want to know more about London from the eyes of an artist!."
Shoreditch High Street is full of gallery-worthy artwork and offers plenty of photo ops along the way, making it possible to create a vibrant portfolio of your favorite artwork.
Walk through Whitechapel, the famous site of Jack the Ripper murders, and take in the exotic aromas as you stroll down Brick Lane, famous for its curry houses.
This small-group tour is perfect for a party of a maximum of 15 people.
⏳ TOUR LENGTH: 2 hours | ✔️ BOOK NOW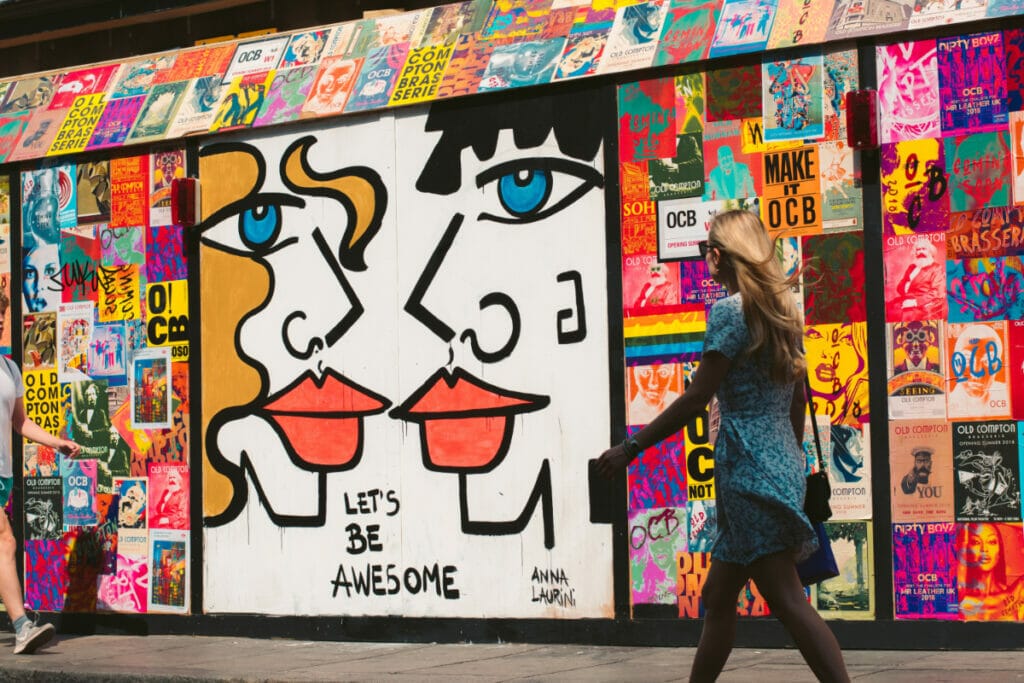 WHAT'S INCLUDED IN THIS TOUR
Spray your own Banksy canvas
Maximum 20 people on this street art walk London
Tales about famous London street artists
Multiple departure timings
Famous for its impressive street art, East London offers art lovers a chance to see some vibrant and unique works.
On this tour, visit art hubs like the Nomadic Community Garden and the Old Truman Brewery, explore atmospheric locations like the Brick Lane, and admire statement pieces and colorful graffiti by world-renowned artists such as Banksy.
The brewery buildings are home to various shops and bars, as well as an arts and events center.
Stroll down and check out the bars, shops, businesses, restaurants, workshops, and event spaces as business and leisure establishments exist side by side.
Next, take a walk down Brick Lane, which now has a lively art and fashion student area with a large exhibition space.
You'll find exhibits of fine arts and fashion courses by many students near Brick Lane.
It's also home to some of London's best-known nightclubs, such as The Vibe Bar and 93 Feet East.
Take some time to brush up on your photography skills as you pass The Nomadic Community Garden just off Brick Lane.
This private area is open to the public daily.
Various art installations, wide gardens, and ramshackle sheds make this a great place for some memorable photographs.
⭐️ RATING: 5 out of 5 Stars, 40+ reviews | ⏳ TOUR LENGTH: 4 hours | ✔️ BOOK NOW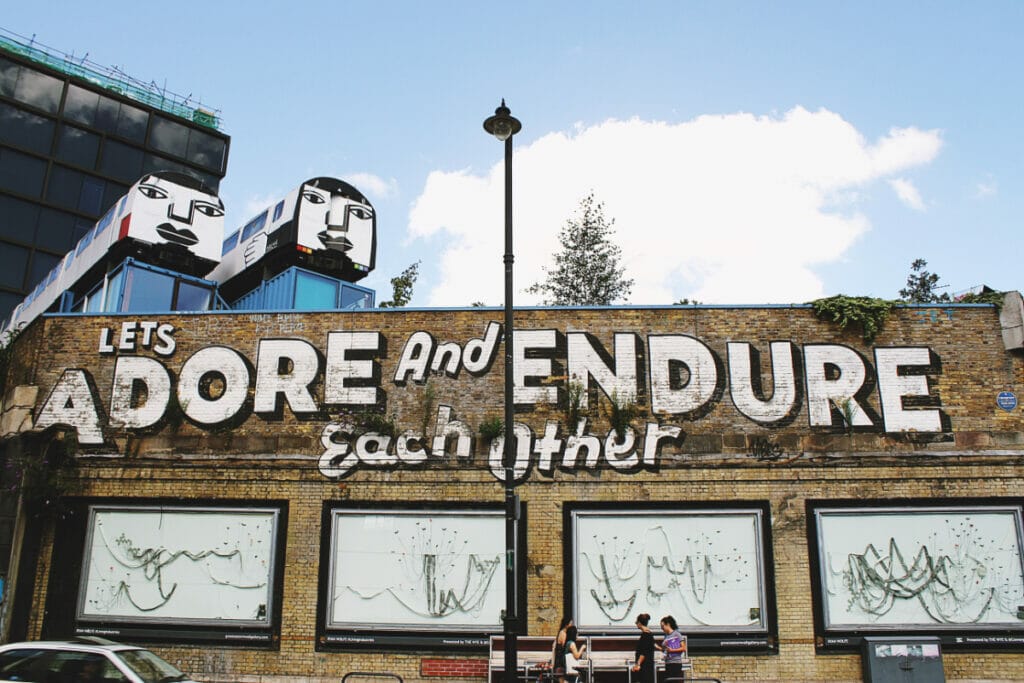 WHAT'S INCLUDED IN THIS TOUR
Local professional guide on this East London graffiti tour
Street art workshop
Area history
Spray-painting
Instead of simply taking you around to see the street art of East London, this tour also provides you with an opportunity to create your own street art masterpiece during a workshop.
Perfect for contemporary art lovers, this tour not only offers a hands-on experience but also helps you discover the street art of Hackney.
Escape the crowds of central London and experience a different side of the city on this walking tour.
Stroll around Shoreditch and east London as your guide recounts the history of the area and takes you around to see the best of the street art this area has to offer.
"Excellent and very informative. Josh did an amazing job opening my eyes to the whole street art scene. I can see how passionate he is about this art form. I recommend this to anyone who wants to have an amazing experience and appreciate this art form."
Bask in the personalized attention provided by your guide and benefit from his insider knowledge.
After the tour, take part in a spray-painting workshop, where you can create your own street art masterpiece with the help of spray paint and stencils.
Enjoy a fun spray-painting experience while you learn various spray-painting techniques.
⏳ TOUR LENGTH: 2 hours | ✔️ BOOK NOW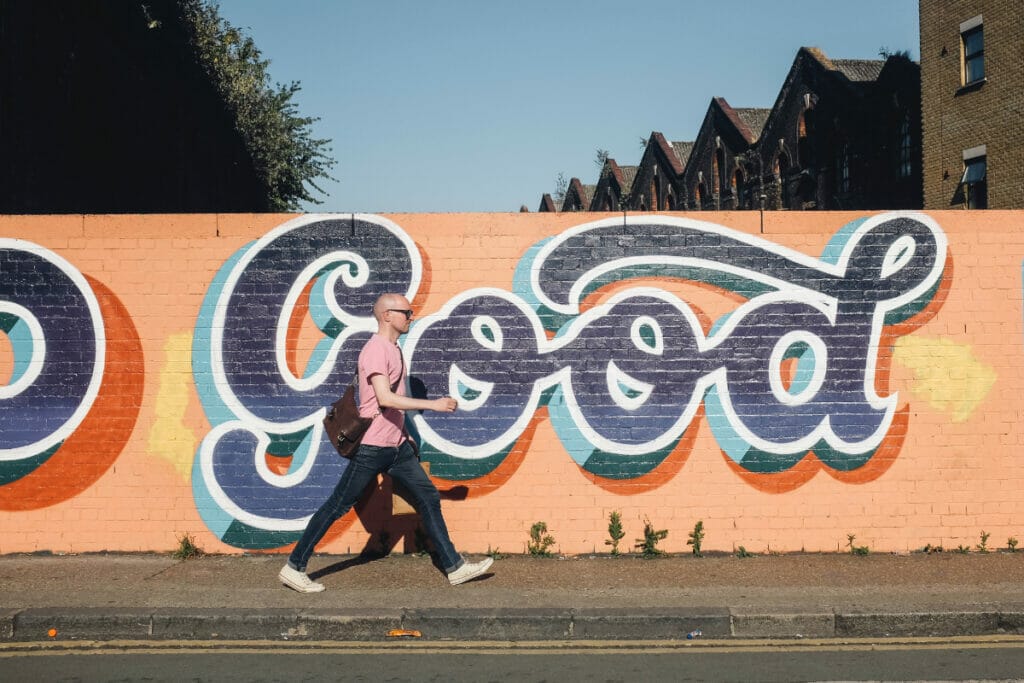 WHAT'S INCLUDED IN THIS TOUR
All fees and taxes
Customizable itinerary
Friendly local guide
Private walking tour
Explore the atmospheric districts like Whitechapel, Brick Lane, and Spitalfields and admire amazing artworks from artists such as Ozmo, Banksy, C215, and Thierry Noir along with upcoming artists on this private tour.
Visit the Whitechapel Gallery to see beautiful pieces of contemporary artwork and be amazed by the diversity of these modern art pieces.
Find interesting retrospective exhibitions that are sure to pique the interest of art lovers.
Stroll over to Christ Church Lane and marvel at its unique architecture as you learn about its importance to the community.
Listen to your guide as he tells you stories behind the construction and future renovations of this architectural masterpiece.
Then head on over to the Old Spitalfields Market, the most happening place in the East End for art, food, fashion, music, and other various events.
Enjoy eye-opening street art as you wander through Brick Lane and visit the Grenfell Tower Memorial Wall to admire the mural of Ben Eine.
Finish your tour at Cargo nightclub where you can see the famous works of satirical street artist Banksy as well as other French artists like C215, Thierry Noir, and others.
Hey! Want to use our trusty guides to the best tours in other places across the UK? Check these out!
UK Travel Planning Guide: the FAQs
🏥 Should I buy UK travel insurance?
Absolutely yes. Basic coverage is not expensive, and as a visitor you are NOT covered under the NHS. Compare policies and prices with Travel Insurance Master here, a big name in the travel insurance business, and cross that off your list.
🔌 Do I need travel adapters for the UK?
Yes, you do, otherwise you won't be able to plug in your electronics/phone/lifelines. I recommend this one, which is all-in-one so you can use it in other countries.
🚗 What do I need to drive in the UK?
The first thing you need to check out if you're planning on renting a car in the UK is this guide to driving in the UK for visitors – the roads, signs, and driving experience will likely not be what you're used to and it's essential to prepare yourself to stay safe and aware.
🛌 What's the best way to book hotels in the UK?
For UK hotels, Booking is the best site as it offers free cancellation on many properties. If you want an apartment, I always recommend VRBO over AirBnb.
📳 Will my phone work in the UK?
Yes – if you set it up right. Check out my guide on making your foreign phone work in the UK to ensure that you get the type of service you need.
🚿 Can I drink the water in the UK?
Yes, UK water is great and perfectly safe. But drink out of taps in any kitchen or use water fountains. Double check before drinking out of the taps in hotel bathrooms, though, as they may be on a different system.