This post contains affiliate links for which I may make a small commission to help keep the site running. You will not be charged extra for these items had you not clicked the links. Thank you for your help to keep the site running!
Ready to tour stunning London on an Open Top Bus Tour or a London Hop-on and Hop-off bus tour?
You've come to the right place, as we're going to explore the best 5 open top bus tours in London (most of which are hop-on/hop-off) – all led by expert guides who want to share the beauty of this part of England and help you skip the tourist traps.
If you're like, just cut to the chase already, then don't worry.
The best open top, hop-on hop-off bus tour in London is this London Tootbus Must See Hop-on Hop-off Bus Tour and Thames River Cruise.
It has over 3500 amazing reviews, so there's no going wrong.
London is one of the greatest cities in not just the UK, but the whole world – it's a city absolutely humming with life and energy wherever you look.
Nowhere else on earth can you find so many world-class museums, restaurants, bars, and architecture in one place.
If you want to see what your other options are, here are 4 more open top bus tours that are definitely worth your time in London.
So let's get into the list of the best hop-on hop-off bus tours in London so you can book it already!
PS – booking in advance is highly, highly recommended so you don't miss out and don't have to worry about booking tickets on the day.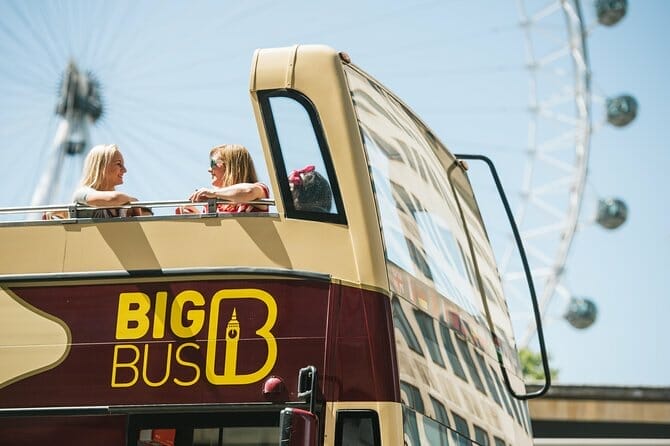 Hey! Want more honest UK tips and planning advice? Click here to join my London and UK Travel Tips Facebook group, where I can answer more of your questions!
Easy Guide: Best London Hop-On Hop-Off Bus Tour Picks
Best Open Top Bus Tours in London
⭐️ RATING: 4 out of 5 Stars, 3,500+ reviews | ⏳ TOUR LENGTH: 1 hour 30 minutes – 2 hours | ✔️ BOOK NOW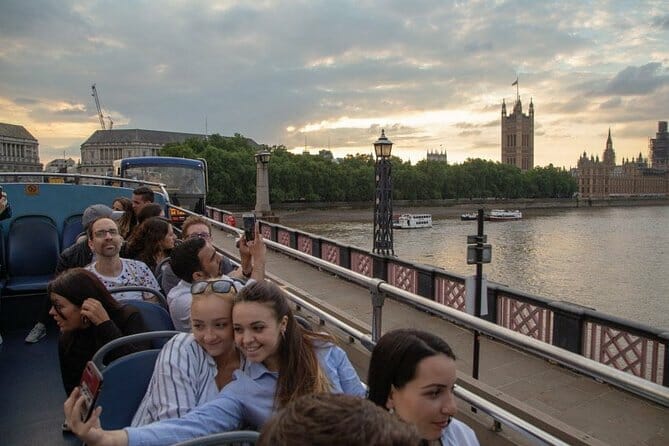 WHAT'S INCLUDED IN THIS TOUR
Audio commentary for adults
Audio commentary tailored for children + activity packs
Thames River cruise ticket and walking tour included
Access to app that allows tracking of the buses in real-time and provides stop locations
Of all London's open top bus tours, this tour is a superb choice whether you're travelling alone, or with friends, family or children.
Pick from the two available routes, cross your fingers for a sunny day, and plug in your audio guide.
Keep the kids occupied with audio guides specifically tailored towards children and accompanying activity packs.
"Arrived in London followed the toot bus app to find the 1st stop (yellow route )was greeted by a lovely gentleman who told us exactly how long it would be to the next bus we got on enjoyed the tour and the commentary would highly recommend for families"
Hop off at London's key sights, whether that's Marble Arch, Westminster Abbey or Hyde Park and then hop back on whenever you're ready to continue your adventure.
The downloadable app makes it easier to plan your route, track down bus stops and ensure you never miss a bus.
Finally, take advantage of the included Thames River cruise ticket and walking tour, once you've seen London from the top of a bus it'll be time to see the city from a different perspective.
Choose this tour if you're hoping to keep the kids entertained while seeing London in a hassle-free, efficient way, thanks to the provided app.
⭐️ RATING: 4 out of 5 Stars, 370+ reviews | ⏳ TOUR LENGTH: 3 hours 30 minutes | ✔️ BOOK NOW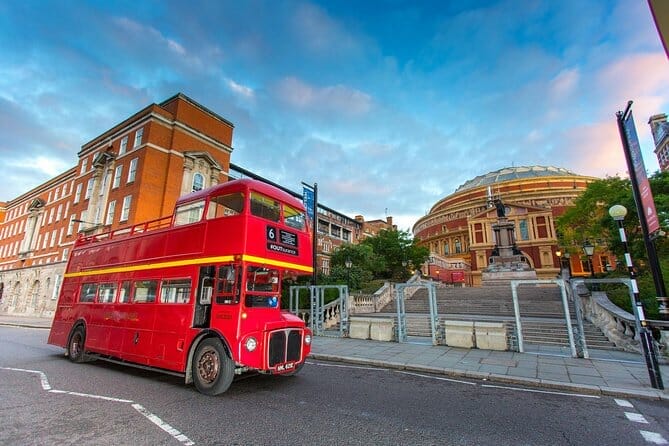 WHAT'S INCLUDED IN THIS TOUR
See London aboard a vintage, hop-on hop-off London bus
Thames River cruise ticket included
Optional London Eye ticket add-on
Optional Stonehenge trip add-on
Another marvelous choice for anyone hoping to take an open top bus tour.
This one comes with a twist – you get to see the city aboard a classic bus from the 1960s!
Tour London in style, passing top attractions: St Paul's Cathedral, Buckingham Palace (hopefully you can stop to see the Changing of the Guard!), Cleopatra's Needle, and many more.
"Really great way to see a lot of London and have a lot of fun in one afternoon. Long tour with a lot to see. Very fun"
Midway through you'll indulge in a Thames River cruise, climbing back aboard for the final leg of the journey which will take you to the London Eye.
If you selected the optional upgrade you can skip the queues and soar above London and see the city's skyline while encased in a glass pod.
After this, head back to the bus station to board another bus for an afternoon excursion to Stonehenge – if you're up for it.
This tour is worth it if you want an open top bus tour with a vintage flair and hope to combine it with a ride on the London Eye.
⭐️ RATING: 4 out of 5 Stars, 7,300+ reviews | ⏳ TOUR LENGTH: 1 hour – 3 hours 20 minutes | ✔️ BOOK NOW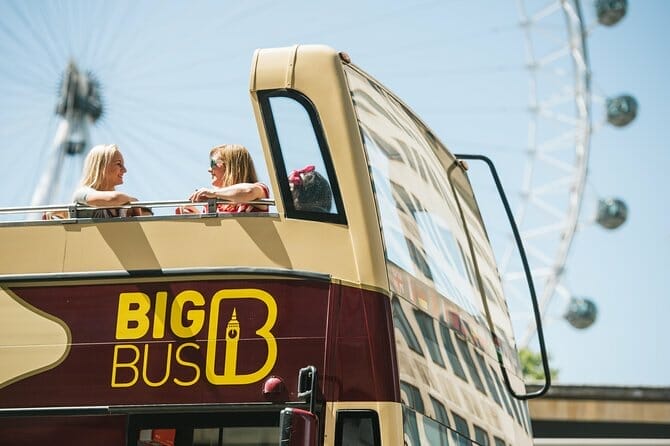 WHAT'S INCLUDED IN THIS TOUR
Thames River cruise ticket included
Optional London Eye ticket add-on
Free WiFi available on board
3 different routes are available
For those of you looking for flexibility on your open top bus tour, I would recommend this tour with 3 separate routes to choose from.
The route variety allows you to see as many of London's top sights as you can handle while enjoying the onboard commentary.
Choose between tickets that last for one, two or three days, allowing you to space out the experience, ensuring you don't suffer from sightseeing fatigue.
Make use of the included Thames River cruise.
"A great way to see a lot in a short amount of time. Staff were helpful and enthusiastic. Plenty of time to explore chosen attractions."
You may as well purchase the London Eye ticket add-on while you're at it, ticking off another one of London's finest activities.
The WiFi on board is a nice touch.
Even if you've not picked up a UK sim card yet you can still stay connected while out and about on this tour.
The route variety and multi-day ticket options makes this a brilliant choice for those looking to cover as much ground as possible from the vantage point of an open top bus.
⭐️ RATING: 4 out of 5 Stars, 540+ reviews | ⏳ TOUR LENGTH: 1 hour 30 minutes | ✔️ BOOK NOW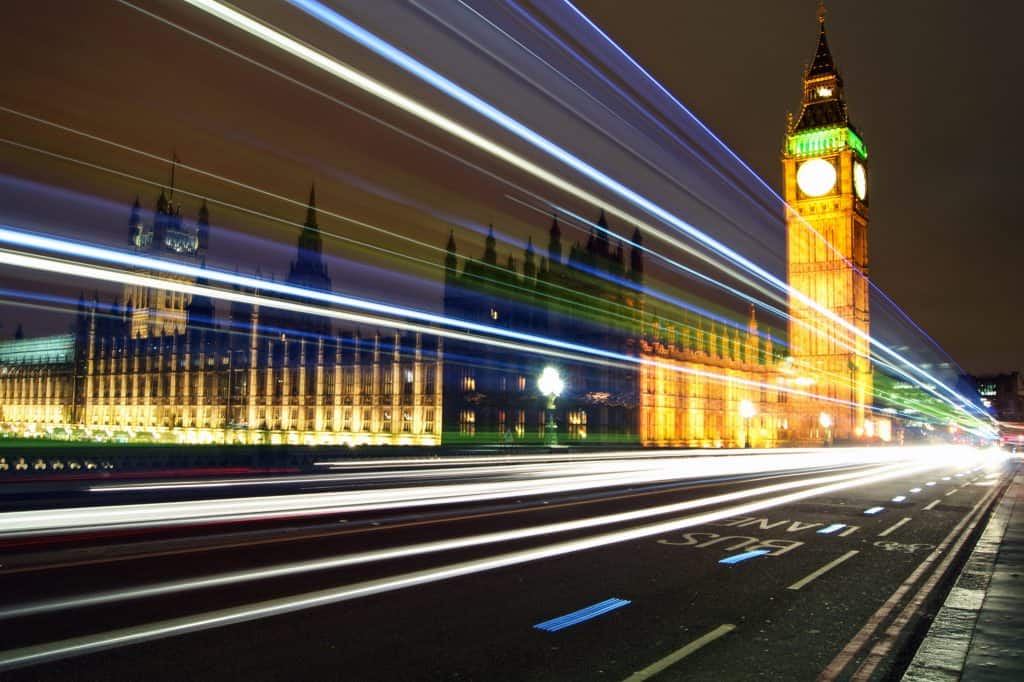 WHAT'S INCLUDED IN THIS TOUR
See London's landmarks at night
Live commentary
Less traffic holding you up!
Illuminations not visible during the day can be seen on this tour
If you're on the hunt for an open top bus tour that's a little different to your standard tour, this could be the one for you, as you get to cruise through London after dark!
When lit up at night, London's most iconic landmarks and sights take on a whole new life and they're unmissable.
"What a wonderful experience this tour was! The guide was very knowledgeable and professional. I was able to see all the important sights and seeing it at night was awesome."
Pass by the imposing St Paul's Cathedral, lit up so you're still able to take in its beauty, gaze at the illuminated Houses of Parliament, and marvel at the glowing London Eye.
These are just a few London landmarks that you'll pass by and gain a newfound appreciation of.
Accompanying you on your tour will be a guide who will provide a live commentary, filling you in on all kinds of facts and educational tidbits.
Consider this tour if you have no time for an open bus tour in the day, or if you're looking to see London illuminated.
⭐️ RATING: 3.5 out of 5 Stars, 600+ reviews | ⏳ TOUR LENGTH: 1 day pass | ✔️ BOOK NOW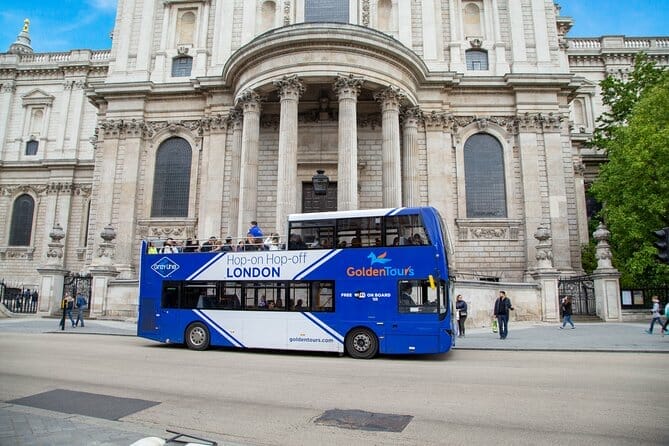 WHAT'S INCLUDED IN THIS TOUR
Thames River cruise ticket included
Unlimited travel on the bus for a 24-hour period
Audio guide included
Ticket includes a free walking tour and optional ticket to KidZania
Our final open top bus tour also includes a number of added extras that makes this tour just as worthwhile as the others on the list.
Once you've picked which of the two routes you'd like to take, plug in your audio guide and take in London's sights and landmarks.
Regardless of your chosen route, you'll be taken through some of London's most picturesque areas.
"Everyone was so very nice each time we rode, all I had to do was show the Viator ticket, and they just waved us on. We were given free earphones for the commentary. Seats were fairly comfortable both on top and bottom of the bus."
Even if you've picked the excellent value ticket option that's valid for 24 hours you might feel the need for a break at various points and that's a-okay.
Included in the ticket are a Thames River cruise, two walking tours to choose between (Beatles or Royals), and an optional entry into KidZania which could be the perfect way to spend an afternoon if you have kids.
This final tour should be considered if you want to go on a themed walking tour or are looking to break up the day with something fun for the kids.
Hey! Want to use our trusty guides to the best tours in other places across the UK? Check these out!
UK Travel Planning Guide: the FAQs
🏥 Should I buy UK travel insurance?
Absolutely yes. Basic coverage is not expensive, and as a visitor you are NOT covered under the NHS. Compare policies and prices with Travel Insurance Master here, a big name in the travel insurance business, and cross that off your list.
🔌 Do I need travel adapters for the UK?
Yes, you do, otherwise you won't be able to plug in your electronics/phone/lifelines. I recommend this one, which is all-in-one so you can use it in other countries.
🚗 What do I need to drive in the UK?
The first thing you need to check out if you're planning on renting a car in the UK is this guide to driving in the UK for visitors – the roads, signs, and driving experience will likely not be what you're used to and it's essential to prepare yourself to stay safe and aware.
🛌 What's the best way to book hotels in the UK?
For UK hotels, Booking is the best site as it offers free cancellation on many properties. If you want an apartment, I always recommend VRBO over AirBnb.
📳 Will my phone work in the UK?
Yes – if you set it up right. Check out my guide on making your foreign phone work in the UK to ensure that you get the type of service you need.
🚿 Can I drink the water in the UK?
Yes, UK water is great and perfectly safe. But drink out of taps in any kitchen or use water fountains. Double check before drinking out of the taps in hotel bathrooms, though, as they may be on a different system.