This post contains affiliate links for which I may make a small commission to help keep the site running. You will not be charged extra for these items had you not clicked the links. Thank you for your help to keep the site running!
Ready to tour the amazing sights of London onboard a double decker bus?
You've come to the right place, as we're going to explore the best 11 London bus tours for families that depart from London – all led by expert guides who want to share the beauty of this part of England and help you skip the tourist traps.
If you're like, just cut to the chase already, then don't worry.
The best bus tour from London is the London Tootbus Hop on Hop off Bus Tour and Thames River Cruise.
It has about 3,548 amazing reviews, so there's no going wrong.
A London bus tour is an excellent way to see its attractions and landmarks with your family.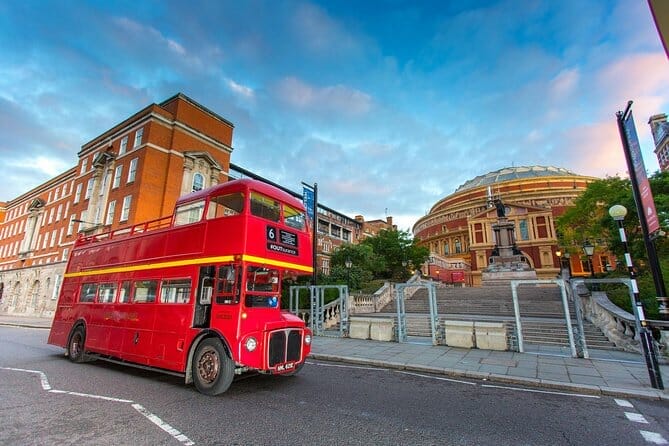 You can hop on and hop off at any stop and explore the various sights at your leisure.
If you want to see what your other options are, here are 10 more tours that are definitely worth your time.
So let's get into the list of the best London bus tours for families, so you can book it already!
PS – booking in advance is highly, highly recommended, so you don't miss out.
Easy Guide: Best London Bus Tours for Families
⭐️ RATING: 4 out of 5 Stars, 3,500+ reviews | ⏳ TOUR LENGTH: 1 hour 30 minutes to 2 hours | ✔️ BOOK NOW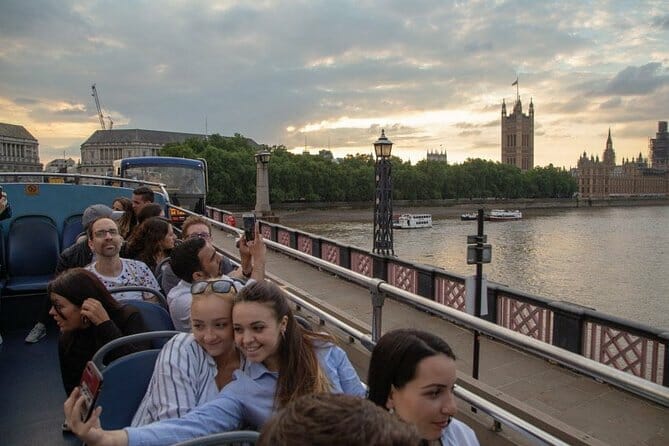 WHAT'S INCLUDED IN THIS TOUR
Option to choose multiple-day hop-on hop-off pass
Audio-commentary for adults and bespoke children's audio-commentary
Convenient real-time bus tracking with the Tootbus app
Hop-on hop-off Thames River cruise ticket
Enjoy a bus tour of London without standing in line and avoiding the stress of rigid tour timings.
See London's famous landmarks, amazing attractions, and popular monuments by comfortable, double-decker bus.
Hop on the bus at one of the many designated stops of your choosing, including London Bridge, Shakespeare's Globe Theatre, Big Ben, Buckingham Palace, or Tate Gallery.
Enjoy a panoramic view of the city from the open-top deck, or grab a seat inside as your bus takes you through town.
The kids-focused audio commentary and a complementary activity pack are sure to engage your kid's interest.
"This is a great way to see the city and hear the history! The tour guides see very helpful and friendly. Highly recommend! Buses run frequently and we never had to wait long for one to come by when we're ready to move on to the next stop."
This tour offers ultimate flexibility as you can travel on any of the transport links or tour routes.
The best thing about this tour?
It comes with an added bonus!
You can hop off and take a Thames River sightseeing tour or join a fascinating city walking tour depending on your preference. You can end the tour by disembarking at any stop along the route.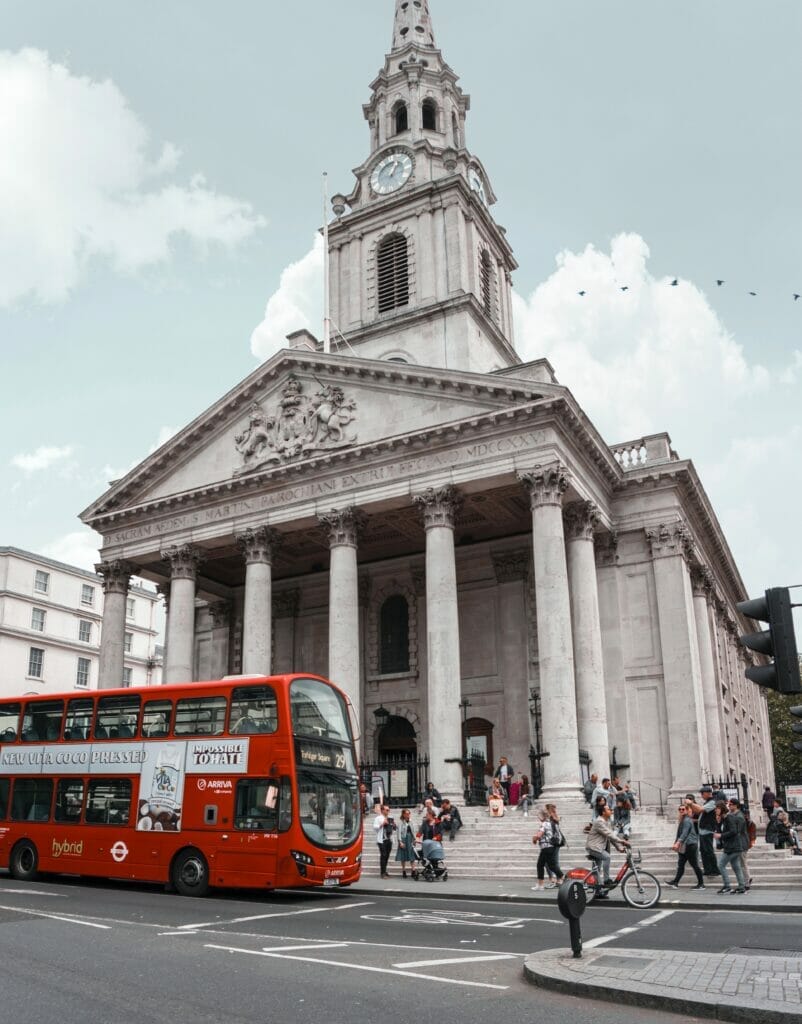 ⏳ TOUR LENGTH: 1 – 10 days | ✔️ BOOK NOW
WHAT'S INCLUDED IN THIS TOUR
Access to over 80 attractions
1-day river roamer pass
Valid for 2 years from the date of purchase
Digital guide with information and instructions
With so much to see in London, it's quite difficult to accomplish it all in one day.
With The London Pass, you can choose a sightseeing credit package for up to 10 days and enjoy access to almost 80 attractions.
And the best part?
You can visit as many as you like each day!
Redeem credits of your London Pass on a hop-on hop-off bus tour, London bike rental, Thames River Cruise, and more.
"The London Pass for two days was so worth it. We did The Shard, Tower of London, Sherlock Holmes escape room, Thames river cruise, Westminster Abbey and Hop on Hop off red bus."
This pass includes a digital guide that'll help you plan your itinerary to visit the best attractions of London, including the London Zoo, Westminster Abbey, Tower of London, St. Paul's Cathedral, and many more.
This pass offers users flexibility and convenience as it's valid for 2 years from the date of purchase and is only activated when you exchange credits at the included tour or attraction.
After that, the pass is valid for the remaining days, so it's not a problem even if your travel plans change.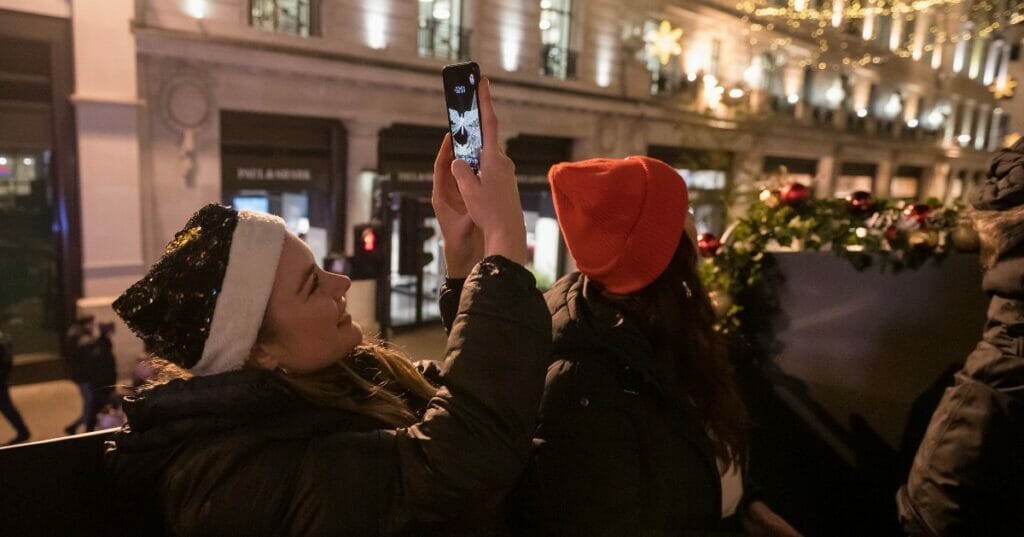 ⏳ TOUR LENGTH: 1 day | ✔️ BOOK NOW
WHAT'S INCLUDED IN THIS TOUR
Wi-Fi on all open-top buses
Free one-way River Thames boat ride
Hop-on hop-off bus ticket
Audio guides available in 11 languages
One of the perfect ways for first-timers to see the iconic City of London is by traveling on an open-top, wheelchair-accessible double-decker bus.
Combine the flexibility of independent travel with the ease of tour with a 24-hour hop-on hop-off bus pass.
See many attractions including Trafalgar Square, Piccadilly Circus, and Big Ben, then hop off to watch the Changing of the Guards at Buckingham Palace, ride the London Eye, or tour the Tower of London.
"Everyone was so very nice each time we rode, all I had to do was show the Viator ticket, and they just waved us on. We were given free earphones for the commentary. Seats were fairly comfortable both on top and bottom of the bus."
Enjoy the panoramic view from the city's biggest skyscraper, The Shard, experience the hustle and bustle of London's South bank area, and see the majestic Westminster Abbey.
Listen to audio commentary as you pass various monuments and learn about the history of this city.
In addition, your pass includes a free Beatles or Royal London walking tour, an optional KidZania entry ticket, or a River Thames boat cruise.
⭐️ RATING: 4.0 out of 5 Stars, 380+ reviews | ⏳ TOUR LENGTH: 3 hours 30 minutes | ✔️ BOOK NOW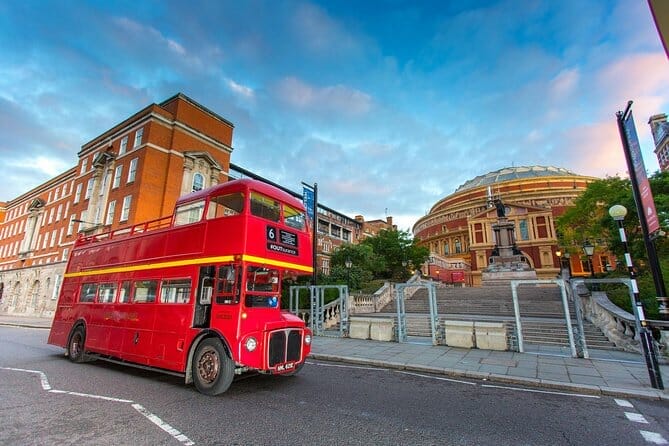 WHAT'S INCLUDED IN THIS TOUR
Local guide
Panoramic tour of London
Thames River cruise
Upgrade options include London Eye and Stonehenge
Book your tour, hop aboard a double-decker bus in Victoria, and sit back and enjoy London's famous sights as you travel around the heart of the city.
See some of London's top attractions like the House of Parliament, Tower of London, Westminster Abbey, Big Ben, and more.
Then hop off your bus at the River Thames and join a short sightseeing cruise. Relax and admire popular landmarks like Shakespeare's Globe Theatre, London Eye, and Tower Bridge as you sail down this iconic river.
Join your bus tour again to visit Buckingham Palace to watch the Changing of Guards.
"Alan was AWESOME & so funny. Loved his accent more than others. Very knowledgeable & learned a LOT from him. Excellent tour for the money. Worth every penny!""
You can also upgrade your ticket to enjoy a flight on the London Eye and see the breathtaking, 360-degree views of London.
The London Eye 4D experience after riding the glass capsule is a must as it takes you on an incredible journey across London brought to life by multisensory effects and other visual aids.
Or you can take an afternoon Stonehenge visit upgrade and see this pre-historic stone circle on board a comfortable, round-trip shuttle bus. UNESCO-listed Stonehenge.
⏳ TOUR LENGTH: 1 hour 15 minutes – 3 hours | ✔️ BOOK NOW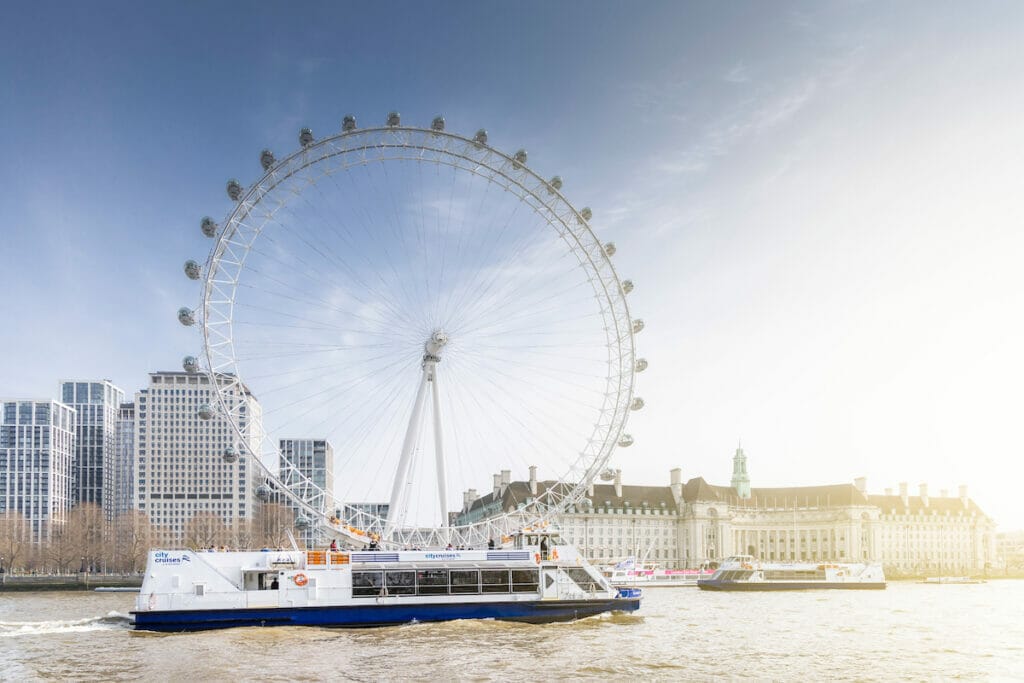 WHAT'S INCLUDED IN THIS TOUR
Complimentary headsets
Audio commentary in 13 different languages
Wi-Fi on board
Free River Thames cruise with the bus tour ticket
Discover London at your own pace and see the highlights of this amazing English capital while enjoying a ride in an open-top, red double-decker bus.
Make the most of your time in London by taking a hop-on, hop-off bus tour.
Choose the duration of your tour according to your schedule by booking a 1-day, or a 24-, 48-, or 72-hour ticket.
"The tour guides were not only informed but also personally helpful in arranging the most advantageous places to get off and on. We also enjoyed the river tour and would highly recommend it as giving a different perspective to one's view of London."
Enjoy unlimited travel across several routes until your ticket expires and take in the views of popular sights including Big Ben and the Tower of London.
Learn about the history of these popular attractions by listening to the audio commentary, available in 13 different languages for your convenience.
You can hop off at any of the well-placed stops to take photos or explore the building you find interesting.
You'll also get a complimentary walking tour and a river cruise with this bus tour.
⭐️ RATING: 4.5 out of 5 Stars, 150+ reviews | ⏳ TOUR LENGTH: 1 hour 30 minutes | ✔️ BOOK NOW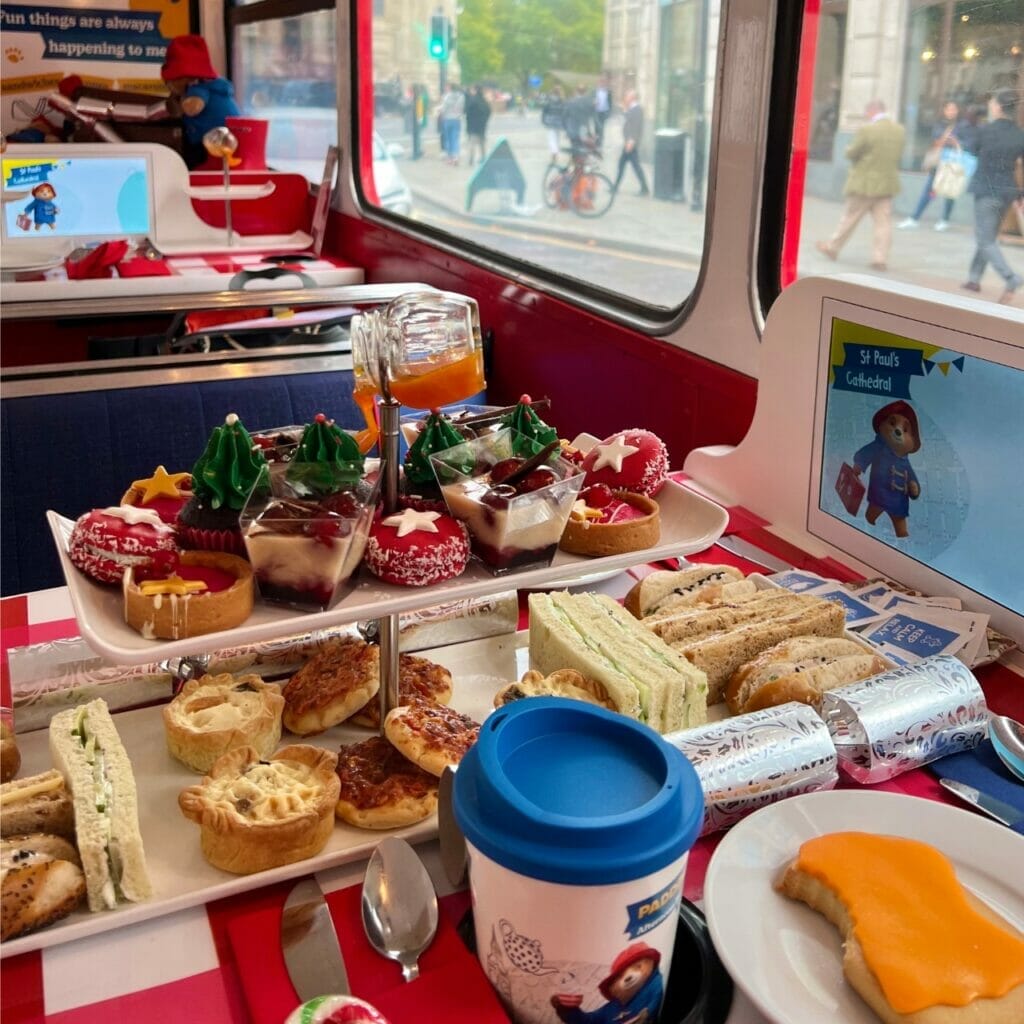 WHAT'S INCLUDED IN THIS TOUR
Unique afternoon tea experience
Seating on the upper deck
Glass of soft drink or Prosecco
Friendly staff
Enjoy the wonderful views of London while sipping a delicious hot cup of tea for a unique afternoon tea experience!
Watch the hustle and bustle of the city as this 90-minute bus ride takes you through the heart of London.
Visit iconic landmarks like the London Eye, Westminster Abbey, Buckingham Palace, and many more.
No tea is complete without finger sandwiches, and this tour provides a wide range of homemade finger sandwiches including salmon and cream cheese to falafel and hummus and more are sure to excite your taste buds.
"Such fun having afternoon tea on a fun decorated bus while touring around the city and the sites. The staff were fantastic and full of fun and positive energy. Food was good, Prosecco was unexpected and enjoyed and wonderful the travel cup was a keeper! I have already told friends who will add this on their next trip to London."
For people with a sweet tooth, the assortment of mini tea pastries and mouth-watering British scones served with jam and clotted cream provide the perfect dessert.
Enjoy unobstructed views of popular tourist destinations as you pass by Buckingham Palace, the grand London residence of His Majesty, the King; the historically rich Westminster Abbey, which was originally a Benedictine monastery; the London Eye that offers breathtaking views of the city and other attractions including Piccadilly Circus, Trafalgar Square, and many more.
⏳ TOUR LENGTH: 1 – 2 hours| ✔️ BOOK NOW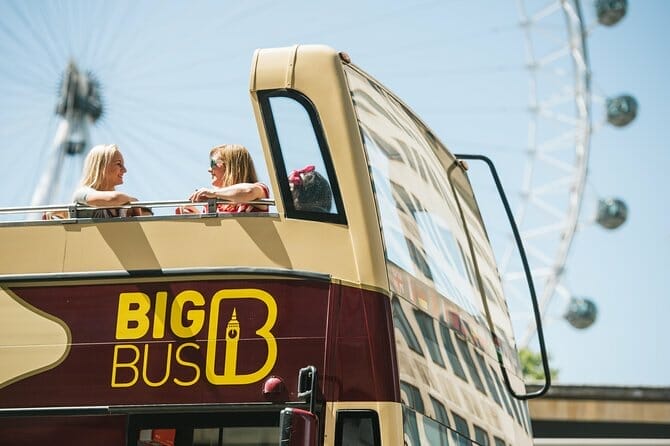 WHAT'S INCLUDED IN THIS TOUR
Free river cruise
Free self-guided podcast walking tour
Green route now available as a shuttle service
Great mix of stops
A convenient way to explore London's top landmarks, a hop-on-hop-off bus tour allows you to experience the many facets of this versatile and lively city at your pace.
Avoid the hassle of navigating London's underground system by simply hopping on and off a tour bus at designated stops.
Explore London on a sightseeing bus and save yourself hundreds of pounds on expensive taxi fares.
This tour offers a great mix of stops from museums to monuments to shopping areas.
Visit iconic monuments and attractions like Big Ben, Buckingham Palace, Harrods, Oxford Street, Tower of London, V&A – Victoria and Albert Museum, Royal Albert Hall, and The Shard.
In addition, you can get a free self-guided walking tour pack depending on the option you choose.
Listen to an informational podcast as you walk past famous attractions and learn about their history, all for free!
⏳ TOUR LENGTH: 1 hour 20 minutes to 2 hours 30 minutes | ✔️ BOOK NOW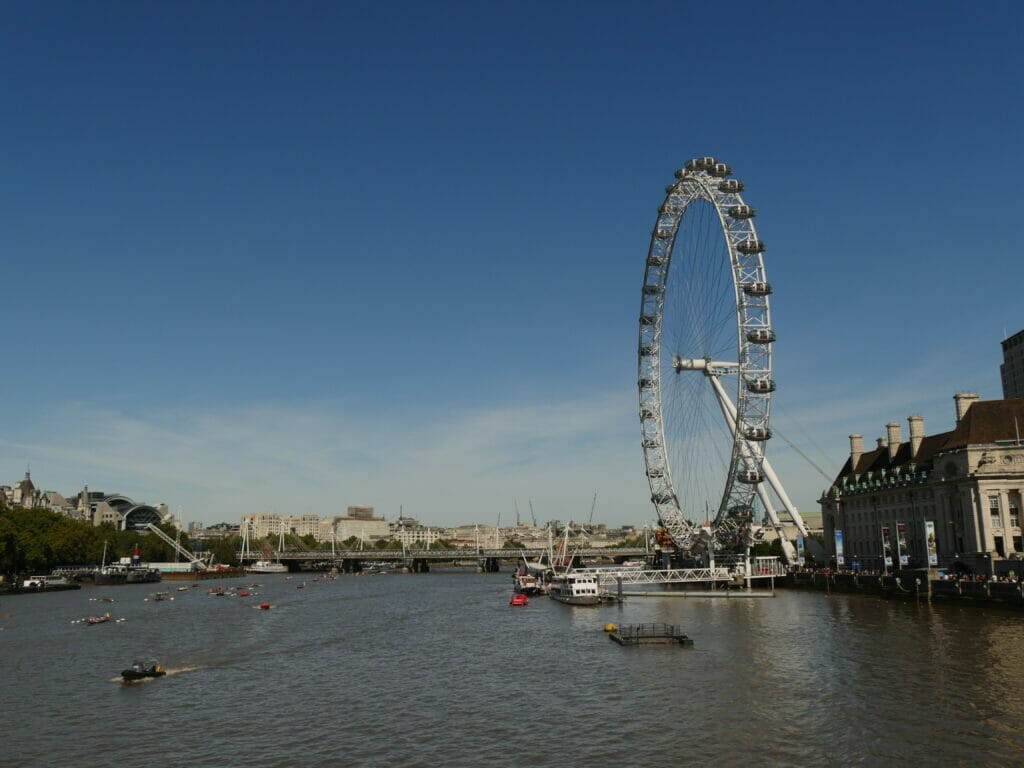 WHAT'S INCLUDED IN THIS TOUR
Entry ticket to London Eye
Thames River Cruise
Recorded commentary in 5 languages
Complementary earphones
Experience the many attractions of London from water, sky, and the streets with this excellent-value package that allows you to leisurely explore London.
Book a hop-on hop-off bus tour valid for 24 hours and visit top sights without spending a fortune on taxi fare.
"London Eye was an amazing experience and seeing some amazing sights . River cruise excellent too . Hop on buses let's you see lots of places around London"
Enjoy the amazing aerial view of the city aboard the London Eye, sail past Big Ben and the Parliament House on a Thames River cruise, and visit multiple top sights of London including Notting Hill, Grosvenor Square, Statue of Eros, St. James Park, and many more on a double-decker bus.
Make sure to reserve your time slot for the London Eye ticket in advance using the link printed on your voucher.
Also take note that your Big Day out pass includes a one-way river cruise, which runs only from Fri-Sun.
⭐️ RATING: 4.0 out of 5 Stars, 30+ reviews | ⏳ TOUR LENGTH: 1 hour 30 minutes | ✔️ BOOK NOW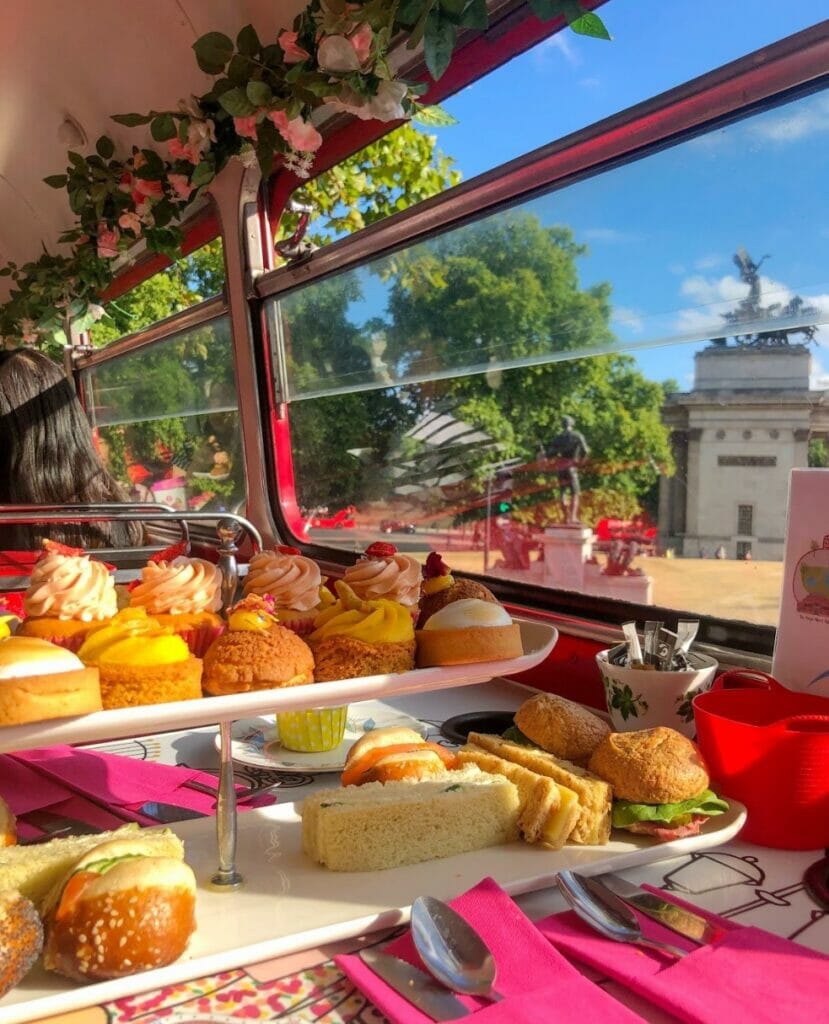 WHAT'S INCLUDED IN THIS TOUR
Afternoon tea experience
Seating on the lower deck
Glass of Prosecco or soft drink
General or vegetarian menu available
The famous tradition of enjoying high tea in London is not an experience to be missed.
And what better way to enjoy this than aboard a red, double-decker bus? Book a hop-on hop-off tour and cruise through London from West End to Charing Cross and enjoy fantastic views as you sip a delicious cup of tea.
Sample delicious cakes and finger sandwiches along with your tea, and for dessert try a classic scone with clotted cream.
Pass by top London attractions, including the vibrant Piccadilly Circus in London's West End.
This popular junction connects Haymarket, Regent Street, Glasshouse Street, Shaftesbury Avenue, and Coventry Street and is a busy meeting place.
"It was quite lovely, from the welcoming driver the the two ladies that served us! The high tea was delicious & tea wonderful. I would highly recommend the Tea Bus to all!"
See the beautiful statues and fountain in Trafalgar Square and pass by Westminster Abbey, which boasts a rich history that's more than a thousand years old.
No tour is complete without a visit to the London Eye or Buckingham Palace.
Visit these popular tourist attractions while being served excellent afternoon tea by a friendly and welcoming staff.
⏳ TOUR LENGTH: 2 hours | ✔️ BOOK NOW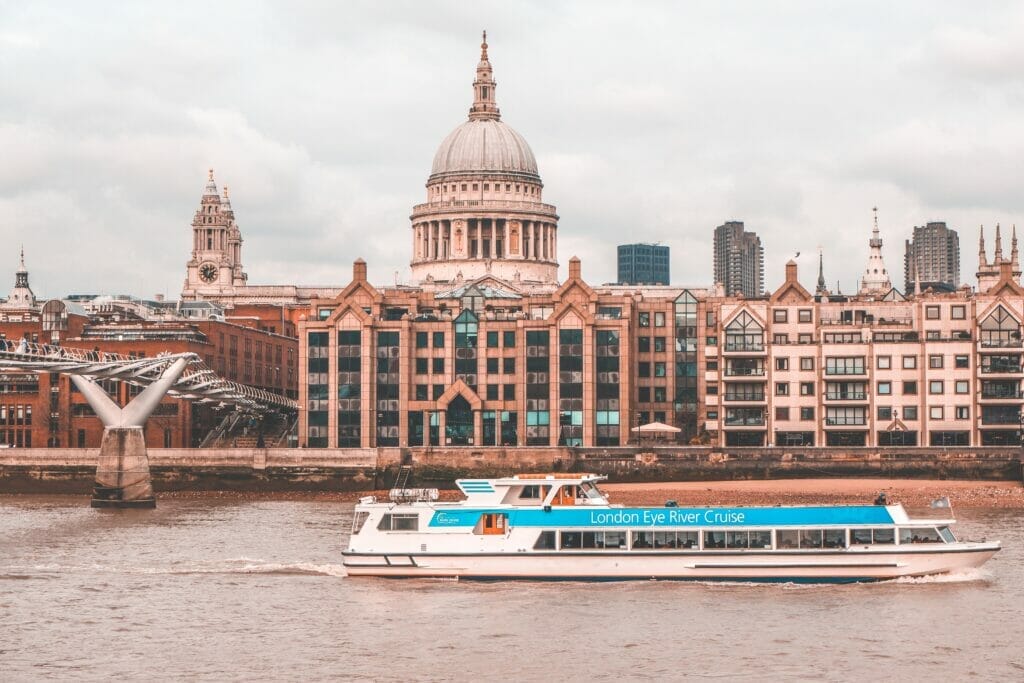 WHAT'S INCLUDED IN THIS TOUR
Hop-on, hop-off bus ticket valid for 24 or 48 hours
Fast-track entry ticket to the London Eye
Recorded commentary in 5 languages
Thanes River Cruise
If you're on a short visit to London, this tour offers one of the best ways to see this city and enjoy its various sightseeing experiences.
This convenient package allows you to cruise around town at your own pace.
Start with a hop-on, hop-off tour with a choice to pick from 24-, 48-, or 72-hour passes.
Then head over to the London Eye, where you can enjoy fast-track entry and panoramic views.
Other points of interest that you'll pass on this tour include Mayfair, St. James Palace, HMS Belfast, Somerset House, Nelson's Column, and many more.
"Everything worked out fine. Had a great time. Would do it all over again. It helped that the tickets were all in one. Combo"
Listen to recorded commentary as you pass by these famous attractions.
Available in 5 different languages, this commentary will help you learn more about the history of this iconic city.
You can also enjoy a river cruise with this package. However, take note that this cruise only runs from Fri-Sun.
⏳ TOUR LENGTH: 2 hours | ✔️ BOOK NOW
WHAT'S INCLUDED IN THIS TOUR
Bus tour through the heart of London
Lunch
Drinks (tea, coffee, water, and wine)
Insider recommendations and tips from your local host
Ready to experience a unique bus tour of London?
Then check out this Catch a Gourmet Lunch on a London Bus tour.
Cruise through the heart of the city and enjoy the best view of all popular landmarks thanks to the panoramic glass roof of the bus.
"Never thought you could enjoy a lunch on a bus this much, the service was excellent, the food was good quality and the company was fantastic, well worth it."
Enjoy a delicious meal made with a fusion of British and French cuisine along with drinks while cruising around on a luxury bus.
Prepared by an experienced chef, this tour offers an aesthetic and mouth-watering meal created by using different cooking techniques from around the world.
Experience fine dining on wheels while learning more about London's historic landmarks with the help of an Audi Pen Guide.
This tour is perfect for a couple on a date or people who are on a tight schedule with lots to see.
Hey! Want to use our trusty guides to the best tours in other places across the UK? Check these out!
UK Travel Planning Guide: the FAQs
🏥 Should I buy UK travel insurance?
Absolutely yes. Basic coverage is not expensive, and as a visitor you are NOT covered under the NHS. Compare policies and prices with Travel Insurance Master here, a big name in the travel insurance business, and cross that off your list.
🔌 Do I need travel adapters for the UK?
Yes, you do, otherwise you won't be able to plug in your electronics/phone/lifelines. I recommend this one, which is all-in-one so you can use it in other countries.
🚗 What do I need to drive in the UK?
The first thing you need to check out if you're planning on renting a car in the UK is this guide to driving in the UK for visitors – the roads, signs, and driving experience will likely not be what you're used to and it's essential to prepare yourself to stay safe and aware.
🛌 What's the best way to book hotels in the UK?
For UK hotels, Booking is the best site as it offers free cancellation on many properties. If you want an apartment, I always recommend VRBO over AirBnb.
📳 Will my phone work in the UK?
Yes – if you set it up right. Check out my guide on making your foreign phone work in the UK to ensure that you get the type of service you need.
🚿 Can I drink the water in the UK?
Yes, UK water is great and perfectly safe. But drink out of taps in any kitchen or use water fountains. Double check before drinking out of the taps in hotel bathrooms, though, as they may be on a different system.