This post contains affiliate links for which I may make a small commission to help keep the site running. You will not be charged extra for these items had you not clicked the links. Thank you for your help to keep the site running!
Perhaps you know that Edinburgh is the capital of Scotland?
Or that the original settlers in Scotland made a home on The Royal Mile?
But did you know that Edinburgh is one of the most haunted places in all of the UK?
From ghosts to vampires and from witches to demons, the people of this city have long been tormented by a bloody and difficult past.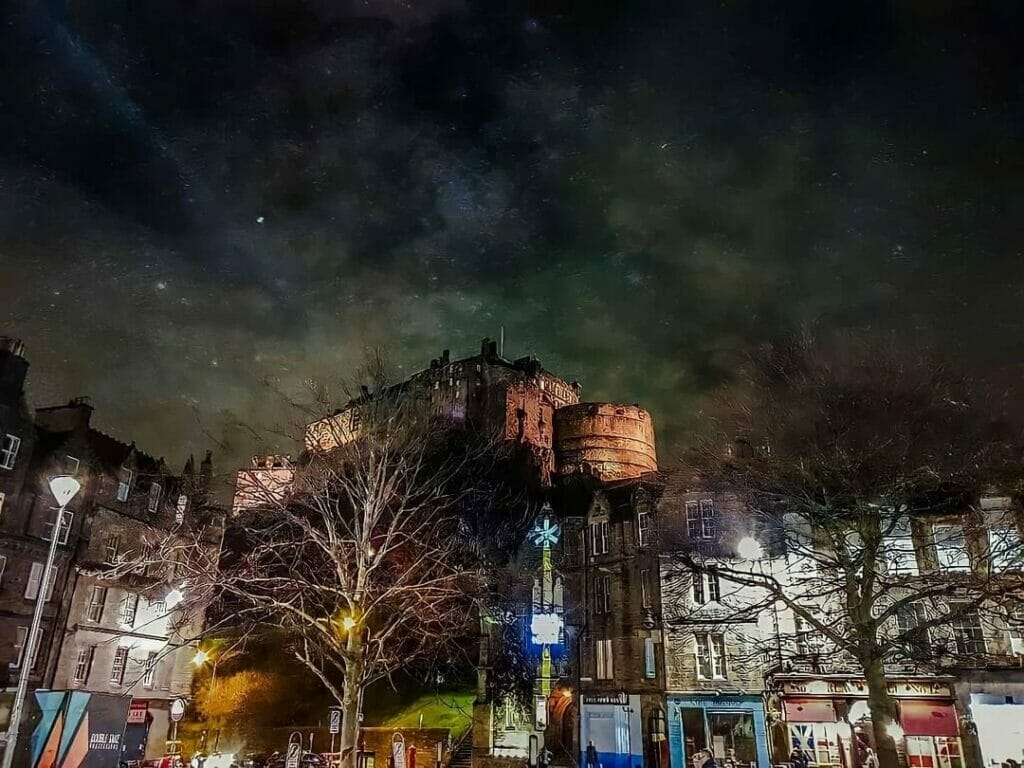 On these tours, you'll learn about real-life Scots who lived and died in Edinburgh – often brutally.
If you're looking for a fun story, pleasant music, and cake – these tours aren't for you.
But if you're drawn to the darker side, we recommend booking today, including these Underground ghost tours in Edinburgh, Edinburgh tunnels ghost tour, and ghost walks in Edinburgh.
Ready to discover the best haunted tours Edinburgh has to offer?
Let's dive in.
Hey! Want more honest UK tips and planning advice? Click here to join my London and UK Travel Tips Facebook group, where I can answer more of your questions!
Easy Guide: Best Ghost Tours in Edinburgh
⭐️ RATING: 4.5 out of 5 Stars, 3,400+ reviews | ⏳ TOUR LENGTH: 1 hour 15 minutes | ✔️ BOOK NOW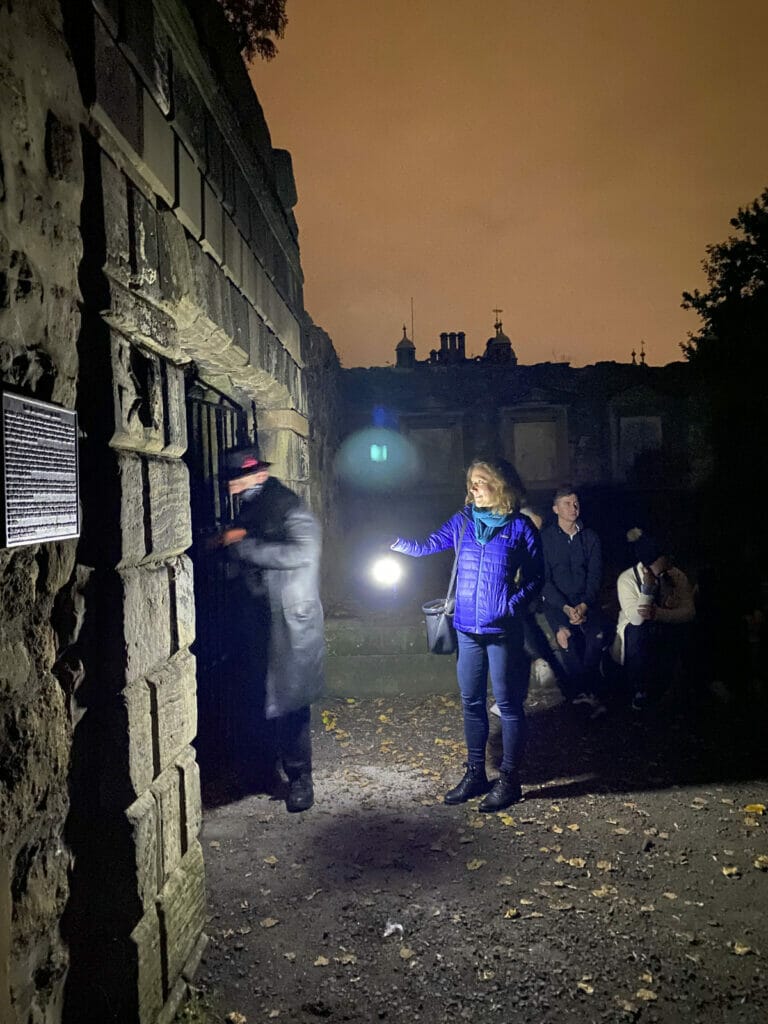 WHAT'S INCLUDED IN THIS TOUR
Evening walking tour of Edinburgh's Old Town
Guide in costume and character
Suitable for families
Visit the eerie Greyfriars Kirkyard
Looking for a fun and spooky activity during your stay in Edinburgh?
Look no further than The World Famous Underground Ghost Tour, a great Edinburgh haunted tour.
There are 400 years of spooky goings on to explore on this epic Edinburgh vaults ghost tour, including underground vaults and alleyways.
As you walk through dark winding lanes and old courtyards, be sure to keep your eyes peeled for ghosts, witches, and demons.
Poltergeists, missing bodies, and a graveyard dog are the topics you'll discuss as you stroll.
Your quirky tour guide is on hand throughout the event, and they're easy to spot – they'll be in a terrifying period costume.
"We had Dr. Knox and he was an excellent guide! He was entertaining and had so many spooky tales to share! Probably my favorite experience in Edinburgh"
On this tour you'll visit Greyfriars Kirkyard – said to be the most haunted graveyard in the world.
Standing amongst the dead you'll hear scary tales of Edinburgh's dark past.
Bring a camera with you if you wish.
Just be careful that you don't startle a ghost!
⭐️ RATING: 5 out of 5 Stars, 1,150+ reviews | ⏳ TOUR LENGTH: 1 hour | ✔️ BOOK NOW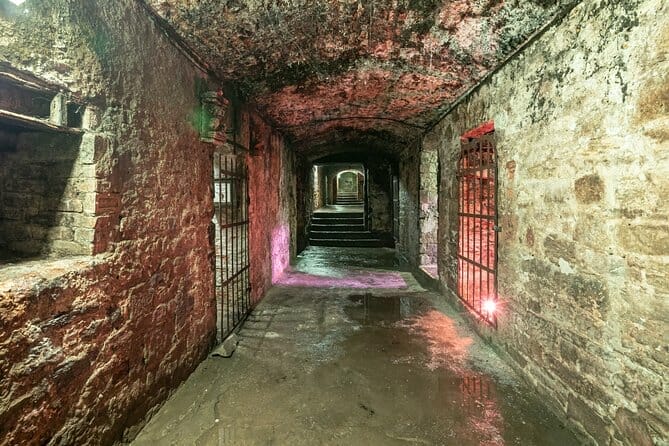 WHAT'S INCLUDED IN THIS TOUR
Admission ticket
Spend time underground in Edinburgh's historic vaults
Hear stories of the inmates on this Edinburgh ghost walking tour
Tour guide
The Haunted Vaults Walking Tour in Edinburgh specializes in the city's vast network of vaults and is one of the best haunted Edinburgh vaults tours.
These cells are steeped in hundreds of years of grizzly history and you'll hear all about the dark tales and paranormal activity on this tour.
"Our guide Josh was very informative with information, full of personality and fun. A lovely balance of history and humor."
Warning – this event isn't for the easily disturbed.
You can expect to hear stories of real-life people who inhabited the vaults and speculate on where they are now.
You'll also visit a torture exhibition and learn about how the inmates were put to death.
It makes you shiver just thinking about it!
You'll start this activity on Edinburgh's Royal Mile, a cobbled street with spooky architecture.
As you approach the vaults, expect to hear stories from Edinburgh's days gone by.
Your guide is an expert in all things spooky and will take you from vault to vault sharing scary story after scary story.
⭐️ RATING: 5 out of 5 Stars, 2,800+ reviews | ⏳ TOUR LENGTH: 2 hours | ✔️ BOOK NOW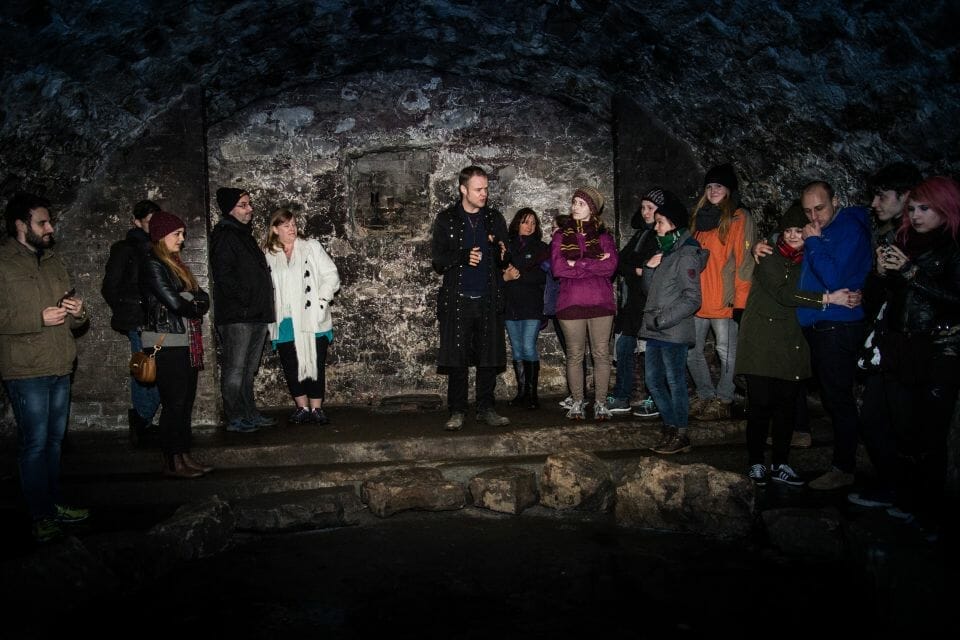 WHAT'S INCLUDED IN THIS TOUR
Stops including North Bridge, Calton Hill, and Canongate Kirk
Walk the cobblestone streets of Edinburgh's Old Town
Learn about witch trials, pagan rituals, and executions
Professional and knowledgeable tour guide
The Edinburgh Darkside Walking Tour: Mysteries, Murder and Legends will give you the fright of your life.
Monsters, murder, body-snatchers, and vampires – this tour has it all.
Your expert tour guide will take you to the spots where witch trials were conducted, inviting you to imagine how those chilling final moments must have felt.
You'll also discuss the pagan rituals and executions that have made Scotland one of the world's most haunted countries.
The tour is centered around urban myths, local monsters, and chilling stories.
"Interesting mix of history, myths and legends. Alastair was a brilliant narrator and very knowledgeable about Edinburgh. Lots of walking which was great for us it would not be suitable for those less mobile as there were lots of steps and some hills. Would definitely recommend.."
You'll visit multiple locations on this tour, including North Bridge, Calton Hill, Old Calton Burial Ground, and Canongate Kirk – each offering new stories that the tour company promise aren't made-up.
Every story is about a real-life person and how they met their grizzly end.
⭐️ RATING: 4.5 out of 5 Stars, 600+ reviews | ⏳ TOUR LENGTH: 1 hour 15 minutes | ✔️ BOOK NOW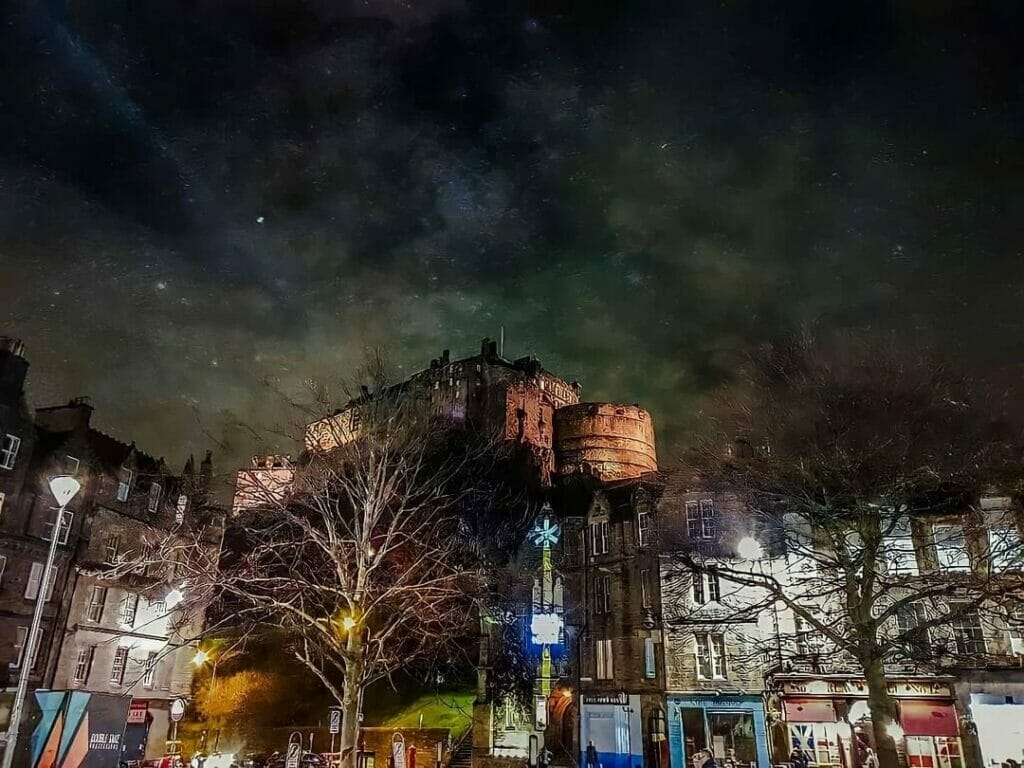 WHAT'S INCLUDED IN THIS TOUR
Tour guide in period costume on this Edinburgh scary tour!
Enjoy the Gothic splendor of Greyfriars Kirkyard
Real-life stories
Discover haunted streets
Fright Night Tour is calling on those brave enough to walk the spooky underground passages of Edinburgh.
Across 75 minutes, you'll explore the slums and vaults of bygone times.
Expect to shiver as you hear twisted tales.
"Madge was an AMAZING storyteller! She and the staff were so courteous. She made you feel as if you were there.."
We're confident that you'll love this unique tour.
Your guide is dressed from head to toe in a creepy costume of a long-dead Edinburgh resident, which really adds to the fear factor.
The character they're playing was a real-life person and you'll hear spooky stories about their life as you venture through graveyards, tunnels, and vaults.
If your idea of a great night is hearing tales of murder, ghosts, and shadowy worlds, then this is the tour for you.
The evening tour is suitable for families – assuming that they're brave enough to follow your tour guide through the cobbled lanes of this Scottish city.
⭐️ RATING: 4.5 out of 5 Stars, 550+ reviews | ⏳ TOUR LENGTH: 1 hour 20 minutes | ✔️ BOOK NOW
WHAT'S INCLUDED IN THIS TOUR
Spooky atmosphere
Bloodcurdling accounts from Edinburgh's history
Costumed guide
Tour of South Bridge vaults
Scream if you want to go faster!
The Extreme Paranormal Underground Ghost Tour in Edinburgh is a one-and-a-half-hour treat that'll shock and scare you.
You can expect to visit haunted graveyards, narrow side streets, and underground vaults that hold the secrets of the city's dark history.
"We had a fun night on our underground Ghost Tour with our guide ! He did a great job and gave an excellent tour. He took us under the streets of Edinburg and was very knowledgeable about the history of the city."
This tour is described as not appropriate for children, which means you can expect big jumps and spine-chilling stories.
Your costumed tour guide will describe tales of torture and murder.
It really is the stuff of nightmares!
The Extreme Paranormal Underground Ghost Tour starts late at night, making it the best tour for those hoping to see ghosts and other horrifying creatures.
Fans of small group tours, rejoice.
This event is limited to 15 people, meaning you'll be part of a more intimate walking tour of Edinburgh's bloody past.
⭐️ RATING: 4.5 out of 5 Stars, 1,700+ reviews | ⏳ TOUR LENGTH: 1 hour 15 minutes | ✔️ BOOK NOW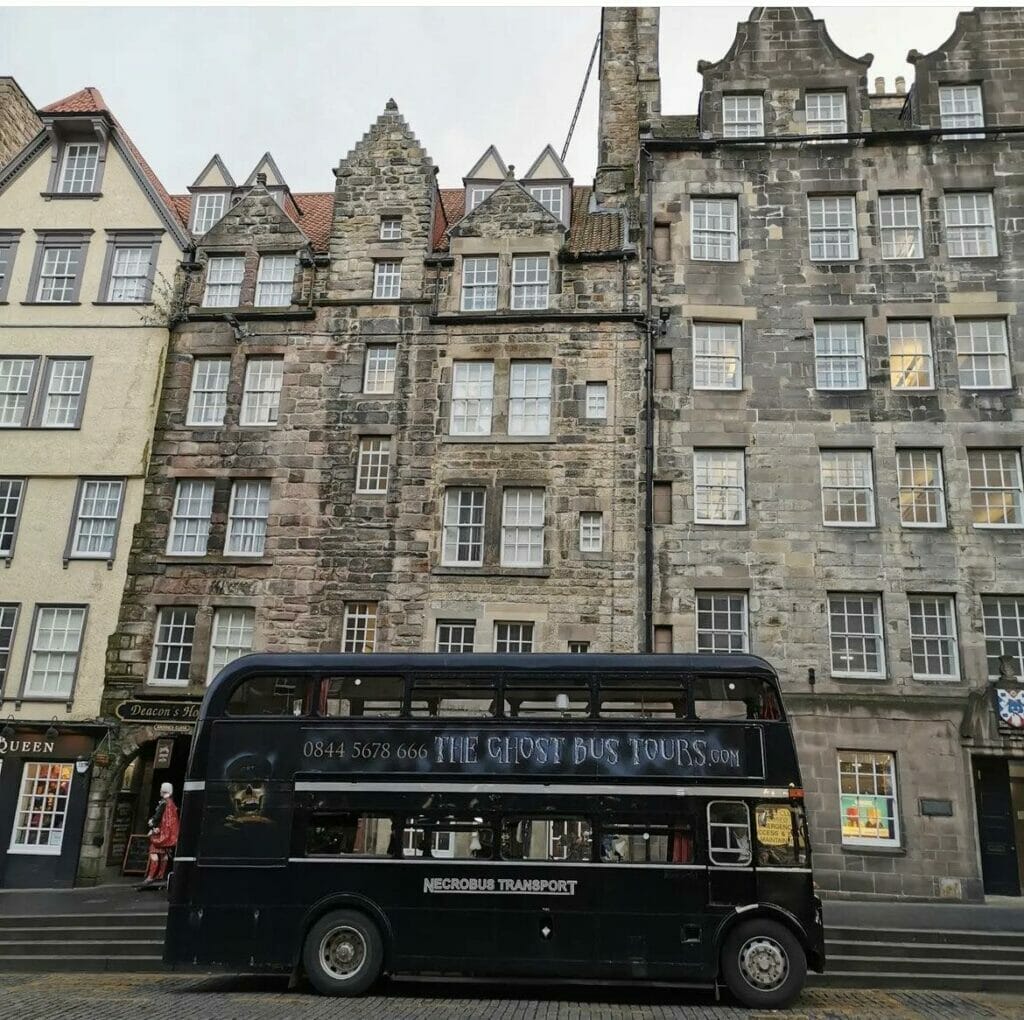 WHAT'S INCLUDED IN THIS TOUR
Transport by Routemaster bus on this Edinburgh ghost bus tour
Professional guide
Discover ghastly goings on from the city's history
Visit Edinburgh Castle and The Royal Mile
The Ghost Bus Tour of Edinburgh offers tourists a unique way to journey through the city.
Atop a vintage double-decker bus, you'll look down upon terrifying sites such as Grassmarket, the Royal Mile, and Greyfriars Kirk.
This is also one of the only tours to include Edinburgh Castle – one of the city's most famous landmarks.
Expect to hear stories of knights in shining armor.
"The graveyard experience with live commentary was scary and fun at the same time. Suitable for kids, too."
Being on a bus tour, you'll also have the opportunity to see some of the city's other most iconic attractions including the beautiful Palance of Holyrood House.
You'll be shocked by tales of misdeeds, sinister characters, and famous executions from a professional guide who is a master of storytelling.
At the end of the tour, you'll be dropped off in Edinburgh Old Town.
That's convenient because believe us when we say – you'll need a large beer to calm your nerves after this event.
⭐️ RATING: 4.5 out of 5 Stars, 350+ reviews | ⏳ TOUR LENGTH: 2 hours | ✔️ BOOK NOW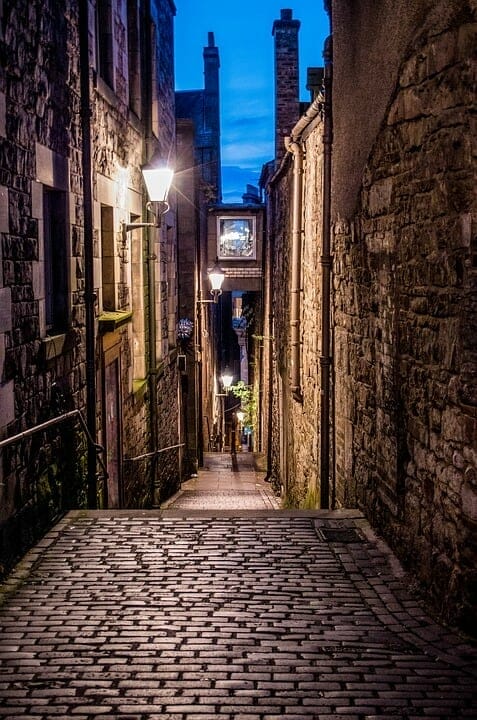 WHAT'S INCLUDED IN THIS TOUR
Award-winning local storytellers
Small group experience
Exclusive access to Blair Street underground vaults
Try a Scotch whisky
If you're looking for a haunted tour with a little extra, consider booking onto this Small Group Tour incl. Underground Vaults & Free Drink in Megget's Cellar.
You'll be guided between Edinburgh's darkest locations by an award-winning storyteller who will bring the stories of the dead to life on one of the best ghost tours in Edinburgh.
You can expect gruesome stories of witchcraft, restless spirits, and shadowy characters.
"Fantastic evening! Michael was an amazing storyteller, and we loved the drink in the cellar after. Plus a full moon rising over the Royal Mile to kick things off – couldn't have planned it any better!."
As part of this experience, you'll be granted access to Blair Street's underground vaults, where you'll hear about the prisoners who lived there and how they spent their final days.
Your meeting point – Mercat Cross – is a significant location, and you'll discover what makes this monument so important.
Every member of the tour will be invited to sample a glass of Scotch whisky.
This is the perfect opportunity to make friends, ask questions, and shake off the spooky stories as you sip.
⭐️ RATING: 4.5 out of 5 Stars, 560+ reviews | ⏳ TOUR LENGTH: 1 hour 30 minutes | ✔️ BOOK NOW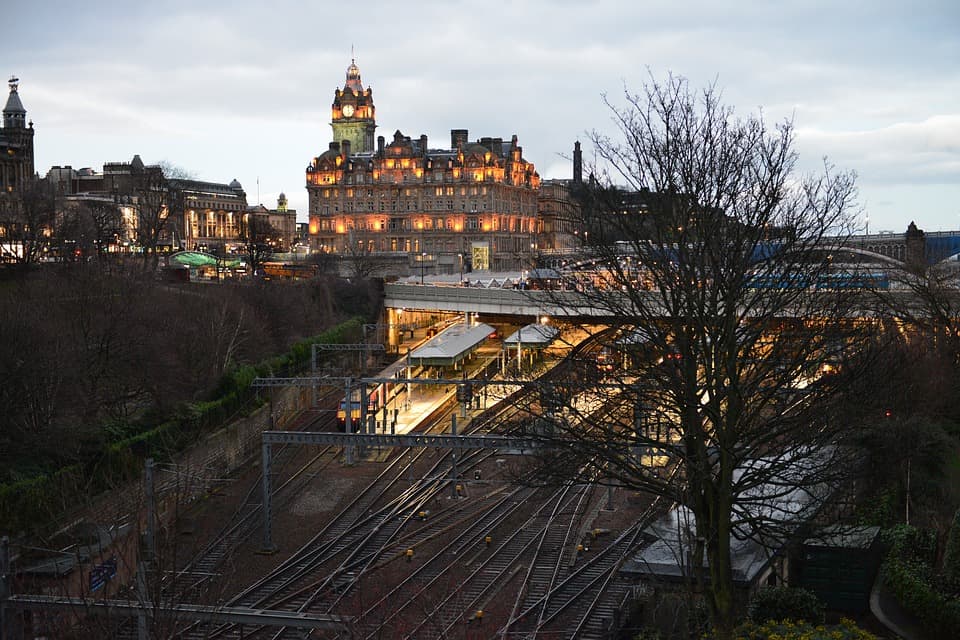 WHAT'S INCLUDED IN THIS TOUR
Professional tour guide on one of the best ghost tours in Edinburgh, Scotland
Night-time experience
Hear about troubled souls from Edinburgh's past
Admission tickets included in price
What happens if you combine the chance to meet new people, go for a walk, and listen to spooky stories?
You get the Haunted Vaults and Graveyard Walking Tour in Edinburgh.
Walking around this famous city during the hours of darkness, you'll squirm as you hear tales of the undead and explore the vaults on Nidry Street.
Beggars, prostitutes, witches, and criminals – they're all part of these breathtaking stories shared by your professional tour guide.
"Fraser was an excellent tour guide, very amusing, and we learnt a lot of very interesting historical facts, mixed with some good scary ghost stories! Even my very skeptical 18 year old daughter got spooked in the vaults!."
Your expert guide is clued up on the best spots in the city that are guaranteed to give you a fright.
As part of a large group, you can expect to enjoy some safety in numbers – unless you have any ghosts or ghouls following you.
Remember to stay alert throughout this tour because there might be an opportunity or two to spot creatures of Edinburgh's underworld.
⭐️ RATING: 4.5 out of 5 Stars, 17+ reviews | ⏳ TOUR LENGTH: 1 hour | ✔️ BOOK NOW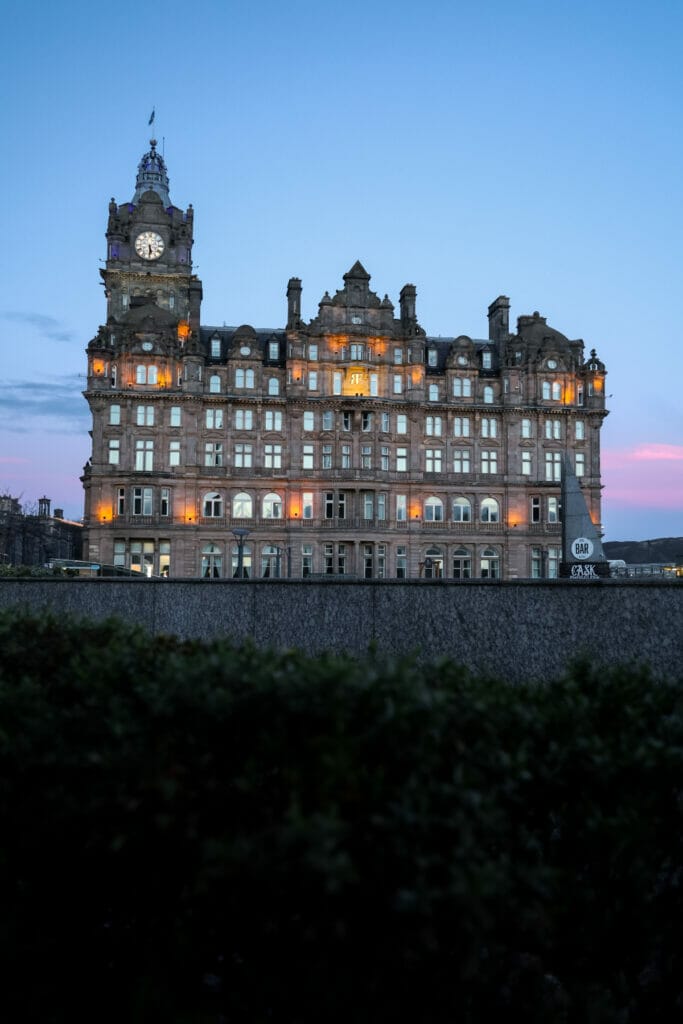 WHAT'S INCLUDED IN THIS TOUR
Full flexibility
Independent tour
Available 24/7
Explore Edinburgh's haunted locations at your own pace
Being part of a walking tour isn't for everybody.
Perhaps you'd like to explore haunted grounds at your own pace?
Fortunately, Haunted Edinburgh: "The Bloody Past" Exploration Game was designed with you in mind.
You'll embark on an independent quest through the city, following clues to find creepy locations.
You'll be spoken to by a digital tour guide, who will share dark stories and bloodcurdling tales.
"Wonderful experience! The track play was amazing. We discovered beautiful places thanks to the game. We wouldn't have seen all that by ourselves. I recommend 1000%."
"The Bloody Past" Exploration Game is so much more than just a ghost tour. It's also a history lesson.
You'll learn about famous historical events like the Great Scottish Witch Hunts and the Burke and Hare murders.
Expect to encounter colorful characters like George Mackenzie and the Grey Lady.
If you're a little slower on your feet or prefer to keep a distance from others during the pandemic, this is the tour for you.
⭐️ RATING: 5 out of 5 Stars | ⏳ TOUR LENGTH: 1 hour 30 minutes | ✔️ BOOK NOW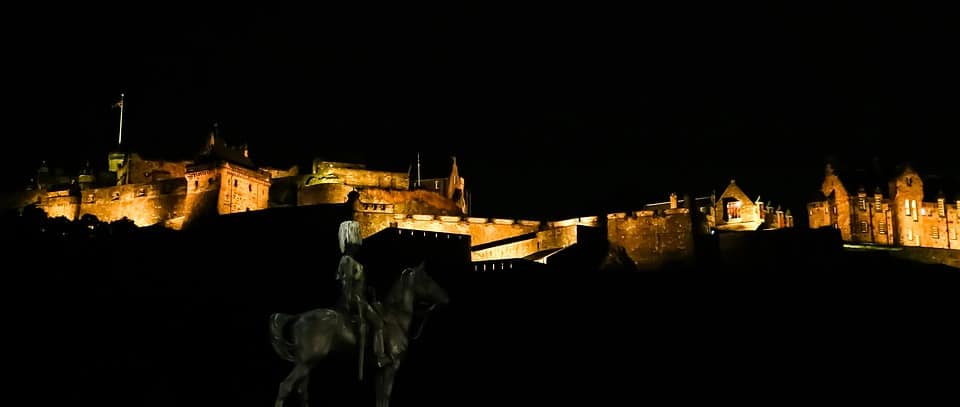 WHAT'S INCLUDED IN THIS TOUR
Personal tour
Walking experience on the Royal Mile
Private guide
Learn about Scottish history's creepier side
The Private Edinburgh Dark History Tour – Auld Reekie After Hours is a great option for those wanting to take pictures of historic spots.
That's because it's a private tour, meaning that it'll just be your traveling party and your tour guide.
Unlike the other tours listed here, you'll be the center of your tour guide's attention and will be able to stop to take pictures without holding up other people.
"Loved the tour. Stephanie knew her stuff and made the tour interesting. Was all off the royal mile so not too much walking. The rain eased a bit which helped. We would recommend anyone to take this tour."
From plagues to curses, this tour combines historical realities and urban myths to create a spooktacular experience that's not for the faint of heart.
The tour is called Auld Reekie After Hours, which is the historic name given to the city of Edinburgh.
It translates to Old Smokey and paints a picture of narrow streets and tall buildings – which you'll see on this once-in-a-lifetime tour.
⭐️ RATING: 4.5 out of 5 Stars, 120+ reviews | ⏳ TOUR LENGTH: 1 hour 20 minutes | ✔️ BOOK NOW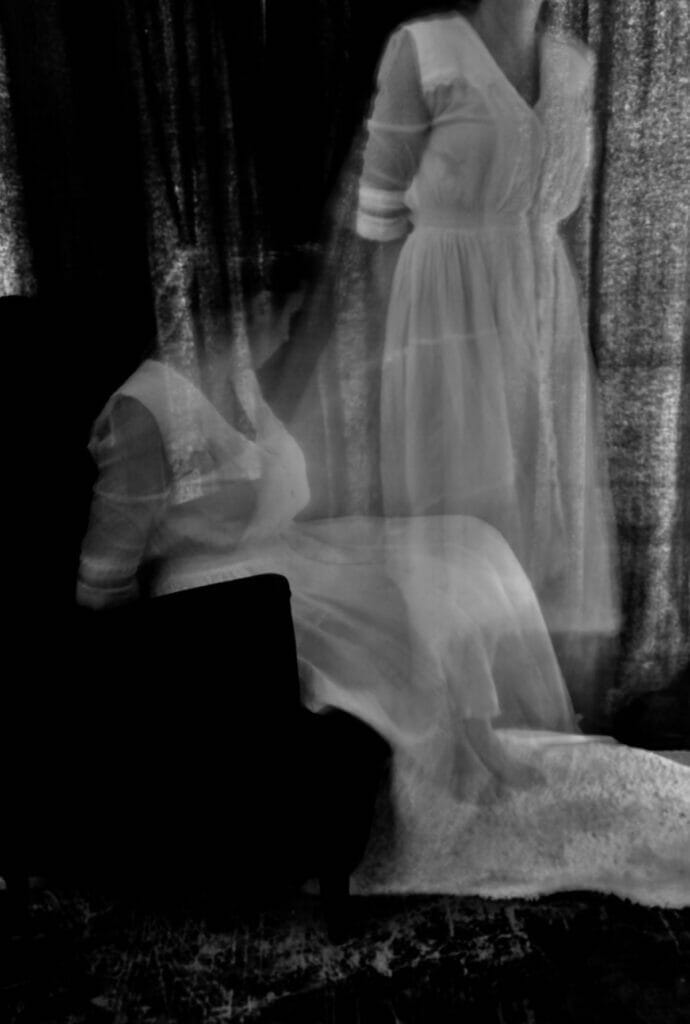 WHAT'S INCLUDED IN THIS TOUR
Local, expert guide
Go underneath the streets of Edinburgh
Daytime or nighttime tour
Learn about Edinburgh's history of ghosts
There's plenty of scary stuff going on above ground, but did you know that under the streets of Edinburgh are haunted happenings, ghostly goings on, and creepy characters?
The Underground City of the Dead Tour takes you under the street to explore stone cellars, dark corridors, and crumbling ruins.
"A very well organized and entertaining tour. Heather did an amazing job portraying the history of Edinburgh and what it was like to live in the vaults."
You'll start to sweat as you realize that these creepy locations were under your feet this whole time.
On this 80-minute experience, you'll find an attentive tour guide who loves sharing stories and answering your burning questions.
There are two tour options to consider: daytime or nighttime.
For those more easily spooked, we recommend the daytime option.
But for those willing to face their demons, the nighttime event adds an extra level of fear.
Those hairs standing up on the back of your neck – we can't confirm whether that's just the cold or a ghoulish hand.
⭐️ RATING: 5 out of 5 Stars, 30+ reviews | ⏳ TOUR LENGTH: 2 hours | ✔️ BOOK NOW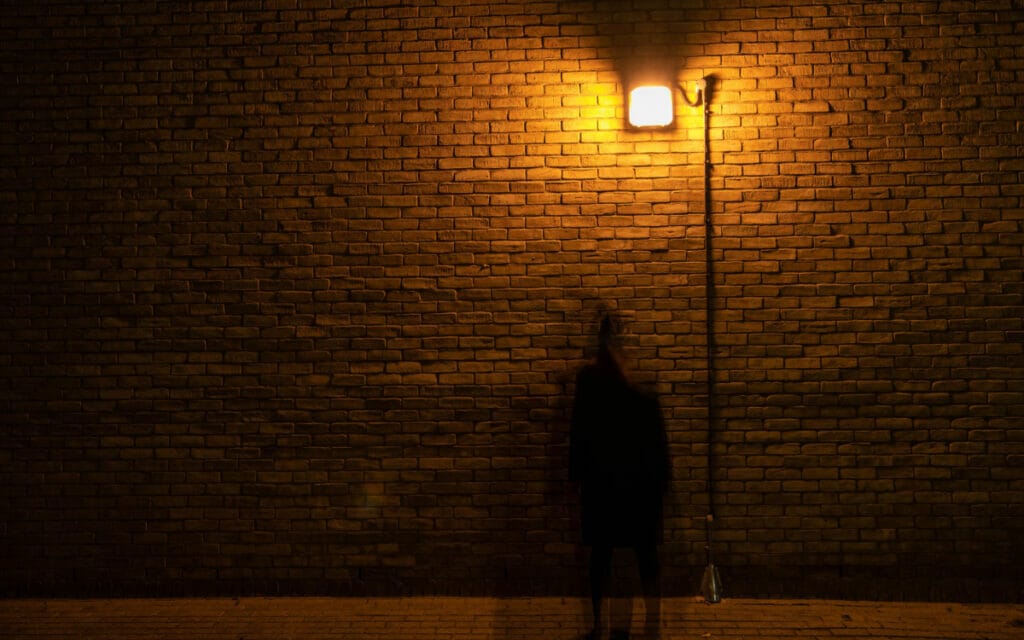 WHAT'S INCLUDED IN THIS TOUR
Comprehensive tour of Edinburgh
Games and quizzes
Professional and knowledgeable tour guide
A unique way to see the sights of Edinburgh
Setting off from the William Chambers Monument, you'll learn about Deacon Broride – a cabinet-maker with a dark secret.
At Greyfriars Kirkyard, hear tales of prisons and plagues.
Moving to Grassmarket, you'll discover the fishwife who refused to die.
We won't ruin the rest of the stories – you'll have to book onto the tour to find out more.
All we can say is that you should expect wizards, phantoms, and graverobbers.
"Five stars had an amazing time. Xander was an amazing tour guide who was very knowledgeable and made the walking in the cold fun and interesting. Make sure to check it out if you are ever in Edinburgh!."
Scotland's Dark Secrets Walking Tour is headed by a trained guide with an immense knowledge of Edinburgh's bloody past.
We guarantee they'll captivate you for the whole two hours of this event.
To keep younger people engaged, there are fun games and quizzes that you'll play as you walk between locations.
It's time to put your knowledge about spooky occurrences to the test.
⭐️ RATING: 4.5 out of 5 Stars, 3,360+ reviews | ⏳ TOUR LENGTH: 1 hour | ✔️ BOOK NOW
WHAT'S INCLUDED IN THIS TOUR
Professional guide
Hidden underground vaults to explore
Hear tales of 18th-century Edinburgh
Explore places not often seen by tourists
So, you're heading to Edinburgh?
Of course, you could wander the shopping district, dine on haggis in a local restaurant, or visit the Scottish Parliament building.
But instead, why not book onto an event like no other?
The Underground Walking Tour in Edinburgh will show you a side of this famous city that you didn't know existed.
You'll meet your passionate tour guide at the Bank of Scotland, which will be your last calm moment for the next hour.
"This was a great tour. In particular our tour guide FRASER was fantastic. Thoroughly knowledgeable and a hilarious representation of the famous Scottish sense of humor. Well done! We could have spent hours with him! I highly recommend this tour."
As you stroll through alleyways, expect to find out all about the city's dark history.
Stories of deadly diseases and witchcraft await those brave enough to start walking.
Speaking of witches, you'll stumble upon a hidden witchcraft temple on this tour.
Be warned – you may awaken spirits from their slumber.
Hey! Want to use our trusty guides to the best tours in other places across the UK? Check these out!
UK Travel Planning Guide: the FAQs
🏥 Should I buy UK travel insurance?
Absolutely yes. Basic coverage is not expensive, and as a visitor you are NOT covered under the NHS. Compare policies and prices with Travel Insurance Master here, a big name in the travel insurance business, and cross that off your list.
🔌 Do I need travel adapters for the UK?
Yes, you do, otherwise you won't be able to plug in your electronics/phone/lifelines. I recommend this one, which is all-in-one so you can use it in other countries.
🚗 What do I need to drive in the UK?
The first thing you need to check out if you're planning on renting a car in the UK is this guide to driving in the UK for visitors – the roads, signs, and driving experience will likely not be what you're used to and it's essential to prepare yourself to stay safe and aware.
🛌 What's the best way to book hotels in the UK?
For UK hotels, Booking is the best site as it offers free cancellation on many properties. If you want an apartment, I always recommend VRBO over AirBnb.
📳 Will my phone work in the UK?
Yes – if you set it up right. Check out my guide on making your foreign phone work in the UK to ensure that you get the type of service you need.
🚿 Can I drink the water in the UK?
Yes, UK water is great and perfectly safe. But drink out of taps in any kitchen or use water fountains. Double check before drinking out of the taps in hotel bathrooms, though, as they may be on a different system.