This post contains affiliate links for which I may make a small commission to help keep the site running. You will not be charged extra for these items had you not clicked the links. Thank you for your help to keep the site running!
Located near the coast of Scotland, Edinburgh promises unique sightseeing opportunities and Edinburgh bus tour options.
You might know that Scotland is famous for haggis, kilts, and Irn-Bru, but did you know that it's also the home of the Writer's Museum, the Museum of Childhood, and the Museum of Fire?
Whether you're into the spookier side of things, or simply want to relax with afternoon tea, there's a bus tour option in Edinburgh to suit every kind of tourist.
Opt for a regimented Edinburgh sightseeing bus tour or hop-on and hop-off Edinburgh bus at your leisure – the choice is yours.
If you don't have time to read the whole article, don't worry: the best Edinburgh bus tour is this Edinburgh afternoon tea bus tour.
Here we've compiled a list of the nine best bus tours in the city, including Edinburgh open top bus tours and Edinburgh city bus tours.
Read on to find your fit and book a tour today.
Don't forget that Edinburgh is the UK's second-most visited tourist destination and so booking bus tours and experiences in advance is highly recommended.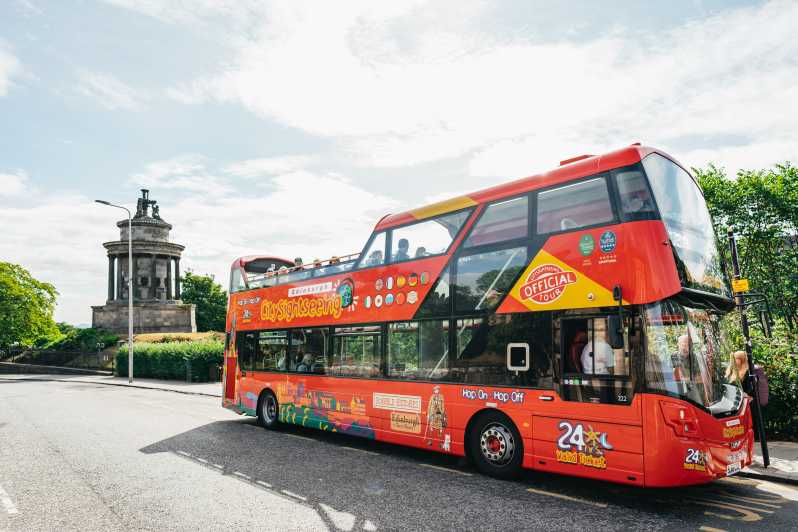 Easy Guide: Best Edinburgh Bus Tours
⭐️ RATING: 4 out of 5 Stars, 670+ reviews | ⏳ TOUR LENGTH: 1 hour 30 minutes | ✔️ BOOK NOW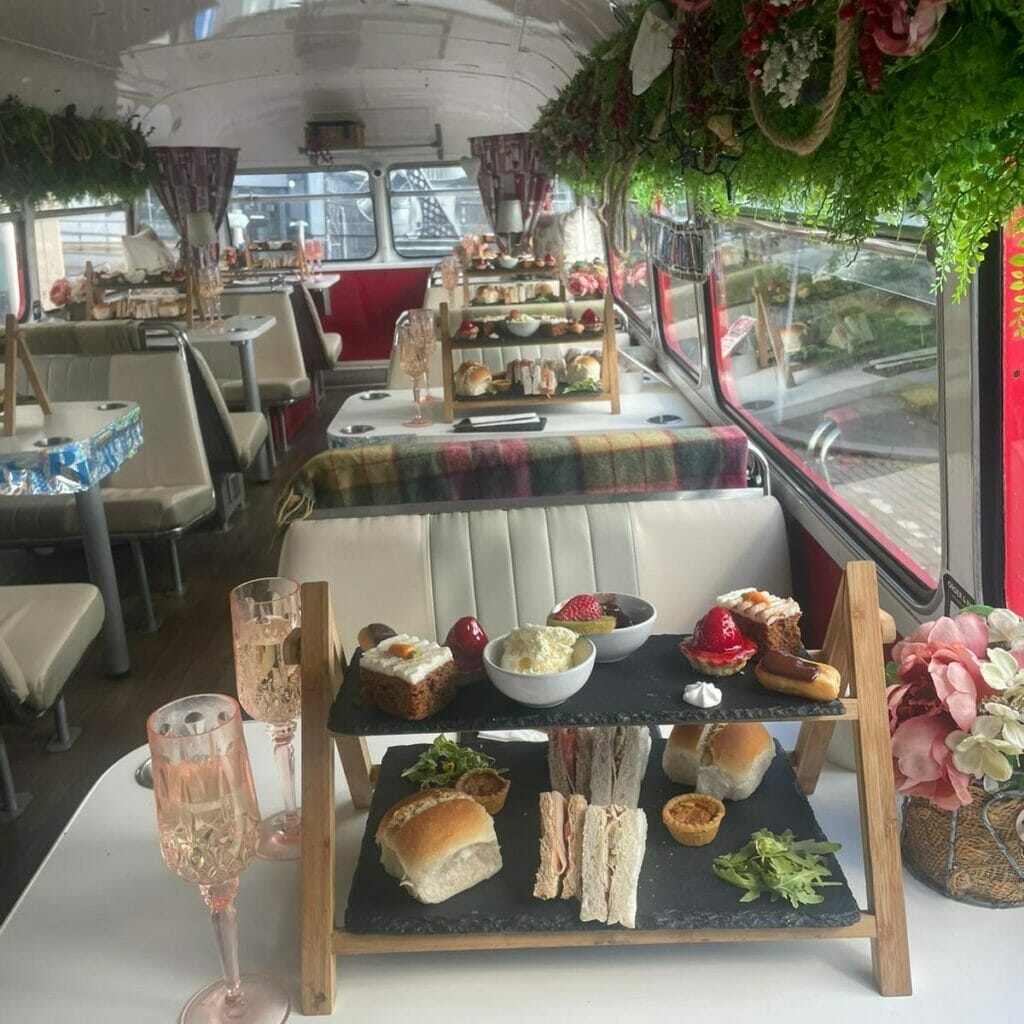 WHAT'S INCLUDED IN THIS TOUR
Handmade sandwich selections
Dine on home-baked warm scones with cream, jam, and strawberry garnish
Drink coffee and tea
Enjoy delicious cupcakes
The Edinburgh Afternoon Tea Experience is a fantastic choice for non-British natives to sample the quintessential British way of life.
If you're British, it's a great gift for non-British family and friends – to show off what Britain is best at: scones and cups of tea.
Atop a vintage Routemaster bus, you'll take in the sights of Scotland's second-biggest city.
Expect to see Edinburgh Castle, the Scottish Parliament building, and Holyrood Palace.
"Such a wonderful experience!! I booked this tour for me and my family on our trip to Edinburgh! The tour was so much fun with great food and our tour guide Danielle was delightful playing great music while we all sang along! They also gave us some time to stop and take some pictures of places we passed!"
Included in the tour is a selection of tasty food and drink that's so British, you'll be surprised that King Charles isn't joining you onboard.
Sample scones and sandwiches, all washed down with cups of tea.
The accommodating staff allow you to take pictures and will stop the bus to make sure you can get the best possible snaps of this once-in-a-lifetime journey.
If you want a bus tour with an entertaining and quirky experience thrown in, this is the tour for you.
⭐️ RATING: 4.5 out of 5 Stars, 220+ reviews | ⏳ TOUR LENGTH: 1 hour 10 minutes | ✔️ BOOK NOW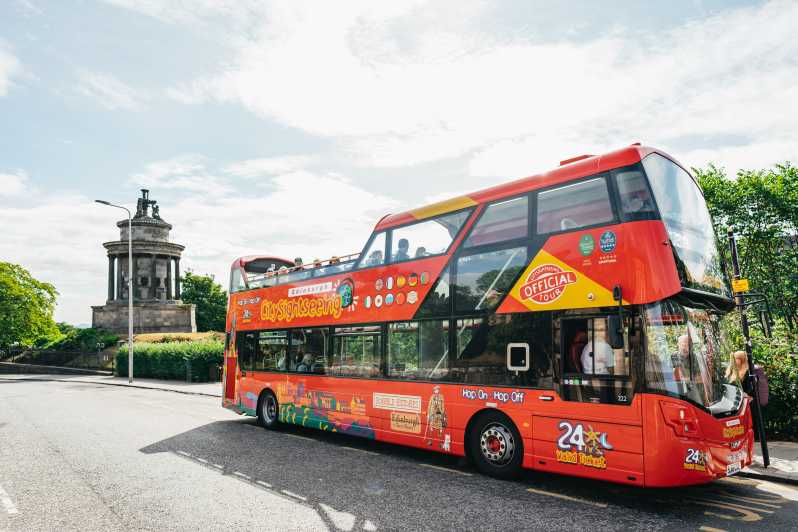 WHAT'S INCLUDED IN THIS TOUR
Free headphones to keep
Free return bus tickets to Edinburgh Zoo on the company's local services
Sightseeing of significant cultural landmarks
A flexible way to explore the city
Picture the scene.
You're sat on a bus tour and spot something you find interesting.
You ask if the bus can stop so you can get off and explore, but the driver informs you that it's not that kind of bus tour.
Luckily, you won't have that problem with the Edinburgh Hop-on Hop-off City Tour.
"A fantastic bus trip and a highly recommended holiday experience. We saw so many sights and the commentary is excellence. Very good value for money too."
You can ride the bus as much or as little as you want to.
Stops are very close together, meaning that if you see something you like you can simply hop off at the next available opportunity.
We recommend stopping off at the Edinburgh Farmers' Market – an opportunity to meet friendly Scottish people as you sample local food and drink.
The Scotch Whisky Experience is also on the route, promising a look inside the whisky-making process.
If you're planning to stay on the bus for the whole route, and see the sights from inside, don't forget to pack lunch to make your journey extra cozy.
⭐️ RATING: 4.5 out of 5 Stars, 1,600+ reviews | ⏳ TOUR LENGTH: 1 hour 15 minutes | ✔️ BOOK NOW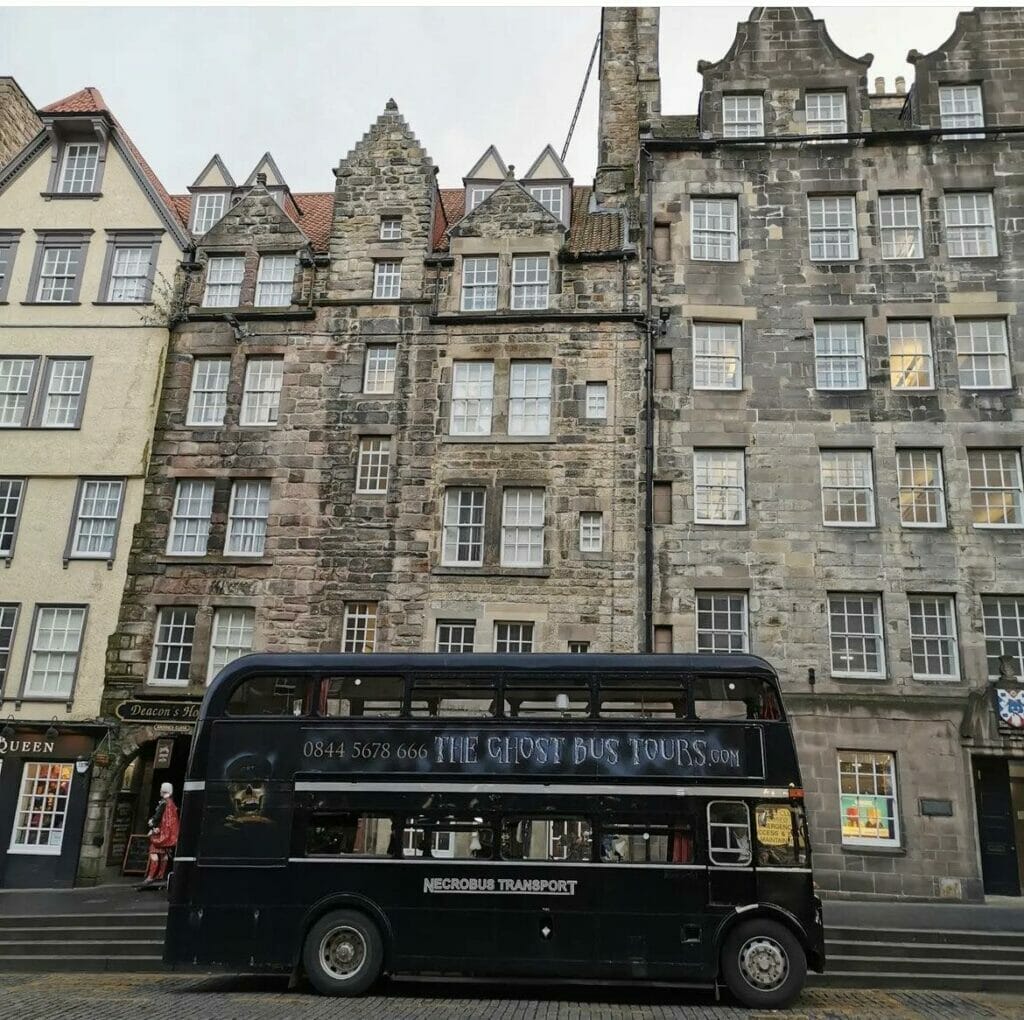 WHAT'S INCLUDED IN THIS TOUR
Ride on a vintage double-decker bus
A spooky bus tour with descriptions of Edinburgh's past
A professional guide
A chance to see Edinburgh's historic attractions
This tour is not for the easily spooked.
Onboard, you'll discover the twisted secrets of Edinburgh's dark past.
Safely behind the windows of the bus, you'll hear the stories of lost spirits, shocking tortures, and bloody murders as you pass significant landmarks.
You'll pass by Edinburgh Castle, Royal Mile, Greyfriars Kirk, Grassmarket, and more.
Did we mention you'll have to get off the bus sometimes to get up close to the grizzly action? Prepare to be frightened.
"Great spooky experience! Kids loved it! Tour guide very funny! Really scary stories! So glad we booked!"
Your knowledgeable guide will have you sitting on the edge of your seat as they delve into stories of ghosts and witches.
You'll need to take a long walk afterward to clear your head.
Just make sure you don't walk near the historic sites where misery befell ancient Scots.
Being such a quirky experience, it's incredibly popular – and so it's advised you book ahead to avoid missing out.
⭐️ RATING: 4.5 out of 5 Stars, 1,600+ reviews | ⏳ TOUR LENGTH: 1 hour | ✔️ BOOK NOW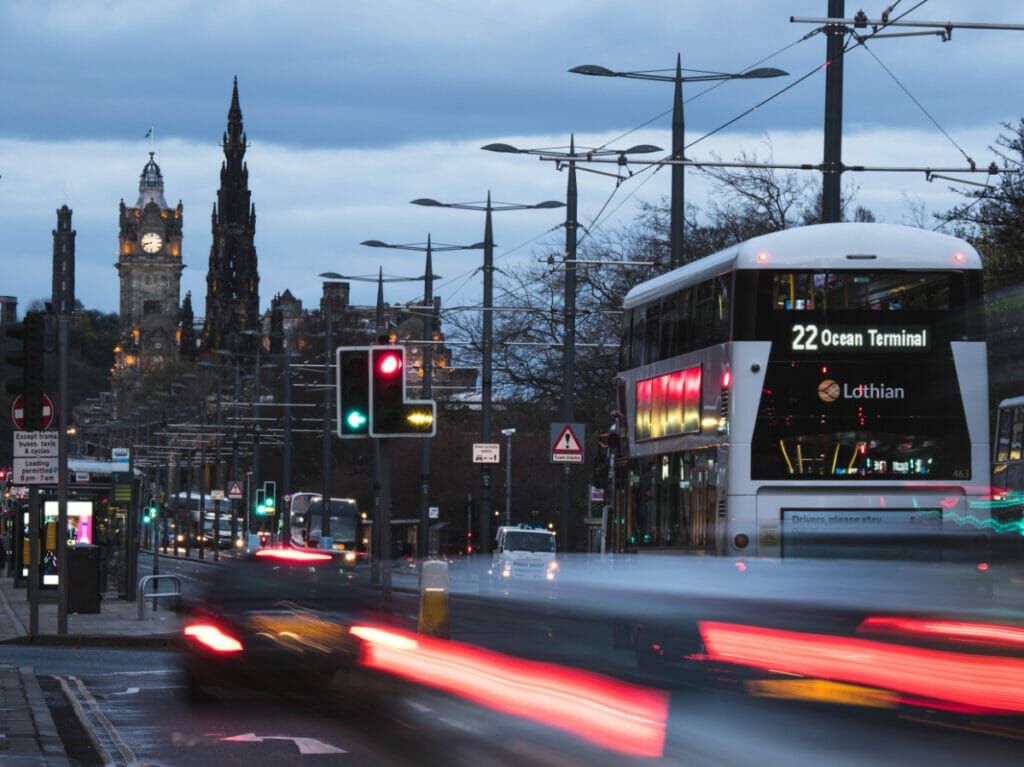 WHAT'S INCLUDED IN THIS TOUR
24-hour unlimited hop-on hop-off bus pass
Audio commentary in 10 languages
Commentary option for kids
Discounts at local attractions
Looking for a bus tour that allows you to set your own pace?
The City Sightseeing Edinburgh Hop-On Hop-Off Bus Tour is the perfect tour for you.
The joy with this service is that you can hop-on and hop-off as much as you like during a 24-hour time window.
There are 13 stops in total which pass dozens of interesting places. When you choose to hop off and explore is up to you.
"Great way to see the city during a short city break. Very informative and good stops available to get off and explore and then get back on"
Art lovers will adore the Scottish National Gallery of Modern Art and history buffs will marvel at the grand Palace of Holyroodhouse.
The National Museum of Scotland promises something for everyone with exciting events and exhibitions happening throughout the year.
Still not sure?
Don't take our word for it.
The City Sightseeing Edinburgh Hop-On Hop-Off Bus Tour is a 5-star award-winning tour and Gold Green Tourism award winner.
⭐️ RATING: 4.5 out of 5 Stars, 250+ reviews | ⏳ TOUR LENGTH: 1 hour 30 minutes | ✔️ BOOK NOW
WHAT'S INCLUDED IN THIS TOUR
Free headphones to keep
Comprehensive audio description of the sights
Stops including the Royal Botanic Garden
Flexible travel
This tour is the perfect choice if you're looking to cram as much into your Edinburgh visit as possible.
The route is only 1 hour 30 minutes, meaning you can see dozens of famous Scottish landmarks in a short space of time.
Alternatively, you can hop off to take a closer look at your favorite places, knowing you can hop back on at any time.
"I truly enjoyed the route the bus took towards Leith, with great audio commentary. Your ticket is 24/48 hours so the great plus is you can use it multiple times"
One of two services run by the same operator, this route includes the Royal Botanic Garden, the Gallery of Modern Art, and Edinburgh Castle.
Every passenger is gifted a pair of headphones to listen to audio commentary about the locations they can see from the window.
While not passing the Royal Yacht Britannia, you can get off the bus at Ocean Terminal which is just a one-minute walk away.
⭐️ RATING: 4.7 out of 5 Stars, 380+ reviews | ⏳ TOUR LENGTH: 12 hours | ✔️ BOOK NOW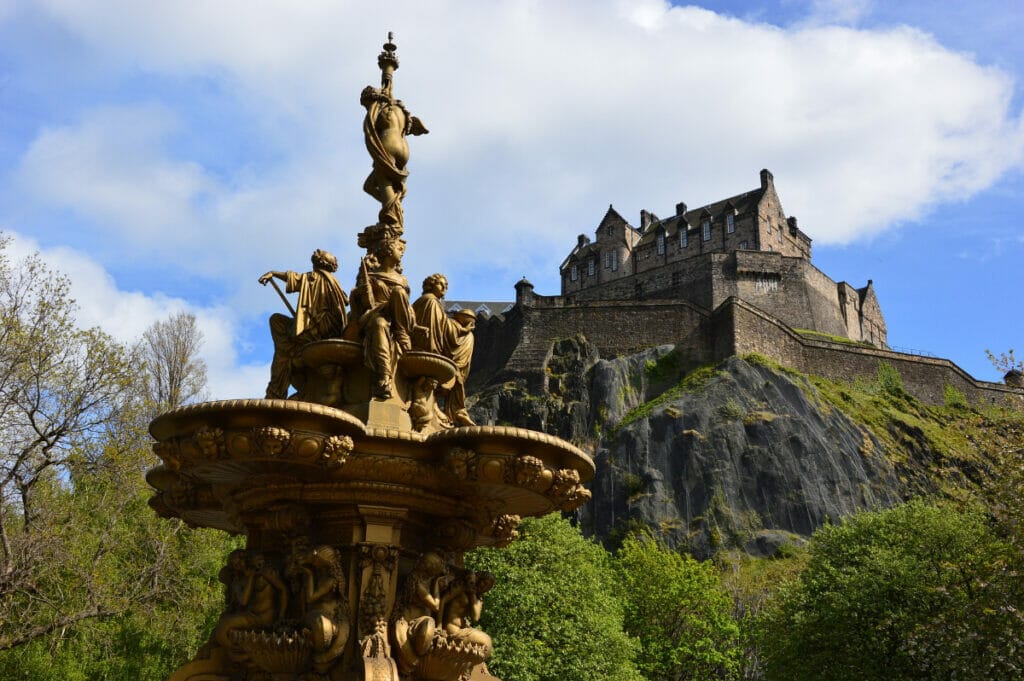 WHAT'S INCLUDED IN THIS TOUR
Spot the iconic Edinburgh Castle
See the bridge used by the Hogwarts Express in the Harry Potter movie franchise
Drive through the Scottish Highland where the 007 movie Skyfall was filmed
See Ben Nevis – Britain's tallest mountain
Hoping to experience Edinburgh as part of a bigger day out?
You're in luck!
The Edinburgh: Glenfinnan, Fort William, and Glencoe Day Tour delivers spectacular views across Scotland.
Movie fans will love what's in store.
You'll journey through the Scottish Highlands and see where they filmed scenes from the James Bond movie Skyfall.
"What can I say apart from it was fantastic, Fraser our guide was informative and knowledgeable he was brilliant, John our drive was very good. The sights we saw and experience were amazing."
You'll also be able to snap pictures of the incredible bridge used by the Hogwarts Express throughout the Harry Potter movie series.
Do you remember the scene where the flying car is driving alongside the Hogwarts Express?
That was filmed here, and it's even more beautiful in real life.
A lunch stop at Ben Nevis allows you to grab a bite to eat and stretch your legs, before hopping back on the bus.
Fans of Edinburgh needn't worry.
4You'll be departing from and arriving back into the city, with plenty of sightseeing opportunities en route including Edinburgh Castle.
⭐️ RATING: 4.8 out of 5 Stars, 190+ reviews | ⏳ TOUR LENGTH: 11 hours | ✔️ BOOK NOW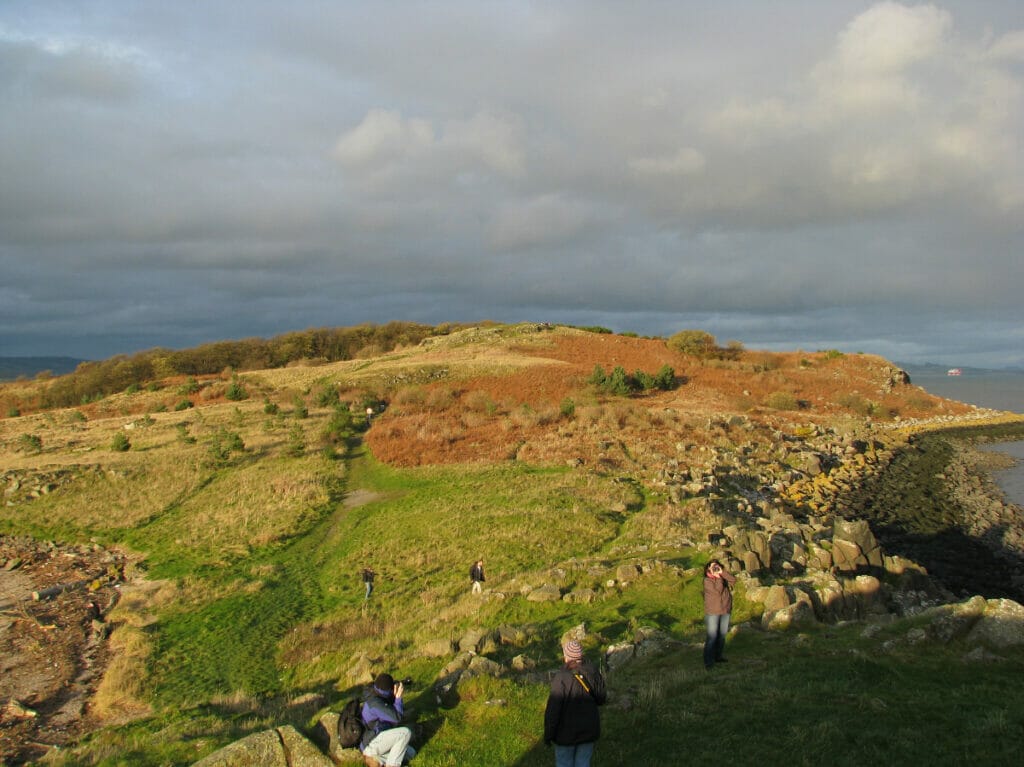 WHAT'S INCLUDED IN THIS TOUR
Entry to the Vindolanda Roman Army Museum
Round-trip transportation from Edinburgh
An informed guide with expansive knowledge about Roman Scotland
Take pictures of Hadrian's Wall
You've heard of the phrase 'when in Rome, do as the Romans do', but have you ever heard of the phrase 'when in Scotland, do as the Romans do'?
We neither, but you'd be amazed to discover just how much Roman history there is in Scotland.
"My husband and I both enjoyed the trip. It is a lot of driving time, but was an opportunity to see the beautiful countryside. Hadrian's wall was very cool to see having heard about it all my life. The time in the ancient Roman fort of Vindolanda was outstanding."
Between the 1st and 4th centuries AD, the Romans were in Scotland. Evidence of that relationship remains in spectacular landmarks such as Birdoswald – one of the best-preserved Roman forts in the world.
If you're a fan of ancient civilizations or know someone who is, we couldn't recommend this tour more highly.
Your bus driver and tour guide are well-read on Roman history and are on hand to answer any questions you may have.
⭐️ RATING: 4.7 out of 5 Stars, 3660+ reviews | ⏳ TOUR LENGTH: 12 hours 30 minutes | ✔️ BOOK NOW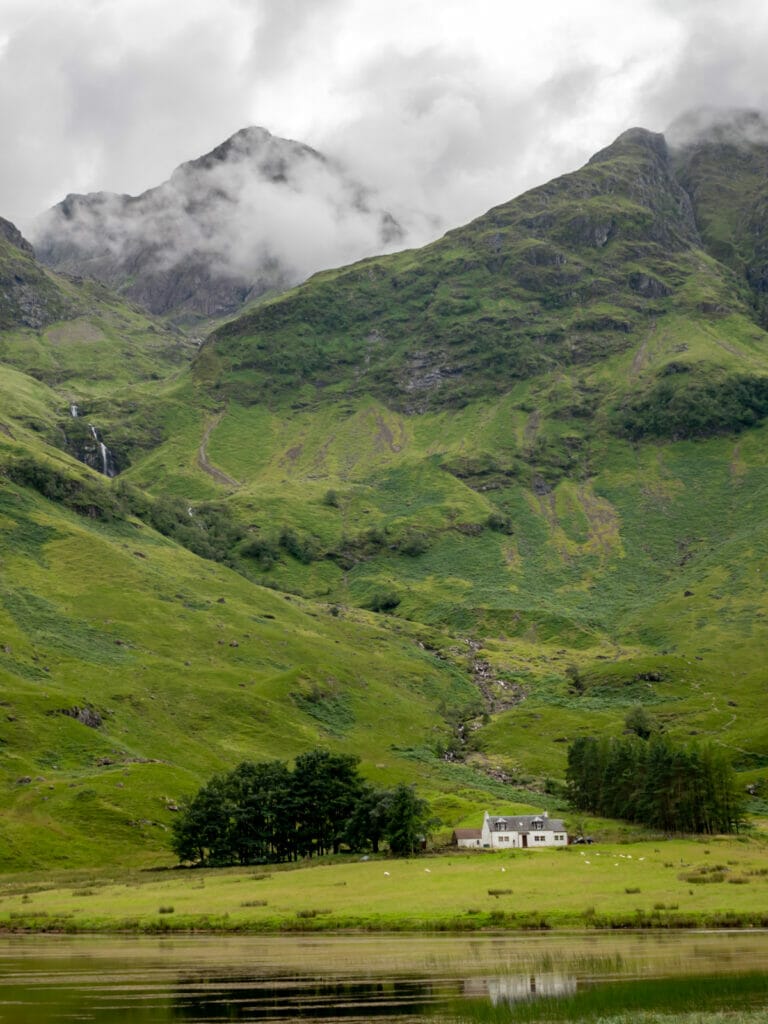 WHAT'S INCLUDED IN THIS TOUR
Option to add a Loch Ness boat cruise
Live onboard commentary from an expert guide
An air-conditioned bus to transport you between locations
Opportunity to take pictures of beautiful Scottish scenery
Hoping to join the famous list of people who have seen the Loch Ness Monster?
Then this tour is for you.
Traveling on an eco-certified bus, expect to learn all about the history of the Loch Ness Monster (or Nessie as the locals affectionately say) that stalks the Scottish waters.
You'll also see some unique-looking hairy cows and take pictures of stunning mountainous regions.
"Nester was a fantastic guide! Highly recommend doing this tour if you want to see the Highlands quickly, with lots of history, culture and songs. Not a moment was boring and Nester has a fantastic energy which made our entire trip to Scotland."
To take your visit to the next level, why not book a Loch Ness boat cruise?
Maybe you'll see Nessie up close, or at the very least enjoy the tranquil stillness of the world's most famous loch.
If mysterious creatures lurking in the water is too far-fetched for you, you'll enjoy the optional extra of Urquhart Castle – a ruined fort along the banks of the loch.
The castle is steeped in history. In fact, it was a significant spot in the Wars of Scottish Independence.
You'll have time to explore the loch and surrounding areas before heading back to Edinburgh and passing many tourist attractions.
⭐️ RATING: 4.6 out of 5 Stars, 100+ reviews | ⏳ TOUR LENGTH: 9 hours | ✔️ BOOK NOW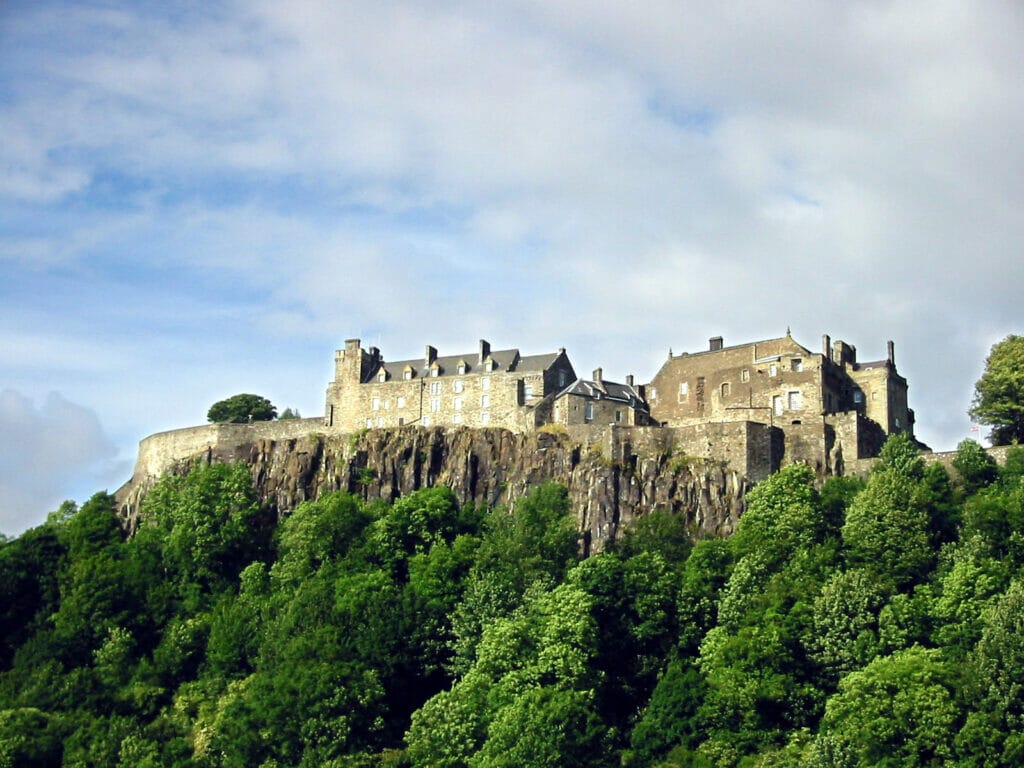 WHAT'S INCLUDED IN THIS TOUR
Learn about Scotland's ancient history
Explore Stirling Castle
Unlock the secrets of the Da Vinci Code.
See where Robert the Bruce battled the English in 1314
History fanatics, rejoice!
The Edinburgh: Rosslyn Chapel, Stirling Castle & Dunfermline Abbey Tour is perfect for you.
It offers a full day to explore Scotland's most famous medieval landmarks.
You'll spend most of the day outside of Edinburgh, but be sure to look out of the bus windows as you leave and arrive back to take in the sights and add some locations to your bucket list.
"It was a wonderful tour. Very nice people, the driver (a good one too) who was also the guide knew his stuff and could tell us a lot. He is very passionate, which made it even more interesting."
In Dunfermline, you'll find the final resting place of Robert the Bruce before moving to Stirlingshire and learning about William Wallace.
If you've read the Da Vinci Code novel, then you know the theory that Rosslyn Chapel is where the Holy Grail is buried.
Whether that's true or not no one knows, but we like to think so.
You'll visit Rosslyn Chapel as part of this tour.
Be sure to take in the sheer history that has existed in this place since it was built in 1446.
Hey! Want to use our trusty guides to the best tours in other places across the UK? Check these out!
UK Travel Planning Guide: the FAQs
🏥 Should I buy UK travel insurance?
Absolutely yes. Basic coverage is not expensive, and as a visitor you are NOT covered under the NHS. Compare policies and prices with Travel Insurance Master here, a big name in the travel insurance business, and cross that off your list.
🔌 Do I need travel adapters for the UK?
Yes, you do, otherwise you won't be able to plug in your electronics/phone/lifelines. I recommend this one, which is all-in-one so you can use it in other countries.
🚗 What do I need to drive in the UK?
The first thing you need to check out if you're planning on renting a car in the UK is this guide to driving in the UK for visitors – the roads, signs, and driving experience will likely not be what you're used to and it's essential to prepare yourself to stay safe and aware.
🛌 What's the best way to book hotels in the UK?
For UK hotels, Booking is the best site as it offers free cancellation on many properties. If you want an apartment, I always recommend VRBO over AirBnb.
📳 Will my phone work in the UK?
Yes – if you set it up right. Check out my guide on making your foreign phone work in the UK to ensure that you get the type of service you need.
🚿 Can I drink the water in the UK?
Yes, UK water is great and perfectly safe. But drink out of taps in any kitchen or use water fountains. Double check before drinking out of the taps in hotel bathrooms, though, as they may be on a different system.