This post contains affiliate links for which I may make a small commission to help keep the site running. You will not be charged extra for these items had you not clicked the links. Thank you for your help to keep the site running!
Ready to tour beautiful Bath on a walking tour in Bath, England?
You've come to the right place, as we're going to explore the best 11 walking tours in Bath – all led by expert guides who want to share their love of the city and help you skip the tourist traps.
If you're like, just cut to the chase already, then don't worry.
The best Bath walking tour is this Bad of Bath fun Walking Tour of Bath.
It has almost 180 amazing reviews, so there's no going wrong.
The City of Bath is one of the UK's many stunning UNESCO World Heritage Centres, filled with elegant Georgian buildings, Roman ruins and landmarks dating back to the Medieval era. It shouldn't be missed on any England itinerary!
If you want to see what your other options are, here are 10 more Bath walking tours that are definitely worth your time.
So let's get into the list of the best walking tours in Bath so you can book it already!
PS – booking in advance is highly, highly recommended so you don't miss out.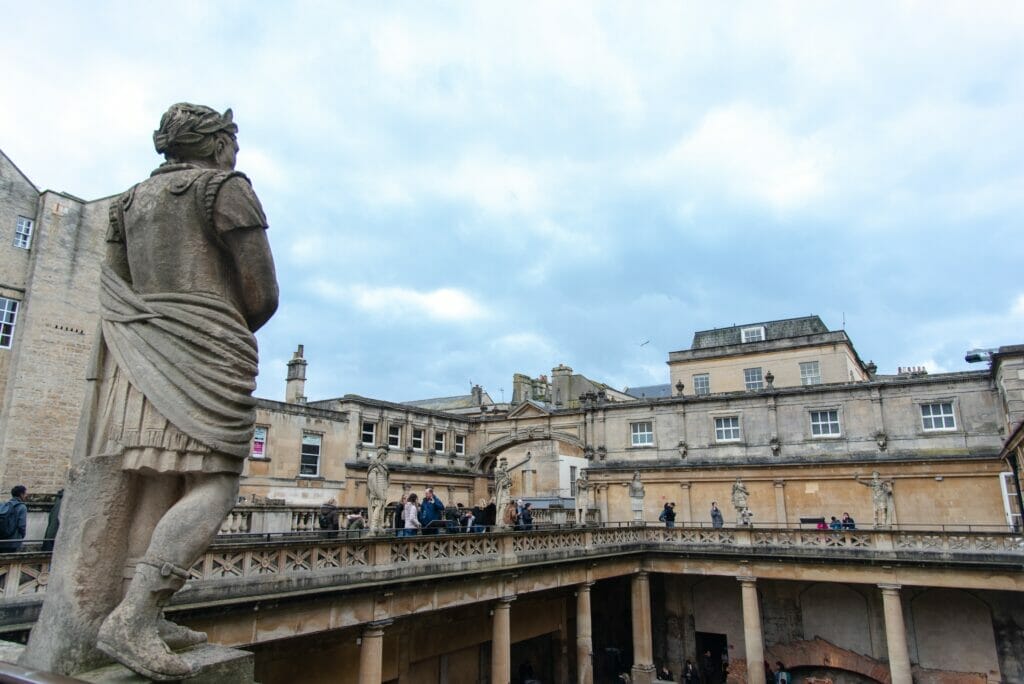 Easy Guide: Best Bath Walking Tours
⭐️ RATING: 5 out of 5 Stars, 170+ reviews | ⏳ TOUR LENGTH: 1.5 hours | ✔️ BOOK NOW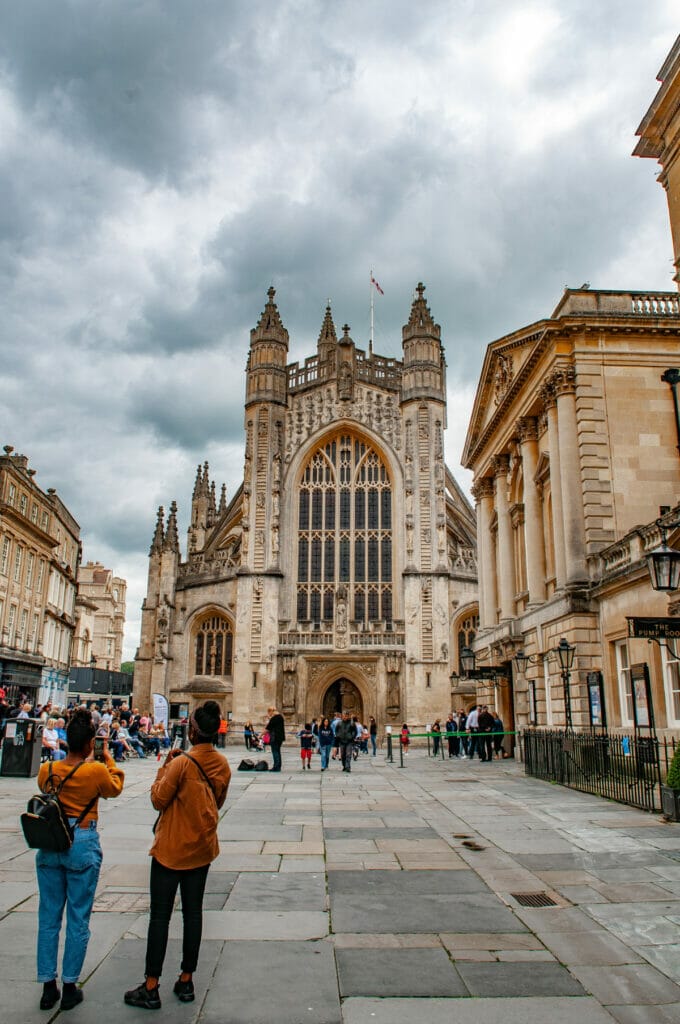 WHAT'S INCLUDED IN THIS TOUR
See Bath's key landmarks.
Uncover the darker side of Bath.
Professional guide.
Tour combines standard history with lesser known more gruesome history.
The Bad of Bath walking tour is a superb choice, allowing you to see the city through a lens different to that which the majority of city walking tours usually offer.
Of course, on this 90 minute tour, you will still visit several of Bath's most prominent landmarks like the Royal Crescent, Pulteney Bridge, The Circus etc…
"Simon did an amazing job of bringing the history of Bath to life in a fun and interesting way. We got a great tour."
However, along the way your professional guide will fill you in on not just the typical history you might expect on an ordinary walking tour, but also Bath's darker side.
Expect to hear tales of corruption, and murder, while learning where thieves and sinful priests made their dens all over Bath's most picturesque spots.
Despite the gruesome nature of some of the stories, your guide will keep everything light and humorous, making for a fun packed 90 minutes where you can see some of Bath's top sights while getting to know its seedy underbelly.
⭐️ RATING: 5 out of 5 Stars, 1200+ reviews | ⏳ TOUR LENGTH: 1.5 hours | ✔️ BOOK NOW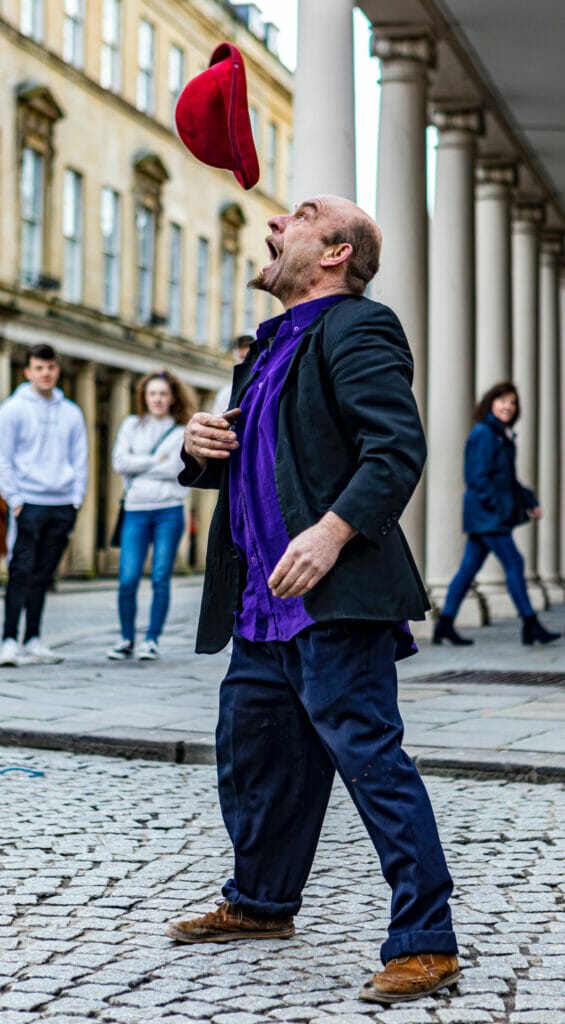 WHAT'S INCLUDED IN THIS TOUR
Professional Blue Badge guide.
Choose between morning and afternoon departure times.
See Bath's key landmarks.
2022 winner of a Viatour Experience Award.
Pick between either morning or afternoon departure times on this award-winning 90 minute tour of the city.
Perfect for any of you looking to get an overview of the city's main landmarks.
Starting from the Gothic Bath Abbey, your professional Blue Badge guide will lead you around all of Bath's most significant landmarks.
"Our guide was wonderful. She was full of historical information, interesting stories and connected with all ages. Thank you!."
Along the way, they will regale you with riveting facts and trivia, keeping the group enthralled the entire journey and providing insights into Bath's rich history.
Aside from Bath Abbey, among other sites, you'll be led to locations such as the architecturally stunning Royal Crescent, Pulteney Bridge (maybe you'll recognise it from Les Mis!), Sally Lunn's Museum, and the city's namesake: the Roman Baths.
This is the best tour for any first-time visitors to Bath who want to see all the city's main sights in quick succession, before returning to explore them on their own later.
⭐️ RATING: 4.5 out of 5 Stars, 240+ reviews | ⏳ TOUR LENGTH: 1 hour 20 minutes | ✔️ BOOK NOW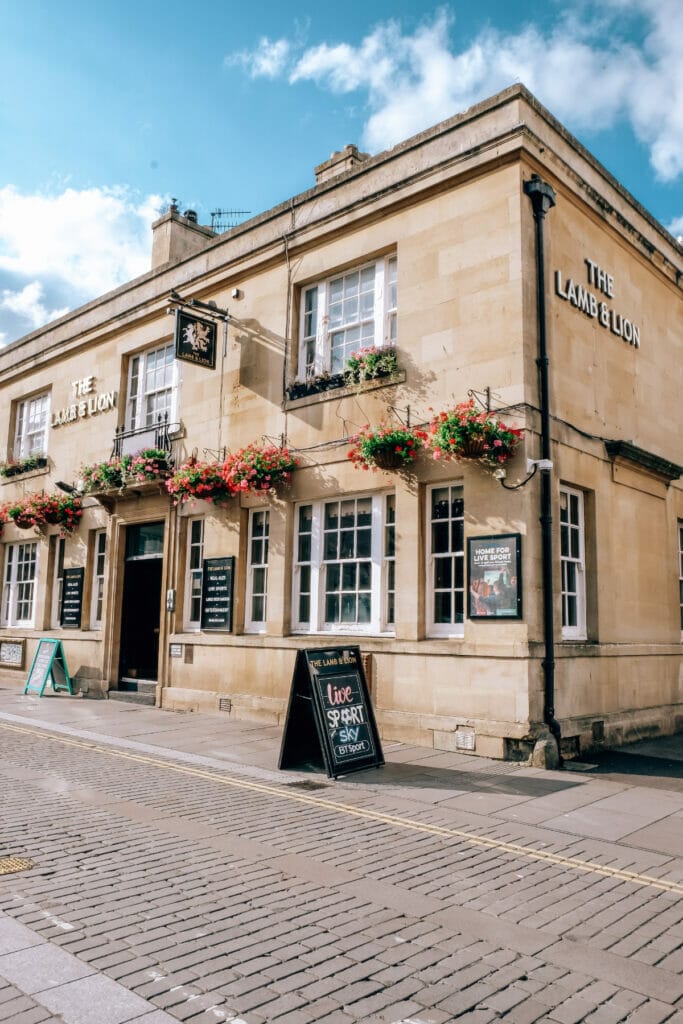 WHAT'S INCLUDED IN THIS TOUR
Includes river cruise.
Small group.
Kids quiz to help keep the kids entertained.
See Bath's landmarks by land and by water!
Those of you looking for a short, action-packed tour should check out this walking tour which allows you to see Bath from two entirely different vantage points.
Your walking tour of Bath will commence with a 30 minute cruise up the charming River Avon.
During which, you can admire Bath's riverfront and take in some of the sights from afar that you'll later see up close on land.
Once your cruise is finished you'll hop ashore with your small group and follow your guide through Bath's twisting streets to see many of Bath's must-see sights.
Highlights will include the ancient city walls, the Roman Baths, and Queen's Square.
"Great overview of Bath from short boat cruise and walking tour. Nice to see the city from the water. Tour guides were informative and friendly and offered tips of places to go for food and further sight-seeing. Highly recommend."
On both land and water your guide will provide a captivating commentary.
Additionally, there'll be a quiz designed for the younger participants that should keep them on tenterhooks for the tour's duration.
Don't skip this tour if you're looking to combine a walking tour with a river trip while keeping the whole family entertained.
⭐️ RATING: 5 out of 5 Stars, 130+ reviews | ⏳ TOUR LENGTH: 1.5 hours | ✔️ BOOK NOW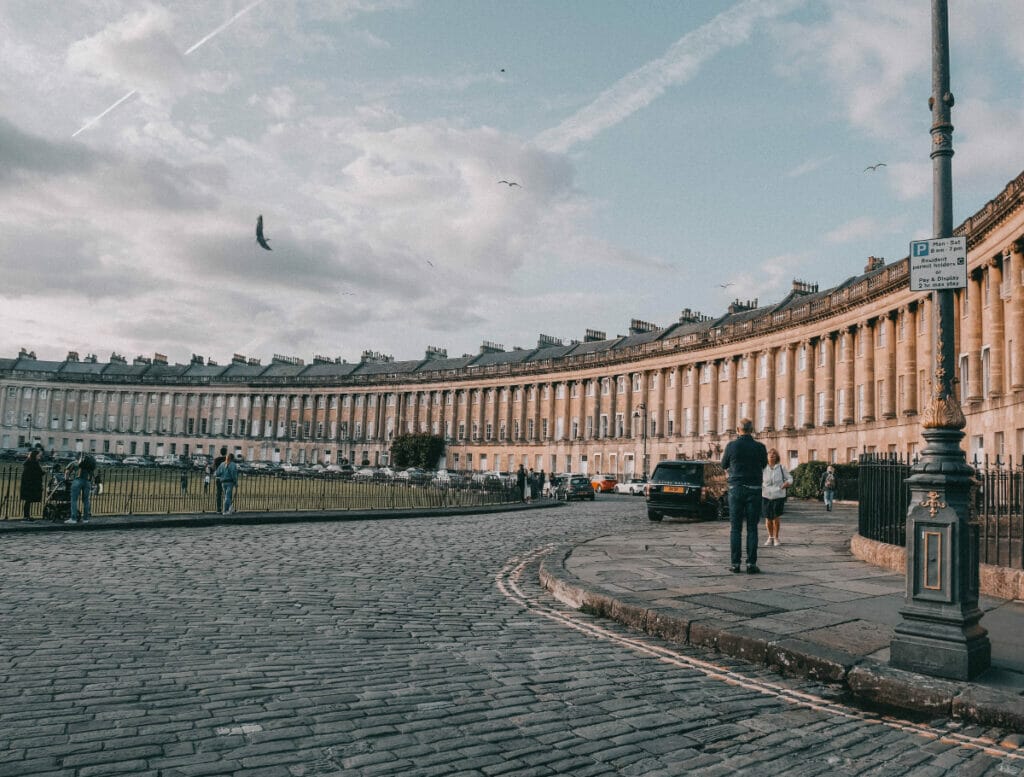 WHAT'S INCLUDED IN THIS TOUR
Jokes. Lots and lots of jokes.
Elements of audience interaction.
Humour for all ages.
Combines humour, street theatre and stunts.
With a stated focus on the "hysterical" rather than the "historical", this tour should be perfect for all of you looking to tickle your funny bone while exploring Bath.
Running for over 20 years this tour is a mainstay of the Bath walking tour scene and is well worth checking out.
Regardless of your age or whether you have kids with you, there'll be something that elicits a giggle from you.
The tour doesn't just lead you around the city centre while dropping cheap one-liners, you'll be subjected to an array of gags, stunts, and elements of street theatre – all with a heavy dose of audience interaction.
"I've done this comedy walk 4 times now with various friends and I still laugh!! That probably tells you all you need to know."
I would highly recommend this tour if you're wanting an experience that focuses more on showmanship and entertainment value.
All while offering a fresh experience from your standard walking tour.
Of course, if you're looking to learn about Bath and dread the idea of audience participation I would not recommend this tour.
⭐️ RATING: 5 out of 5 Stars, 100+ reviews | ⏳ TOUR LENGTH: 3 hours | ✔️ BOOK NOW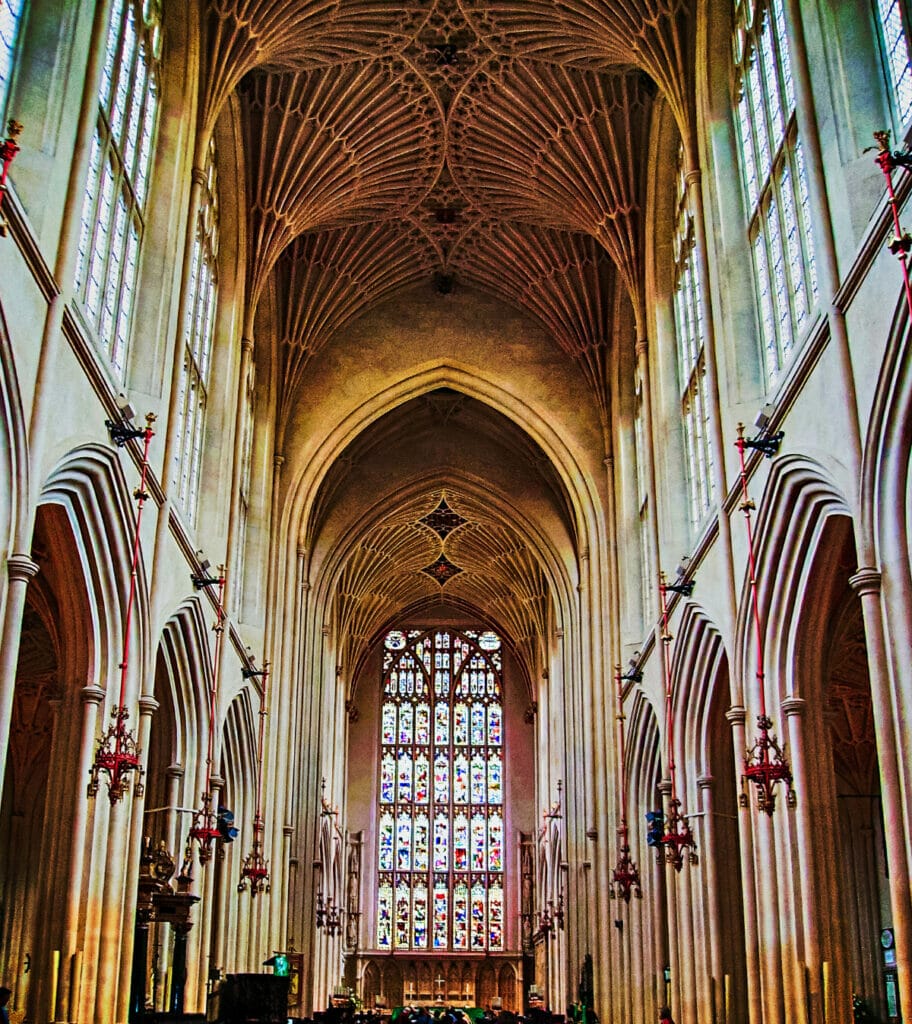 WHAT'S INCLUDED IN THIS TOUR
Private tour.
Morning and afternoon start times are available.
Hotel pick-up
Look down upon the city from a sensational viewpoint.
On this tour, you'll have the privilege of exploring Bath with a guide all to yourself.
Ideal for any of you looking for a more personalized experience.
Your tour will start with a hotel pick-up, from which you'll be driven to an astounding viewpoint that overlooks Bath.
After the viewpoint, the walking element of the walking tour commences.
Your guide – a Bath local – will take you on a wander through central Bath showing you the city's more established landmarks.
Along the way, you'll also be led to areas off the beaten track and perhaps unlikely to be seen on a standard group tour.
"Fantastic tour with a local Bathonian, filled with interesting facts, stories and plenty of humour along the way. Highly recommended!."
Your guide will provide valuable context that deepens your understanding of the various landmarks throughout.
Of course, thanks to it being a private tour, feel free to ask any questions anytime.
Pick this tour if you're wanting to explore Bath's main landmarks while getting a little off the beaten track.
All accompanied by the undivided attention of a guide.
⭐️ RATING: 5 out of 5 Stars, 6+ reviews | ⏳ TOUR LENGTH: 2 hours 40 minutes | ✔️ BOOK NOW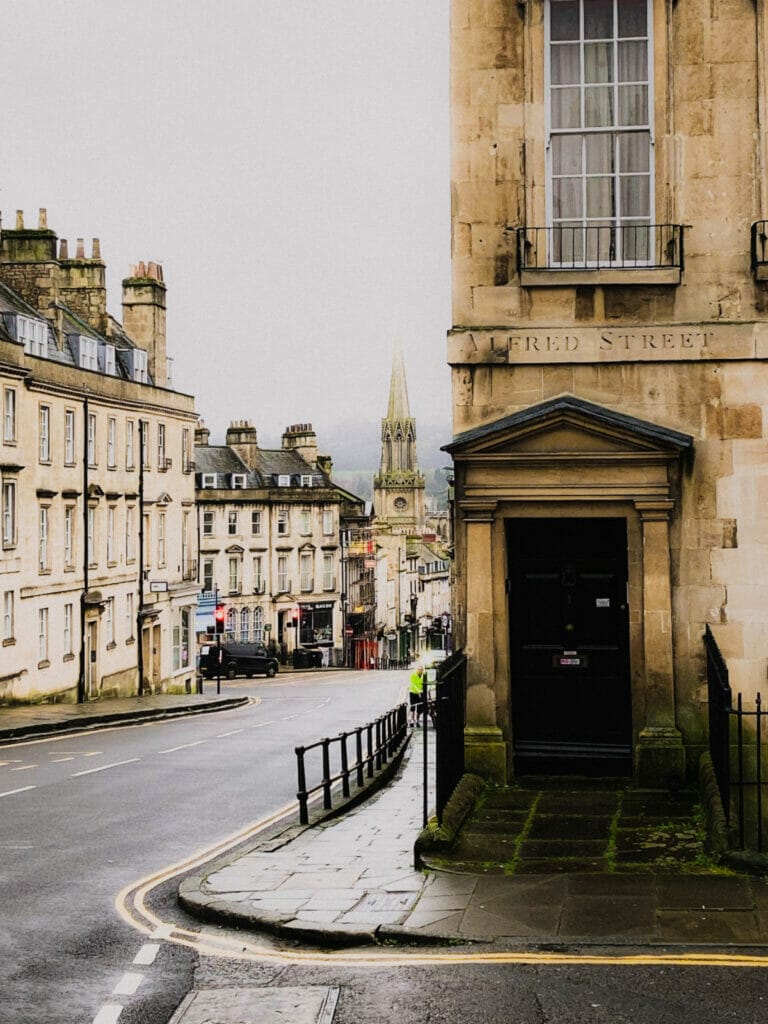 WHAT'S INCLUDED IN THIS TOUR
Professional Blue Badge guide.
Entry to Roman Baths.
Audio guide for the Roman Baths.
Skip the queues when visiting the Roman Baths.
If the Roman Baths are the city's main draw for you, then I would suggest you consider this tour.
Your tour begins at Queen's Square, an exceptional square filled with Georgian houses.
Take in these architectural delights before continuing on through central Bath with your guide.
You'll see all of Bath's more significant landmarks like Pulteney Bridge, Bath Abbey, the Royal Crescent, etc…
All accompanied by your guide's invaluable commentary.
This is all just building up to the main event: the Roman Baths.
Unlike the other tours on this list, rather than just passing by, you actually enter and explore the Baths on this tour.
"Great history telling by the guide. Very thorough and informative. Had an excellent experience. Will definitely recommend it"
Your tour ticket includes skip-the-line entry.
So waltz right by the queues and explore the Baths at your own leisure with the included audio guide.
Check this tour out if you want to see Bath's main landmarks before getting properly stuck into what is probably Bath's best-known site, without giving a second thought to tickets or queues.
⭐️ RATING: 5 out of 5 Stars, 70+ reviews | ⏳ TOUR LENGTH: 2-3 hours | ✔️ BOOK NOW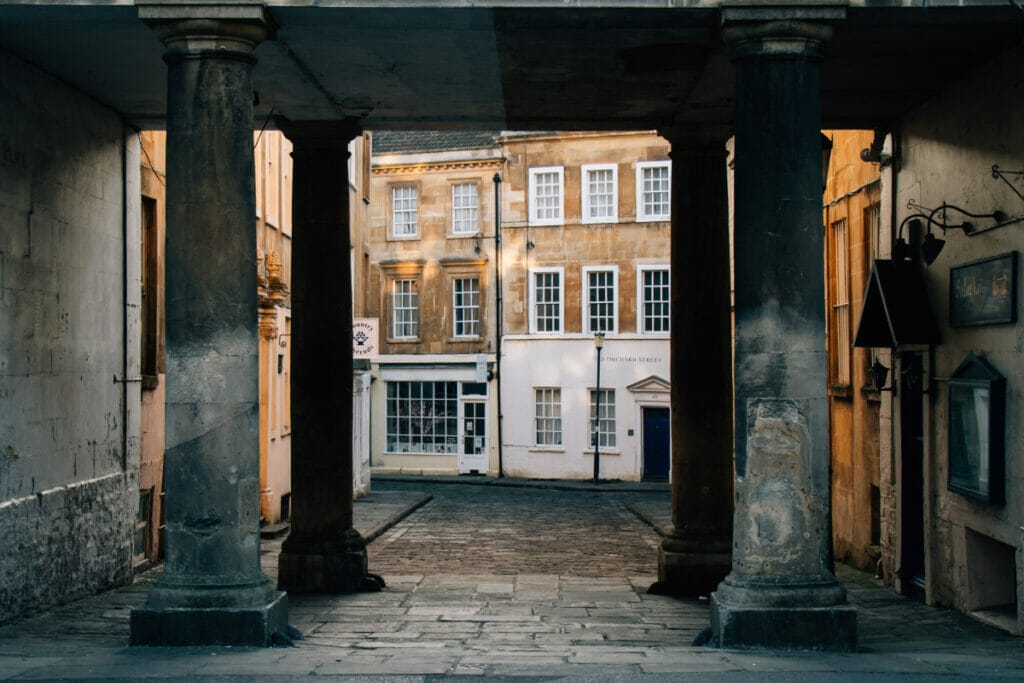 WHAT'S INCLUDED IN THIS TOUR
Local guide who has lived in Bath for over 40 years.
See Bath's main Georgian landmarks.
Learn about the lives of ordinary people over 200 years ago.
Small group.
This is one of those walking tours where one of the main highlights is the guide themselves.
Your guide Bob, a local who has lived in Bath for over 40 years, is incredibly personable, and well-informed when it comes to all things Bath and Bath history.
With a maximum of just 12 people per tour, you'll actually notice Bob's high degree of personability!
Amble through Bath together, uncovering the city's Georgian secrets, while your guide does his utmost to provide an idea of what life in Bath was like over 200 years ago.
"Brilliant tour of Georgian Bath with Bob who is a walking encyclopedia of knowledge about history & life in Bath. Highly recommended.."
Regarding the sights themselves, it'll be as many sites of significance that can be fit into the ample 2-3 hour tour time.
Expect sights to include the Abbey Churchyard, Hot Springs, Pulteney Bridge, the Guildhall and of course plenty of Georgian-era buildings.
Take this tour if you want to focus in on Bath's Georgian history while indulging in the luxury of a smaller group that allows for a more personalized experience.
⭐️ RATING: 4.5 out of 5 Stars, 60+ reviews | ⏳ TOUR LENGTH: 1 hour 45 minutes | ✔️ BOOK NOW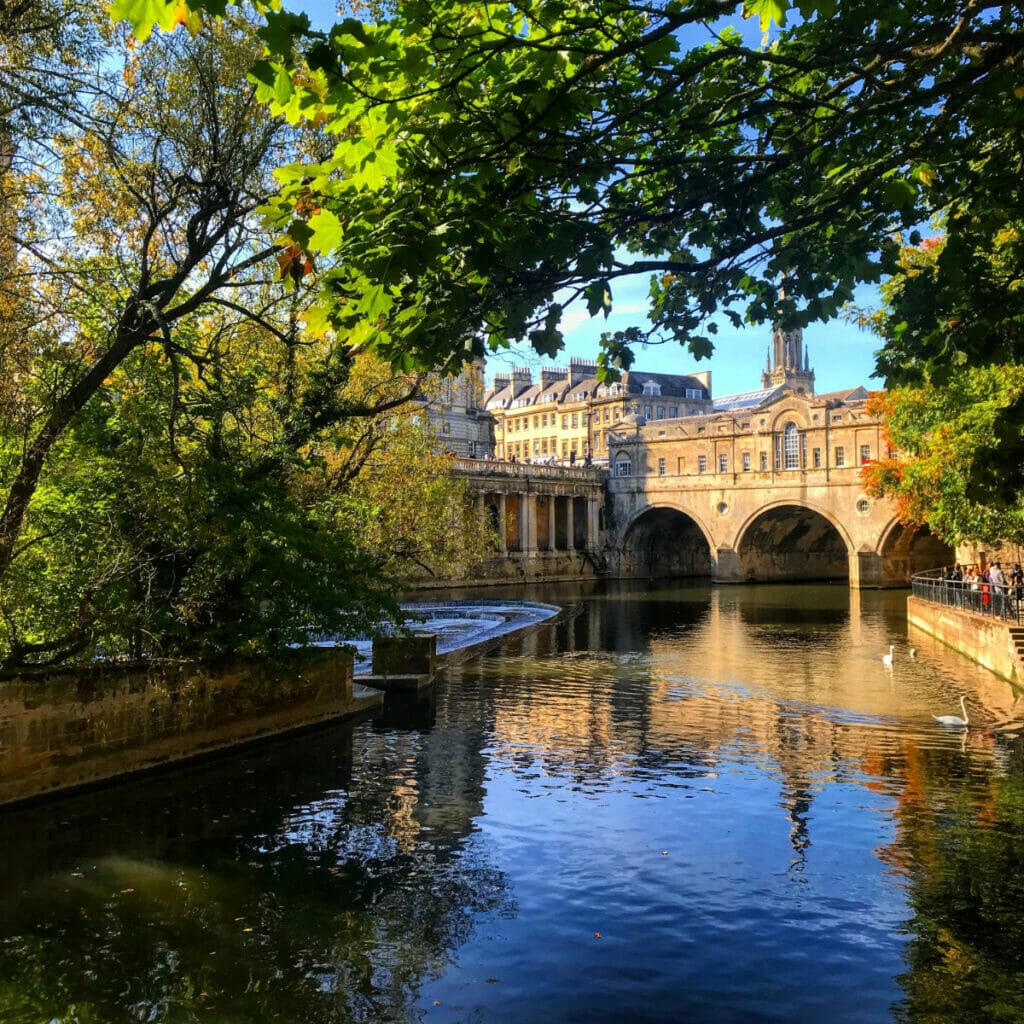 WHAT'S INCLUDED IN THIS TOUR
See a spookier side of Bath.
Interactive elements.
Get to know Bath after dark.
Paranormal experiments!
Prepare for some hair-raising tales on this ghost tour of Bath!
Adventure through Bath after dark as part of a group and learn about some of the hauntings the city has experienced.
Pass several of the city's main landmarks, like Bath Abbey, Queen Street, the Roman Baths, and see how they appear at night.
Listen closely as your guide tells you all the sinister happenings that have taken place close to these sites.
"We attended 18th Feb and we had a thoroughly enjoyable time. There was 32 of us so a large group. And she engaged us all. There were some Interesting stories and information about Bath."
You'll get more than just ghost stories on this walk though. Expect interactive elements to heighten the fun!
As well as, paranormal experiments to try and catch out the ghosts holed up in Bath's historic buildings.
Check this tour out if you're after some light-hearted interactive fun while also wanting a walking tour that allows you to see the city after dark.
⭐️ RATING: 4.5 out of 5 Stars, 7+ reviews | ⏳ TOUR LENGTH: 1.5-2 hours | ✔️ BOOK NOW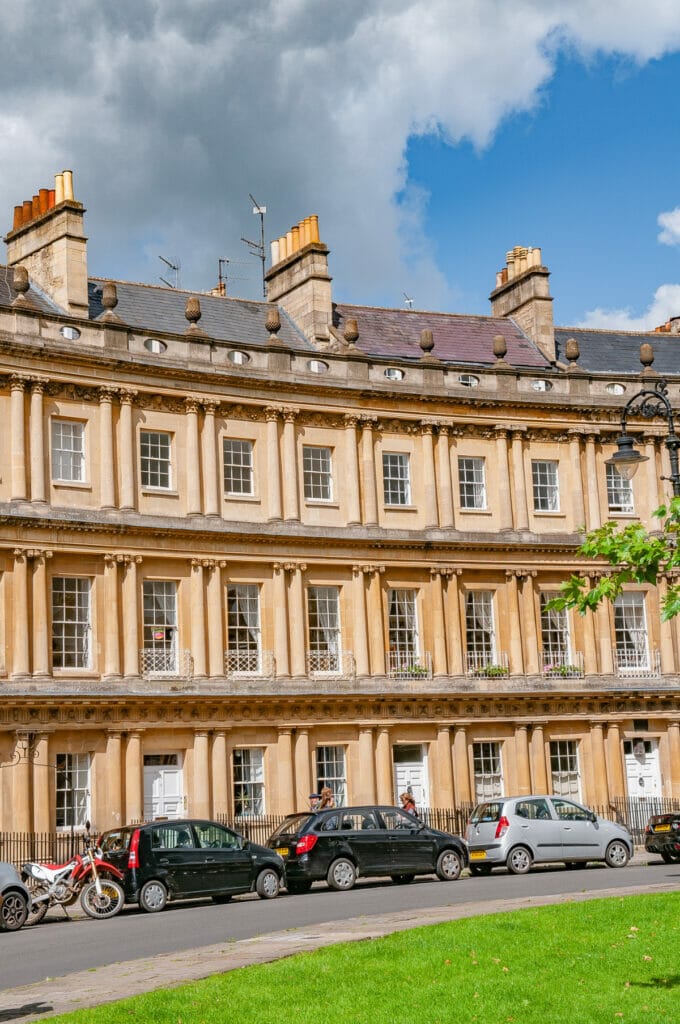 WHAT'S INCLUDED IN THIS TOUR
Private tour.
Flexibility regarding tour meeting and endpoints.
See Bath's key landmarks.
Local guide.
If you're after a private walking tour with a personal touch then this one is an absolute belter.
After meeting your local guide at either your central hotel or one close by to your accommodation, you will be led on an adventure through medieval Bath.
Meander through the city's old Medieval alleys with sights including the city walls, Pulteney Bridge, and the Guildhall market.
"Funny, very informative, engaging and interesting. Paul went above and beyond. Would strongly recommend to anyone coming to Bath!"
Once you've seen the Medieval side of Bath your tour will continue through the elegant Georgian part of town where you will see the rest of Bath's big hitters, like the Royal Crescent, the Circus, the Assembly Rooms, and Queen's Square.
Your tour will end at Bath Abbey.
Here you will say goodbye to your guide, who will have throughout the day provided an engrossing commentary encompassing all of Bath's most interesting bits.
You should try this tour if you're wanting an experience with a highly knowledgeable guide who can trace an enthralling route through both Bath and its history.
⭐️ RATING: 5 out of 5 Stars, 20+ reviews | ⏳ TOUR LENGTH: 1 hour 50 minutes | ✔️ BOOK NOW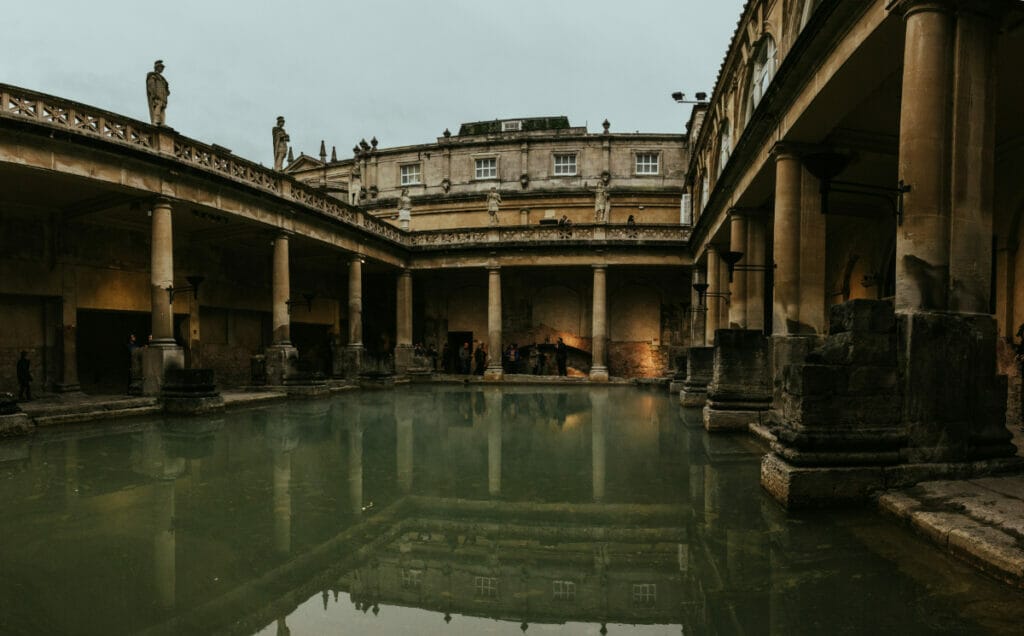 WHAT'S INCLUDED IN THIS TOUR
Small group.
Recommendations on Bath's top eateries.
Learn about Bath's Roman and Georgian history.
Stop by local food spots for snacks along the way.
Calling all foodies. This is the small group walking tour for you.
Embark on an adventure that your stomach will thank you for later with this walking tour of Bath.
Picking this tour enables you to follow a local guide (who is also a foodie) on a journey through the city that intertwines landmarks with gastronomic delights.
"We did the Tour & Taste with Andrea and I can honestly say we all had an absolute blast. Two and a half hours of Bath culture interspersed with Anthea's wicked sense of humour; our visitors were blown away by her knowledge and personality and she really helped us all to learn more about this beautiful city, even those of us who live locally."
In amongst visiting and learning about sites related to Bath's Roman, Medieval, and Georgian roots, you will also stop by a number of off the beaten track independent eateries and cafes.
In which, you can pick up snacks to fuel you up for the next stage of the tour.
You'll finish this walking tour having learned a whole lot about Bath's history while also having a pretty good idea of where you plan on eating for the rest of your stay in Bath.
⭐️ RATING: 5 out of 5 Stars, 80+ reviews | ⏳ TOUR LENGTH: 2 hours | ✔️ BOOK NOW
WHAT'S INCLUDED IN THIS TOUR
See a variety of Bridgerton filming locations.
Professional Blue Badge guide.
Learn what life was like for the aristocracy in the period Bridgerton is set in.
Behind-the-scenes trivia.
Our final tour on this list is a non-negotiable option for any fans of Bridgerton planning a Bath trip.
Let your Blue Badge guide lead you to locations spread throughout Bath where over 70 Bridgerton scenes have been filmed.
While guiding you through Bath your guide will test your knowledge of Bridgerton to see who is the top dog in Bridgerton trivia while dropping all kinds of facts and trivia themselves.
"I wholeheartedly loved this tour. I had a great time & my cheeks hurt a little from smiling all day."
So as to give you a deeper understanding of the show, your guide will also provide captivating insights into what life was really like for the aristocracy during the show's setting.
If you've ever wondered whether the Featherington or Danbury homes are as grandiose in real life, or tried to picture what the street Gunter's Tea Shop is on looked like, then this is the tour for you.
Hey! Want to use our trusty guides to the best tours in other places across the UK? Check these out!
UK Travel Planning Guide: the FAQs
🏥 Should I buy UK travel insurance?
Absolutely yes. Basic coverage is not expensive, and as a visitor you are NOT covered under the NHS. Compare policies and prices with Travel Insurance Master here, a big name in the travel insurance business, and cross that off your list.
🔌 Do I need travel adapters for the UK?
Yes, you do, otherwise you won't be able to plug in your electronics/phone/lifelines. I recommend this one, which is all-in-one so you can use it in other countries.
🚗 What do I need to drive in the UK?
The first thing you need to check out if you're planning on renting a car in the UK is this guide to driving in the UK for visitors – the roads, signs, and driving experience will likely not be what you're used to and it's essential to prepare yourself to stay safe and aware.
🛌 What's the best way to book hotels in the UK?
For UK hotels, Booking is the best site as it offers free cancellation on many properties. If you want an apartment, I always recommend VRBO over AirBnb.
📳 Will my phone work in the UK?
Yes – if you set it up right. Check out my guide on making your foreign phone work in the UK to ensure that you get the type of service you need.
🚿 Can I drink the water in the UK?
Yes, UK water is great and perfectly safe. But drink out of taps in any kitchen or use water fountains. Double check before drinking out of the taps in hotel bathrooms, though, as they may be on a different system.