This post contains affiliate links for which I may make a small commission to help keep the site running. You will not be charged extra for these items had you not clicked the links. Thank you for your help to keep the site running!
People from all over the world know London, but how many have heard of the beautiful city of Oxford in the south of England?
If you're staying in London and want to tour the gorgeous city of Oxford, you've come to the right place.
We're going to explore the nine best day tours that depart from London – led by guides who are experts in their field.
These tour guides will take you to beauty spots, interesting sights, and cultural landmarks.
Our favorite tour is the Downton Abbey and Oxford Tour from London including Highclere Castle because of the range of activities available.
With over 400 reviews averaging 4.5 out of 5 stars – you're guaranteed a high-quality tour.
Discover more about the tour, and eight other fantastic day trips to Oxford from London, by reading on.
Let's dive in and remember to book in advance to avoid missing out.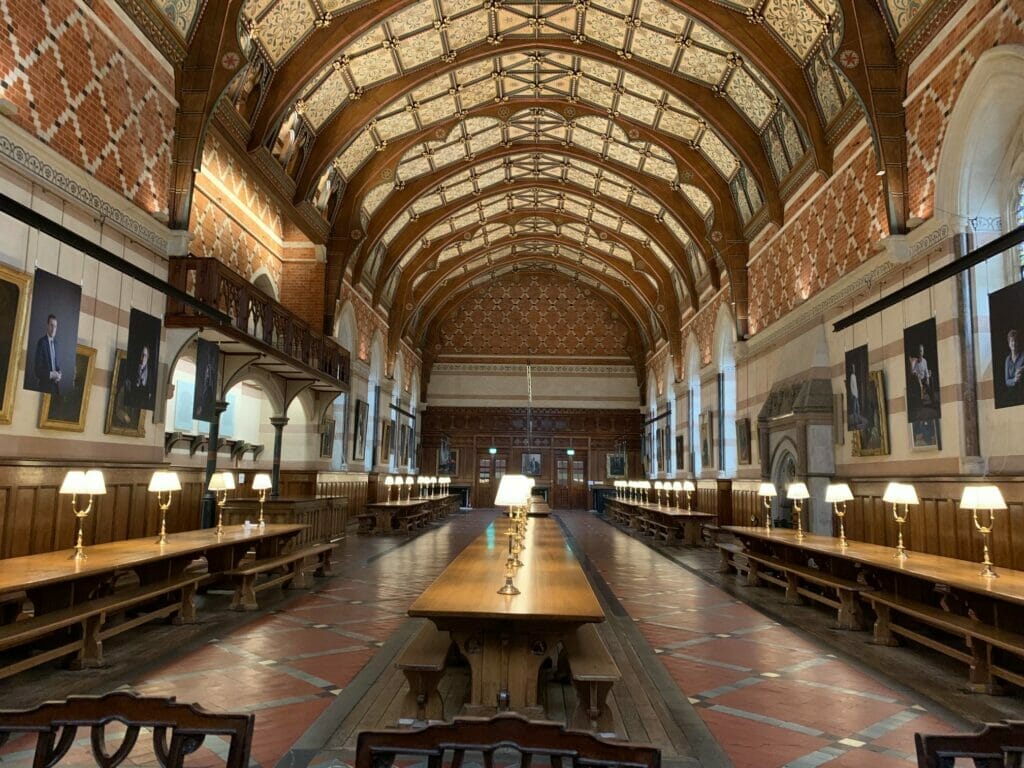 Easy Guide: Best Oxford Day Trips from London
⭐️ RATING: 4.5 out of 5 Stars, 470+ reviews | ⏳ TOUR LENGTH: 10 hours | ✔️ BOOK NOW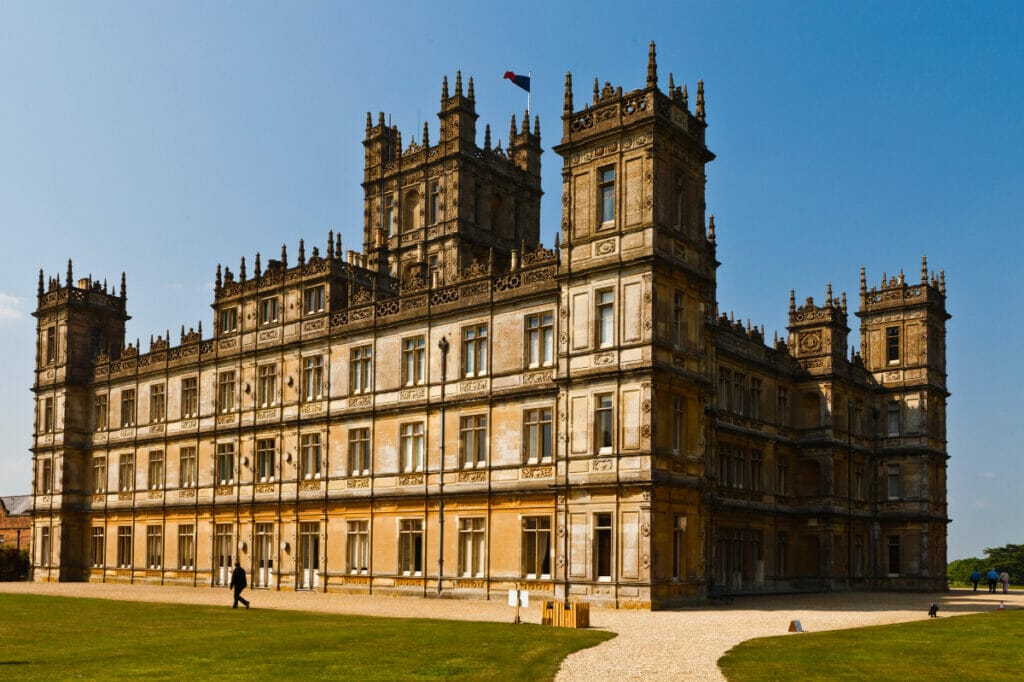 WHAT'S INCLUDED IN THIS TOUR
A free copy of Lady Carnarvon's autobiography
Walking tour of Oxford
A professional guide
Air-conditioned bus travel
This tour is perfect for fans of the hit TV series Downton Abbey and is one of the best Oxford tours from London.
It's a full-day tour of the main sets in the show, including Highclere Castle and Matthew Crawley's mother's house.
Explore the grounds and walk through rooms that have starred in many of your favorite scenes.
You'll feel like English royalty in no time!
"Wow!!! This trip was incredible. The driver (Omar) was amazing and the guide (Frank) was informative, funny, personable and all-around pleasant!!! We loved every minute of it."
Even if you've not seen the series, this is a perfect chance to see some quintessential English stately homes.
Everyone on the tour gets a free copy of Lady Carnarvon's autobiography.
If you don't know who she is, you will by the end of the tour.
She's the real-life owner of Highclere Castle.
Outside of the Downton Abbey experience, you'll tour the magical city of Oxford – taking in the remarkable architecture of the university buildings.
⭐️ RATING: 4 out of 5 Stars, 1,600+ reviews | ⏳ TOUR LENGTH: 10 hours 30 minutes | ✔️ BOOK NOW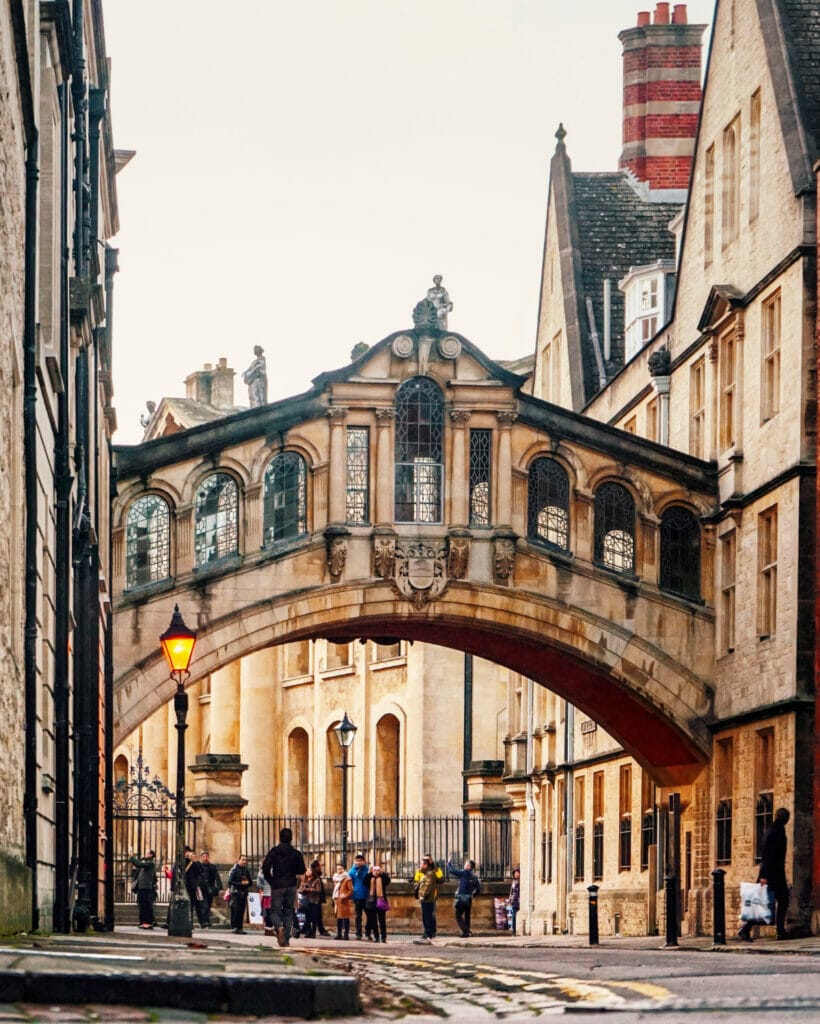 WHAT'S INCLUDED IN THIS TOUR
Expert guide
Optional entry to Warwick Castle
Photo opportunities in the beautiful town of Stratford-upon-Avon
Optional entry to Shakespeare's birthplace
Looking to visit three beautiful English locations in a single day?
This tour allows you to do exactly that – a one day tour of Oxford from London plus other sites!
While there's plenty to do in London, it can sometimes be wise to get out of the hustle-and-bustle of the capital for a day and go somewhere quieter.
Breaking up your London trip is easy with this three-part trip that includes Oxford, Stratford-upon-Avon, and Warwick Castle.
In Oxford, you'll walk the university campus and see where the likes of Albert Einstein and Bill Clinton studied.
During another part of the day, you'll tour the grounds of Warwick Castle with your expert guide.
Arriving in Stratford-upon-Avon, you'll notice that things start to get very Shakespearean.
"The tour guide was very helpful and made a special effort to show us some important sites in Stratford over and beyond the call of duty. Much appreciated."
That's because this is where the Bard was born and raised.
You can see how the beautiful buildings, calming river, and rural countryside created such an immensely imaginative individual who would go on to write the best plays of all time.
At 10 hours and 30 minutes in total, don't forget to pack some lunch with you.
⭐️ RATING: 4.5 out of 5 Stars, 1,700+ reviews | ⏳ TOUR LENGTH: 11 hours 30 minutes | ✔️ BOOK NOW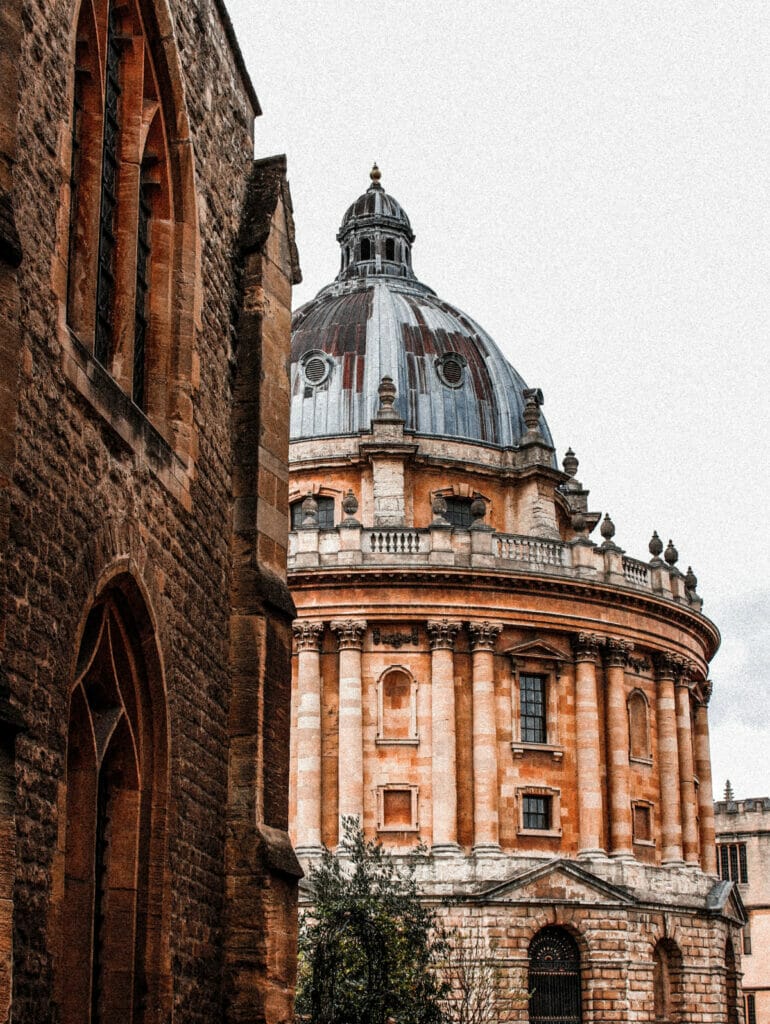 WHAT'S INCLUDED IN THIS TOUR
Walking tour of Oxford
Tick Stonehenge off your bucket list
High-quality coach with Wi-Fi and USB charging
Optional interior visits to Windsor Castle and Stonehenge
England is unique for its rich history and architectural wonders.
The Windsor Castle, Stonehenge, and Oxford Day Trip from London is a fantastic pick if you want to tick Stonehenge off your bucket list, but also want to sample the culinary delights of Oxford.
In Oxford, you'll explore winding roads full of pubs, restaurants, and university buildings and admire the historic architecture from different time periods.
At Windsor Castle, you'll learn about royalty and English traditions.
Arriving at Stonehenge, you'll step back in time 4,000 years to experience life as our ancient ancestors did.
"Consistently these tours have been lead by knowledge and committed guides as wellness as skilled drivers(specifically Evan Evans tours). Stonehenge e as a personal favorite as it allowed you to get out of the city and witness firsthand the beautiful English countryside."
The day is designed to be relaxing, which involves not having to think too much.
Fortunately, there's an expert guide traveling with you who is available to answer questions and provide information about the incredible British landmarks you'll see.
If you're traveling with those who prefer shopping to historic sites, this tour has you covered.
Oxford is a buzzing town with lots of opportunities to shop.
⭐️ RATING: 5 out of 5 Stars, 140+ reviews | ⏳ TOUR LENGTH: 11 hours | ✔️ BOOK NOW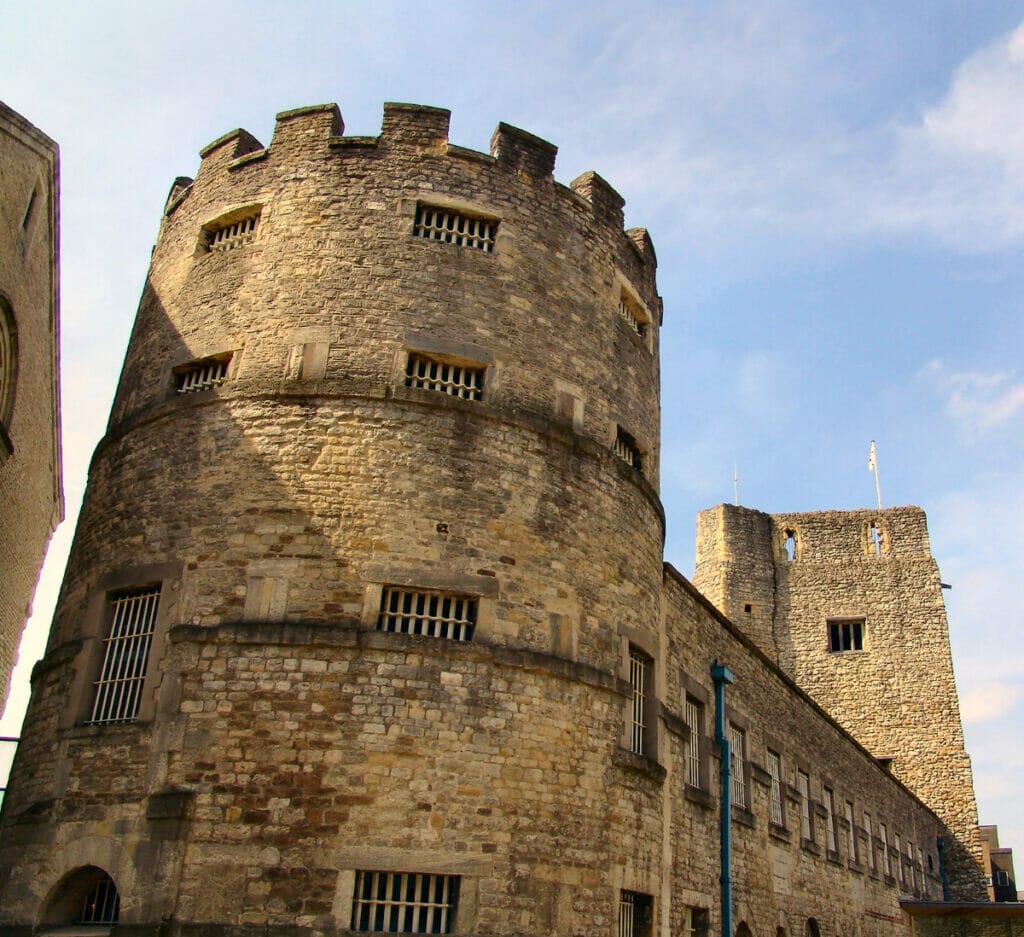 WHAT'S INCLUDED IN THIS TOUR
Round-trip transportation from London
Walking tours in Stratford and Oxford
Free bottled water
Optional entry to the house where Shakespeare was born
The Small Group Cotswolds Villages, Stratford and Oxford Day Tour from London is one of the best options for small groups looking for a quiet excursion to beautiful English towns and cities and an Oxford day tour from London
If you're into the Cotswolds for the peace and quiet, but also want the roaring bustle of Oxford city, this tour is for you.
"Excellent tour. Andy was fabulous and was very informative. We really enjoyed this tour and we highly recommend this tour."
You'll spend almost equal parts of the day in Stratford-upon-Avon and Oxford – which is great because both deserve ample time for exploring and taking pictures for your Instagram page.
You'll be provided with free bottled water onboard the luxury Mercedes minibus, and there'll be plenty of opportunities for a glass of wine in Oxford's fascinating streets.
This trip is perfect for small groups of friends or small families who want to get the most out of their visit to England.
✔️ BOOK NOW
WHAT'S INCLUDED IN THIS TOUR
Access to a self-guided audio tour
Audio tour presented by local historians
Ability to listen to audio offline
Opportunity to take photos for Instagram
This tour has a twist.
Unlike the others on our list, this one doesn't have a tour guide.
Instead, you purchase an audio tour and explore Bath and Oxford at your own pace.
The advantage of this kind of experience is that there's no pressure to stick to a particular timeframe.
You can stay at landmarks you love for as long as you like without being rushed to the next sight.
Walk through the charming cities of Oxford and Bath with information from your audio guide.
The guides on the audio are local historians and so you can trust that you're hearing accurate facts.
On the tour, you'll visit Bath Abbey, Exeter and Jesus Colleges, the Bodleian Library, and filming locations from the Netflix series Bridgerton.
You'll also visit the Roman baths that gave the city of Bath its name.
⭐️ RATING: 4.5 out of 5 Stars, 400+ reviews | ⏳ TOUR LENGTH: 10 hours | ✔️ BOOK NOW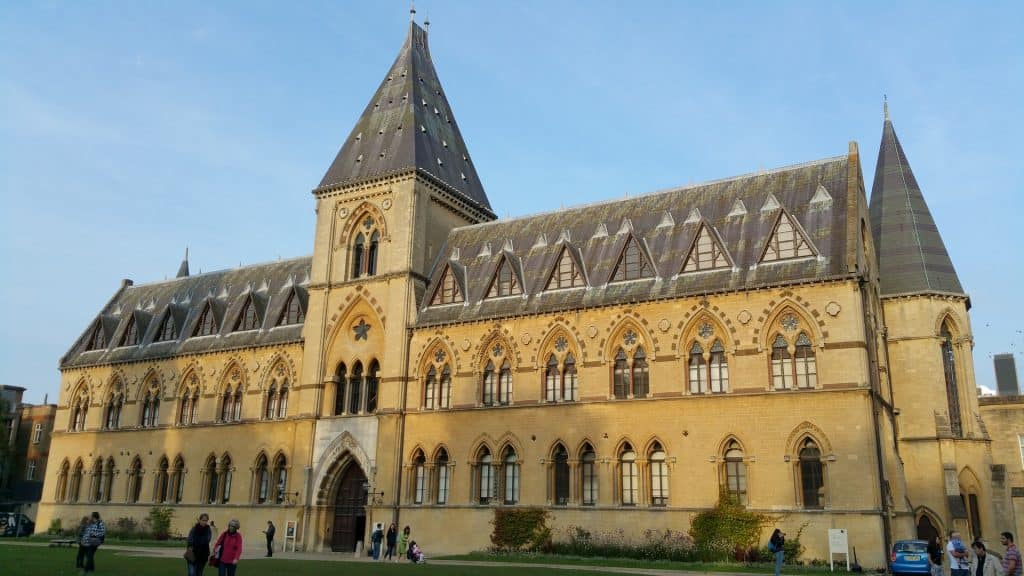 WHAT'S INCLUDED IN THIS TOUR
Small group tour with no more than 16 people
Transport in a Mercedes mini-coach
Sights including the Bridge of Sighs and Christchurch Cathedral
Luggage allowance
A large coach full of people isn't everyone's idea of a good time.
Fortunately, the Oxford and Traditional Cotswolds Villages Small-Group Day Tour from London offers an option for smaller traveling parties.
With no more than 15 additional people joining you on the trip, you'll have lots of opportunities to get to know your fellow travelers and make friends.
You'll marvel at the Bridge of Sighs (not the Italian one), watching the river punters mimic their Venician counterparts.
"Perfect daytrip to Cotswolds and Oxford! Our driver Graham was really professional and funny also. The trip was worth every penny. Can highly recommend!"
The best part of this trip is that there is a generous luggage allowance, meaning you can treat yourself to some souvenirs from the many quaint shops that line the streets of Oxford.
Still not sure?
Don't just take our word for it.
408 reviews averaging 4.5 out of 5 stars prove this is a journey that lives up to the hype.
⏳ TOUR LENGTH: 2 days | ✔️ BOOK NOW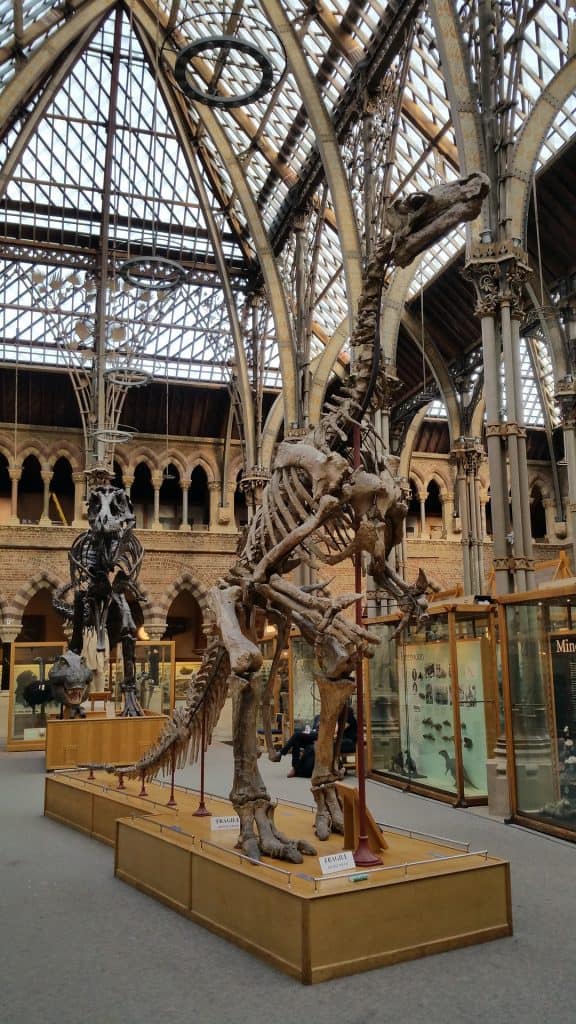 WHAT'S INCLUDED IN THIS TOUR
Return train tickets from London to Oxford
Overnight stay in an Oxford hotel
Breakfast at the hotel
Hop-on hop-off sightseeing bus in the city
Oxford has such a wealth of interesting cultural experiences, restaurants, and shops that a day probably isn't enough.
Enter – the Oxford by Rail Overnight Tour from London with Hop-On Hop-Off Bus.
The only tour promising two days of adventure, you'll get to dance the night away in the city's clubs and bars without having to rush to the train station.
With this experience, you'll get a return train ticket from London to Oxford, as well as hotel accommodation in the center of the city.
Breakfast is included and you'll also have access to the hop-on hop-off sightseeing bus – perfect for getting around the city and finding the best local attractions.
Everything's covered with this booking – train journeys, hotel accommodation, breakfast, and bus travel around the city.
This'll save you lots of time organizing each individual element.
⭐️ RATING: 4 out of 5 Stars, 100+ reviews | ⏳ TOUR LENGTH: 10 hours | ✔️ BOOK NOW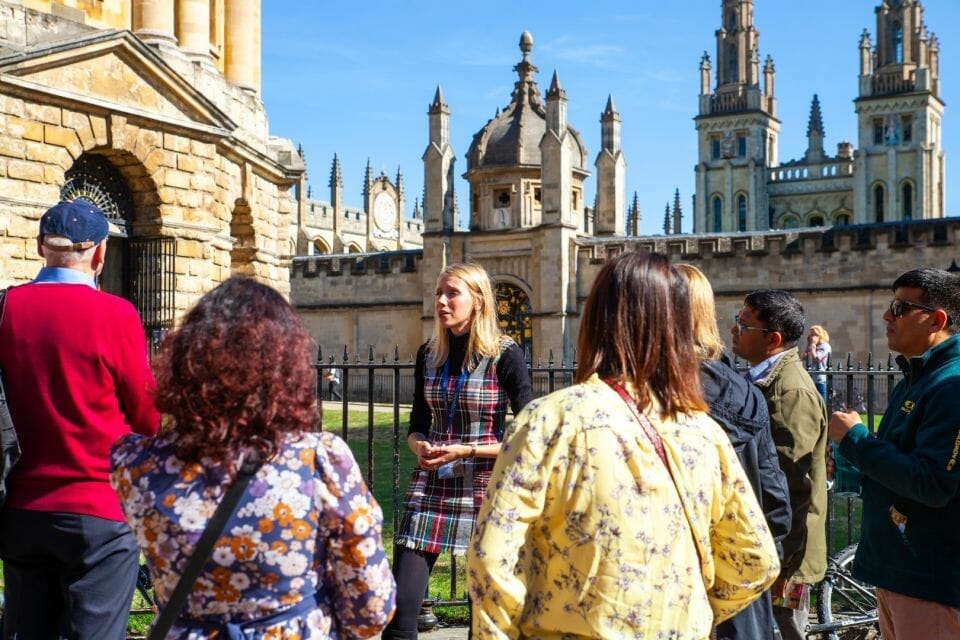 WHAT'S INCLUDED IN THIS TOUR
Walking tour of Oxford
Walking tour of Cambridge
Personal audio headset with interesting facts and information
Coach travel with Wi-Fi and USB charging
What do Isaac Newton, Stephen Hawking, Charles Darwin, A.A. Milne, and Thandiwe Newton all have in common?
They all studied at the University of Cambridge.
"The tour was fantastic and worth every penny. The tour guide Manon was funny, knowledgeable, friendly and helpful. She provided a interesting insights to the sites. She went out of the way to ensure that the tourists got the best experience."
Okay, that was a tricky one.
How about Rishi Sunak, Robert Peel, Harold Wilson, Margaret Thatcher, and Tony Blair?
Well done if you said they're all British Prime Ministers, but did you know they were all taught at the University of Oxford?
In fact, an incredible 30 British Prime Ministers were educated there.
On this tour, you'll explore the campuses that have generated more influential politicians, actors, authors, and scientists than anywhere else in the world.
You'll be taken to Oxford and Cambridge in style in a high-end coach with Wi-Fi access and USB charging.
The Wi-Fi will come in handy when you want to show off your snaps of the amazing architecture in both cities.
⏳ TOUR LENGTH: 1 hour 10 minutes | ✔️ BOOK NOW
WHAT'S INCLUDED IN THIS TOUR
Explore the shopping opportunities at Oxford Bicester Village
Chauffeur-driven luxury car
Air-conditioned transport
Trunk space for shopping bags
Most trips from London to Oxford focus on the history and architecture.
But surely there must be a trip for the shoppers among you?
There is – the Private Shopping Transfer from London to Oxford Bicester Village.
You'll be picked up from your location in London in a luxury air-conditioned car with your very own chauffeur.
Driving to Oxford, you'll see the parts of London often missed by tourists.
You can explore the shopping opportunities at Oxford Bicester Village at your own pace.
There are dozens of designer outlets here full of bargains.
To break up the shopping, why not visit one of the restaurants onsite and sample some delicious food?
With plenty of trunk space, you can literally shop until you drop.
Don't forget your passport to claim your tax return and avoid any issues at the airport.
Hey! Want to use our trusty guides to the best tours in other places across the UK? Check these out!
UK Travel Planning Guide: the FAQs
🏥 Should I buy UK travel insurance?
Absolutely yes. Basic coverage is not expensive, and as a visitor you are NOT covered under the NHS. Compare policies and prices with Travel Insurance Master here, a big name in the travel insurance business, and cross that off your list.
🔌 Do I need travel adapters for the UK?
Yes, you do, otherwise you won't be able to plug in your electronics/phone/lifelines. I recommend this one, which is all-in-one so you can use it in other countries.
🚗 What do I need to drive in the UK?
The first thing you need to check out if you're planning on renting a car in the UK is this guide to driving in the UK for visitors – the roads, signs, and driving experience will likely not be what you're used to and it's essential to prepare yourself to stay safe and aware.
🛌 What's the best way to book hotels in the UK?
For UK hotels, Booking is the best site as it offers free cancellation on many properties. If you want an apartment, I always recommend VRBO over AirBnb.
📳 Will my phone work in the UK?
Yes – if you set it up right. Check out my guide on making your foreign phone work in the UK to ensure that you get the type of service you need.
🚿 Can I drink the water in the UK?
Yes, UK water is great and perfectly safe. But drink out of taps in any kitchen or use water fountains. Double check before drinking out of the taps in hotel bathrooms, though, as they may be on a different system.