This post contains affiliate links for which I may make a small commission to help keep the site running. You will not be charged extra for these items had you not clicked the links. Thank you for your help to keep the site running!
Welcome, urban explorers and art enthusiasts!
If you're on the hunt for the best graffiti tours in London, you've come to the right place.
As a Londoner myself, I've scoured the city's ever-evolving graffiti scene to bring you the absolute best London graffiti tours available, including East End graffiti tours and East London graffiti tours.
Trust me when I say, these tours are the epitome of urban art exploration.
London is so much more than its iconic landmarks and historical sites.
It pulsates with an underground energy, where creativity bursts forth from every corner.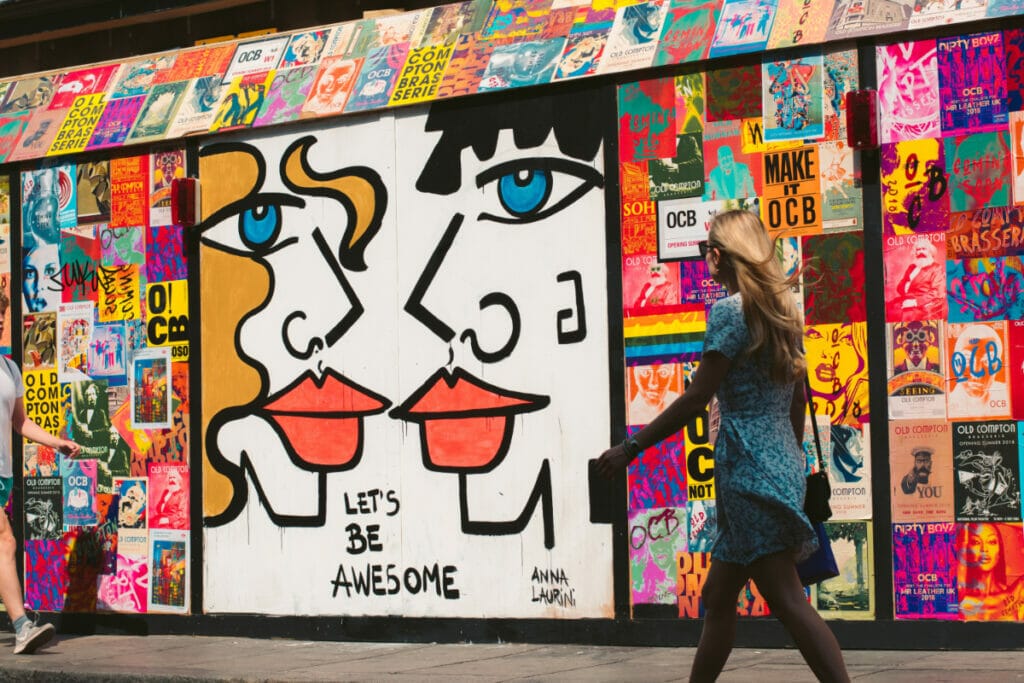 Graffiti has become an integral part of the city's cultural fabric, showcasing the raw talent and unique perspectives of its artists.
Having personally vetted each one of these tours, I can promise you that only the best have made it onto this list.
From the bustling streets of Shoreditch to the hidden gems of Camden, these tours will take you on a captivating journey through the graffiti-laden alleyways and open-air galleries of London.
And if you're looking for similar tours in London, check out my guide to the best tours of London's East End, as well as this guide to the best London street art tours.
Easy Guide: Best Graffiti Tours in London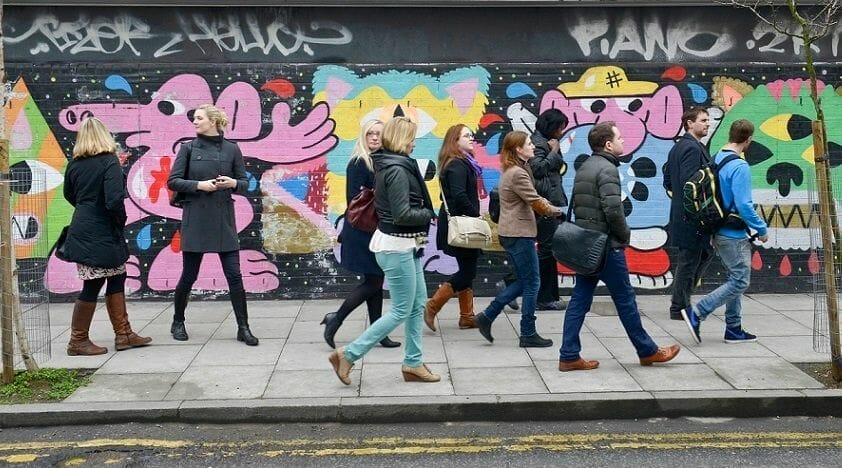 ⭐️ RATING: 5 out of 5 Stars, 64+ reviews | ⏳ TOUR LENGTH: 3 hours | ✔️ BOOK NOW
WHAT'S INCLUDED IN THIS TOUR
Guided walking tour of East End London street art
Expert commentary and local guide
Street art work shop in spray painting techniques
Get ready for an incredibly enriching experience in London as you embark on a captivating street art tour and workshop!
This adventure promises to open your eyes to the vibrant and artistic sides of the city that often go unnoticed by the average tourist.
Your journey begins as you meet your knowledgeable guide near Old Street station.
From there, you'll be led to Hoxton and Shoreditch, two of London's hippest and most creatively-charged areas.
"Fantastic tour and great workshop! Kids also enjoyed it a lot! Excellent explanation of the types of art and very friendly atmosphere created by our guide, Josh!."
The art you'll encounter isn't just your average graffiti; it's an inspiring display of talent crafted by leading international artists, each with their unique flair and style.
This is the chance to witness art that's of-the-minute, showcasing the very latest in the world of street art.
But this tour doesn't end with just sightseeing; it's designed to be interactive and engaging.
Prepare to unleash your creativity as you take part in an exciting hands-on workshop.
Under the guidance of skilled instructors, you'll learn the art of spray painting, giving you a chance to create your own street art masterpiece.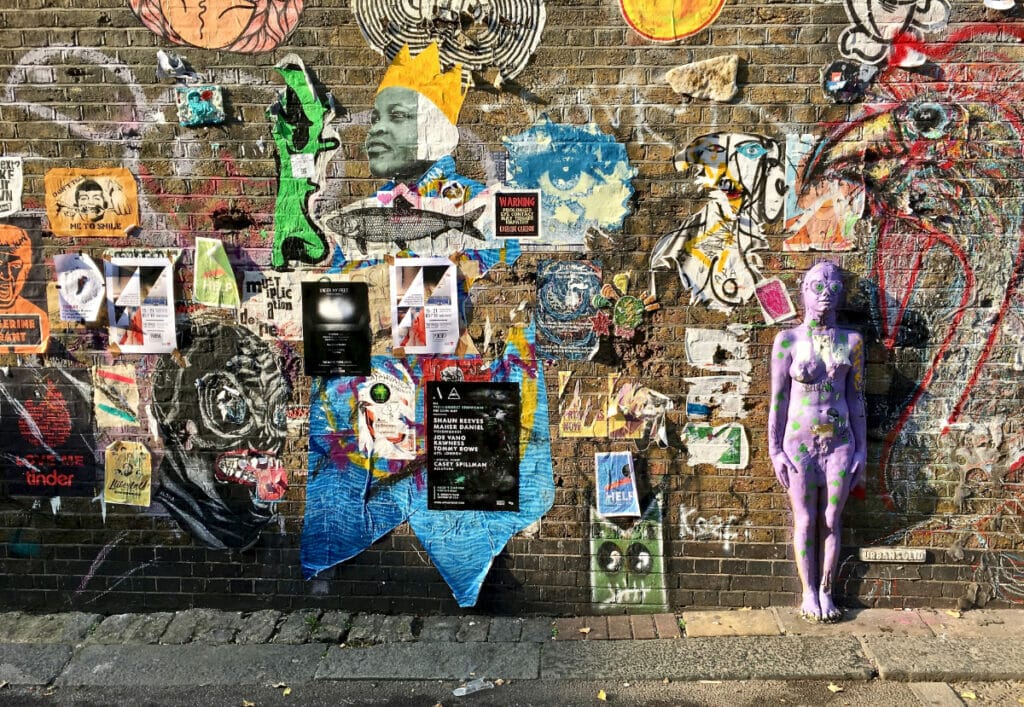 ⭐️ RATING: 5 out of 5 Stars, 240+ reviews | ⏳ TOUR LENGTH: 2 hours 30 minutes | ✔️ BOOK NOW
WHAT'S INCLUDED IN THIS TOUR
Professional guide
Post tour e-mail with more information about what you saw
Join this specialty graffiti tour, starting at the lively Old Spitalfields Market and weaving through the vibrant streets of Brick Lane and Shoreditch.
With an expert guide by your side, you'll be led straight to the most remarkable murals, stencils, and artwork that you might not come across on your own.
"What I found most interesting was the fact that I left feeling enlightened, having been taught and a sense that I was part of the community. The art work in its various forms came to light and revealed their secrets through the guide. I will never take any of the art forms for granted again"
Along this artistic journey, you'll hear fascinating stories about local artists, gaining insight into their creative process and the inspiration behind their captivating pieces.
Your guide will help you interpret the different artworks, giving you a deeper appreciation for the meaning and messages embedded in each stroke.
Oh, and don't forget your camera because there will be plenty of fantastic photo opportunities!
You'll encounter murals that tower three stories high, providing an awe-inspiring backdrop for your memories.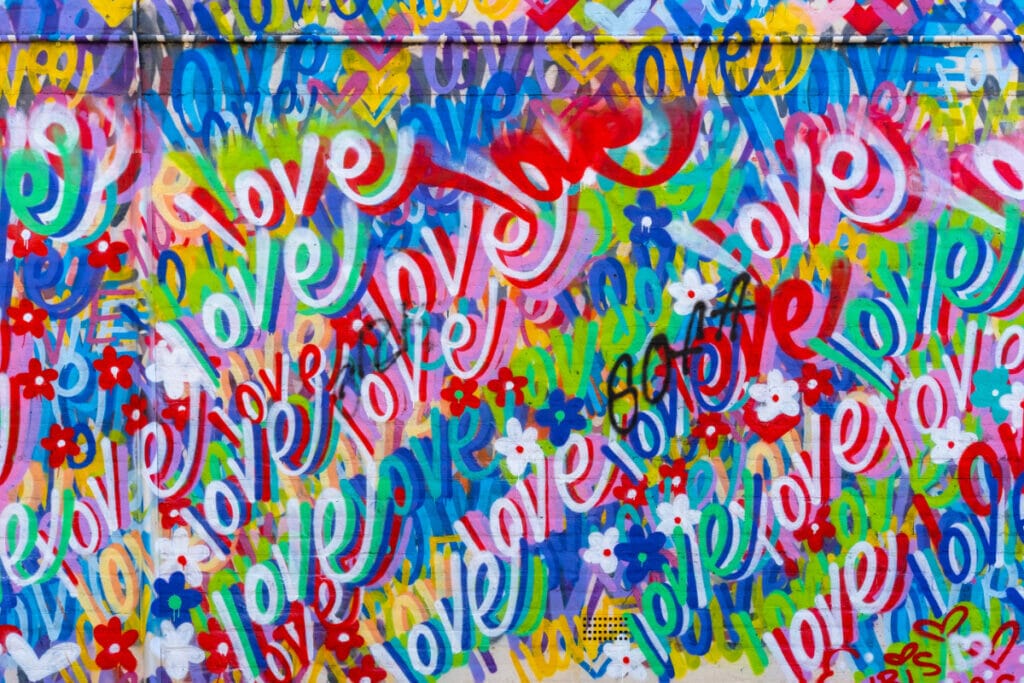 ⏳ TOUR LENGTH: 3 hours | ✔️ BOOK NOW
WHAT'S INCLUDED IN THIS TOUR
Friendly, professional tour guide
Private group settings
Lots of time for photo taking
Background information into the London graffiti scene
Embark on an exclusive private walking tour of Shoreditch, Brick Lane, Spitalfields, and more – the heart of East London's legendary street art and graffiti scene.
Marvel at the incredible masterpieces created by world-renowned artists such as Banksy, Camille Walala, Mr Cenz, and Roa.
As you walk through the vibrant streets, you'll be immersed in the captivating stories behind each artwork, learning about the inspiration that fuels the creativity of these phenomenal and challenging artists.
"This was a 3 hour walking tour of the Shoreditch area. Our guide, Pini, was very knowledgeable and pleasant. We saw amazing street art. He also took us to Spitafields market. We had tastes of chips at Poppies, bagels at the Best Bagels store and chocolate in a fine chocalatier store. It was a great tour."
But this tour isn't just about art; it's a journey into one of London's most culturally diverse neighborhoods.
Feel the pulsating energy of the East End as you delve into its thriving art and music scene.
Savor the multi-ethnic food heritage, exploring enticing food stalls, and lively markets.
Discover hidden vintage fashion gems and treat yourself to gourmet coffee that'll awaken your taste buds.
Accompanied by a friendly and knowledgeable tour guide exclusively for your group, you'll have the freedom to take your time, capturing unforgettable moments with your camera at your favorite spots.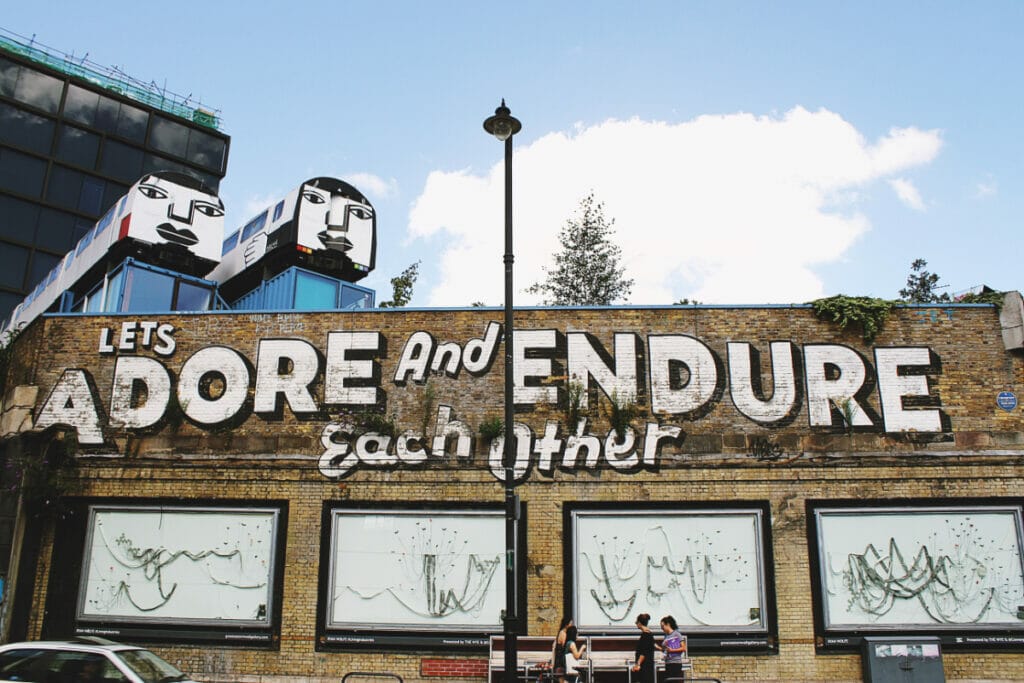 ⭐️ RATING: 5 out of 5 Stars, 500+ reviews | ⏳ TOUR LENGTH: 3 hours 30 minutes | ✔️ BOOK NOW
WHAT'S INCLUDED IN THIS TOUR
Local English speaking guide
British bicycle and helmet
Spray paint session in the graffiti zone
Experience the enchanting sights of central London in a unique and stylish way with this small-group, 3.5-hour bike tour.
Hop aboard a classic English Pashley bicycle and follow your expert guide as we meander through quiet backstreets, past famous landmarks, and alongside the picturesque Thames River.
"We loved this tour. You get to see London from a completely different perspective. Olivia was so knowledgeable about London. I loved the way she sprinkled in trivia regarding filming locations around the city. I would definitely recommend this tour!!."
Get ready to be awed by iconic sights such as Big Ben, the Houses of Parliament, Westminster, Buckingham Palace, the London Eye, Southbank, and Covent Garden.
But this tour is more than just the usual tourist route!
You'll go off-the-beaten-track to explore the captivating street art of Banksy.
Uncover the hidden gems of urban creativity and even try your hand at your own graffiti tag under the guidance of skilled instructors.
⏳ TOUR LENGTH: 1 hour 30 minutes | ✔️ BOOK NOW
Unlock your creative potential and dive into the captivating world of photography with this Basic Photography Course!
Whether you're a seasoned enthusiast or just starting out, this course is designed for anyone eager to explore the art of photography.
If you have a camera, bring it along, and if not, don't worry!
They'll teach you how to make the most of your phone's camera, transforming it into a powerful tool for artistic expression.
"The perfect tour if you want to learn about the London graffiti history, main while capturing outstanding memories with your beloved camera. The tour is very pleasant, Maria and Caterina will guide you along the streets of Shoredich and Brick Lane to show the London graffiti art and teach you the photography techniques with passion and enthusiasm. I had a wonderful time and I would highly recommend this tour. Thank you Maria and Caterina."
Throughout the course, you'll learn the fundamental principles of photography through imaginative and thought-provoking exercises that will elevate your skills to the next level.
Get ready for a unique experience as you explore the vibrant landscape of Brick Lane, a hub of street art and graffiti.
Let these captivating art pieces inspire your photography as you capture their essence through your lens.
UK Travel Planning Guide: the FAQs
🏥 Should I buy UK travel insurance?
Absolutely yes. Basic coverage is not expensive, and as a visitor you are NOT covered under the NHS. Compare policies and prices with Travel Insurance Master here, a big name in the travel insurance business, and cross that off your list.
🔌 Do I need travel adapters for the UK?
Yes, you do, otherwise you won't be able to plug in your electronics/phone/lifelines. I recommend this one, which is all-in-one so you can use it in other countries.
🚗 What do I need to drive in the UK?
The first thing you need to check out if you're planning on renting a car in the UK is this guide to driving in the UK for visitors – the roads, signs, and driving experience will likely not be what you're used to and it's essential to prepare yourself to stay safe and aware.
🛌 What's the best way to book hotels in the UK?
For UK hotels, Booking is the best site as it offers free cancellation on many properties. If you want an apartment, I always recommend VRBO over AirBnb.
📳 Will my phone work in the UK?
Yes – if you set it up right. Check out my guide on making your foreign phone work in the UK to ensure that you get the type of service you need.
🚿 Can I drink the water in the UK?
Yes, UK water is great and perfectly safe. But drink out of taps in any kitchen or use water fountains. Double check before drinking out of the taps in hotel bathrooms, though, as they may be on a different system.
Want more London tour ideas? Check these out!