This post contains affiliate links for which I may make a small commission to help keep the site running. You will not be charged extra for these items had you not clicked the links. Thank you for your help to keep the site running!
Ready to book the best East End tours?
You've come to the right place because I'm covering the top 9 best East London tours here.
How do I know?
I've lived in London since 2012 and have explored far and wide, so I know that one of the best things to do in London's East End is book a tour and explore.
Only highly-rated tours are included in this list so you know that every tour you book is worth your money and time.
Want me to cut to the chase?
The best tour of the East End is this Gangster Tour led by Actor Vas Blackwood.
It has over 200 incredible reviews, so you can't go wrong!
There are plenty of East London tours to choose from, including East End food tours, London East End walking tours, and unique East London tours, so let's get right down to it.
In this list, you'll find 9 of the top-rated tours of East London so you know you're making the right choice.
Easy Guide: Best East London Tours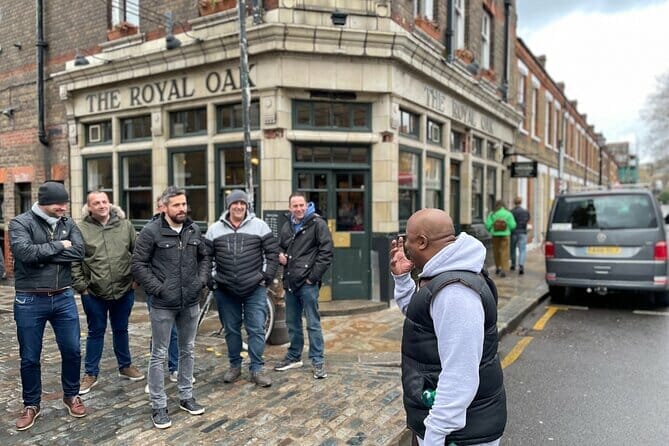 ⭐️ RATING: 5 out of 5 Stars, 200+ reviews | ⏳ TOUR LENGTH: 2 hours | ✔️ BOOK NOW
Embark on a thrilling 2-hour walking tour through London's East End and immerse yourself in the sinister world of organized crime!
Let actor Vas Blackwood be your guide as he takes you on an unforgettable journey through the city's gangster underworld, sharing real histories and captivating fictitious recreations.
"Vas was excellent, the tour was fun, informative and at times unpredictable which made for a very enjoyable experience. Learnt so much and thoroughly enjoyed the experience. Would love to do the tour again and probably will in the future."
Delve into the lives of notorious figures like the Kray Twins, London's premier mobsters of the mid-20th century, and former bad boy Lenny McLean.
As you walk the streets, hear insider gossip about London's low-life underworld, from real-life criminals to fictional fiends.
Discover filming locations linked to the infamous Kray twins, such as Repton Boys' Club and the Blind Beggar pub.
You'll even get to see the pub used as Samoan Jo's in Lock, Stock and Two Smoking Barrels.
Step into the shadows of London's dark past and let Vas Blackwood's captivating storytelling bring the underworld to life.
Don't miss this thrilling gangster walking tour of London's East End.
Add in one of these London Street Art tours for an even more comprehensive experience!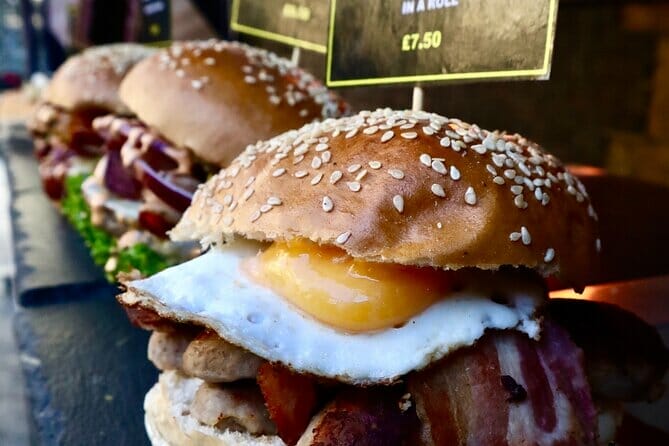 ⭐️ RATING: 5 out of 5 Stars, 715+ reviews | ⏳ TOUR LENGTH: 3 hours 30 minutes | ✔️ BOOK NOW
Indulge your senses in the cosmopolitan culinary delights of East London with a 4-hour walking tour of this vibrant district.
Join your expert gastronome guide as you navigate the eclectic neighborhoods of Spitalfields and Shoreditch, uncovering hidden gems cherished by local food enthusiasts.
Get ready to satisfy your appetite with a quintessential English treat – a delicious bacon sandwich at St John Bread and Wine restaurant.
Next, delight in the intricate flavors of Beigel Bake's mouthwatering salt beef bagels.
"Dave was the perfect guide – personable, articulate, knowledgeable and entertaining. very knowledgeable about the local history, he made the tour experience most enjoyable and memorable, despite the rainy London weather. the food was quite enjoyable, notably the sweets "Apple Crumble" and "Sticky Toffee Pudding" and outstanding curry at Aladin."
Experience the richness of artisan cheese during a delightful tasting session.
As you stroll along the renowned Brick Lane, be prepared to tantalize your taste buds with flavorful spicy curries.
And of course, don't miss the chance to savor the traditional British dish of fish and chips at Poppies restaurant.
Throughout the tour, your friendly guide will lead you through Spitalfields, sharing insights into where the locals love to dine.
Discover quirky cafes and top-rated eateries recommended by Time Out London.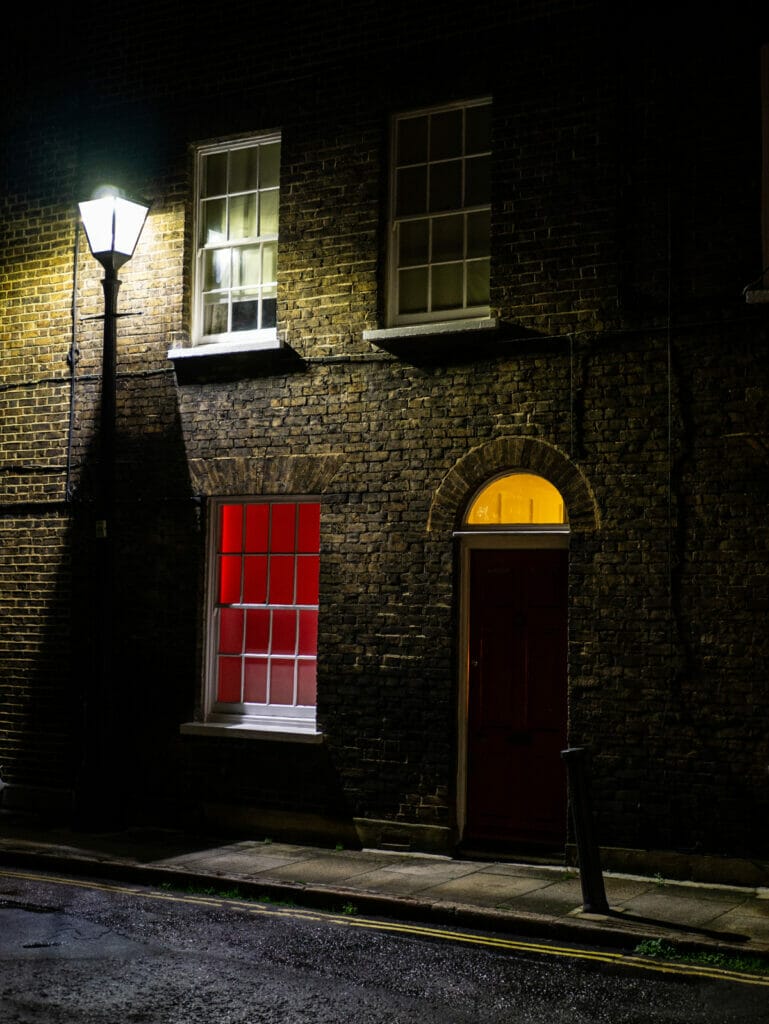 ⭐️ RATING: 4.5 out of 5 Stars, 200+ reviews | ⏳ TOUR LENGTH: 2 hours | ✔️ BOOK NOW
Ready to dive into the chilling world of London's most notorious serial killer on an East End London tour?
Brace yourself for a spine-tingling Jack the Ripper walking tour – only if you dare! It's one of the best Jack the Ripper tours in London.
Join your guide on a 2-hour journey through the dimly lit alleyways and eerie backstreets of East London, the very spots where the gruesome murders took place.
"Our tour guide Angie was very knowledgeable and passionate about the tour, she had great humour and was very engaging. Would definitely recommend this tour to others."
It's gonna be intense!
As you walk, get ready to unravel the truths and myths surrounding Jack the Ripper's reign of terror.
You'll hear all the chilling theories about this yet-to-be-identified murderer. It's like stepping into a real-life mystery!
This evening walking tour will take you on a journey like no other, as you explore the dark streets of East London after hours.
But don't worry, you're in the hands of a professional 'Ripperologist' guide – they know their stuff!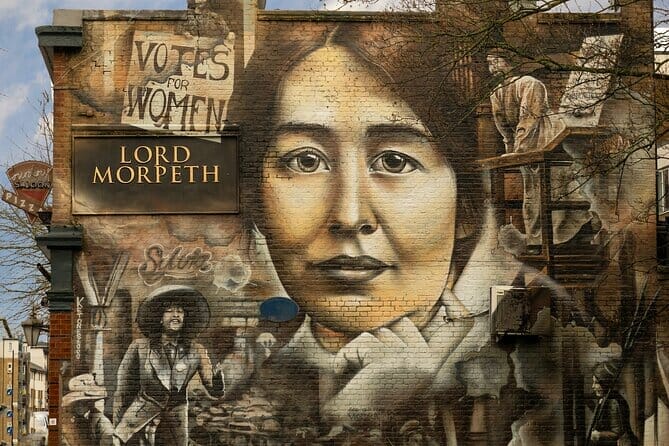 ⭐️ RATING: 5 out of 5 Stars, 36+ reviews | ⏳ TOUR LENGTH: 2 hours 30 minutes | ✔️ BOOK NOW
Get ready to uncover the hidden stories of London's lively and culturally rich East End on this awesome women's history-themed walking tour.
You've got the choice between morning and afternoon tour times – pick what suits you best!
You'll meet up at Tower Hill and then hit the streets on foot for an amazing adventure.
As you stroll through the charming neighborhoods of the East End, you'll be immersed in the area's fascinating mix of cultures and its long history.
"Becky, our tour guide, was exceptional. She knew not only her material in great depth, but also answers to all of our questions. She included fascinating detail about how she sourced her information (as a true historian) and brought great passion—as well as a killer sense of humor—to her tour. I can't recommend her tour more highly. We were fully engaged the whole time. In fact, she set the bar so high, it has been hard to find another tour that can compare."
Keep your eyes peeled for historical monuments and get ready to learn all about the trailblazing women who once lived and worked here.
They've made a huge impact, and you're gonna get to celebrate them!
But that's not all – your guide will also give voice to the stories of Jack the Ripper's victims and the inspiring suffragettes.
It's history come to life!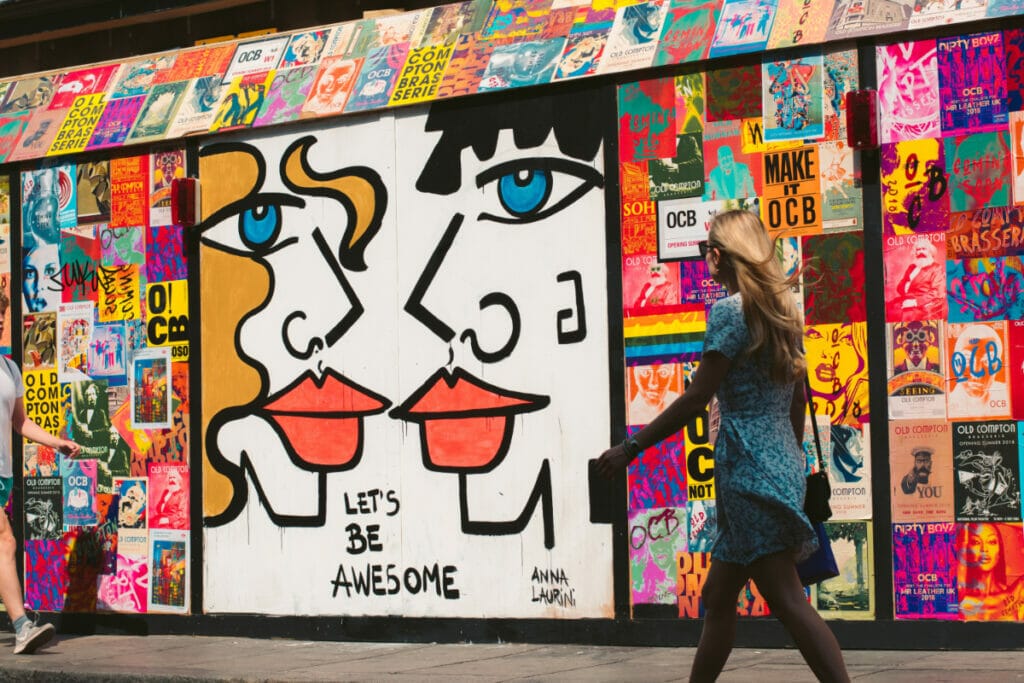 ⭐️ RATING: 5 out of 5 Stars, 8+ reviews | ⏳ TOUR LENGTH: 2 hours 30 minutes | ✔️ BOOK NOW
Join this engaging private walking tour and discover the dynamic world of street art in East London.
Led by a knowledgeable local guide, you'll explore the vibrant neighborhoods of Shoreditch and Brick Lane, known for their ever-changing street art scene.
"Becky was an excellent guide. She knew the origins, development, meaning, and context of the street art and we got a good feel for the east end. She knew the history of the area and added a lot of details such as architecture and Jack the Ripper."
Get ready to be immersed in a rich cultural melting pot of creativity!
During the tour, you'll not only feast your eyes on captivating street art but also learn fascinating tidbits like the origins of Cockney rhyming slang and intriguing stories about Jack the Ripper.
The best part is, this tour is entirely customizable to your interests and preferences.
Your guide will be solely focused on making your experience special and memorable.
If you're looking for an alternative and enriching way to experience London, this private tour is the perfect choice.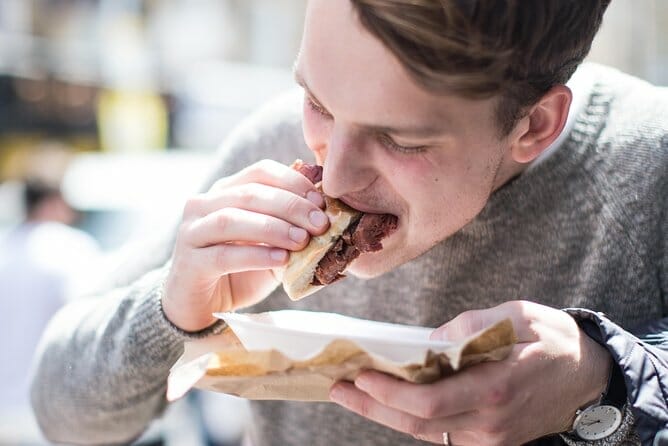 ⭐️ RATING: 5 out of 5 Stars, 146+ reviews | ⏳ TOUR LENGTH: 3 hours | ✔️ BOOK NOW
Want a London East End food tour?
Experience the vibrant culinary scene of Shoreditch without the hassle of searching for eateries.
Join a tried-and-tested food tour led by an expert guide who will take you to diverse food spots.
"Joseph was a wonderful tour guide! He took us to several different restaurants and a pub at the end all while telling us some history of Shoreditch. I really appreciated how Joseph got in the lines to get our food and treats while we chilled out. This truly felt like an authentic London experience that I would recommend to everyone! This is now one of my favorite neighborhoods in London!"
Sample a range of delicious options, from bagels to fish and chips, unique street food from the market, truffles, and English dessert – truly one of the best food tours in London.
You'll also get to try ale, beer, cider, or a soft drink to accompany your food tastings.
Perfect for first-time visitors to London, this guided tour ensures you won't get lost while exploring the best places to eat in Shoreditch.
Don't miss out on this delightful and flavorsome adventure!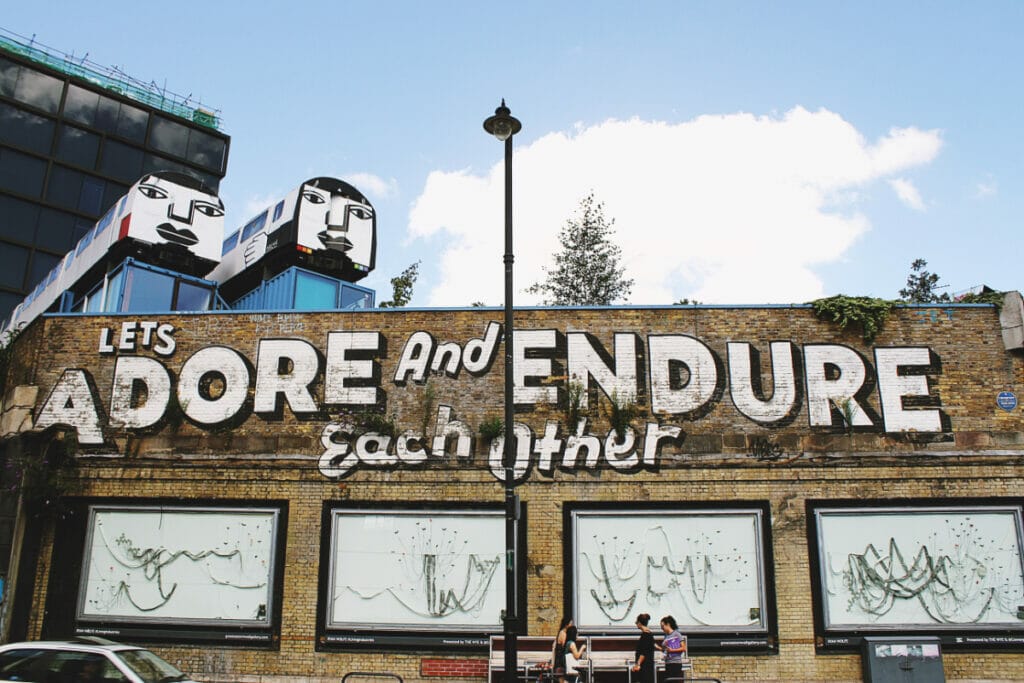 ⭐️ RATING: 5 out of 5 Stars, 240+ reviews | ⏳ TOUR LENGTH: 2 hours 30 minutes | ✔️ BOOK NOW
Explore the vibrant world of Shoreditch's street art scene, alongside a knowledgeable guide who will reveal hidden murals, stencils, and captivating artwork that you might miss on your own.
Embark on a specialized street art-themed tour, commencing at Old Spitalfields Market and venturing through Brick Lane and Shoreditch.
"MD, our wonderful guide, made the tour an exceptionally fun experience. Her wide knowledge, choices of what to show us, the interesting anecdotes that added salt and pepper to that morning were incredible. Not to mention her vividness, kindness and patience. Thank you MD for a special morning. Pessie, & Oren Tsamir. Tel Aviv."
Throughout the journey, listen to fascinating tales about local artists and gain insights into the diverse art pieces you encounter.
Capture stunning photos with towering three-story murals as your backdrop.
Say goodbye to endless searches for street art – our guide has prepared a curated shortlist for you on this graffiti tour in London.
Uncover the intriguing stories behind the works and discover the meaning woven into the art, ranging from stickers to paste-ups, murals, and stencils.
Join this artful adventure and experience the best of Shoreditch's creative expressions!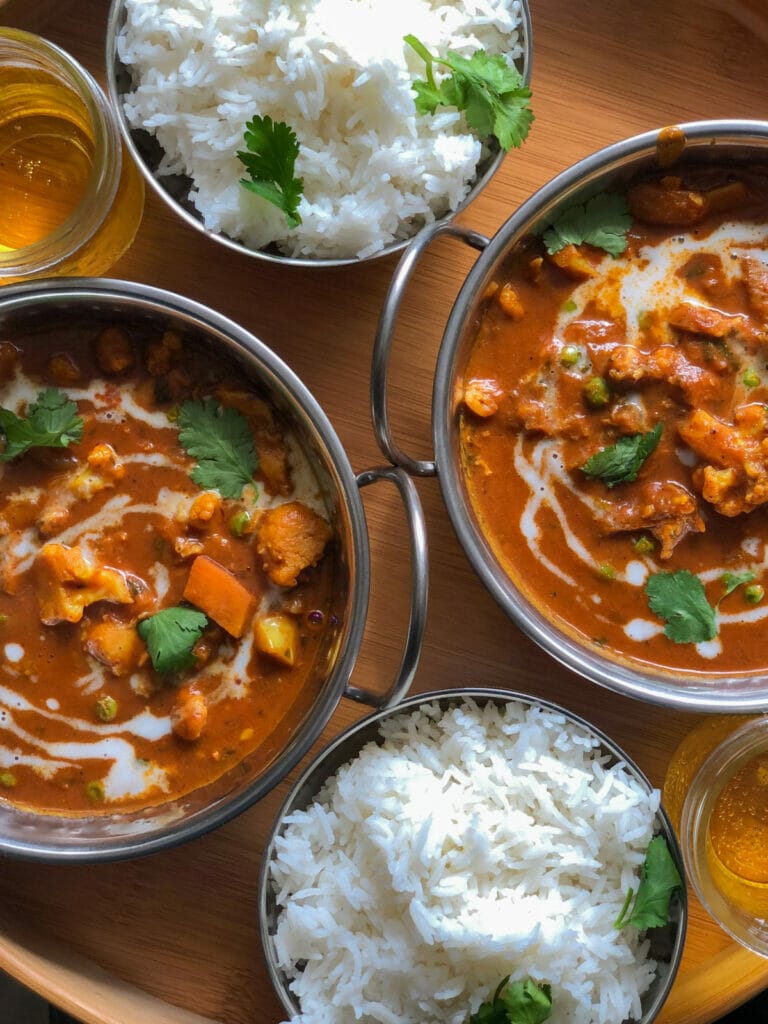 ⭐️ RATING: 5 out of 5 Stars, 22+ reviews | ⏳ TOUR LENGTH: 3 hours | ✔️ BOOK NOW
Indulge in a mouthwatering food journey through London's East End on a small-group walking tour.
Perfect for food enthusiasts with limited vacation time, this awesome adventure showcases the best of London's diverse food scene.
Traverse trendy Shoreditch, historic Whitechapel, and the flavorful heart of London's South Asian cuisine, Brick Lane.
Savor delectable bites at the Old Truman Brewery and Old Spitalfields Market.
"Tom was our guide for the food tour and he was amazing. The food places were great and his knowledge of the history and surrounding areas was very interesting. I would 100% recommend this tour to anyone! The best one we've done."
With a maximum group size of 10 people, this intimate tour ensures a personalized experience.
Delight in a variety of culinary delights, sampling dishes from both British and international cuisines.
Along the way, discover the vibrant culture and rich history of the East End, an area often overlooked by many tourists.
Don't miss the chance to explore this hidden culinary gem of London.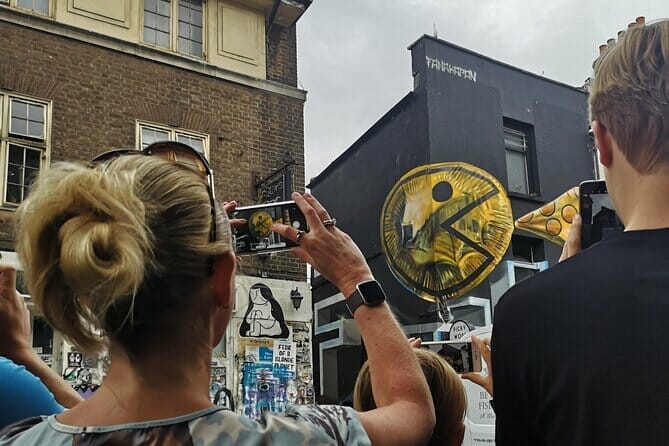 ⭐️ RATING: 5 out of 5 Stars, 64+ reviews | ⏳ TOUR LENGTH: 3 hours | ✔️ BOOK NOW
Unleash your creativity and dive into London's vibrant street art scene with a unique walking tour and workshop combo.
Join your guide near Old Street station and venture into the hip and artistic neighborhoods of Hoxton and Shoreditch.
Get off the beaten path and discover cutting-edge street art masterpieces by renowned international artists.
"Our guide Josh was very knowledgeable & informative, and I appreciated his passion for street art. The workshop following the tour was hands-on fun, and really emphasized the skill level needed for the street art we saw on the tour. Definitely recommend!."
But that's not all! Get ready to unleash your inner artist as you take part in an exciting hands-on workshop.
Learn the art of spray painting, stenciling, and more. This immersive experience will give you a new perspective on London, showcasing sides of the city often overlooked by tourists.
Come along on this inspiring street-art adventure, stroll through the dynamic streets of trendy Hoxton and Shoreditch, and leave with newfound skills and a deeper appreciation for the artistry hidden in every corner of London's creative heart.
UK Travel Planning Guide: the FAQs
🏥 Should I buy UK travel insurance?
Absolutely yes. Basic coverage is not expensive, and as a visitor you are NOT covered under the NHS. Compare policies and prices with Travel Insurance Master here, a big name in the travel insurance business, and cross that off your list.
🔌 Do I need travel adapters for the UK?
Yes, you do, otherwise you won't be able to plug in your electronics/phone/lifelines. I recommend this one, which is all-in-one so you can use it in other countries.
🚗 What do I need to drive in the UK?
The first thing you need to check out if you're planning on renting a car in the UK is this guide to driving in the UK for visitors – the roads, signs, and driving experience will likely not be what you're used to and it's essential to prepare yourself to stay safe and aware.
🛌 What's the best way to book hotels in the UK?
For UK hotels, Booking is the best site as it offers free cancellation on many properties. If you want an apartment, I always recommend VRBO over AirBnb.
📳 Will my phone work in the UK?
Yes – if you set it up right. Check out my guide on making your foreign phone work in the UK to ensure that you get the type of service you need.
🚿 Can I drink the water in the UK?
Yes, UK water is great and perfectly safe. But drink out of taps in any kitchen or use water fountains. Double check before drinking out of the taps in hotel bathrooms, though, as they may be on a different system.
Want more London tour ideas? Check these out!