This post contains affiliate links for which I may make a small commission to help keep the site running. You will not be charged extra for these items had you not clicked the links. Thank you for your help to keep the site running!
There's so much to see in the heart of Edinburgh…where do you even begin?
As a city so rich with history and attractions, it's easy to miss some of the most impressive details of Edinburgh.
One great way to ensure that you don't miss out is to take a walking tour of Edinburgh!
These walking tours of Edinburgh will give you an up-close look at the city's breathtaking architecture, and enlighten you on its history!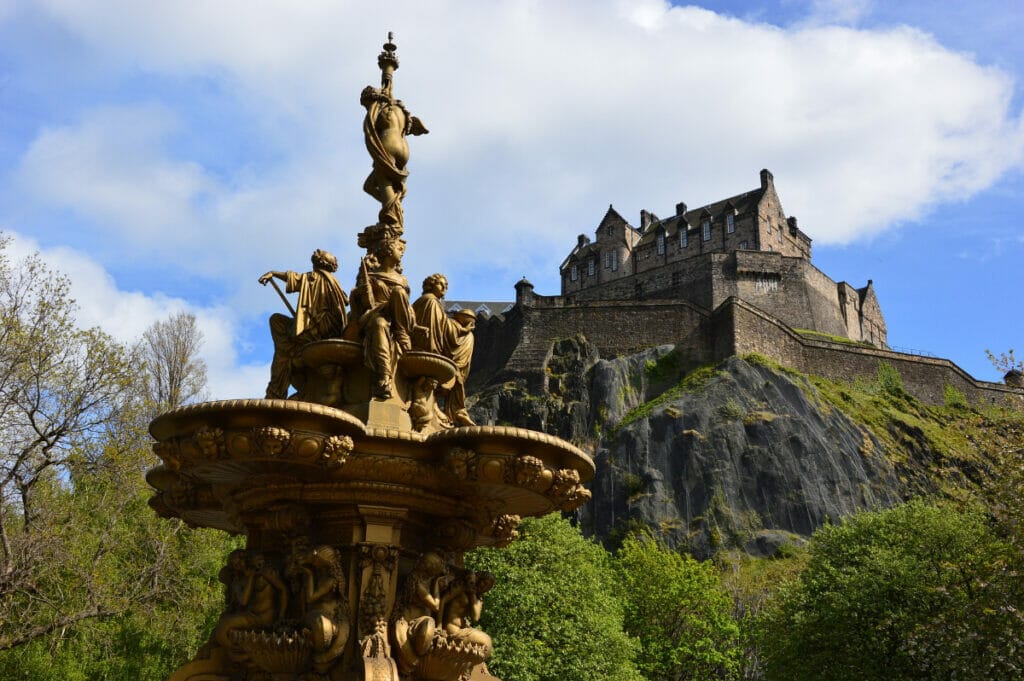 Whether you're here for lighthearted fun, gruesome details, or a more classical history lesson, these tours will have you coming away with a breadth of knowledge you'll be eager to pass on to your friends and family!
Not that interested in history?
Get to know Edinburgh from another perspective: dance your way through the city, instead!
With all the unique walking tours of Edinburgh to choose from, you'll have no problem finding the perfect option to enhance your trip to Dùn Èideann, including Harry Potter walking tours Edinburgh, Edinburgh Old Town walking tours, and the best Edinburgh walking tours.
Which of these highly-rated tours is the best one for you?
Hey! Want more honest UK tips and planning advice? Click here to join my London and UK Travel Tips Facebook group, where I can answer more of your questions!
Easy Guide: Best Edinburgh Walking Tours
⭐️ RATING: 5 out of 5 Stars, 2,800+ reviews | ⏳ TOUR LENGTH: 2 hours | ✔️ BOOK NOW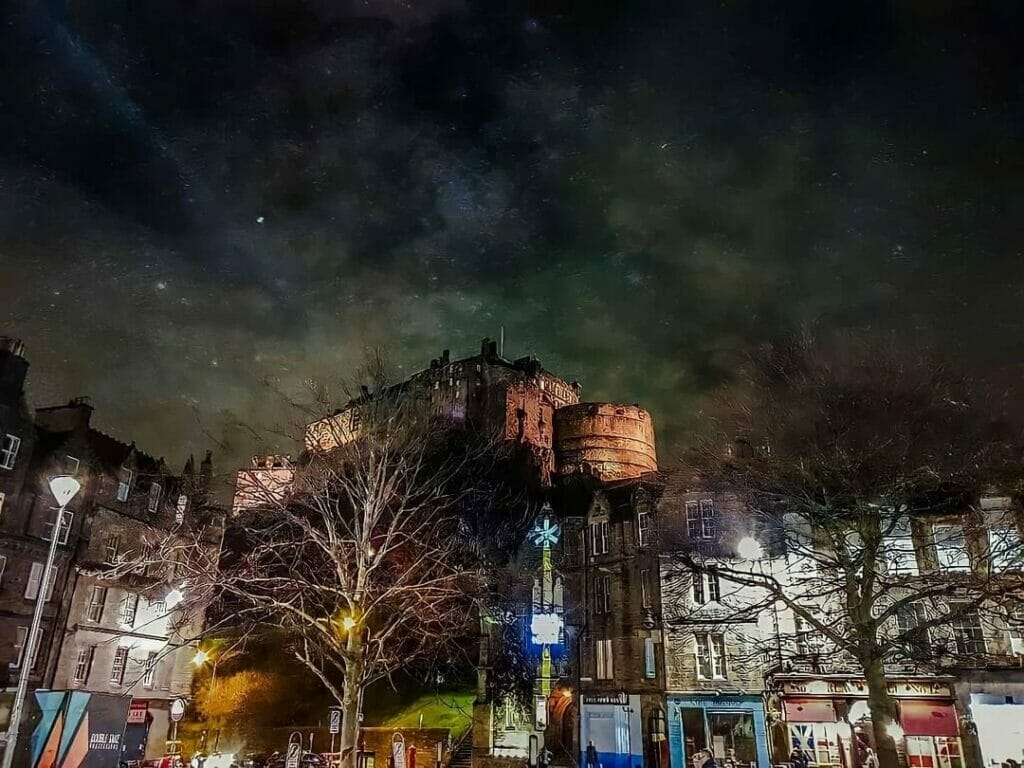 WHAT'S INCLUDED IN THIS TOUR
Visit and learn the gruesome history of Calton Hill
Visit one of the city's famous cemeteries
Learn the eerie side of the history of Edinburgh
Enjoy stunning panoramic views of the city from Calton Hill
Embark on an eerie evening tour of Edinburgh's dark side with this popular walking tour!
Tales of murder, monsters, witch trials, cannibals, and other spooky subjects will send a shiver down your spine as you follow your guide around Old Town.
You'll climb to the top of Calton Hill, taking in the sights as your guide tells of the gruesome witch trials that were once held there.
Snap a few photos of the evening skyline, then head back down and explore one of Edinburgh's most famous cemeteries on this walking tour Edinburgh.
"Great tour and tour guide! I very much enjoyed learning about Edinburgh's 'hidden history' with the unexpected bonus of seeing the location where one of my favorite 'Outlander' scenes was filmed. The pace was just right (especially given that we were traveling with our senior mothers and the route wasn't always flat) as was the level of detail. Highly recommend!"
You'll visit either the Canongate Kirkyard cemetery (dating all the way back to the 17th century!) or the Old Calton Burial Ground (the final resting place of famed philosopher David Hume).
Creep through the graveyard as your guide shares haunting tales of murder, body-snatching, and even Hume's rumoured deal with the Devil himself!
The tour concludes outside a local pub, where you might want to head inside for a drink to soothe your nerves after this haunting tour!
⭐️ RATING: 4.8 out of 5 Stars, 2,100+ reviews | ⏳ TOUR LENGTH: 1.5 hours | ✔️ BOOK NOW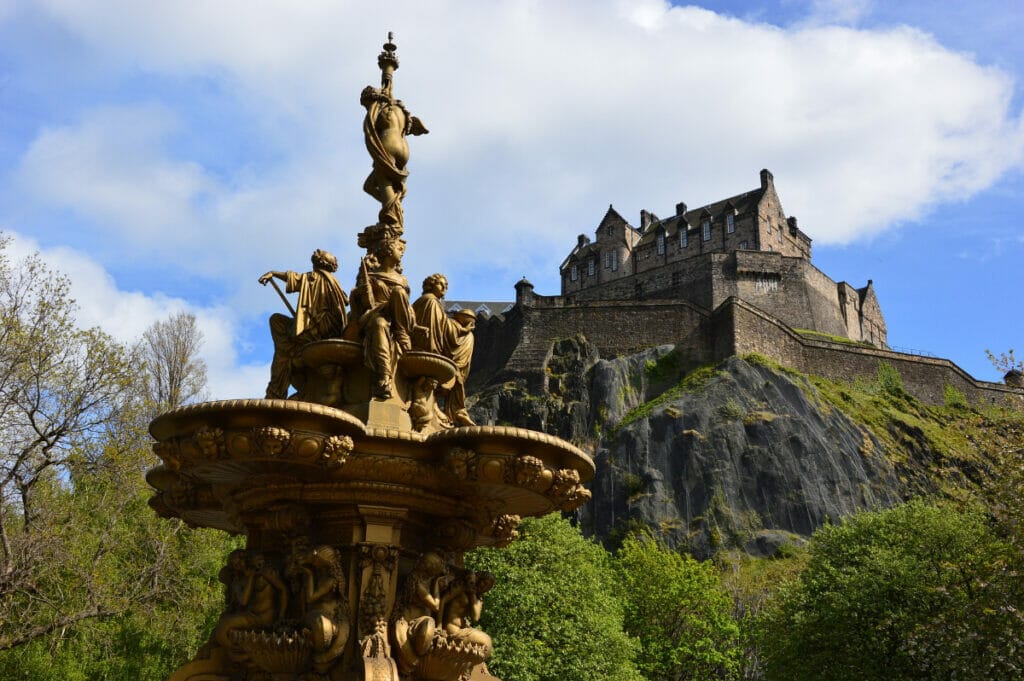 WHAT'S INCLUDED IN THIS TOUR
Entry to Edinburgh Castle
Skip the line to get into the castle
Entry to castle dungeons
Knowledgeable tour guide on this walking tour of Edinburgh
Edinburgh Castle is a sight to behold, but sometimes, just looking isn't enough!
If you want to go beyond snapping a few photos, why not take a guided walking tour of the castle and go a little deeper?
This tour includes an entry to the castle, and even allows you to skip the line – no more waiting with all the other tourists!
"We absolutely loved this! My husband and I have been telling the history we learned to anyone who asked about our trip. We were engaged throughout and learned so much more than we thought we would- as we had a busy day, the tour also helped us learn what was best to prioritize whilst we were there."
You'll meet your guide outside the nearby Caffé Nero, then enjoy a short walk down the Royal Mile toward the castle.
Once inside, you'll learn all about the iconic Edinburgh attraction, with your knowledgeable guide covering 3,000 years of its history.
Beyond the main buildings, you'll also get to see the castle dungeons and military prison, learn the dark tale of the Black Dinner, visit St Margaret's Chapel, and more!
After the tour, you'll have plenty of time to explore the castle museums at your own pace.
⭐️ RATING: 4.5 out of 5 Stars, 3,200+ reviews | ⏳ TOUR LENGTH: 1 hour | ✔️ BOOK NOW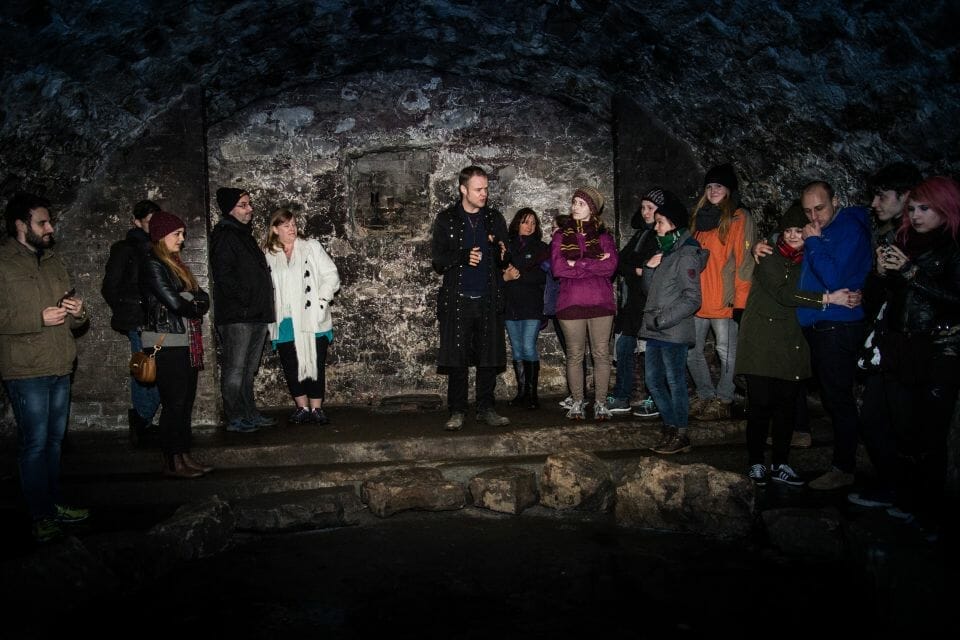 WHAT'S INCLUDED IN THIS TOUR
Entry to ancient underground vaults
Entry to a secret witchcraft temple
Information about 18th-century city life
Many unique photo opportunities
Discover an often missed part of Edinburgh on this eerie walking tour!
Follow a knowledgeable tour guide through the secret passageways beneath the city, where you'll learn the history of these fascinating vaults and the people who found shelter within them.
You'll be intrigued (and maybe a bit creeped out!) by the dark halls that await you underground – not to mention the ancient temple that was once used by Scotland's devoted witches!
"I went on the vault tour with my mum and sister. We all found it to be a thoroughly enjoyable and informative experience! I would definitely recommend it! Our guide Fraser was on time, he spoke loud and clear, and he was to the point with a few jokes thrown in – all things I appreciate."
This tour isn't for the faint of heart.
The bravest in your travel party will have the chance to step inside an old (possibly haunted!) stone circle – if they dare!
You'll be encouraged to take plenty of photographs during the tour, which you'll be anxious to show off to friends as proof of a truly unique experience.
Please note that this tour is not wheelchair accessible, and requires the ability to navigate tall steps and a spiral staircase.
⭐️ RATING: 5 out of 5 Stars, 900+ reviews | ⏳ TOUR LENGTH: 2 hours | ✔️ BOOK NOW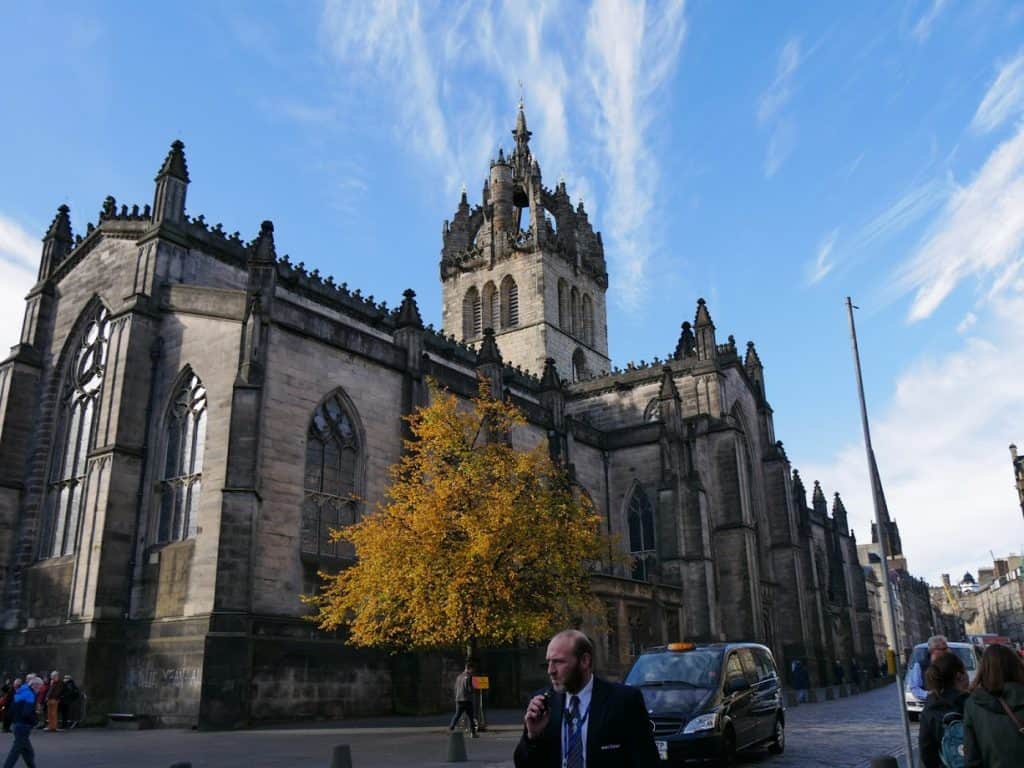 WHAT'S INCLUDED IN THIS TOUR
Passionate local guide
Unique route through Old Town
Convenient location near public transportation
Easy-to-find meeting point
Follow a passionate guide around Edinburgh's Old Town on this fun walking tour!
Leave the map behind and instead let a local lead you around these UNESCO-listed sites.
You'll meet your guide on High Street, right across from the iconic St Giles' Cathedral.
From there, you'll embark on a 2-hour walking tour down the beautifully cobbled streets, learning the history of the area as you go.
"Great start – with Euan reciting a poem by some worthy extolling Edinburgh and Scotland with some reservations about the climate. Luckily, it was a fine day albeit February. I really enjoyed my tour through the old town, through the back streets and closes, with occasional stops to review key landmarks and associated stories, sometimes grim, but always enthralling, entertaining, informative."
You'll want to have your camera out and ready to save all the stunning sights you'll encounter along the way!
You'll see (and learn about) the cathedral, the exterior of Edinburgh Castle, the Mercat Cross, the historic George Heriot's School, Greyfriars Kirk and graveyard, and more!
Looking for kid-friendly tours of Edinburgh?
This tour is stroller accessible, and young ones will enjoy taking in the sights while the adults soak up the fascinating history.
⭐️ RATING: 5 out of 5 Stars, 800+ reviews | ⏳ TOUR LENGTH: 3 hours | ✔️ BOOK NOW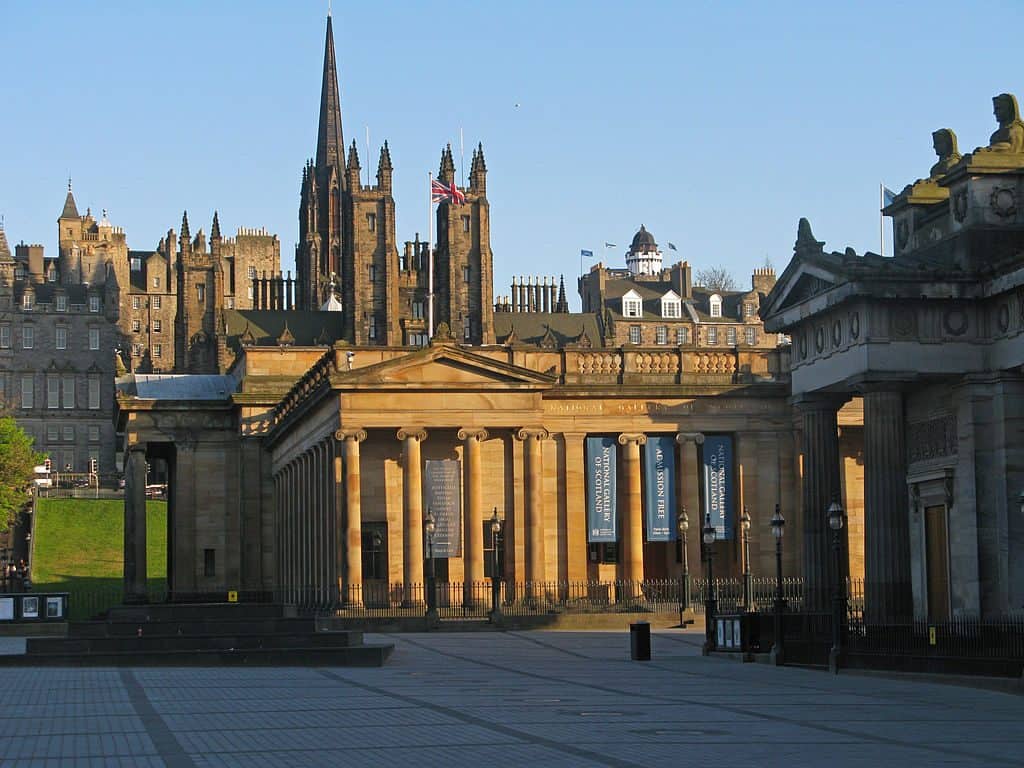 WHAT'S INCLUDED IN THIS TOUR
Comfortably small group (12 max)
Learn about the famed writers and inventors of Edinburgh
Plenty of time to stop for photos
Free for children 12 and under
Poetry and history enthusiasts alike will enjoy this educational yet leisurely 3-hour tour of the Royal Mile!
You'll meet your guide outside of the famed auditorium, Usher Hall – the perfect place to begin a tour about the history of the arts in Edinburgh!
During the tour, your guide will tell you all about the famous writers, poets, and inventors who have called Edinburgh home over the years.
Learn about 18th century poet and lyricist Robert Burns, who is now known as the national poet of Scotland.
"This was one of the most enjoyable yet educational tours I've done! My family and I loved hearing all of the history and stories that Stuart shared with us. 100% recommend!"
Notable stops include The Writers' Museum, Milne's Court, Waverley Station, and much more!
Torn between an arts-focused tour and a more general tour that will take you by the main attractions of Edinburgh?
You'll be happy to know that this tour also passes by Edinburgh Castle and St Giles' Cathedral, so you'll get to learn the history of these marvelous sites, too!
⭐️ RATING: 5 out of 5 Stars, 740+ reviews | ⏳ TOUR LENGTH: 2 hours | ✔️ BOOK NOW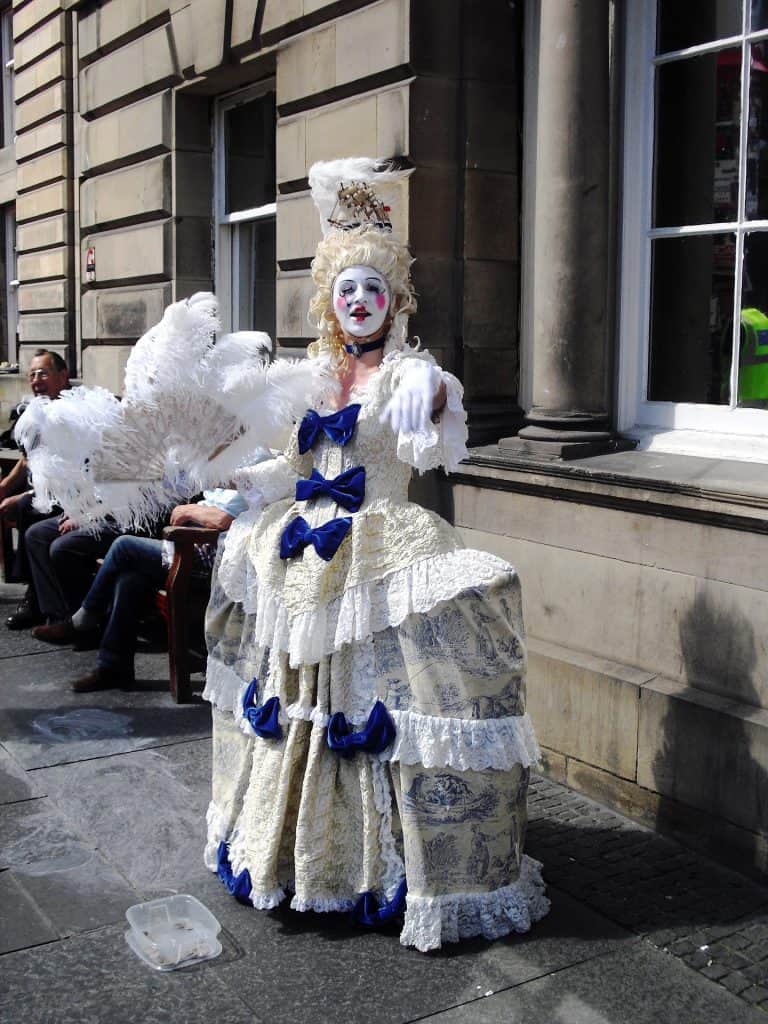 WHAT'S INCLUDED IN THIS TOUR
Guided tour of Old Town Edinburgh
Authentic Scottish guide (who wears a kilt!)
History lessons packed with comedy
Lots of laughs!
With all the stress that can come with travelling, you'll be relieved to unwind and have a laugh on this fun-filled comedy tour!
Take a lighthearted walk around Old Town Edinburgh with your hilarious (and very Scottish) guide – they'll even wear a kilt!
You'll meet your guide outside of the Monkey Barrel Comedy club, then embark on a whimsical 2-hour (wheelchair and stroller-accessible!) journey.
Your guide isn't just a professional stand-up comedian; they also have a remarkable breadth of knowledge about the history of Edinburgh.
"Brilliant tour with Daniel. Would highly recommend any visitors to do this tour. Lovely mixture of interesting facts and comedy."
On this tour, you'll be both educated and entertained as your guide expertly balances historic fact and laugh-out-loud comedy.
You'll see the exterior of St Giles' Cathedral, Edinburgh Castle, Greyfriars Kirkyard, The Writers' Museum, and more iconic sites as you walk the Royal Mile with your witty guide.
Please note that this tour is age restricted at 16 years and up!
⭐️ RATING: 5 out of 5 Stars, 280+ reviews | ⏳ TOUR LENGTH: 2 hours | ✔️ BOOK NOW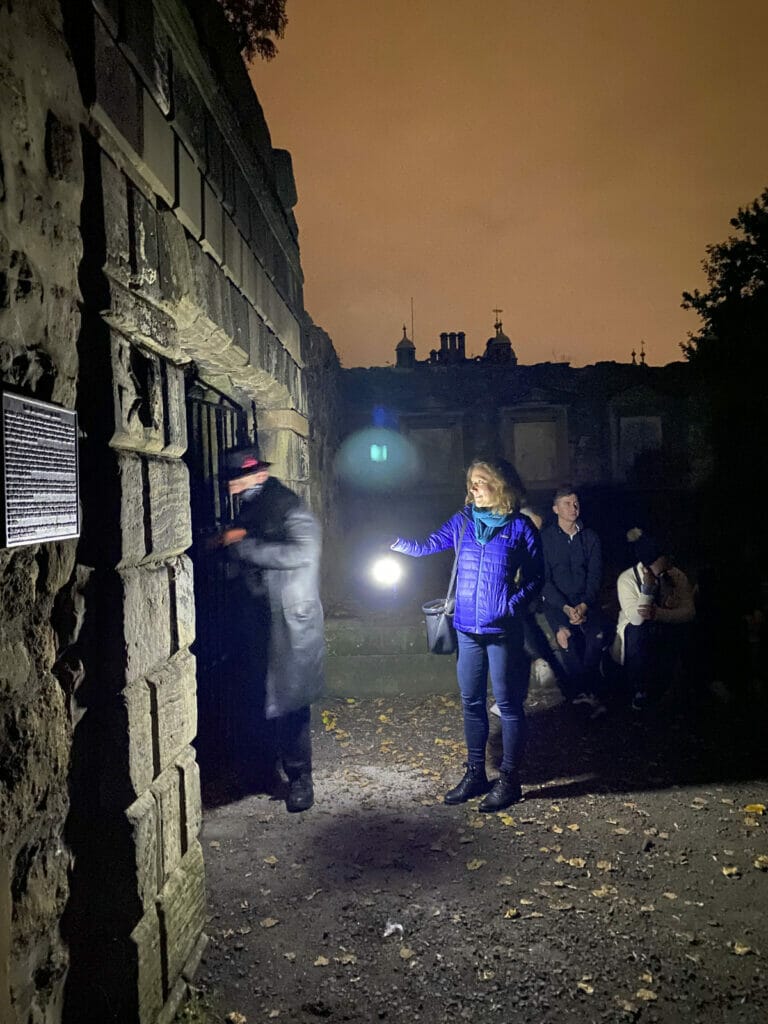 WHAT'S INCLUDED IN THIS TOUR
History-focused tour of the Royal Mile
Passionate, knowledgeable guide
Excellent tour to take in the evening
Wheelchair & stroller accessible
Not sure what to do in Edinburgh when the sun goes down?
Take this educational tour and learn the dark history of the city on this guided walking tour in Edinburgh!
Follow your guide on a harrowing journey into Edinburgh's past and discover why it's known as "The Jekyll & Hyde City".
You'll start your tour outside of St Giles' Cathedral in West Parliament Square, then walk down the Royal Mile and learn all about the grisly murders, public executions, witch trials, plagues, and other haunting elements of the city's history.
"Matthew was awesome! So friendly and knowledgable. He gave a good mix of dark history with some ghost stories as well. As a history nerd I loved hearing all the stories that might be too intense for others on a regular city tour."
Don't worry, your guides won't pull any jumpscares; you'll find the gruesome history lesson unsettling enough!
Besides the cathedral, you can also expect to encounter the site of the old Tolbooth Prison, the iconic Mercat Cross, and other historic sites that are full of disturbing details.
You'll end your tour at the Canongate Kirkyard, which dates all the way back to the late 17th century!
⭐️ RATING: 5 out of 5 Stars, 260+ reviews | ⏳ TOUR LENGTH: 1 hour | ✔️ BOOK NOW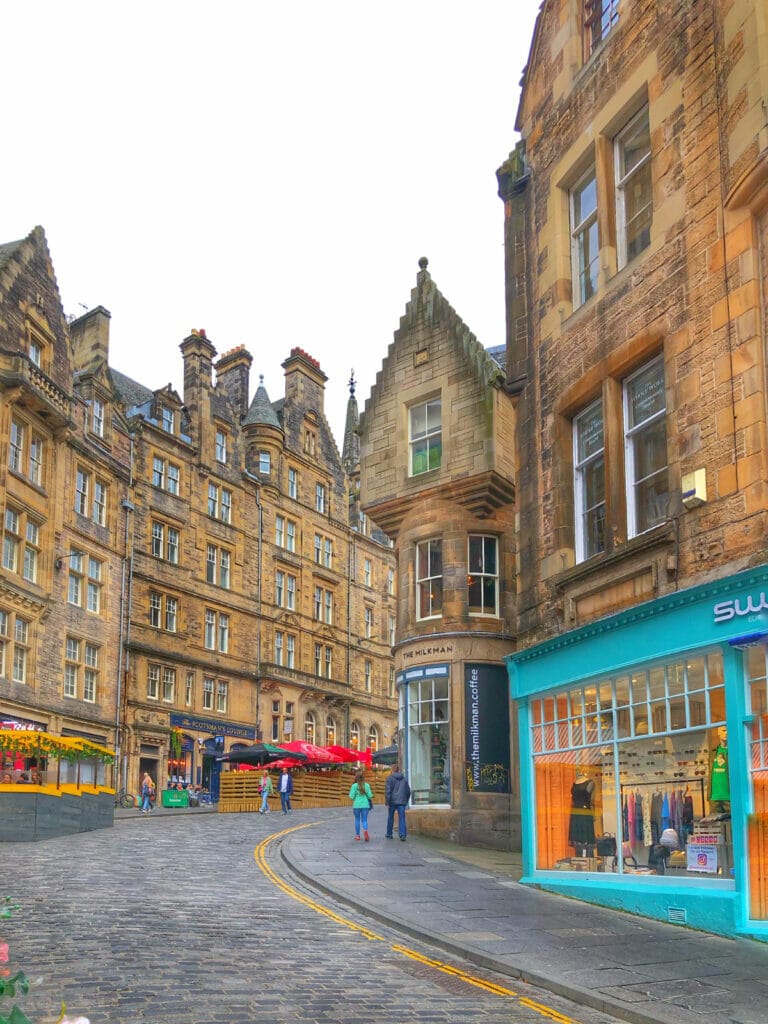 WHAT'S INCLUDED IN THIS TOUR
Radio headsets
Fun and familiar music playlist
Large group (60 maximum)
Unique way of seeing the city!
Put on your comfiest shoes and dance your way through Edinburgh on this eccentric "walking" tour!
Your tour starts and ends outside of The Piper's Rest, an exceptionally rated restaurant along the Royal Mile.
(In August, the tour starts and ends at Uplands Roast, a charming coffee shop at the University of Edinburgh.)
Put on your radio headset (provided at the start of the tour) and groove your way down the Royal Mile with a large group of fun-loving travelers!
Dance to familiar and upbeat songs as you pass by iconic Edinburgh attractions, including St Giles' Cathedral, the Scottish National Gallery, and the idyllic Princes Street Gardens.
"This tour was so much fun! I went with my mum and we both loved it, we sang, danced and laughed lots from start to finish. The meeting place was central and easy to find, the music was songs that everyone knows and can sing along to."
Anxious about dancing in public?
With up to 60 people in your tour group, you'll be in good company and won't have to worry about being the only one dancing.
In fact, passersby will likely be envious of the great time you're all having!
⭐️ RATING: 5 out of 5 Stars, 160+ reviews | ⏳ TOUR LENGTH: 2 hours | ✔️ BOOK NOW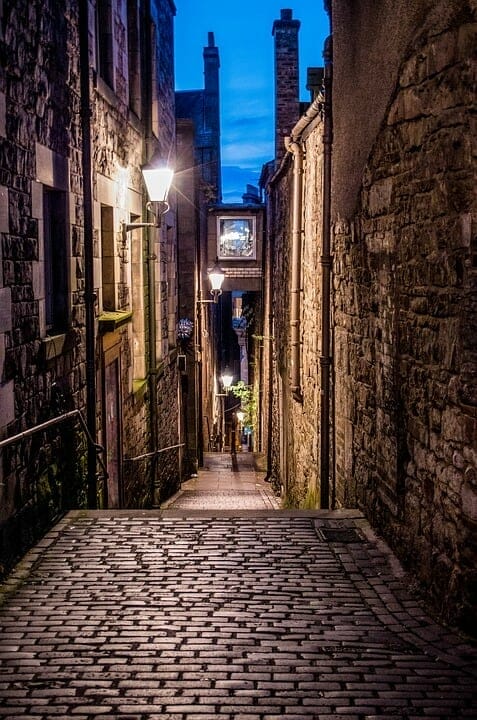 WHAT'S INCLUDED IN THIS TOUR
Visit three historic execution sites
Visit the old site of the Tolbooth Prison
Private tour – no strangers!
Knowledgeable local guide
There are many great public tours in Edinburgh, but what if you're not excited by the idea of following a crowd of strangers?
This private walking tour of Old Town Edinburgh is for you!
Meet your guide at the main entrance to Greyfriars Kirkyard.
There, you'll learn about Greyfriars Bobby – a famous dog that has been honored with an iconic statue in the graveyard.
From there, your guide will lead you through Old Town, showing you archival photographs of what the area was like in days past.
You'll learn the gruesome history of the city, visiting three of its former execution sites as well as the infamous Tolbooth Prison.
"This was by far the most informative tour we've taken!! Robert (aka Forrest) was fantastic! His stories and information about Scotland and it's history were outstanding! Would highly recommend a private tour with Robert! Great two hours with a wonderful guide!!! Thanks for the memories, Robert"
Unlike most other Edinburgh tours, this tour will also take you through The Cowgate.
While walking down this historic street, you'll learn what life was like for the poor in Edinburgh back in the Victorian era.
Of course, there are plenty of well-known stops along the way, too, including the Mercat Cross, Candlemaker Row, the University of Edinburgh, and more!
⭐️ RATING: 5 out of 5 Stars, 130+ reviews | ⏳ TOUR LENGTH: 1.5 hours | ✔️ BOOK NOW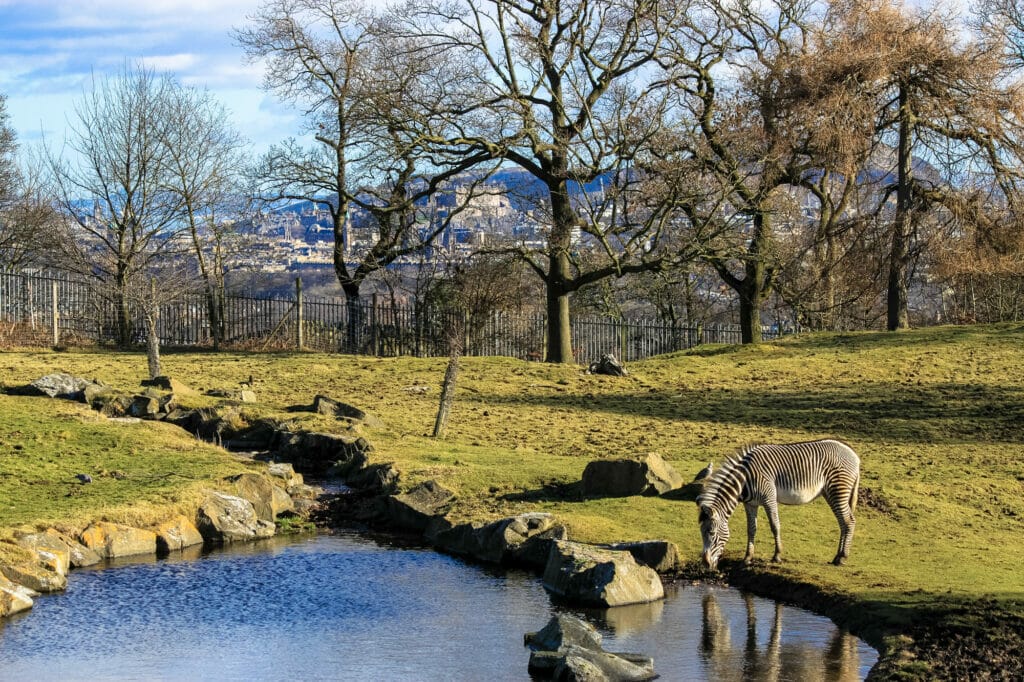 WHAT'S INCLUDED IN THIS TOUR
Less touristy route – see the city like a local!
Tips on how to take the best vacation photos
Social media tips for posting photos
Tons of great photo ops!
Whether you're looking to grow your social media account as a travel influencer, taking photos to share with friends and family, or just want some great shots to put in your personal travel scrapbook, you're sure to get the best vacay photos on this tour!
Take a private, guided tour with a professional photographer who'll show you the best way to capture the gorgeous views across Edinburgh.
"I booked this to learn a little bit of information on how to take better vacay pics but also to do another tour. Both expectations were fulfilled. I had a great time and, to make it even better, I was the only one on my tour so it was even better."
You'll be happy to get a break from the crowds as your guide leads you down side-streets and shows you parts of the city that a lot of tourists miss out on!
But don't worry, you'll still get to see (and take stunning photos of!) the most iconic sites in Edinburgh, like St Giles' Cathedral, Holyrood Park, and, of course, Edinburgh Castle!
During the tour, you'll also learn the best tips and tricks for using hashtags and editing your photos before posting them to Instagram.
⭐️ RATING: 4.3 out of 5 Stars, 90+ reviews | ⏳ TOUR LENGTH: 3 hours | ✔️ BOOK NOW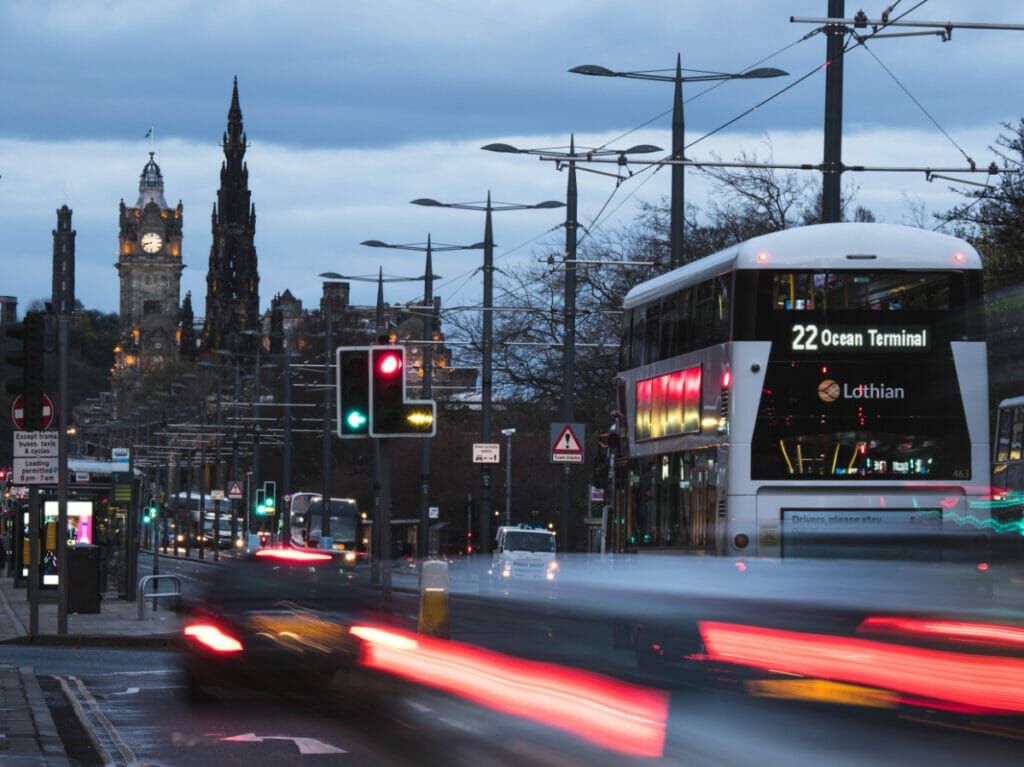 WHAT'S INCLUDED IN THIS TOUR
Entry to the National Museum of Scotland
Knowledgeable tour guide
Learn how to read rune stones
Learn how to use a pendulum
Curious about the history of witchcraft in Edinburgh?
Take The Witches Tour!
Your guide will lead you through the National Museum of Scotland and enlighten you on the fascinating history of the area's witches.
Discover what witches were up to in the late 16th century through the mid 18th century, and marvel at the authentic objects that once aided them in their practice.
During the tour, you'll have the chance to experiment with dowsing, reading rune stones, and uncover the dark history of hangings in Edinburgh – even visiting the site of such executions!
"This tour was amazing! The tour guide was telling us so many detailed stories about the history of witches and at the end we even had a little session with crystals. I highly recommend it!"
Weather depending, you may even venture to the roof of the museum, or, if it's open, visit an historic witches' shop!
All that talk of witchcraft got you itching to venture into the mystical?
Be sure to book a Chakra or fortune-telling reading (at an additional cost) for after the tour!
Hey! Want to use our trusty guides to the best tours in other places across the UK? Check these out!
UK Travel Planning Guide: the FAQs
🏥 Should I buy UK travel insurance?
Absolutely yes. Basic coverage is not expensive, and as a visitor you are NOT covered under the NHS. Compare policies and prices with Travel Insurance Master here, a big name in the travel insurance business, and cross that off your list.
🔌 Do I need travel adapters for the UK?
Yes, you do, otherwise you won't be able to plug in your electronics/phone/lifelines. I recommend this one, which is all-in-one so you can use it in other countries.
🚗 What do I need to drive in the UK?
The first thing you need to check out if you're planning on renting a car in the UK is this guide to driving in the UK for visitors – the roads, signs, and driving experience will likely not be what you're used to and it's essential to prepare yourself to stay safe and aware.
🛌 What's the best way to book hotels in the UK?
For UK hotels, Booking is the best site as it offers free cancellation on many properties. If you want an apartment, I always recommend VRBO over AirBnb.
📳 Will my phone work in the UK?
Yes – if you set it up right. Check out my guide on making your foreign phone work in the UK to ensure that you get the type of service you need.
🚿 Can I drink the water in the UK?
Yes, UK water is great and perfectly safe. But drink out of taps in any kitchen or use water fountains. Double check before drinking out of the taps in hotel bathrooms, though, as they may be on a different system.